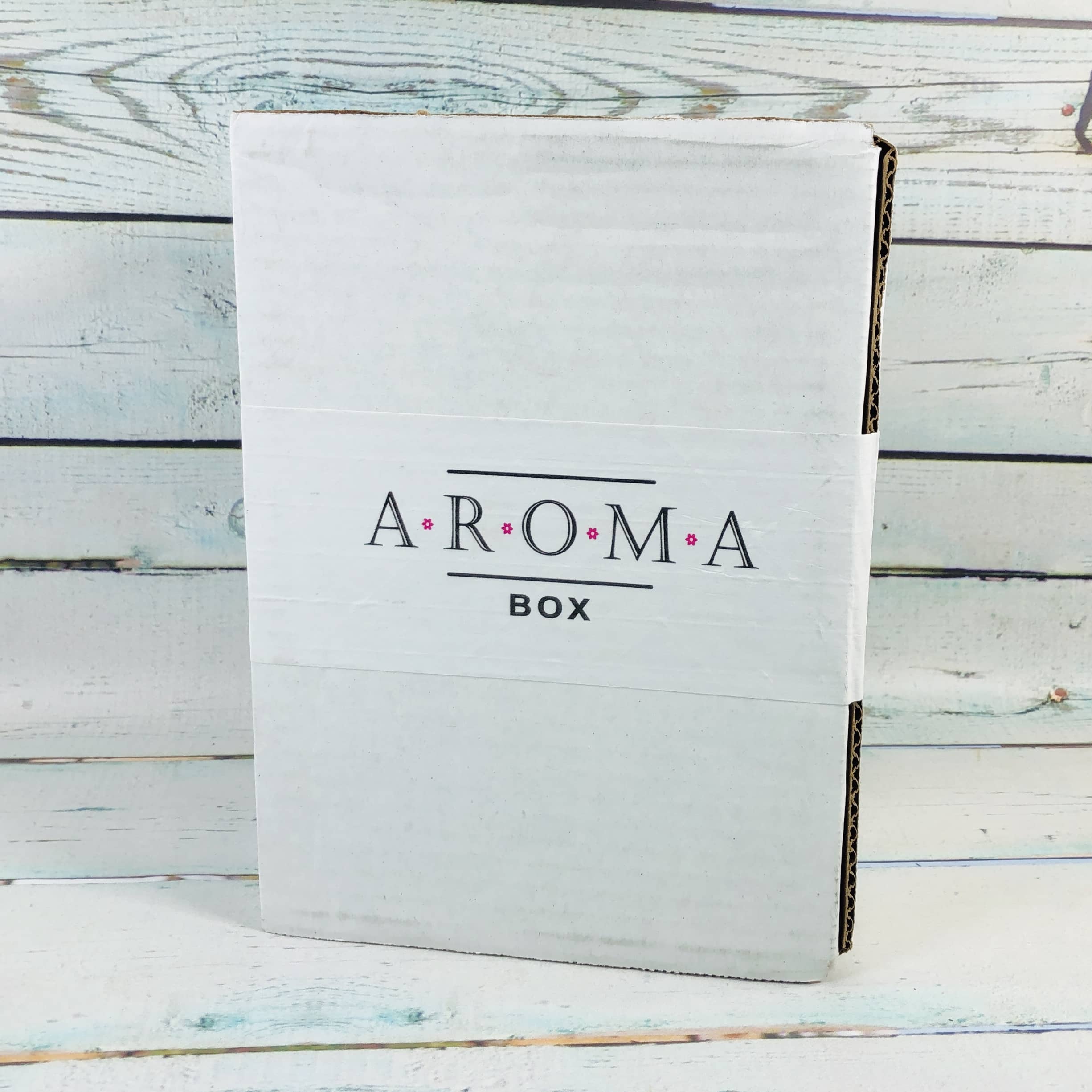 AromaBox is a bimonthly subscription box of of aromatherapy items. Each box will contain 5 full-sized aromatherapy, skin care, wellness and/or lifestyle products and at least 2 quality product samples. Products will come from small business entrepreneurs and artisans and you will also receive a selection of special offers and discount codes. An AromaTips card with a diffuser blend recipe will help you get started right away. AromaBox is $31.97 every two months, and it looks like you can purchase previous boxes (including this one!) in their online shop for $41.97.
AromaBox™ is an inspired collection of handpicked aromatherapy, skin care, and lifestyle products delivered to your door every eight weeks. For the Aroma lover, the unique focus and functionality of this box is an unparalleled celebration and opportunity to experience new brands.
DEAL: Get $5 off on your first AromaBox! Use coupon code HELLOAROMABOX. Valid to new subscribers only!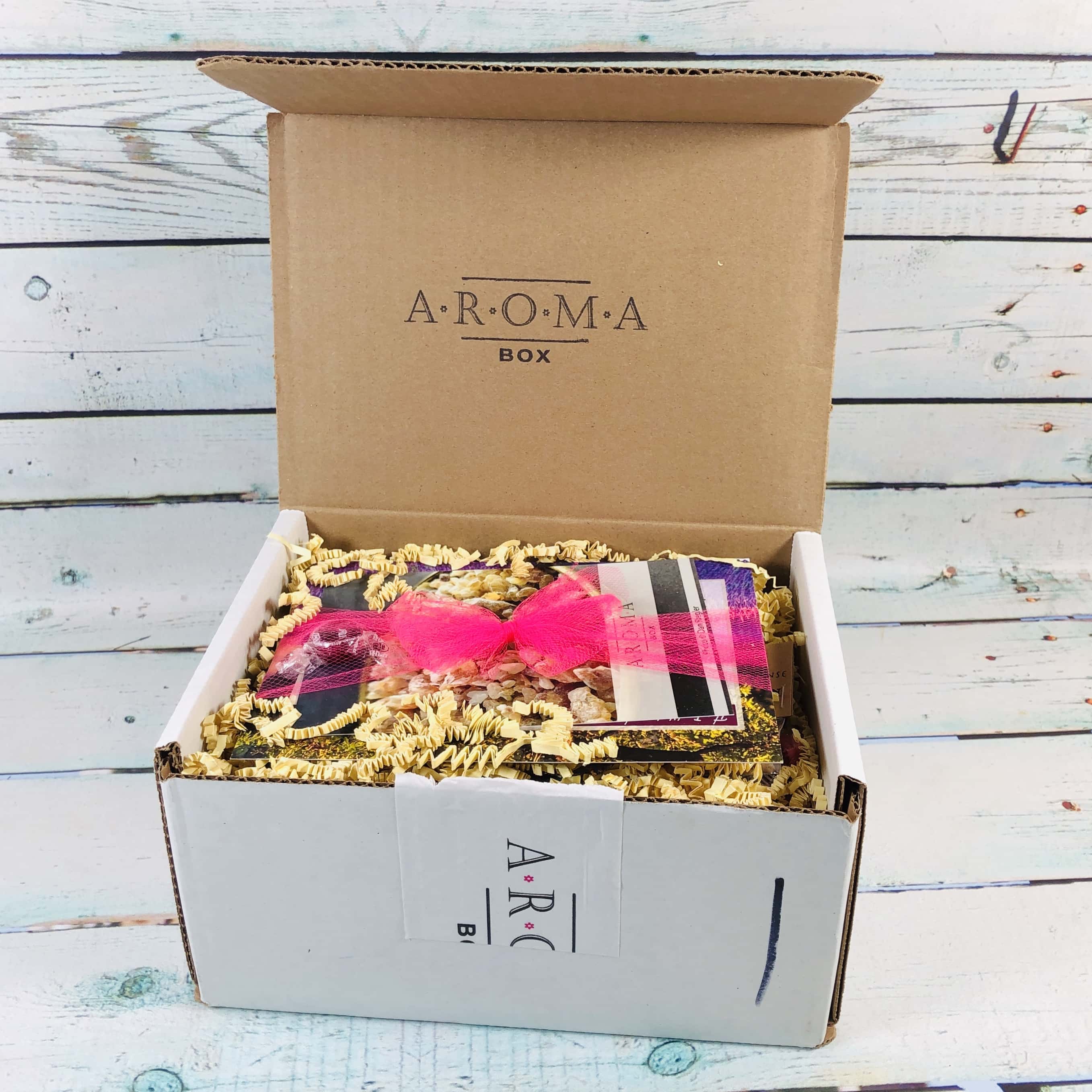 My items were tucked into shredded paper squiggles.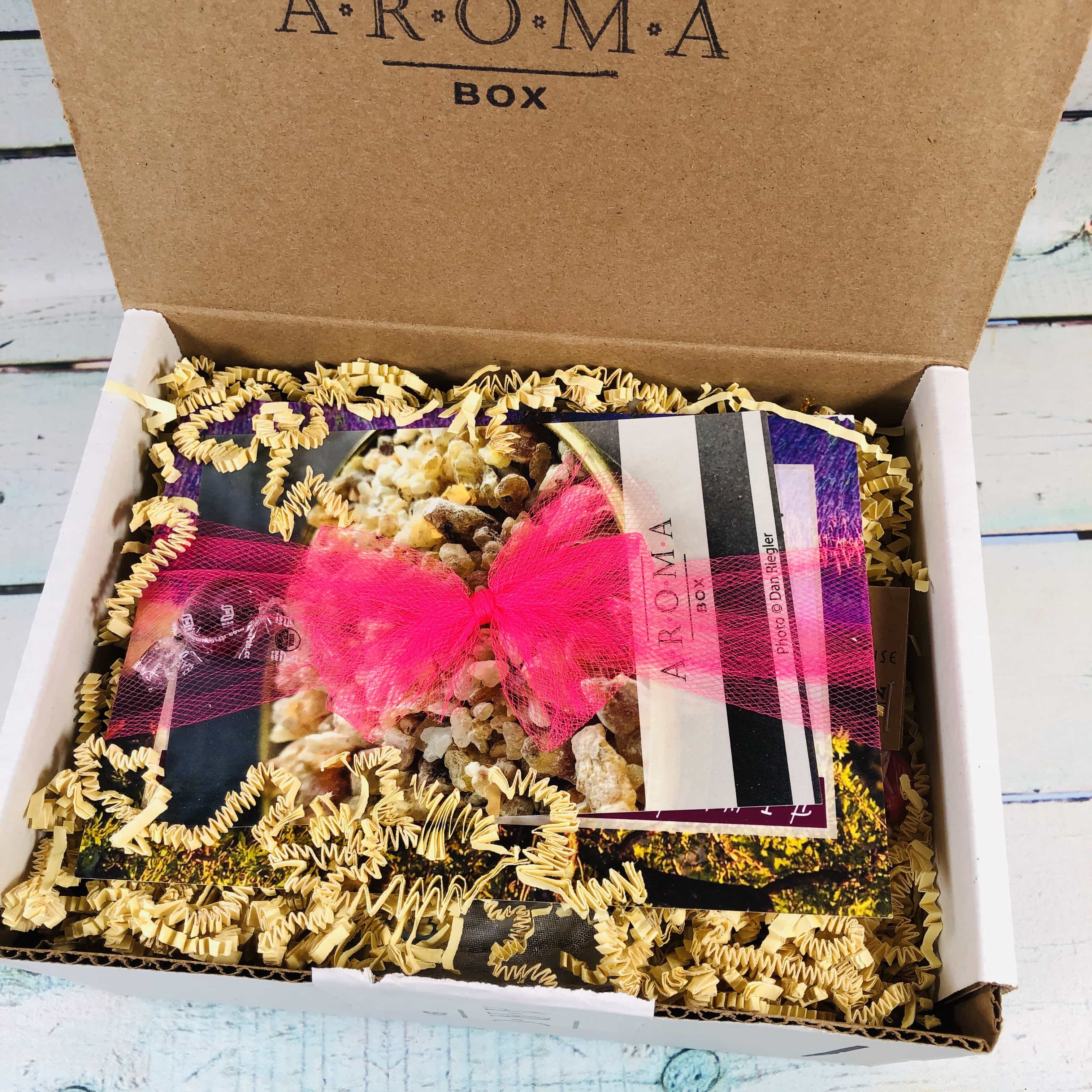 There was a bundle tied with tulle sitting on top when I opened the box.
PLEASE NOTE: While essential oils are wonderful to explore, they may not be right for everyone in every stage of life. Be careful when using, make sure to dilute properly, and do not use at all without first consulting a doctor if you are pregnant or nursing. If in doubt, check with a doctor.
There was a card with the featured essential oil. Yep, that is what frankincense looks like!
The back of the card had a little info on the oil, plus a diffuser recipe. I have a lot of essential oils, but I don't think I have rose attar or neroli yet, but I can find more recipes on Pinterest.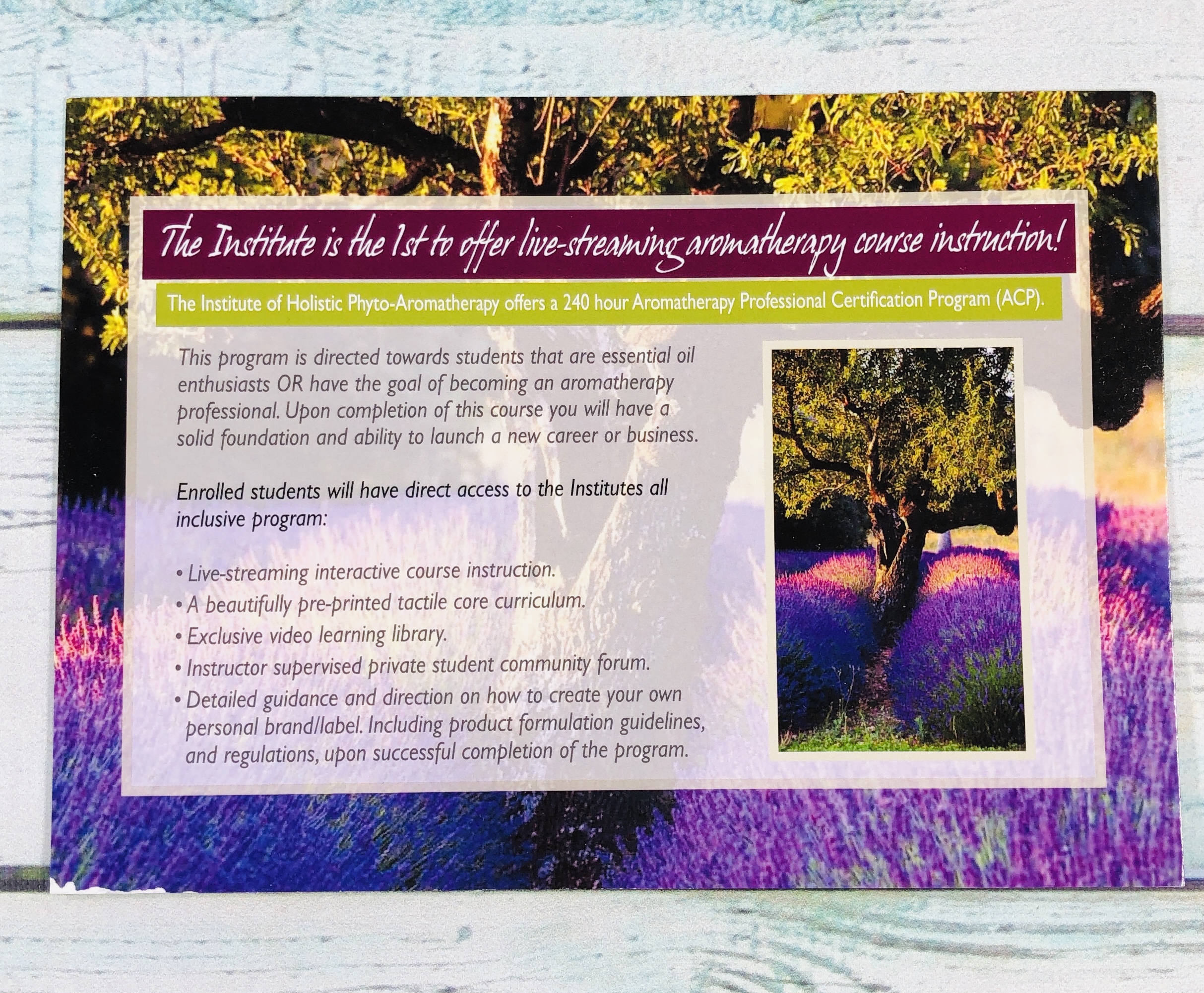 There was another card for an aromatherapy school.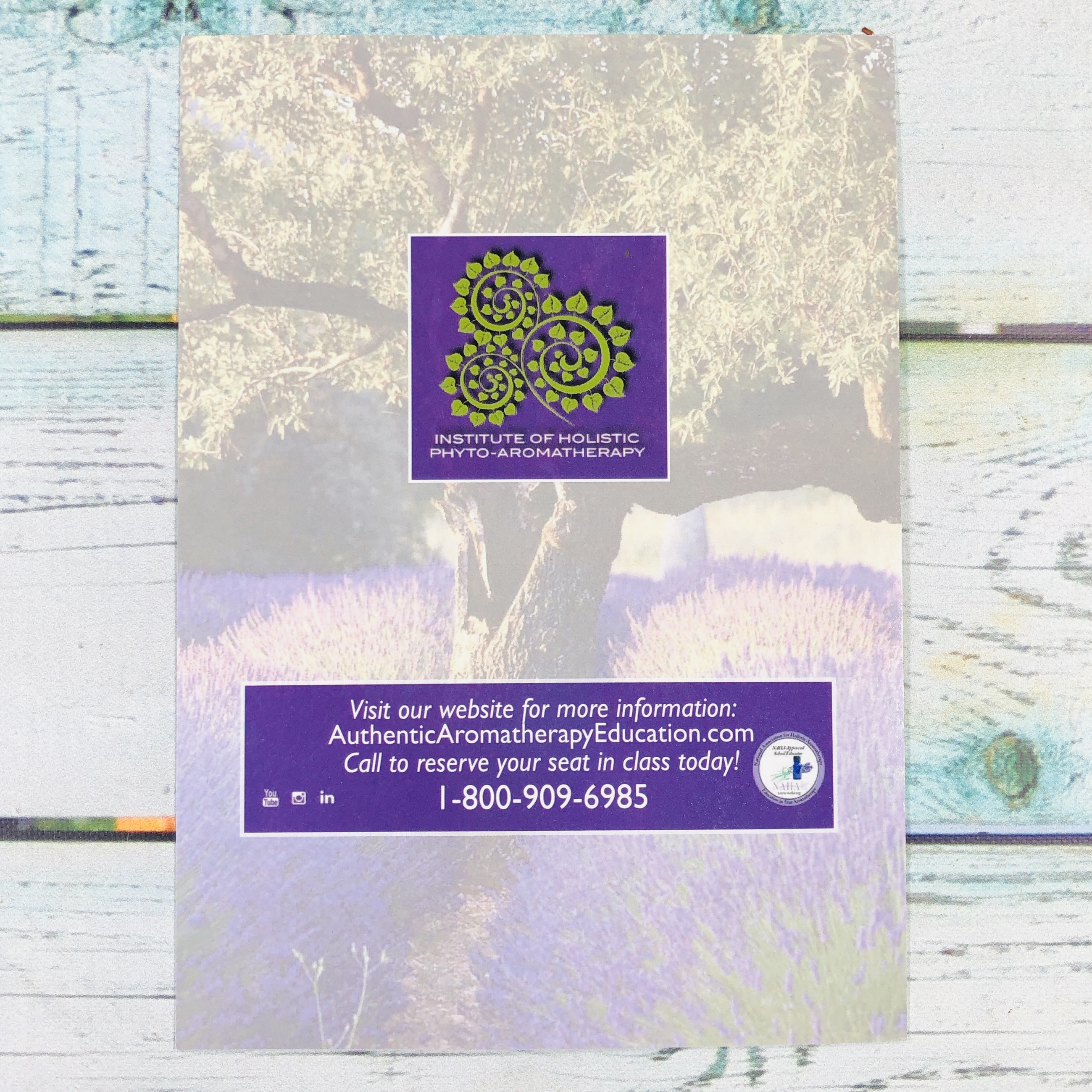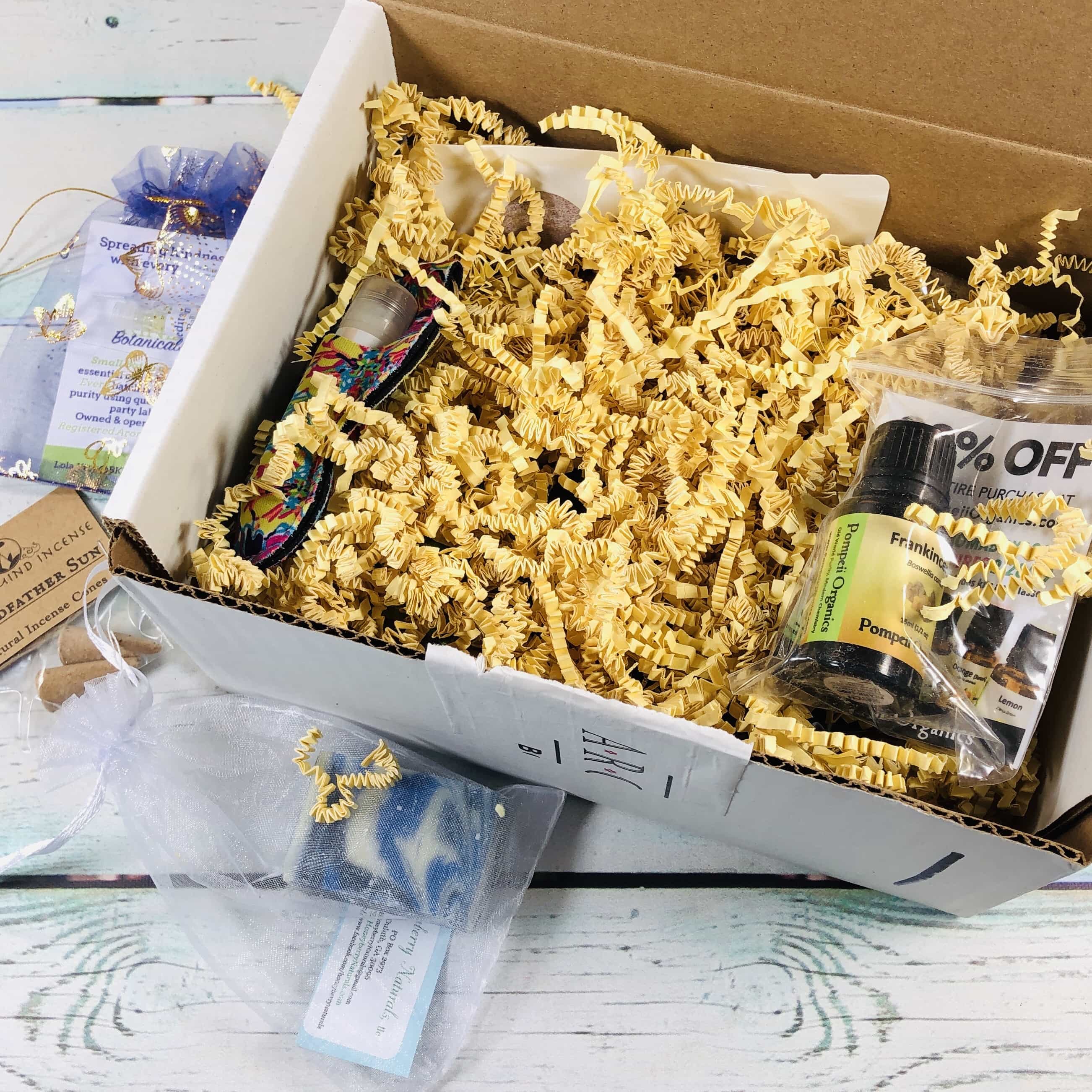 Several of the items were packaged in bags.
Everything in my box! I can't wait to get started using my new goodies!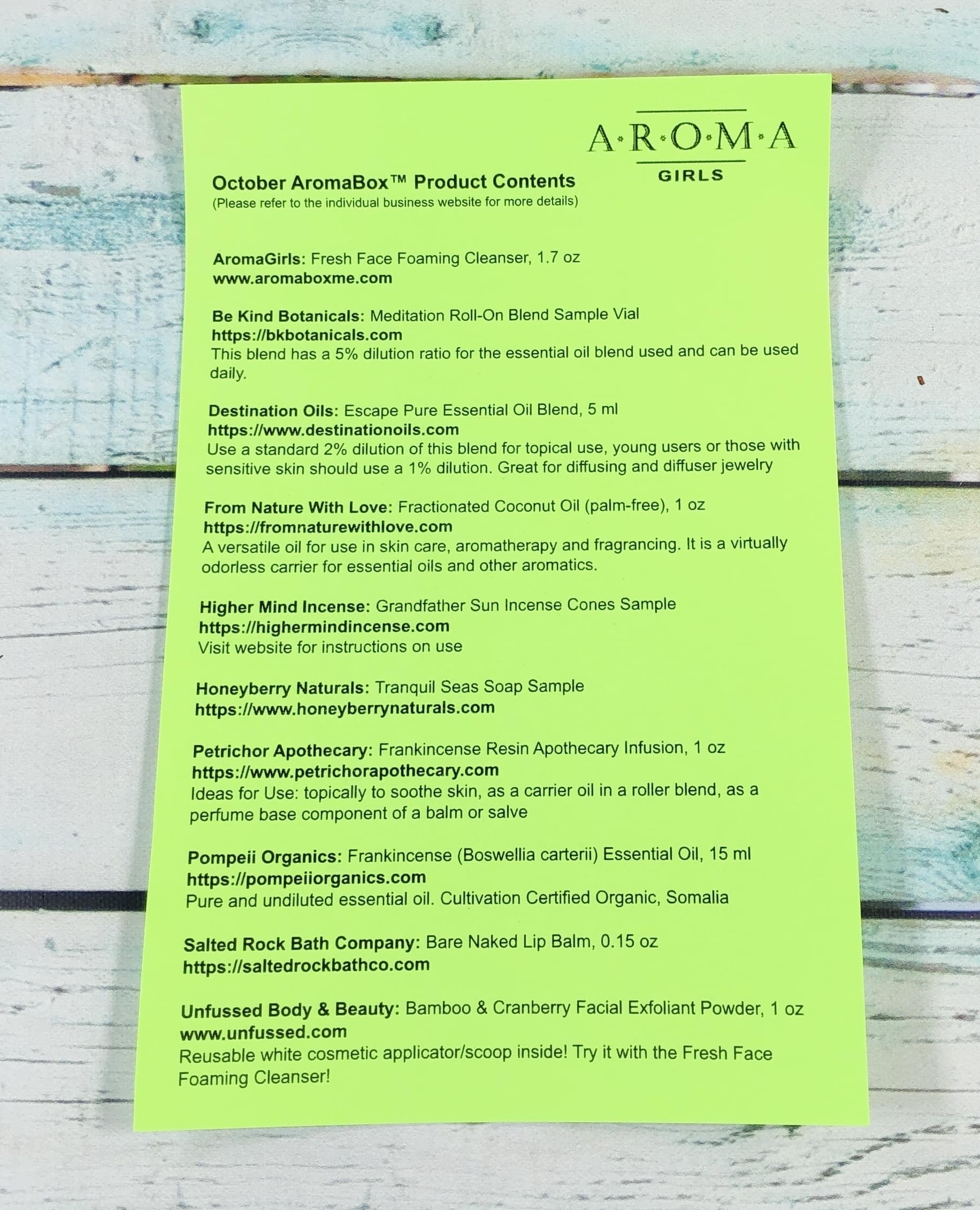 I know the product info card says October, but I had a look through past boxes and this is the December/January collection. Each product is listed along with a website, in case you want to order some favorites. You might also want to check out those websites for tips on how to use your new items. You can also check out the AromaBox website, they had much more detailed info listed here.
I found two YumEarth Organic hard candies inside the box!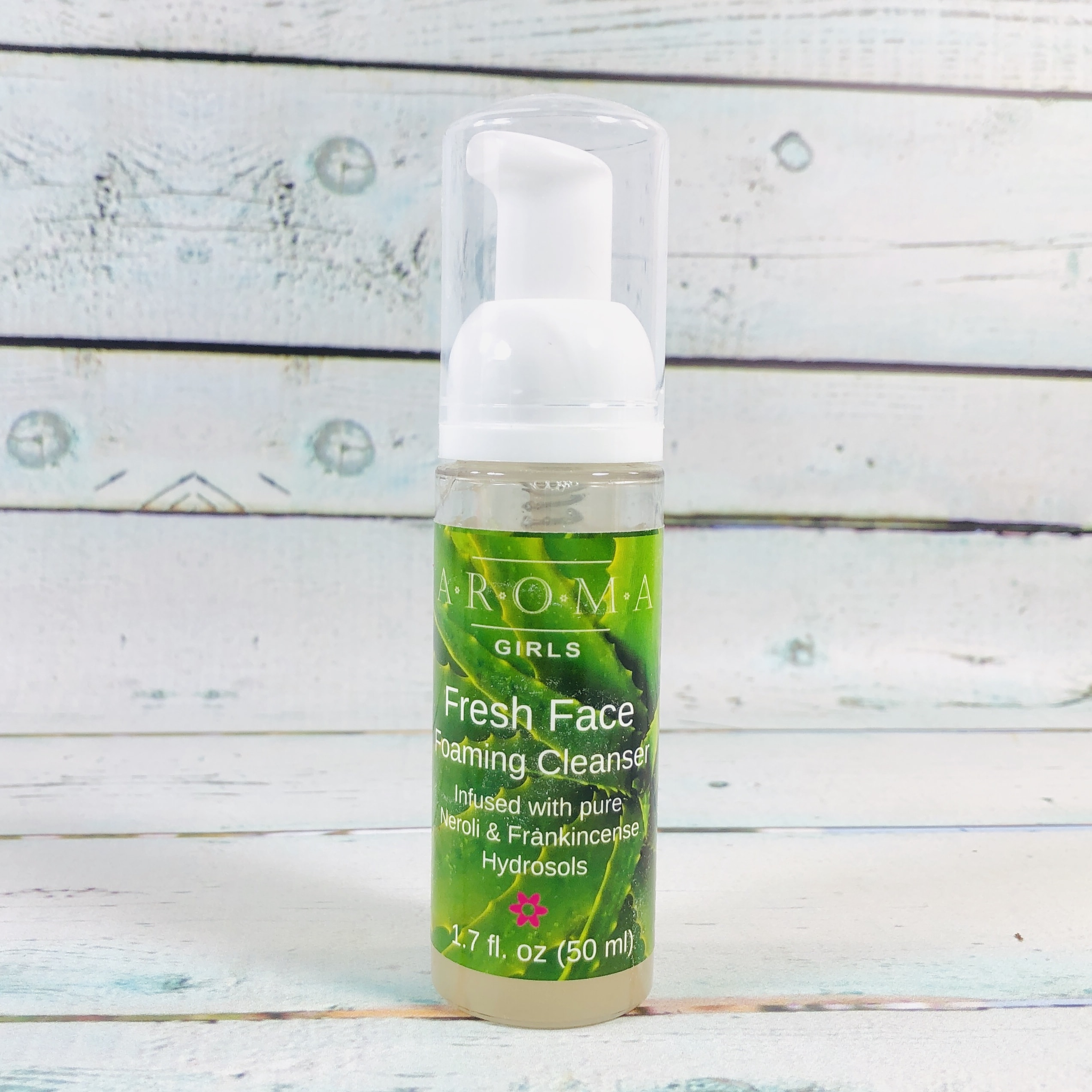 Aroma Girls Fresh Face Foaming Cleanser ($10.97) Here's one product that has frankincense already added!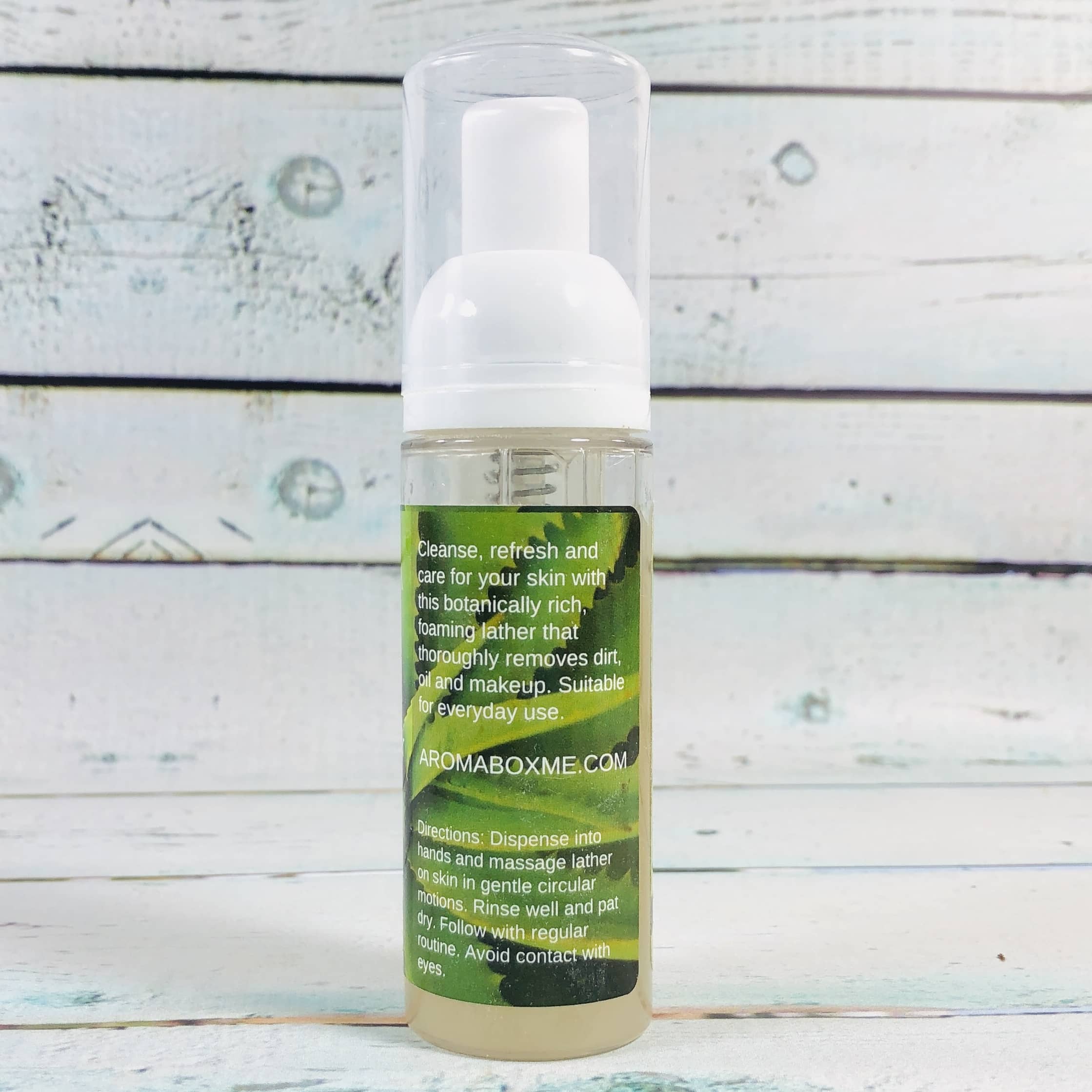 I was surprised at how well this product cleaned my skin! I really believe in doing a double cleanse in the evening, to make sure all of my makeup is removed before bed. I think you can use this as either the first or second step, depending on your skin's dryness level.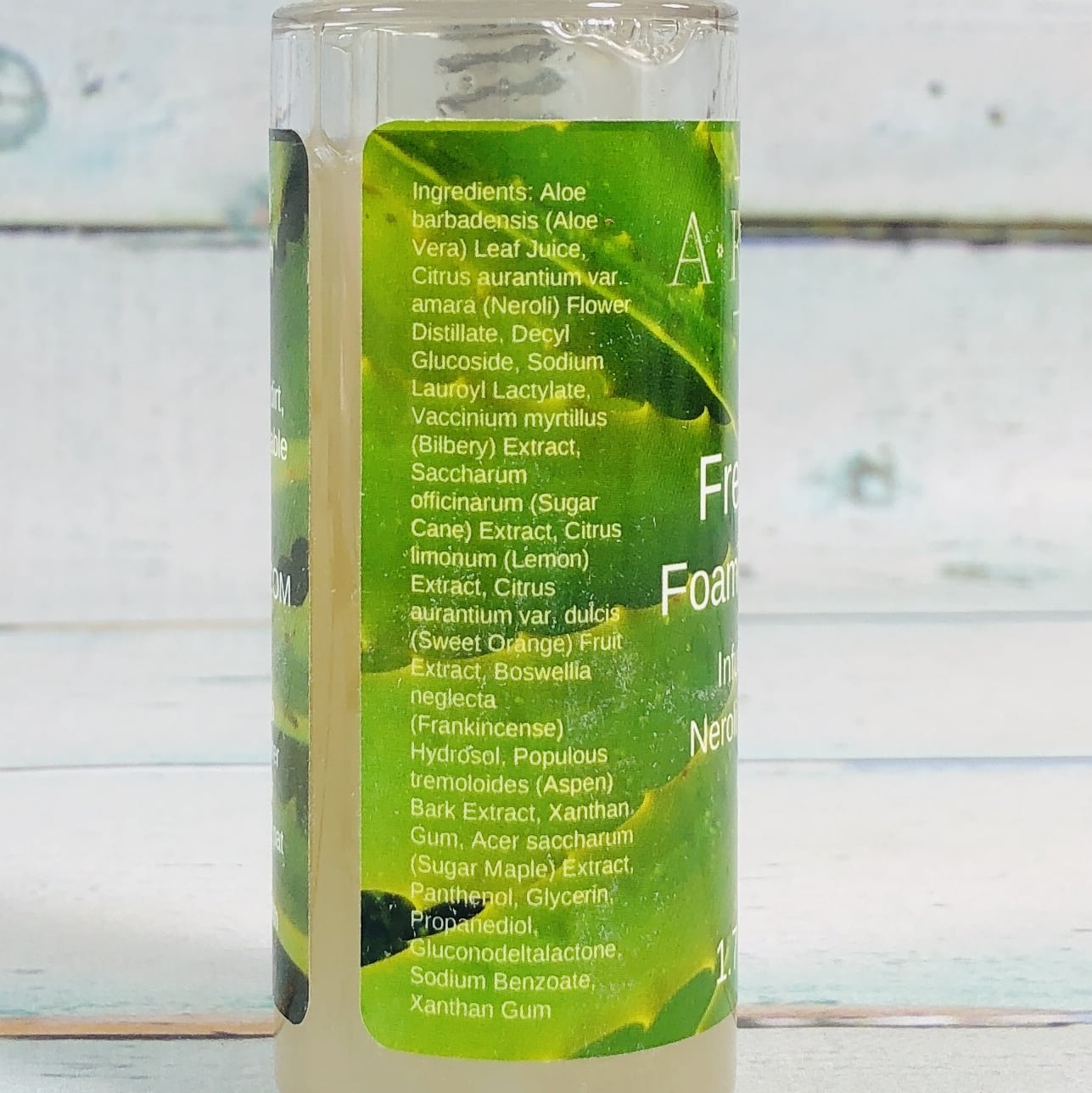 Ingredients were clearly labeled on the bottle. I thought it had an earthy and herby aroma. I used 5 pumps in the evening, three in the morning.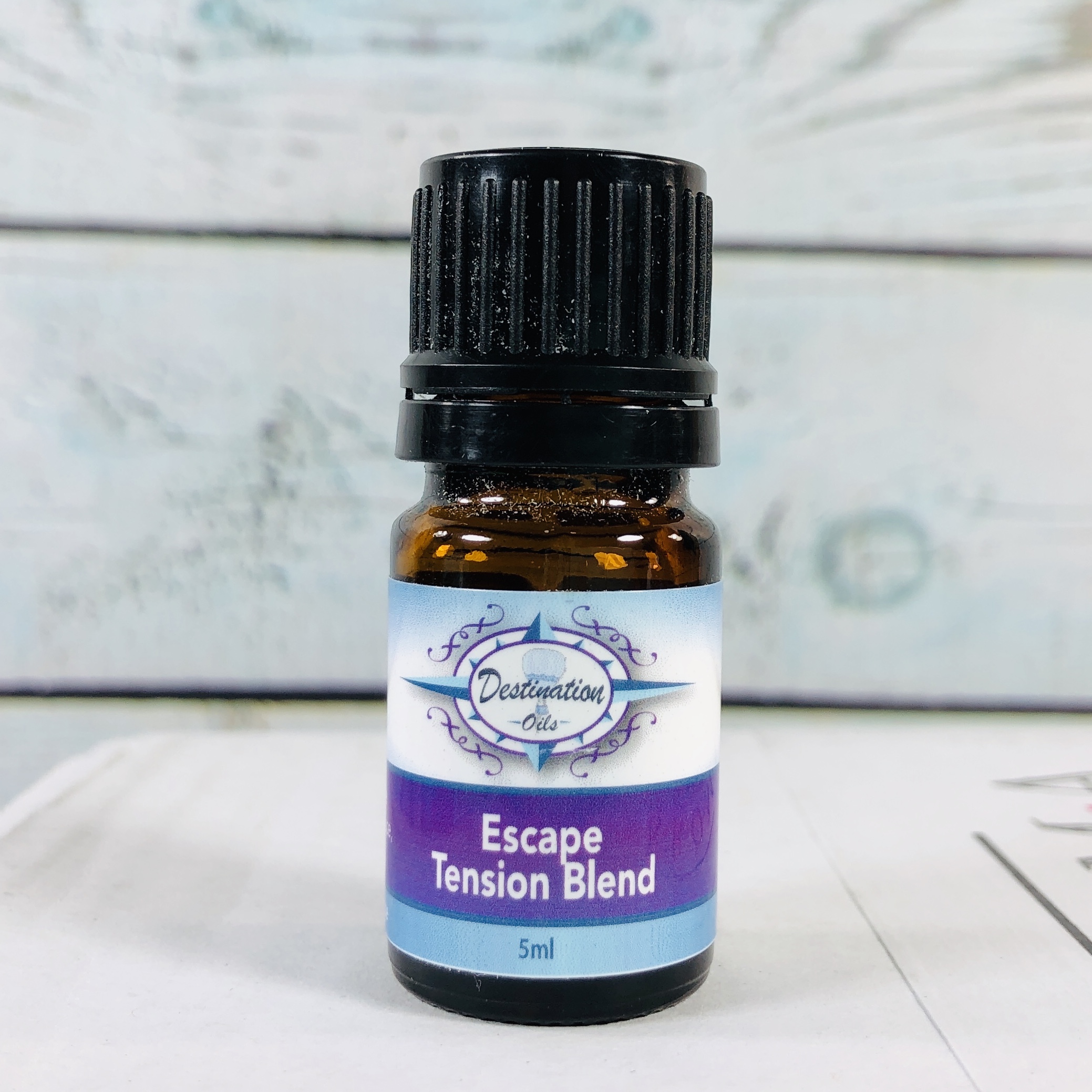 Destination Oils Escape Pure Essential Oil Blend ($8) Here is another product you can simply drop in your diffuser, or apply to diffuser jewlery. (Heads up: there is an aromatherapy diffuser bracelet in the February box!)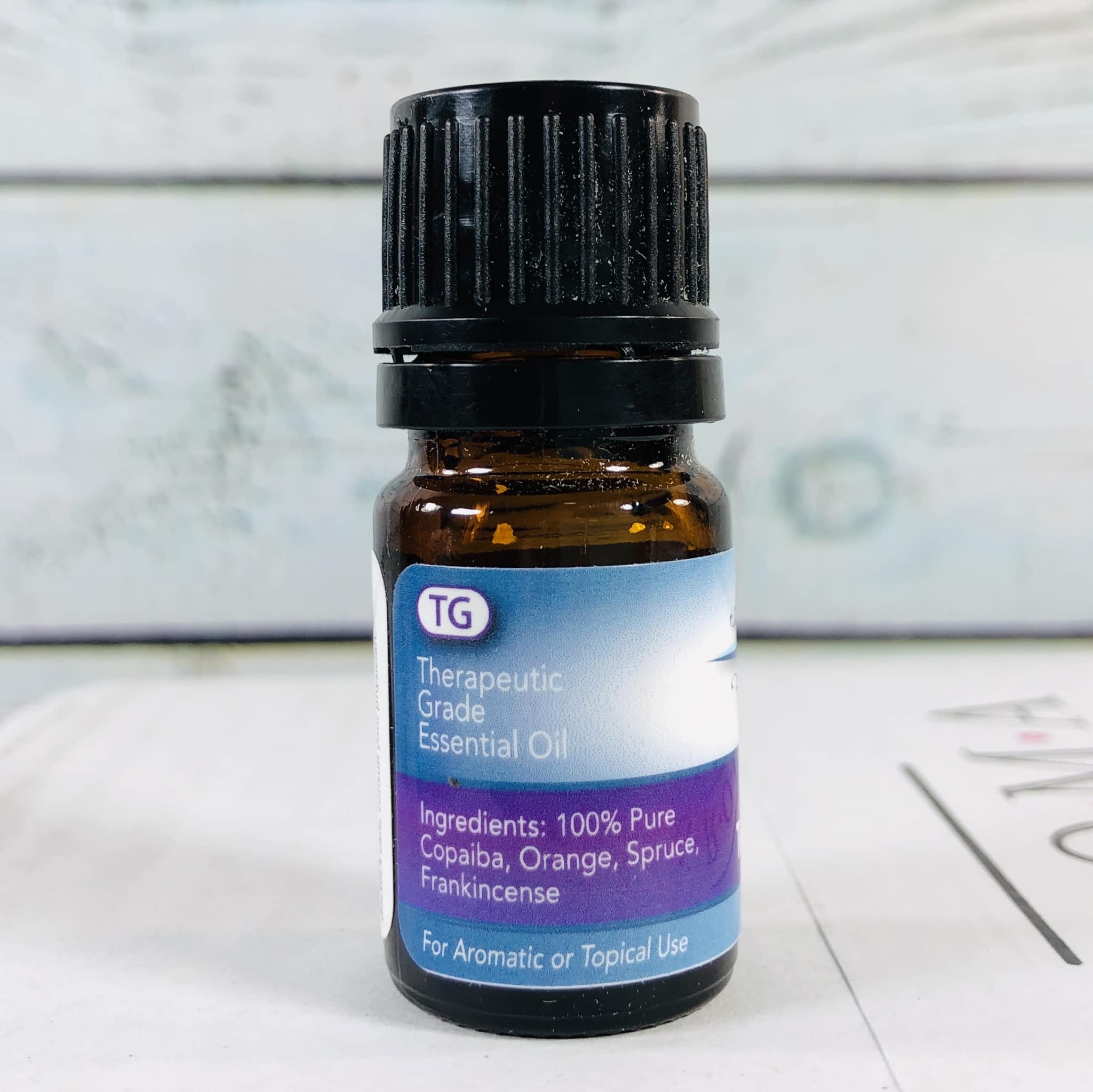 Copaiba, orange, spruce, and frankincense oils are in this bottle, and no carrier oil. Here are the benefits of each oil, according to Destination oils:
Copaiba – loosens muscles, soothes joints, and may improve headache symptoms

Sweet Orange – decreases stress and tension

Spruce – relieves muscle aches and pains

Frankincense – anti-inflammatory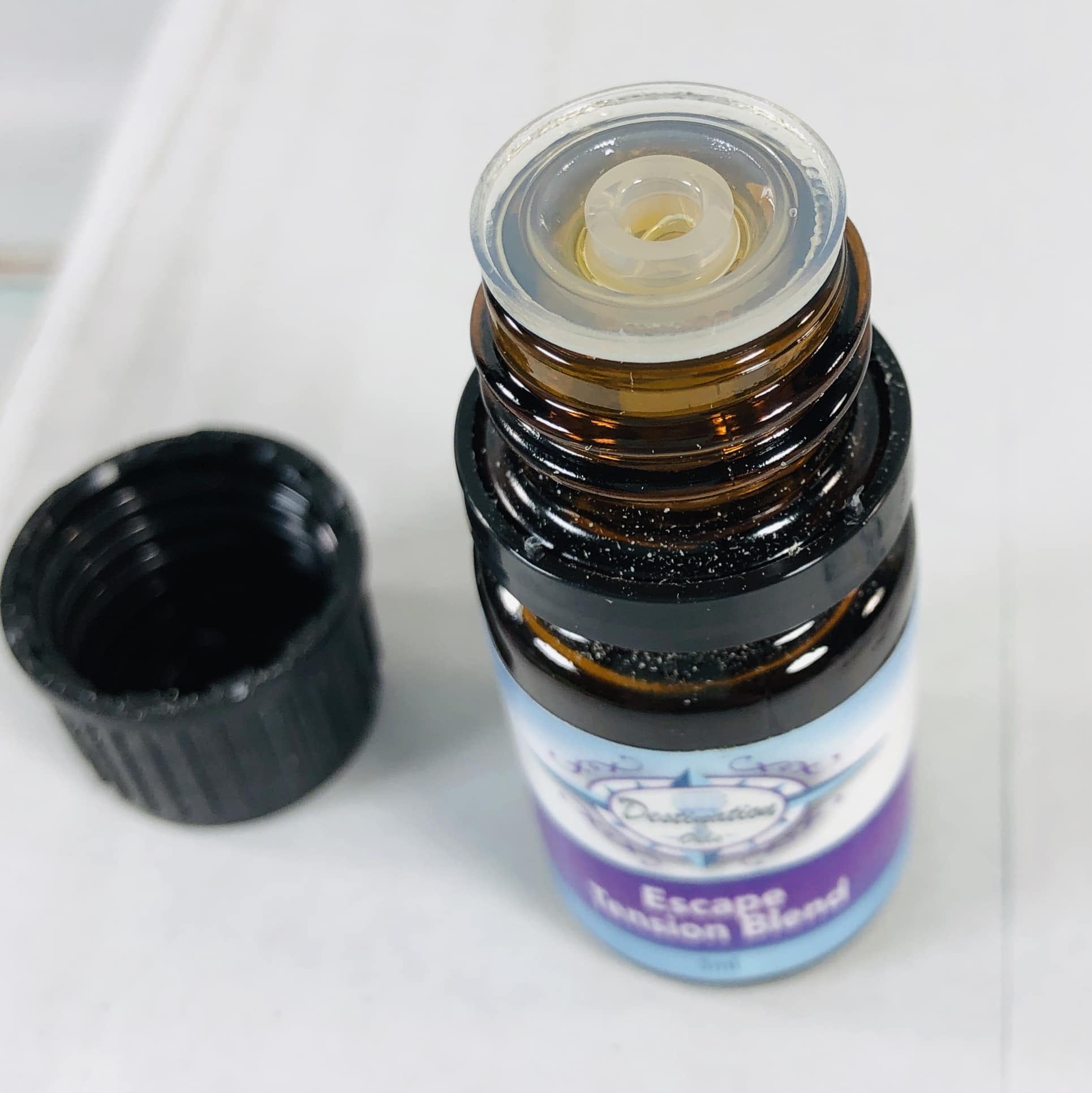 It has a euro dropper lid to help dispense one drop at a time. Make sure to dilute with a carrier oil or lotion before applying to skin. I really like the blend, and the orange really comes through.
Higher Mind Incense Grandfather Sun Incense Cone Sample ($0.83) The scent of incense takes me back to when I was a child; my grandmother had some in her home to use when meditating and I would ask if we could burn it.
The blend in this scent is amazing, I love the warm, earthy, and rich scent it left behind, and it wasn't overwhelming, just lovely.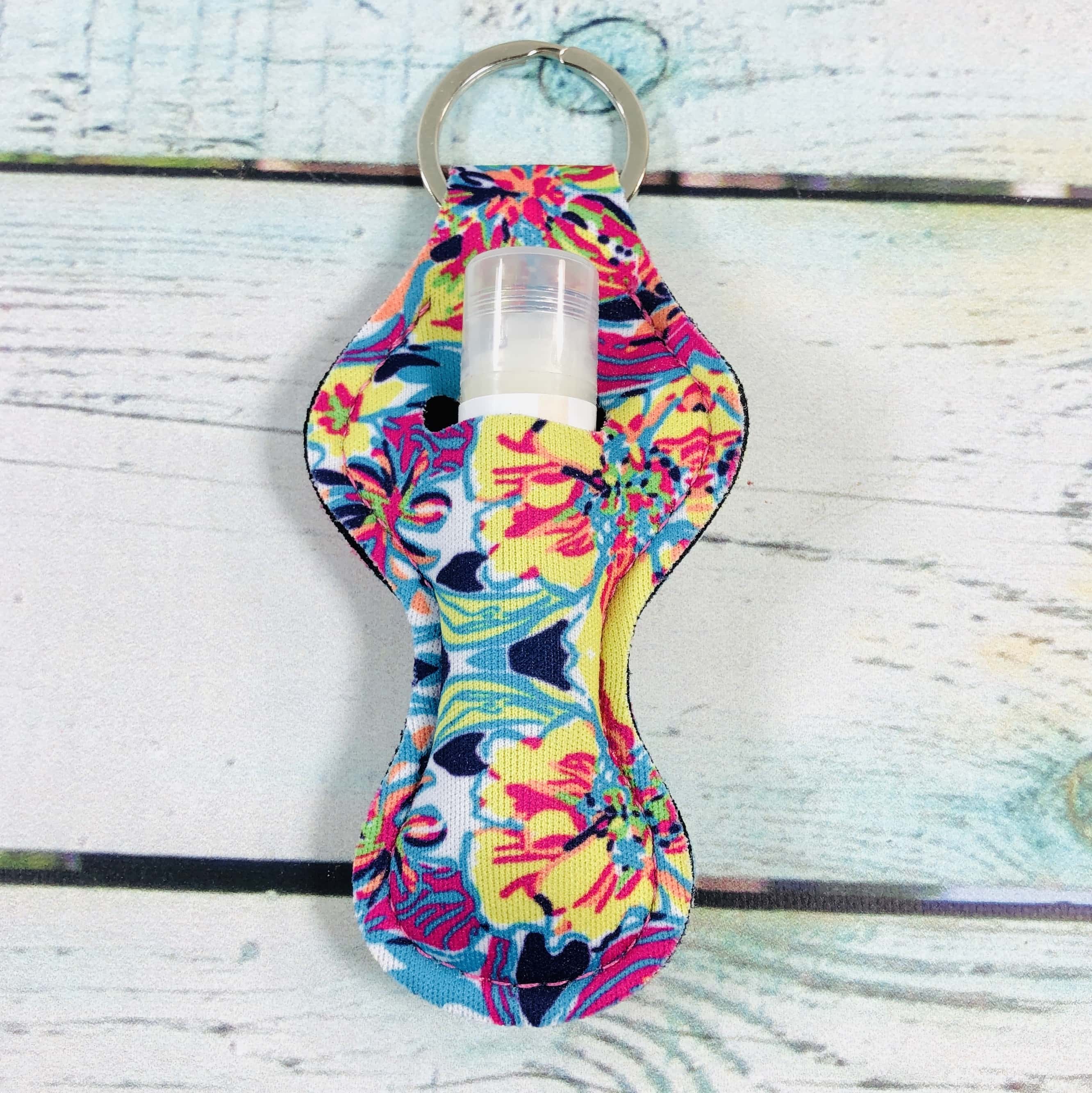 Neoprene Lip Balm Carrier Keychain (Buy a pack of 10 for $10.99 here) Lip balm holders are pretty popular, and this one is especially pretty! There is a ring so you can clip it onto a key, lanyard, or backpack. There's a slit where the lip balm slides right in. It stays securely in the holder.
The back of the holder shows more of the design. You can find tons of designs online; check out Amazon or Etsy. I linked to some that have a similar print.
Salted Rock Bath Company Bare Naked Lip Balm ($3) I found several lip balms listed on the Salted Rock website, except they didn't have the Bare Naked one.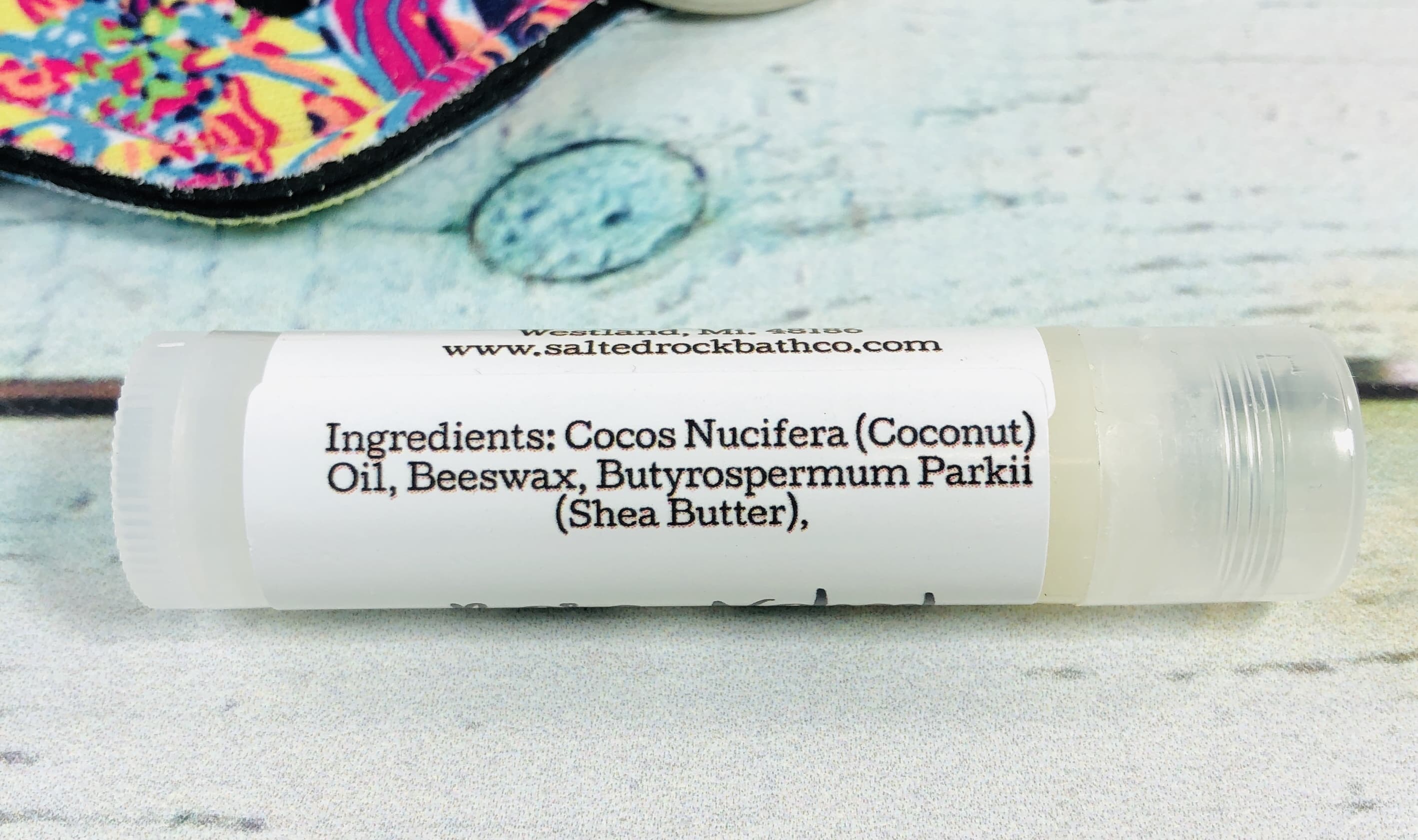 The 3 ingredients are listed right on the package and are all-natural.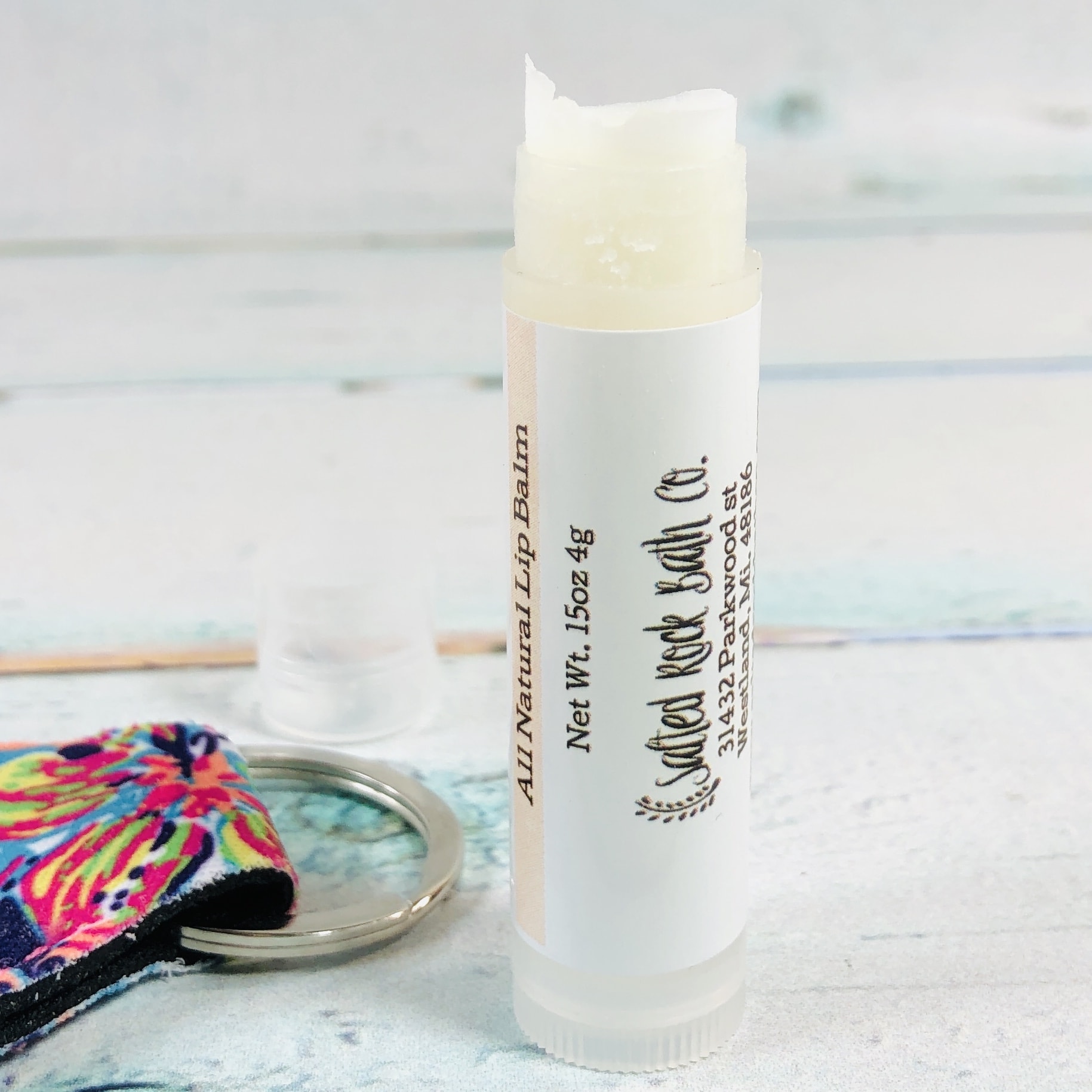 It glided on smoothly and left my lips super soft. There's not really any flavor, but it sure is a nice lip balm!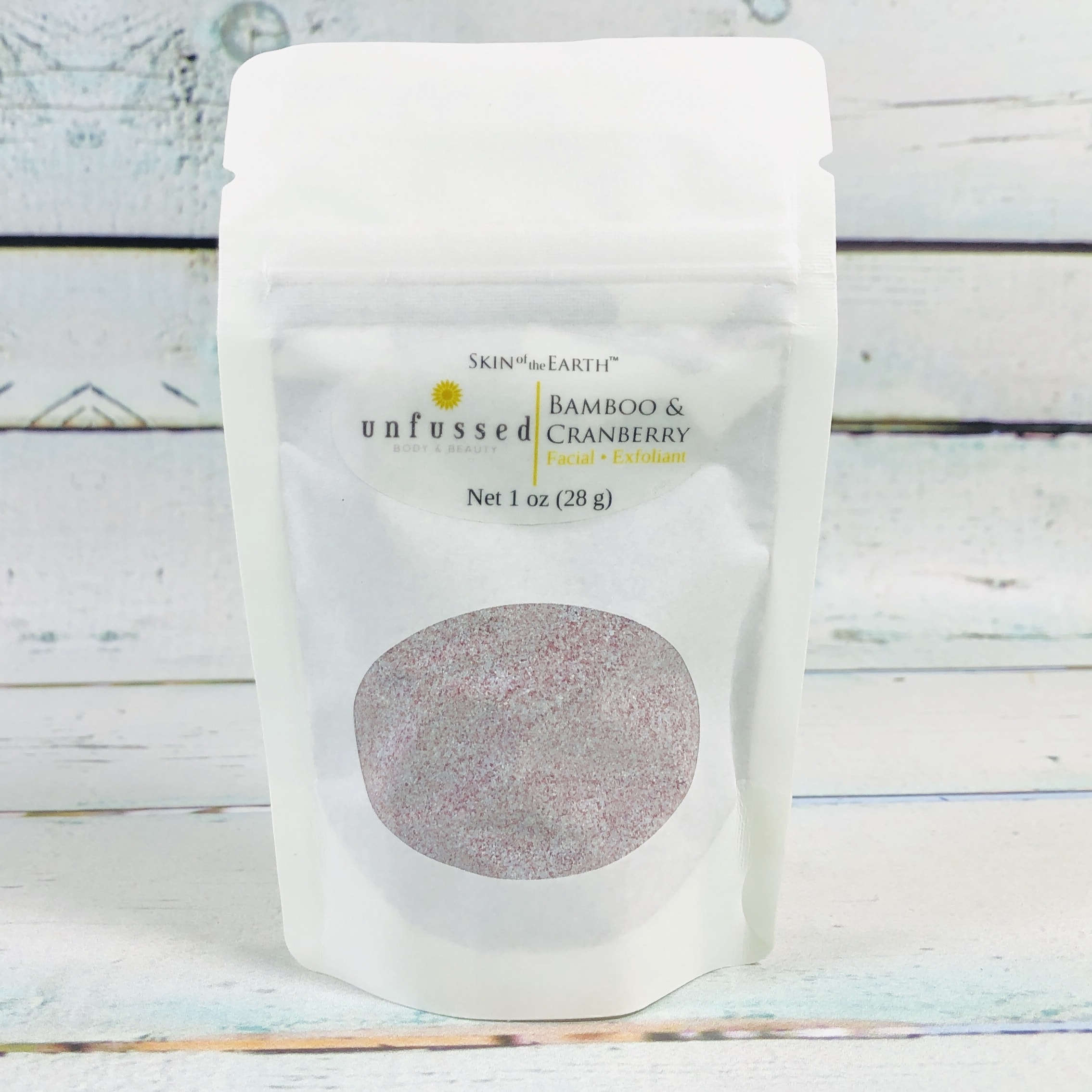 Unfussed Body & Beauty Bamboo & Cranberry Facial Exfoliant Powder ($8.97) is made of only two ingredients: bamboo powder and cranberry seed powder!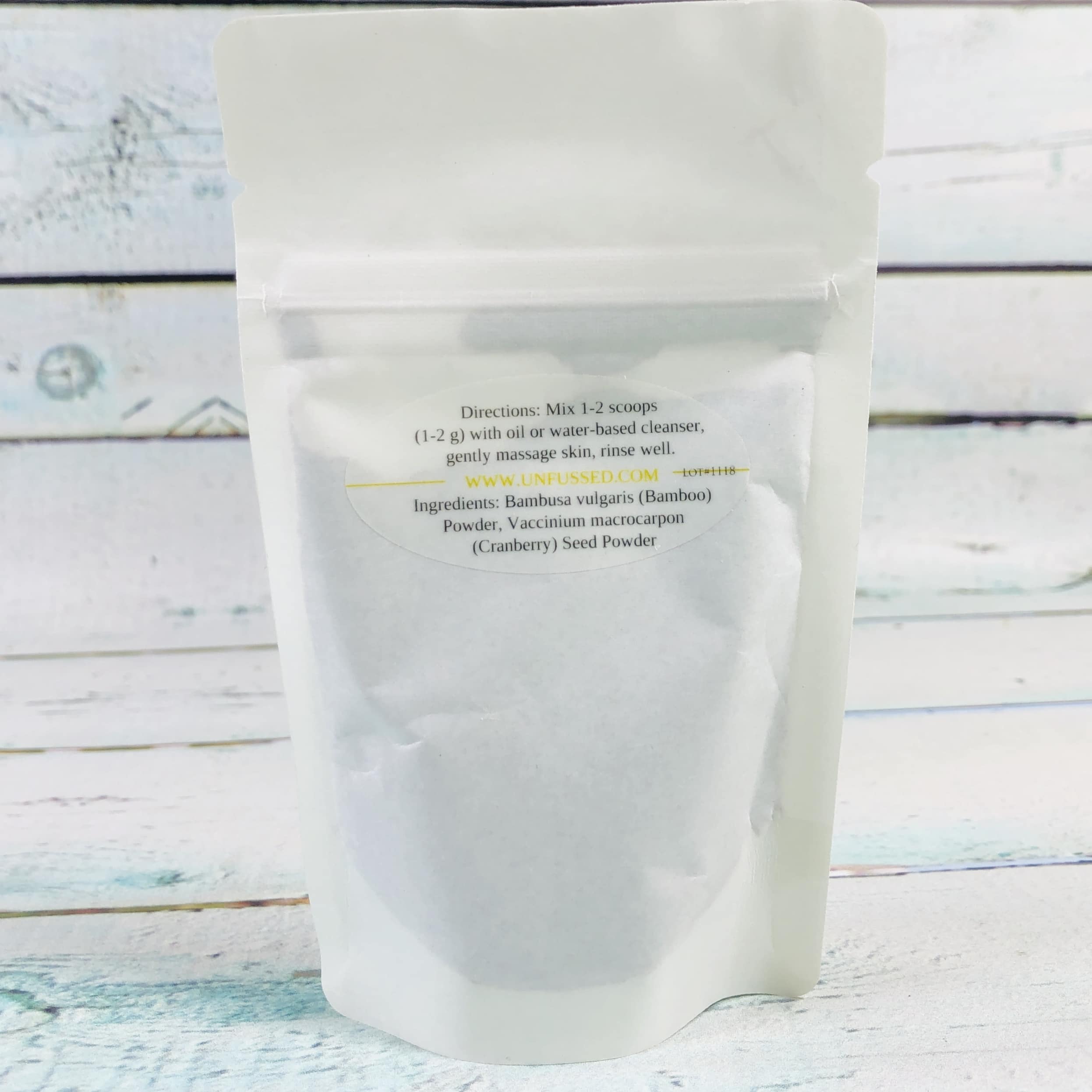 Just mix a bit with the cleanser of your choice, and apply to face. Massage it around well before rinsing.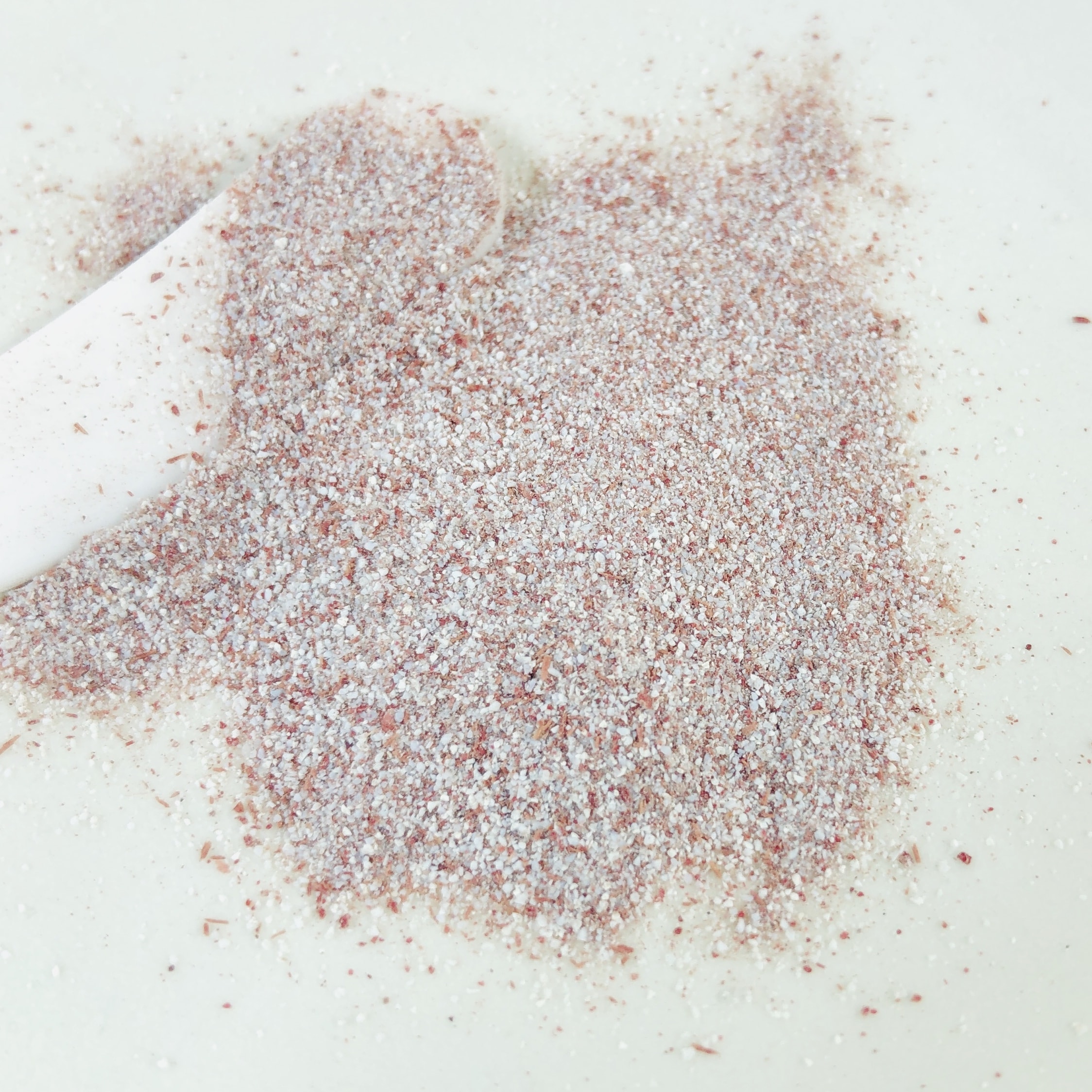 I added some to my hands with my regular cleanser, but I would suggest mixing it in a little bowl before applying to the face. There was no smell and it gave my skin a very thorough exfoliation. I was amazed at how well it worked, although my skin was red afterward. You can adjust the pressure as you apply it, or use with oil. You could mix it with a shower gel for use on the rest of the body if you find it is too rough for your face.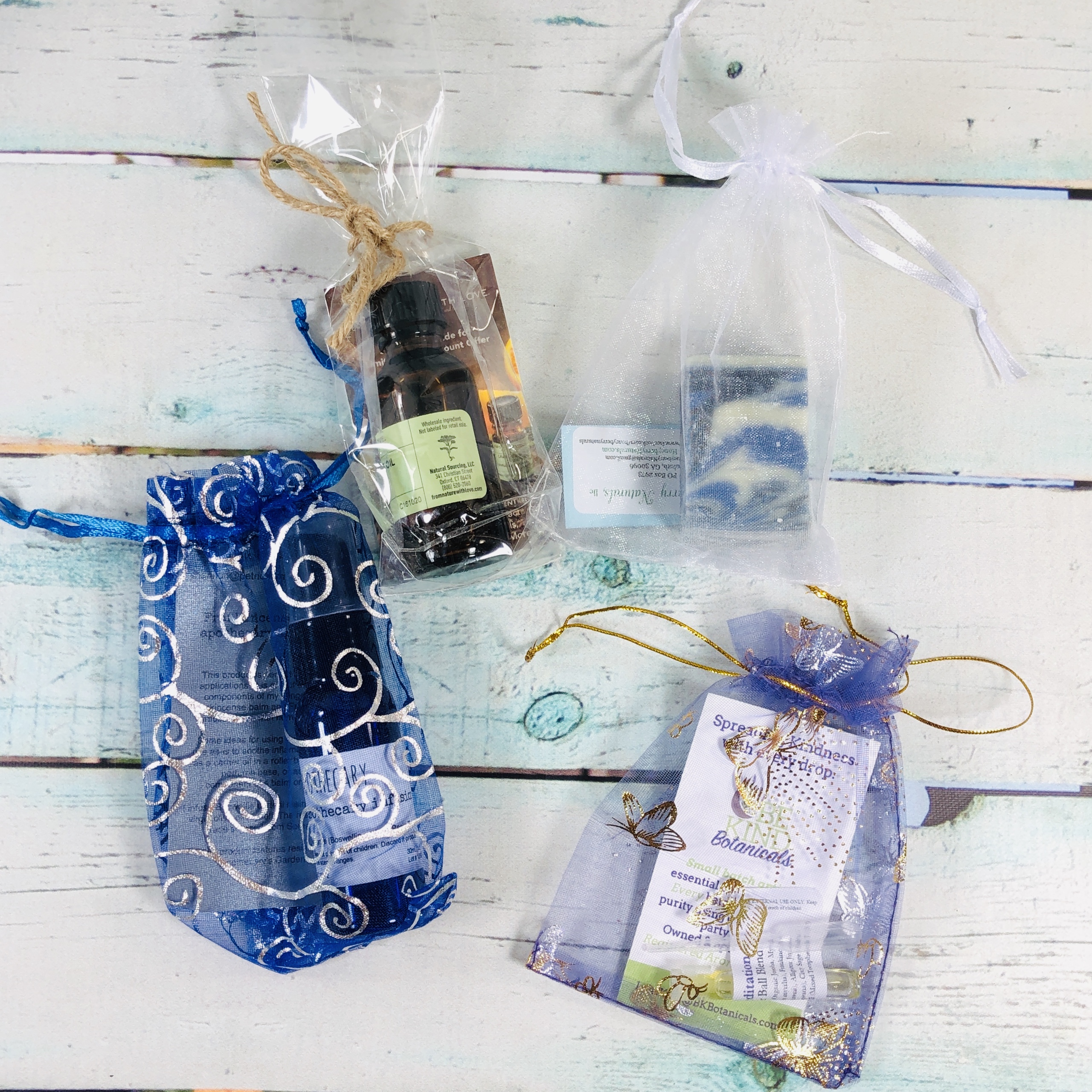 Some of the items were wrapped in adorable little bags and had additional cards packed alongside.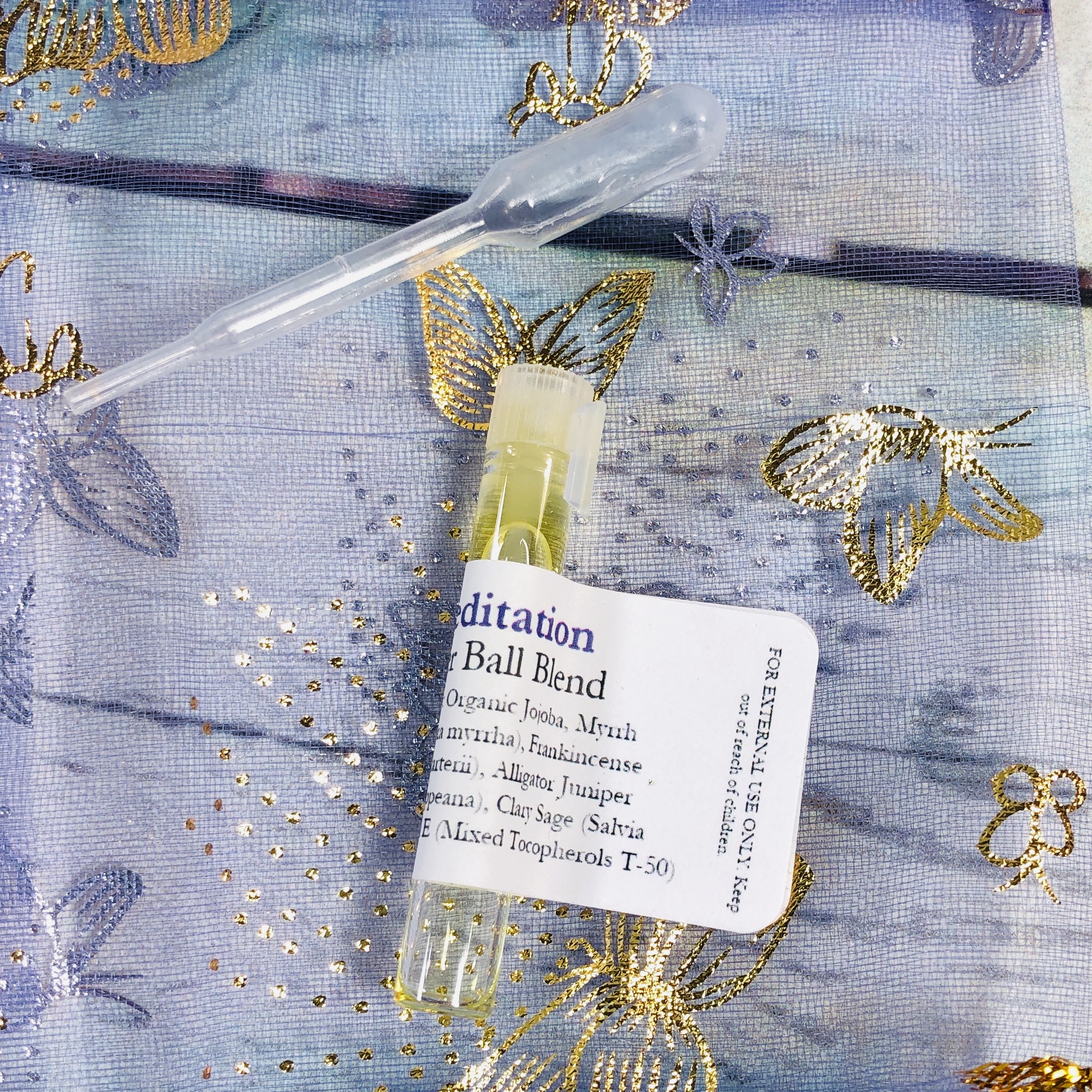 Be Kind Botanicals Meditation Roll On Blend Sample Vial ($4) You may use the oil in this sample in a diffuser or dilute it to use on the body. Myrrh, frankincense, Alligator juniper, and clary sage are the oils in this blend that may help keep you grounded and keep you focused. It smells warm and earthy with a fresh, almost minty note on top.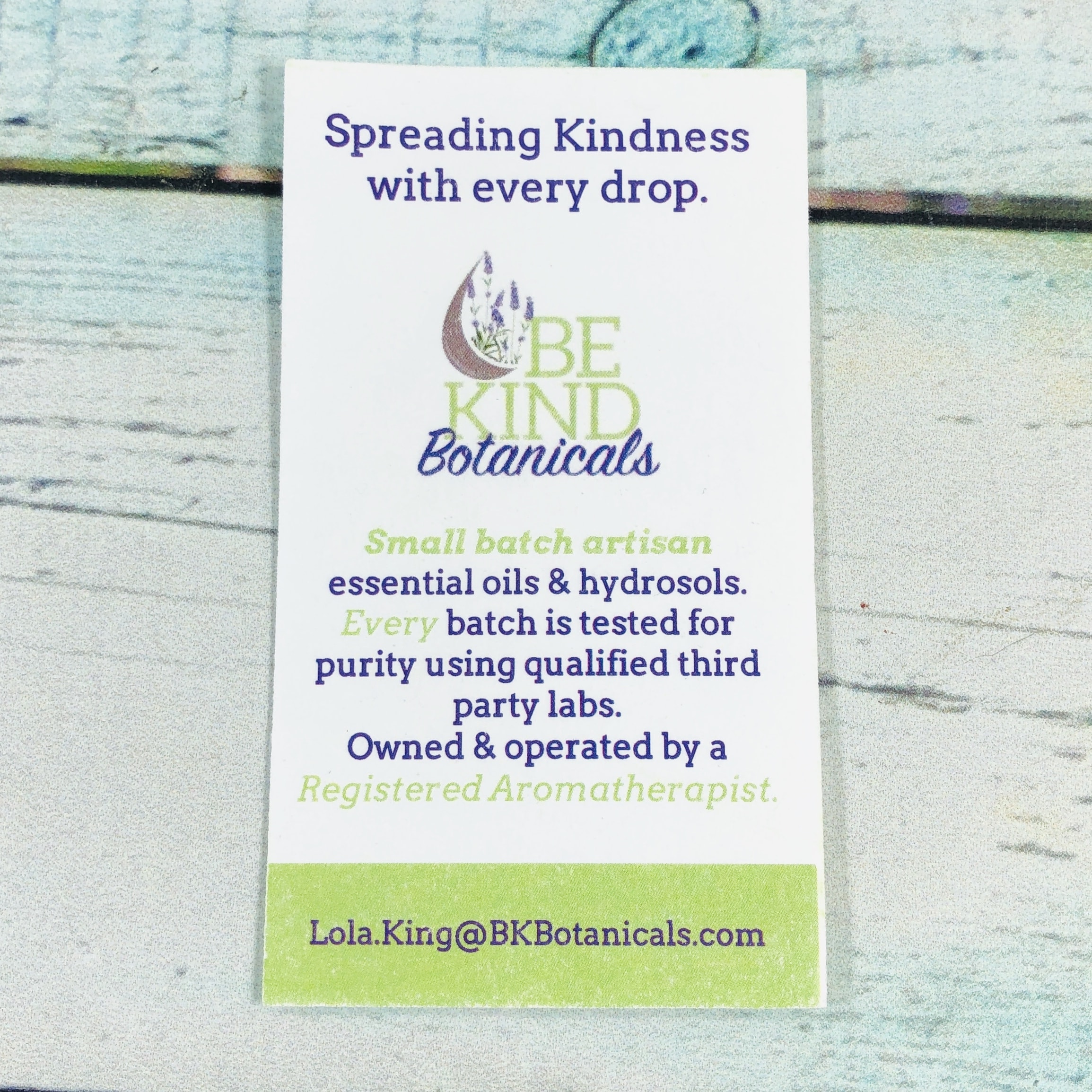 The card had a coupon code on the back.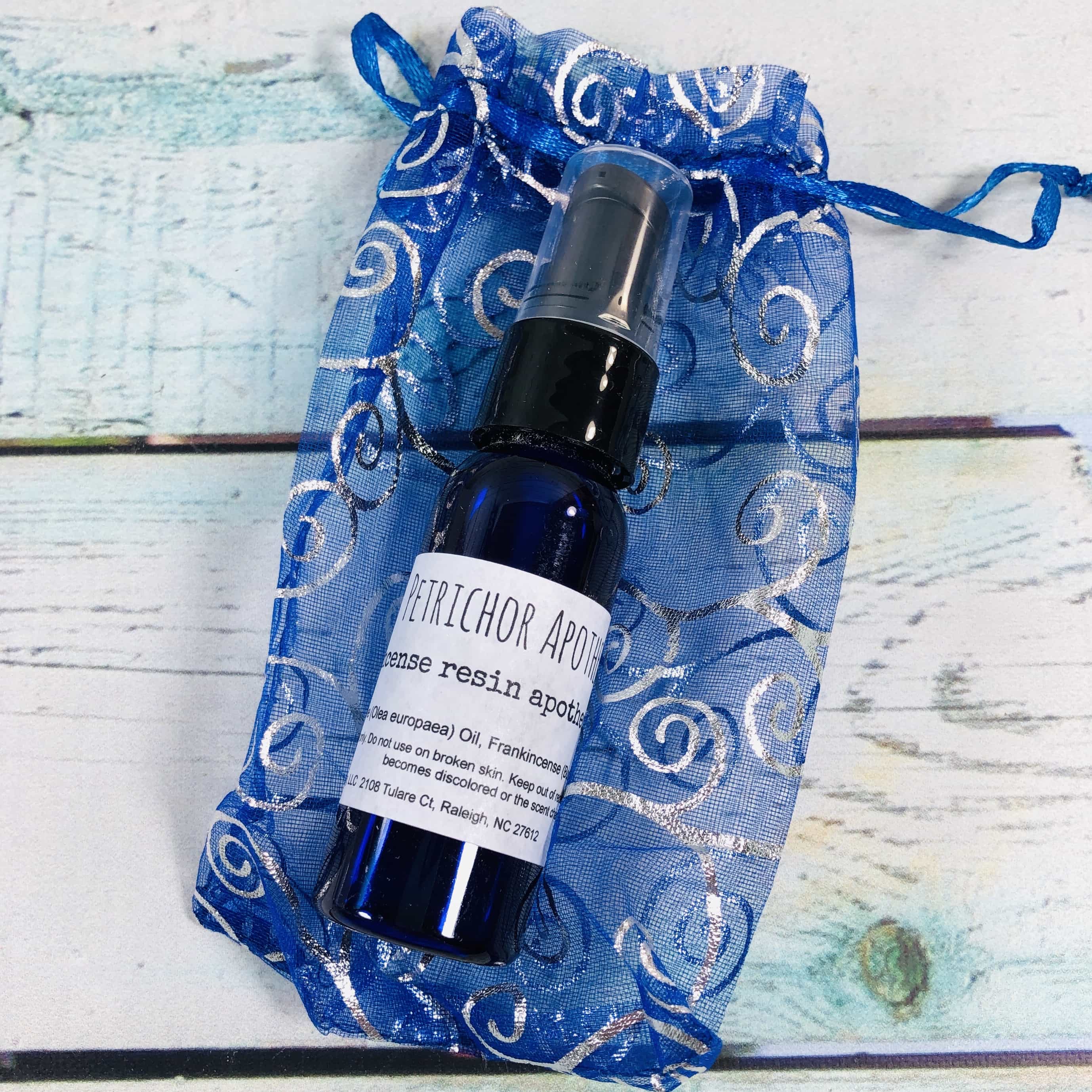 Petrichor Apothecary Frankincense Resin Apothecary Infusion ($10) At first I was hoping this was a fragrance that smelled like petrichor (the smell after it rains) but it turns out that is the brand name!
Inside the bottle is frankincense in a base of olive oil. You can use as is, or add some additional essential oils to create a body oil or use as a base for a fragrance roll on.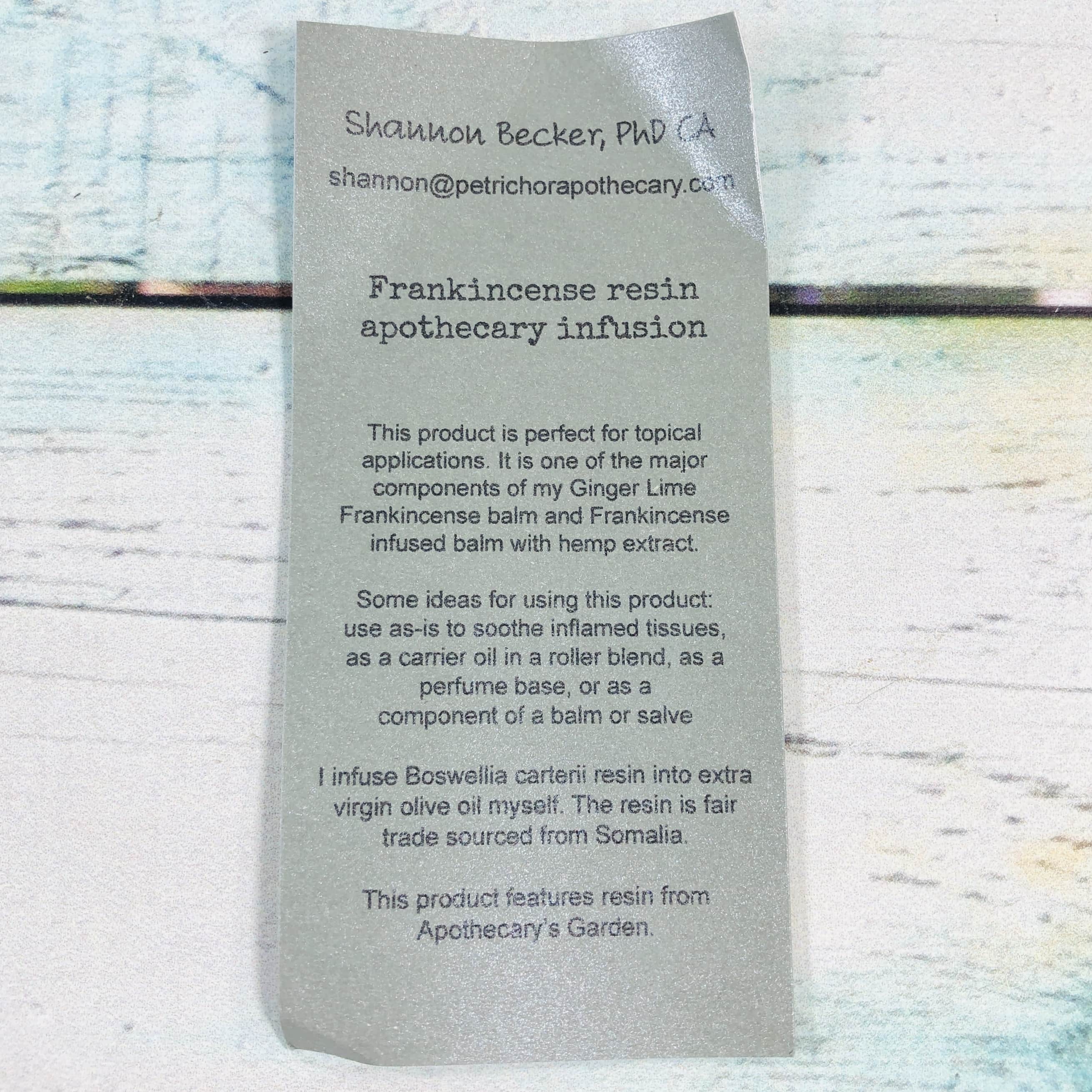 The card had a few ideas listed for its use.
Plus, there was a coupon code for free shipping.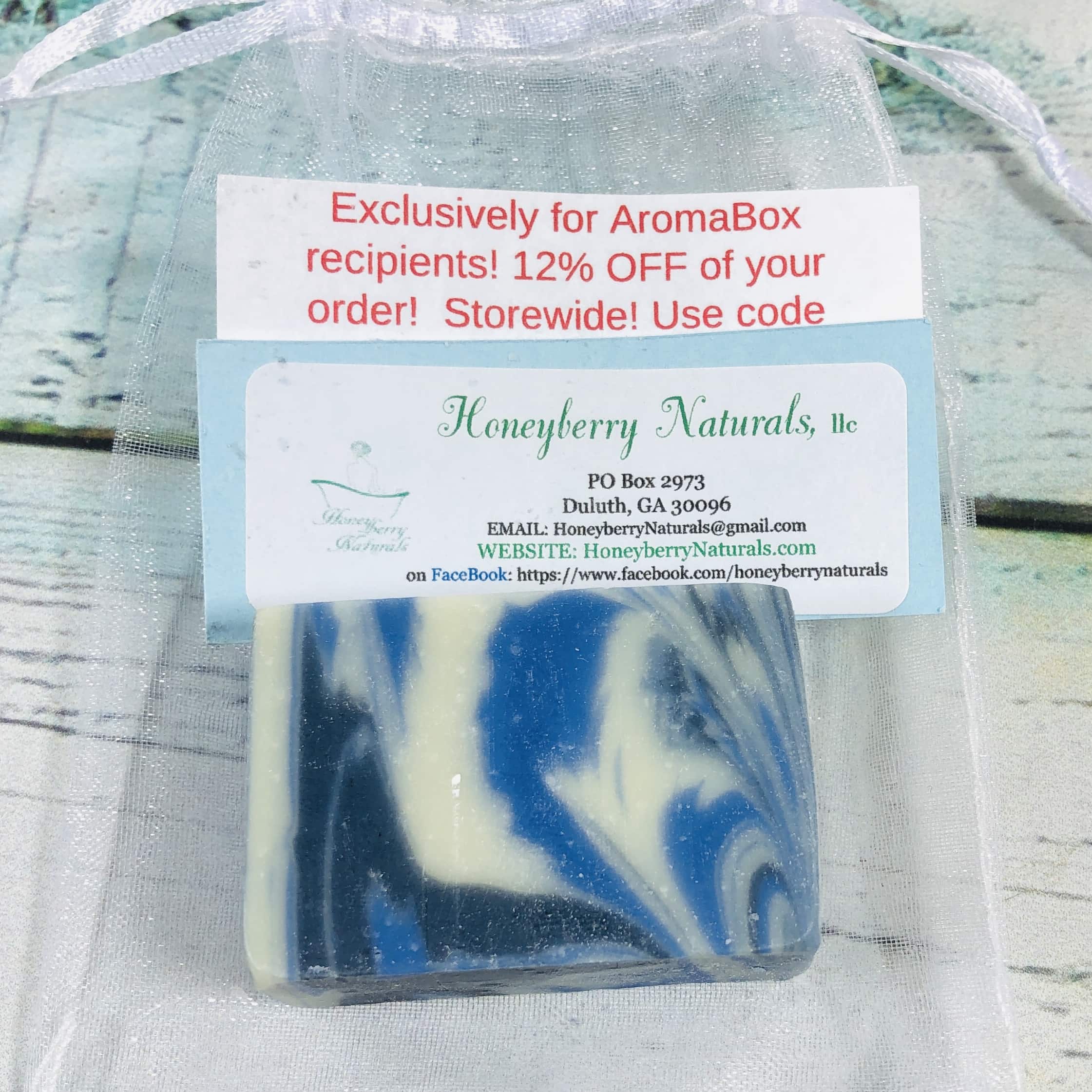 Honeyberry Naturals Tranquil Seas Soap ($9 for full-size, $1.50 value?) came with a coupon code for a shop purchase.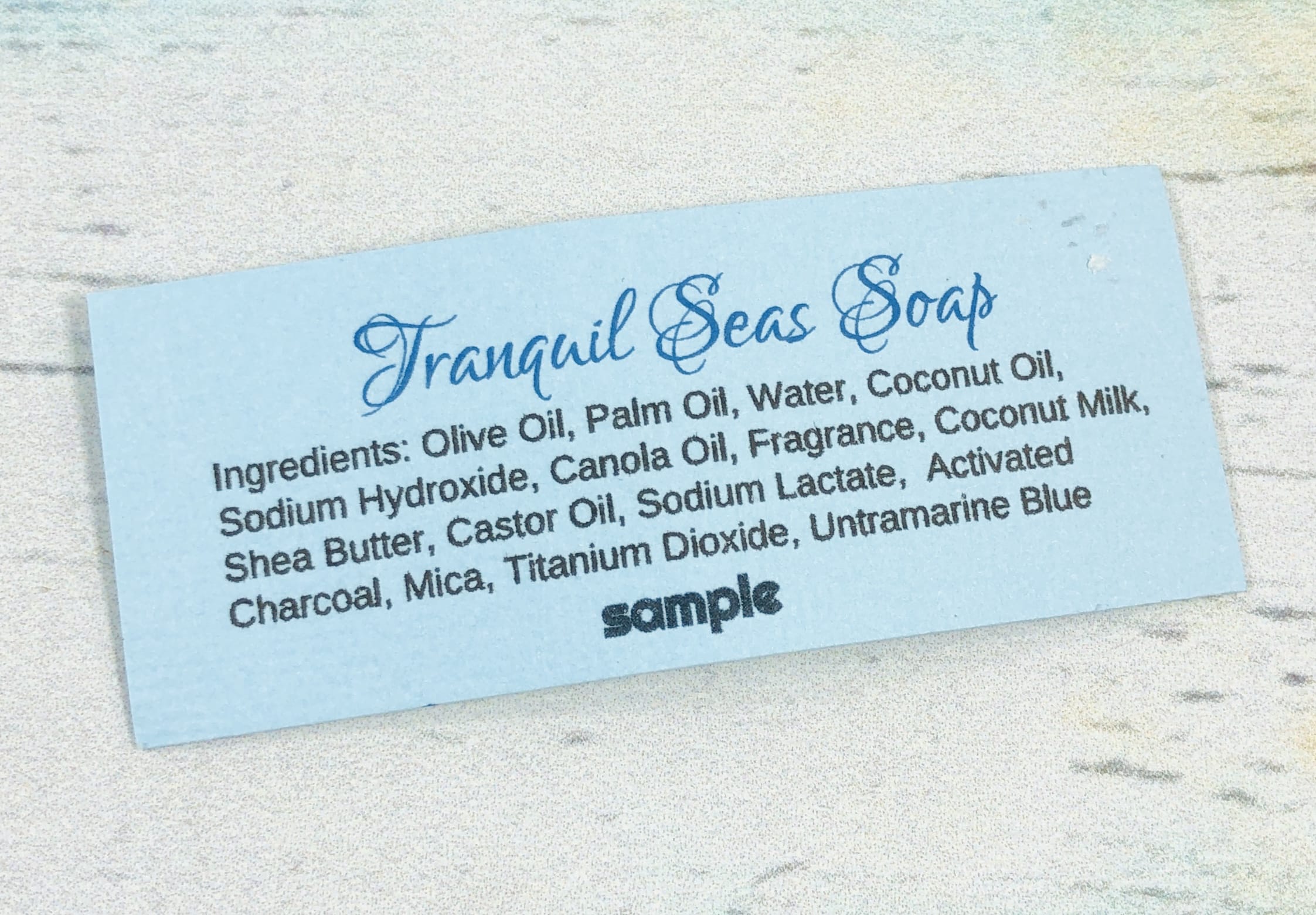 The ingredients were listed and this soap is vegan.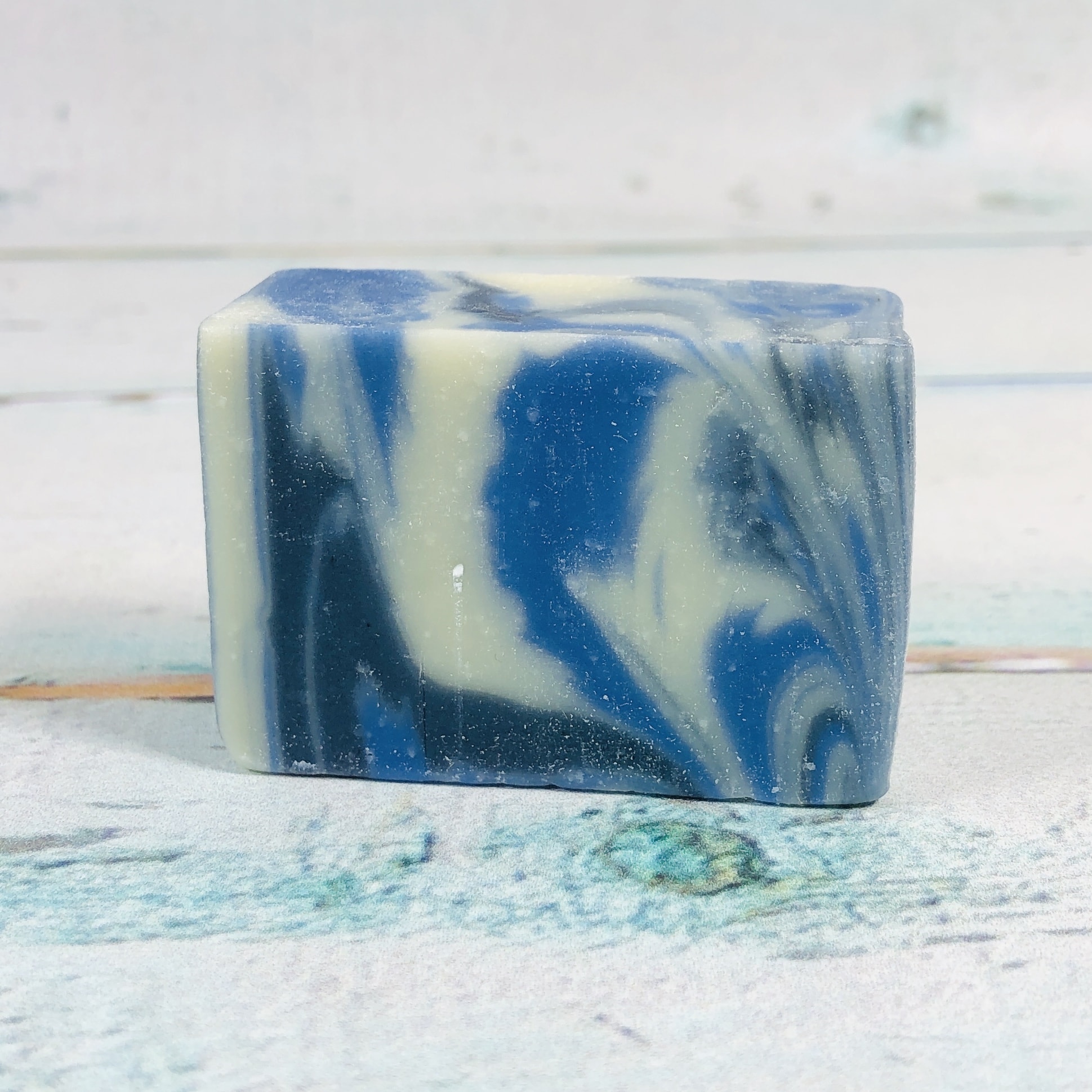 Look at how beautiful it is! It smelled very nice, I would say it is a unisex scent. It lathered very well and rinsed away easily.
From Nature With Love Fractionated Coconut Oil (76¢) Fractionated coconut oil has gone through a special process that leaves it in liquid form and with no scent, perfect for use as a carrier oil. The card that came along with the product had a discount code on the back.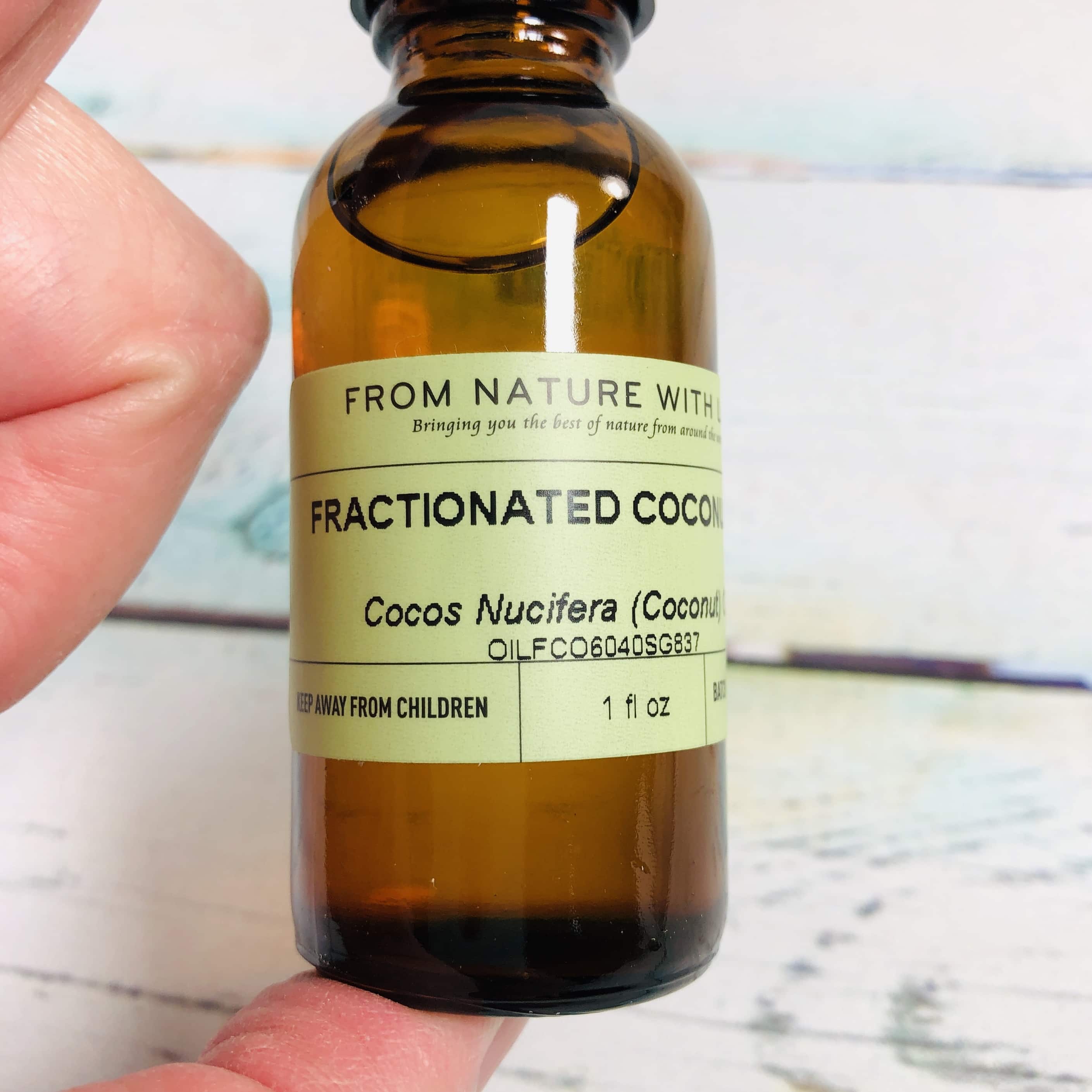 You can mix it with some of the scents included in this box and apply to the face or body.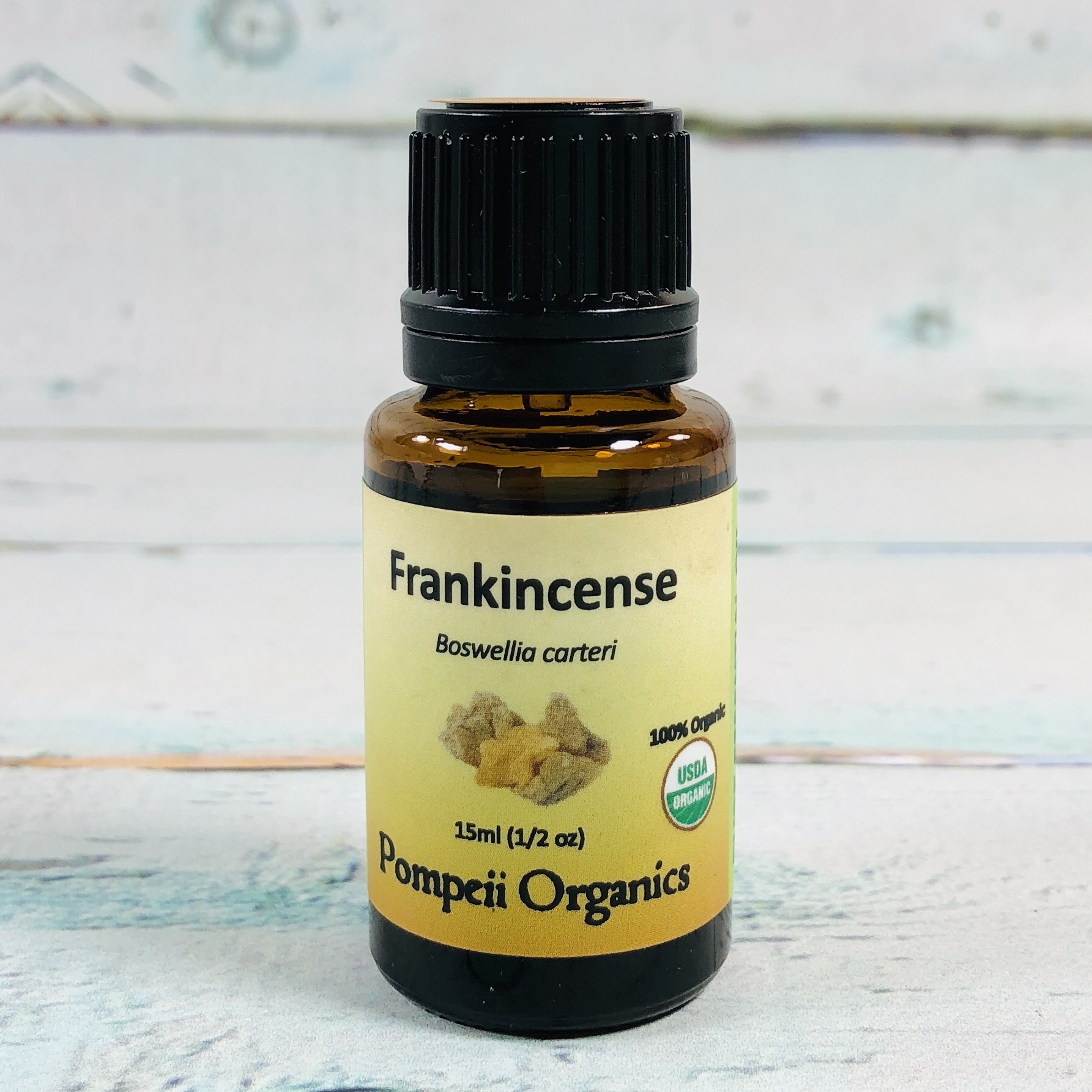 Pompeii Organics Frankincense Essential Oil ($35) Here is the star of this box, the ingredient that can be found in almost every product sent this month!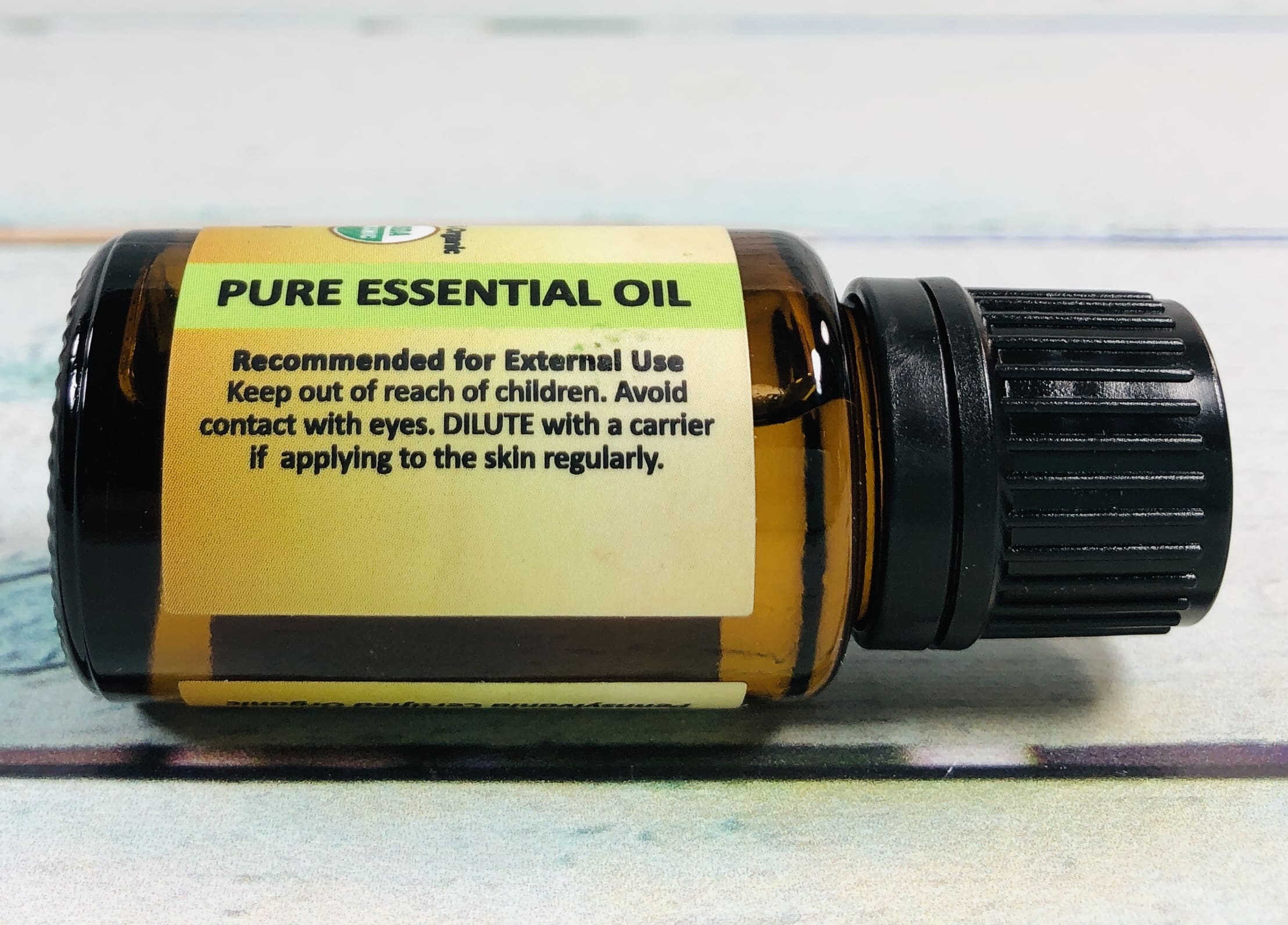 This product is pure frankincense, which comes from a resin that grows on a tree. Frankincense can be used many different ways, such as by diffusing or adding to a carrier oil (good thing we have one in this box!). You could add it to a roller with other scents for a natural perfume.
What a wonderfully curated box, I really enjoyed my very first AromaBox! I thought it was neat to see frankincense show up in most of the products, it is an interesting ingredient and I am happy to add it to my essential oil collection. I appreciate that there was a carrier oil so I could explore making my own products. I have burned the incense and diffused the essential oil blend. I love the lip balm, the holder is cute and convenient, and the scrub was amazing. Plus, the other products helped round out the experience, and I was super excited to try out all of the natural items like soap and cleanser. I was amazed to see that the box had a value of around $83! Some of the products were smaller but they didn't feel at all like filler, they added to the overall experience, and I can't say that about a lot of boxes. Overall, I was extremely pleased and I think the AromaGirls did a wonderful job!
Are you getting this box too?