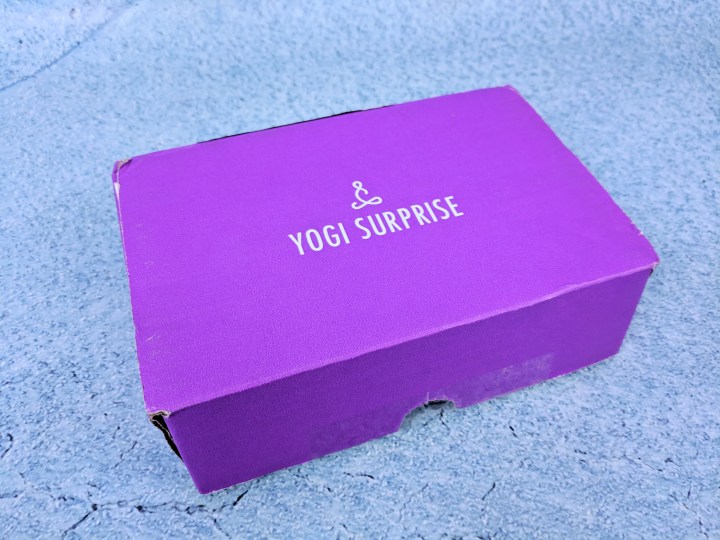 Yogi Surprise, in addition to its regular monthly lifestyle box, has a jewelry only subscription box. Every month you'll get handmade yoga-inspired jewelry pieces and 1 other item.
DEAL: Get 25% off your first box! Use coupon code HELLO25. OR Get 15% off every box for the life of your subscription with coupon code HELLOYOGI!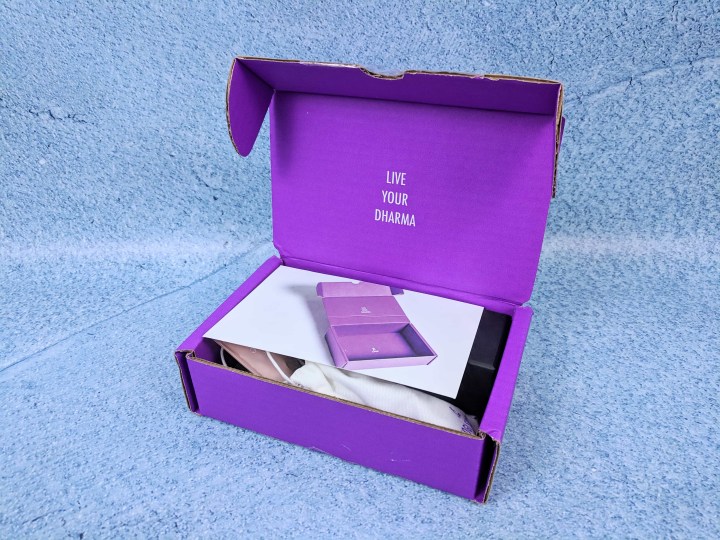 They changed the design of their box, it's now all purple! I love the new simple design.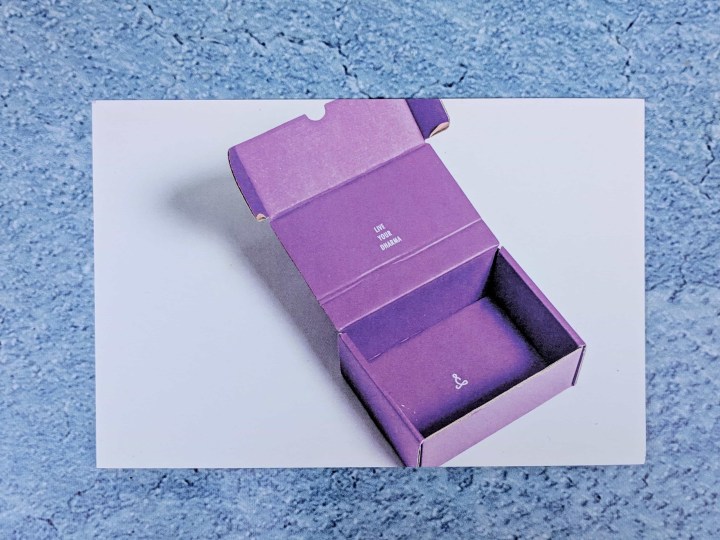 This month's theme is New Beginnings.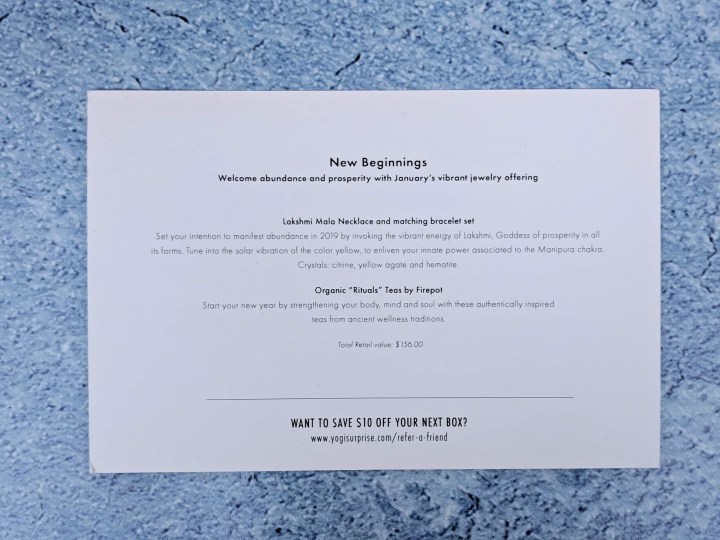 All the items are designed to welcome abundance and prosperity.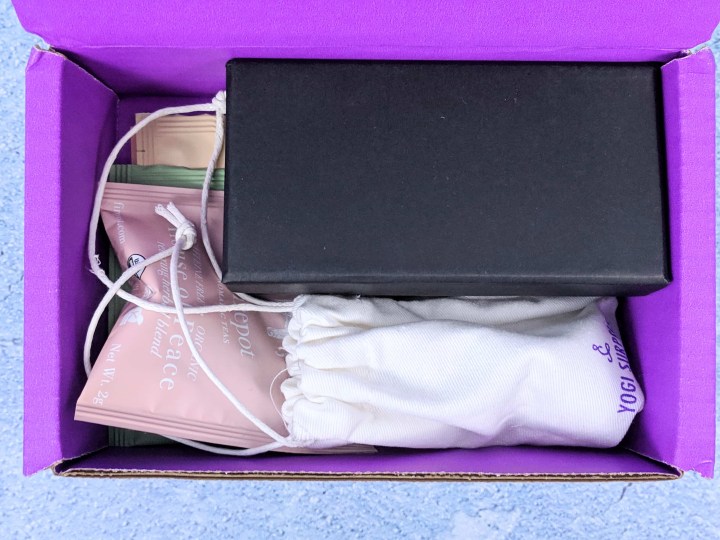 I really appreciate that recently they changed their packaging from wrapping the jewelry in plastic bags to cardboard boxes.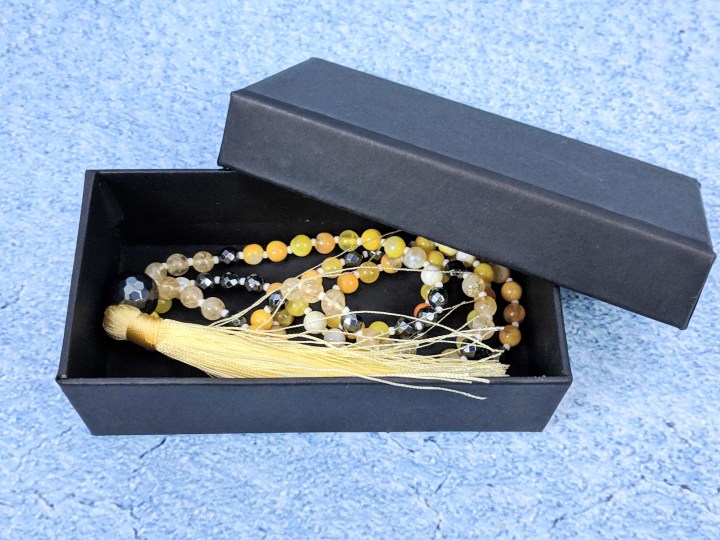 Lakshmi Mala Necklace and matching bracelet set. This month's set features gemstones I haven't seen in a while: citrine and yellow agate. Citrine is a stone strongly related to the Solar Plexus Chakra, the center of energy, and can help the creative process. Yellow Agate helps with self-confidence.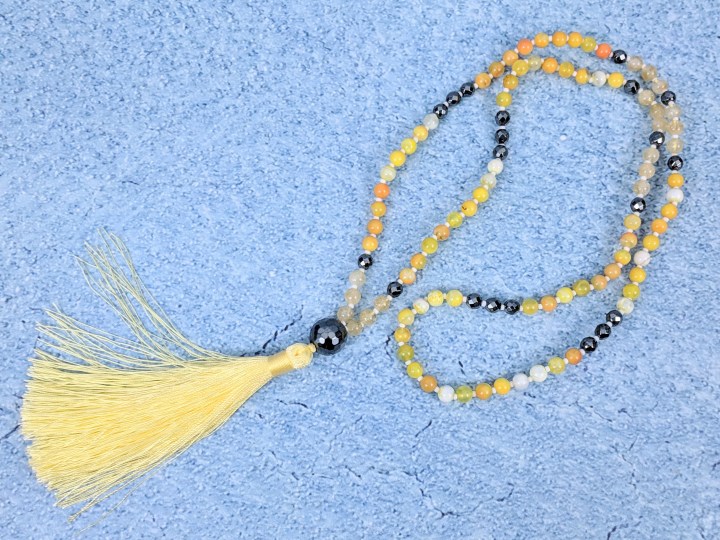 The Guru Bead of the mala necklace is a faceted hematite bead, and there's more of this grounding stone mixed in the necklace. The yellow tassel is so pretty!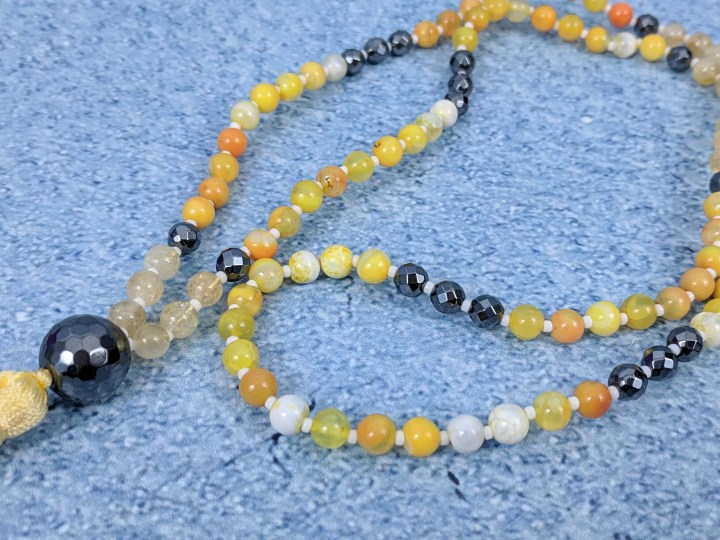 The citrine beads are the one that is translucent and look a bit like apple juice. The agate beads range from white, to orange with some yellow thrown in. This handmade necklace is not knotted. Instead, small white seed beads separate the main beads.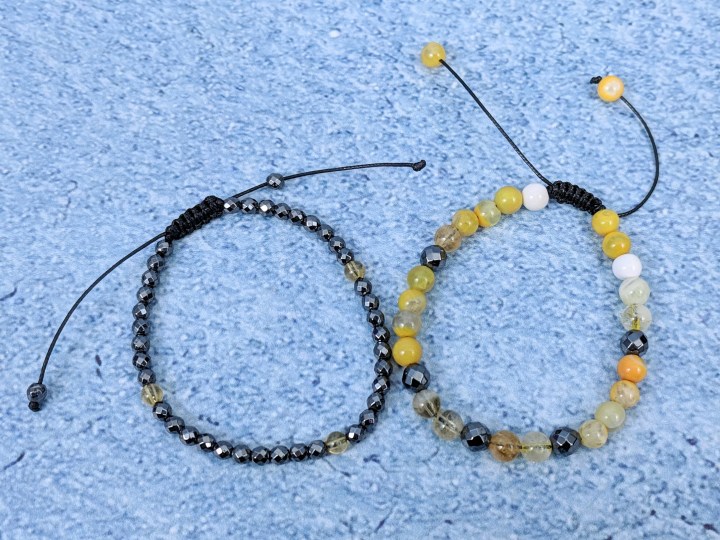 The matching bracelets can be worn together, or one at a time. I like how small the beads are as it doesn't look as chunky on my wrist.
I love love love adjustable bracelets made with waxed cotton. I don't have to worry about getting sweaty or removing them before a shower (I do, but it's ok if I forget). I was afraid to wear the last couple of metal-based bracelet we had in previous boxes in fear they would tarnish.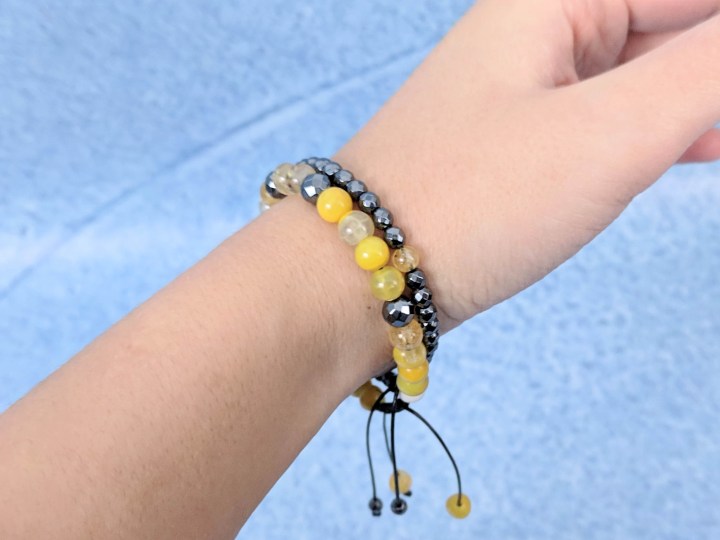 They look great on my tiny wrist. I really really like this set!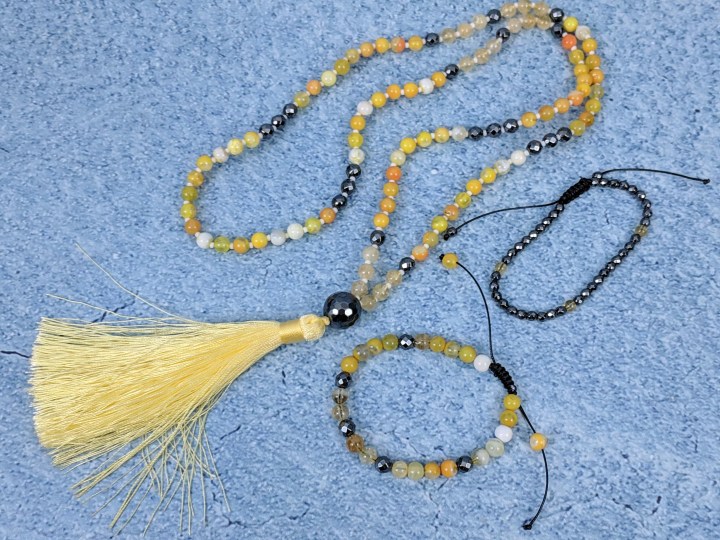 Such a vibrant, happy and sunny set! Perfect for this time of the year when we might feel a bit low on energy, with the lack of sun and all!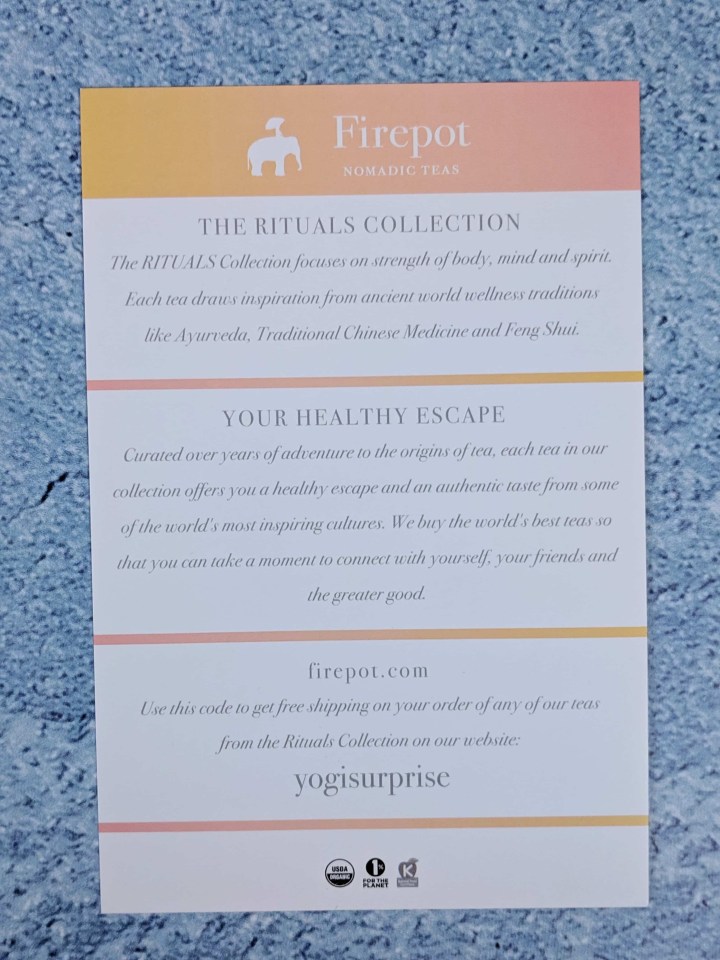 Organic "Rituals" Teas by Firepot. Our treat this month is a set of three teas to help us strengthen our body, mind, and soul.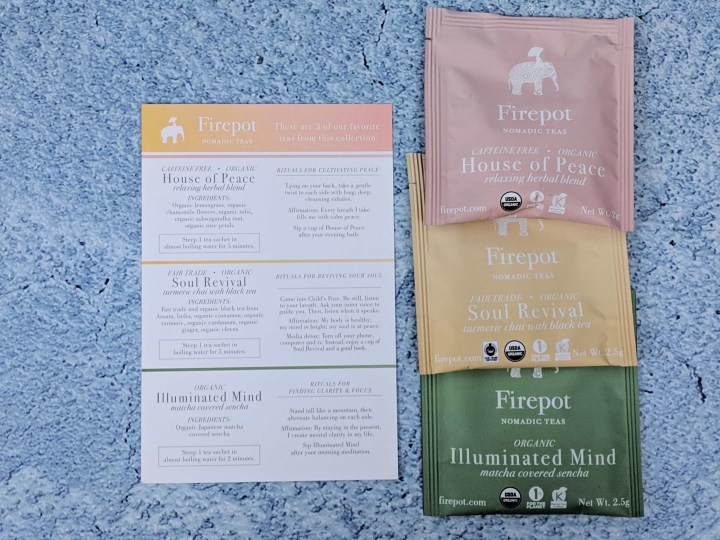 Each tea comes with "Rituals" to really enjoy each tea. I really like this idea of a different ritual for different tea and not just "I'll meditate, then drink tea, then go to bed"!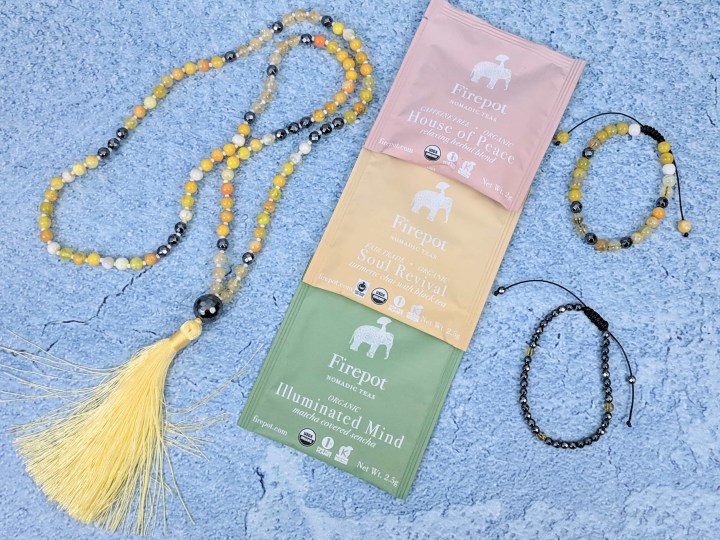 I really really love this month's Jewelry Box! I was surprised to have yellow stones as it's not something I've seen often in a subscription box. I love the matching bracelet and that we got back to the waxed cord adjustable kind of bracelet. I think it's easier to wear and adjust, and looks great!
What did you think of this month's Yogi Surprise Jewelry box?