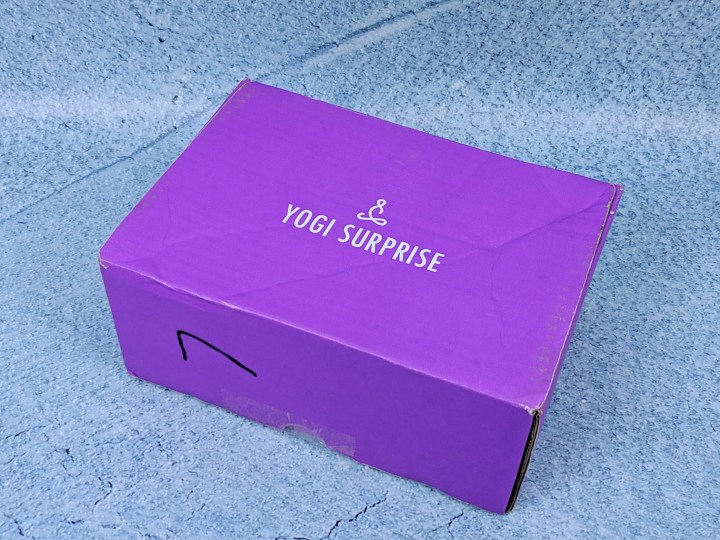 Yogi Surprise is a yoga-inspired monthly subscription box designed to complement your way of living. Each monthly box contains 6-8 products picked by experienced yogis to complement your yoga practice and your life! It's like getting a care package every month! I'm always super excited to see this lovely purple package in my mailbox, it's both zen and happy looking!
LIMITED TIME Deal: Get a FREE extra box with all Yogi Surprise Lifestyle Subscriptions & all Yogi Surprise Jewelry Subscriptions when you use coupon code HOLIDAYGIFT!
DEAL: Get 25% off your first box! Use coupon code HELLO25. OR Get 15% off every box for the life of your subscription with coupon code HELLOYOGI!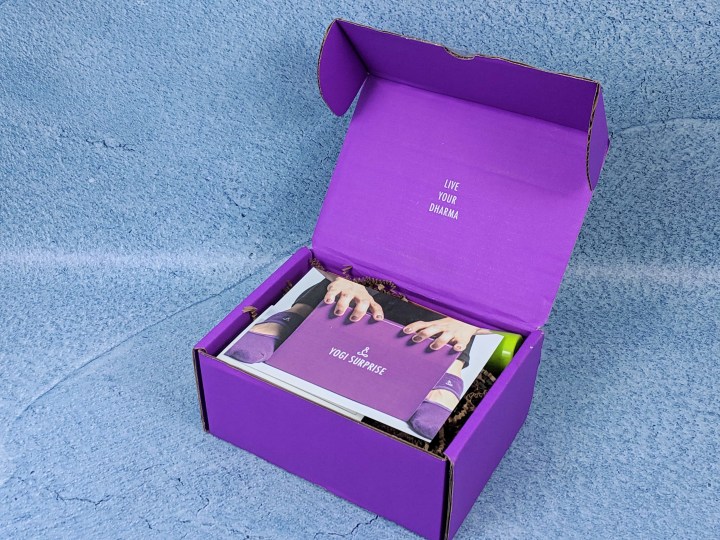 DEAL: Get 25% off your first box! Use coupon code HELLO25.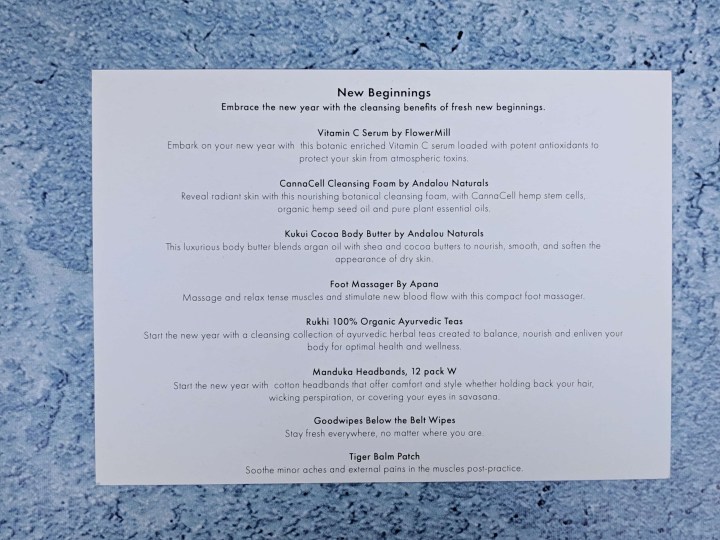 This month is about New Beginnings.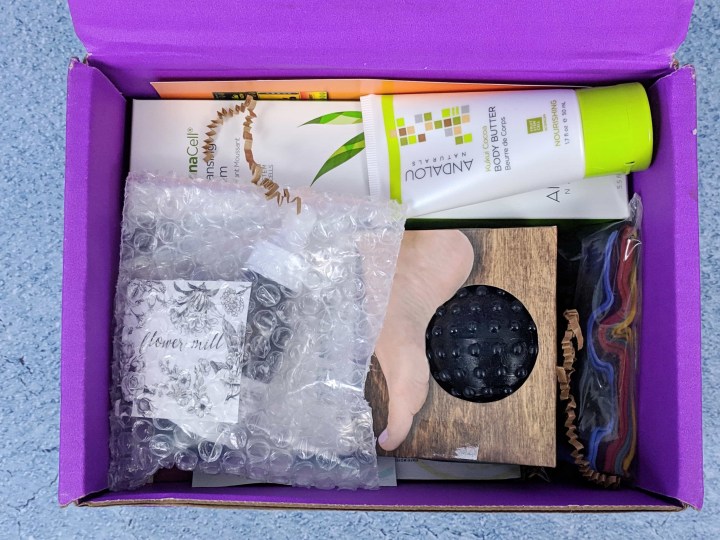 Everything is packaged under little strips of brown paper to keep everything safe in transit.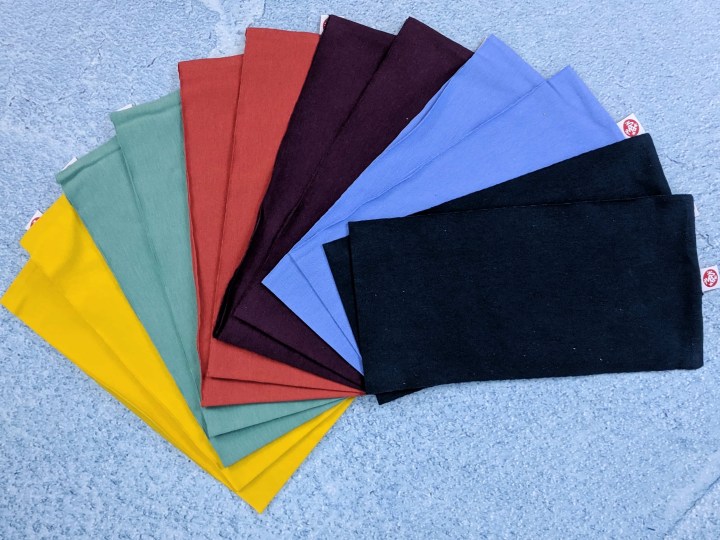 Manduka Headbands, 12 pack (color will vary). This subscription has given us a lot of different headbands, so I was not excited when I saw this month's spoilers.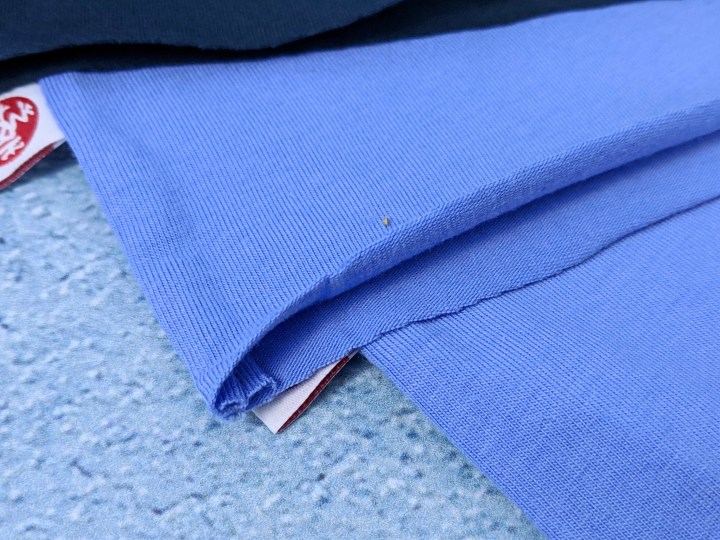 They are made with 94% cotton and 6% lycra, giving them a nice stretch that will not be too tight on your head, but it also has a soft feeling. You can use them around your head to keep the sweat away, or wrapped around your wrist to wipe up the sweat while working out without needing to carry a towel with you.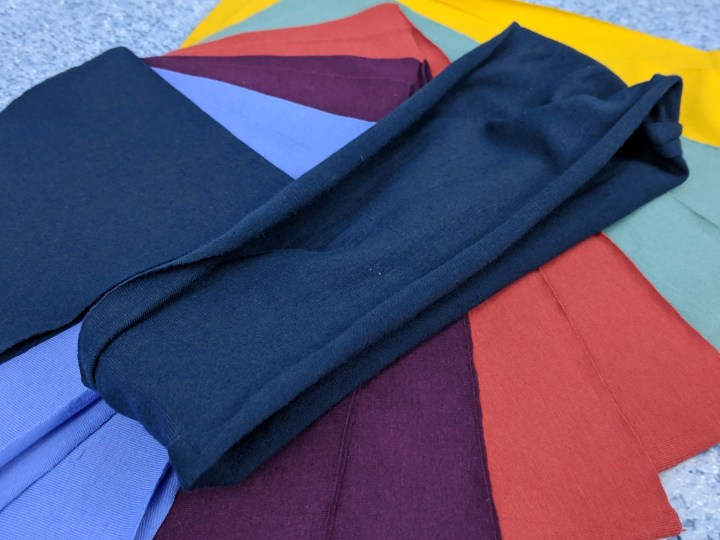 As soon as I stretched it, the sides started rolling up.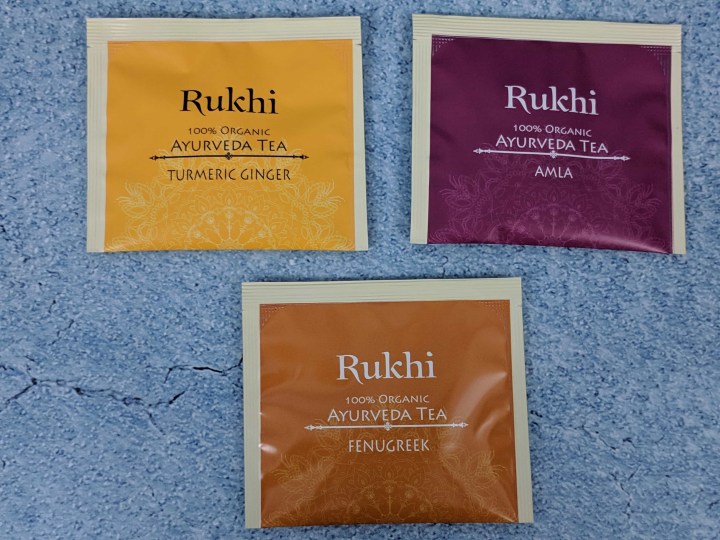 Rukhi 100% Organic Ayurvedic Teas. We received three teas : Turmeric Ginger, Amla and Fenugreek to help us start the new year healthy and balanced.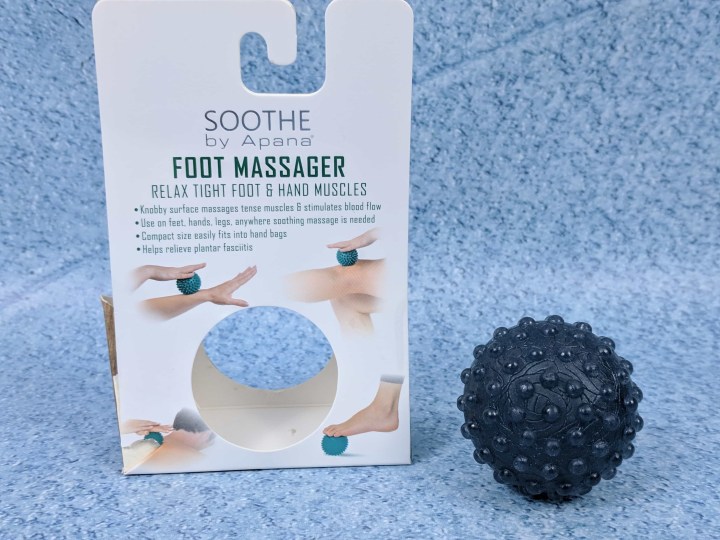 Soothe by Apana Foot Massager. This little ball is like magic for your feet. It's not comfortable, but it really helps to relax the muscles. I already had one that I keep under my desk to massage my feet throughout the day, so this one will hang out in the living room for arm massages while watching tv.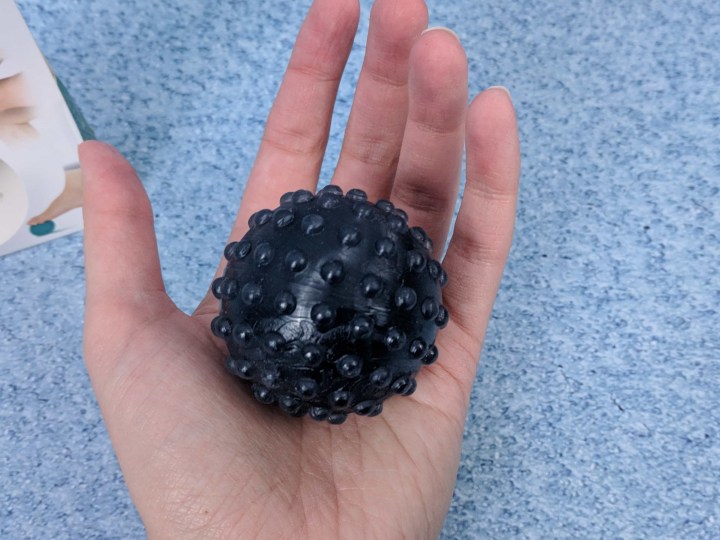 It fits in the palm of the hand, so it's easy to carry it with me when I travel.
Vitamin C Serum by FlowerMill. This Vitamin serum can be used to restore skin's balance, texture and natural radiance. Vitamin C helps to reduce dark spots and fine lines, revealing smoother, glowing skin. I'm already using a vitamin C lotion, and I'm looking forward to see how my skin will react to a serum instead. Even though there's an essential oils blend in this serum, it's not overly fragrant so it won't clash with other skincare products.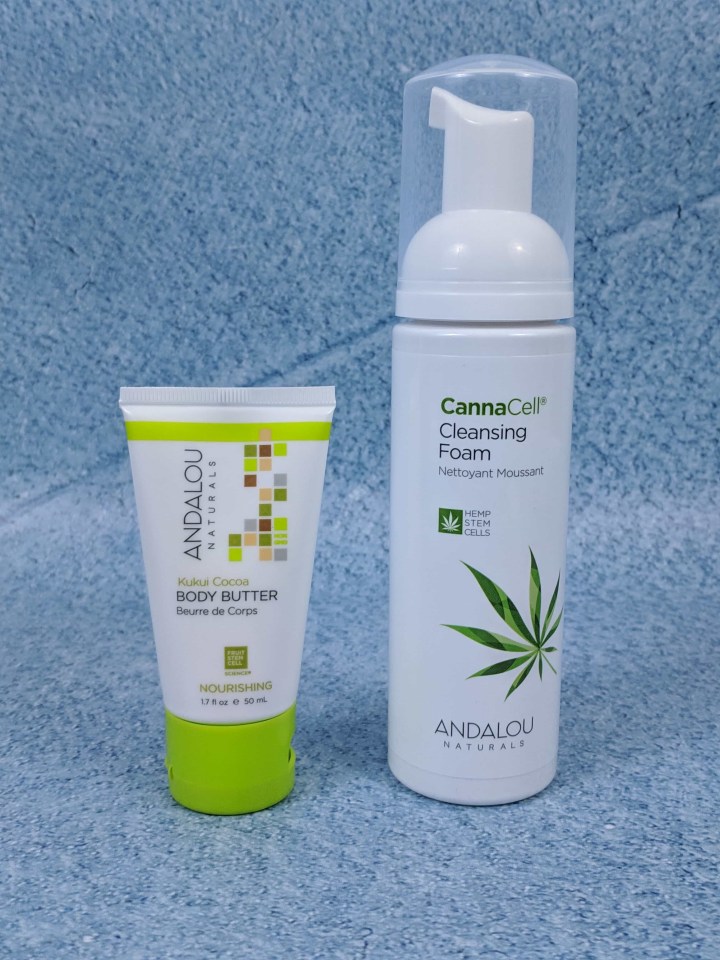 Andalou Naturals Body Butter. I love my 1000 Roses Body lotion from Andalou, so I'm excited to try this Kikui Cocoa butter. And I like that it's in a travel friendly format. It has aloe juice, shea butter, coffee, and a couple of good for the skin vitamins.
Andalou Naturals Cleansing Foam. This cleansing foam is made with hemp seed oil to help protect the skin from pollution, and it's packed with vitamins, nutrients and proteins to help the skin. Of course, being a cleanser, nothing will stick to your skin that long. I haven't tried it yet, and hopefully it won't be to drying.
I like the texture of the body butter.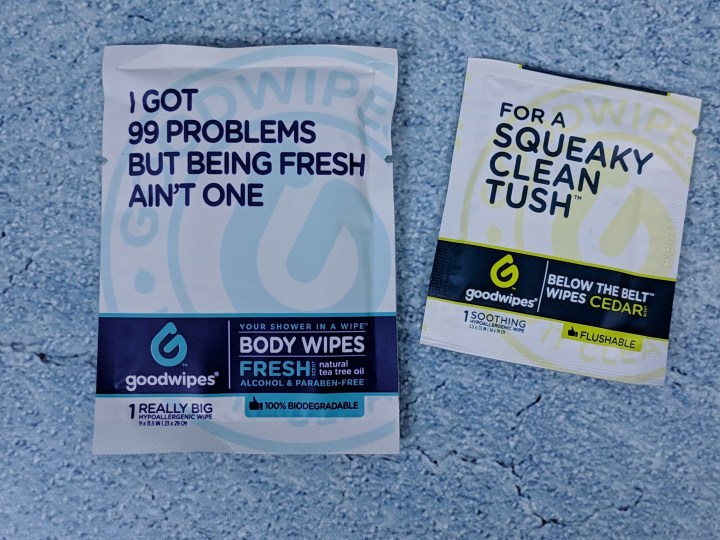 Goodwipes Below the Belt Wipes. These wipes are biodegradable, and the below the belt wipes cedar is also flushable. The biggest one is a "shower" wipes, while the small one is a "below the belt" wipes to feel fresh in any circumstance.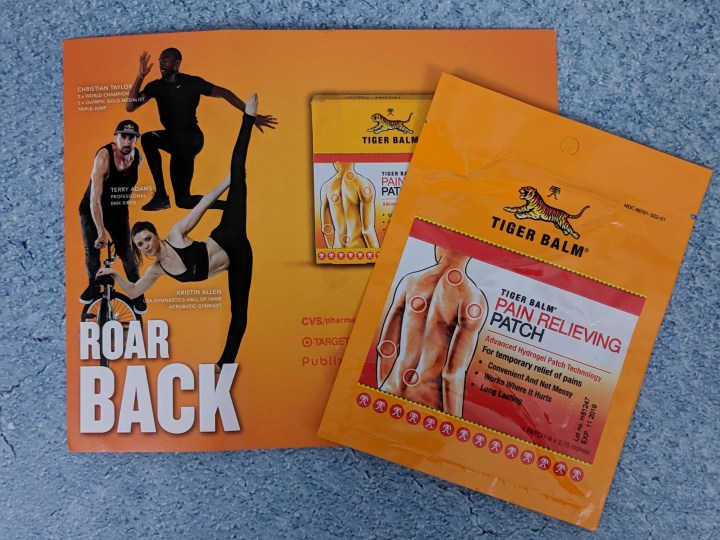 Tiger Balm Pain Relieving Patch. I love Tiger Balm to relieve my tension headaches and the odd neck and back pain. I really don't like the smell (eucalyptus), but it works. I've never tried the patches, but I can see how they are convenient and I'm sure they work the same as the ointment.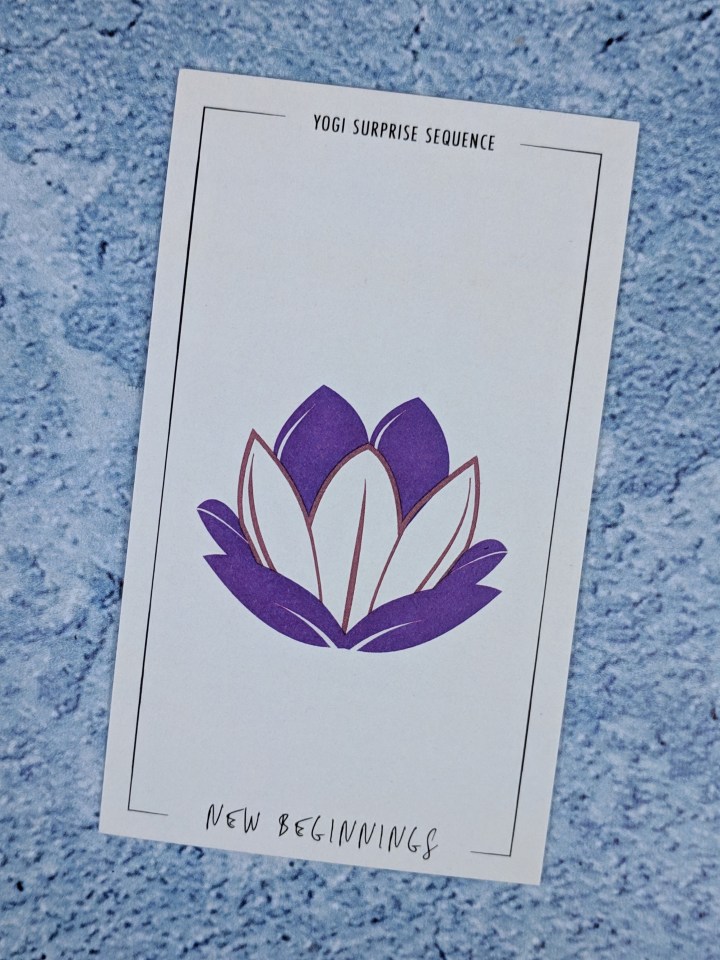 Yogi Surprise Sequence. I love my Yogi Surprise Sequence!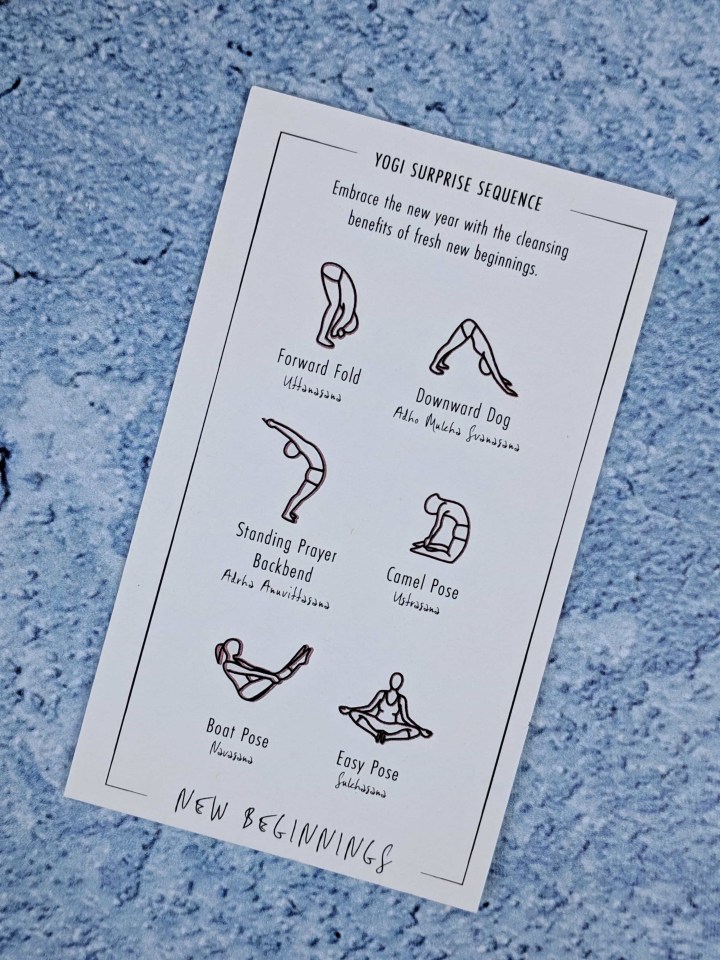 This sequence is to celebrate New Beginnings. Looking at it, I find the sequence a bit awkward, but I'm sure I'll make it work. I see this sequence clockwise.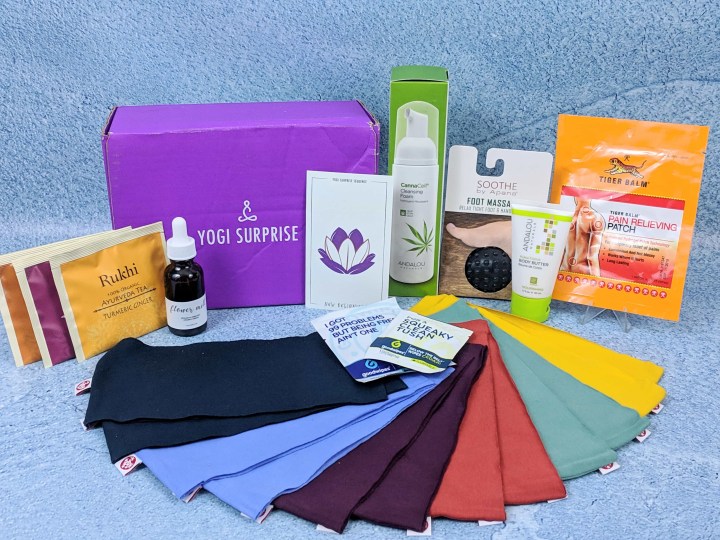 I'm not sure how I feel about this month's box. I like the skincare, but I wish we would have gotten more than just samples of the tea, the wipes or the Tiger Balm patches. With all the other items, they feel more like bonuses than actual items.
Are you a Yogi Surprise subscriber? What did you think of the box?