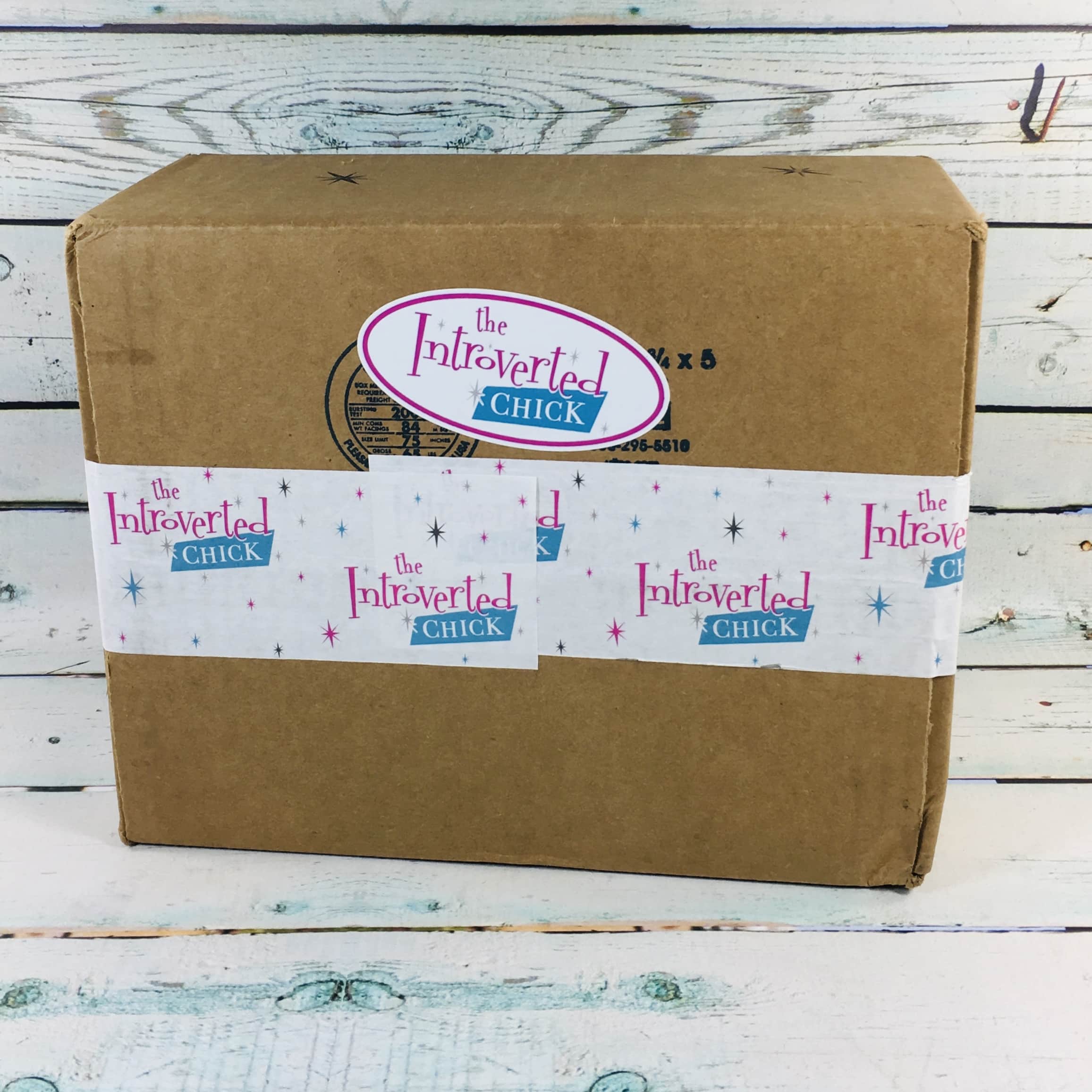 The Introverted Chick is a monthly subscription box for those of us who may be a little more inclined to stay home and keep cozy rather than go out and interact with others. Items sent will include fun and practical items to make Introverted Women smile and may offer some attitude too. The Introverted Chick is $39.99 a month and a portion of proceeds are donated to charitable causes.
Fun gifts and neat finds…accessories, home goods, jewelry, treats, tech tools, stationery supplies, and MORE!
Each box includes 5-7 cool, interesting, usable items.
Beautifully and thoughtfully created – makes the perfect gift!
DEAL: Save 10% on your first purchase with coupon code HELLO10.
I found a thank you note on top!
My items were covered in tissue paper.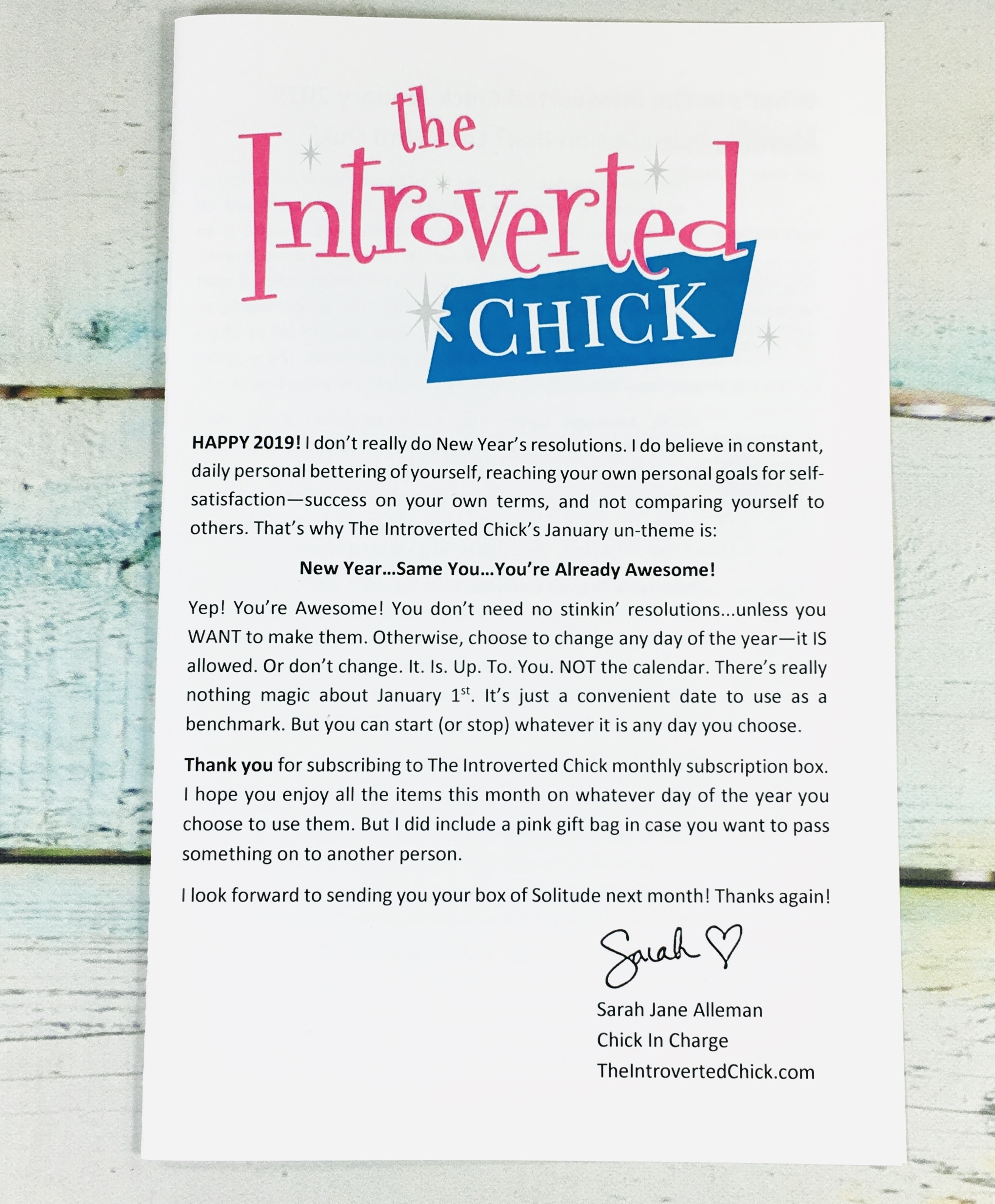 I found a brochure with all of the products and their makers listed inside.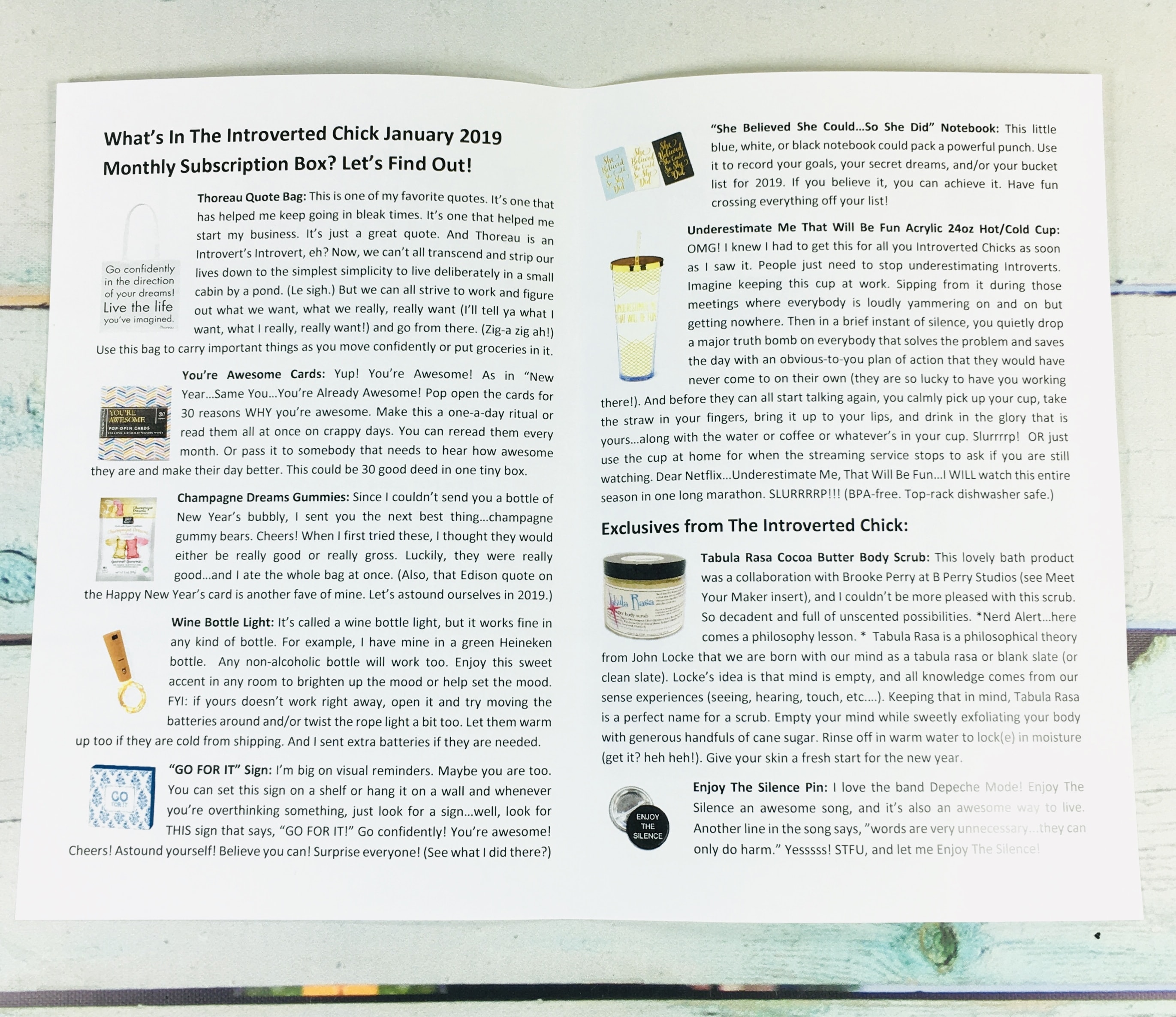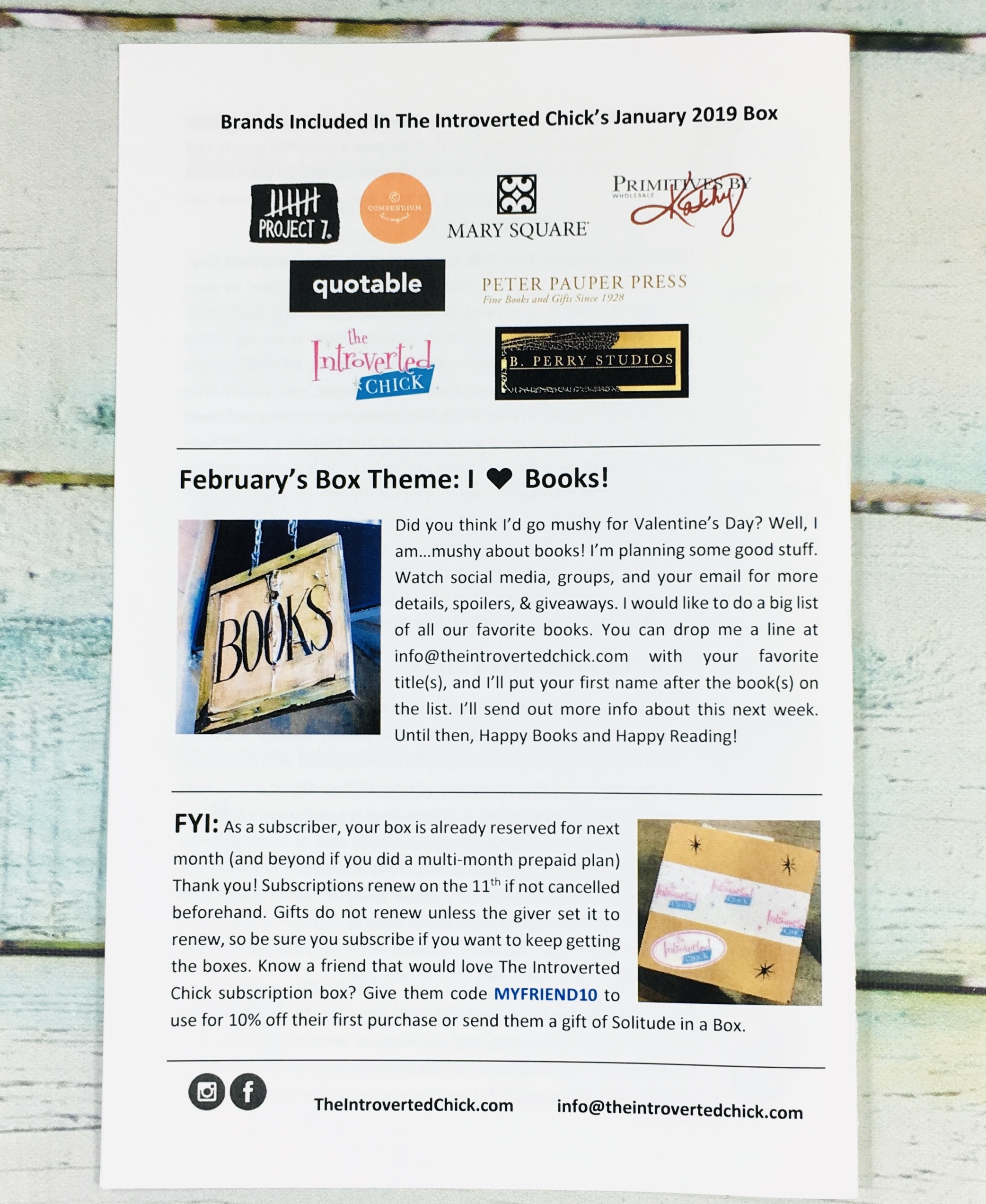 The back of the brochure gave a sneak peek of February's theme: I ❤ Books!
One more insert about one of the featured artisans from this month's box.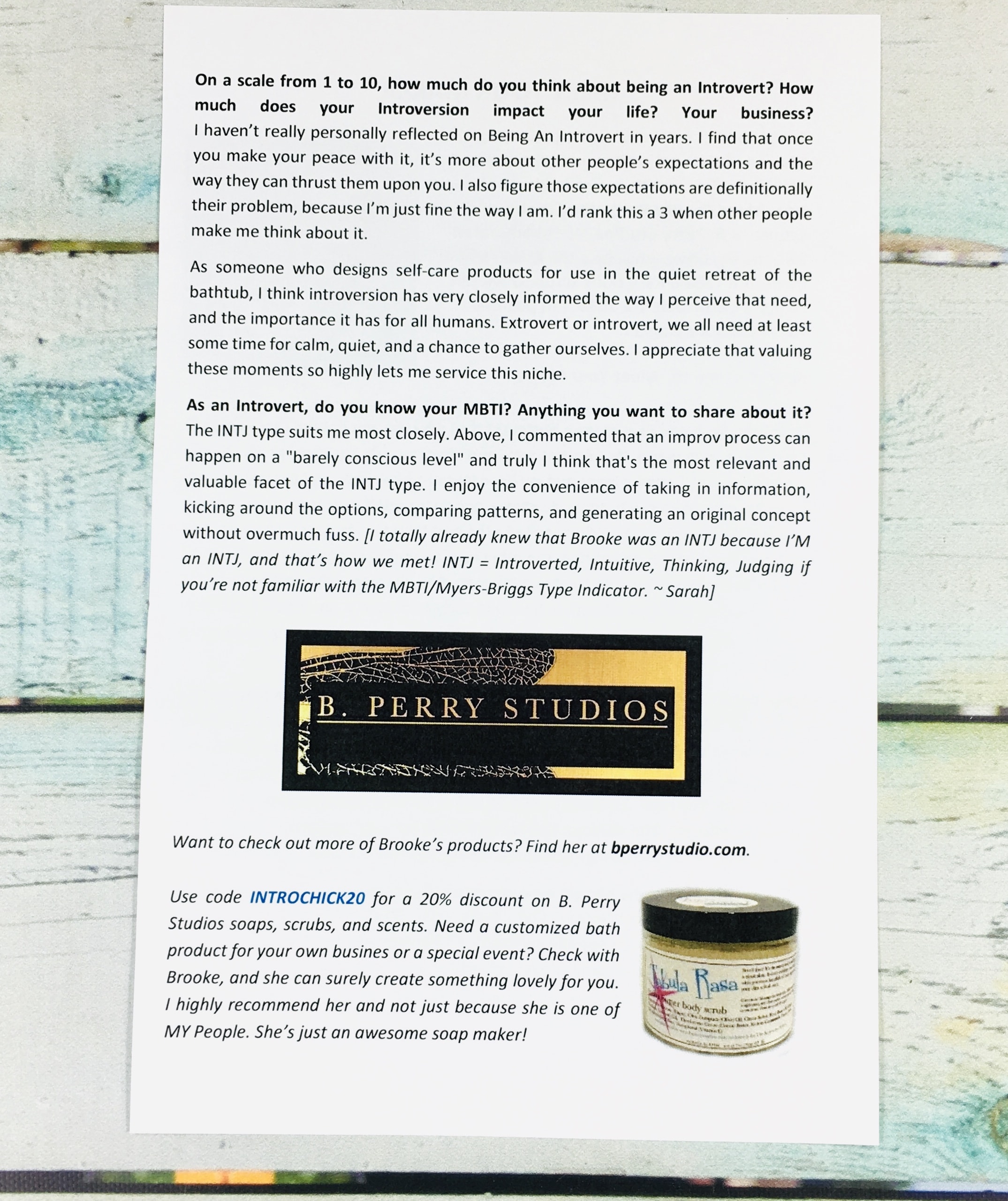 There was a coupon code for this particular brand, and believe me, the product they included was totally awesome!
A couple of business cards and a calendar are the last paper items. Now on to the rest of the box!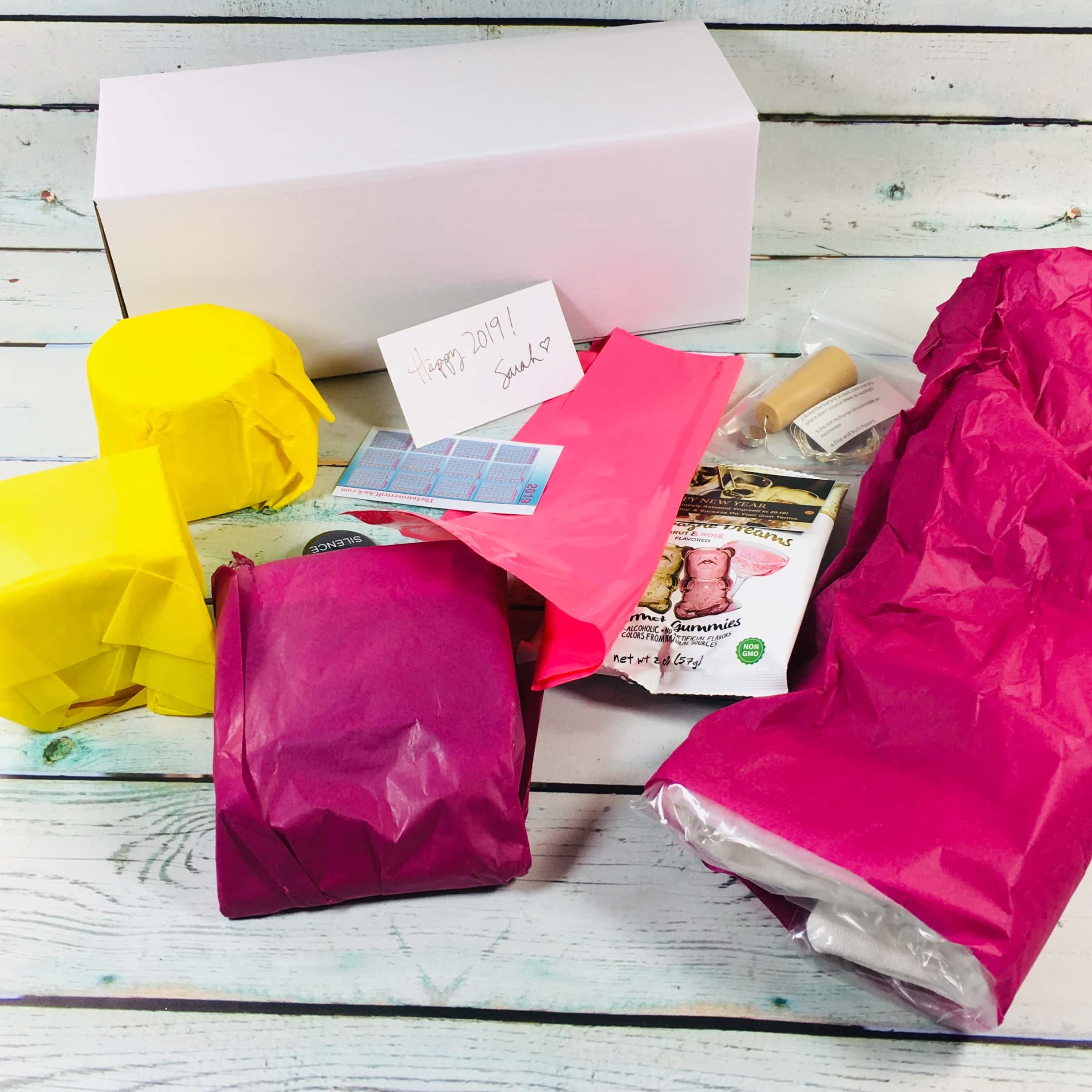 Some of the items were wrapped separately, which makes it feel a little like opening a gift.
Everything in the box!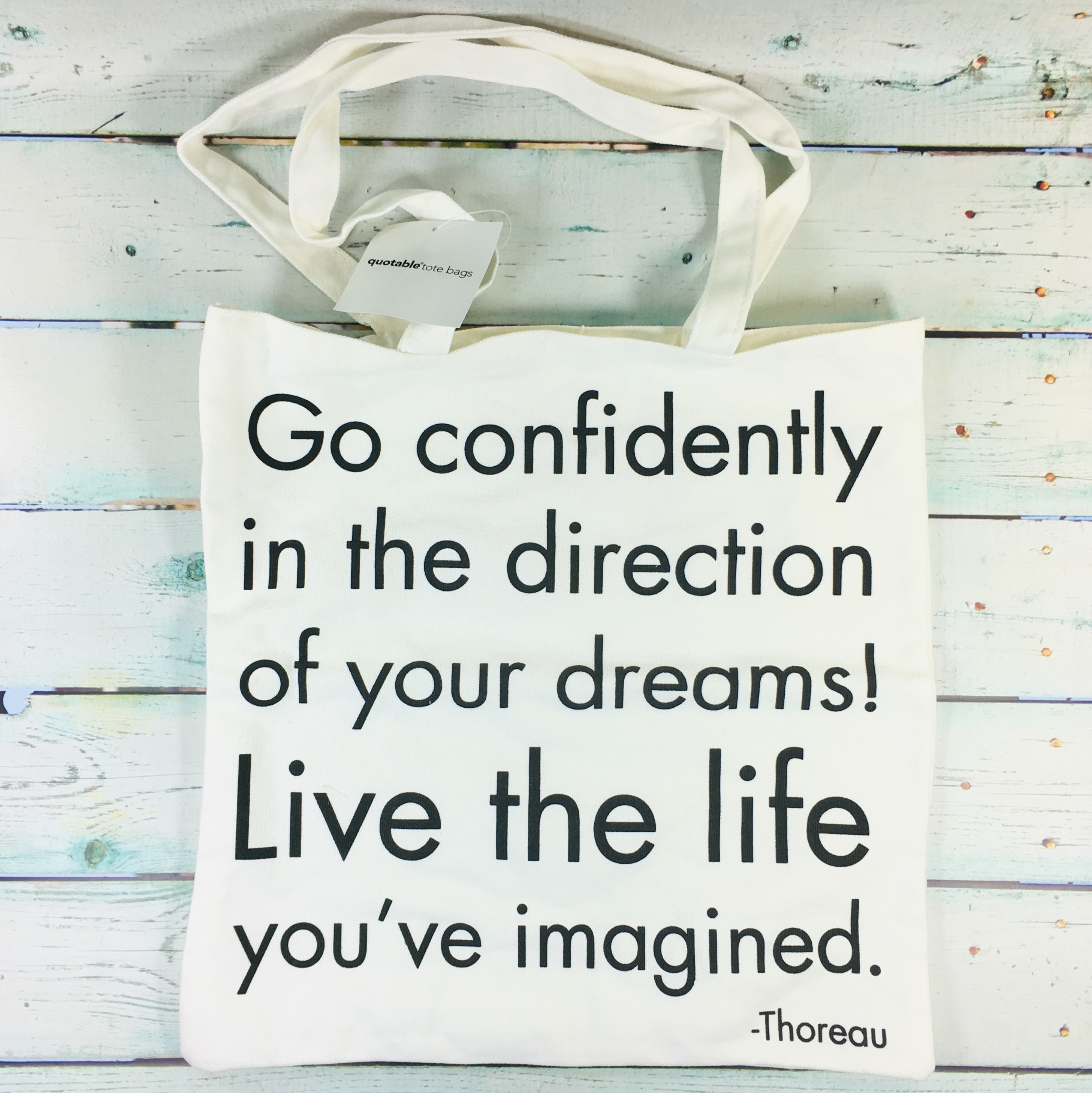 Go Confidently Quotable Tote Bag ($32) is a cotton canvas tote bag featuring a quote from Thoreau. It is a generously sized 14″ x 14″ and can be used to carry groceries or in my case, library books.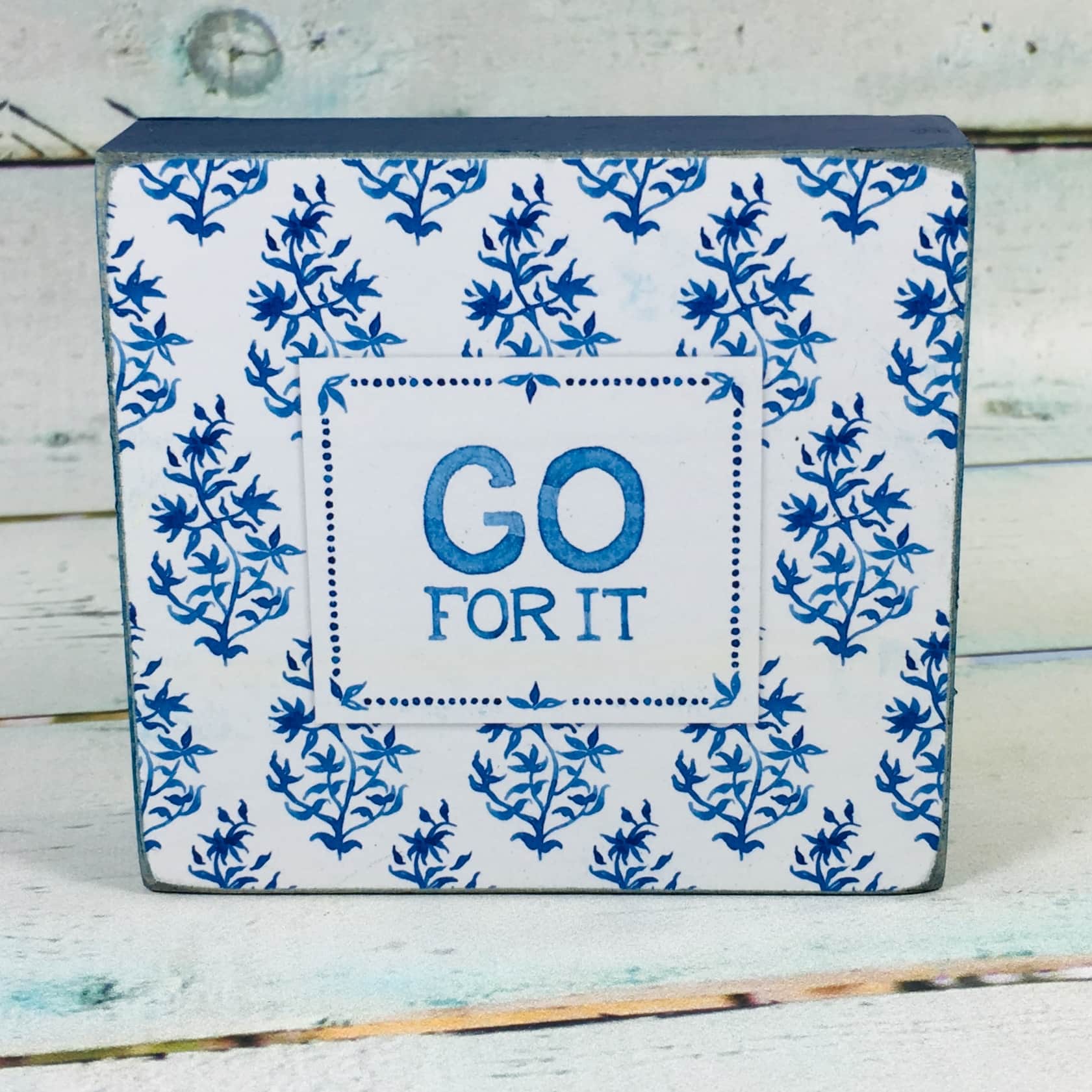 Primatives by Kathy Block Sign ($7.94) I received two magnets from this maker last month and now I have a sign to go with them. I like the print, and it can either be placed on a wall or stand freely on a desk or shelf. It measures 3.75″ x 3.5″.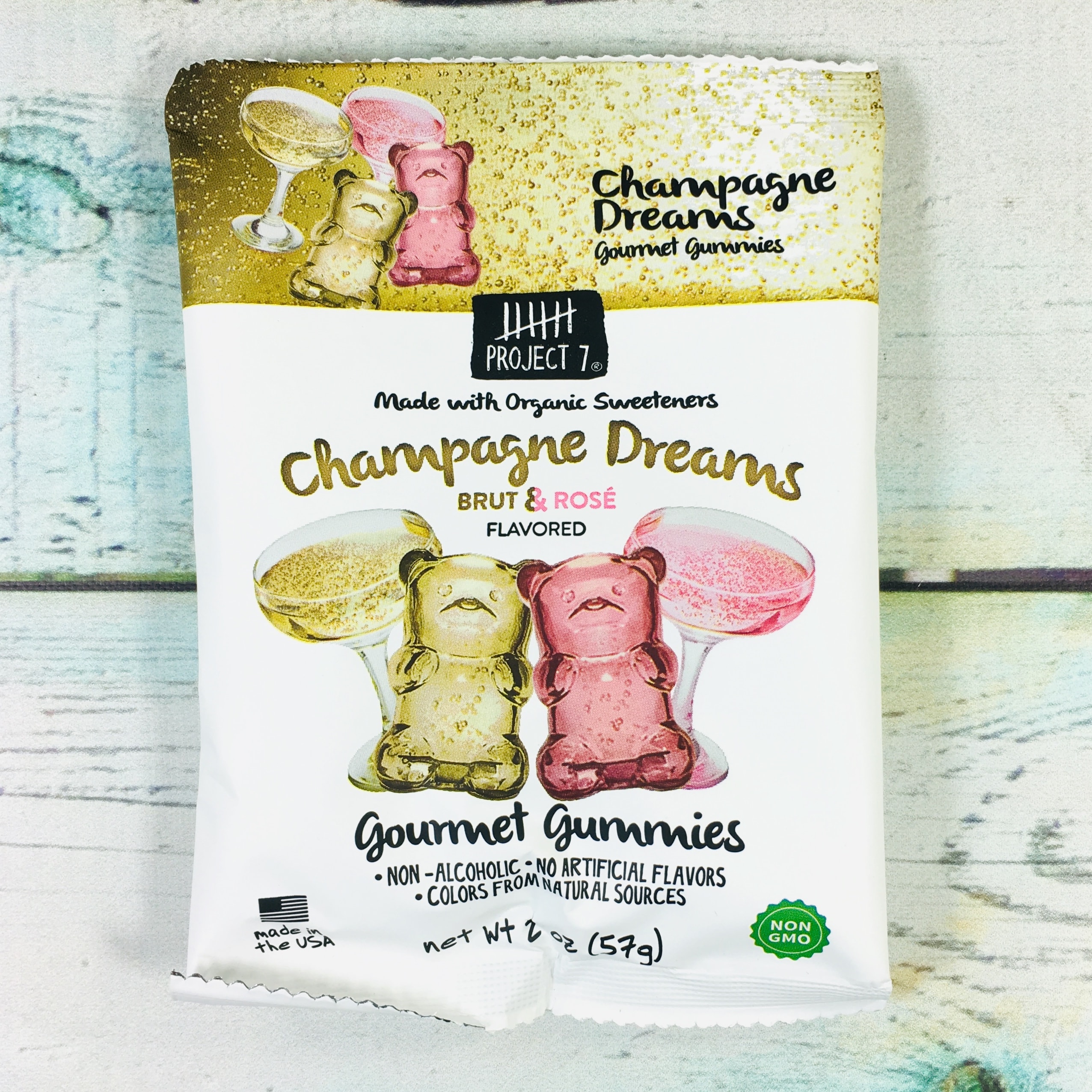 Project 7 Champagne Dreams Gourmet Gummies ($6.99) The Introverted Chick couldn't send a glass of bubbly so she sent these champagne-inspired treats instead!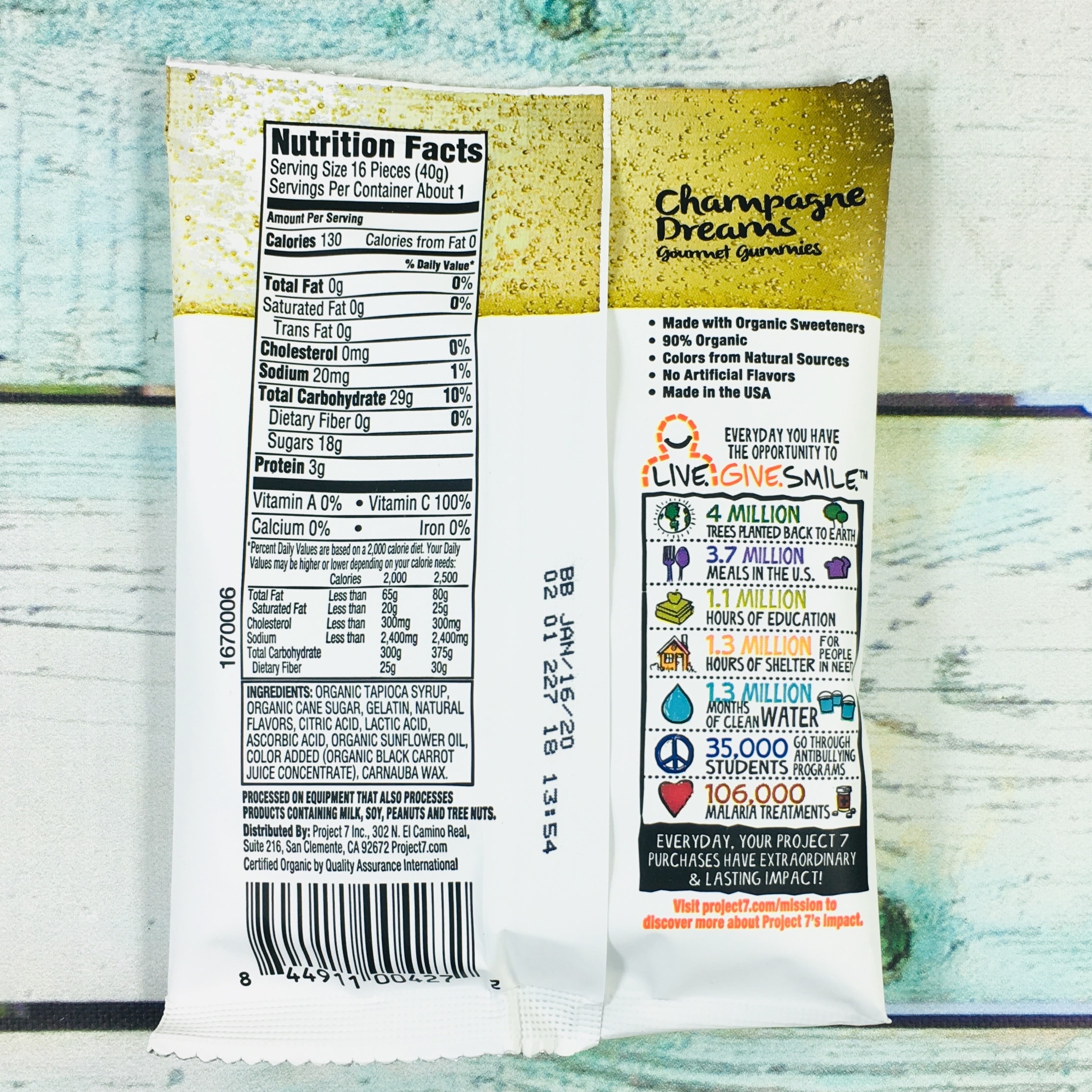 I appreciate that the colors come from vegetables but please don't share with your vegan or vegetarian friends since they do have gelatin in the ingredients.
They taste pretty good and are not as sour as the ones typically meant for kids. They don't really taste like alcohol, just fruity but not a fruit I could name. Plus, no hangover!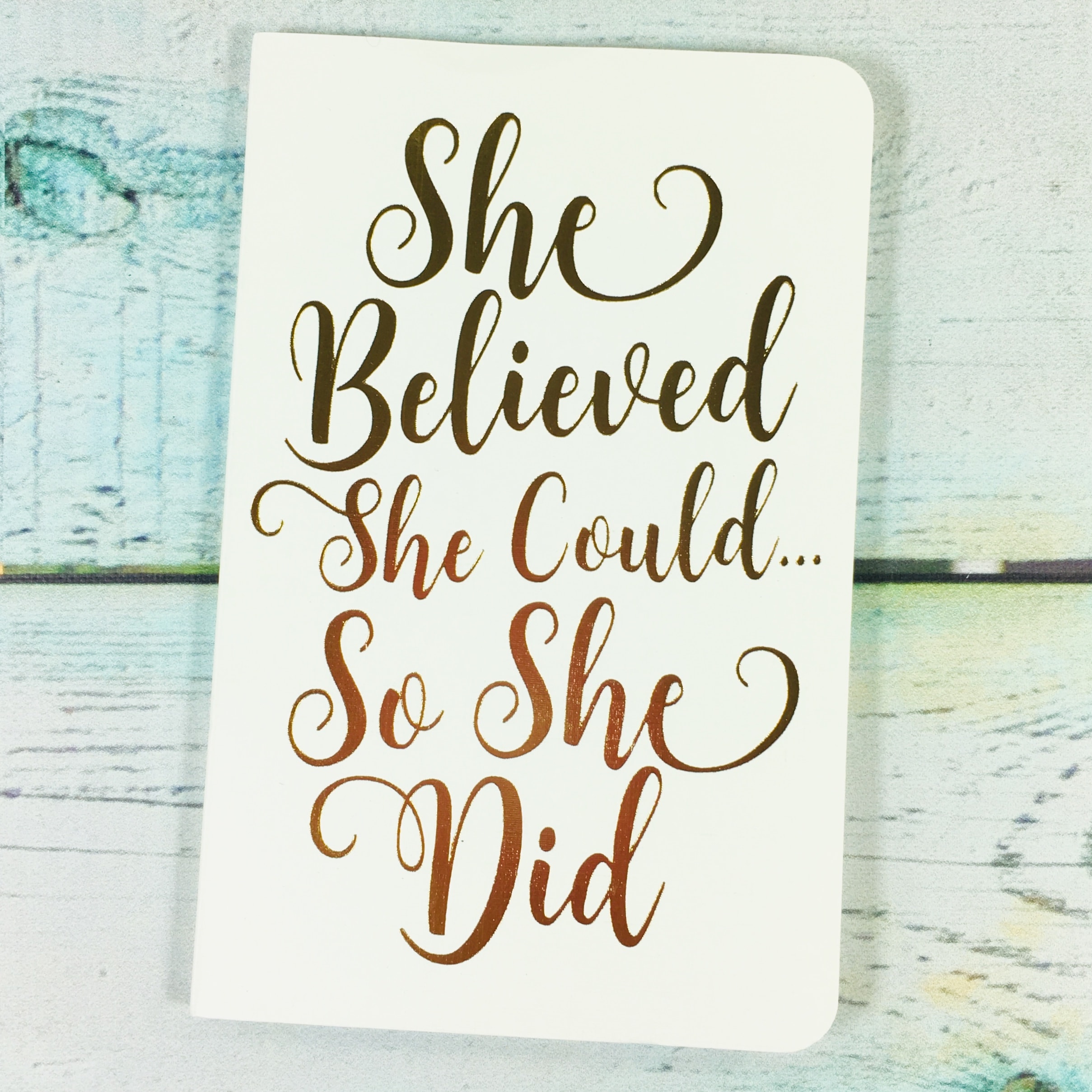 Peter Pauper Press Jotter Mini Notebook ($2.66) Subscribers will receive one of three designs of this mini dot matrix journal. The lettering on the cover is gold foil.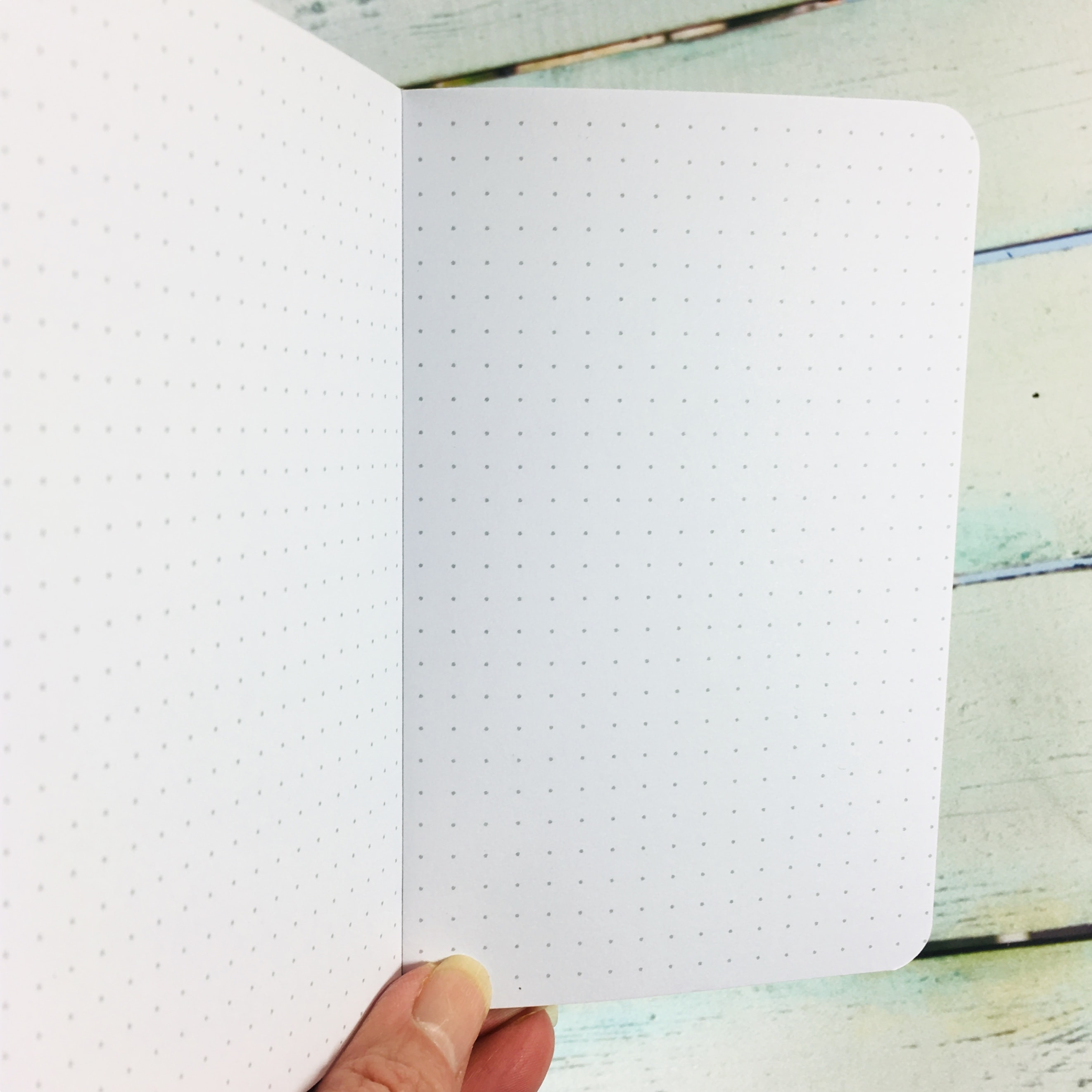 The booklet is 3.5″ x 5.5″ and has dots inside, like a mini bullet journal. There are 64 pages and it is small enough to fit easily into a handbag, in fact, it's about the size of a cell phone.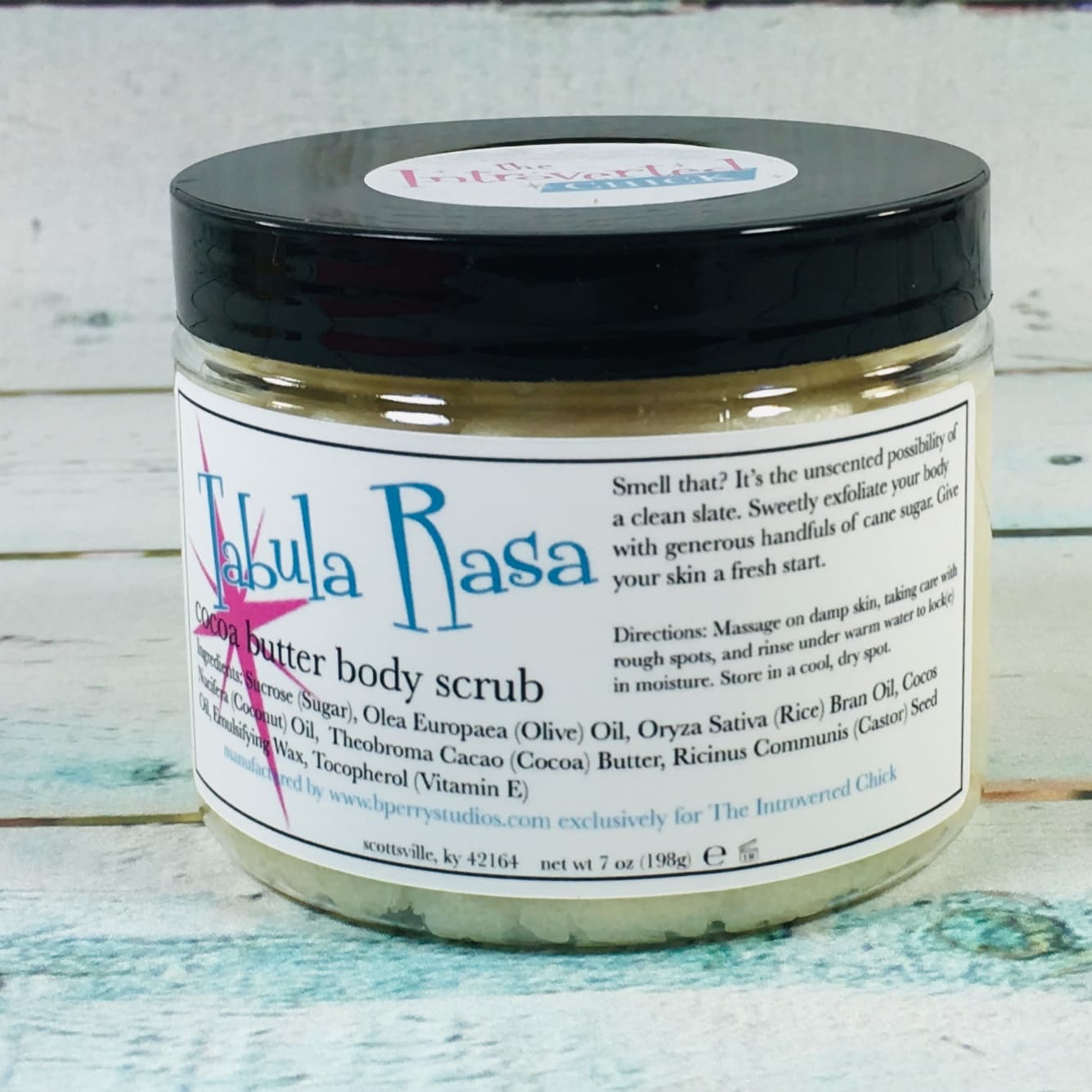 B Perry Studios Tabula Rasa Cocoa Butter Body Scrub ($11.38, based on similar items from the site) is an exclusive item made just for this box, and I loved it!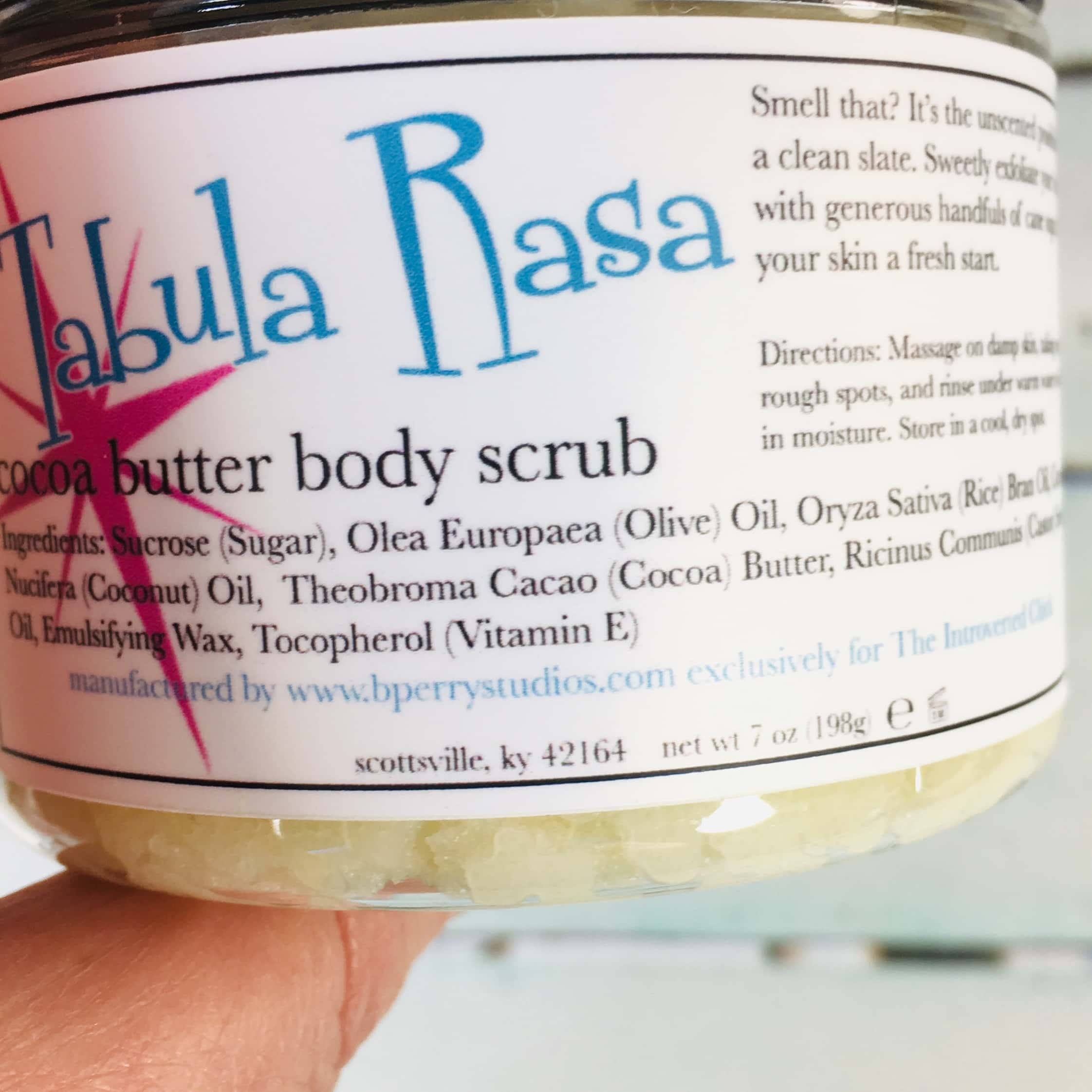 The ingredients are all-natural and include sugar, olive oil, coconut oil, and cocoa butter.
It's pretty thick and when I scooped it out of the container it stayed exactly the same in my hand. As I applied it to my damp skin in the shower, it stayed in contact with my skin rather than falling into a mess on the shower floor. This means I had a better exfoliation experience than with similar products, yet it wasn't rough on my skin, it was just right. It rinsed easily away and left my skin feeling soft, no after-shower lotion needed. The cocoa butter scent was light and faded as soon as I rinsed off. I love this scrub!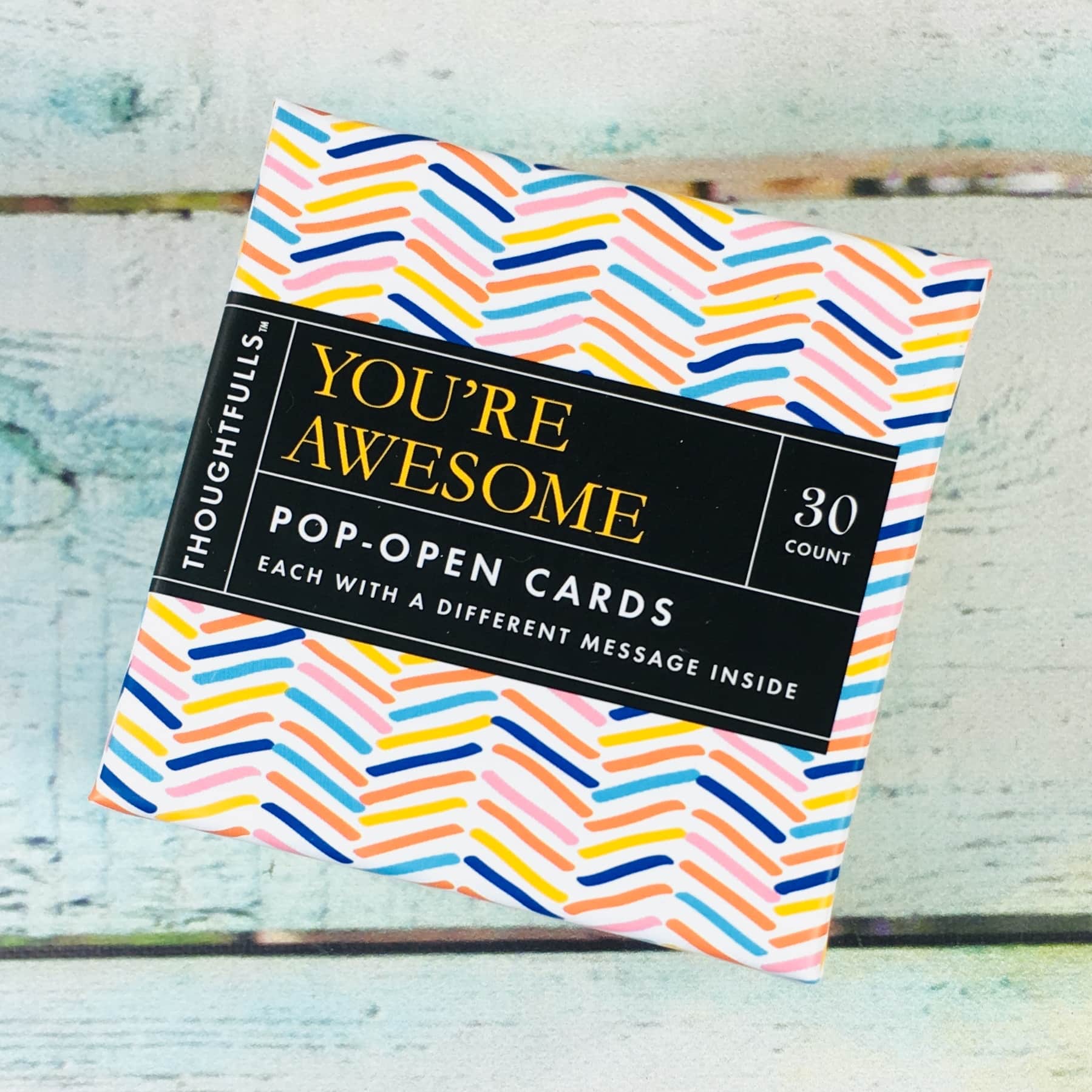 Thoughtfulls You're Awesome Pop-Open Cards ($8.97) What a neat idea, a box of cards with uplifting messages!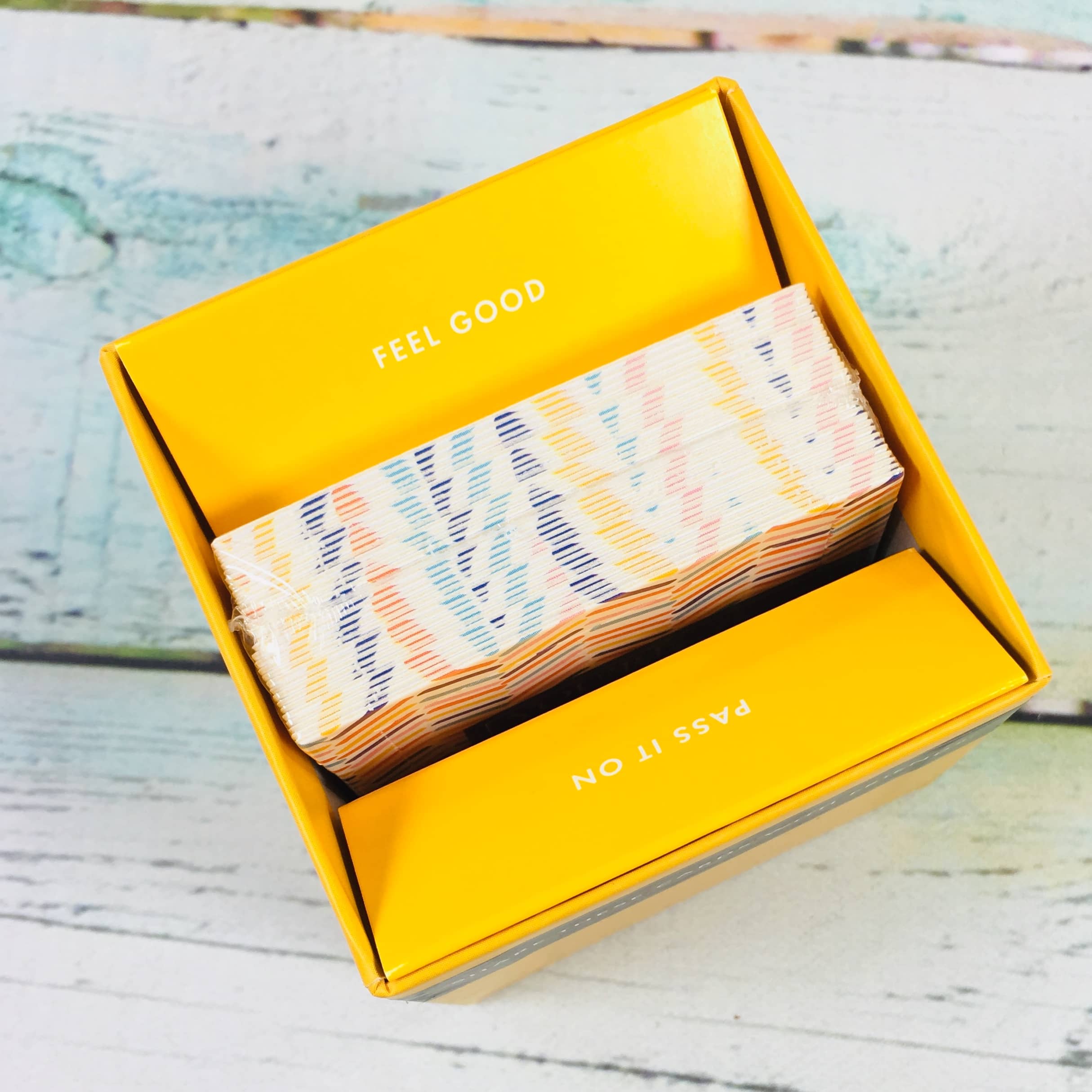 The cards come in a cute little box that you can keep somewhere nearby, like a nightstand or desk.
There are 30 cards inside.
Just pop open the card…
…and be inspired! You can read one a day when you need a lift, or send one to a friend or coworker who could use a boost.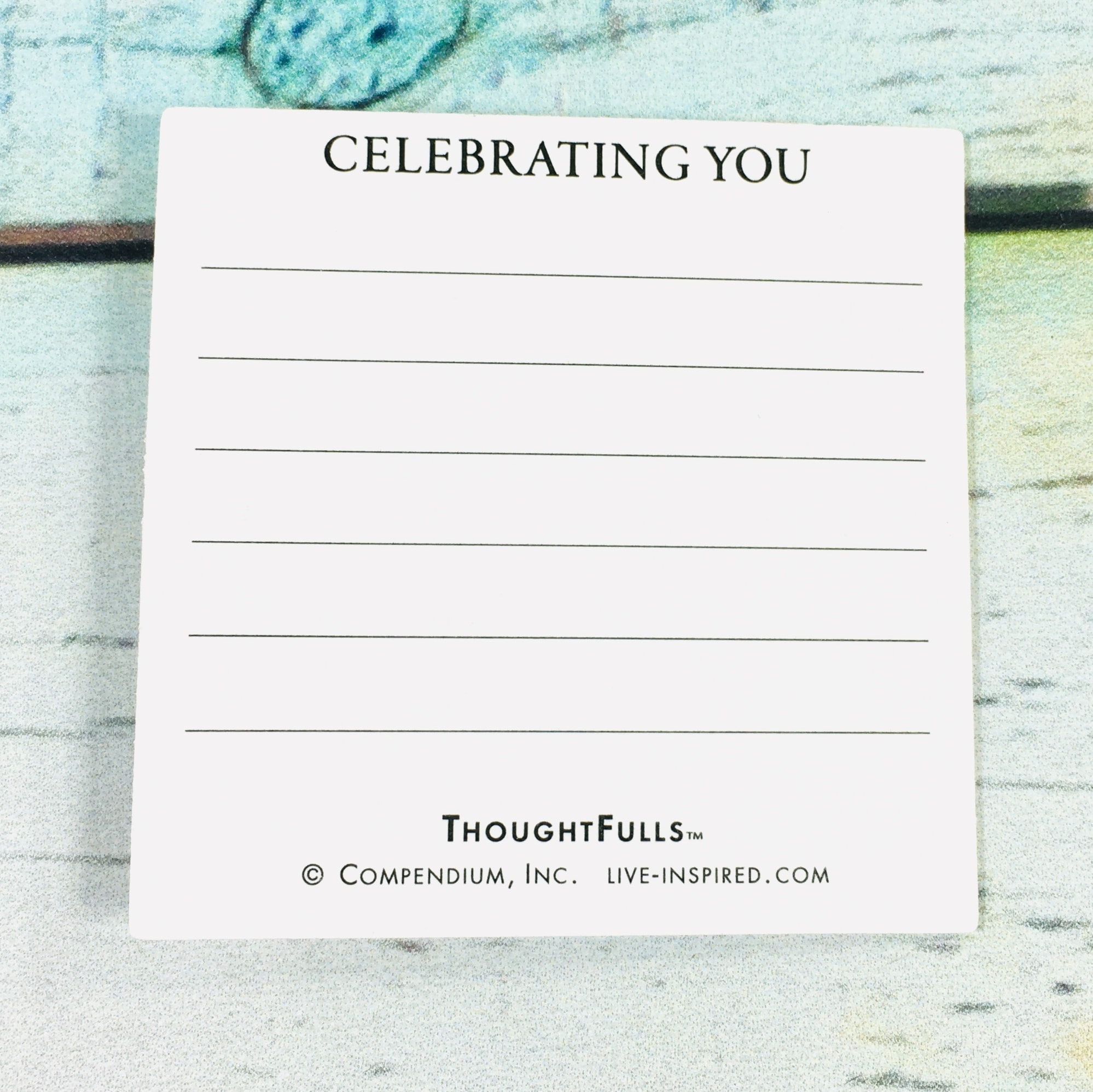 There's even space on the back of each card to write a little note to yourself or that friend.
Mary Square Straw Tumbler ($9.16) What a cute tumbler! It's really large and holds up to 24 ounces of hot or cold liquid. It is made of BPA-free acrylic and has a straw and super shiny gold lid. Hand wash only and please don't place in the microwave. It says "Underestimate Me, That Will Be Fun". I was checking out the tumblers at Starbucks today and it seemed very similar.
Enjoy The Silence Pin ($3.50) My favorite bands EVER are The Beatles, Duran Duran, and Depeche Mode, and this pin has the title of one of my favorite songs by DM. My husband gave me this cassette tape when my wisdom teeth were removed. It made me smile when I heard my kid singing along to it in the backseat. I'm sticking the pin on my new library book bag (see above).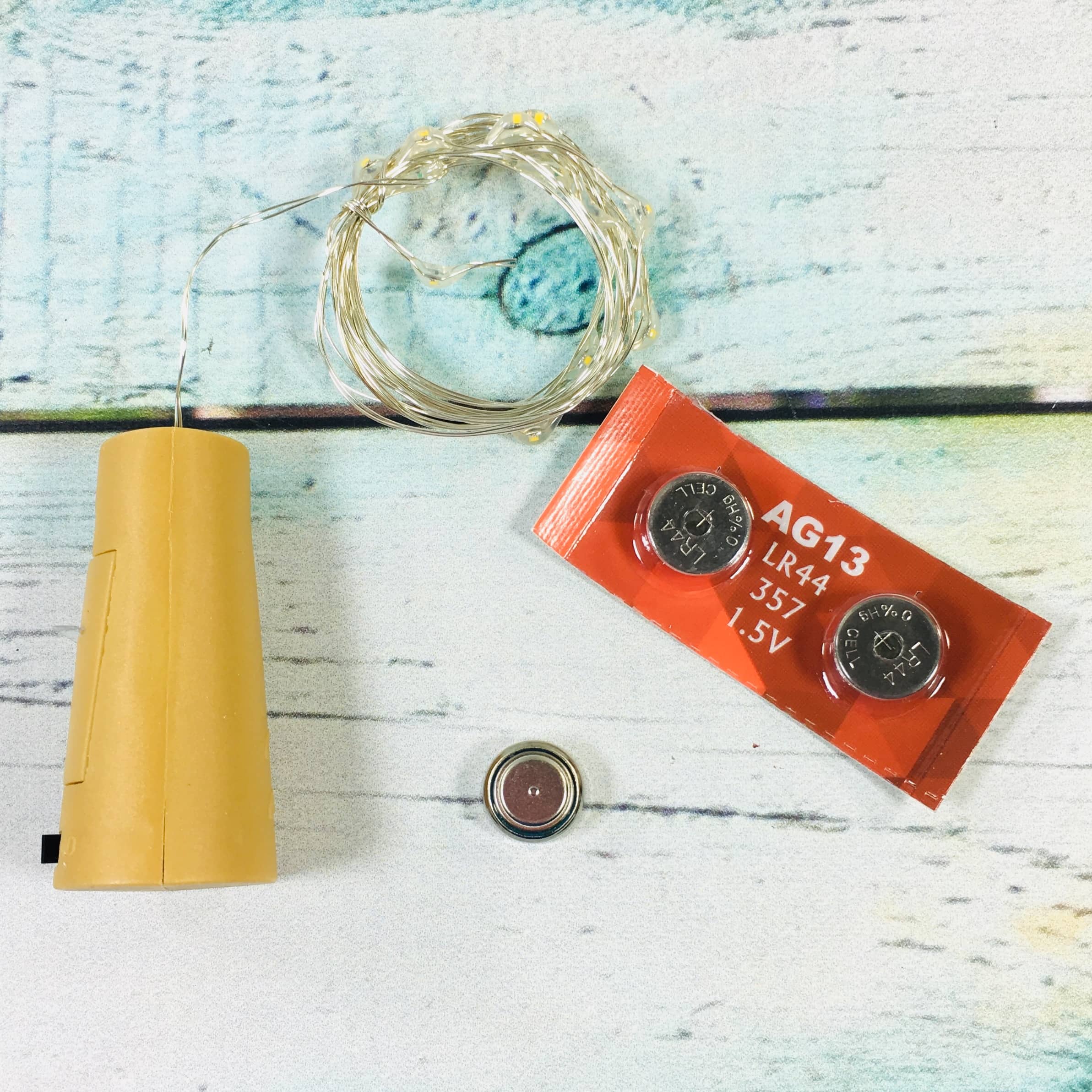 LED Wine Bottle Light ($2.78) I had no idea what this was when I first saw it but it's a string of lights that you can place inside a bottle for decoration! Apparently, that's a thing! When I was a kid we stuck a candle in an empty bottle of Chianti and the melted wax dripped down the sides so I guess it's an updated version for this century.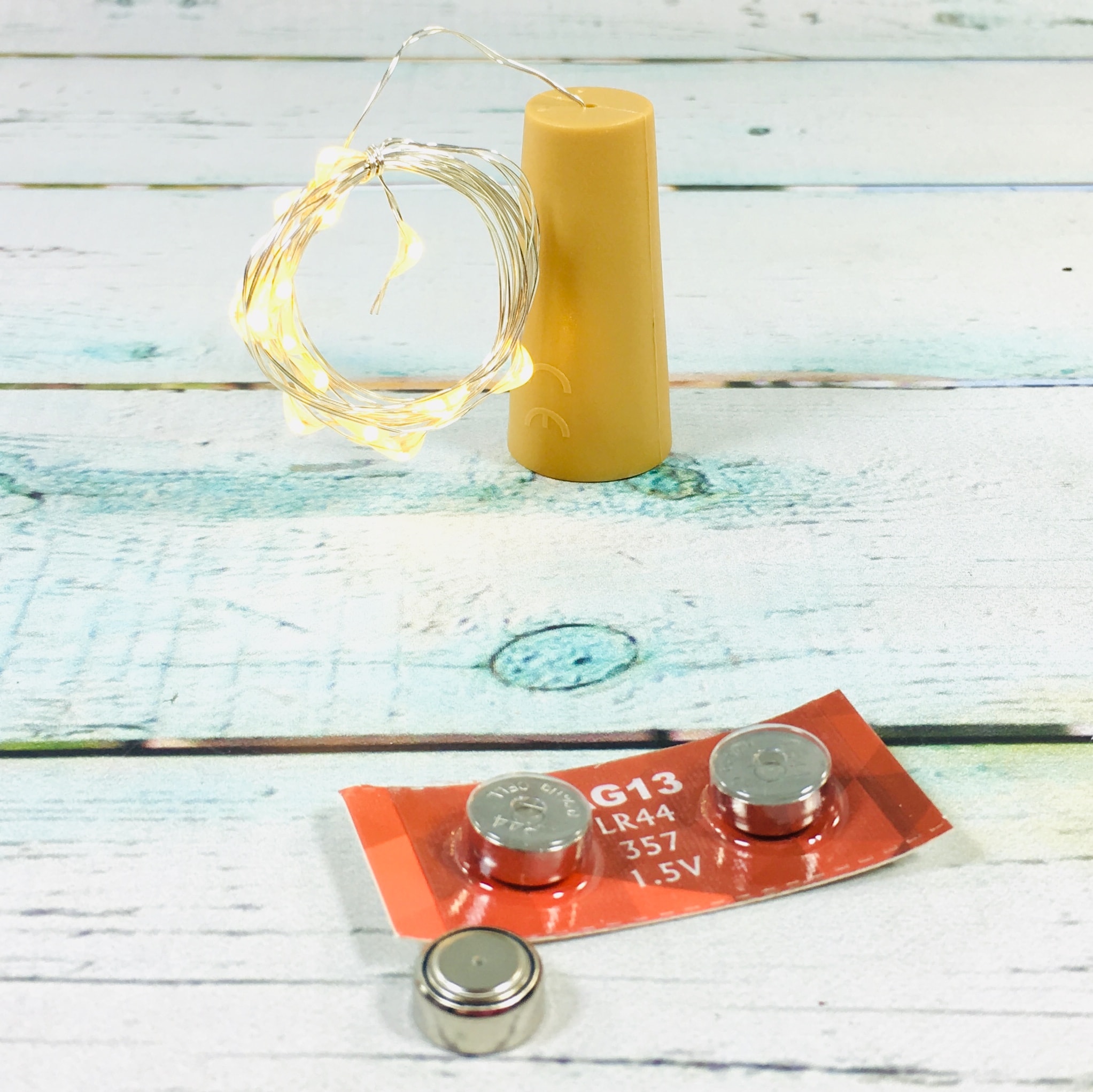 It is the size of a wine cork and came with a battery already inserted, and three more batteries for replacing when the first one runs out.
There was a little piece of tape that I pulled out and then I was able to turn the light on and it worked.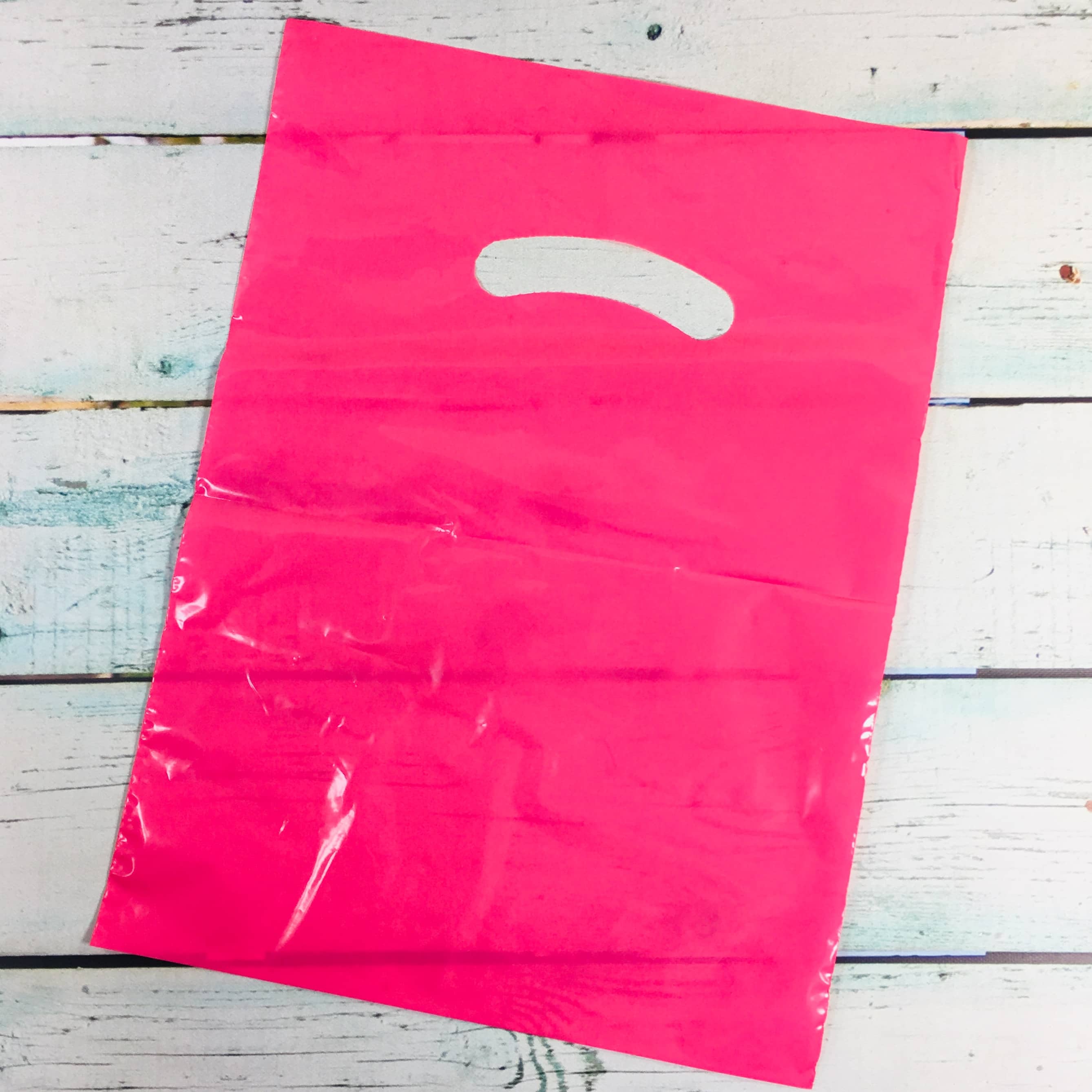 The Introverted Chick realizes that subscribers might not be super excited about every item in the box, so she includes a pink bag so you can easily gift an item to a friend who you know will appreciate the gift.
I thought this was another winning box from The Introverted Chick! The items fit the New Year, Same You theme and there was a little bit of a golden touch to some of the items. I am not usually a fan of gummy candies but I did like the ones in this box, plus the tumbler, like the other items in the box, is of really nice quality. The bag is something I can use and the pin looks cool on the side. My favorite item was the amazing body scrub, it worked so well and I love that it was a natural beauty product! The value for the January box was around $85.38, wow!
What do you think of The Introverted Chick box?