Robb Vices is a monthly subscription service that delivers a collection of "storied treasures." The subscription costs $159.95 per month, and each box comes with a collection of incredible products and experiences that have been curated for your enjoyment.
DEAL: – Use codes/links to get these offers!
Sign up to be a member for a 3-month, 6-month or annual subscription and receive a Pininfarina pen with: WRITING. Ends 2/27.
Sign up to be a member for a 3-month, 6-month or annual subscription and receive a Northbound Notebook with code: NOTEBOOK Ends 2/27.
The box is huge! It is the size of a padded laptop shipping box. The large size lets them ship fragile and really expensive stuff with adequate padding.
Everything arrives cradled in a custom-fitted foam case. The foam protected everything well, but I do miss the luxurious look and feel of the soft, velvety foam from previous boxes.
This month's box includes a card containing pictures of Robb Vices previous boxes.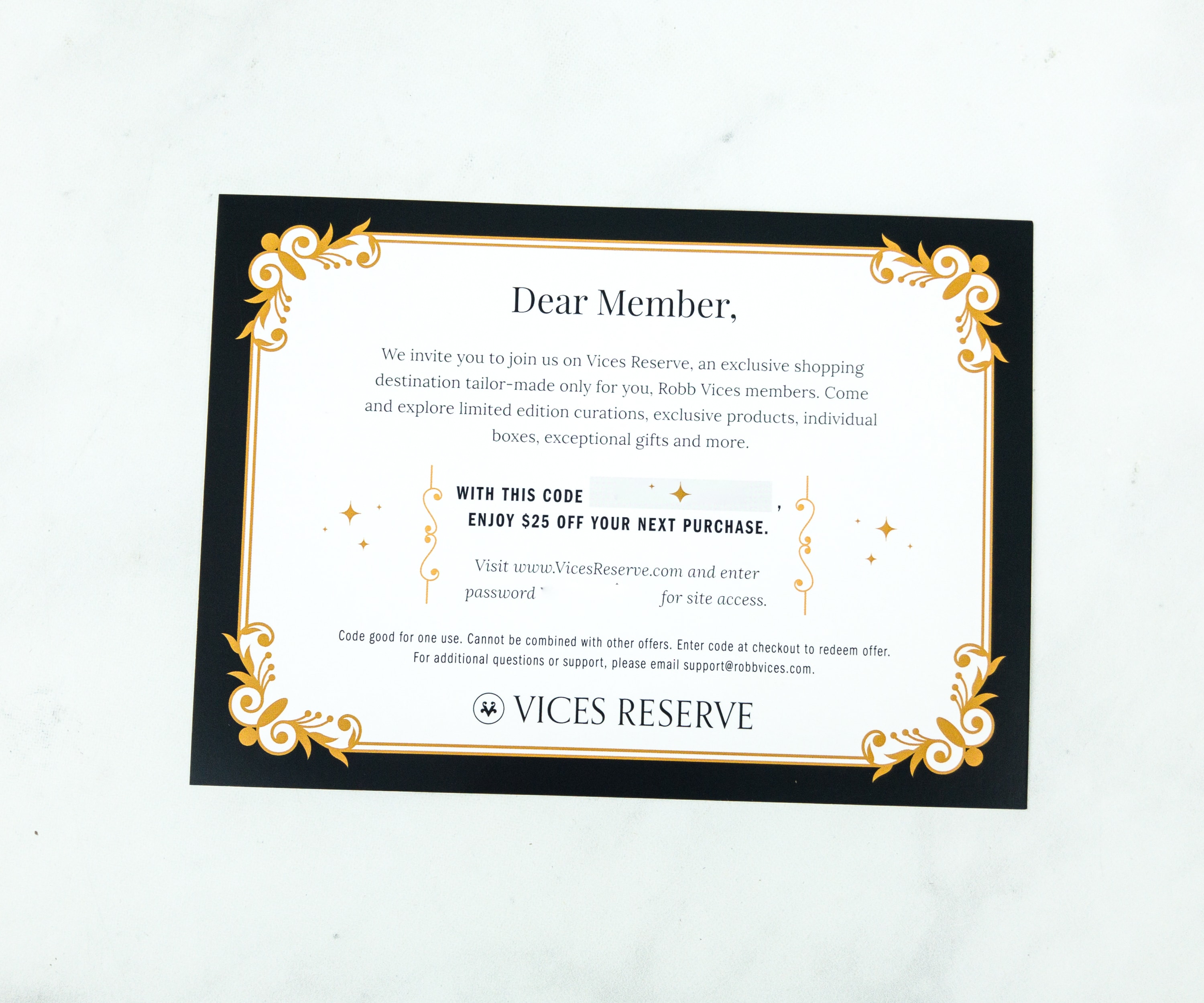 At the back of the card is a discount coupon for Vice Reserves, an exclusive shopping destination available only for Robb Vices members.
Aside from the coupon, we also got a promotional card from Cameron's Seafood.
The card includes a $25 off coupon code for your first order.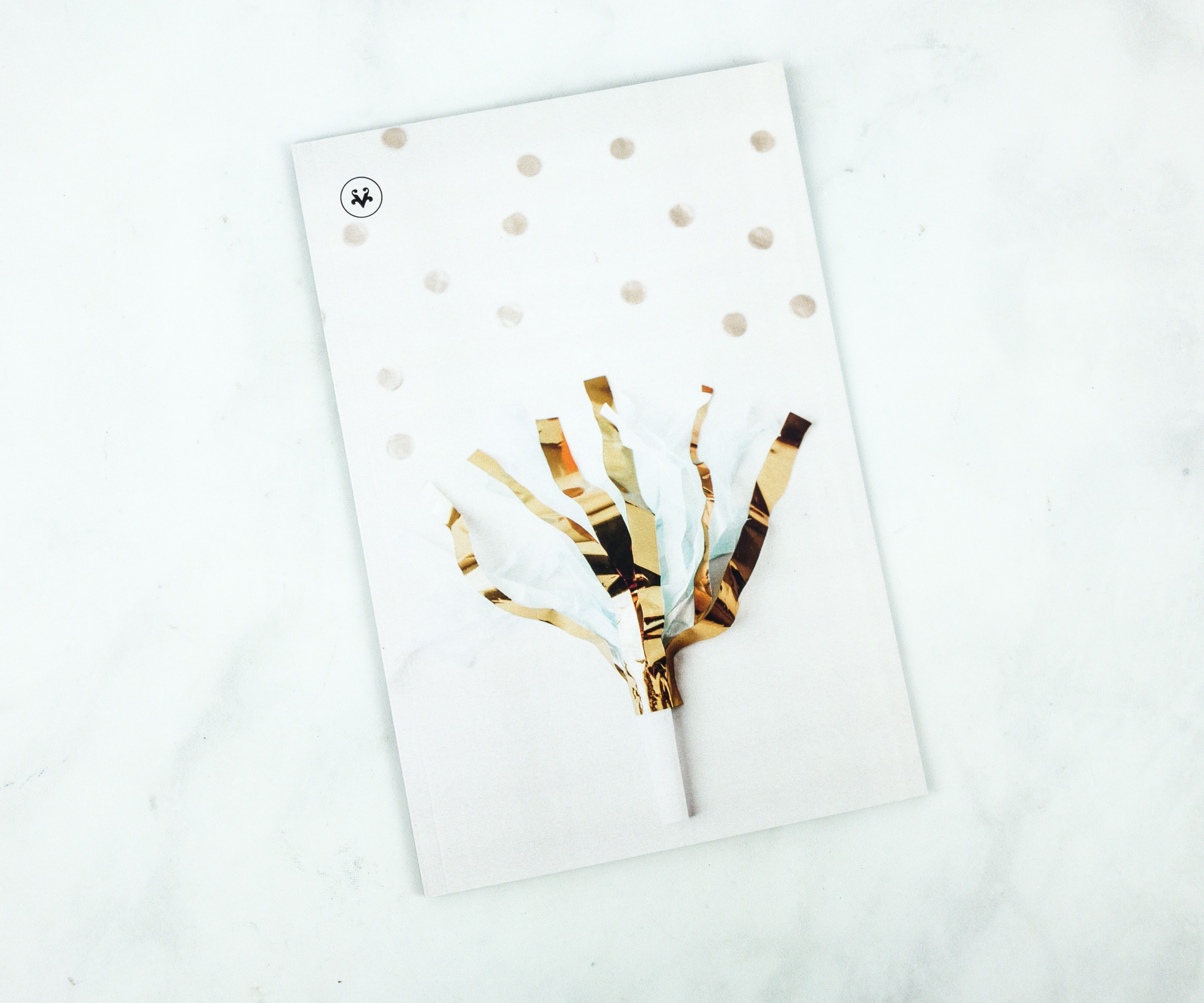 This month's box is party-themed!
Parties are the nightly ritual of the sophisticated society

– Dominick Dunne
Inside the booklet, there's a message from Daniel Curtis, the founder of Robb Vices!
The story of the premium products is told through a giant, novella-sized booklet with multi-page featurettes on each selection. It is the most thorough exploration of products I've seen in a curation, as each one has the equivalent of a magazine article written about it.
The booklet also has a brief directory of all the featured products, plus a reminder of any coupon codes from within the pages of the booklet.
Everything in the December 2018 Robb Vices box!
Let's start with the wine!
Virtuous 2016 Reserve Cabernet Sauvignon ($100) Rich and deeply concentrated, this delicious red wine is made by one of the most well-known winemakers in Napa Valley. It's a full-bodied wine with a nice fruity and plummy taste.
This Napa-born bottle is best paired with soft cheeses, grilled skirt steak, wild meats, or a roasted game hen.
Here, we get a glimpse of the New York Prime Beef cut!
Is there really ever enough bacon?
That's the question we are longing to know the answer, especially as we didn't receive the coupon, which was supposed to be an item. The coupon was for 25% off your order and a complimentary pound of bacon. Not really an item in our view!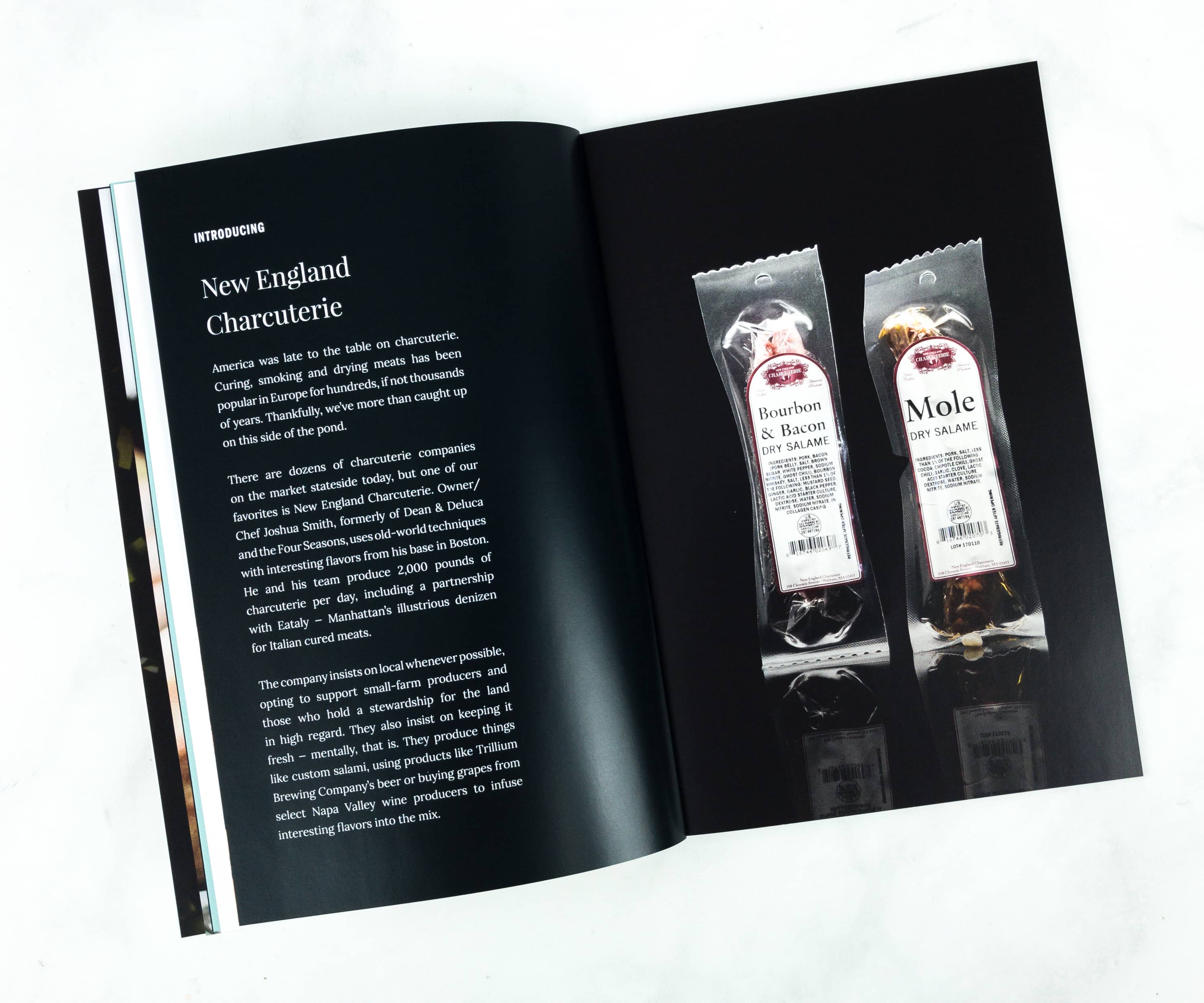 This part of the booklet will let you know more about the New England Charcuterie. They included a brief introduction and history about the product.
New England Charcuterie Bourbon & Bacon Dry ($9.99) This scrumptious salami combines the sweet-smoky flavor of bacon and soft notes of vanilla and oak from Kentucky Bourbon.
New England Charcuterie Mole Dry Salami ($15.99 Full Size 7.5 oz.) Made with premium quality ingredients, spices and expert craftsmanship, this Salami from New England is definitely one of the best I have ever tasted!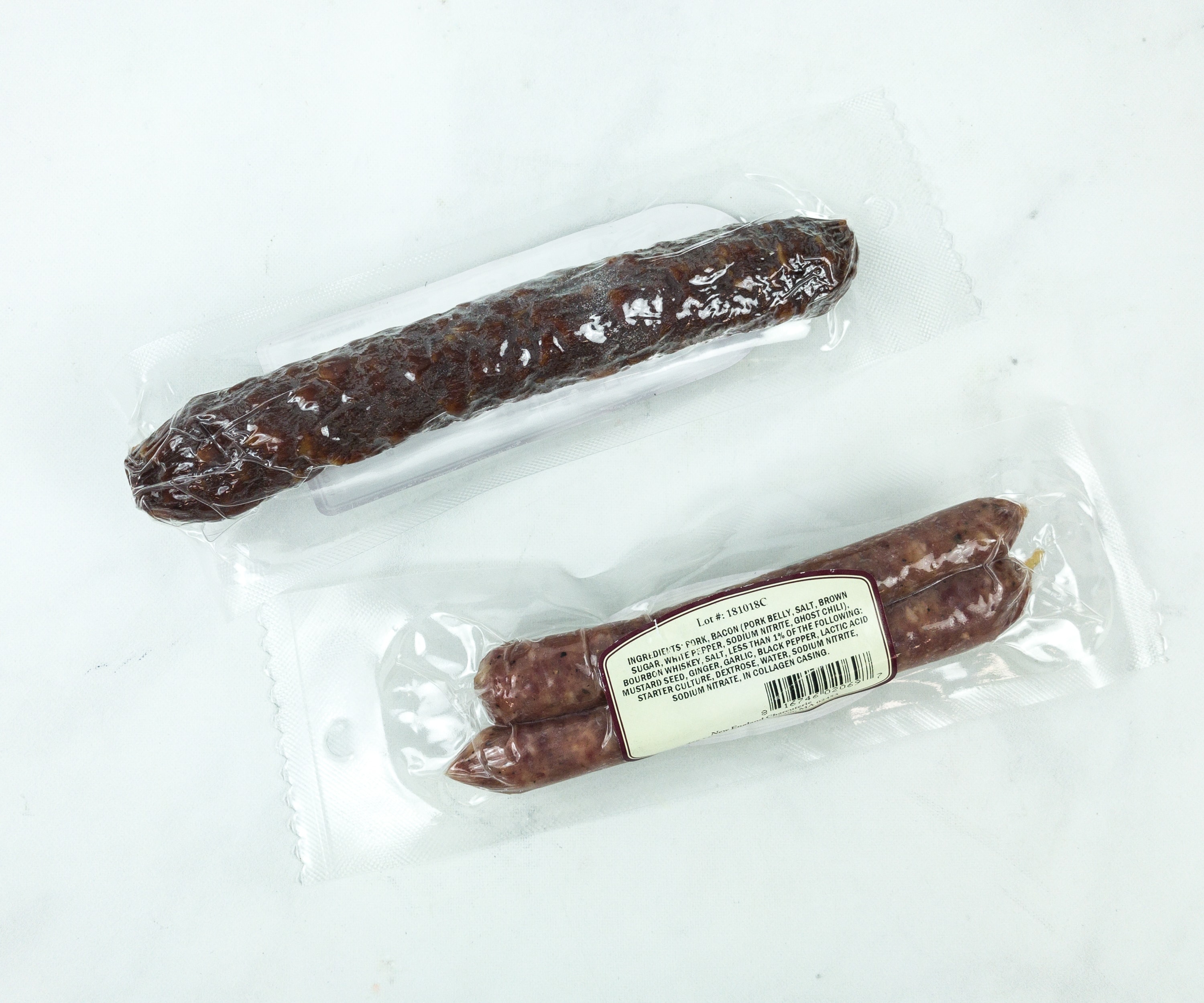 These salamis are not just flavorful, they are both so meaty, filling, and satisfying too!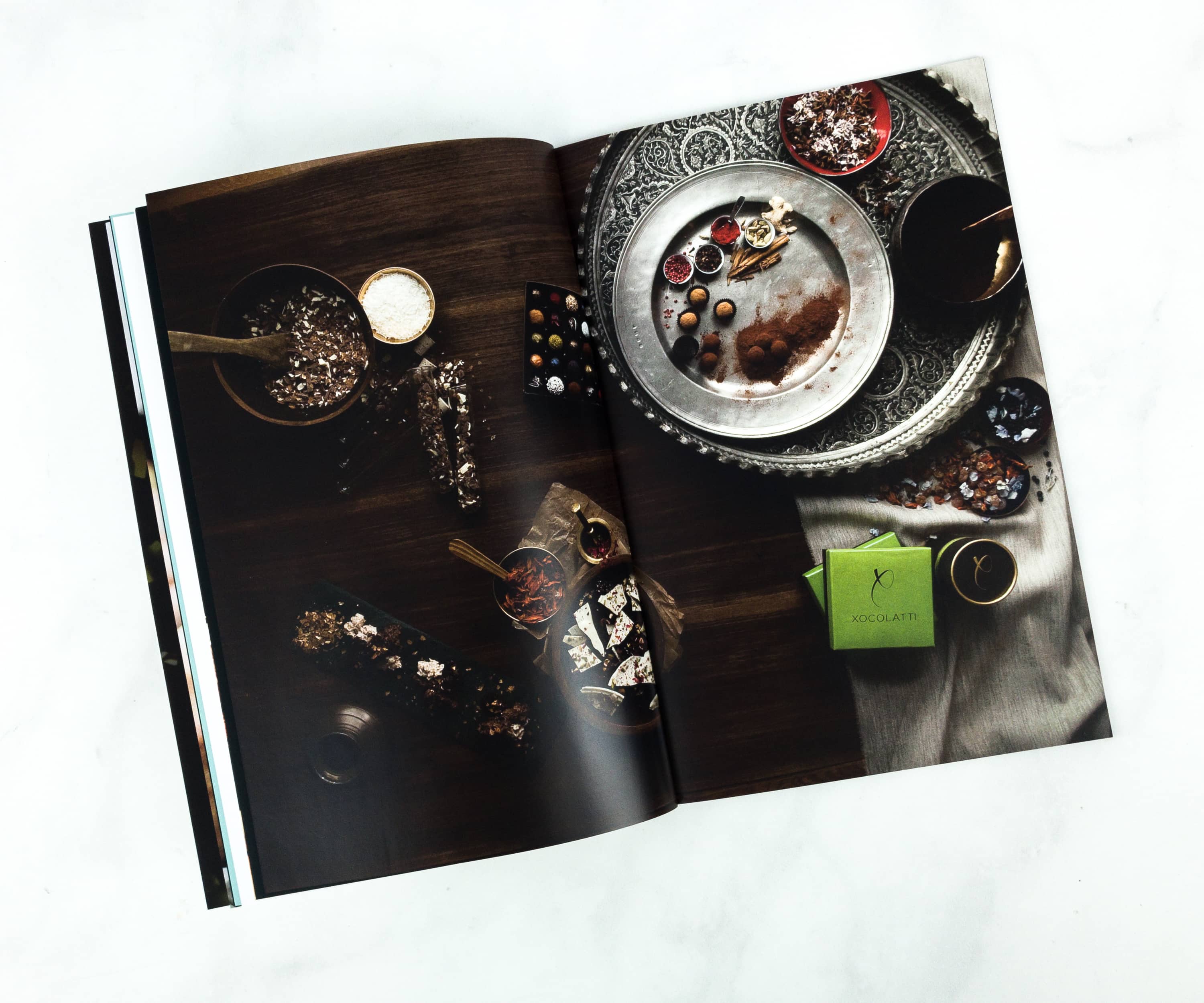 This part of the magazine features a classic picture of assorted chocolates from Xocolatti!
At Xocollati, we believe that taste can make you experience things and make you nostalgic of memories passed. With every chocolate designed, we aim to transport you on a journey through your senses to ignite those old memories or create new ones.

– Shaineal & Namrata Shah
Xocolatti is derived from the ancient Aztec word xocolātl, when it was believed that the cacao was a food of gods, and considered to be a symbol of love, happiness, and life.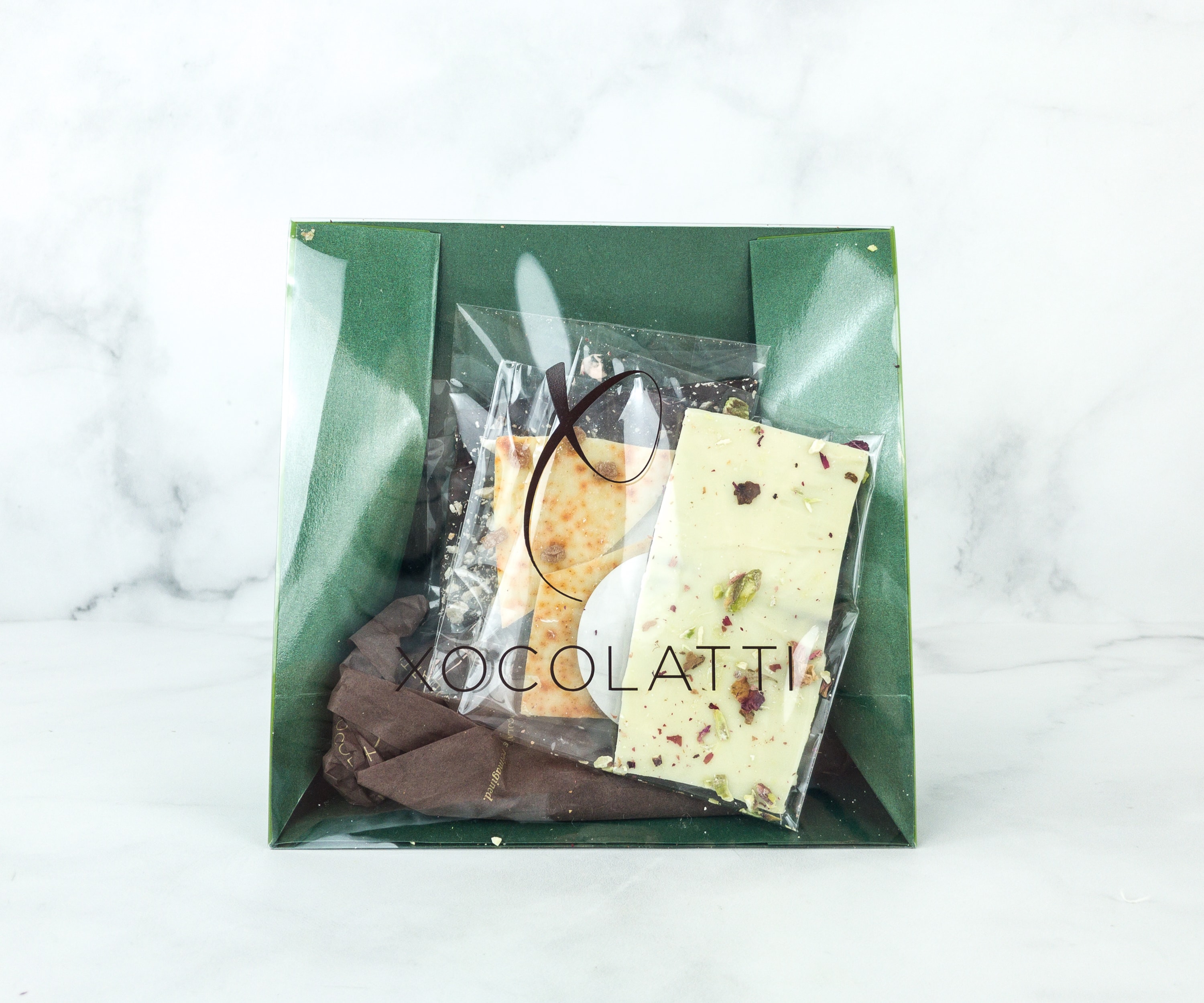 Xocolatti Assorted Slates Gift Pyramid ($28) These chocolates from Xocolatti are made fresh to order using premium quality ingredients, so the customers will get only the best tasting chocolate snacking experience.
This assorted gift pyramid includes 5 flavors: Caramelized Hazelnut, Mango Paprika, Orange Hazelnut, Rose Pistachio, and Tiramisu Xocolatti flavors.
Each kind of chocolate came in a separate plastic container, making sure that the quality is not compromised.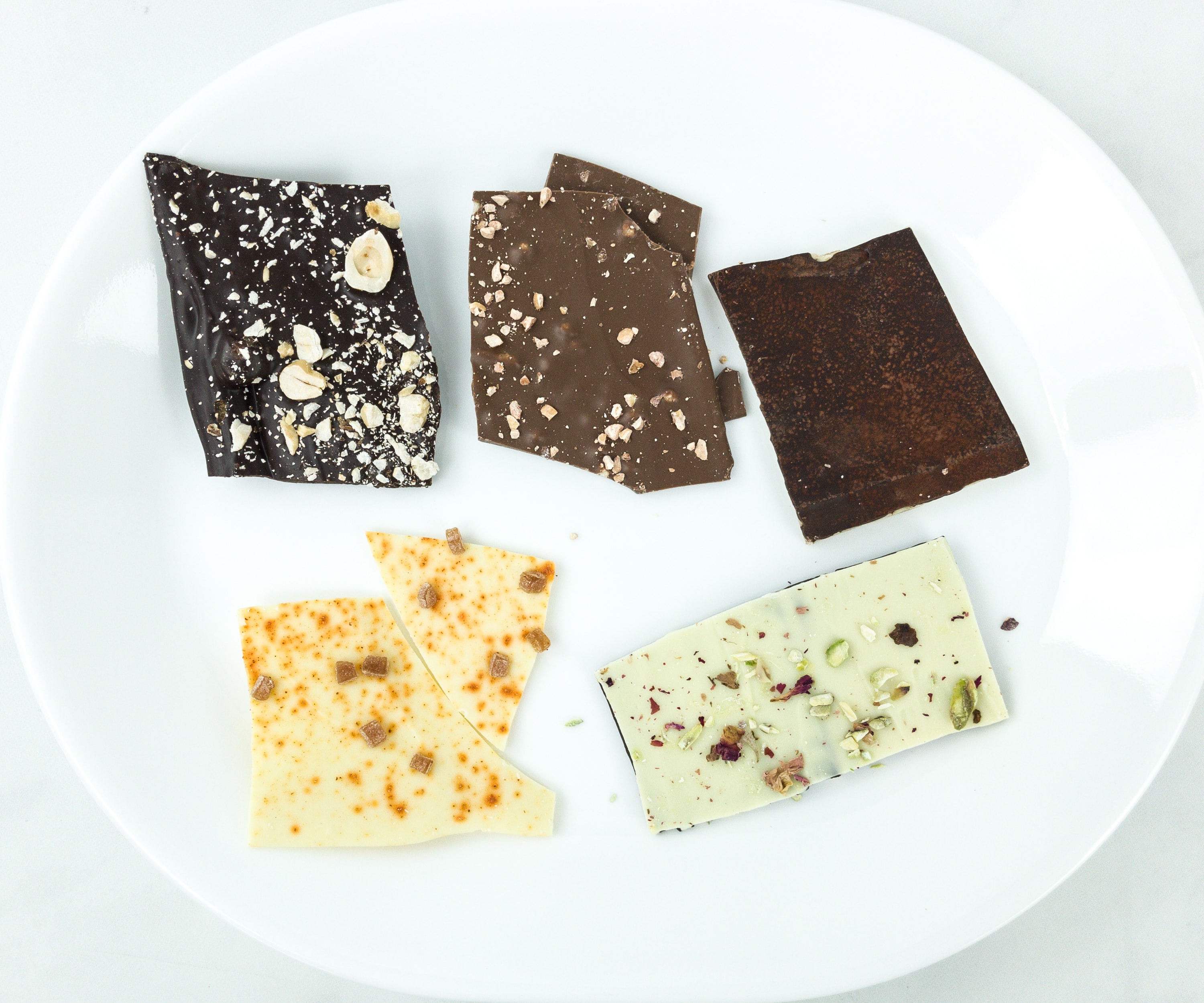 All of them are creamy, luscious, and really tasty, but the one that struck me the most was the tiramisu slate. Delicious, really. Our only complaint is that they were quite thin, and there wasn't a whole lot there.
Lolli & Pop was established in 2012, delighting all their clients with the best sweets. From chocolate truffles to French macarons to a great selection of Nostalgic candies, they have it all.
Lolli & Pops is offering a discount exclusive only for the members of Robb Vices.
Lolli & Pops No 7 Pumpkin Pie Spice Cotton Candy ($6) This cotton candy is as light and as fluffy as a cloud. It has a superb spiderweb-thin floss that is quite sticky and melts easily the moment it touches your tongue.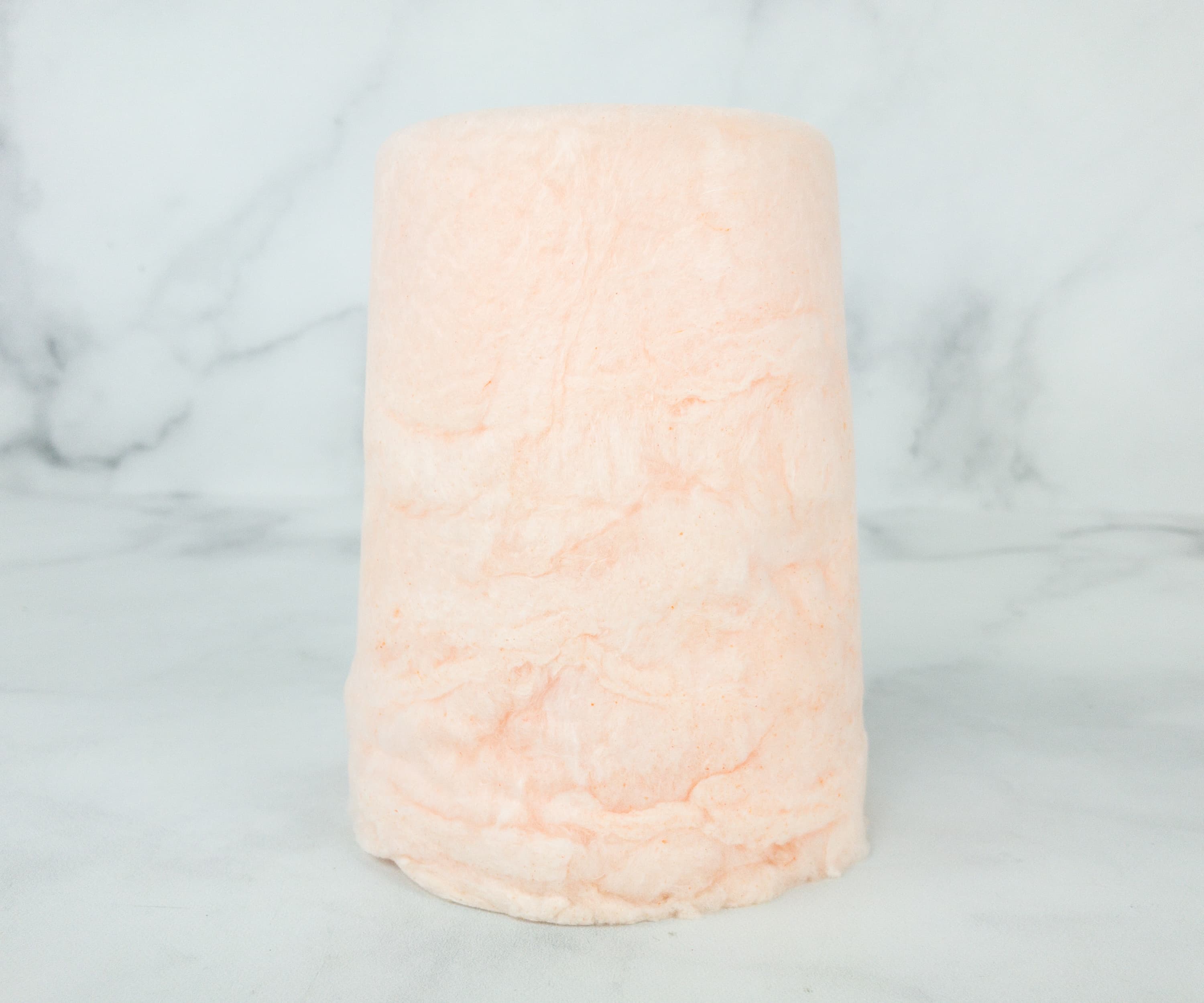 It's a nice snack, and it's really nostalgic too. According to the booklet, this treat must be consumed within a week of opening to maintain its optimal fluffiness. Alas, ours is still sitting on the counter after having a few bites. The pumpkin spice didn't wow us as much as we'd hoped.
ForeverSpin is a company founded in 2014 which creates a variety of spinning tops out of nearly different metals available.
ForeverSpin ($38) The ForeverSpin kit includes a metal top, stickers, welcoming letter, and gift card.
ForeverSpin tops are made from solid metal and CNC-machined to form a precise, premium quality top that can spin forever. This top even has its own serial number, showing that its a legit top made by ForeverSpin
Inside the box is a mini-pouch containing the stainless top and instruction cards.
The top looks so classy and perfectly symmetric.
We also received a pair of cards. The black card features all the elements used to make the top, while the red card provides detailed instructions on how to use it.
The back of the card contains some interesting facts about stainless steel. According to it, this steel neutralizes strong organic odors by binding sulfur molecules.
This top is made from iron, chromium, nickel, and manganese.
Aside from the top, we also got a white cleaning cloth with the ForeverSpin logo.
Check out this metal clip! It also has a ForeverSpin logo, an engraving that says "Built Forever," and a signature.
Here's a letter from Viktor Grabovskyy, ForeverSpin co-founder.
It's a thank you letter. Inside it, I got a pair of ForeverSpin stickers.
There's another card that bears the brand logo.
It's a promotional scratch card that gives us a chance to win $5-$100 credit.
Here's a list of all 18 available tops from ForeverSpin.
Have you ever heard or tried a sour beer? Here's one of the most unique beers ever created, the Brewery Ommegang!
Brewery Ommegang Rosetta ($2.75)  It's a traditional Belgian Kriek, made from young Flemish brown ale blended with a fruity cherry beer, resulting in a complex yet refreshing mahogany-brown brew with unique tartness and sweetness.
It's a moderate beer with 5.6% ABV and a flavor that works perfectly with light meals such as salad, pork, soft cheeses, or even a smooth chocolate mousse.
Hit the Slopes! If you are an avid skier, or a skier wannabe, then this is the best time to try it!
Randall Innovations LLC, the creator of Ski-Key BC, was established in August 2012 by its founder and president, Benjamin Randall. Their aim is to lessen the hassle and provide more enjoyment in mountaineering, using their most innovative mountaineering tools.
Ski-Key BC ($14.99) Close your boots as tight as you want, and not as tight as you can. This innovative gear from Randal Innovations provides us with a choice that is very hard to pass on, a very handy boot tightener!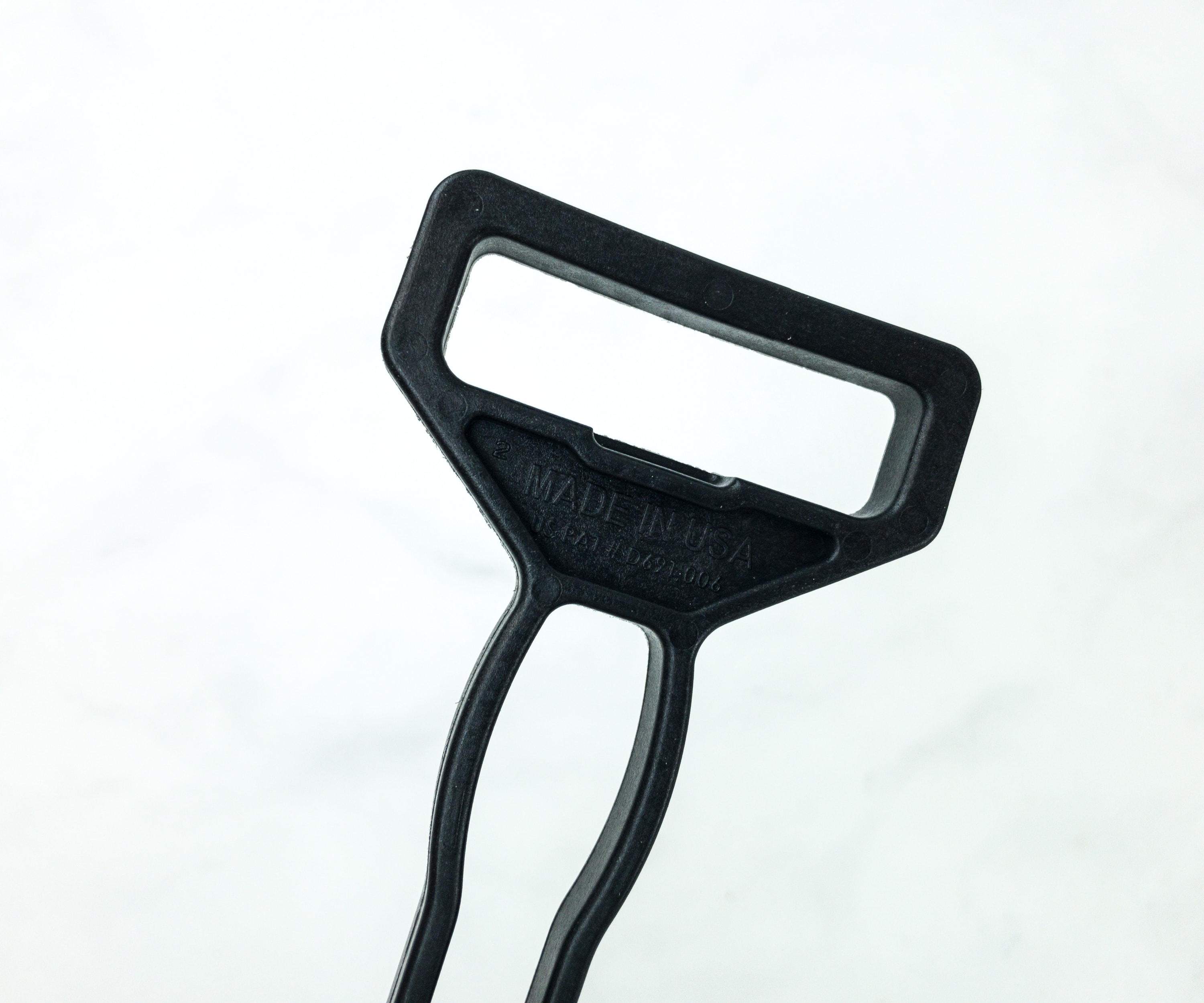 It's so small yet very useful for mountaineering adventure. This is definitely the most elegant, efficient boot-tightening tool I've seen so far. Plus, you can use it to open a bottle of beer (the most likely use around here, TBH!).
When it comes to class and sophistication, Robb Vices never fails. This month's wine and chocolate choices proved that. We even got cotton candy and salamis on top, plus a useful tool. Even the top is awesome. It's more elegant than the usual top and it is kind of relaxing to play with. It's great for any desk, study area, or even on your own work table, so you can spin it whenever you feel stressed or uneasy. This subscription is definitely an easy way to indulge in extravagant goods, and finally the value ($220+) is enough over the cost of the box (now about $175) to see some value, but that's a really steep cost!