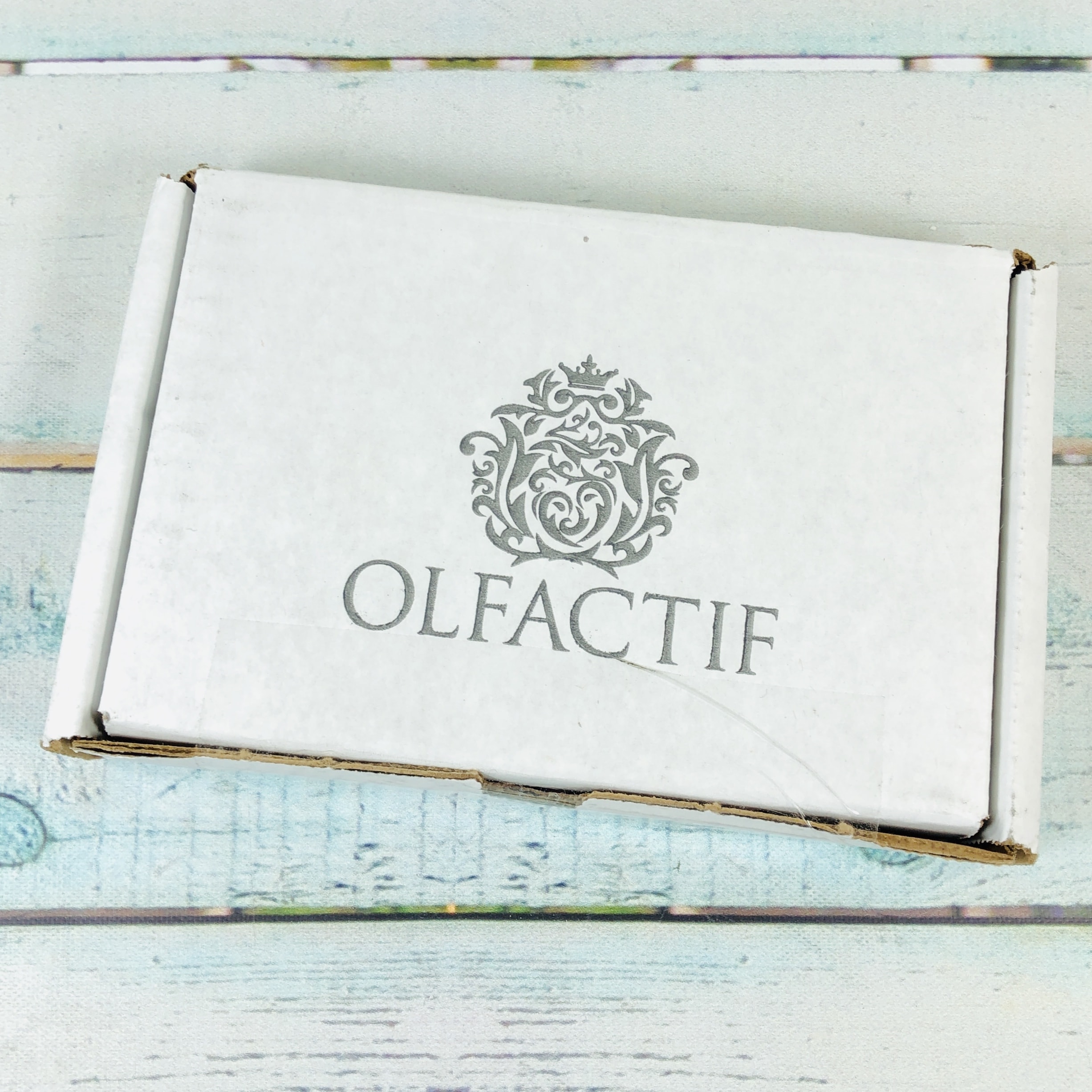 Olfactif is a monthly fragrance sampler subscription box that sends hard-to-find niche perfumes. Every month you'll receive 3 samples, each of which contains 2.5ml and gives around 40 applications of an independently designed perfume. Olfactif is $20 a month, or sign up for a longer subscription for a discount – prepay for a year and the price drops to $15 a box!
In addition to receiving a curated collection of 3 premium fragrances from around the world, members also receive: 20% off full bottles of every featured scent, 10% off all other full bottles, 10% off all à la carte samples, and earn free stuff with rewards points.
There was a card with a little info on the subscription. Olfactif now offers atomizers with samples, similar to other to-go fragrance subscriptions out there, but with a limited selection of niche fragrances, most of which are not available in other subscriptions. Prices vary depending on the scent chosen and you can choose from two colors of case – either Rosé or Stone. Each of those samples are 5ml.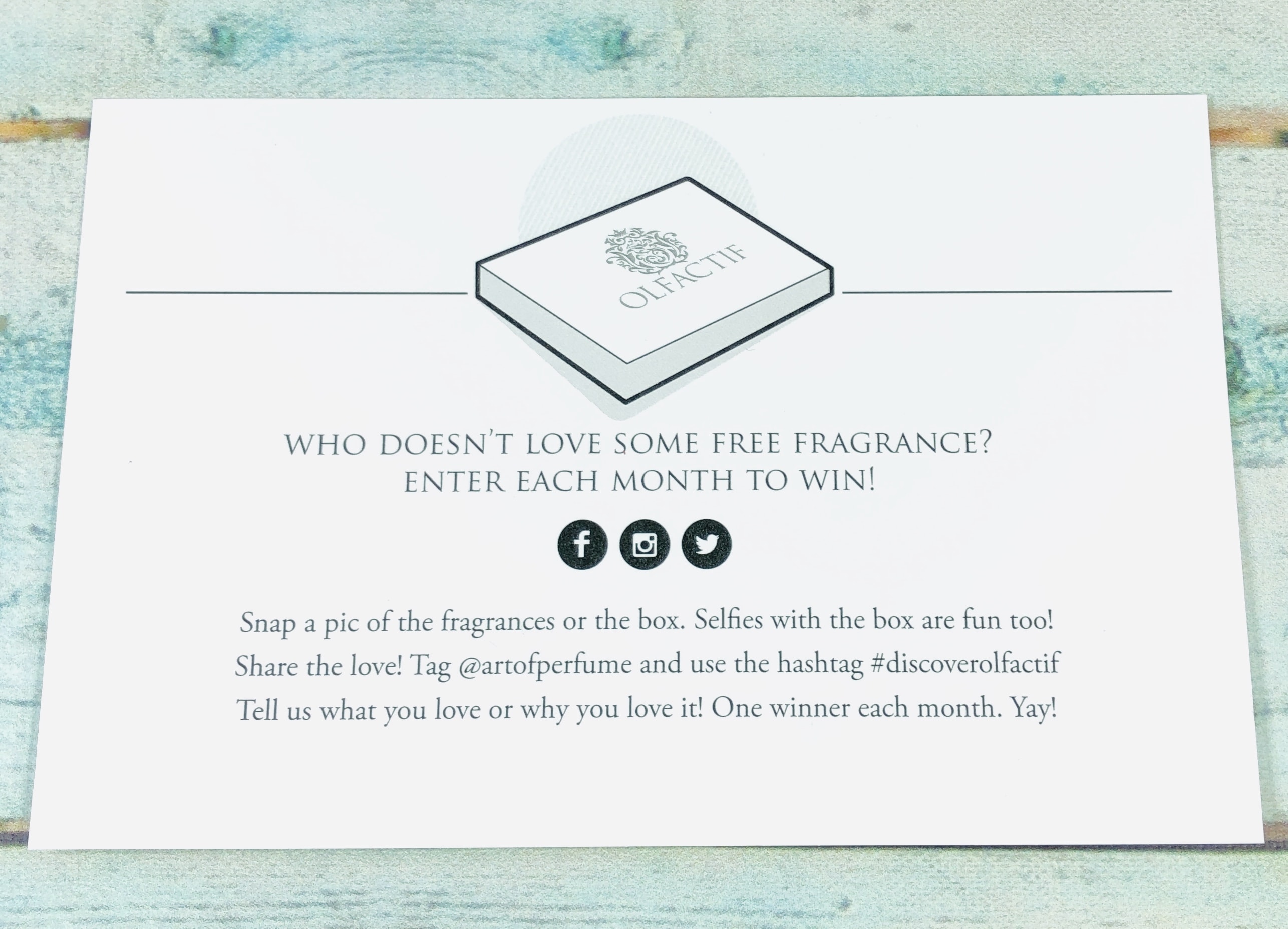 The back told how you could win some free fragrance.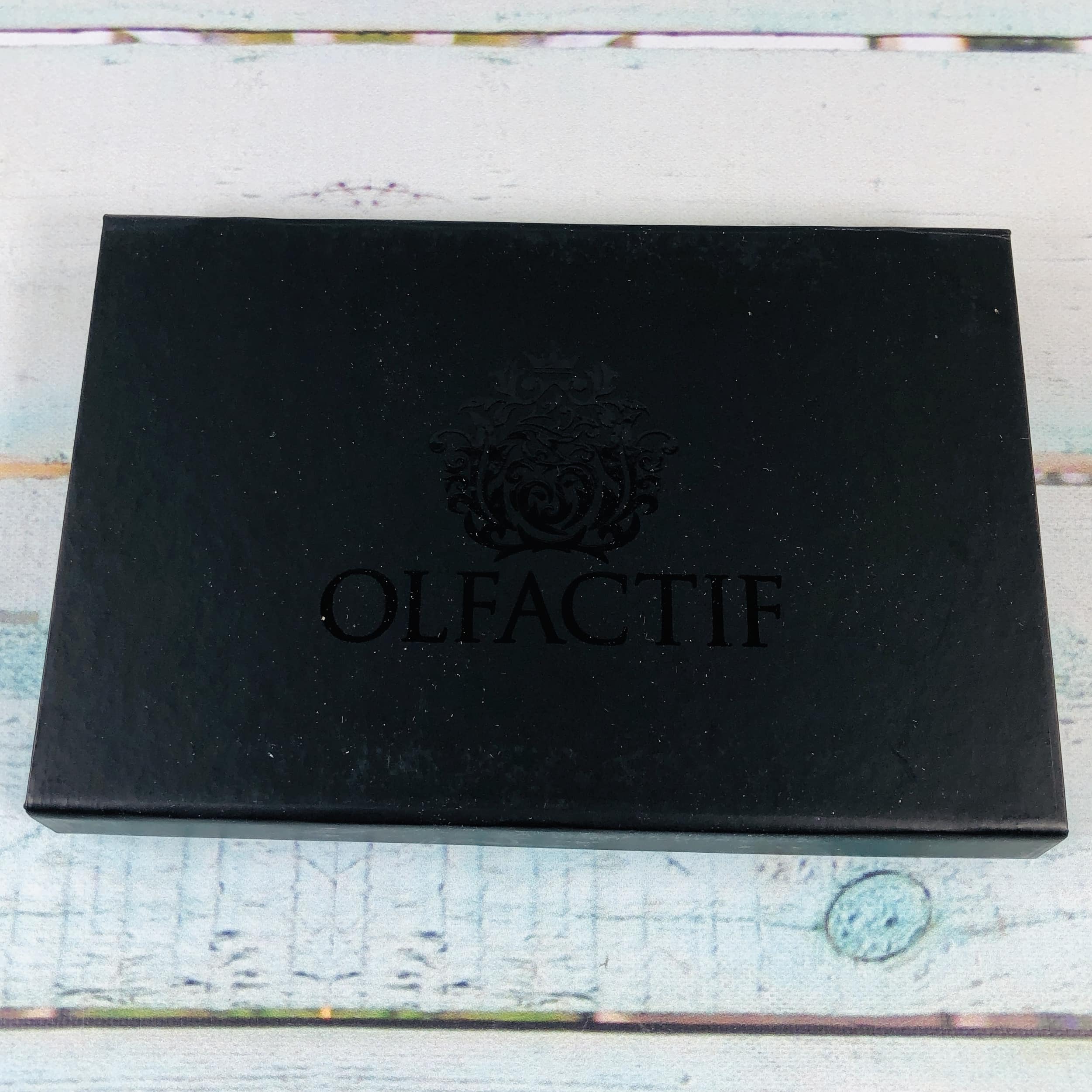 Opening my Olfactif box is like opening a special present: the presentation is simple and elegant. Olfactif has also introduced a rewards program so you can earn points when you review your scents, refer a friend, or make a purchase.
Olfactif sends their scents in a black box with a magnetic closure. Very classy. It's like the little black dress of the fragrance world.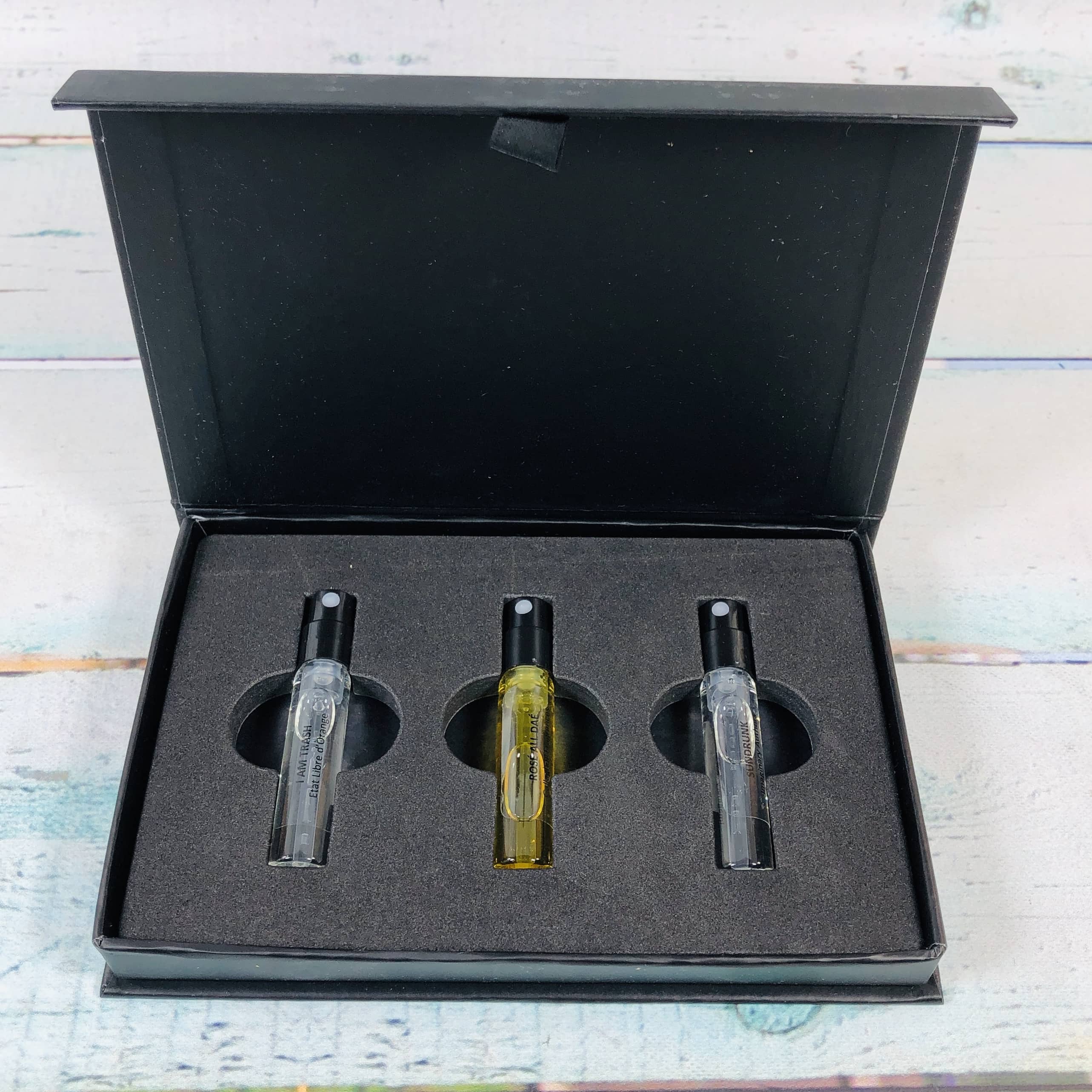 Olfactif focuses on niche fragrances – unique scents produced with higher quality and harder-to-find ingredients than you would encounter in a department store. When you subscribe you can choose from the Women's or Men's box. You can check out our reviews of Olfactif Men here.
On top I found a black envelope with the Olfactif logo.
Inside I found four cards. You test your scents directly on the back of each scent's card. There's even space to write notes on what you thought of the fragrance.The first thing I do when I receive this box is spray each card with its scent, then decide which one to try on my body first!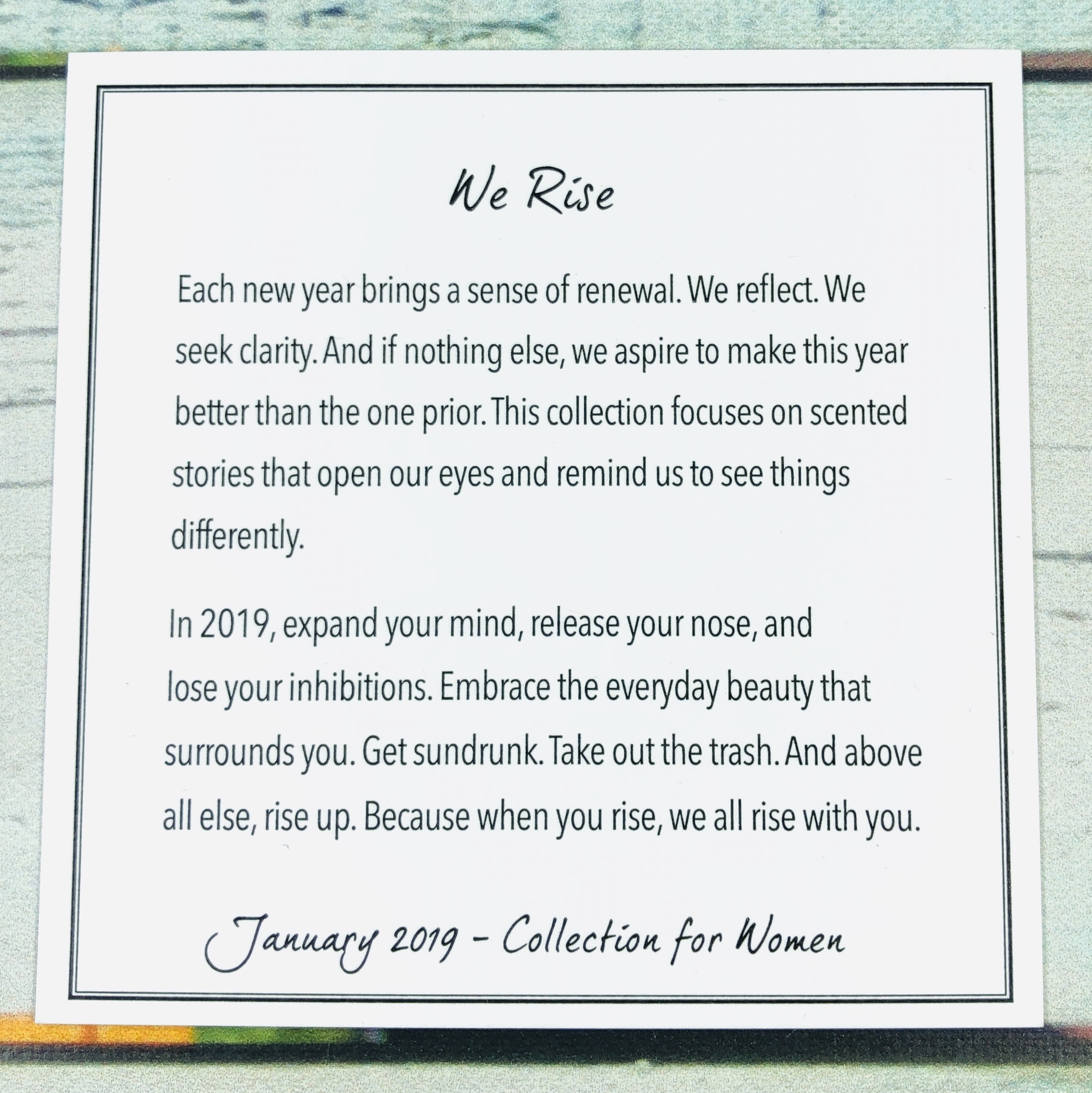 The theme for January's box is We Rise. A note about my testing procedure: I always try each fragrance at least twice and on non-consecutive days. Sometimes what we eat may affect a scent and I want to make sure that last night's spaghetti dinner doesn't taint a scent.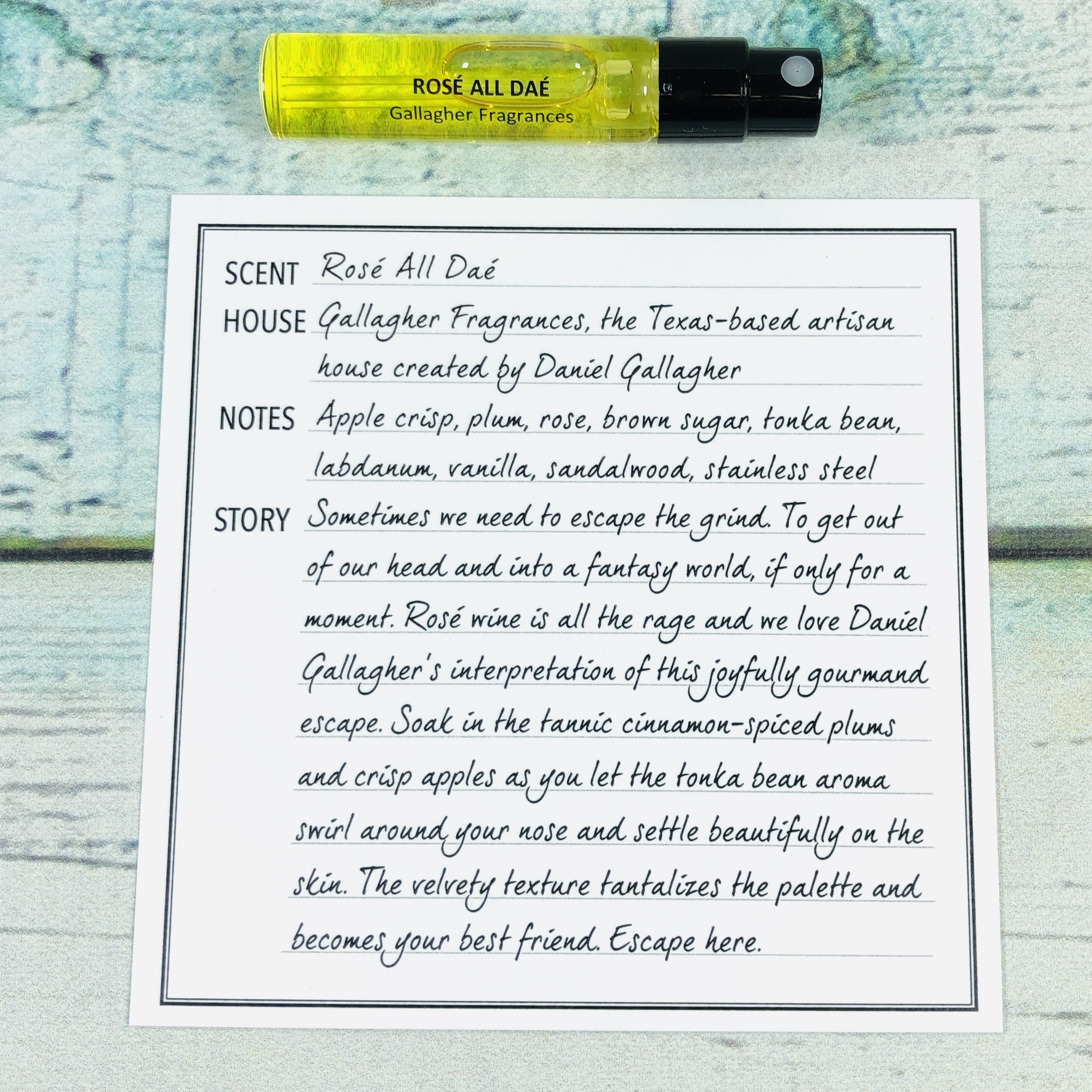 Rosé All Daé Gallagher Fragrances ($225 for 100ml) is the scent I decided to wear first. I'm not sure which category it fits into but I'm going to call it an Oriental Gourmand because it is heady and sweet. Scent notes include plum, apple crisp, patchouli, Turkish rose, and sandalwood. All I smell is honey and spices and maybe a bit of woodsy notes or fresh tobacco. It wears down beautifully. I don't think it smells like wine and I definitely don't think it smells like roses but it is a bit loud and lasts a while. Maybe don't wear this to work. I can't tell you what my husband said of it, but I think "sexy" sums it up!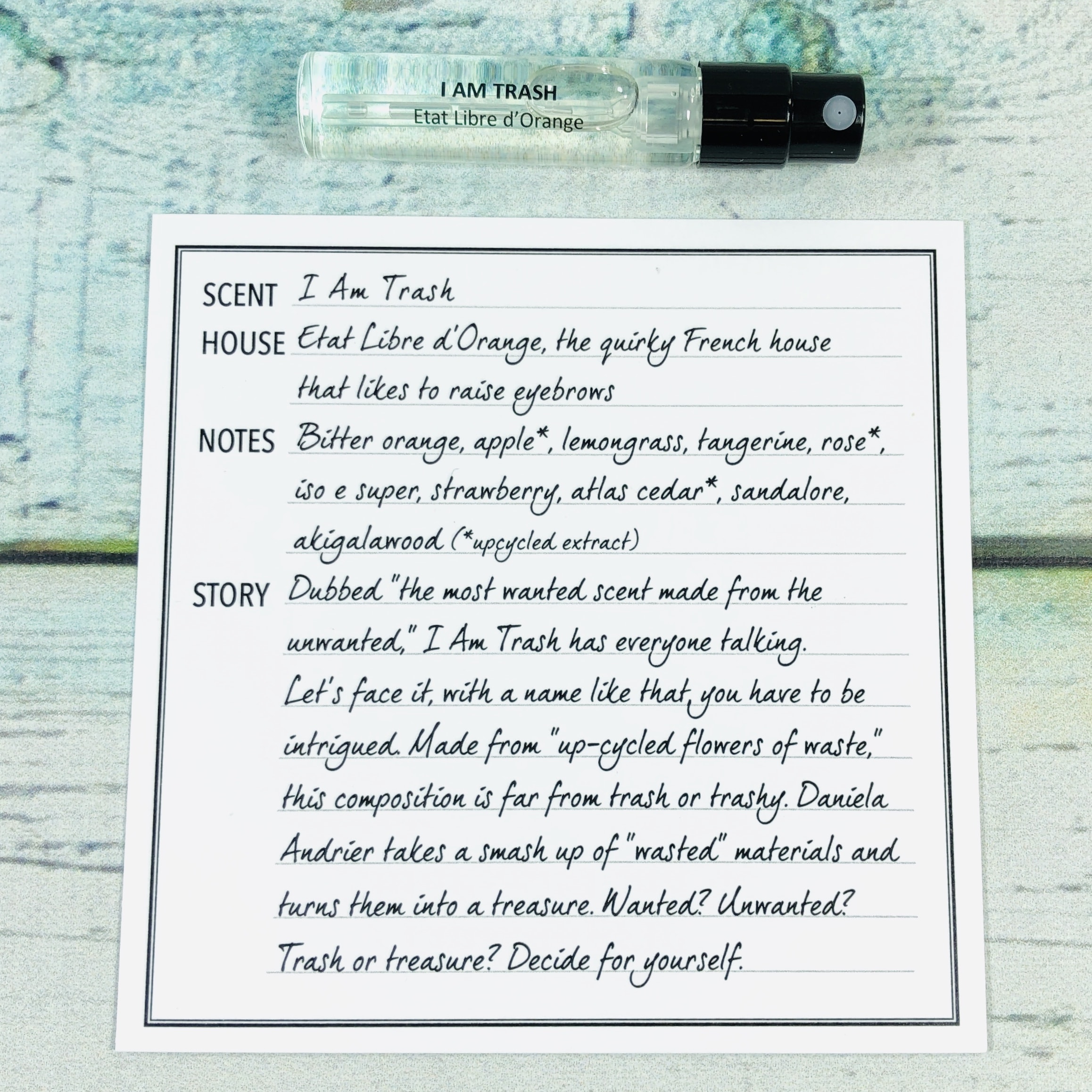 I Am Trash Etat Libre D'Orange ($135 for 100ml) I looked this one up on the French brand's website and they called it "Flowers of Waste" which sounds nicer than "I Am Trash"; either one would work as a name for an indie band. I think the idea is that from discarded waste comes a new kind of fragrance. The scent is anything but trashy and is an Oriental Floral with notes of bitter orange, apple, rose and strawberry, and some of the ingredients are upcycled. This smelled radically different and extremely lovely no matter when I sprayed it. Mostly it smelled spicy and woody with some sweetness, other times it smelled like oranges and flowers. Sadly the scent didn't last very long on my skin but I love the idea behind it and will probably wear it through spring and summer when a heavier scent isn't particularly wanted.
Sundrunk Imaginary Authors ($95 for 50ml) Ahh, the smell of an orange soda on a hot summer day, that is what this smells like! I grew up in Southern California when the iconic soda was released, with someone singing about Good Vibrations and beautiful blond people were playing in the sand and surf. Add a touch of Coppertone and this would smell like my childhood. I know the notes say rhubarb and honeysuckle but this is just sweet orange to me.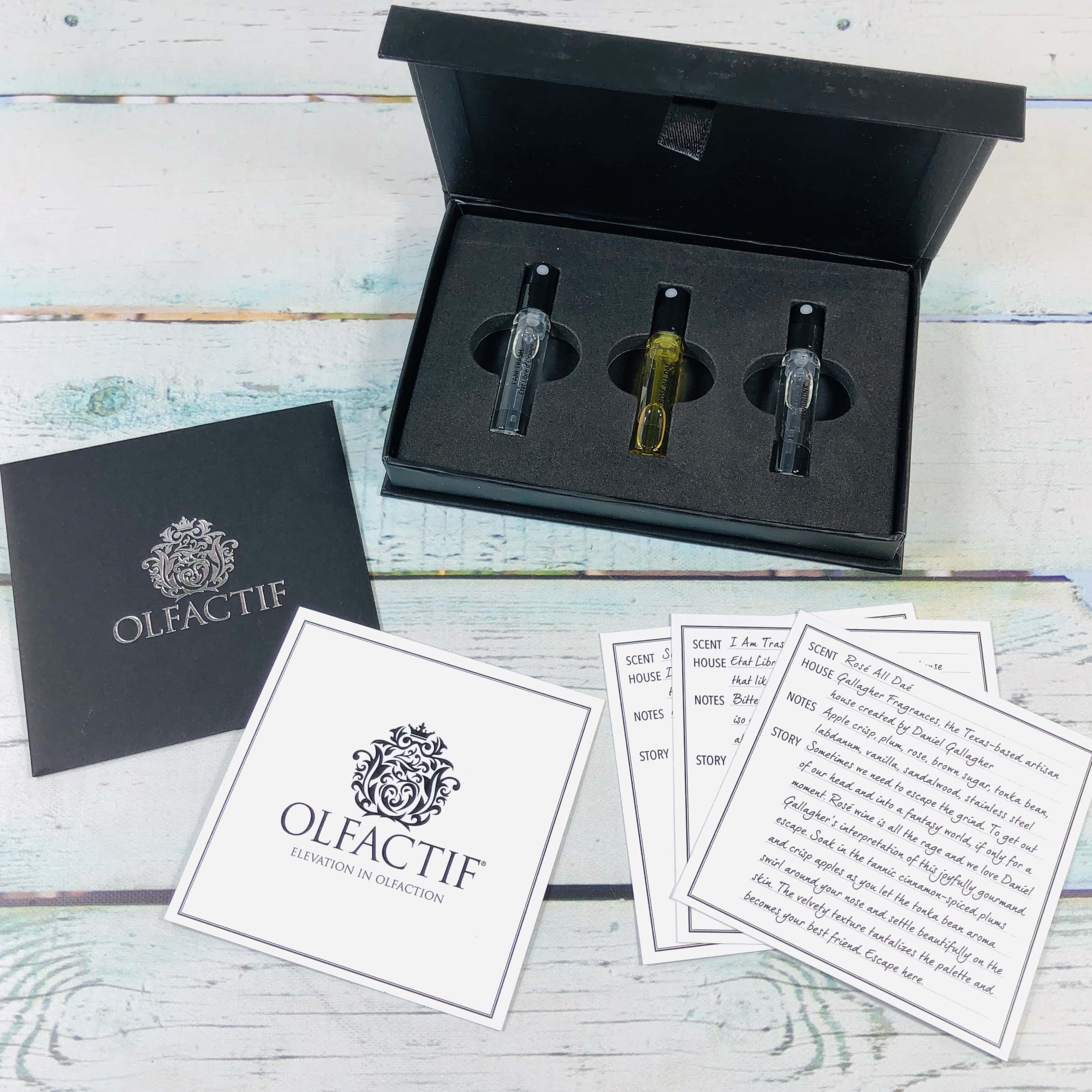 I always get a kick out of Olfactif, they send the most unique fragrances! I rarely buy a full-sized perfume because I like to wear new scents all the time and this let's me get away with that without spending $100+ on a pricey bottle. Of course, when I do find a forever scent then I can save 20% with the discount! I liked each of this months scents so it's hard to choose, luckily I can keep testing my new scents all month until I finally make up my mind.
Have you tried Olfactif? Let me know what you think of this subscription in the comments!