Oceanista is a quarterly subscription box for all of the beach lovers out there, or even the landlocked who are all about that lifestyle. Oceanista sends 5-8 full-sized beach boutique products. Expect to receive jewelry, beauty, art, clothing, and more! Boxes start at $81 a quarter, with prices dropping for a prepaid annual subscription. You can also send this as a one-time or annual gift to the Oceanista of your choice. Coming soon: a box just for young ladies ages 7-18!
Get ready to experience the excitement of receiving our signature beach lifestyle box delivered to your door every season and uncovering the hidden treasures that await you inside. Everything is handpicked by our team of Oceanista™ specialists and includes over $175 of beach boutique products from around the world that you can use on land or sea! Most of our items are exclusive to Oceanista and we curate your box in themes with the ocean-lover and beach vacationer in mind! Featured artisan pieces, surprises and the chance to win a free gift guarantees our box will be one you look forward to again and again!
DEAL: Get $10 off your first box or annual subscription! Use coupon code HELLO10.
I love this van on the bottom of the box. If I owned a van like this I would want it to be either sky blue or lavender! Or pinkish salmon. Or with paisley print.
My box was delivered to my door and I could do a whole post just on how cute the packaging was.
When you sign up, you also fill out your preferences such as skin tone, clothing + shoe size, and ring size. See the darker blue bars? You can toggle down to find more choices, such as "plus size" for clothing and "deep" for skin tone.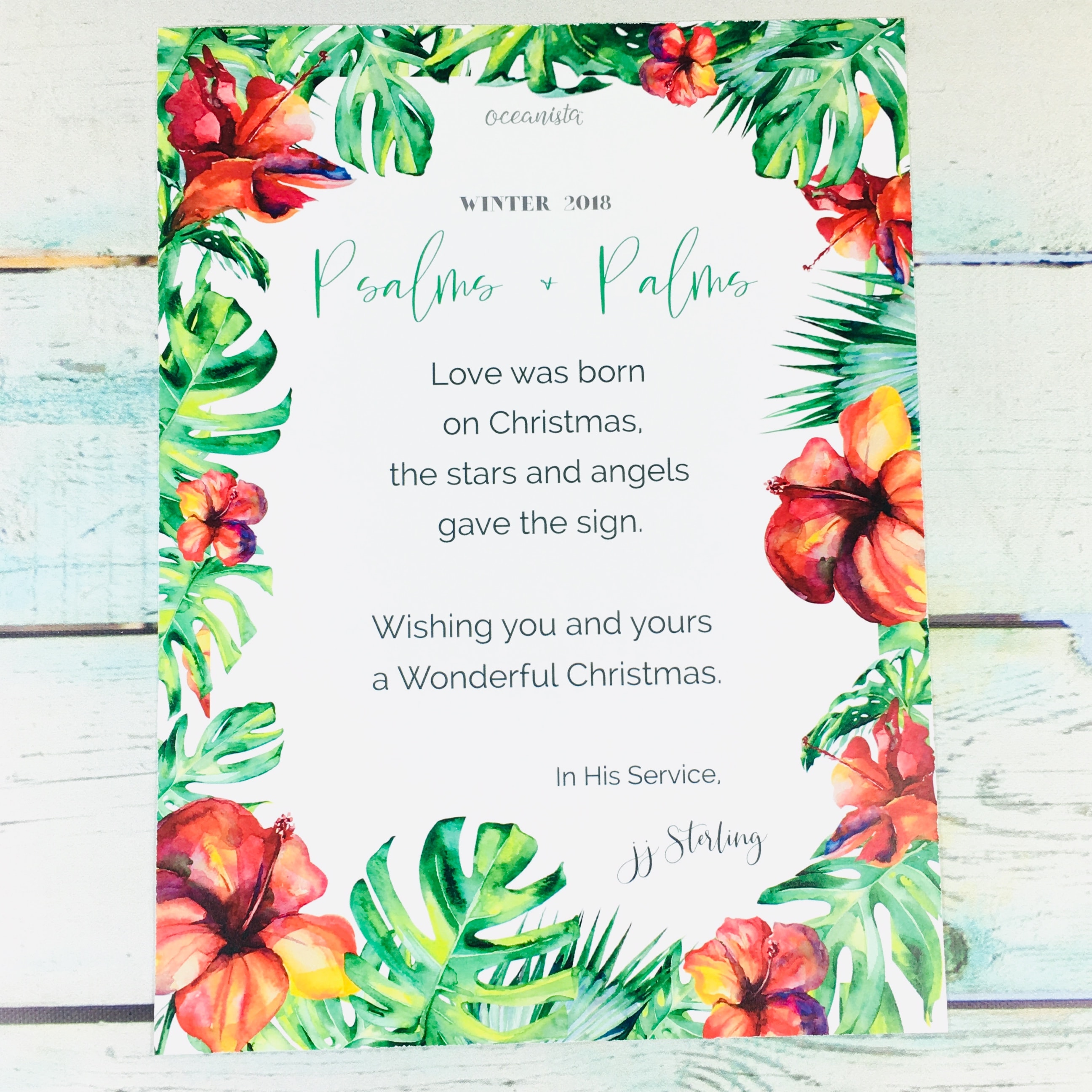 This season's box is all about Psalms & Palms!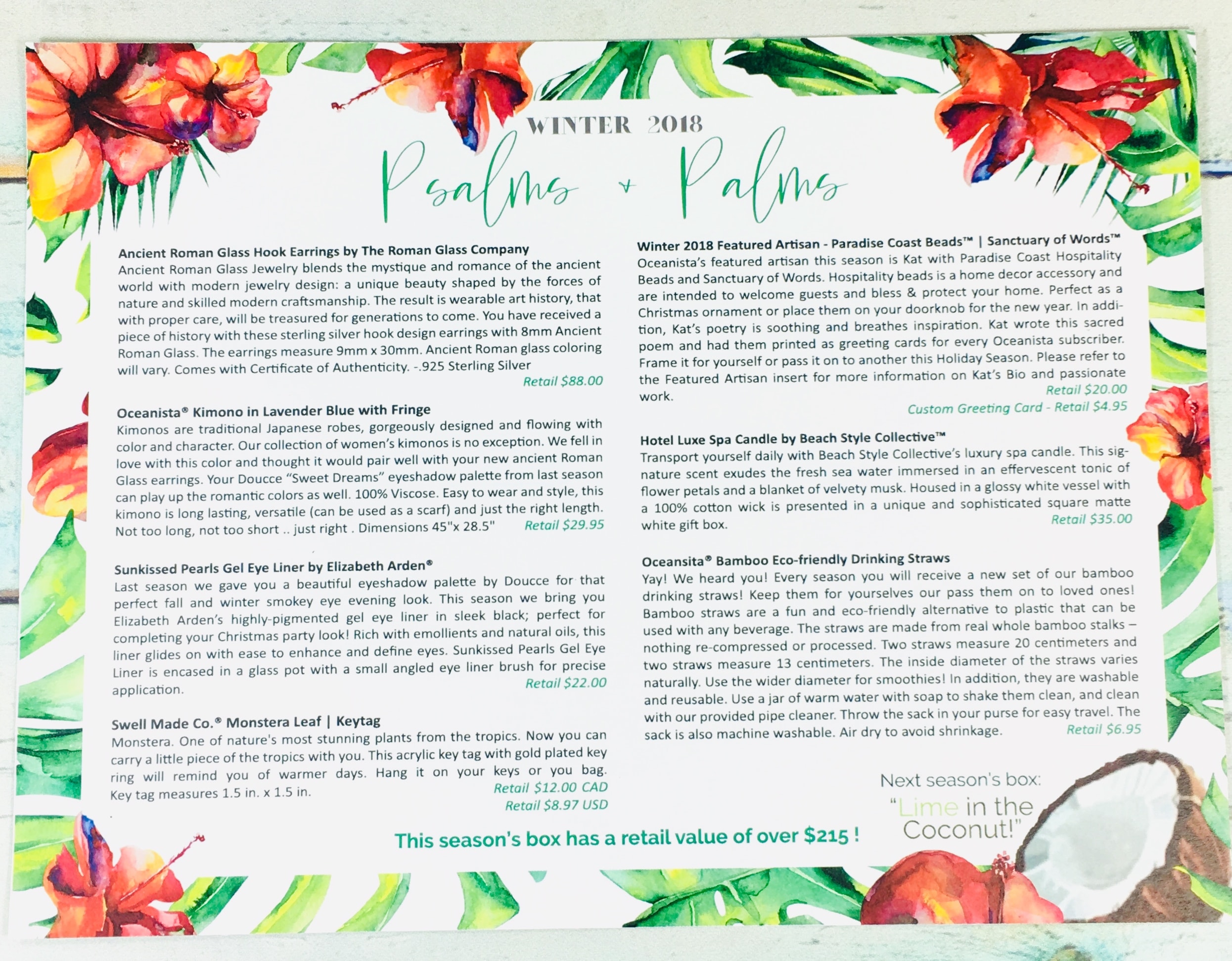 A list of each item, some item info, and retail price are listed.
Another card described the Sand Dollar Rewards program.
There was some in-depth info on one of the items featured this month.
Use your empty box to clean up the beach and post to Insta and you will get a free gift!
There was a card with info on the featured artisan of the month.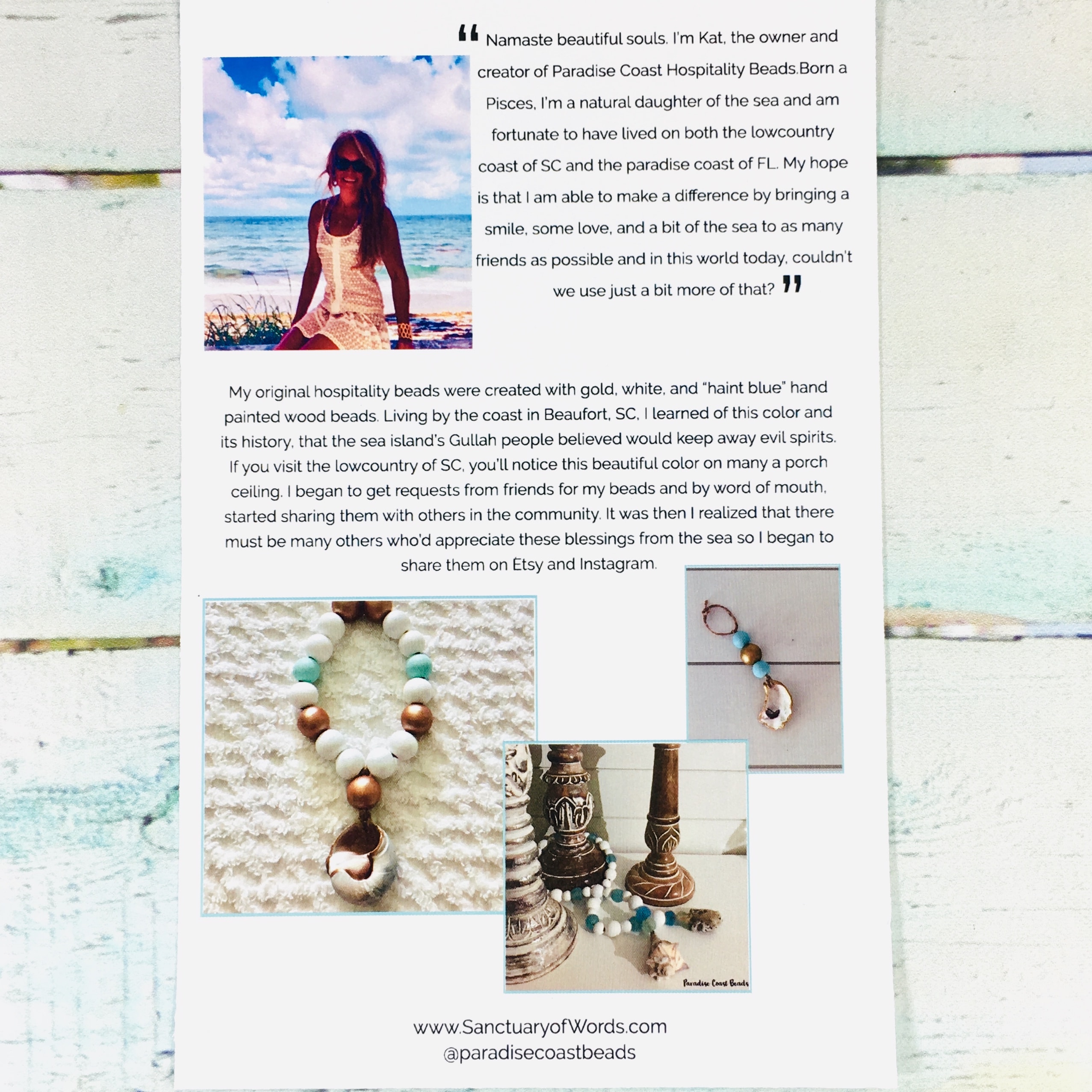 My items were wrapped in tissue paper with a sticker closure and were protected by shredded tissue paper squiggles.
Everything in my box!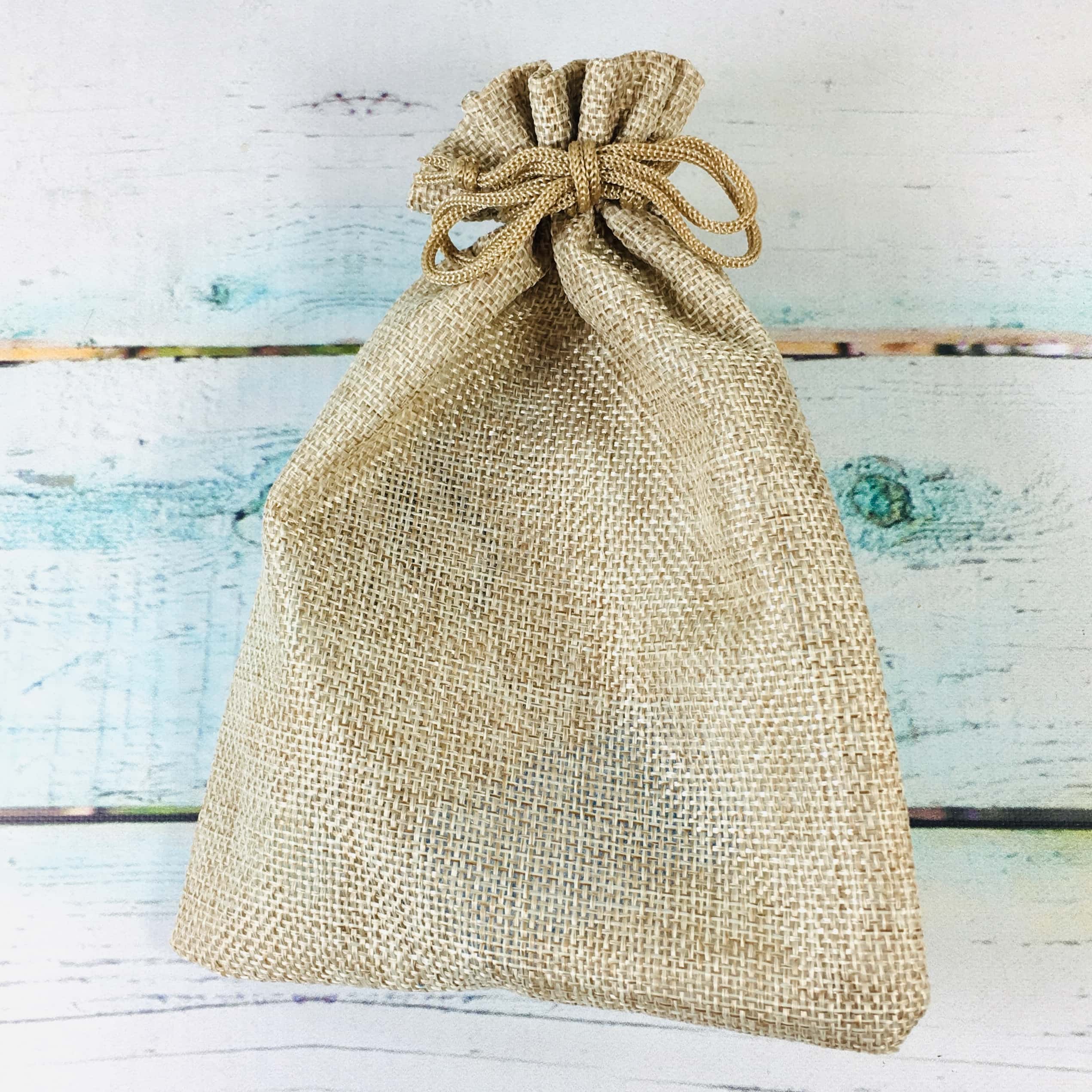 Sanctuary Of Words Paradise Coast Beads ($19) The first item came in a burlap bag.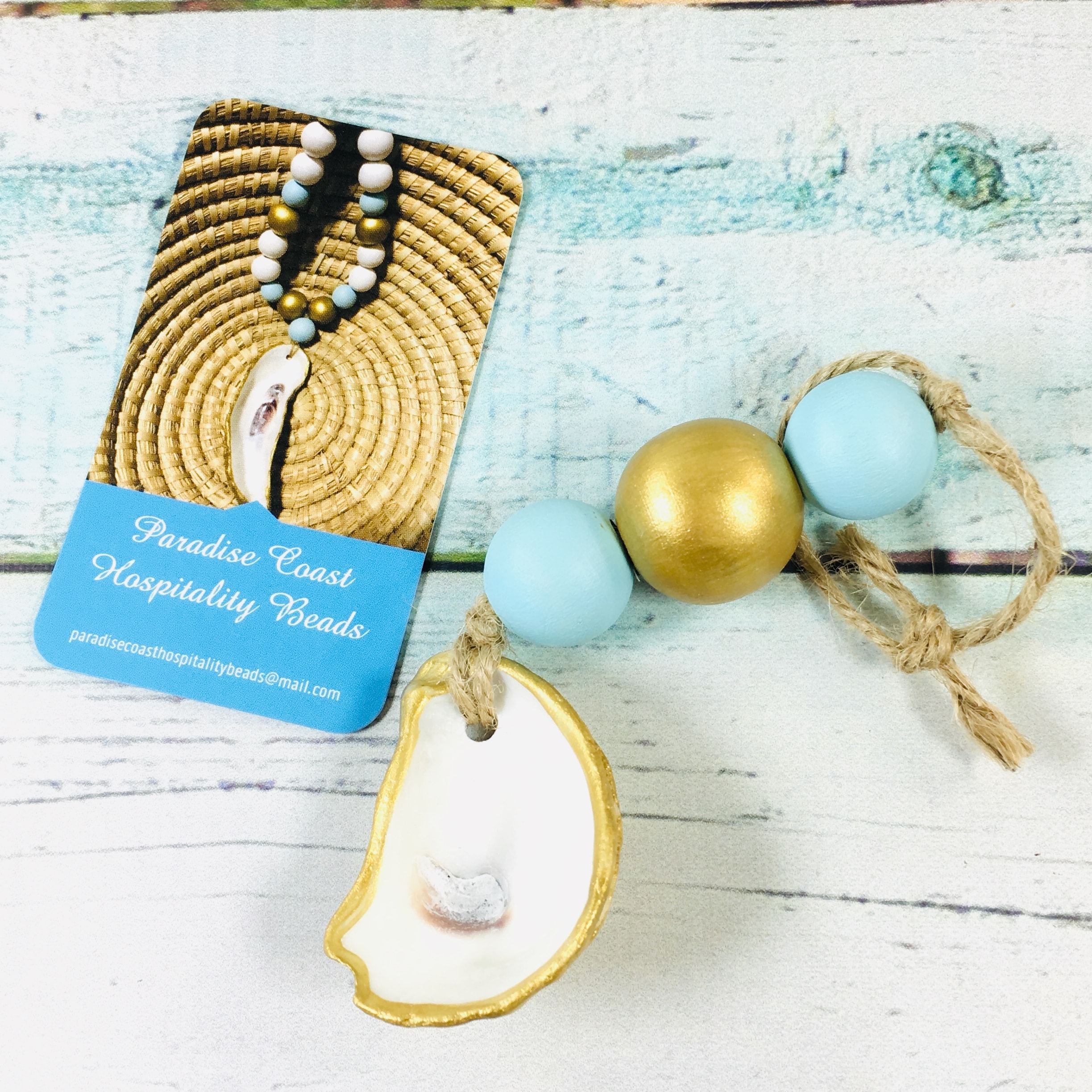 These are called "hospitality beads" and you hang them in your home for protection or general good luck or use it as a tree ornament.
The card found in the bag with the beads gives a little more info.
It looks like an oyster shell with wooden beads. Two of beads are painted "haint blue", which is a paint color traditionally used in southern porch ceilings to ward off evil spirits.
The next item was wrapped in an envelope.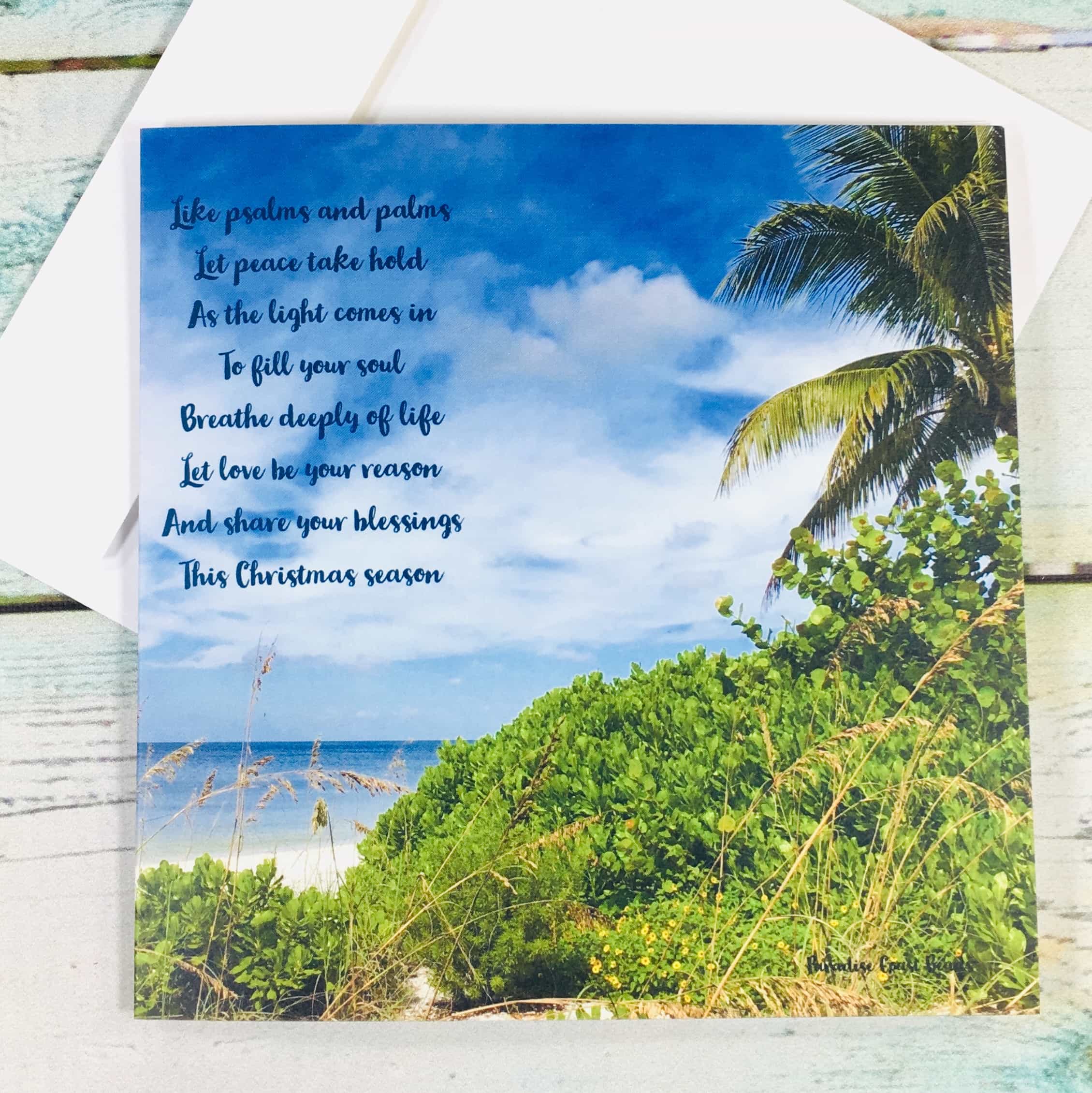 It's a Christmas Greeting Card (about $4.95) from the same artist who made the hospitality beads! I love the picture, and I love palm trees. My phone's screensaver is even a palm tree!
Oceanista Bamboo Eco-Friendly Drinking Straws ($6.95) I love the little bag these straws came in, you can take your straws out and about and just place them in the bag to carry them without dripping all over everything!
There are four straws included, along with a brush for cleaning them. They come in different diameters so I'm sure they would work with a thick smoothie or frappe. Bamboo is a renewable resource and an alternative to plastic straws, which often end up in our oceans and can harm wildlife.
Swell Made Co. Monstera Leaf Key Tag ($12 CAD, about $8.97 USD) Monstera leaf is a popular prop for Instagram pictures and here it is in a handy key ring! One side is gold plated acrylic.
The other side is black. Monstera plants can be found in tropical rain forests.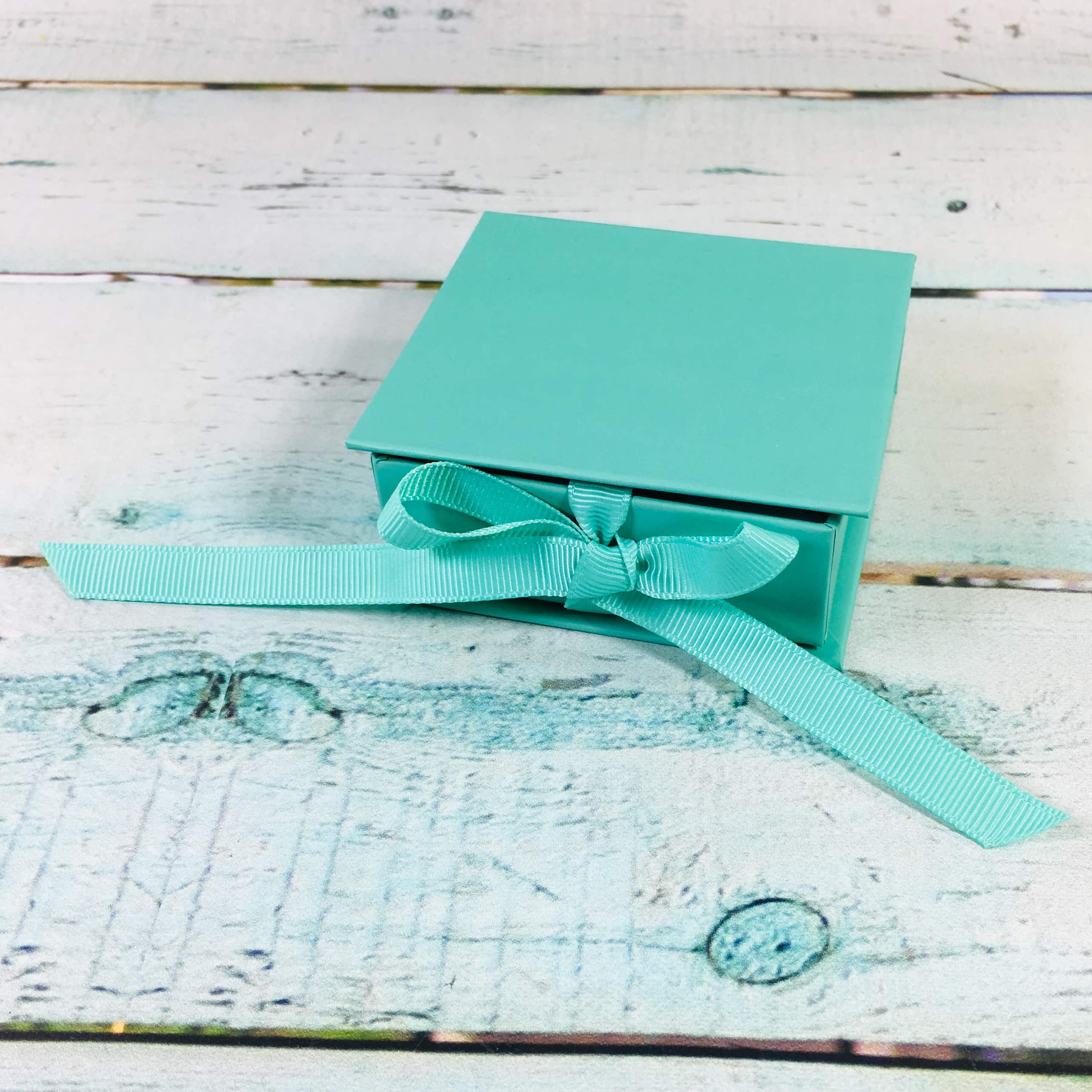 The Roman Glass Company Ancient Roman Glass Hook Earrings ($61.99) It's always nice to see a Tiffany blue box!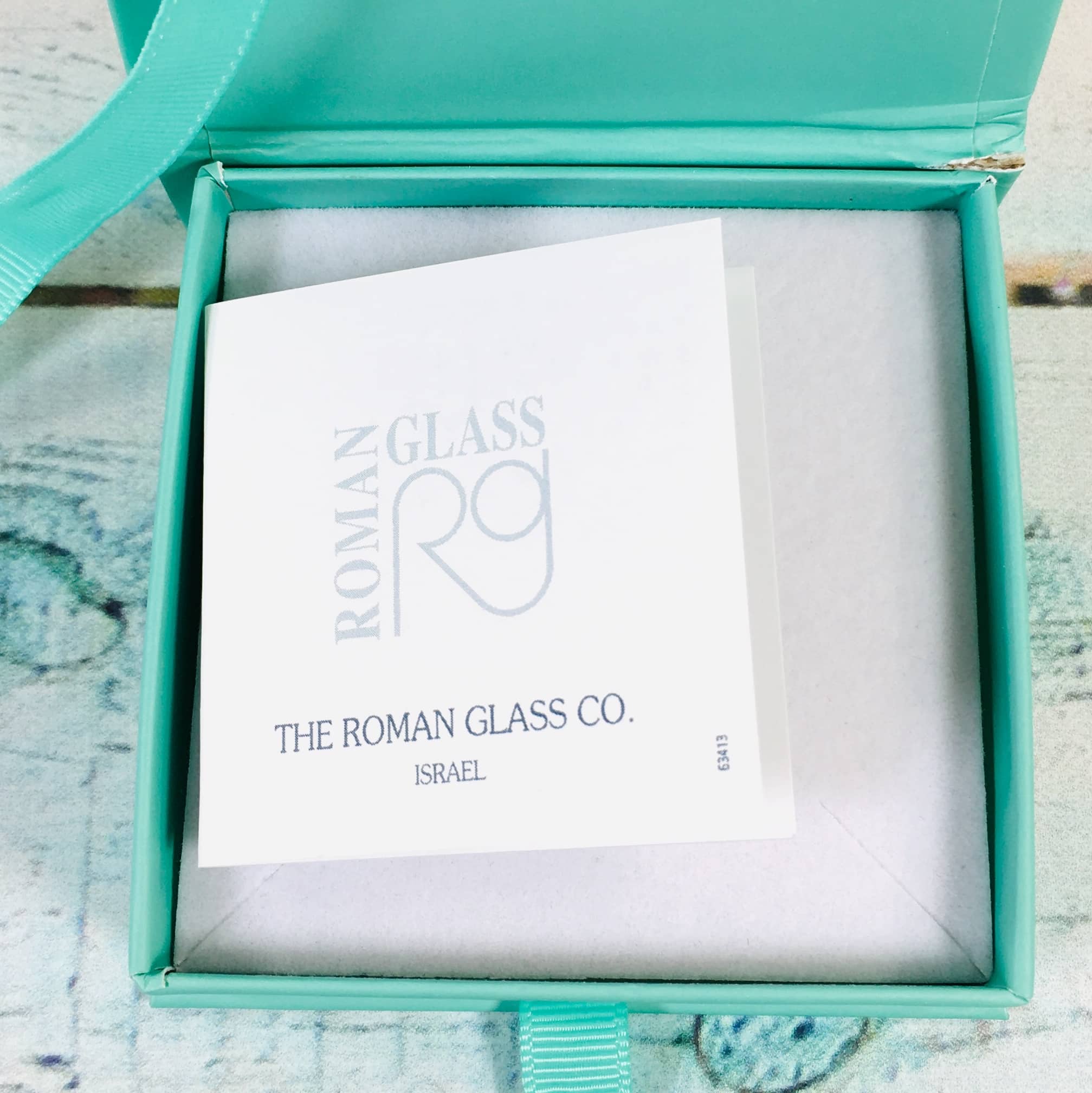 I had never heard of Roman glass before but this item is made with glass found in the Holy Land and that glass is 2000 years old!
They are unique in that each pair has different patinas, or surface colors, which happened over centuries of being buried and have recently been discovered by archaeologists. I love the blue colors and they are on sterling silver posts.
The earrings came with a certificate of authenticity. They are just beautiful!
Beach Style Collective Hotel Luxe Spa Candle ($35) came in a cute little reusable box.
More palm trees!
I opened the box like a mini drawer.
I think this candle goes with a lot of different decors, not just beach style. The scent is called "Irresistible" and is described as fresh sea water and musk. I think it smells floral, like a lovely perfume, and my daughter instantly claimed this as soon as she smelled it!
Oceanista Lavender Blue Kimono ($29.95) Some of the items in this box are exclusive to Oceanista and the values are ones found on their website.
The material is viscose (rayon) and is one size fits most. It should be hand washed and line dried. It can also be worn as a scarf.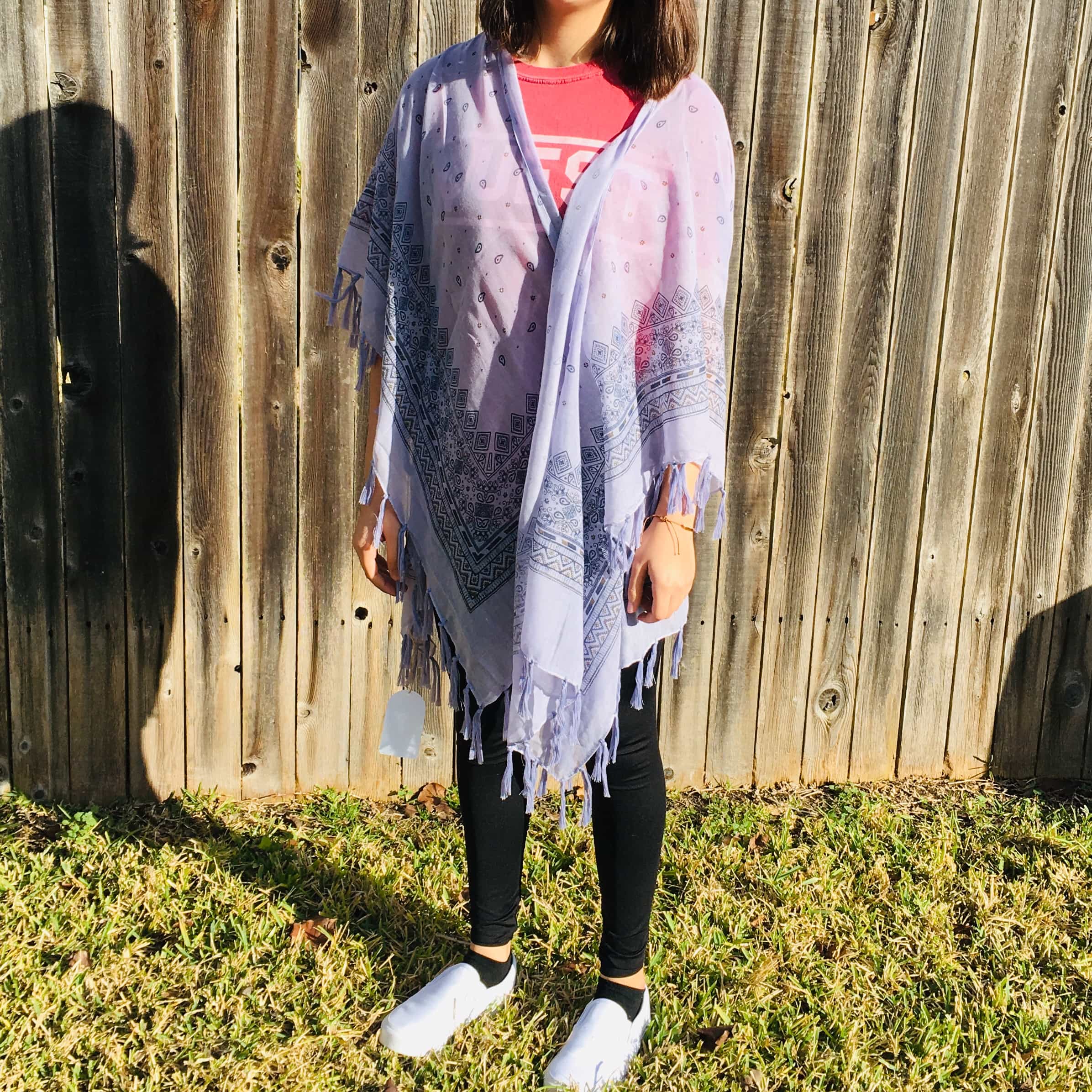 Here it is being modeled by my daughter. I tried it on too and although I am a plus size it fit me just fine.


I think it would go great as a cover up for the beach or pool!
Elizabeth Arden Sunkissed Pearls Gel Eyeliner ($22) Doesn't this eyeliner have the cutest name? Sounds perfect for an ocean-themed box!

The gel eye liner came with an applicator brush to help create a fine line. Time to practice that cat eye look, or apply close to the eyelashes just like with liner pencil.
You dip the brush in the gel then get to work.

Unfortunately, Oceanista was sent a bad batch of liner – I couldn't even scratch it out of the container with a toothpick! Before I even had a chance to try it out, I received a message from the owner of Oceanista, who notified me of the bad batch and said she would ship a new one as soon as possible. Sometimes boxes get bad product – I don't think it's reasonable to expect Oceanista to test every bottle they send out, that wouldn't even be sanitary, but in this case they notified me, and other subscribers, in a timely manner and with a solution. New subscribers who ordered this box received a replacement item and a note about the change. All's well that ends well!
I am always super excited when Ocenaista shows up at my house – I love the beach and anything that reminds me of my happy place! The earrings were stunning, and the coverup will be perfect as a blouse topper in spring or bathing suit coverup in summer. My daughter is in love with the candle, and the bamboo straws are a wonderful solution to a problem that is plaguing our oceans. The other items rounded out the box nicely. The value for the Winter shipment was around $188.81, over $100 more than the price paid for the box!
FYI: The theme for the Spring 2019 box is Lime in the Coconut!!!
Any thoughts about the Oceanista Winter box? Let us know your comments!