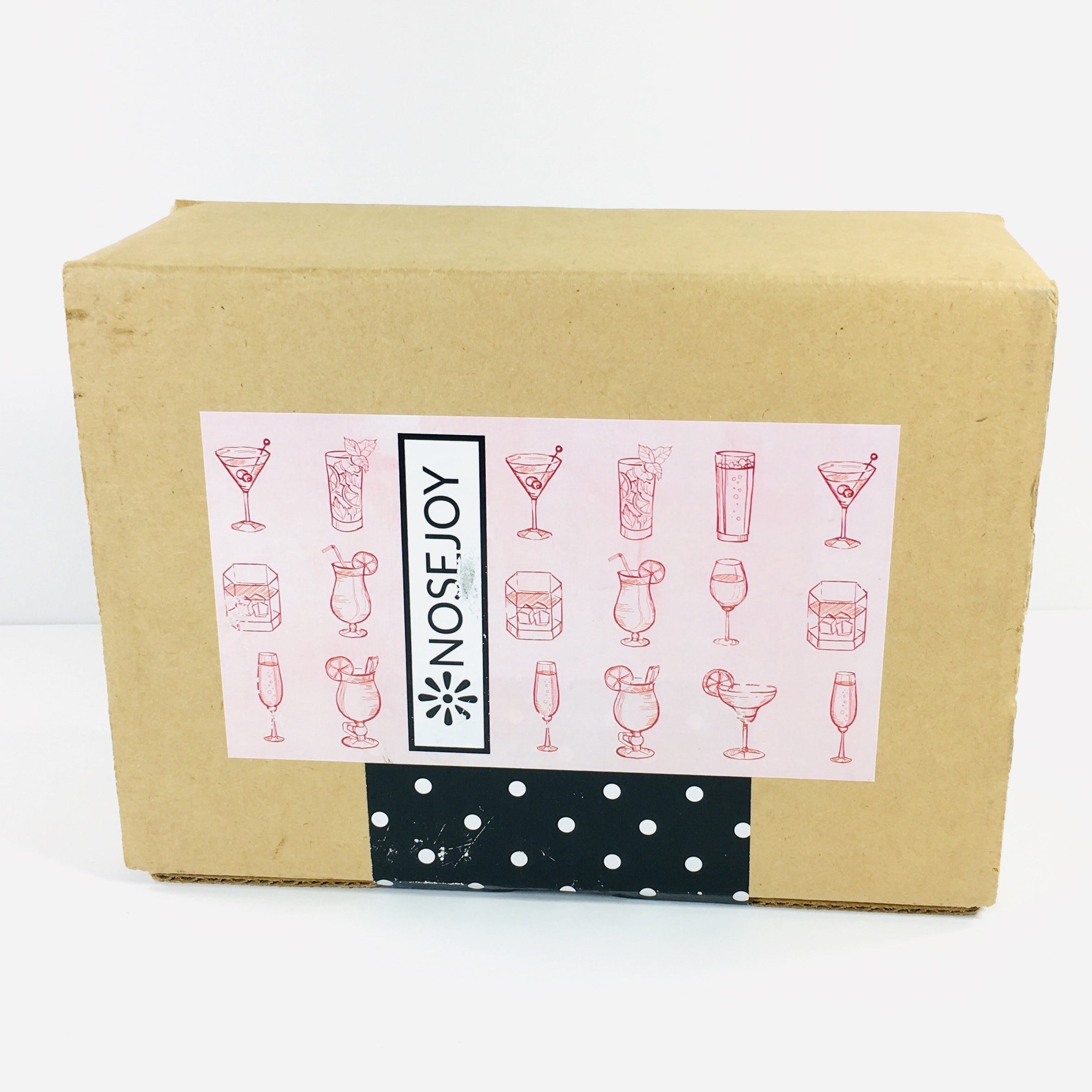 NOSEJOY is a monthly subscription box that sends items to please your sniffer! Make your nose happy with lovely smelling soaps, candles, lotions, and more for $34.95, which includes shipping. Each box will be curated to the season and will include upscale and boutique brands.
Your sense of smell is strongly tied to your emotions. Good smells create good vibes! With NOSEJOY, you can experience smell-good happiness throughout your day – a fresh soap in the bath, an energizing candle at your desk, or a delicious lotion on your skin. The best part is that you can use and enjoy these things knowing new premium goods are on the way!
DEAL: Get $5 off your first box! Use coupon code HELLO5.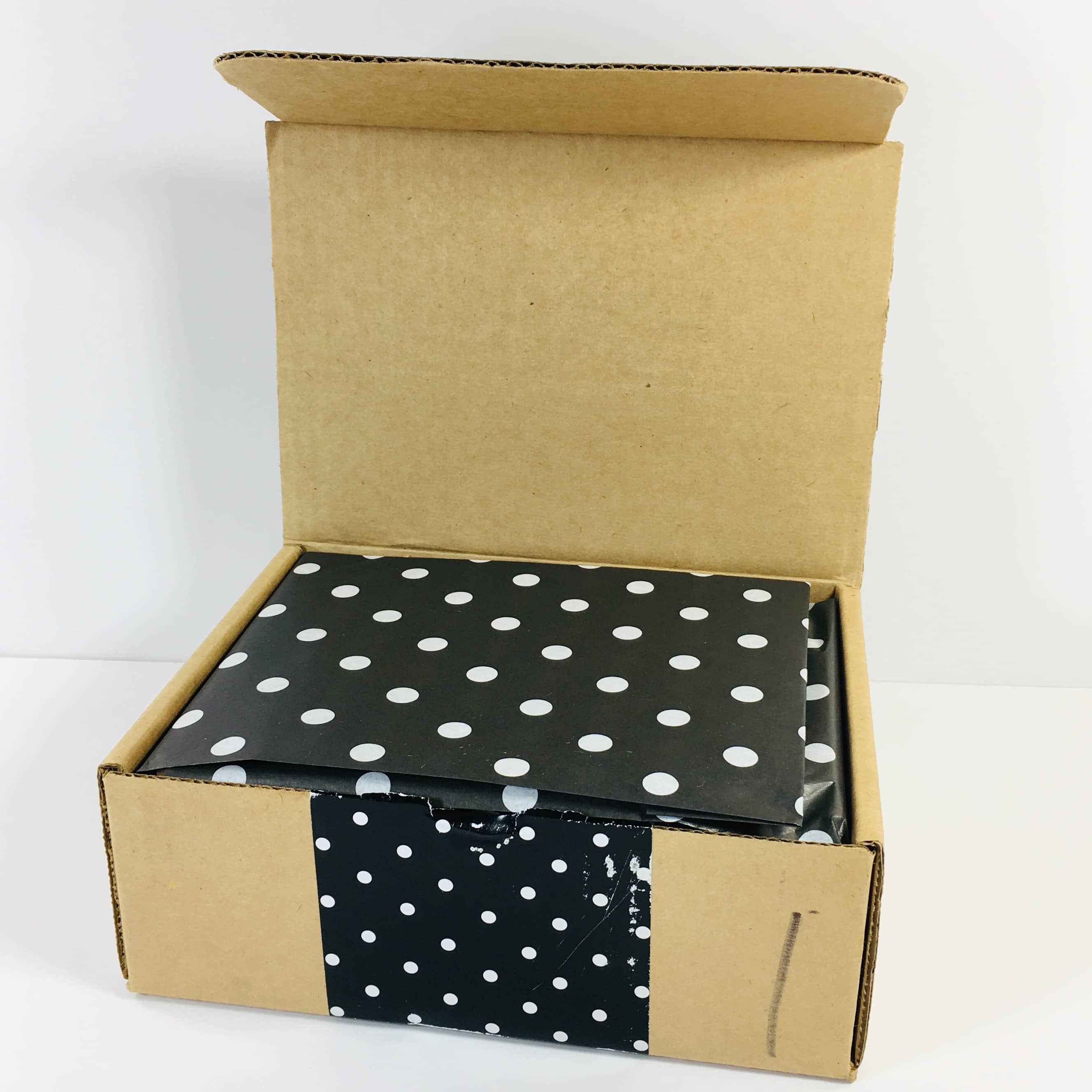 The presentation was lovely, with a seasonal sticker on the outside and patterned tissue paper inside. I love that the sticker outside the box is changed every month, it is a neat touch!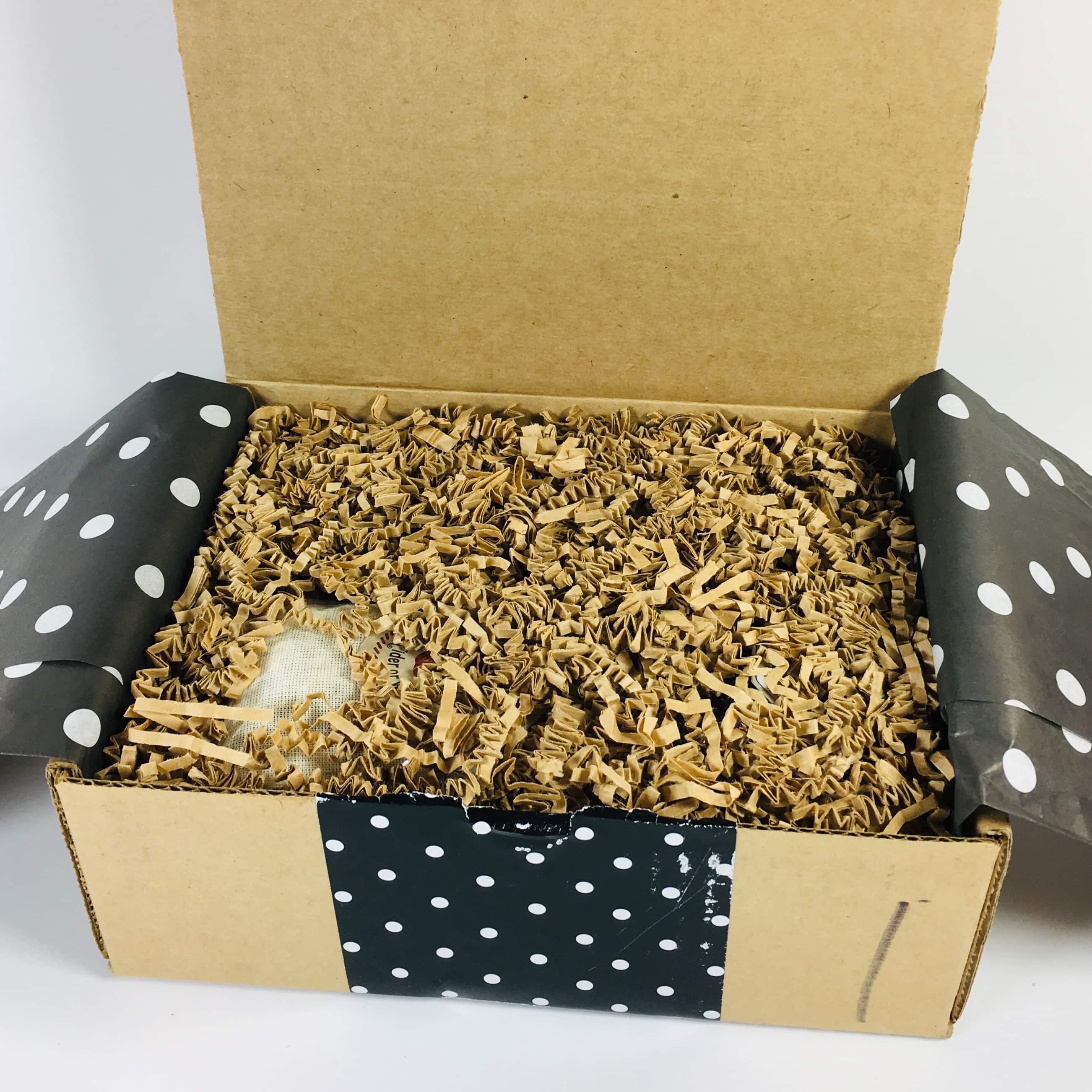 Everything was tucked into shredded paper squiggles.
I found a card that announced the December theme, Holiday Cheers. This month's items are inspired by adult beverages!
The back of the card gave a little intro into this month's theme and items.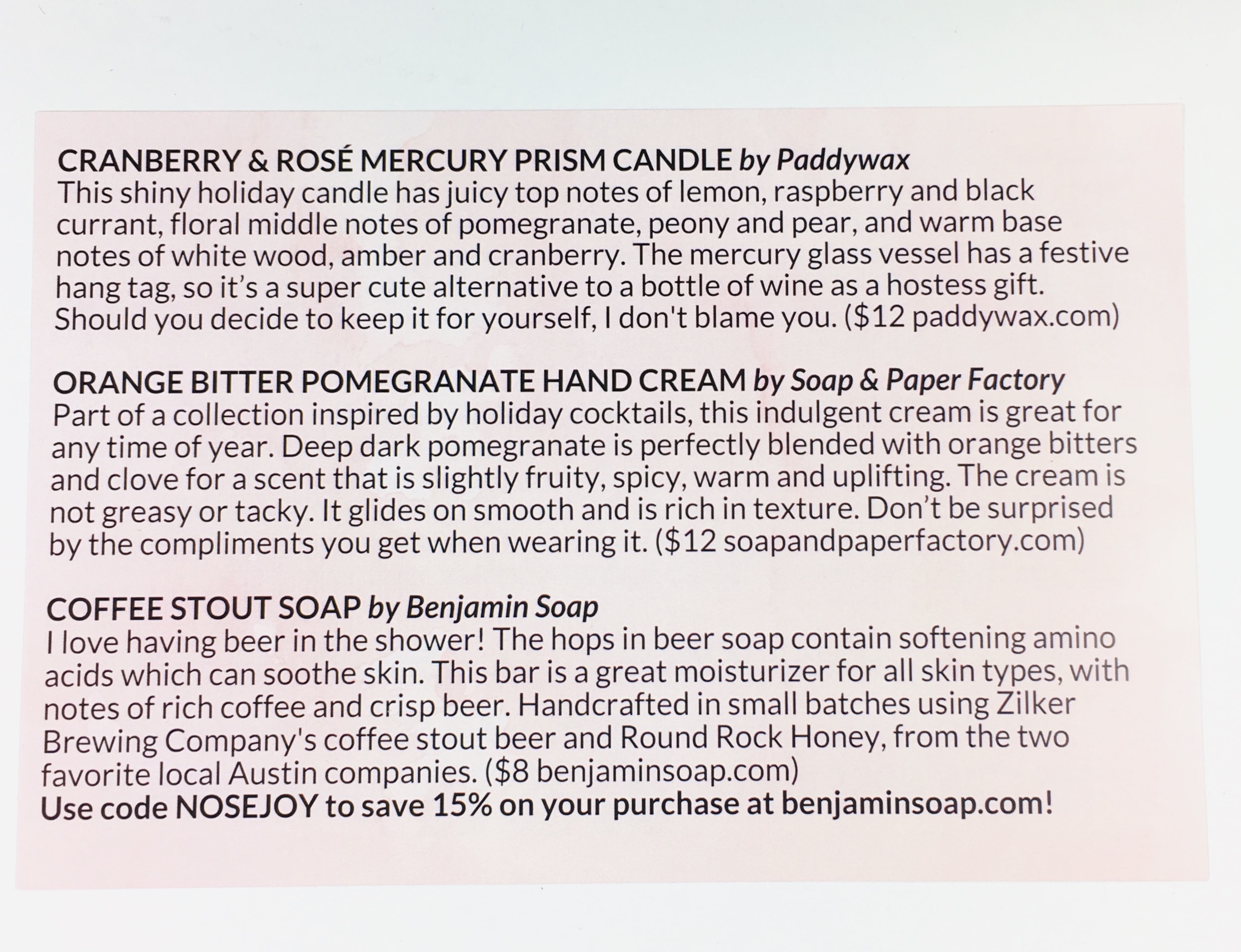 Next was an insert on the products.
The insert gave a little info for each item, its MSRP, and listed a website in case you need more.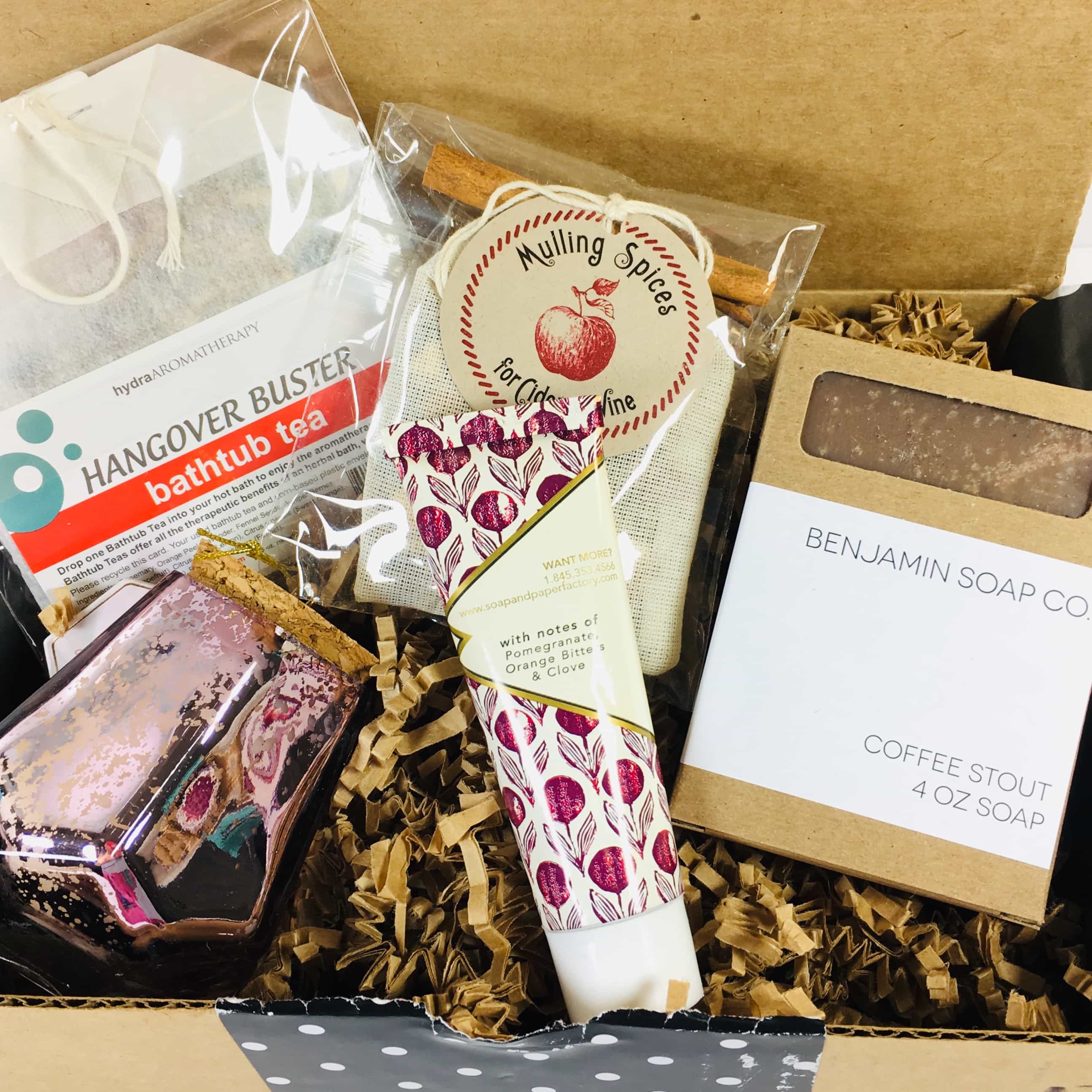 The items are not only sweet smelling to my nose, they are also pretty to look at and fun to use.
Everything in my December 2018 NOSEJOY box!
hydraAromatherapy Hangover Buster Bathtub Tea ($5.25) is a tea bag for your bathtub!
Just drop it into a warm bath and enjoy the scent from the fruit peels and herbs. All-natural and totally compostable! The bag makes clean up a lot easier too, no chunks to clog your pipes. I like it!
Idea Chic Mulling Spice Sachet ($4) is a tea bag for your wine (or apple cider)!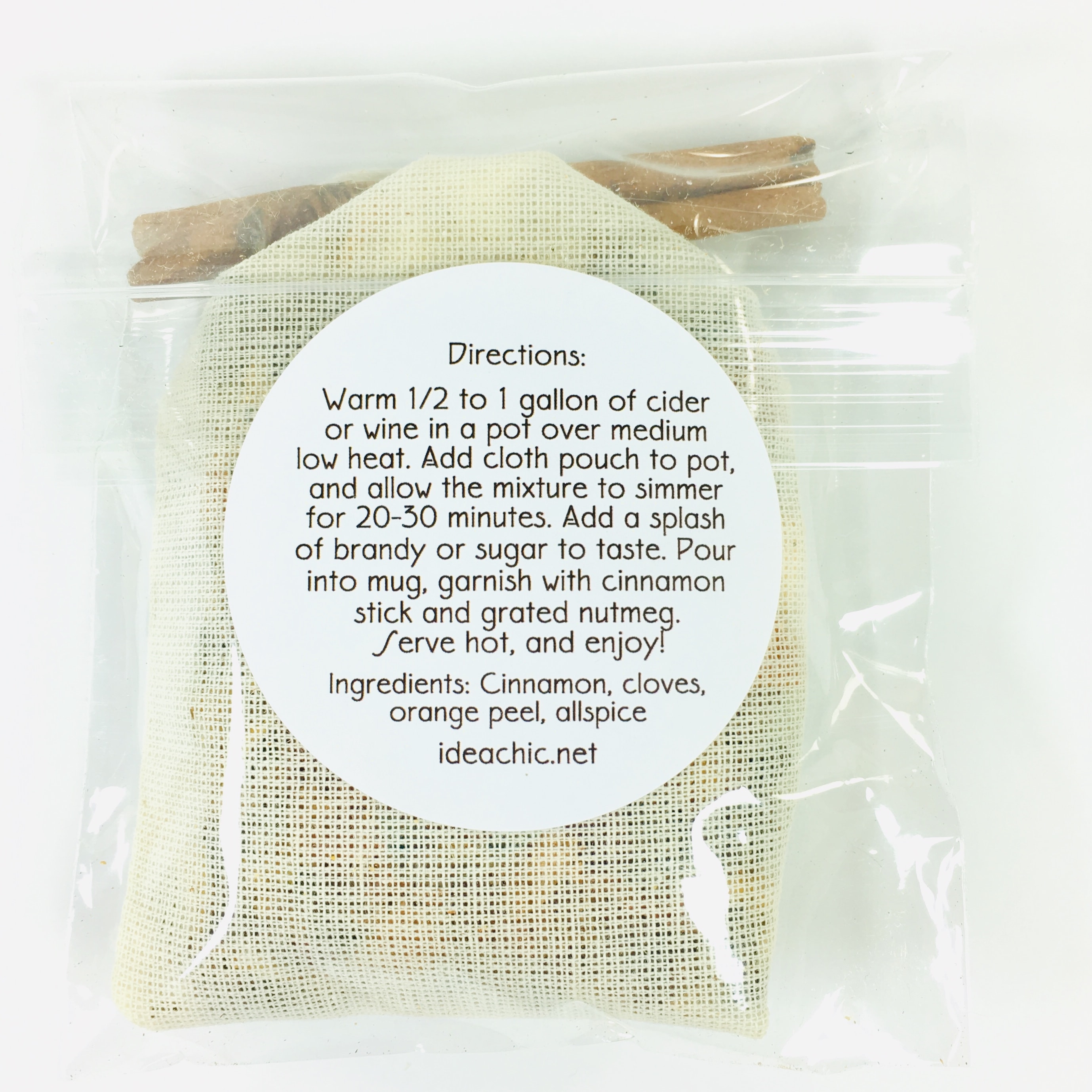 Another all-natural product, just cinnamon, cloves, orange peel, and allspice in a muslin bag. Throw the whole thing into a pot with wine or cider and simmer for 20-30 minutes. You can also stash this in a drawer for a sachet or set it on the stove in a pan of water and let it simmer and make your home smell fabulous. I'm going to do a wine and cider mashup and can't wait to try it out!
Paddywax Cranberry & Rosé Mercury Prism Candle ($10) I adore the mercury glass look of this holder! The prism shape is also unique in a candle and looks cute on my table.
It has a cork lid and a gift tag in case you need a last minute gift.
The scent notes include red berries, peony, and amber but I think it smells sweet, fruity, and floral.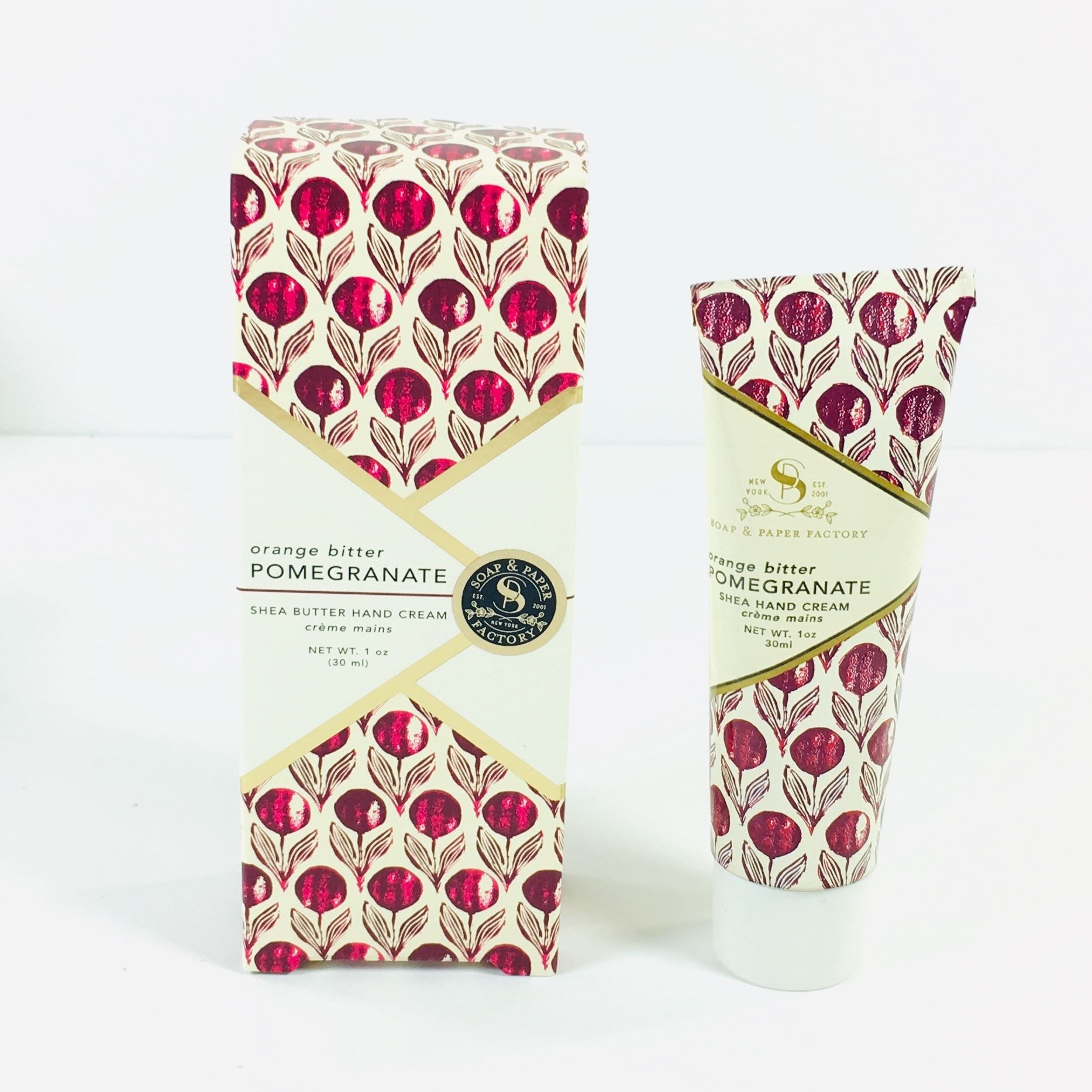 Soap & Paper Factory Orange Bitter Pomegranate Hand Cream ($12) I have so many floral hand lotions but this one is just what I need, a fruity but not overly sweet fragrance that fits in my purse and smells wonderful! Plus, the packaging is adorable.This one was sealed so just take the lid, flip it around, and use it to pierce the metal covering the opening of the lotion.
Benjamin Soap Coffee Stout Soap ($8) I love my Austin-based businesses, like Benjamin Soap Company. Here they've taken a local beer and turned it into soap!
The ingredients are clean, no parabens or sulfates here.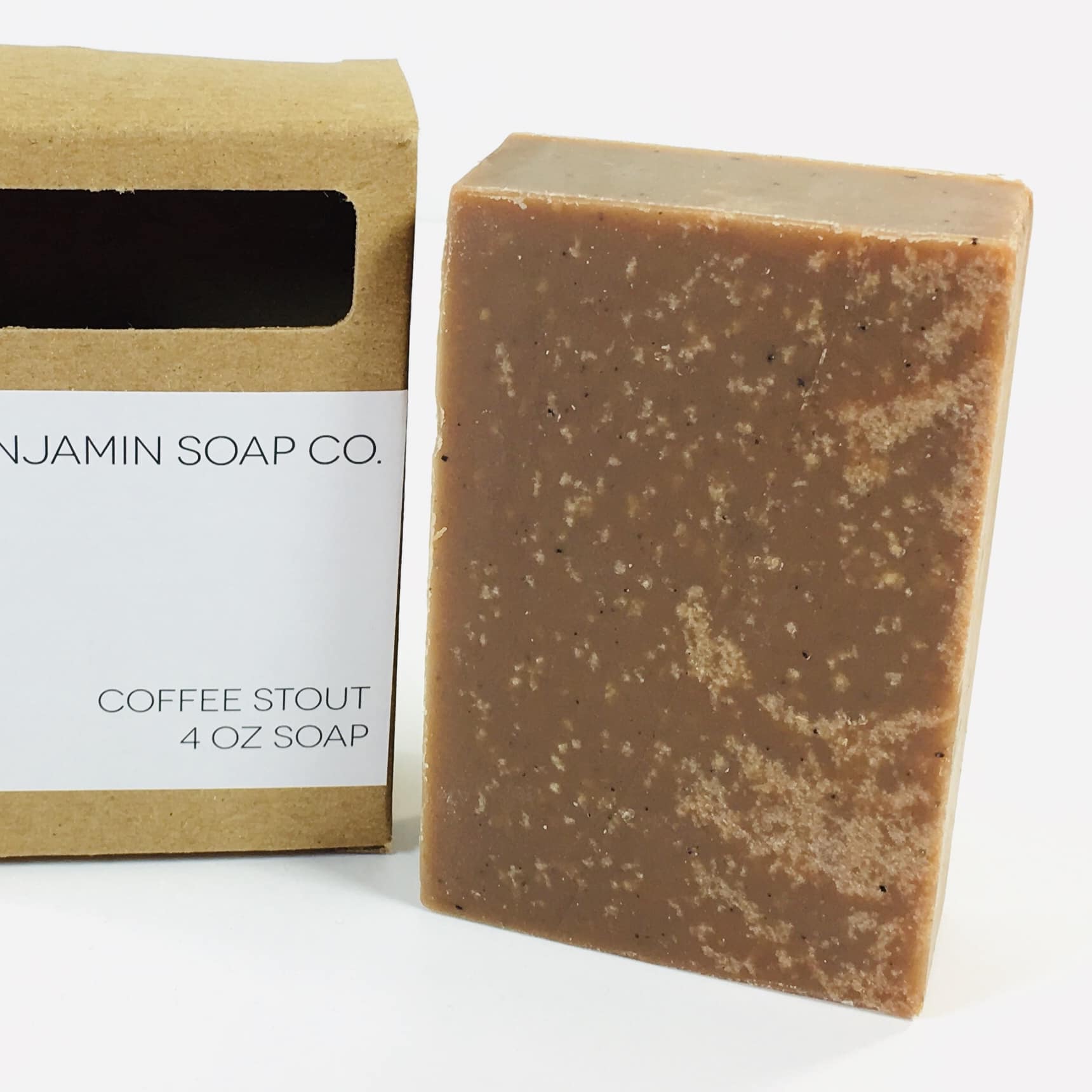 I know it has beer inside, which may be why my husband likes it. I think it reminds me of chocolate! It lathers well and rinses completely away, yay!
NOSEJOY consistently sends amazing products that are unique and true to the mission of this box, they smell wonderful! NOSEJOY picks the coolest themes and each item fits the theme perfectly. Some items you can come to expect on a regular rotation, like soap, lotion, or candles; others are a total surprise, like a mulling spice or bathtub tea. I always know that the products will look cute, smell yummy, and work well, the quality is top notch! I love this box!
Have you tried NOSEJOY? What do you think of this box?