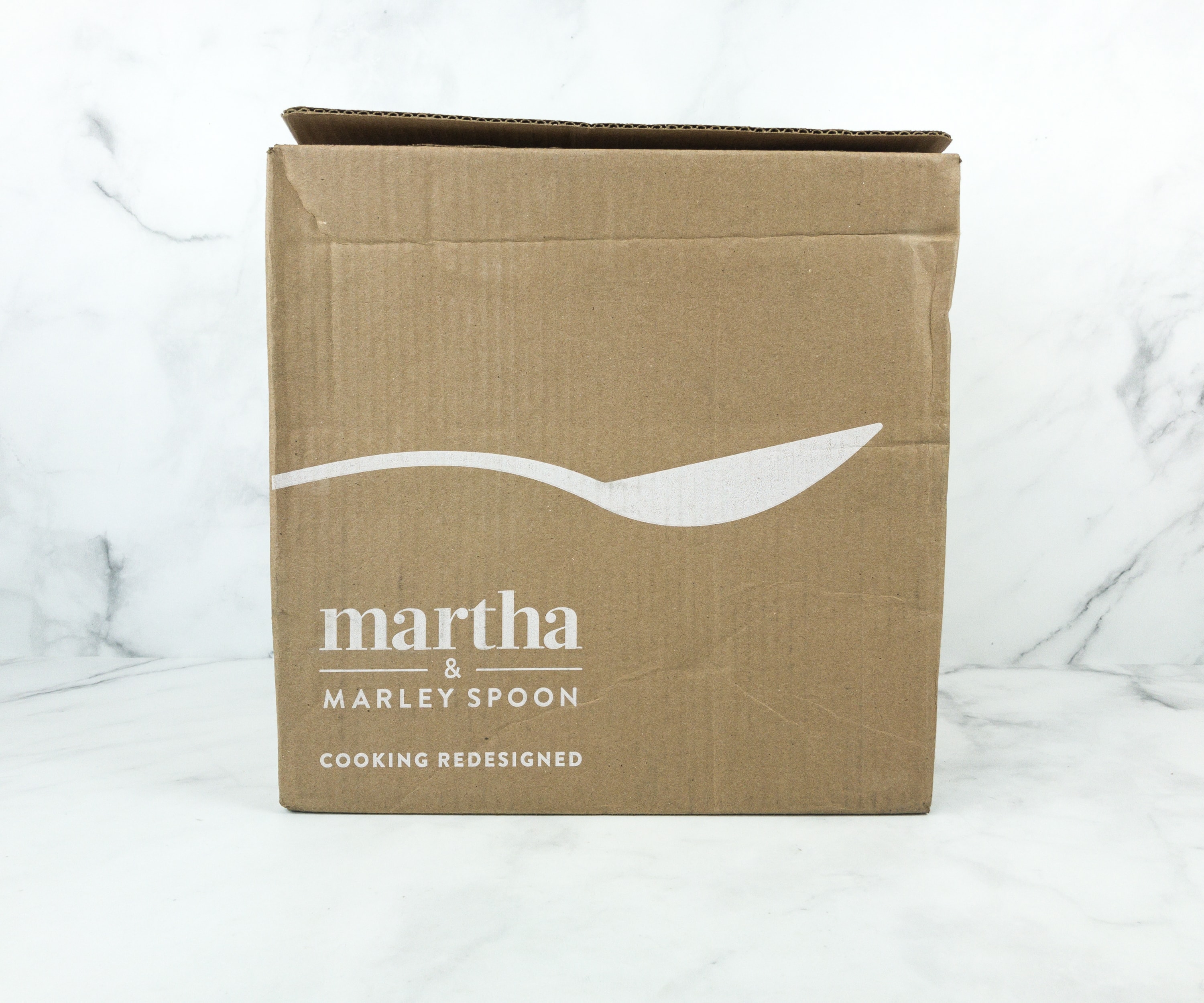 Marley Spoon delivers delicious recipes and fresh, seasonal ingredients straight to your door. You can choose from a weekly menu featuring 10 chef-created recipes, including recurring customer favorites, vegetarian meals, and kid-friendly recipes. Each option is clearly marked to note whether it features meat, fish, or just veggies, plus other characteristics of concern to diners with diets restricted by necessity or preference — they note gluten free, dairy free, kid-friendly, quick to prepare, vegetarian, and spicy meals to help you pick the best meals for you. Each recipe serves two people (there is a minimum four portion requirement per box), and shipping is free!
DEAL: Save $30 on your first box. USE THIS LINK to get the deal. Valid to USA subscribers only.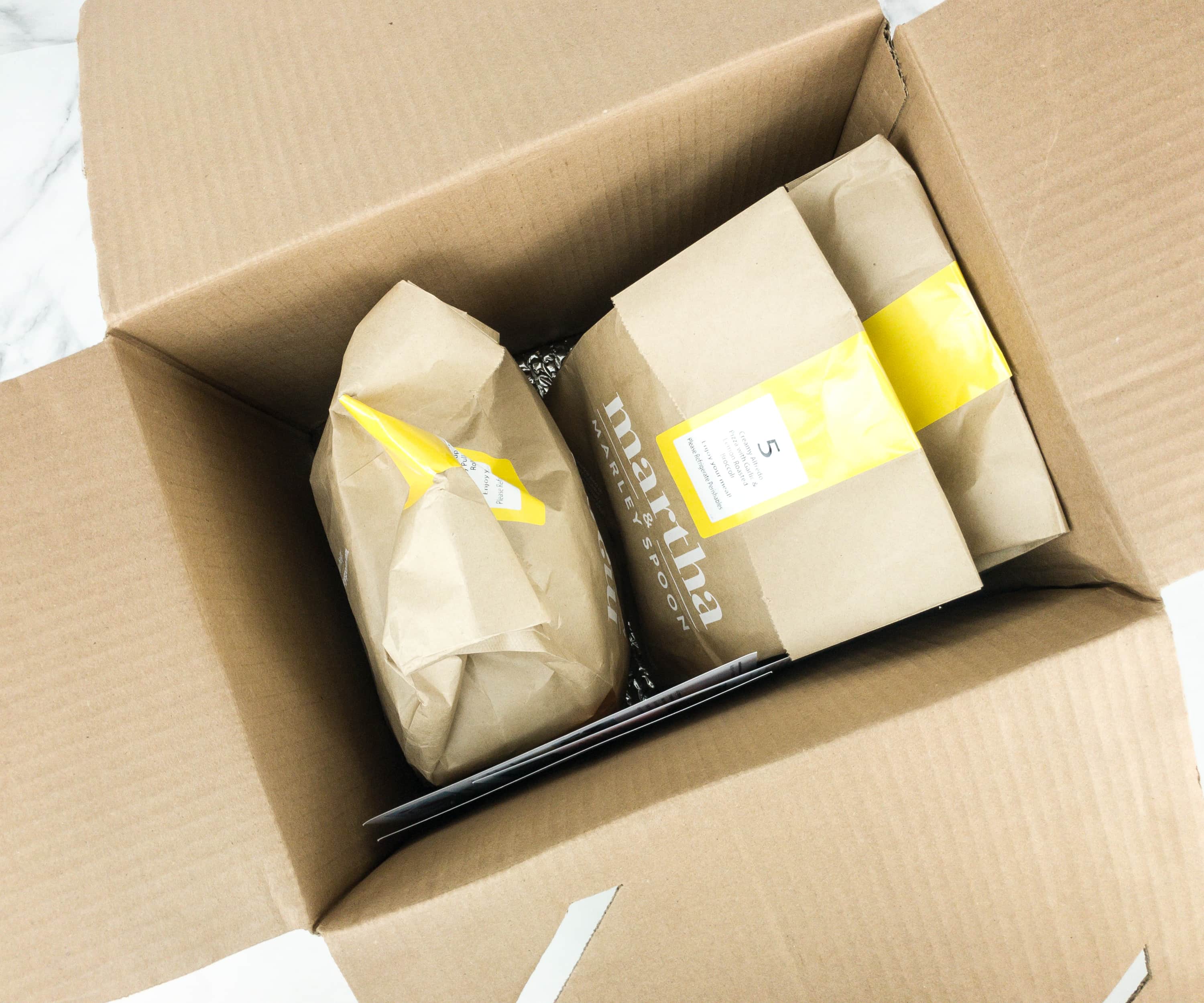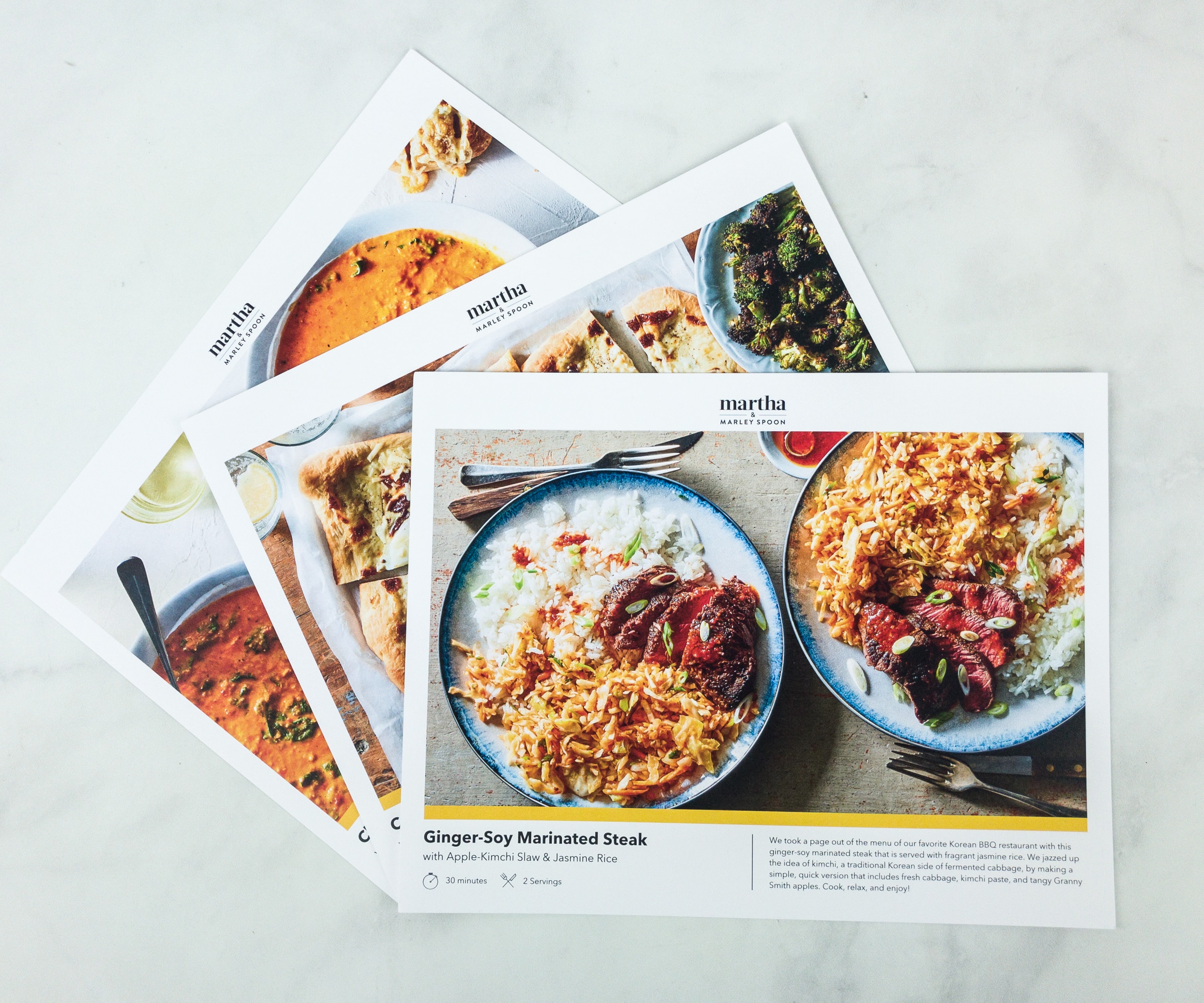 Each Martha & Marley Spoon recipe card includes a full-color picture of the plated dish, prep time and a number of servings. The dishes are elegantly plated in the pics, and you can use them as inspiration for setting out your own food.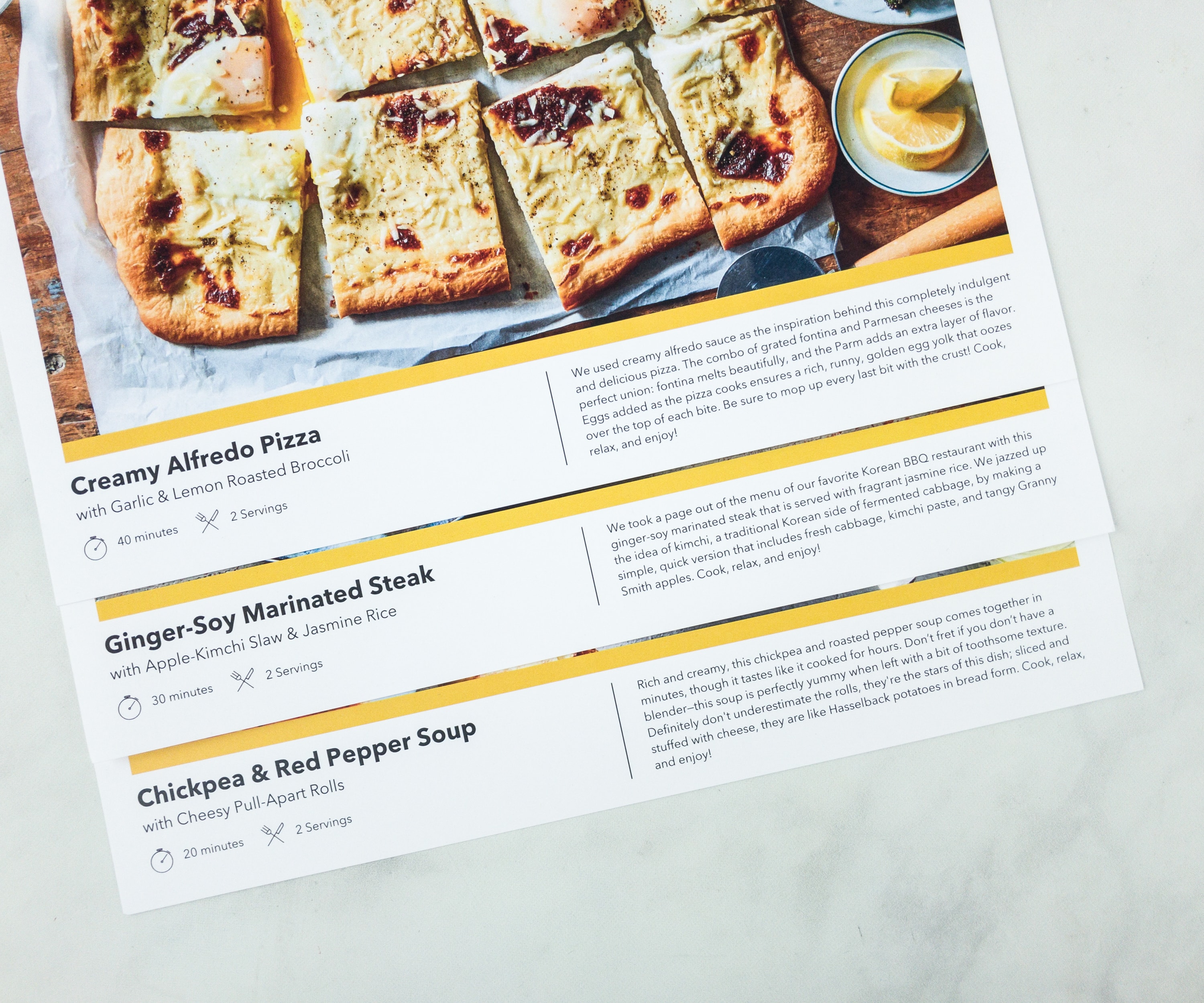 Here are the three recipes for December 2018! I like having the prep time estimate provided, and I often choose the order in which to make my meals based on that and perishability of ingredients. Typically, I'd start with any seafood dish, then do anything with fresh greens next.
The back includes the full recipe (with pictures!) and allergen and nutrition info. The instructions are easy to follow, whether you are a novice or pro. Usually, you start by washing and prepping all the ingredients before cooking. Within the detailed, step-by-step instructions, ingredients are set in bold type for ease of recognition. Info panes in the sidebar list any ingredients and tools you'll need from home (pans, cooking oil, etc).
Your food arrives in a big box lined with insulated padding.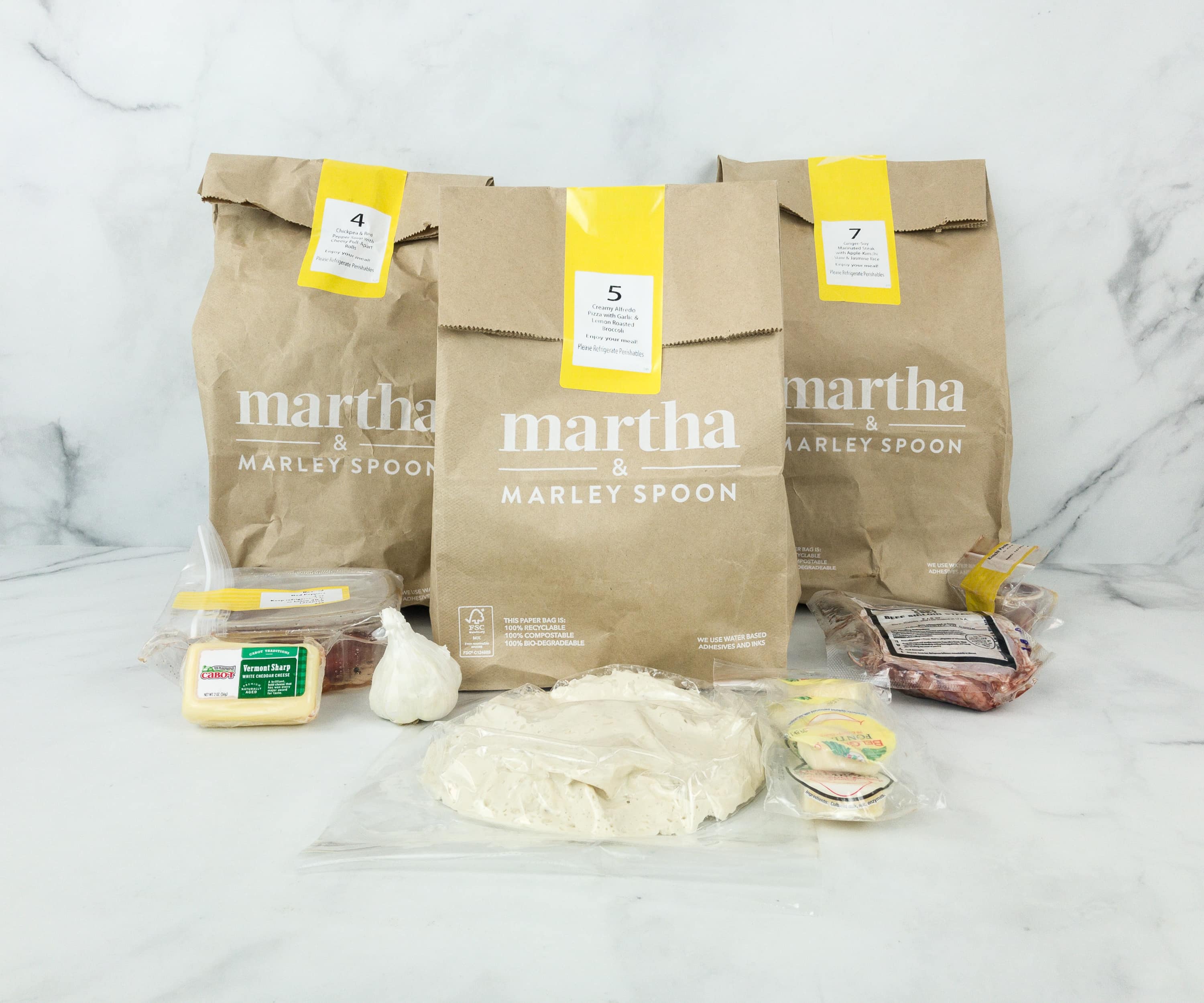 The ingredients for each meal are packed in a paper bag separately, except for the meat and items needing refrigeration — they are tucked between ice packs in the bottom of the box.
Everything in this box!
Martha & Marley Spoon always throws a bulb of garlic to use in any recipes for which it may be needed. We've even gotten one before when none of our recipes called for it! Even when we use lots in the recipe, we always have some leftover for our own dishes.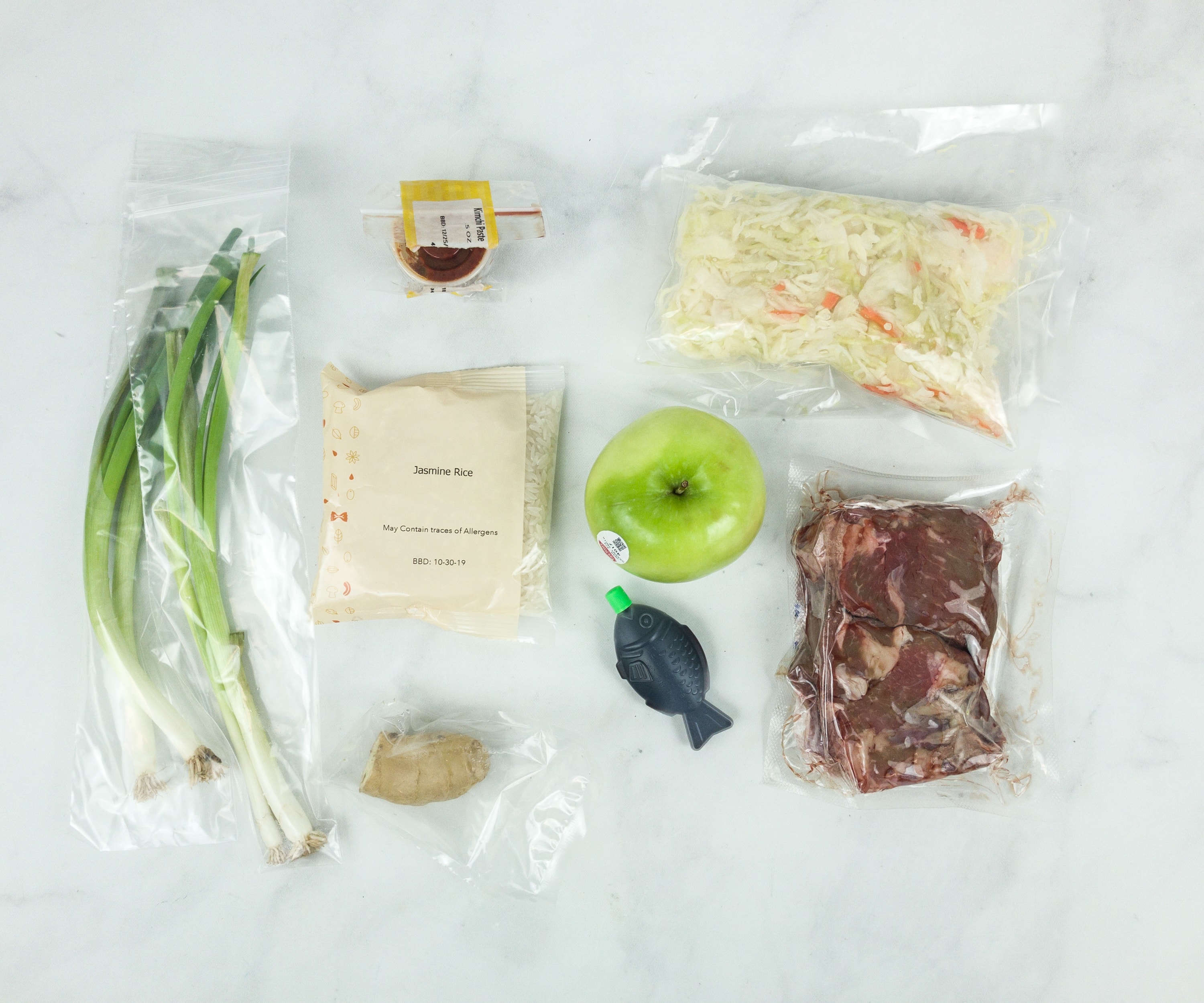 Ginger-Soy Marinated Steak with Apple-Kimchi Slaw & Jasmine Rice – 30 minutes, Easy, 840 calories per serving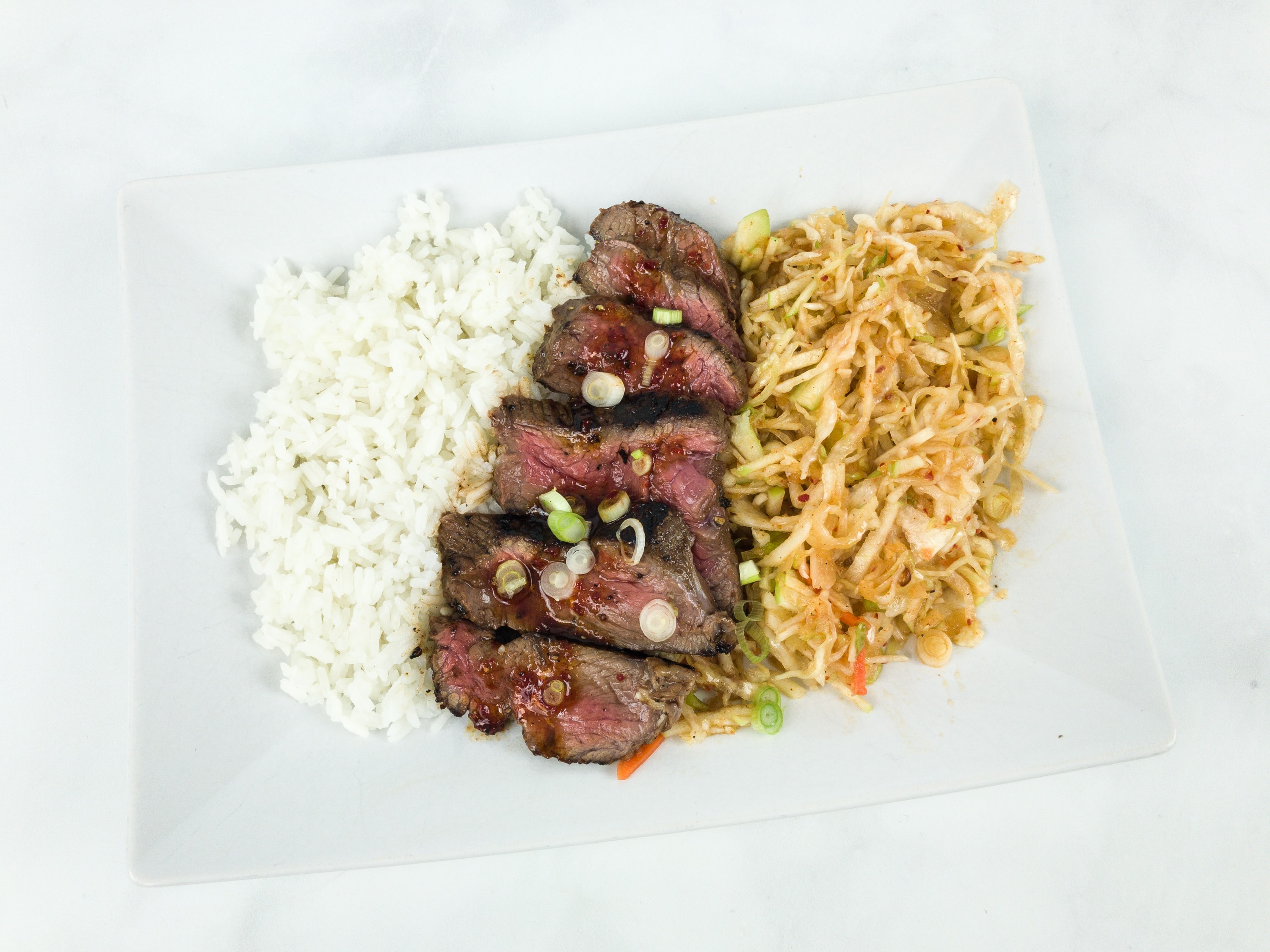 This delicious Korean-inspired dish features a zesty steak seared in a ginger-soy sauce and a kimchi slaw. Paired with jasmine rice, this one is really a satisfying meal. I love the meatiness of the steak, which goes well with the spicy-sour taste of the kimchi. The beef flavor was top-notch, too – absolutely zero gaminess!
Creamy Alfredo Pizza With Garlic & Lemon Roasted Broccoli – 40 minutes, Easy, 990 calories per serving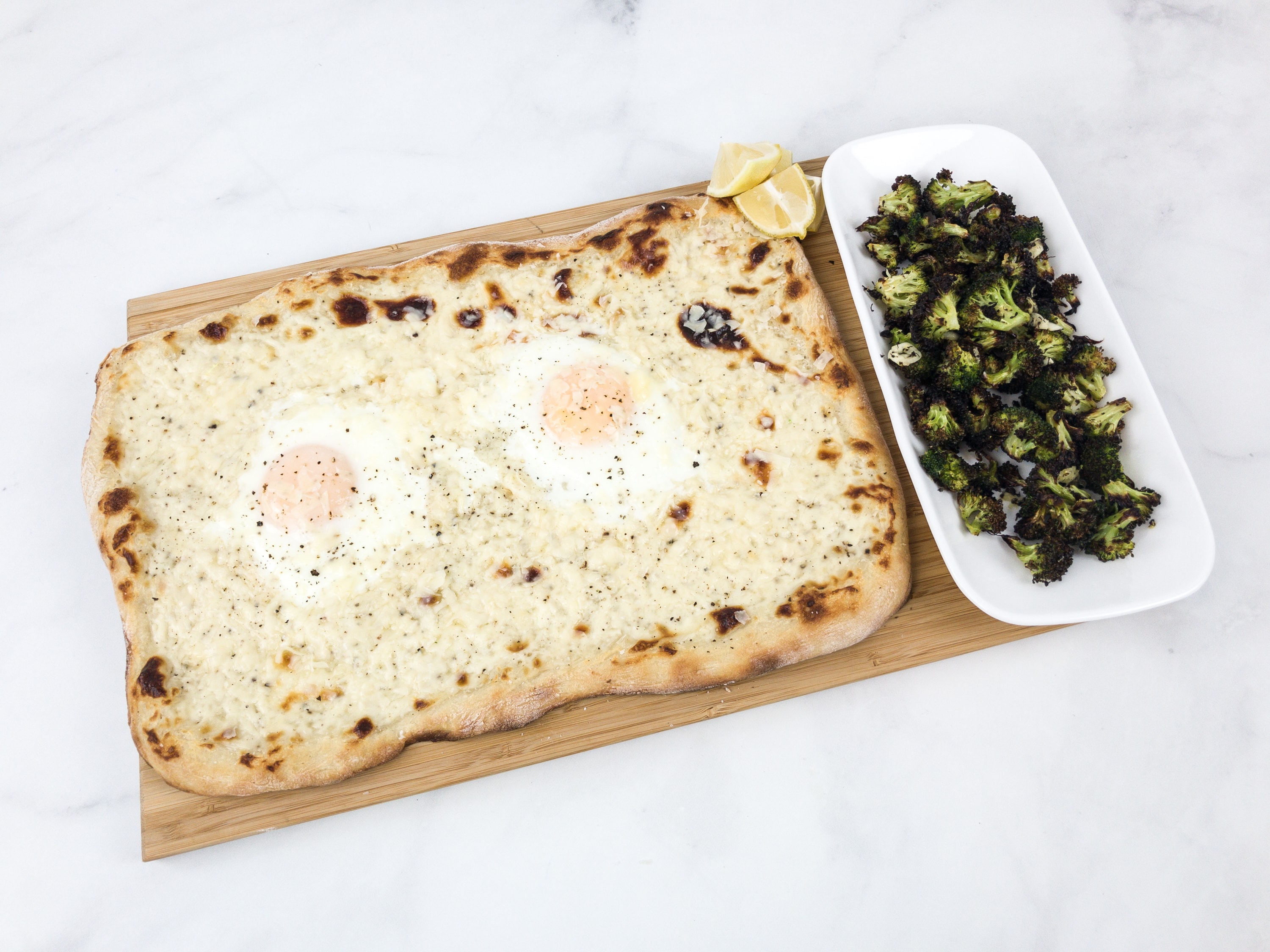 We love pizza and we're really excited about this fantastic homemade pizza recipe!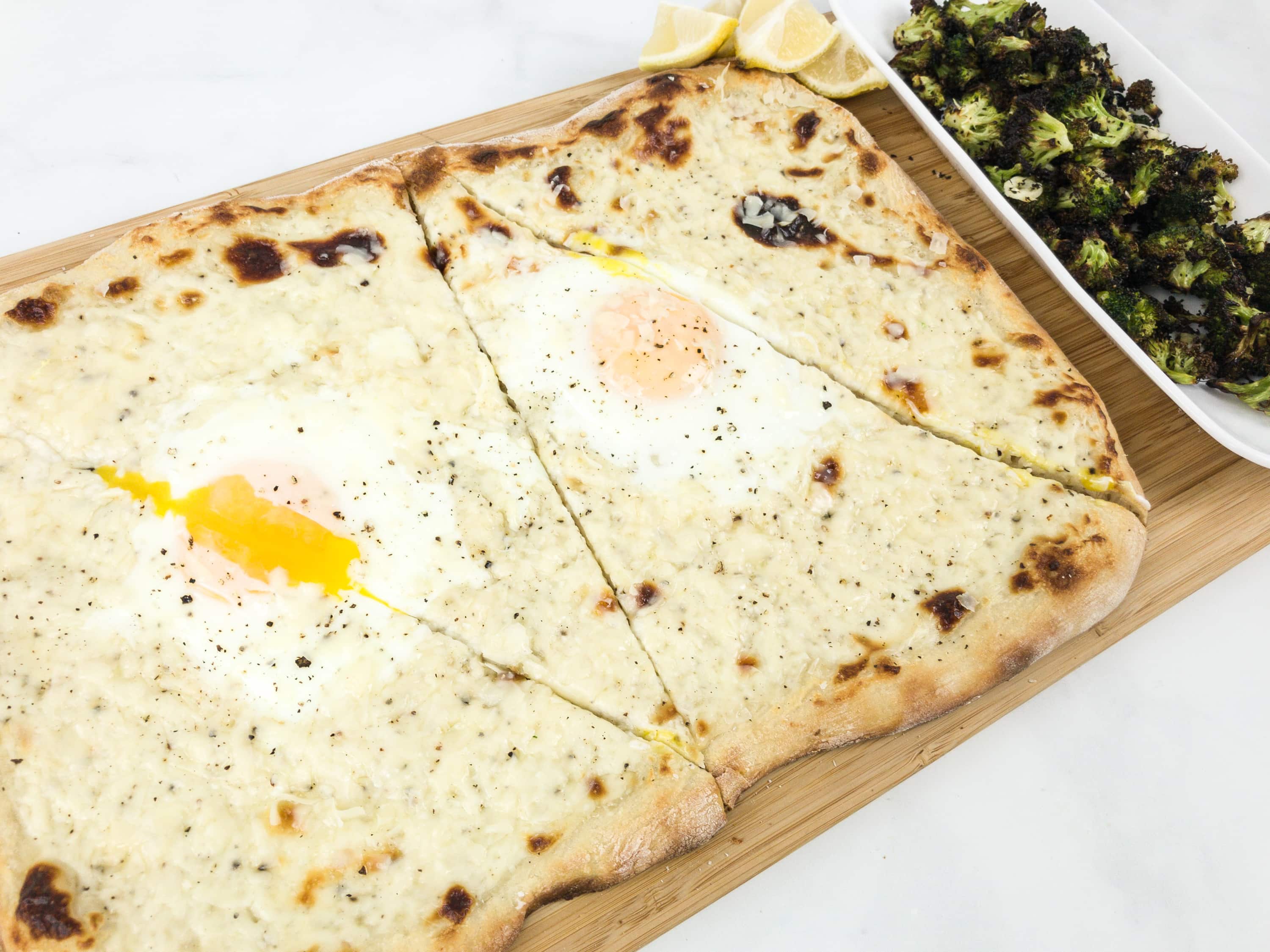 This dish features a wonderful combination of fontina and parmesan cheese that melts beautifully and provides an extra layer of flavor to the pizza. Topping it off with a semi-cooked egg will give you a rich, golden egg yolk that oozes in every bite. You can never go wrong with pizza, and we definitely loved this!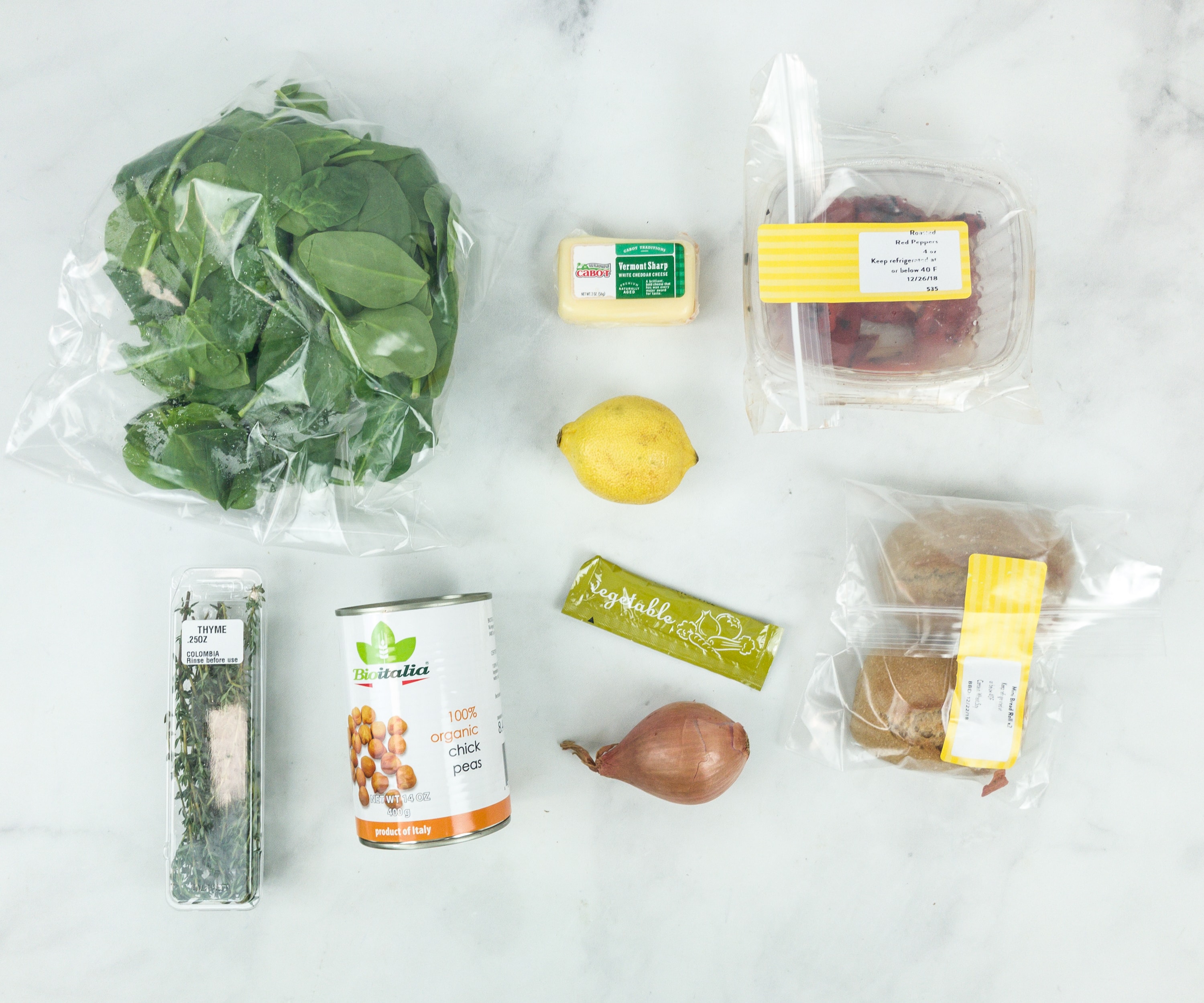 Chickpea & Red Pepper Soup with Cheesy Pull-Apart Rolls – 20 minutes, Easy, 660 calories per serving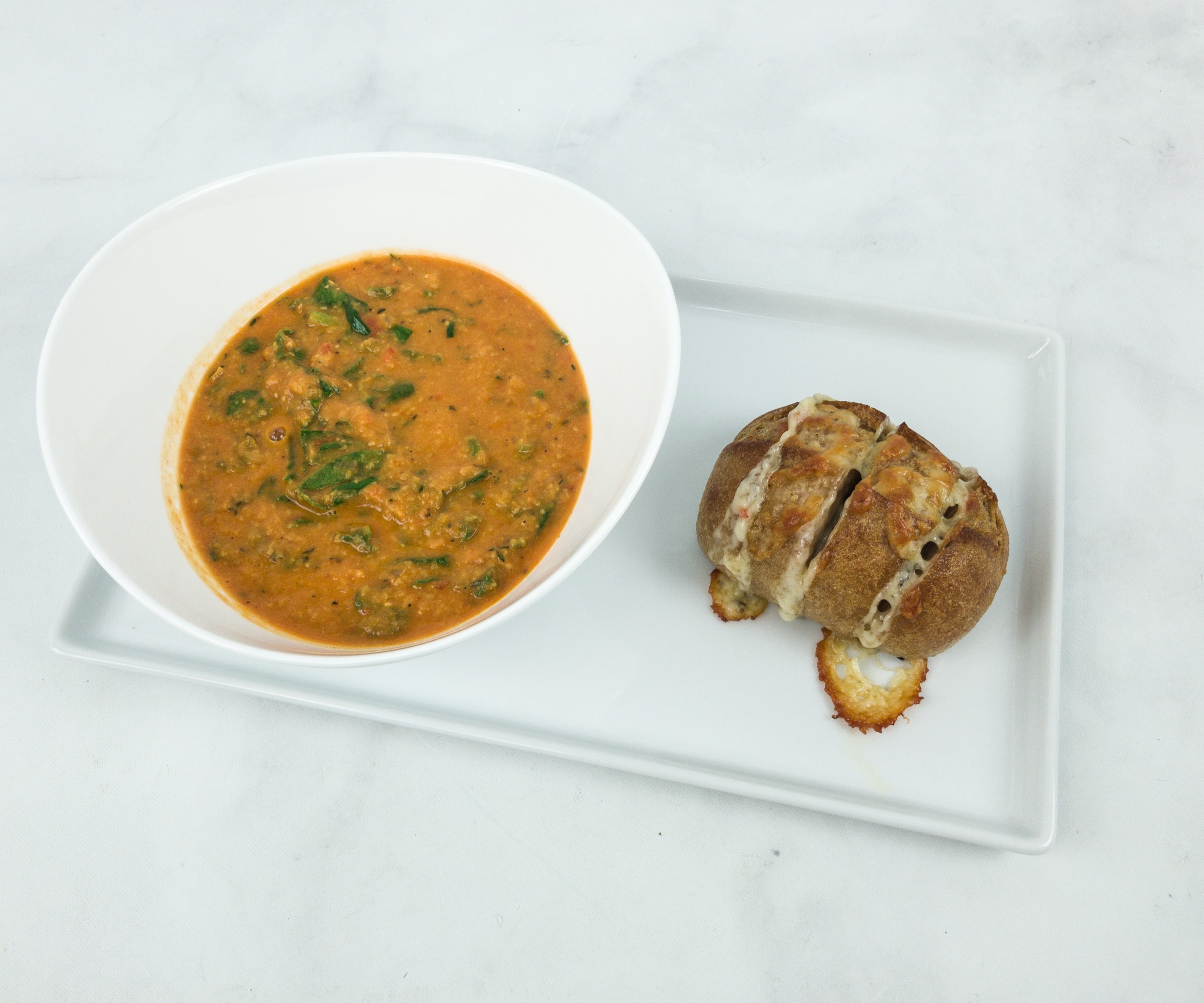 Rich, creamy, and so flavorful! Among all the recipes in the box, this is definitely the fastest and the easiest to prepare. Just slice the bread, brush with oil, and fill each cut with cheese. Sprinkle more cheese on top and bake for around 8 to 10 minutes, or until the cheese is golden and melted.
The little bread thing was really the star of the dish!
The soup is so delicious too, it makes a great pairing with the cheesy bread roll. This packed huge flavor for such an easy dish to make, and it was so filling!
Martha & Marley Spoon impressed us once again with this week's recipes – which we selected to please the palate of my wife's best friend. Everything was a hit!. Almost everything is provided inside the box, plus the recipes are pretty easy to follow. The ingredients always come in good condition, as they make it a point to pack them well and keep them at the right temperature during shipping. The instruction cards are so helpful too, as each recipe are thoroughly discussed, and even inexperienced cooks can follow along without any trouble. Overall, this is a great box as it makes cooking easier and more fun!
Have you tried Martha & Marley Spoon? What do you think?