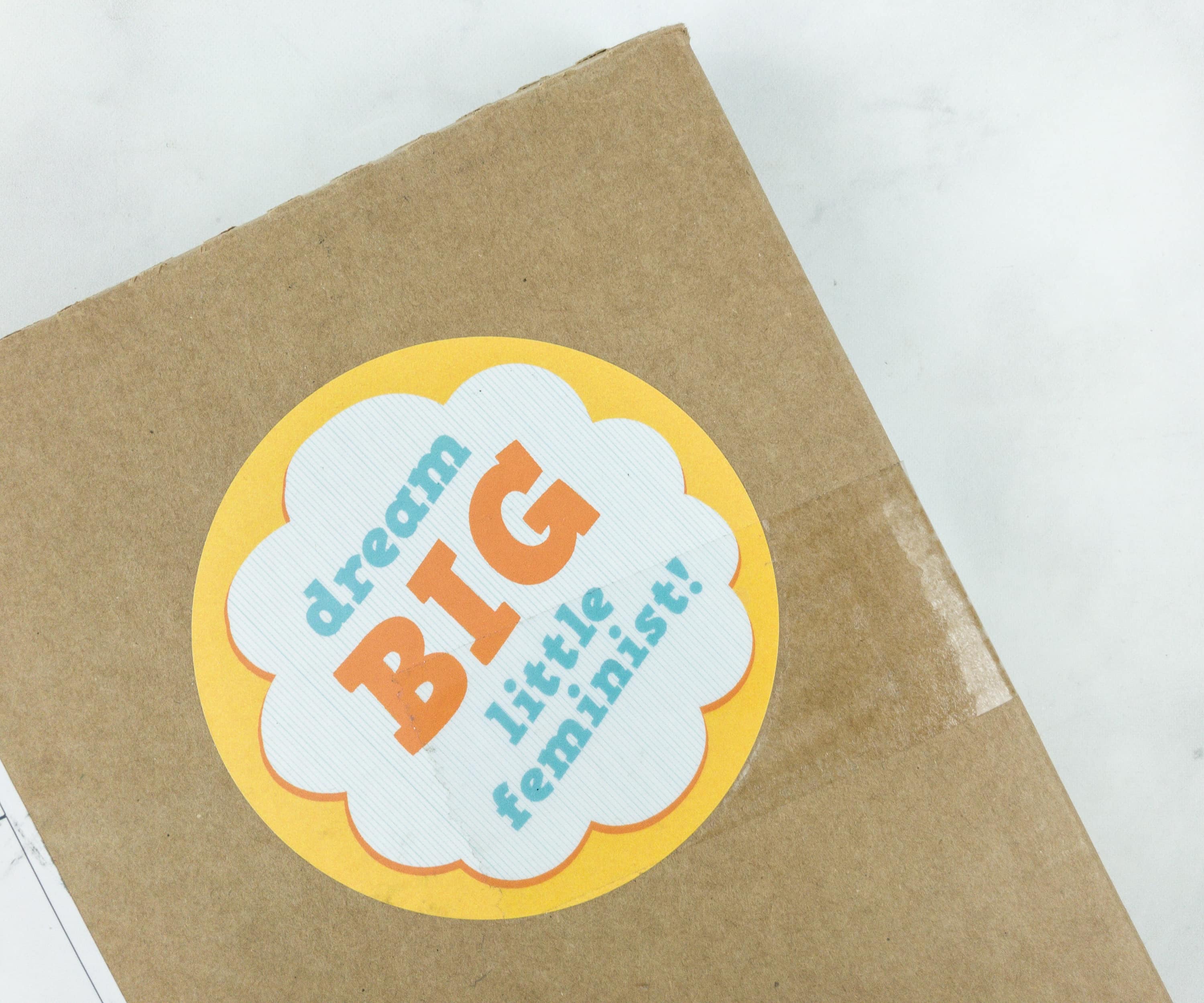 Little Feminist Book Club lets you diversify your kid's bookshelf with 1 to 2 hand-selected books for $19 per month. It is a subscription by age, which you can choose the range from 0-3, 3-7 to 7-9 years of age. You can then choose if you want a monthly ($23/month), or a pre-paid box for 3 months ($63 – $21/month), 6 months ($120 – $20/month) or 12 months ($228 – $19/month). Each box includes discussion questions, parent letter, and DIY ideas.
This is a box that teaches children how to be brave and empathic. It instills to their minds the principle of feminism and that all genders are equal.
We are reviewing the subscription for 0-3 years olds!
DEAL: Get $5 off anything on LittleFeminist.com! Use coupon code HELLO.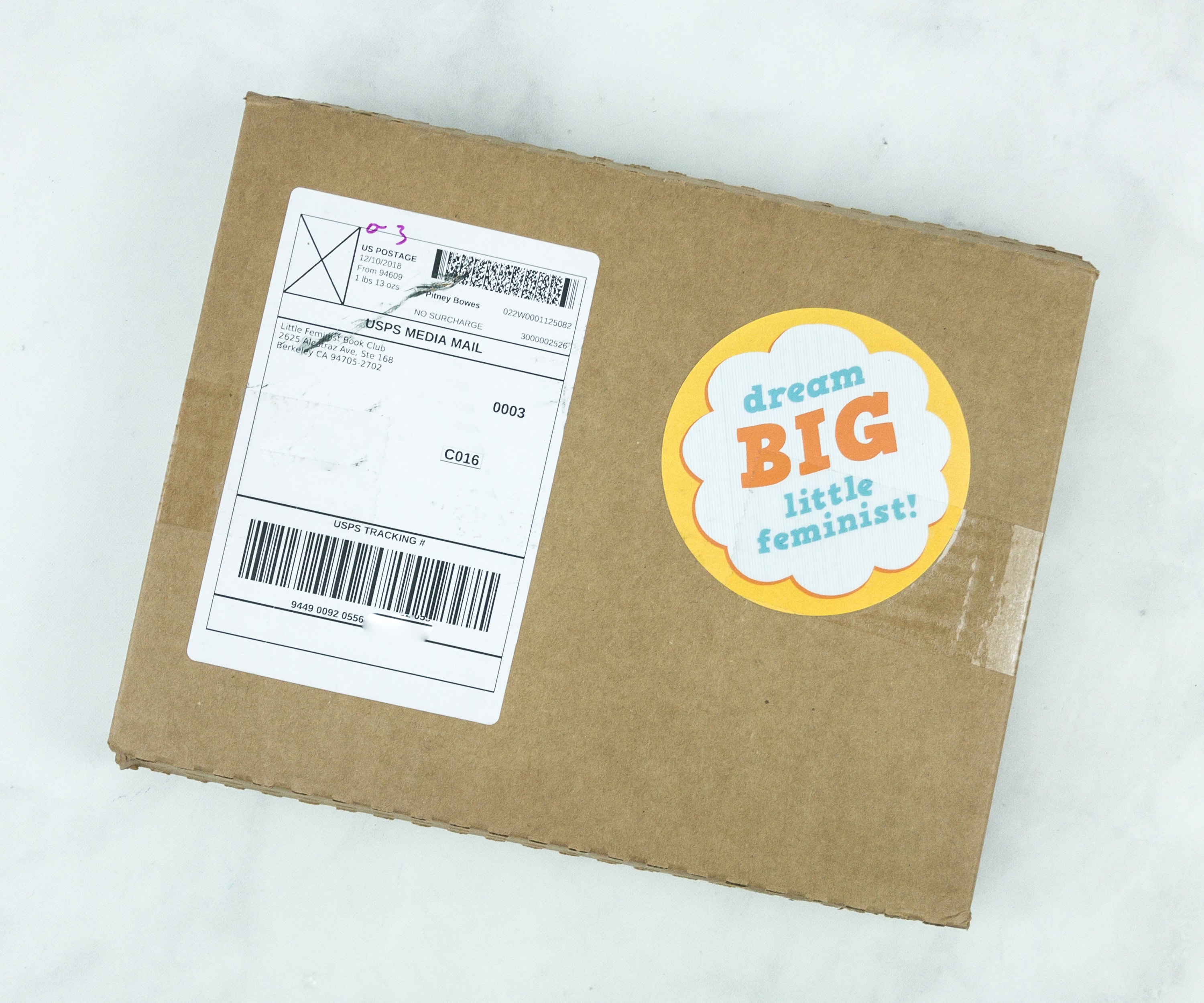 The books come in a simple box with a logo sticker.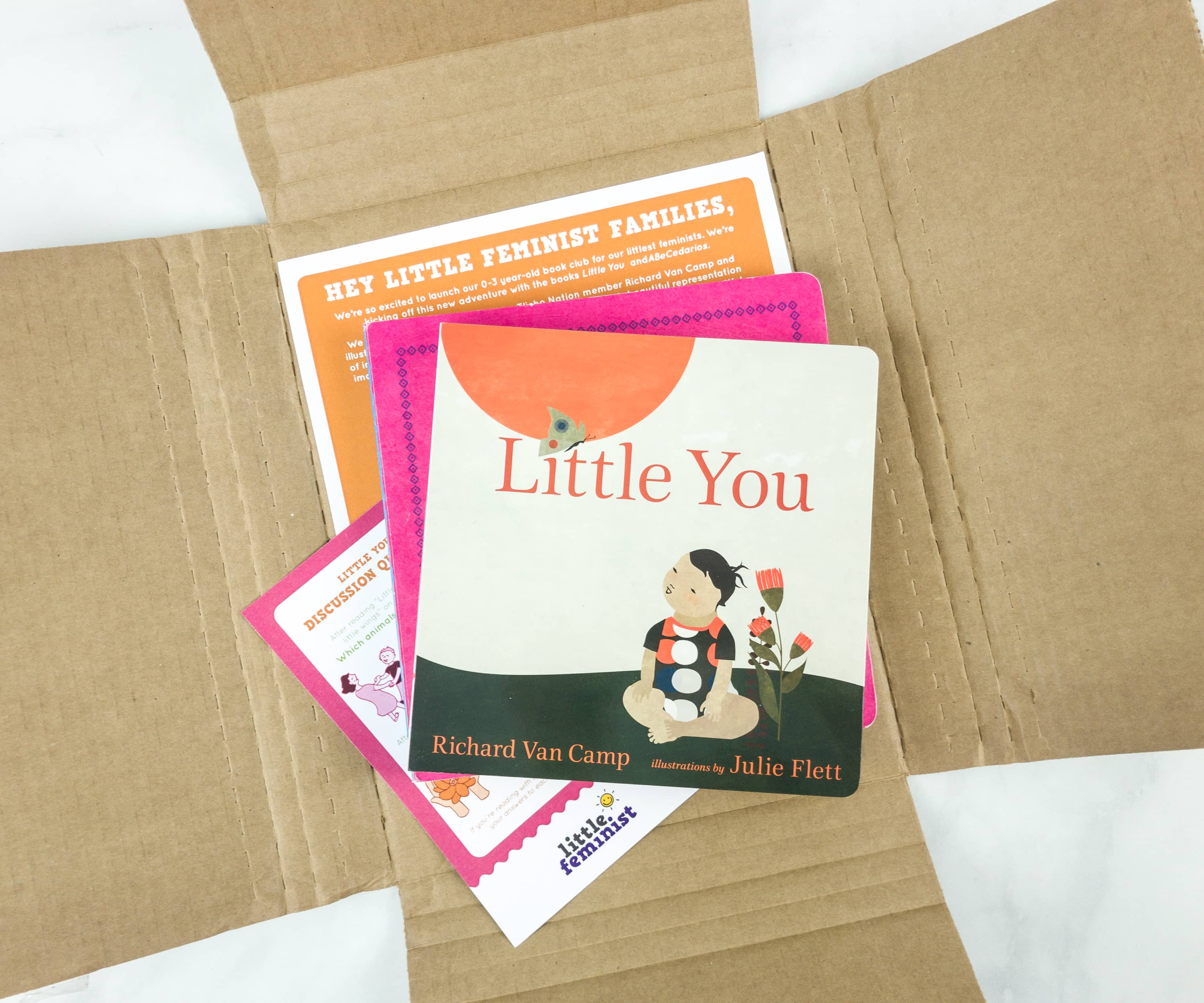 Upon opening, you can see two books and some cards.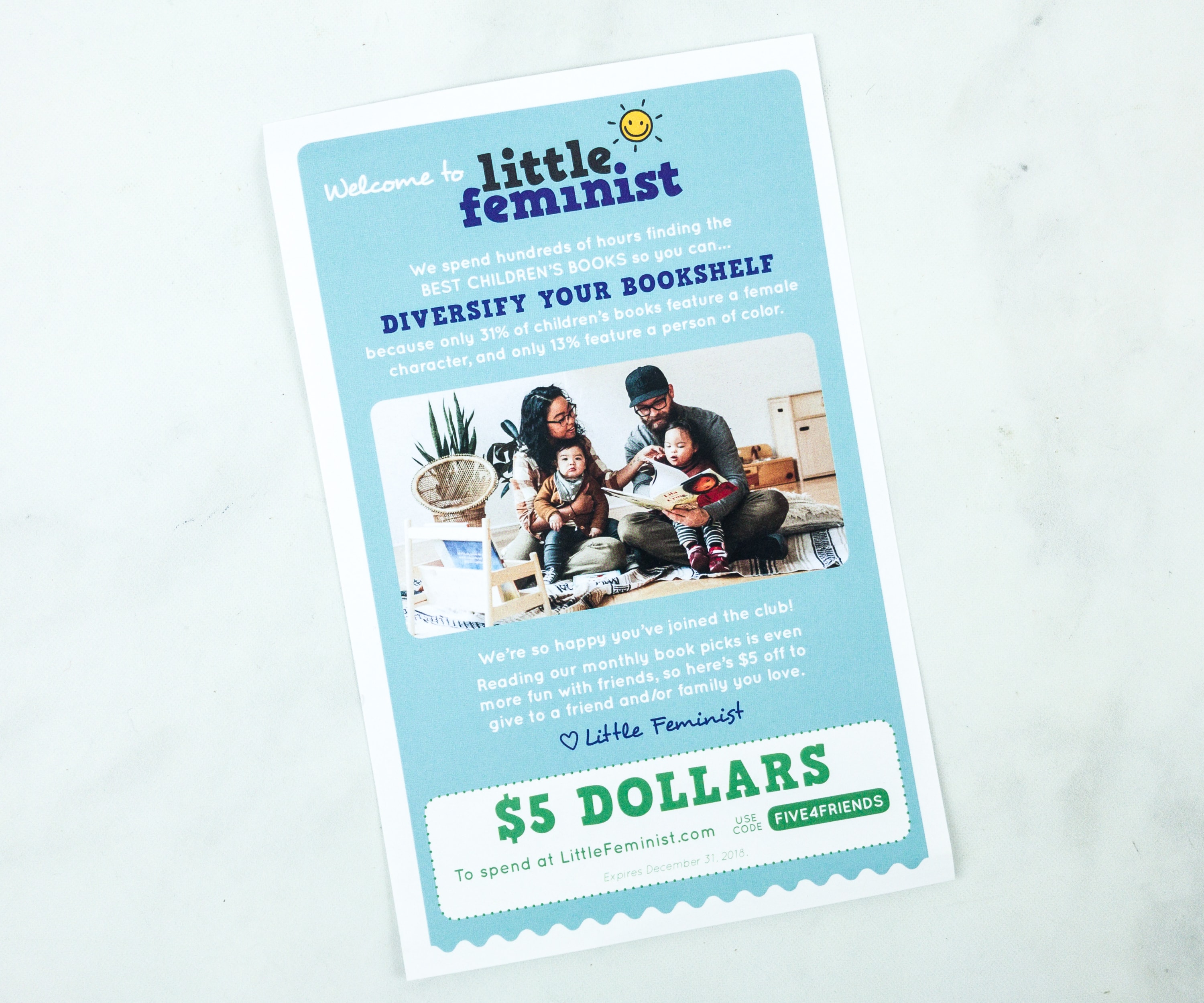 We are welcomed by a discount card from Little Feminist.
There is information about their subscription at the back of the card.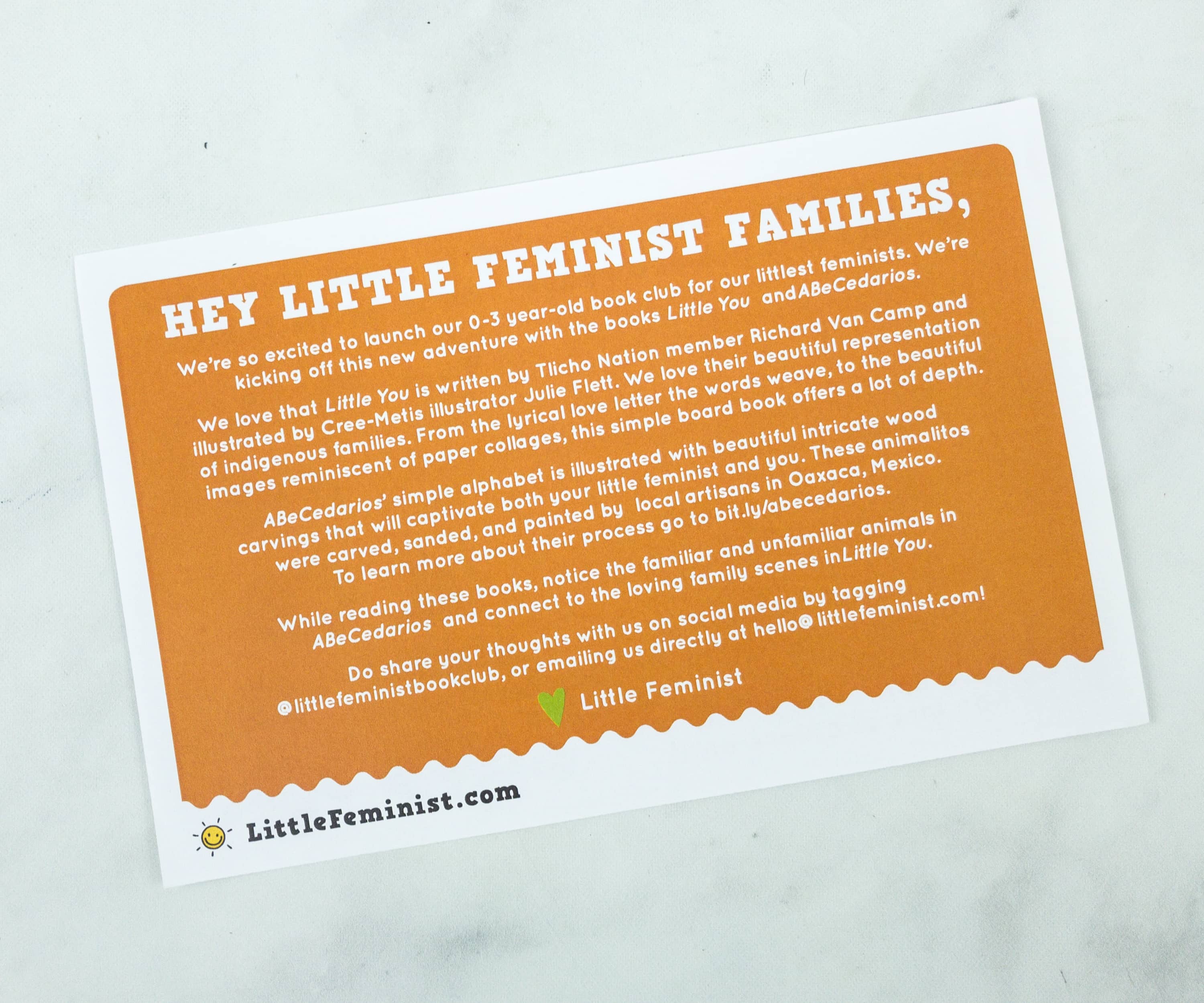 There's also a card that discusses the books featured in this box!
Here's a little activity you can try out with your kid after reading the book.
Everything in my box!
This is the question guide for parents to check the level of understanding the kids have after reading the featured book and to introduce new concepts and feminist principles!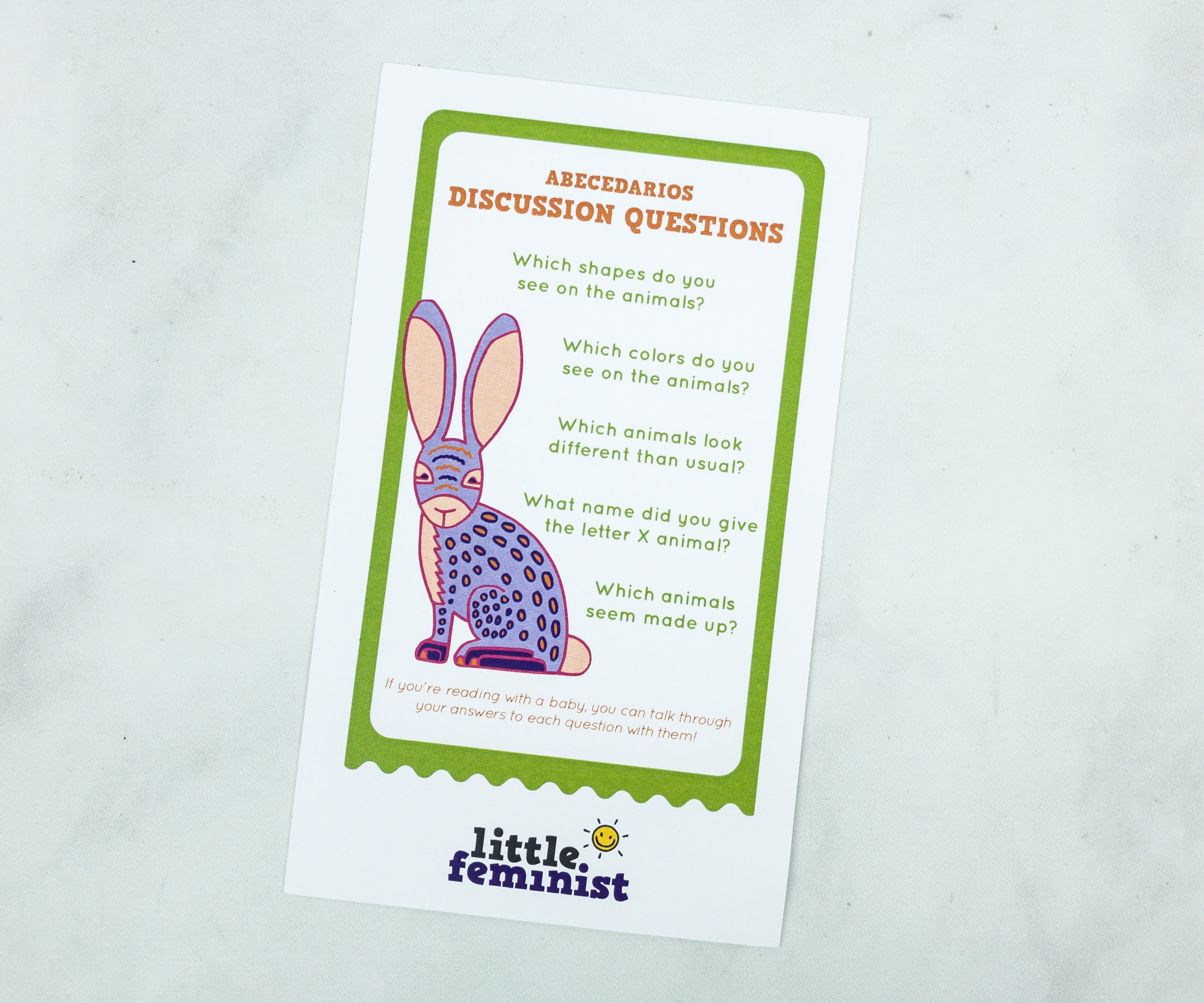 Some questions check their attention to details and their perception of what's real and what's made up.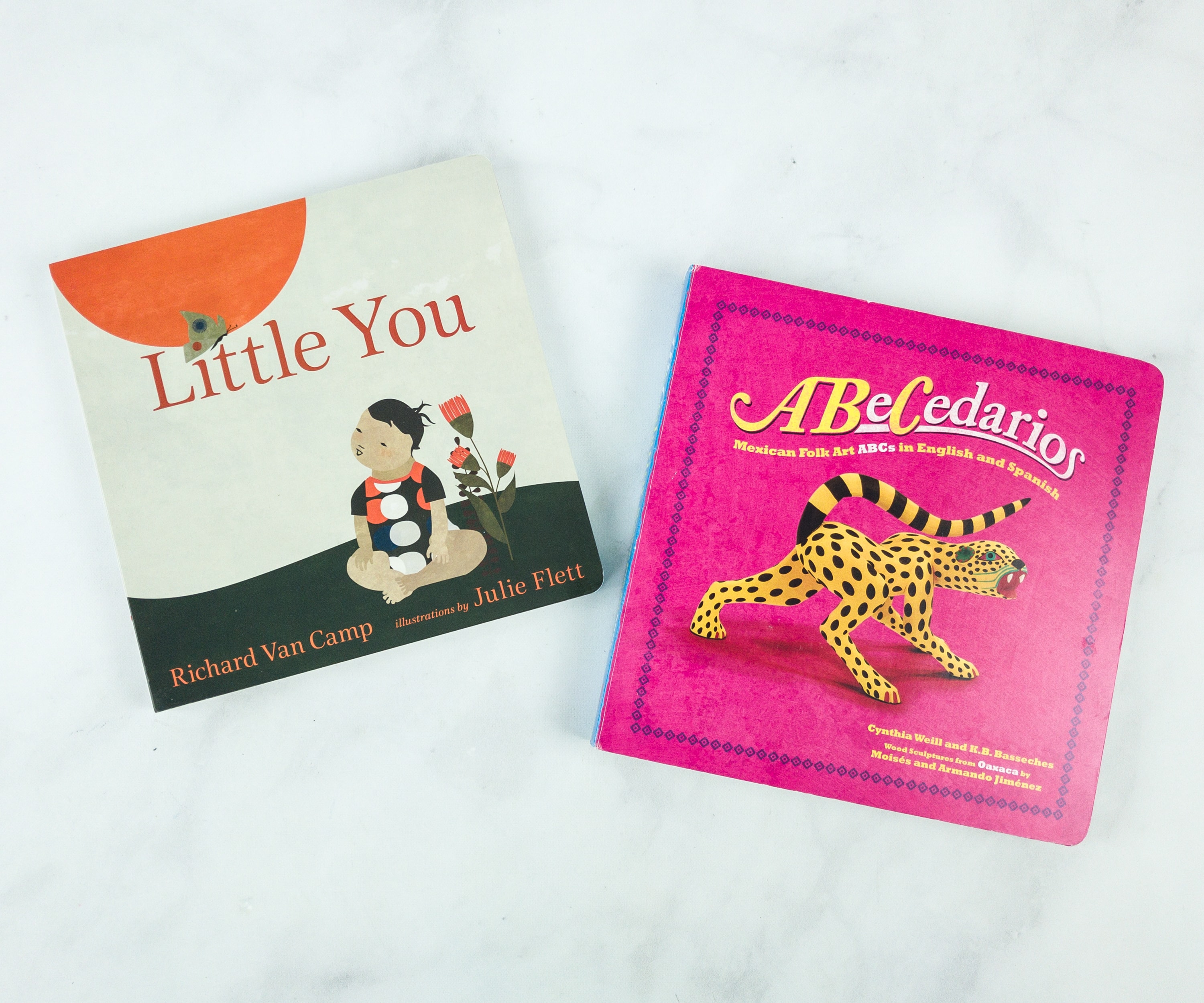 These two books are illustrated beautifully. The colors are very eye-catching too.
Little You by Richard Van Camp ($9.86)
Richard Van Camp, internationally renowned storyteller and bestselling author of the hugely successful Welcome Song for Baby: A Lullaby for Newborns, has partnered with award-winning illustrator Julie Flett to create a tender board book for babies and toddlers that celebrates the potential of every child. With its delightful contemporary illustrations, Little You is perfect to be shared, read or sung to all the little people in your life—and the new little ones on the way!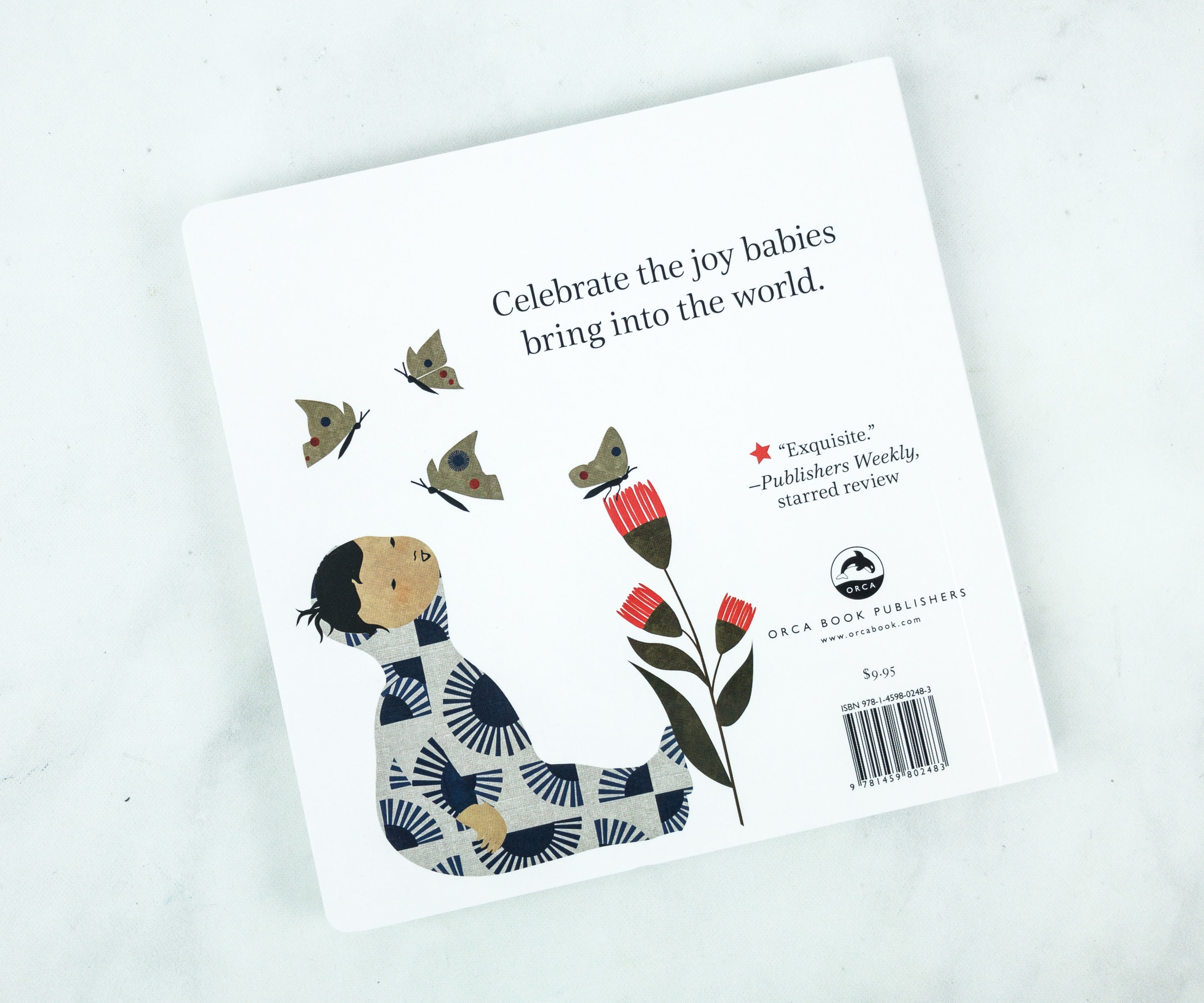 This book is intended for kids, but even adults would appreciate the beautiful artwork!
The words are clear and simple.
Such sweet sentiments! The large print is also great for emerging readers!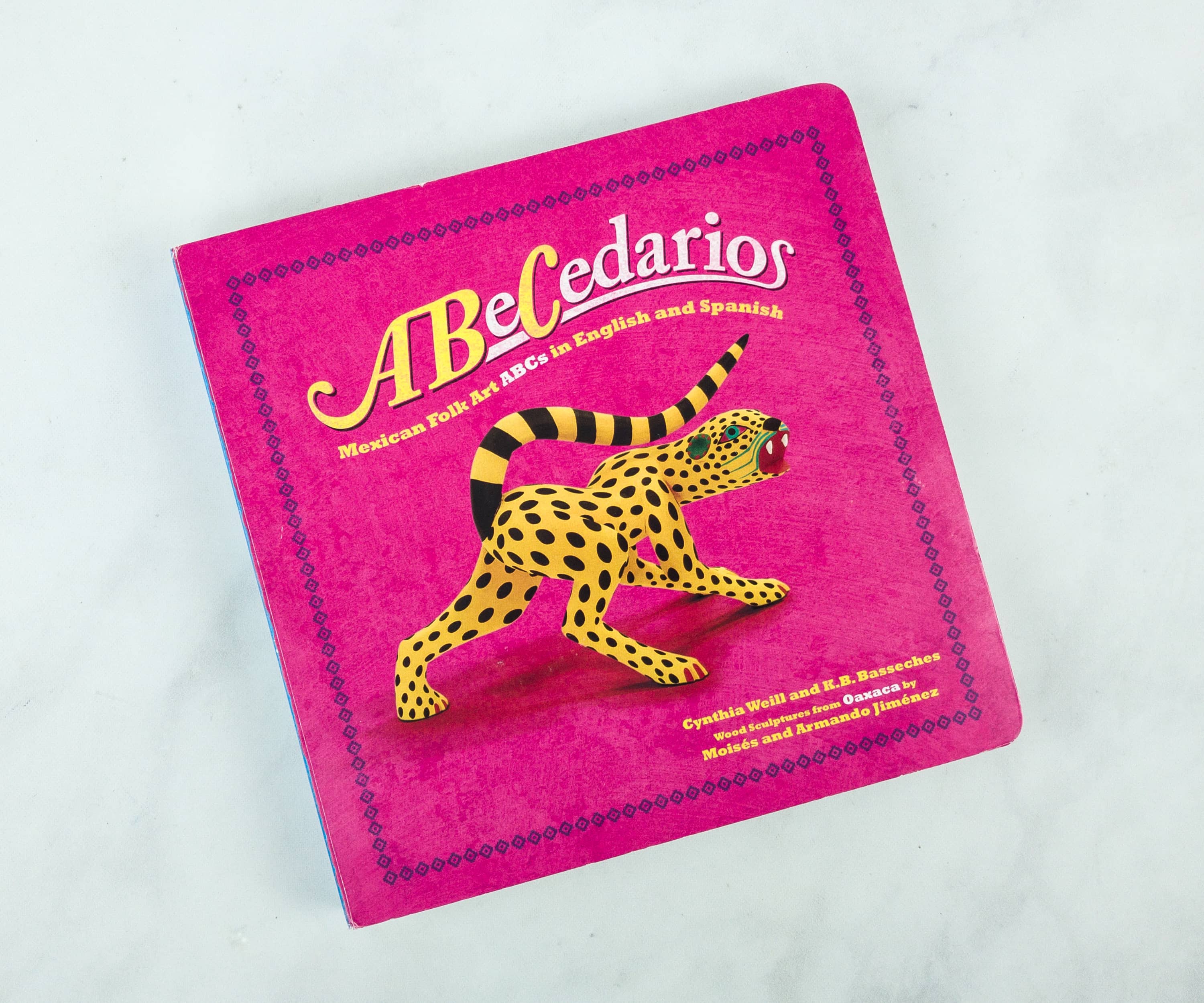 ABeCedarious by Cynthia Weill and K.B. Basseches ($8.95)
Every ABC book worth its cover price is bound to have bright colors and big letters. But not every ABC book has magical hand-carved animals to illustrate every letter. And very few alphabet books present those letters in more varieties than English! Very few alphabet books except the ABeCedarios, that is! In this brightly colored book, the alphabet is presented in both Spanish and English, and includes the four additional letters—and whimsical animals—that make the Spanish alphabet so much fun.

The famous folk artists, brothers Moisés and Armando Jiménez, carved the wonderful animal figures that illustrate each letter in ABeCedarios. Working with their wives and children in the beautiful village of Arrazola in Oaxaca, Mexico, they carved and painted each enchanting animal by hand. For many centuries, people in Oaxaca have carved wood to make toys and household objects. However, it was Moisés and Armando's grandfather Manuel who started making animal figures. Now more than sixty families in Arrazola make their living from wood carving.

Todos los libros del alfabeto tienen colores brillantes y letras grandes. Pero no cada libro del alfabeto tiene animales mágicos tallados a mano para ilustrar cada letra. ¡Y muy pocos libros del alfabeto presentan esas letras en más idiomas que ingles! Muy pocos ¡excepto por ABeCedarios! En este libro vibrante, el alfabeto es presentado en ambo español e ingles, e incluye las cuatro letras adicionales en el alfabeto de español. .

Los hermanos Moisés and Armando Jiménez tallaron las figuras de animales maravillosas que ilustran cada letra en ABeCedarios. Trabajando con sus esposas e hijos, meticulosamente pintaron a mano cada animal encantador. Las familias Jiménez viven y trabajan en el hermoso pueblo de montaña de Arrazola, Oaxaca.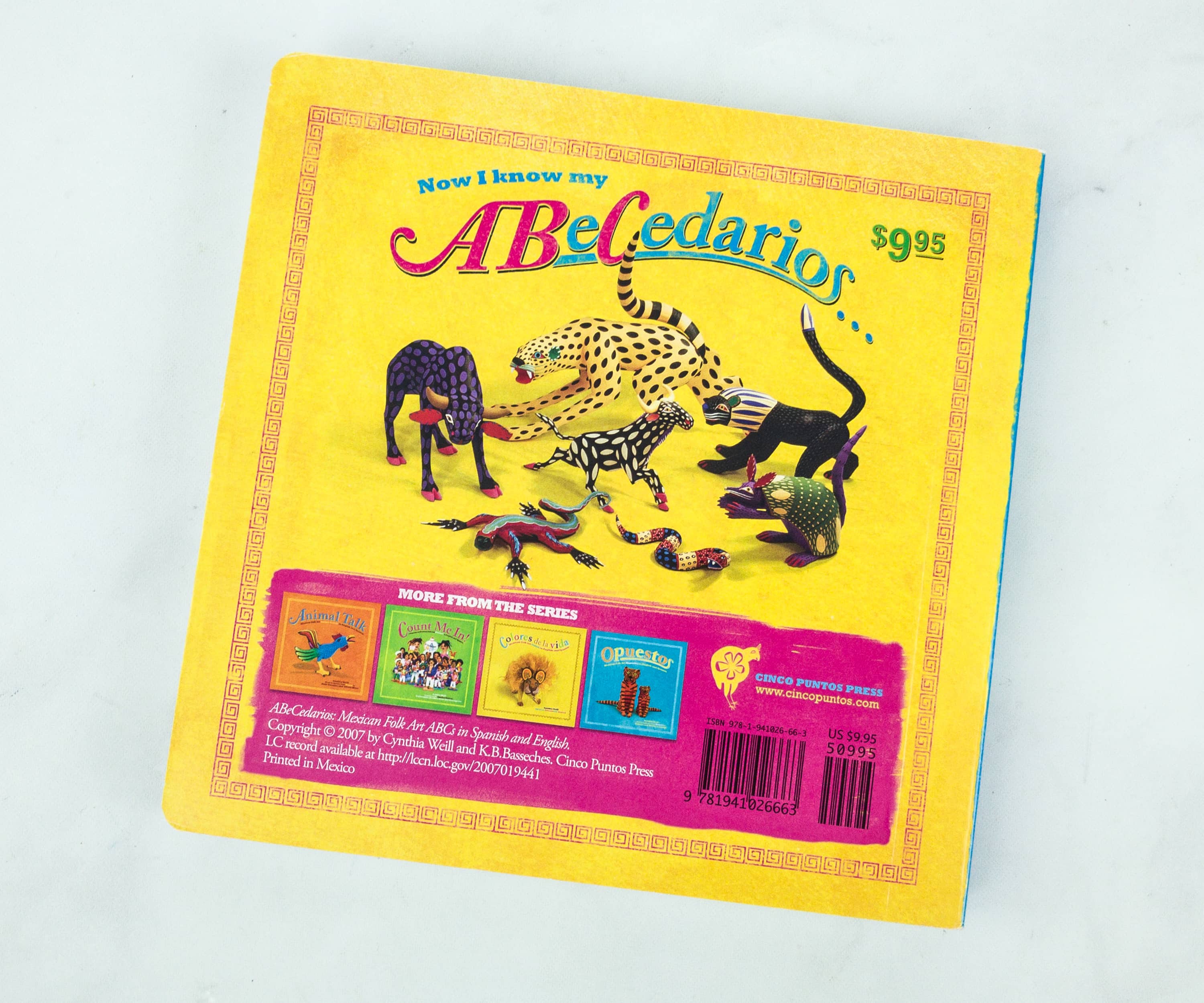 This book teaches our kids the ABCs while learning another language as well.
The letters are represented by a colorful carved animal. The illustrations have both English and Spanish translation.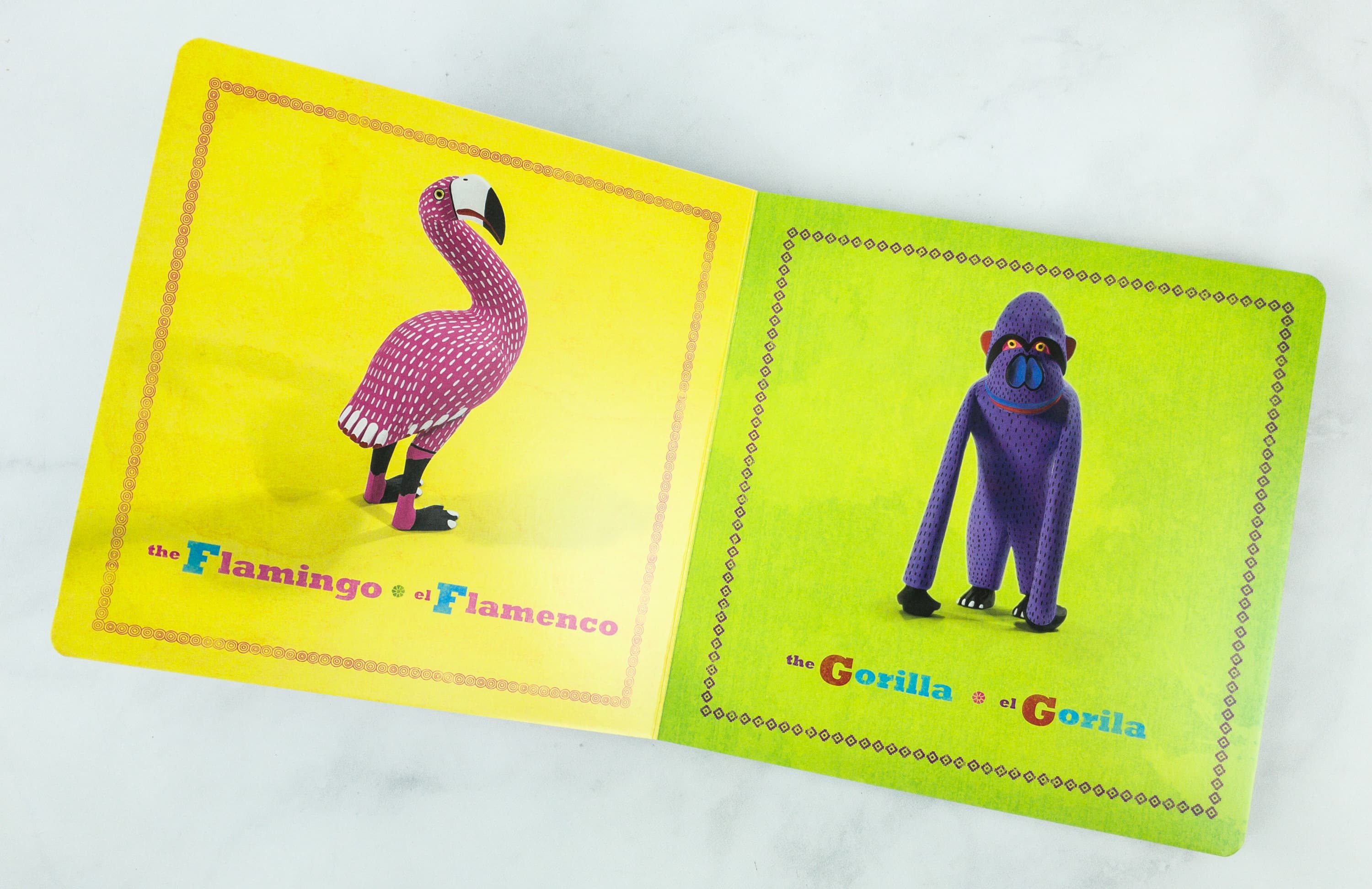 They are real carved wood figurines that are photographed and made into a book. We absolutely adored this vivid look into Mexican folk art, with animals, Spanish translations, and the alphabet!
The books are suitable for ages 0-3 years of age. The illustrations showed a diversity of culture and tradition (plus in the case of the second book, a different language too!). I'm glad there are subscriptions like this that make an effort to curate books that raise awareness and are concerned about how we can teach open-minded principles to children while they are young. The additional card is definitely a value-add, especially with older children, as you stretch their imaginations and their minds!
What do you think of the Little Feminist Book Club?