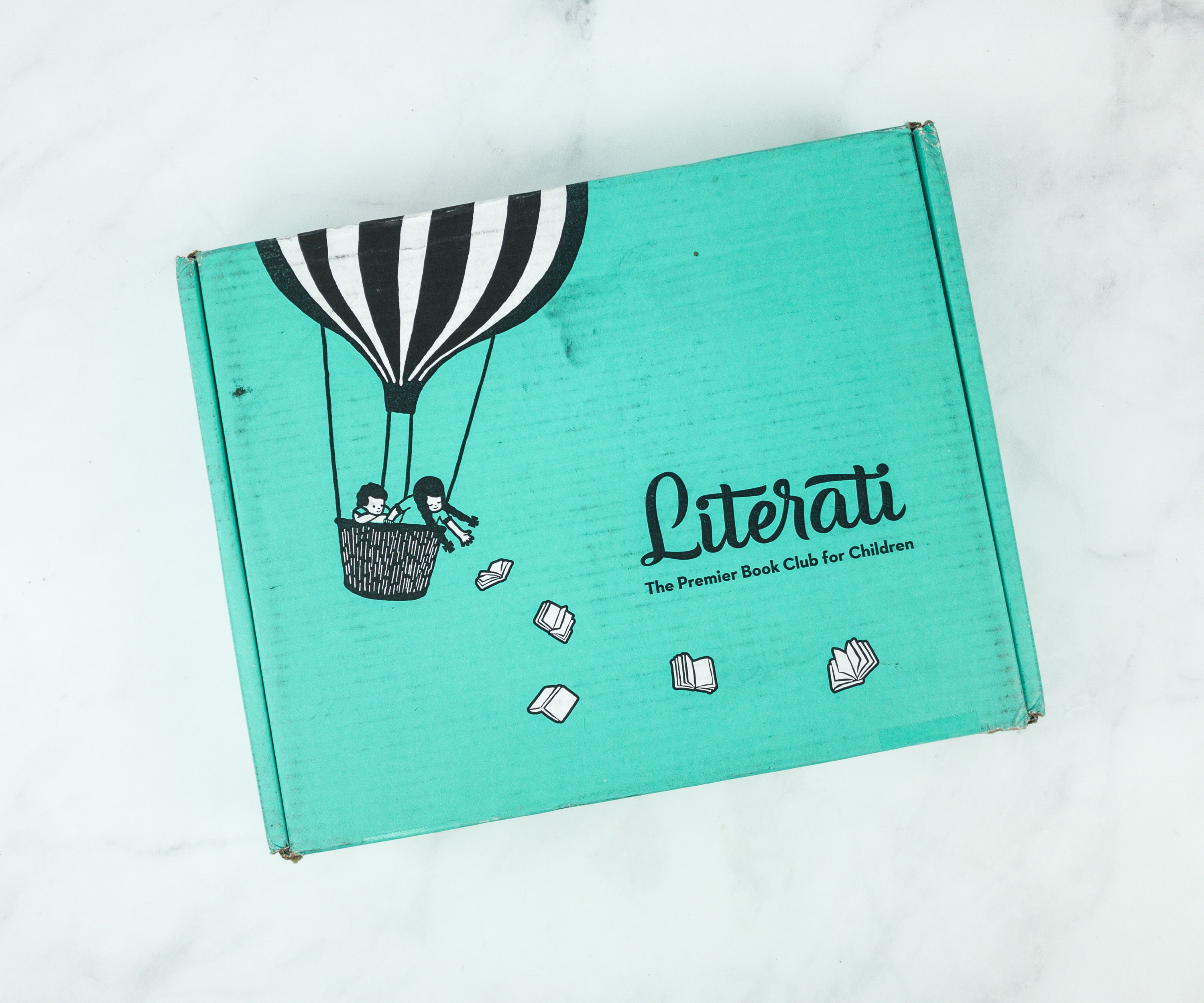 Literati is a monthly book subscription box for children that works similar to Stitch Fix. For a monthly fee of $9.95, you'll receive 5 books to try out for a week. You can purchase the ones you love and return the rest (in totally new condition) in the enclosed prepaid mailer (shipping is free in both directions).
You can get 5% off when you decide to keep all the books! There are also categories for each age bracket: Club Neo is for newborn to 1 year; Club Sprout is for children ages 2-3; Club Nova is for kids 4-6, and Club Sage is for those 7-8 years old.
This is a review of the Club Sage box. 
DEAL: Get $25 in account credit to put towards books when you sign up! USE THIS LINK to get the deal.
There are lots of books in store for us!
The featured illustrator creates new artwork for the monthly themes. This month's illustrator is Sonja Wimmer.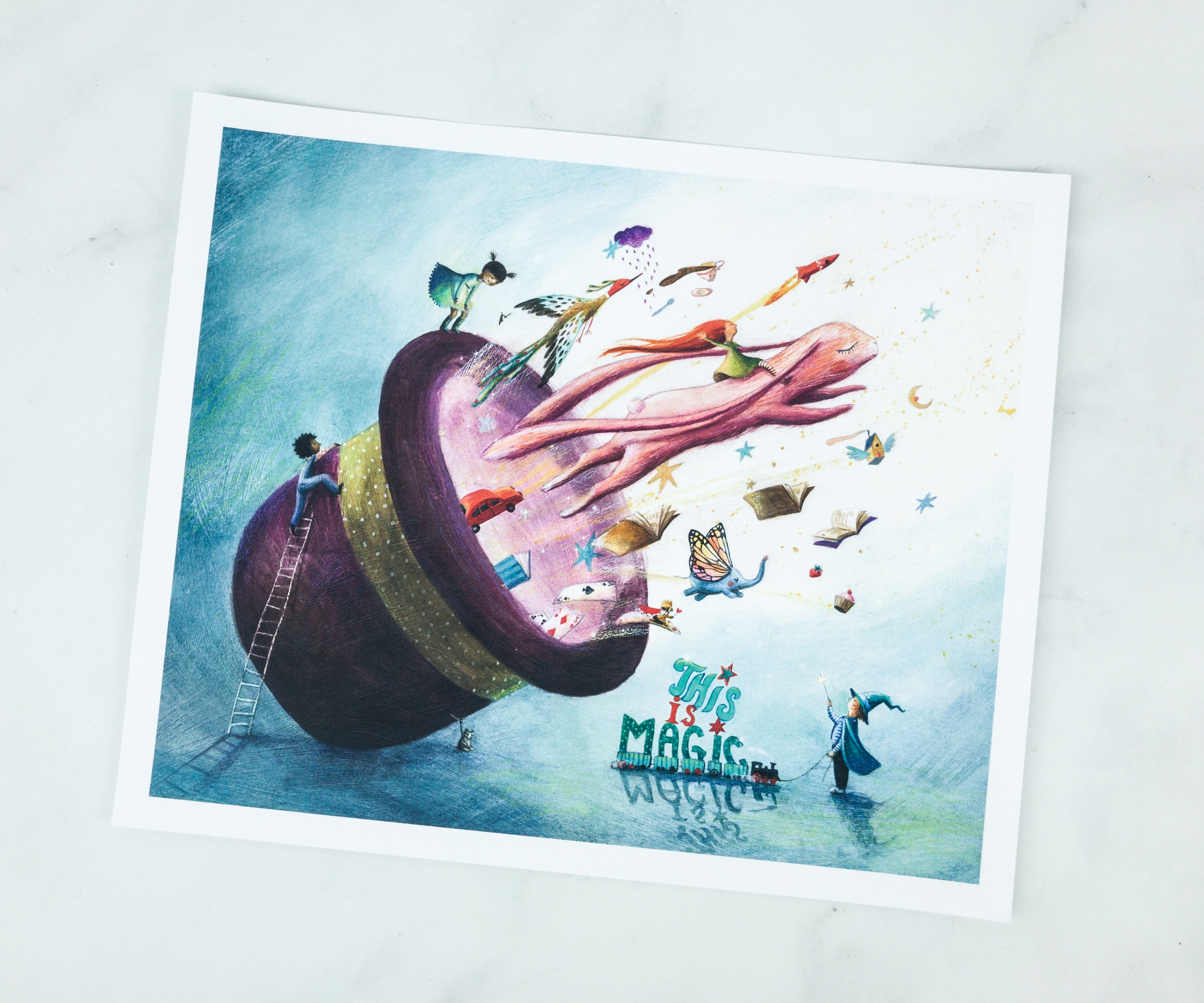 A full-size print comes with the box, along with free shipping. Although I don't love that the fee doesn't apply to a full box purchase, this makes it more worth it.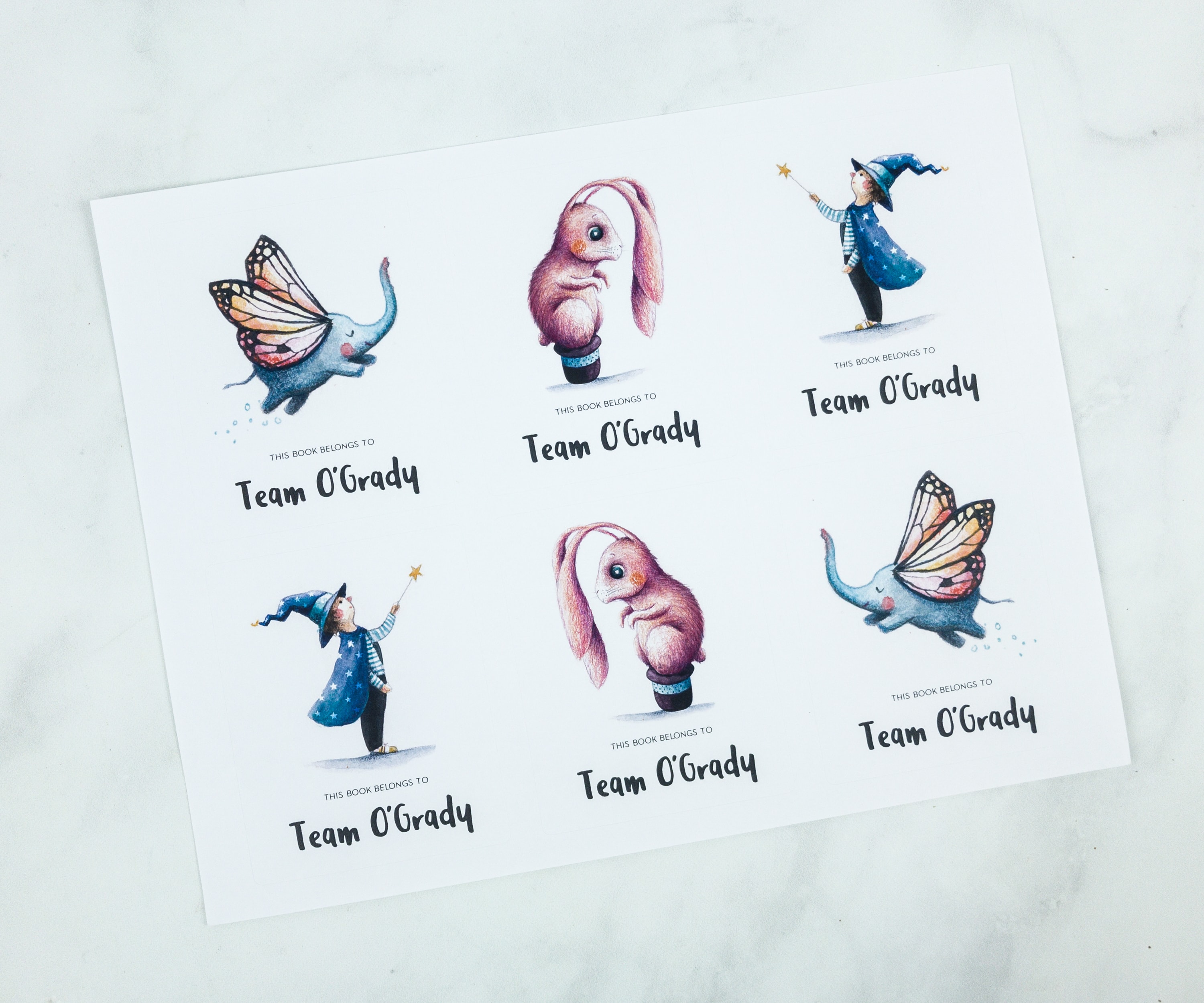 They included a sheet to help us label the books, and let others know that they're ours when we decide to keep them.
The information sheet lists the titles with a brief description for each.
There's also a listing of the book prices. If you decide to keep everything, you'll get 5% off. The subscription has a $9.95 non-refundable fee. According to Literati "it covers shipping both ways, allows the curators to invite a new world-renowned illustrator each month to draw personalized bookplates and a unique print for members, and covers other themed surprises that are included in the box." Since the print is now full size and high quality, we are digging that change. It includes the shipping back and forth too.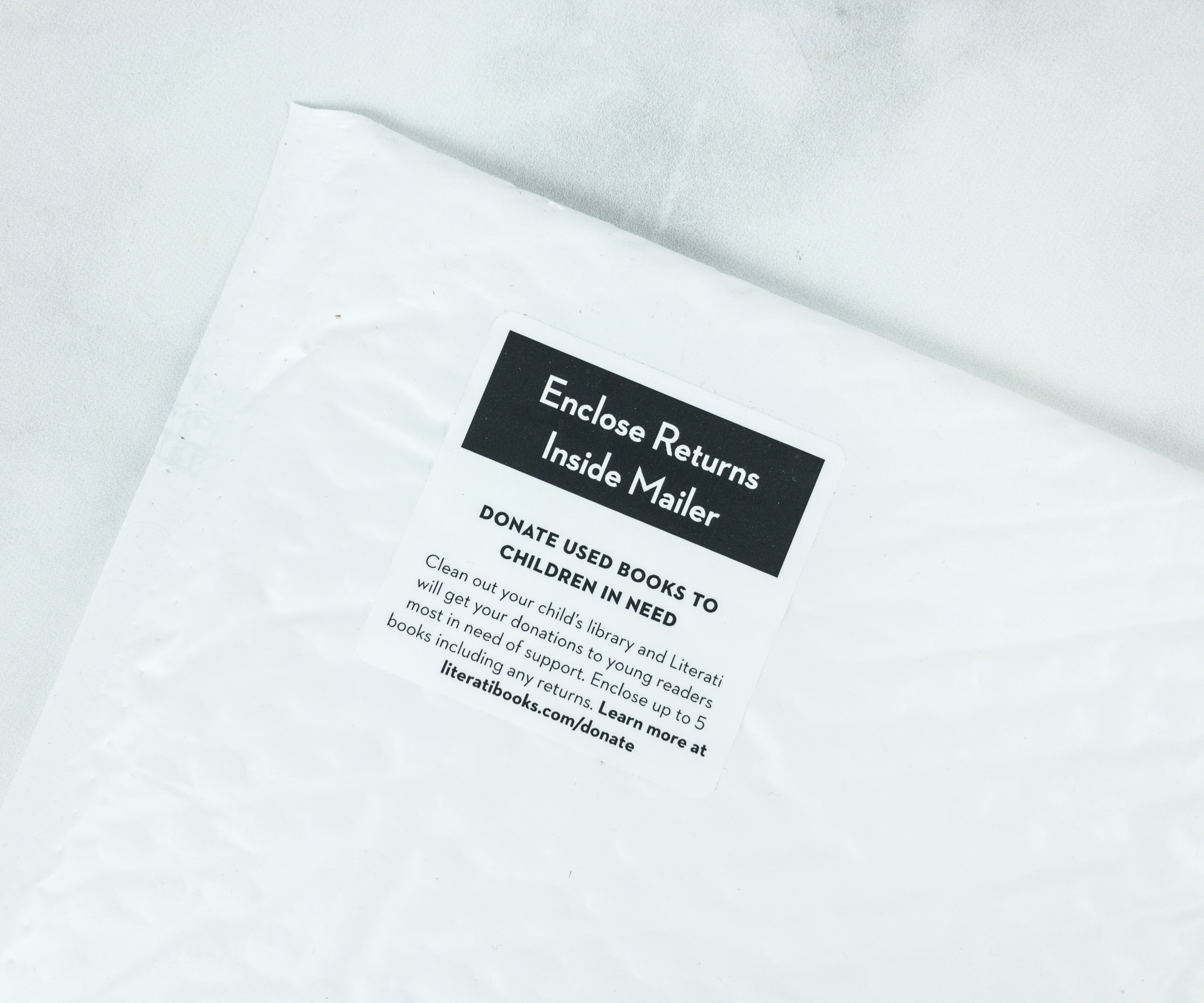 There's also a padded mailer if you want to return some of the books. You can also return your own gently read books (up to five total in the mailer) for donation.
There's also a personalized card and note from Literati.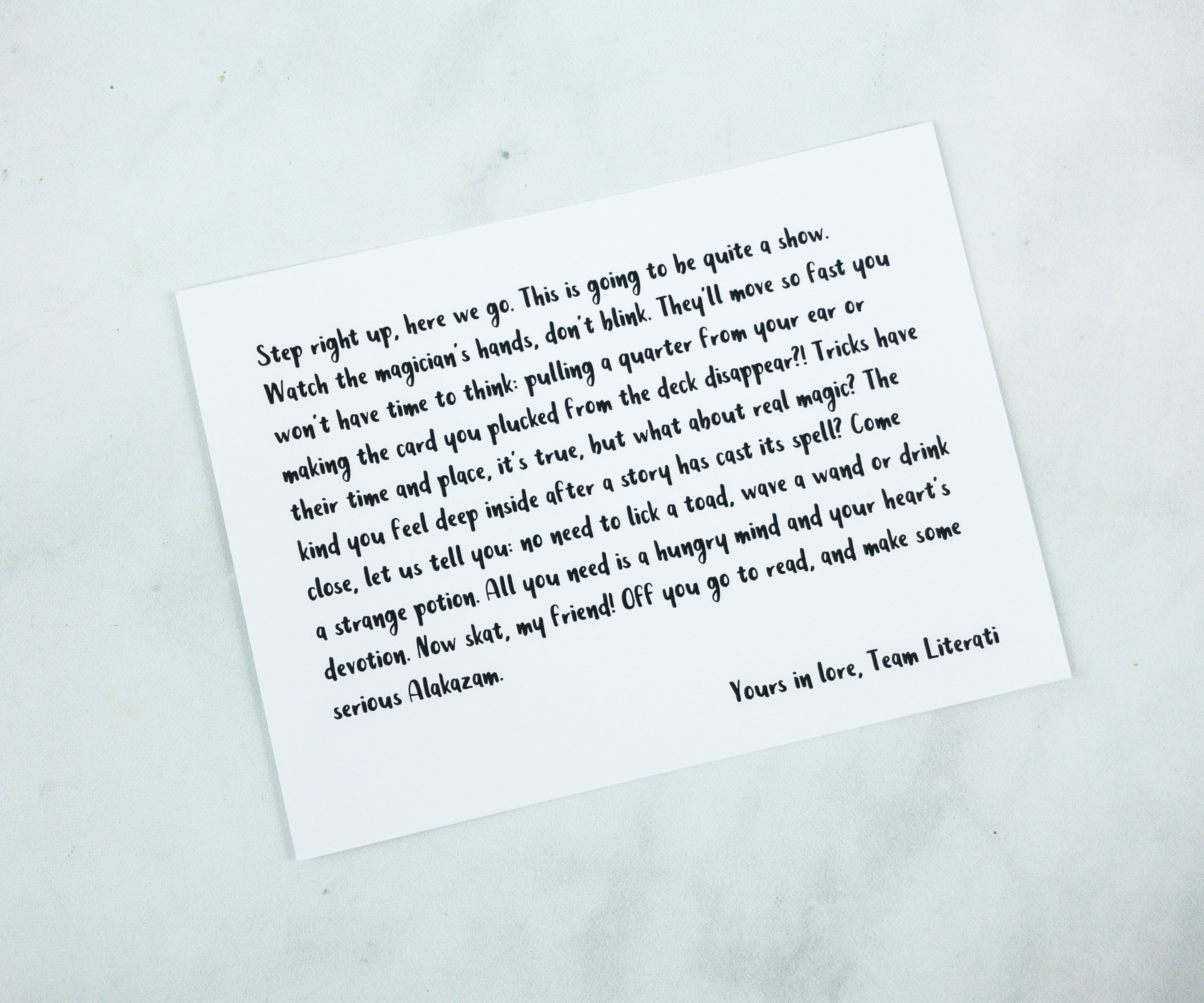 In it is a bit of information on how this box and its contents came to be.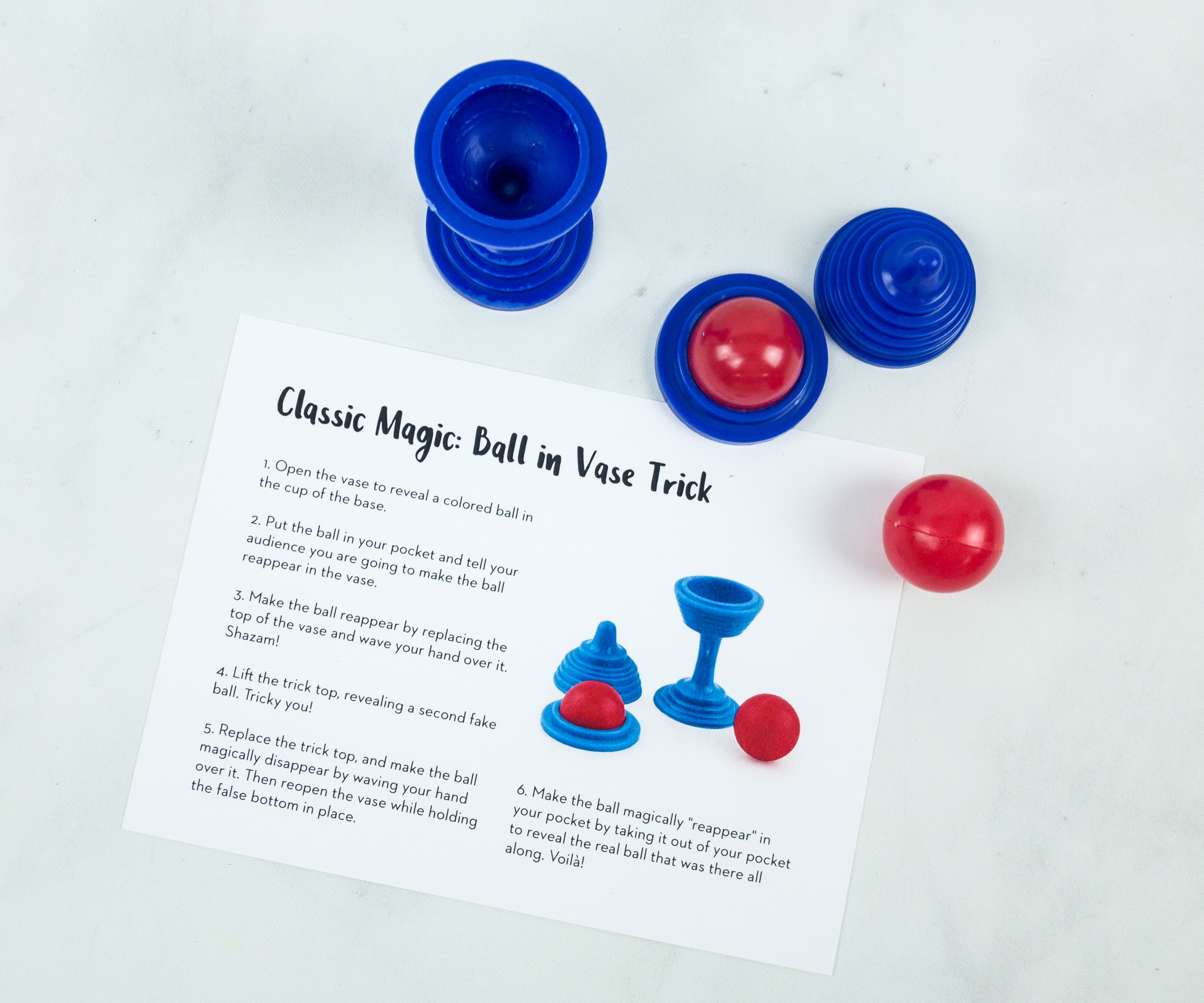 Literati Club added this bit of magic trick in your arsenal with the Ball in a Vase trick. They gave us the tools, and the steps to complete the magic trick, and shazam! We have a new trick to show off our guests!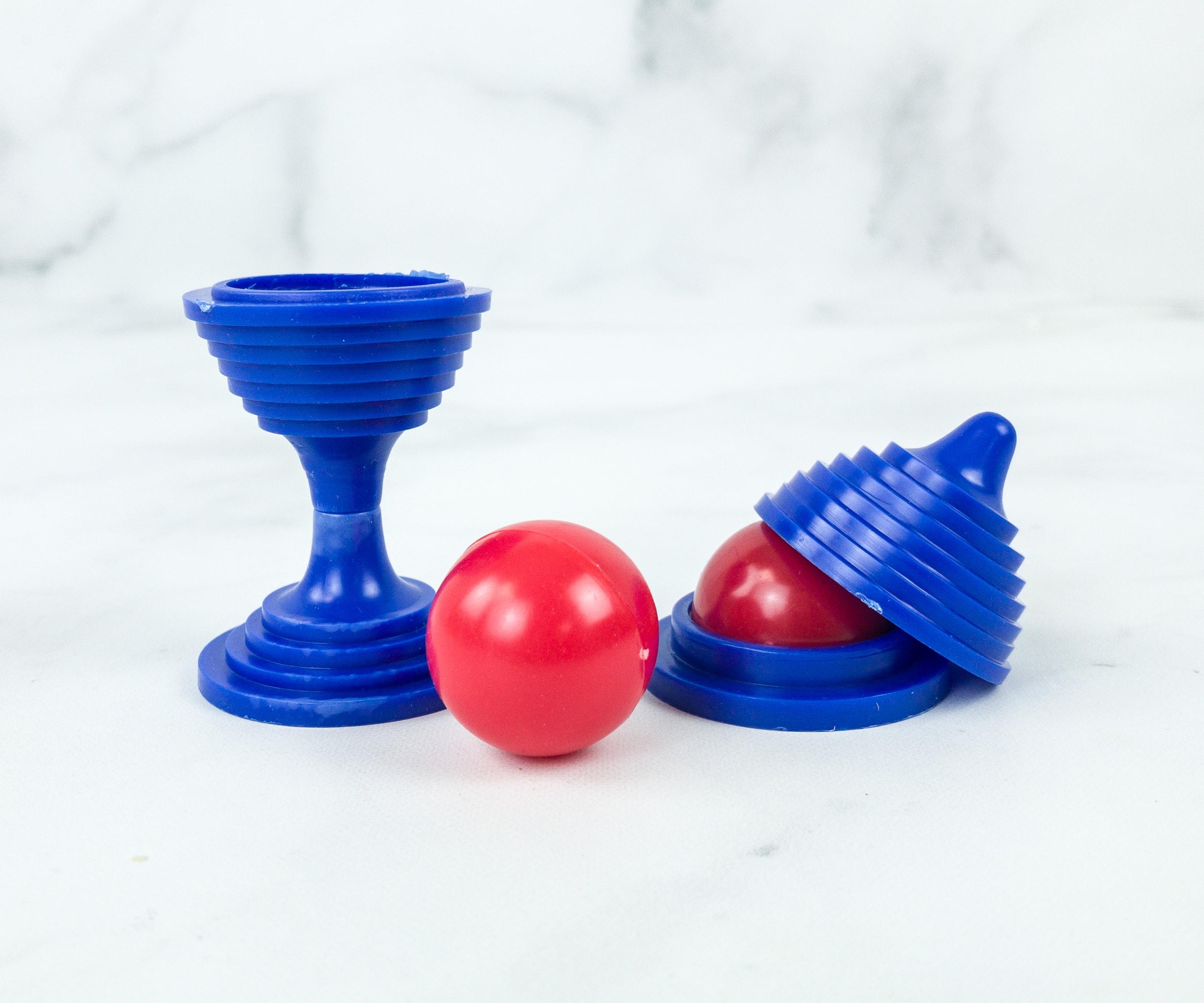 You'll get the vase and the ball too, plus the hidden fake ball, to complete the trick. I love the simplicity of this magic trick and my kids think so too. They'll surely spend some time practicing this magic for the rest of the family to see.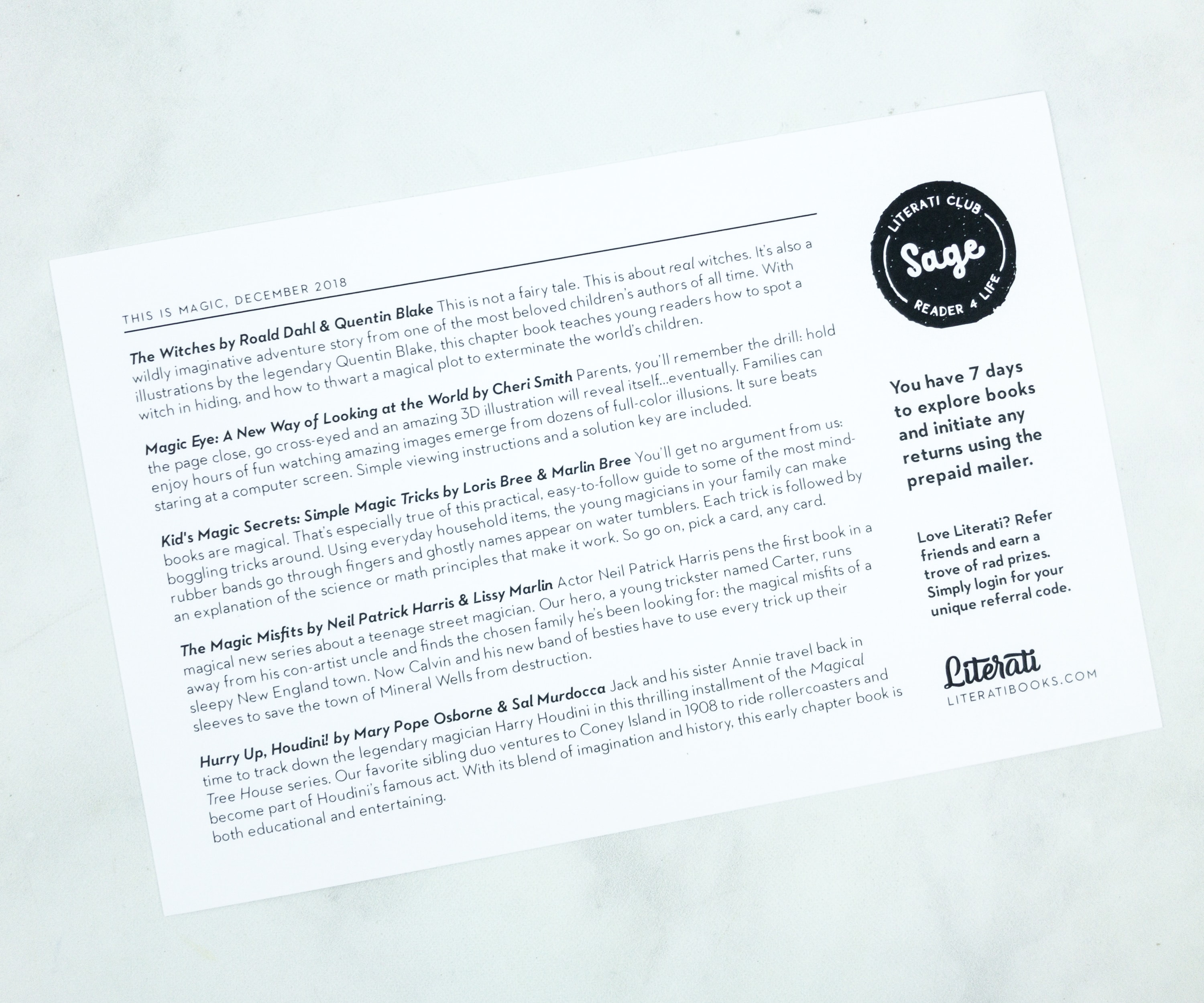 It's an info card about the five books sent to us for Club Sage for kids aged 7-8 years old.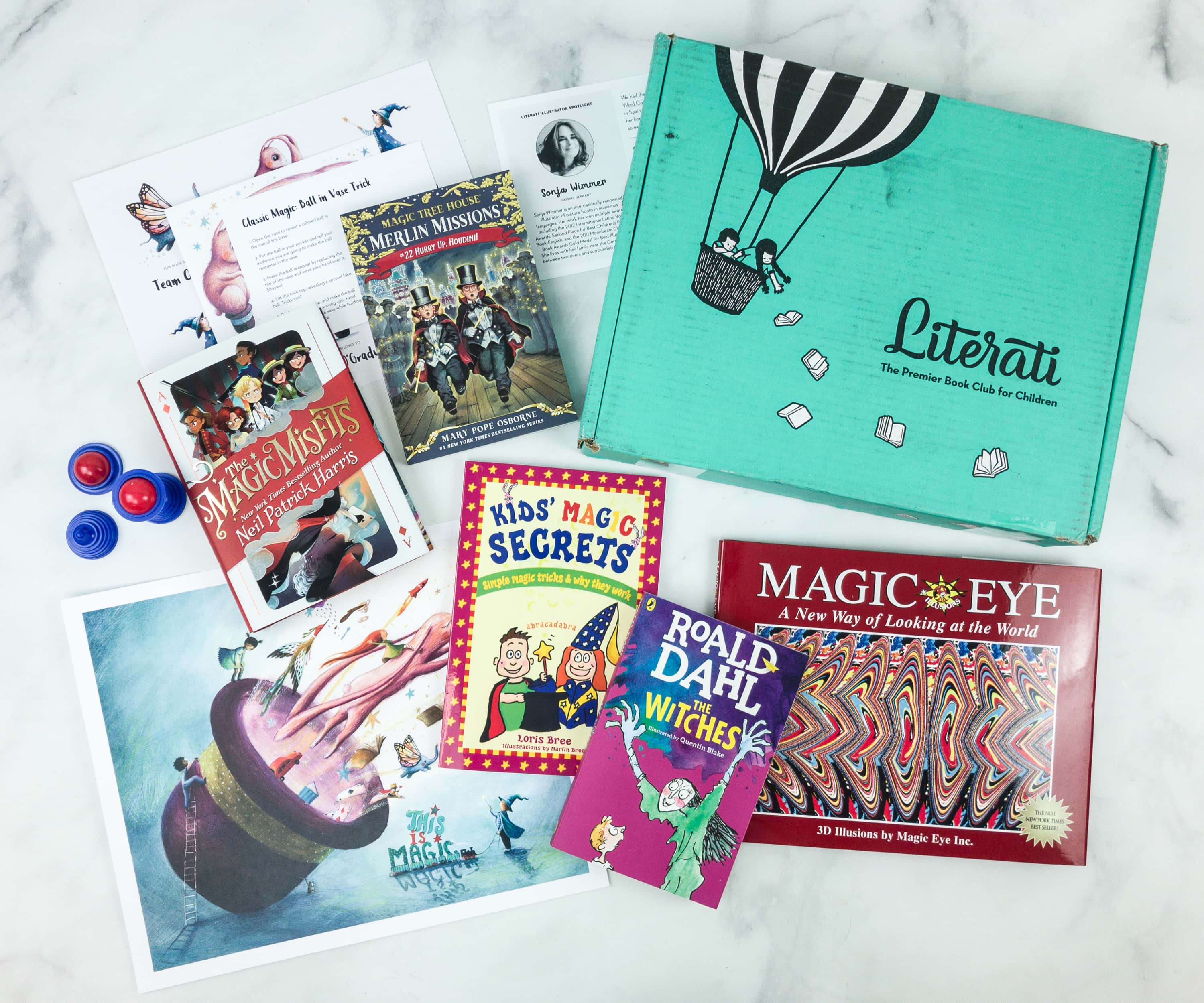 Everything in the box!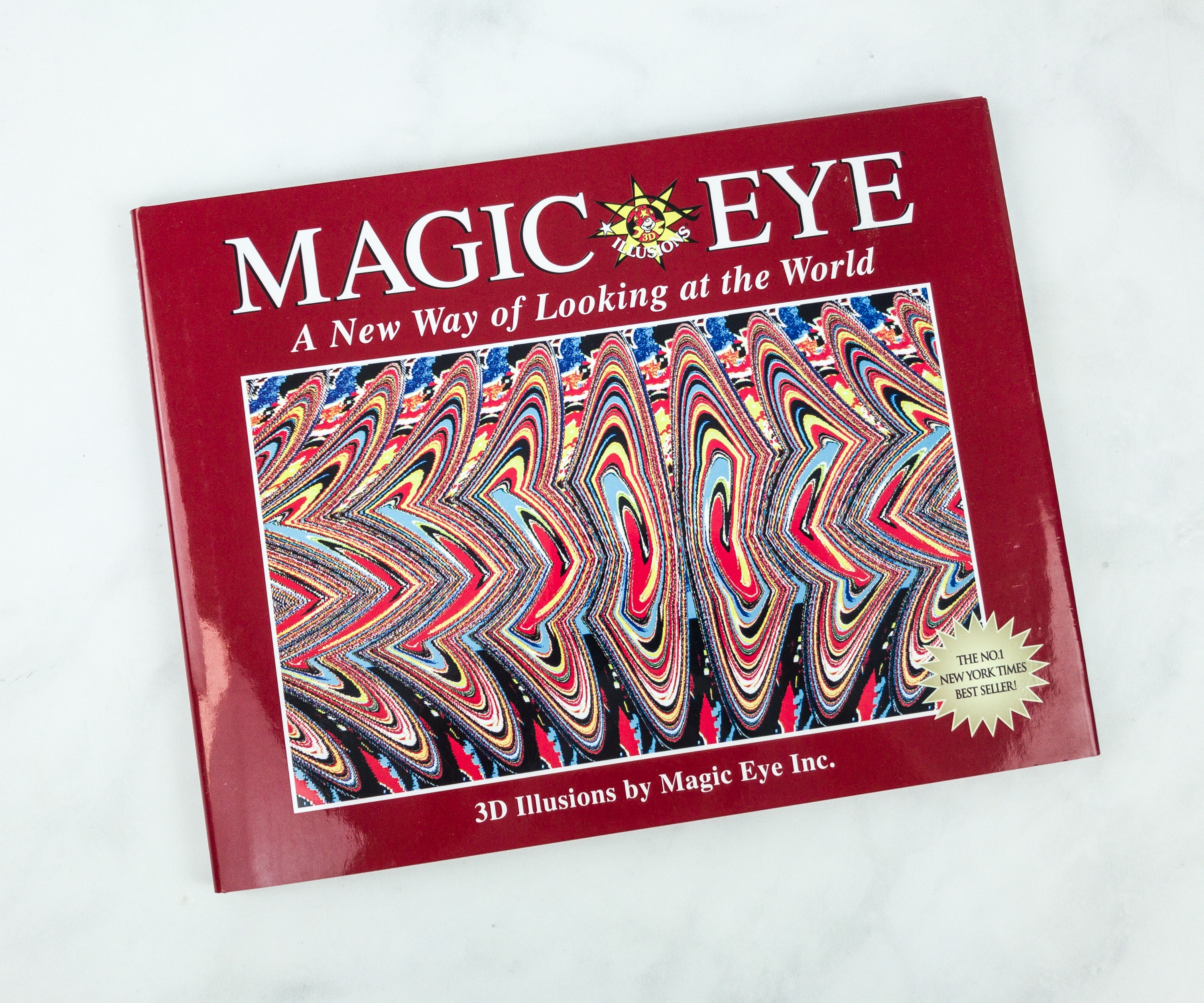 Magic Eye: A New Way Of Looking At The World ($11.59)
Family and friends will enjoy hours of entertainment while viewing the amazing 3D illustrations found in this #1 New York Times bestseller.

Embedded within each image of Magic Eye: A New Way of Looking at the World is an enchanting 3D object or scene that materializes before the viewer's eyes. Simple viewing instructions and a solution key are included.
For first timers, the 3D book can be tough to see, but the instructions on how to find the hidden image are found at the back of the book. Like it said, instruct your kids to bring the book close to them, almost touching their nose, and fix on one point of the image. Slowly move the book away from them until they see different shapes taking place. It can be a bit tricky at first, but your kids will get the hang of it eventually.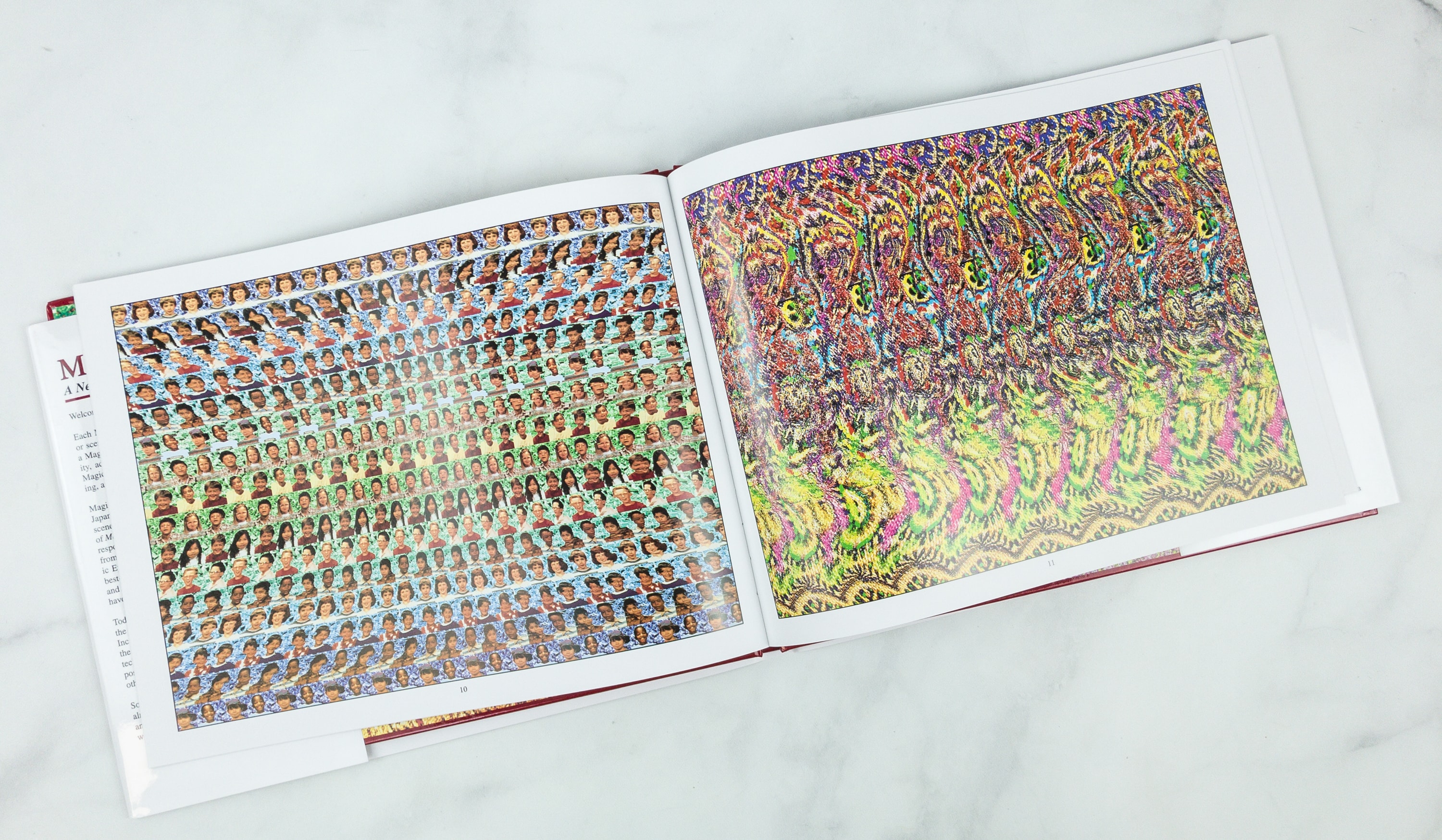 As you can see, the entire page is covered up in different images which hides some pretty cool 3D images.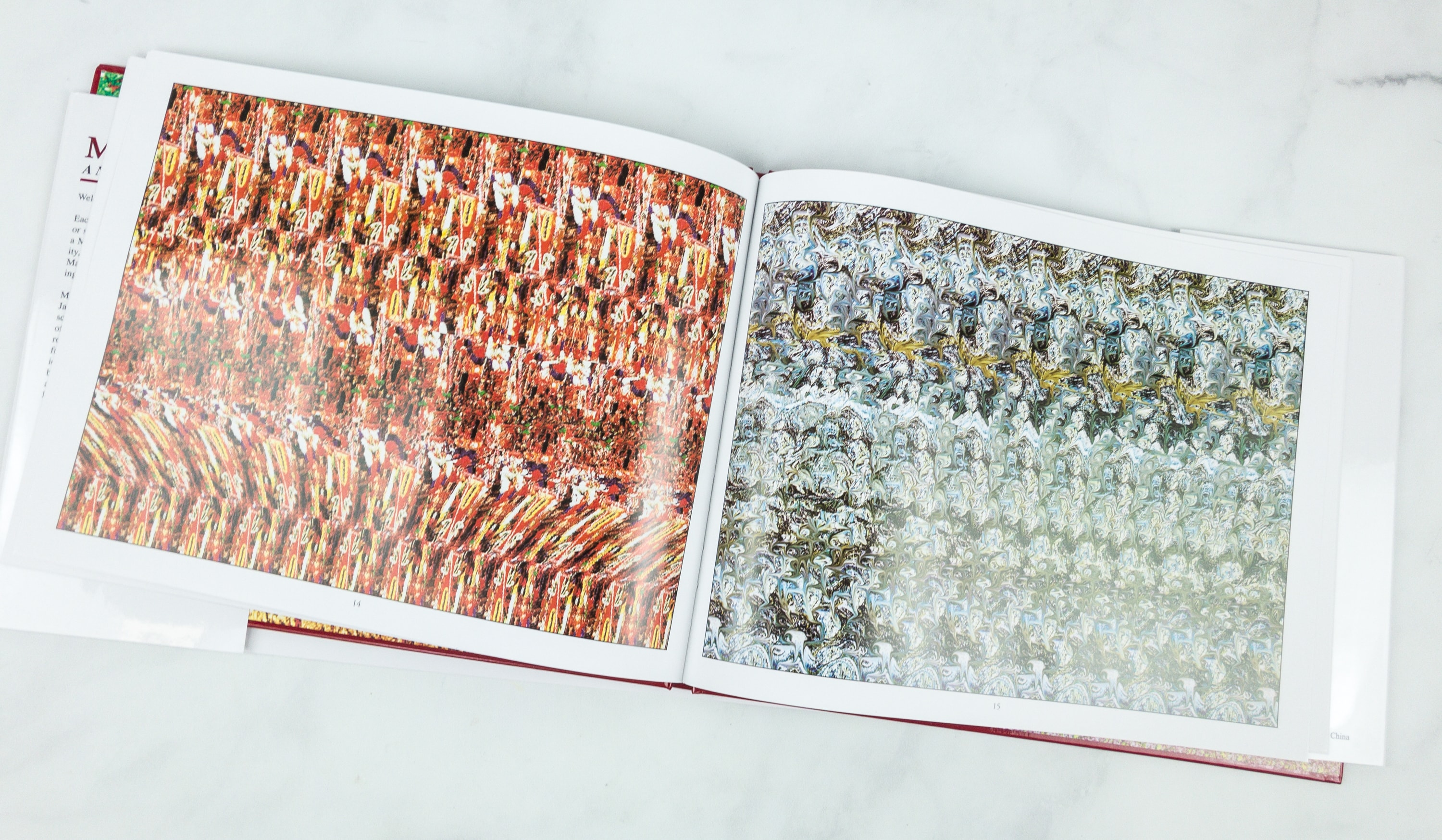 The designs here may look artwork themselves, but the real design is hidden in them. You just need to have the eye for the details. My kids love it!
The Magic Misfits by Neil Patrick Harris ($12.74)
From award-winning actor, Neil Patrick Harris, comes the magical first book in a new series with plenty of tricks up its sleeve.

When street magician Carter runs away, he never expects to find friends and magic in a sleepy New England town. But like any good trick, things change instantly as greedy B.B. Bosso and his crew of crooked carnies arrive to steal anything and everything they can get their sticky fingers on.

After a fateful encounter with the local purveyor of illusion, Dante Vernon, Carter teams up with five other like-minded illusionists. Together, using both teamwork and magic, they'll set out to save the town of Mineral Wells from Bosso's villainous clutches. These six Magic Misfits will soon discover adventure, friendship, and their own self-worth in this delightful new series.

(Psst. Hey, you! Yes, you! Congratulations on reading this far. As a reward, I'll let you in on a little secret… This book isn't just a book. It's a treasure trove of secrets and ciphers and codes and even tricks. Keep your eyes peeled and you'll discover more than just a story–you'll learn how to make your own magic!)
Lemony Snicket's review of Neil Patrick Harris' first book sounds promising. And for kids who are as excited to see a magician up close to trying out their own tricks, this book is going to be a fun read for them.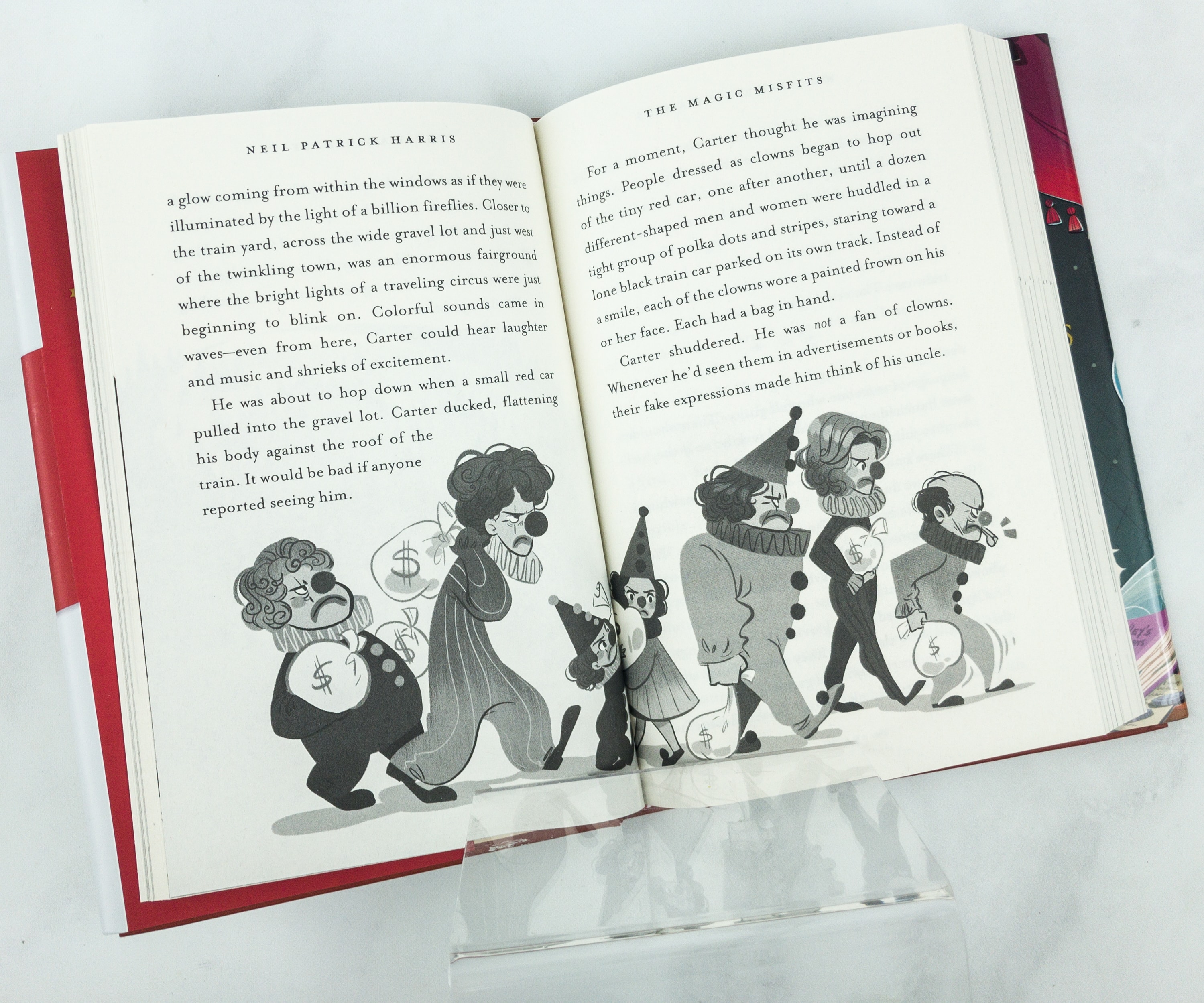 It even comes with comical illustrations! It's such an enjoyable read and I think the added drawings can help children imagine the whole carnival as well.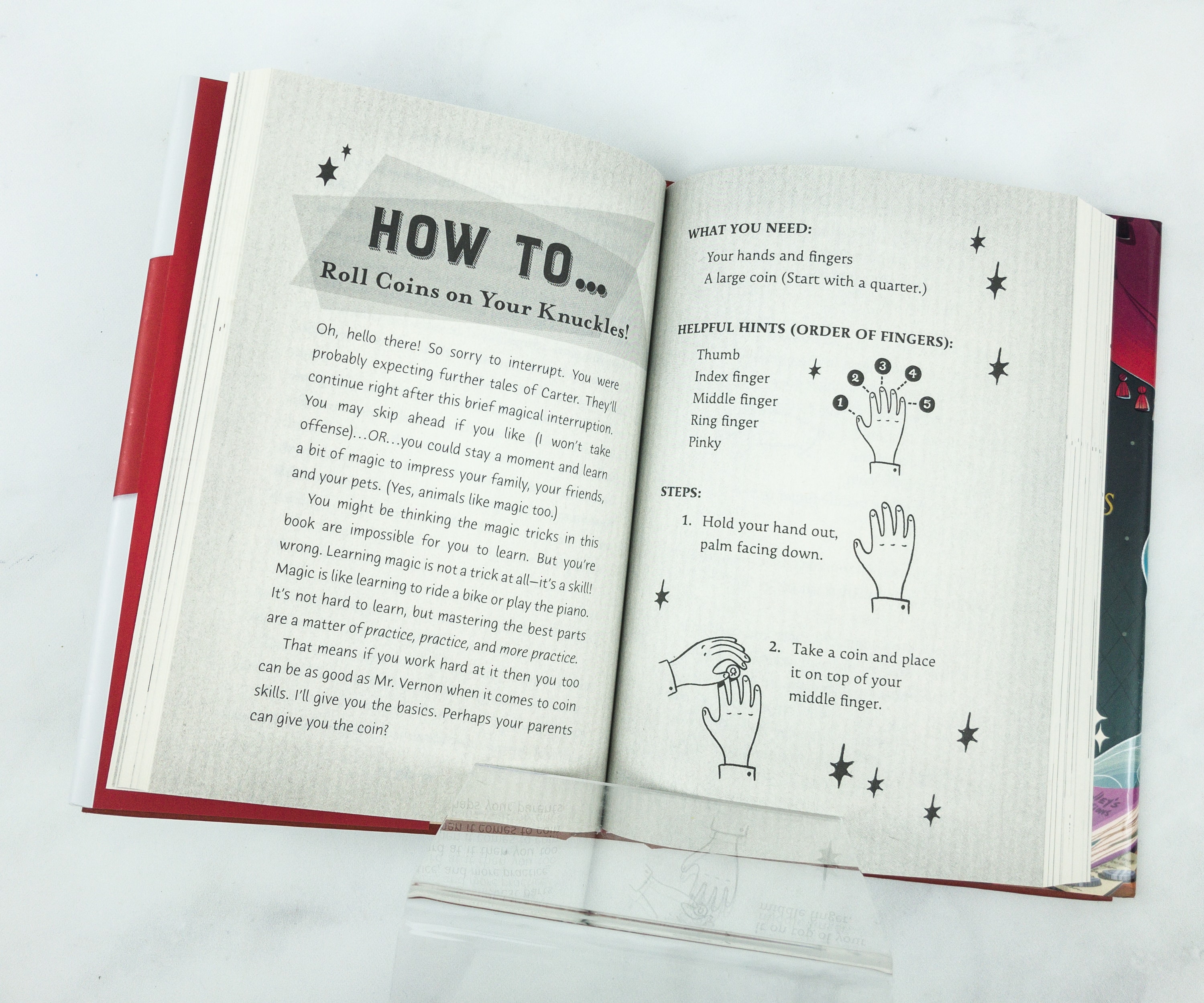 This book is not just for reading, because there are a few tricks up its sleeves. Here's one and it's about rolling coins on your knuckles!
I love the titles for each chapter as they are catchy and comes with cute drawings too. The kids are hooked! We already have read this book, but it's an excellent centerpiece for this curation.
Kid's Magic Secrets by Loris Bree ($10.99)
Using everyday items found in most homes, aspiring young magicians can dazzle friends and family with this best-selling kid's guide to performing magic tricks. With the help of this book, young magicians can magically make things appear and disappear, make rubber bands seem to go through fingers, and make ghostly names appear on water tumblers. There are eight fun categories of magic ranging from All Wet to Amazingly Mysterious. Of course, there's Pick-A-Card–Any Card! Each activity includes step- by- step directions complete with hundreds of delightful illustrations. Each trick is followed by an explanation of the scientific or mathematic principles that make it work.
Another book about magic and my kids can't get enough of it! Who doesn't want to do some magic tricks of their own, right? This book is packed with tricks from making your partner disappear, make rubber bands appear to go through your fingers, and a whole lot more. The kids are definitely eager to try them all out.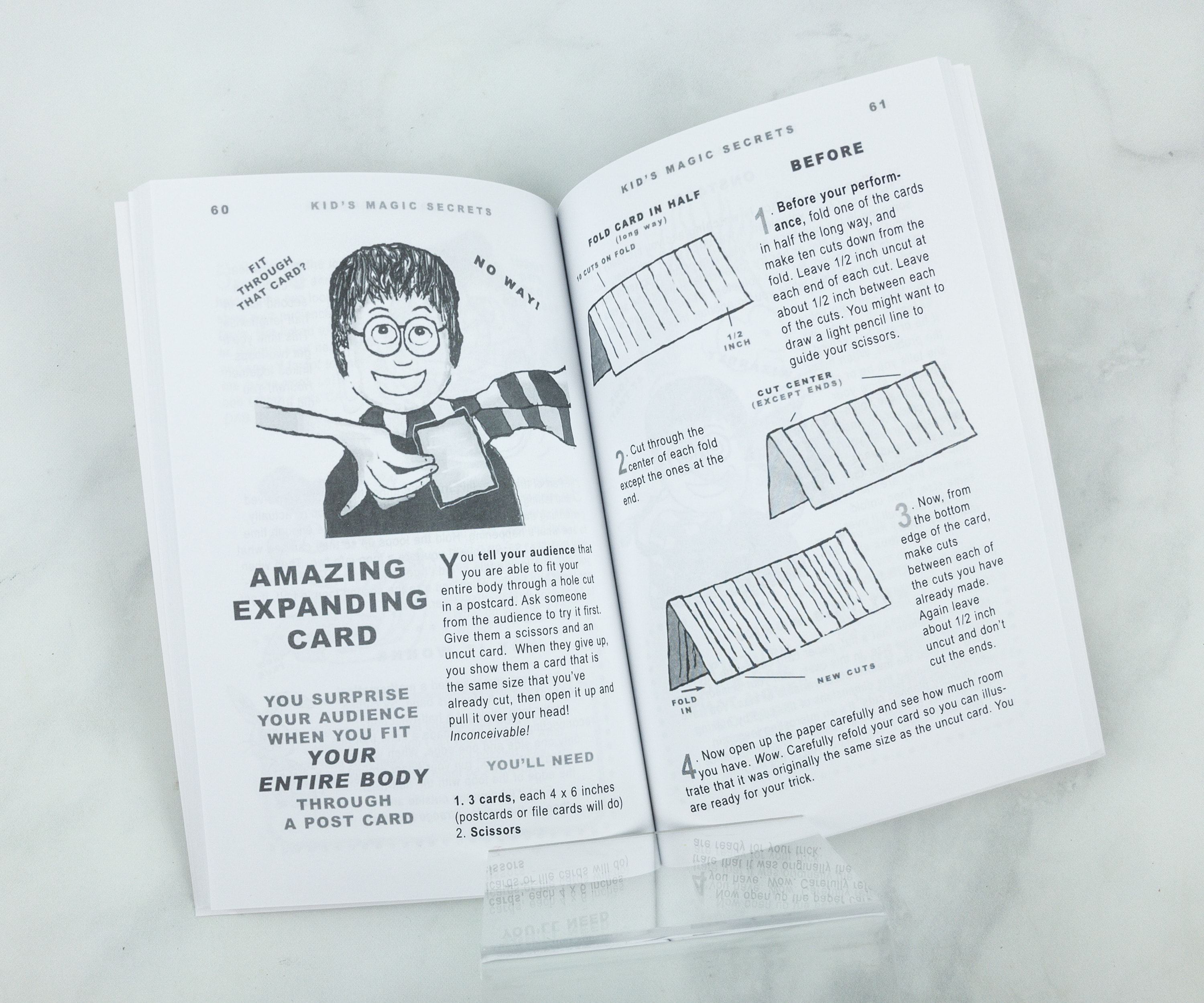 Okay, so this magic trick looks interesting. The Amazing Expanding Card trick does seem to be a bit complicated for kids at first, but the steps are clear enough to follow. You will need some patience of course to learn the trick, but it's worth it.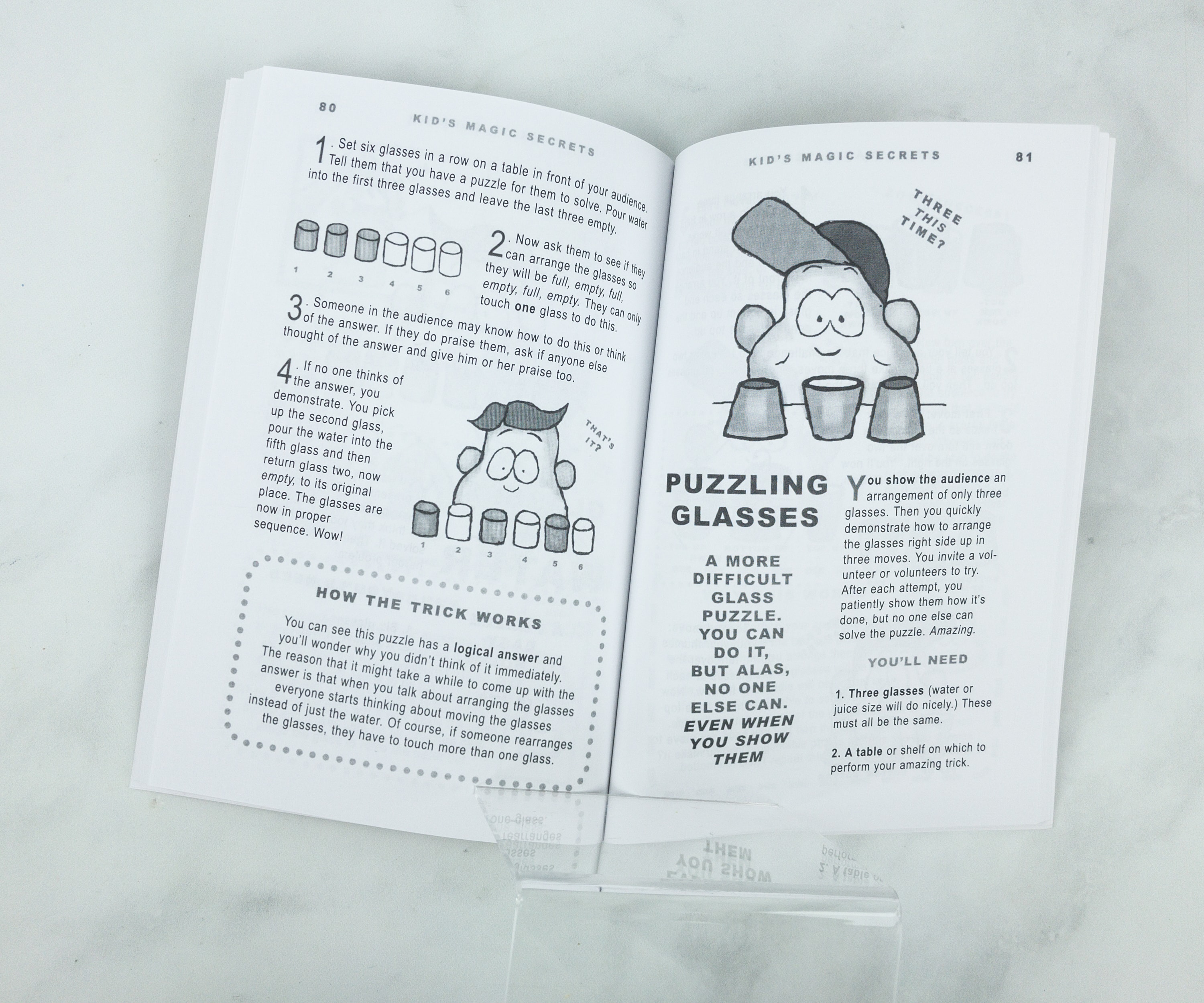 Puzzling Glass is also another magic trick included in this book. It's accompanied with illustrations that make it even more fun!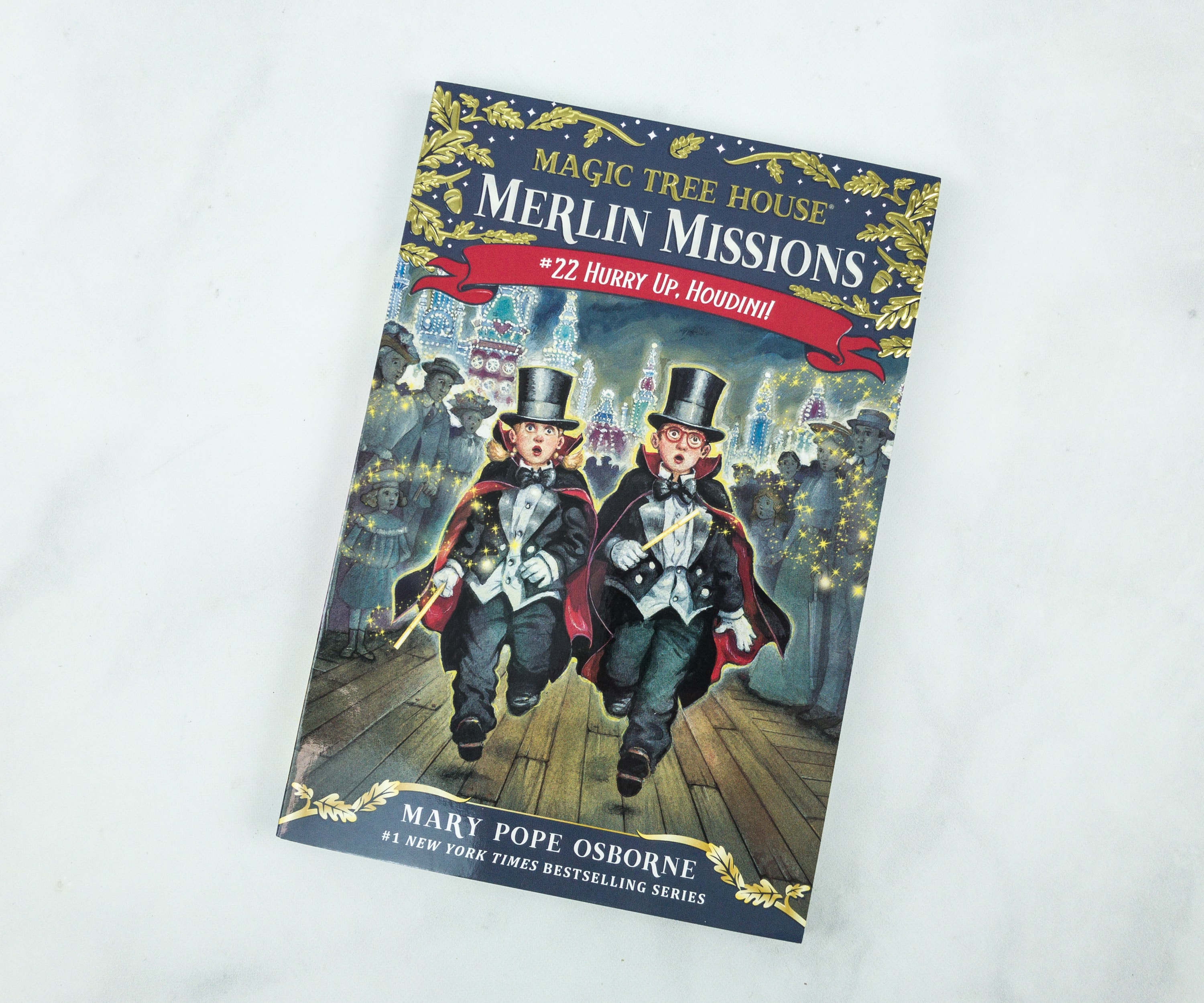 Magic Tree House Merlin Missions by Mary Pope Osborne ($5.99)
When Jack and Annie receive an invitation to spend Christmas Eve in Camelot—a magical place that exists only in myth and fantasy—they know they are in for their biggest adventure yet. What they don't know is that the invitation will send them on a quest to save Camelot. Can they succeed even though Camelot's greatest knights have failed?

Formerly numbered as Magic Tree House #29, the title of this book is now Magic Tree House Merlin Mission #1: Christmas in Camelot.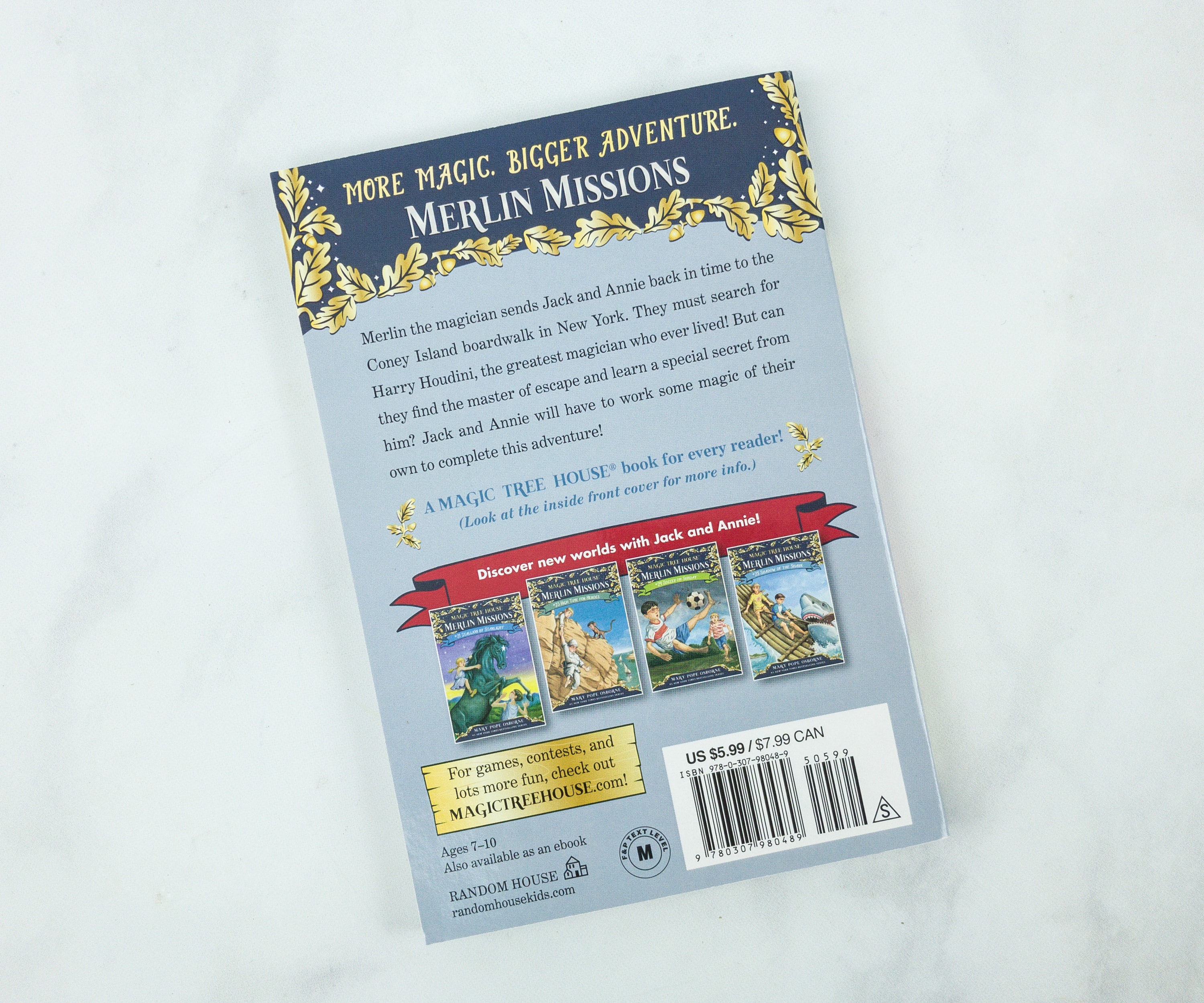 Magic and Time Travel? This book takes Jack and Annie back to the time of Harry Houdini, who was considered as the greatest magician ever, to learn a secret from him, and even learn a trick or two on their own as well.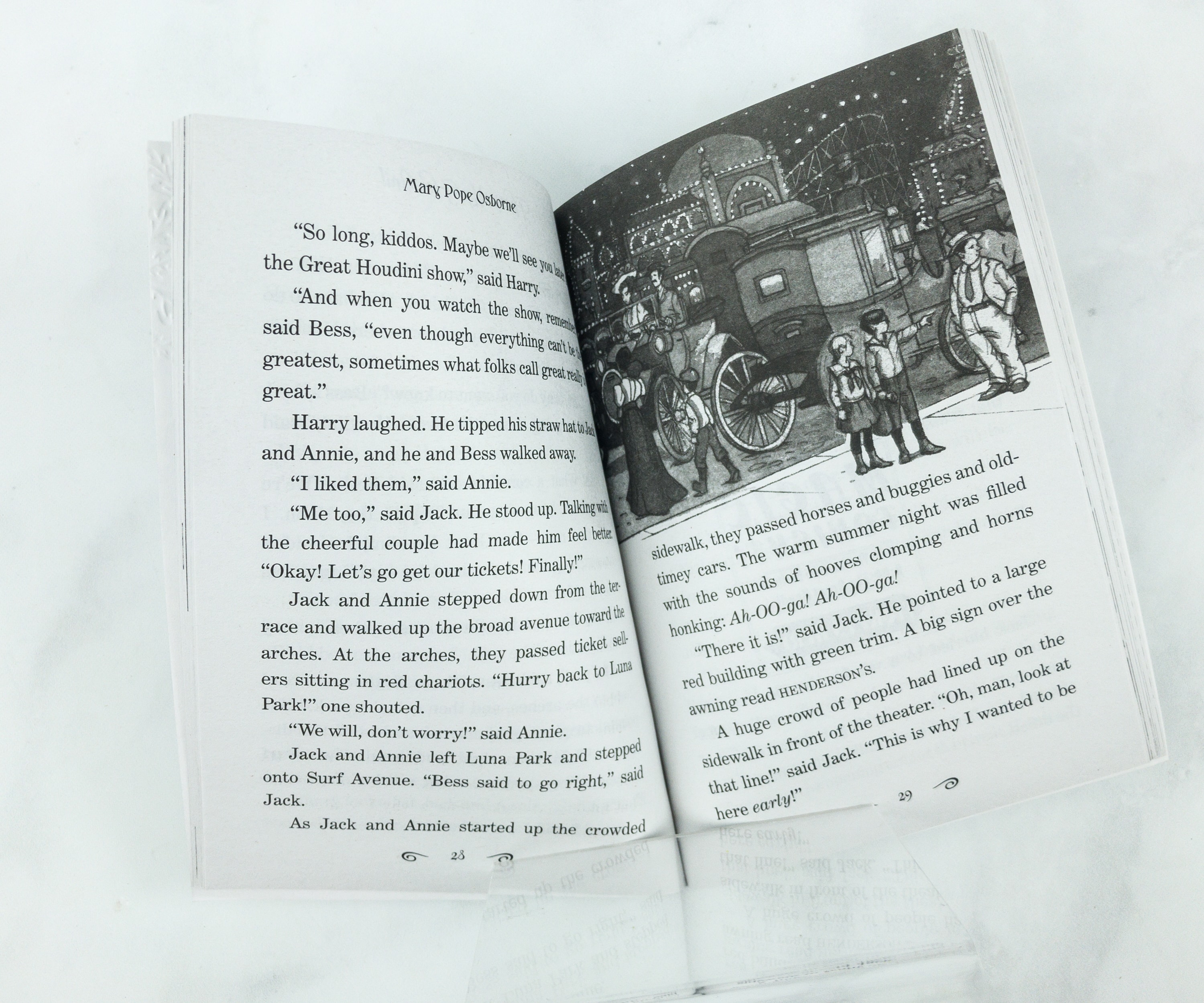 This one's an easy read. There are illustrations too, which adds to the whole fun of reading.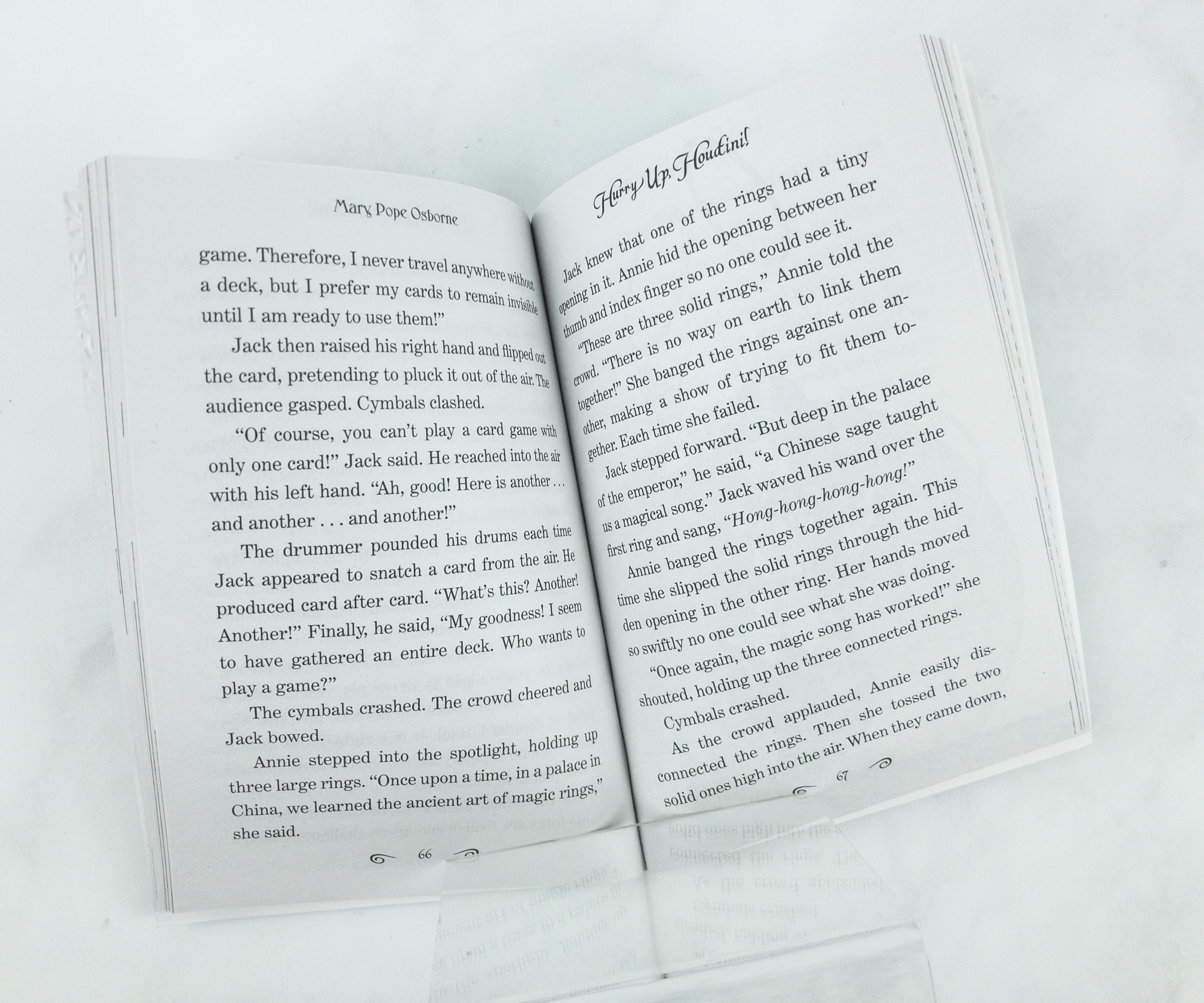 Children will not have a hard time reading this book as the text is large and the words are easy enough to grasp. If there are any vocabulary that needs to be addressed, parents can easily help them out too.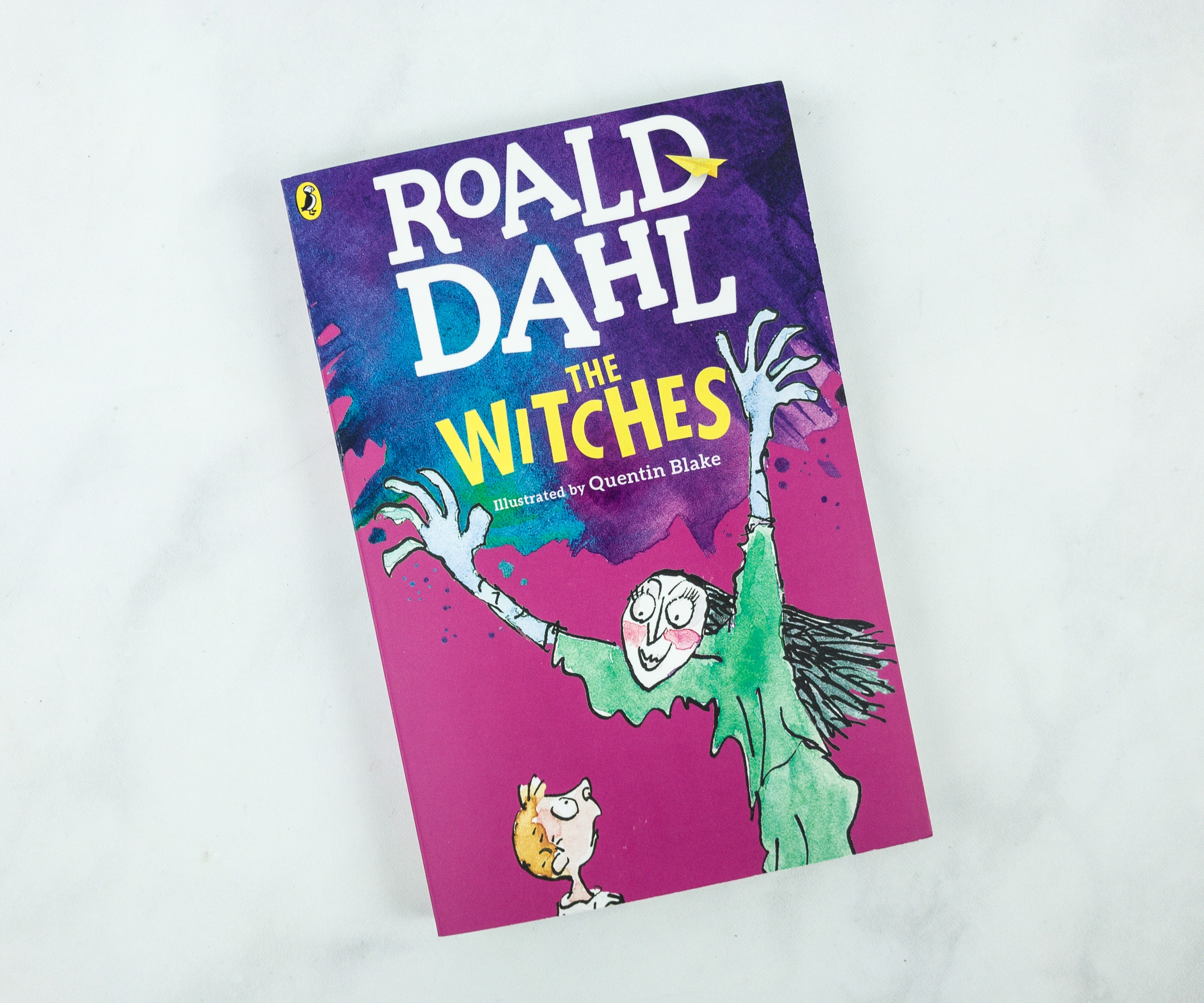 Roald Dahl The Witches by Quentin Blake ($7.99)
This is not a fairy tale. This is about real witches.

Grandmamma loves to tell about witches. Real witches are the most dangerous of all living creatures on earth. There's nothing they hate so much as children, and they work all kinds of terrifying spells to get rid of them. Her grandson listens closely to Grandmamma's stories—but nothing can prepare him for the day he comes face-to-face with The Grand High Witch herself!
Well, the summary on the back of the book is interesting already! Witches are typically described as wearing black with pointy hats, but this story challenges the idea.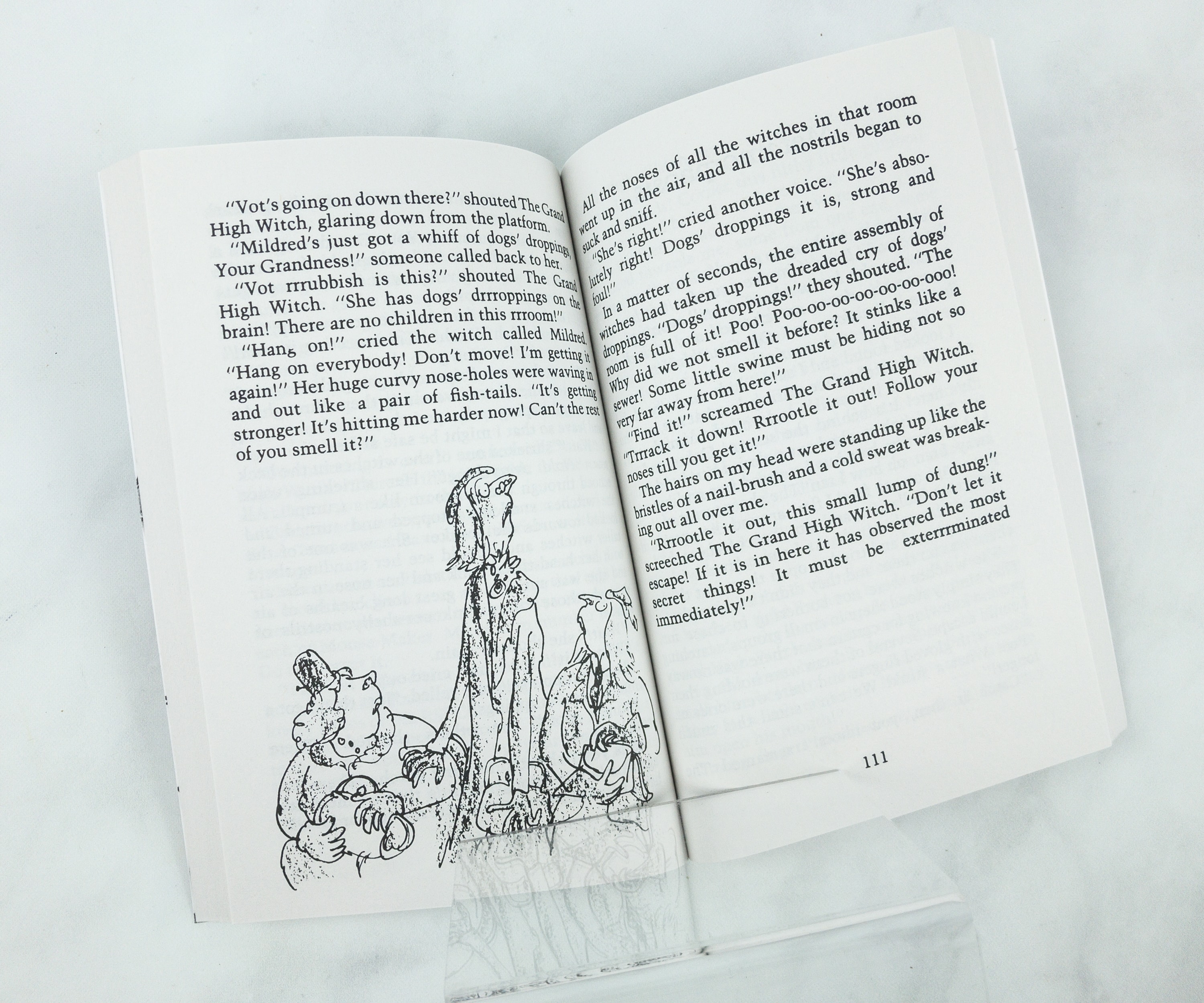 The illustrations doesn't have colors but they do have quirky details.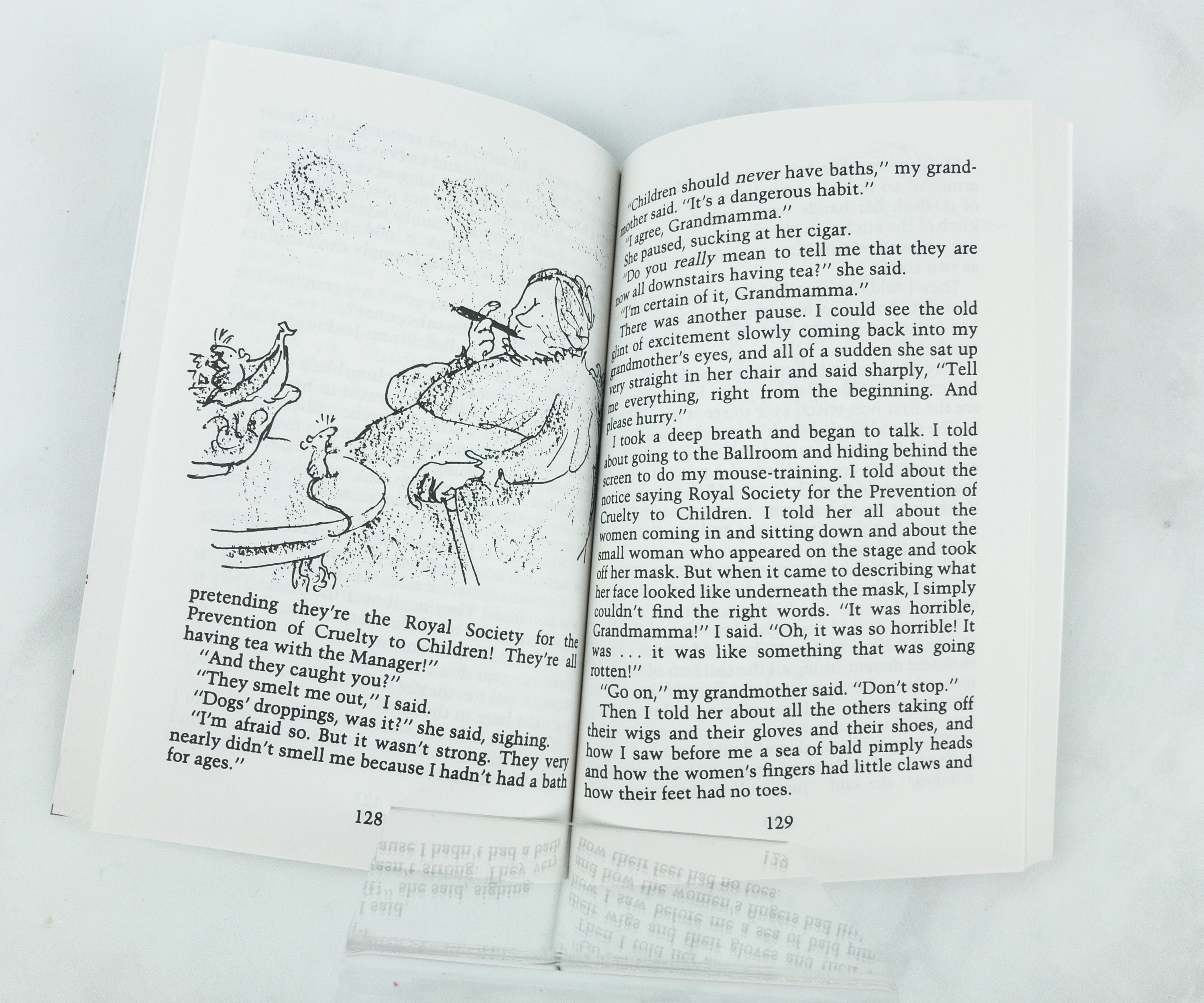 I like the way the story is playing out, with the conversations between the characters, and the descriptions of each scene. We've already read this one too – over and over!
Literati Club's choice of books for this month is quite magical, to say the least, especially since they have different magic tricks that can be tried out. The kids are hooked on them right from the start, especially the part when they are trying out the magic tricks, from the ball in vase trick to moving the coins on the knuckles, and even the expanding card. I have heard plenty of giggles from them because of the books. The best part? Endless hours of entertainment, especially with the 3D magic eye book.
Any thoughts on Literati?