The Korean Snack Box is a monthly subscription box dedicated to premium Korean snacks. The subscription starts at $14.95 each month (Medium and Large boxes available), with free worldwide shipping. Each box comes in a beautiful Bokjumeoni (traditional Korean silk bag) with 5-10 or 10-15 items and tasters. You can now find the previous month box and earlier month's boxes in the Korean Snack box shop.
This is a review of the large $24.95 per month Korean Snack Box.
DEAL: Get $2 off your first subscription box with coupon code HELLOKOREA.
This month's box includes a colorful Bokjumeoni. It is reusable as a purse, pouch, or even as a makeup bag!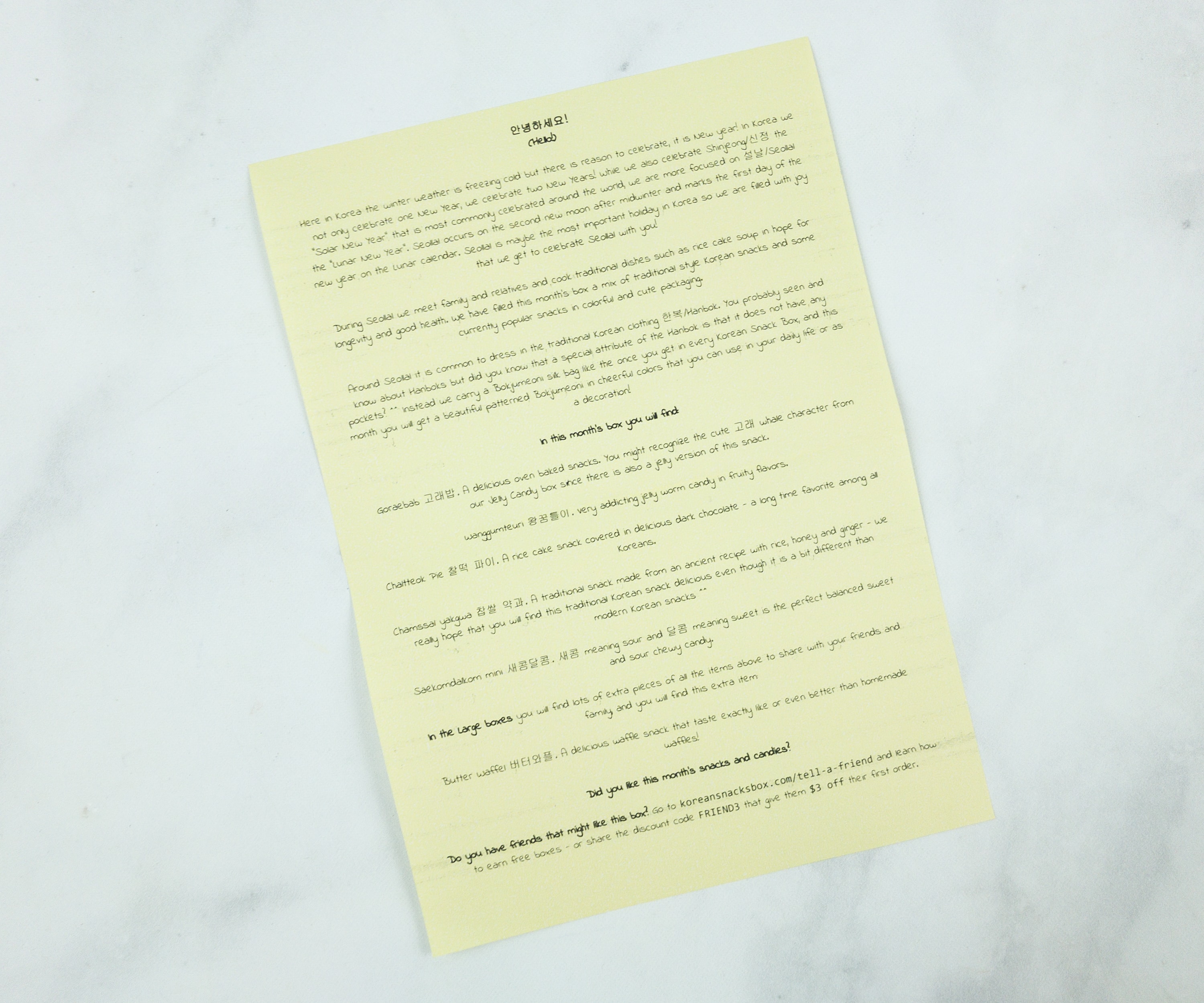 A note from the curators is included inside the box. The theme this month is NEW YEAR!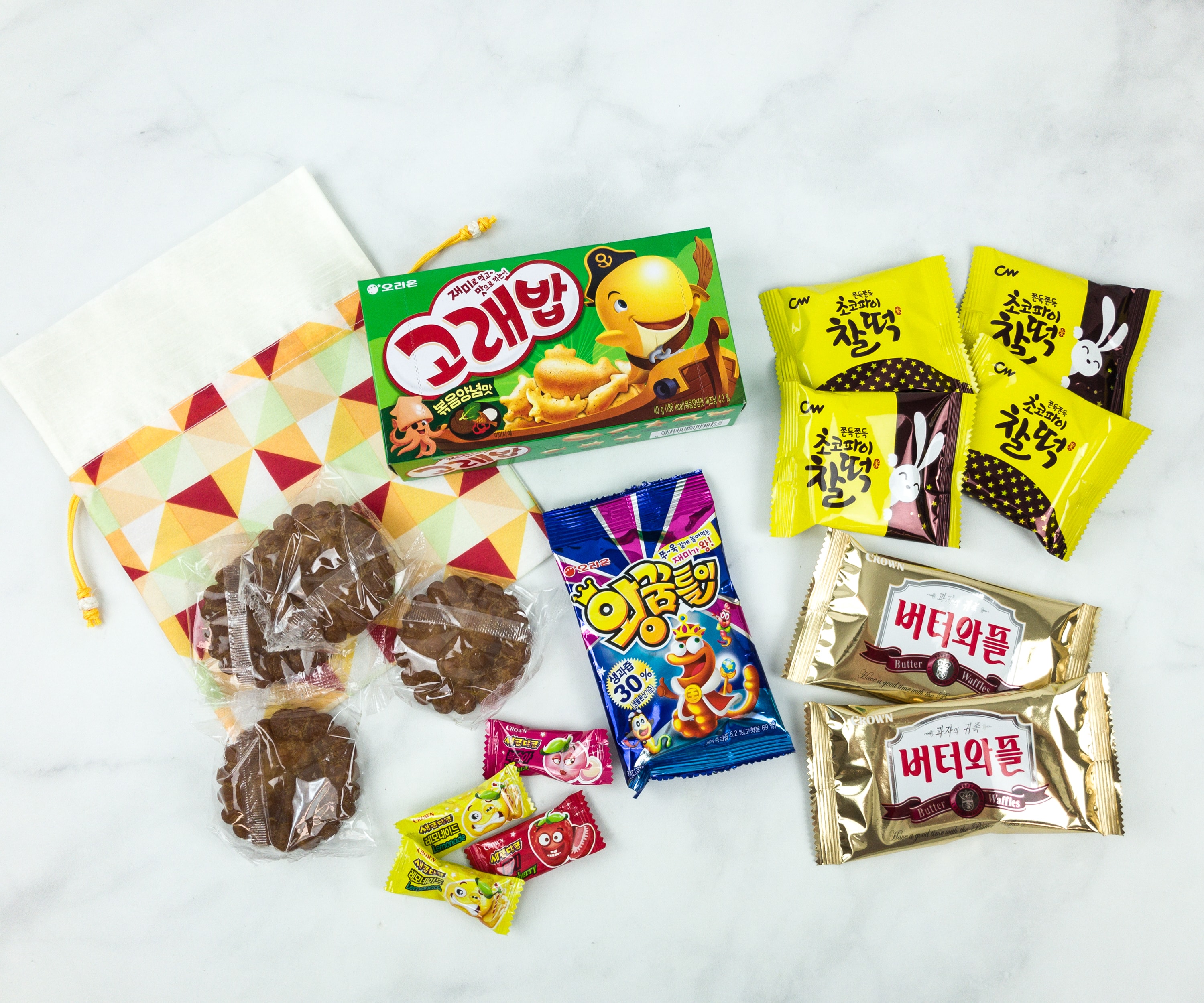 Everything in my box!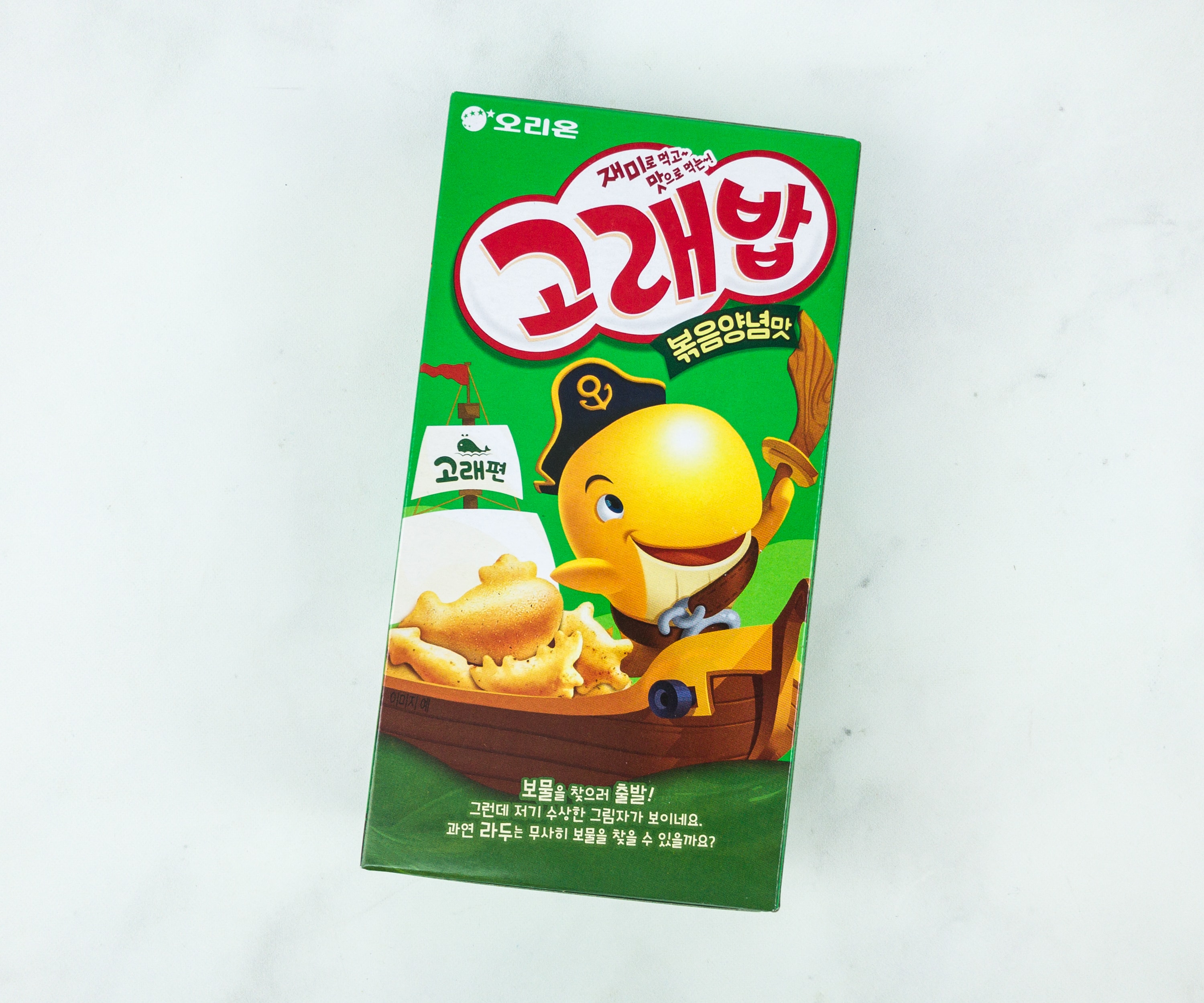 Goraebab 고래밥. We've tried this snack before and it's tasty especially because it's oven baked and not fried. Each pack contains a variety of seafood shaped crackers like fish, octopus, crabs, turtles, starfish, and squid. It's a yummy savory treat!
Wanggumteuri 왕꿈틀이. This pack contains soft and stretchy worm-shaped gummy candies with sweet fruity flavors.
These gummy candies are not just chewy, they're absolutely yummy and very addicting too. You can stretch them or bite them into smaller pieces before fully exterminating it. No one ever loved worms, unless they are gummy candies!
Chamssal yakgwa 찹쌀 약과. We got four pieces of this traditional Korean rice cake snack made from rice, honey, sesame oil, and ginger. It's a crunchy and rough outside but soft inside.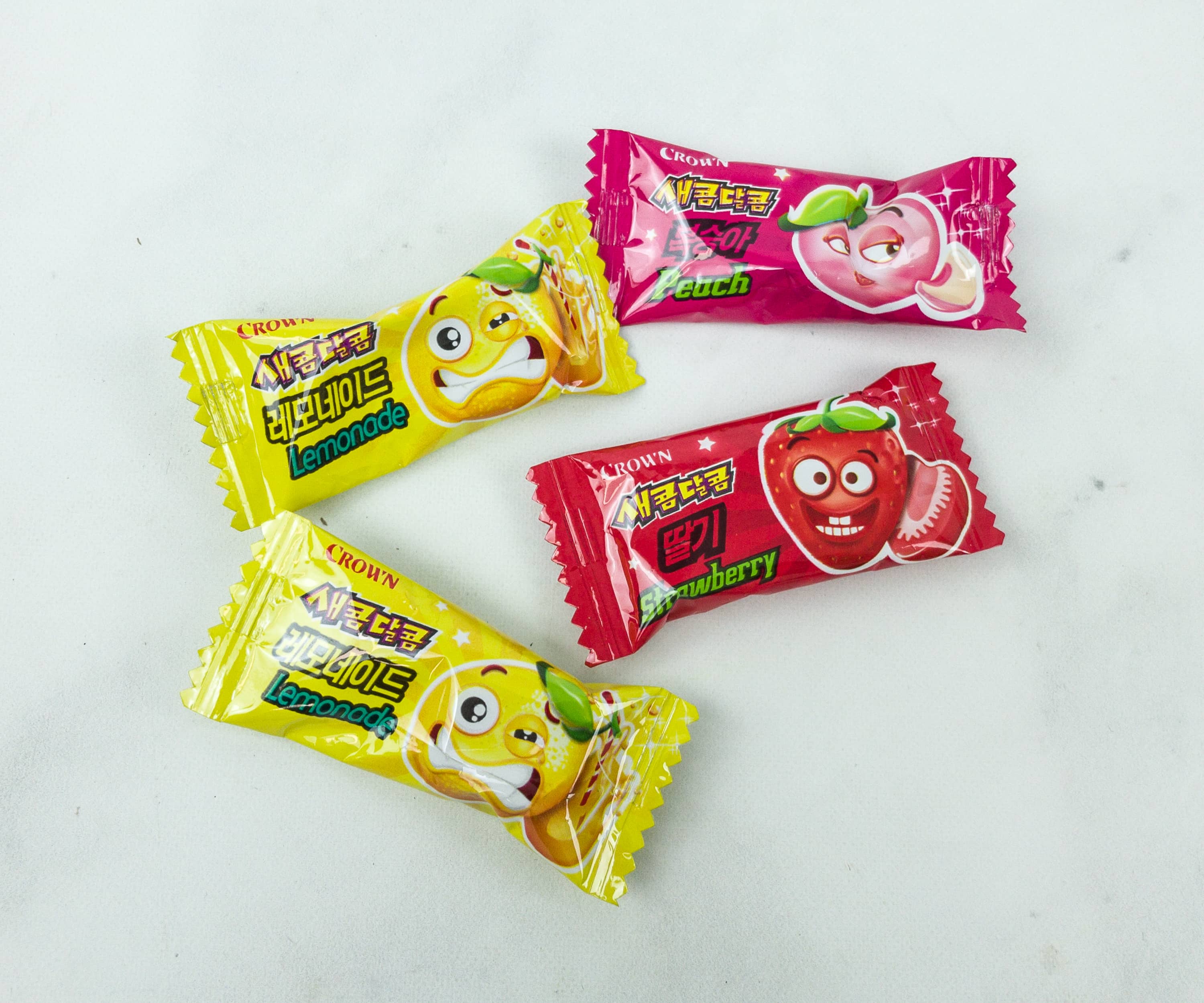 Saekomdalkom mini 새콤달콤.  Each candy features a unique fruity taste such as lemonade, peach, and strawberry. Korean fruit flavored candy is pretty much at the top of my list!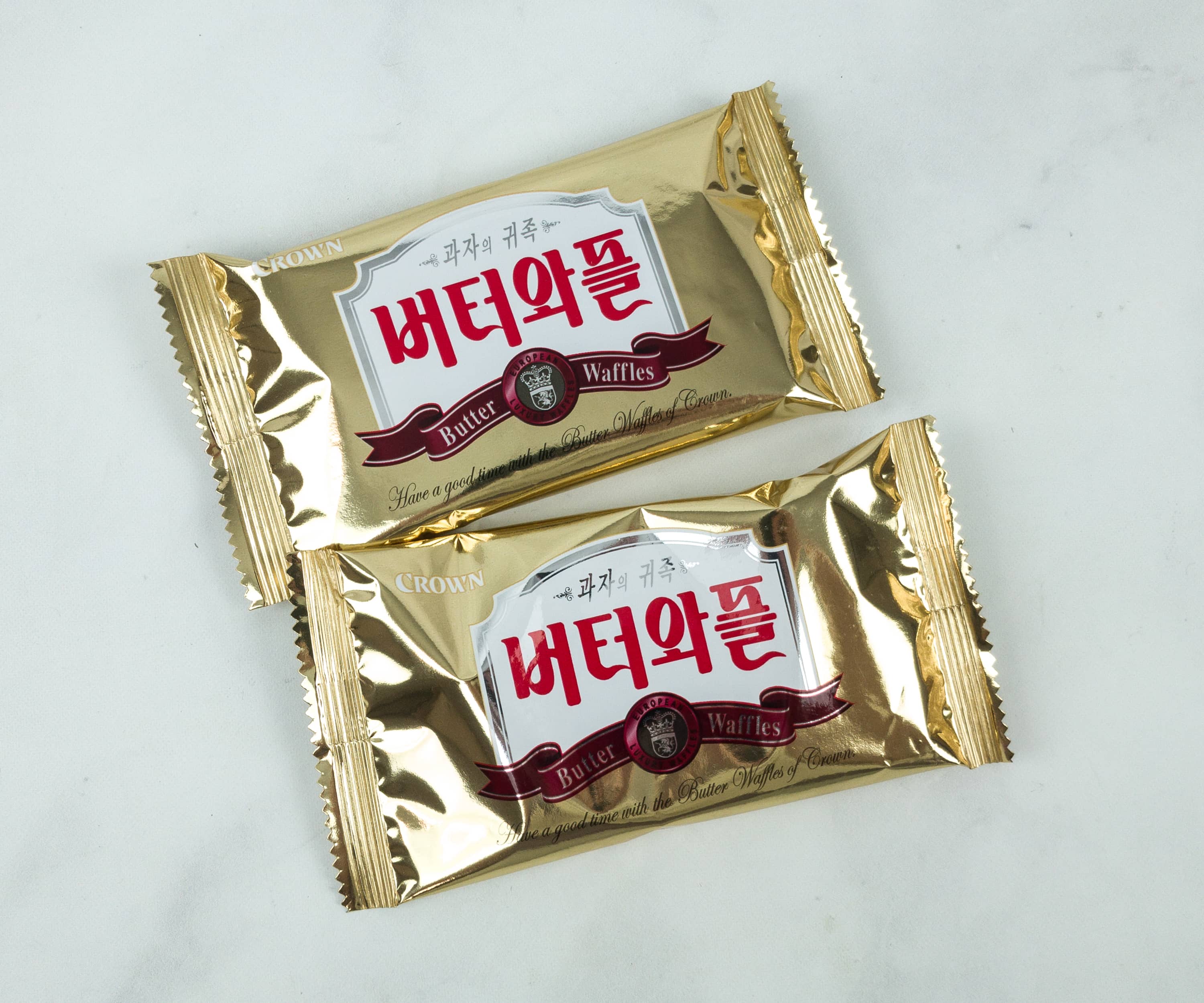 Butter Waffel 버터와플. These waffle biscuits are so sweet and crunchy. Each pack contains three pieces of waffles, and I can't get enough of them. Korean snacks often exhibit French-inspired treats and these are definitely not an exception!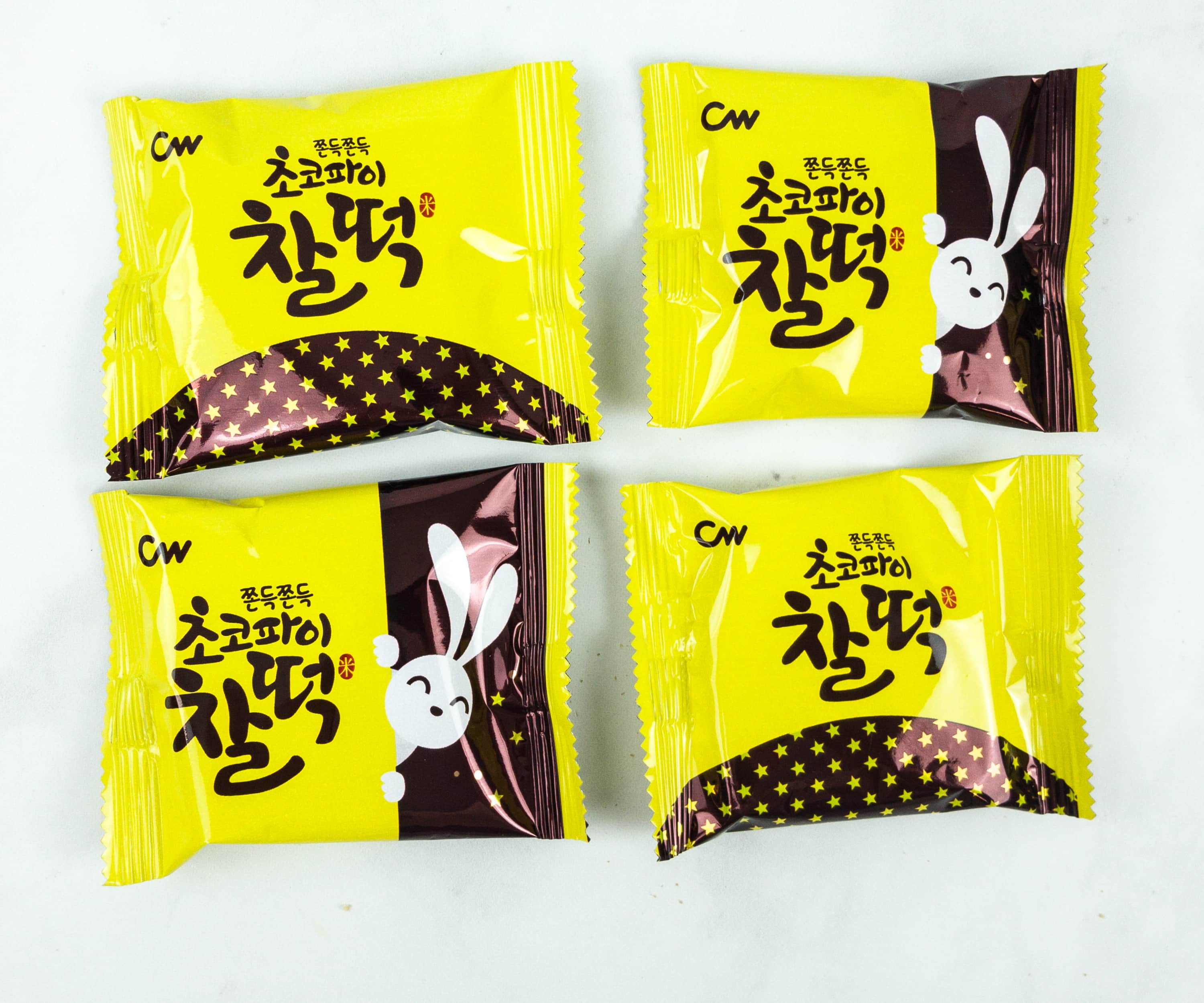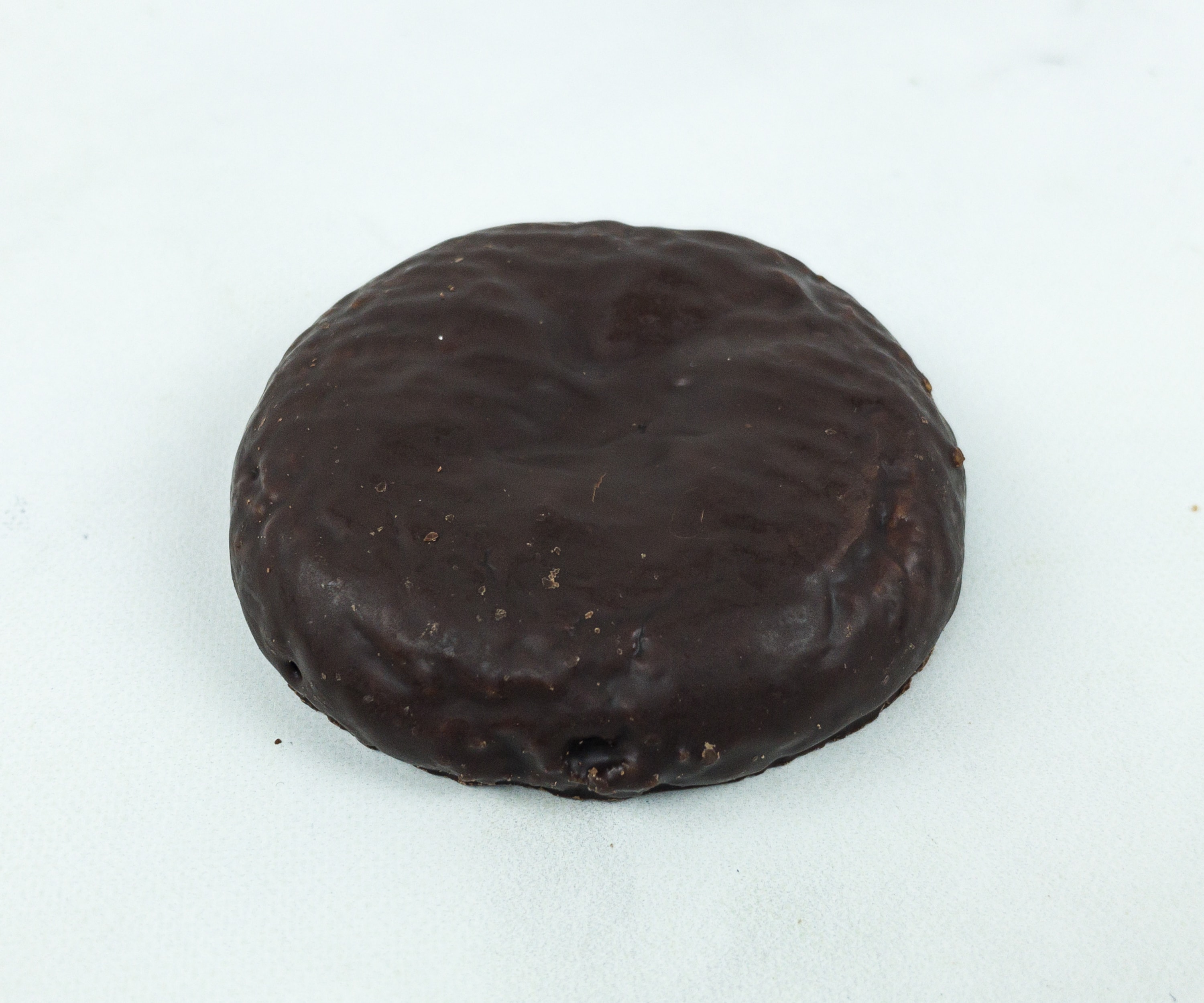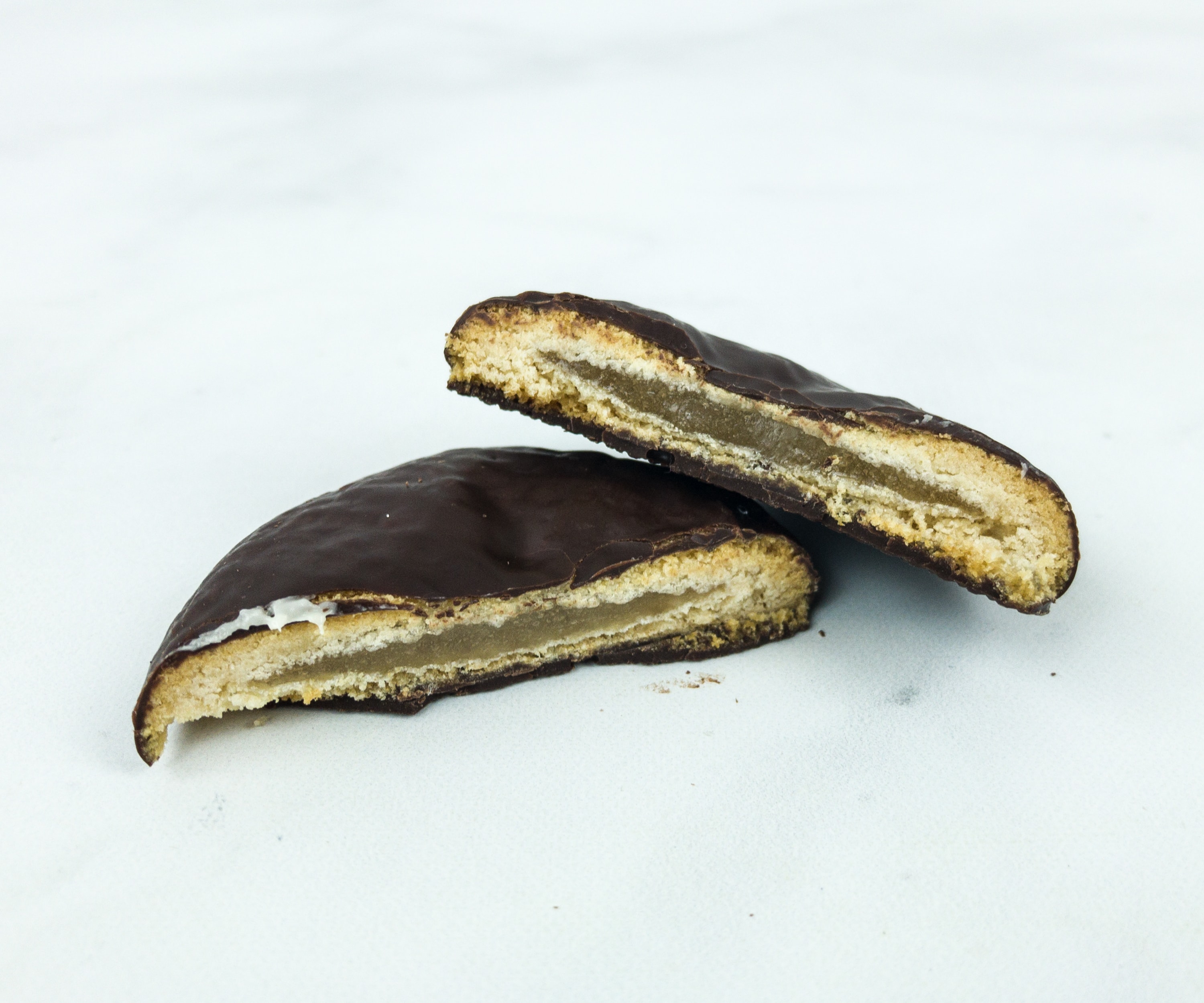 Chaltteok Pie 찰떡 파이. We got another rice cake snack, and this time it is covered with luscious chocolate! The chocolate coating tastes really great, it's so sweet and flavorful. Meanwhile, the rice cake itself is soft and sticky. The pie's texture is pudding-like, and it's filled with even more chocolate in the center.
What a great way to open the year! This month's Korean Snack Box is so amazing, it had a great mix of luscious candies and delicious biscuits. We definitely loved all the treats we received, especially the Chaltteok Pies and Chamssal Yakgwa. Both rice snacks possess a distinct taste that captured our palate. The honey and ginger flavors blended perfectly with the cookies while the other one features a mouthwatering chocolate coating. If you love Korean snacks too and would love to share with your family and friends, getting this subscription would be a great idea!
What do you think of Korean Snack Box?