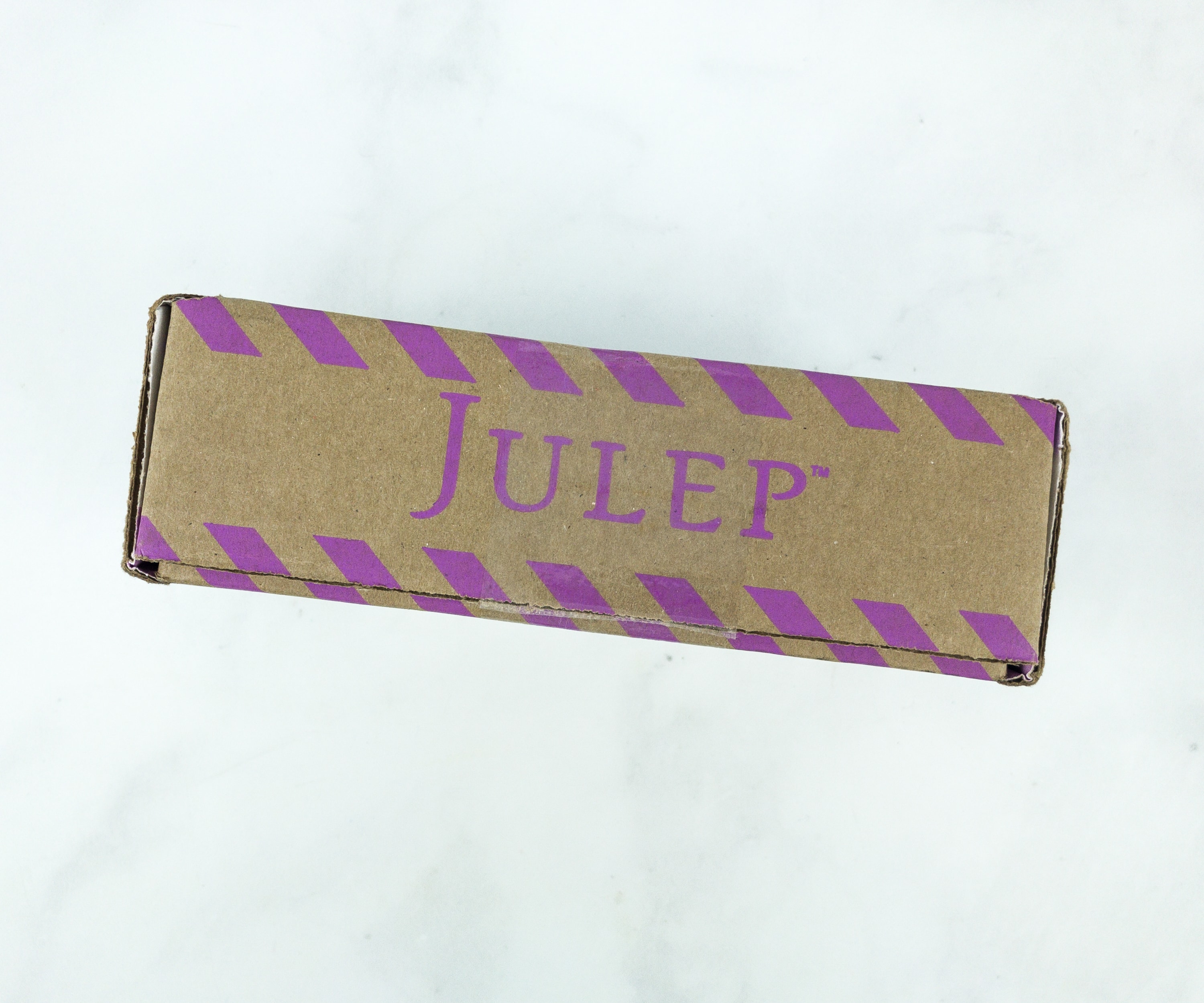 Julep Beauty Box is Julep's monthly subscription box – from nail polish to makeup to skincare, they cover everything but mostly focus on nails. It's completely customizable – you can choose a pre-curated box or pick and choose what you like. You can skip your box or send it to a friend. This box is $24.99 per month but as low as $16.66 per month on a longer-term subscription.
DEAL: New Julep Beauty subscribers can get a free 5-piece K-Beauty skin and nail care gift when they join Julep Beauty Box. Just use coupon code FRESHGIFT at checkout. OR a 12-piece FULL SIZE polish set ($168 value!). Sign up by the 18th to get this gift free with your subscription and to participate in the next Julep selection window! Just use this link and the coupon code POLISHGIFT for this offer.
See all the shades for this month's box here.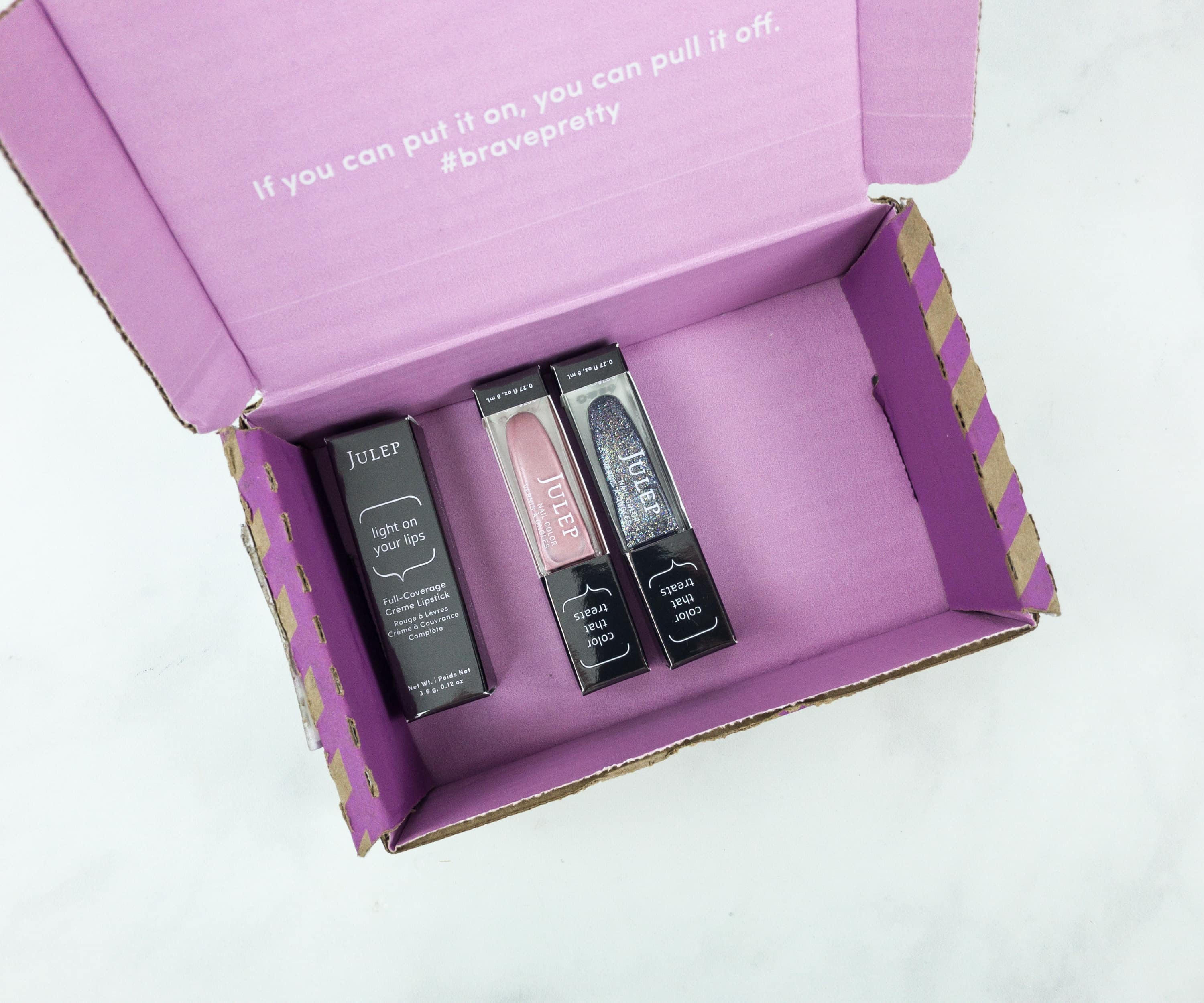 If you can put it on, you can pull it off. #bravepretty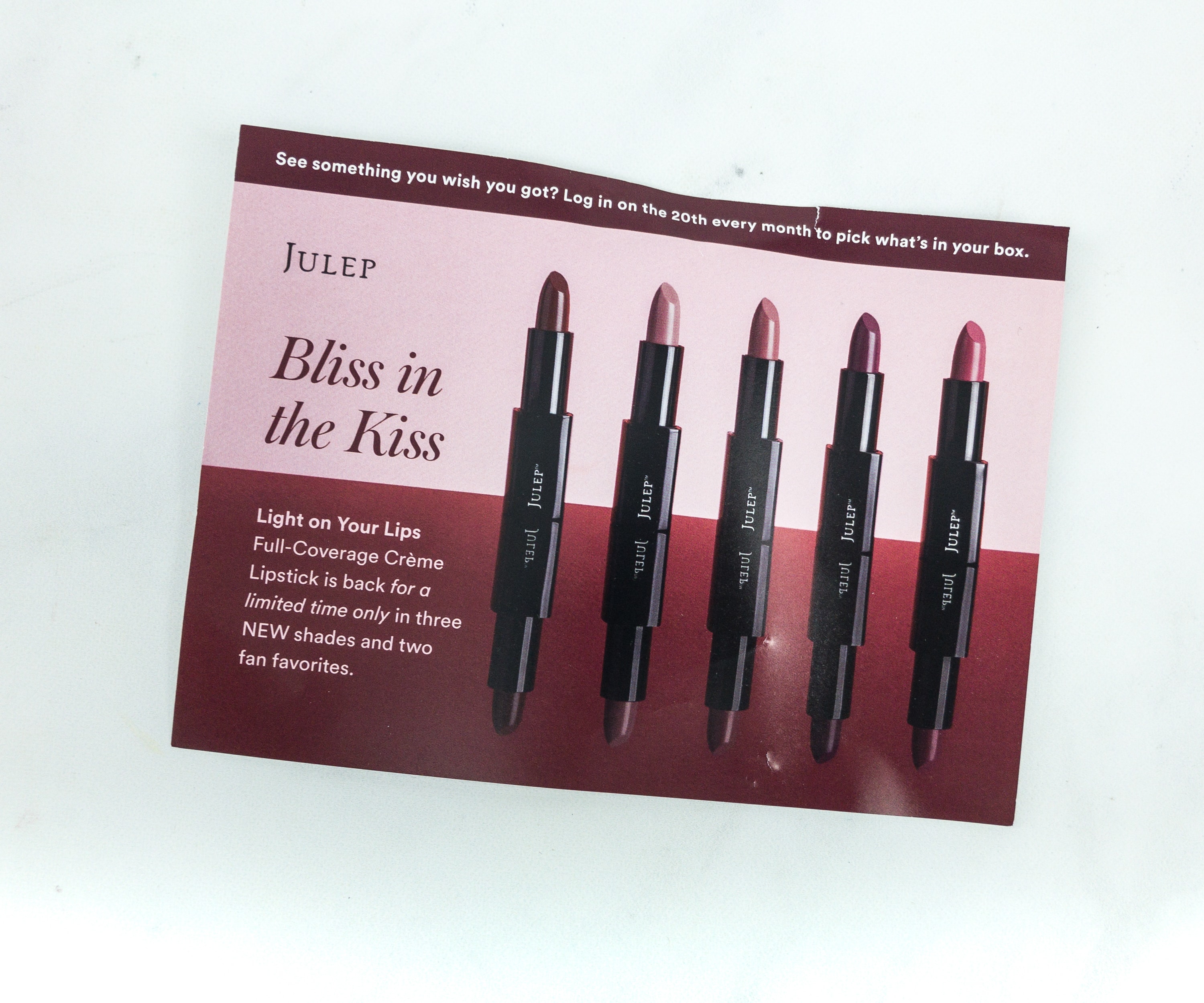 The theme for December 2018 is Bliss in the Kiss.
There's a coupon code where you can get a free polish with your $10 purchase!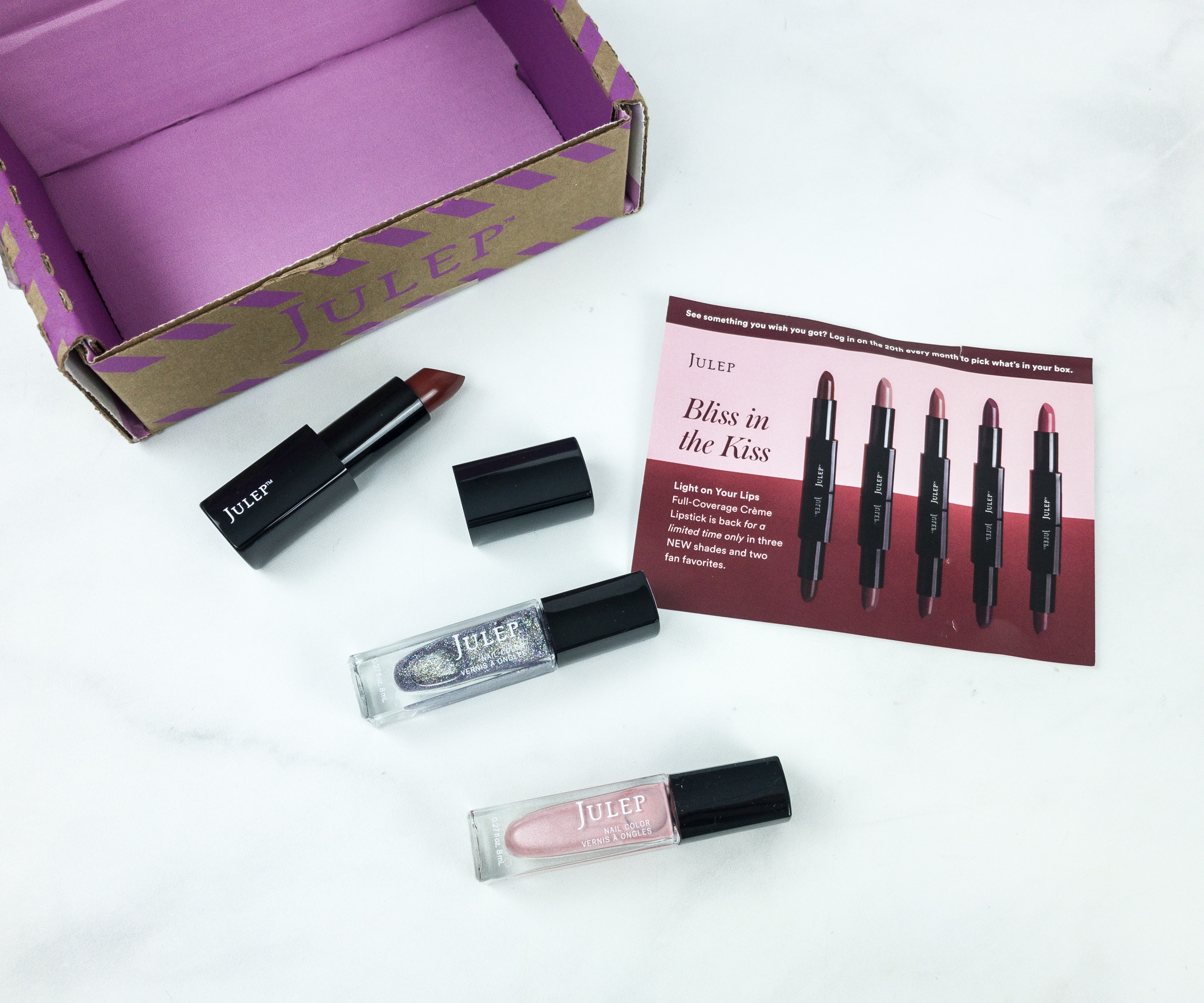 Everything in this month's box!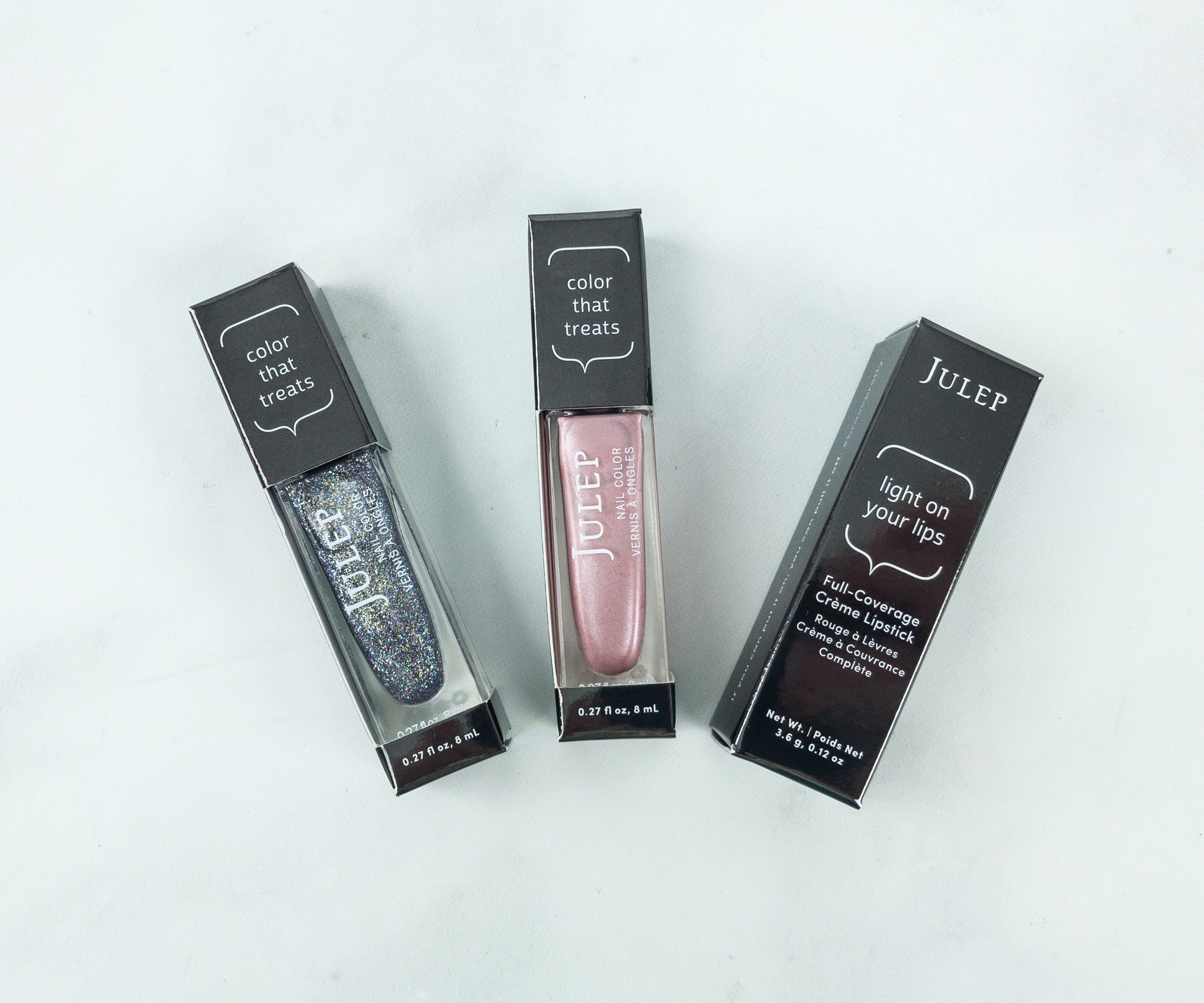 They started the year great by sending out 2 beautiful nail lacquer shades, and a full-coverage creme lipstick!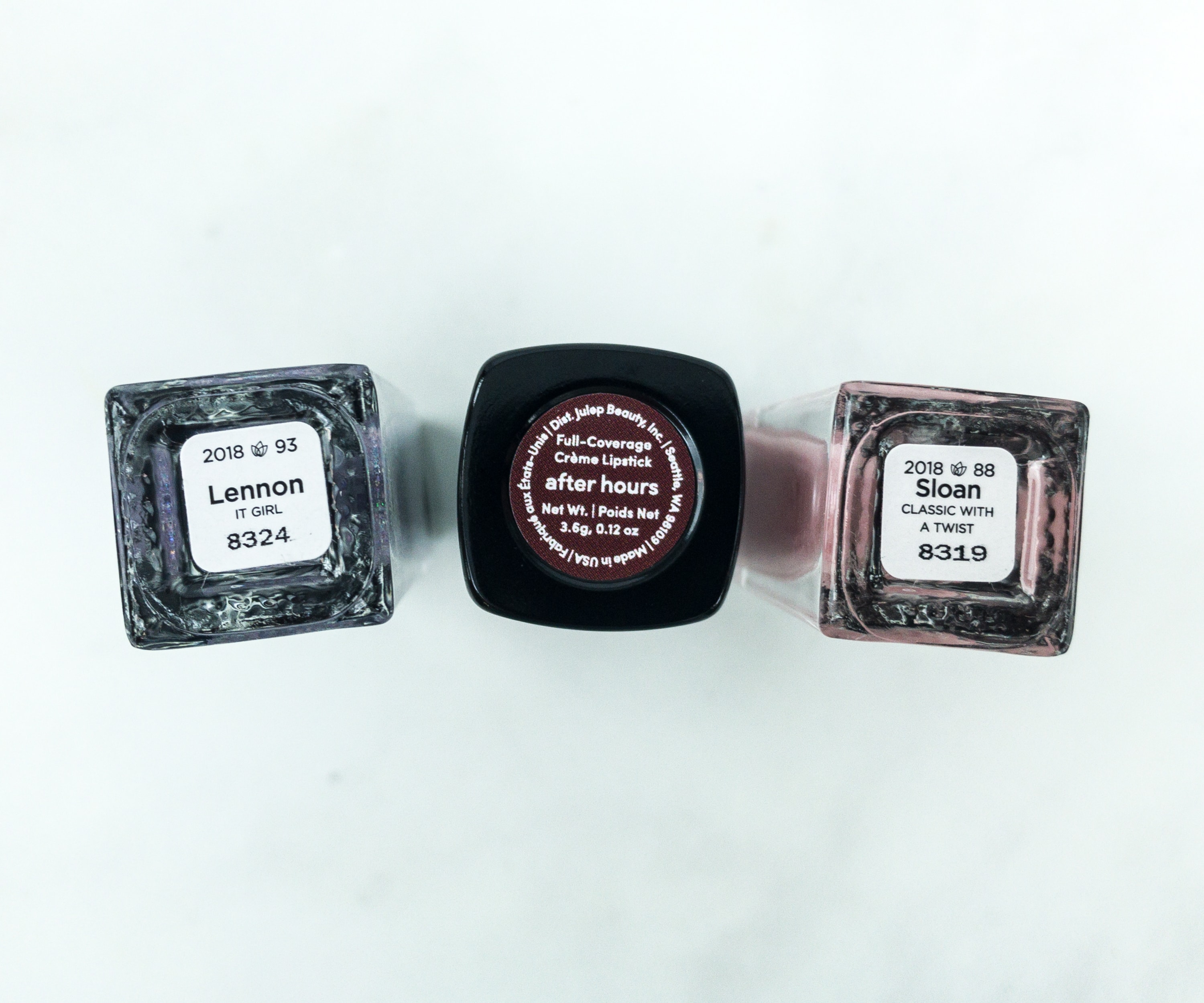 The shades we got for the nail lacquers are Lennon and Sloan, while for the lippie, it comes in the shade After Hours.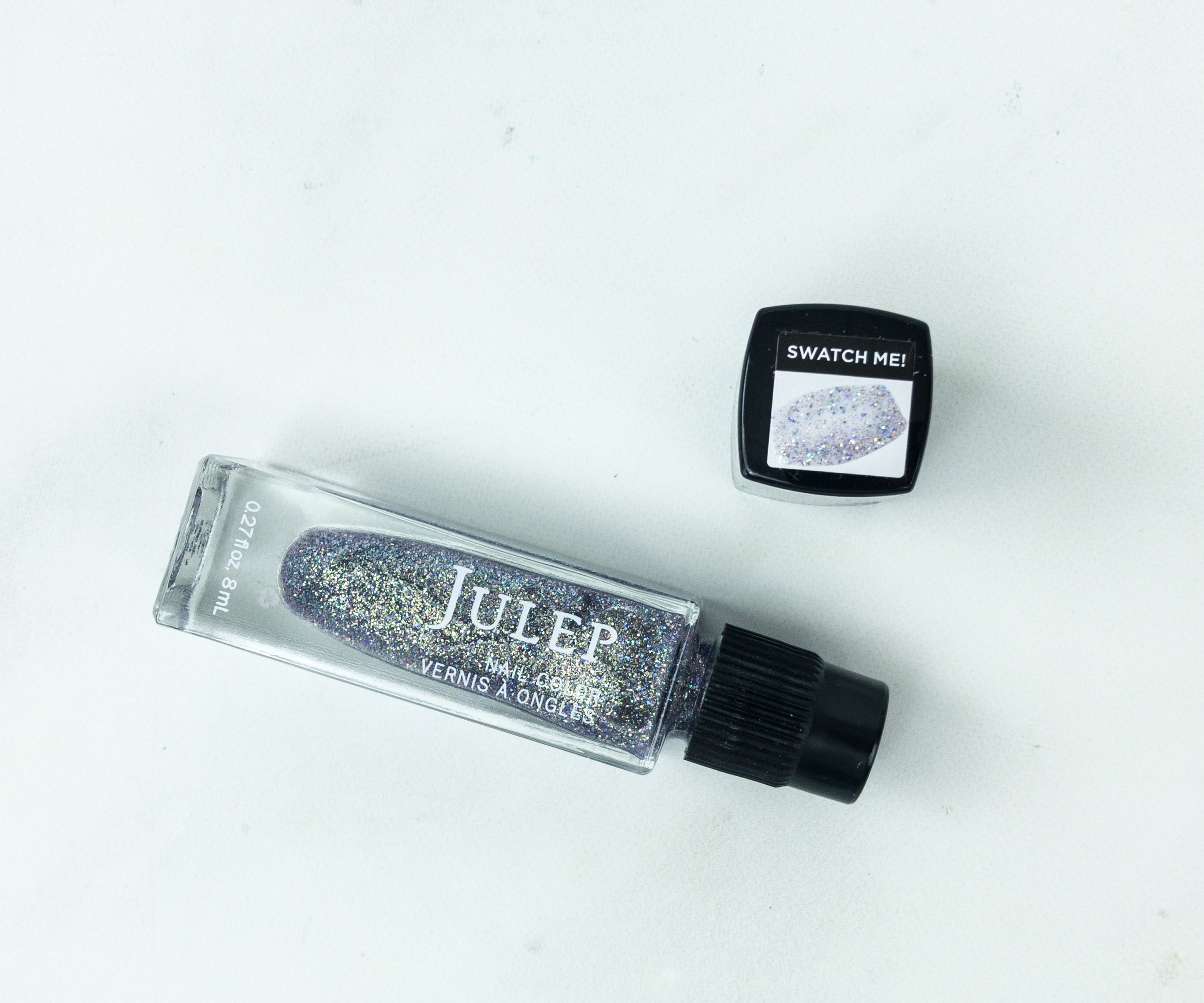 Julep Nail Lacquer in Lennon ($14) The first nail polish leaves your nails with an out-of-this-world look, as it is a galactic holographic shimmer with a glittery finish. And like most polishes from Julep, it has a fast drying formula and it's long wearing too.
Julep Nail Lacquer in Sloan ($14) This icy primrose shimmer is really chic, definitely a classic color with a twist! I love that this would look good on my nails to give that girly vibe.
Julep Full-Coverage Creme Lipstick in After Hours ($22) And to pair with my beautiful nail polishes, this creme lipstick is just perfect! This brick red creme lippie is so lightweight yet the color payoff is fantastic, with a rich satin finish. The formula stays in place without feathering, and it glides easily on the lips, giving it a soft and moisturized look.
The nail lacquers they sent for the New Year are both gorgeous, and the glitter finish of the Lennon shade is spectacular for a New Year party! I love that Julep's nail polishes are fast-drying, long-lasting, and they're powered by breakthrough Oxygen Technology that helps make nails healthy and more beautiful at the same time. The lipstick is gorgeous too, I love the formula, and it lasts, too.
Unfortunately, this box was really late – usually received at the start of the month, we got it at the very end of December. They also just laid off over 100 employees, are shuttering their retail businesses, and the assets are being sold to AS Beauty.  They are supposed to be continuing, but we could see some changes come to this subscription.
What did you pick in your Julep Beauty Box this month?