Hello Fresh is a weekly meal kit subscription box with complete recipes and high-quality ingredients to make your own fresh, healthy, gourmet meals at home.
They offer three different subscription options — Classic (choose 3, 4, or 5 meals for 2 people or 3 meals for 4 people from 6 weekly options/$9.99 per serving for the basic plan, $11.50 per meal for unlimited meal choice), Vegetarian (receive 3 HF-selected meals for 2 or 4 people/$9.99 per serving ), and Family (receive 3 HF-selected meals for 2 kids and 2 adults/$8.74 per serving). You can always pause the subscription to skip a week if you need to – this is super handy for vacations!
This is a review of the Hello Fresh Classic Box!
DEAL: Save $80 off your first four boxes – no coupon code required, just use this link for the deal!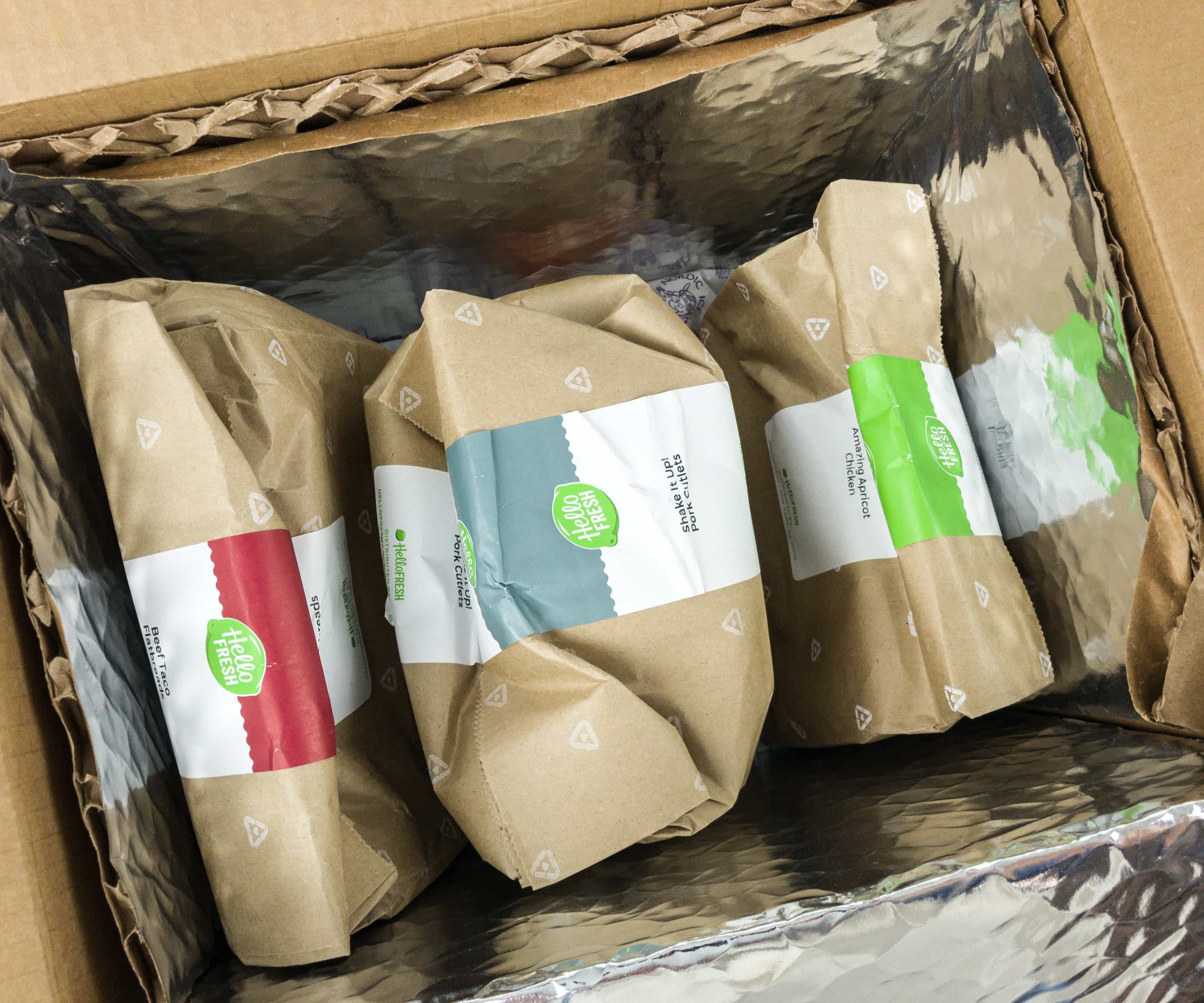 The ingredients for each meal are packed in a separate bag within a larger, insulated box. The rigid inserts both insulate and protect the food from any damage to the external box. Several ice packs keep everything cold, and the food bags are separated from the icepacks by a divider. Meat is packed at the bottom, sandwiched amongst the ice.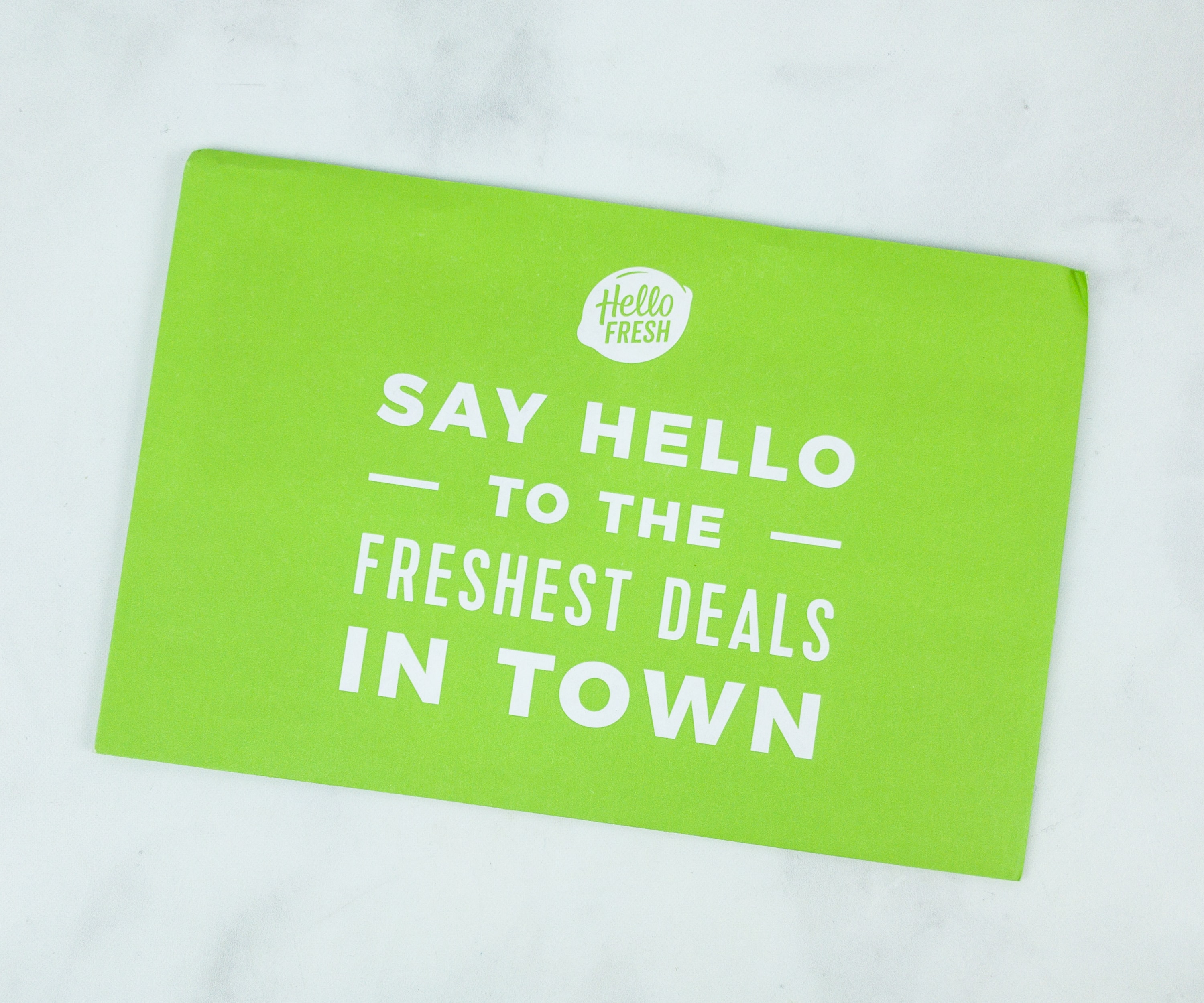 This envelope contains deals and coupons.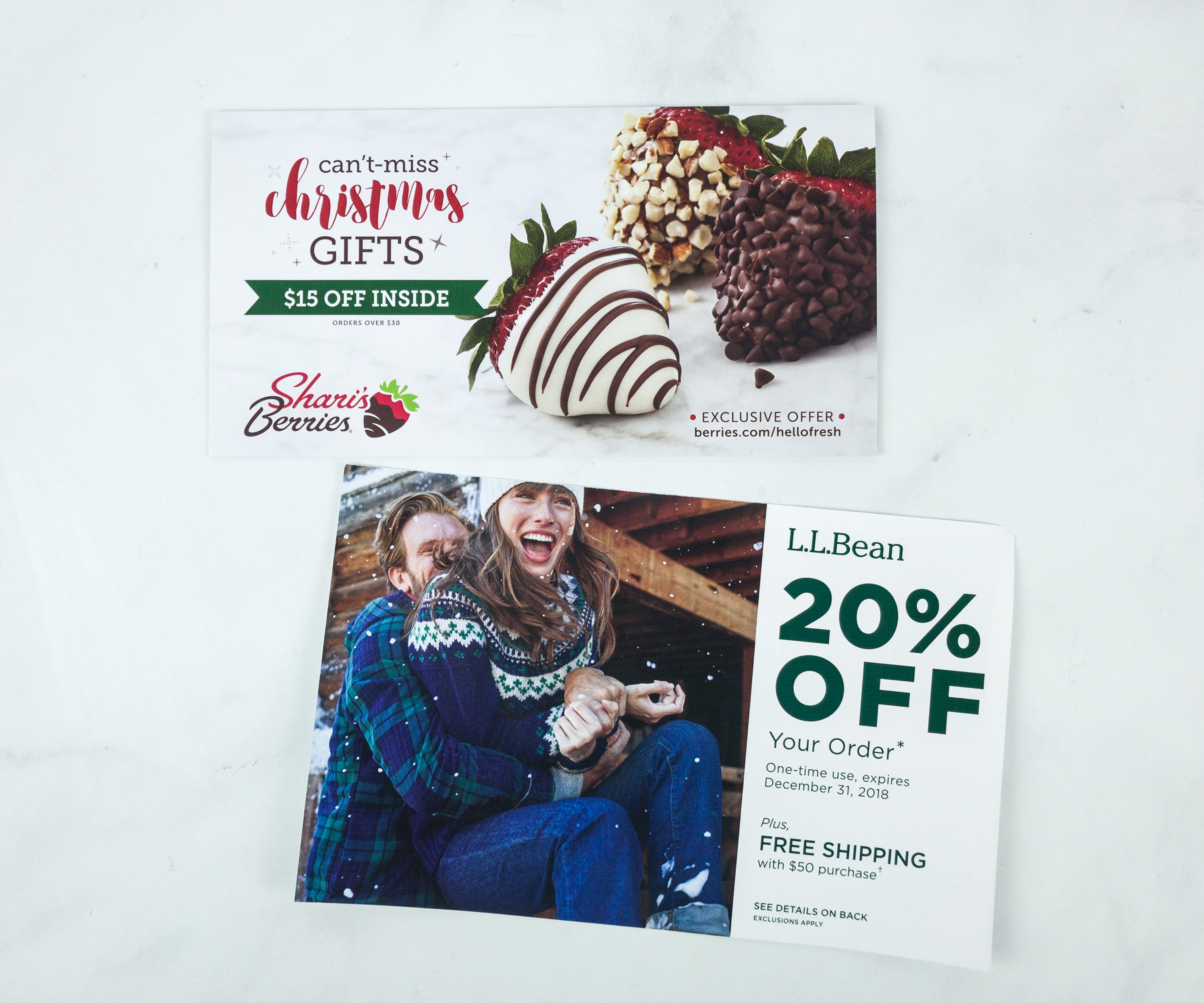 There's a promotional card from Shari's Berries and L.L.Bean.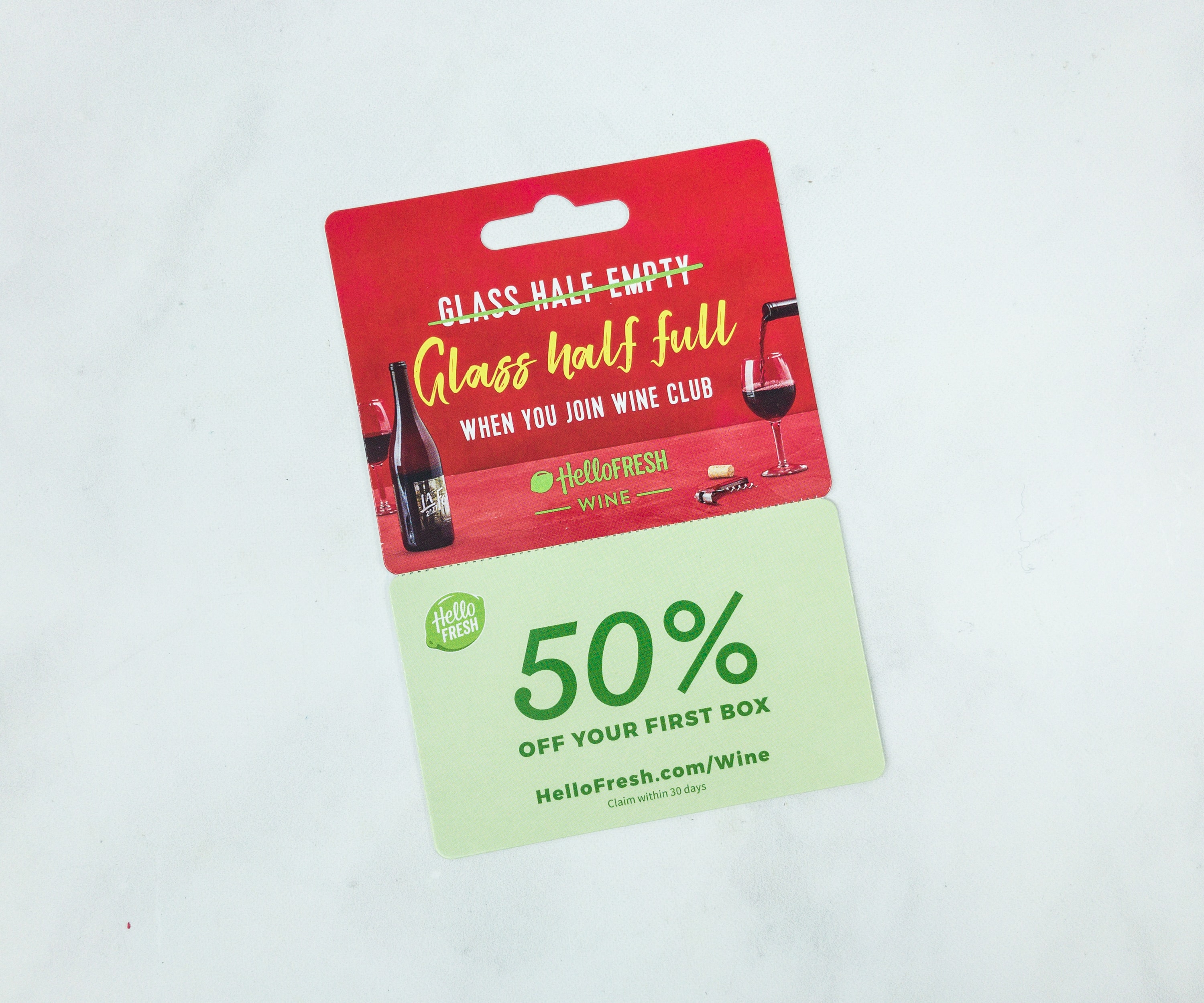 There's also a 50% off coupon for Hello Fresh Wine!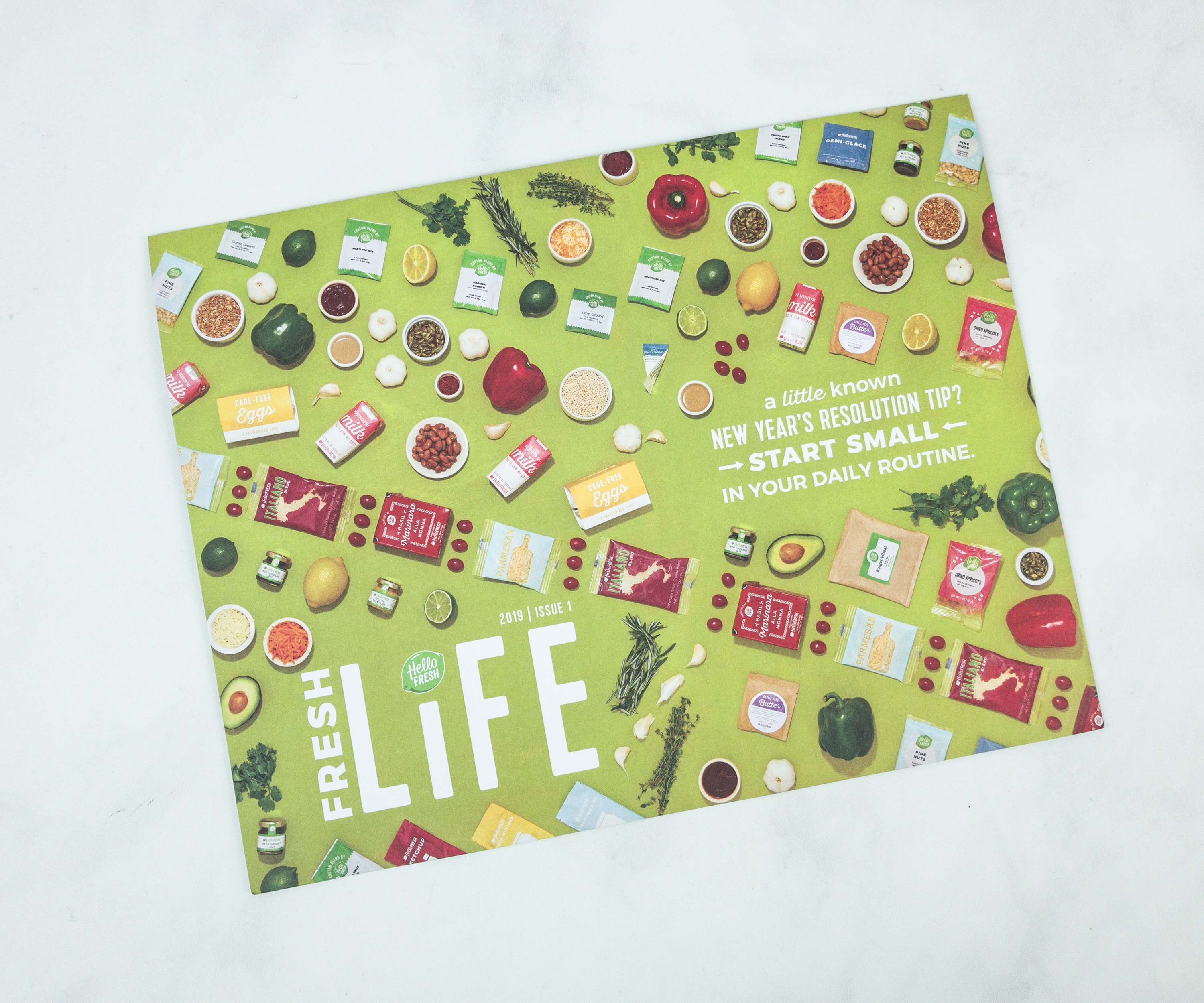 For the new year's edition box, we got a Hello Fresh exclusive calendar.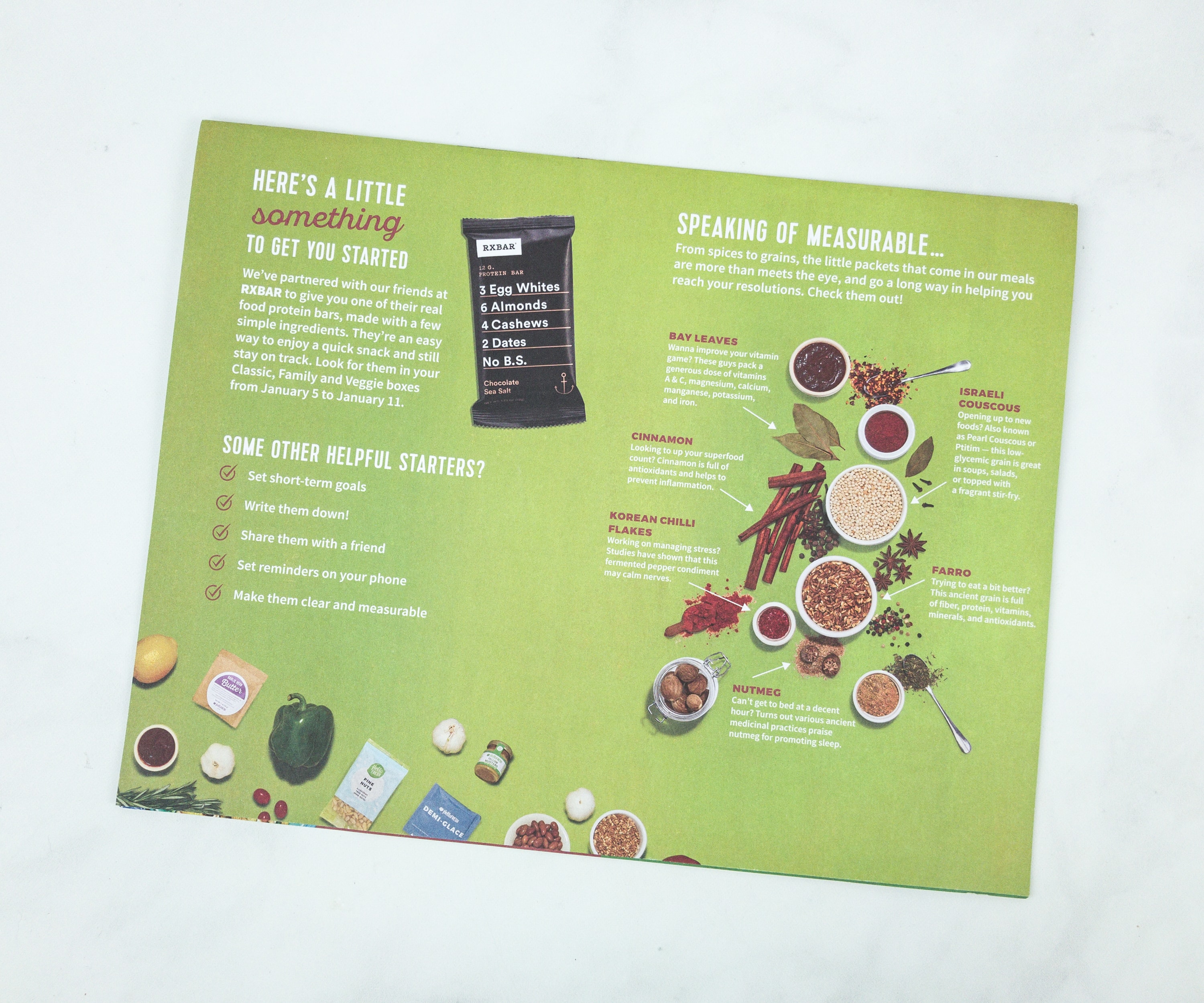 At the back of the calendar are some helpful tips to start your year right.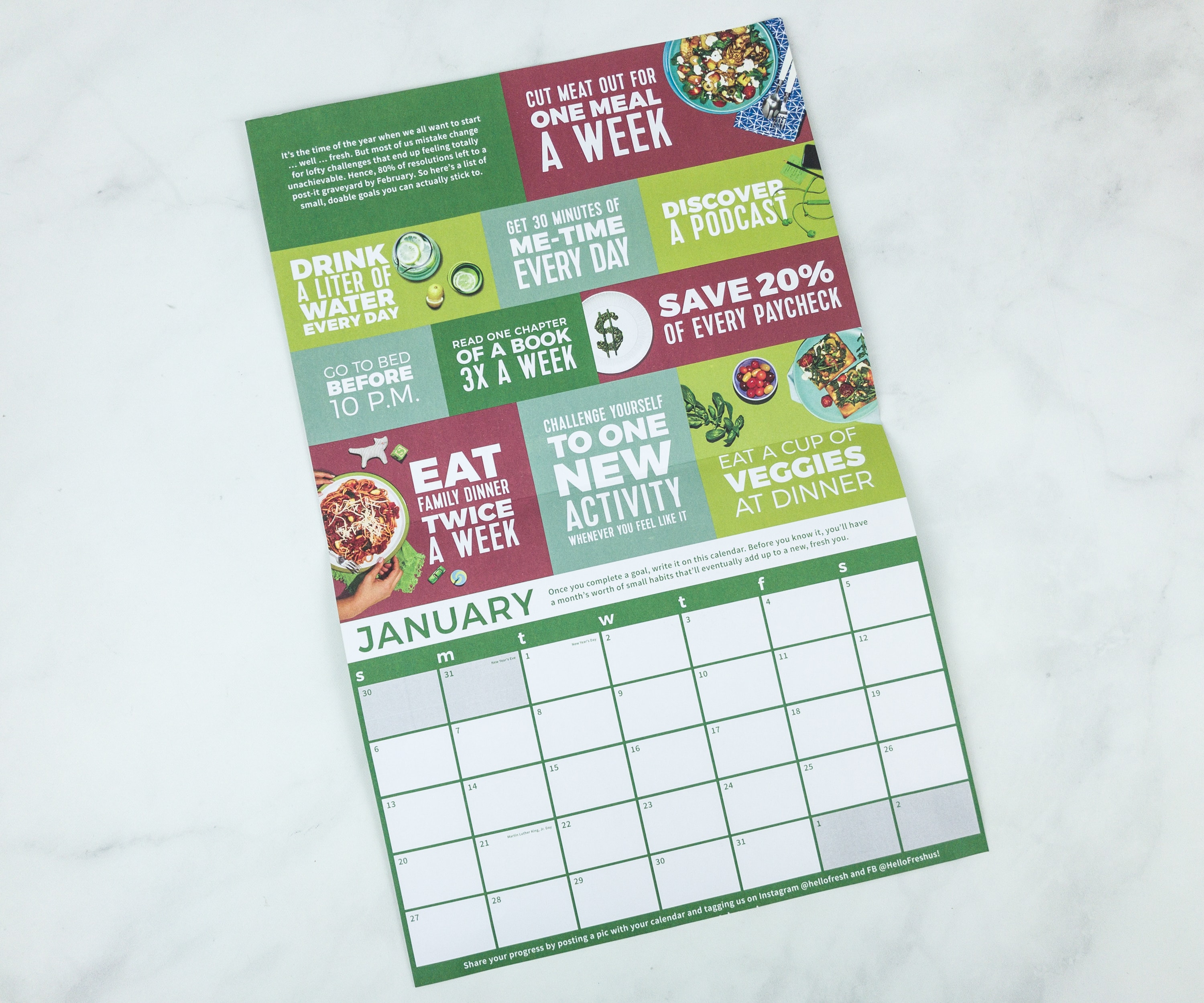 The calendar also includes some great pointers to live a healthy lifestyle throughout the year.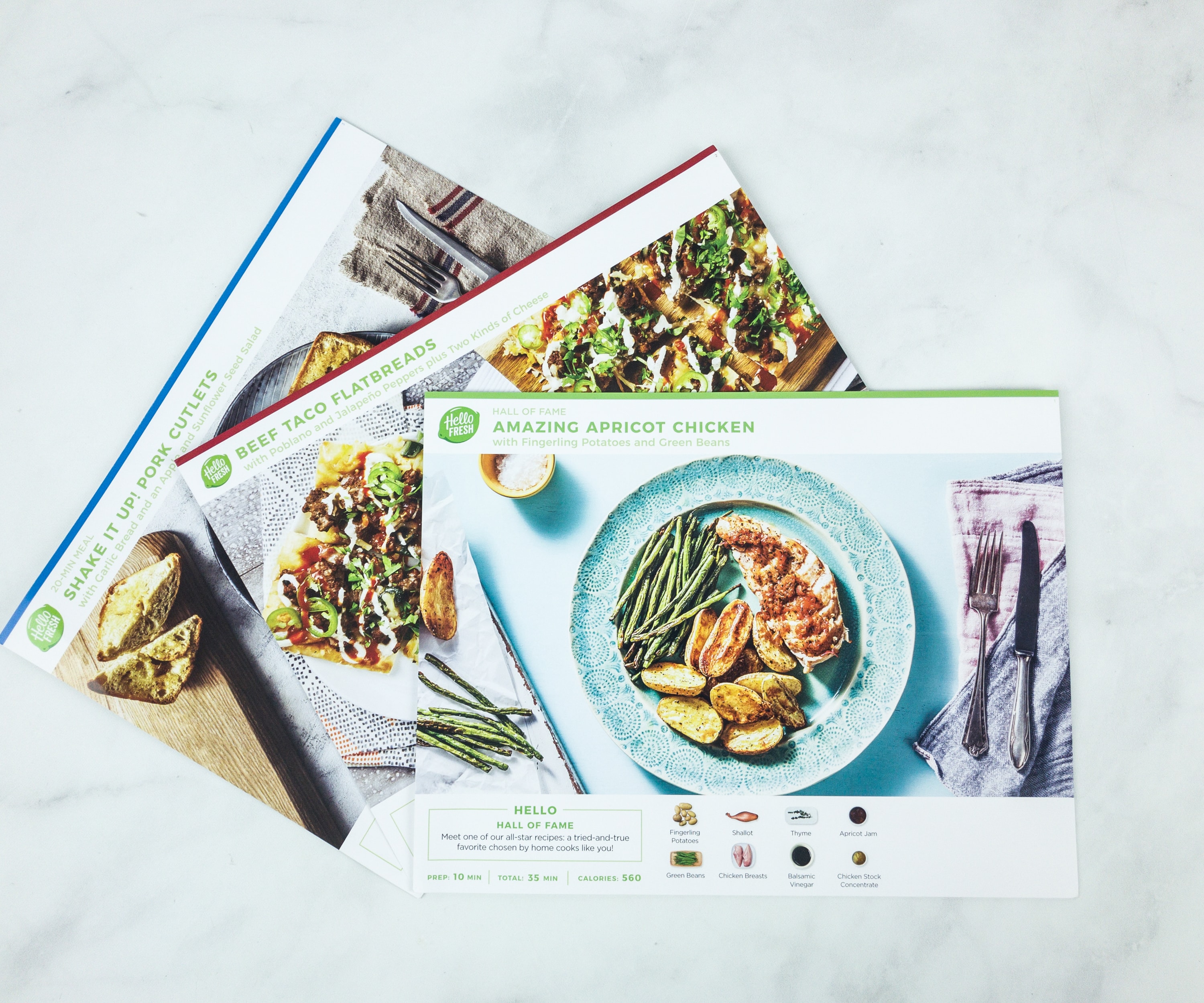 Each Hello Fresh recipe has its own lovely card with a picture of the plated dish, prep time and total time to the table, calorie count, and a visual inventory of the included ingredients.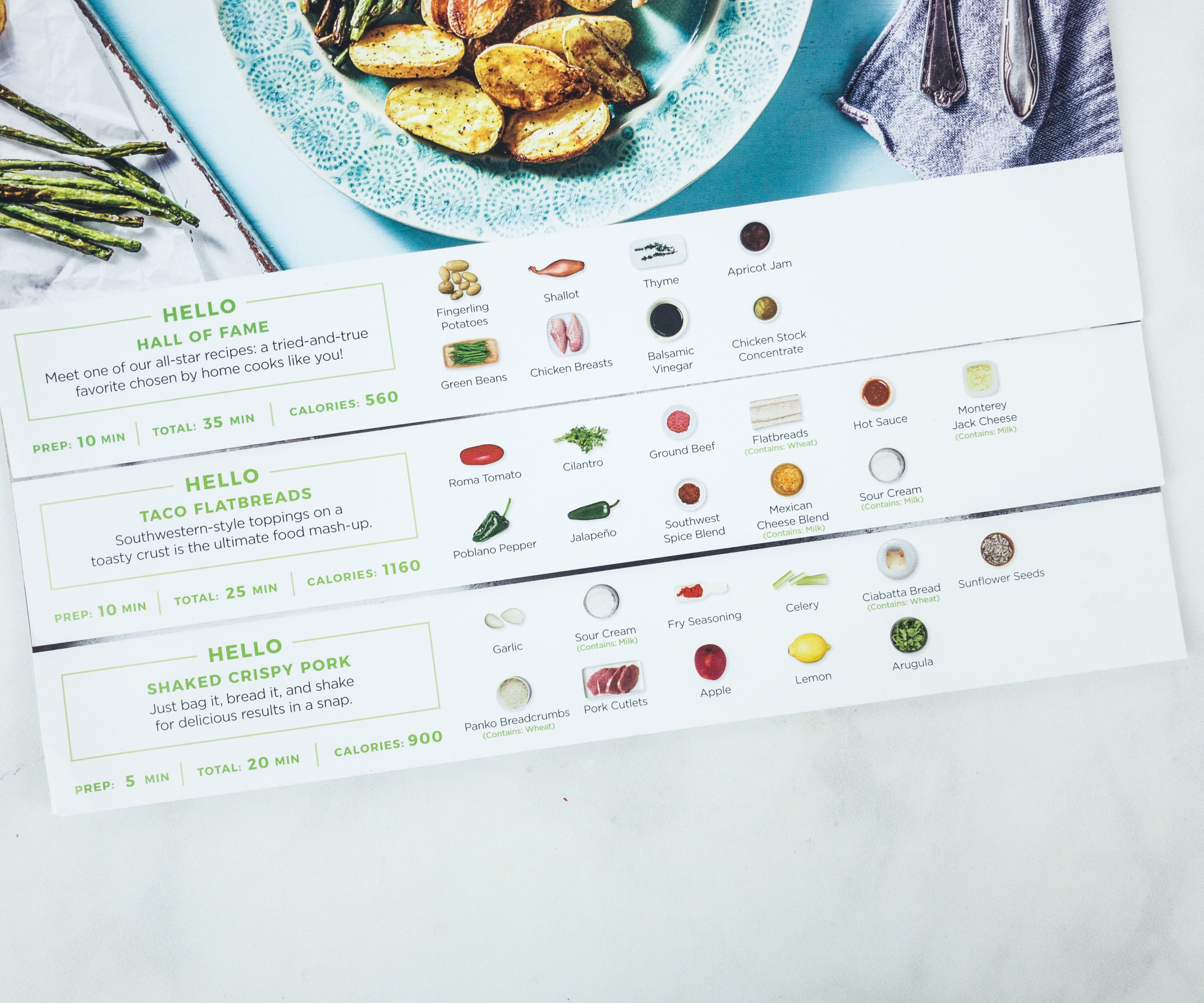 I usually decide what to make based on prep time and the type of ingredients — fish gets made first, then anything with fresh spinach, etc.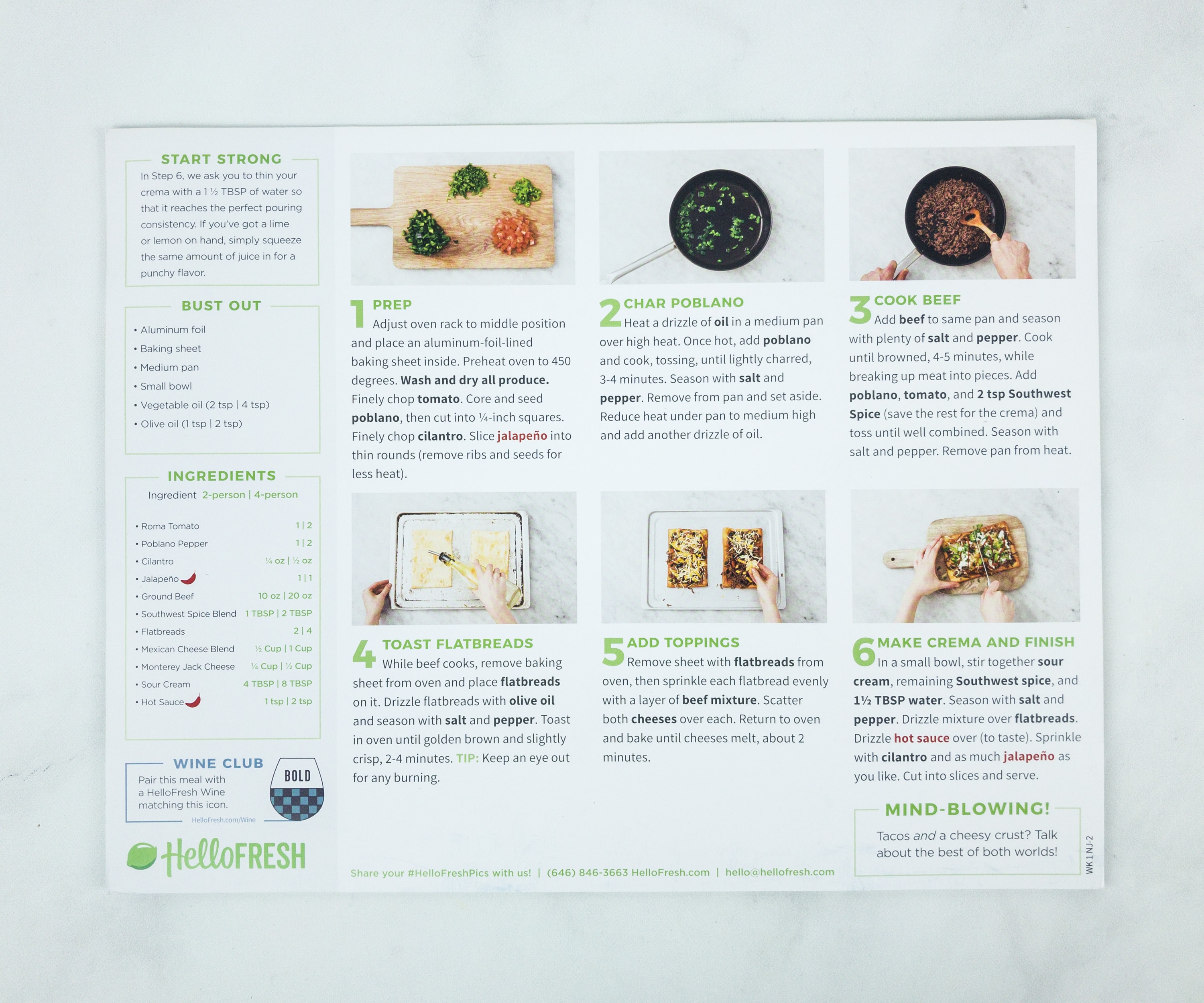 The instructions are easy to follow, regardless of your skill level. Usually, you start by washing and prepping all the ingredients before cooking. Within the detailed, step-by-step instructions, ingredients are set in bold type for ease of recognition. They even use a red font to point out spicy ingredients, so you can adjust accordingly. I really like that they call out when they've sent more of an ingredient that is used in the recipe — when they don't mention it (which is most of the time), the items are pre-portioned and can be tossed right in without measuring. Info panes in the sidebar list anything you'll need from home (pans, cooking oil, etc), as well as the quantity of each provided ingredient needed for 2 and 4 person versions of the recipe.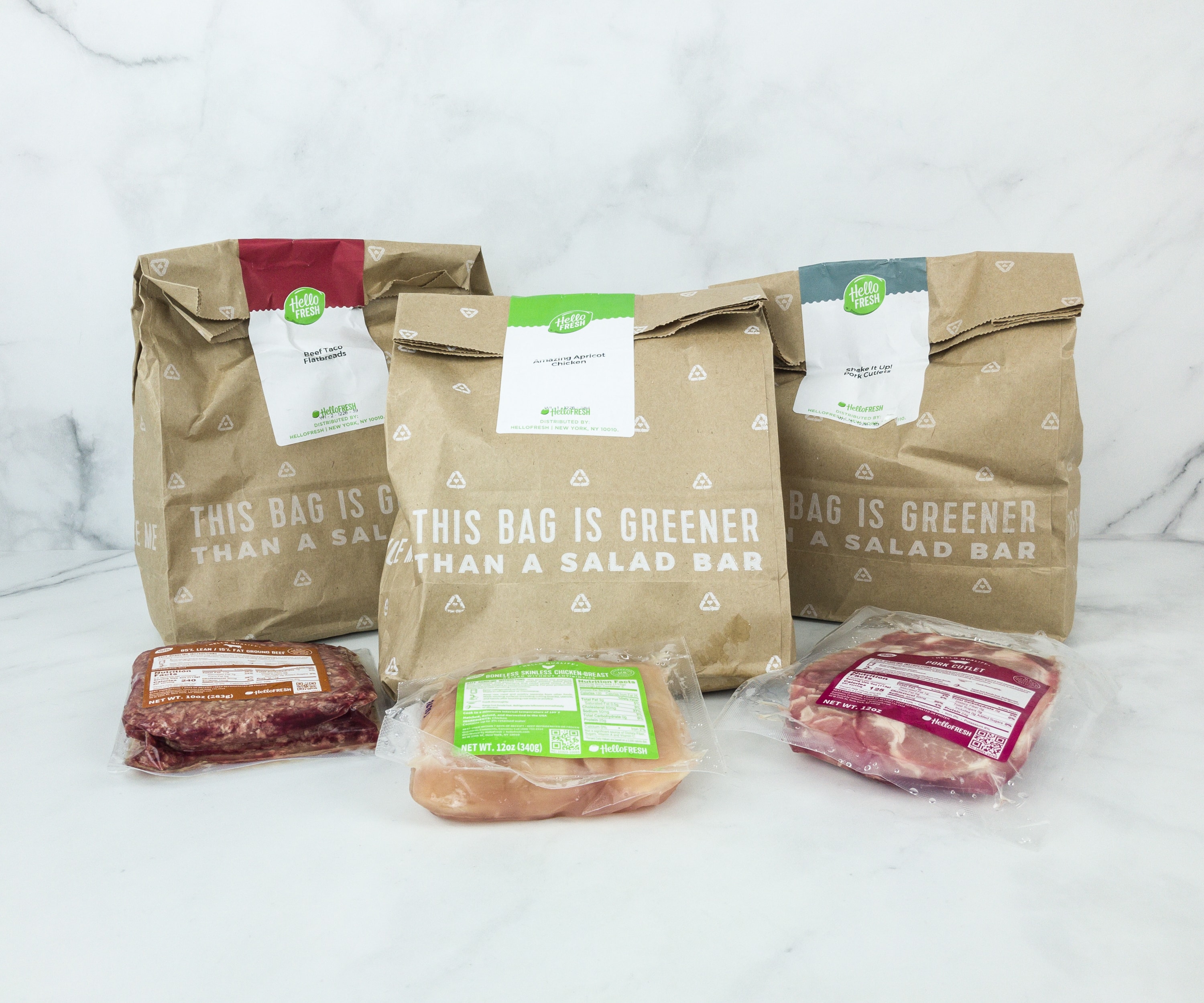 The ingredients are well-packed and labeled! Each recipe gets its own bag.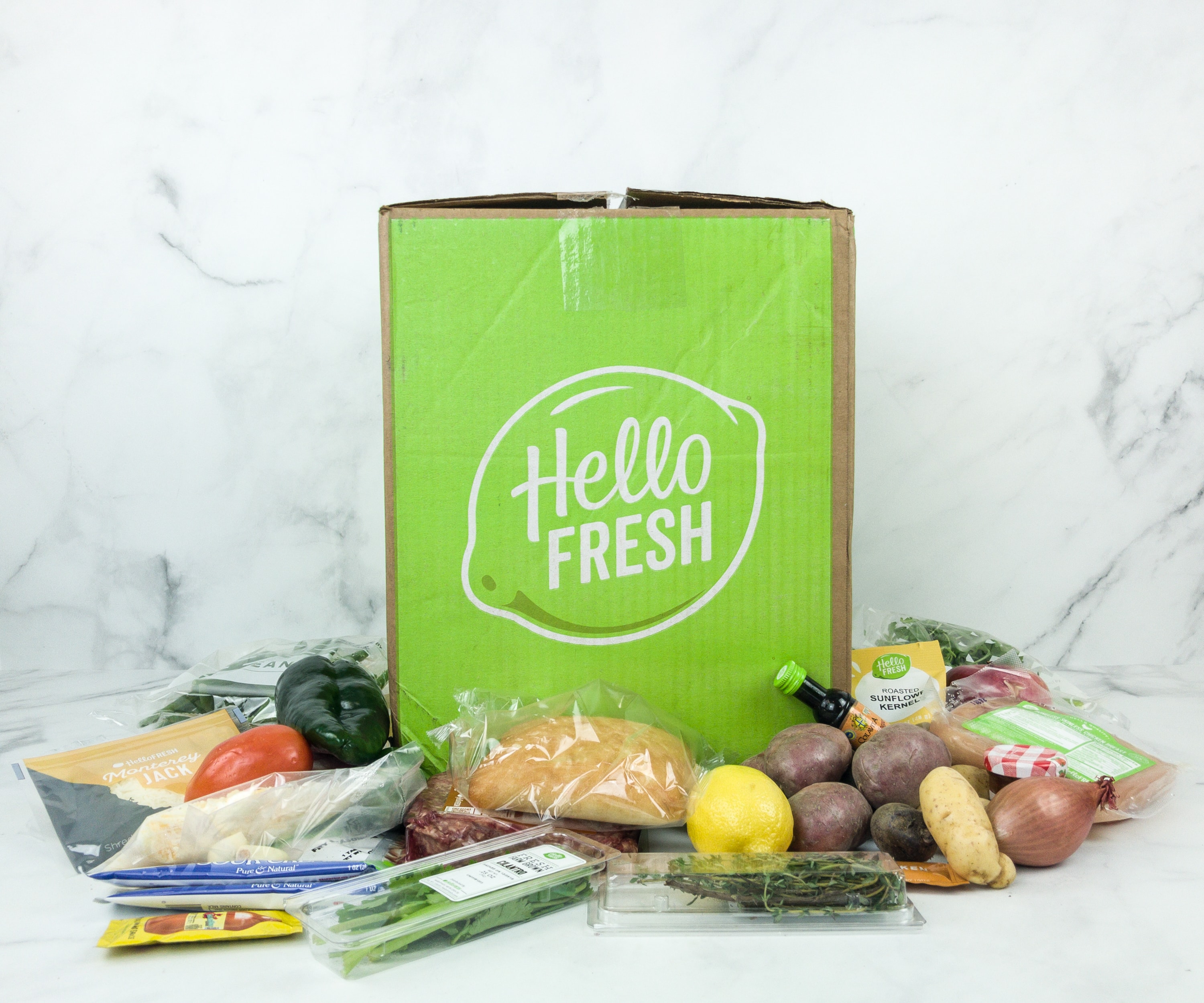 Everything in my box!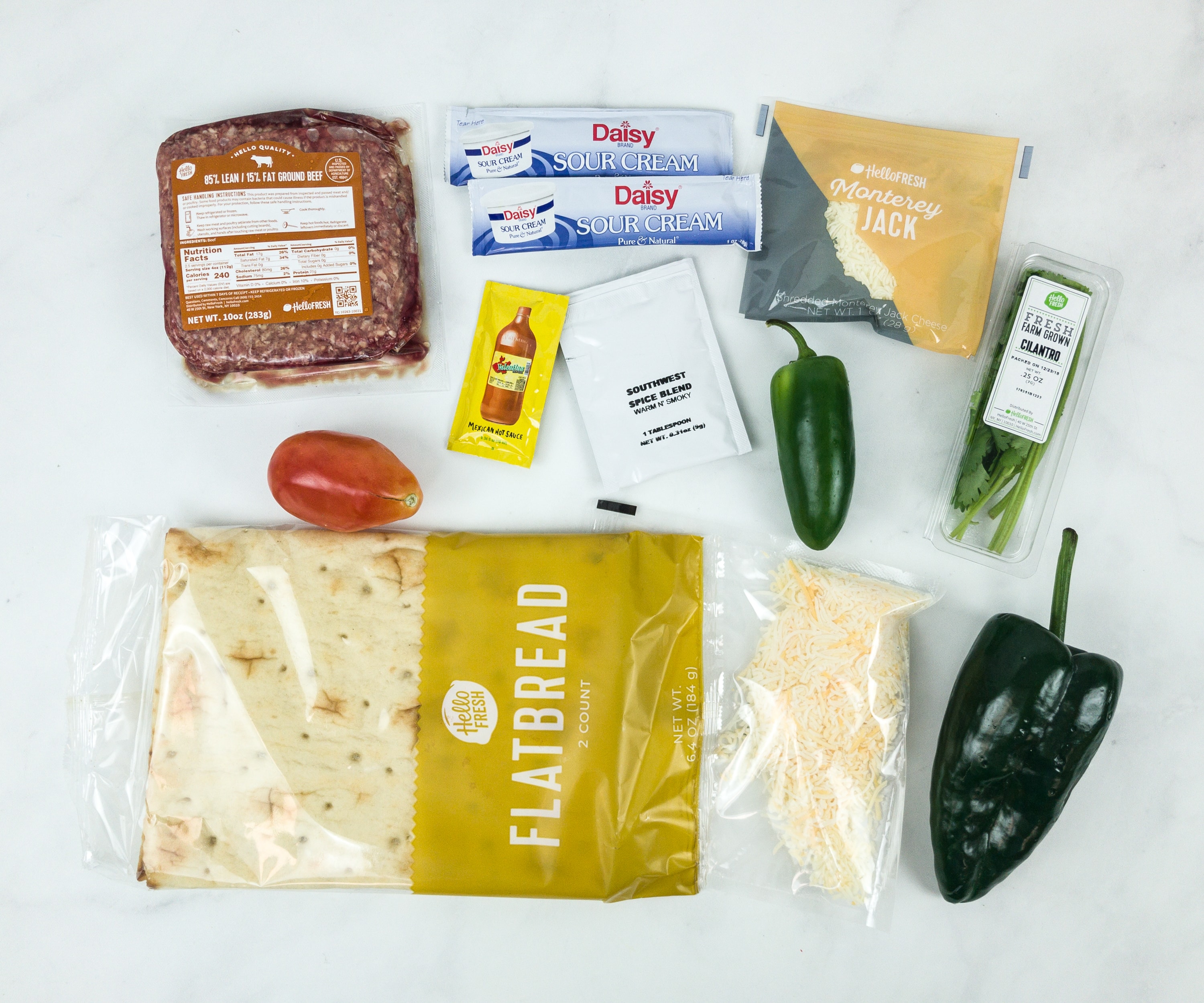 Beef Taco Flatbreads – 25 minutes, Level 1, 900 calories per serving
This recipe is definitely one of my favorite Hello Fresh dishes of all time. It's so easy to make, plus the taco/pizza combination is just superb. The flatbread makes a perfect, instant pizza crust that has no flouring or dough to worry about. Also, it has an awesome buttery, tender yet crisp texture and lovely flavor. Taco pizza is definitely the best!
Amazing Apricot Chicken – 35 minutes, Level 1, 500 calories per serving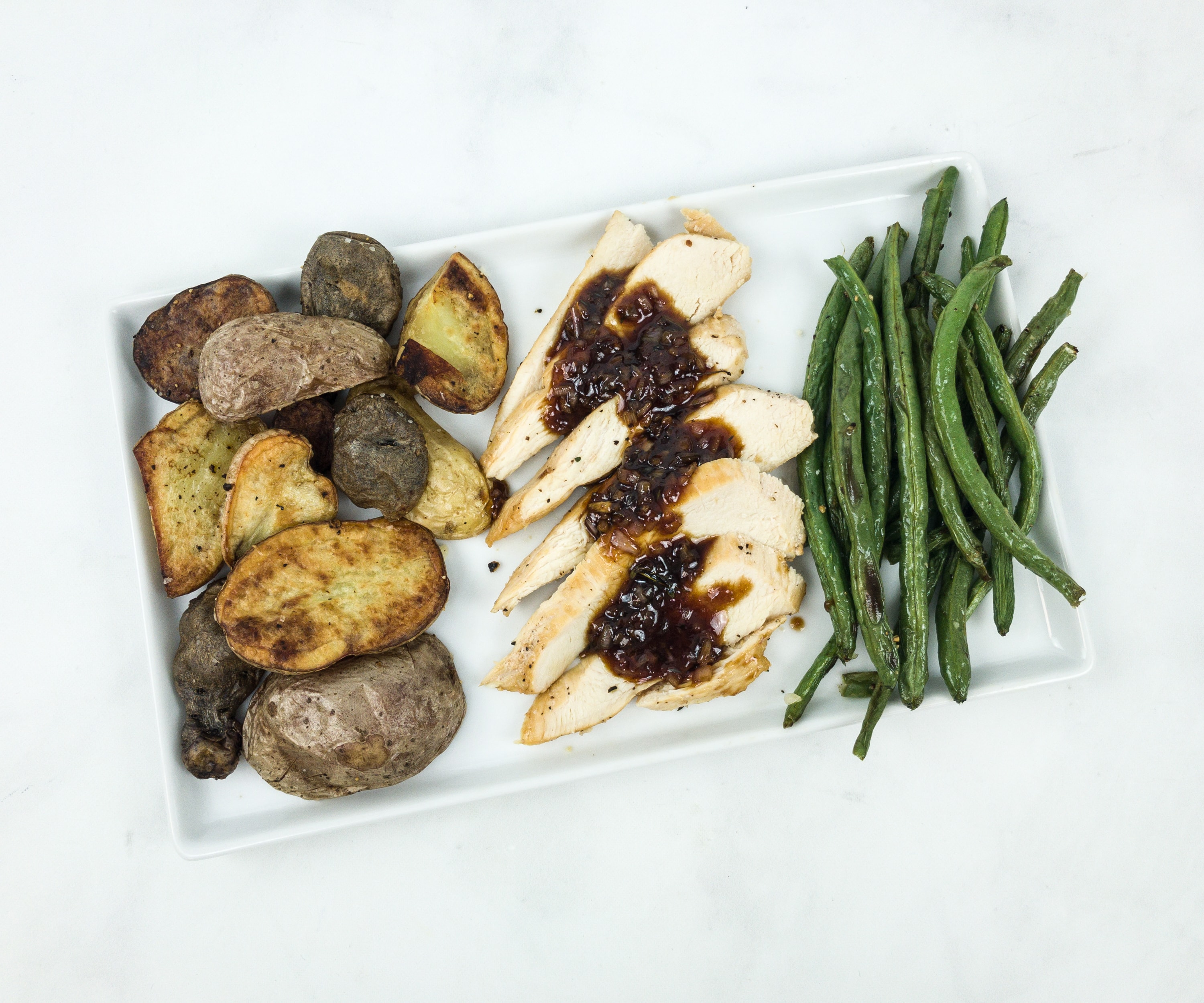 The second dish we got is so filling and satisfying! It's definitely the perfect dinner dish to serve even on your busy days because it's so easy to prepare and cook. The potato-chicken dish combination never gets too old, and the addition of apricot sauce makes a great upgrade to the already juicy meat. It provides a sweet taste, and the potatoes and roasted green beans on the side make this dish really impressive.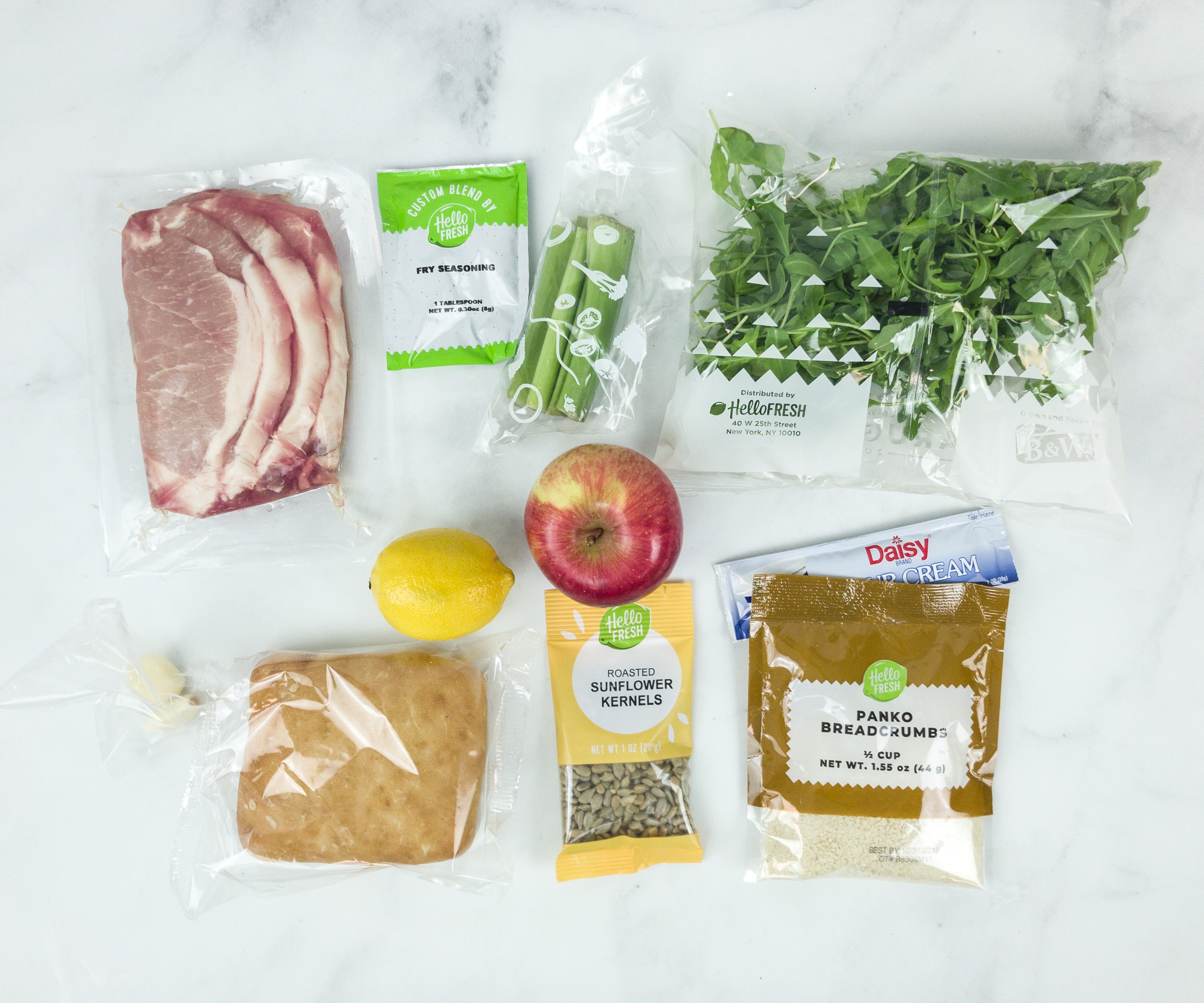 Shake It Up! Pork Cutlets – 20 minutes, Level 1, 880 calories per serving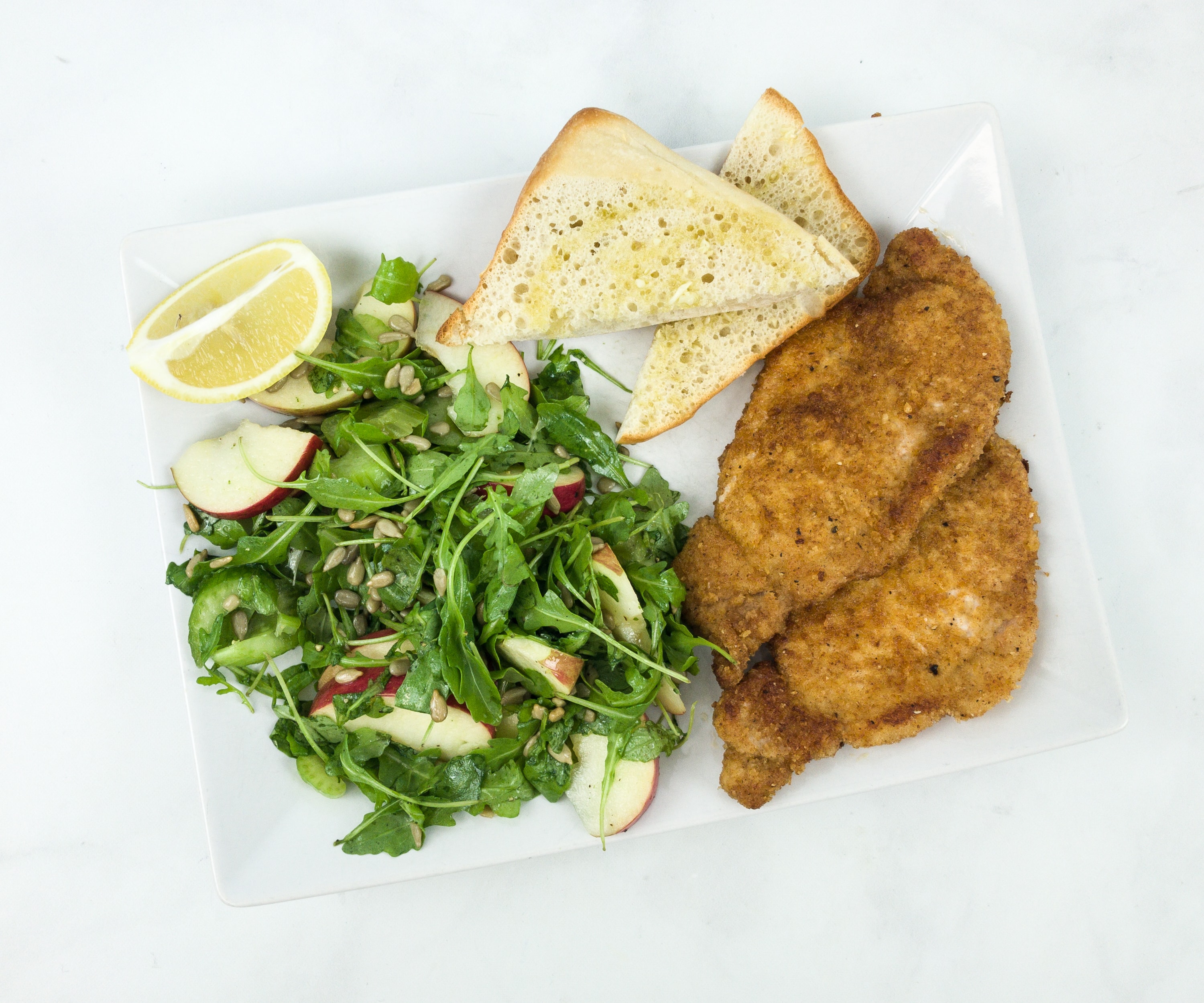 The key to this scrumptious dish is in the preparation of the seasoning. To make the seasoning, I placed the sour cream in a medium bowl, then added the pork. Meanwhile, the seasonings go in the bag with panko. It should be sealed then shook until the pork is completely and equally coated. I fried it until golden brown and crisp. Pairing it with salad, toasted garlic bread, and a cup of red wine makes it a complete, luxurious meal. Just awesome!
Quality and convenience-wise, Hello Fresh is such a winner. They never fail to send us easy-to-prepare and delicious meals! I believe that one can never go wrong with pizza, so the beef taco pizza was an instant hit. As for the apricot chicken, I found it satisfying and filling. The apricot sauce definitely set it apart. My favorite from this selection, however, is the pork cutlets. It's packed with flavor and it tasted even better with the bread and the salad on the side. This meal kit subscription is great for anyone who loves cooking, for those who are too busy to think about what to cook next, and even for cooking newbies!
Have you tried Hello Fresh?