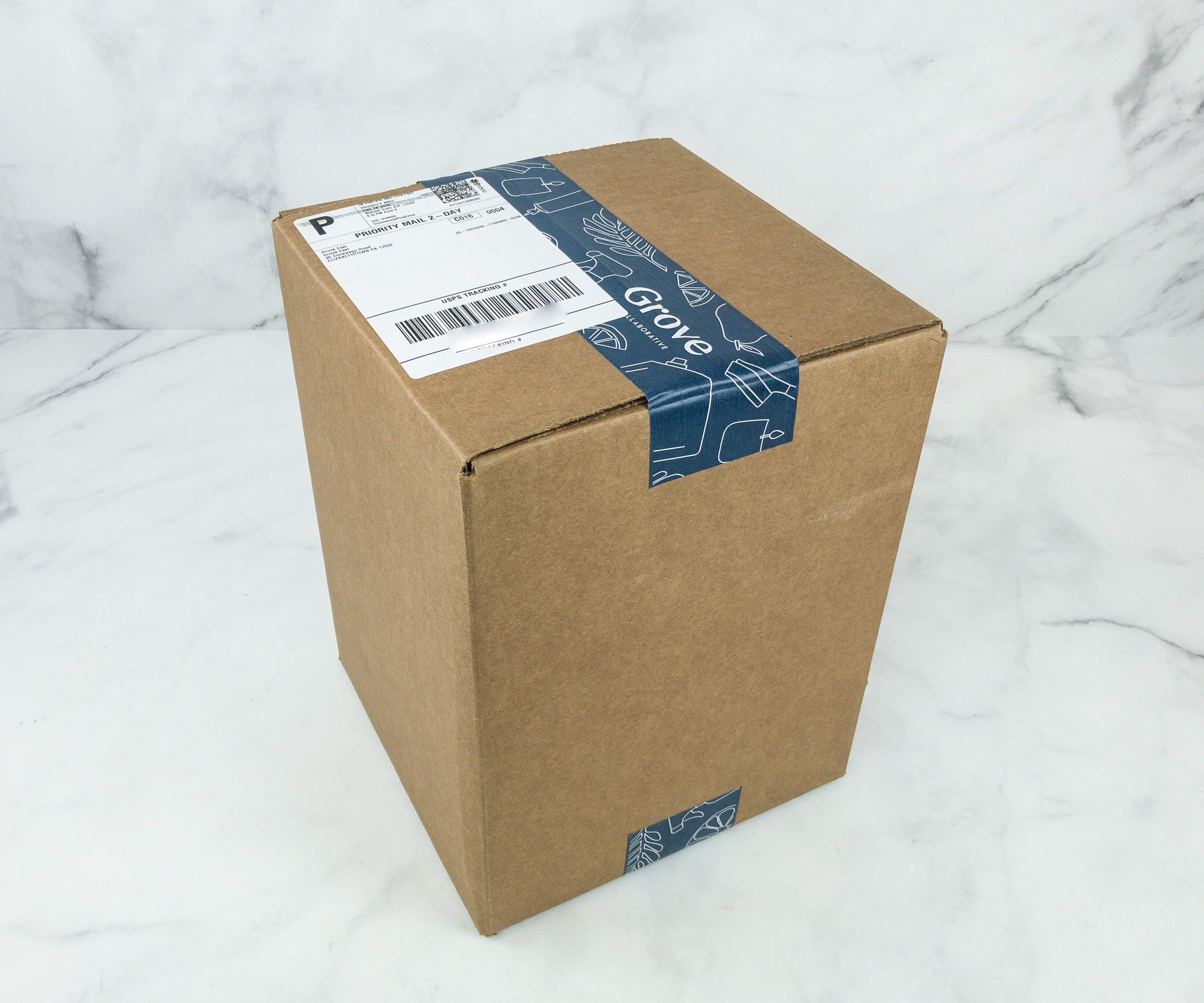 Grove Collaborative is an eco-friendly subscription service that allows you to quickly pick your favorite high-quality cleaning and household supplies and set up a customized schedule for their shipment to you. Grove Collaborative carries a variety of brands including Method, Mrs. Meyers, Seventh Generation, Preserve, and more, including their own house brand. You can see right on the box that they're a Certified B Corp – this means that they meet certified standards for prioritizing social, environmental, and community wellbeing!
When you sign up for Grove, after your FREE 60-day trial, the VIP membership automatically renews for the $19.99 year rate. See more on that below!
DEAL:
Free Mrs. Meyer's hand soap & $10 credit! USE THIS LINK to get the deal.
OR When you start your subscription with a $20 purchase you'll get a new subscriber Mrs. Meyer's New Year's Set FREE.
OR Sign up with this link and you will receive a free Seedling Set with paper towels, bath tissue, and face tissue with your $20 purchase.
You might also qualify for additional free bonuses depending on your order size!
EXISTING Subscribers: Get a free Grove walnut scrubber sponges – just use this link! (Tip – check and make sure you aren't logged in, then click the link, then log in)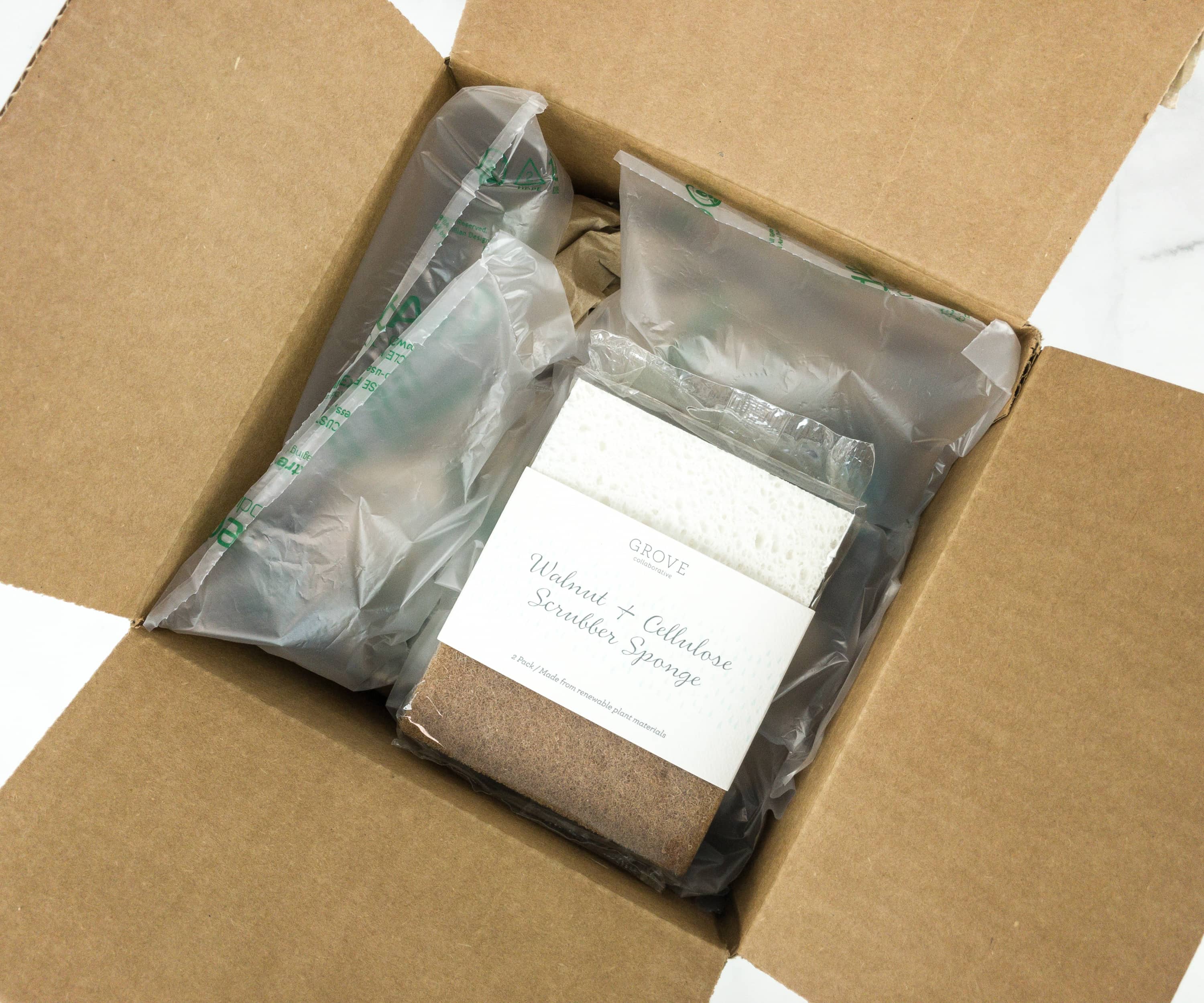 Here's how Grove Works:
Your bundle will ship every 30 days, with items selected based on your use frequency. You can switch this around at any time.
You'll pay the cost of the products (you can see the details on every product on the Grove Collaborative site), plus a $2.99 shipping charge.
It's super easy to skip, move around your dates, and change your products!
Your bundle needs to meet the order minimum! $10 for the regular automated shipment, $15 if you select Ship Now and you're a VIP Member, $30 if you select Ship Now and you're not a VIP Member.
The VIP membership fee is $19.99 annually. When you sign up you'll get a 60 day free trial to see if it's right for you.
With the VIP membership you'll get early access to exclusive and new items, extra bonuses, and more!
If you don't want the VIP membership, you'll be reminded via email before its charged – just be sure to follow up that you're not interested.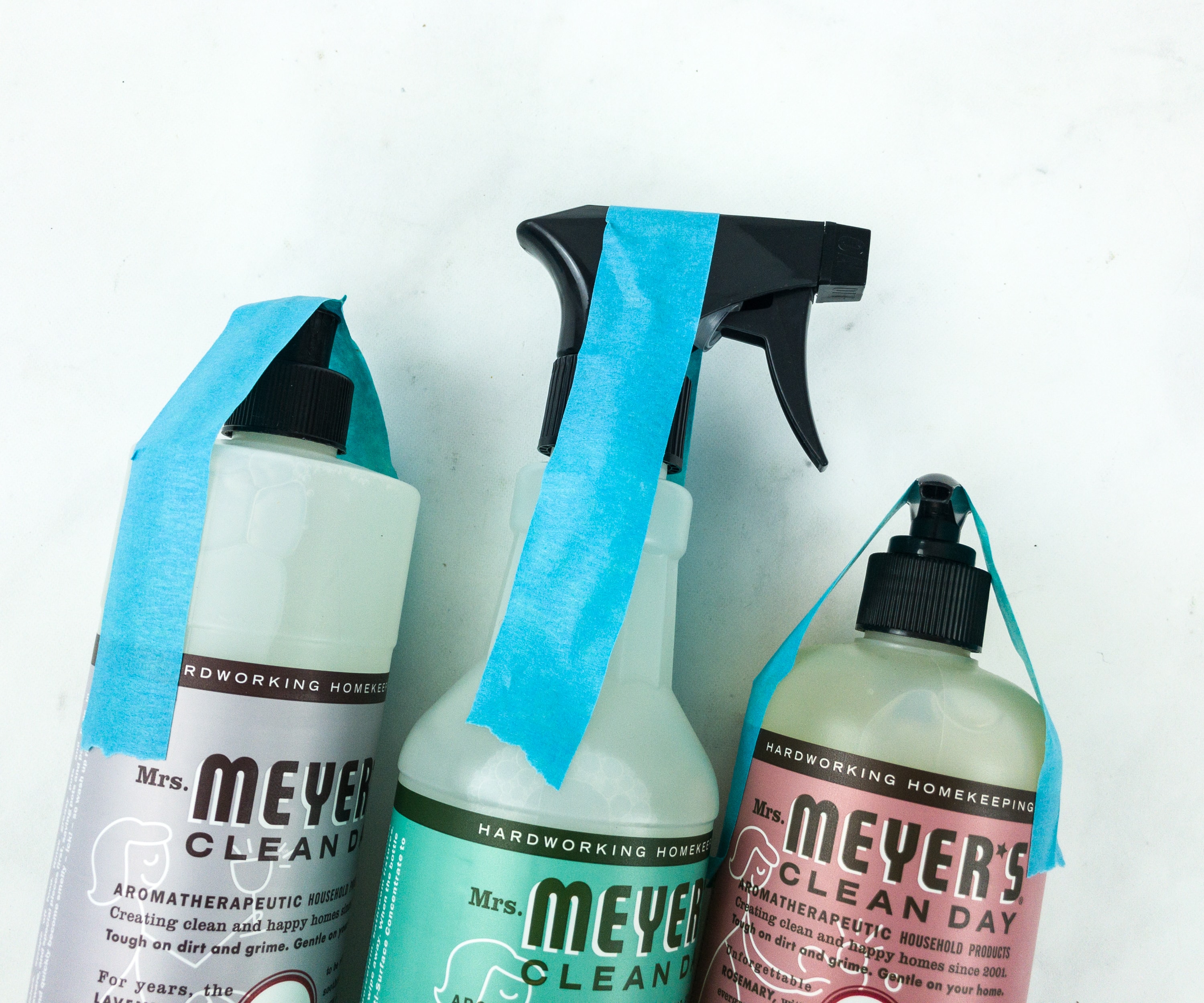 The liquid items were secured in their containers properly and there's no leakage. They put adhesive tape on top of the pumps to avoid unnecessary or accidental pressing.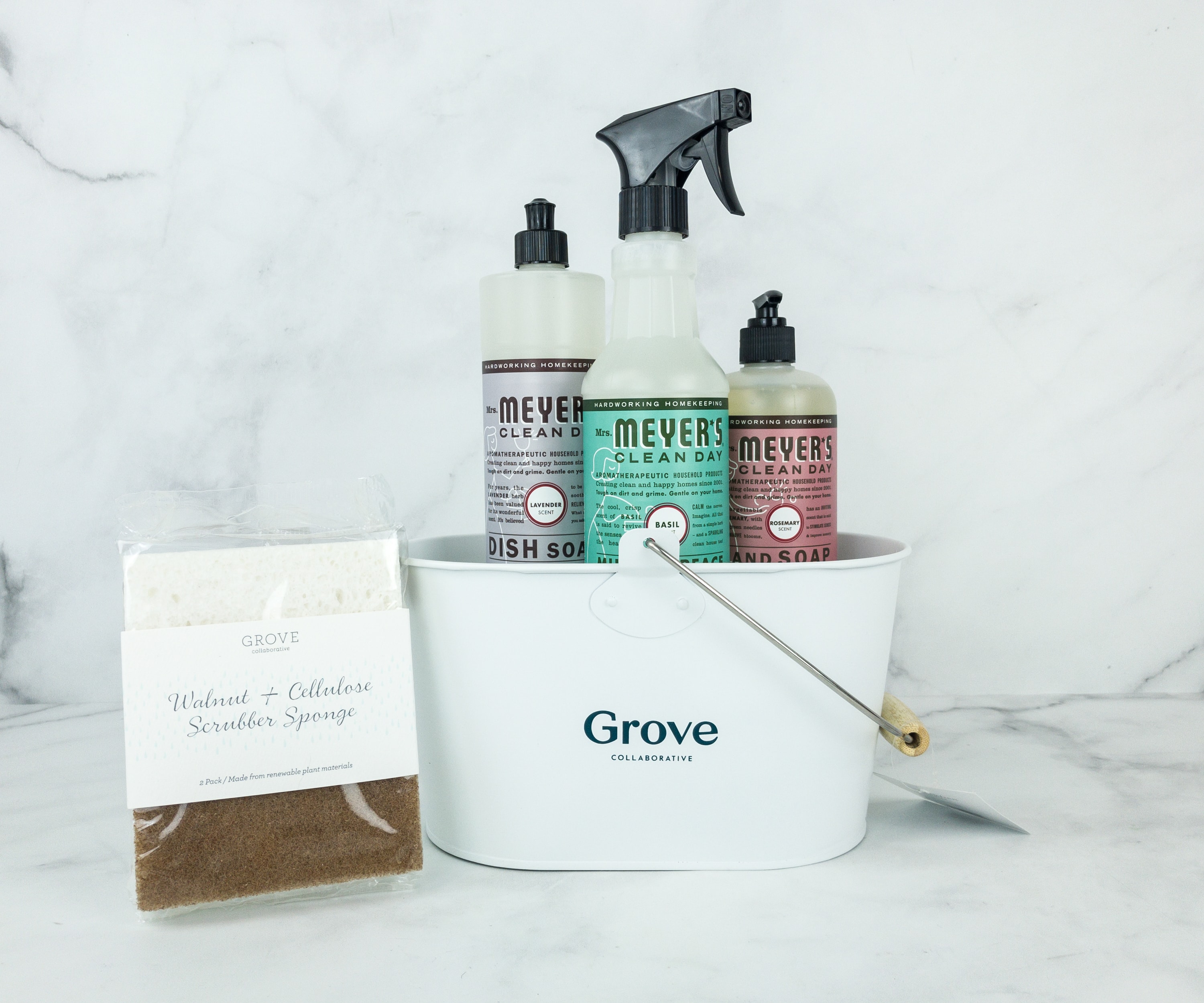 Everything in my box! You'll get this set FREE with a $20 purchase when you sign up with this link!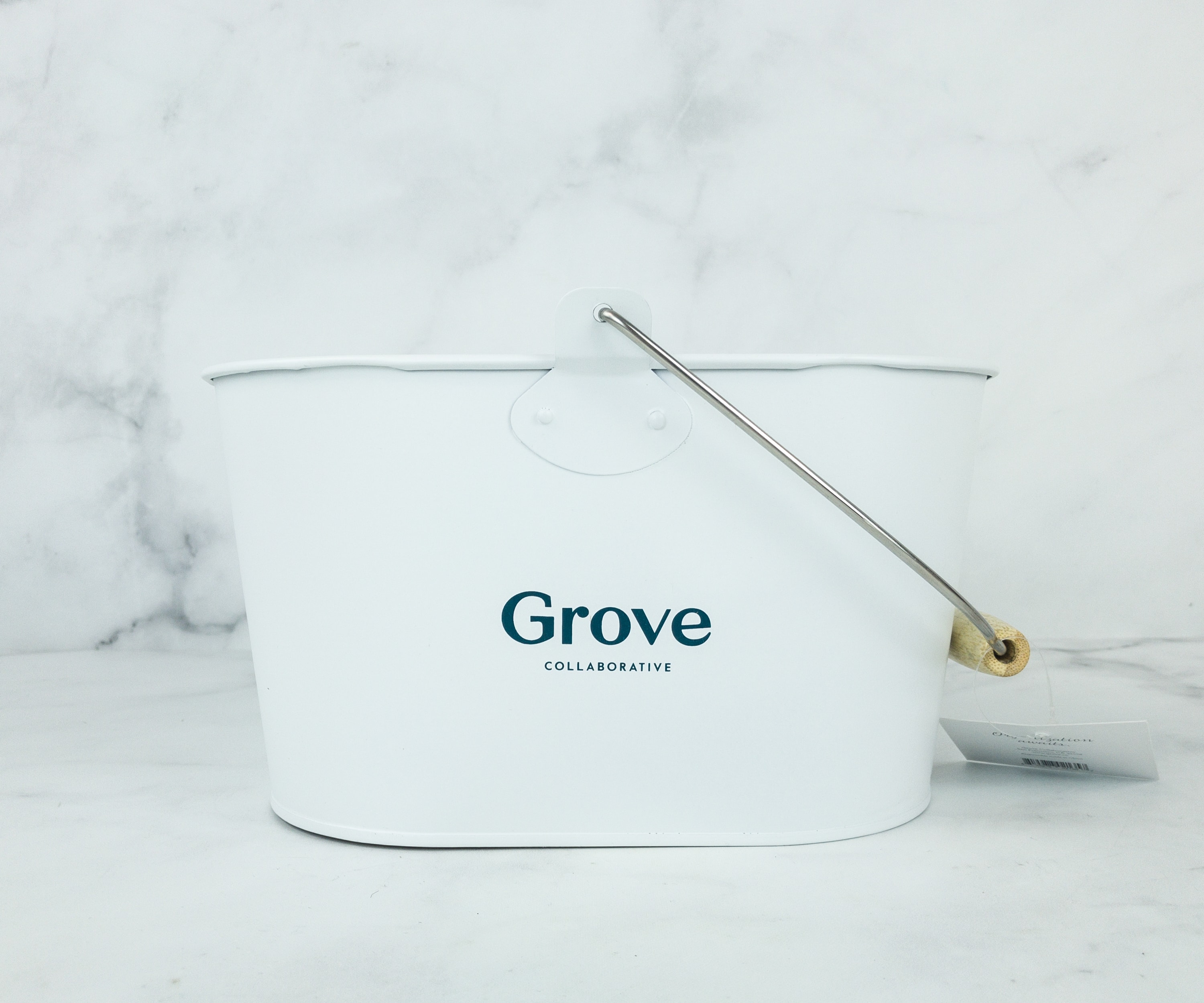 Grove Collaborative Cleaning Caddy  ($14.95) Because of its simplicity, this cleaning caddy can fit in nicely with your home's aesthetic. It can also help you organize and carry your cleaning products anywhere. This is a container with so many possibilities of use.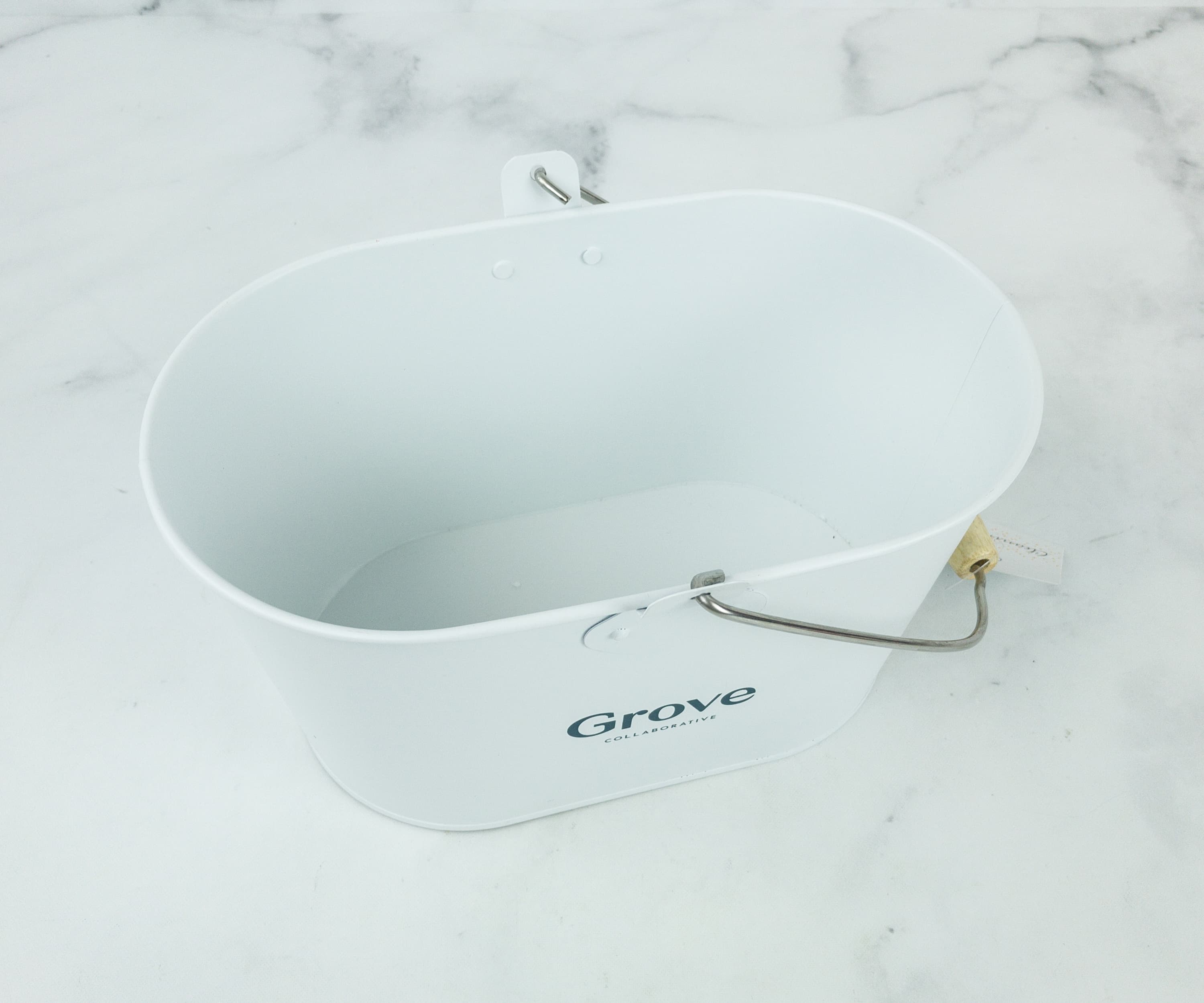 It is a metal caddy with pinewood handle. I love these simple, sturdy caddies for collecting sponges along with my cleaning supplies. Time to get tidy!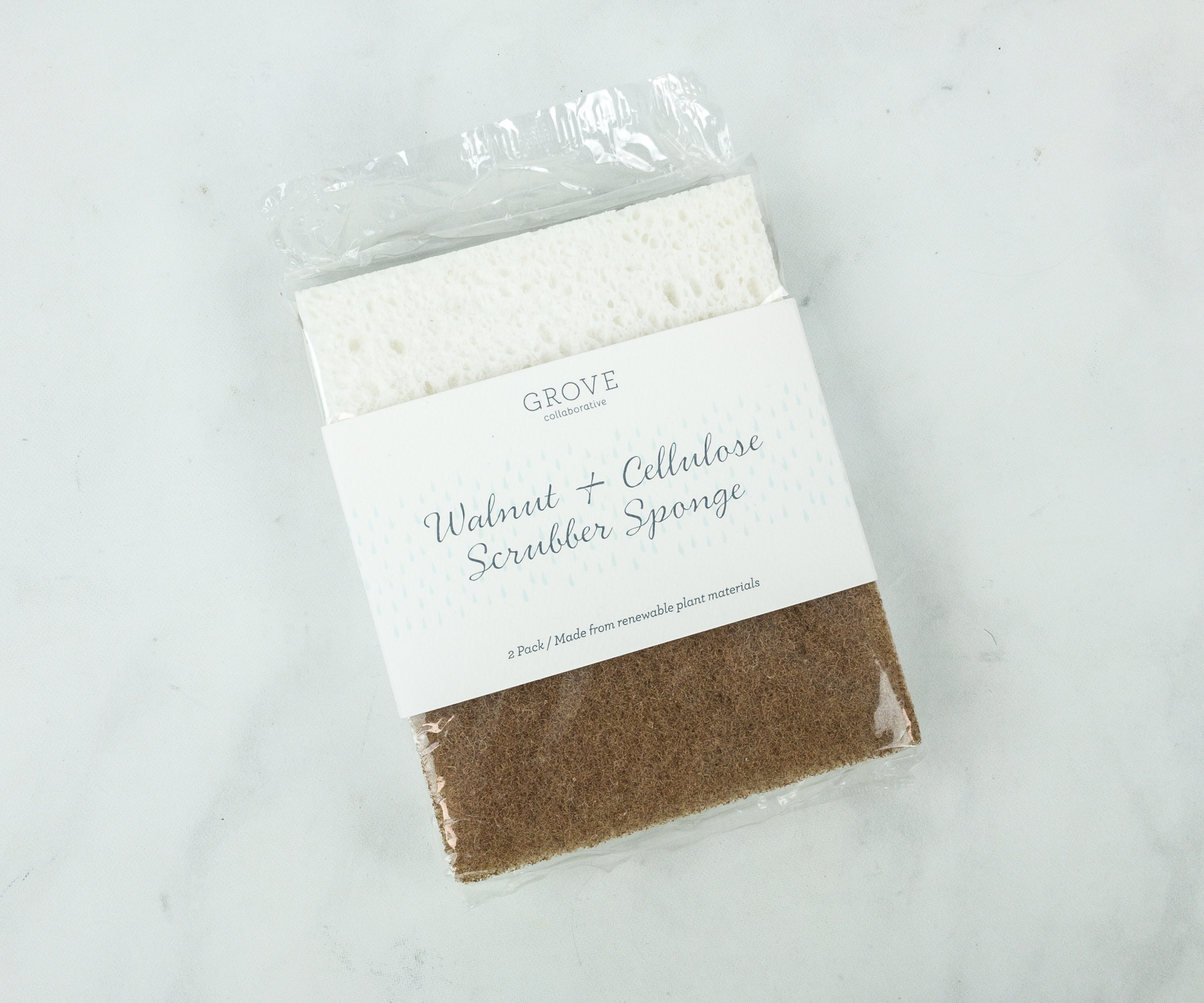 Grove Collaborative Walnut + Cellulose Scrubber Sponge ($1.97) It's a super absorbent sponge in a set of 2 that is 100% all-natural plant-based, non-toxic, hypoallergenic and non-abrasive to clean dishes or any cookware.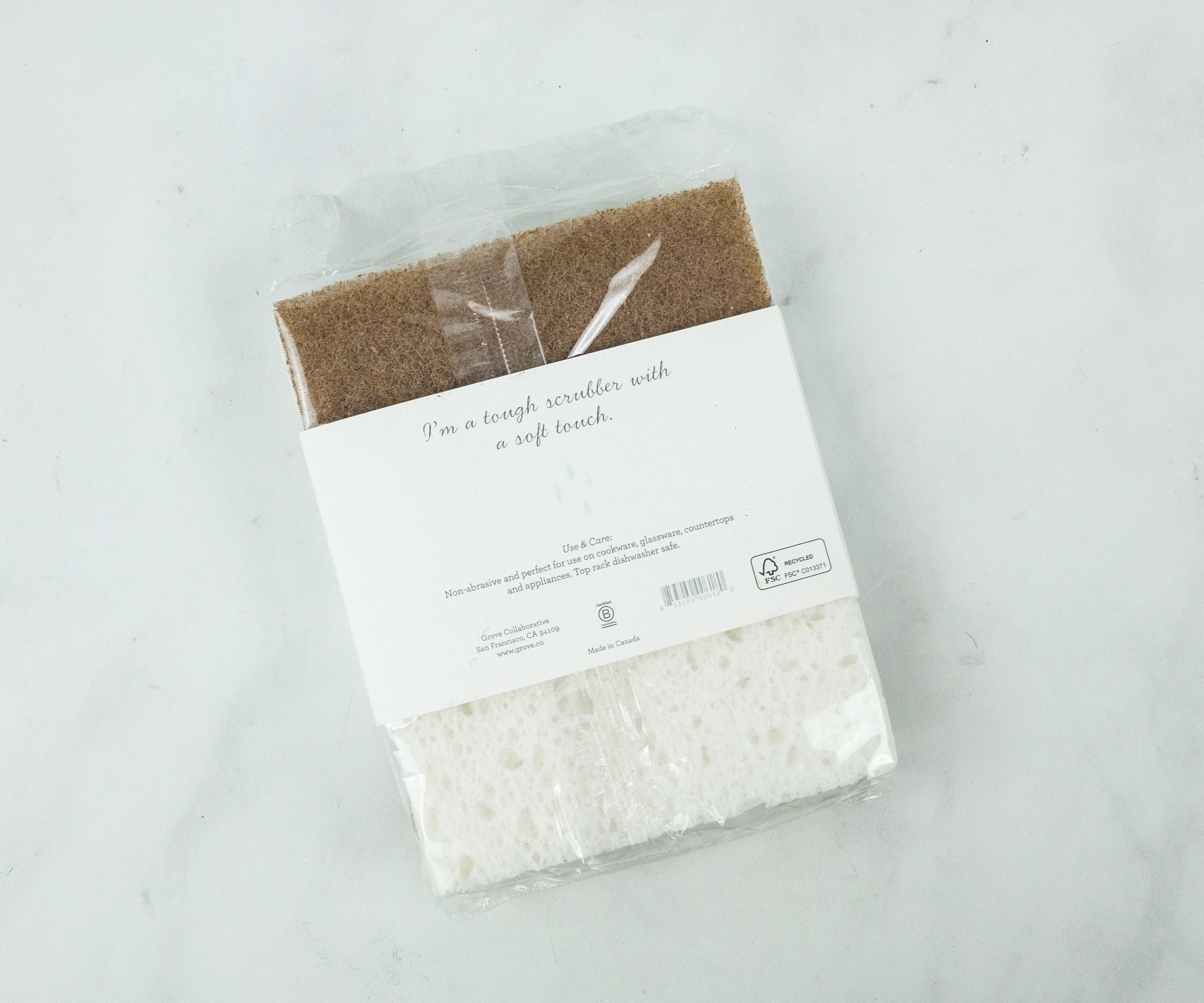 It is sustainably made in North America.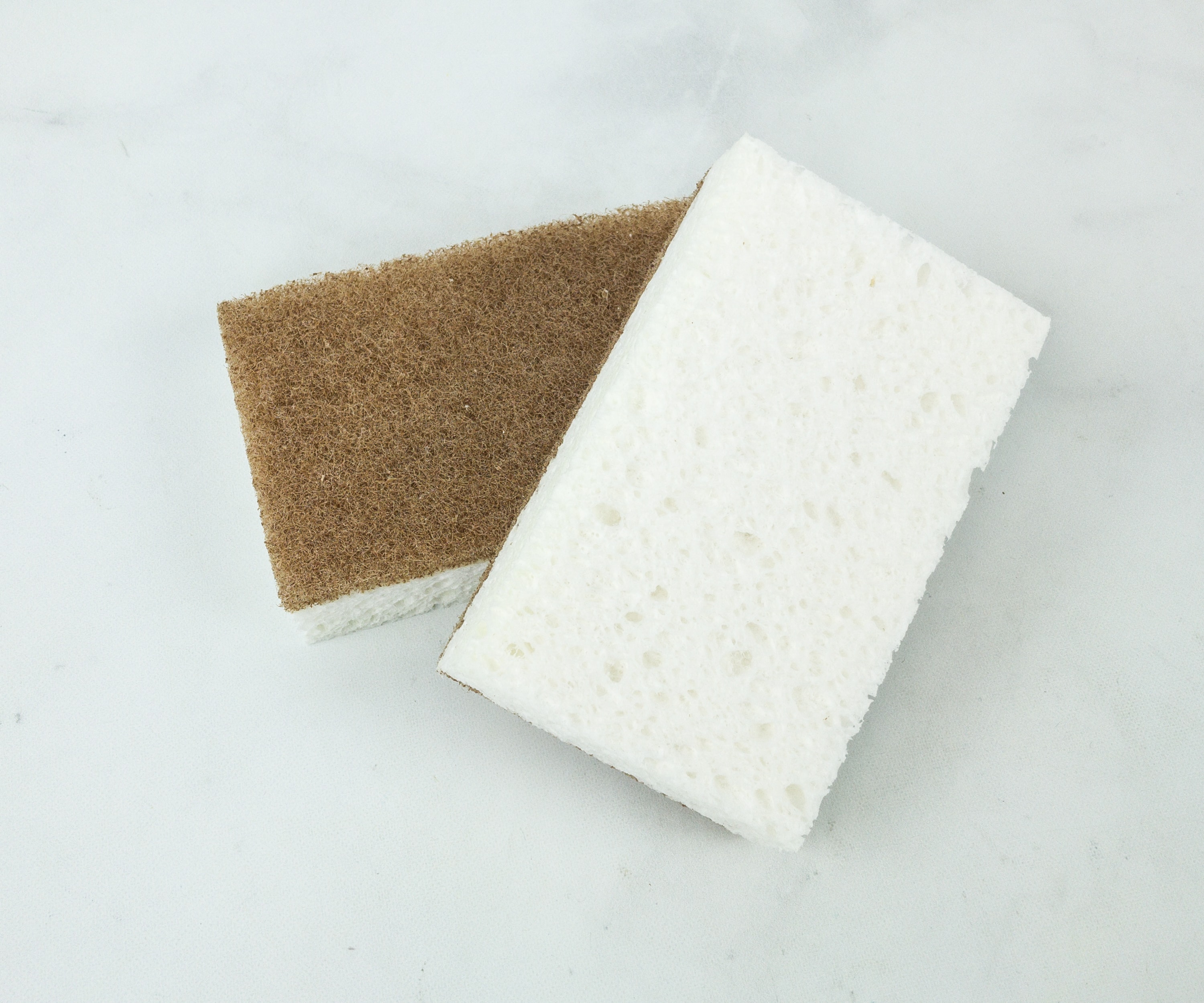 Be sure to rinse before and after use. You can sterilize it by washing it on the top rack of the dishwasher. I find these work great on getting the residue off my stainless sink.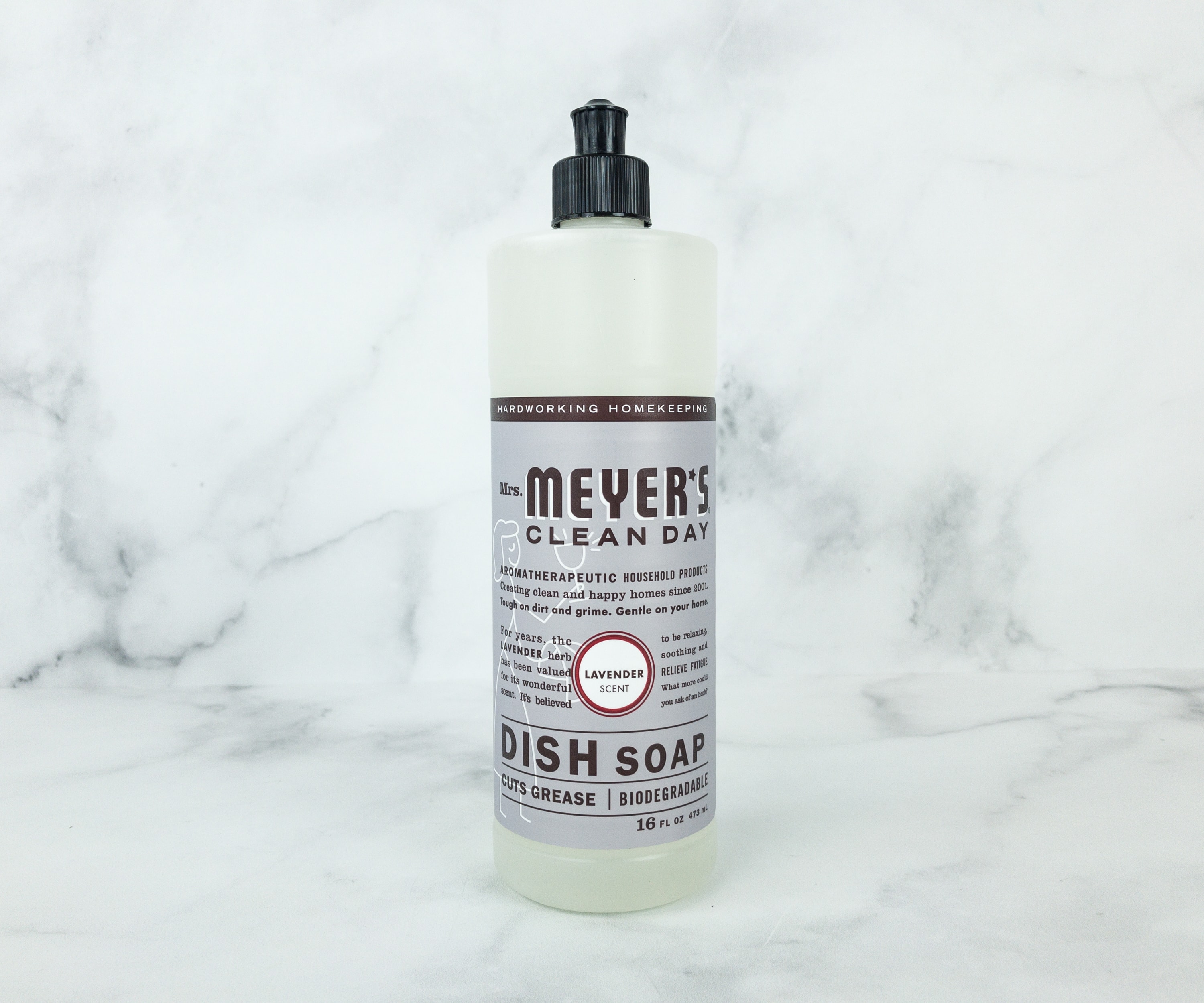 Mrs. Meyer's Dish Soap in Lavender Scent ($3.99) It's a biodegradable and cruelty-free dish soap that removes dirt and keeps the dishes clean. It has concentrated plant-derived cleaning ingredients – that's why it effectively cuts through grease. It also has a garden-fresh lavender scent. I love the light fragrance while I'm doing dishes. Plus, it's a little bit extra motivation to wash up.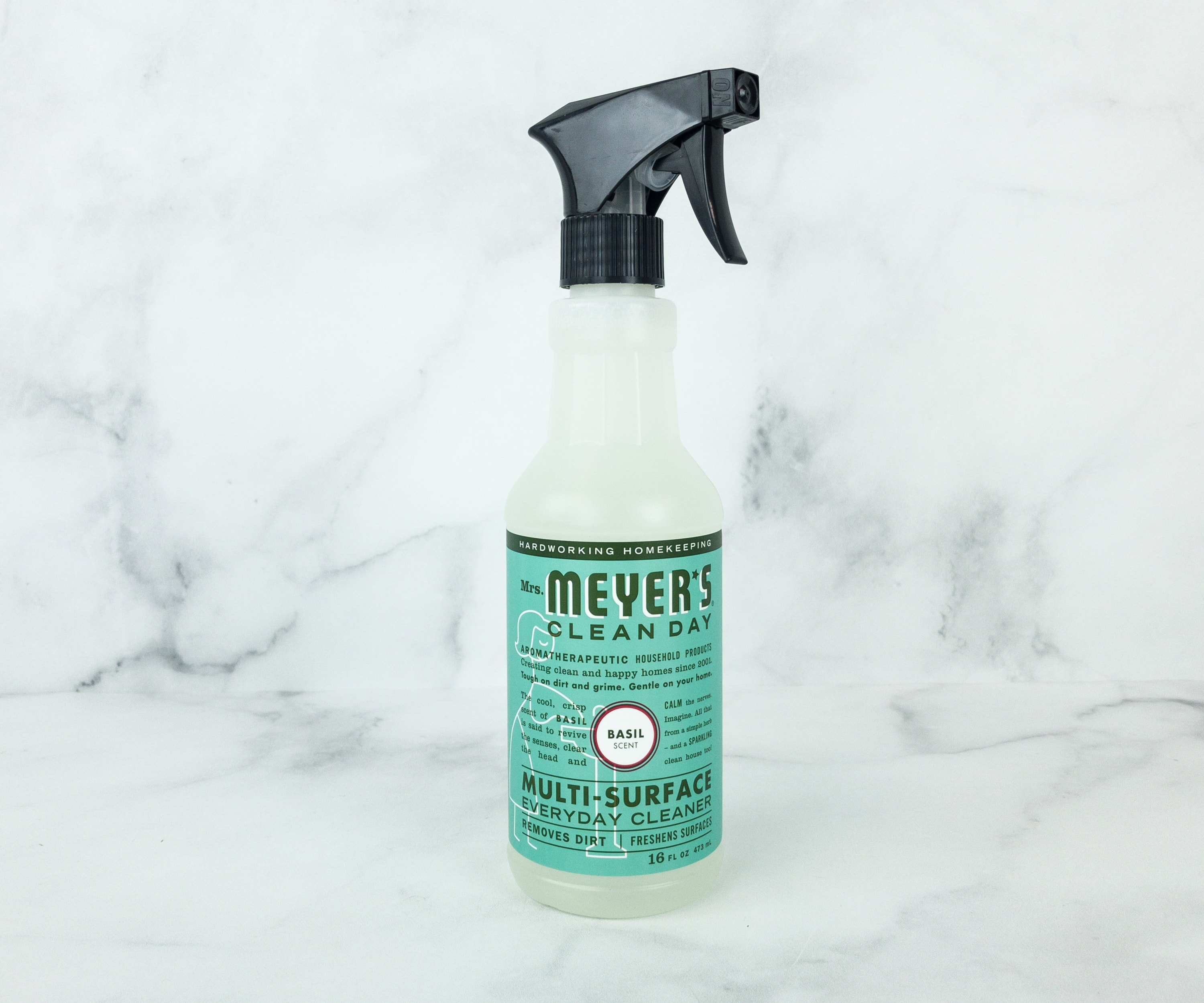 Mrs. Meyer's Multi-Surface Everyday Cleaner in Basil Scent ($3.99) This basil scented, multi-surface, everyday-cleaner has a concentrated formula for cleaning but it can also serve as aromatherapy. It is made with a lot of essential oils and plant-derived ingredients, plus it is cruelty-free. I love that my home can "smell clean" without an artificial smell!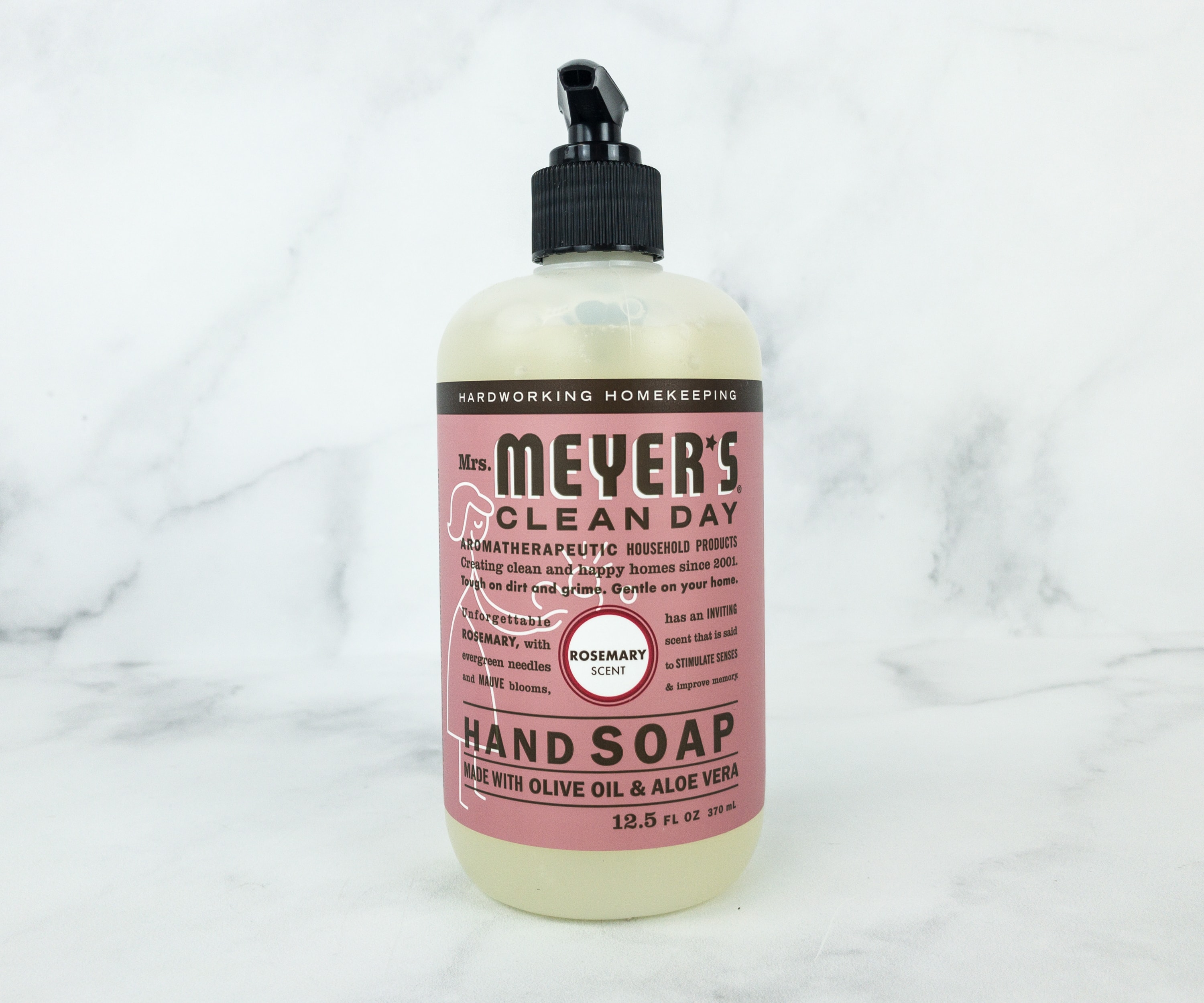 Mrs. Meyer's Hand Soap in Rosemary Scent ($3.89) This soap leaves our hands soft and squeaky clean. It is also aromatherapeutic. The formula is non-drying and contains natural oils and aloe gel and olive oil.
I really went for the garden fresh scents this time – they just sang new year to me! They are all essential products in my home care routine and smell good together. We've got a caddy that we can use to bring a lot of items anywhere and yet keeping everything neat and organized. It's also super convenient for me not to shop for home care goods with my groceries – I always shop online for them. Even better, Grove price matches, so you can take advantage of the expanded range of scents they offer vs your local store – just send them the link of the better price. They already have the same prices as Target at the moment, with a much better selection!
What's your favorite scent from Mrs. Meyer's?
Visit Grove Collaborative to check it out and personalize your own subscription!