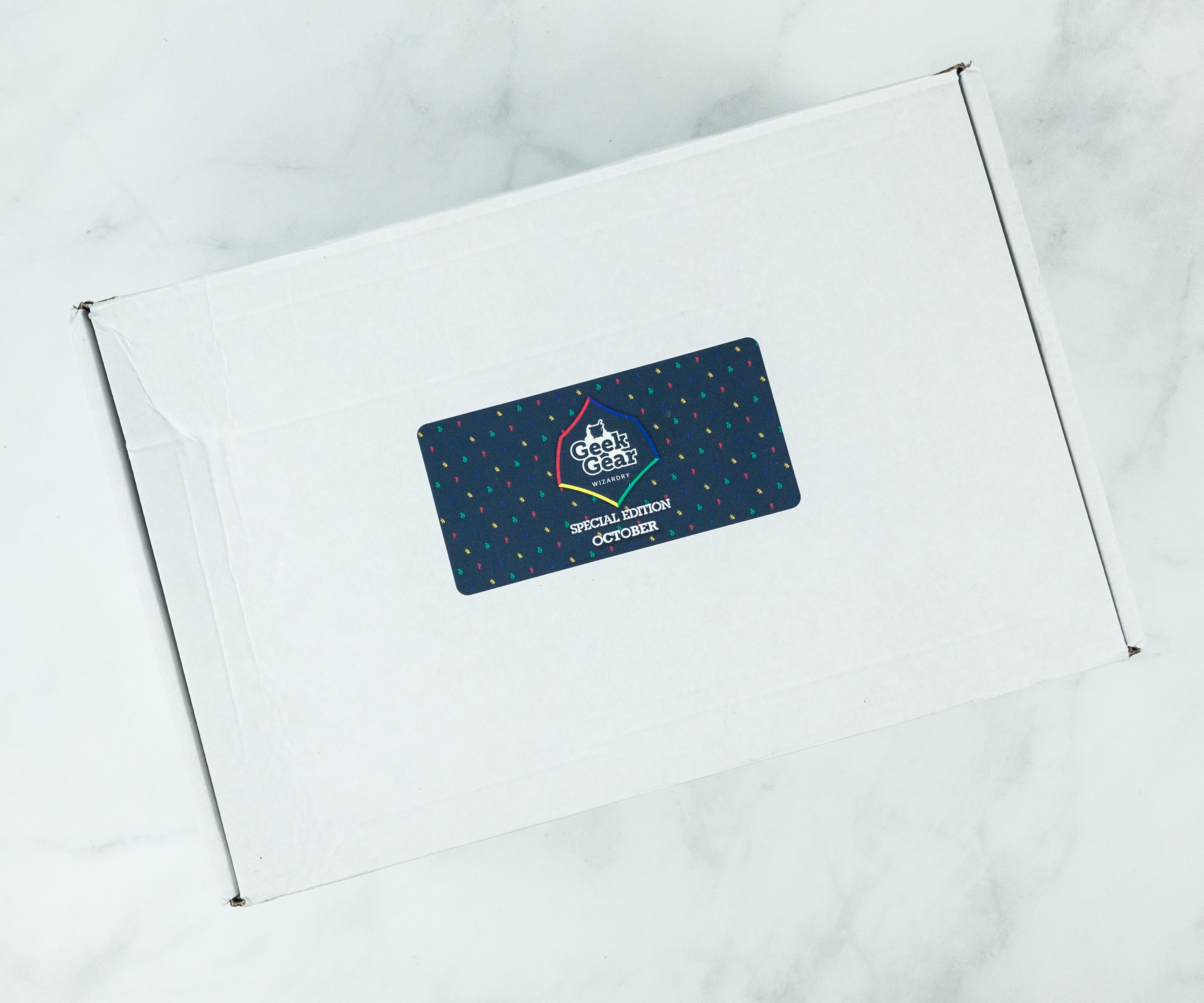 GeekGear WIZARDRY Special Edition is a bimonthly premium subscription box from GeekGear filled with awesome licensed and exclusive PREMIUM Harry Potter & Fantastic Beasts merchandise! Boxes are £44.99 +S/H with a £90+ value! (That's £50.98 shipped to US, about $68). In every box expect an exclusive t-shirt, an exclusive jumper/hoodie/long sleeve t-shirt, an exclusive premium artwork, and 3+ other premium products.
Although they're called special edition, don't be fooled – these are now a regular subscription, similar to Loot Crate DX! 
This is a review of the October 2018 Special Edition box.
DEAL: Save 10% on your first month! Use coupon code NEWSUB10. Or try SPECIAL15 to save 15%!
The box was £44.99 +S/H with a £90+ value (That's £50.98 shipped to US, about $68) and was limited to 750 units.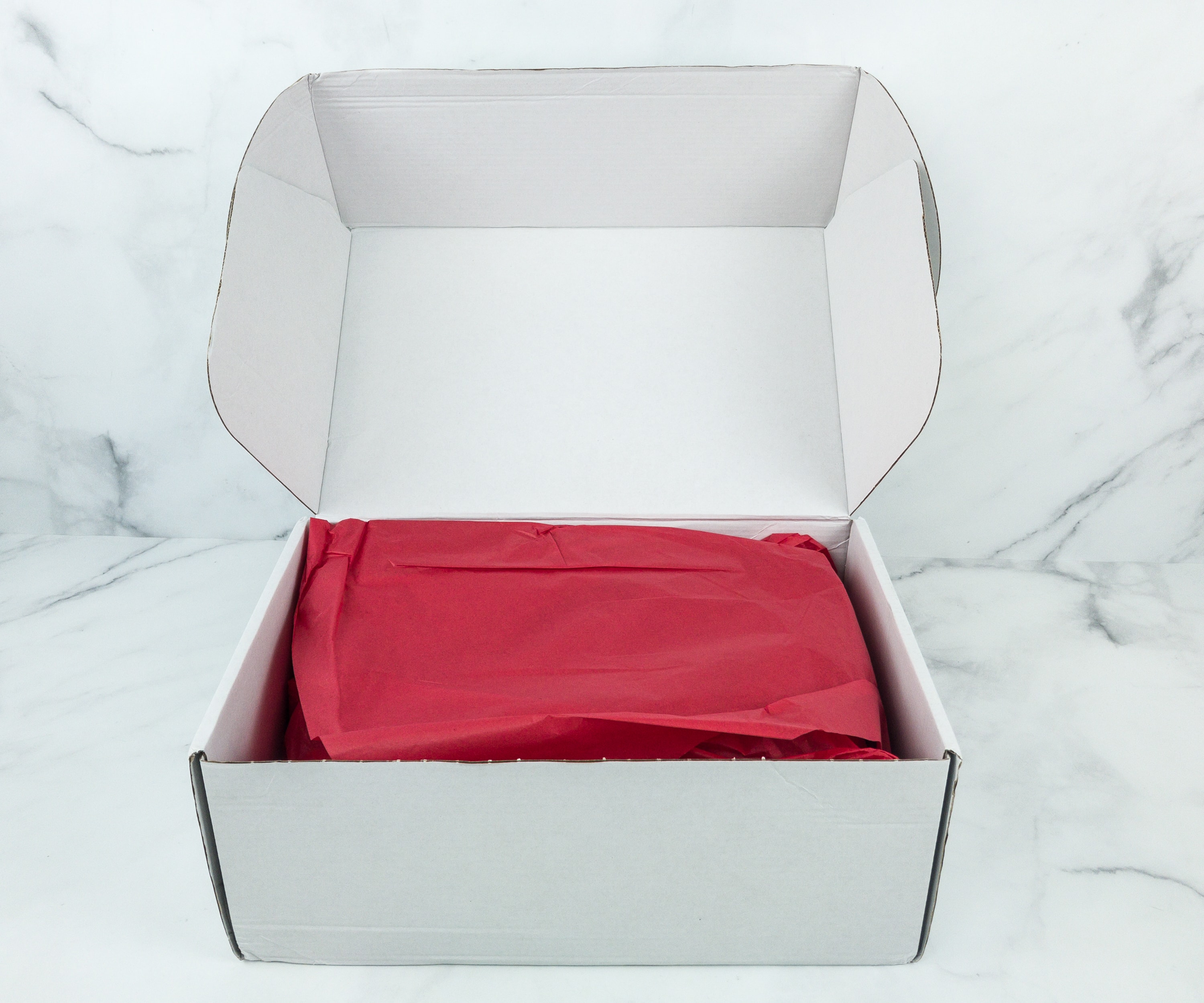 All the items are wrapped and protected in a tissue paper.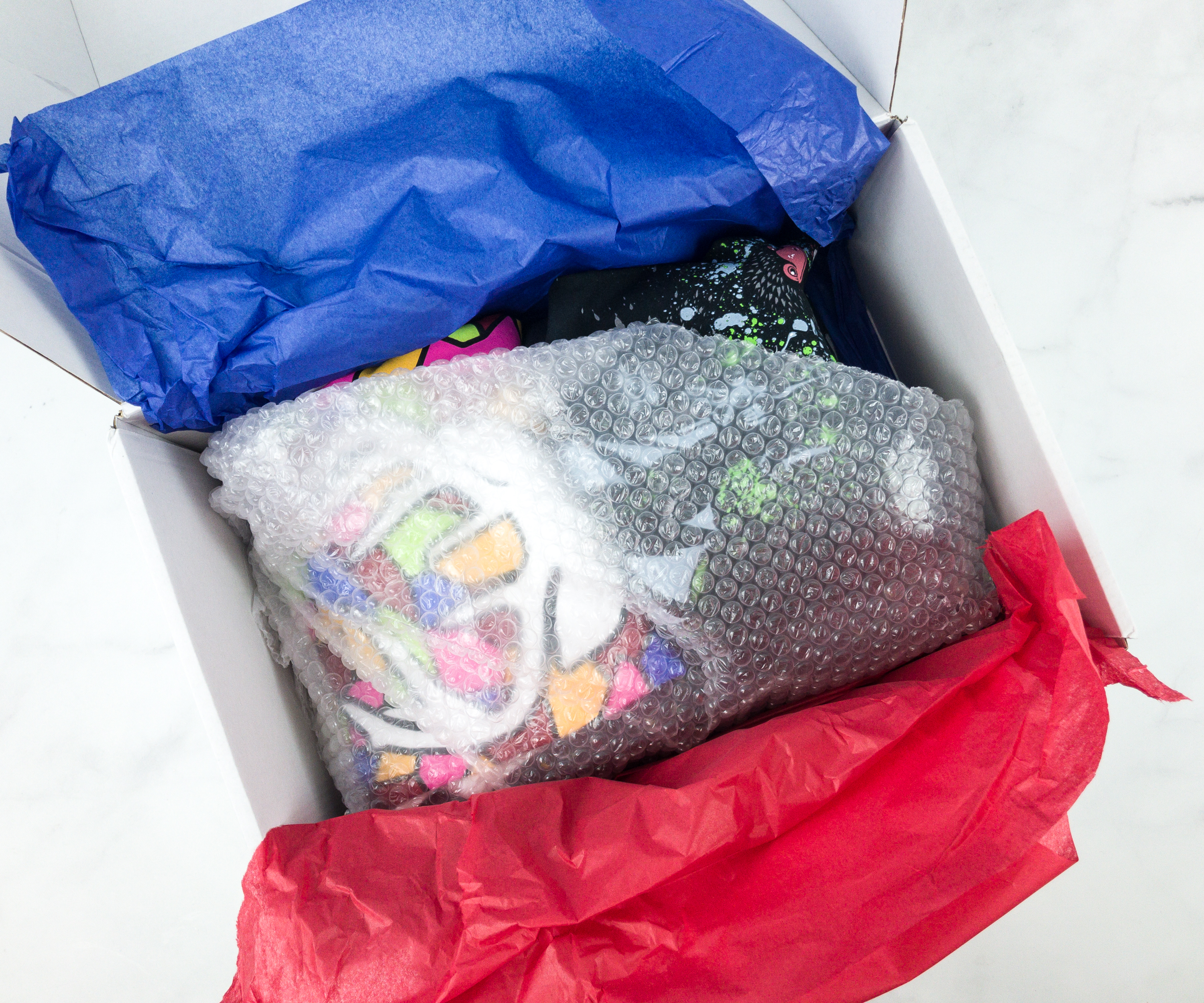 There's also some bubble wrap!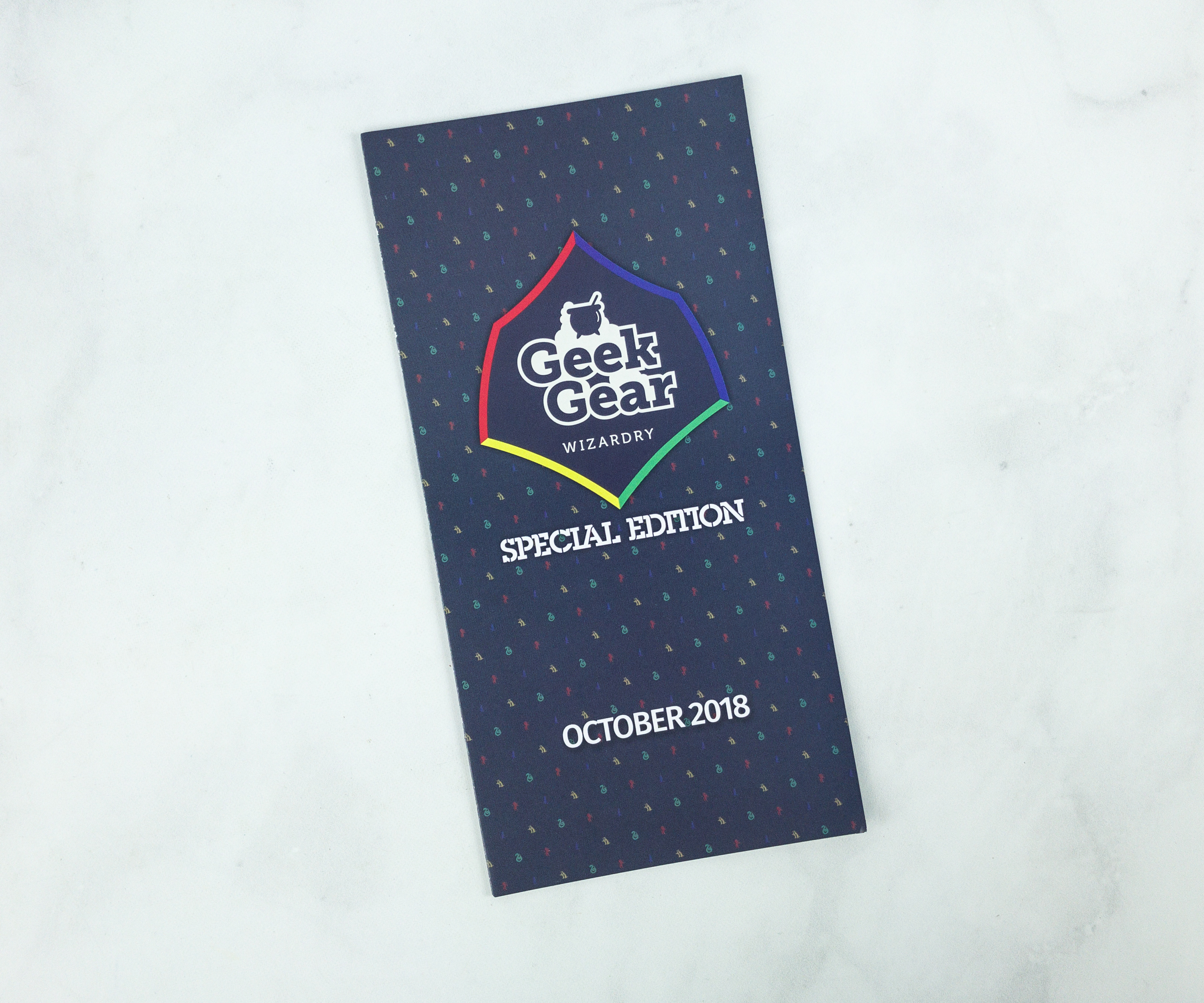 A tri-fold pamphlet product book is included in the box.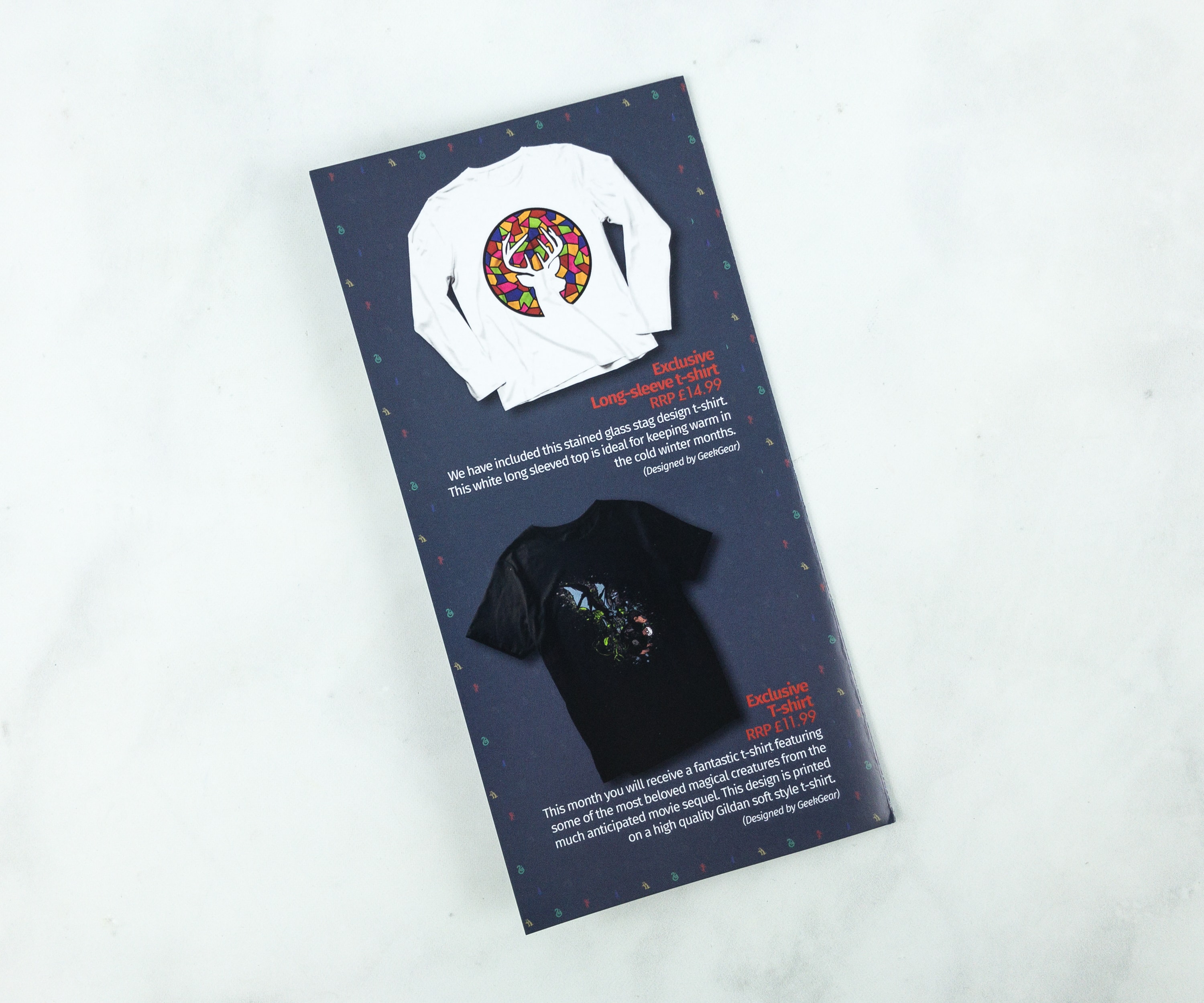 It lists all the items in the box.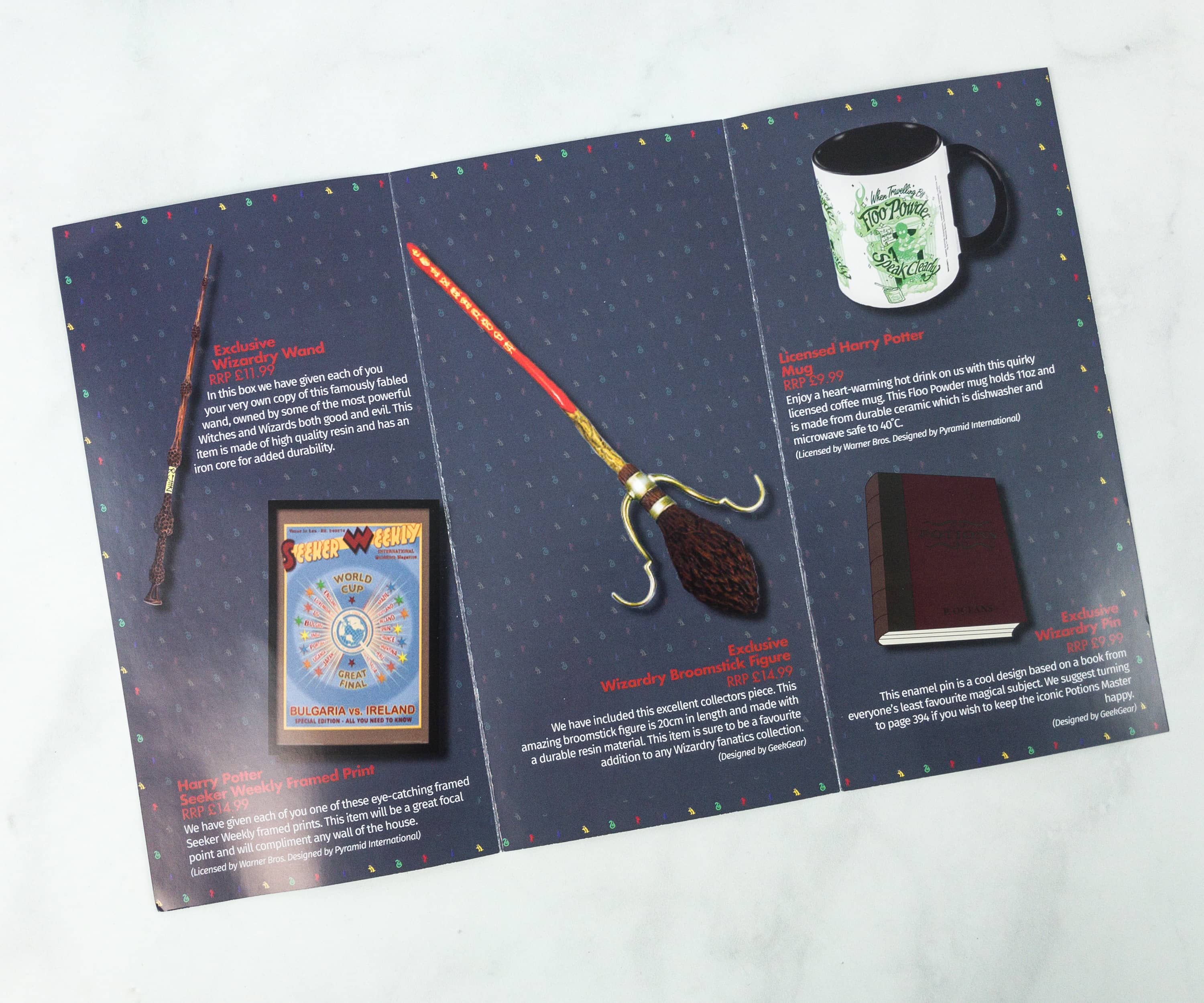 There's also a photo and description for each item.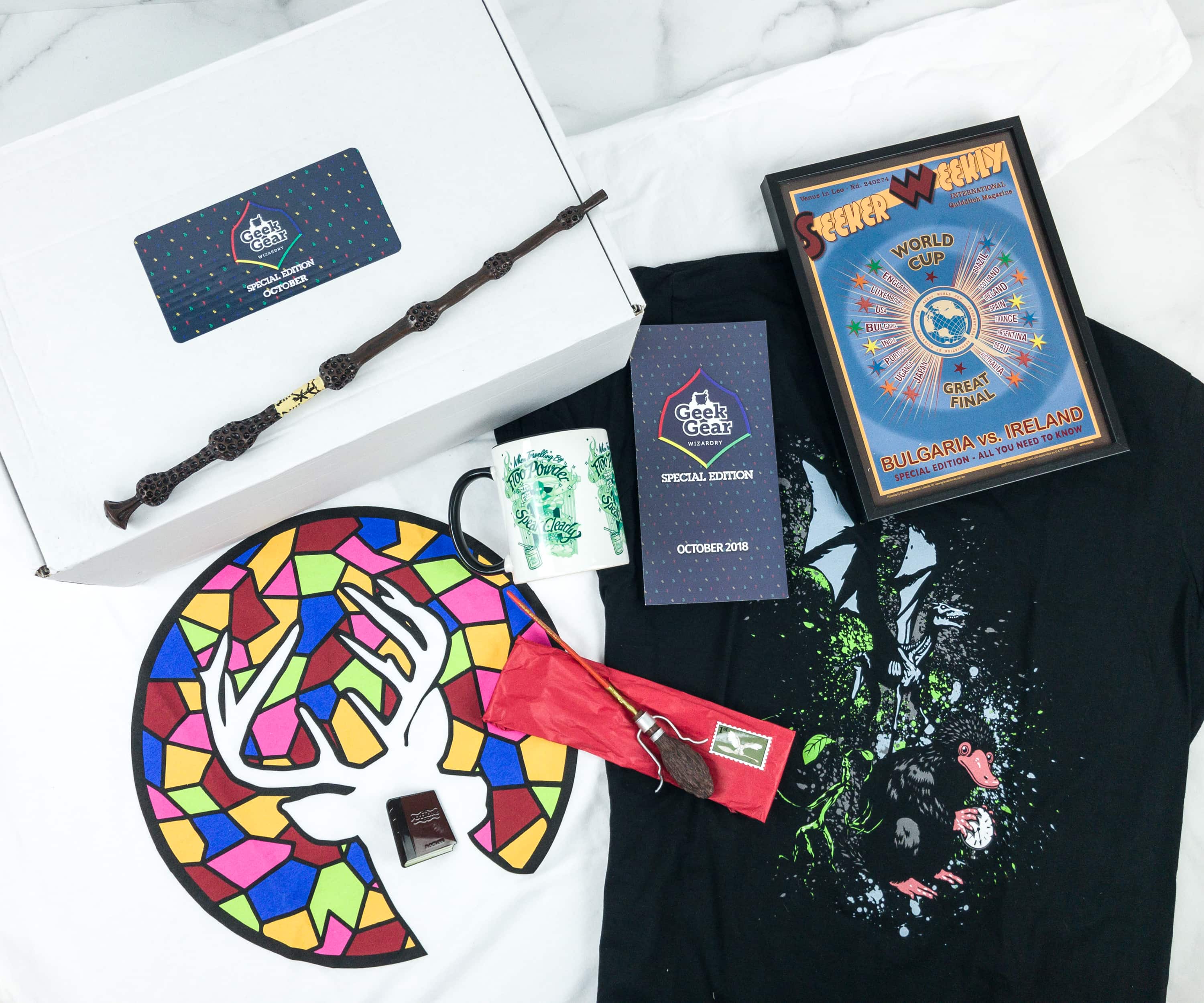 Everything in the October 2018 Special Edition World of Wizardry box!
Harry Potter Seeker Weekly Framed Print (£14.99) The framed print this month features the cover of the International Quidditch Magazine, Seeker Weekly!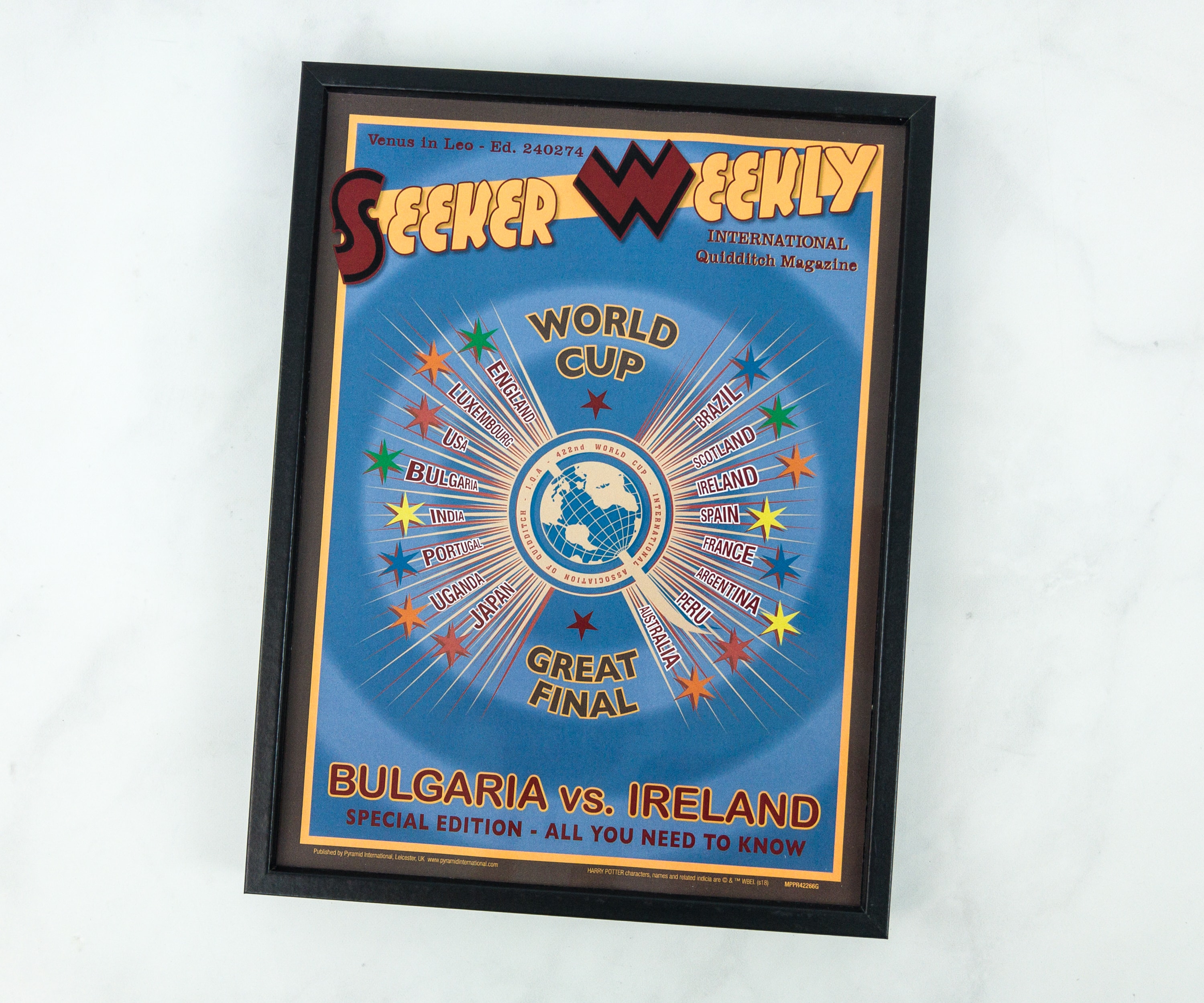 The cover is the 1994 Special Edition that covers the final match between Bulgaria and Ireland.
It can be displayed right away as it is already framed.
Wizardry Wand (£11.99) This next boxed item actually got me really excited!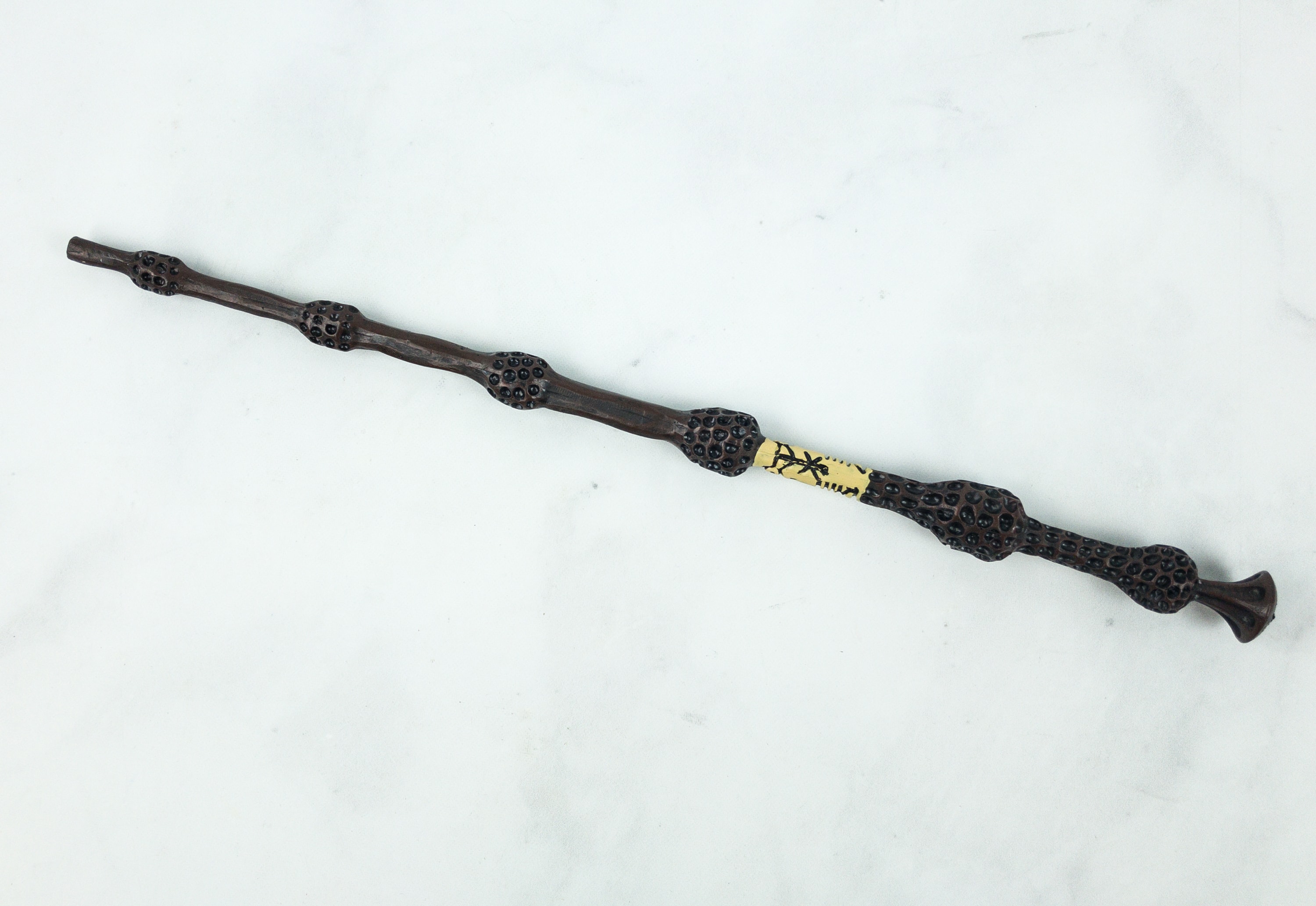 I got my own Elder Wand. It's one of the fabled Deathly Hallows, and in fact, the first to be made by Death himself.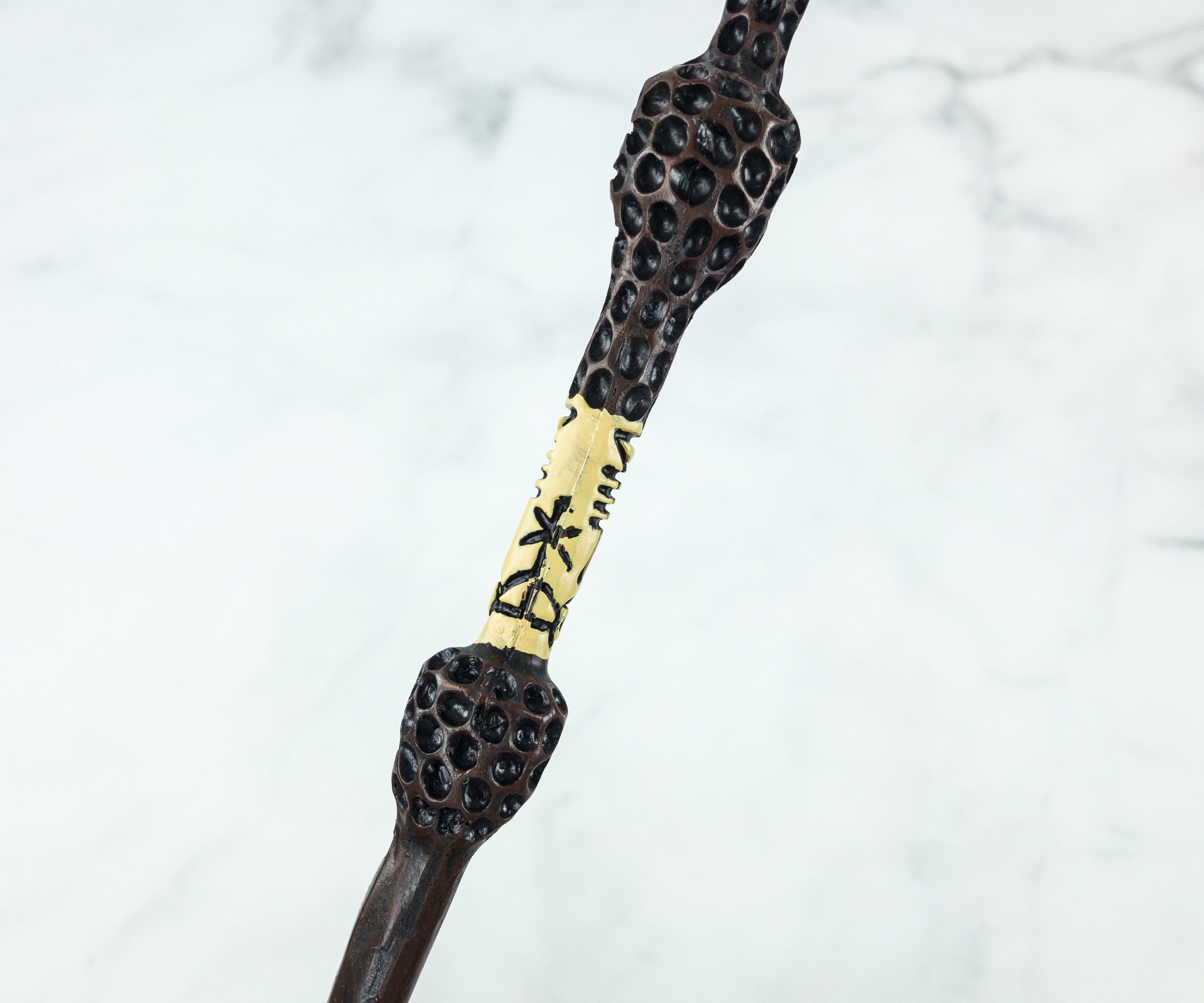 The wand really has a unique appearance as it bears carvings that resemble clusters of elderberries running down its length. It also shows a small portion of the wand where it is a small bone inlay inscribed with runes. It's truly one of the beautiful wands ever created.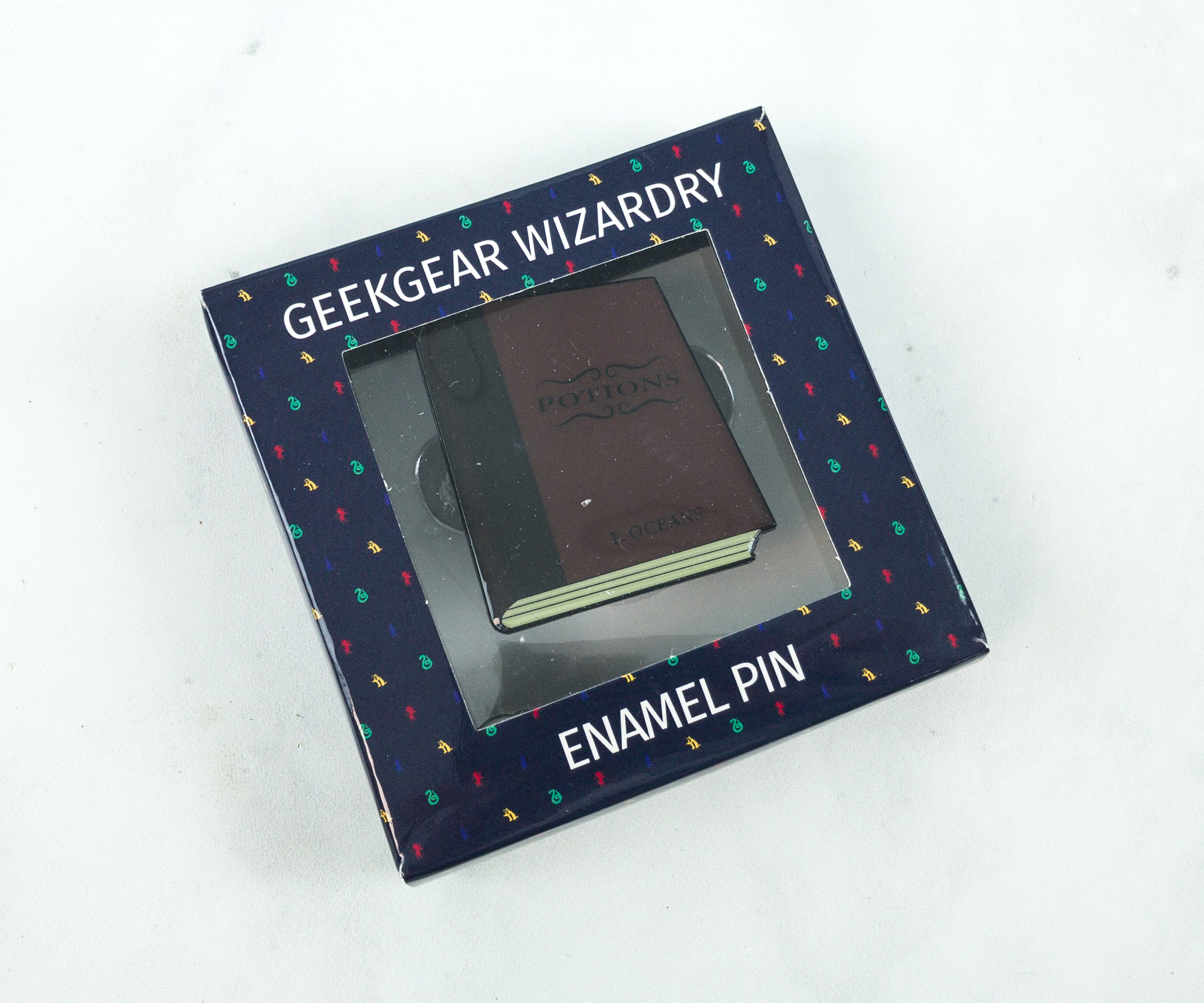 Wizardry Pin (£9.99) This month's pin features a book about one of the least favorite subjects in Hogwarts… Potions!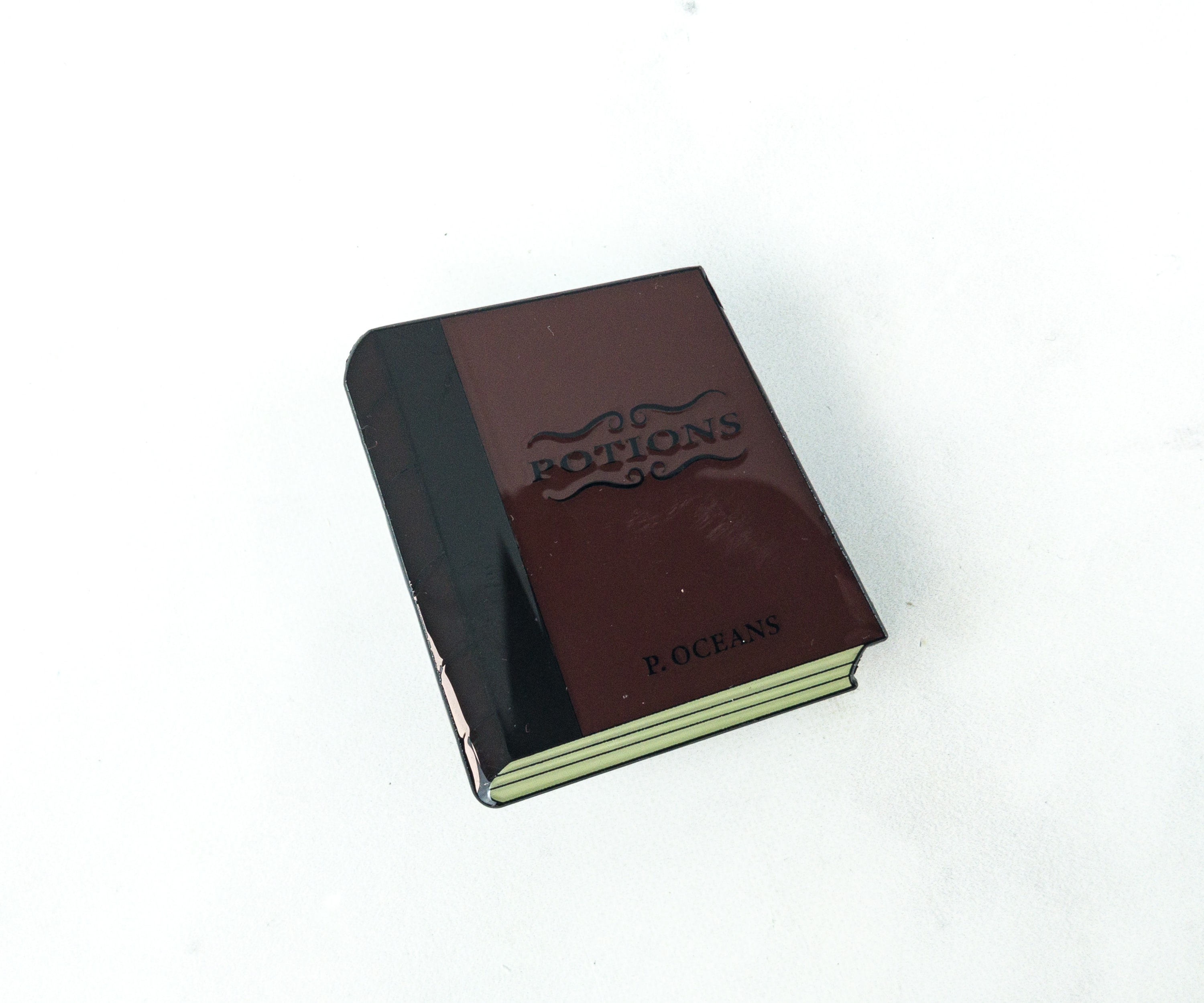 This subject always reminds me about Snape telling his students to "turn to page 394"!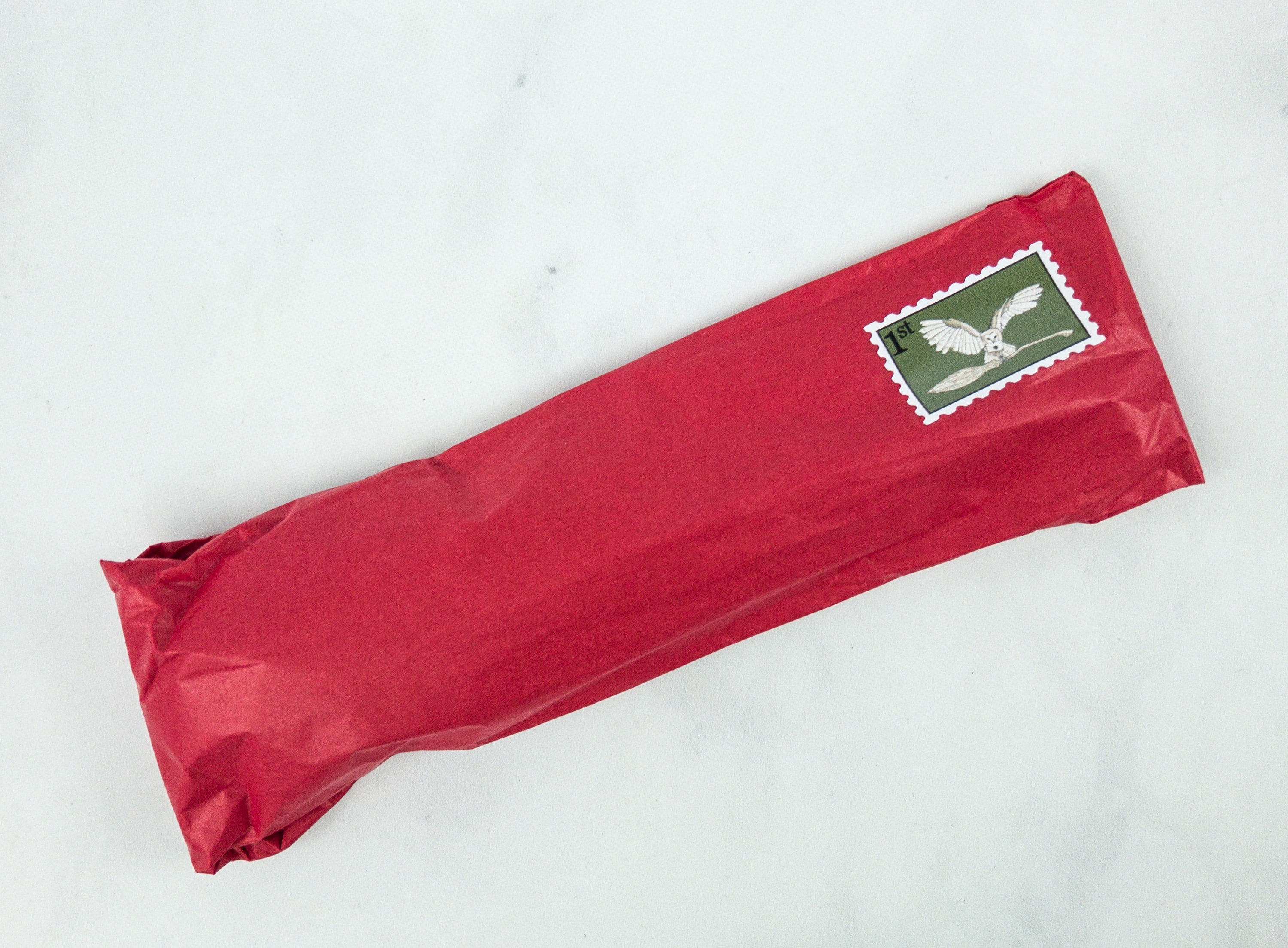 Wizardry Broomstick Figure (£14.99) This next item is fragile that it has to be protectively packaged in a red packet, complete with an owl seal!
Broomsticks are one of the important and convenient modes of transportation in the Wizarding World.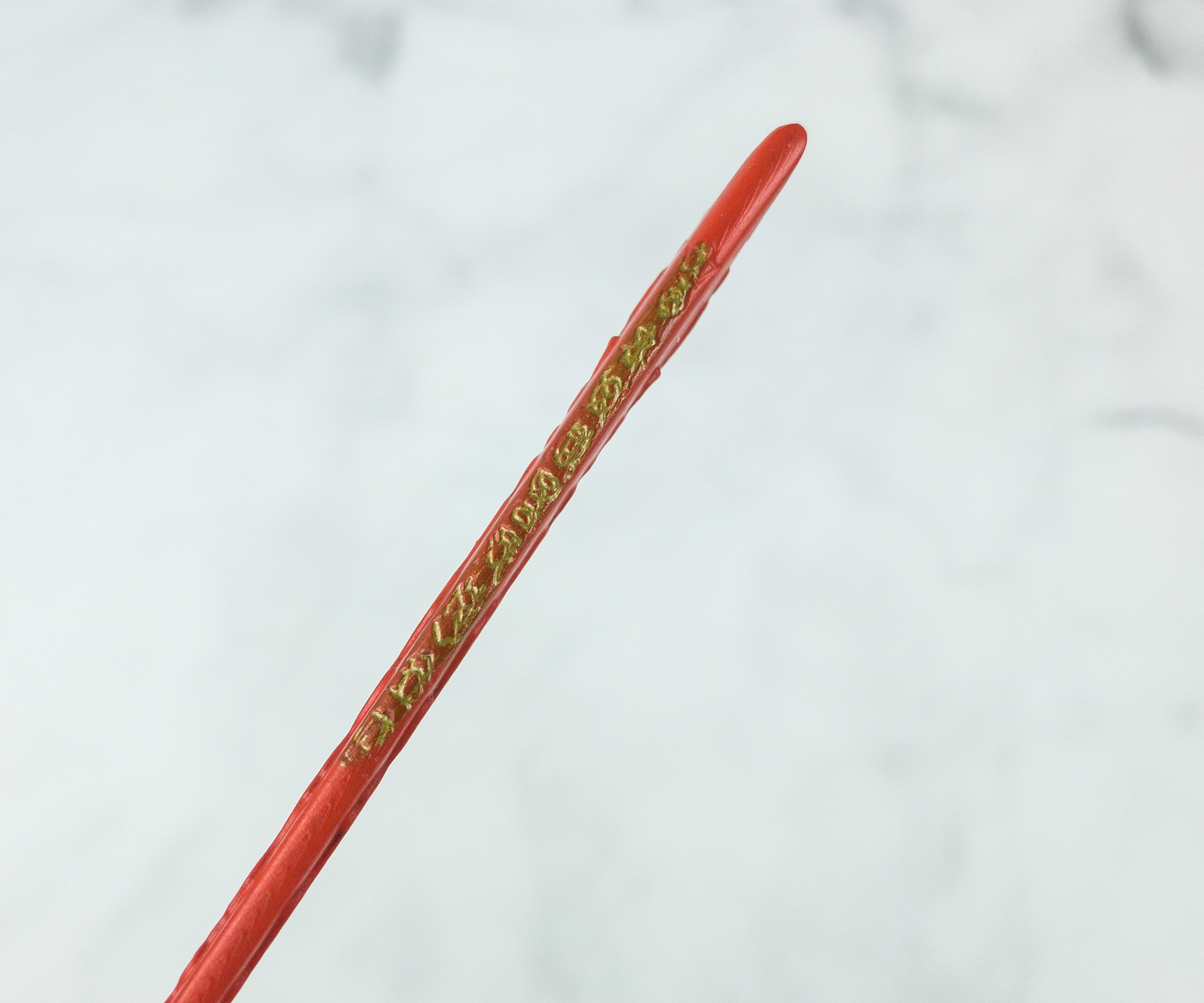 I think the design for this one is based on Firebolt broomsticks that both teams Bulgaria and Ireland used in the 1994 Quidditch Final Cup.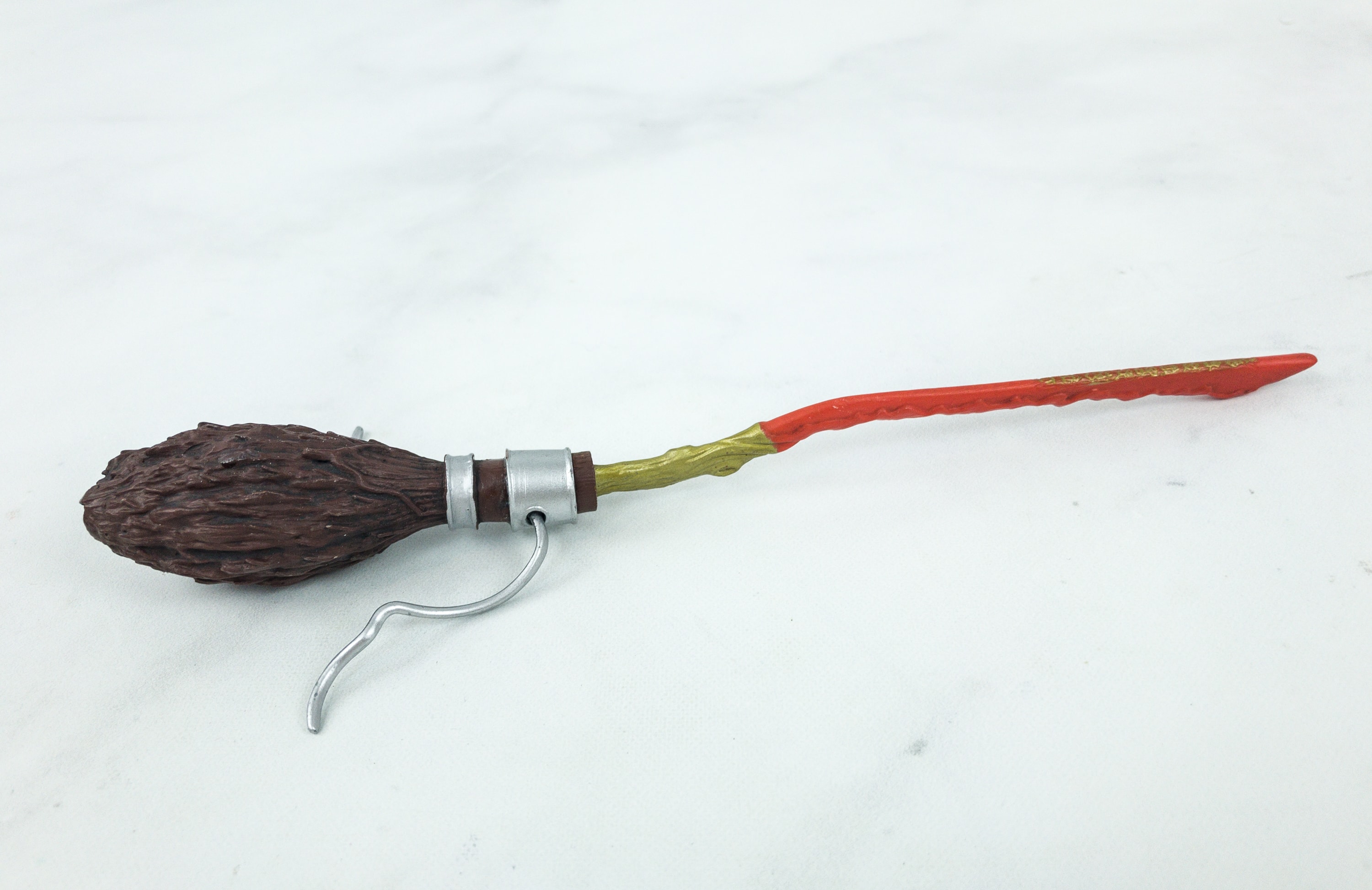 The figure is made with a durable resin material and measures 20 cm. Its undetachable bipod also supports the figure and serves as its stand.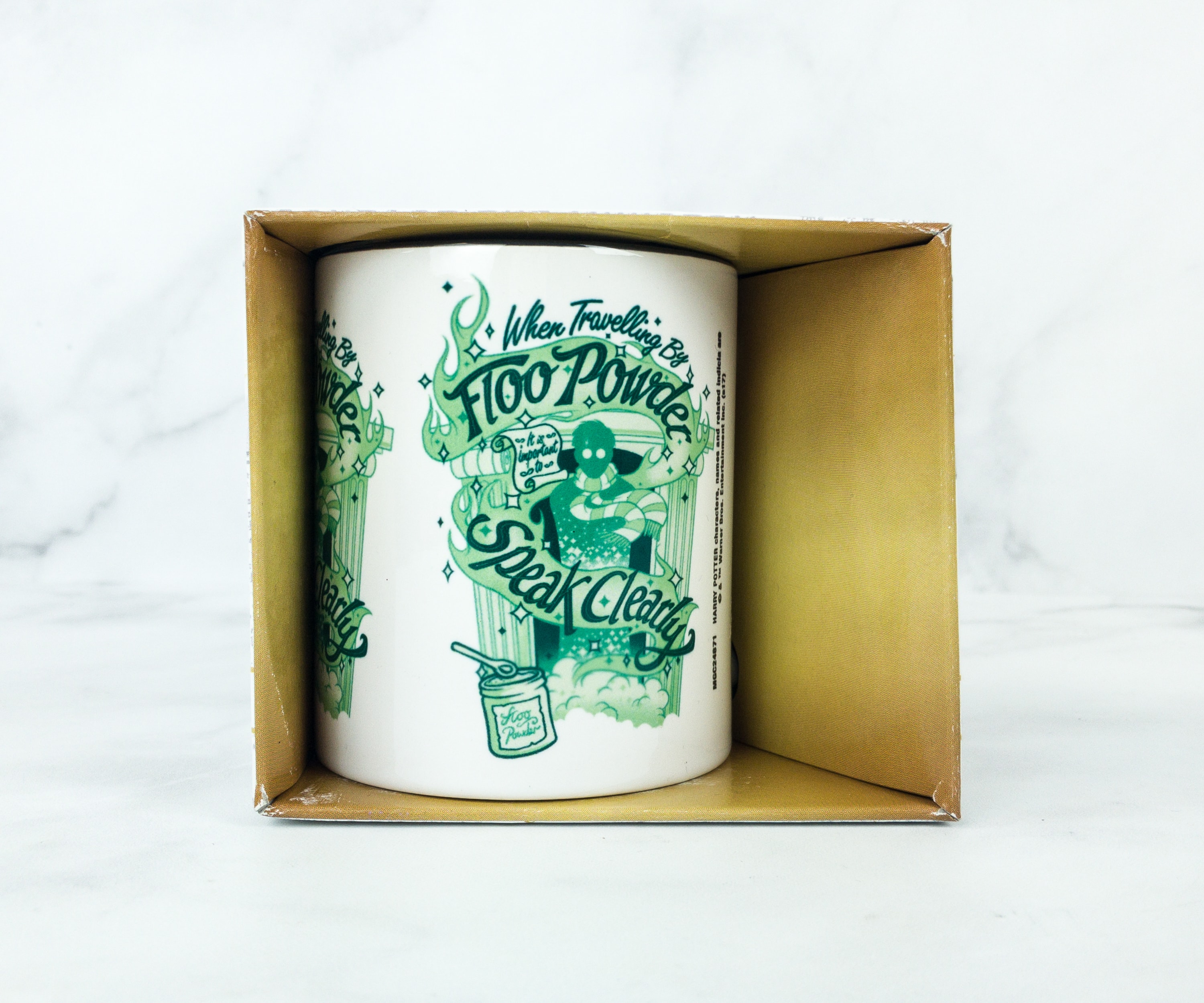 Licensed Harry Potter Mug (£9.99) Remember the first time Harry used the Floo Powder to travel from the Burrow to London's Diagon Alley, but instead, he ended up at Borgin and Burkes because he said "Diagonally"!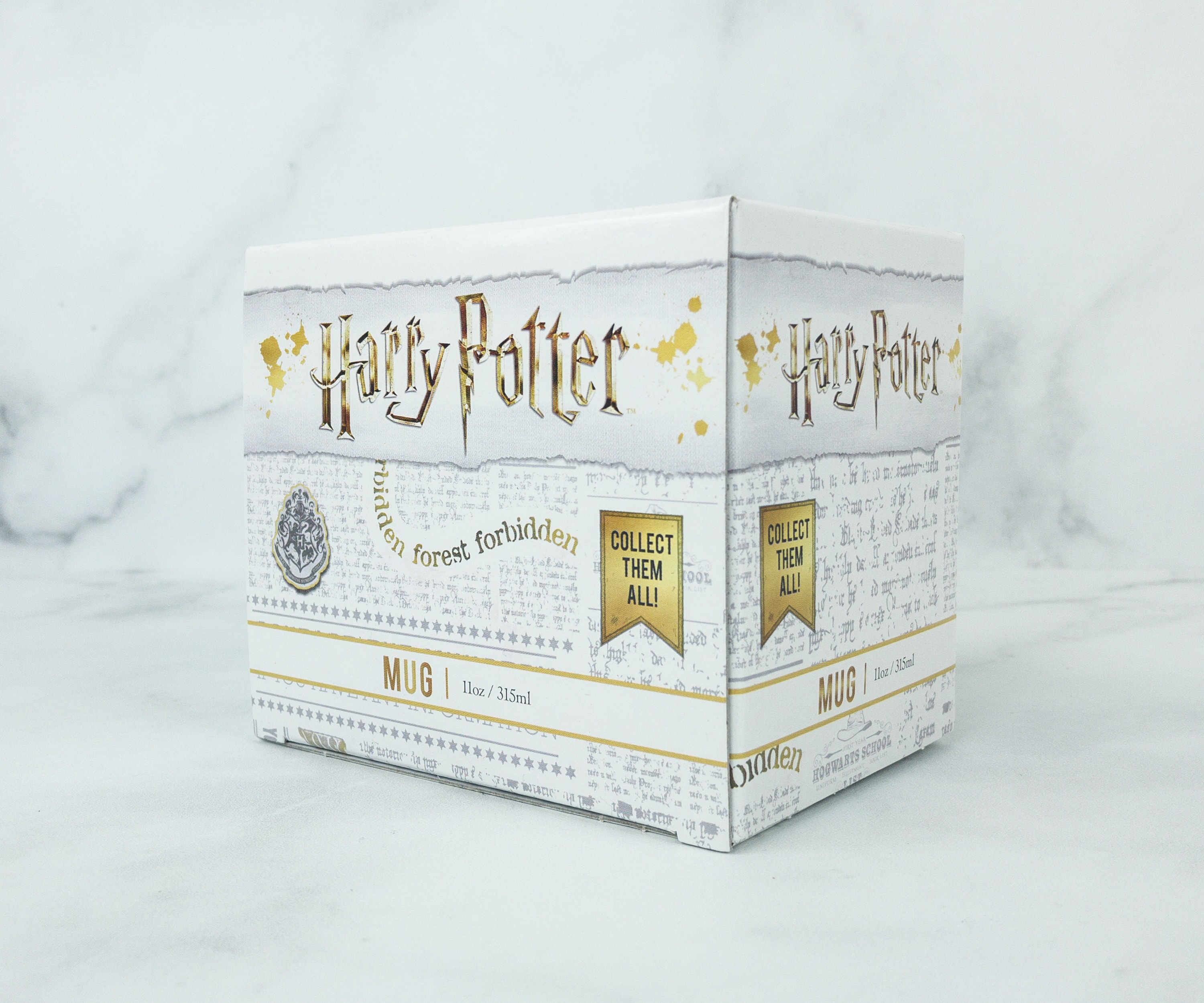 The mug came in a giftable box where it actually shows what beauty is inside!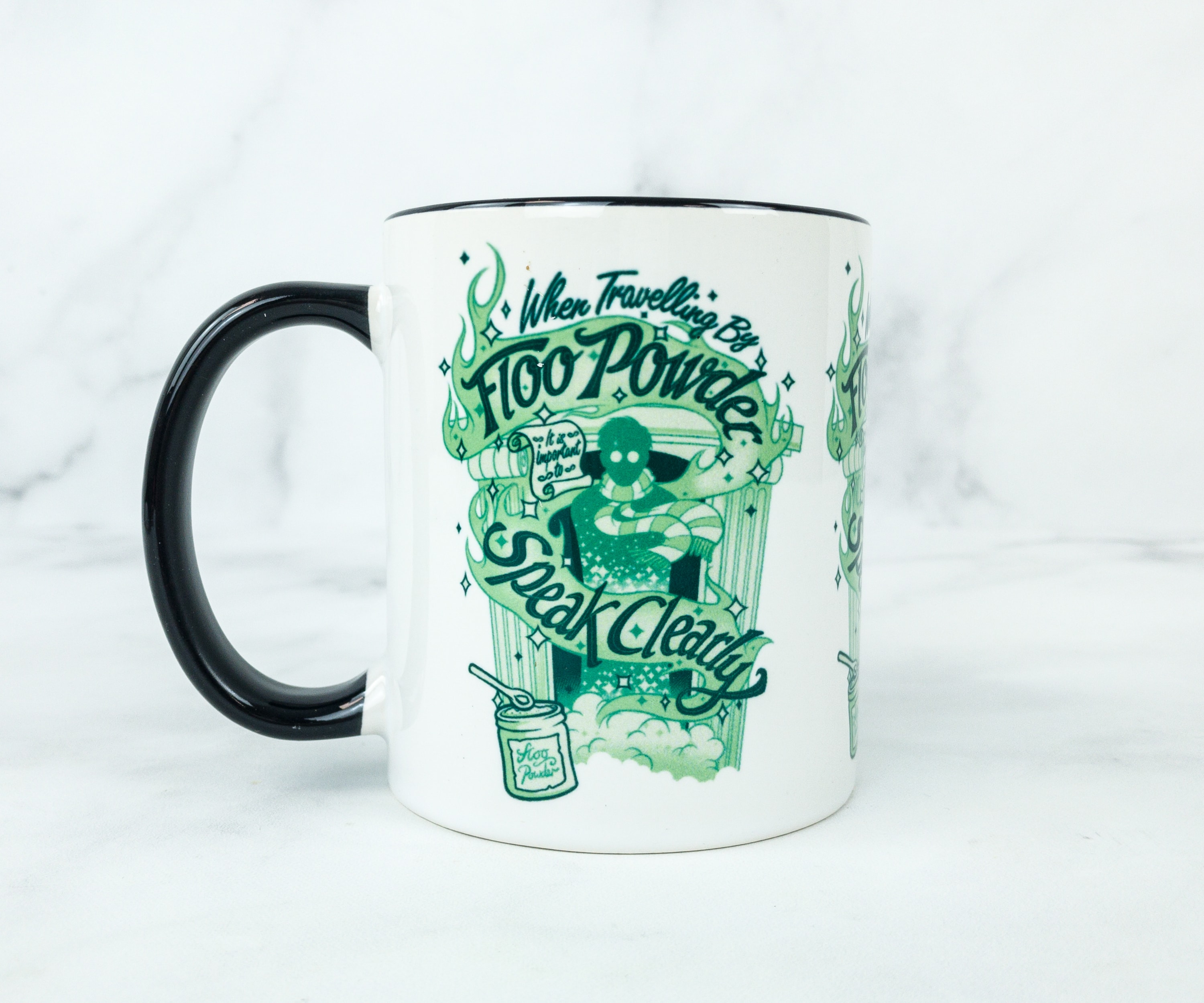 The mug warns us about speaking clearly when using Floo Powder or end up like Harry going to the wrong place!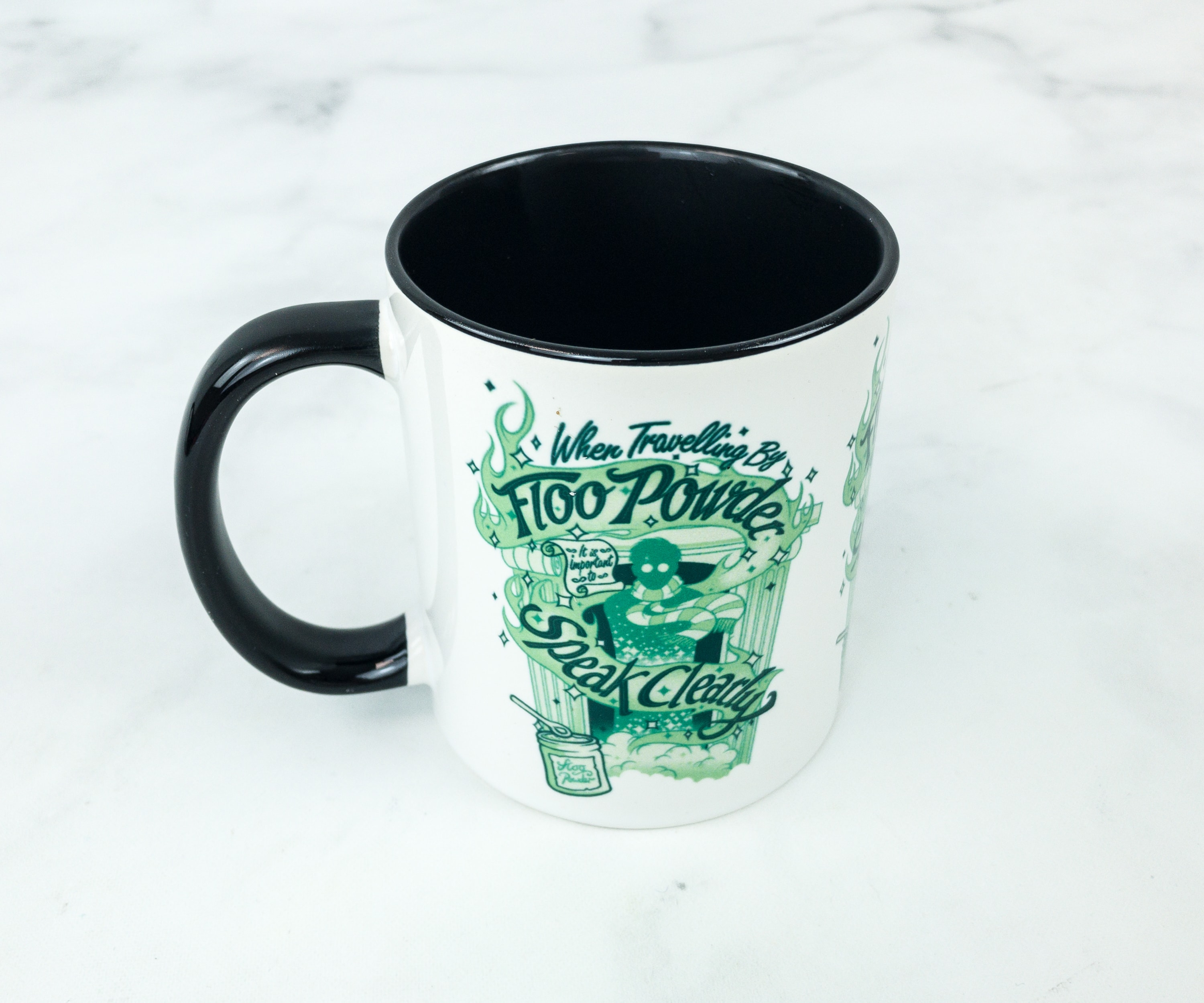 I love the design of this mug. The exterior is in white, and the handle and the interior are in black.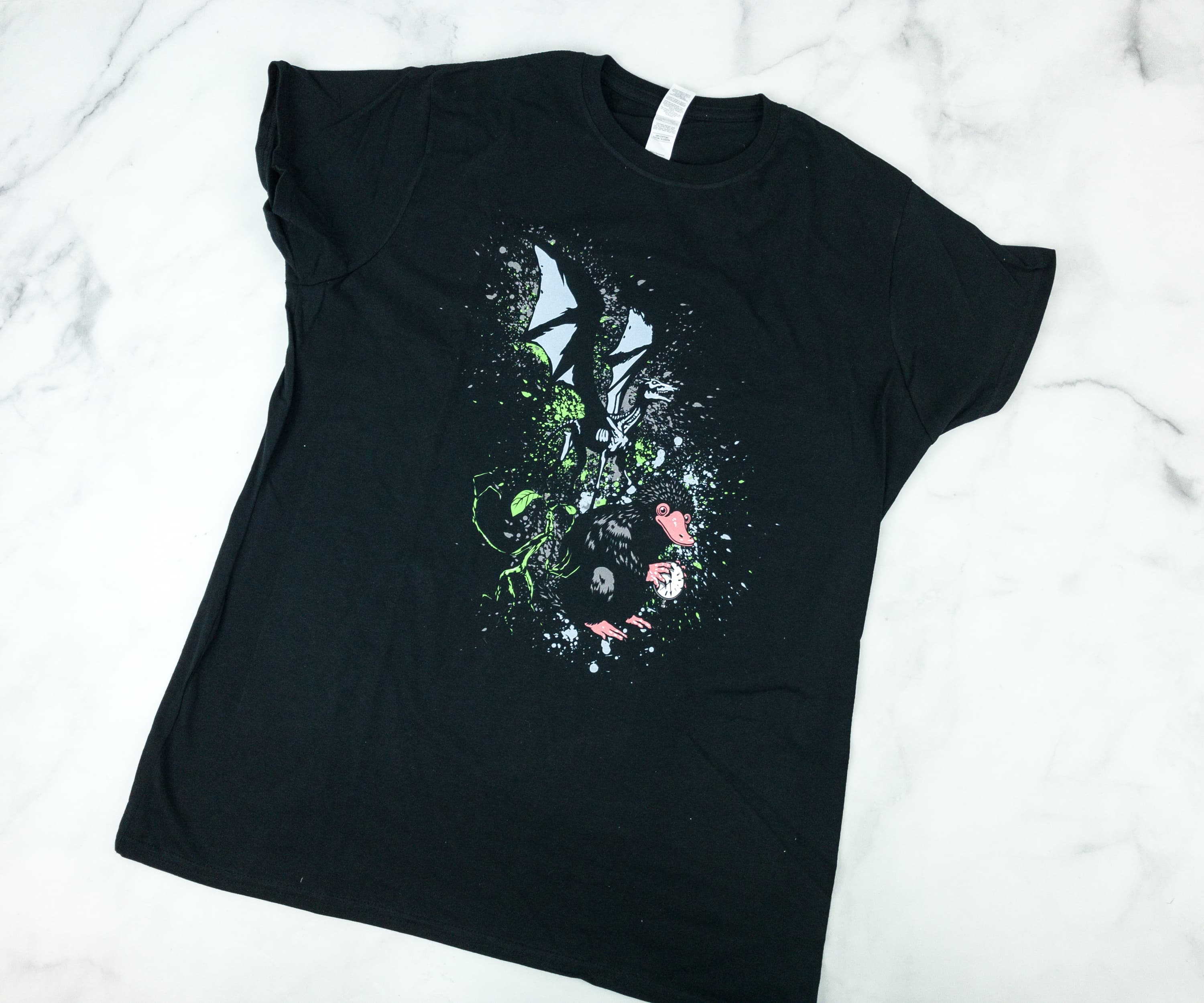 T-Shirt (£11.99) This month's Gildan black shirt is love! It features some of the Fantastic Beasts that Newt Scamander is taking care of, and there's our favorite Niffler and the Bowtruckle!
The print is really beautiful, and I am fascinated that even the shirt comes in black and the illustrations come in dark colors, you can still see their beauty.
Long-Sleeve T-Shirt (£14.99) And to add to my layer of clothes for cold winter nights, I got this white long-sleeved top with a stained glass inspired print!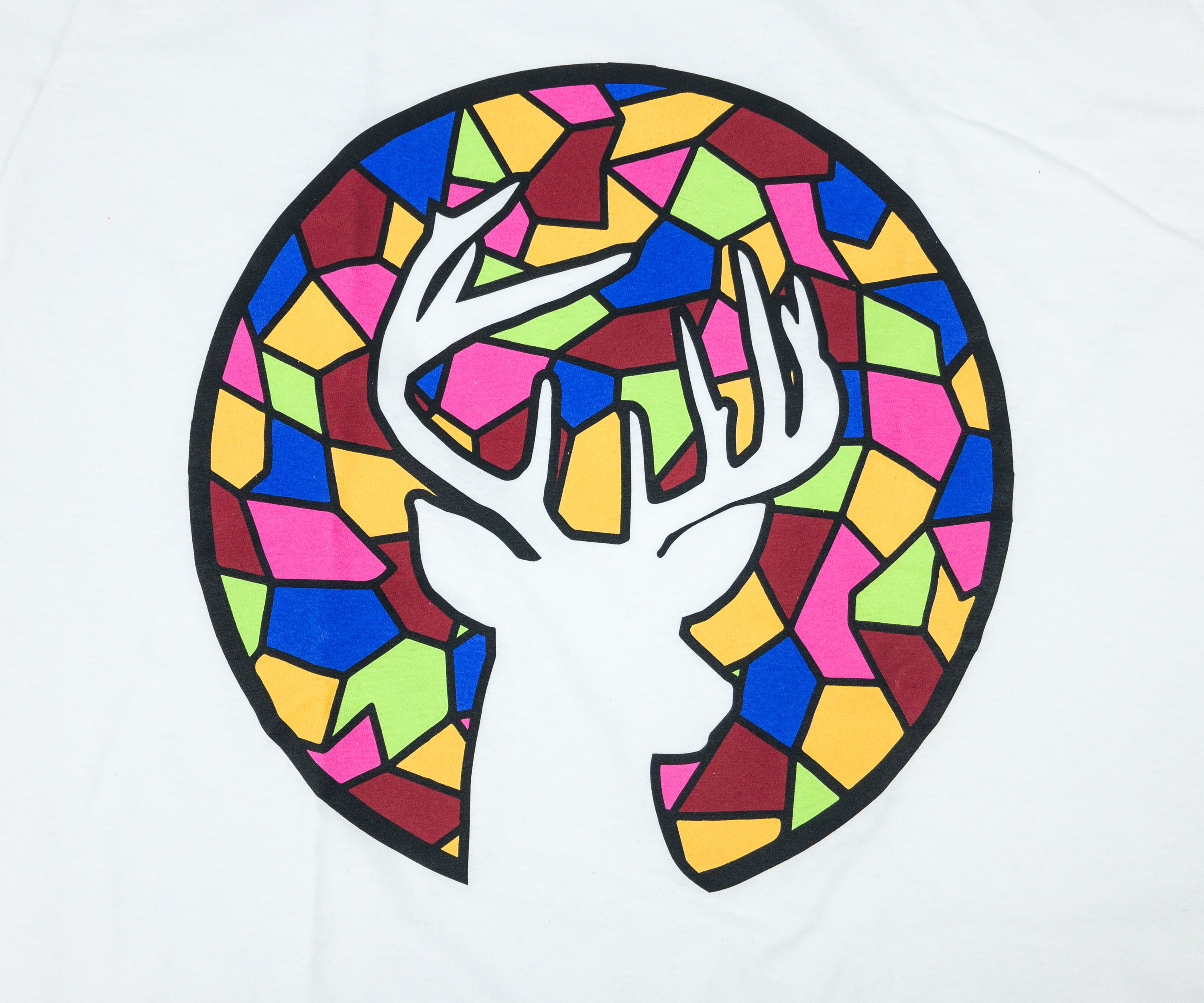 The stained glass figure is perfect for the overall white color of the shirt, and really emphasized the star of the shirt which is the Stag! I know James and Harry will really love this shirt!
Special Edition boxes from the Wizarding World do not disappoint, that's why we're really excited whenever one arrives at our door! This month, we got a bunch of wearables plus displays that I don't mind filling my display cabinets with! The Quidditch related items like the broomstick figure and the framed print really took us back to the Quidditch Cup Finals in 1994 between Ireland and Bulgaria, and how Barty Crouch Jr. cast the Dark Mark into the sky. My favorite item in this box, aside from the cool wearables, is my very own replica of the Elder Wand! It's such an iconic wand in the Wizarding World, even Death made it himself and is one of the legendary trio of the Deathly Hallows. The wand outshines all the other wands in my opinion because of its unique design and the materials from the Wizarding World to make it.
FYI – December GeekGear boxes were all delayed, but are finally showing up. We're expecting ours soon!
What did you think of the special edition World of Wizardry Geek Gear box?
Visit Geek Gear World of Wizardry Special Edition to subscribe or find out more!