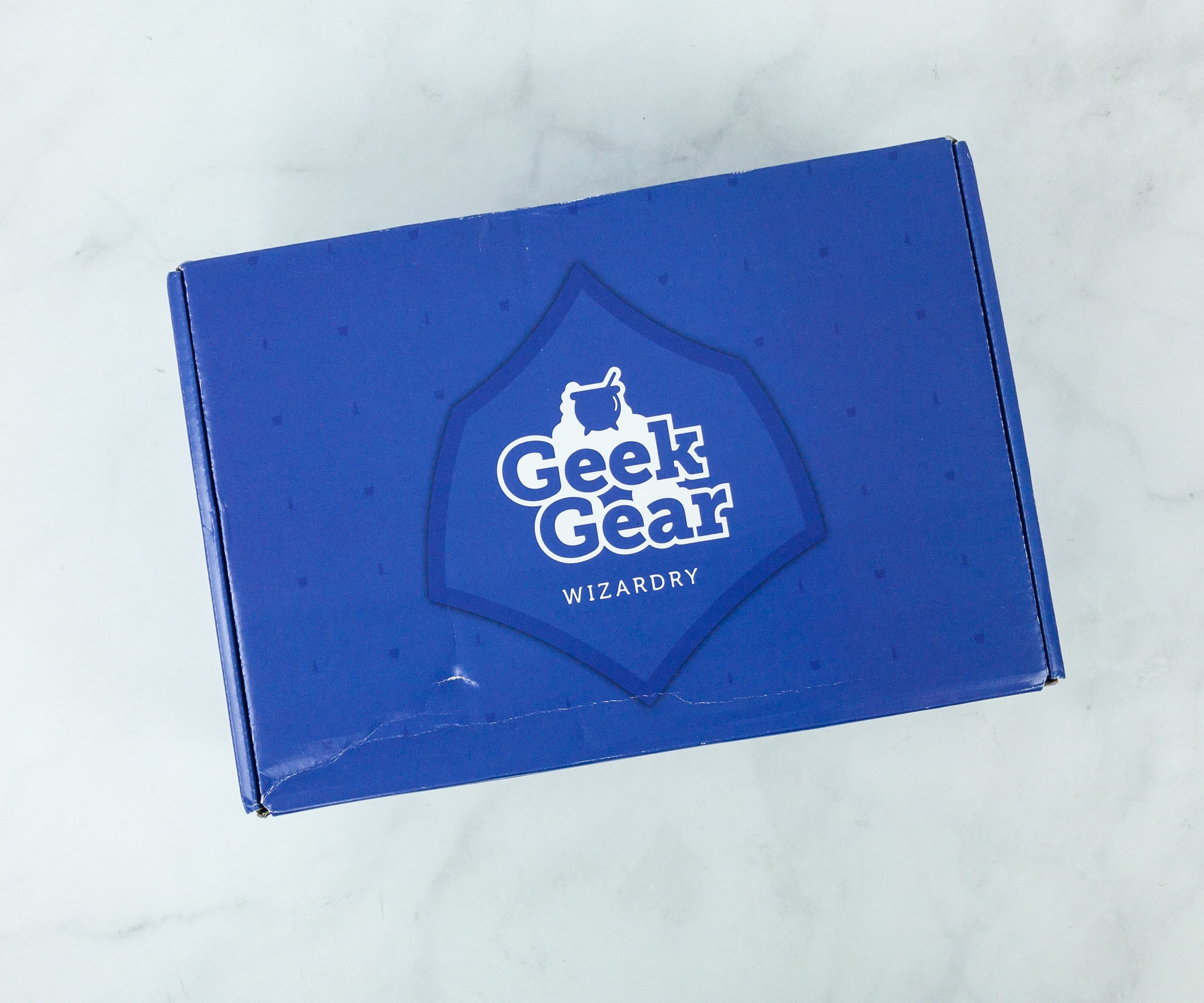 The Geek Gear World of Wizardry is a monthly Harry Potter themed edition subscription box. Every month, you'll receive a box filled with licensed or exclusive Harry Potter merchandise personalized to your chosen Hogwarts House, for only £24.99! 
DEAL: Save 15% off with code SPECIAL15!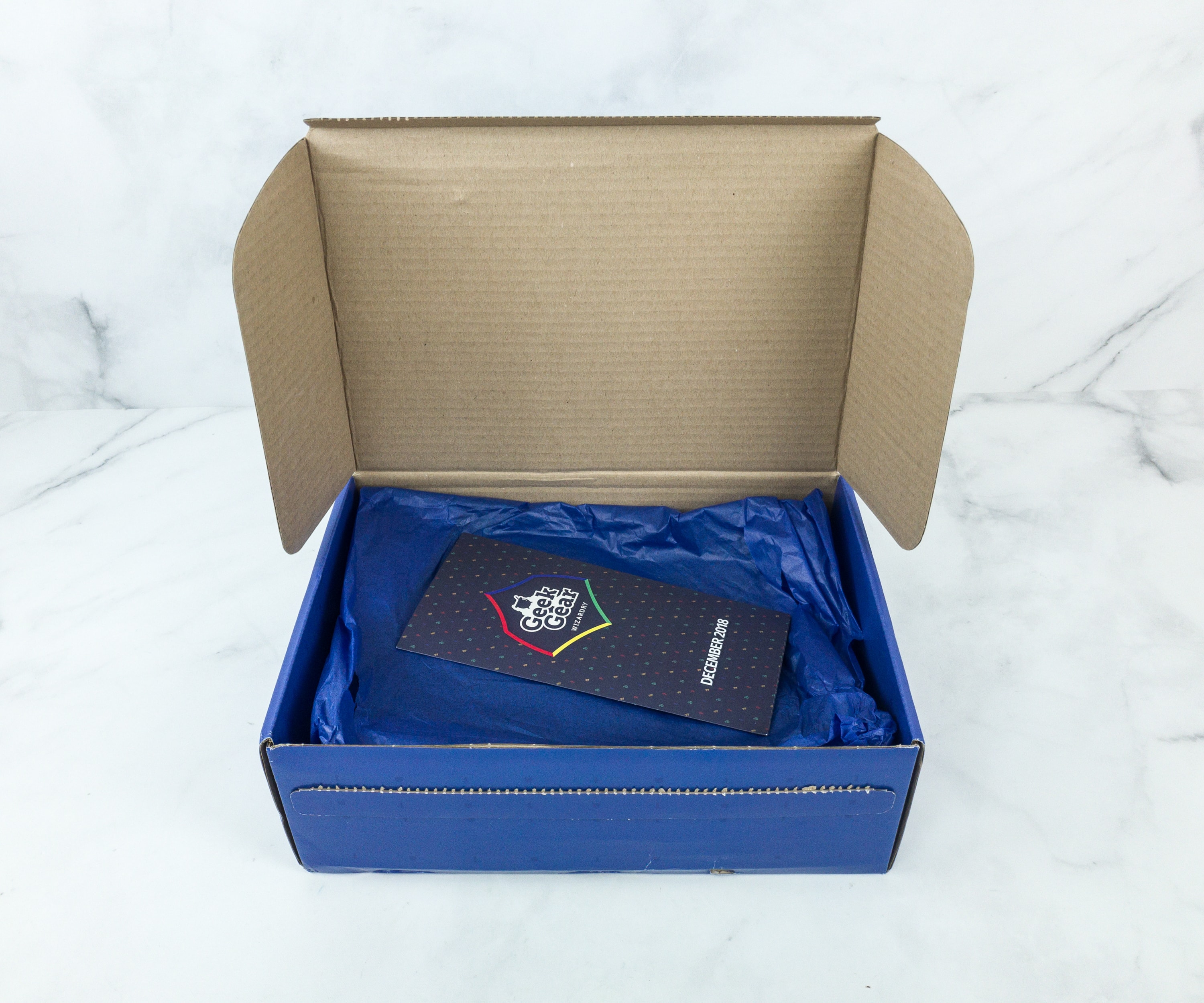 The items were wrapped in blue tissue paper.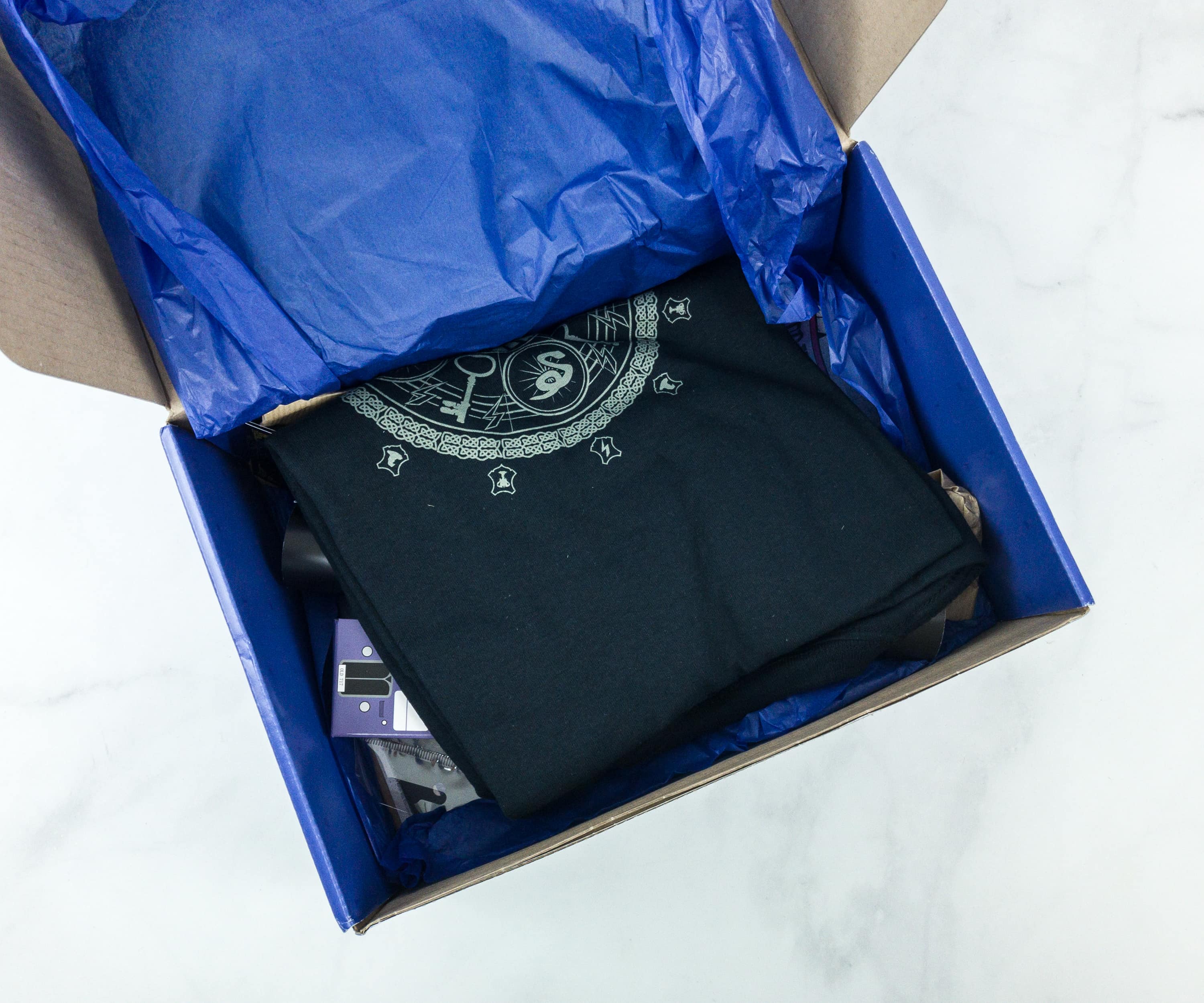 Here's the last Geek Gear WOW box for 2018 and I'm really excited to unbox it!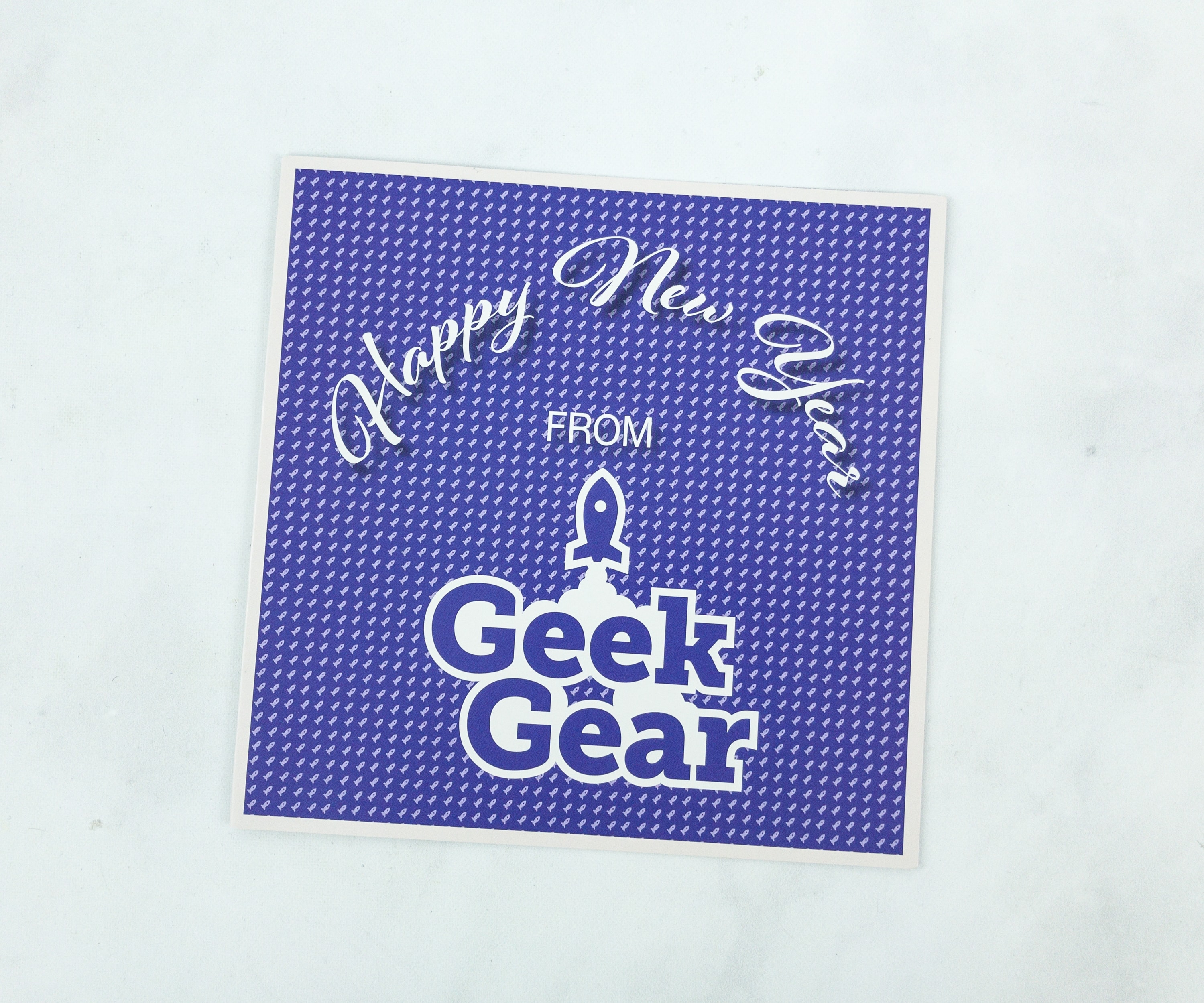 There's also a greeting from Geek Gear, wishing us all a Happy New Year!
Inside the card are more well wishes from the team!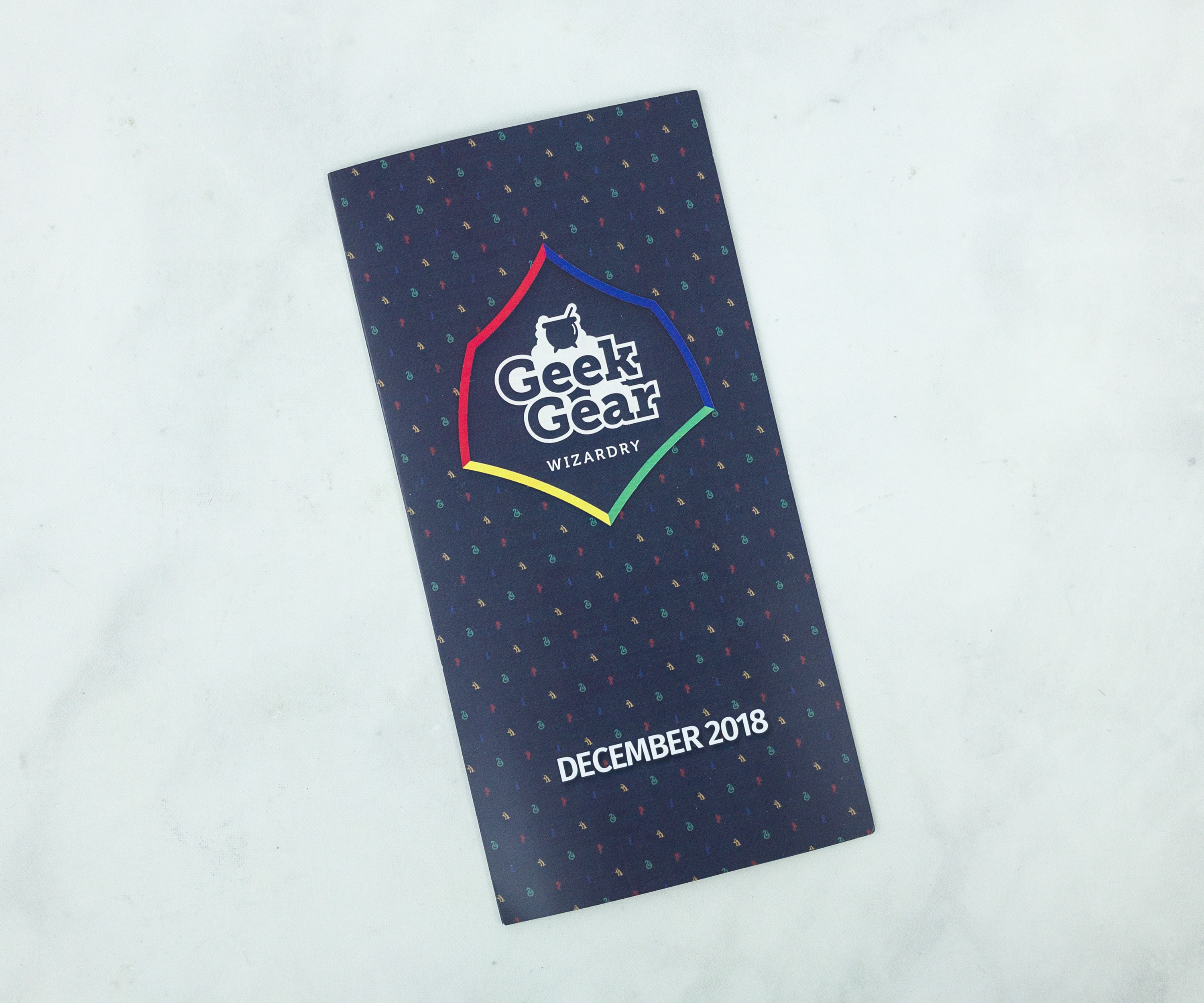 A tri-fold pamphlet is included, which gives more information about this month's box contents.
It gives you a full list of all that's in your box.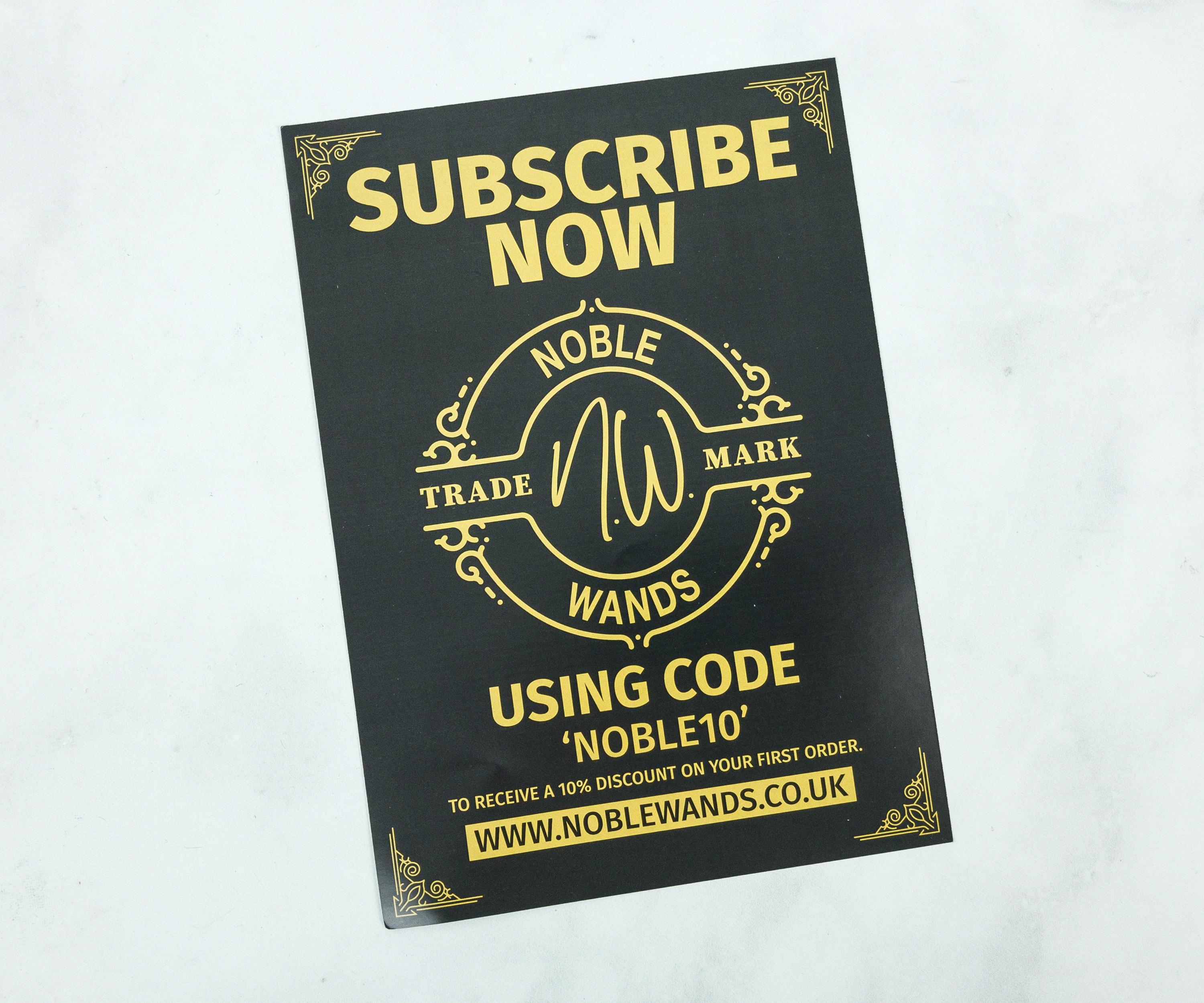 Subscribe to Noble Wands and receive a 10% discount on your first order using the code.
Noble Wands is a brand new subscription that sends out an exclusive wand every month.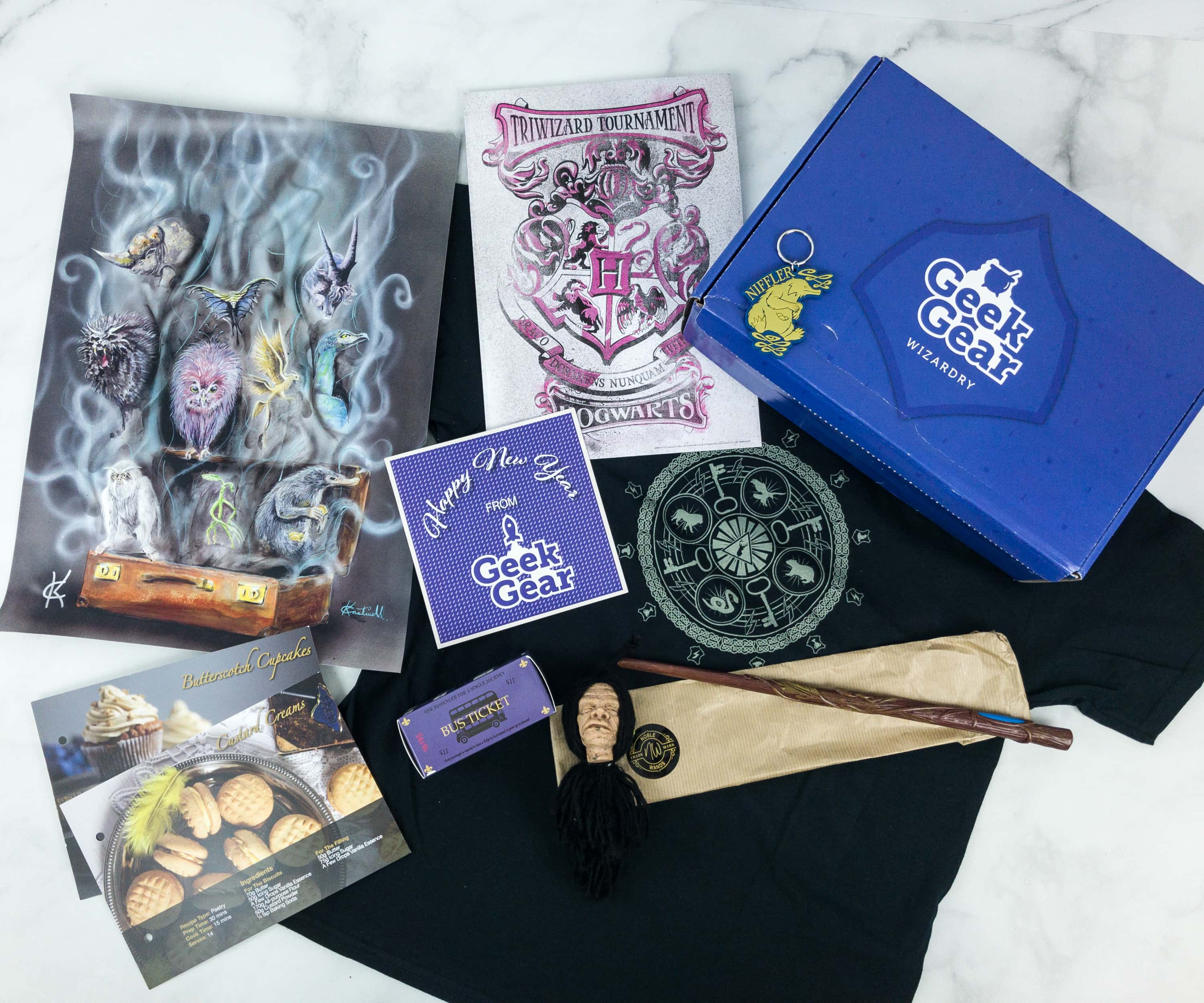 Everything in my box!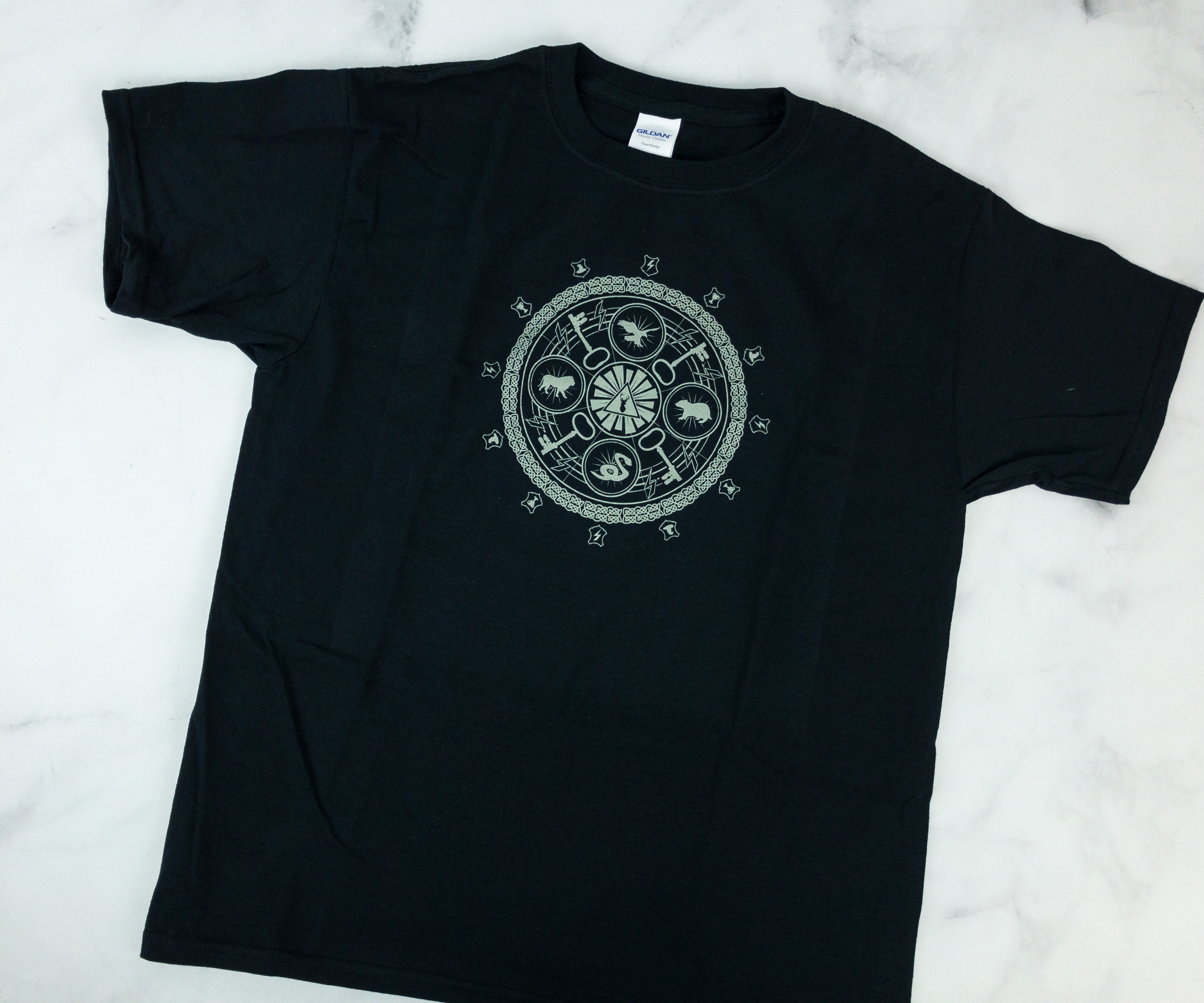 Wizardry T-Shirt (£9.99) This black Gildan features all four houses in Hogwarts! It's house-neutral so any wizard (Potterhead) can wear this cool shirt!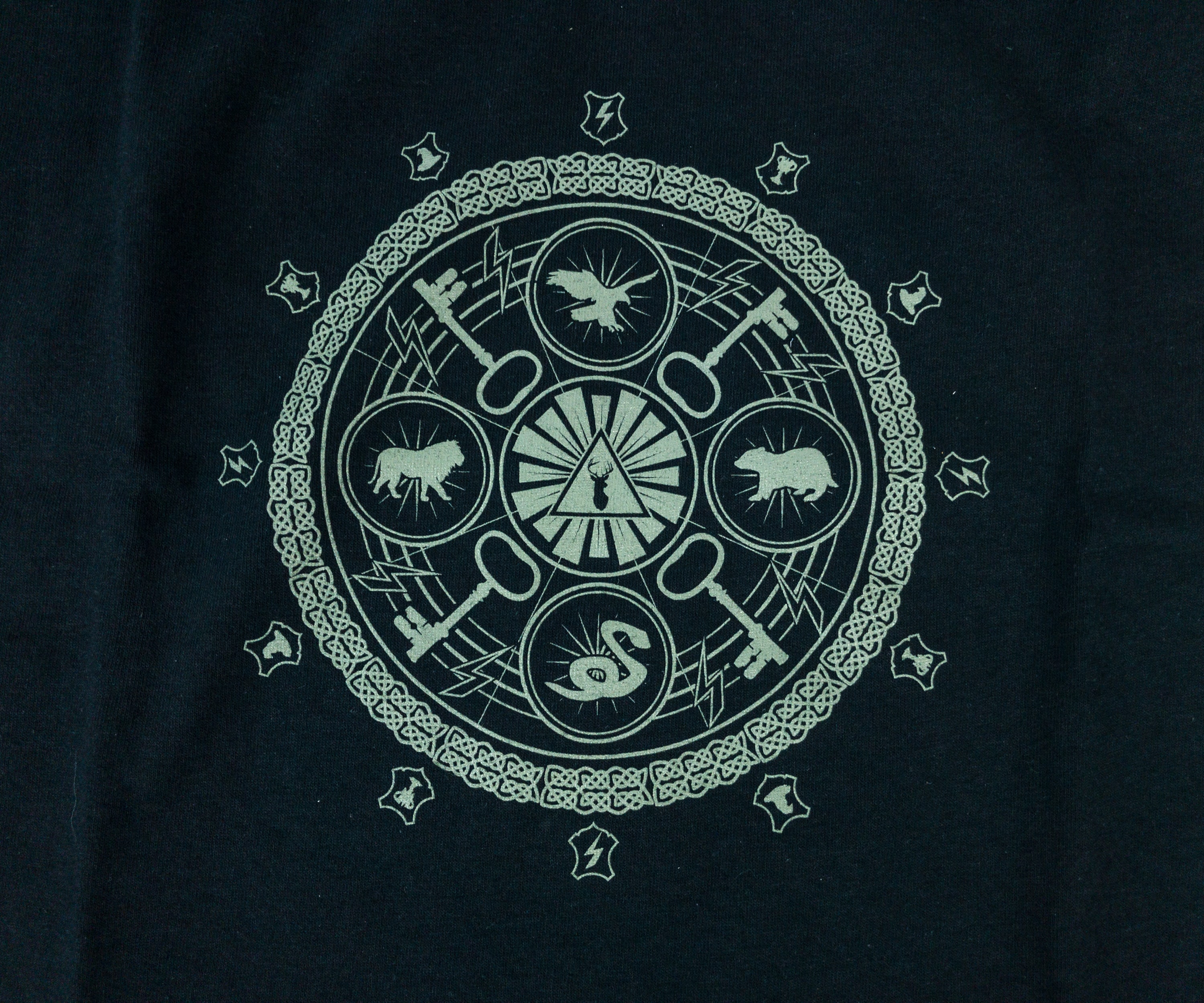 It has the symbols of all the houses, some keys, and the stag at the middle. Outside the circular design are other symbols from the franchise like the lightning bolt and I think one is a goblet.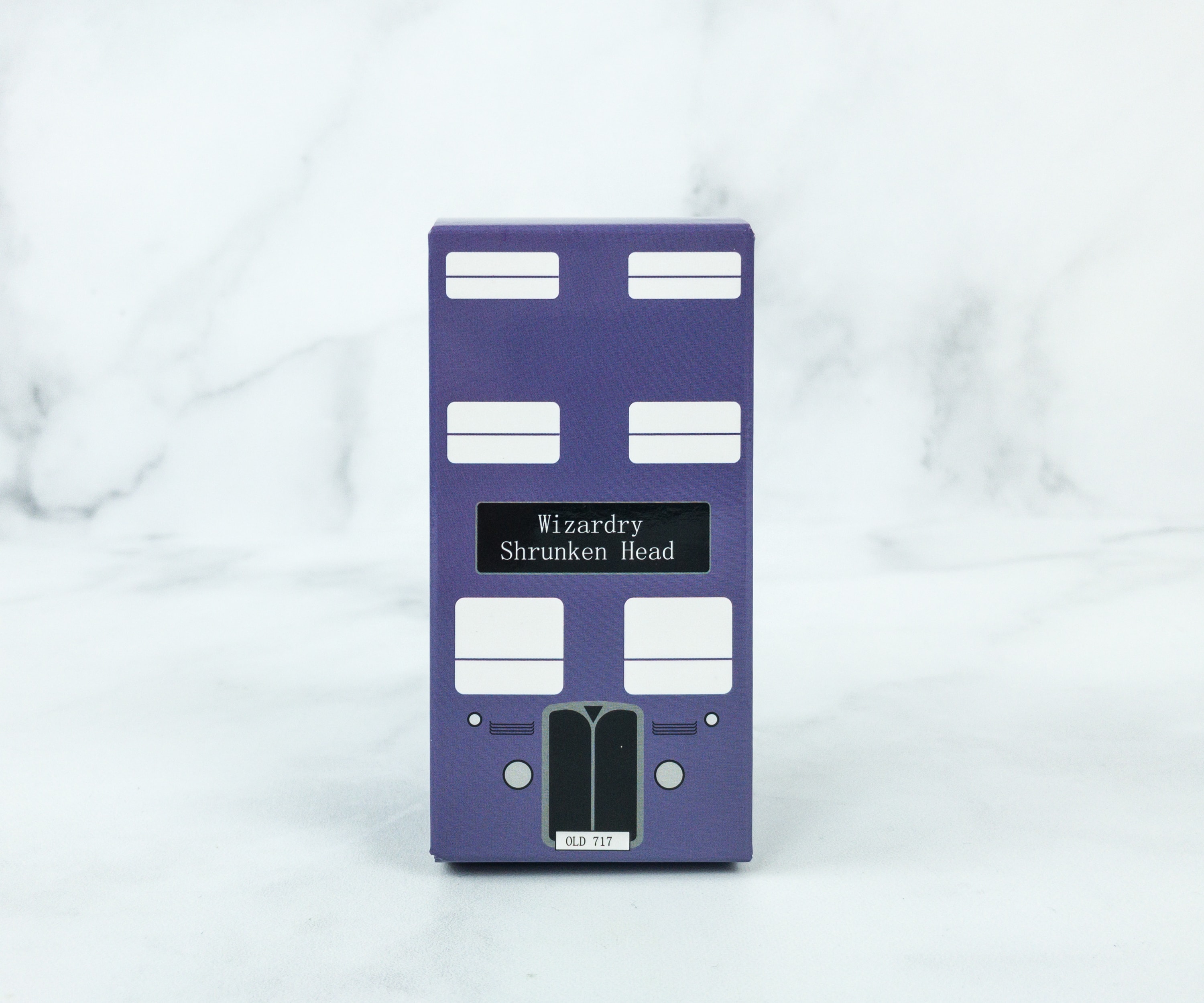 Wizardry Shrunken Head (£9.99) Of course the Shrunken Head is located inside the Knight bus, so it's just right that it comes in one!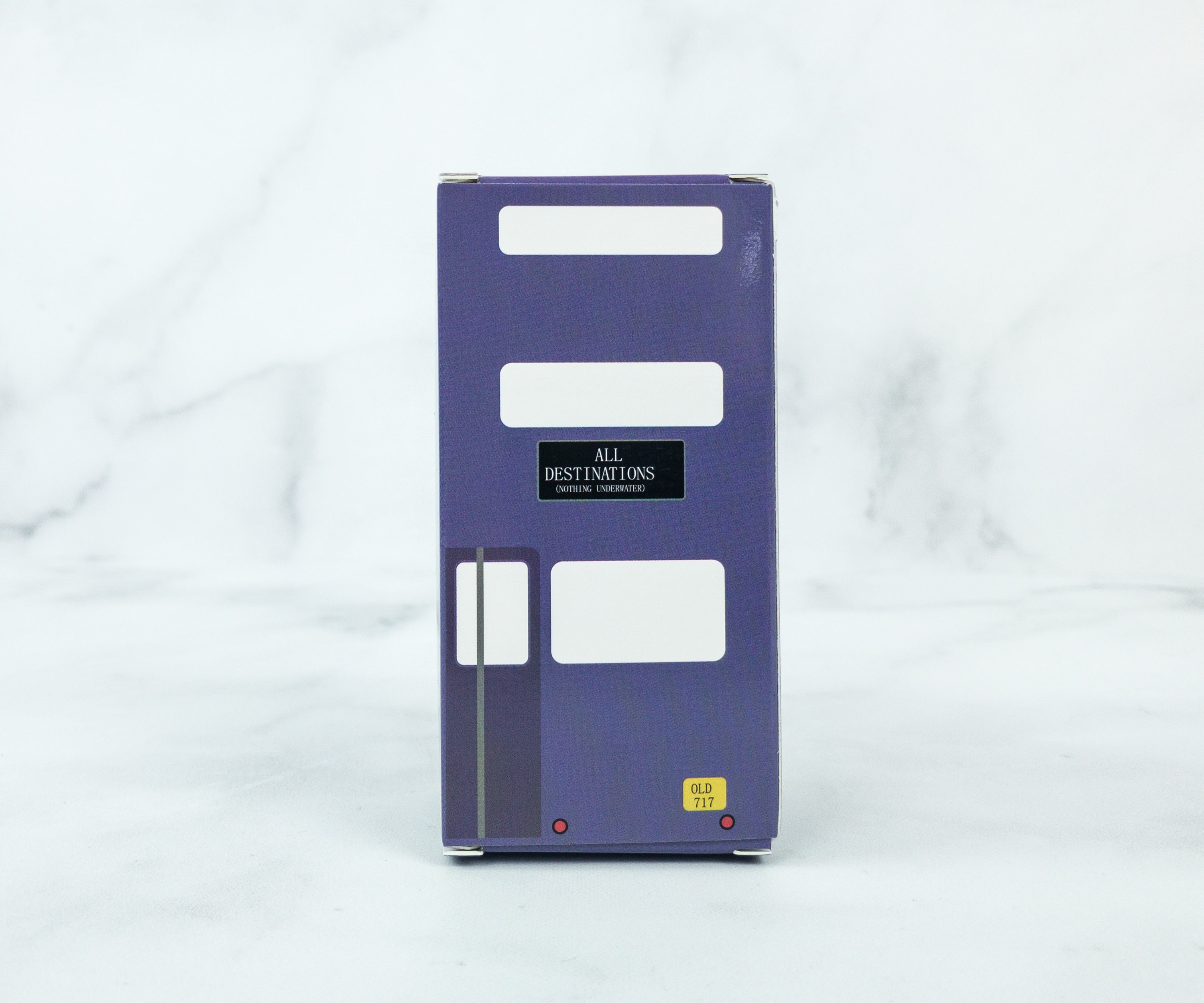 The Knight Bus is a triple-decker purple bus that assists stranded individuals of the wizarding community through public transportation.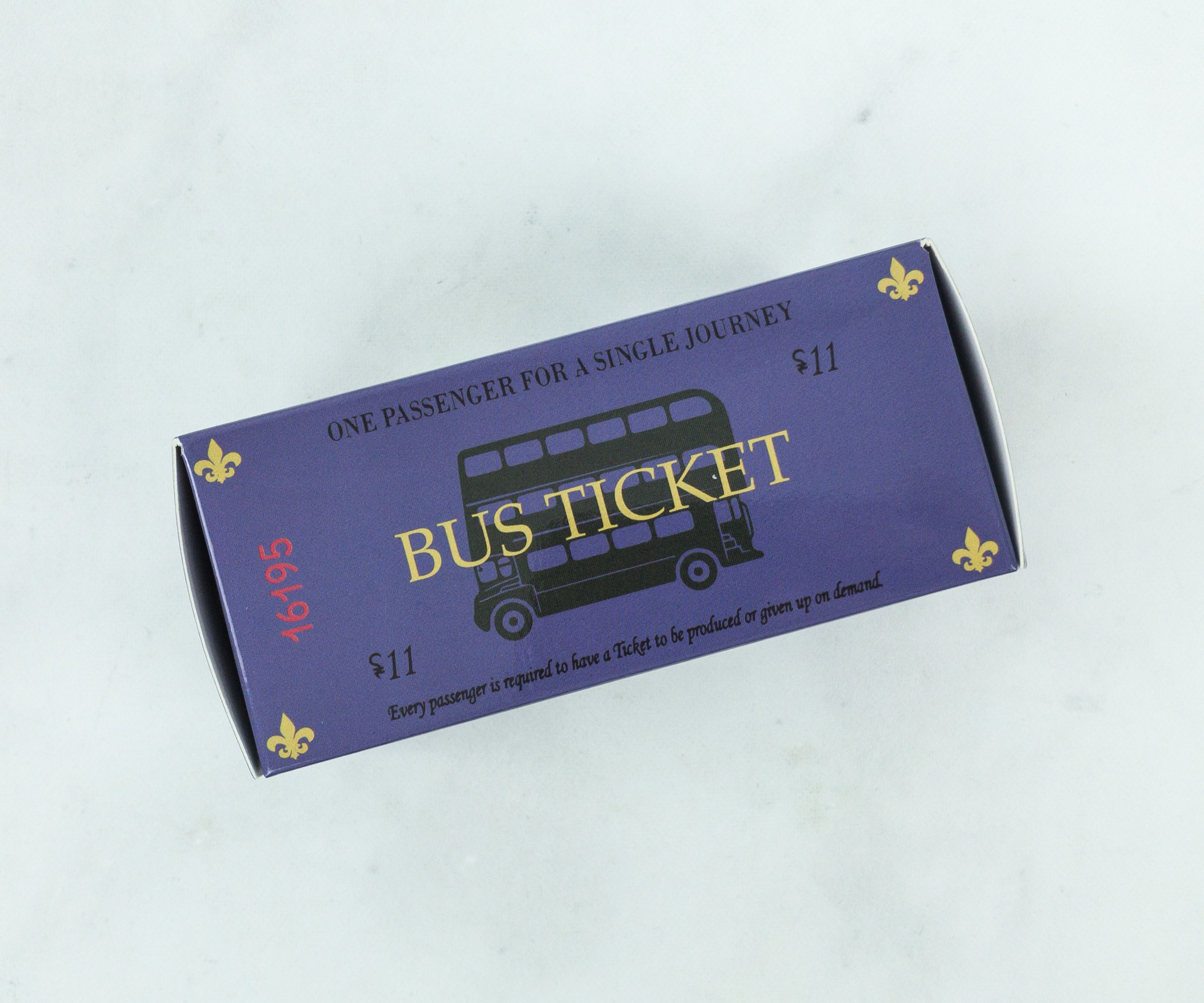 As much as you can become a chance passenger of this bus which travels very fast and can overcome any obstacle, you can just book a ticket to experience this "ride of your life"!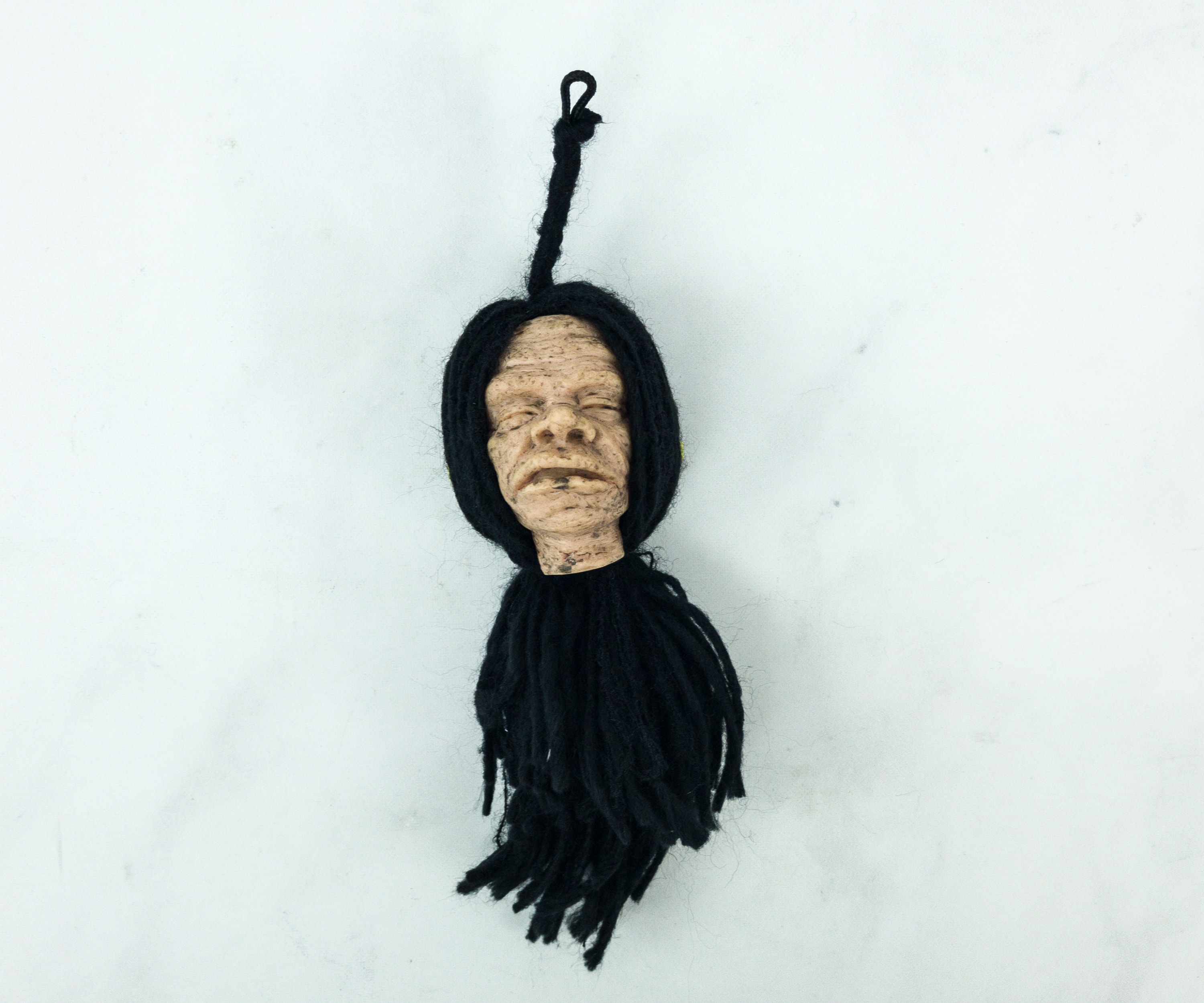 The Shrunken Head in the Knight Bus is Dre Head, which is an accessory that often speaks with passengers in a Jamaican accent, and he also has this dreadlocks-styled hair.
He is also very observant, which makes him the perfect companion during travels, and to tell the warning, oncoming obstacles, and hazards to the bus driver, Ernie Prang.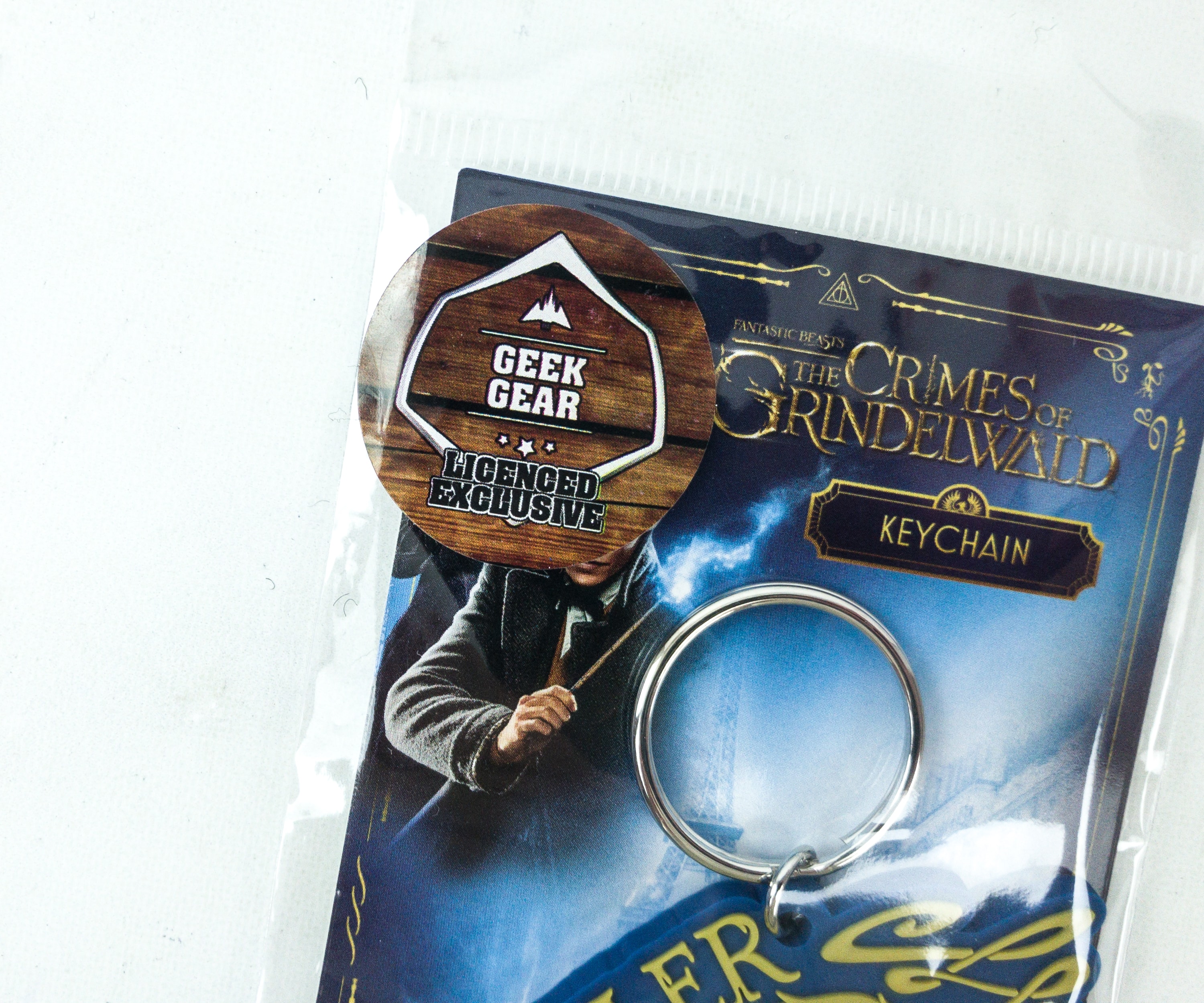 Fantastic Beasts Niffler Keychain (£4.99) The item sealed with the Geek Gear Licenced Exclusive this month is a keychain from the Fantastic Beasts franchise!
And it features our favorite creature, the Niffler! Even if it's not black, this rubber keychain is still adorable! Hang it on your bags or use as a key organizer, I'm sure you'll be the envy of most Potterheads who would love to get their hands on one!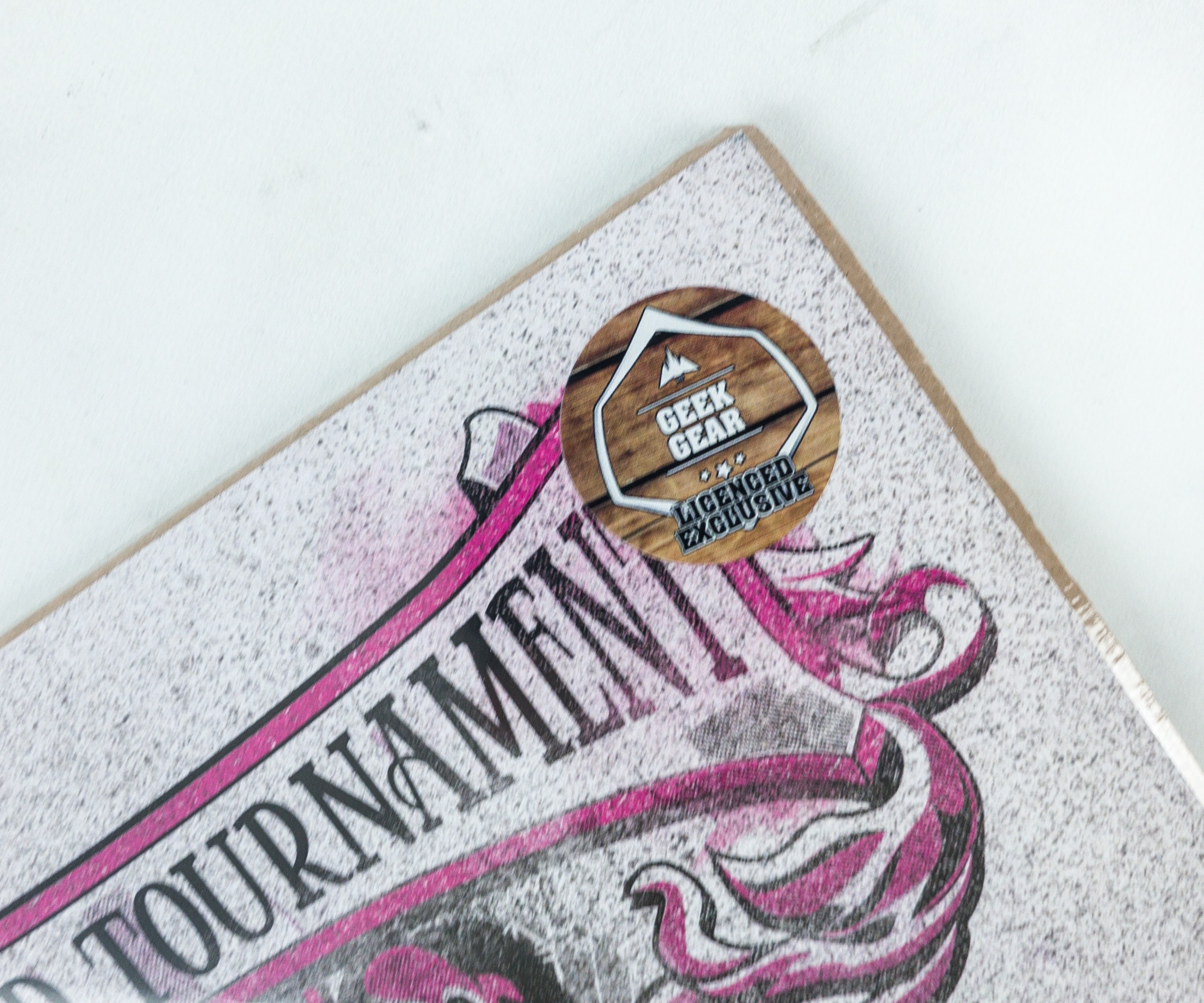 Love Potion Print (£4.99) Another Licenced Exclusive is this Art Print of the Love Potion!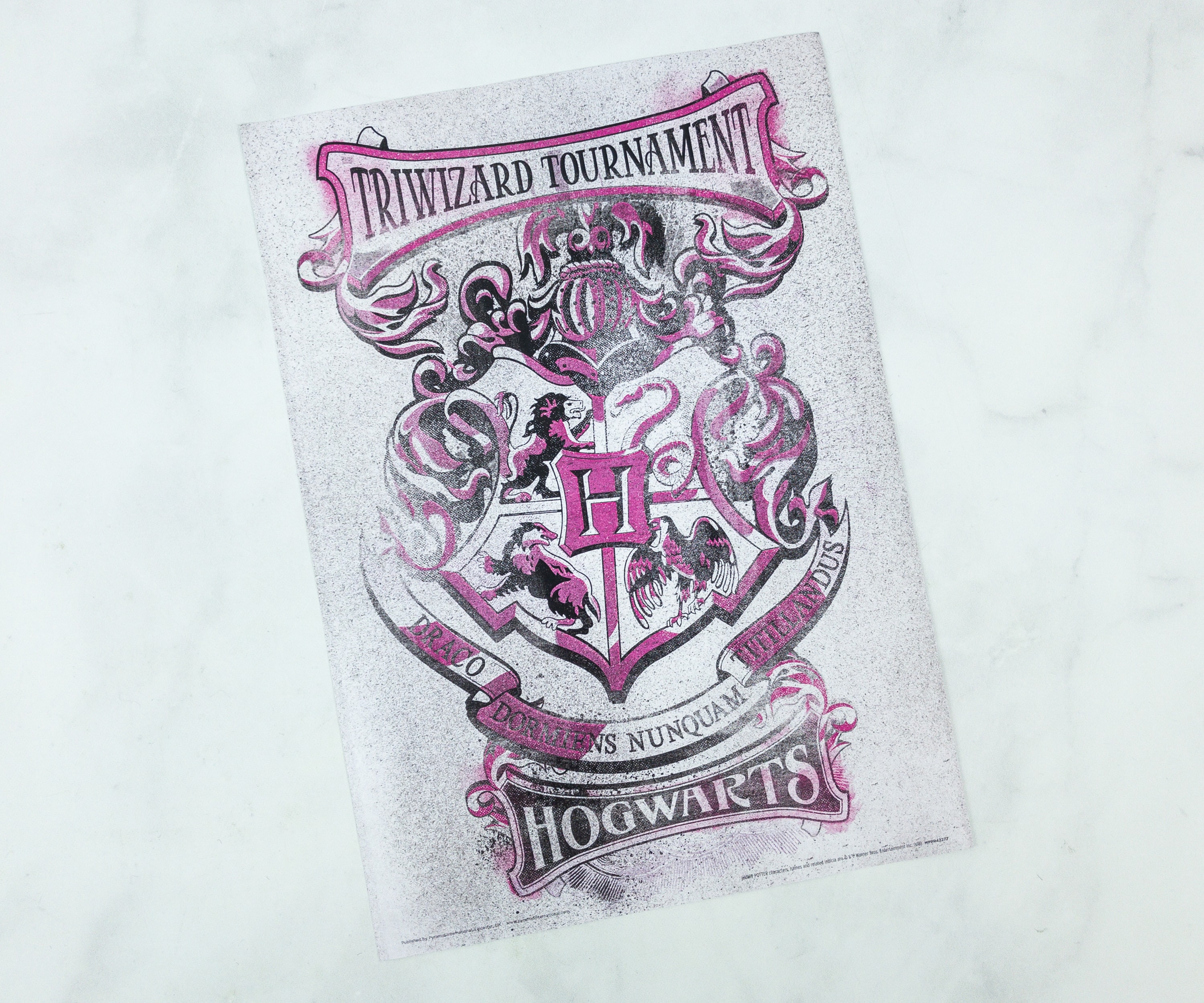 There are two versions of this print that promotes the Triwizard Tourney that had taken place at Hogwarts during Harry's 4th year, between the three largest wizarding schools of Europe: Hogwarts, Durmstrang, and Beauxbatons!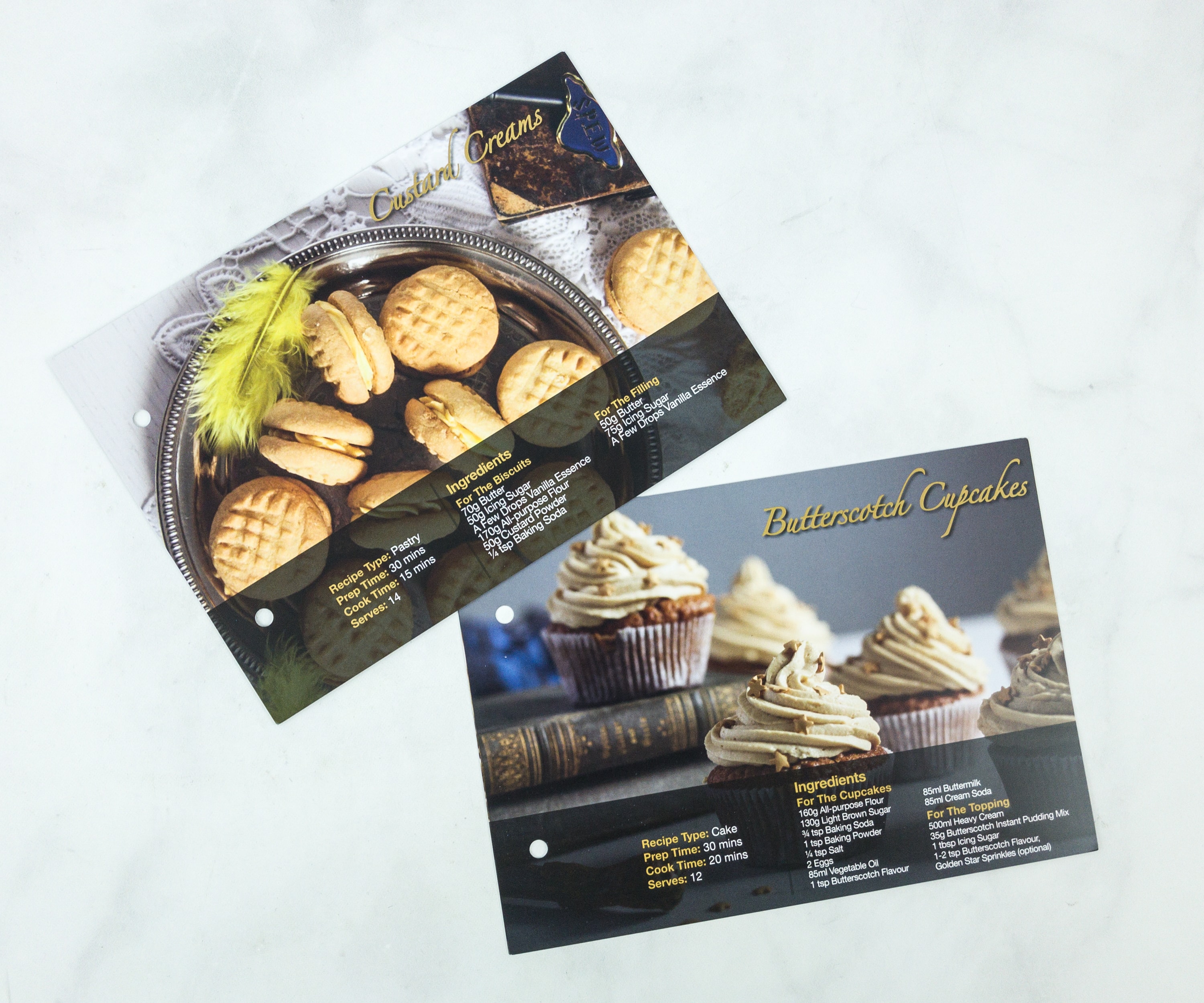 Cook Book Recipes. For this month's Cookbook Recipes, we got Custard Creams & Butterscotch Cupcakes! Wow, these sweet treats sound delicious!
The exclusive recipes are from Where Is My Spoon! The ingredients and some important information about the recipes are found in front of the recipe page. The cards also have binding holes if ever you want to compile them or if you received the January box with the cookbook binder.
However, these are the last of the cookbook series and Geek Gear is working hard on looking for another new and exciting inclusions, in place of these wonderful recipe cards.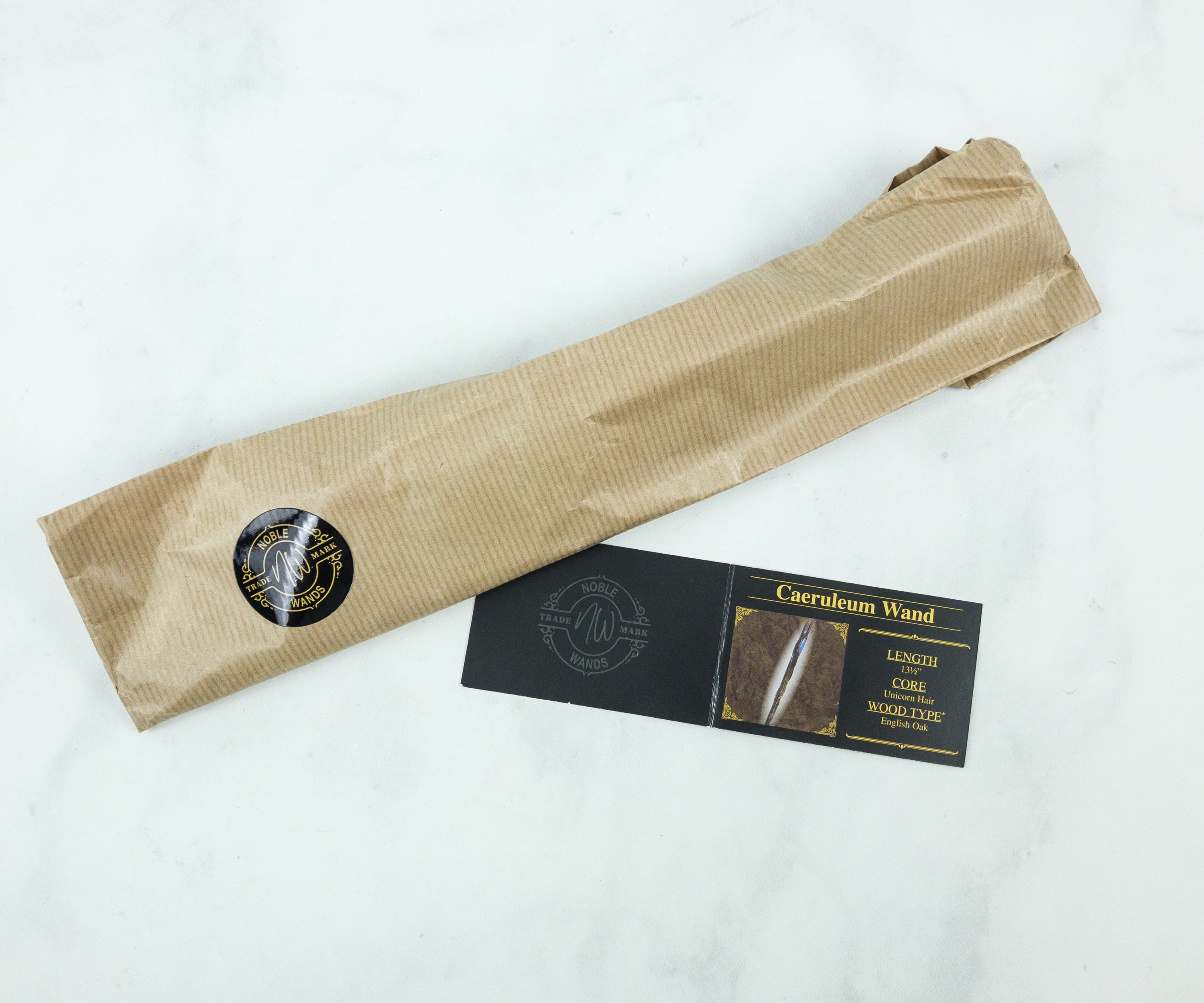 Noble Wand (£19.99) The Noble Wand we got this month is a Caeruleum Wand, which measures 13 1/2 inches made with unicorn hair core and English Oak wood.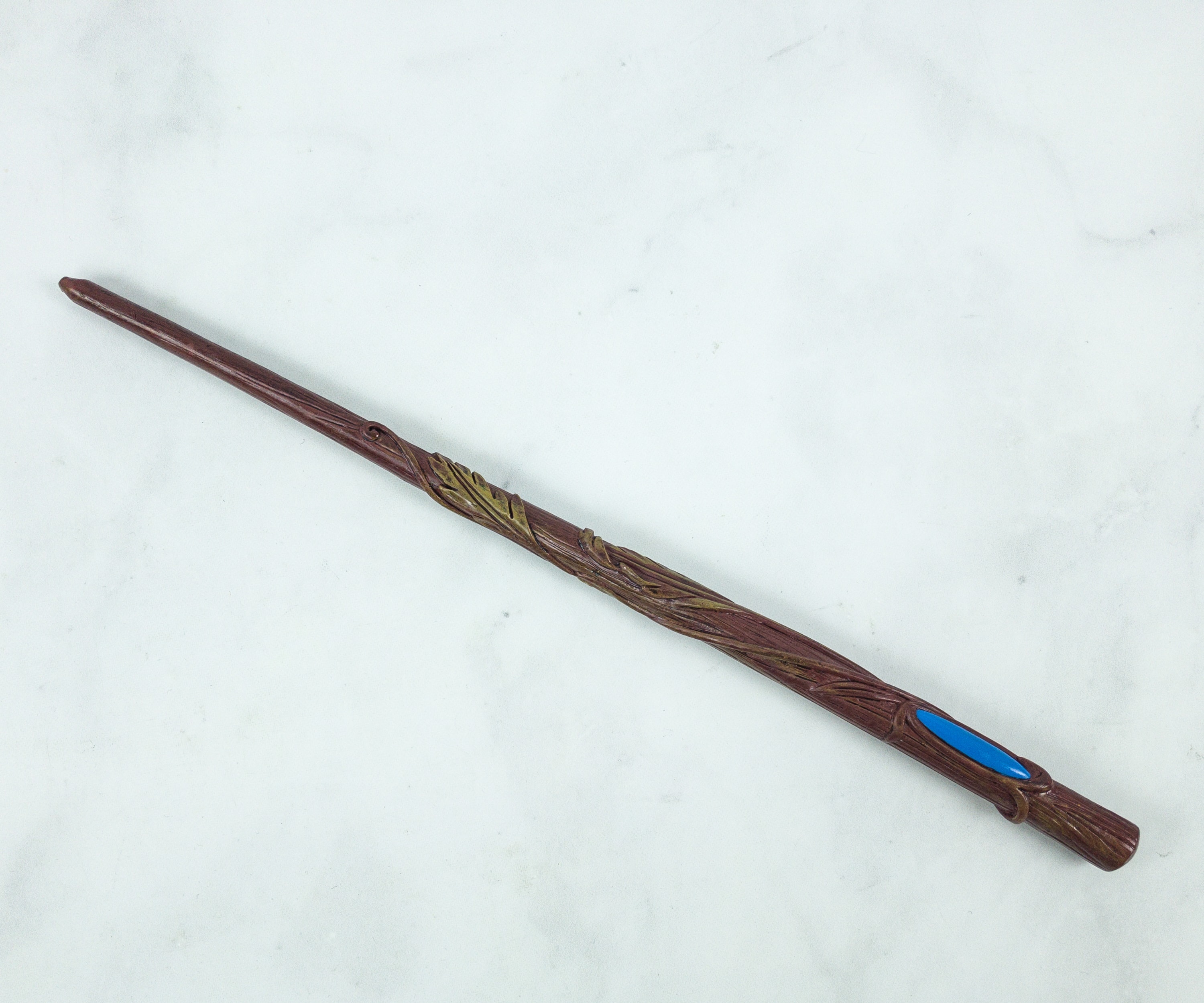 The shaft of the wand looks like it has some vine carvings.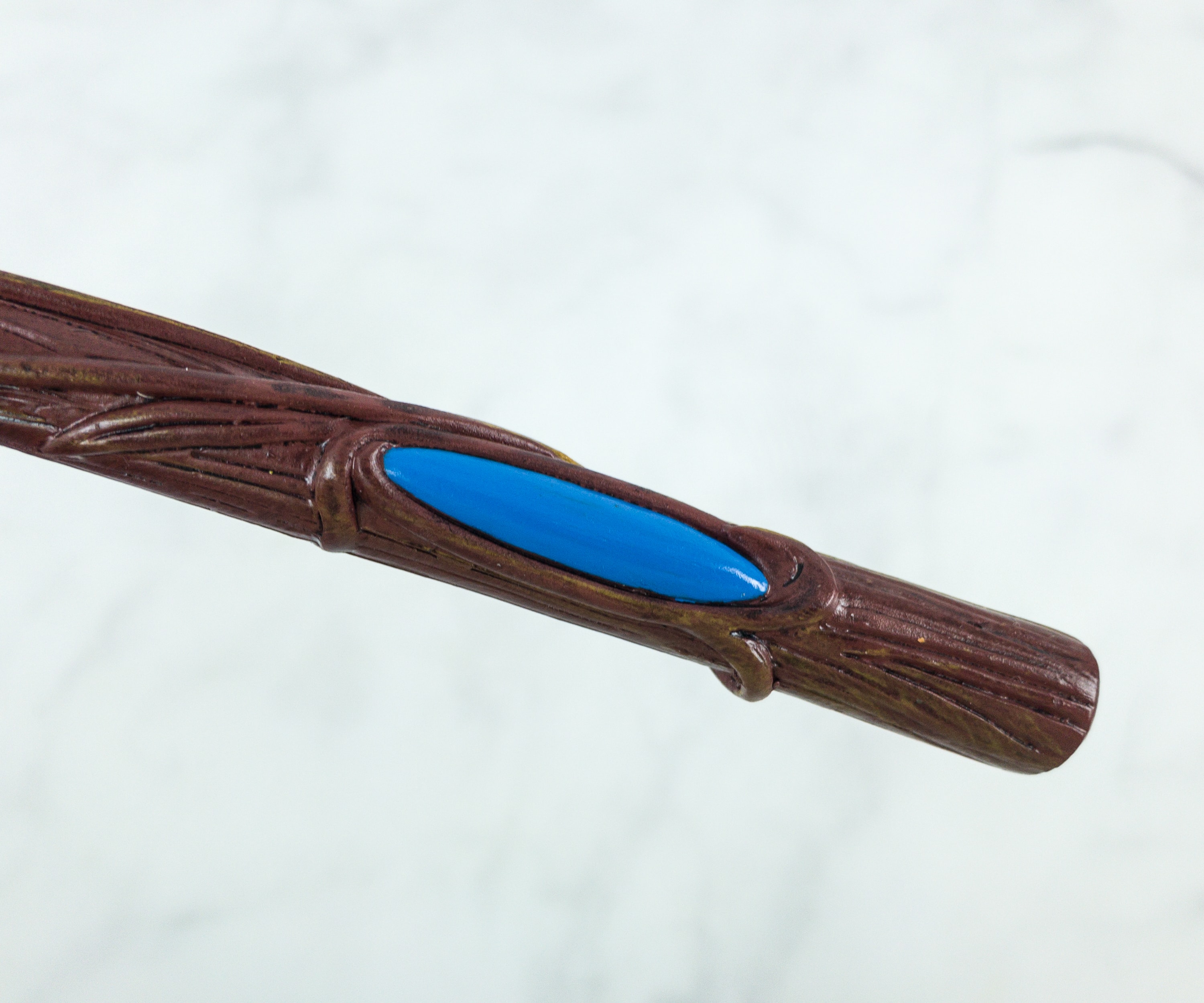 The handle has a blue gem-looking accent on it.
The wand looks regal! I love the addition of those cool details, making it look like a really special and one-of-a-kind, powerful wand!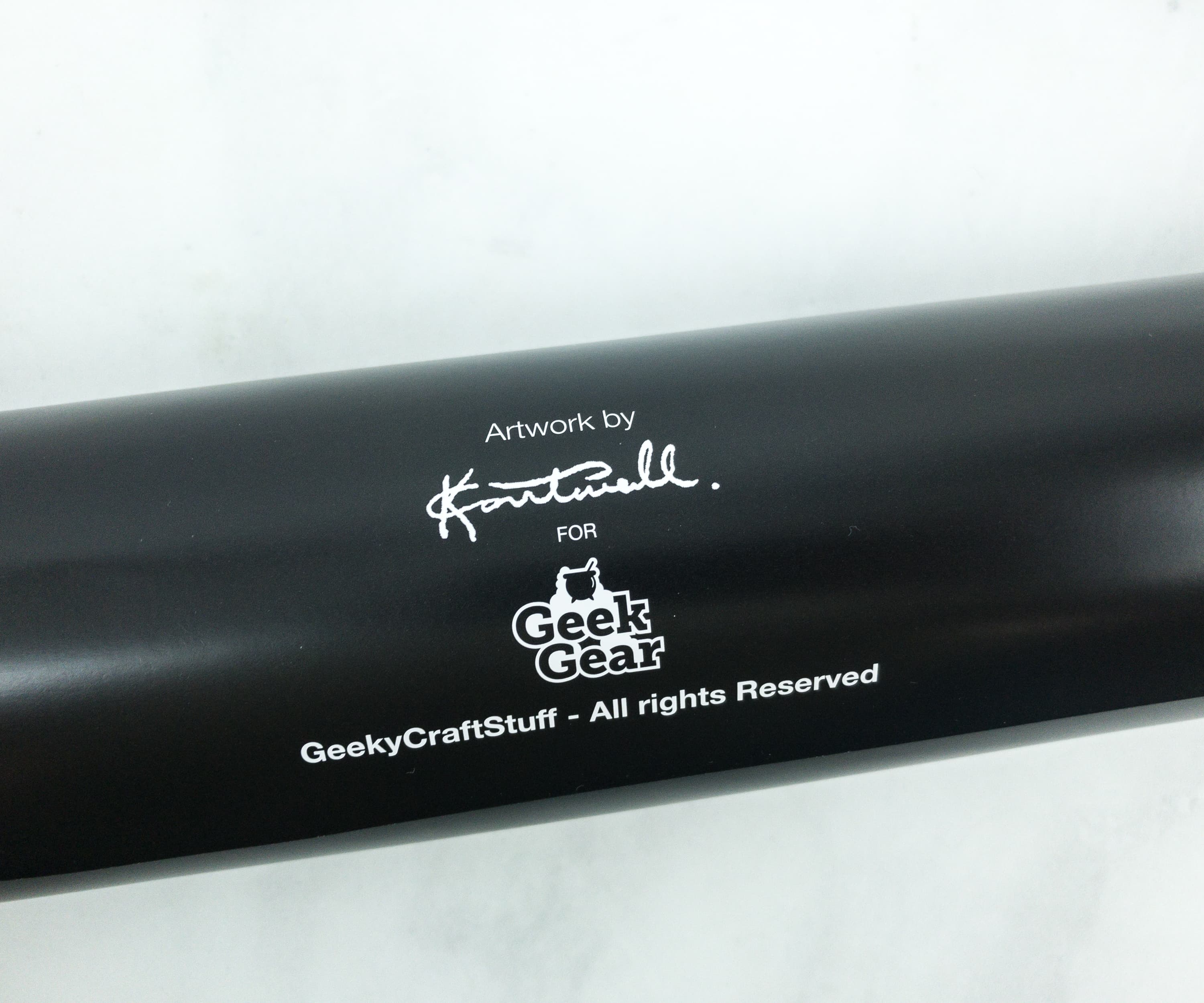 The artwork came rolled and protected!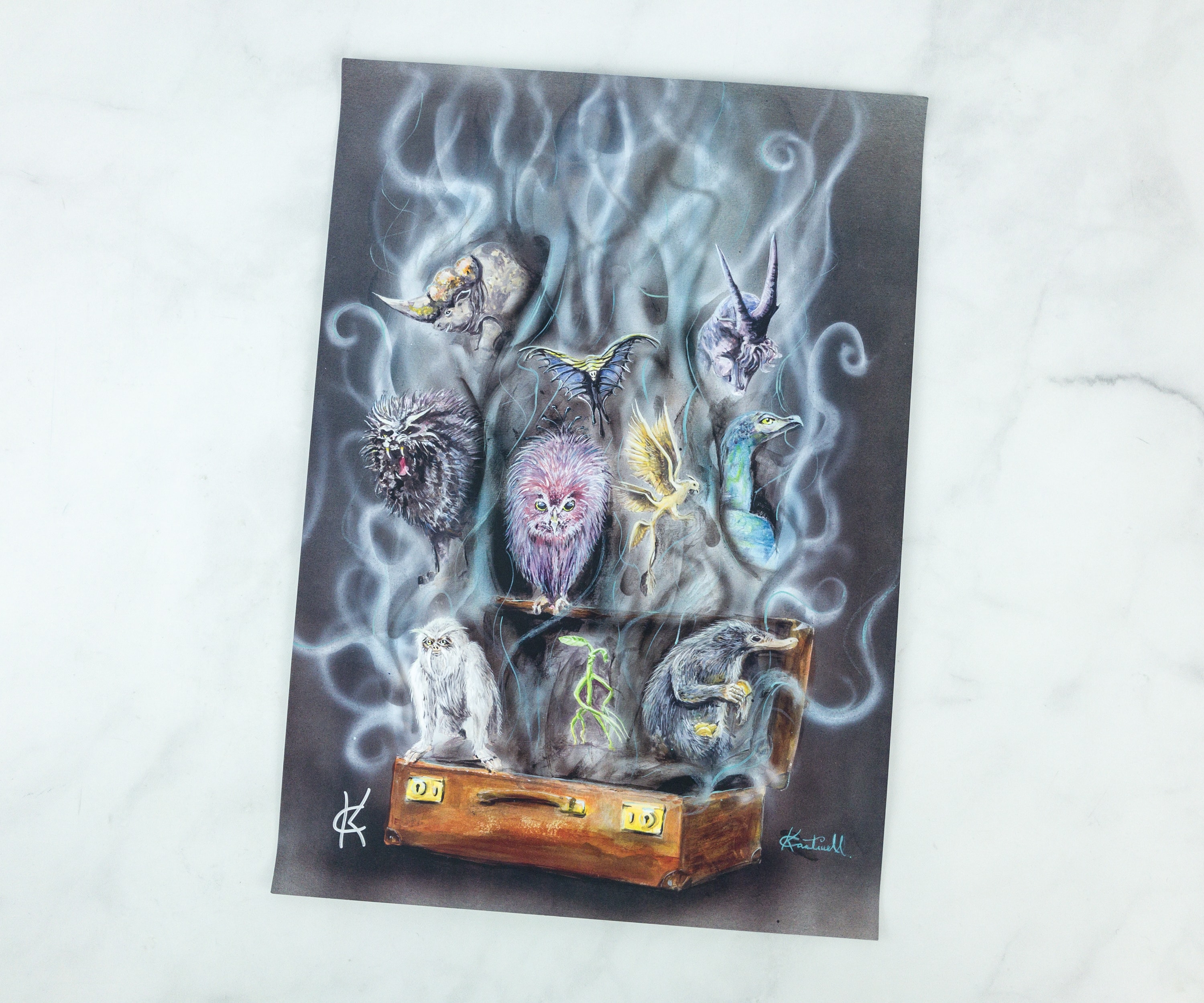 Signed Artist Poster (£9.99) The A3 art this month is by Kevin Cantwell. It features Newt Scamanders' Suitcase opened and revealing some of the creatures he's keeping on it!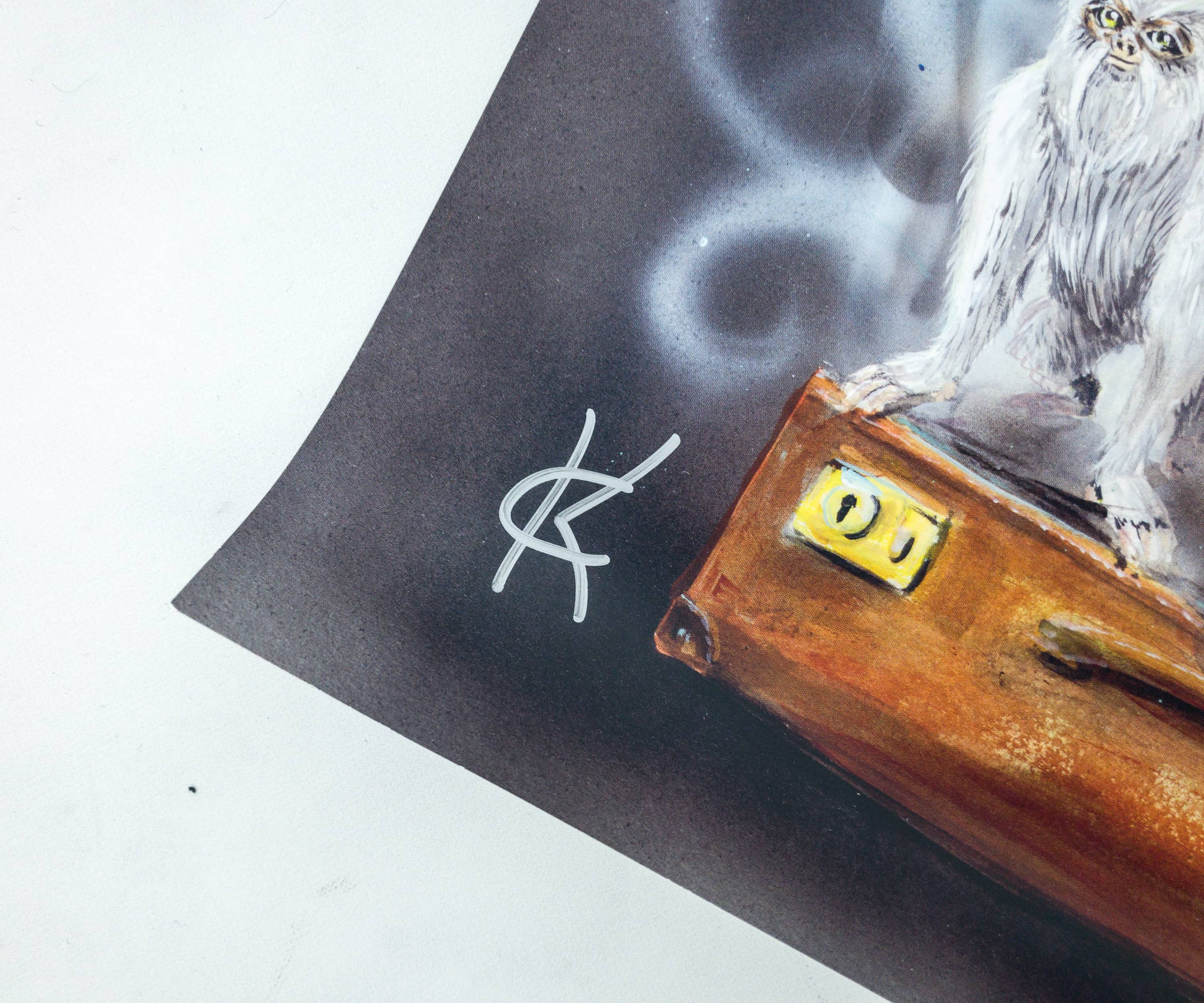 Our artwork has the creator's initials at the bottom left corner. The art is so beautiful, I can't wait to hang it on our wall!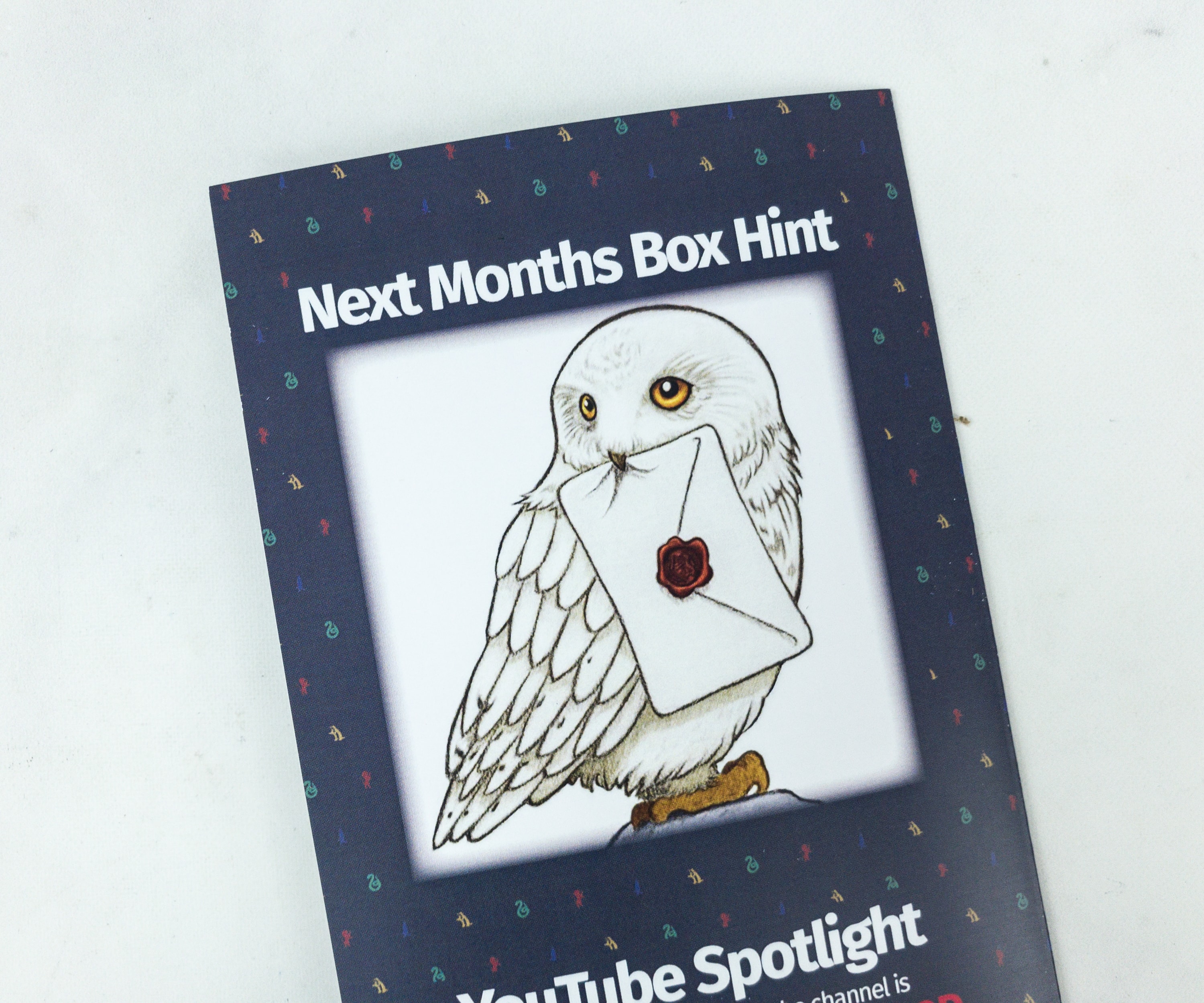 Hedwig brought next month's hint, and that made us more thrilled on what's in store for us!
This is a good box to wrap the year up, as it includes beautiful and fantastic items, like the noble wand! The shirt is in black, house-neutral, and I love it so I have to hide it or else, somebody else might grab it. The Artwork this month is lovely, Kevin Cantwell really did well in depicting Newt's suitcase along with all the creatures he's looking after! It will look perfect on our bedroom wall, so as the beautiful Love Potion Triwizard poster! Though it reminds me of the tragic end of the tournament, it's still a good promotion poster. The Wizarding World has lots of beautiful and magical stuff, and Geek Gear WOW is bringing them all to us! I also love how easy it is to switch sizes and subscription on their website, it causes less hassle, but more fun and excitement!
What did you think of this month's Harry Potter Geek Gear box?
Visit Geek Gear World of Wizardry to subscribe or find out more!