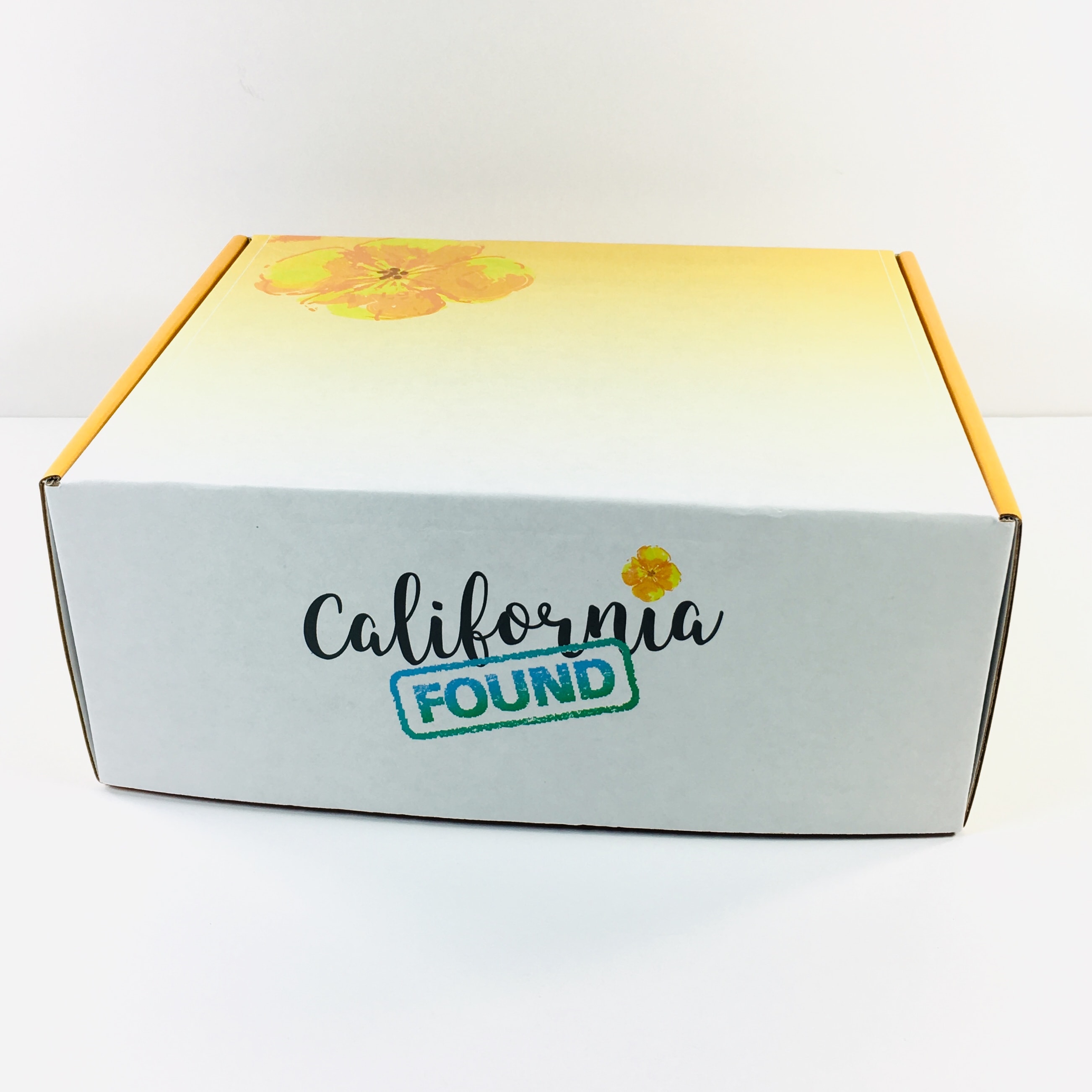 California Found is an awesome monthly subscription box that delivers the best of The Golden State, directly to your mailbox! Each box is $49, but has a value of $90+! What will you find in your box?
Once a month, our subscribers experience the California lifestyle through a box filled to the brim with natural spa & beauty products, locally sourced gourmet treats, beautifully crafted home goods, and infinitely wearable jewelry. Each box tells the story of five to seven California makers through their products and an individual notecard dedicated to each one. Every beautifully packaged delivery reflects the laid back, stylish, uniquely chic attitude that is California.
DEAL:Get free shipping on your first box of a monthly or 3-month subscription! Use coupon code HSFREESHIP. Valid for new members only.

Hello, sunshine! 
The presentation is always on point with this box and this paper is embedded with wildflower seeds! I found a set of cards – one with an introduction to the current box, and one for each of the vendors featured in this month's box. The bundle was secured with more seeded paper.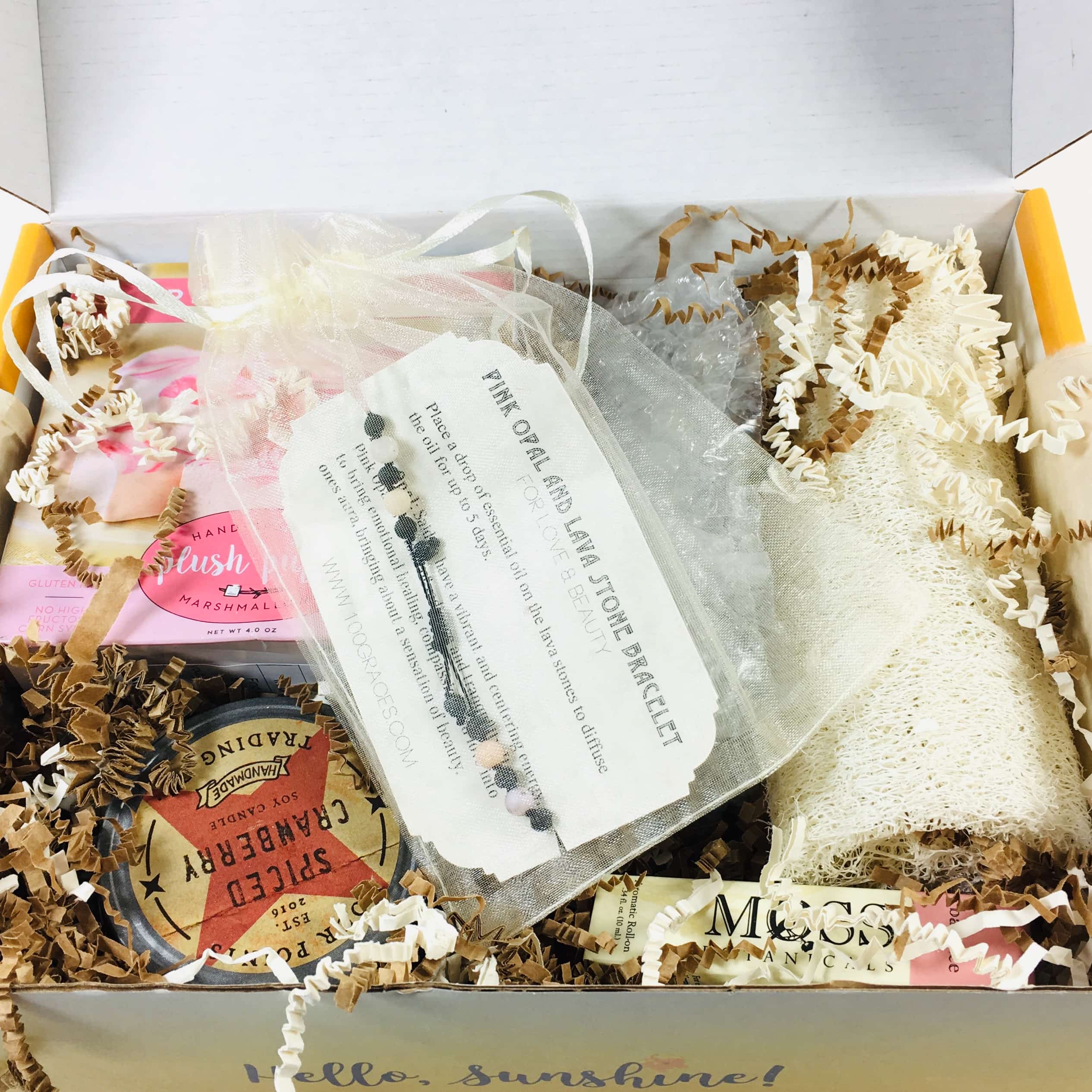 My items were snuggled into paper squiggles and were kept safe on their journey.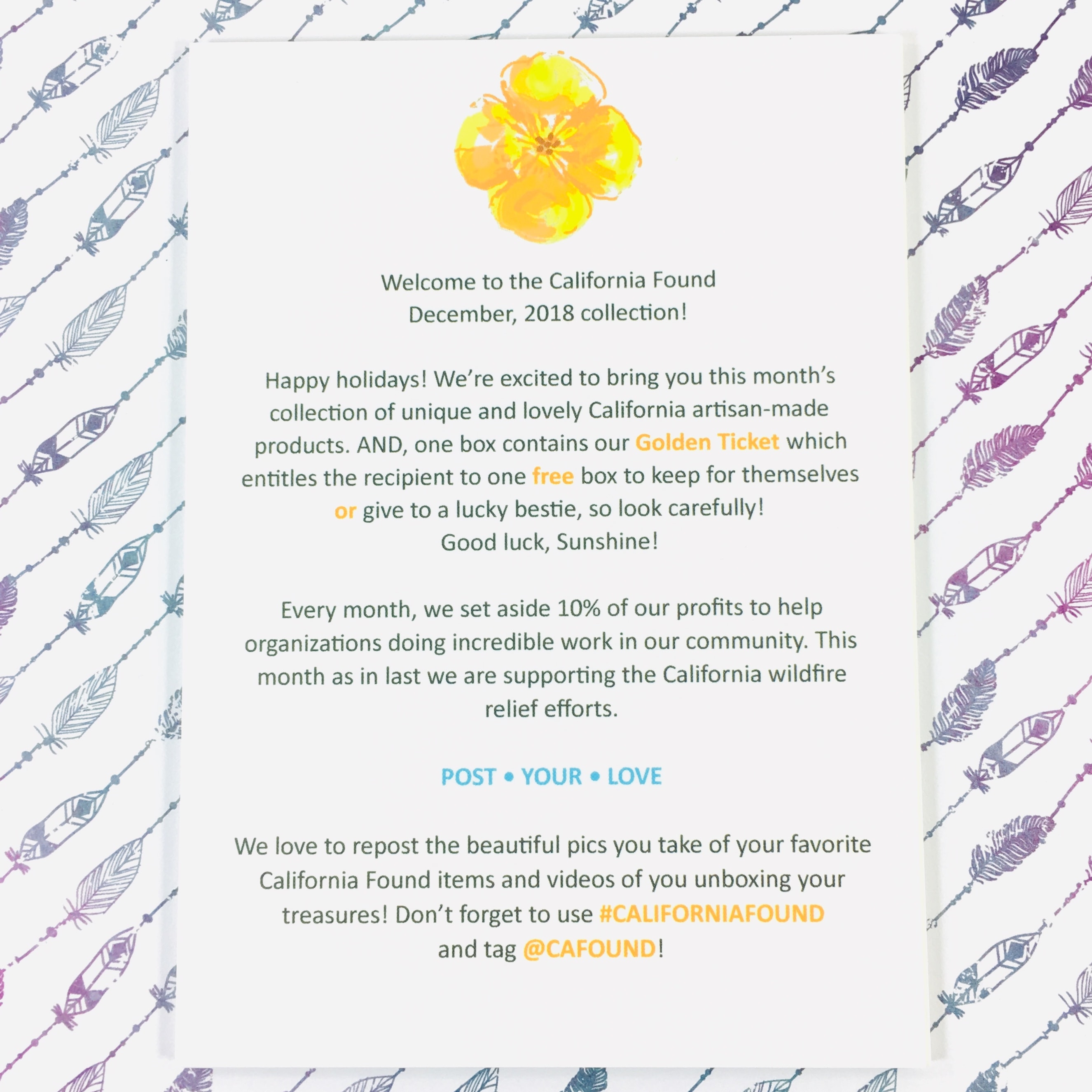 California Found has The Golden Ticket, which seems appropriate for a box coming from The Golden State! One box each month will contain a special ticket that will entitle the subscriber to a free box for themselves or for a friend. Also, California Found gives 10% of their profits to charitable organizations and this month proceeds will go to help California wildfire relief efforts.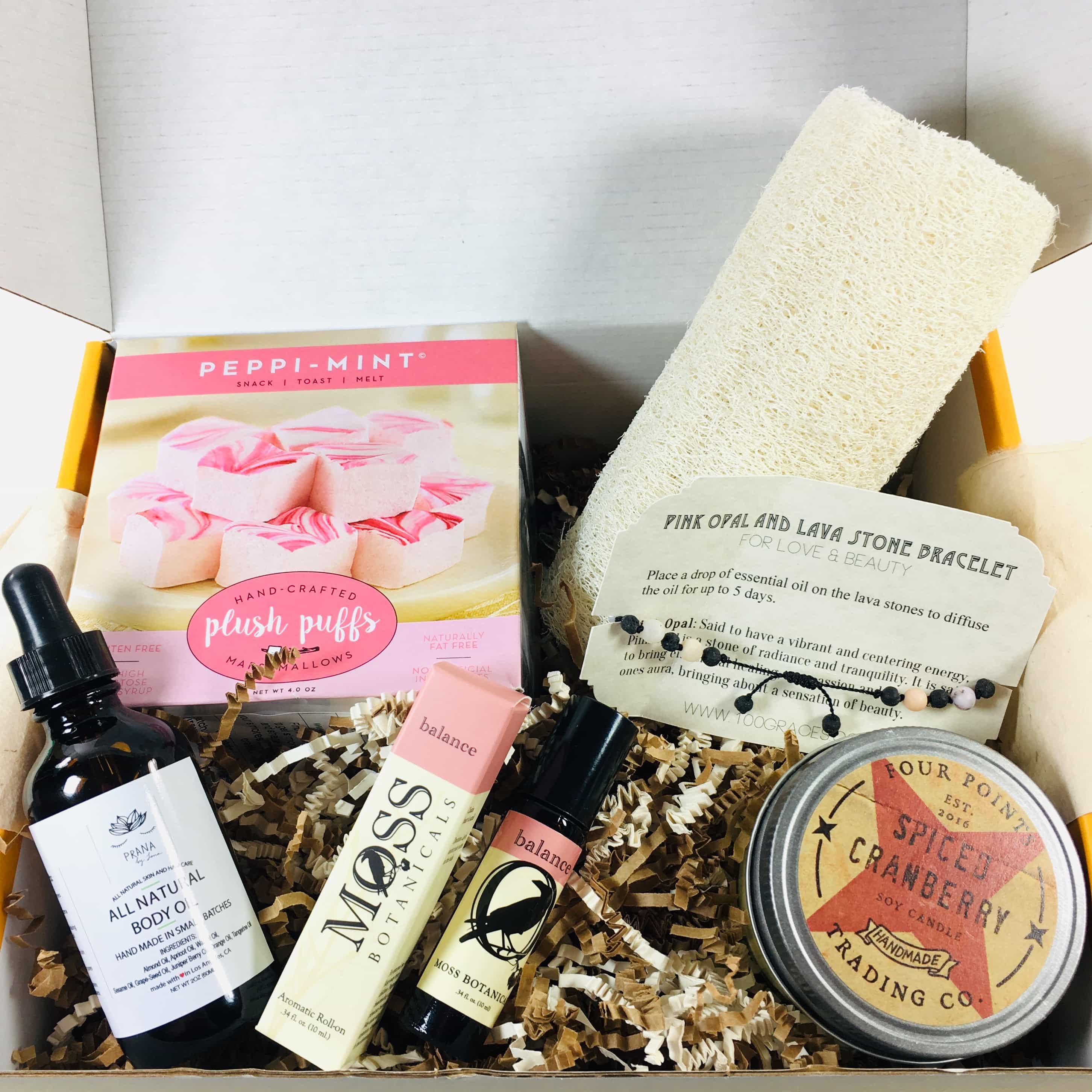 Everything in my December 2018 California Found box!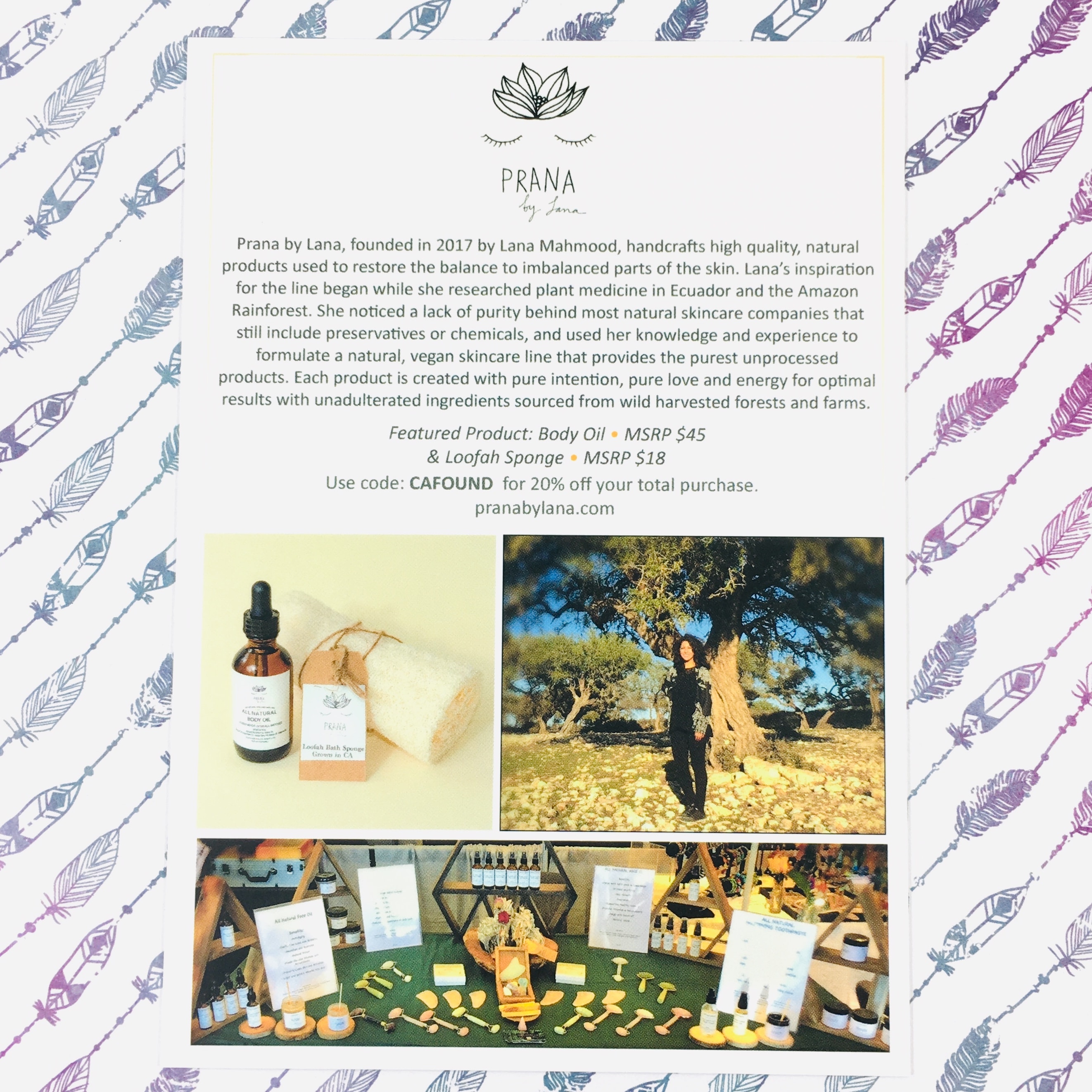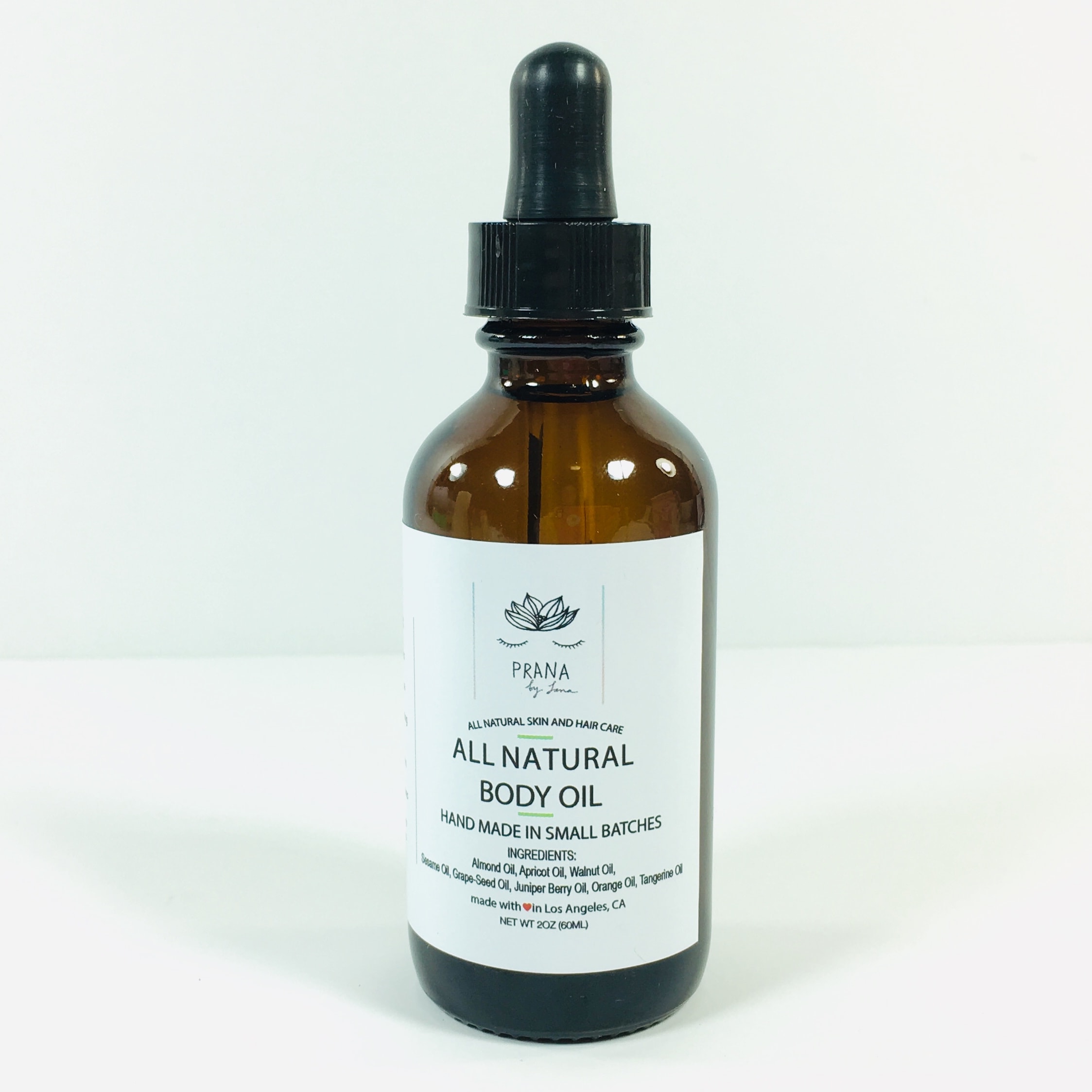 Prana by Lana Body Oil ($45) The website for this brand isn't live yet so the values are from the info card. I do like a good, natural body oil, especially for the winter. I use it right out of the shower, before toweling off, in an effort to lock in moisture.
The oil is handmade in small batches and features several plant oils and nothing weird. The benefits listed on the bottle says it helps with eczema and dry skin and can be used as a massage oil. I would like to point out that citrus oils can cause phototoxicity, which means you may get sunburned. The scent is light and smells like citrus, and it fades quickly.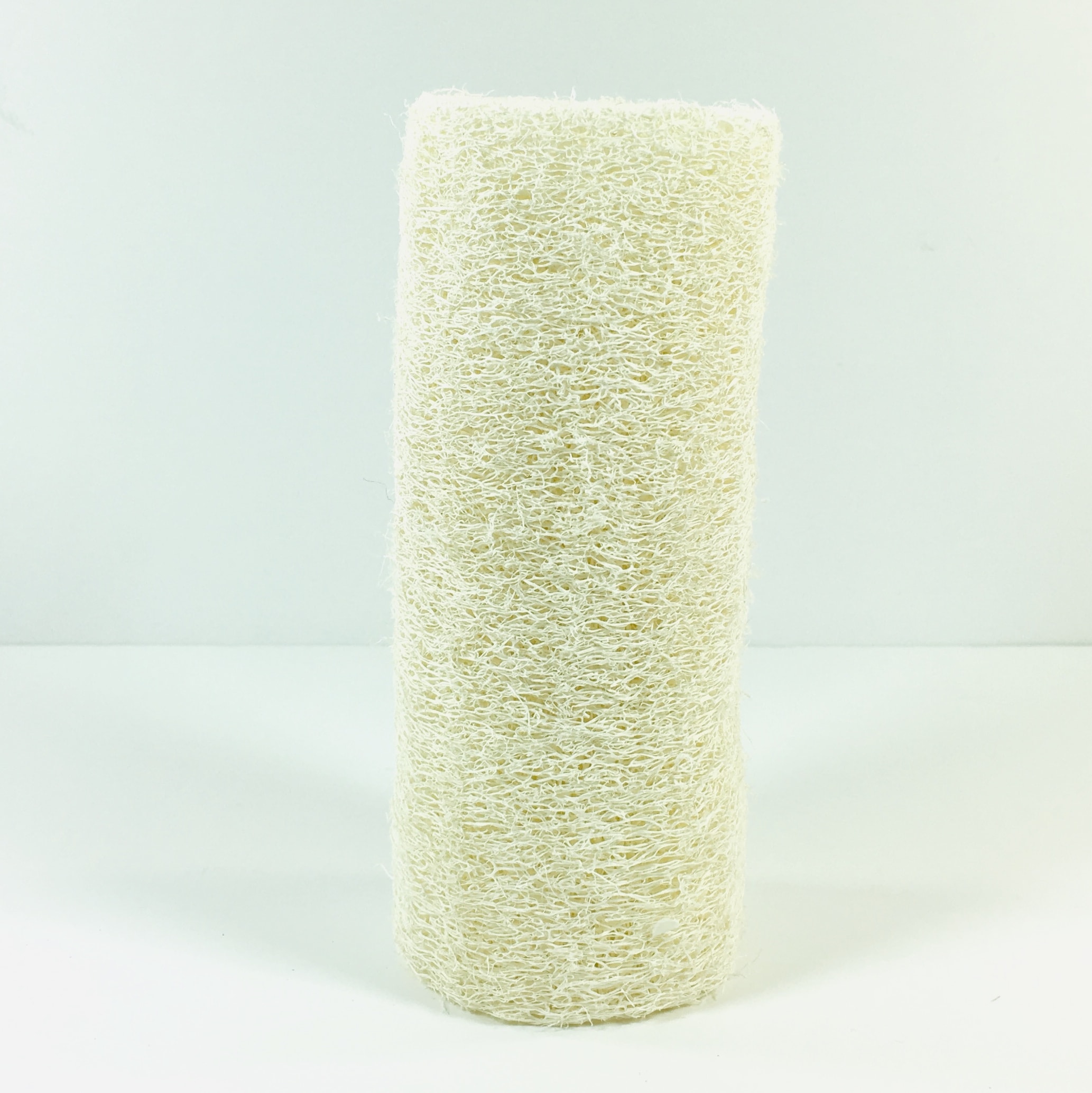 Prana by Lana Loofah Sponge ($18, find similar item here, 4 for $16.03) I grew up using loofahs, they were grown by a sweet lady down the street. This is a natural plant, and you can grow them yourself if you want! The first few times you use one it may feel kind of rough, but they soften up after a few uses. I think the value for this item is rather high, especially since you should throw it out after 3-4 weeks because it (like other sponges) will become a breeding ground for bacteria. I used this only on my body, not my face, and you could probably cut it in half to make two smaller sponges if you wanted.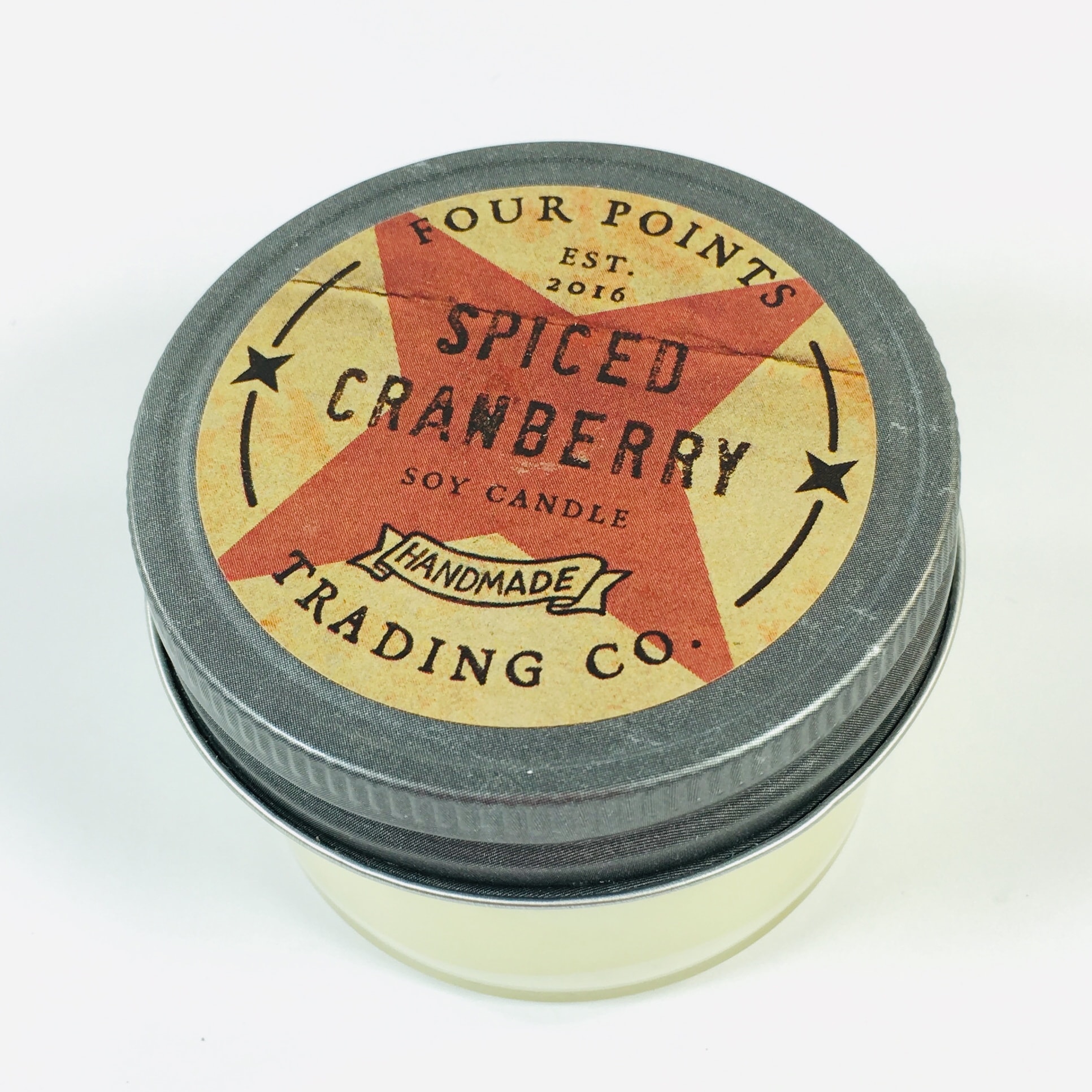 Four Points Trading Co. Soy Candle in Spiced Cranberry ($11.95) We received a candle from this company in a previous box and I love that they sent a seasonal scent this month!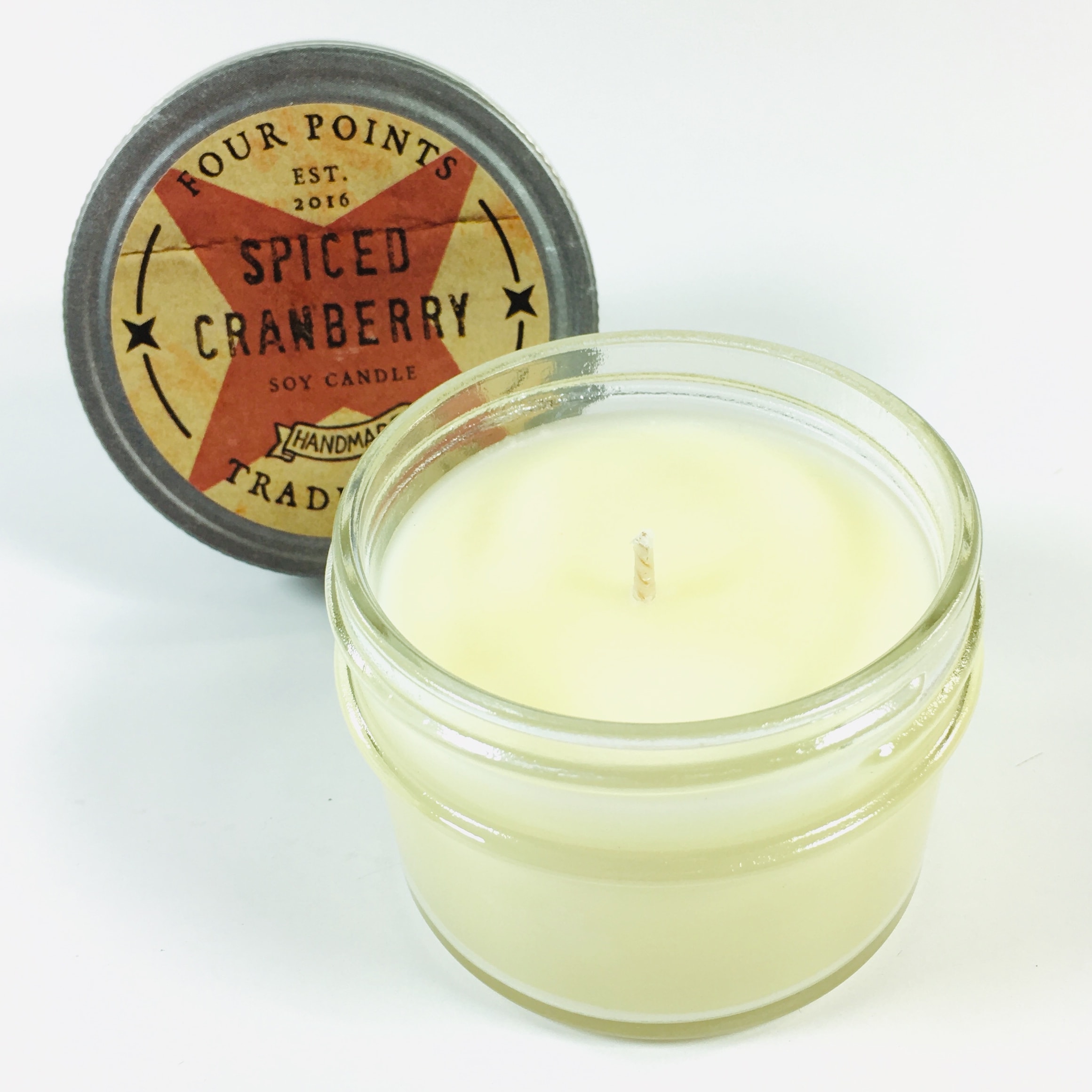 I think the farmhouse look is adorable and this candle is handmade in small batches. It has a soy wax base and the fragrance is free of parabens and phthalates. It smells sweet, spicy, and warm!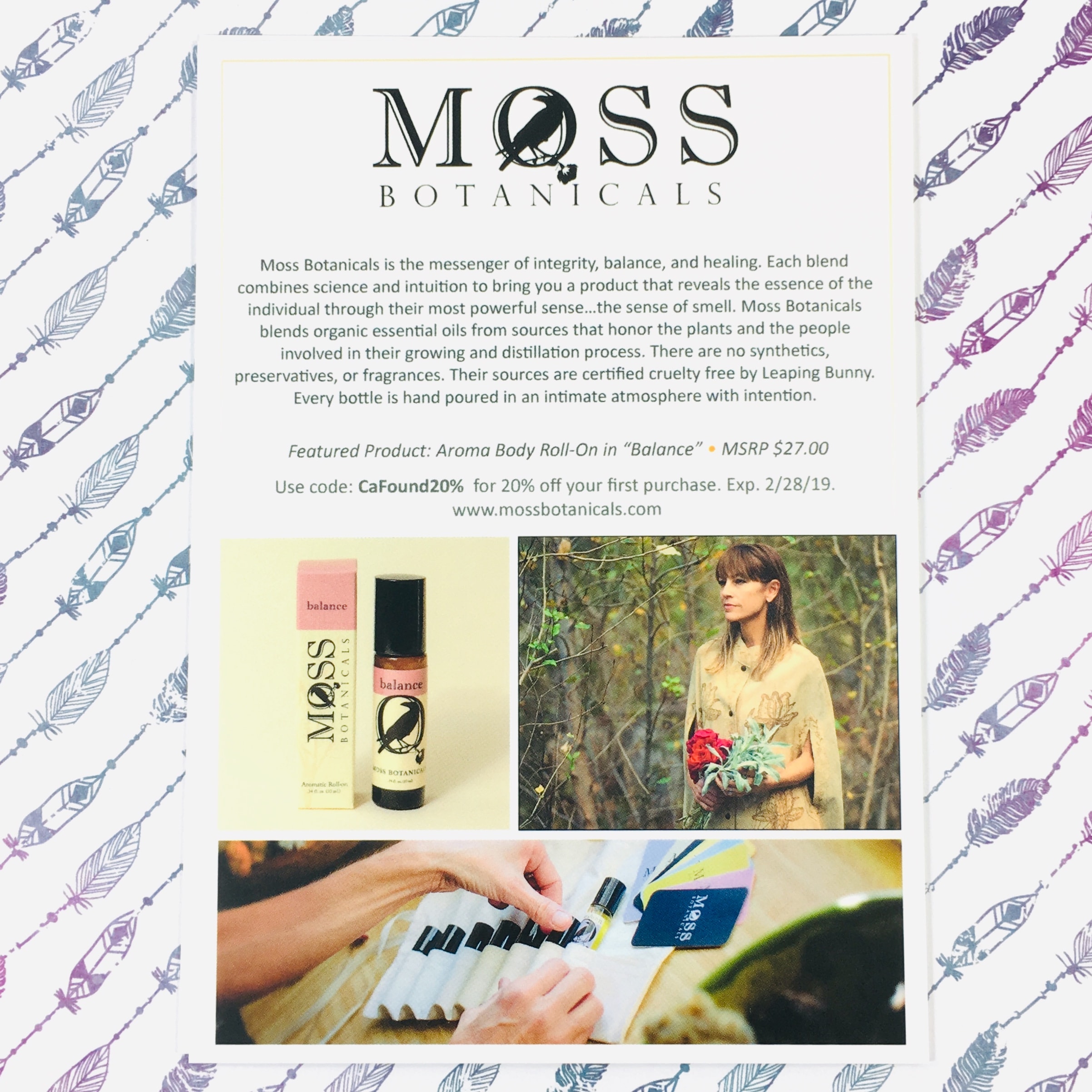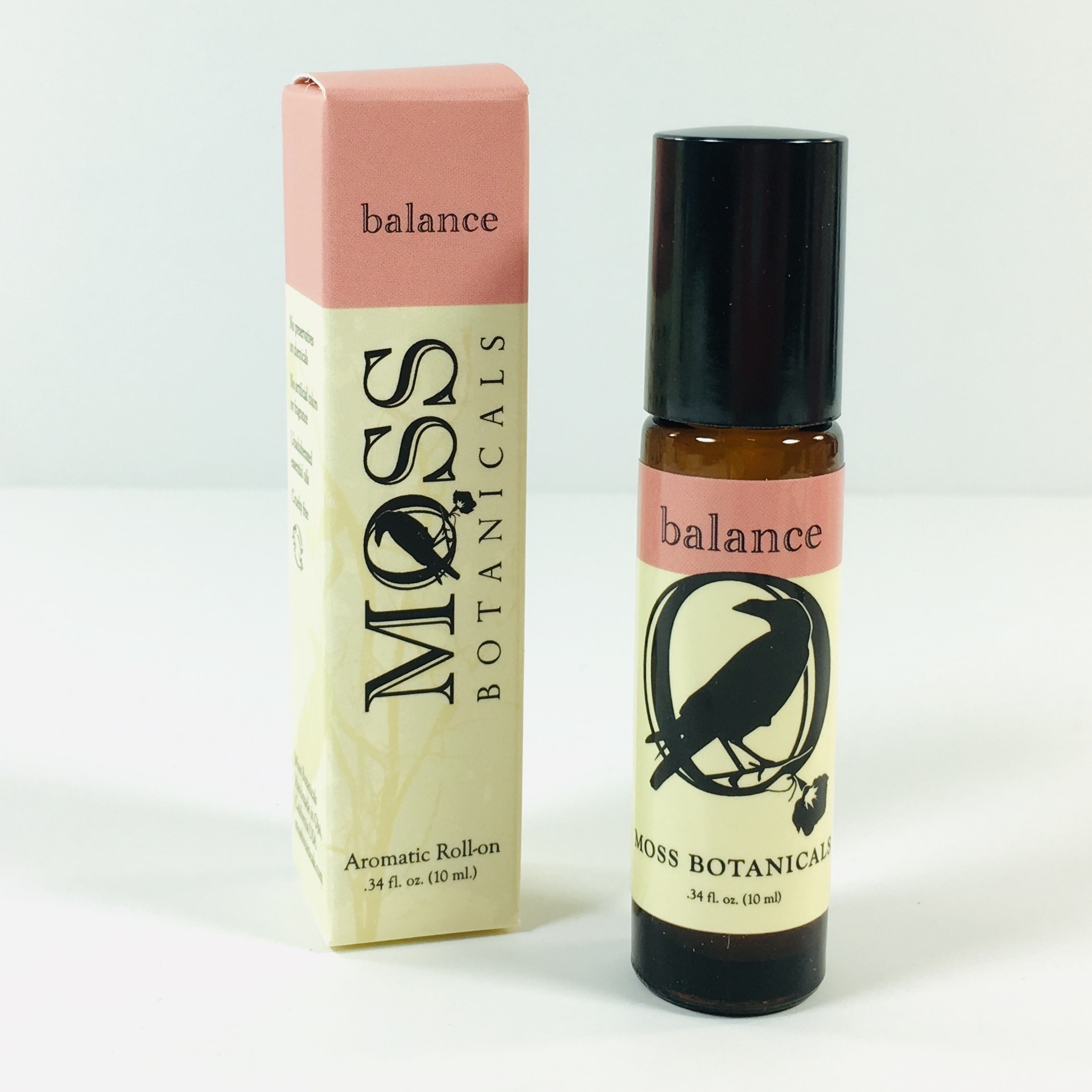 Moss Botanicals Aroma Body Roll On in Balance ($27) I love fragrance and especially like natural, oil-based scents.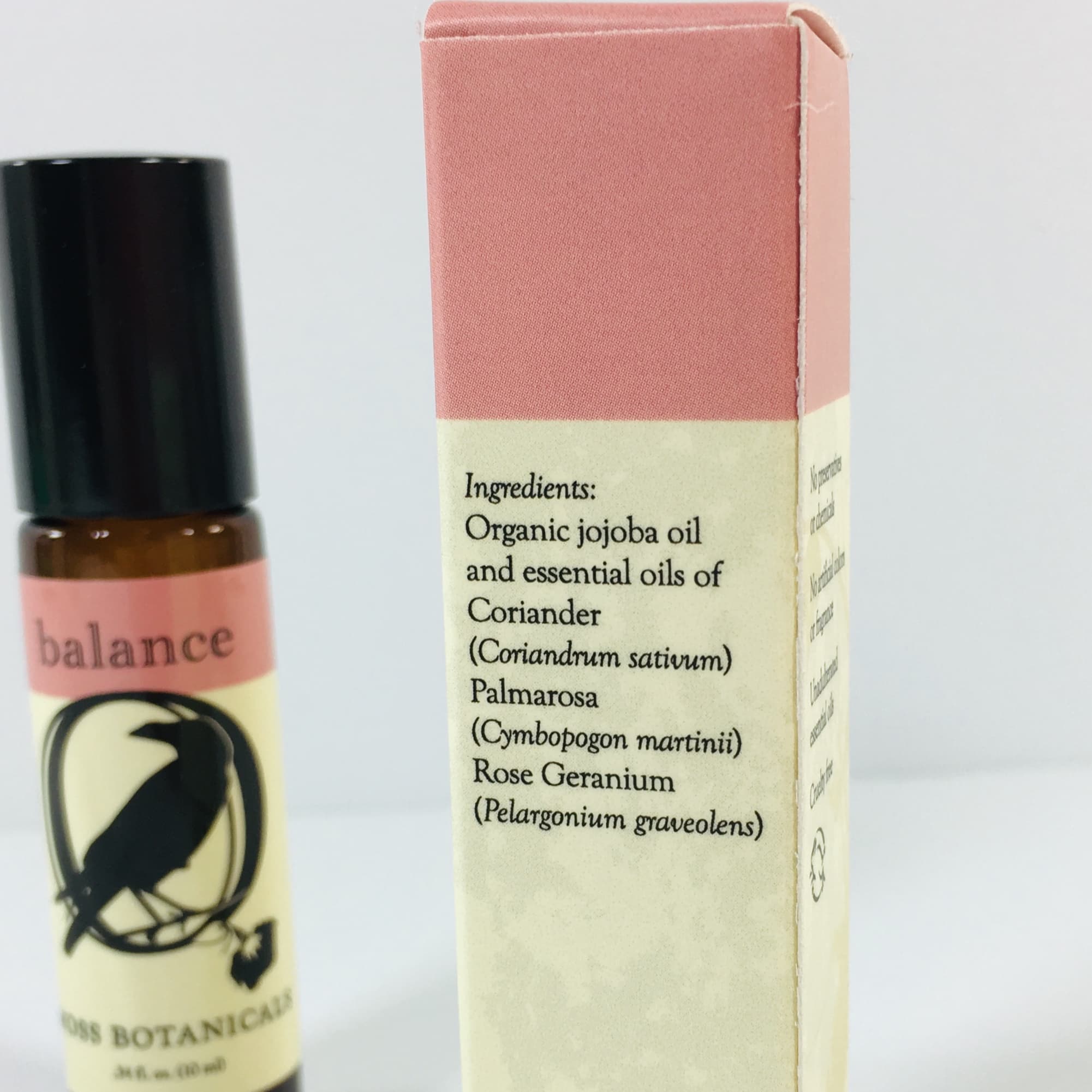 You can place this blend of jojoba oil and coriander, palmarosa, and rose geranium essential oils on pulse points and take a deep breath.
It smells mostly of rose geranium with an underlying spicy warmth. I hope to see more products from this brand in future boxes!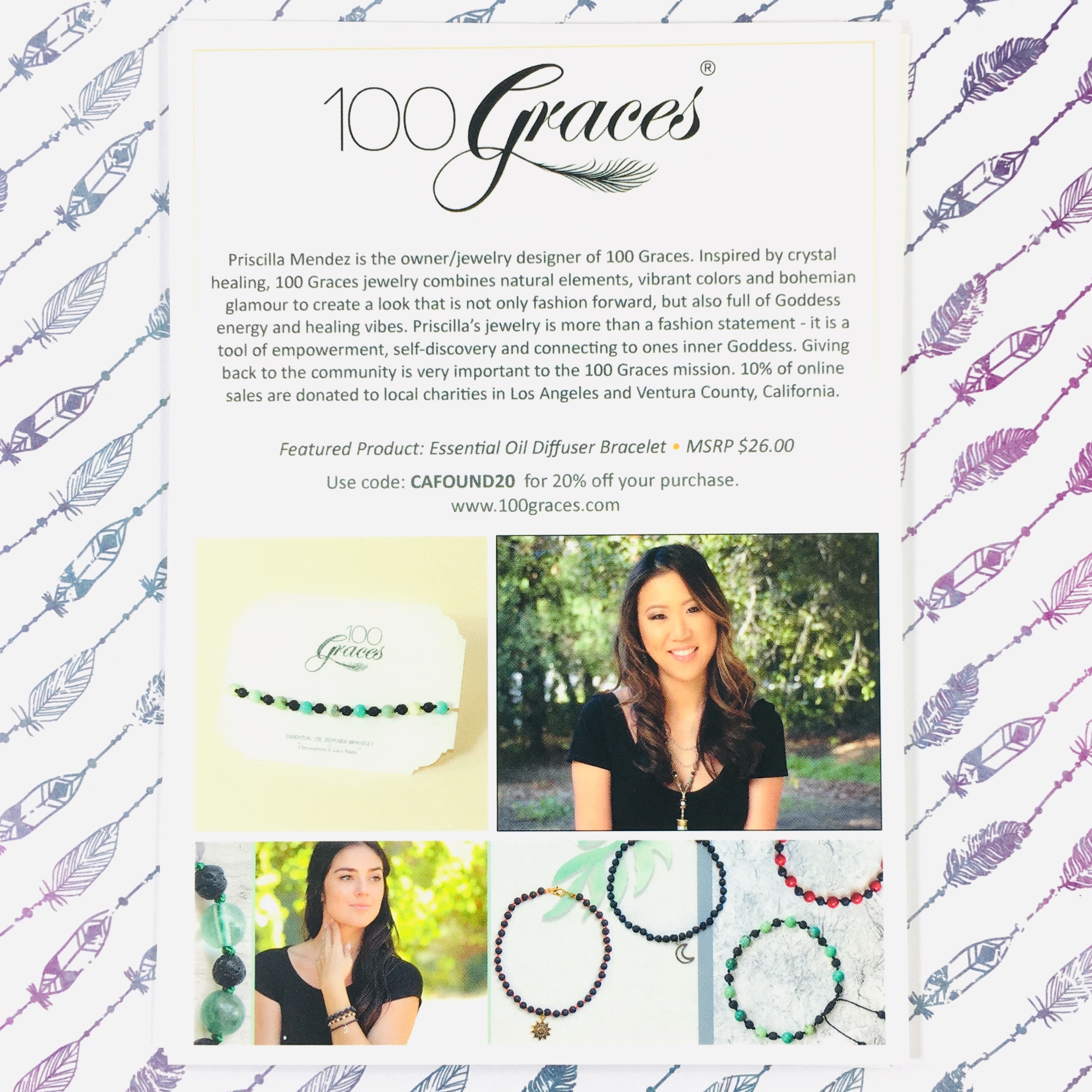 100 Graces Pink Opal and Lava Stone Essential Oil Diffuser Bracelet ($28) is the prettiest diffuser bracelet I've ever received!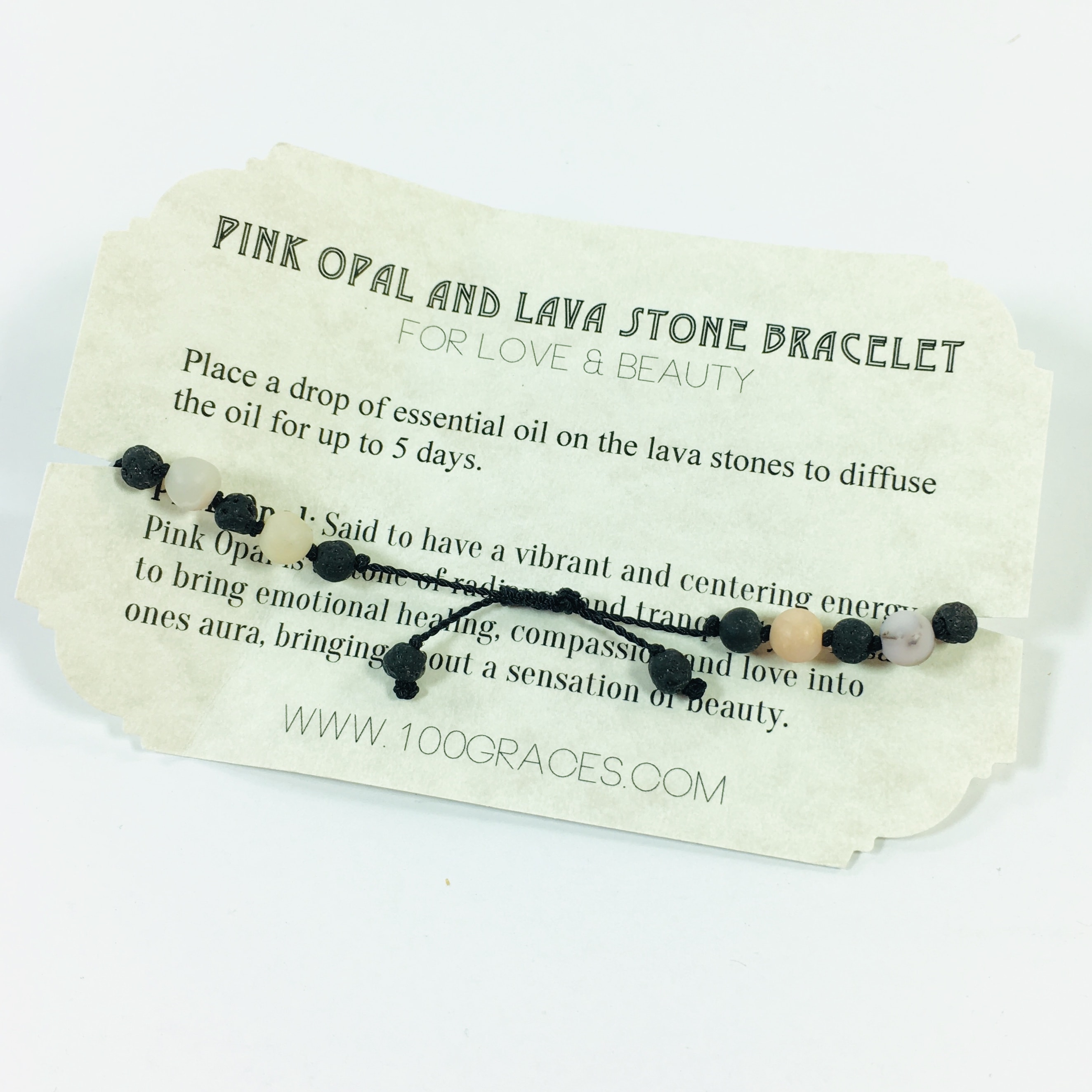 The black stones are made of porous lava rock and you place a drop of the essential oil of your choice on the rock and over time it dissipates, leaving a light whiff of scent.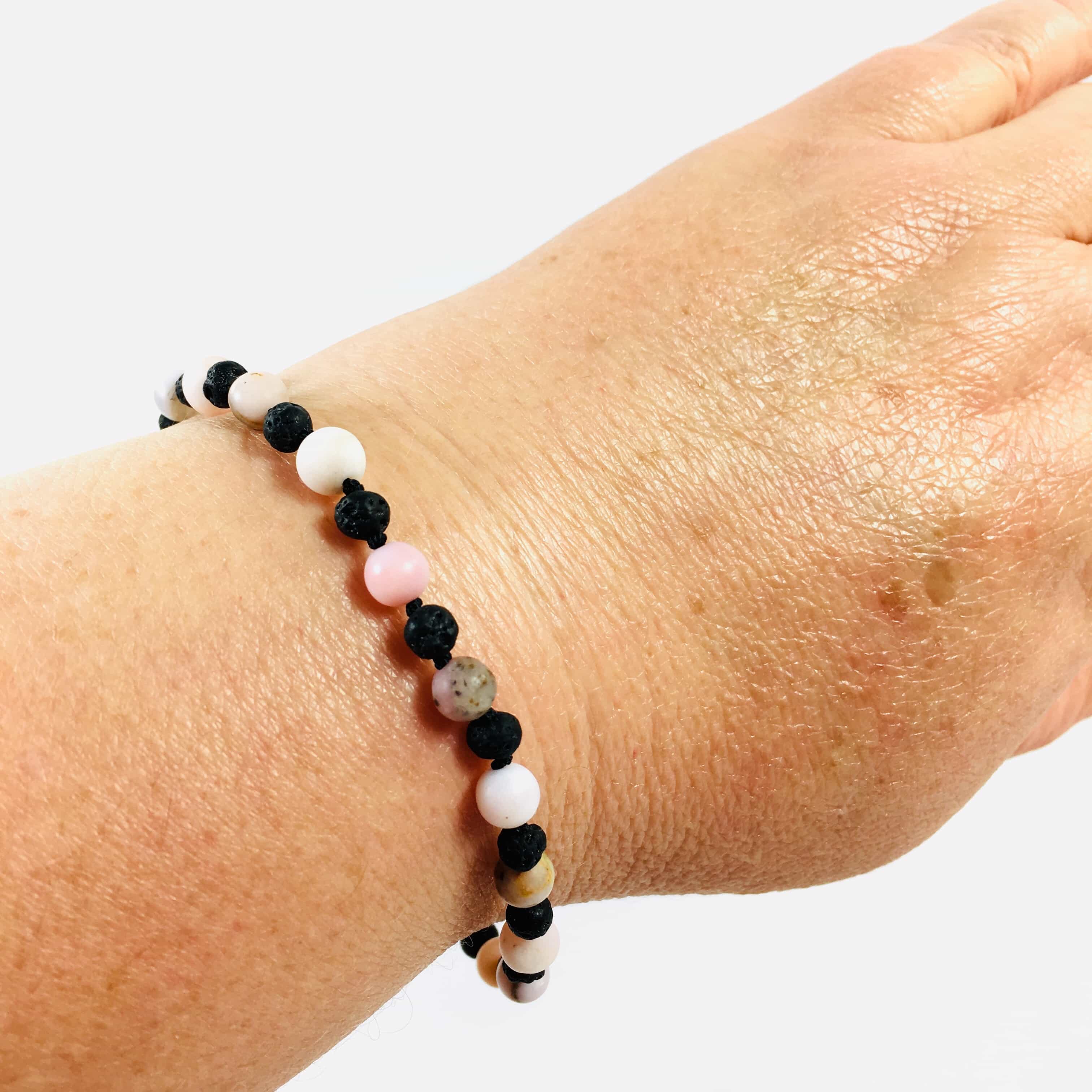 It fit on my large wrist and is adjustable. I think it is a sweet bracelet, I can't wait to diffuse some patchouli, although this has several lava stones so I can also drop on other oils to make my own unique fragrance!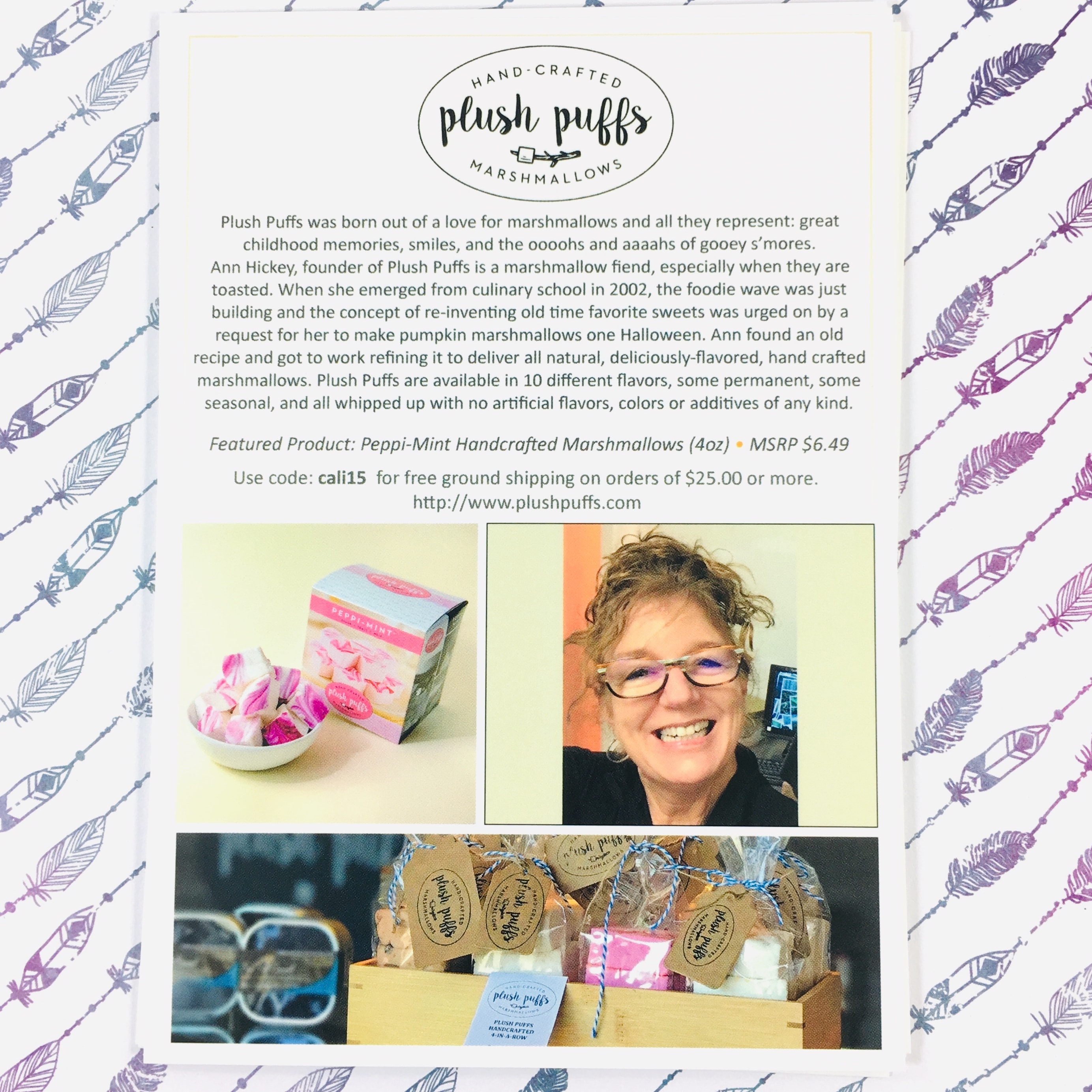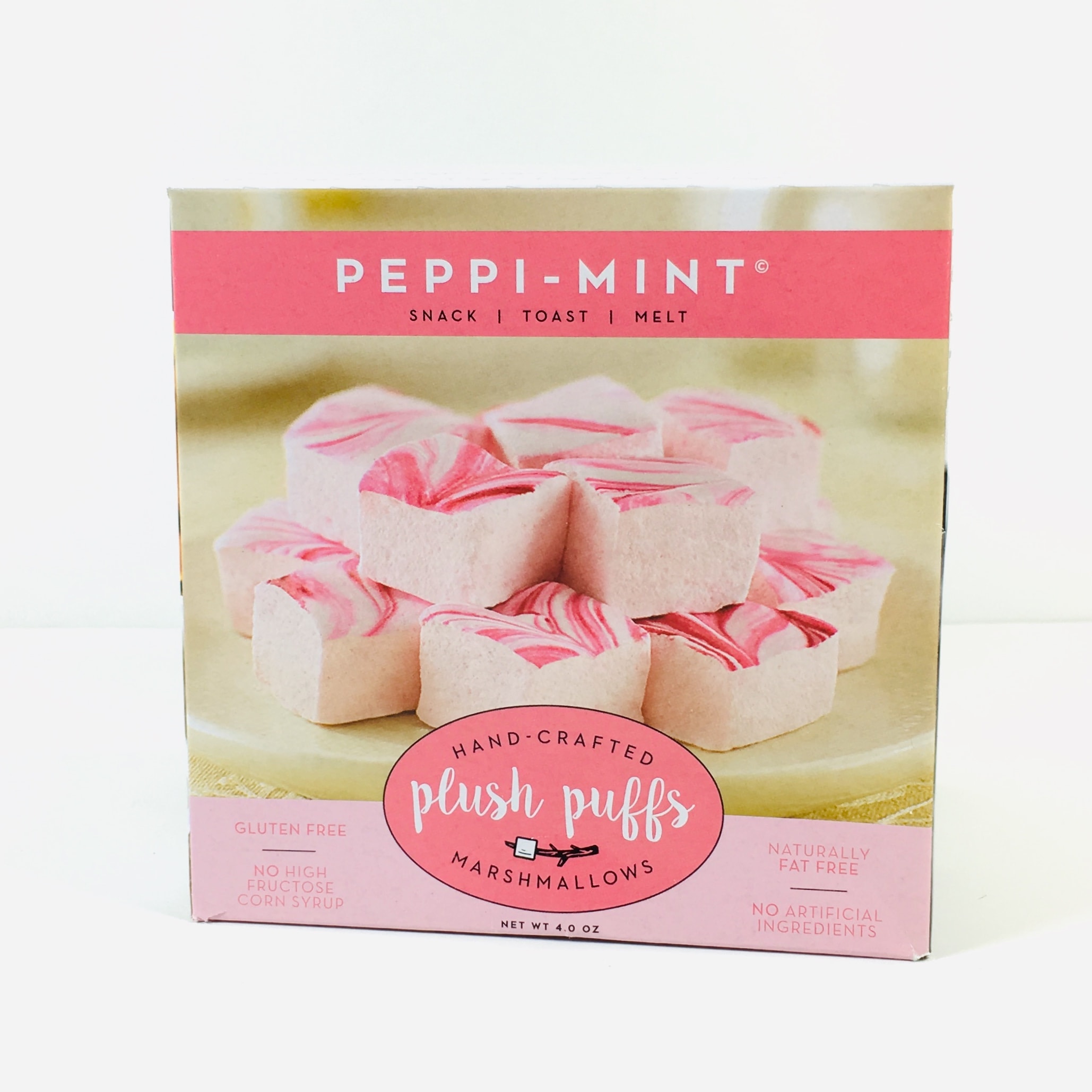 Plush Puffs Peppi-Mint Handcrafted Marshmallows ($6.49) I must say I've never been a big fan of marshmallows straight out of the bag, but tis the season for hot cocoa and this looks like it would make a perfect topper.

The ingredients are listed on the back and keep in mind that gelatin is derived from animals so don't serve these to your vegan friends! I plan on putting them in hot cocoa but they can also be used to make smores or maybe you do like to eat them out of the bag!
They came in a zipper bag but you may want to use them up shortly after opening. I tried one for testing purposes and it tasted like a big fluffy candy cane!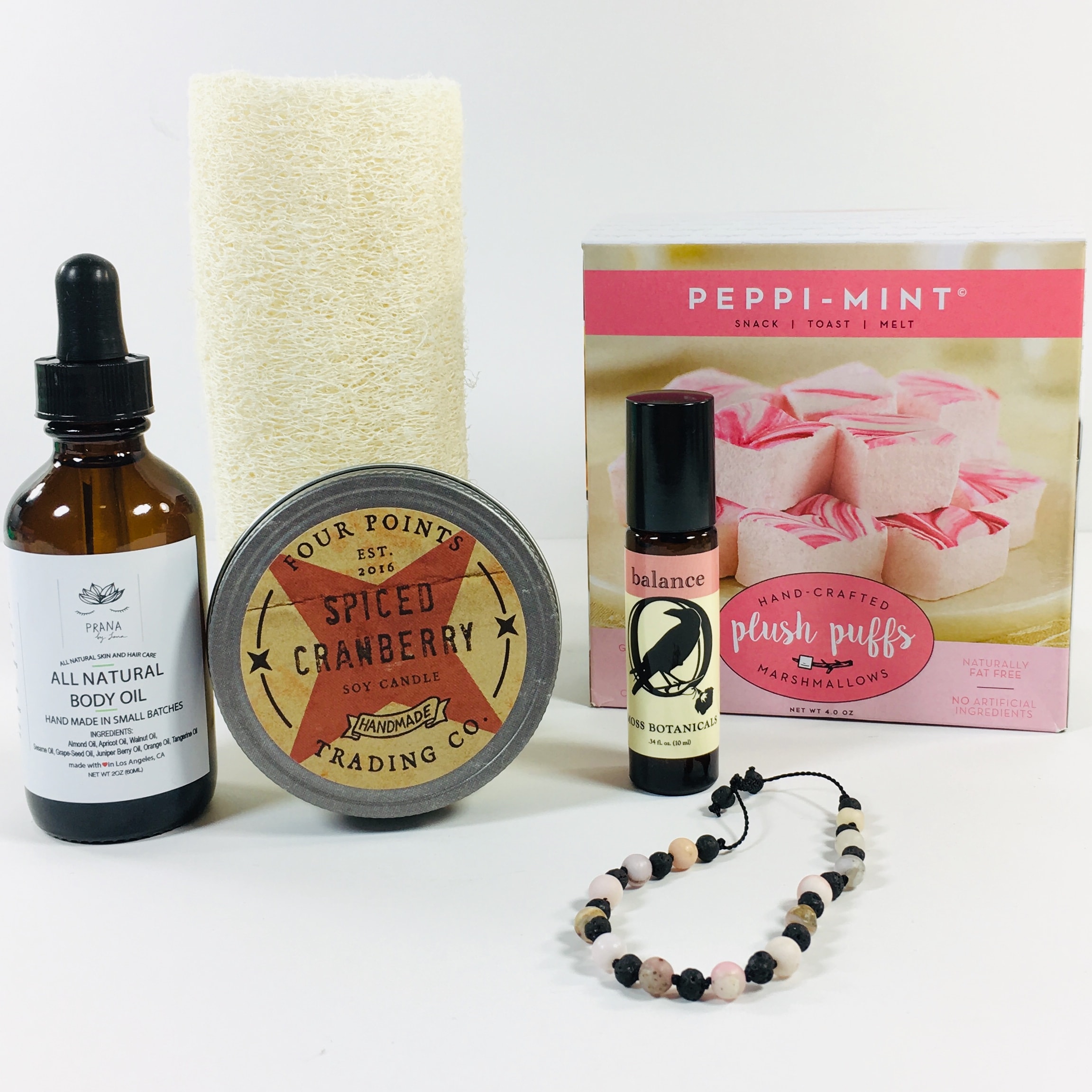 California Found remains one of my favorite monthly subscription boxes! They send wonderfully well made products, a lot of them handmade and small batch, and there is never a boring item in the bunch. The items tend to be natural as well so I can feel good about eating them or putting them on my skin. Even the color coordination is here, with light pinks and winter whites. I enjoy learning about the artisans and have been exposed to so many new brands thanks to this sub. The value for December's box was around $136.44, well more than double the price paid for the box!
What do you think of California Found? Let me know in the comments!