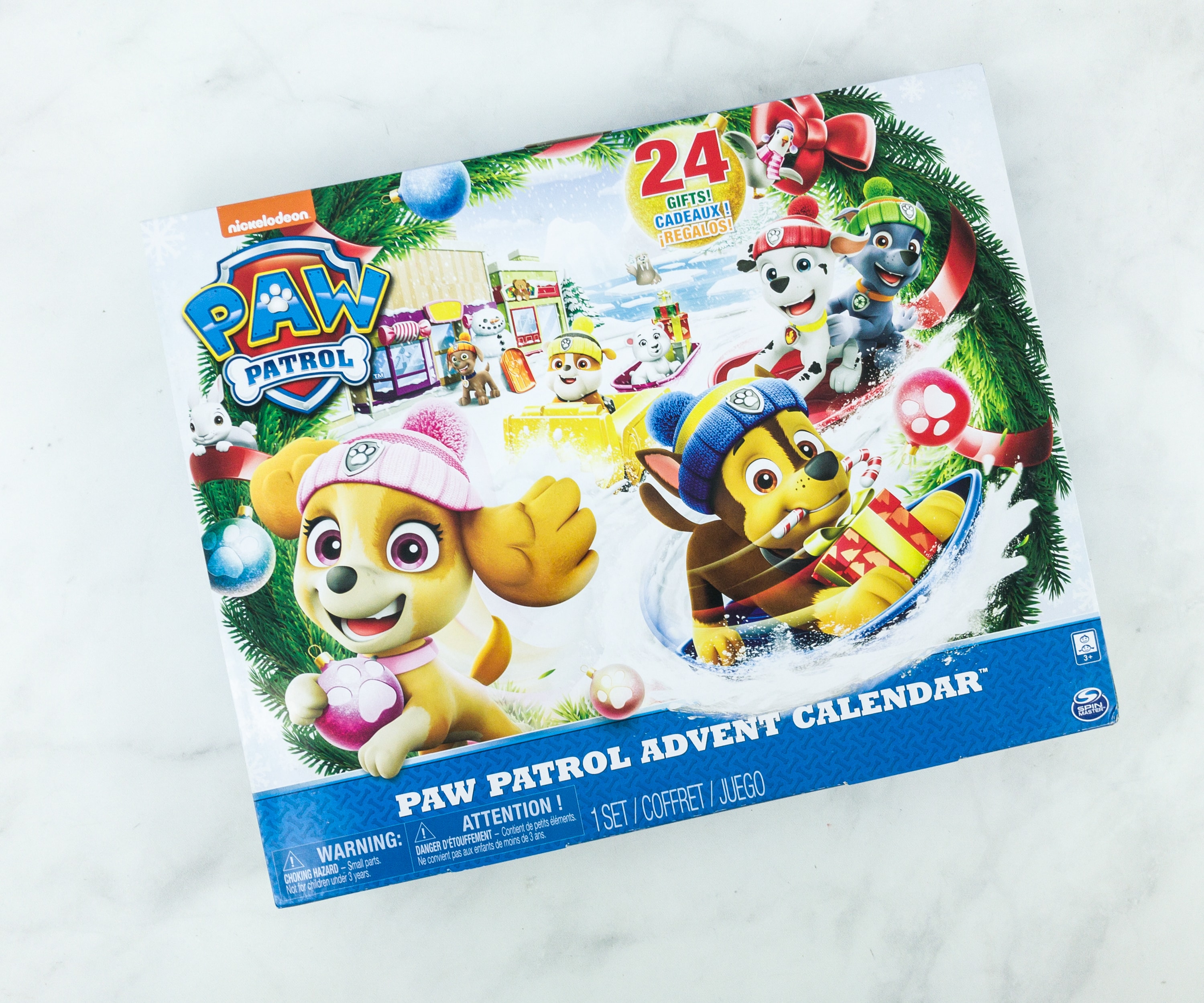 The Paw Patrol Advent Calendar contains a special gift for each day for 24 days! Behind each door is a tiny, holiday-themed collectible. As you get closer to the 24th door, kids can build out the world of Adventure Bay. This advent calendar encourages creative play. With the tiny collectibles in hand, children can let their imagination run wild as they create all-new missions for their favorite pups. It's an ideal gift for kids aged 3+.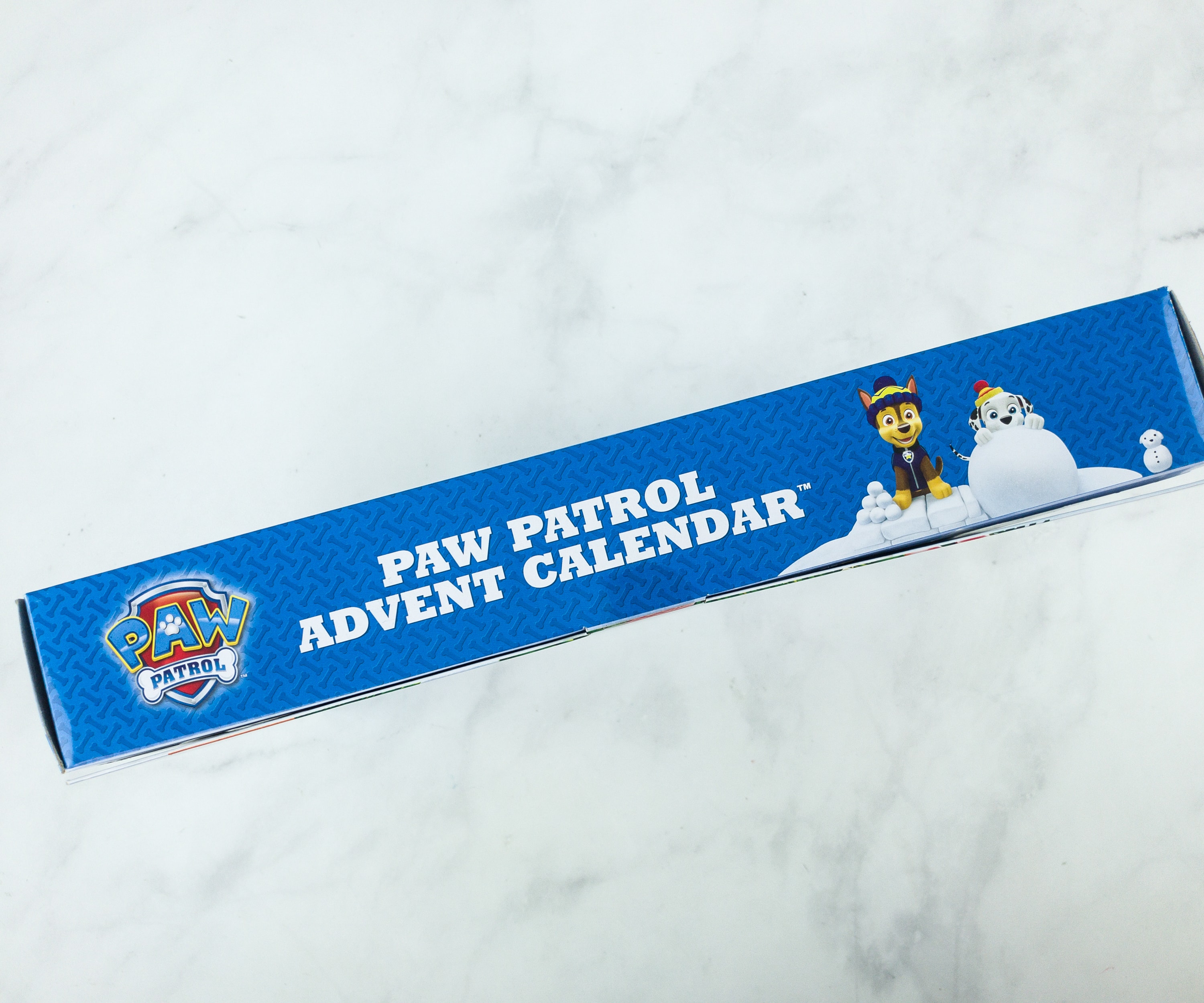 Paw Patrol features rescue dogs in training. Each pup character is based on a real-world job like firefighter, police officer, and construction worker. They're the ones who protect Adventure Bay and who finds a way to help those in need.
This is exciting! The box is winter wonderland themed, Paw Patrol style.
There are 24 doors of different sizes and they are not in order.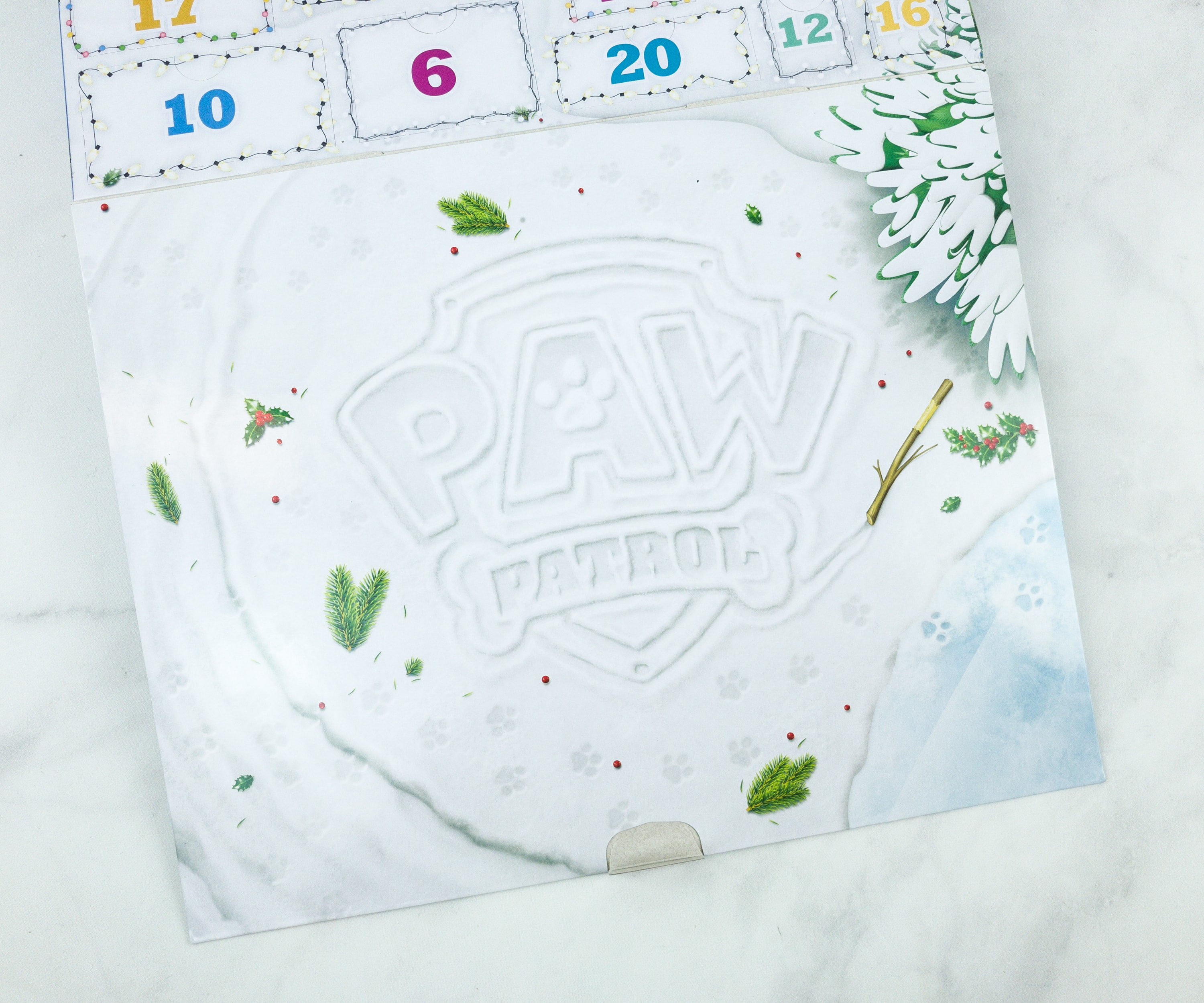 The cover works as a landscape set too with an illustration of snow and pathway marks. As kids unravel each surprise, they can use this as the playground.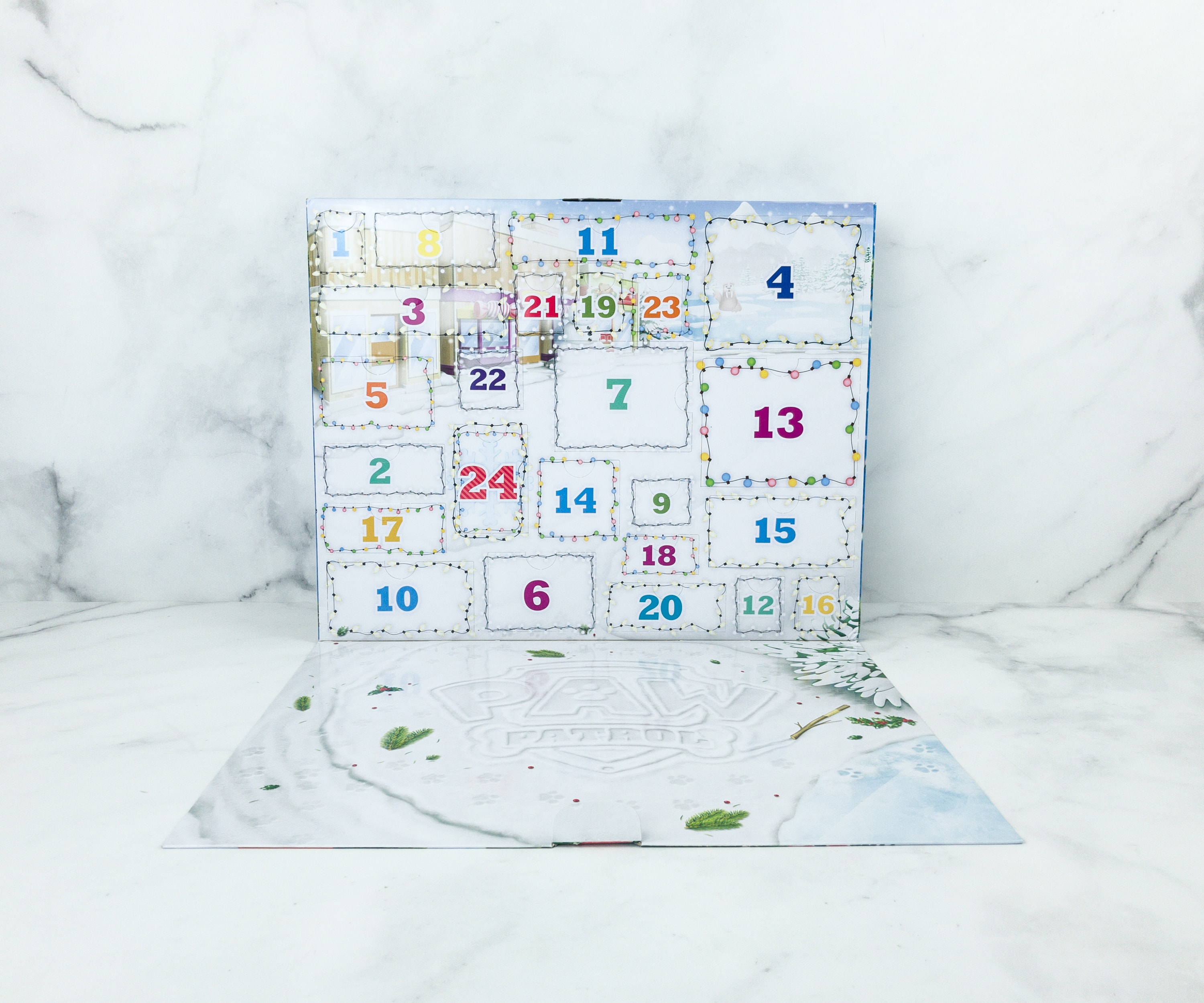 Paw Patrol Advent Calendar ($24.99)
Roll into the holiday season the PAW Patrol way! In this action-packed Advent Calendar, kids get to discover a new holiday-themed PAW Patrol gift every day! With 24 gifts to find in total, there's always a new surprise waiting by flipping open each door to find a detailed collectible – perfect for the little PAW Patrol fan in your life. As the holidays get closer, kids can use their new figures to build out the exciting holiday-themed world of Adventure Bay. Using their imaginations, kids can recreate and come up with all new missions for their favorite heroic pups! Celebrate the holidays with the PAW Patrol Advent Calendar!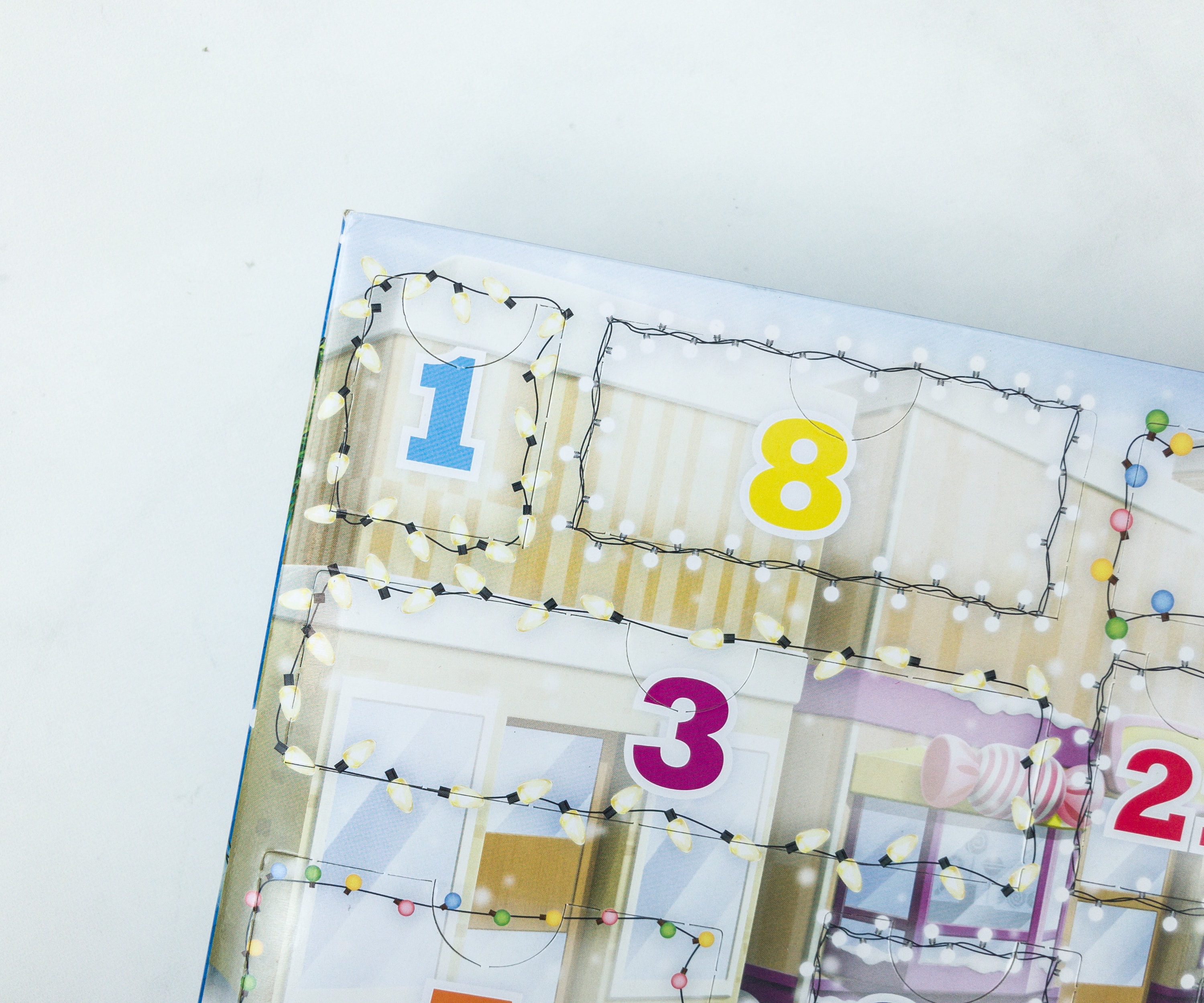 There are guide cuts on the cardboard for the kids to poke and open the surprise.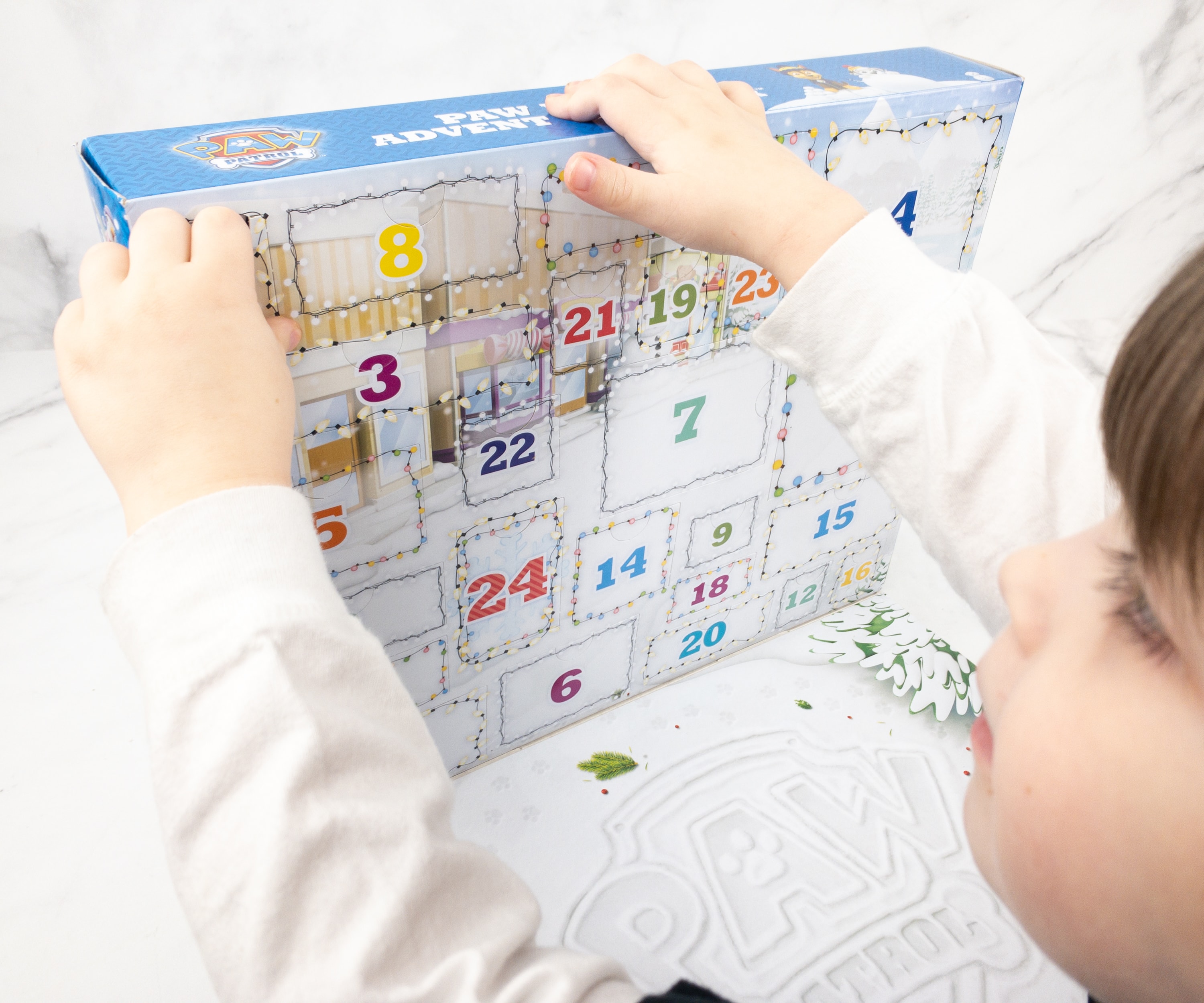 My son was excited to open the first door. It didn't take him long to do so.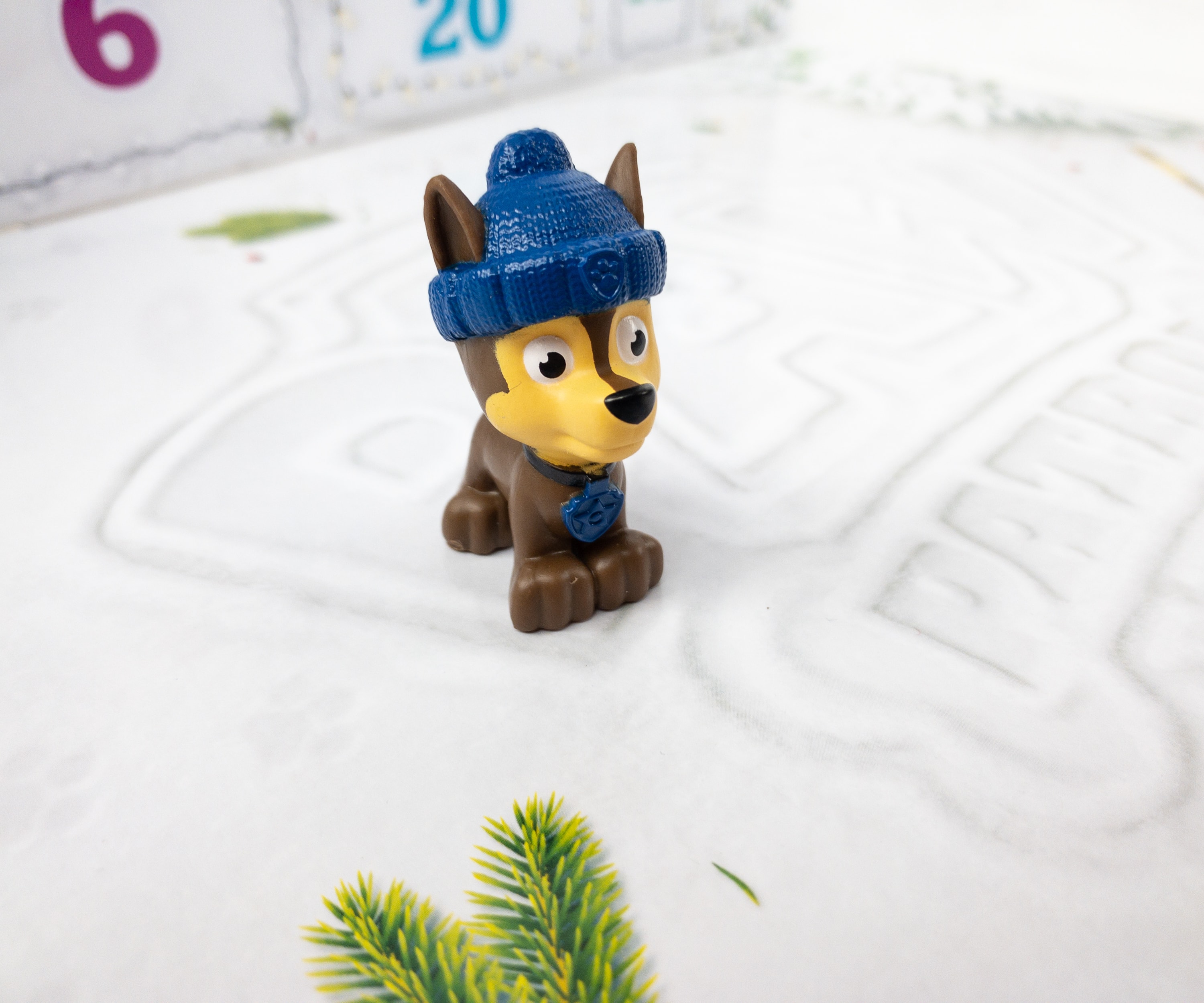 We got Chase sporting his blue beanie. He is a German shepherd puppy, working as a police and traffic cop. The quality of paint and vibrant colors are impressive.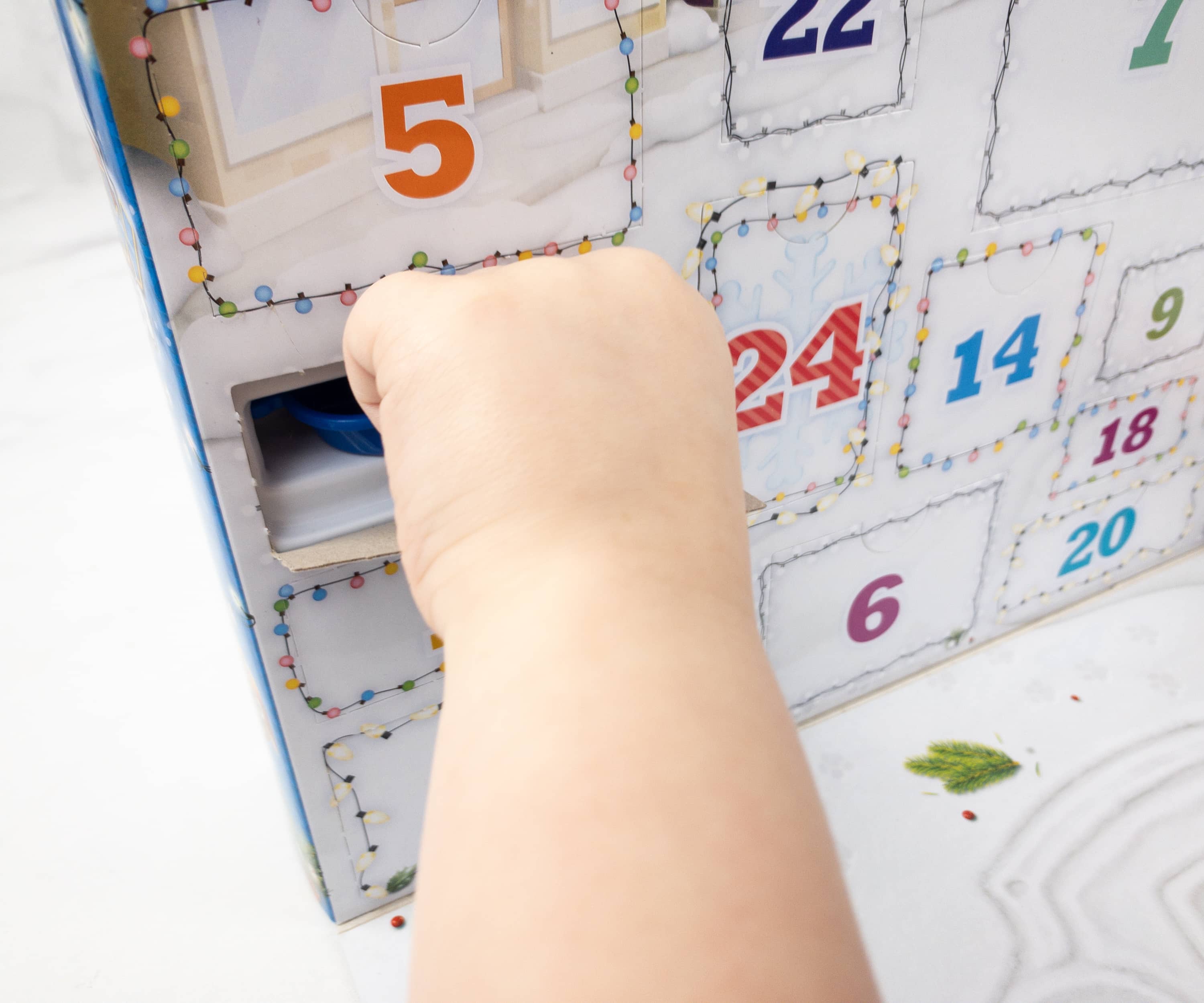 My son opened a random door this time!
We got a blue sled with a paw design in the middle.
My son had fun putting Chase on the sled and pulling it around the table as if the puppy is sledding!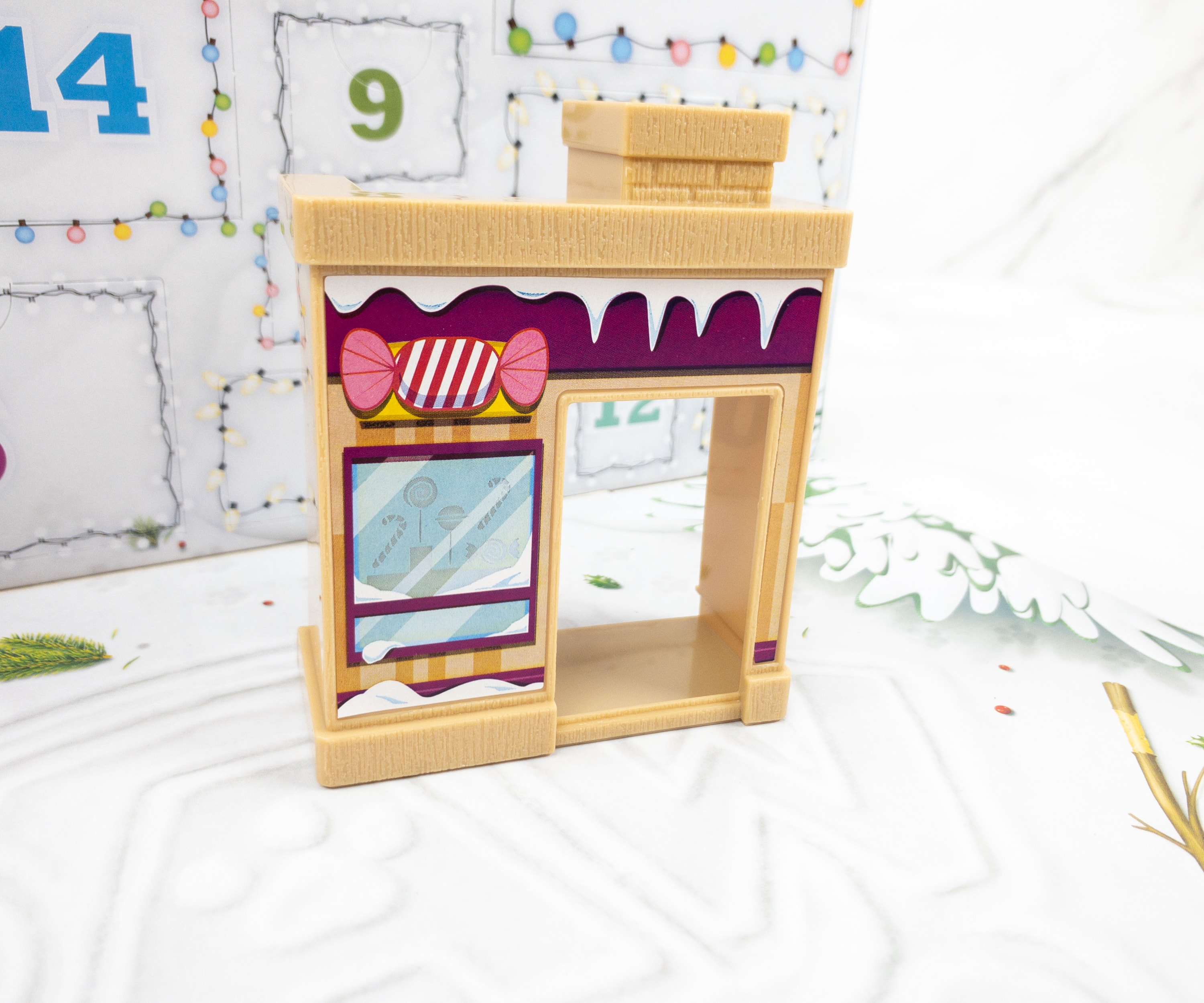 Here's another sample of what you can get inside the advent calendar. The contents are not actually limited to figures and accessories, but even buildings like this candy shop!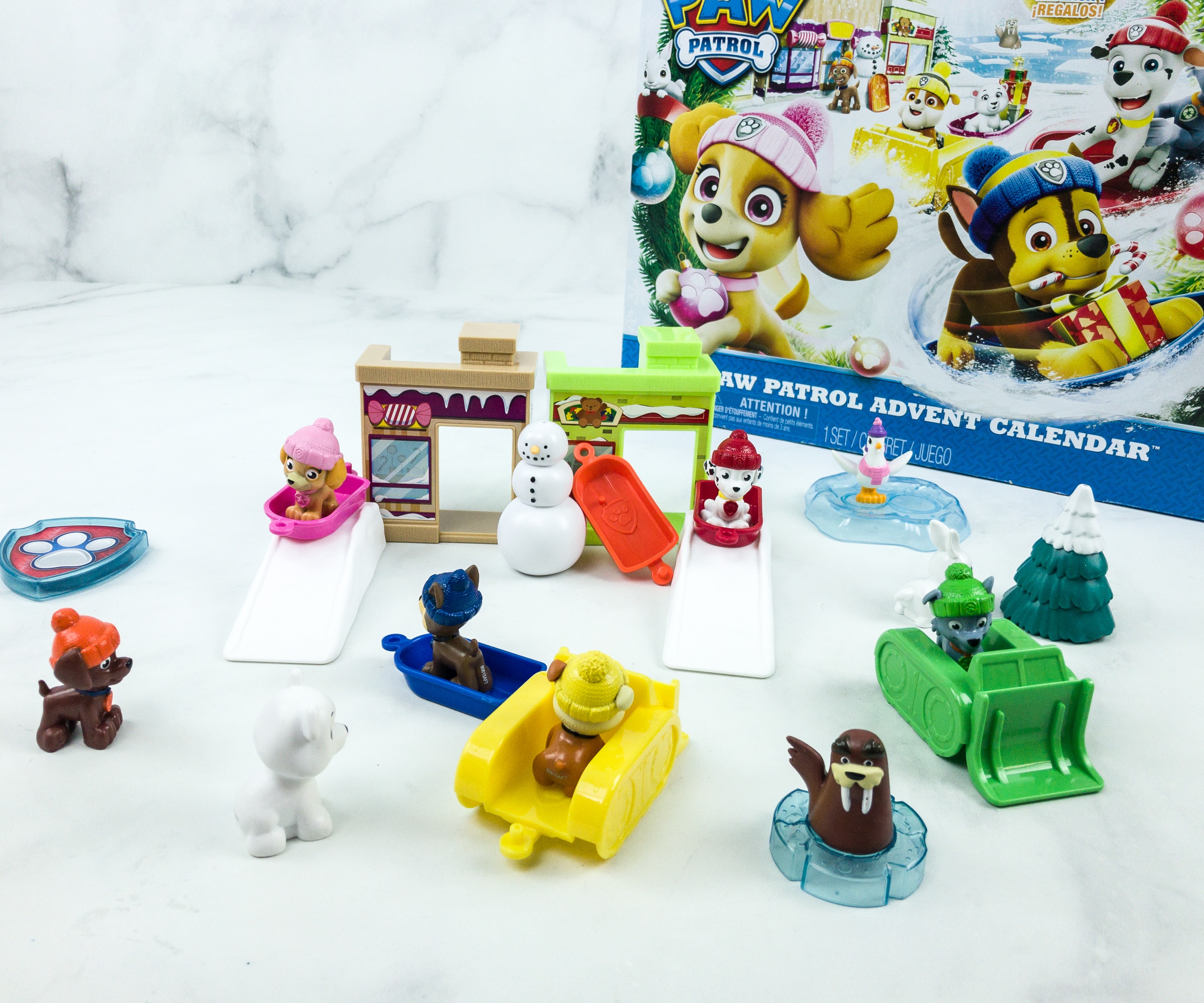 This is the whole set! There are other Paw Patrol characters such as Marshall, Skye, and Zuma. He set up Adventure Bay all by himself, and really squealed when he unveiled the chicken.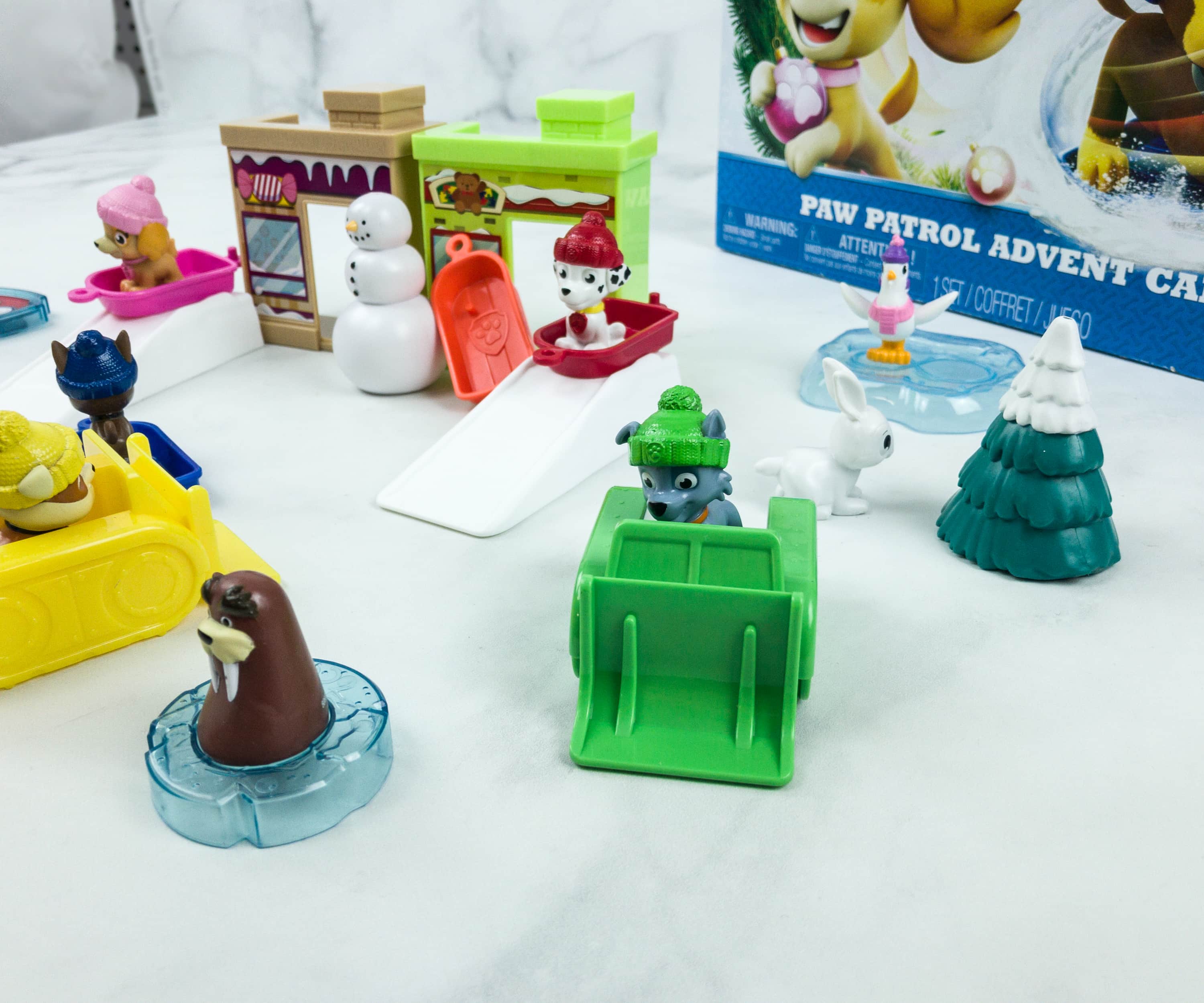 Of course, you can't have a winter wonderland without a snowman and a pine tree. There's also some skating activity and some frozen bodies of water with animals in it. I love that they included a snow plower truck to try and clean up the snow so everybody can have fresh tracks.
The box achieved to capture what is usually happening during winter!
The toys from the Paw Patrol Advent Calendar really encourages the kids to engage with other playmates and engage in roleplay. All the pieces are well made and have a good amount of details. But they will all just come to life depending on how well the kids play with these toys with their imagination! My son was satisfied and kept playing with these, and that's all I really want! A real bonus with this set – it lasts looooong after the holiday for true Paw Patrol fans!
Did you pick up the Paw Patrol Advent Calendar?
Looking for even more advent calendars? Check out all our posts on Advent Calendars or find more on Amazon, or see the list of Advent Calendars in the directory!