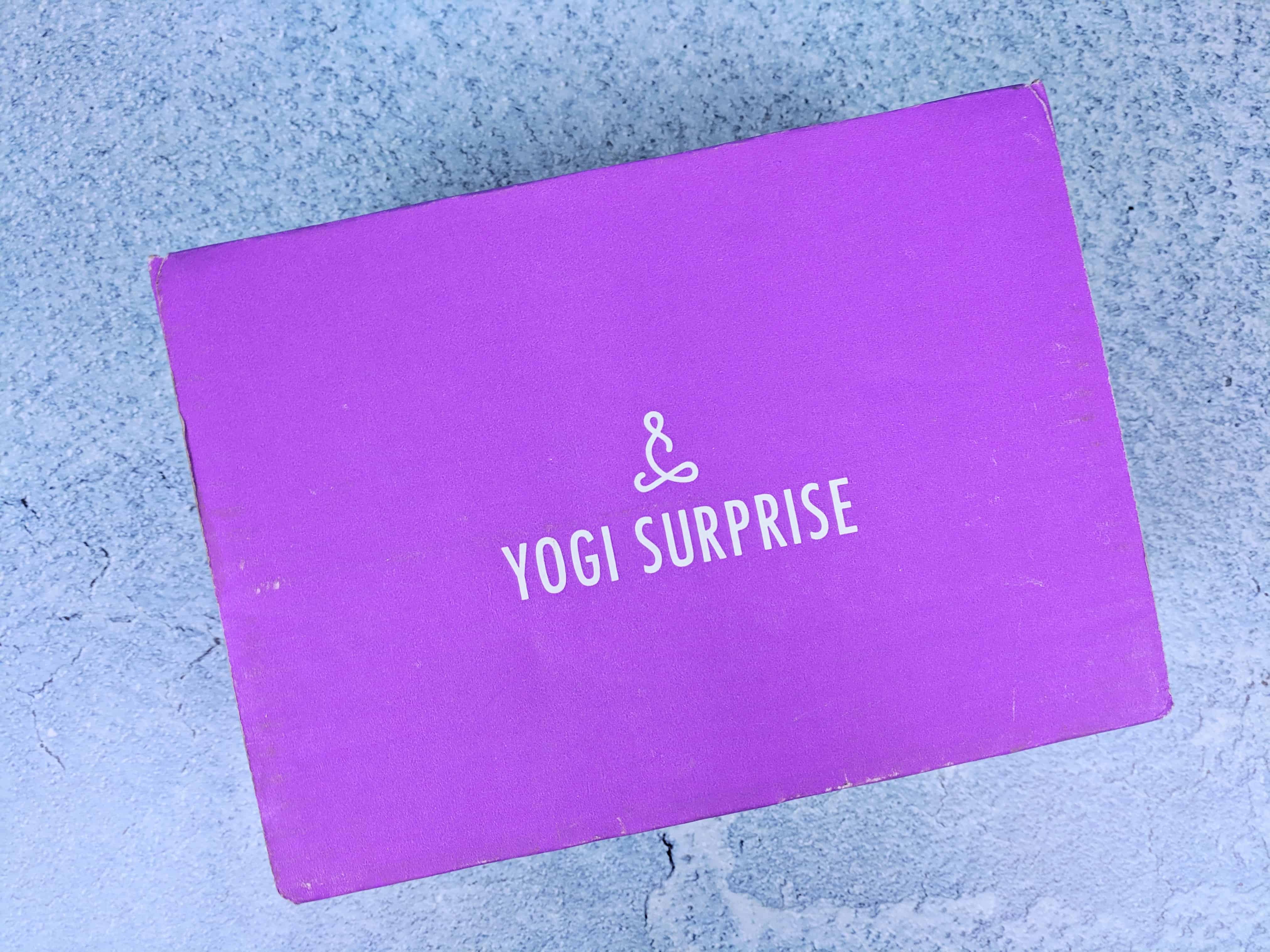 Yogi Surprise is a yoga-inspired monthly subscription box designed to complement your way of living. Each monthly box contains 6-8 products picked by experienced yogis to complement your yoga practice and your life! It's like getting a care package every month! I'm always super excited to see this lovely purple package in my mailbox, it's both zen and happy looking!
LIMITED TIME Deal: Get a FREE extra box with all Yogi Surprise Lifestyle Subscriptions & all Yogi Surprise Jewelry Subscriptions when you use coupon code HOLIDAYGIFT!
DEAL: Get 25% off your first box! Use coupon code HELLO25. OR Get 15% off every box for the life of your subscription with coupon code HELLOYOGI!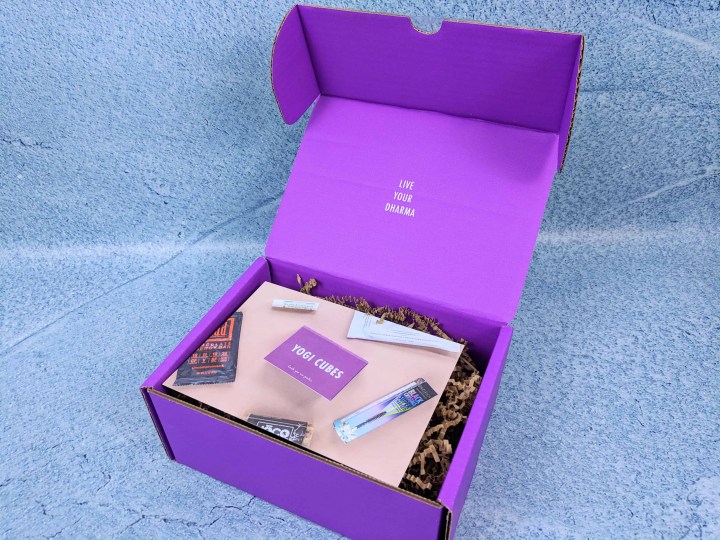 DEAL: Get 25% off your first box! Use coupon code HELLO25.
This month is about Celebration the Gift of Yoga and we received 7 items to help us to share Yoga with our family and friends.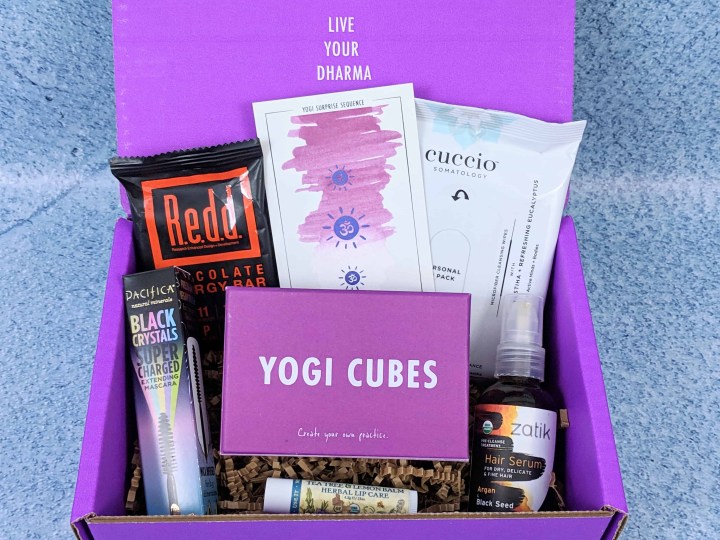 Everything in this month's box, minus the soap that I forgot to add back.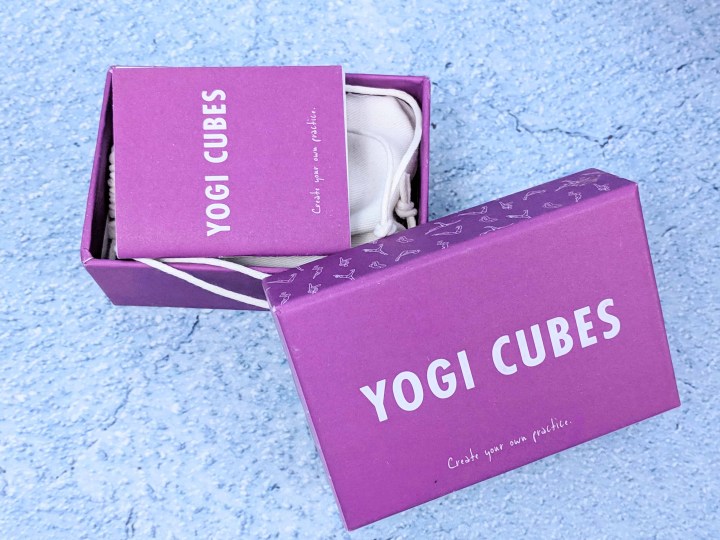 Yogi Surprise Yoga Cubes. This was this month's spoiler and I was looking forward to get them!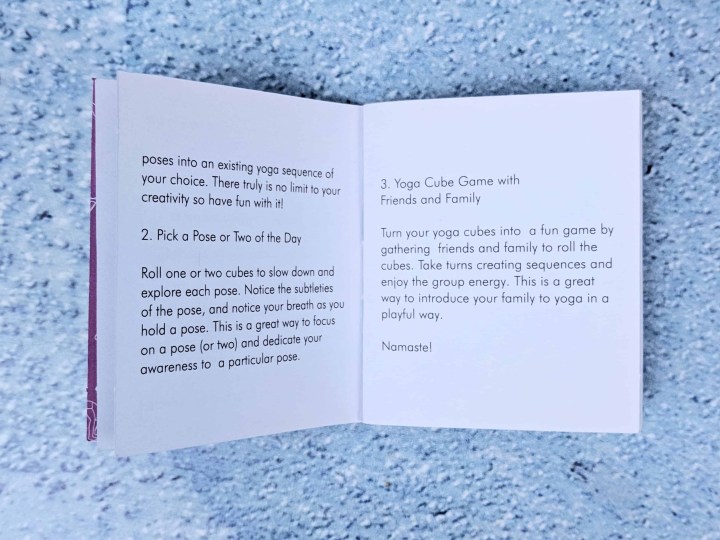 It comes with a tiny little booklet with some ideas of how to use them. You can create your own yoga sequence, pick a pose or two of the day and focus on understanding it, or play a game of "dice" with your friends and family.
The booklet also has the picture and the names (in Sanskrit and in English) of each of the pose found on the cubes.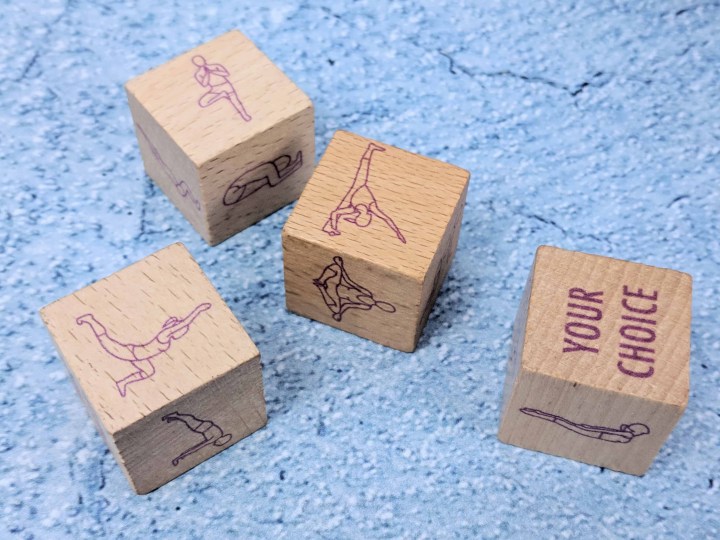 The set includes 4 cubes with 5 set poses and a "Your Choice". I like that the pictures are in the same style as the Yogi Surprise Sequence cards we receive every month.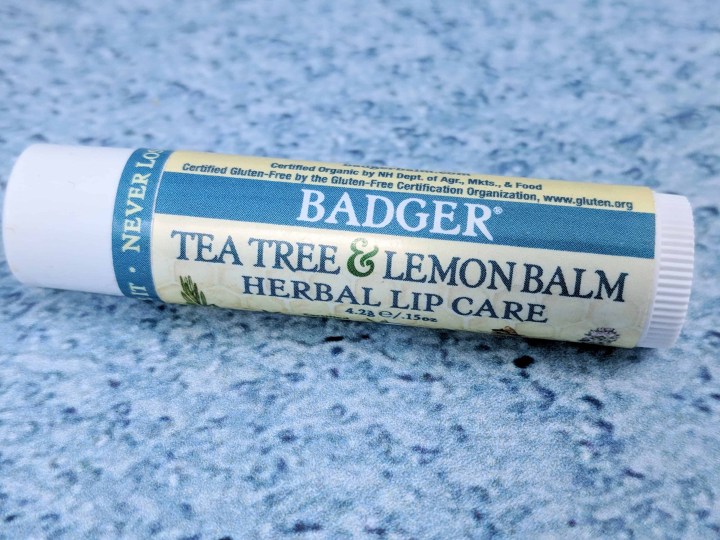 Badger Tea Tree & Lemon Balm Herbal Lip Care. This lip balm is made with Fair Trade certified Cocoa Butter, tea tree and lemon balm, peppermin and menthol, in an organic beeswax and extra virgin olive oil. It's smell good, it's fresh on the lips, and you can never have to many lip balm around in winter. I keep one in my gym bag, my purse, on my desk, in my overnight bag, in my lunch bag, on my bed table, etc.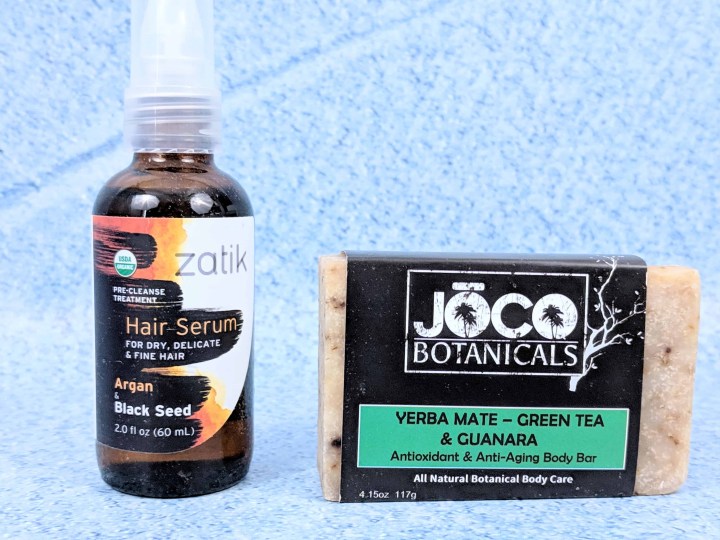 Hair Serum with Black Seed Oil by Zatik. This soothing hair treatment is best for dry, delicate and fine hair, with it's blend of jojoba, grape seed, coconut, argan, black seed, and calendula oil, etc. In winter, my hair gets really dry, and I like to use a bit of argan oil once in a while to keep it under control.
JOCO Botanicals – Yerba Mate, Green Tea & Guanara Body Bar. I've tried a couple of Joco Botanicals soap and they are lovely and all smell so good! This one is no exception as it has a lovely lemongrass and ginger fragrance. It's made with coconut, olive, palm, buriti nut and jojoba oils, as well as shea butter, guarana, yerba mate, green tea, ginger, Ylang Ylang, clove and Birch. Sadly, I'm allergic to one of the ingredients so I cannot try it or touch it.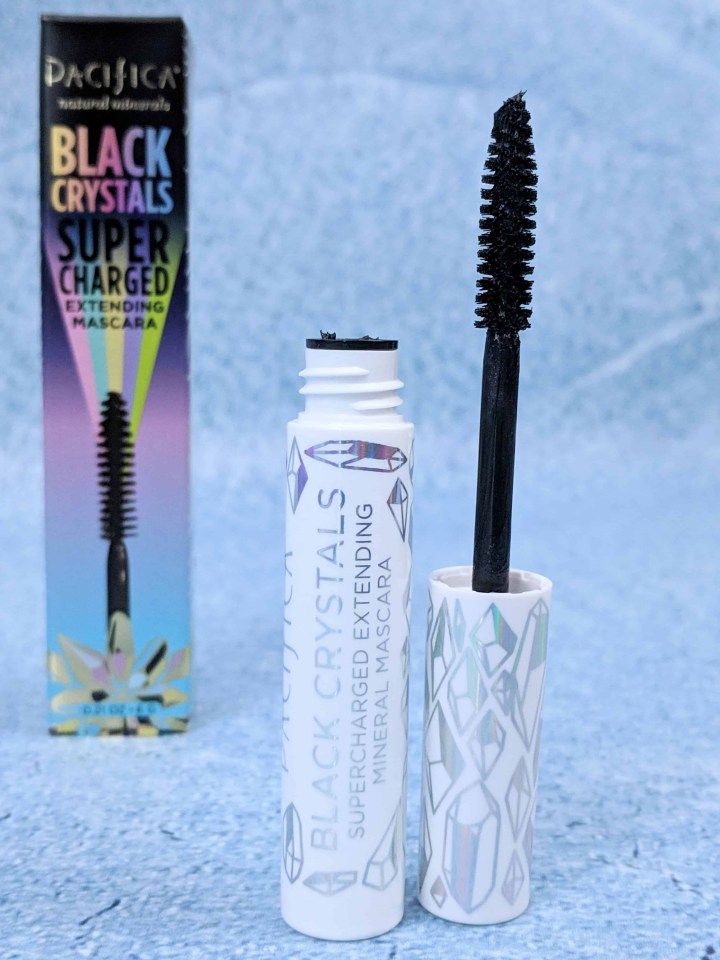 Black Crystals Super Charged Extending Mascara by Pacifica. This was also a spoiler for this month's box. I was quite surprise to see a make-up item, I think it's the first time they've included one in all the month I've received the box. I don't mind it as it's a neutral item, and I like wearing mascara.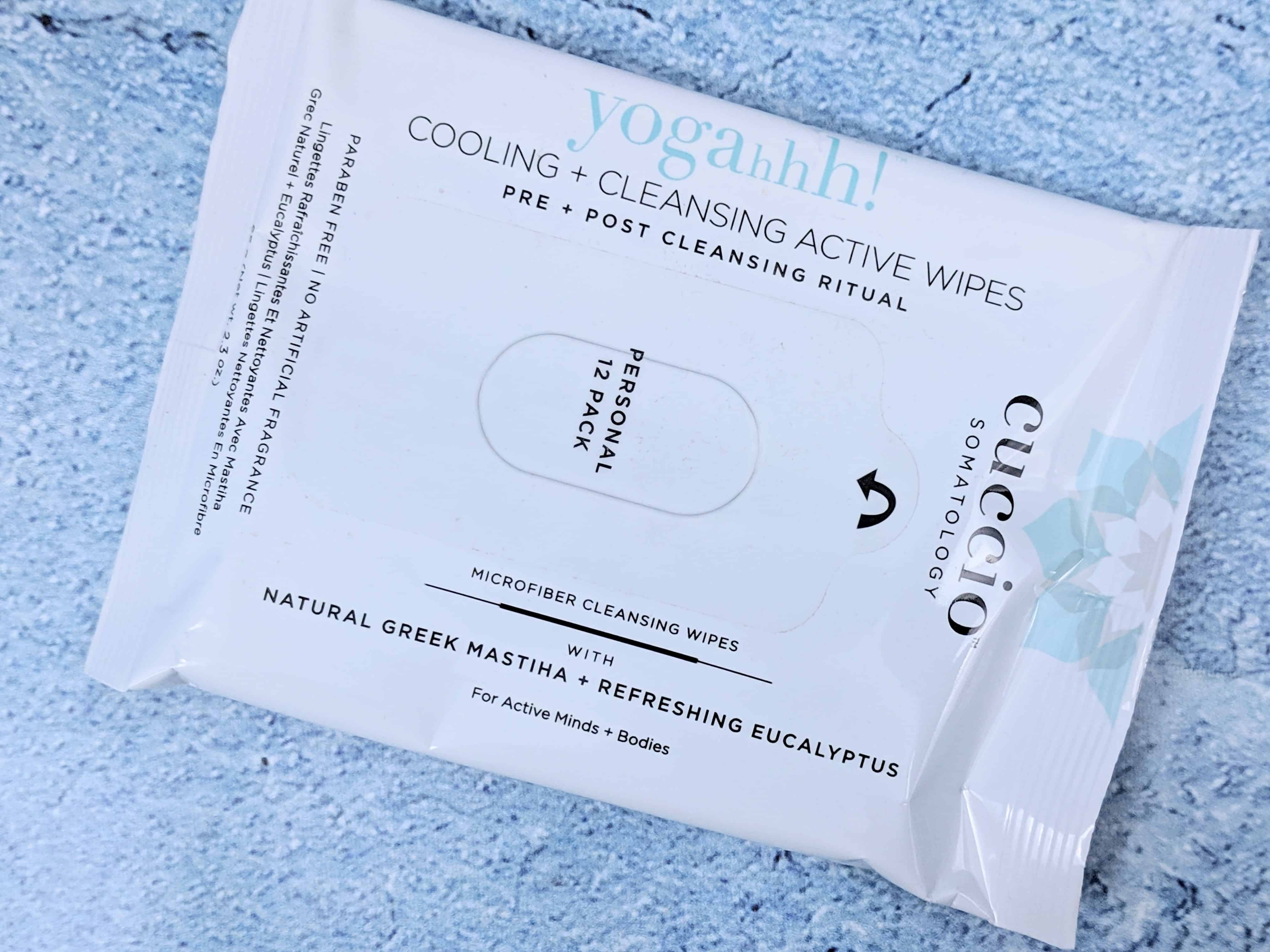 Cuccio somatology – Yogahhh! Cooling + Cleansing Active Wipes. I like to keep cleansing wipes in my car or my purse for any on-the-go needs. These wipes can be used as a cooling post-workout cleanse.
Chocolate Energy Bar by R.e.d.d. This protein bar conatins 10 g of protein, is gluten-free and has 39 g of caffeine for a boost before or after your workout.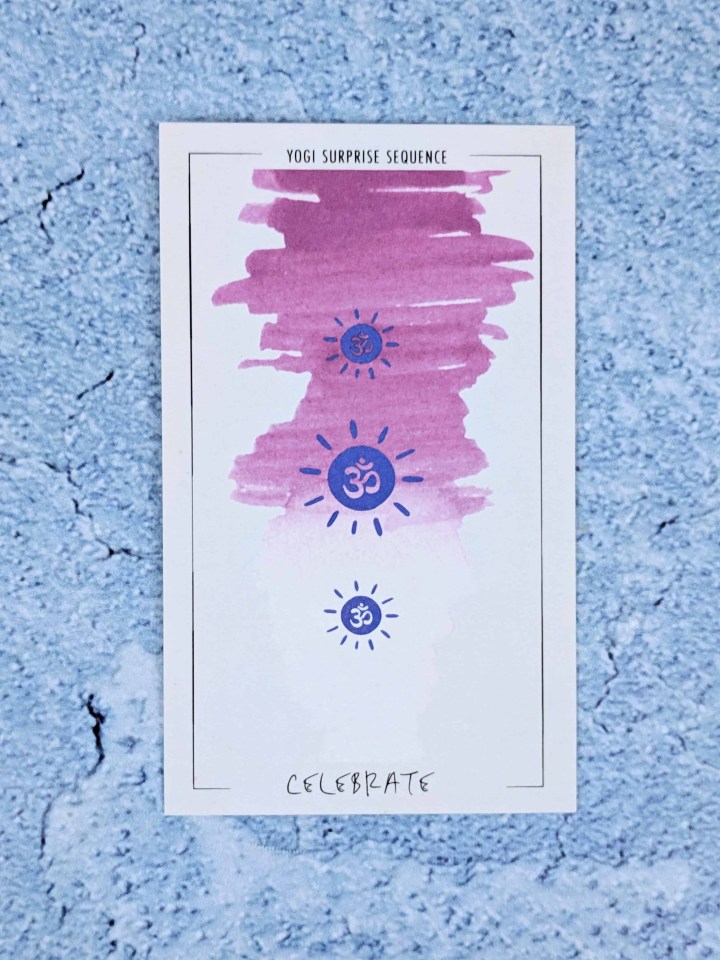 Yogi Surprise Sequence. I love my Yogi Surprise Sequence!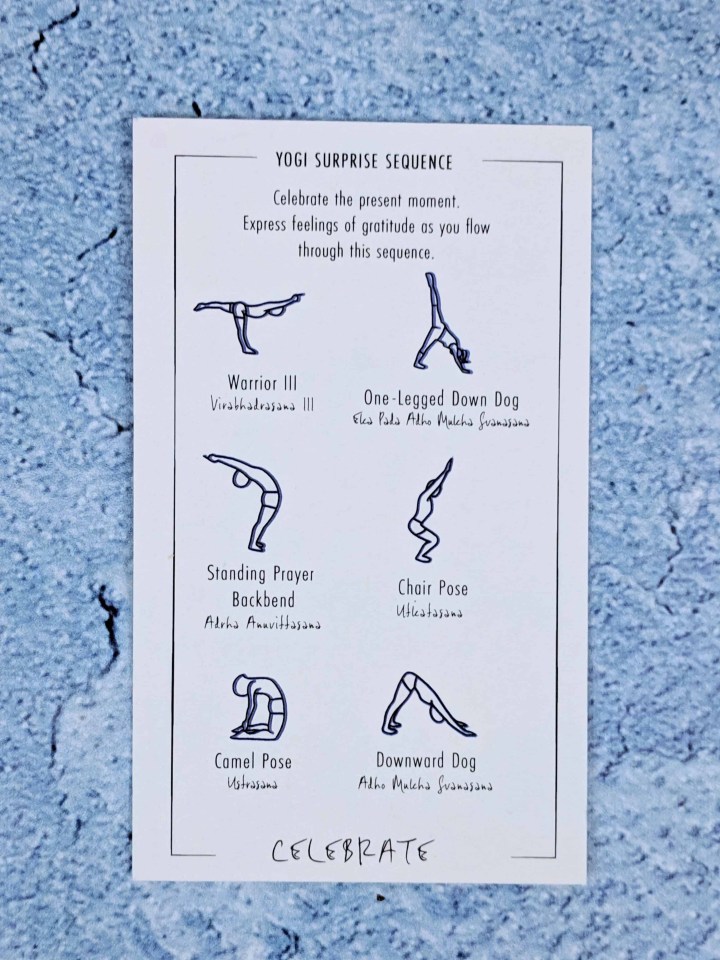 This sequence will help you to celebrate the present moment, well needed during this busy time of the year.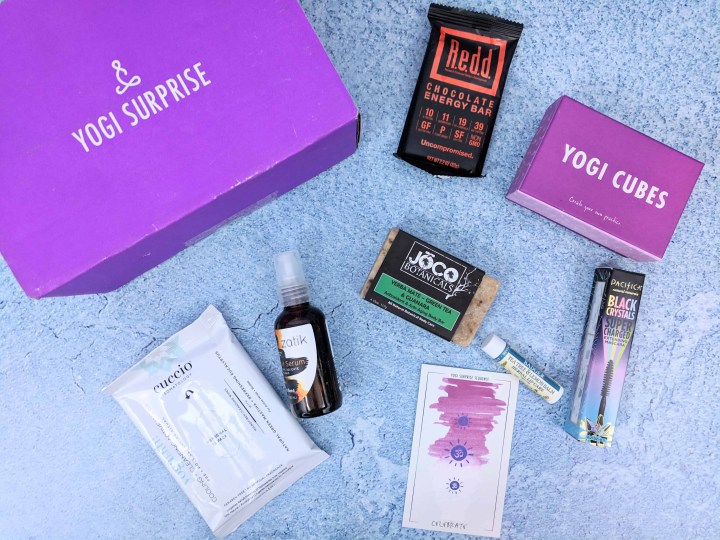 I was surprise to receive a make-up item in this month's box, but everything else was perfect for this time of the year and I really enjoy my Yogi Cubes as they are easy to carry around while travelling over the end of year break.
Are you a Yogi Surprise subscriber? What did you think of the box?