Spiritual Guru box is a new monthly subscription box of spiritually inspired items specifically picked to enhance your spiritual experience. Each box will contain a mix of 5-7 items that can include: spiritual or growth tools, a high vibration crystal or stone, essential oil spray or roll on, scented candle, boho jewelry, mala beads or other adornments, figurine or other mystical items. Many of the products are made by skilled artisans, natural or organic, cruelty-free, and eco-friendly. The box is 100% Vegan and cruelty-free.
Every new subscriber will receive the initial "Raise Your Vibration" theme box. Previous boxes are also available as one-time purchase in their store.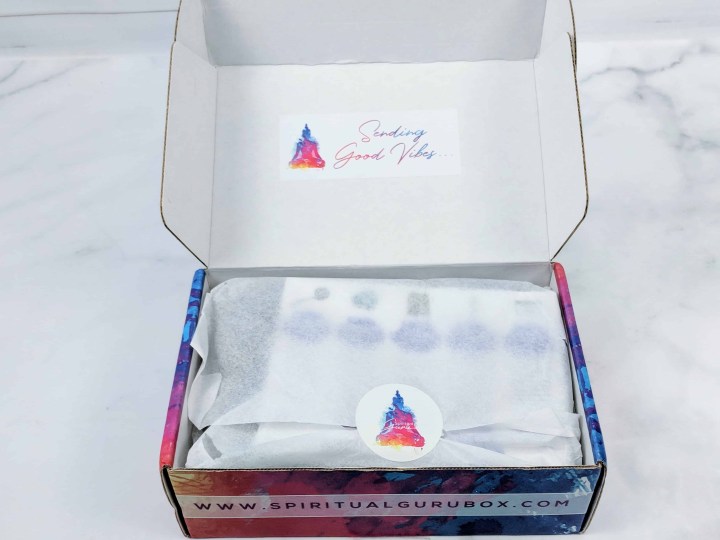 I'm always excited to dig in this box with all the fun colors and the Good Vibes that come from it!
This month's theme is Chakra. The information card explains how you could receive a free gift in your next box by sharing a picture of your box on Instagram.
Every month, we also receive our personalized oracle card from the Crystal Angels Oracle Card. Mine is Diamond to remind me to value my self-worth.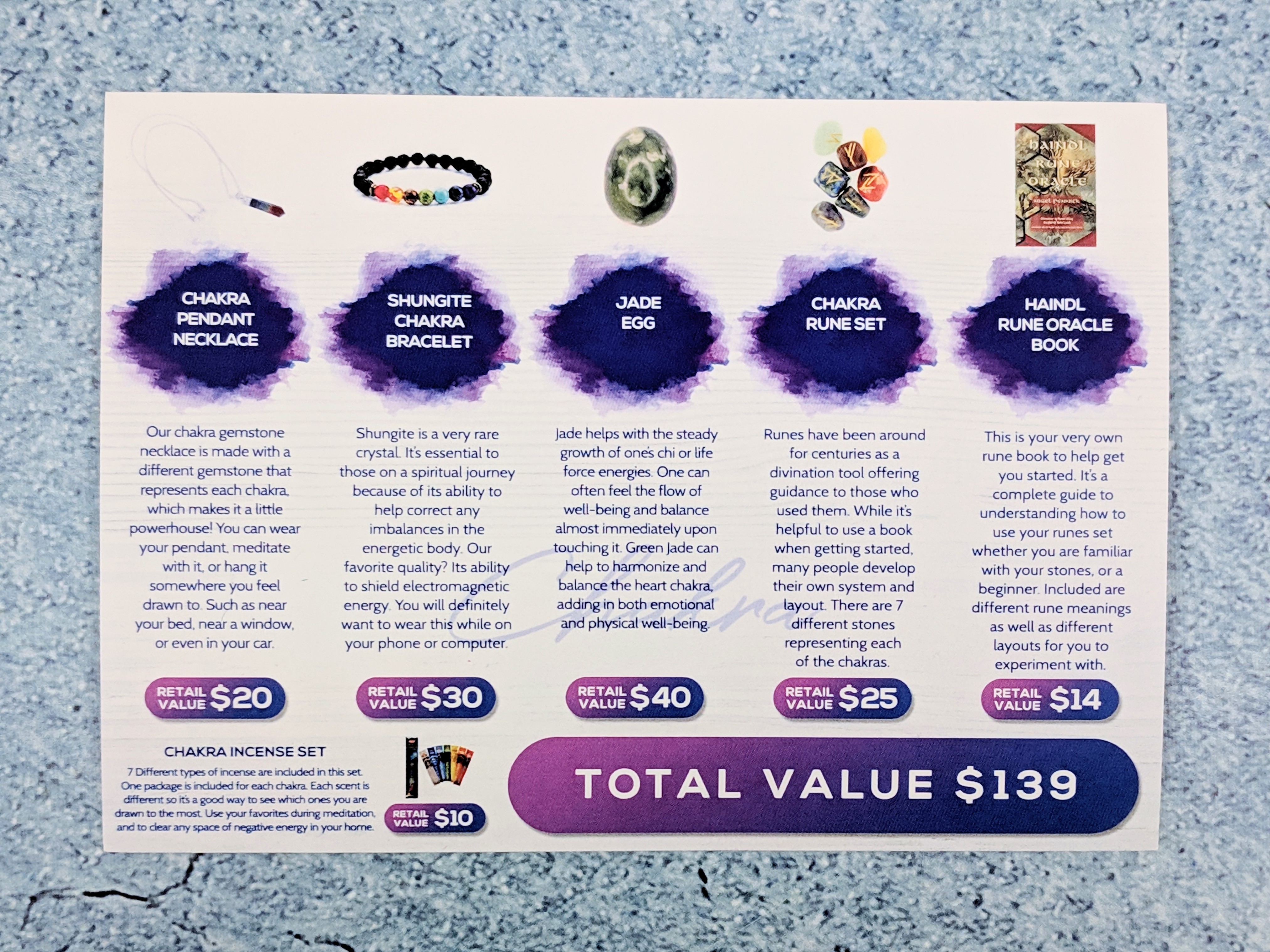 The information card details everything about this month's items.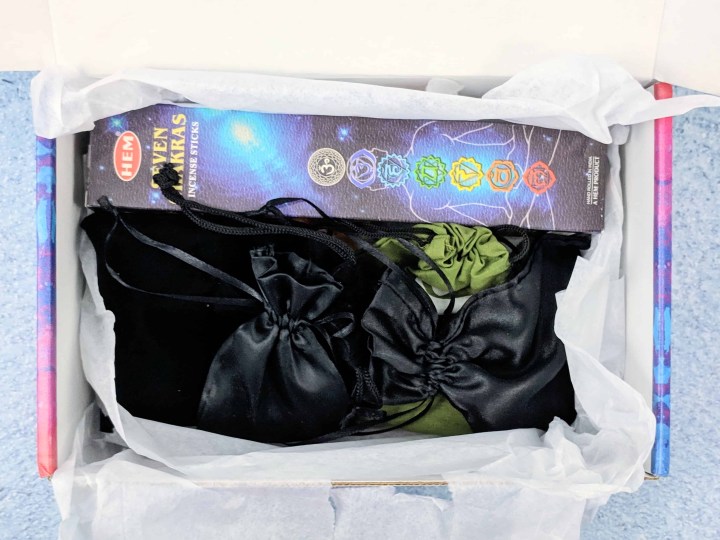 Almost everything in the box came wrapped in little bags.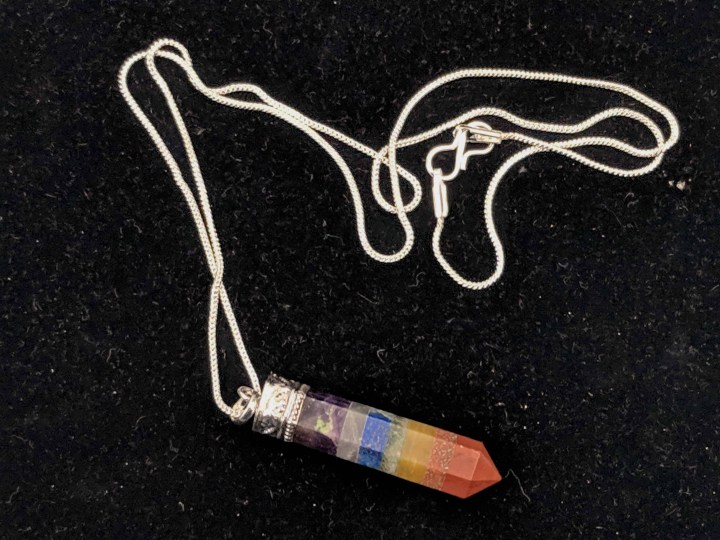 Chakra Pendant Necklace. As per the card, you can wear it as a pendant or hang it where you want : in a window, near the bed or in the car.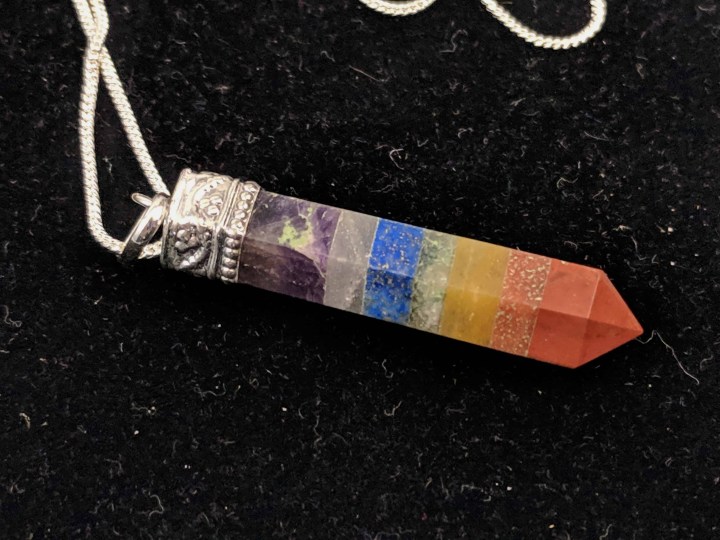 It's a fun little pendant with lovely color. I wished that mine would have shown more of the green and of the color missing between the blue and the purple.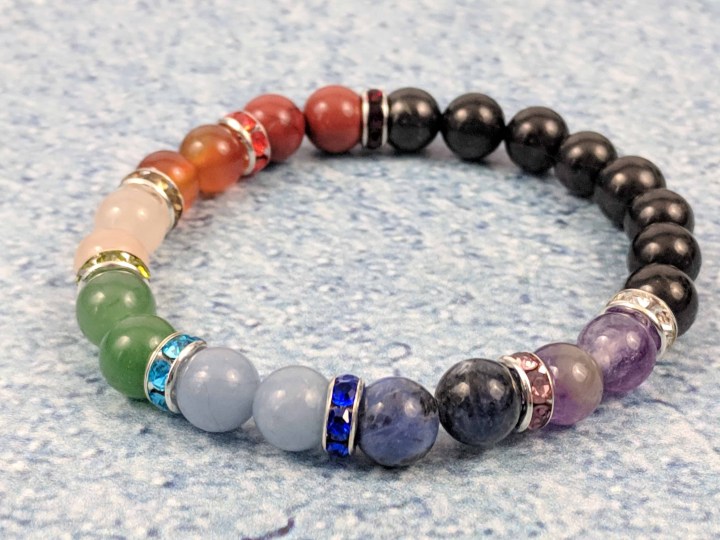 Shungite Chakra Bracelet. The shungite are the dark beads on this bracelet. There's no information on what the other beads are, so here's what I think they are, moving from red to purple : Red Jasper, Carnelian, Rose Quartz (although I saw the bracelet from other subscribers and it looks more yellow, so maybe yellow jade or citrine), green aventurine, aquamarine (or blue jade), sodalite and amethyst. I like the addition of the colored rhinestone spacer beads with the colors fitting each of the chakra.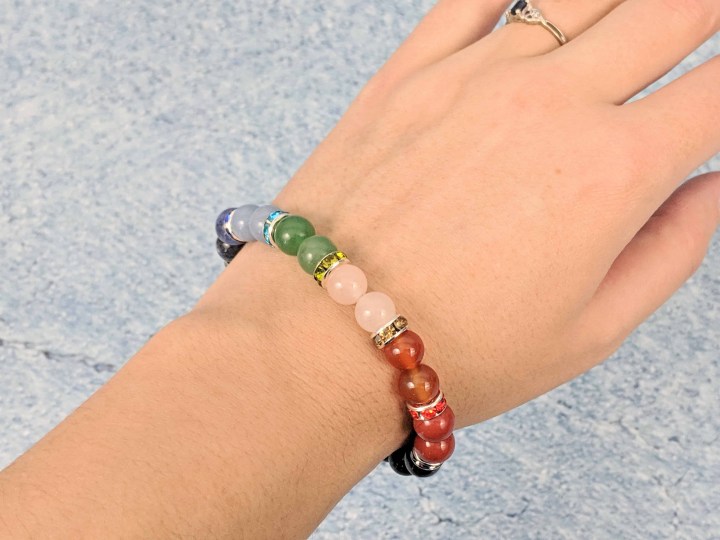 It's super cute on the wrist and will be a nice colorful addition to my Holidays outfits!
Jade Egg. This stone is associated with the Heart Chakra, and can help both emotional and physical well-being.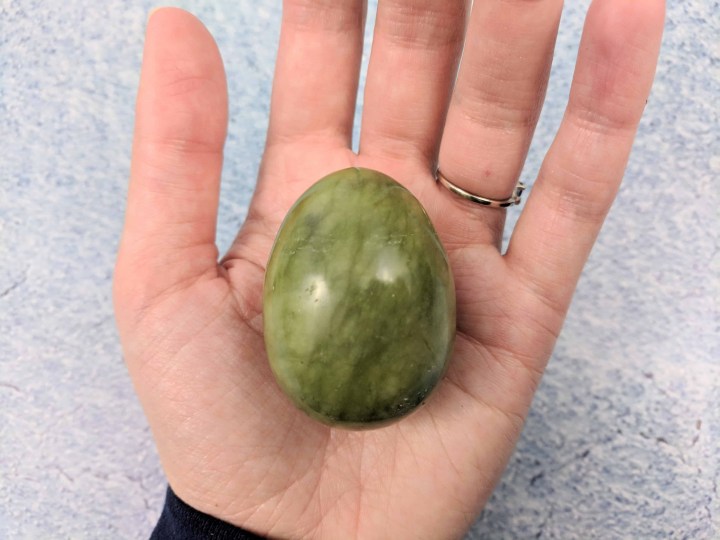 It fits in the palm of the hand. I wish we would have received a little display to keep it upright on my table.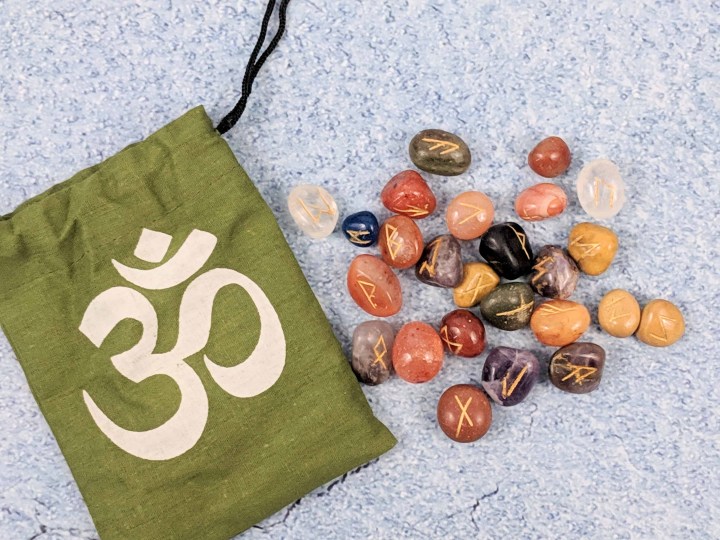 Chakra Rune Set. We received a set of 25 runes (one of the stone is the "blank" rune). They come in a "Om" bag (there was different colors you could have gotten). I found it weird to have the Hindu Om symbol associated with the Norse Runes, but I'll just find an other bag for the runes and use the Om one for a different purpose.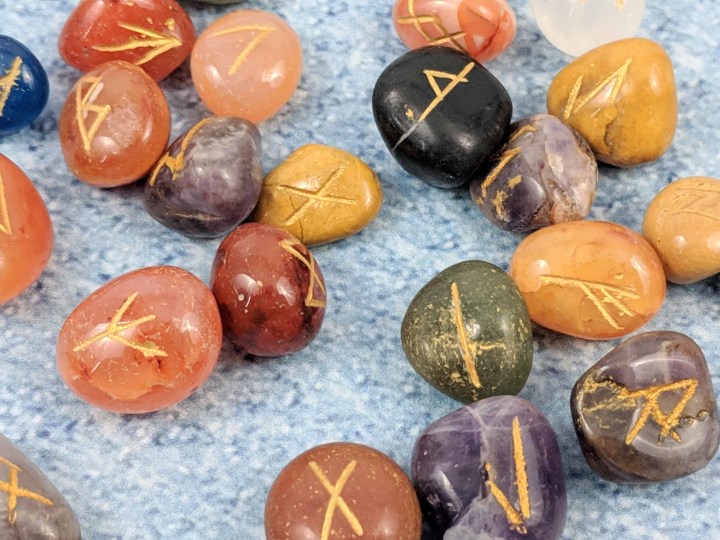 I love the different stones used, and the golden paint in the rune's grooves.
Haindl Rune Oracle Book. Since we don't have a little booklet included with the runes to have an idea of what each are (like we get with almost any new tarot deck we buy), I'm happy that a Rune Book was included in this box.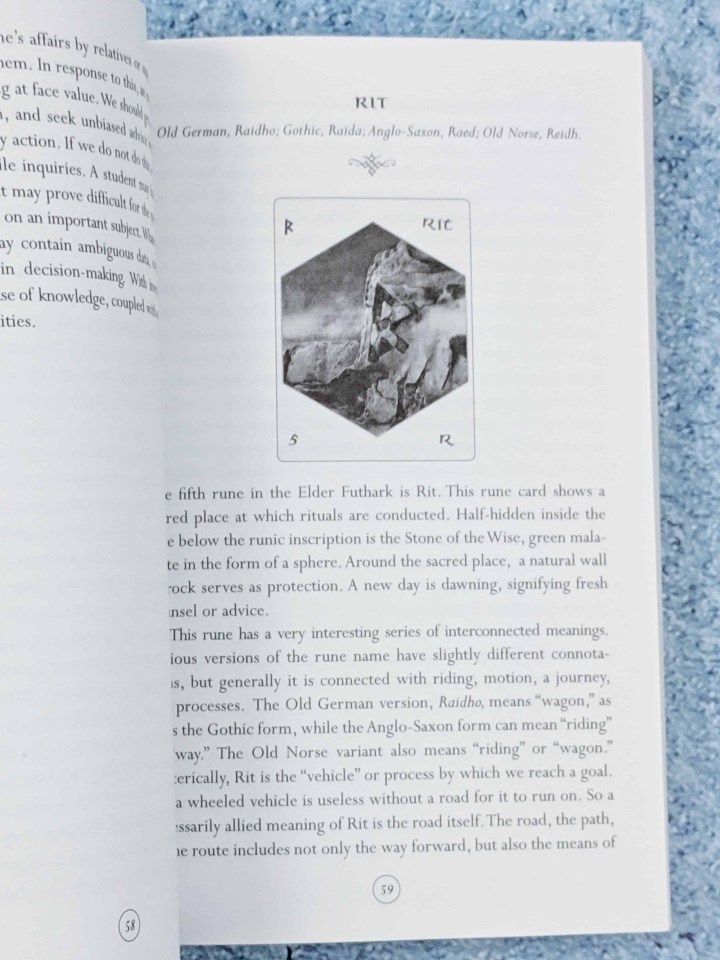 This is the accompanying book to a rune oracle deck, but the runes are runes so this book is a good starting point to understand what they are. Each Rune is giving their name, their origin and their symbolic meaning.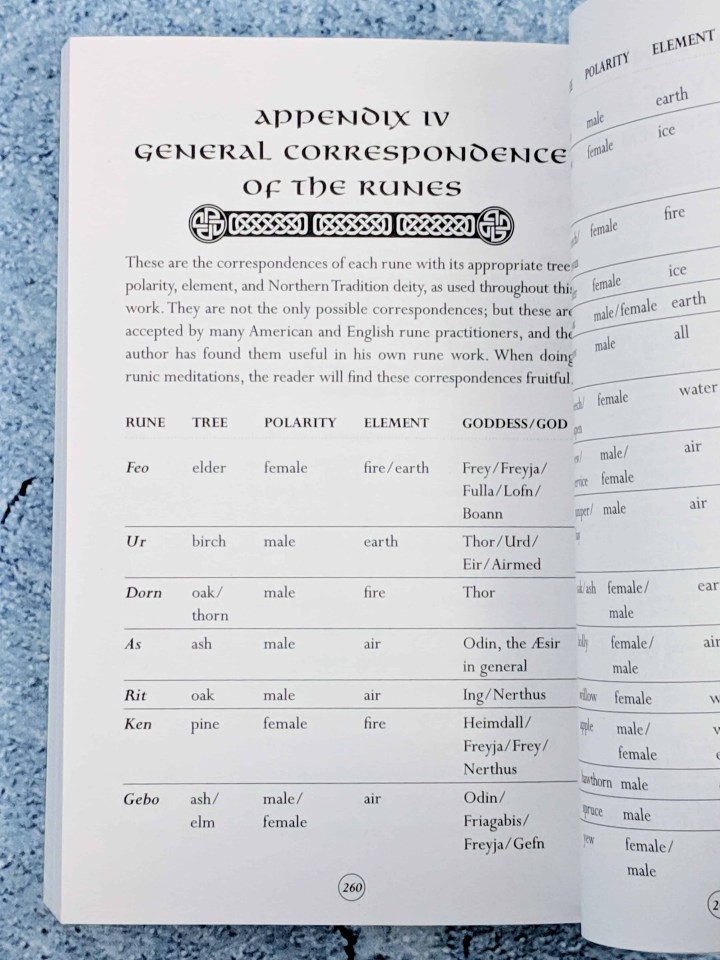 The appendixes contain useful information such as their correspondences and their basic meanings for a quick look.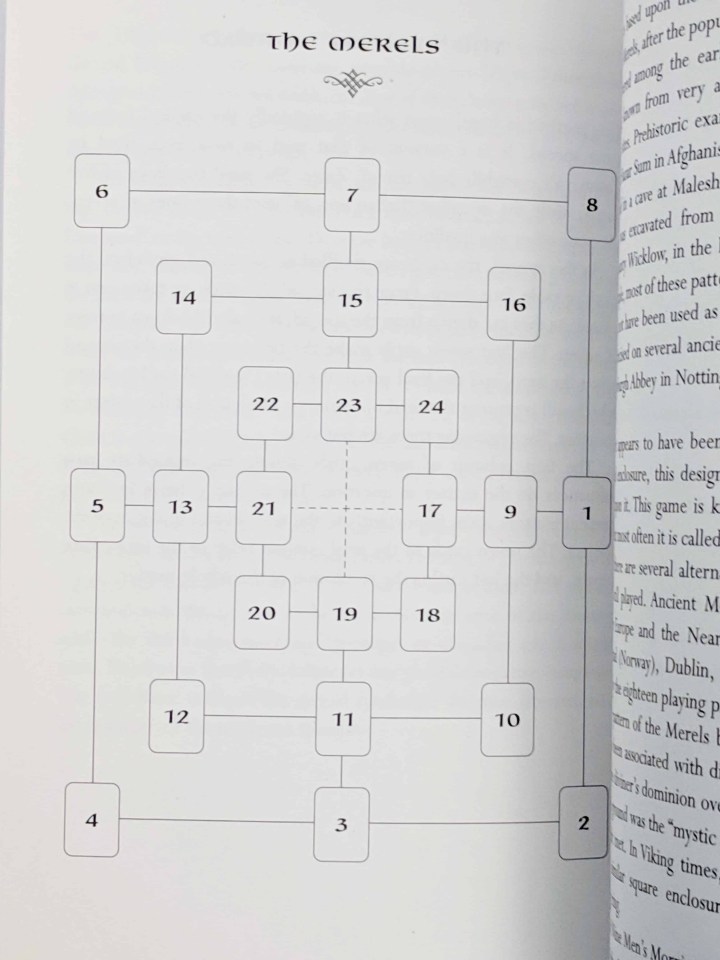 And there's also some examples of spreads you can use with your runes. Of course, this is all made for cards, but it can easily be adapted for the stone set.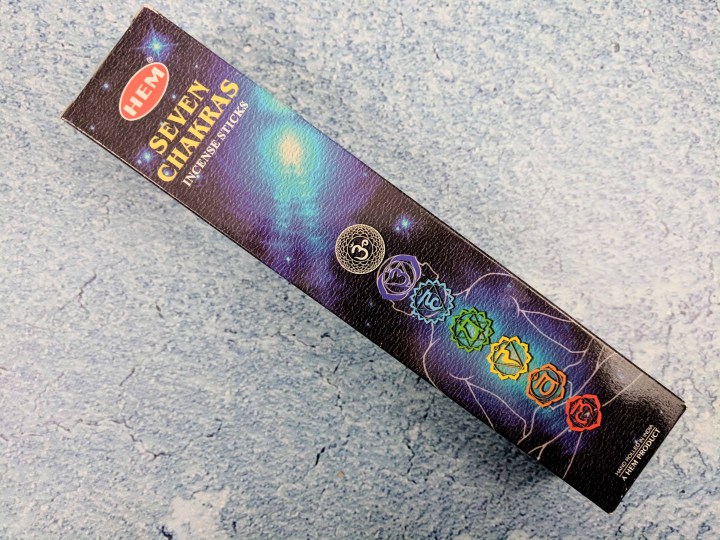 Chakra Incense set. This was so fragrant when I opened my box!
At the back of the box, we have some information about each chakra.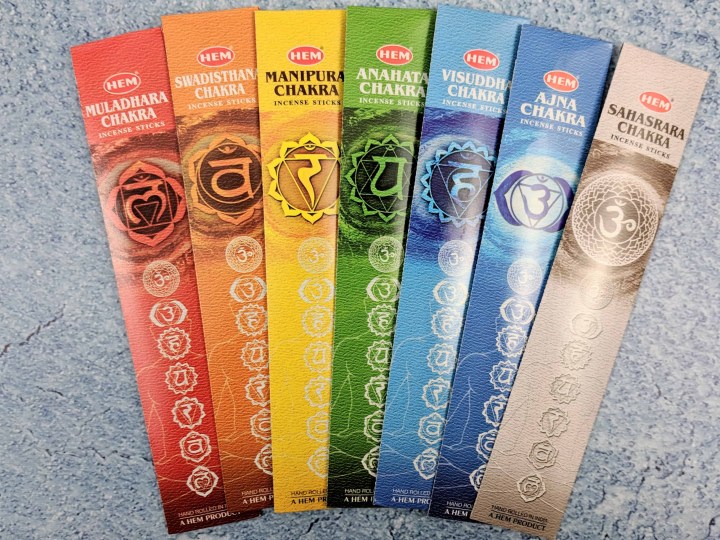 There's five incense sticks per chakra.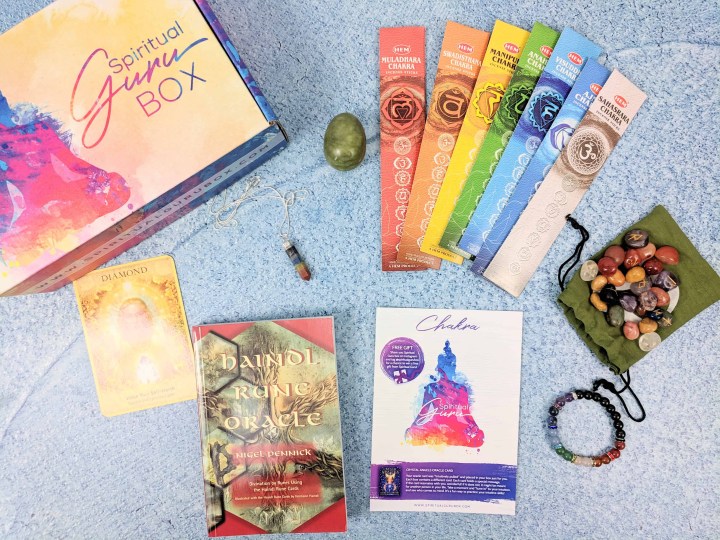 I'm always excited to receive my Spiritual Guru Box. I'm amazed by the variety of items, and they are things that I would have actually bought for myself (or wish I had!) I'm so happy to have received my first stone rune set with a book to help me learn more about them and the bracelet is fun and lovely. The value is always amazing and it's probably one of my favorite subscription boxes as it's full of good vibes, originality and I'm excited to see what else we will receive.
What do you think of this subscription? Let us know in the comments!