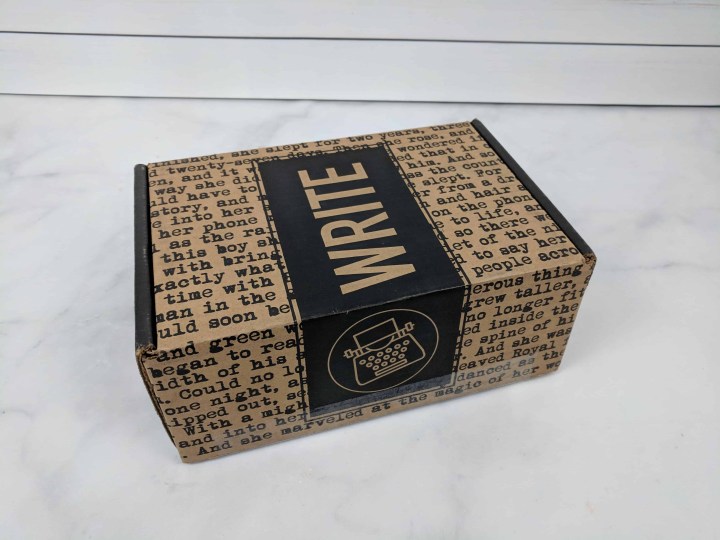 Scribbler is a monthly subscription box for novelists, created by authors, for authors. Scribbler is committed to helping writers improve their craft and reach their publishing goals, month after month.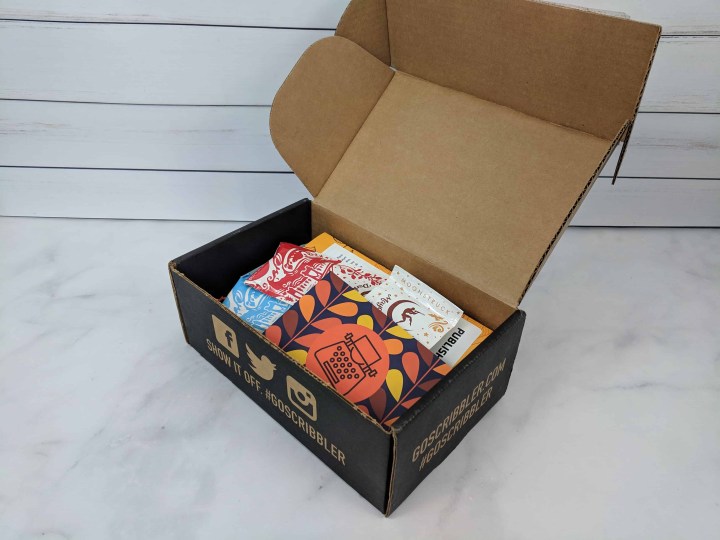 For $29.99 a month, you'll get a newly released fiction, a "Writing Passport" from the featured author to help you master the monthly theme, curated writerly gifts, and an invitation to communicate with a publishing professional.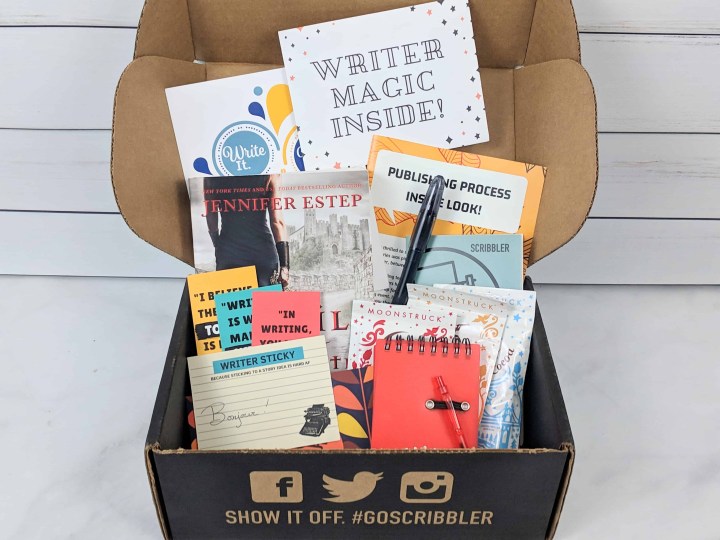 Everything in the box!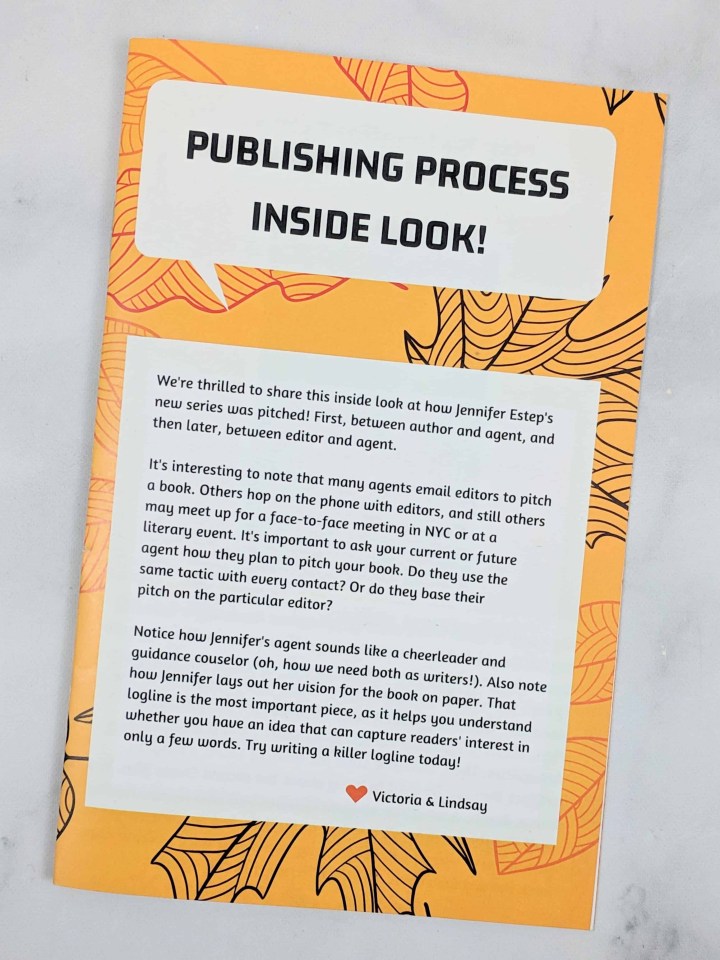 Every month, we are welcomed with a Publishing Process Inside Look.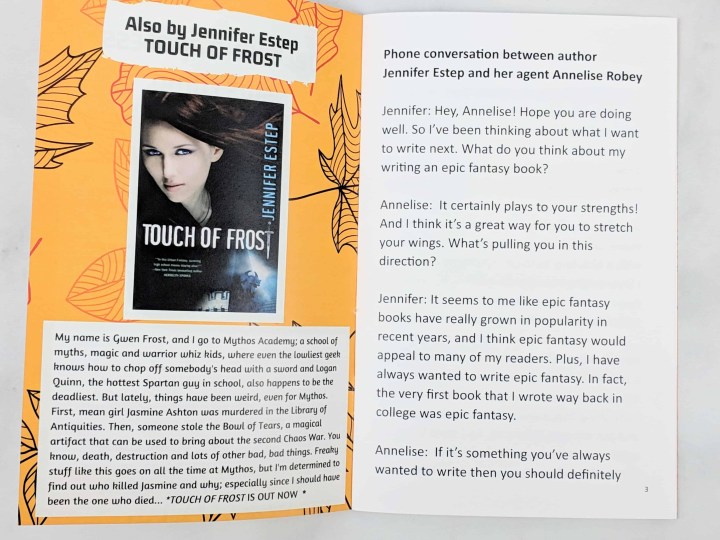 For November, we have an insight of how the author Jennifer Estep pitched her new series to her agent with a transcript of the phone conversation between the two.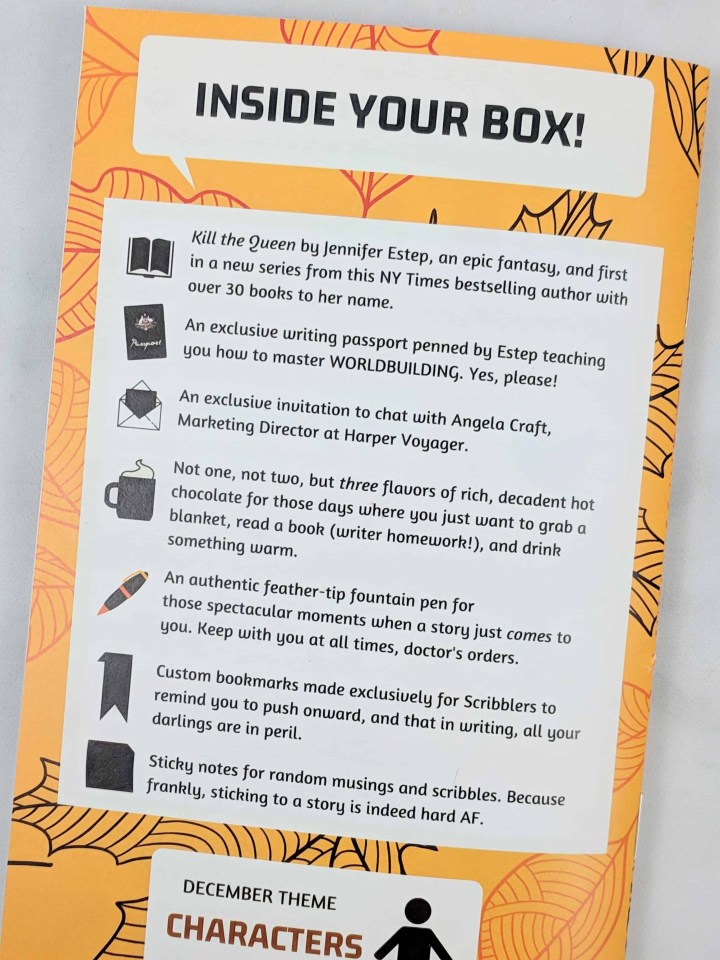 At the back of the booklet, we have a list of the items in the box.
On the back of the welcoming postcard there's a little writing challenge and you can share it on social media using #goScribbler to find a community of like-minded writer!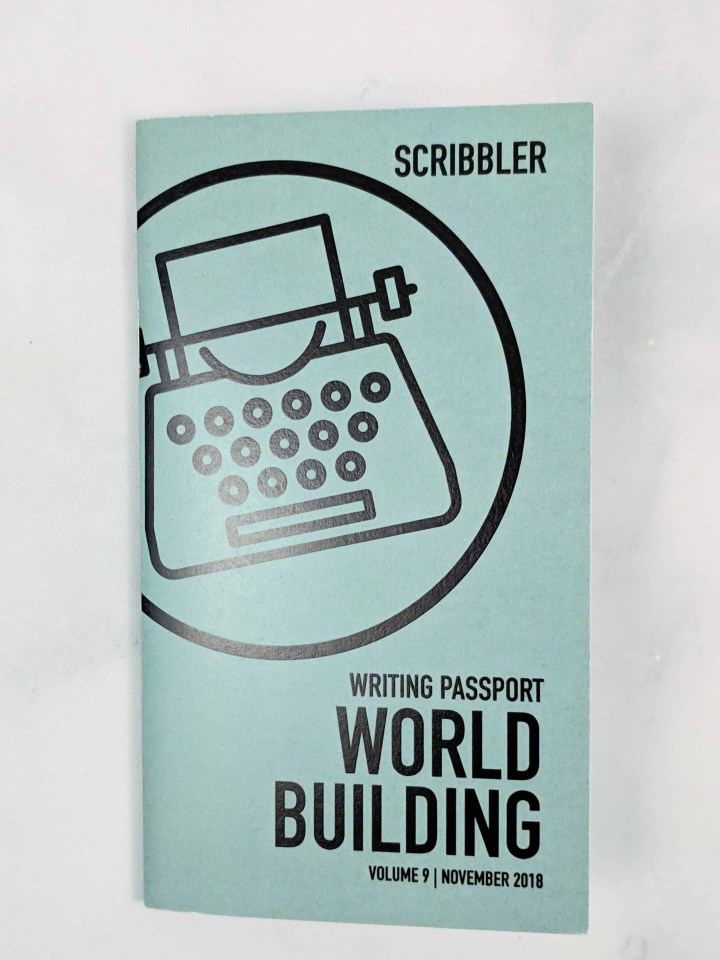 This month's theme is World Building.
There's a quick introduction in the booklet about why the featured book was chosen.
There are no exercises in the booklet to improve our skills, it's more about the theory behind World Building, from this month's author viewpoint. I prefer that way as I like to play with my own story and characters instead of doing an exercise that has nothing to do with what I'm doing.
The book this month is Kill the Queen by Jennifer Estep. From Amazon:
In a realm where one's magical power determines one's worth, Lady Everleigh's lack of obvious ability relegates her to the shadows of the royal court of Bellona, a kingdom steeped in gladiator tradition. Seventeenth in line for the throne, Evie is nothing more than a ceremonial fixture, overlooked and mostly forgotten.

But dark forces are at work inside the palace. When her cousin Vasilia, the crown princess, assassinates her mother the queen and takes the throne by force, Evie is also attacked, along with the rest of the royal family. Luckily for Evie, her secret immunity to magic helps her escape the massacre.

Forced into hiding to survive, she falls in with a gladiator troupe. Though they use their talents to entertain and amuse the masses, the gladiators are actually highly trained warriors skilled in the art of combat, especially Lucas Sullivan, a powerful magier with secrets of his own. Uncertain of her future—or if she even has one—Evie begins training with the troupe until she can decide her next move.

But as the bloodthirsty Vasilia exerts her power, pushing Bellona to the brink of war, Evie's fate becomes clear: she must become a fearsome gladiator herself . . . and kill the queen.
It looks interesting, and as this is the first book of a fantasy series, I will have to read if I enjoy it!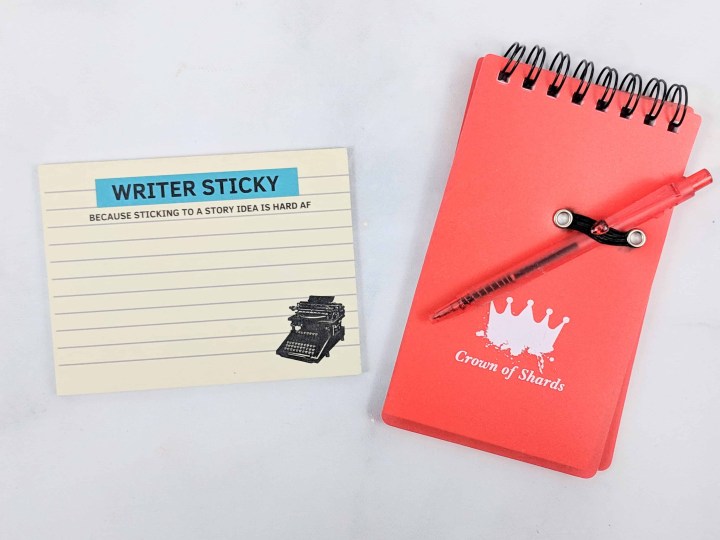 Goodies!!! This month, we received a Writer Sticky pad that I've already used for my writing daily to-do-list. We also received a Crown of Shards notepad with pen. Crown of Shards is the name of the series to which "Kill the Queen" belongs. I don't really like the pen as it's very short, and the spring works whenever it fills like it. But I like the size of the notepad to keep in my purse.
We also received a set of three bookmarks with quotes from famous writers.
Splendid Pen – Fountain pen + 3 black ink cartridges. I love writing by hands, and fountain pen feels so great to write with!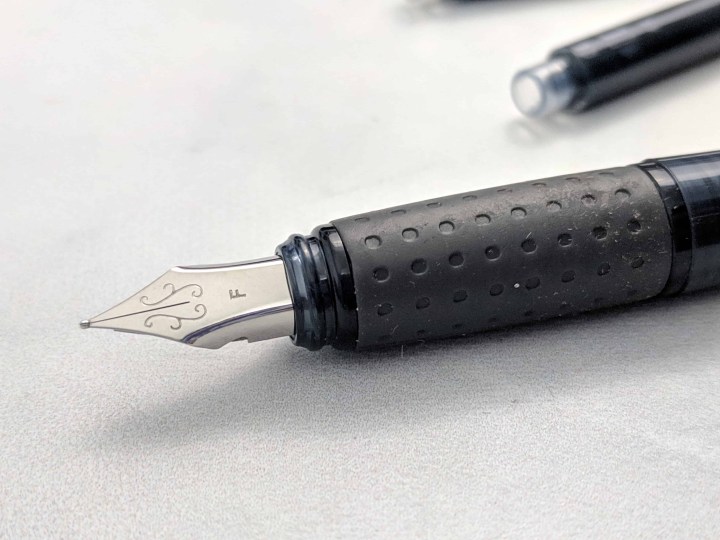 I've only been using for a day, and so far it's quite nice. I like the rubber part, it makes the pen slightly bigger, which is perfect for my grip.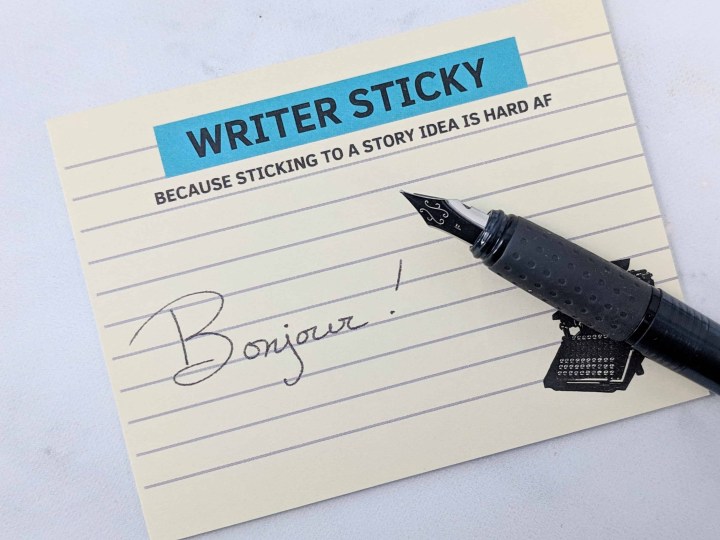 It looks a bit blotchy on the sticky, but it looks better on a glossier type of paper.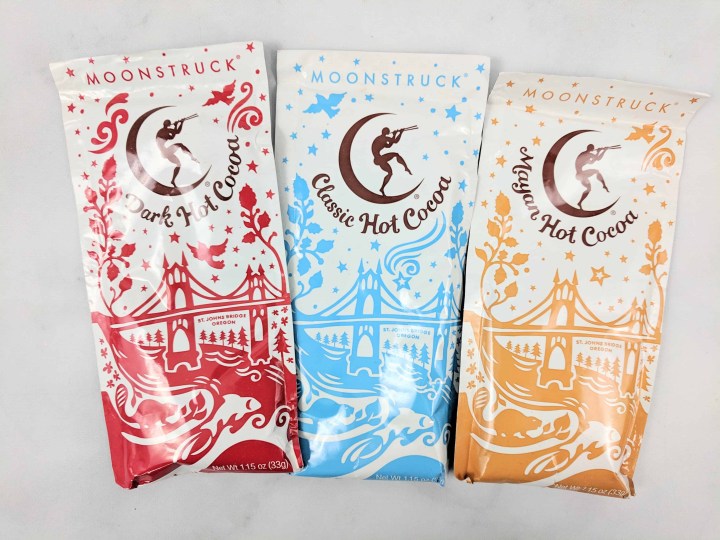 Moonstruck Hot Chocolate! What's better when winter comes than sitting down with a book and drink some nice chocolate? Nothing! We received three types of hot chocolate : Dark Cocoa, Classic Cocoa and Mayan Cocoa.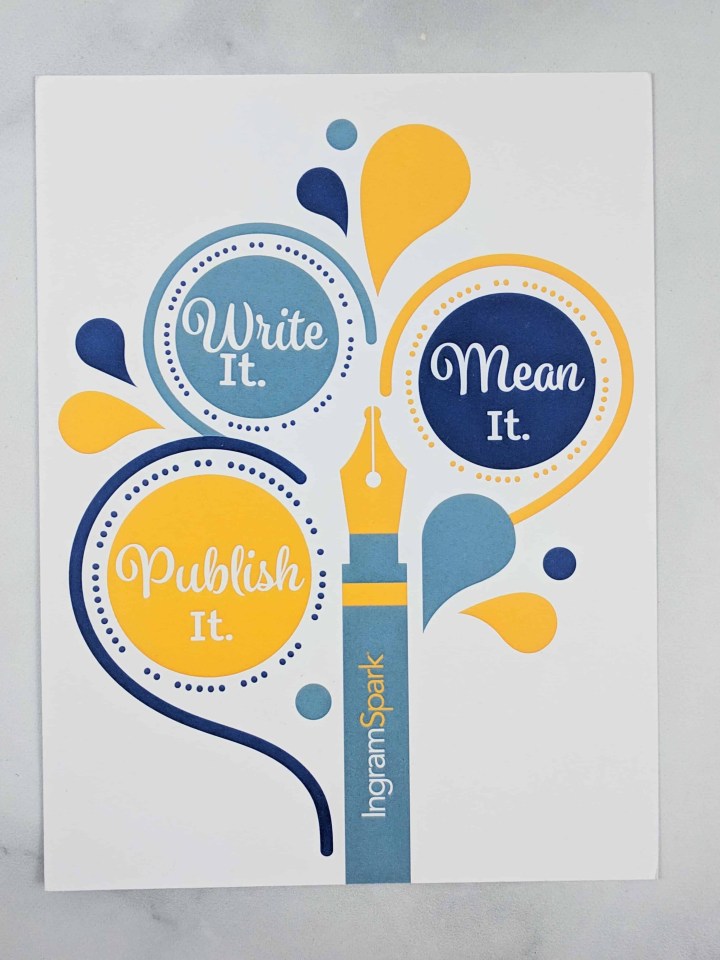 IngramSpark Card. IngramSpark is a Self-Publishing plateform for Print-on-demand book and ebook publishing.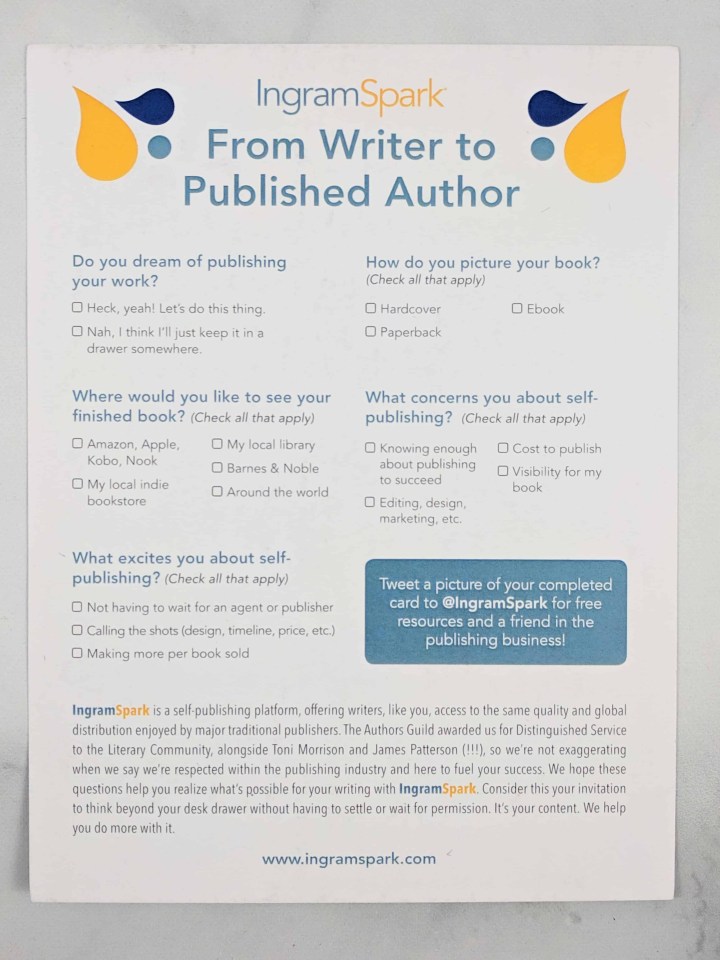 We received a fun card from IngramSpark with some informations about how to move from writer to published author.
Writer Magic Inside! 
This is an invitation to an exclusive chat with Angela Craft, the marketing director for Avon and Voyager at HarperCollins Publishers . on December 6. Knowing that this is the November box and that I live in Canada (so I get my box quite late), I still had plenty of time to get ready for this event! I really appreciate how far ahead of the event we get the box! Good job!

This was a nice box from Scribbler. I really liked the fountain pen and I'm looking forward to read the book, but this month falls short on the goodies, even though they are all cute and useful. The booklet is always a nice read to remind us of different aspect of writing a book, making use more mindful when we write. It's also amazing to have the opportunity to connect with people in the industry and have insights from published authors!
What do you think of this month's box?