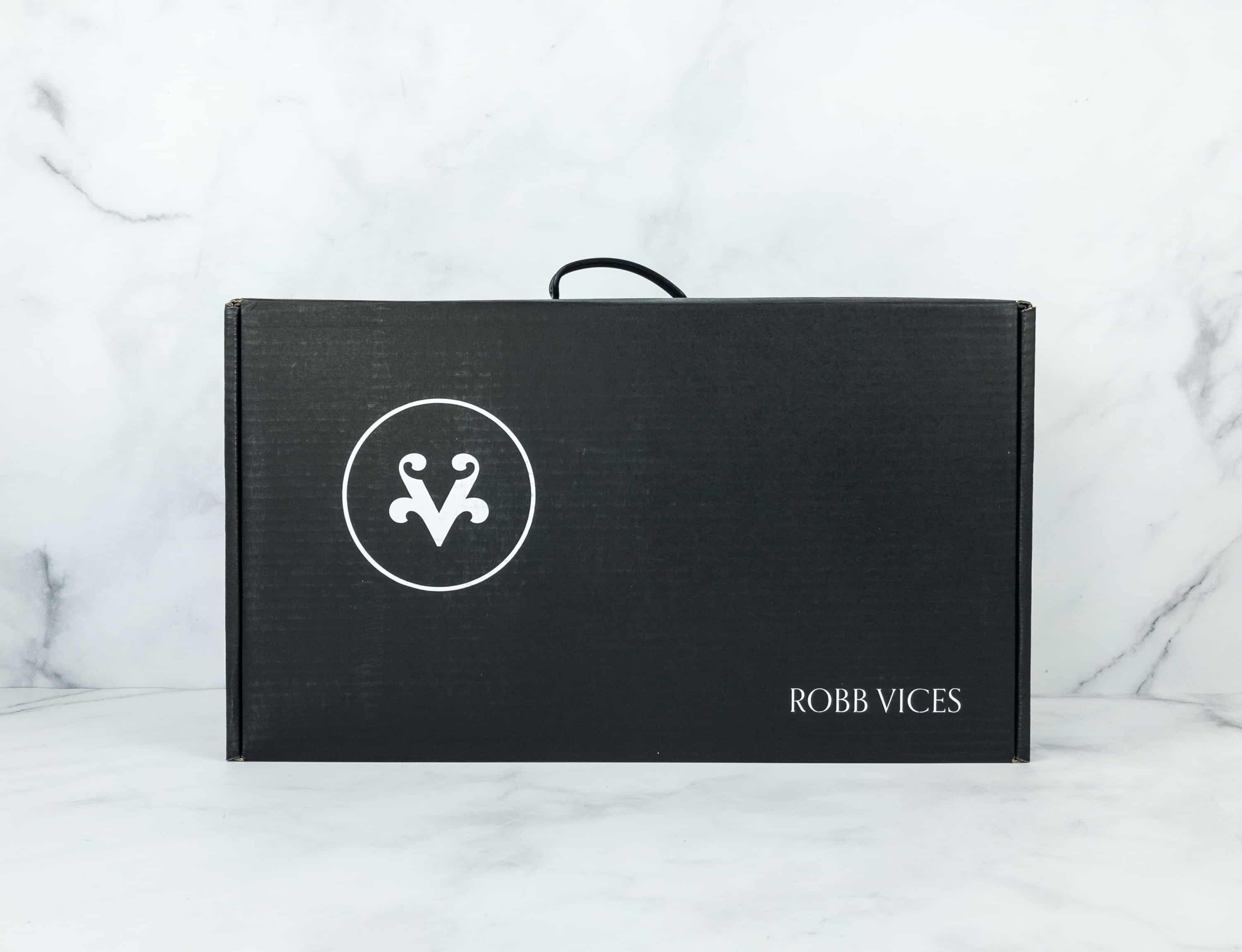 Robb Vices is a monthly subscription service that delivers a collection of "storied treasures." The subscription costs $159.95 per month, and each box comes with a collection of incredible products and experiences that have been curated for your enjoyment.
DEAL: – Use codes/links to get these offers!
Want to start with one box? Just use coupon code PARTYSTARTER if you want the Great Celebration box (see review) first.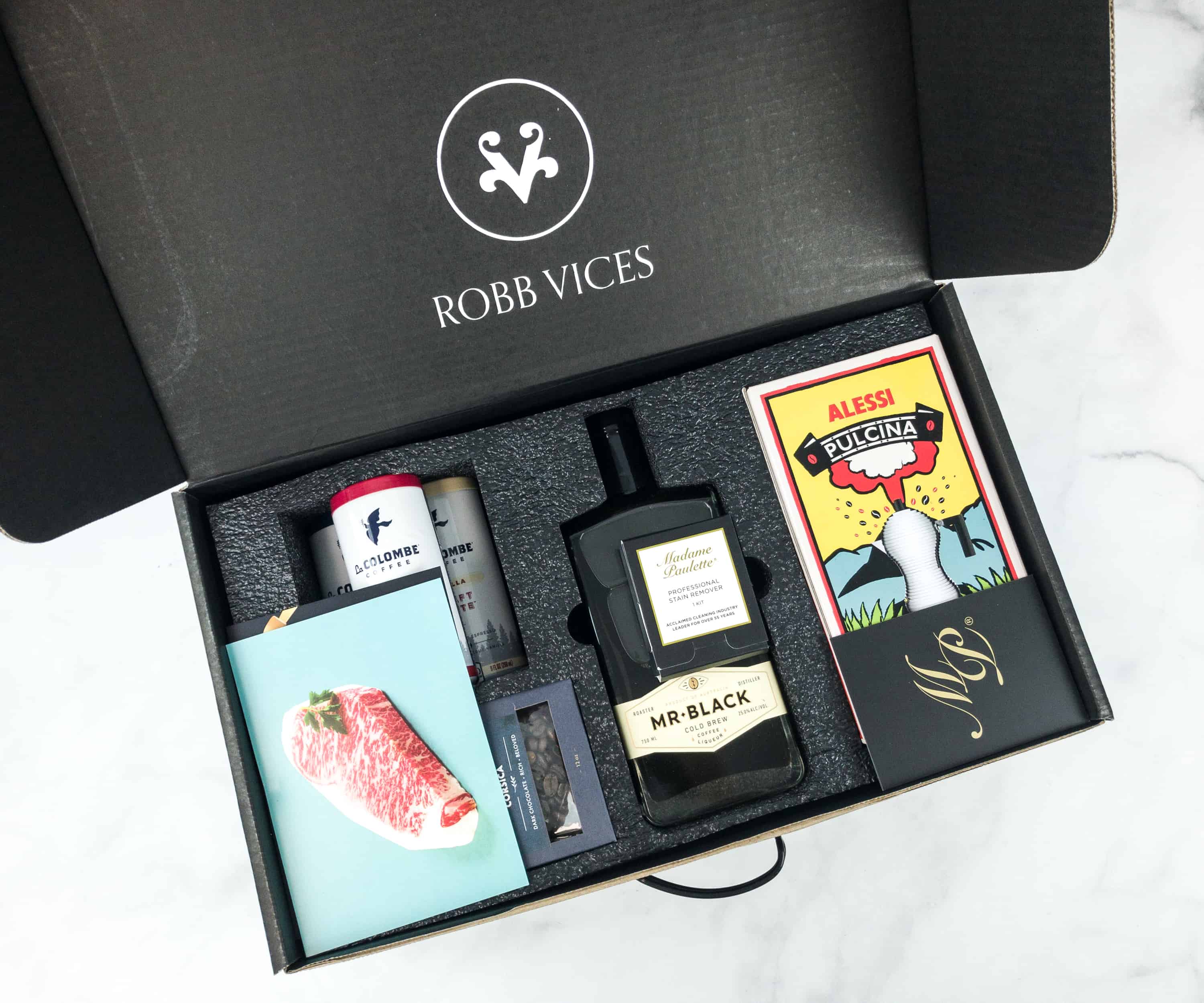 The box is huge! It is the size of a padded laptop shipping box. The large size lets them ship fragile and really expensive stuff with adequate padding.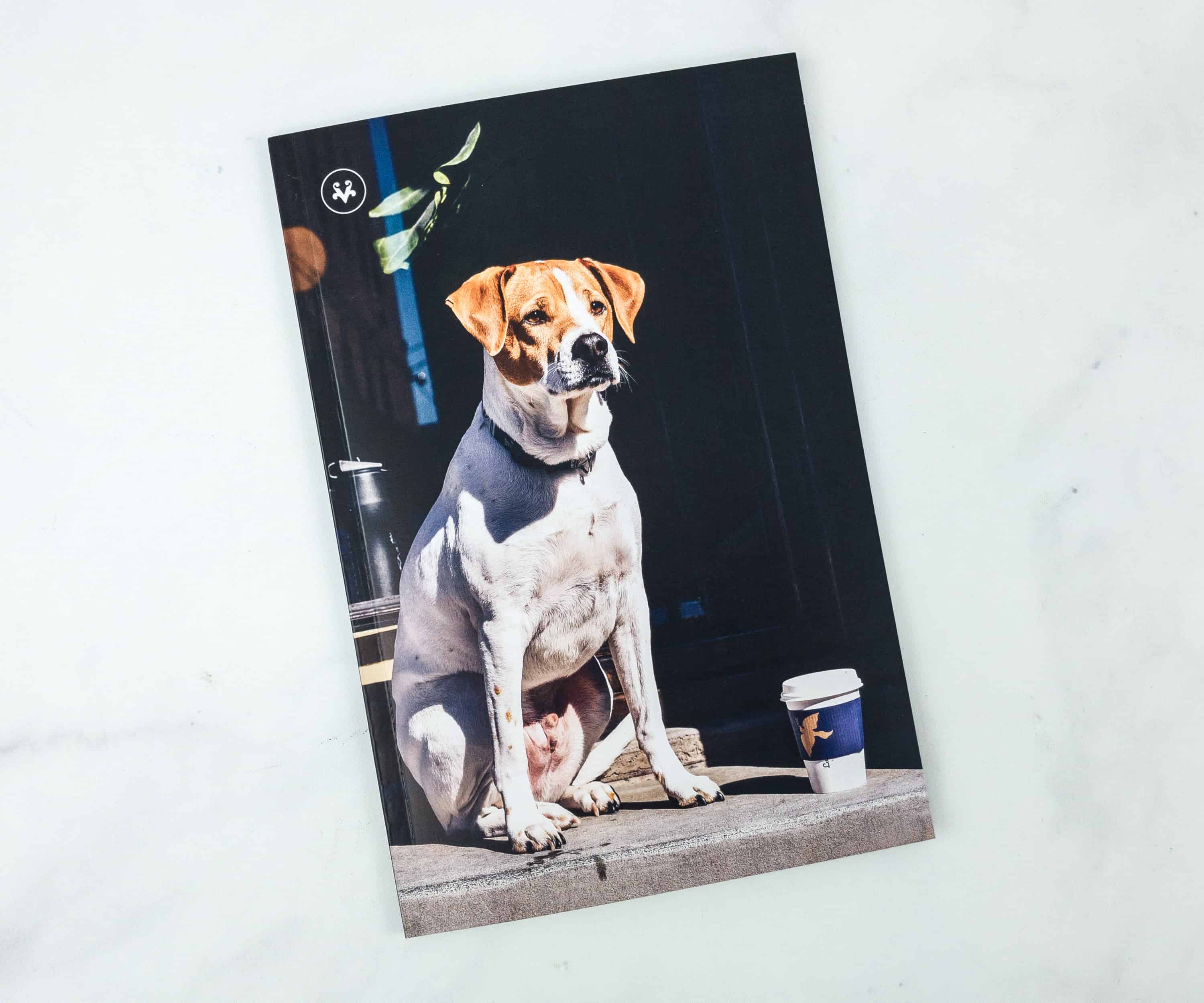 This month's Robb Vices booklet!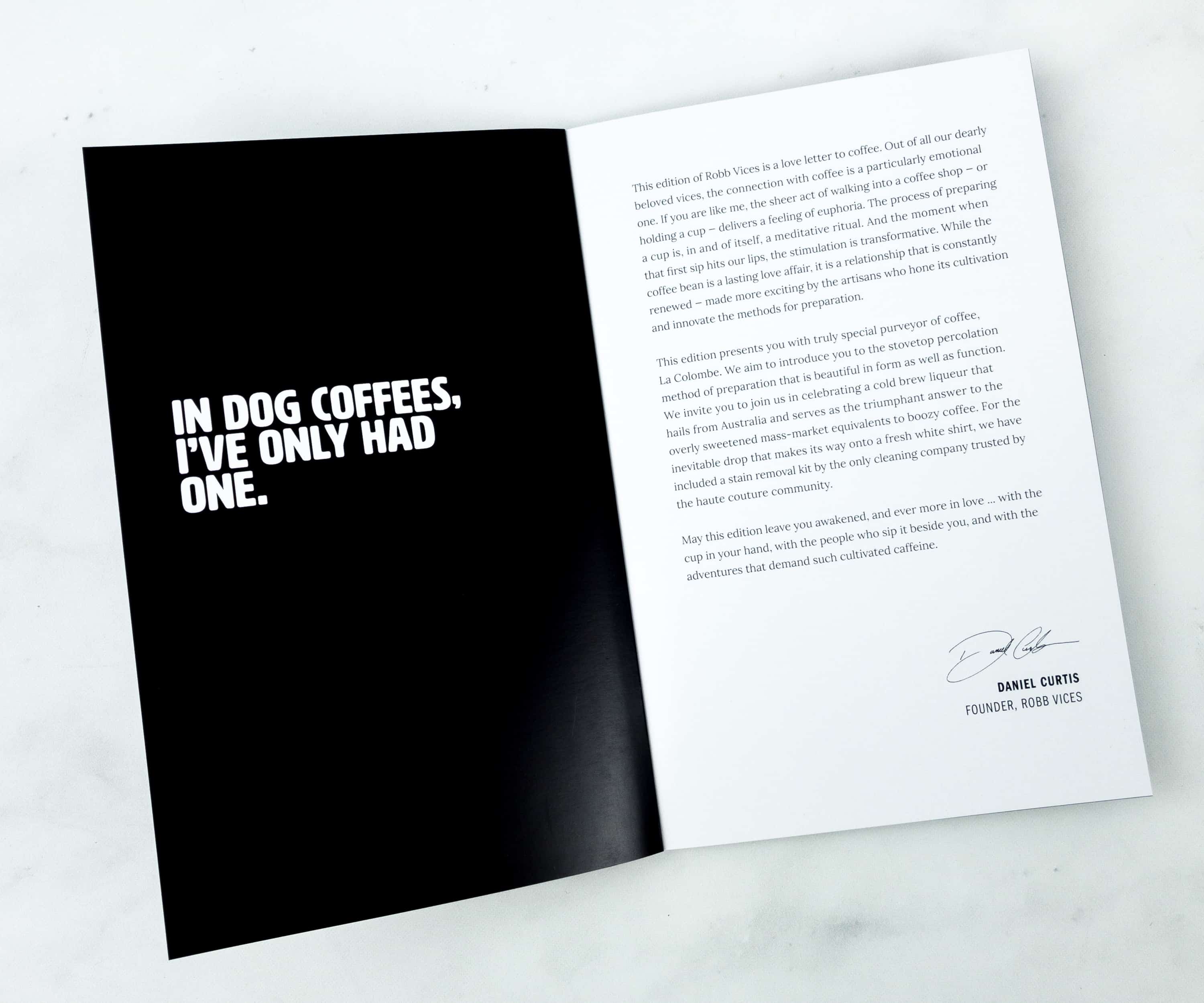 There's a message from Daniel Curtis, the founder of Robb Vices.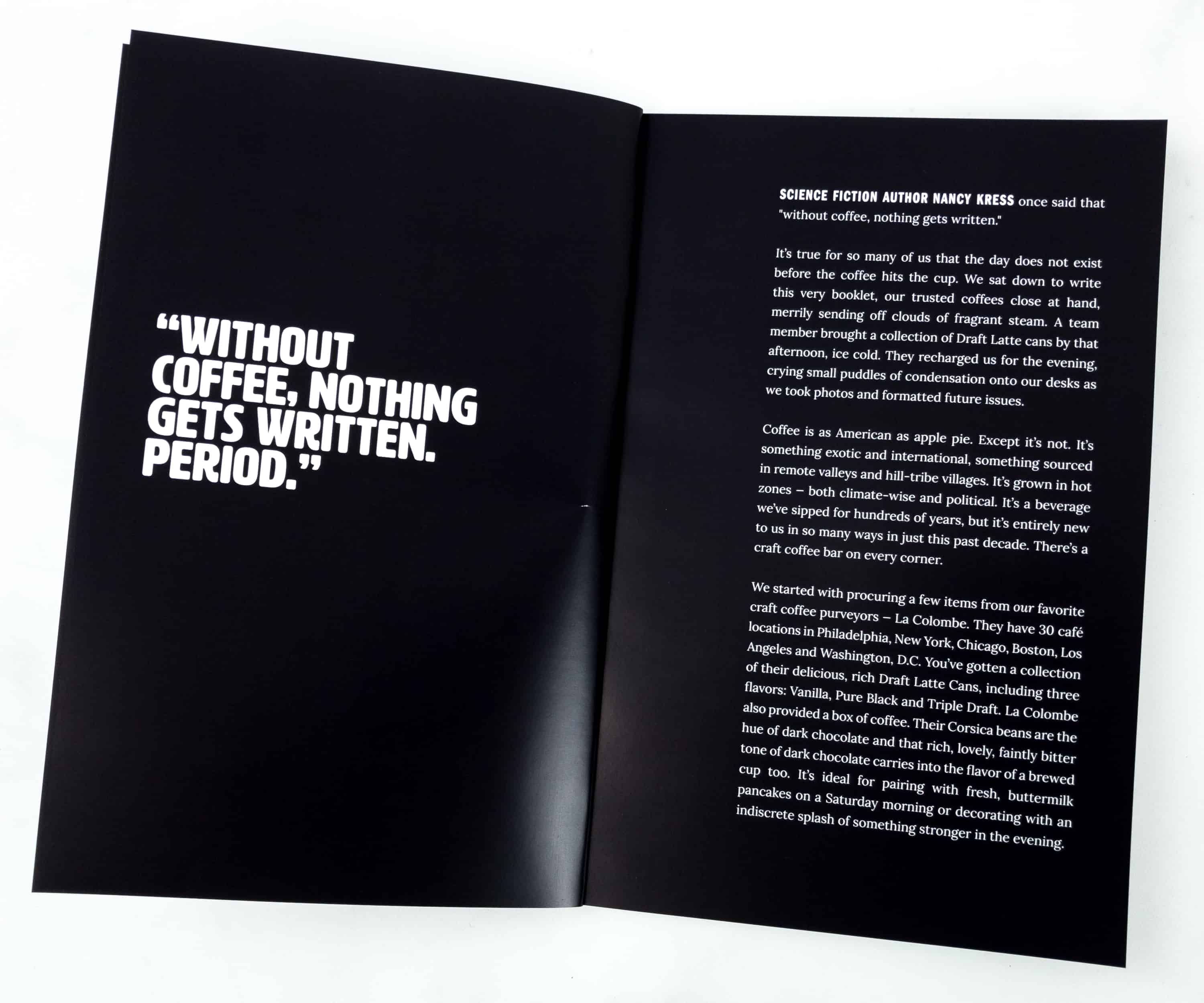 The theme this month is all about coffee! The story of the premium products is told through a giant, novella-sized booklet with multi-page featurettes on each selection. It is the most thorough exploration of products I've seen in a curation, as each one has the equivalent of a magazine article written about it.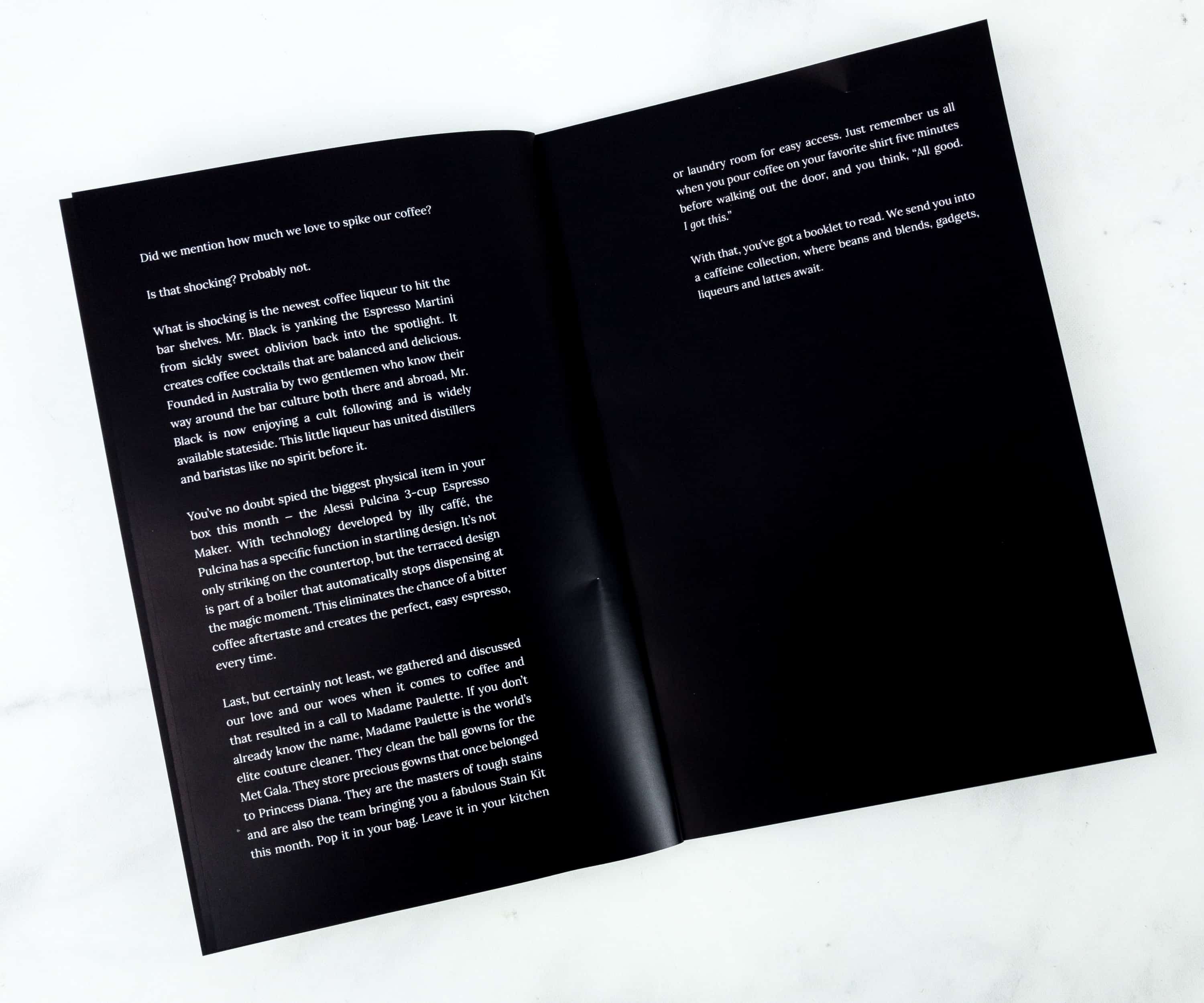 The booklet introduces the products in the box and why they deserve to be featured.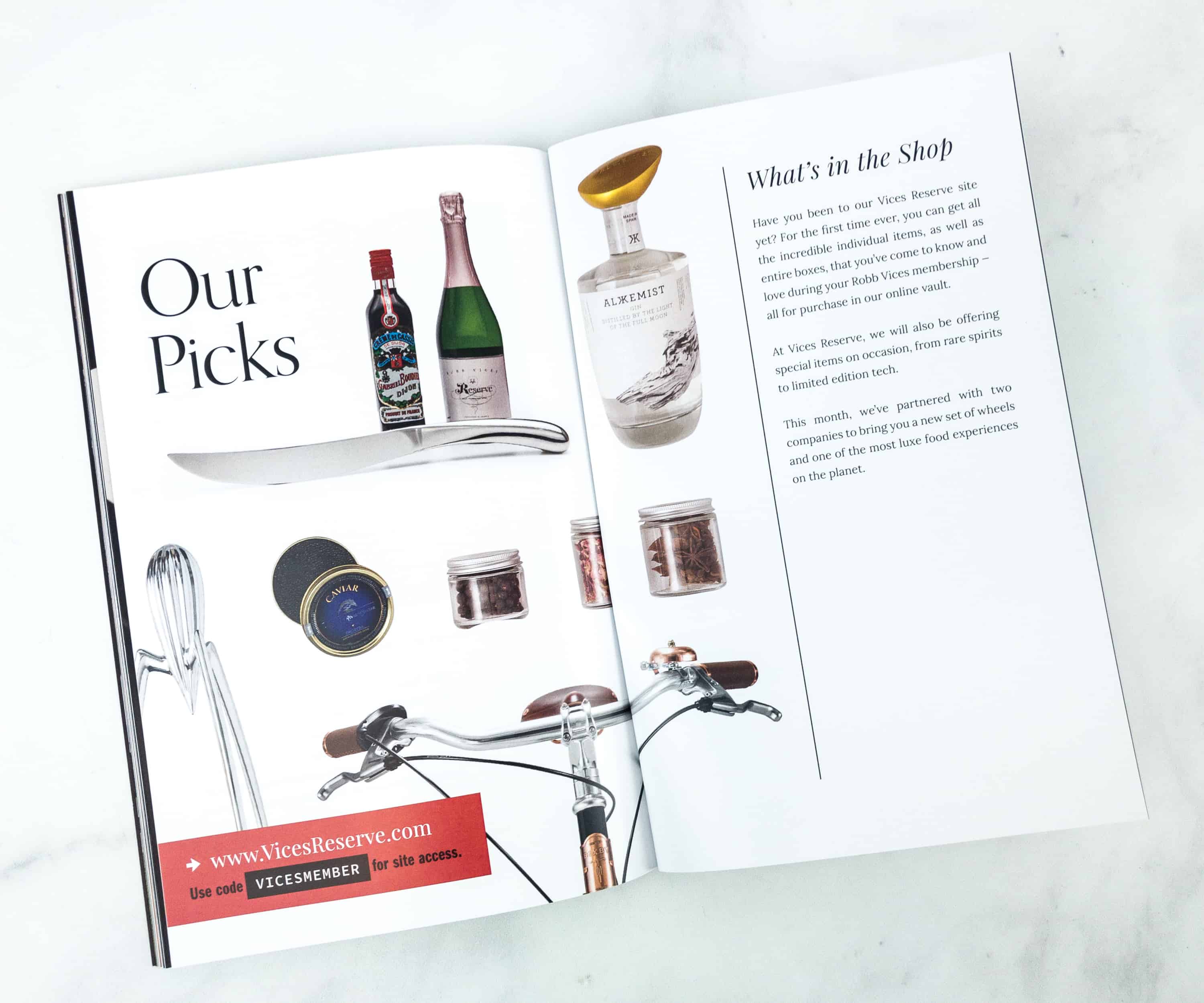 There are some promotional pages too if you get interested in some of the newly released products.
You can check out all the items included inside the box through the directory.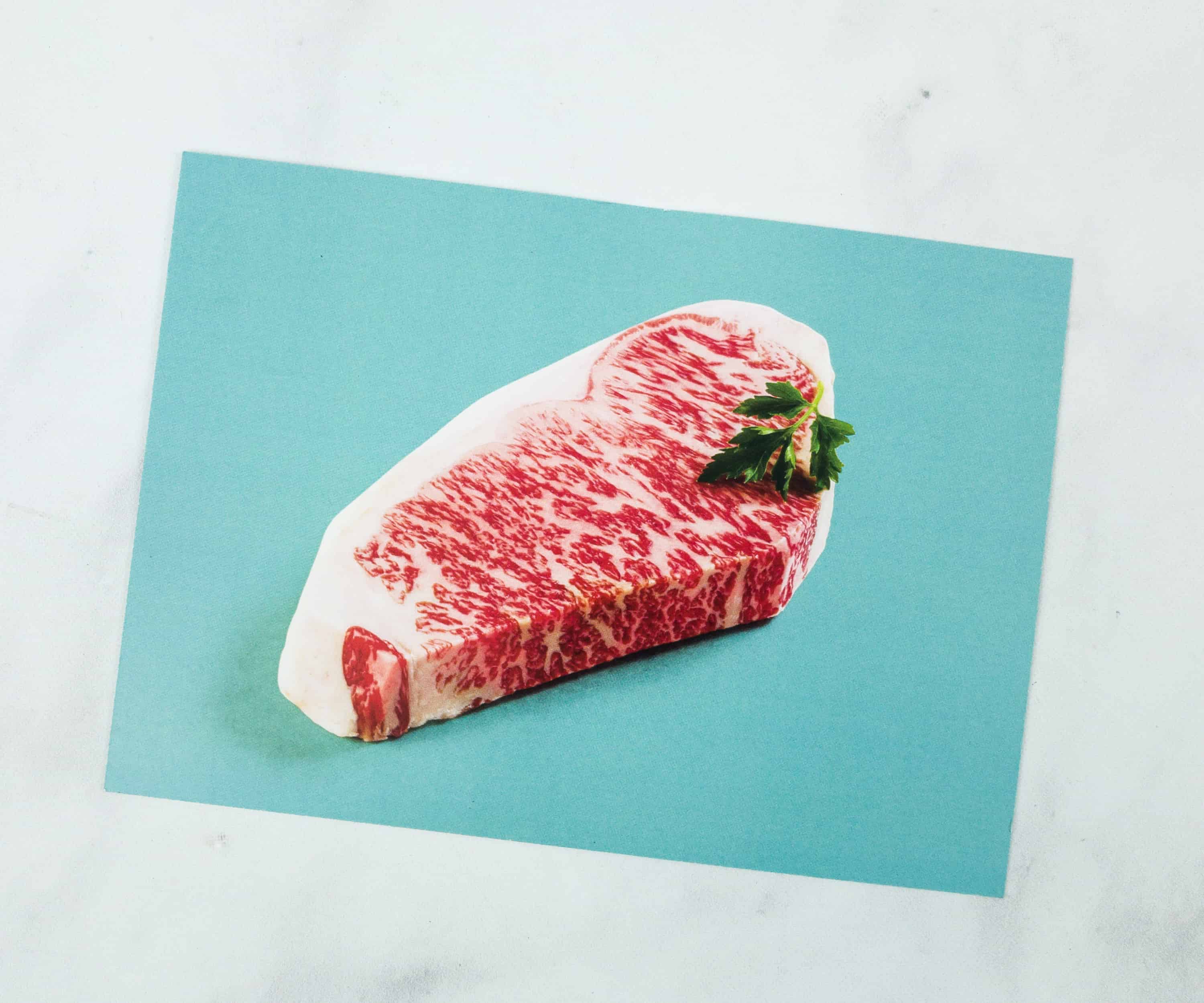 There's a promotional card from New York Prime Beef.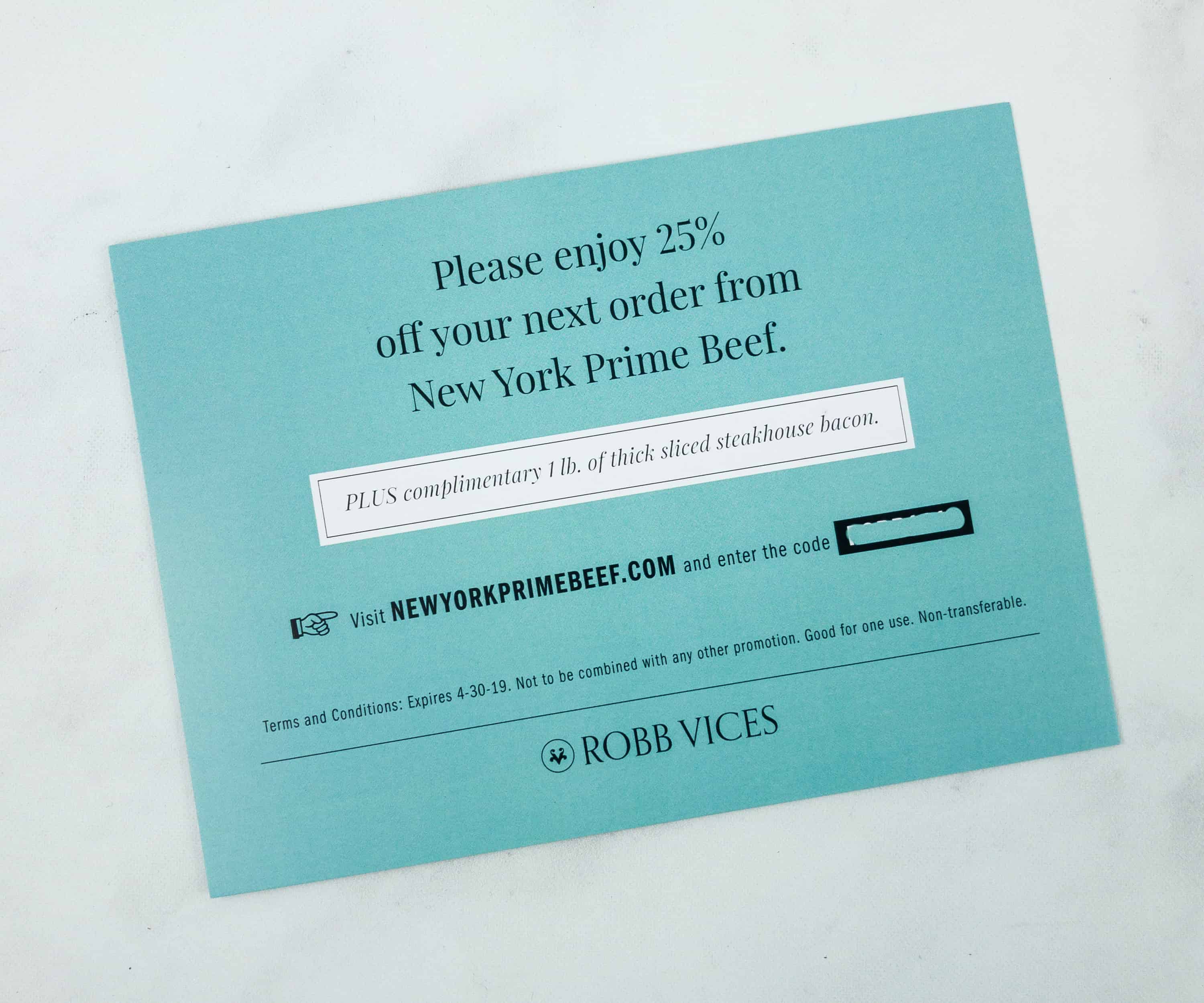 It includes a 25% off coupon code plus a complimentary 1 lb. of thick sliced steakhouse bacon.
Everything in the November 2018 Robb Vices box!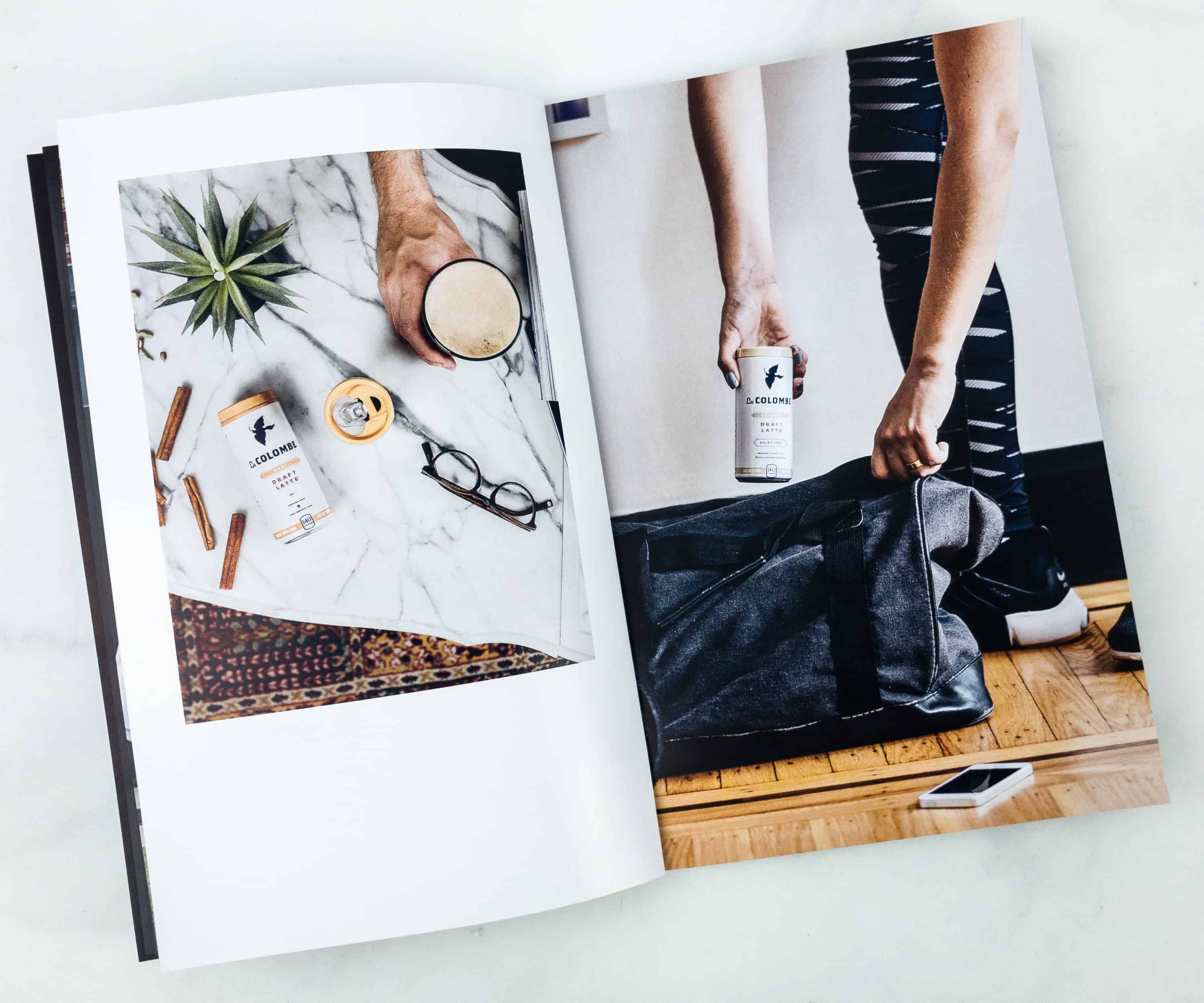 The images are laid out well in the magazine. The magazine shows you the situations you can enjoy these drinks.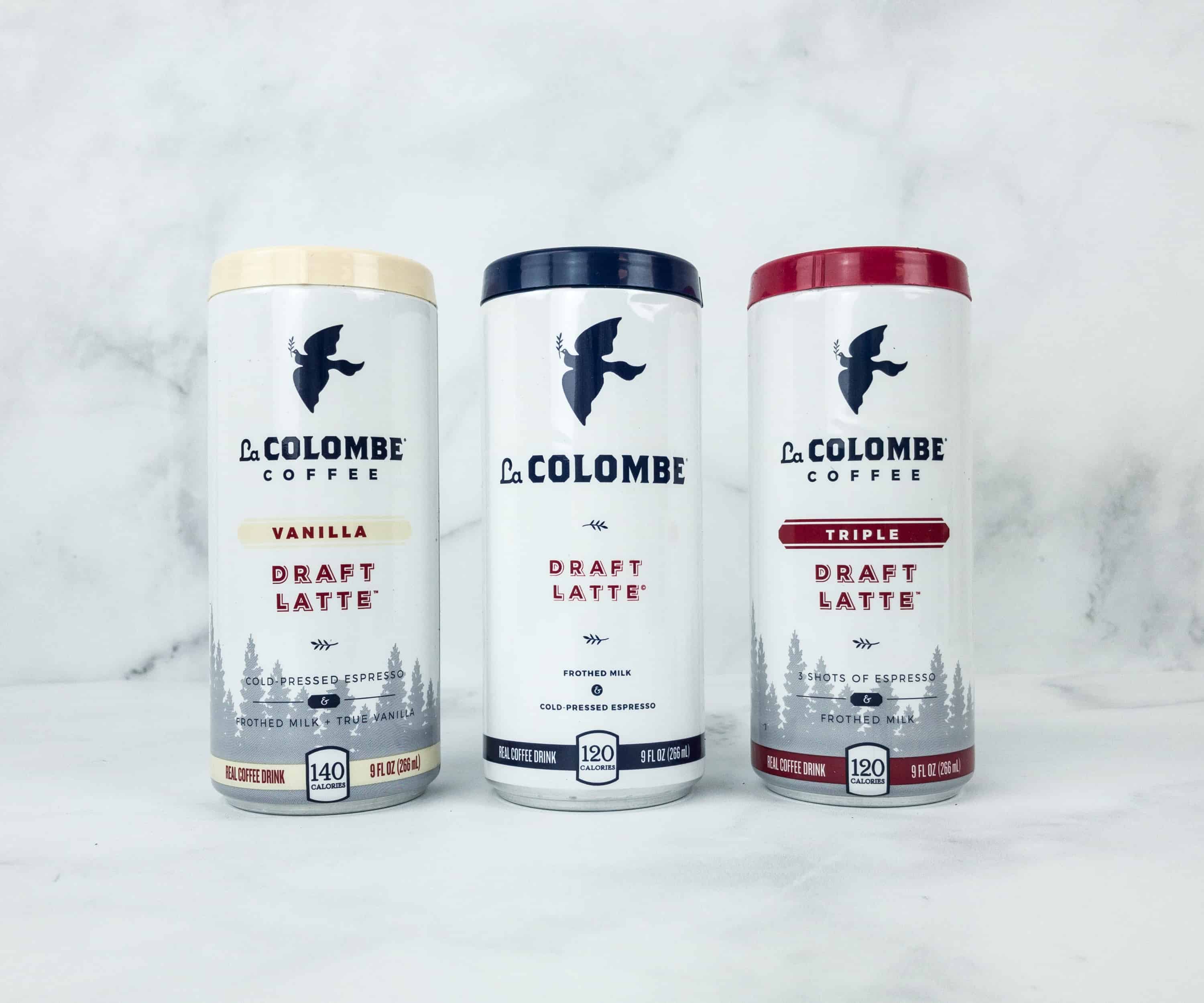 La Colombe Vanilla Draft Latte ($3.19) Made with real vanilla and cold-pressed espresso.
La Colombe Draft Latte ($3.19) A combination of frothed milk and cold-pressed espresso.
La Colombe Triple Draft Latte ($3.19) Three shots of cold-pressed espresso plus frothed milk.
Just like a draft in a can, La Colombe's draft cold-brew coffee is silky and smooth plus a layer of foam! They're naturally sweetened and great to have on hand for serious coffee emergencies.  These are available as a 4 pack in the La Colombe subscriptions – if you're intrigued by any of their coffees, you can sign up and subscribe! Their draft coffees are sweetened (except for their pure black), so this is a nice treat for a latte replacement – and cheaper than Starbucks!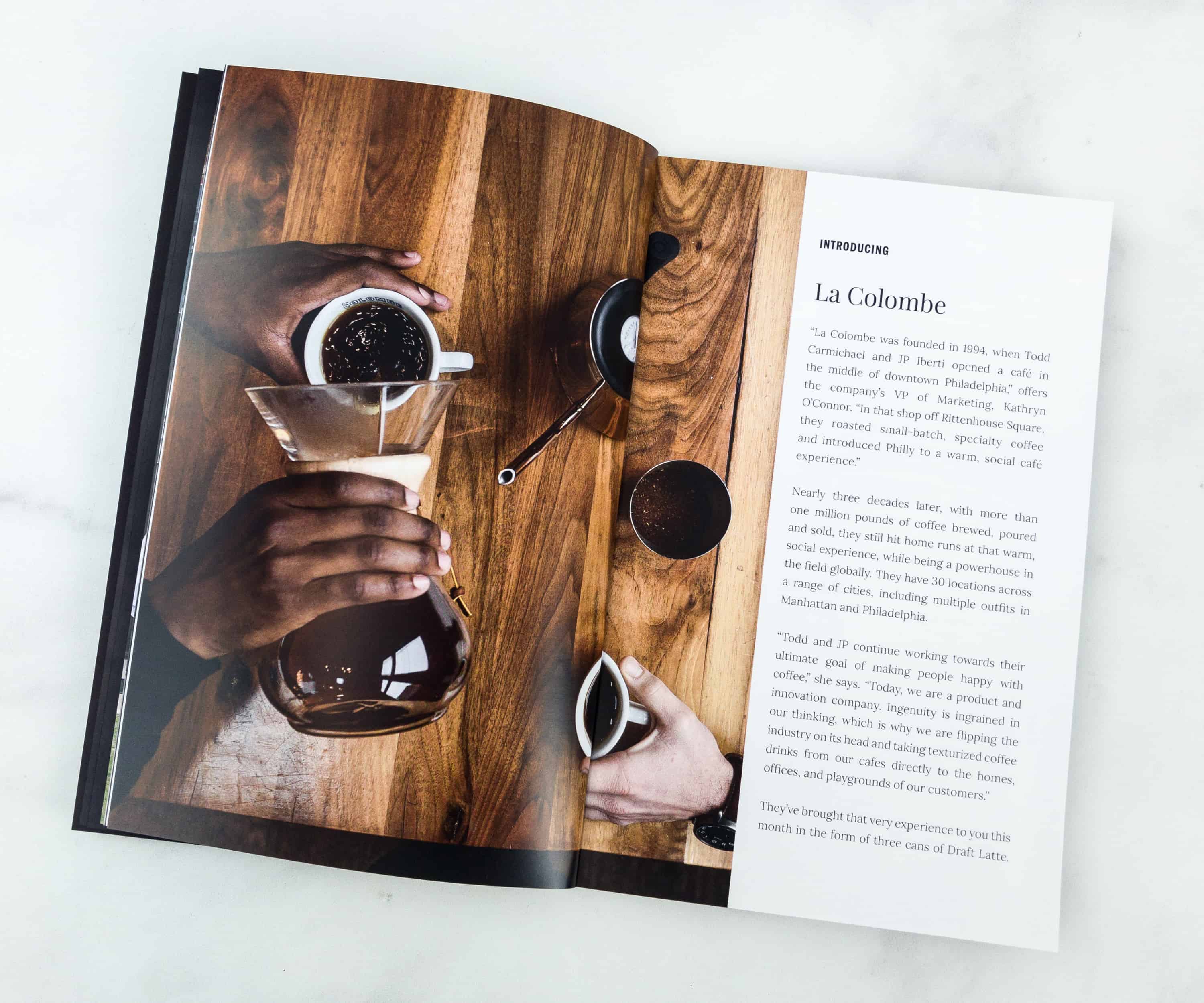 Draft Latte is said to be the next generation of coffee. It provides the ultimate coffee experience and a guaranteed healthier option for coffee-lovers.
It's a good thing they decided to give us three flavors to get a feel of the what the brand is about.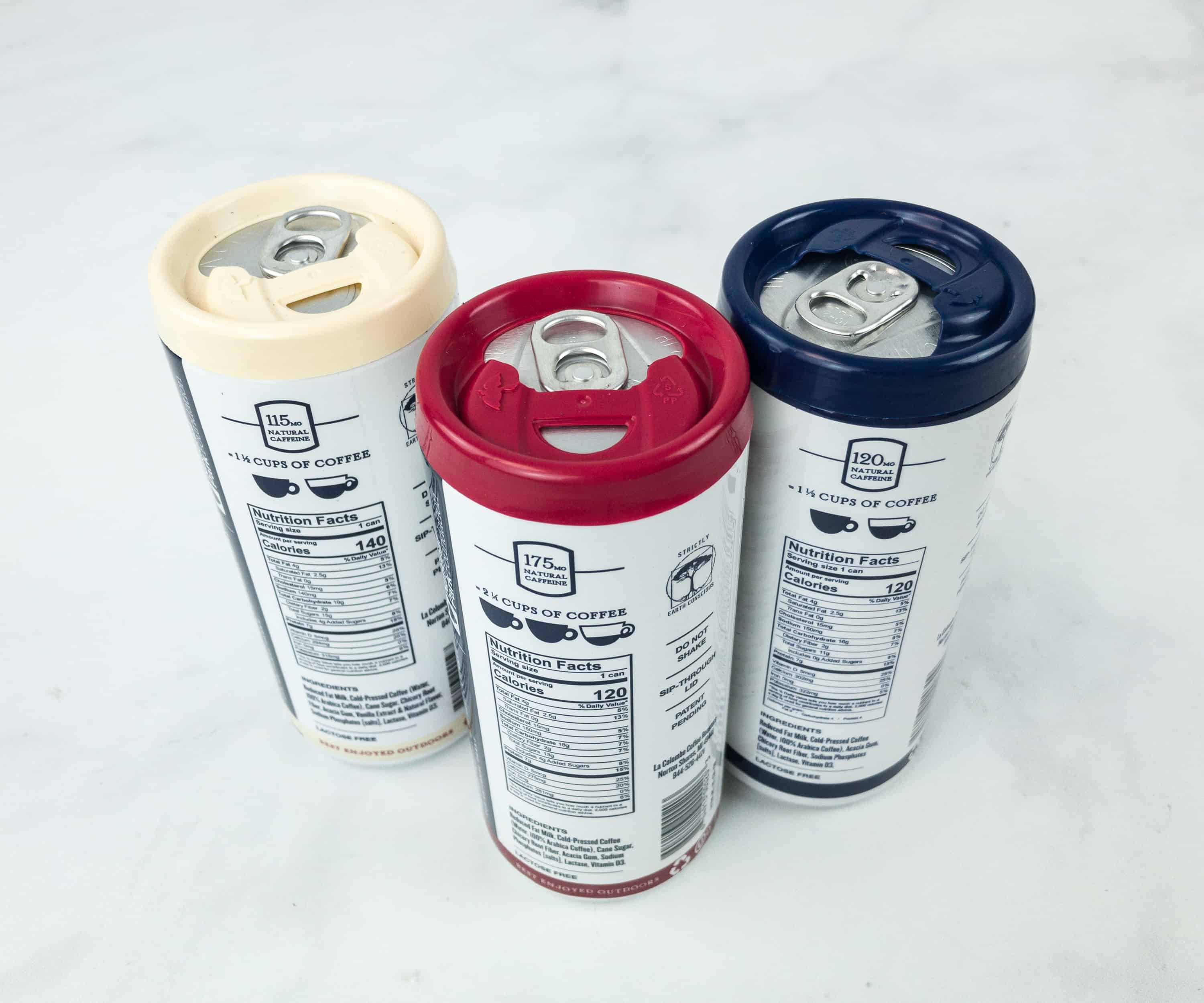 It promises to have clean and real ingredients. The packaging is really cool too with safe mouth guards. My favorite was the vanilla – with real vanilla bean flavor.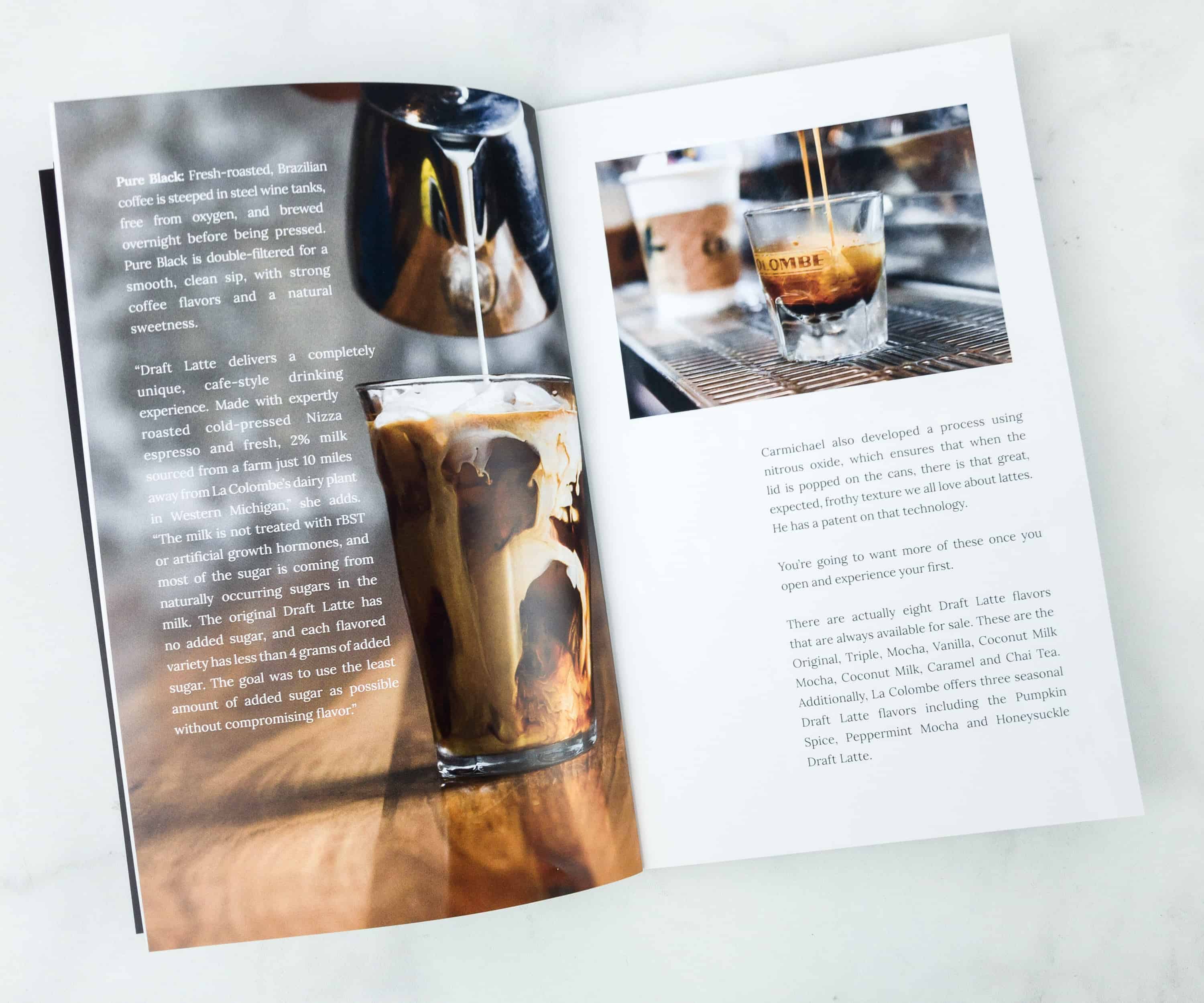 The coffees use lactose-free and hormone-free milk, sourced from local Michigan farms, adding vitamin D and calcium. The coffee itself is expertly roasted, cold-pressed Nizza espresso, and 0g to 4g added sugar per can which varies by flavor. And they have so many flavors!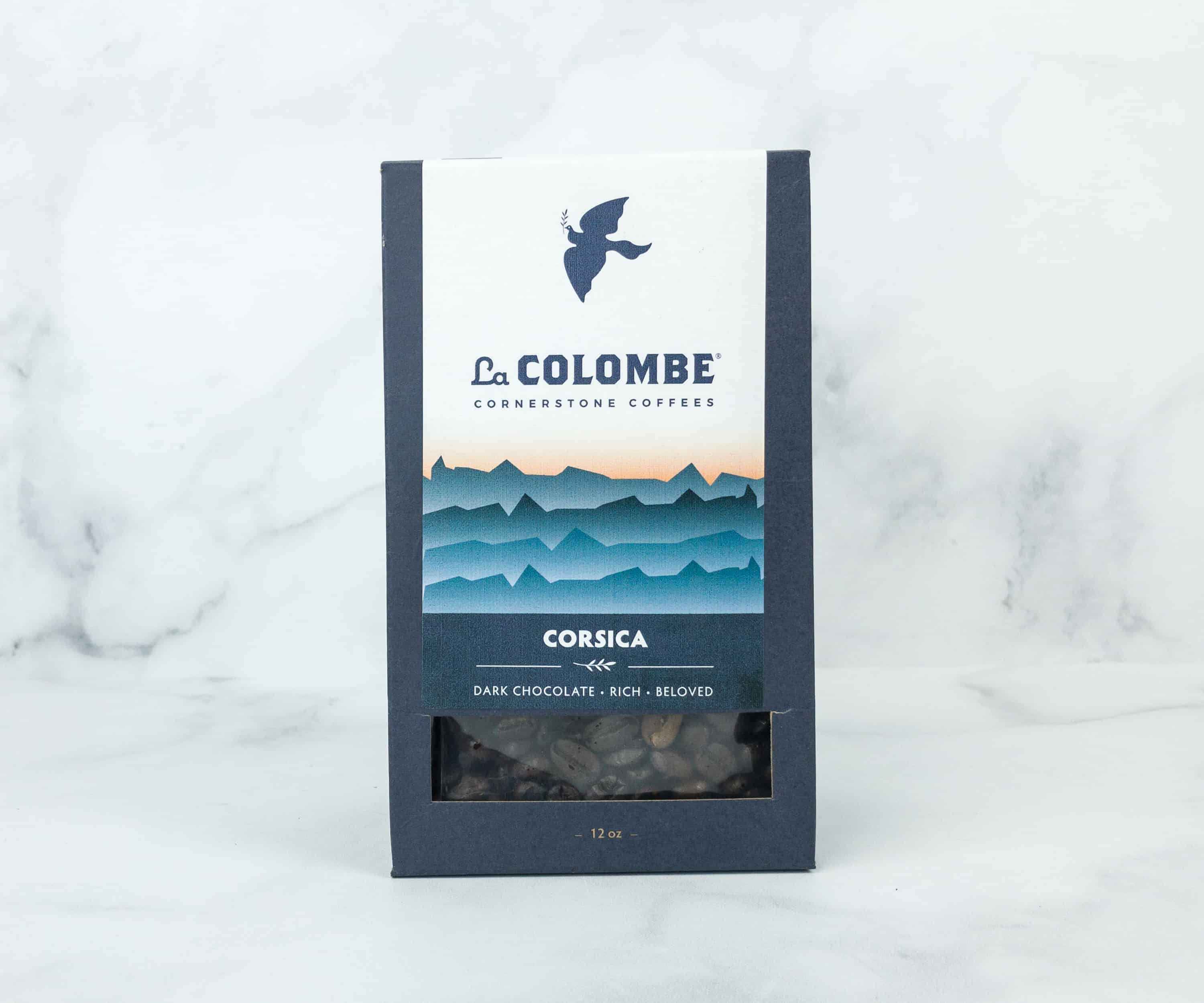 La Colombe Corsica Dark Chocolate ($13) Named for an ancient island in the Mediterranean, these coffee beans come with deep, dark chocolate tones.
The blend components come from Brazil, Mexico, Columbia, and Honduras.
It is chocolatey, dark, full-bodied, and roasty.
They featured Corsica as the flagship sip of La Colombe Cafes since the 1990s. Look how cozy and inviting this image is!
When you remove the packaging, the coffee is still sealed in a transparent pouch with a circular vent at the top part.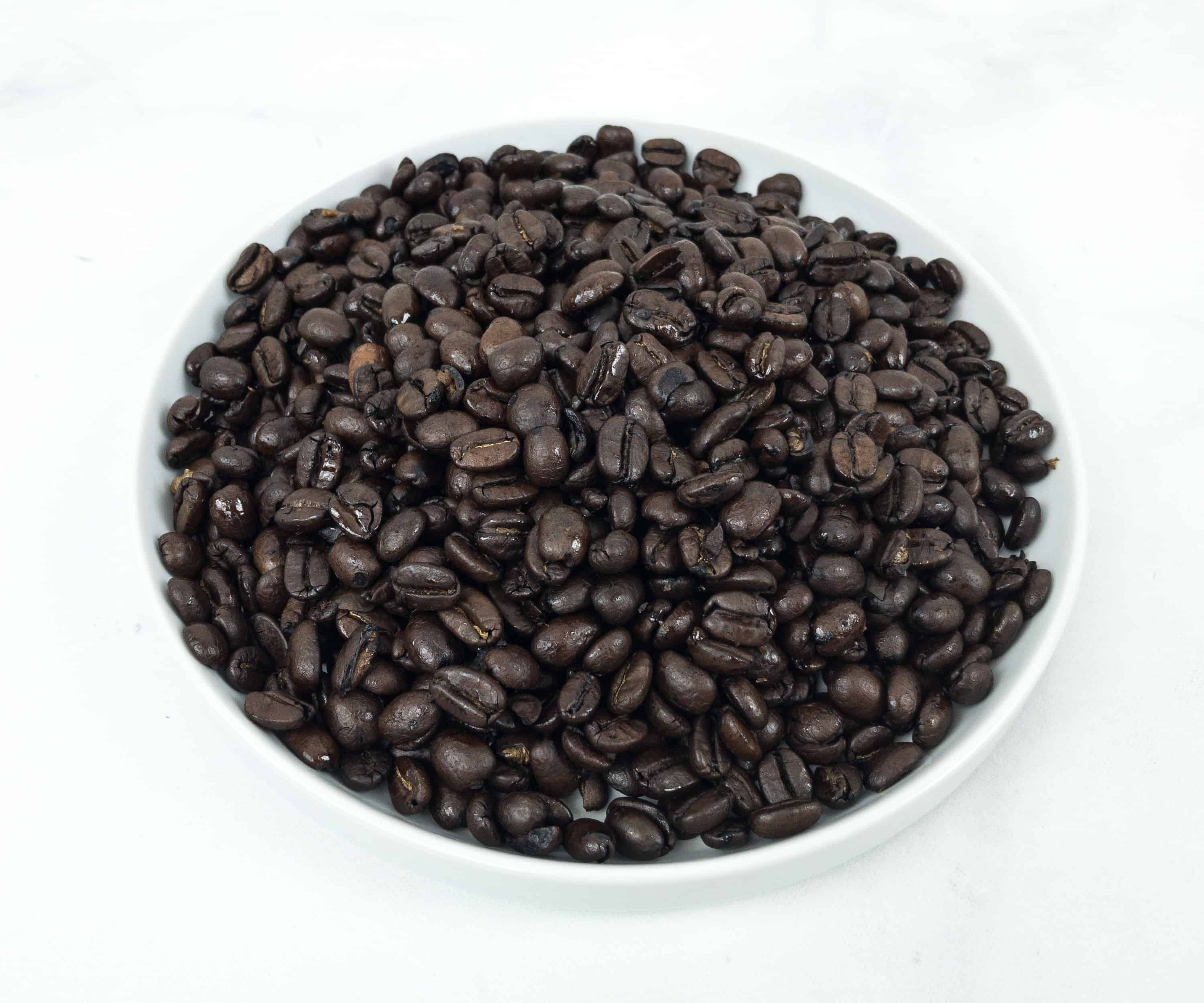 Oh, they are roasted alright. The aroma smells really good. They are dark and almost black!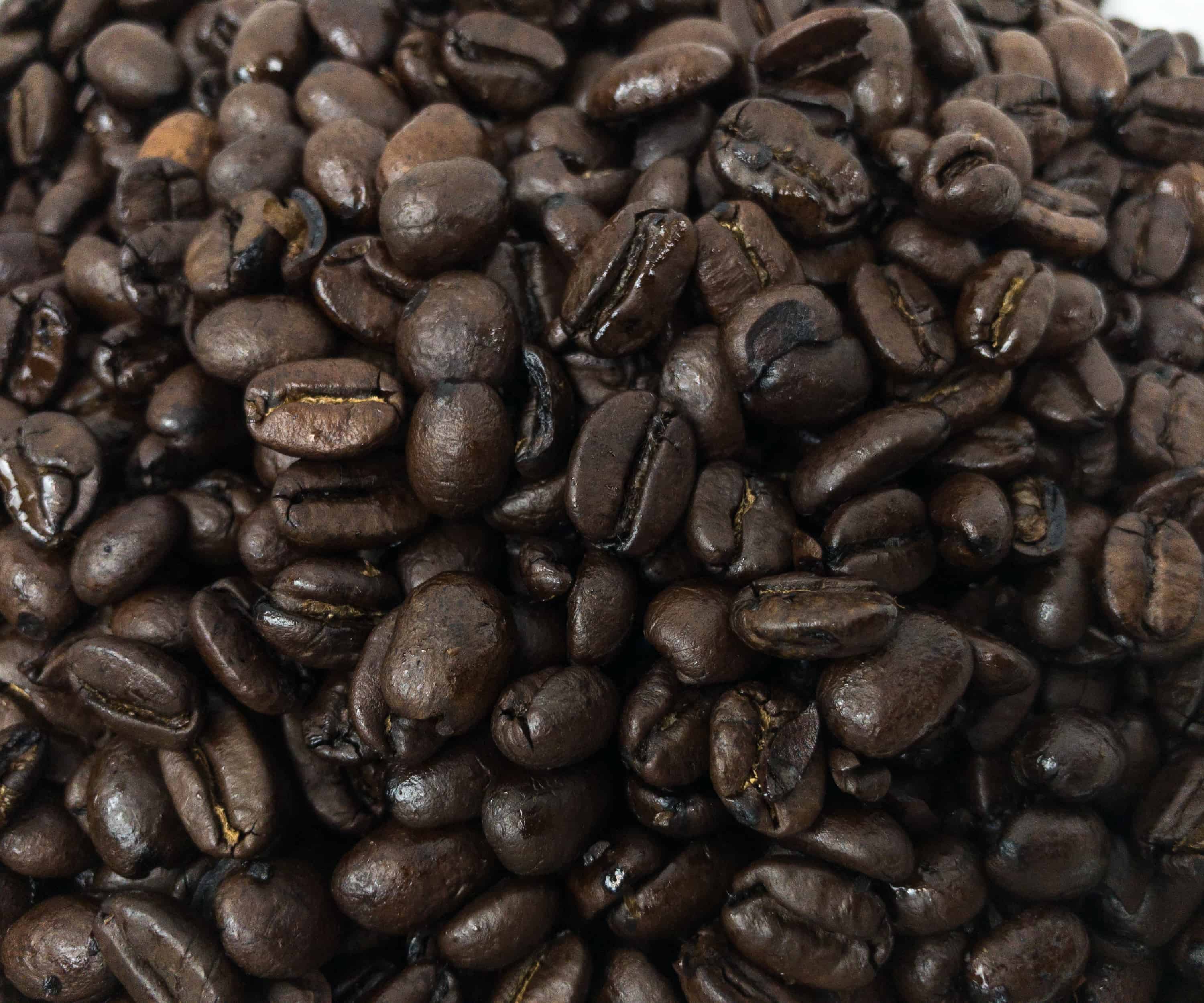 I'm excited to grind these and pour myself a cup! This was a great dark roast that I've been indulging in religiously!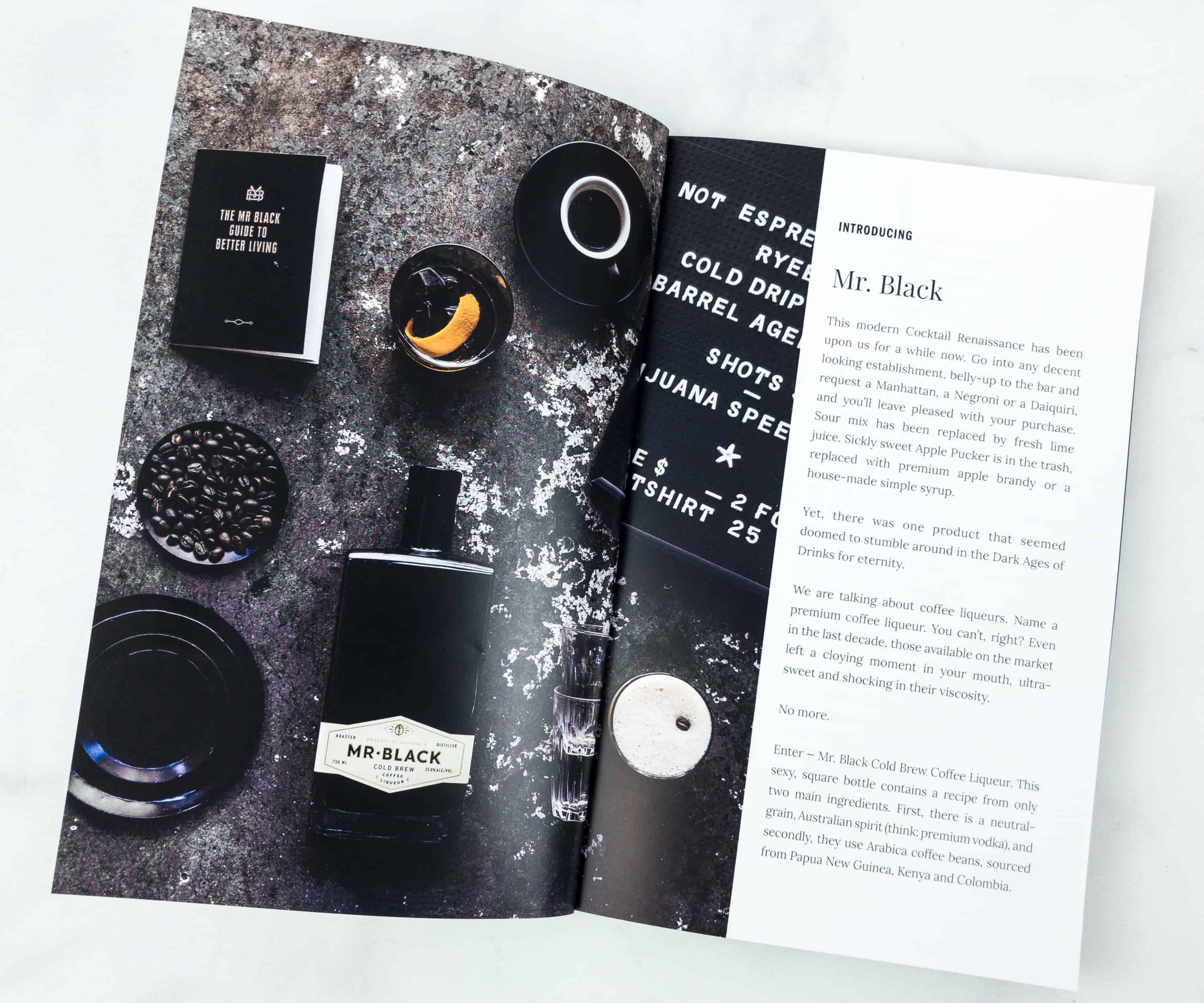 We are introduced to Mr. Black, a cold brew coffee liqueur with 25% alcohol content.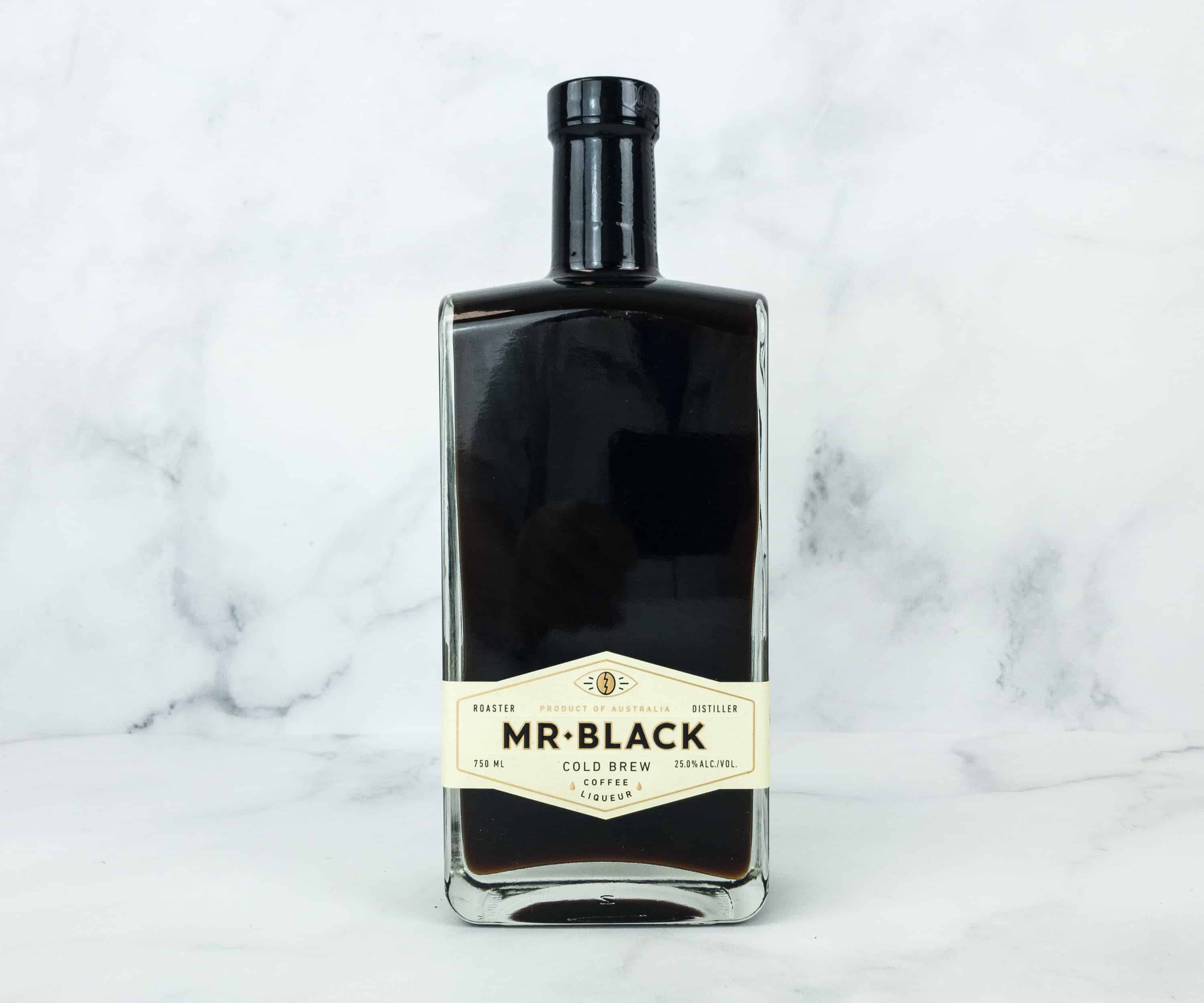 I love the simple packaging.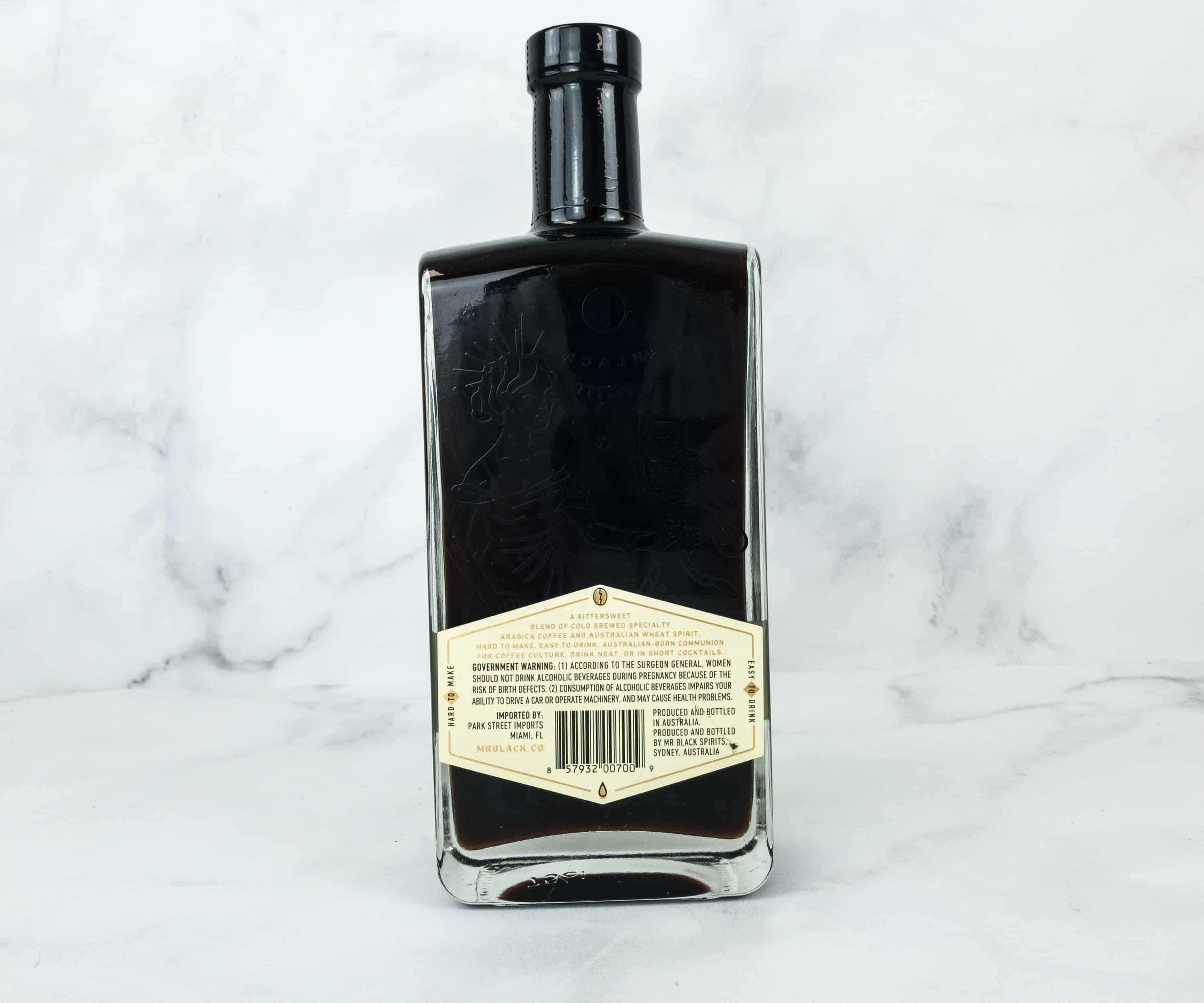 Made and bottled in Australia, it's a bittersweet blend of Australian spirit (premium vodka) and Arabica coffee.
It is hard to make but easy to drink. They even number the bottles per batch. The one we received is 140 of 300!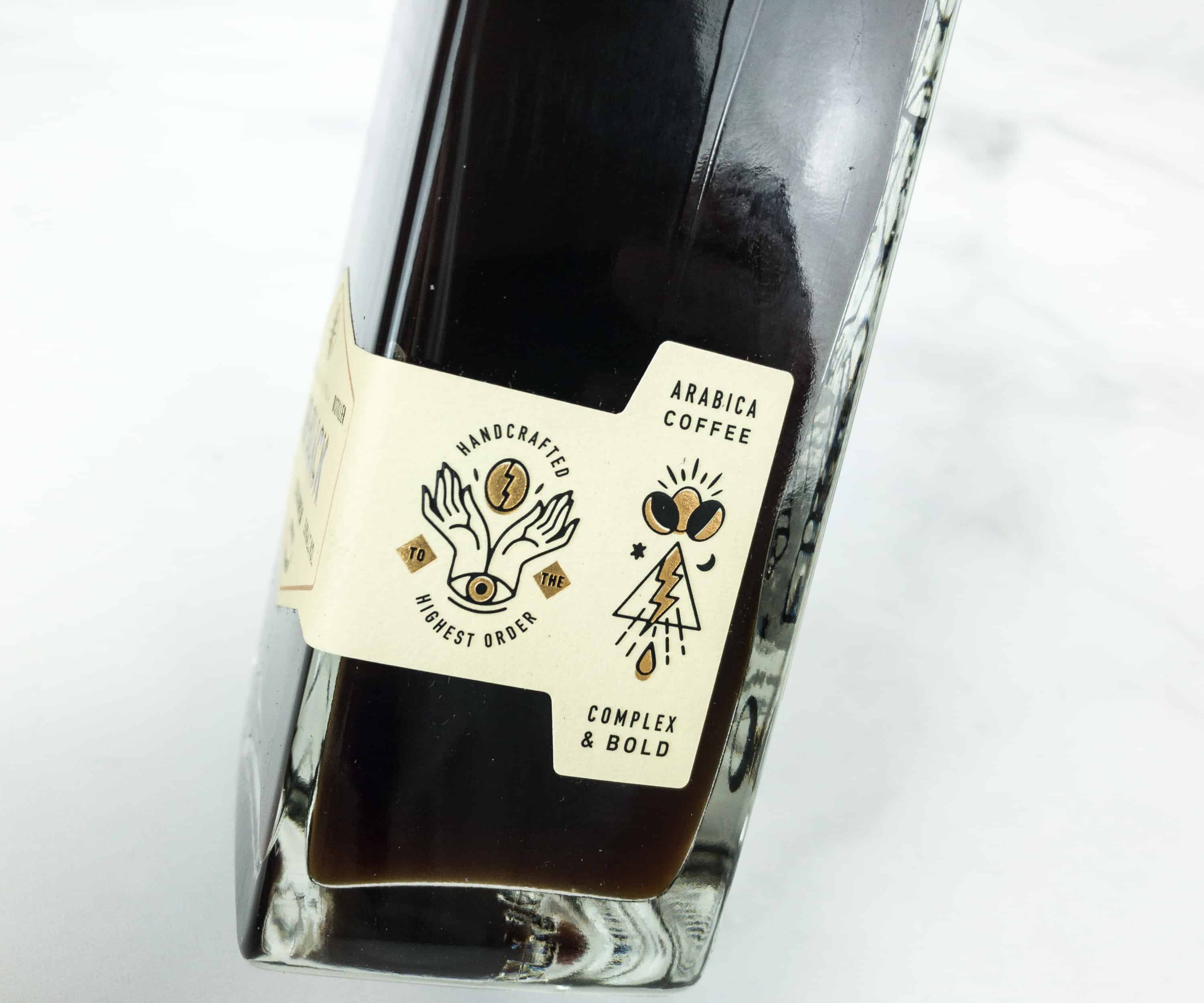 The flavor is complex and bold. It is handcrafted and has good quality.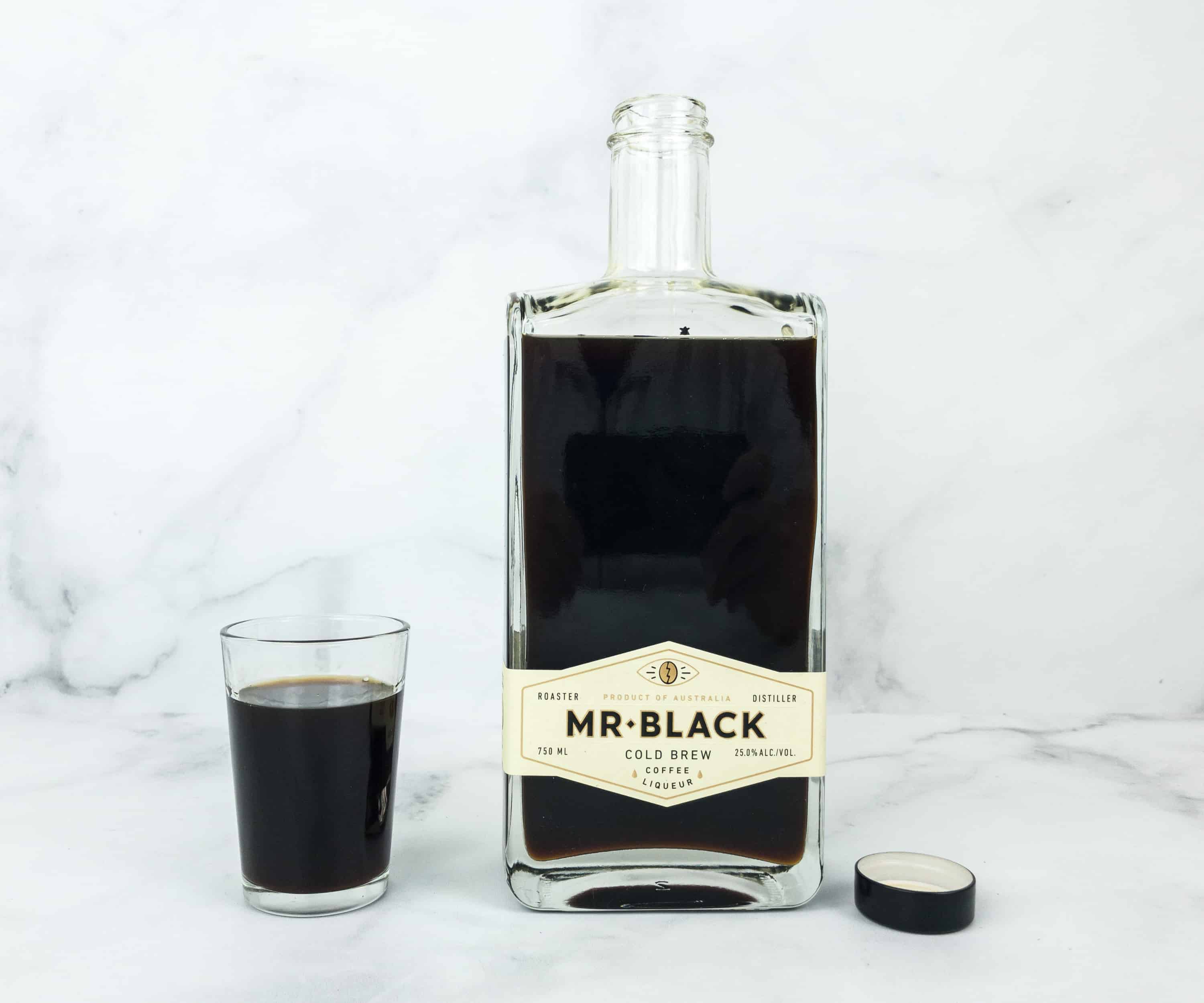 I can smell a freshly ground coffee with a hint of vanilla.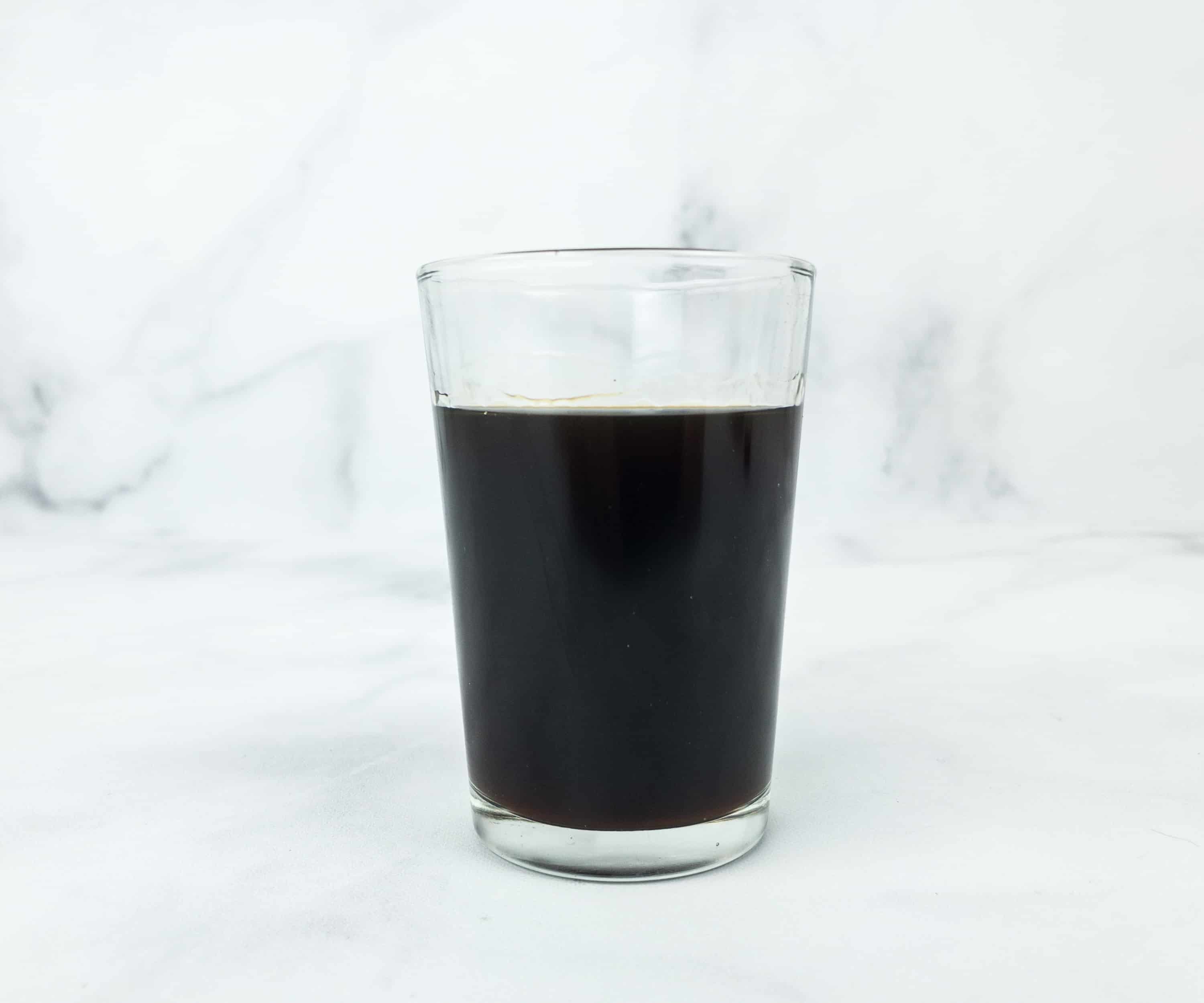 I can also taste some bittersweet coffee, chocolate, and caramel.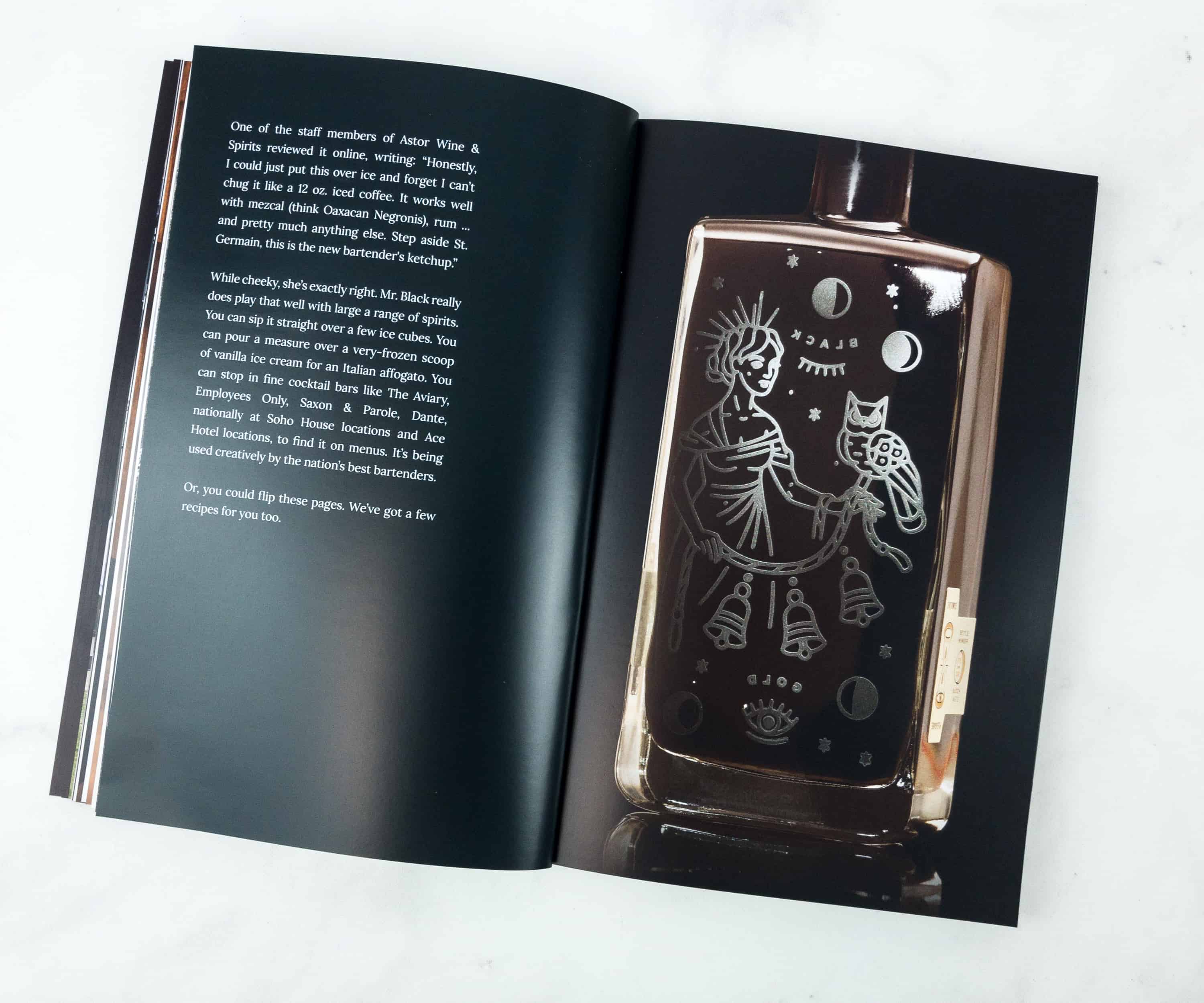 This liqueur is versatile and can be incorporated into many recipes and can be mixed with so many drinks. You just have to explore and be a little creative.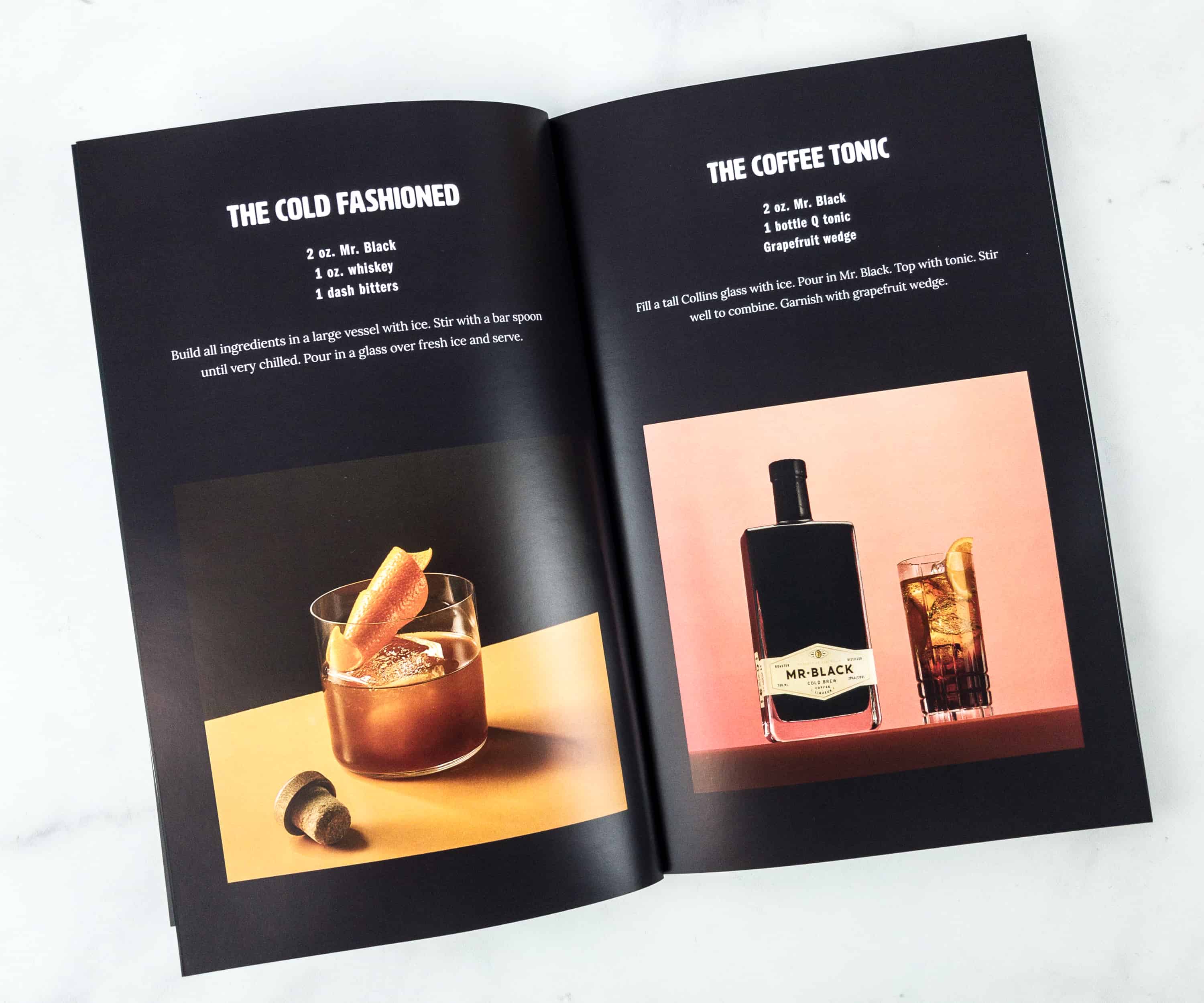 You can mix it with whiskey, Q Tonic, fresh espresso or a latte.
I appreciate that they gave us recipes that we can try.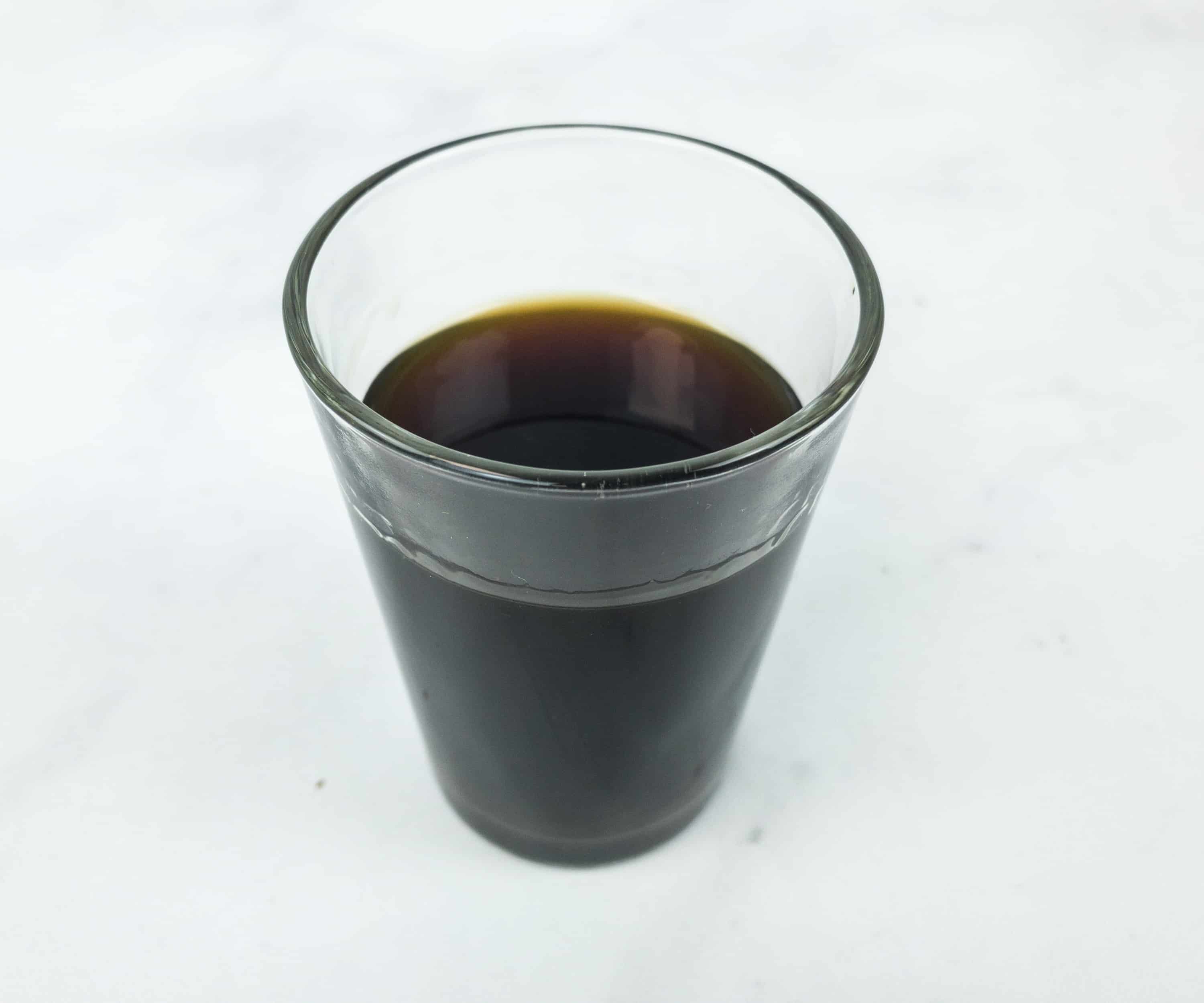 This is really worth a try if you are a coffee lover! It's perfect to add to some rich heavy cream with a shot of vodka if you prefer but my favorite so far has been the Coffee Tonic!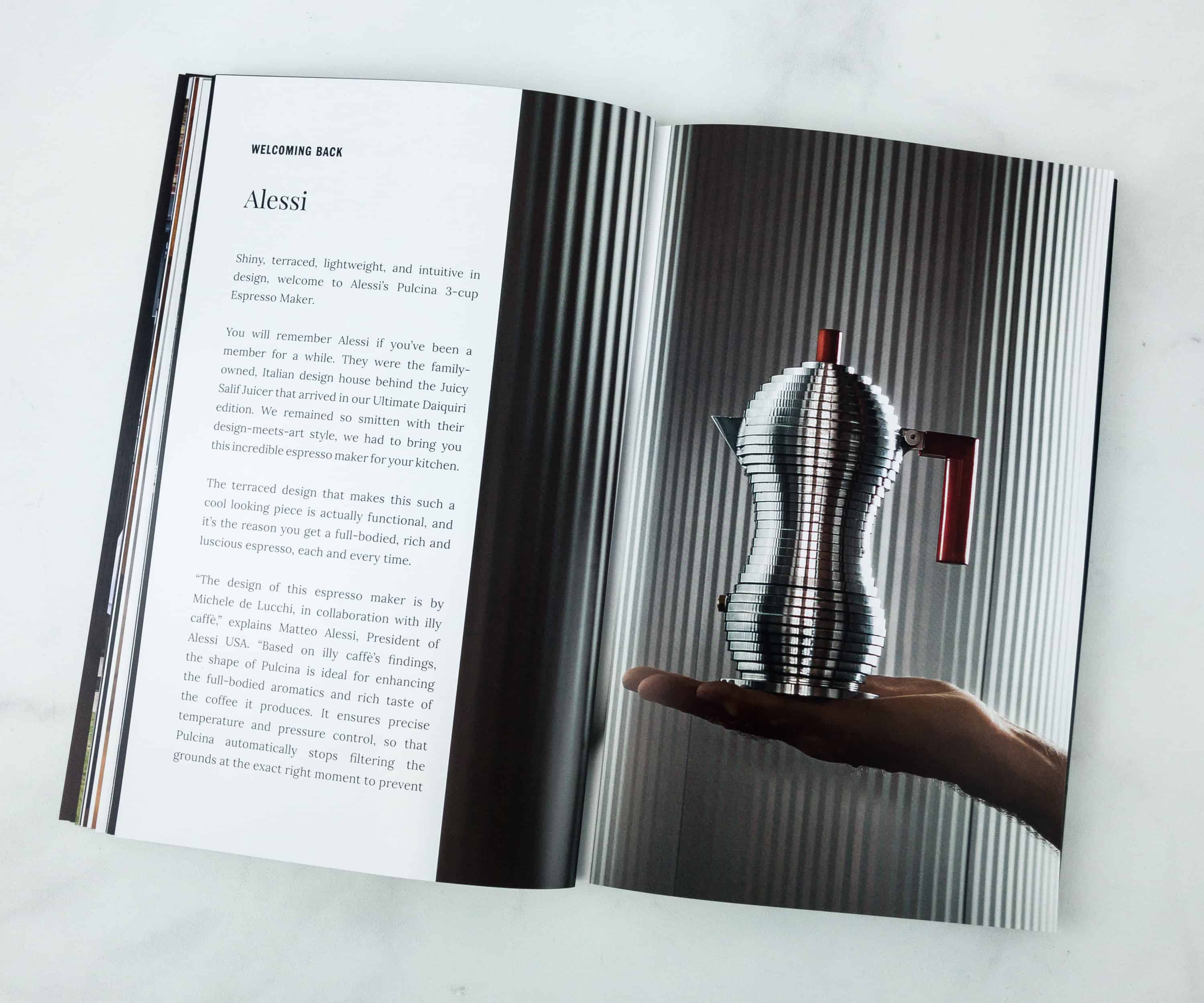 The magazine describes Alessi's Pulcina 3-cup Espresso Maker and how it works.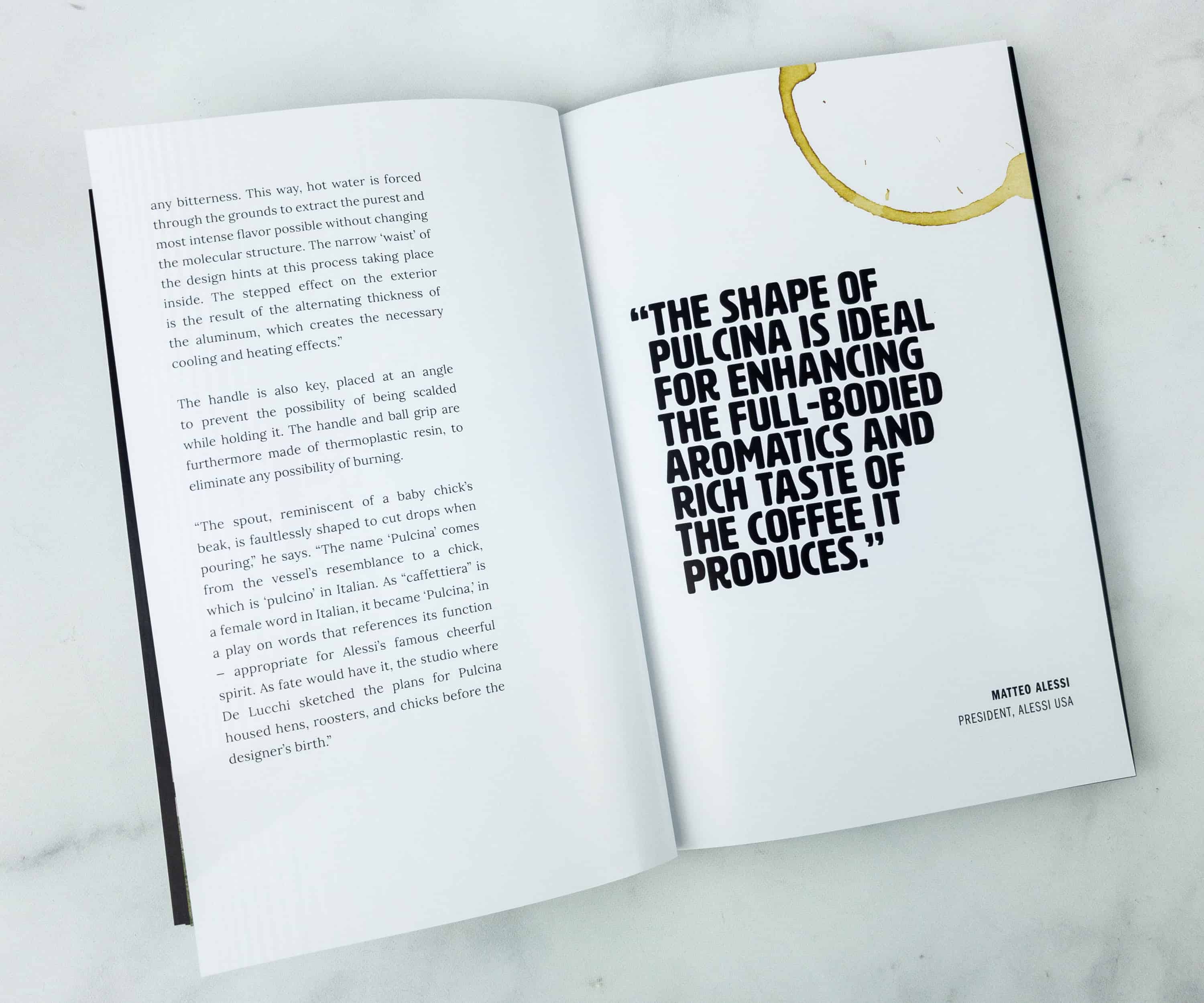 They explained its unique design and shape that makes it more special than other coffee makers.
Alessi Pulcina ($58.99) The choice of coffee maker is the key that separates a good coffee from a great one. I'm so thrilled to get this espresso maker with such unique features!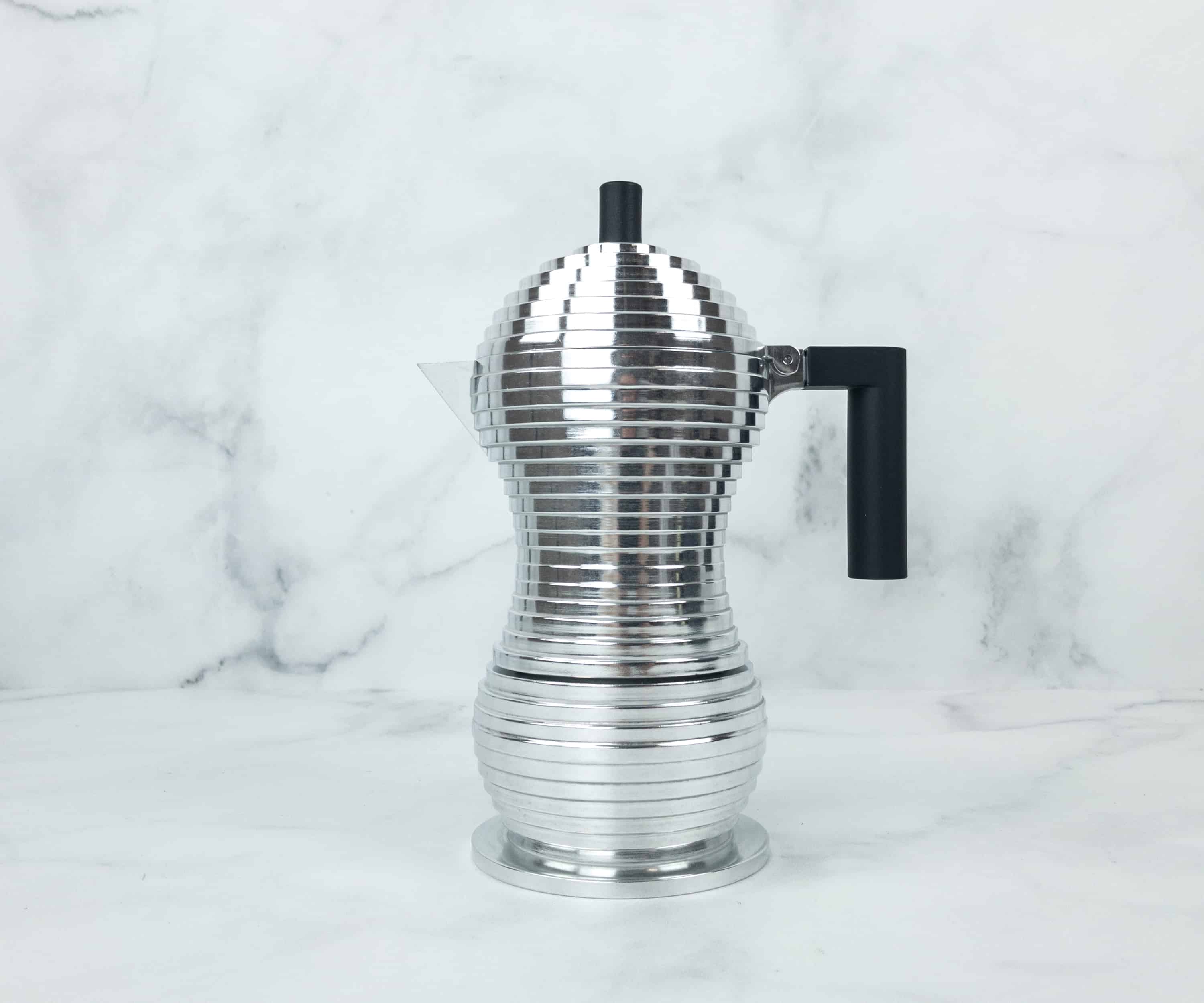 This is shiny, with lightweight terrace design that is also functional because it makes it ideal for enhancing the aromatics and rich coffee taste.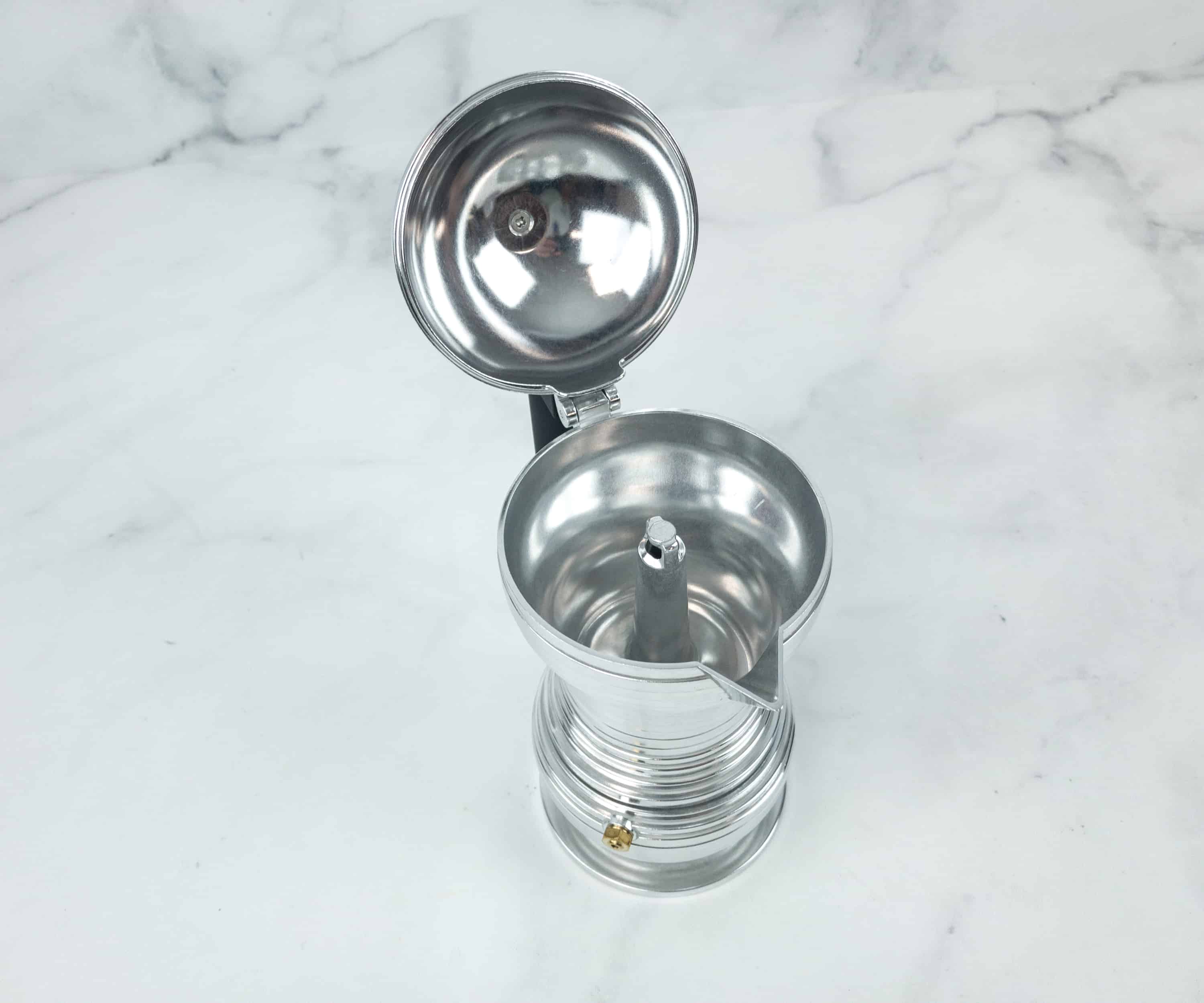 It also ensures the precise temperature and pressure control. To prevent bitterness, it stops filtering at the right time.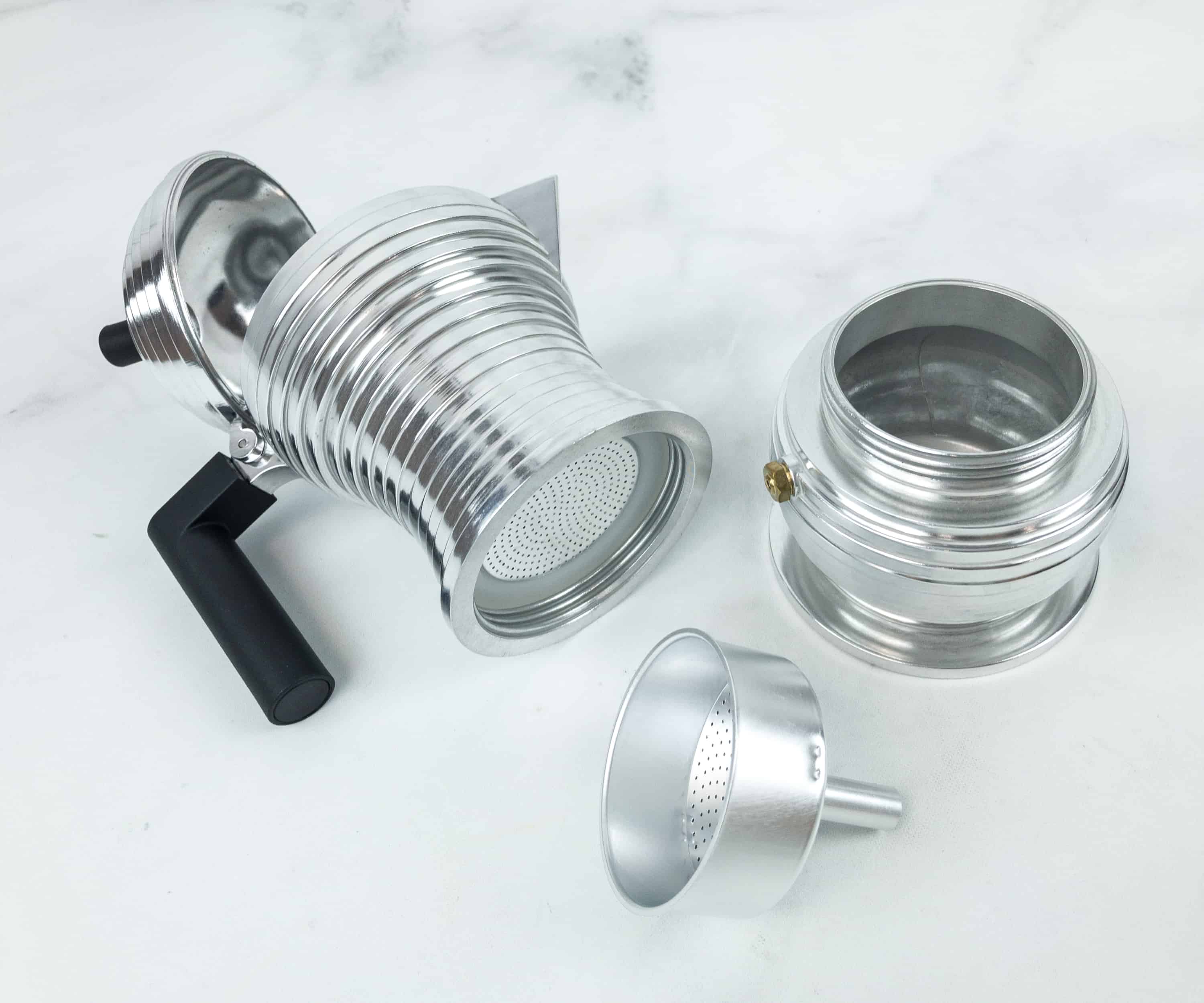 The thermoplastic resin handle and ball grip mean you can easily hold it without worrying about the temperature. The spout is also shaped and designed to cut drops when pouring.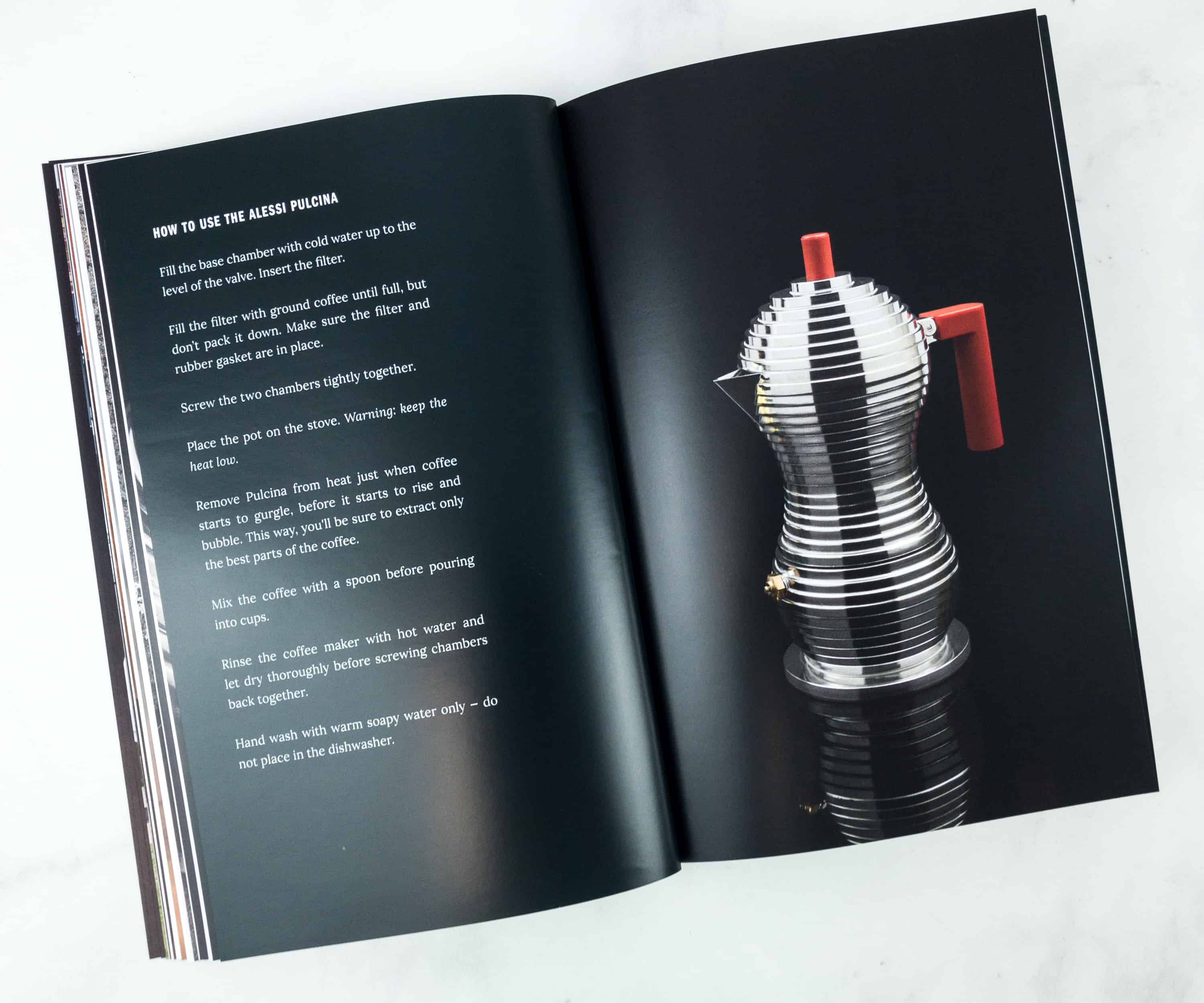 These are the instructions on how to use the espresso maker. We have to rinse the coffee maker with hot water after use and let dry thoroughly before screwing both chambers back together.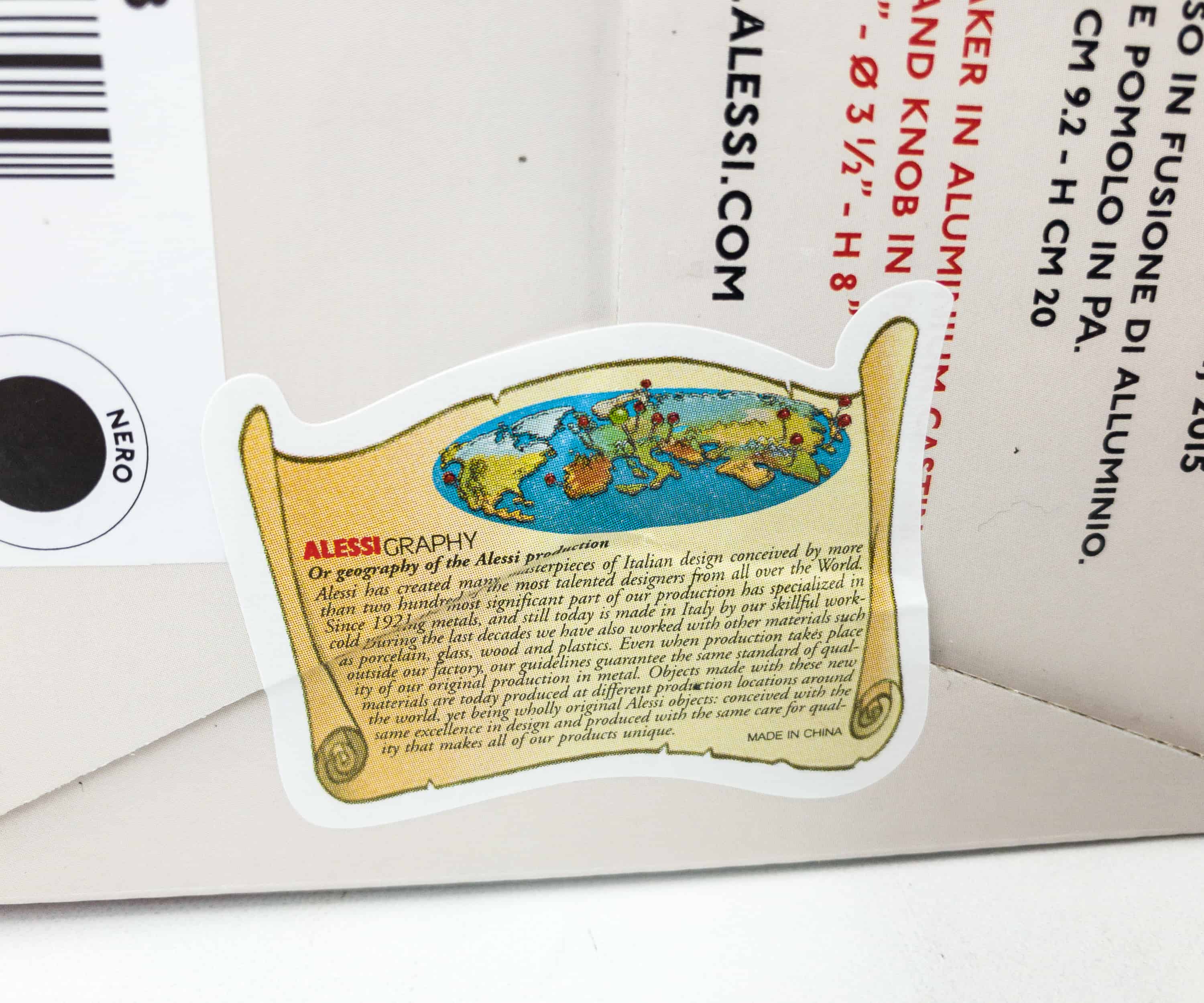 The history of how Alessi originated is stated in the sticker seal of the box. This is a great maker for someone like me in a one-coffee drinker household.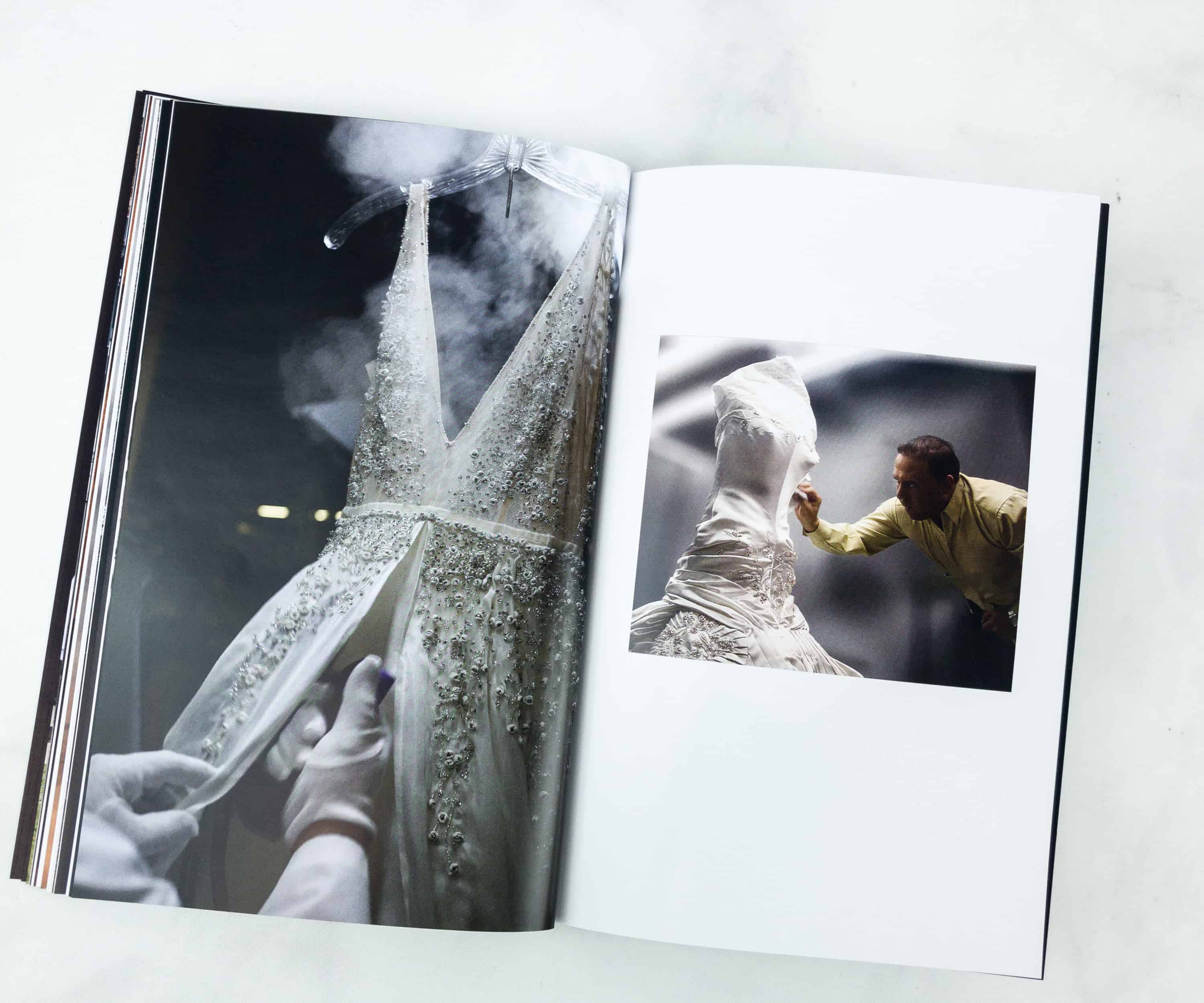 This is a long stretch from the theme but very thoughtful for them to add in the box. They know coffee lovers are not resistant from stains!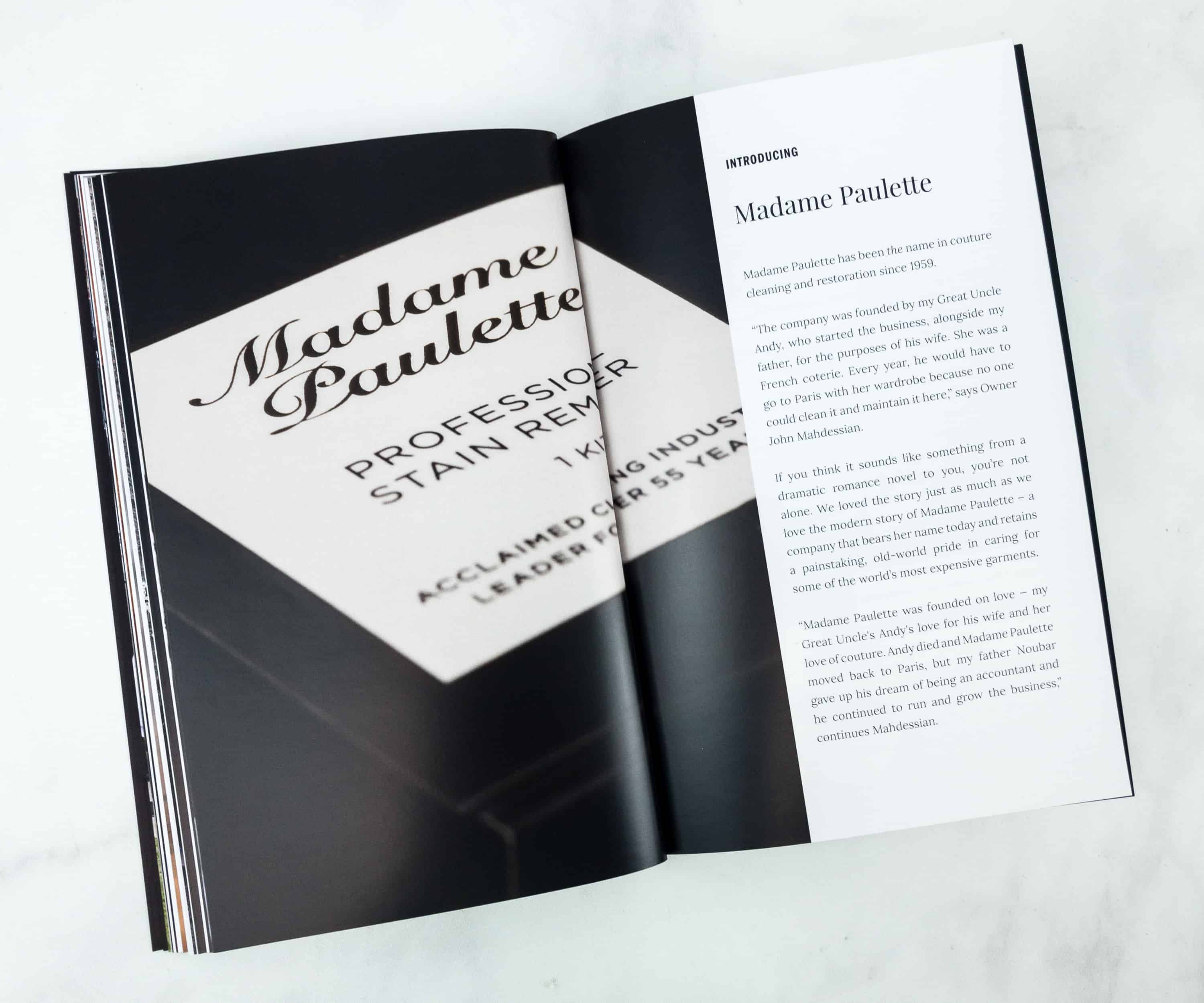 The magazine explains the origin of Madame Paulette.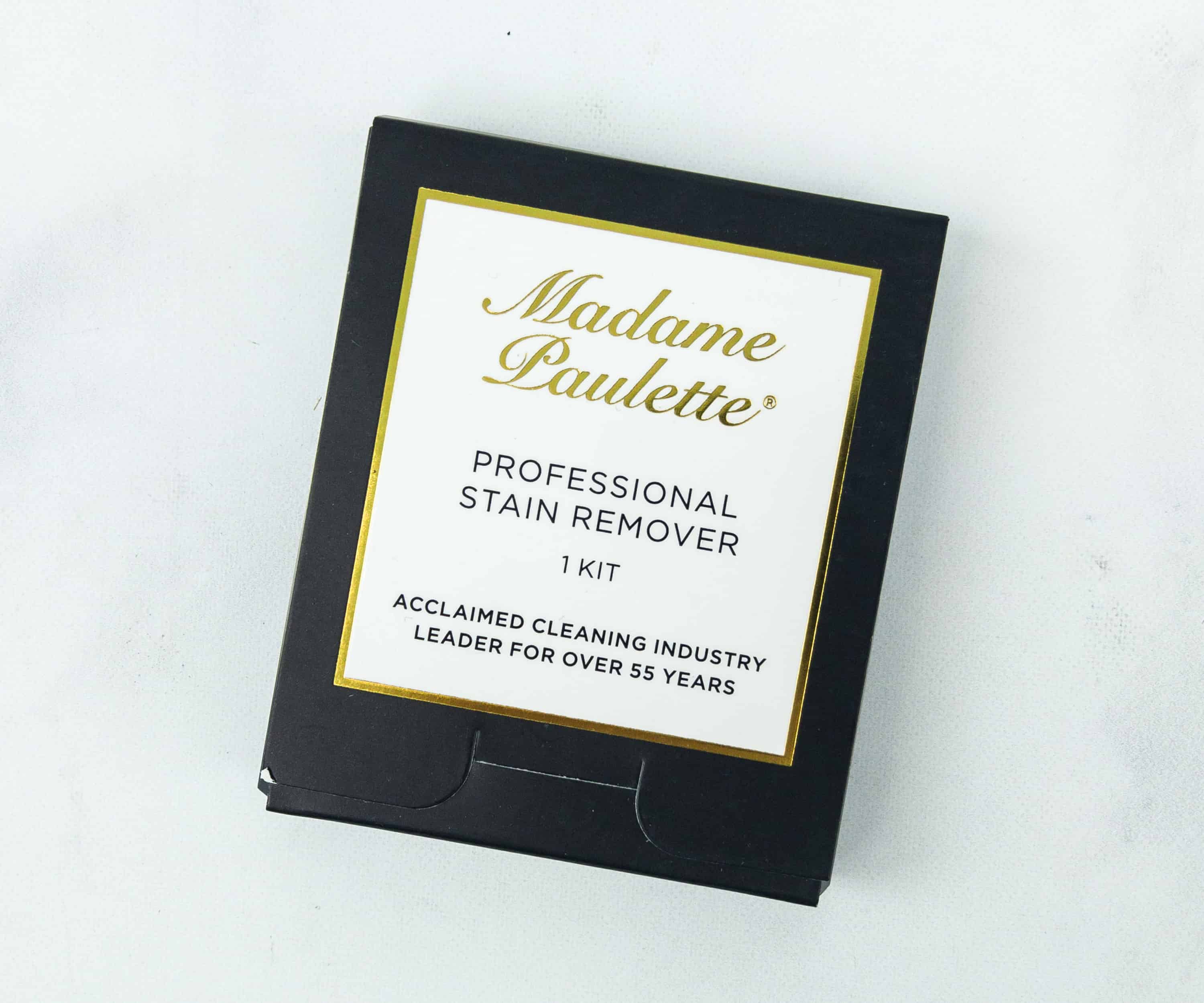 Madame Paulette Stain Remover ($29.99) Well, coffee stains are inevitable especially when we are in a hurry and while commuting.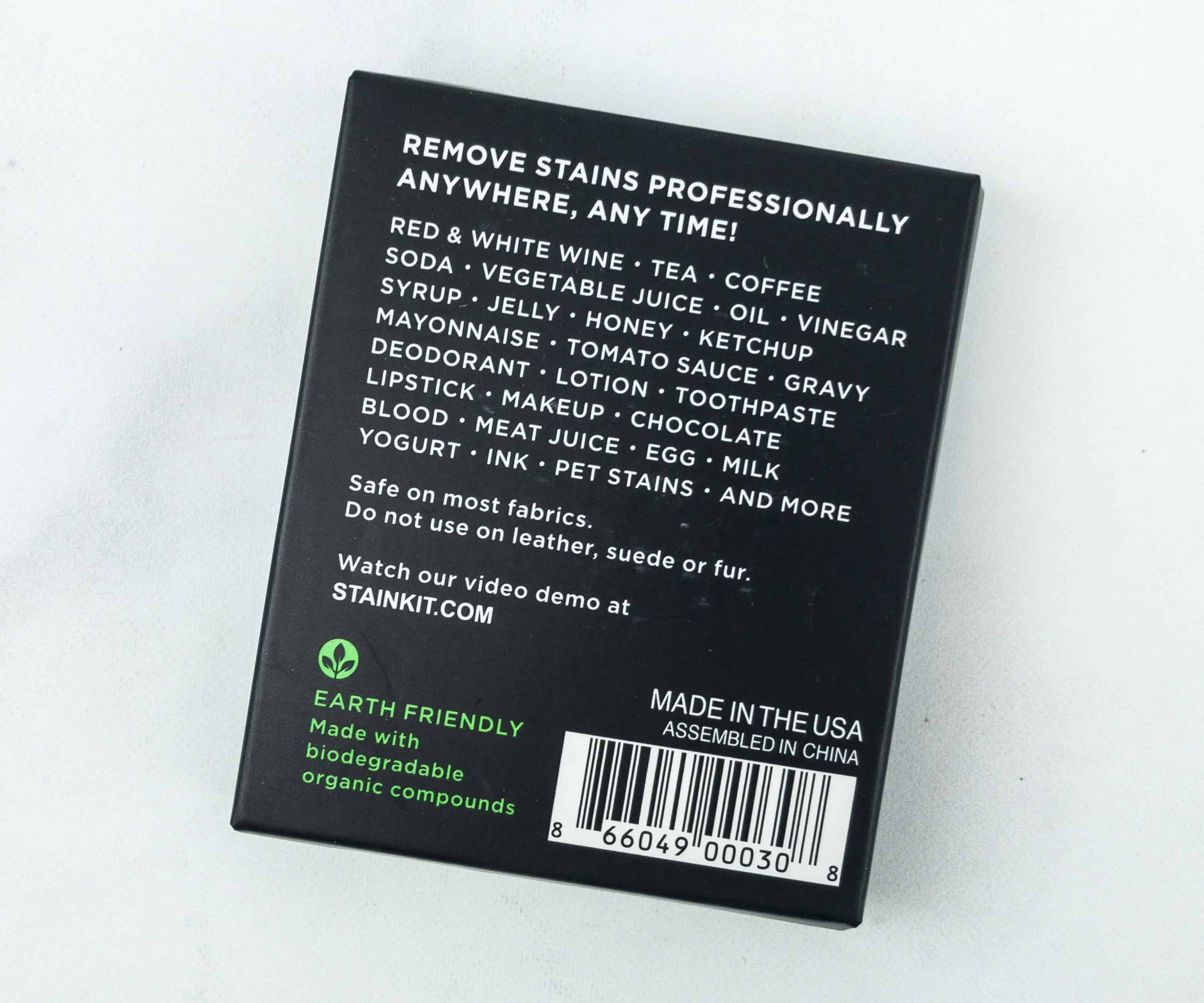 This stain kit can solve and have a quick fix for this dilemma. The list of the stains it can remove are at the back of the packaging. However, it's not suitable for suede, fur, or leather.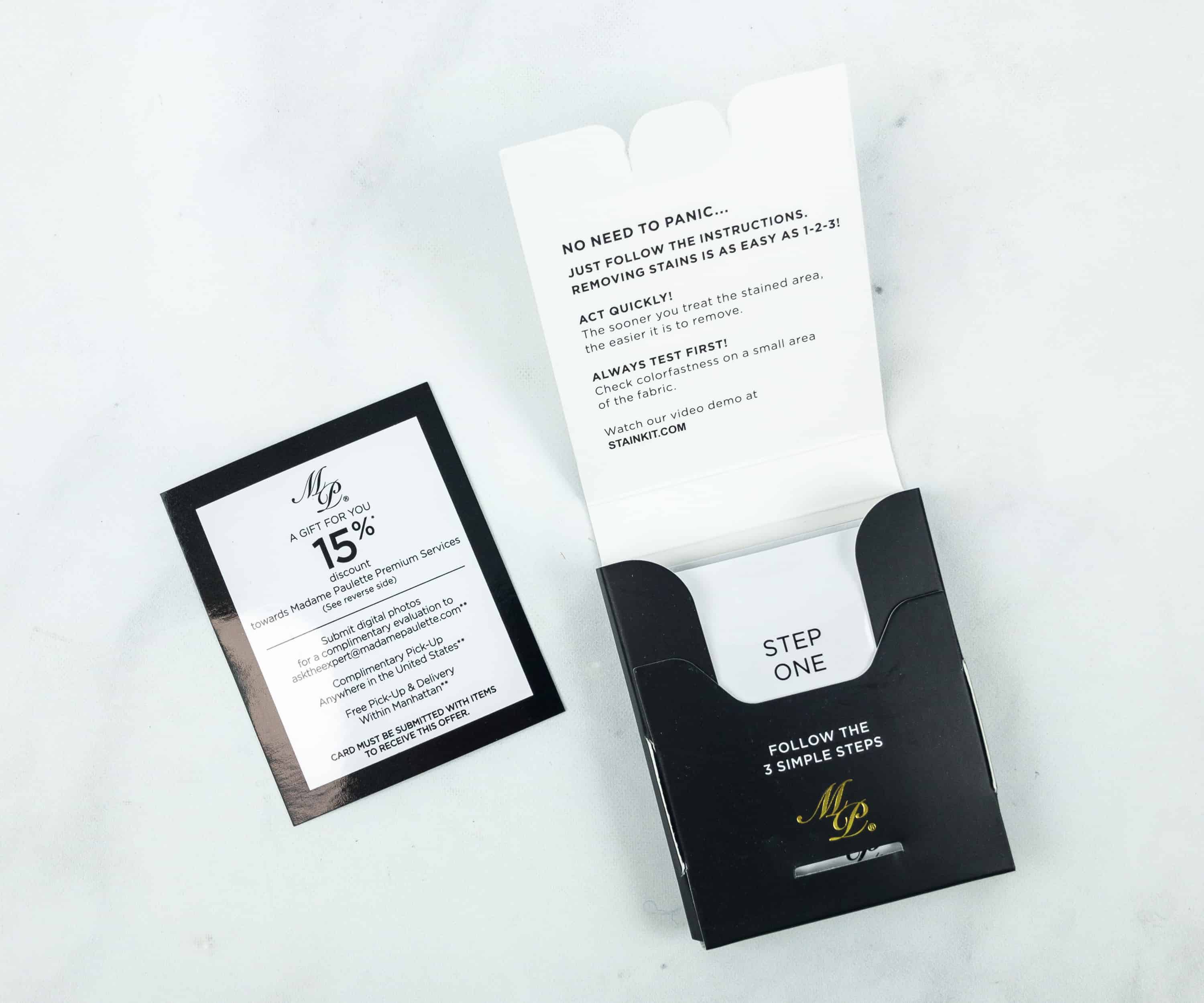 The kit has 3 simple steps.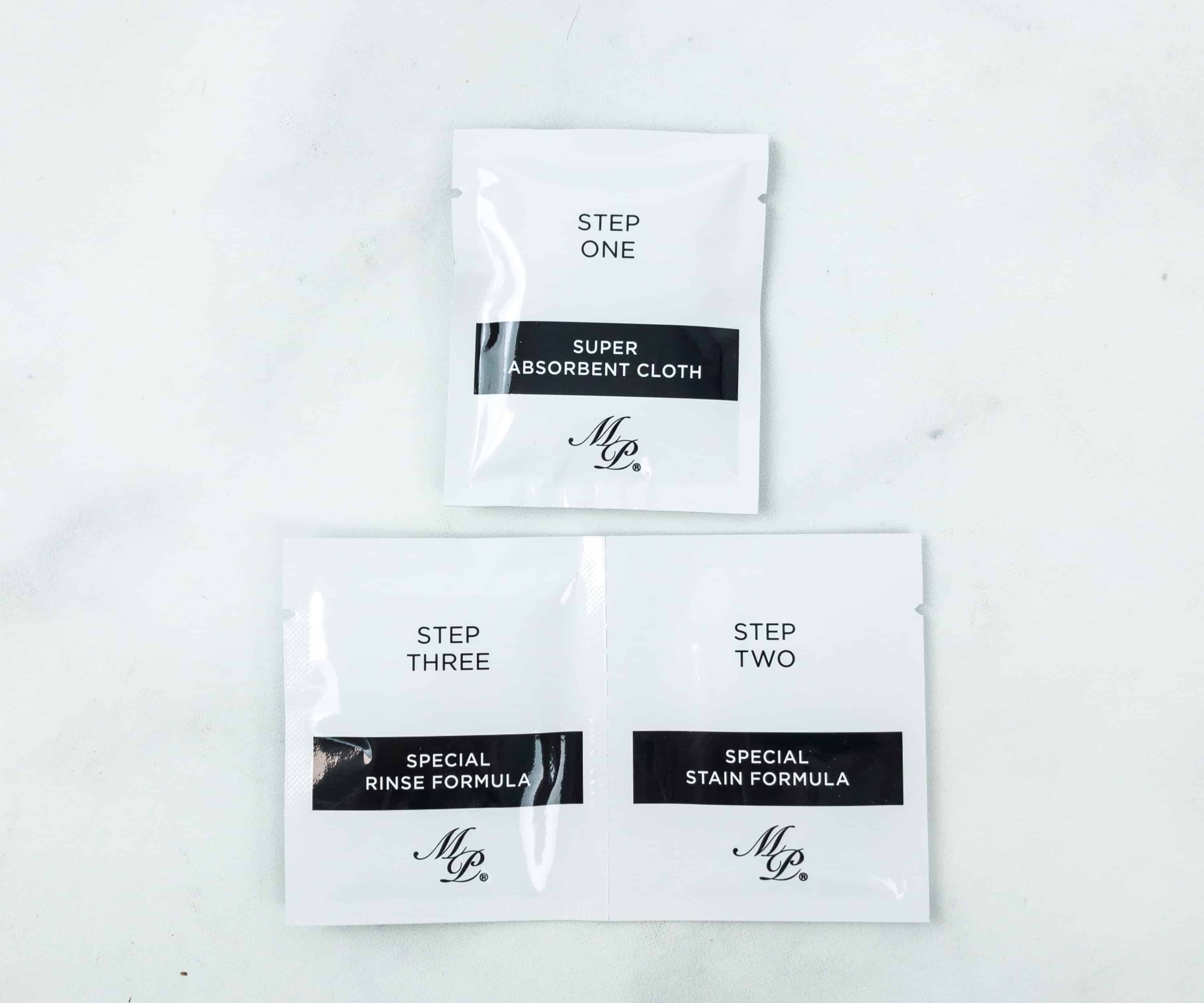 Step 1 involves the super absorbent cloth. Just place it under the stained area and it will absorb all the stain. Step 2 involves the special stain formula which dissolves and breaks down the composition of most stains and it will transfer to the superabsorbent cloth you place under the garment.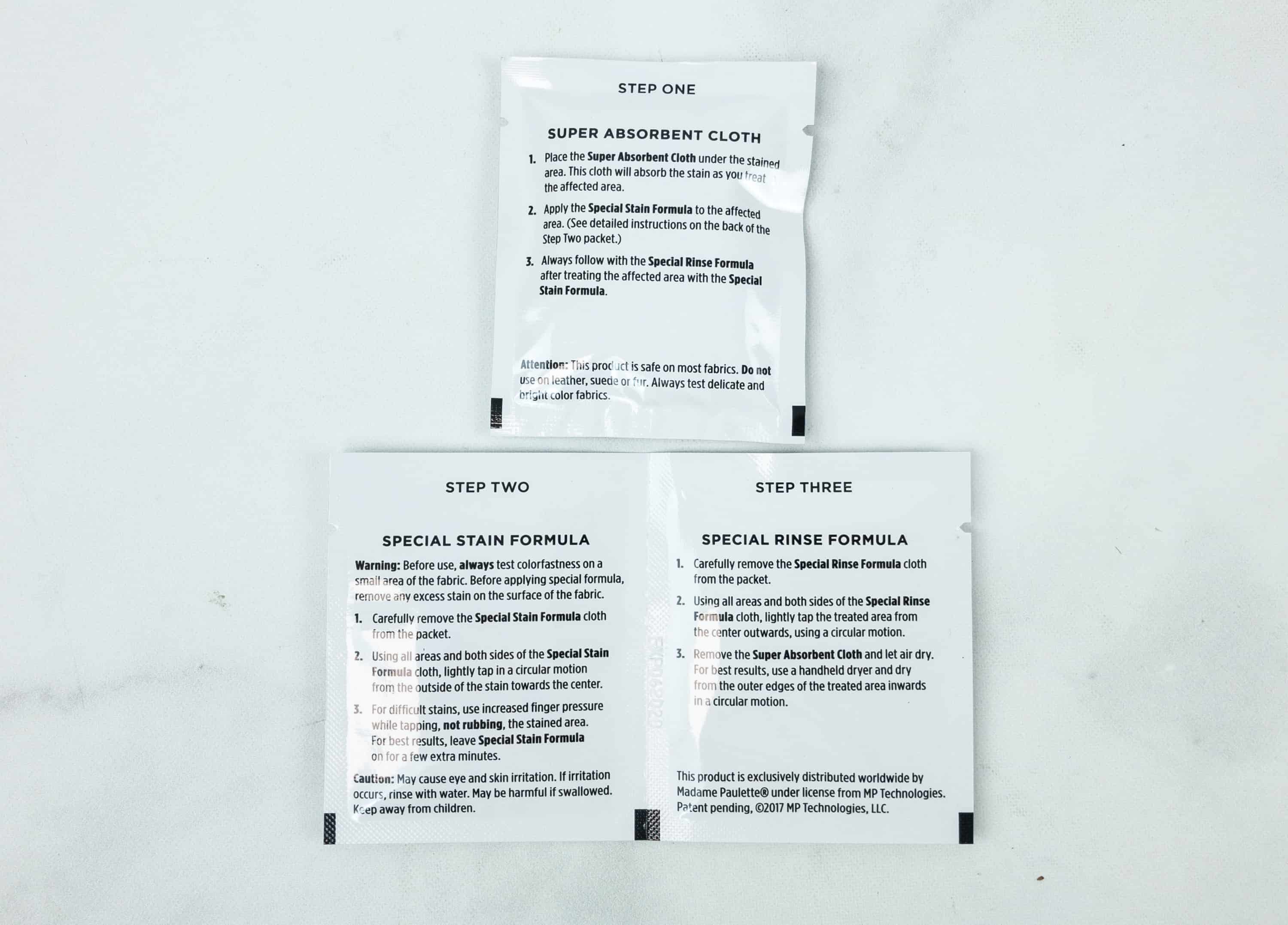 The last step is the special rinse formula. It will aid in removing the leftover stain matter or the stain formula from fabric. It will make sure that no residue will be left on the fabric.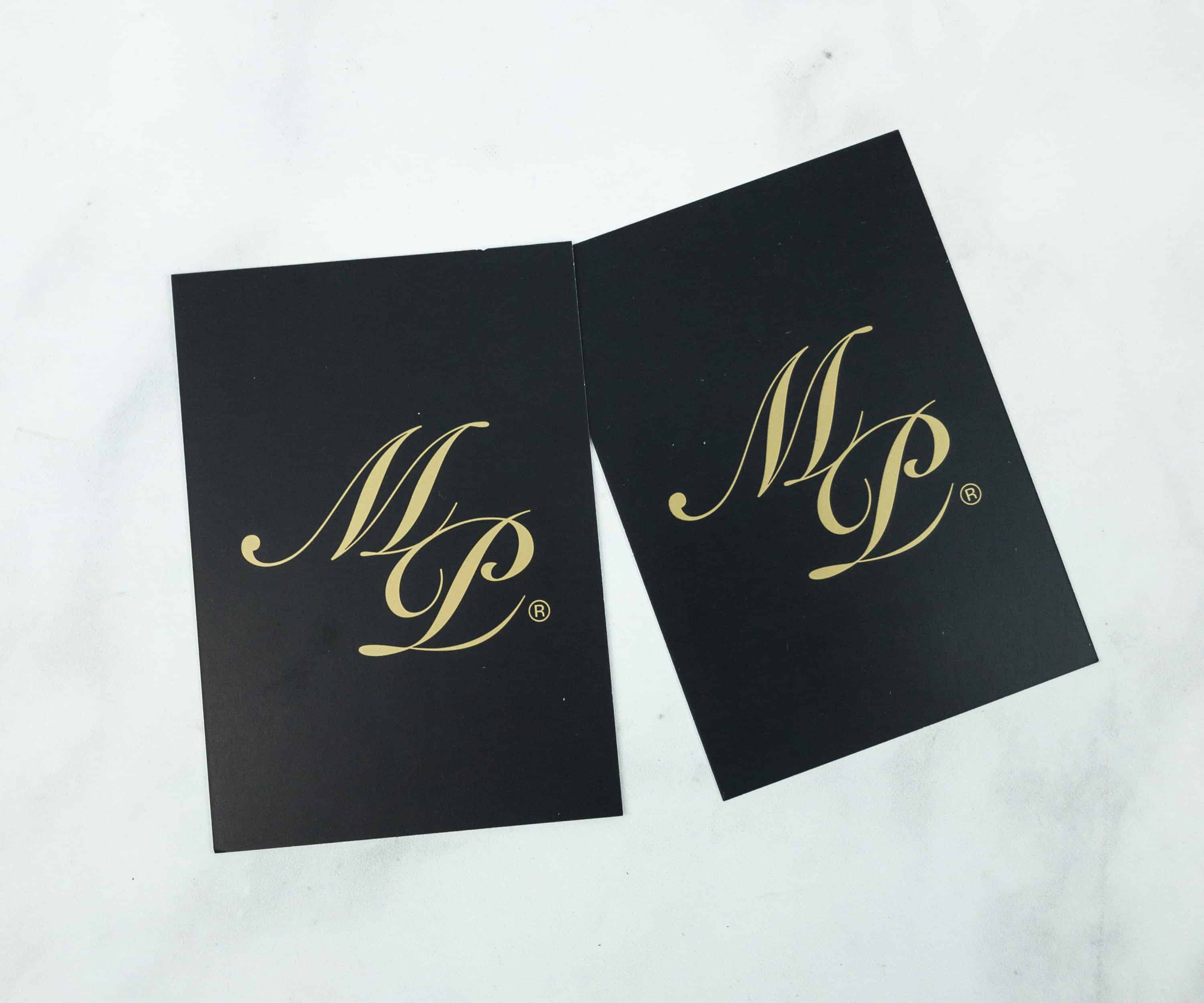 The classy logo is featured on the promotional cards.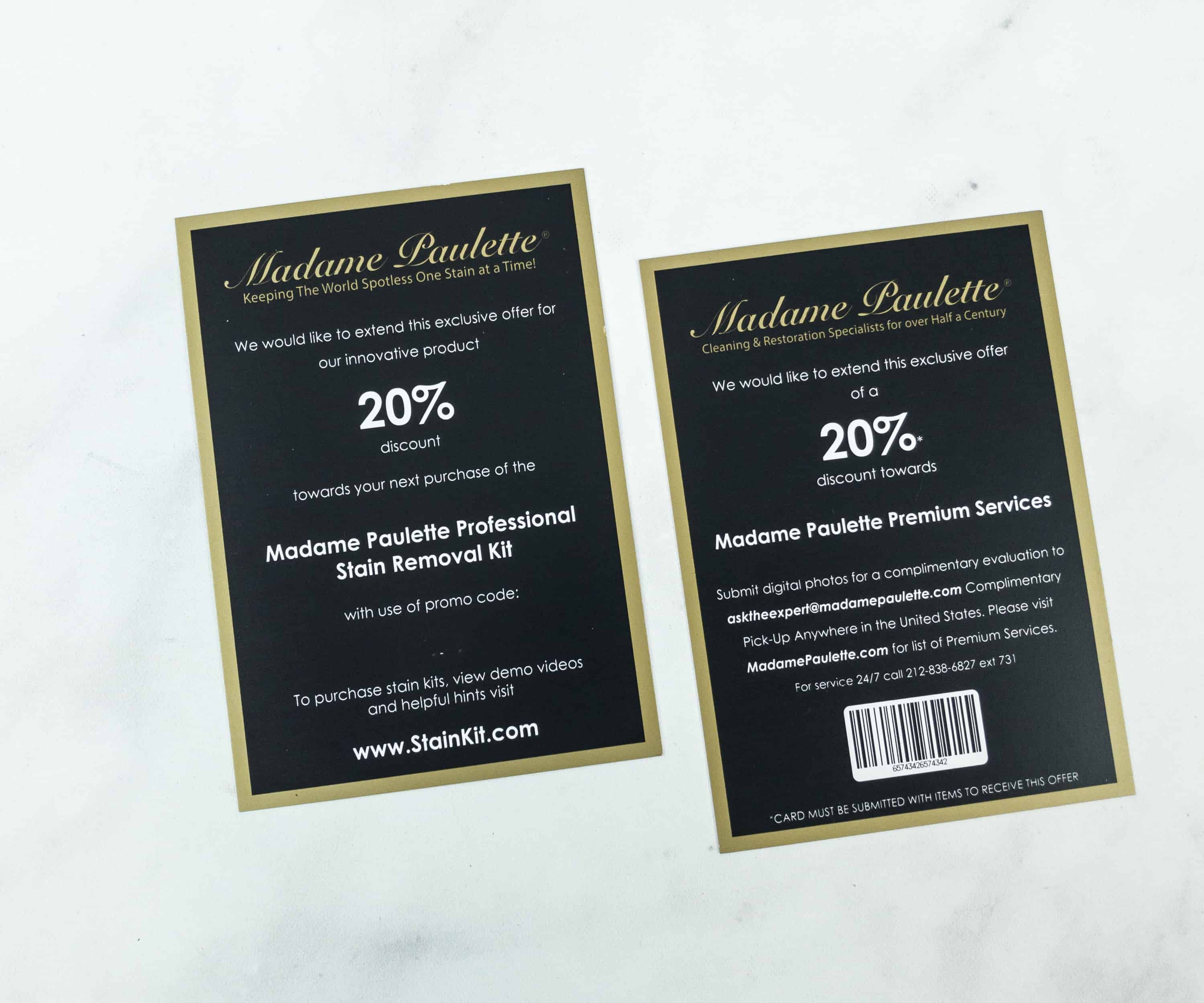 We got promo codes too. One is a 20% off promo code for Madame Paulette Professional Stain Removal Kit, and the other is a 20% discount for Madame Paulette Premium Services.
The incorporation of the magazine to the products is superb. Not only does magazine provide an informative content and have in-depth insight about each and every product, but it also has great images to back it up. People are easily welcomed into the world of coffee. Especially for a coffee lover like me, I have a specific liking on how I drink and prepare my coffee but this box hit lots of high notes. I love the 3 cold-pressed espressos. I'm amazed they included a coffee liqueur in the box. They are also perceptive and thoughtful and included a good stain remover which will greatly help in stain emergencies. This box would be a miss for anyone who wasn't into coffee, but I see it as a much bigger hit than last year's tea box. Unfortunately, with the increased prices the cost of the box no longer covers the purchase price of the items, which doesn't bode well for this subscription.
What do you think of this month's Robb Vices box?