Pop In A Box is a monthly Funko POP! vinyl figure subscription. Every month, you will receive the number of POP! figures you order (starting at $9.99 per POP!).
In all seriousness, they have a totally awesome and exhaustive Pop tracker that you should sign in to use if you have any sort of Pop collection (we have quite a few). Shipping is always a flat $4.99 but you can get as many as 12 POP!s a month.
You can block Pops from being sent, rate pops in their tracker, and if you track your collection with their tracker and subscribe you will not receive any dupes. They do give away figures randomly to subscribers.
DEAL: Save 20% on your first $20+ order! No coupon required, just use this link to subscribe.
When you sign up you can add POP!s to your collection, thumbs up and down (never get a thumbs down, more likely to get a thumbs up). Everything that you Thumbs Down will be blocked, and you can pull them back out if your tastes/fandoms change. Thumbs Up will place the Pops on your Wish List.
I do find it fun and easy to do the thumbs up & down a couple times a week, and I suggest filling out your collection and blocking any POP!s you hate and marking any POP!s you really want before actually subscribing.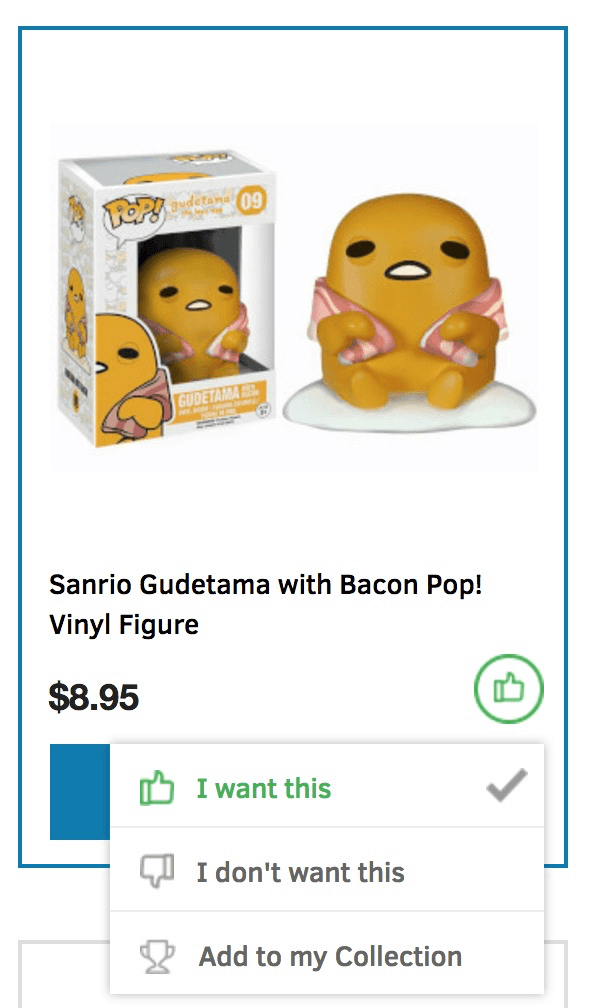 Once you're signed up you'll get a new pops email whenever they add new pops to the shop – and then you'll know it's time to do thumbs up/down.

There's not a lot of fanfare with this box. Here are my contents! I have found that the boxes are usually in great condition but we take them out because our kids play with them.
Note: When you receive your Pops from PIAB they will not be added to your collection. They don't track what you get, so when you get them, add them to your tracker so you don't receive them again (and don't forget to add all the other Pops you get to your tracker too).

Pop! Harry Potter #53 Ginny Weasley Vinyl Figure ($9.99) This month is magical, and the first POP! I get to pull out of the box is this adorable Weasley in her Quidditch uniform!

Aside from Ginny, you can also get one of the Golden Trio, Remus, Luna, Peter Pettigrew, another Ginny figure, and another Ron playing Quidditch from this line.

I love how the clear base made Ginny looks like floating in the air, and with her flowing beautiful red hair!

Ginny sure is a good chaser for the team, you can see here as she gets hold of the Quaffle!

The detail of this Pop are marvelous!

It looks like she's ready to the throw the Quaffle on to the hoops!

I love how they captured all the details of the Gryffindor's Quidditch team uniform!

Pop! Fantastic Beasts #02 Newt Scamander Vinyl Figure ($9.99) Next up, we got the well-known magizoologist from the Wizarding World, and it's none other than Newt Scamander!

The Fantastic Beasts line also offers Queenie Goldstein, Tina, Jacob, Seraphina Picquery, Percival Graves, and the Niffler! I would love to have the last one!
Newt here is in his usual garb of a blue coat with a yellow vest and white undershirt, brown pants and shoes… And his signature disheveled hair!

Everything but the suitcase!

As we can see here, Newt is holding an Occamy egg. And we all know how important this egg's shell in making the Felix Felicis! Just got lucky!

Pop! Harry Potter #62 Nearly Headless Nick Vinyl Figure ($5) Nearly Headless Nick, or Sir Nicholas de Mimsy-Porpington, is the resident ghost of the Gryffindor tower at the Hogwarts Castle.
The other figs that this line includes are each of the Golden Trio holding a Mandrake, Ginny, Professor Gilderoy Lockheart, and Tom Riddle!

The figure's appearance clearly shows how ghostly he looks. Actually, it looks like he's made of ice! Unlike in the movies where his true colors were retained and they just made him look a little translucent to show that he's already a ghost.

Look how lovely his almost transparent cape flows on his back!

Also, his head appears like it can go off anytime, showing how he was improperly decapitated! What a perfect execution (of character) for one of the wizards of the royal court!
They may come from different periods of time or era, but there's no denying that all of them clearly belong to the awesome Wizarding World!
This is one of my favorite boxes to date, as it includes everything from the Potterverse! The second movie of the Fantastic Beasts franchise has just come out so it's just timely that they included Newt in this box, I just hope that I get another adorable Niffler next time… And Newt's suitcase! Also, the Nearly Headless Nick figure is fantastic, and they also made him tilt his head to show how he got almost decapitated. I would also love to get other POP!s wearing their Quidditch uniforms to accompany Ginny, and some hoops too to make a stadium!
Who knows what we'll get? We have tons of interests but there does always seem to be a theme when it comes down to it. Also tracking your favorite POP!s and not getting a repeat is easy as you just have to update your tracker on their website! This is really a great and must-try sub for those who love to collect fun and awesome Pop figures!
Have you tried Pop In A Box?