Plated is a weekly dinner kit subscription box with high-quality ingredients and chef-created recipes. Each week you'll choose from a variety of quick gourmet meals that range from meats, chicken, and seafood, to purely vegetarian options. There's enough selection to please all palates, and the recipes are seasonally focused. You can choose any lineup of recipes from the available options and skip any week you don't want.
DEALS:
Get 25% off your first four orders, up to a $159 value! USE THIS LINK to get the deal.
Save $25 off your first two orders! USE THIS LINK to get the deal.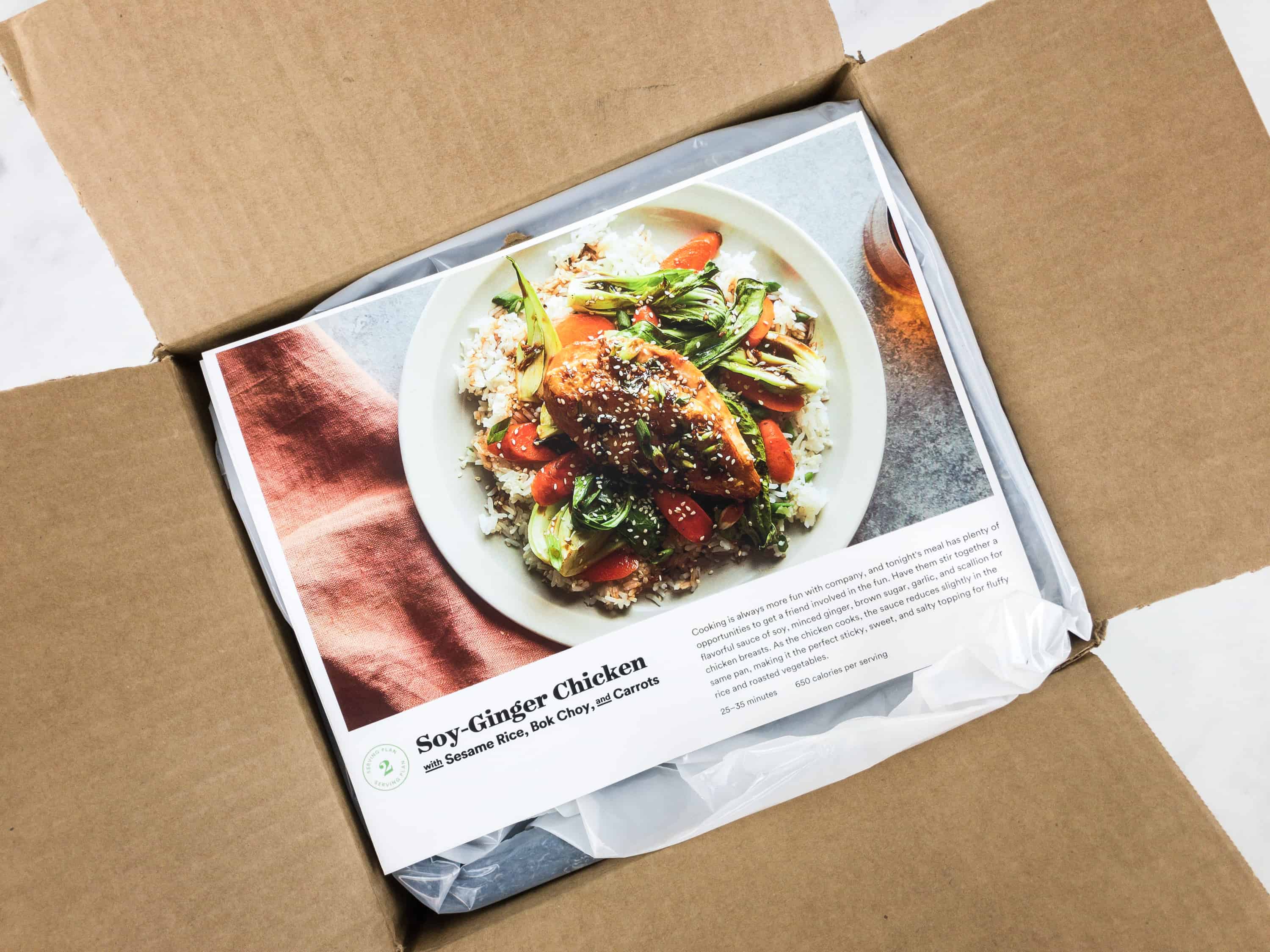 The box includes recipes and fresh ingredients for your meals, the latter packed safely in a soft-sided cooler bag.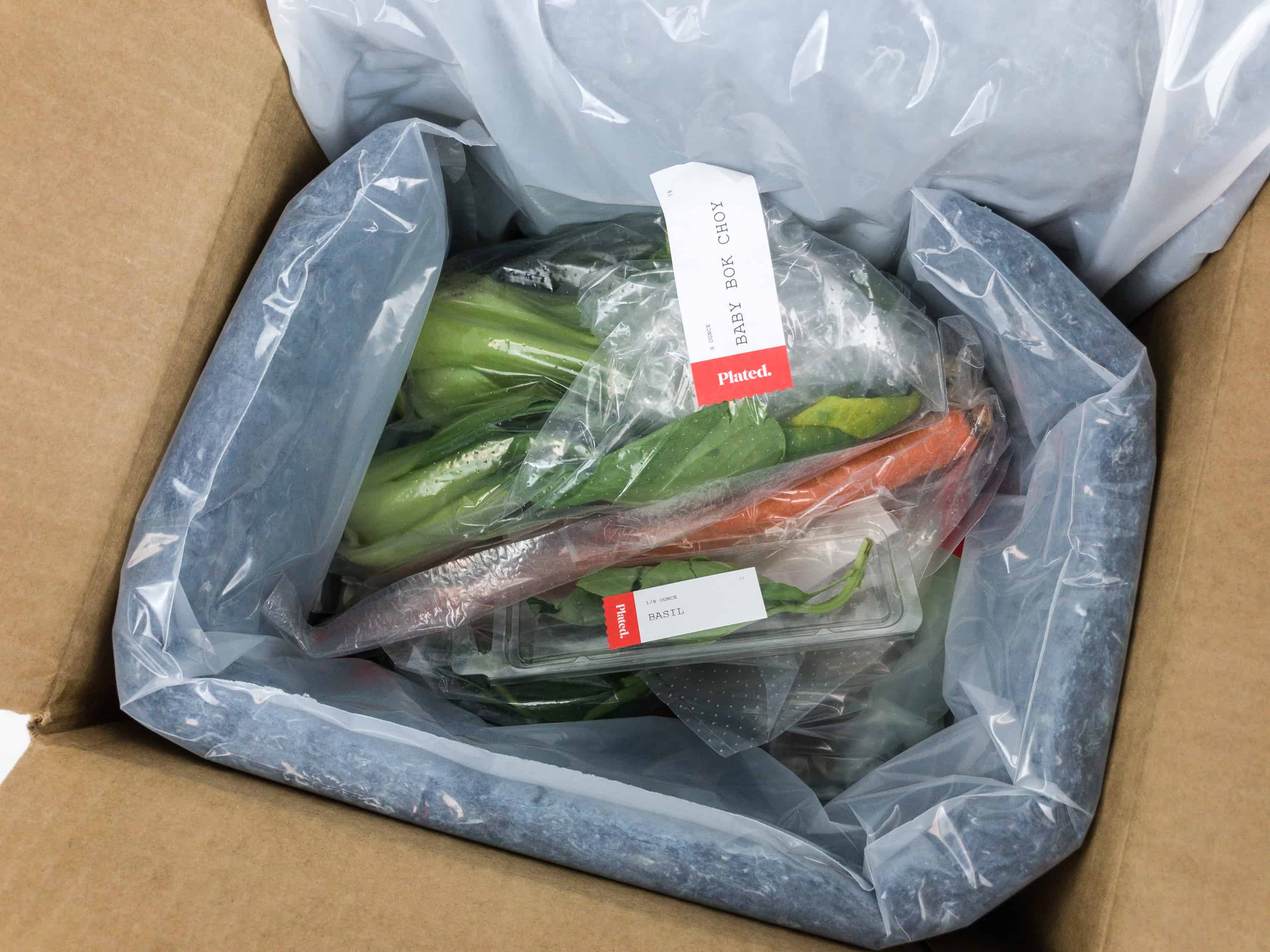 The food is set atop a cardboard barrier, preventing any frost damage to the more delicate veggies from the ice in the lower compartment. The meat is packed in the bottom, so it stays very cold.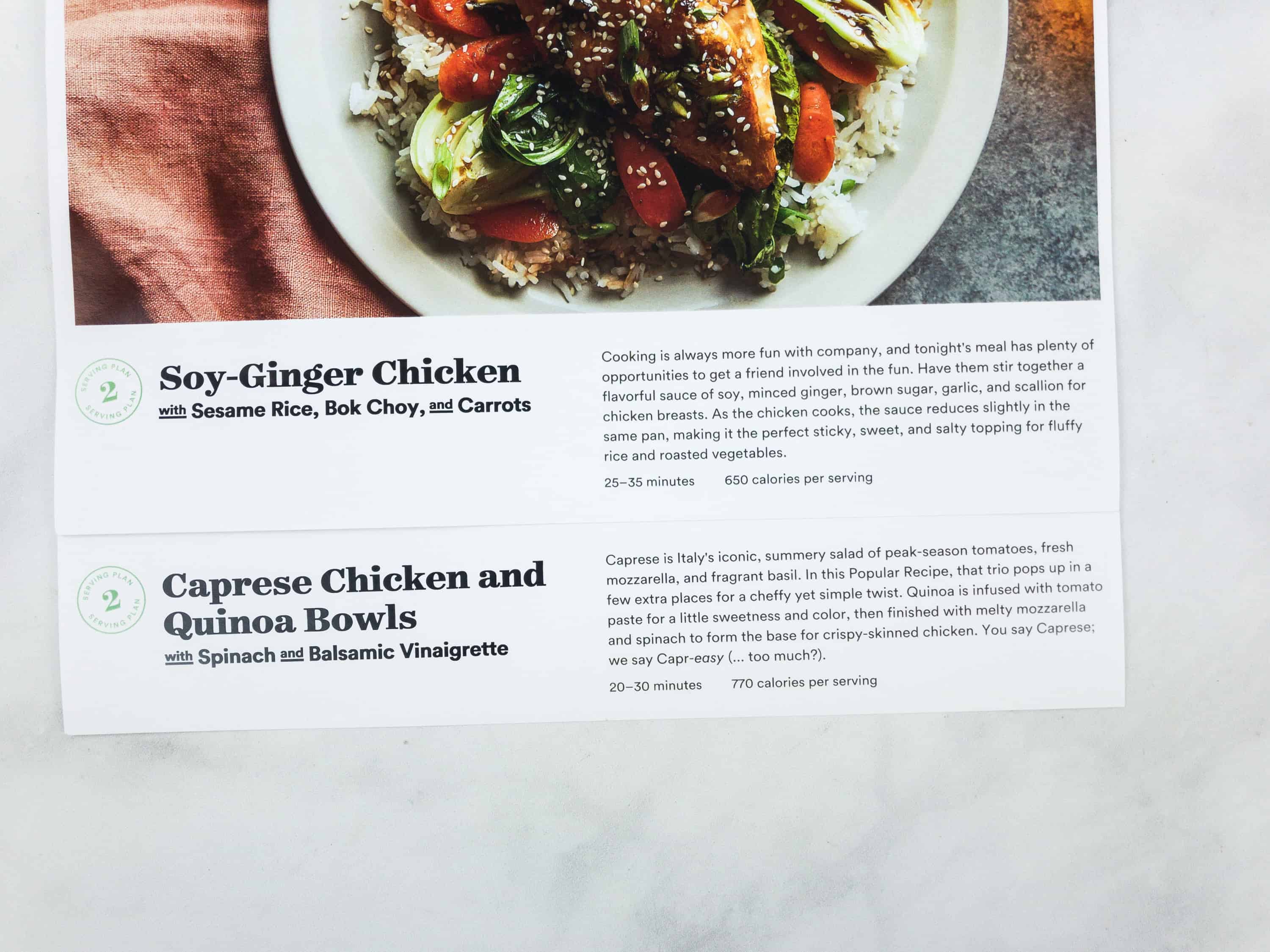 On-card information is streamlined and includes only prep-time, number of servings and calorie count. Most of Plated's meals serve two people. Unless stated otherwise, our pics of finished dishes show a single serving.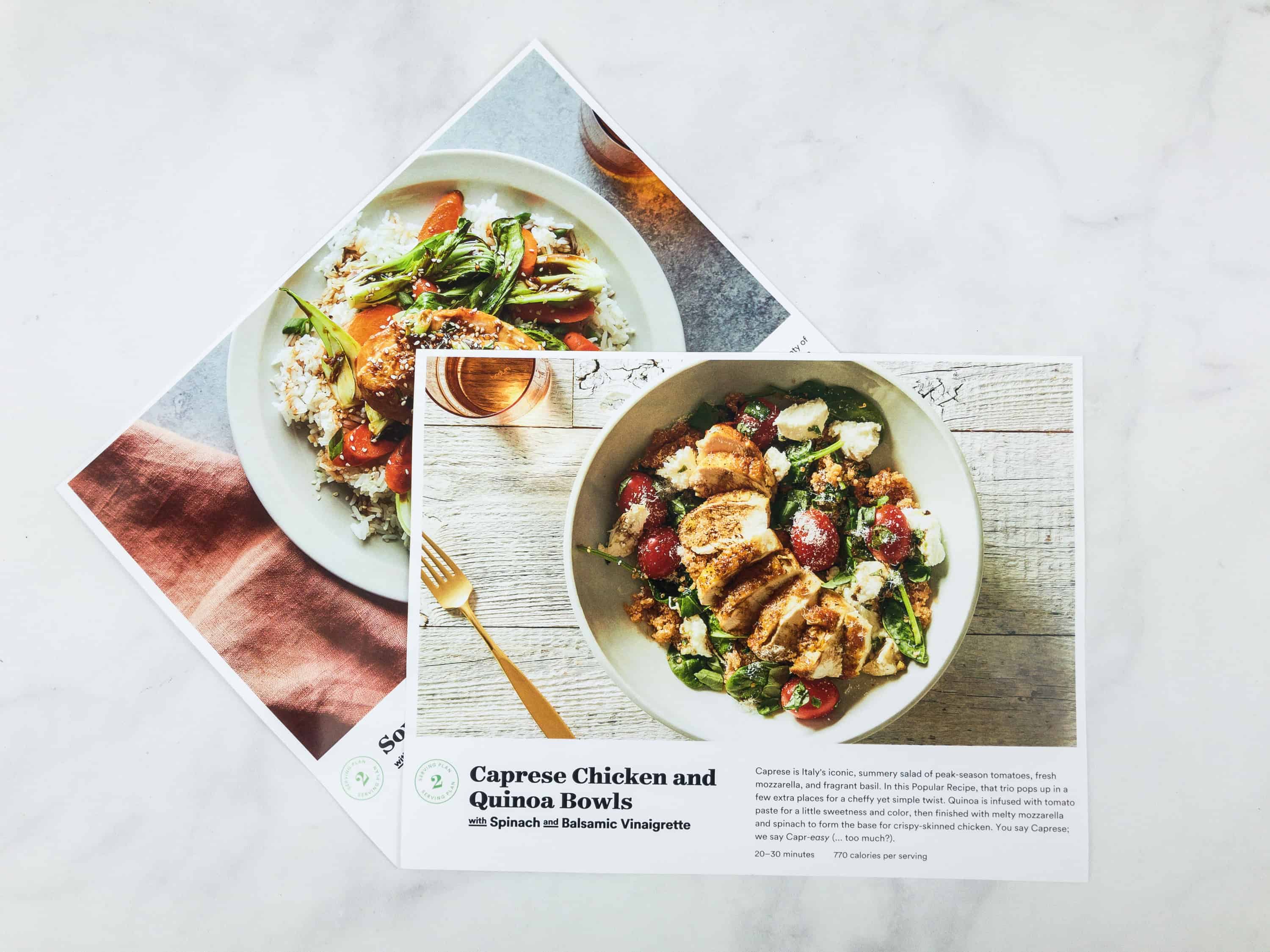 Each Plated dish has its own recipe card with a beautiful photo showing a plating suggestion for the completed dish.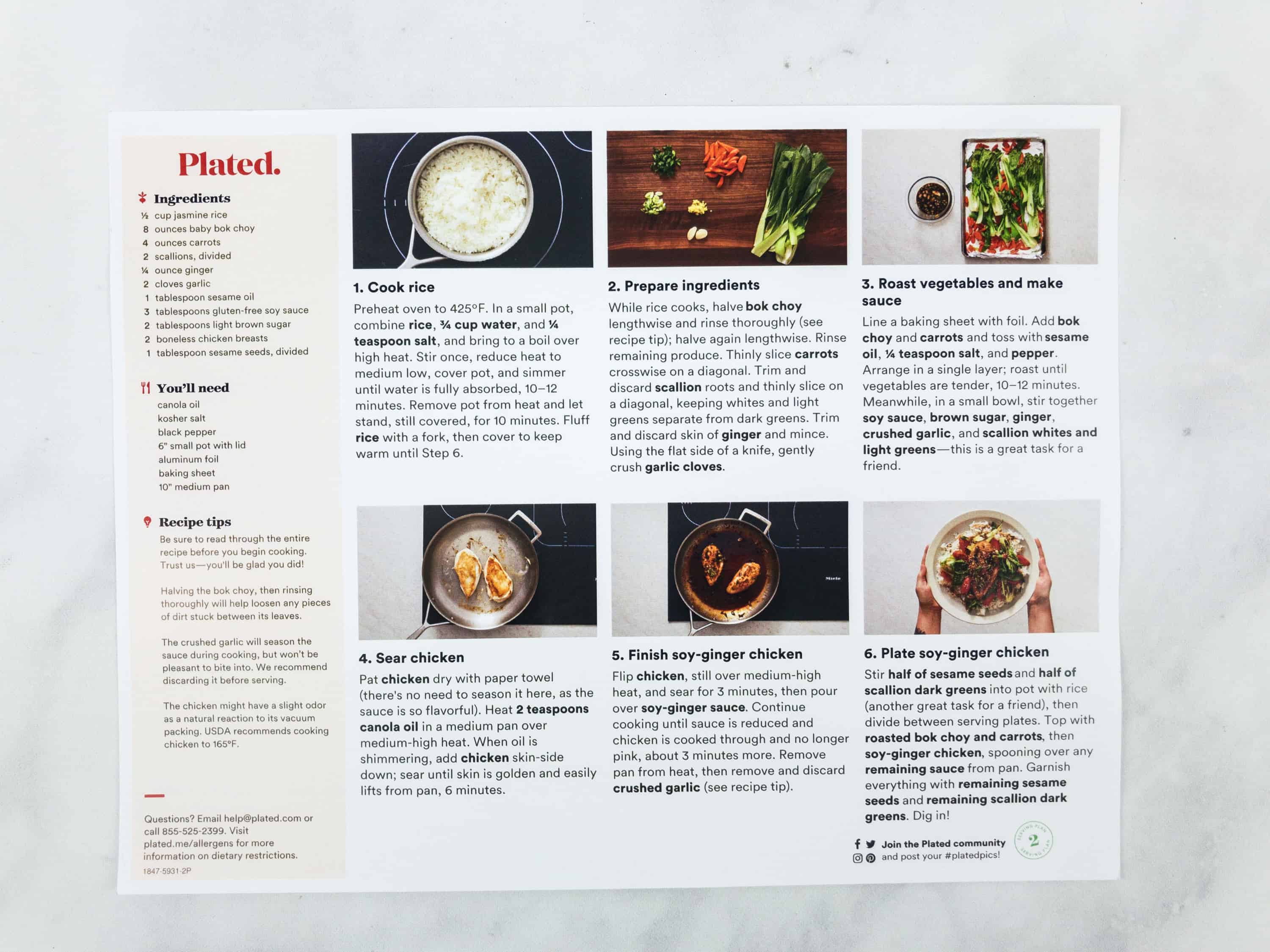 Plated's recipes often rely on mise en place, prepping everything before cooking. We've always been willing to shift steps around when its more efficient, and Plated sometimes does this too, getting you started on long lead-time items ahead of general prep. For most recipes, you'll want to have a sharp knife and cutting board, a range and oven, mixing bowls, pans, pots, and cookie sheets. You'll also occasionally need a colander, whisk, peeler, etc., but you can usually improvise on any items beyond that.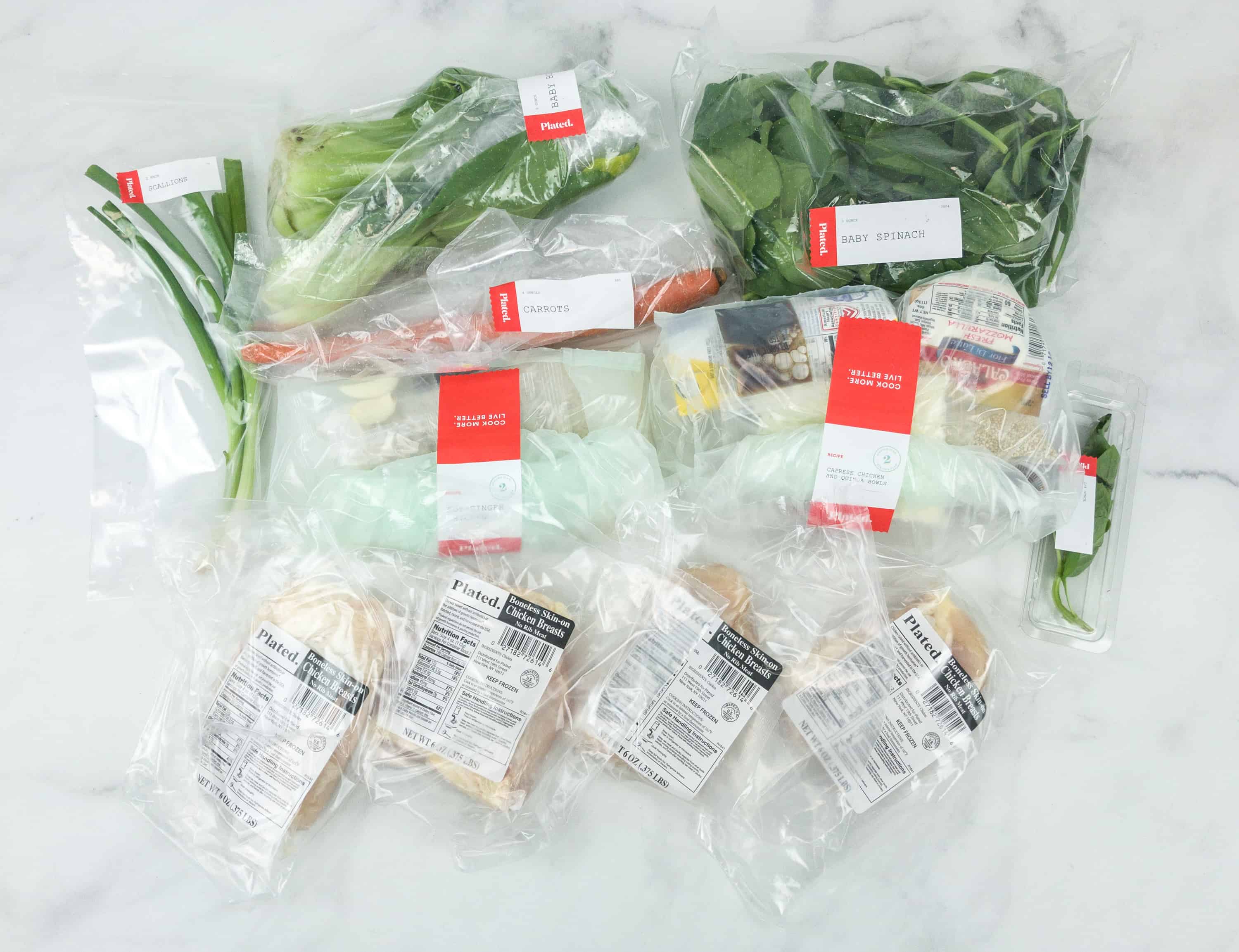 All the food comes bagged up and separated (mostly) into the recipes – meat and some large or delicate items are bagged separately. The recipe cards tell you anything you need from home – usually just cookware, salt and pepper, and some olive oil – occasionally you'll need an egg.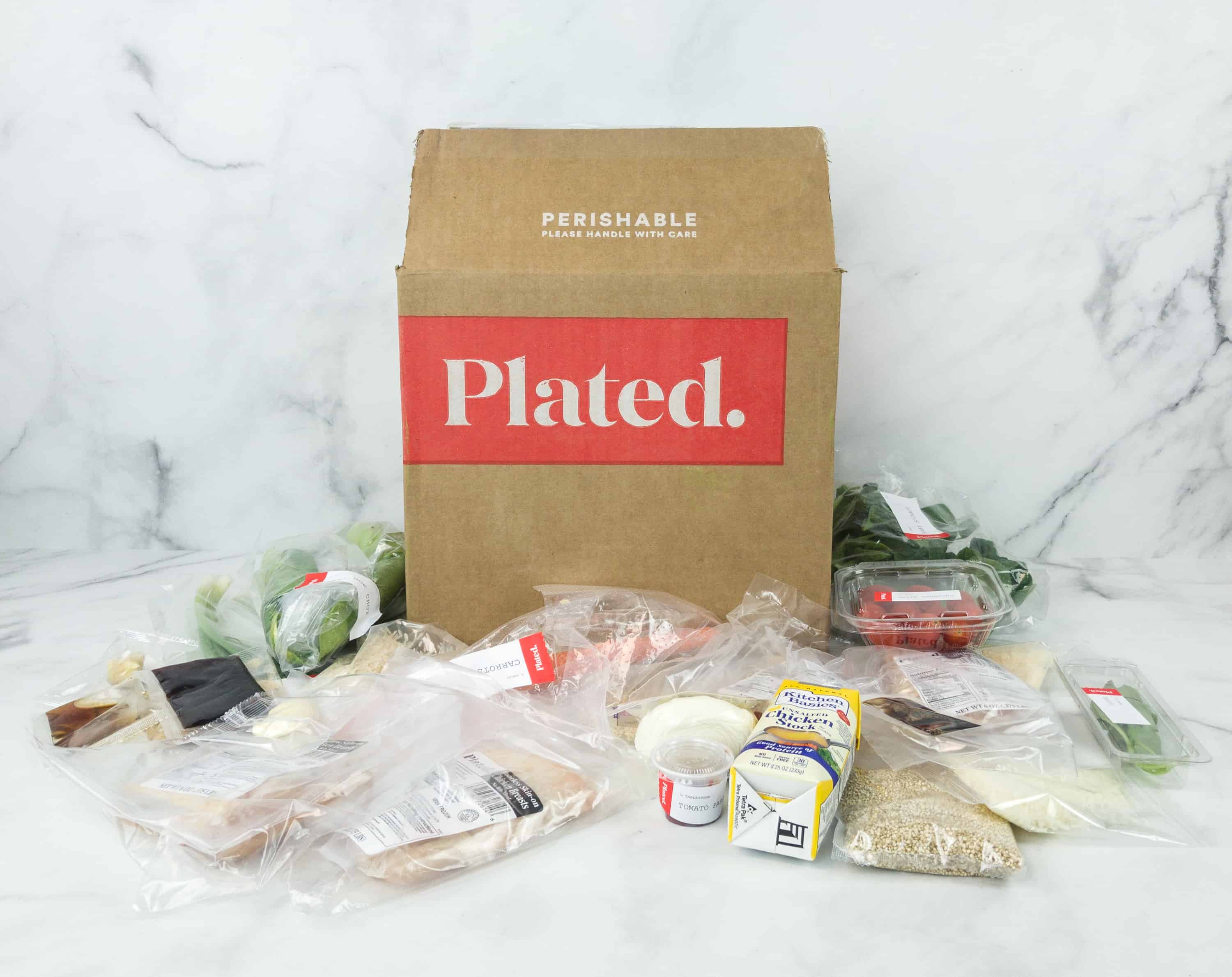 Everything in the box!
Caprese Chicken And Quinoa Bowls with Spinach & Balsamic Vinegar –  30 minutes, Easy, 770 calories per serving

This recipe was very simple. The quinoa wasn't very fussy, and the skin kept the chicken very moist. Once those two items were underway, the rest of the dish could easily be thrown together.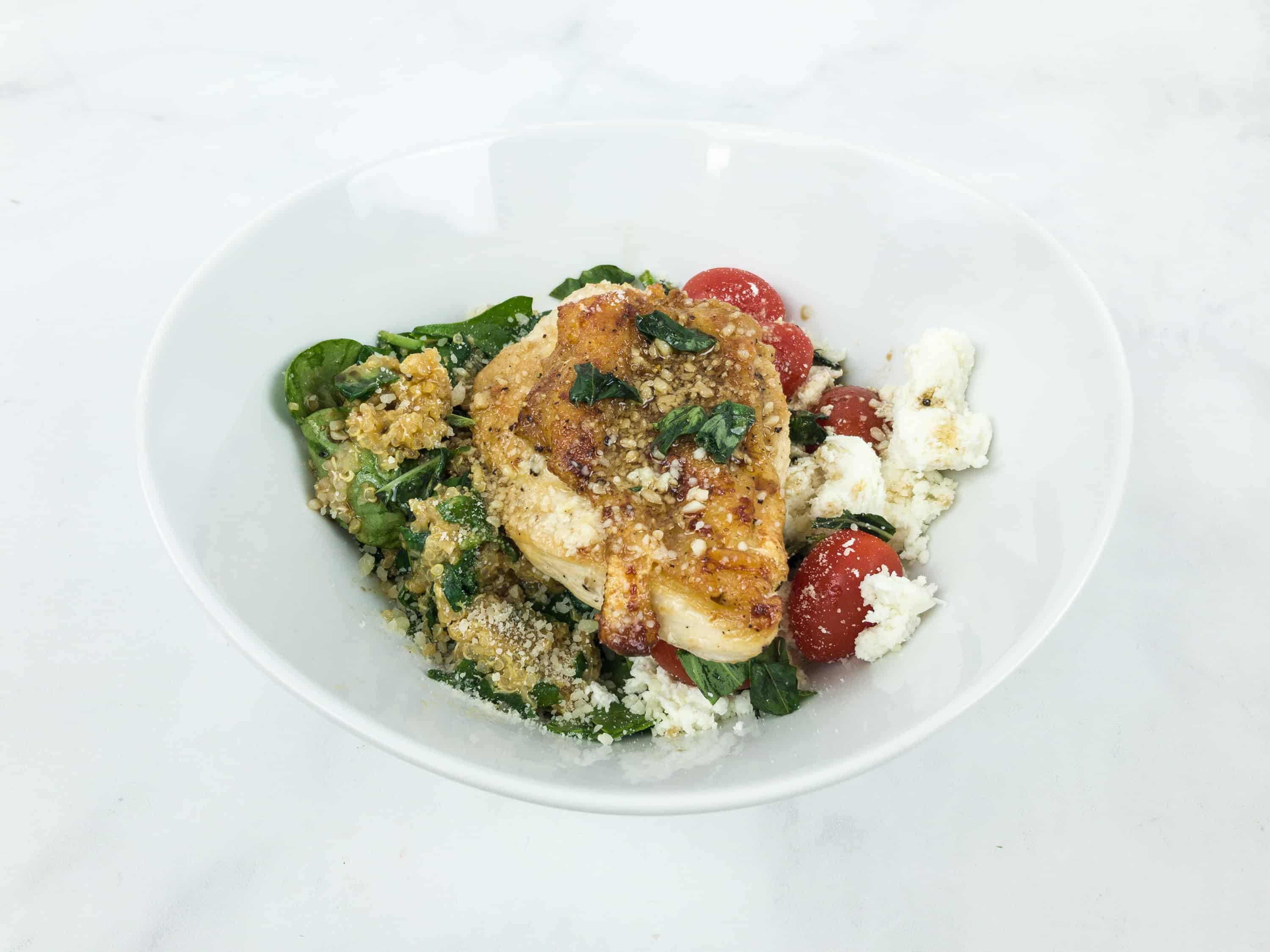 In my case, I opted not to cut the chicken breasts. Instead, I simply seasoned it all over with salt and pepper, cooked it in medium-high heat using olive oil for around 12 minutes, and put it on top of the Caprese salad.
The juicy, savory taste from the chicken works perfectly with the sweet taste of grape tomatoes, and tangy-sweet balsamic vinaigrette, showcasing the flavors and textures of a classic Italian Caprese! The quinoa paired exceptionally well with it, too, adding some heartiness without disturbing the fresh feel. The fresh cheese was amazing!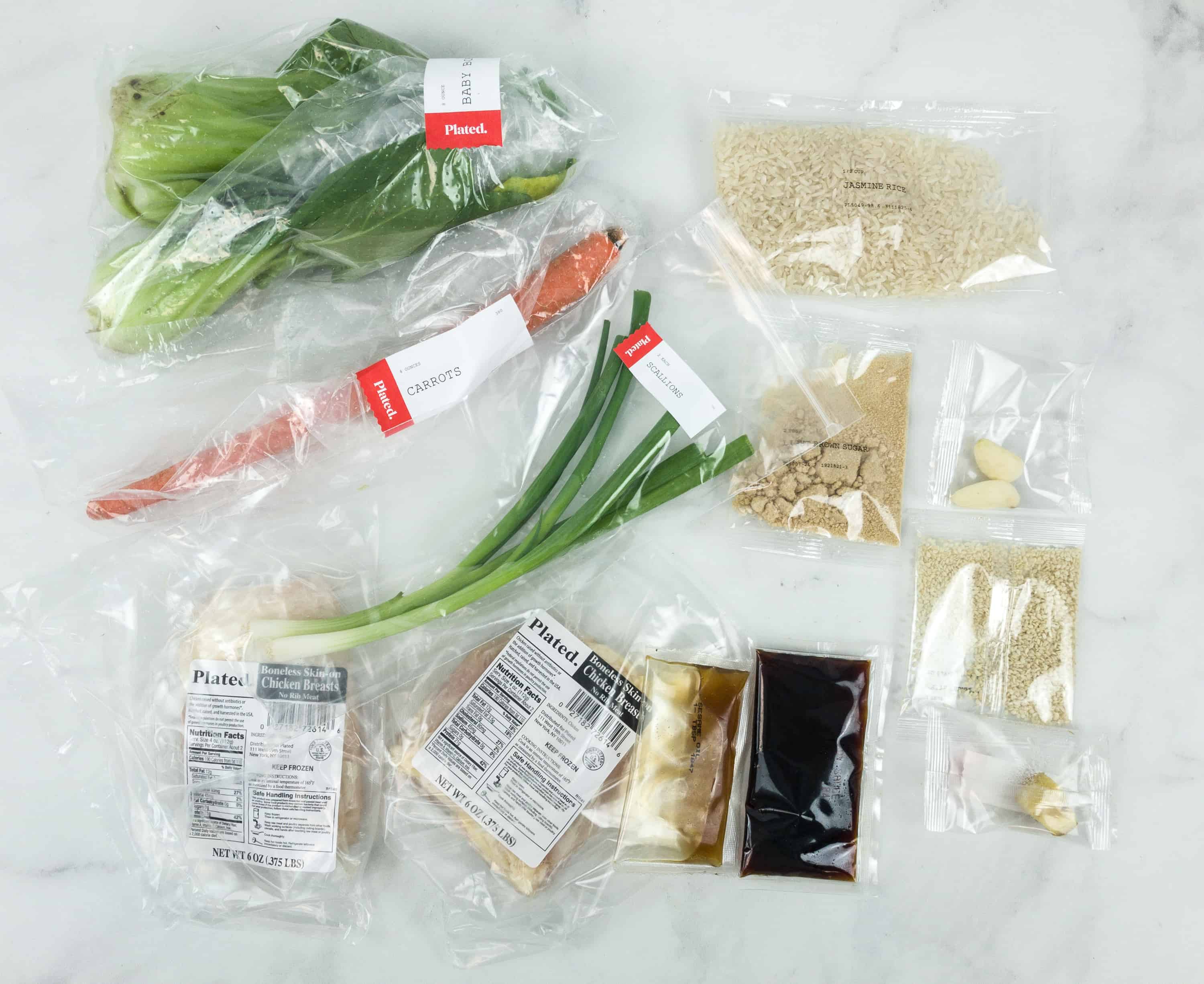 Soy Ginger Chicken with Sesame Rice, Bok Choy & Carrots – 35 minutes, East, 450 Calories per serving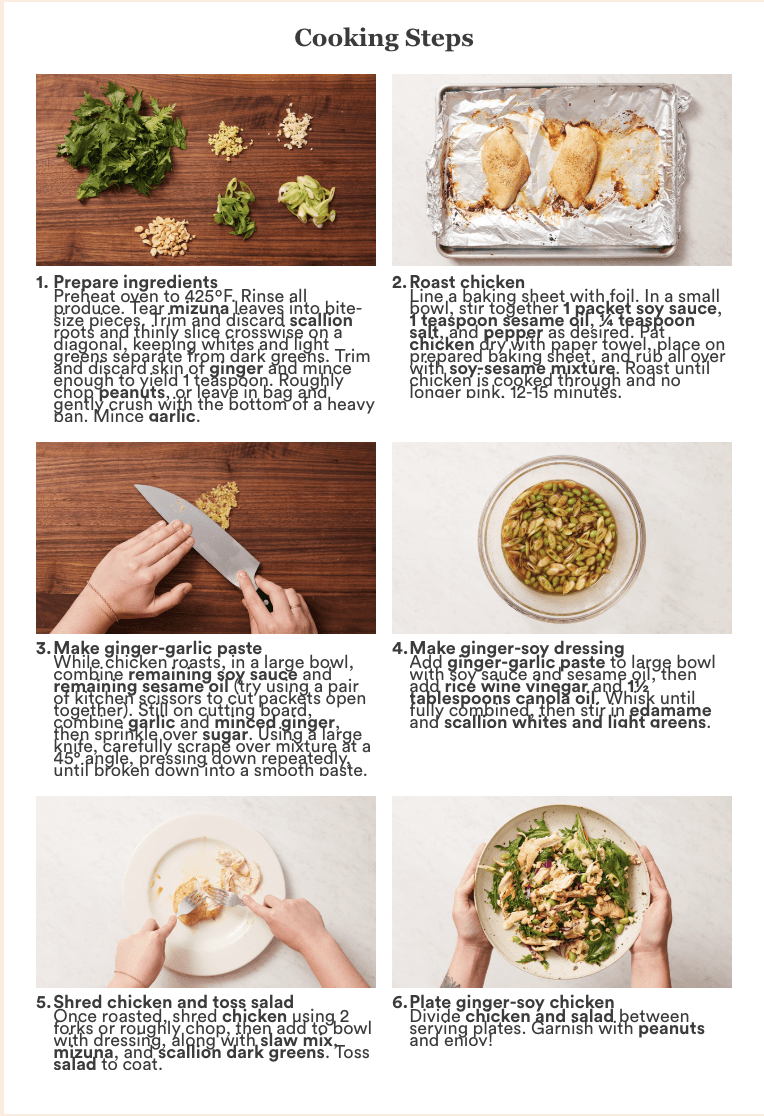 The Plated cooking guide states that you can also shred the chicken and add it to the bowl with dressing, slaw mix mizuna, and scallion dark greens.

I chose not to shred the chicken since I want it to be intact, and looks a lot more attractive!
This dish definitely has everything, as it is primarily made from skin-on chicken breasts pan-roasted in an aromatic, sweet, and savory sauce of soy minced ginger, brown sugar, garlic, and scallion served with roasted bok choy, carrots, and Jasmine rice. So filling and satisfying!
Every box from Plated excites me because it means a new restaurant-level dish to cook at home. They've been really consistent in picking flavorful dishes, and they make it easy for us by including an illustrated recipe card. Plus, the ingredients always arrive in great shape. We haven't had any delivery-damage or proper-temperature issues in ages! For anyone who is busy but still wants to cook excellent meals at home several times a week, this subscription is a great choice!
What meals are you getting this week from Plated?