PetGiftBox is a monthly subscription box for dogs or cats. A selection of toys, treats, chews, and accessories are included based on your pet's size. With each purchase you can earn points to redeem for free boxes and other great goodies. Plus, PetGiftBox donates to various charities and you can designate the one you would like them to support. PetGiftBox costs $29.99 for a monthly subscription, but the price drops for longer subscriptions, as low as $24.99 a month for 12 months. You can also change your subscription every month – maybe you would prefer a MomGiftBox or perhaps you have a dog that needs a box next time around.
DEAL: Save 50% on your first box! Use coupon code HELLOSUB50.
I think it's cute that PetGiftBox uses themed paper to wrap the items!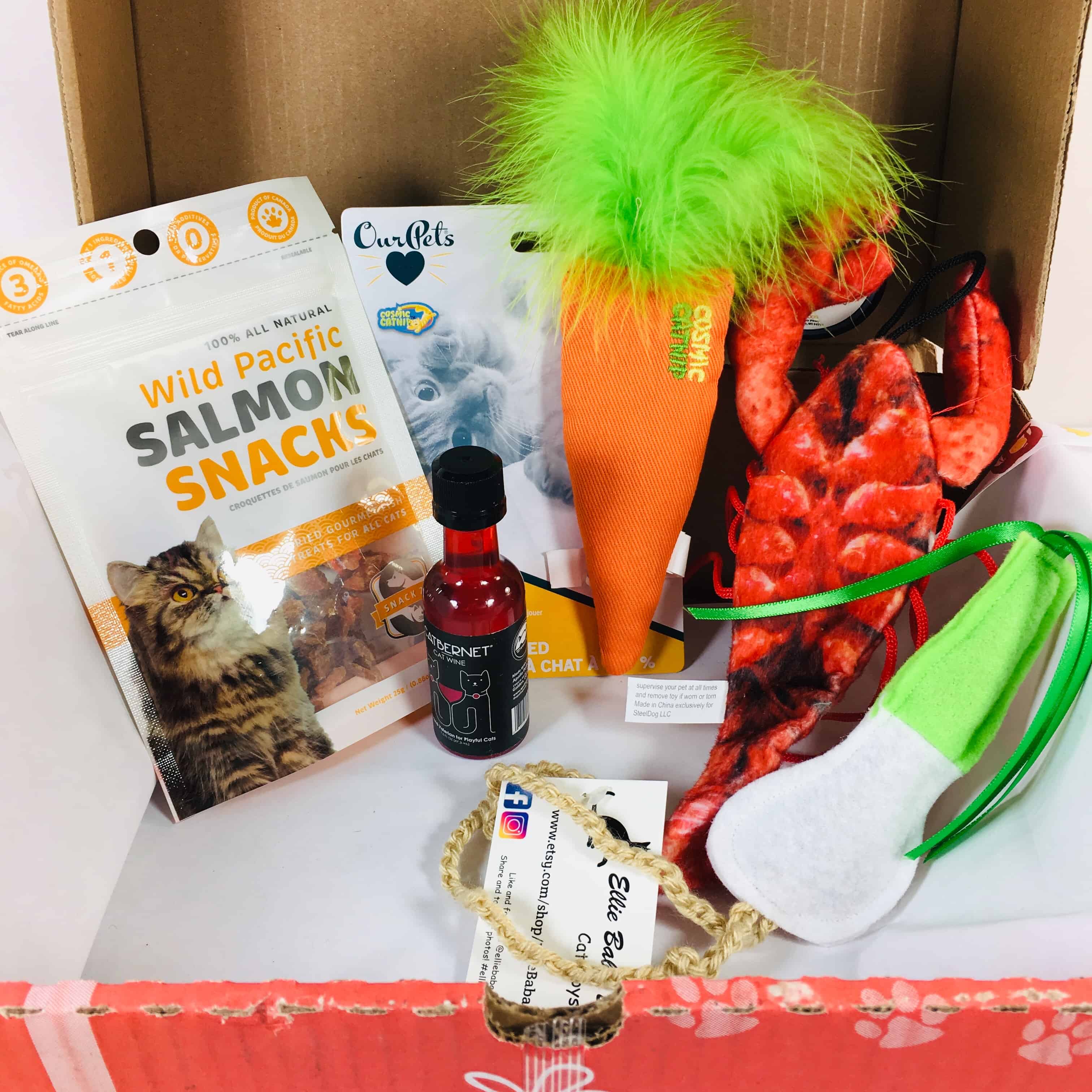 November's box was full of food-related items, just in time for Thanksgiving!
The theme for the November box is The Fancy Feast!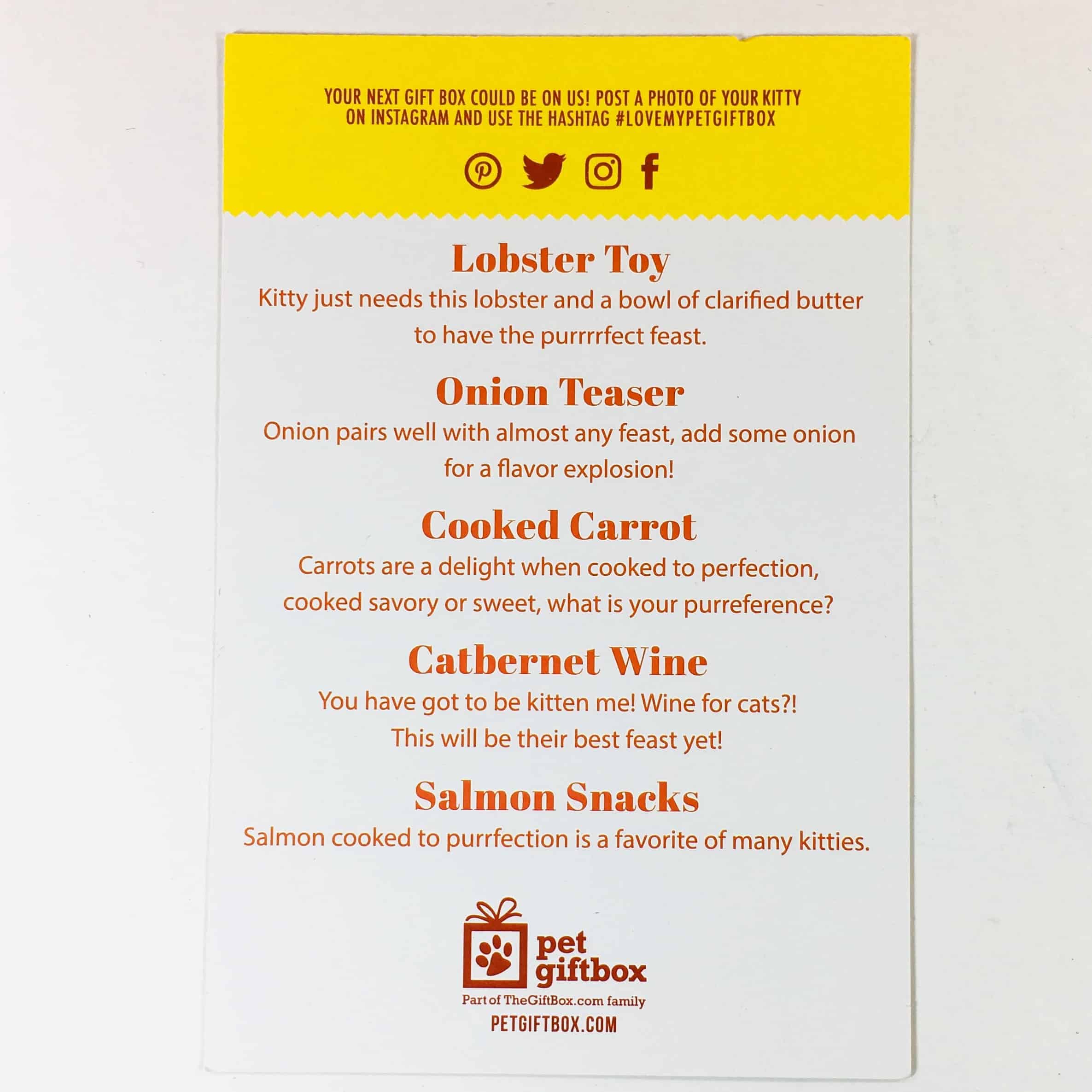 There was a card with a bit of info on each product.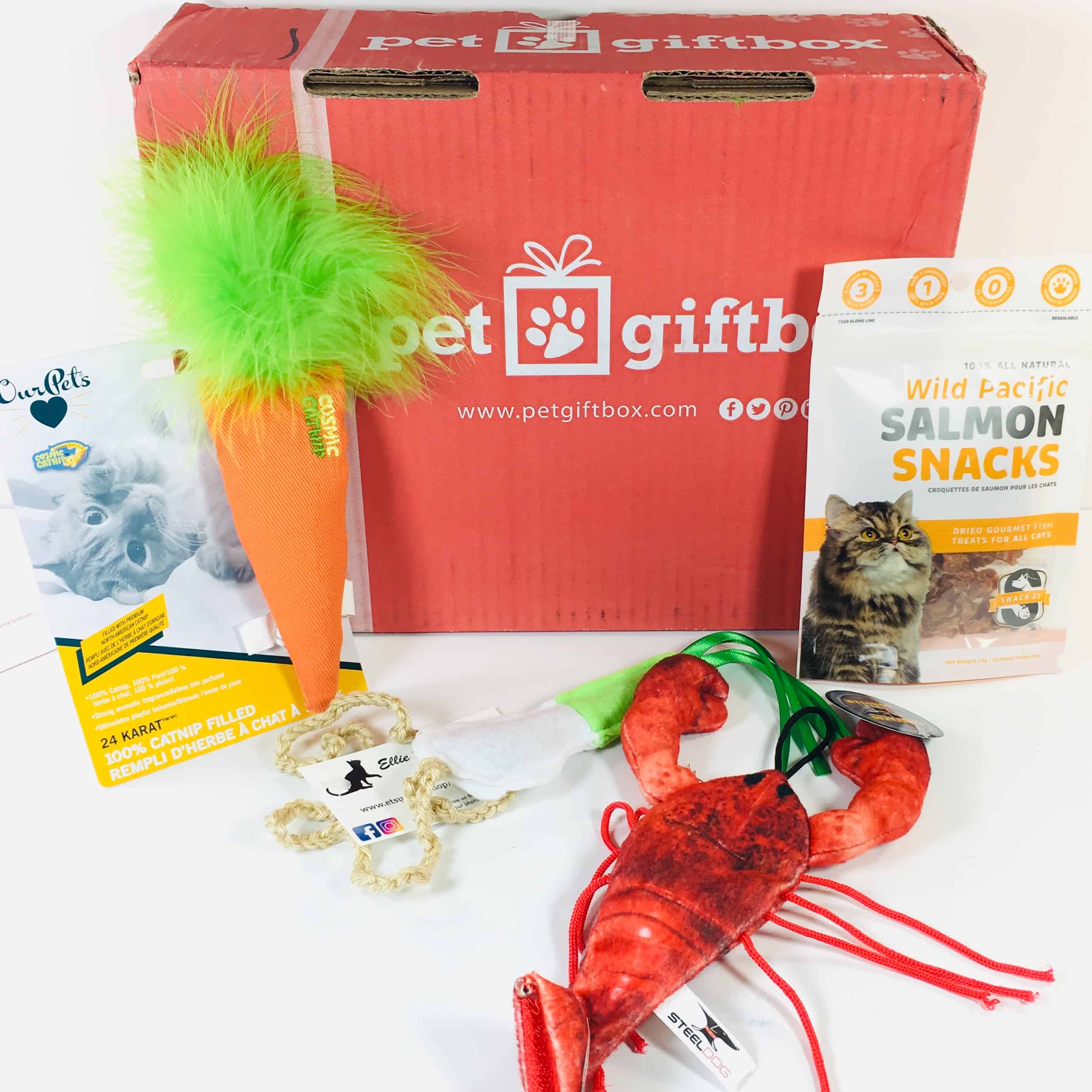 All the items in my November PetGiftBox!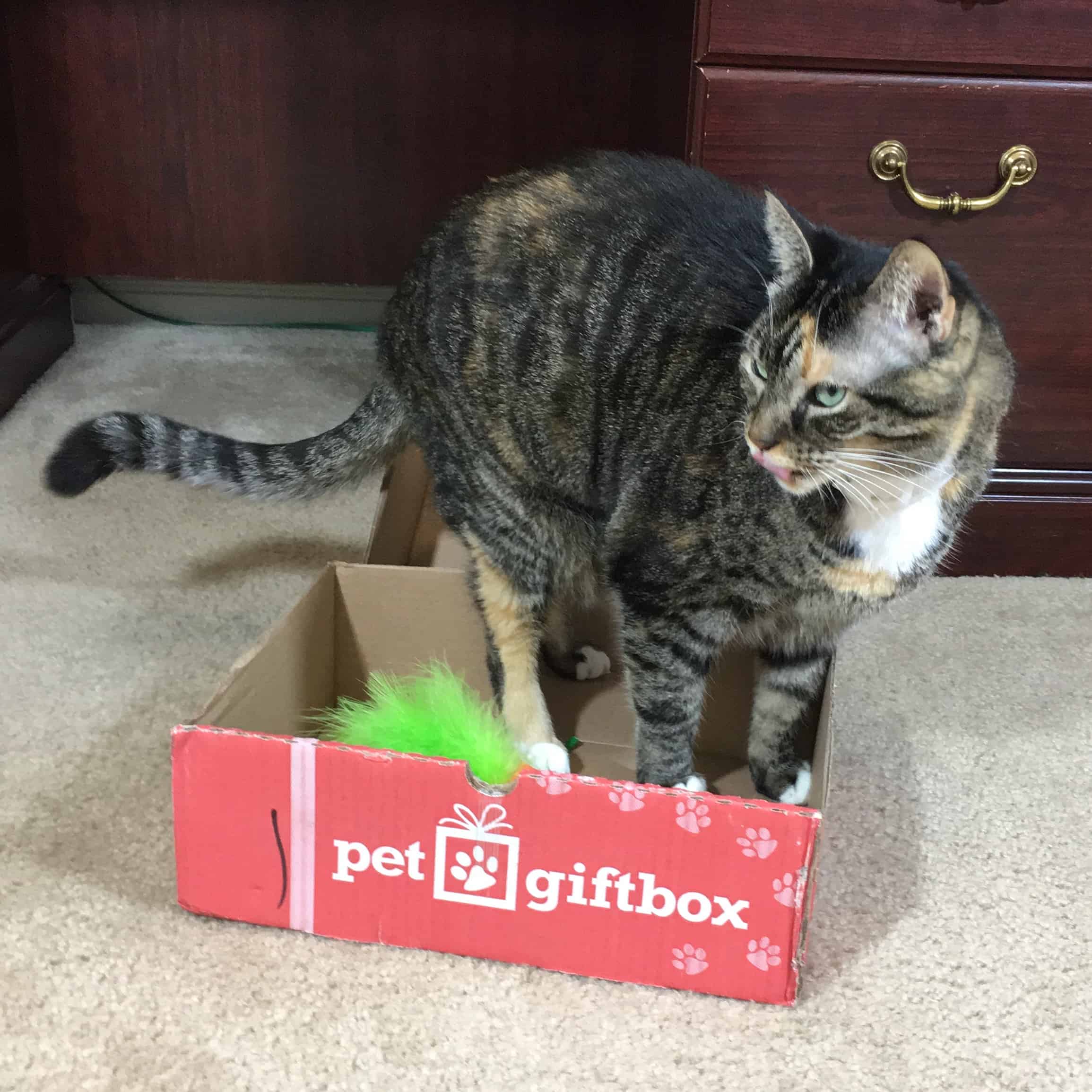 Zoey seems pretty excited to try out the new toys!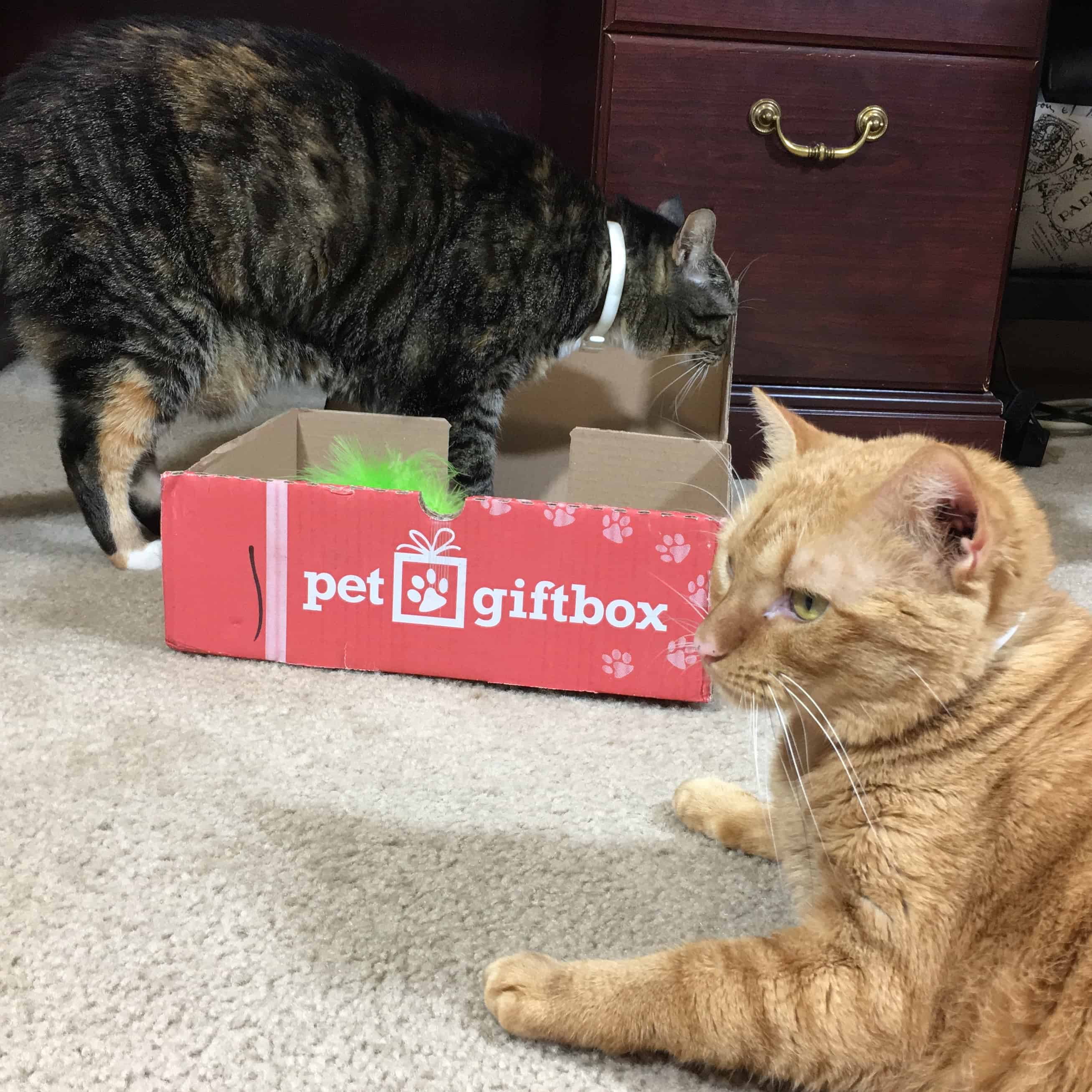 Sunny wants her turn too!
SteelDog Catnip Pocket Stuffless Lobster Cat Toy ($4.99) looks pretty realistic to me!
There's a velcro closure on the tail – just open it up and fill with catnip (not included but I have some hanging around).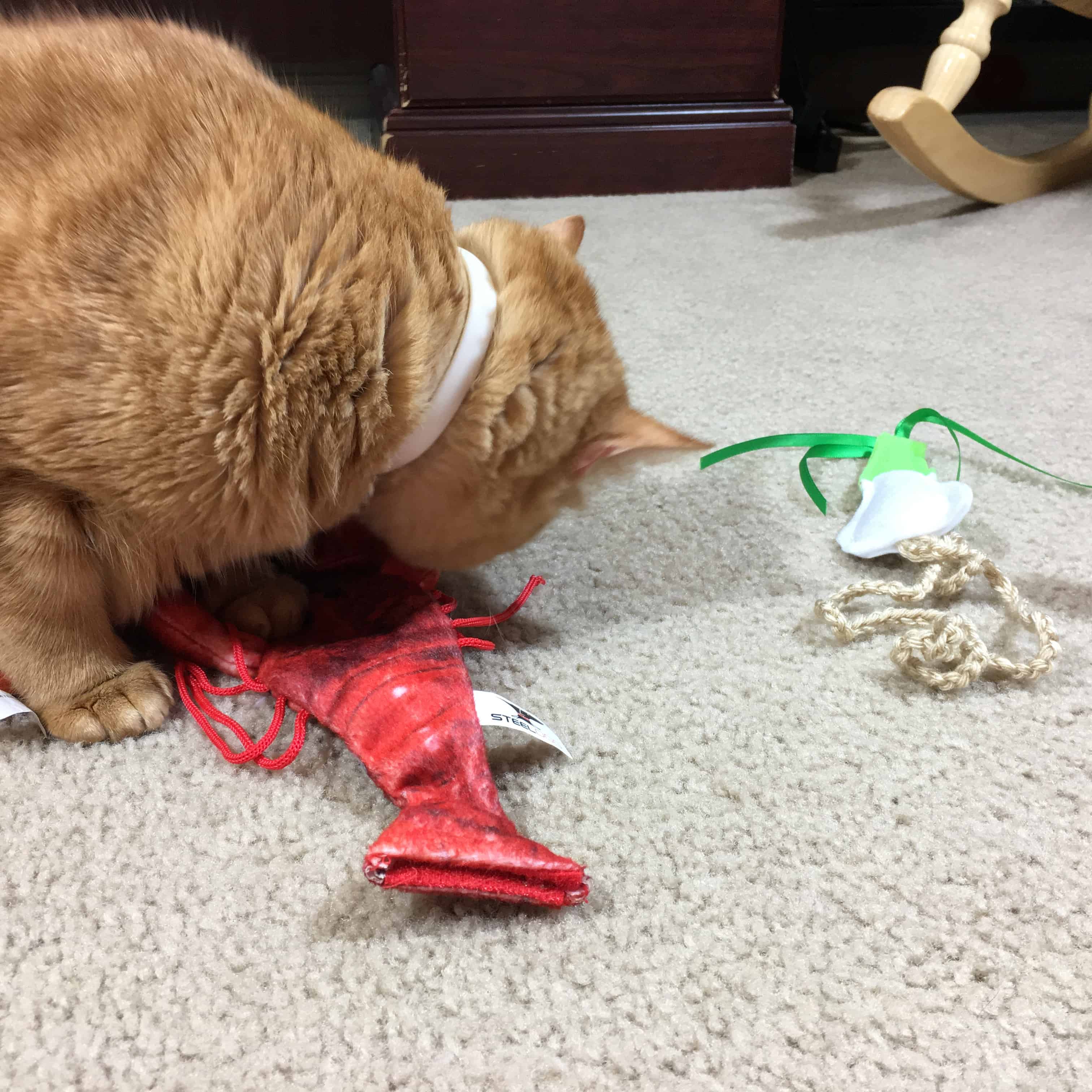 I guess it smells good to Sunny.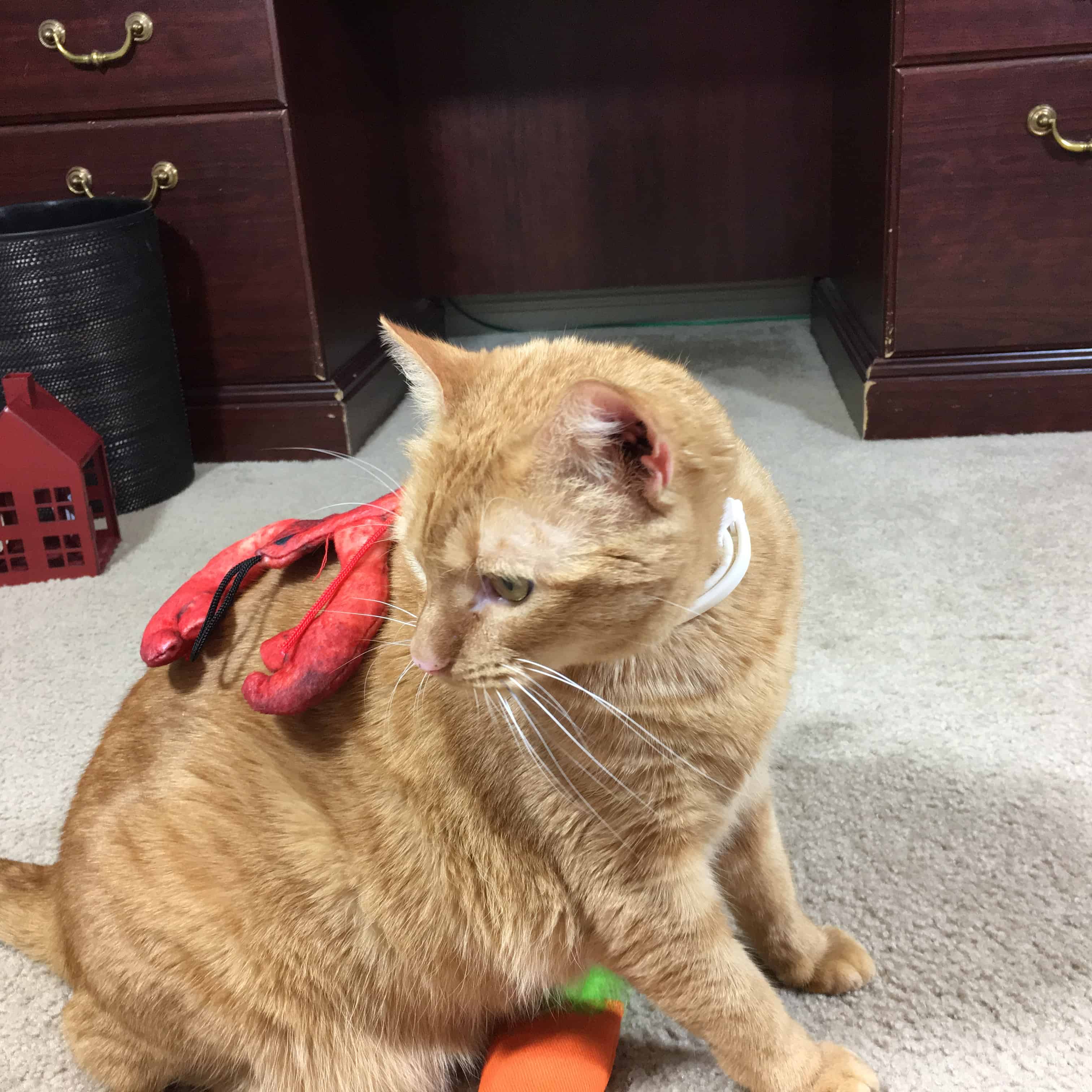 It landed on her back and was so lightweight that it took a while before she noticed it was there!
Ellie Baba Organic Catnip Green Onion Cat Toy ($6) is made with felt, ribbon, fiberfill, and catnip.
This was Sunny's favorite toy this month!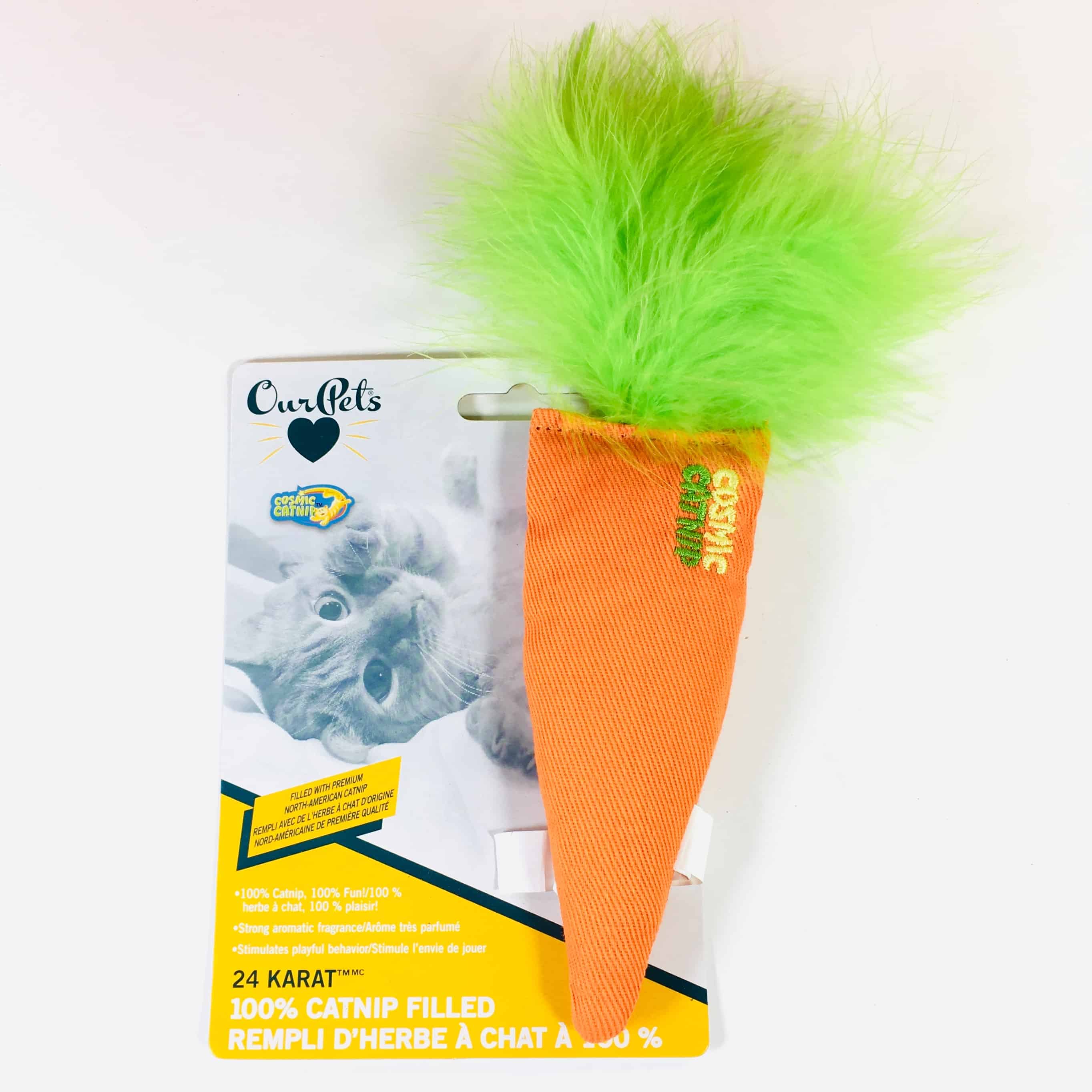 Our Pets Cosmic Catnip Carrot Catnip Toy ($3.29) is filled with catnip but I know the fluffy feather on top will be alluring to my kitties.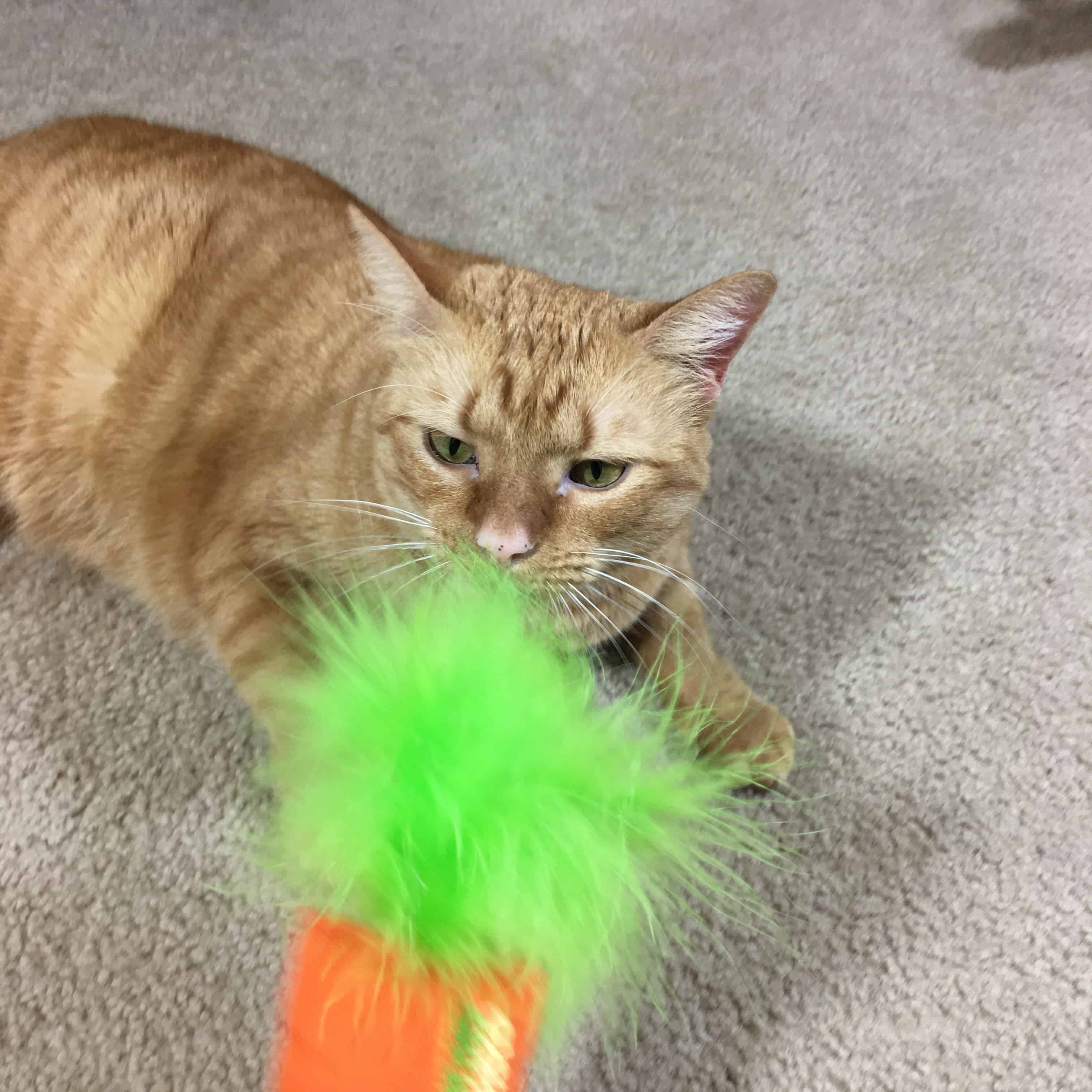 Sunny really loves feathers.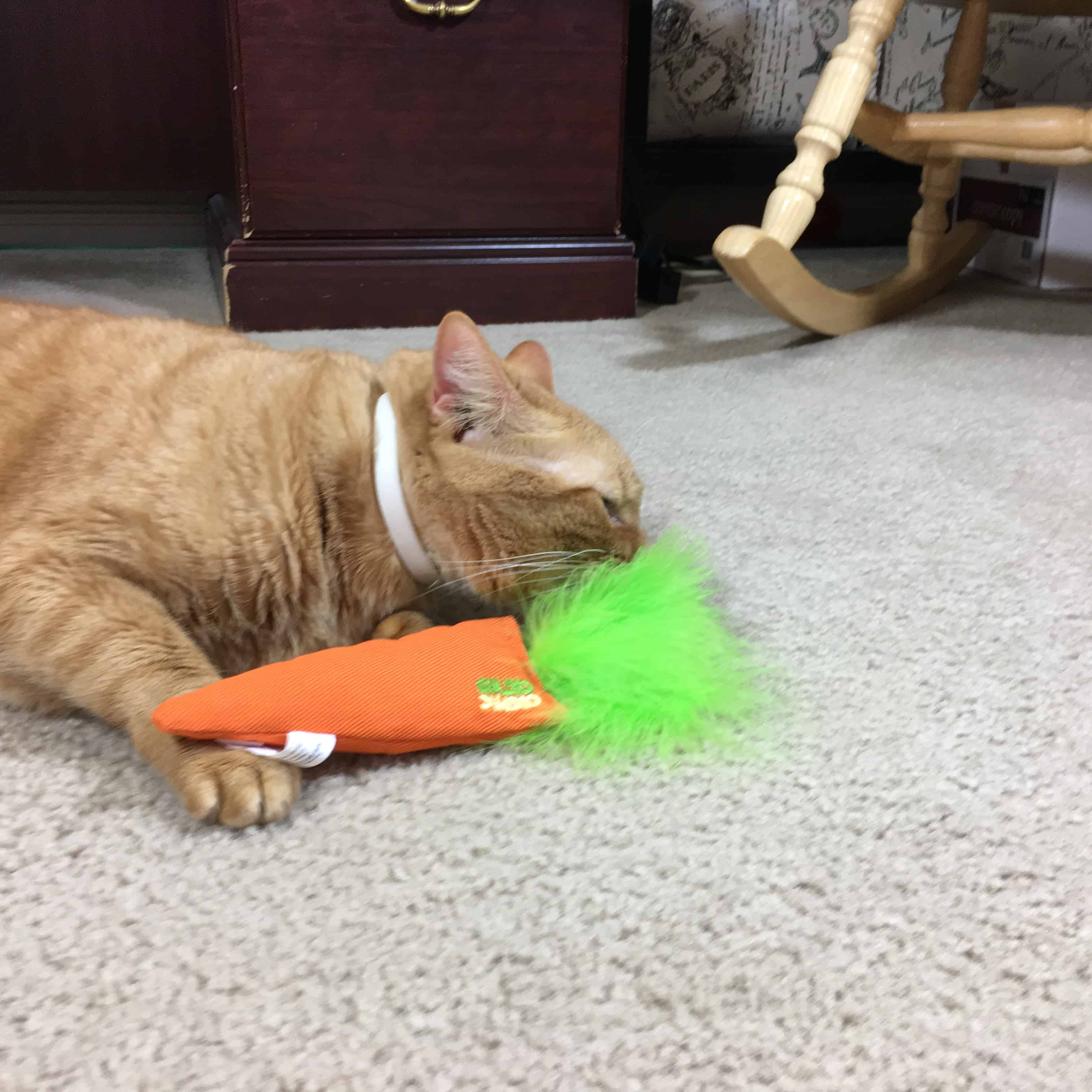 Here she is sniffing them.
Wild Pacific Salmon Snacks ($6.99) are made of wild Pacific salmon that's been dried. Like salmon jerky for cats!
Sunny sniffed it and licked it but that was about it. They were too hard for her to chew I guess.
Catbernet Cat Wine ($3.18) No, this isn't actual wine for felines, but it might make them feel more chill after sipping.
It's made of valerian root,and may have an effect that's similar to catnip, even on cats that are not usually affected by catnip.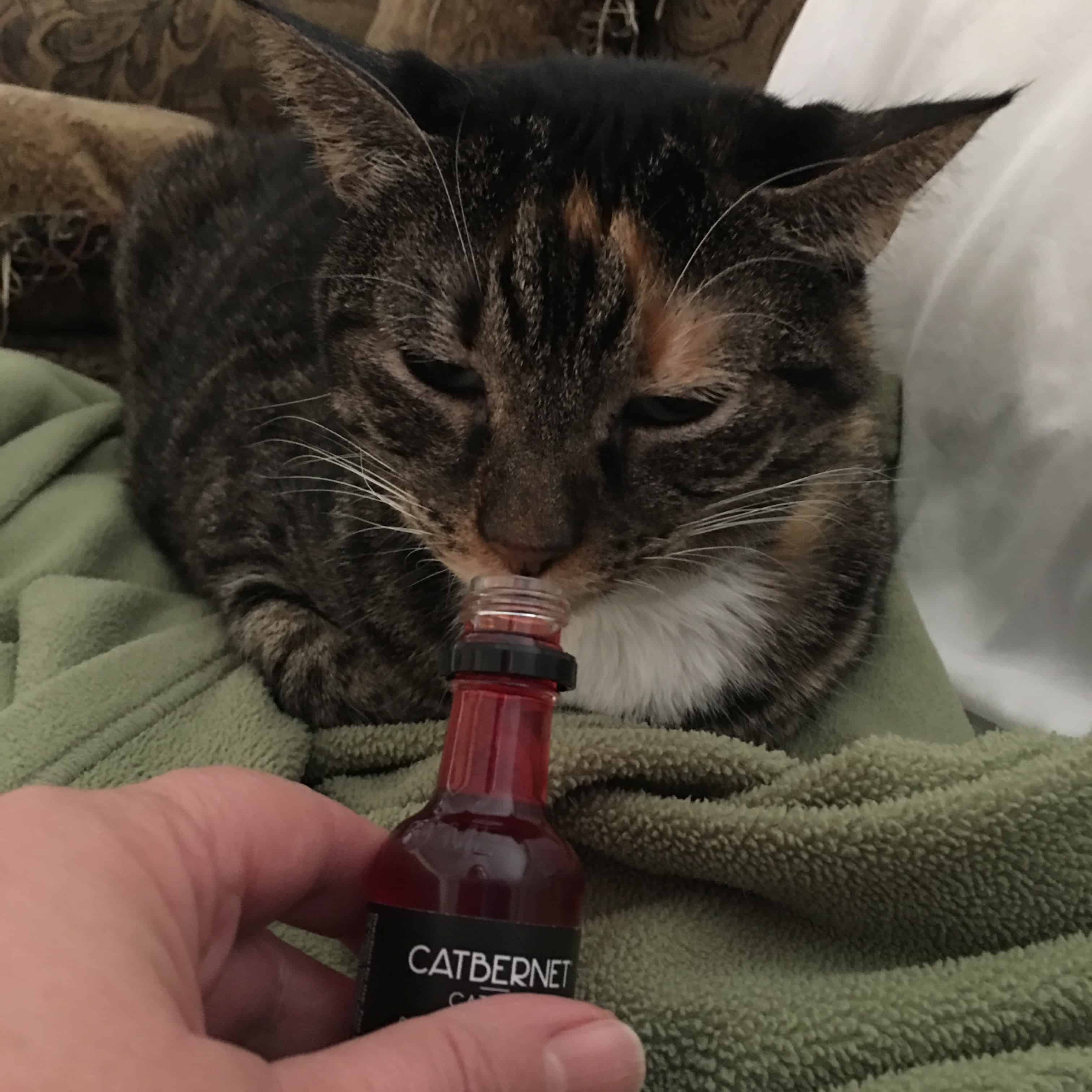 Zoey takes a sniff.
I poured it into a bowl so she could give it a try but other than a few sniffs she didn't have any reaction.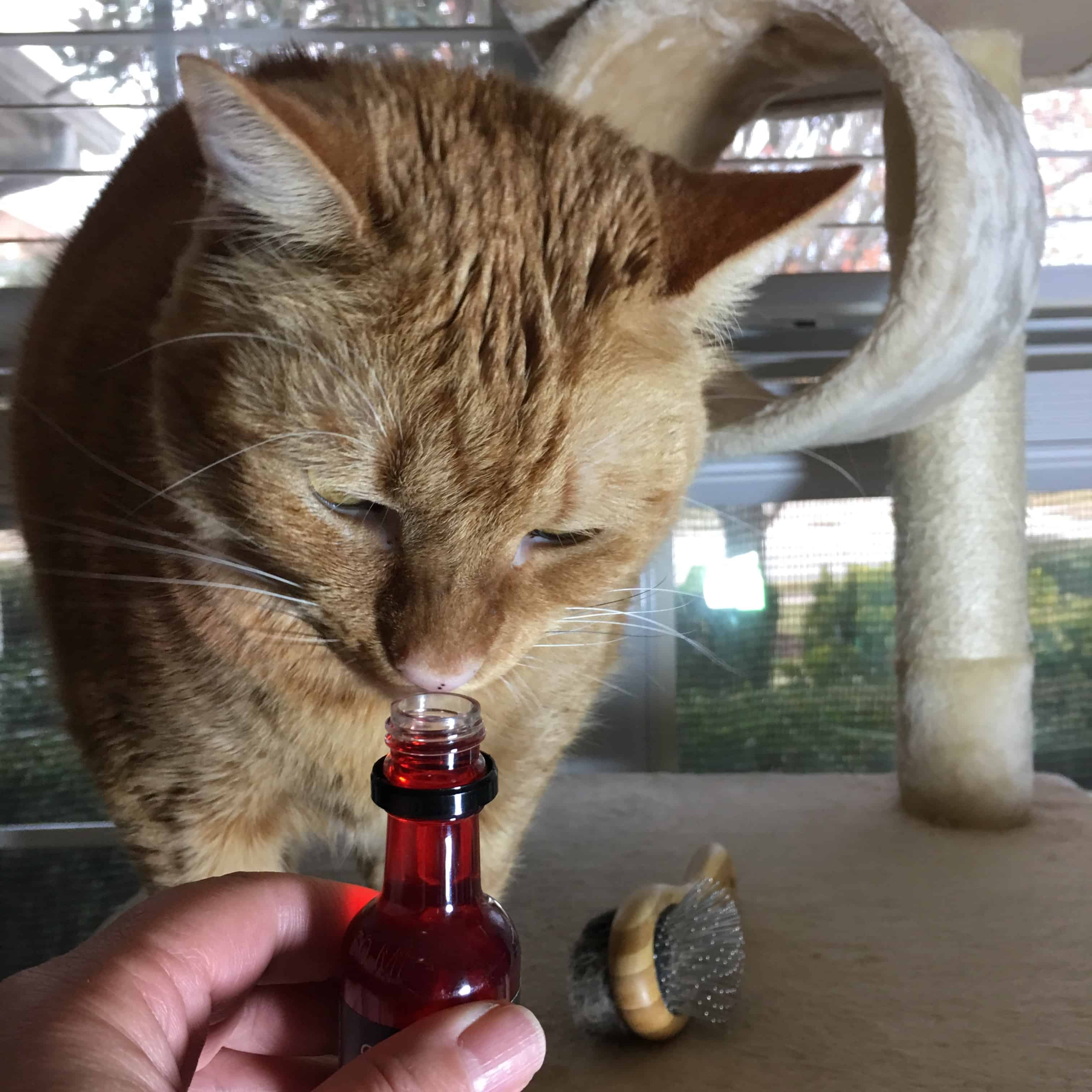 Sunny sniffed it out of curiosity too.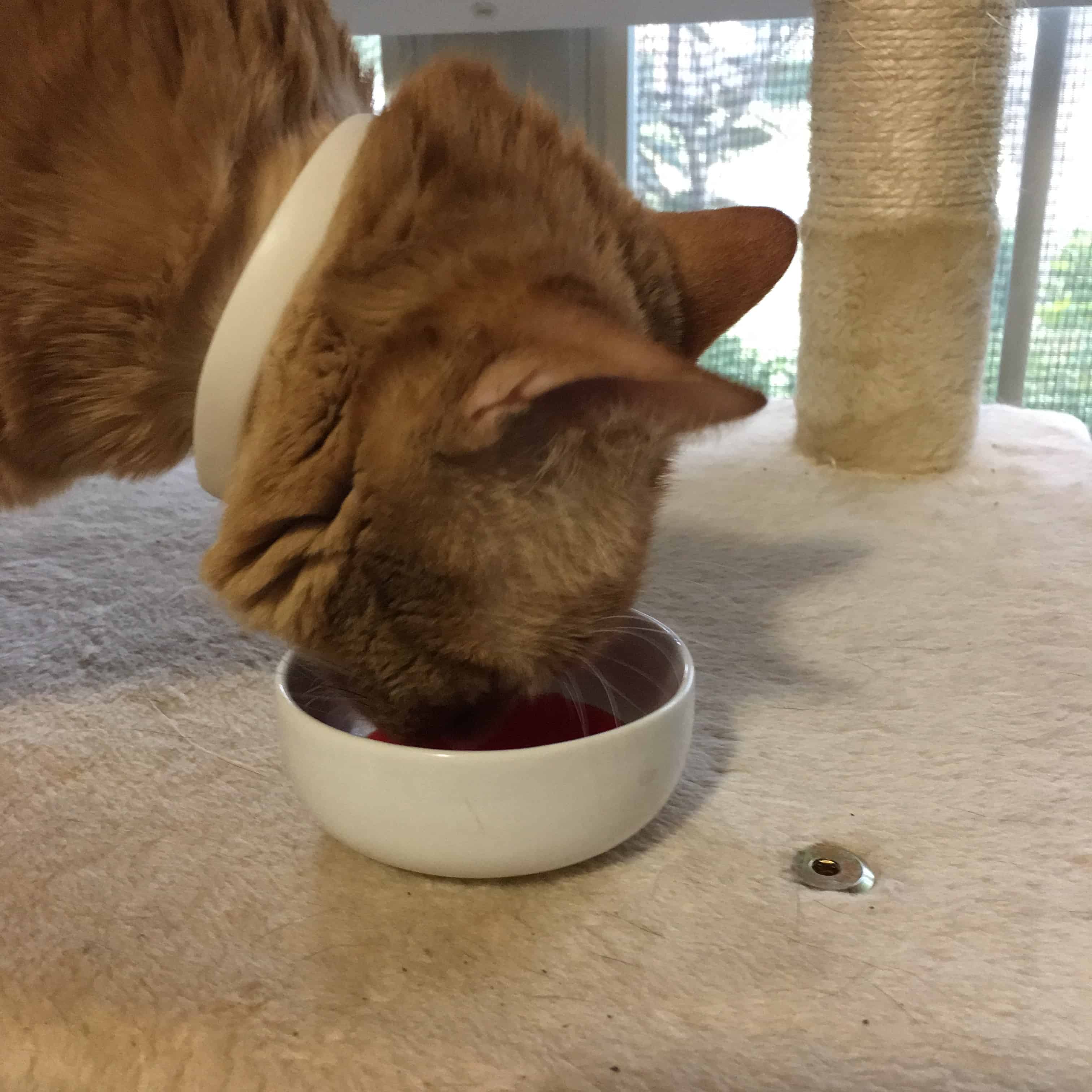 She also didn't drink it nor did she have any reaction to it at all.
Overall my cats loved their November PetGiftBox and the theme was very appropriate so my cats could partake in Thanksgiving too. The onion on a string was the big hit this month, it drove Sunny bonkers!
Let me know what you think of this box in the comments!