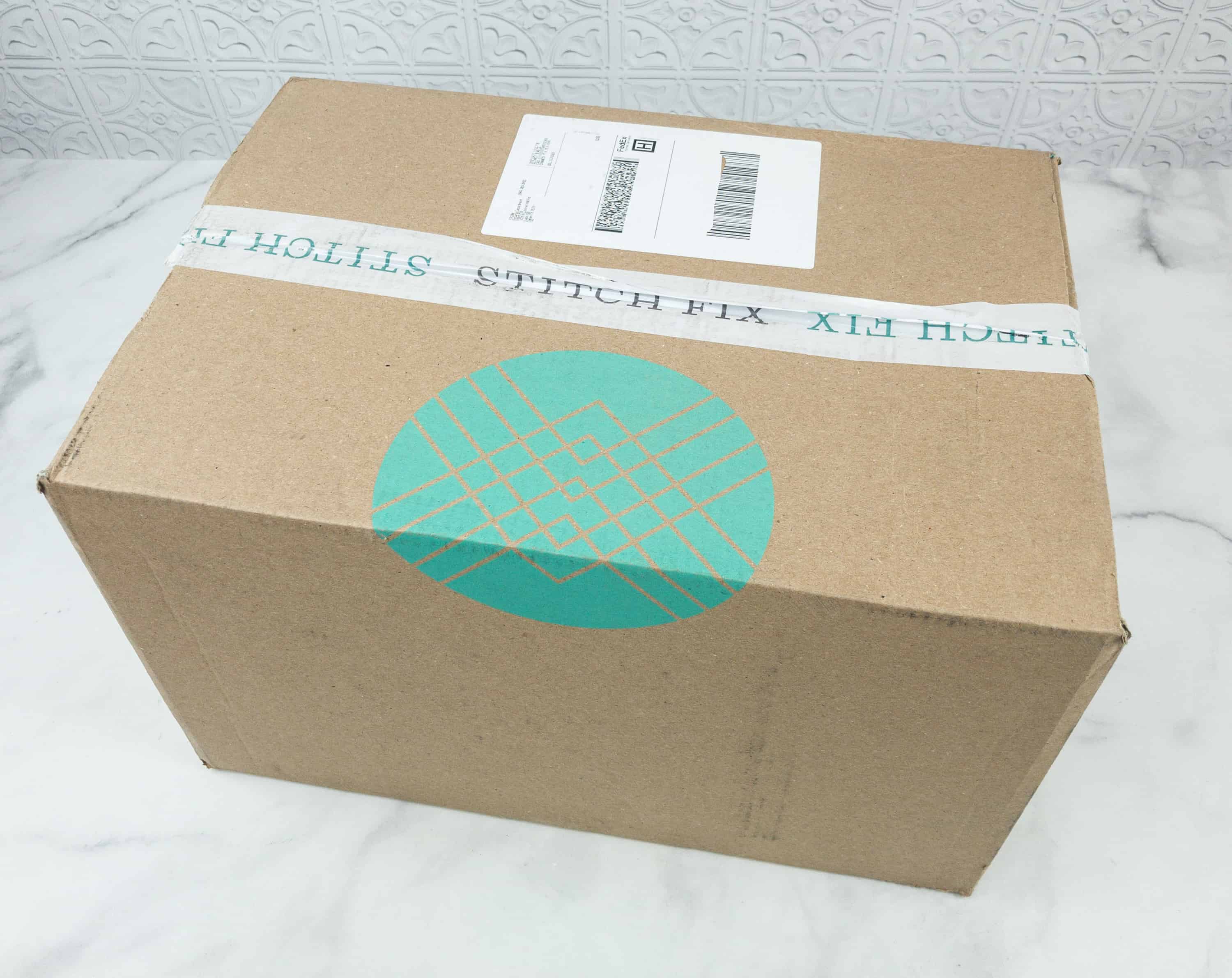 Stitch Fix is a personal styling service. Your stylist will send you 5 pieces based on your profile for you to try on at home and hopefully fall in love with. There are no coupons for Stitch Fix but if you hit the jackpot and keep everything, you save 25% on your whole fix (read below for details).
Your return mailer is tucked right into the box. The styling fee for each box is $20, and shipping is free both ways. I put my return items out with the rest of my outgoing mail – couldn't be easier.
Here's how Stitch Fix works: fill out your style profile! This includes style, budget, what you're looking for, and you can get as detailed as you want with the notes to your stylist. It really really does help to provide notes to what you're seeking, and a Pinterest board if you have one!
You will also receive a return envelope in the box where you can put the clothes that you don't want to keep. As long as you are in the United States, you don't have to put a stamp on it.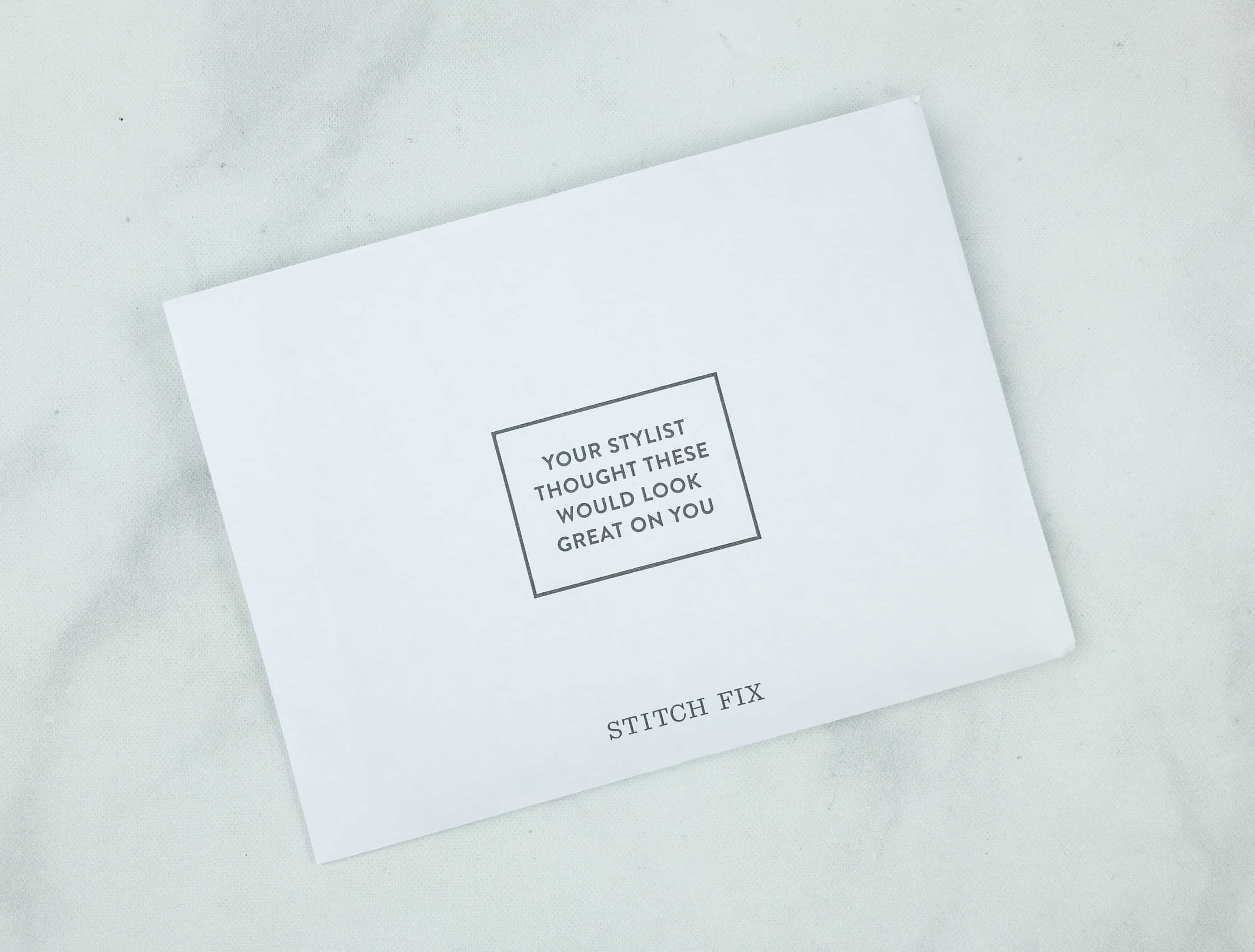 Stitch Fix has also included an envelope containing suggestions from a stylist.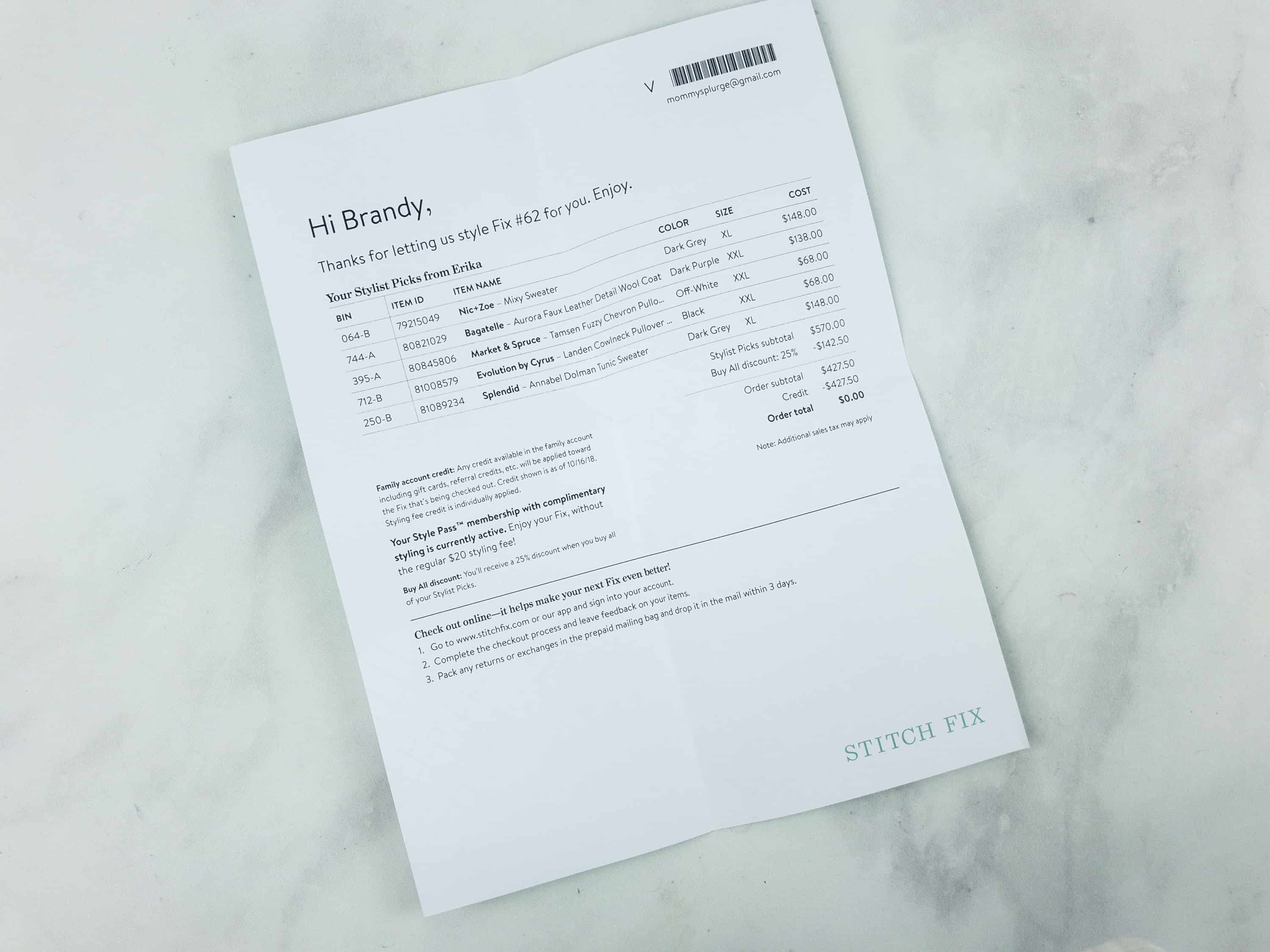 You will also receive a separate paper with a list of your items. You'll be charged a $20 styling fee and shipped five items to try on at home. If you keep anything your styling fee will be applied to your order, but if you don't, you will pay the $20 fee.
Inside the envelope are a mini mag and another information card.
The set of styling cards has suggestions on how to wear a particular item. The styling cards have changed a bit – before they showed a dressier and less dressy version, now they're featuring multiple sets of accessories to pair with the garment, or 2 entirely different looks, but not necessarily dressed up and dressed down.
I find the styling cards very helpful. I am not a naturally good-at-fashion person and these help a LOT. Even if I don't keep the pieces I use them as inspiration – like my own personal fashion editor!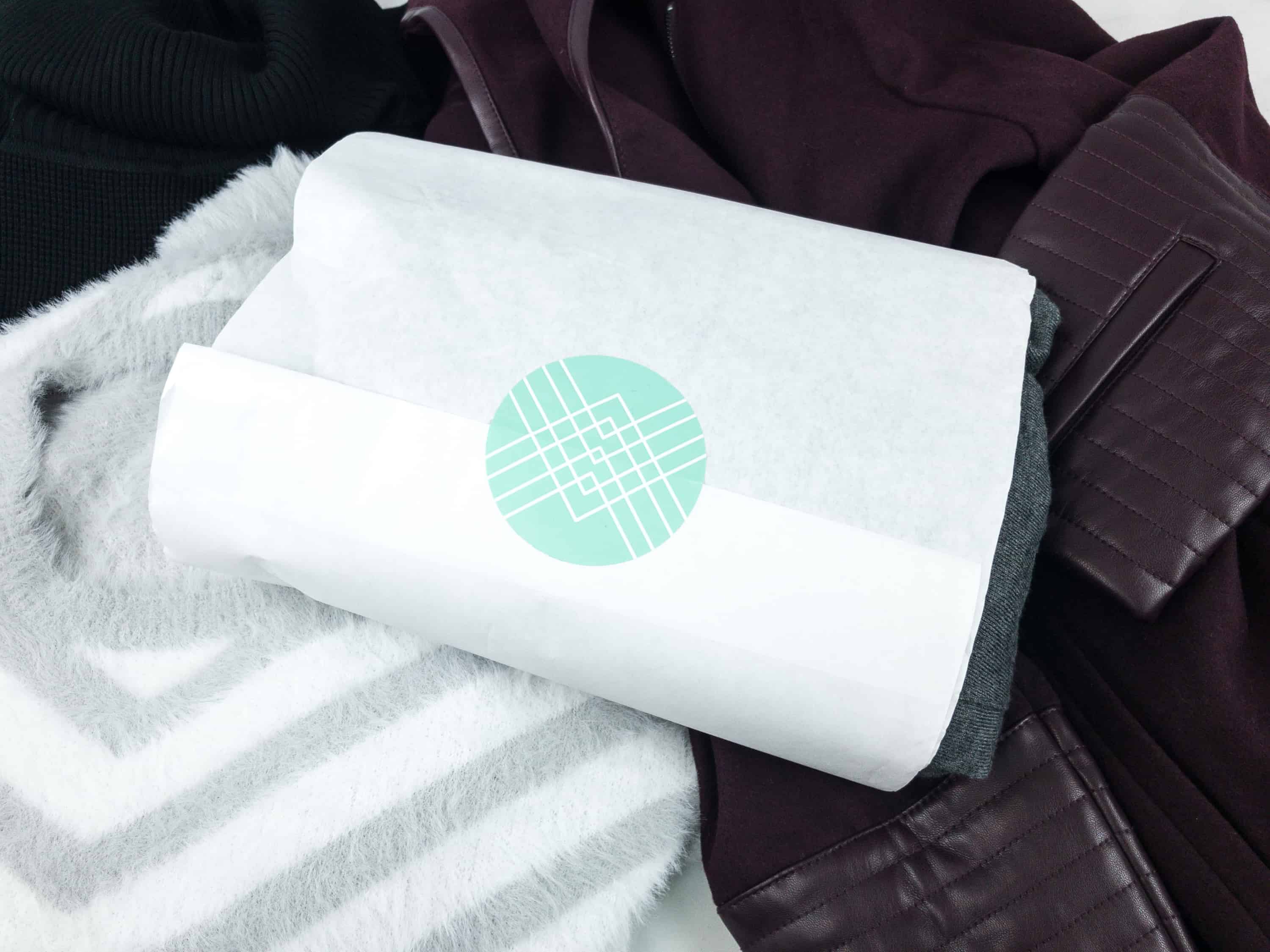 Items are always well-packaged!
The styling fee is so worth it – I never go clothes shopping anymore. I just wait for my fix! If you keep everything you get a 25% discount, so it pays off to be specific on your style profile. You will check out and get charged to your Stitch Fix account. Return the pieces you don't want in the prepaid mailer (free shipping!).
Everything in my November 2018 fix.
Nic + Zoe Mixy Sweater ($148) A comfy sweater like this is a must-have for the cold months. It's knitted and long-sleeved, adding to the coziness factor!
It has a loose fit and I can easily pair it with some tight jeans or leggings plus boots.
It's a bit see-through, so you might want to wear something underneath. A black tank top will probably do.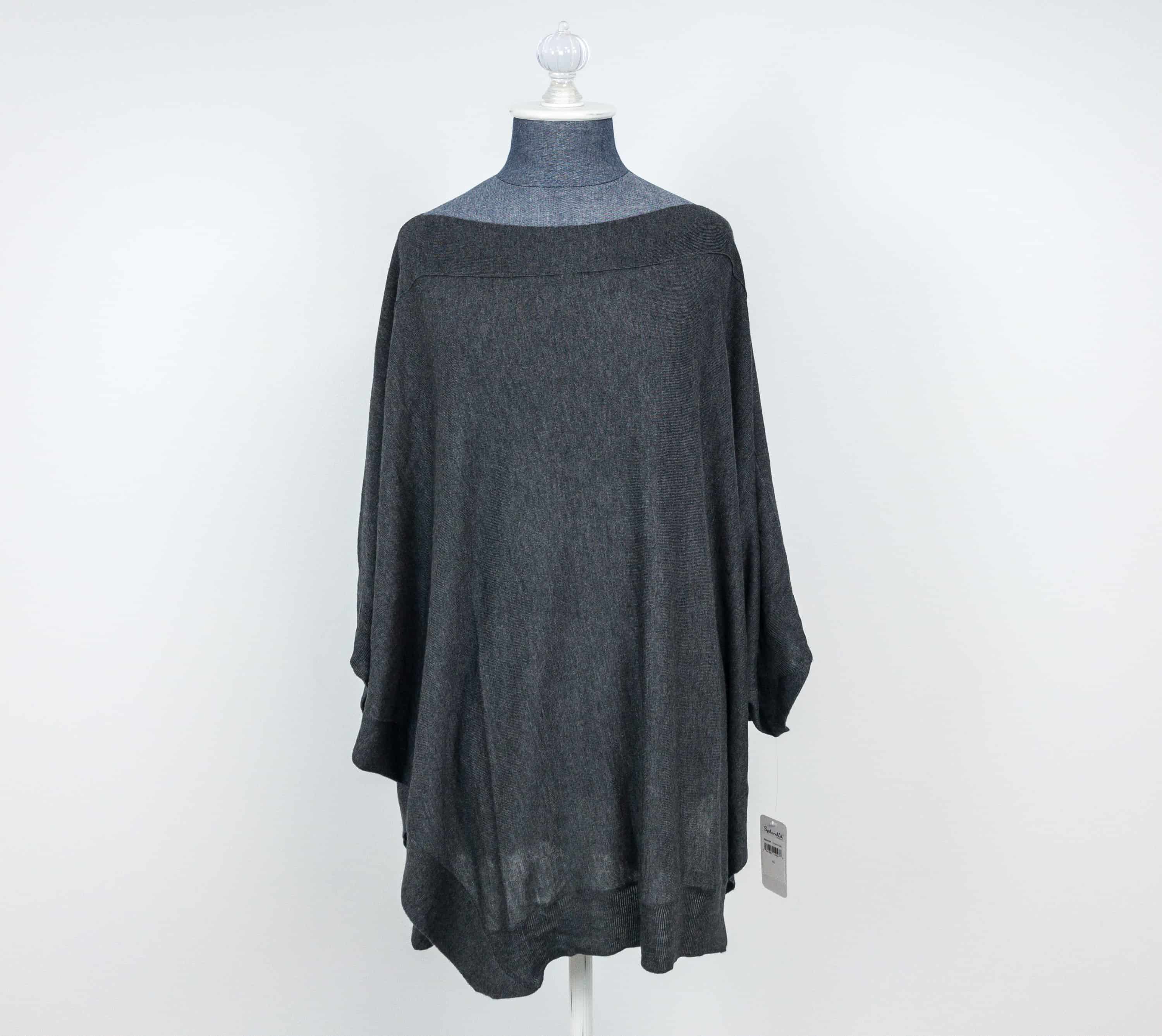 Splendid Annabel Dolman Tunic Sweater ($148) It's a simple yet charming tunic sweater! Also ideal for the cold weather, it spans the entire shoulder before falling gracefully on your body.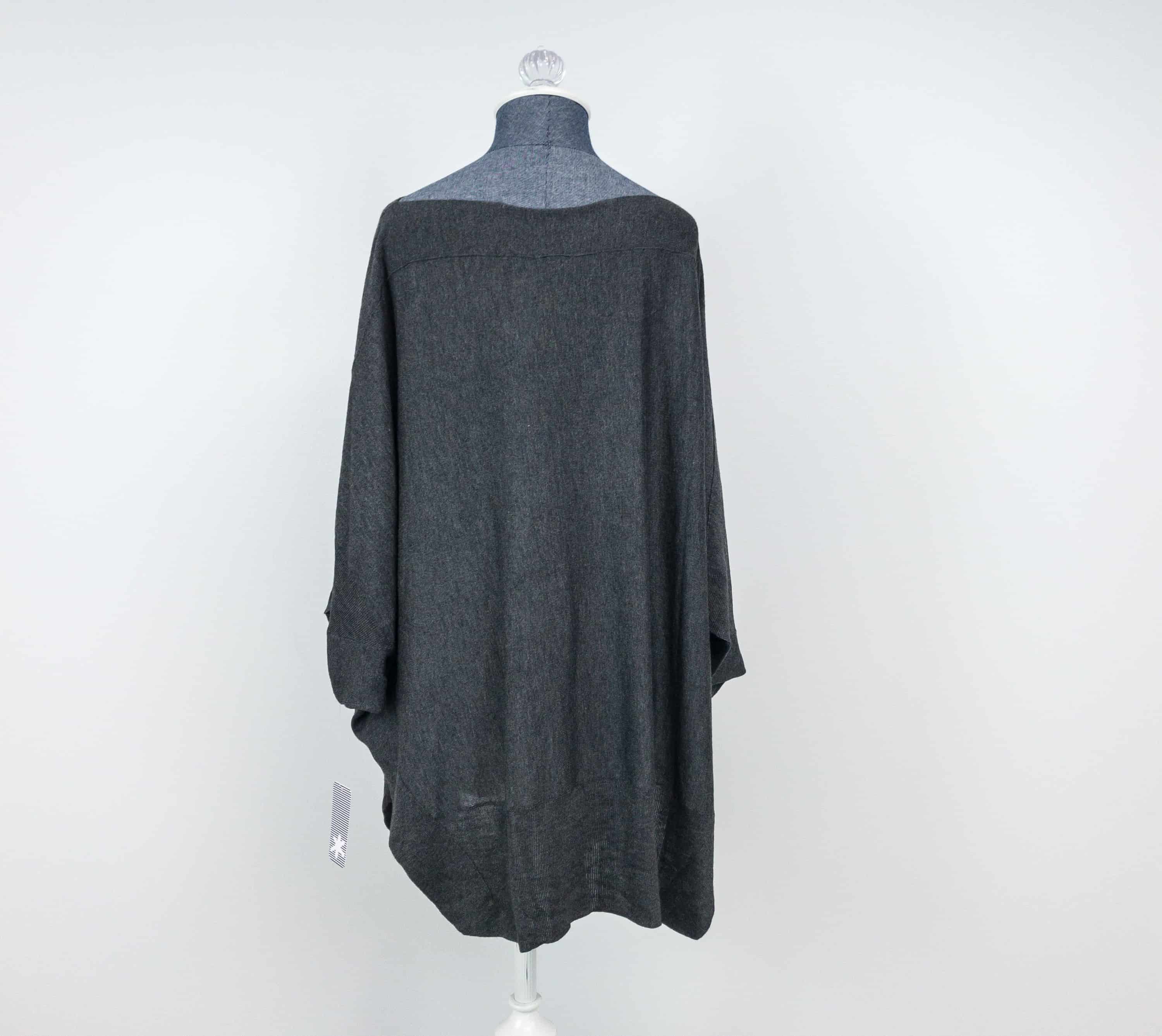 This tunic sweater looks warm and cozy to wear, whether day or night!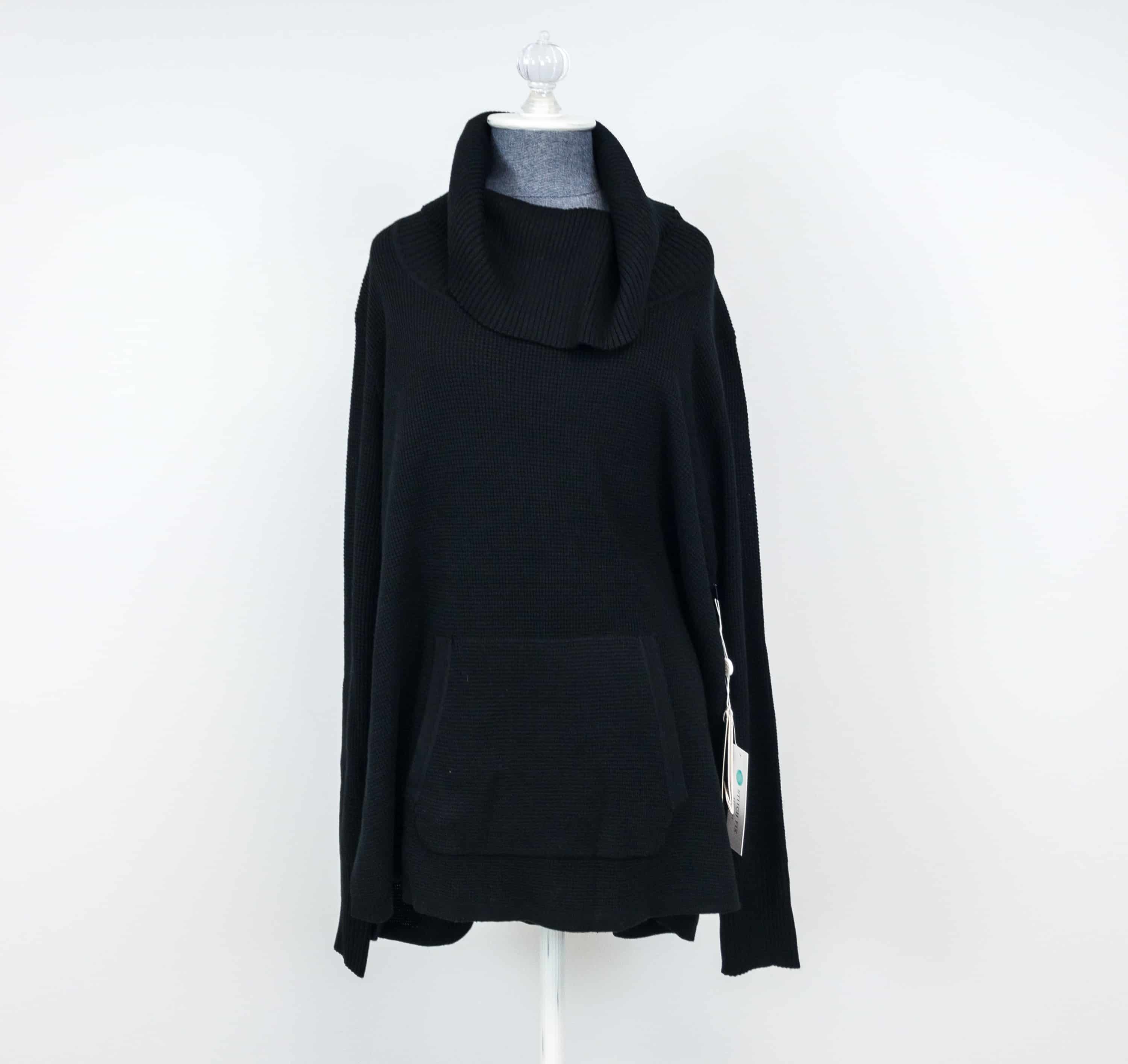 Evolution By Cyrus Landen Cowlneck Pullover Sweater ($68) Another cold-weather essential is this black pullover sweater.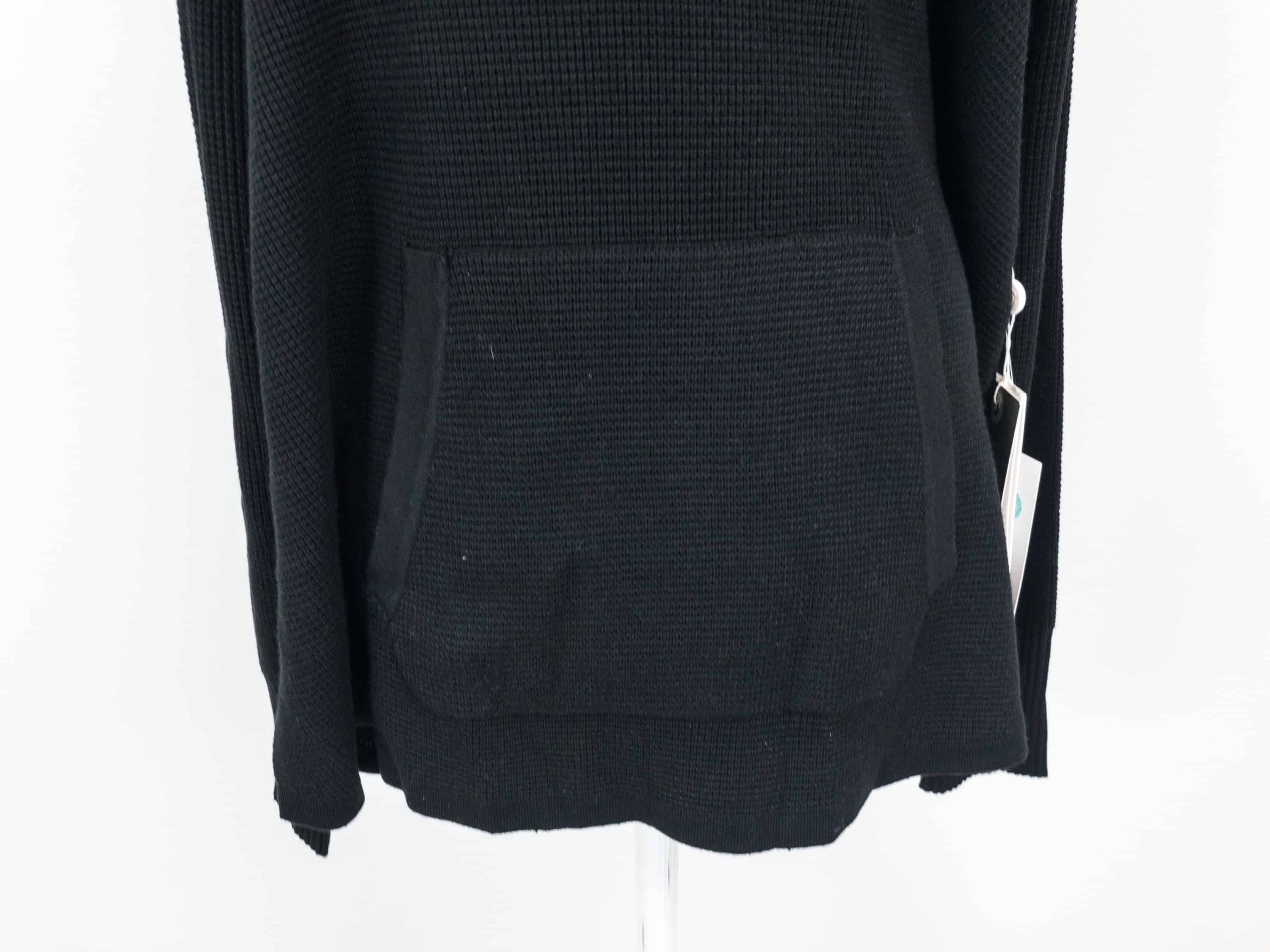 The best thing about it? It has a kangaroo pocket in front!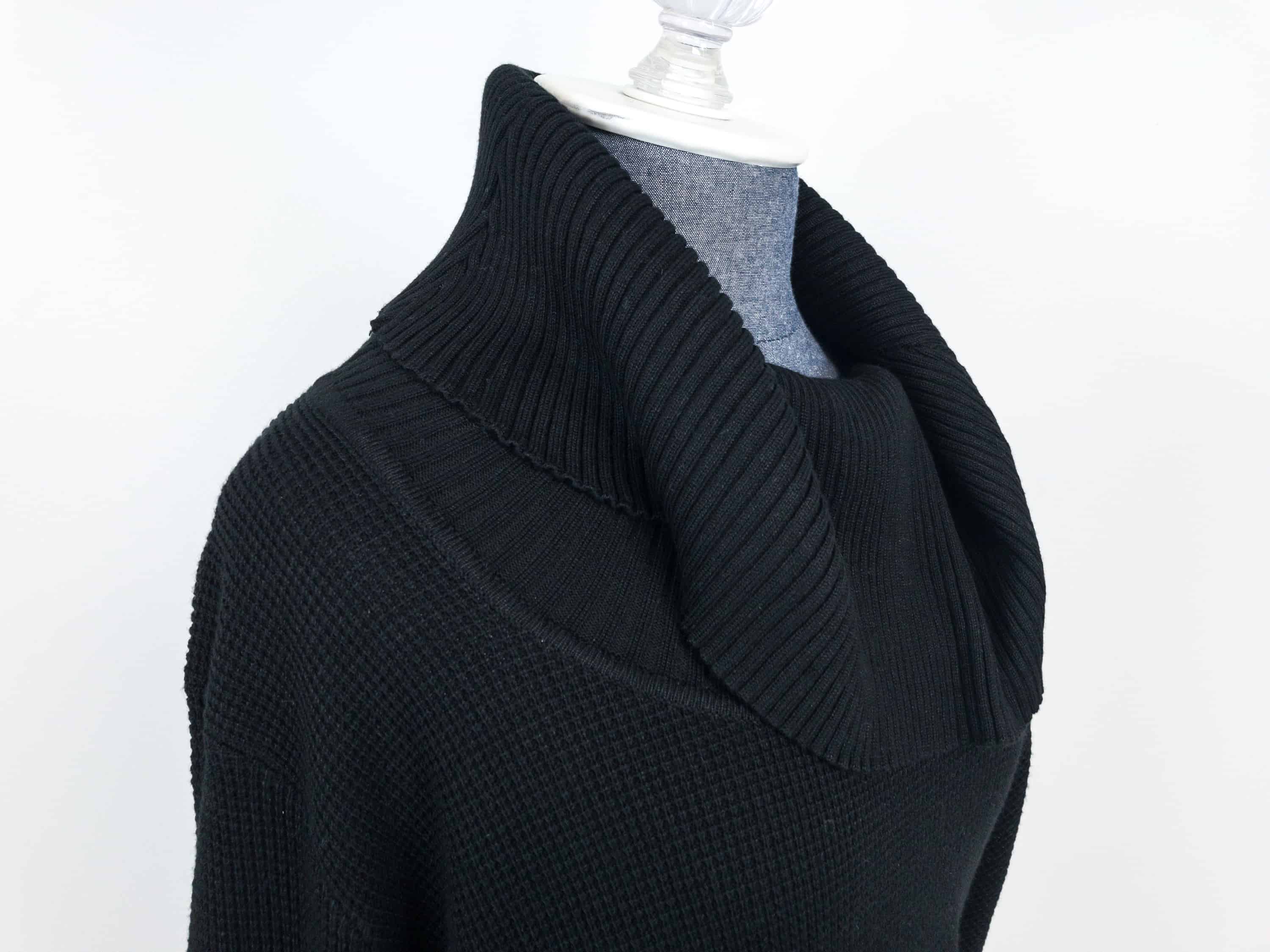 I love the cowl neck, it adds a classy detail on this pullover sweater. This keeps my neck warm especially when paired with a scarf.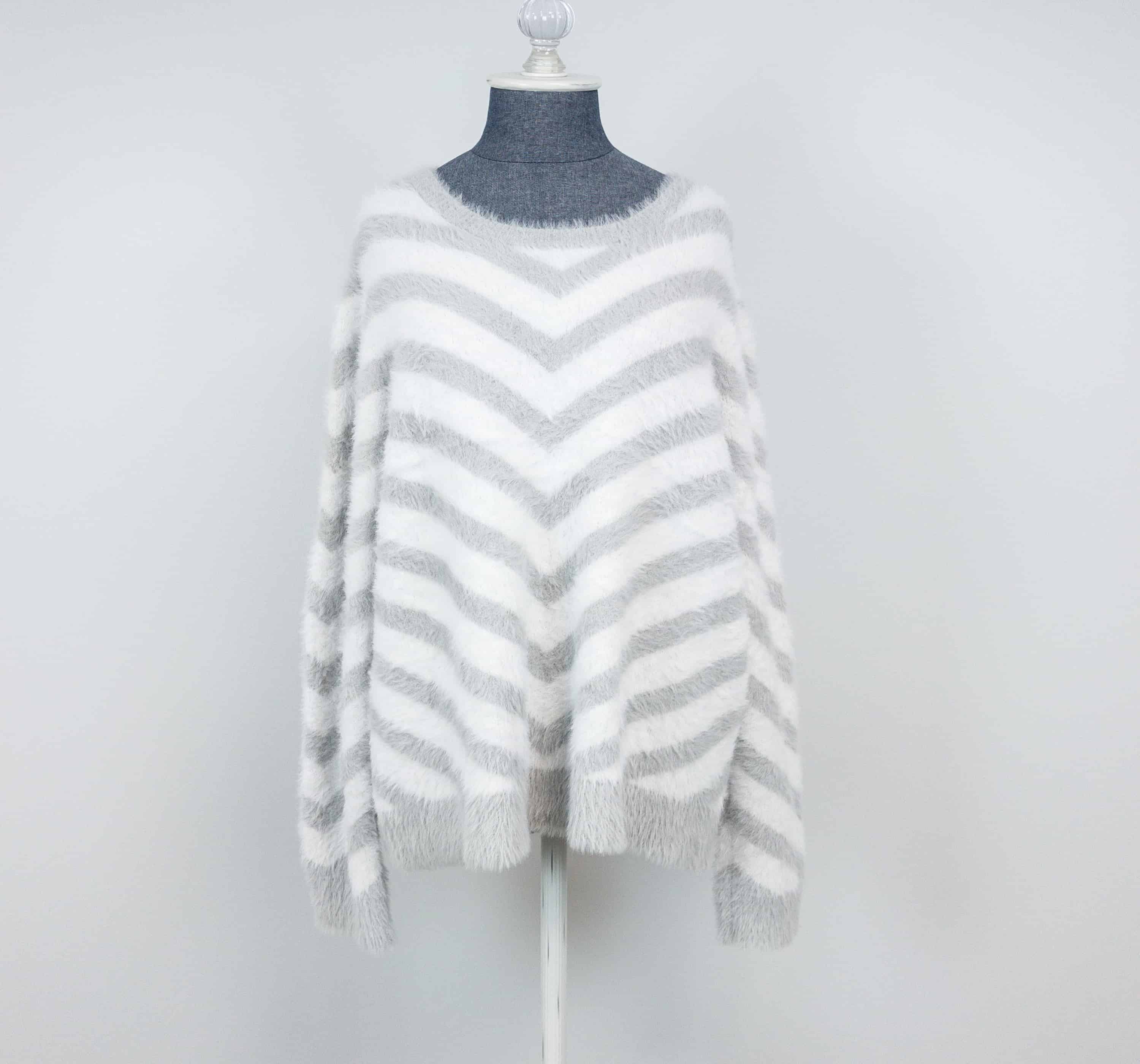 Market & Spruce Tamsen Fuzzy Chevron Pullover ($68) Chevron, anyone? This is a beautiful fuzzy sweater with a grey and white chevron print. It's also easy to pair with different kinds of bottoms.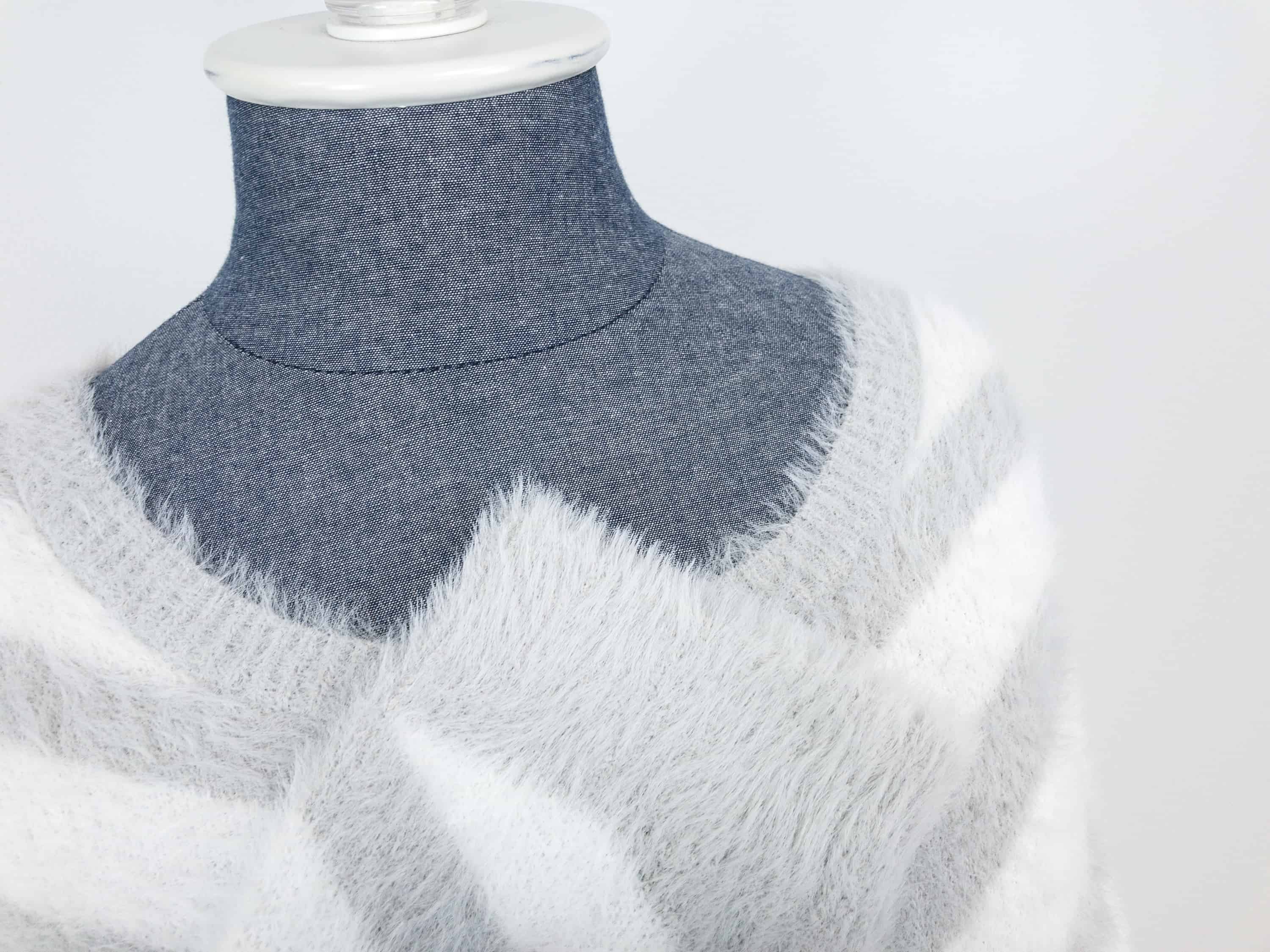 It's warm and fuzzy, exactly what I need this cold season. I like the texture of this sweater, it's something I can wear from fall to winter.
Bagatelle Aurora Faux Leather Detail Wool Cart ($138) Now, this is a fancy outfit that is definitely a favorite. I love the deep maroon color on this wool coat and how it covers my neck from the cold wind.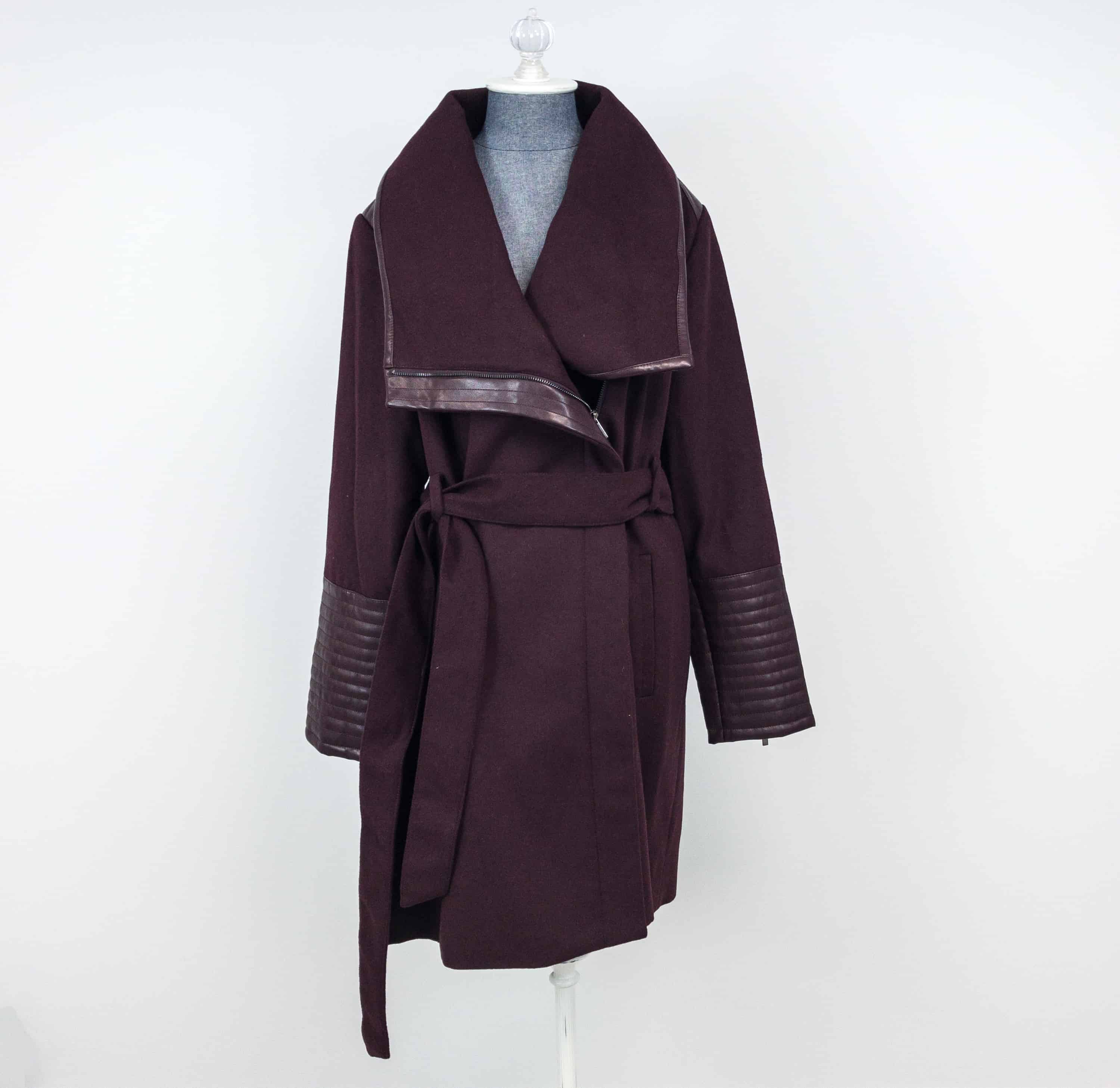 If you feel like the neck cover is too much, you can put it down and it'll look like a collar.
The coat also comes with a stylish belt and faux leather cuffs. However, they're really not for me – and it says so in my profile. Ooops!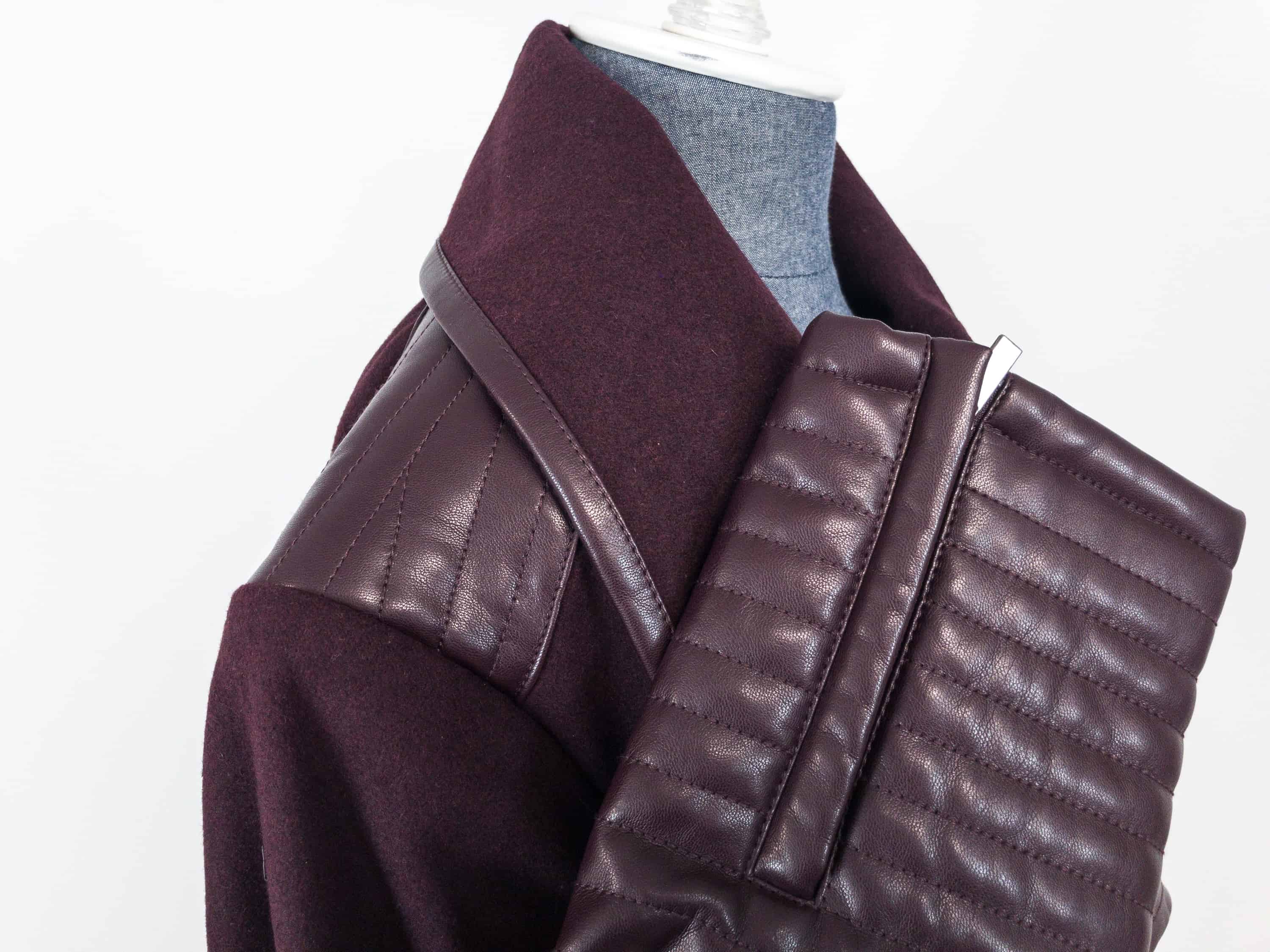 The details are great though!
We're in the middle of fall and this month's fix is really appropriate for the weather. I think I can use many of them even in the winter, to be layered with other thick clothes. The pullovers fit my wardrobe well, and I love the coat too. I can't wait to wear them all! I'm pretty happy with my stylist's choices and I have been loving the coziness onslaught!
What did you get in your Stitch Fix this past month?