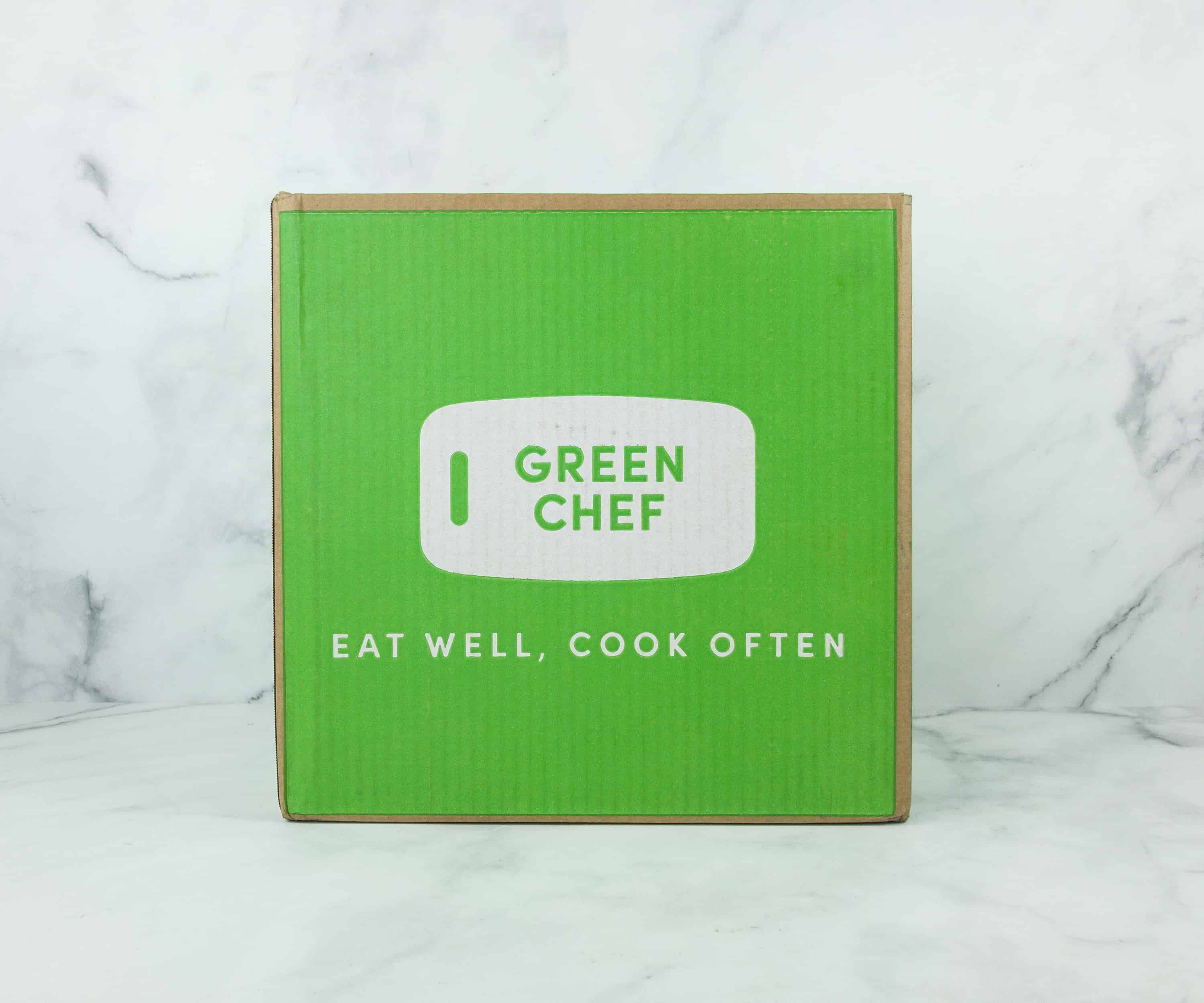 Green Chef is a meal kit subscription focusing on healthy meals for a variety of eaters and dietary preferences. Each delivery comes with the recipes and ingredients for three well-balanced meals. Some of the ingredients are pre-prepared, so that you can cook dinner in 20 – 30 minutes using the easy-to-follow directions. There are vegetarian, omnivore, carnivore, gluten-free and paleo meal options. All ingredients are fresh and sustainably sourced. The only things you need at home are some standard cooking gear, olive oil, salt, and pepper.
DEAL: 4 free meals on your first order (about $56) USE THIS LINK to get the deal.
The recipe cards show all the necessary ingredients needed and a brief description of the meal. It also notes the cooking time, servings, and calories per serving. They give you a heads up as to any supplies from home you will need, and they even give you the measurements of each ingredient and allergen info, just in case you need to keep track or swap anything out. The colored band and numbering along the bottom makes it easy to match up with the right bag of ingredients — even the individual ingredients have color-coded labelling.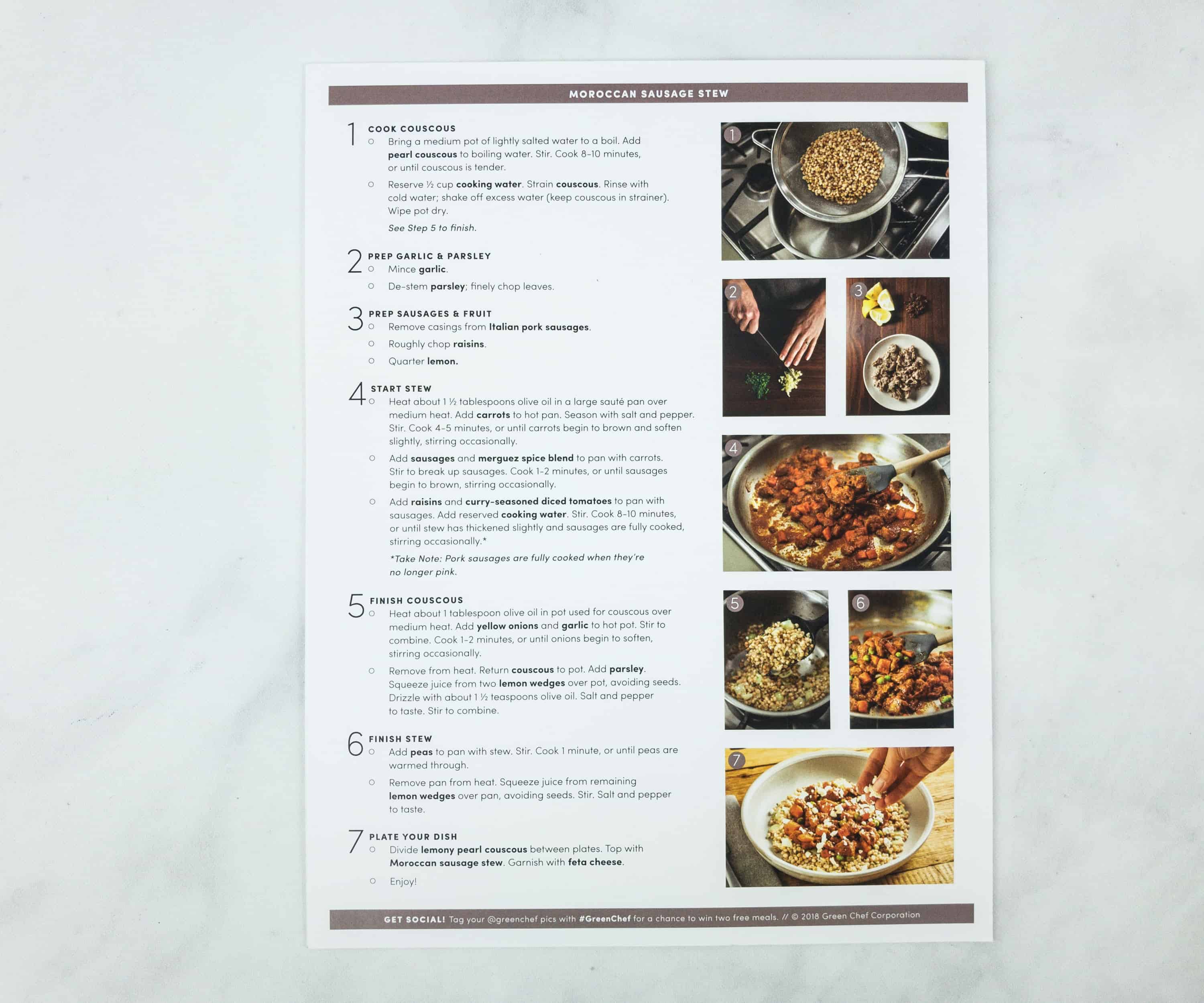 The back of the card shows a step-by-step procedure with amazing illustrations to keep you on track. The format is quite lovely, the steps are bulleted for ease of reading, and ingredients are bolded to stand out. I like the use of bullet points instead of long narrative, as it is easy to jump back to your place in the recipe.
This week, we received an omnivore box. Green Chef typically includes roughly twice as many veggies, legumes and/or grains as some of their competitors. And they're all organic! This makes for delicious, healthy, well-balanced meals.
Each week's package arrives well-insulated, with the meat at the bottom with some ice packs. They bundle the ingredients for each recipe into their own bag, making it easy to keep your food organized. Hurray!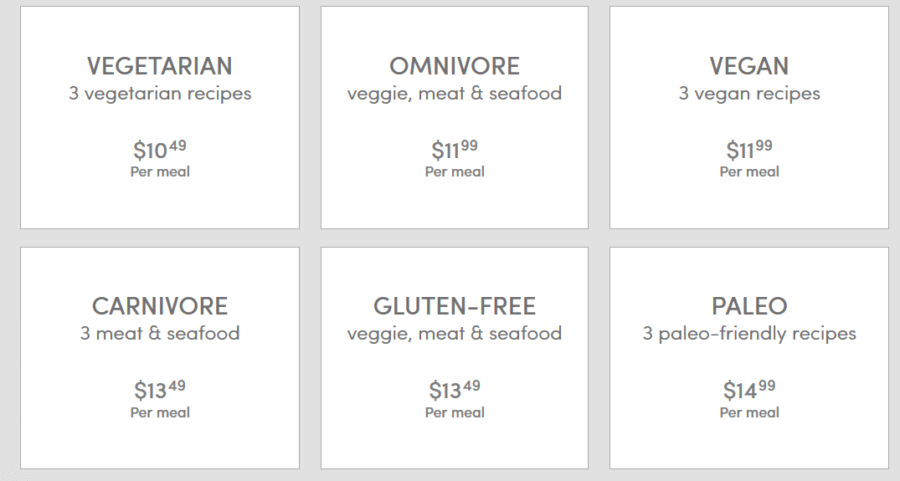 Green Chef has new recipes each week, so there is some variety in what you receive. You may choose either the vegetarian, vegan, carnivore, omnivore, gluten-free or paleo box, each with a fixed set of 3 meals. There is some overlap between the menus, but, unlike services like Home Chef, you can't mix and match at will. Each two-serving box of three entrees ships for $9 in addition to the costs per serving listed above, bringing the total box costs to $71.94 (vegetarian), $80.94 (omnivore or vegan), $89.94 (carnivore or gluten-free) and $98.94 (paleo).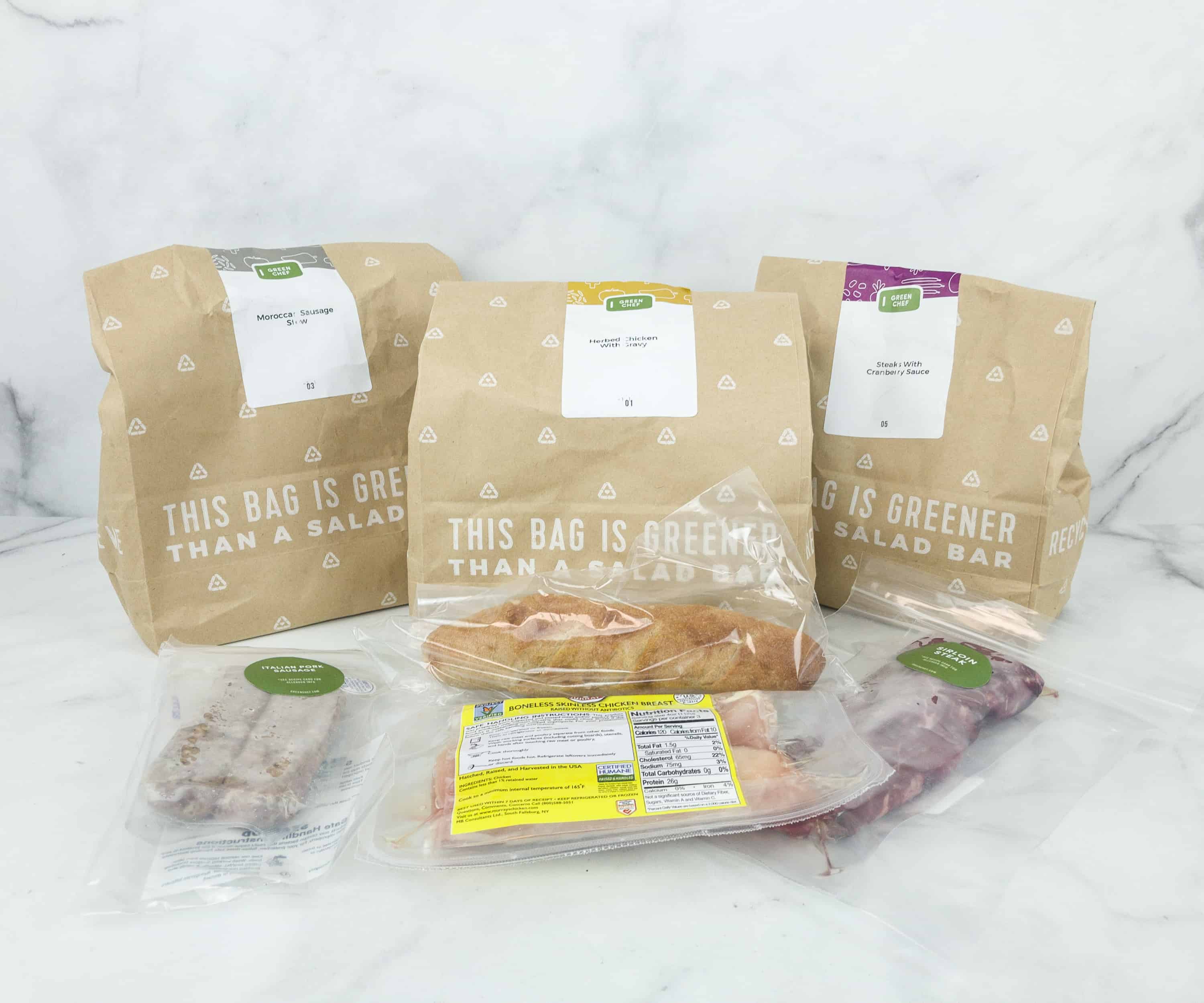 Each recipe comes in its own bag, numbered and color-coded to match the recipe sheets for the week.

Everything in my November 2018 box!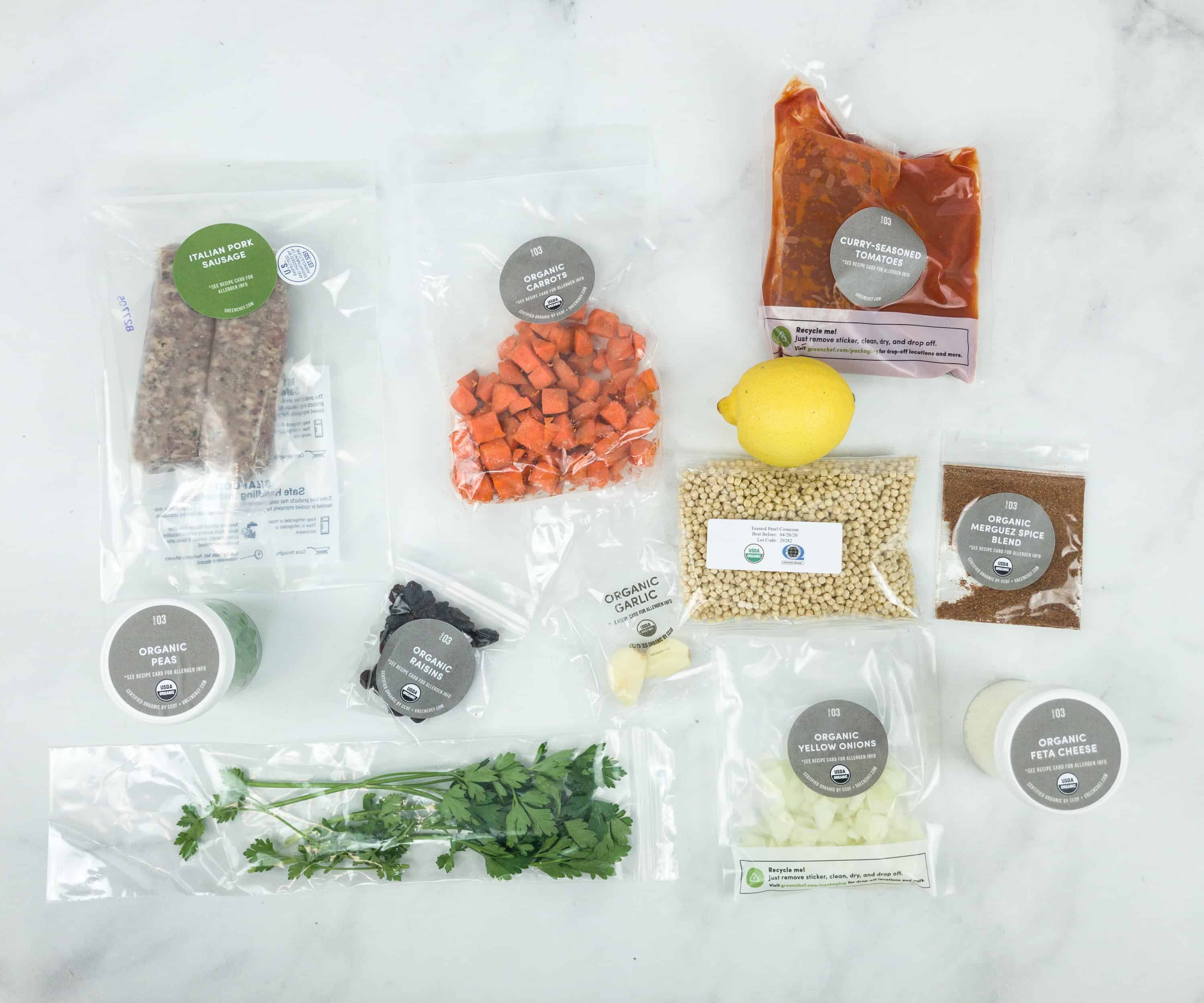 Moroccan Sausage Stew – 30 minutes, 530 calories per serving
This nutritious recipe from Green Chef is Moroccan cuisine-inspired. It's made from Italian pork sausages seasoned with merguez spice blends and simmered in a curry-spiced tomato broth with organic raisins, peas, carrots, and yellow onion. It's also served over pearl couscous and topped with organic feta cheese. We drizzled a lemon on top for an additional tangy taste! It's a well-rounded meal, and a filling one at that. This ended up being our favorite dish in the box. The spices were flavorful, but they weren't hot, so you could really taste the layers of flavor built up. My one year old is in to trying new foods, and she loved the couscous with just a bit of the sauce on it! It was also a breeze to make.
Steaks With Cranberry Sauce – 35 minutes, 600 calories per serving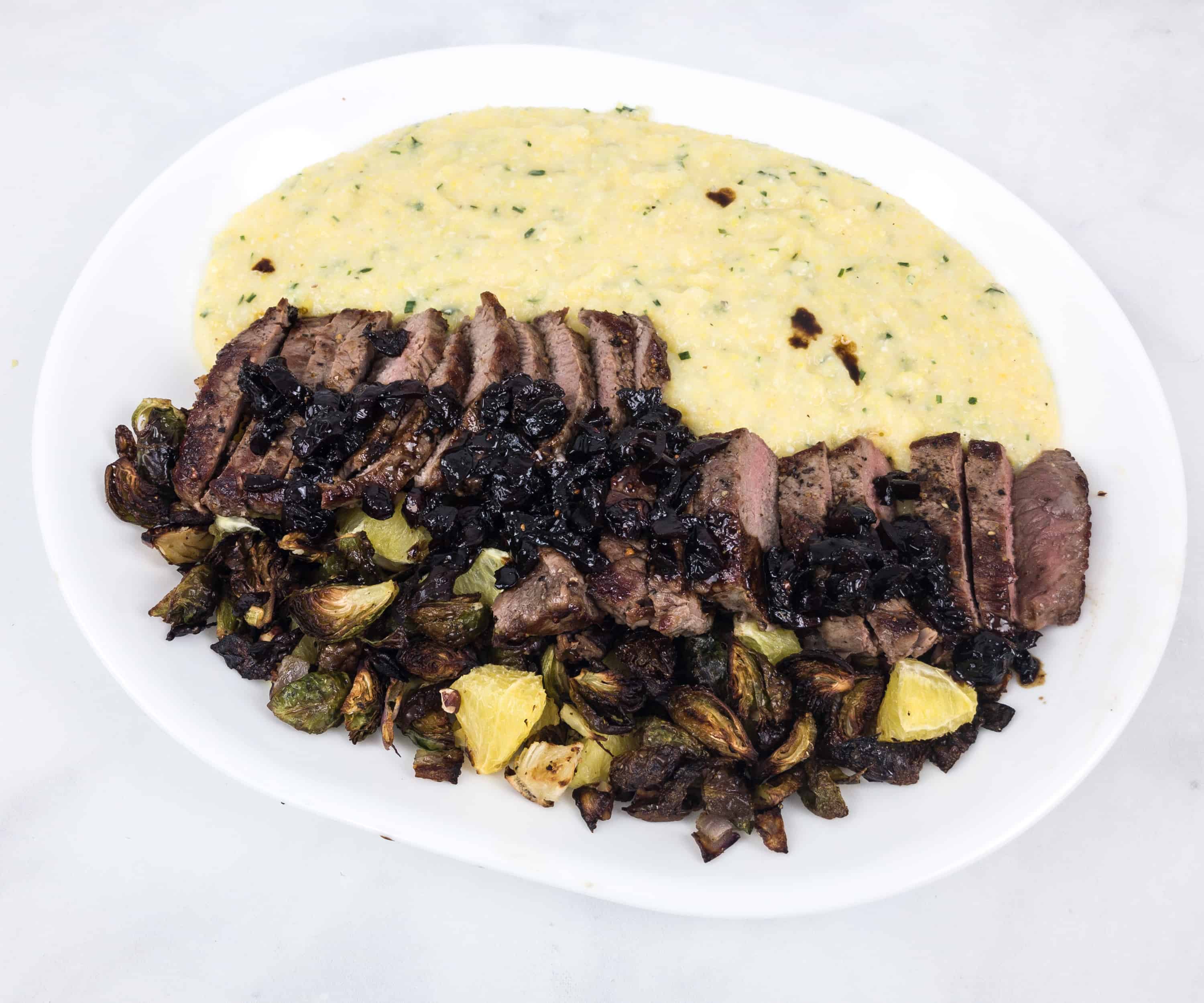 Next is a sweet and tasty recipe featuring pan-seared meaty sirloin steak served together with creamy Polenta mixed with Swiss cheese and chives. Top it off with a cranberry balsamic reduction sauce for a tart flavor and richer taste. We always welcome a good steak!  This beef packs a very deep flavor which worked well with the balsamic reduction. The only issue I had with this dish was the instruction to quarter the Brussels sprouts. They were on the smallish side to start, so they over-roasted a bit when quartered. Otherwise, it was an interesting and comforting dish. I loved this version of polenta! There was bit knifework involved in the prep, but it was still relatively easy to make. The above pic shows both servings.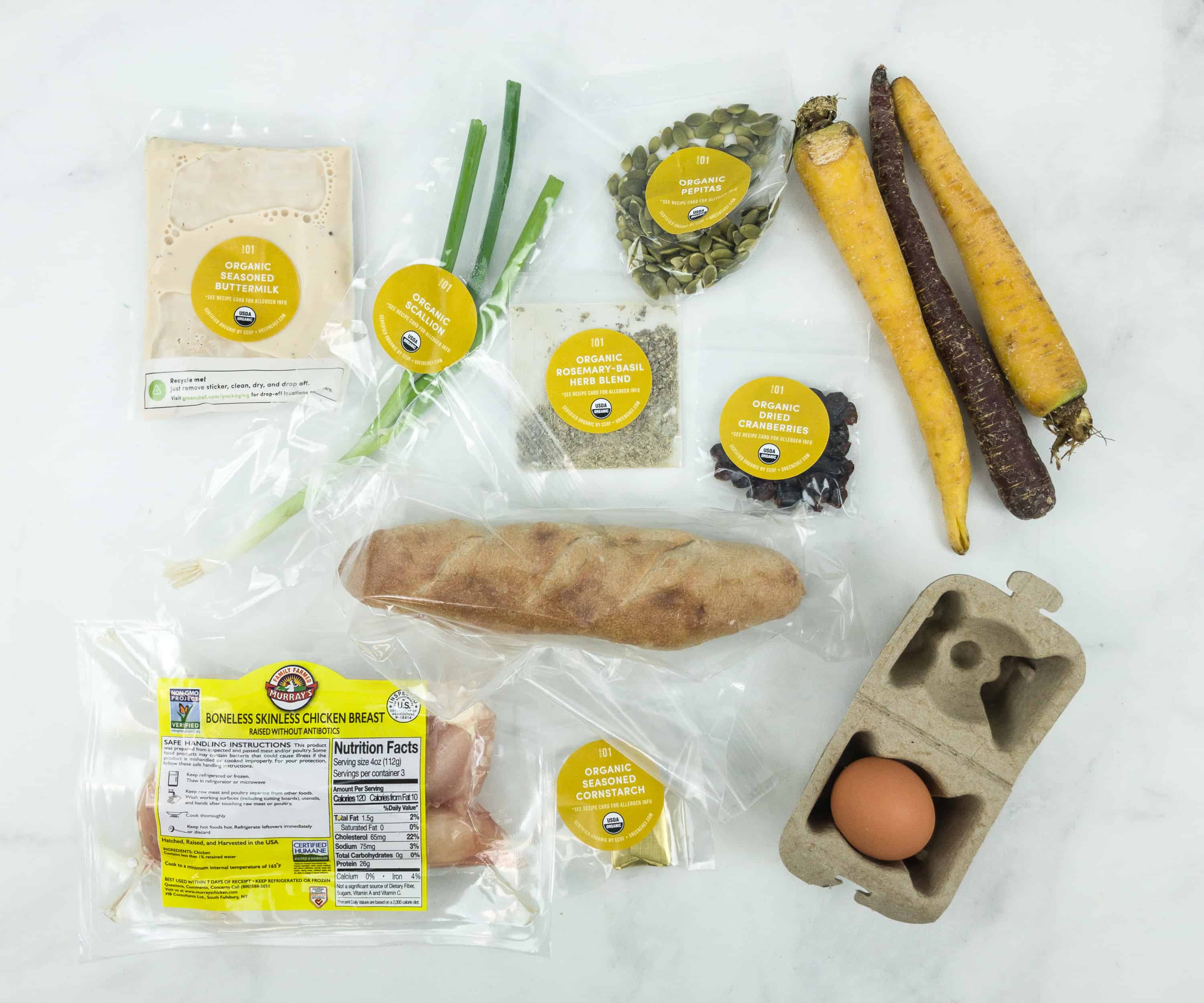 Herbed Chicken With Gravy – 45 minutes, 610 calories per serving
Chicken and gravy is an ideal comfort food to warm up your chilly night. This spin on a classic American recipe features a rosemary-basil herb blended roasted chicken breast lathered with potent gravy. It's zesty and meaty, I couldn't ask for more. Roasted carrots, pepitas, and dried cranberries made a tasty complement to the meat. As a fun side, we made simple stuffin' muffins. The combo of extremely hearty wholewheat sourdough bread and tangy buttermilk made these very flavorful, but the bread was a little too dense to really soak up the liquid portion of the preparation. The chicken part of the dish was fabulous! Its texture was wonderful, and the blackened herb crust was so tasty. This dish had several elements, so it took a bit of time to get everything together.
It's a great week for Green Chef! Everything arrived fresh, properly sorted, and ready to be cooked. All the ingredients you need for cooking are provided, and the quality and freshness is outstanding — lots of great organic ingredients. The instructions are also very clear and easy to follow, so even a kitchen novice can jump right in. This subscription definitely made our dinner more enjoyable and hassle-free.
Are you getting the GreenChef Box?