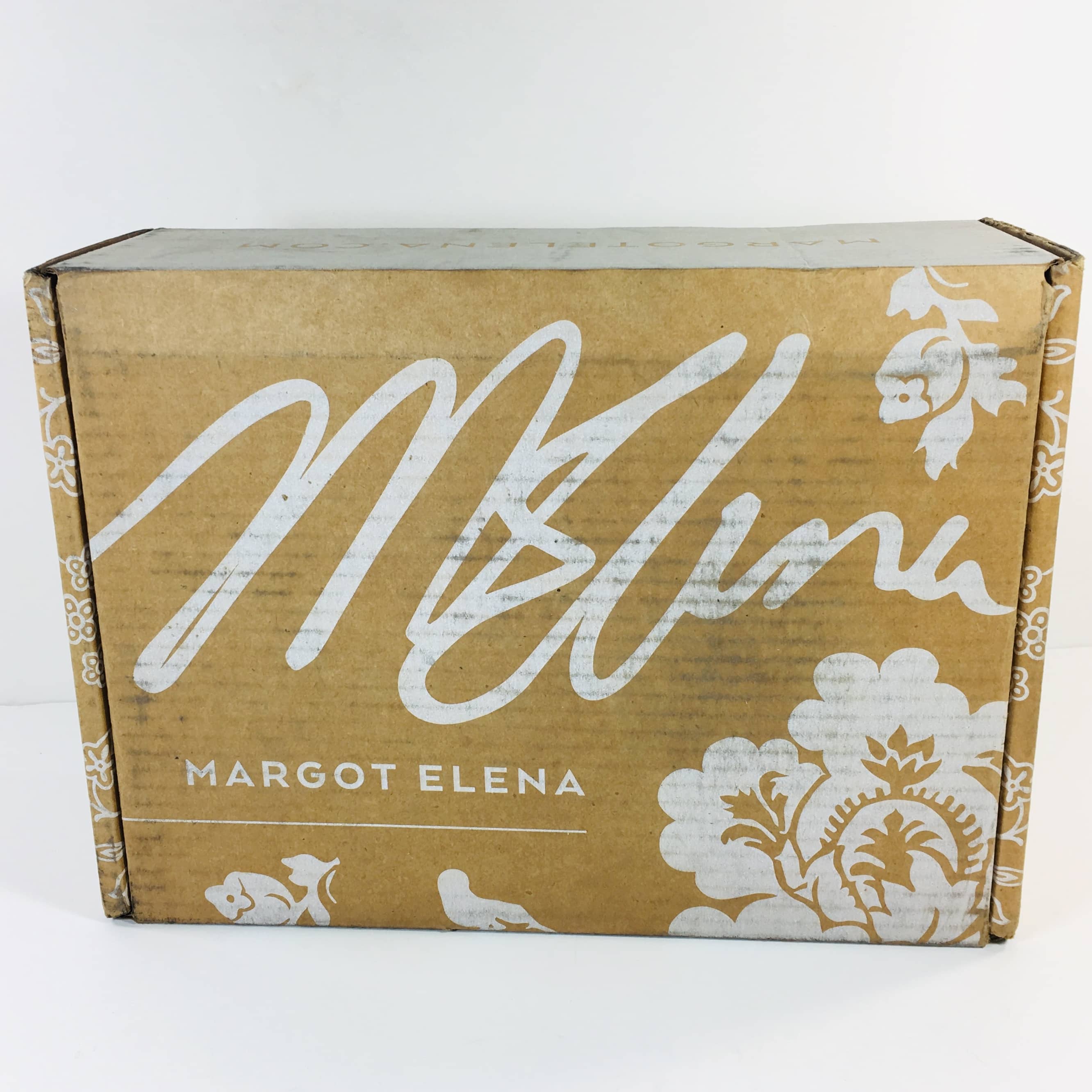 Margot Elena Discovery Box is a quarterly box from the parent brand of Library of Flowers, TokyoMilk, Lollia, The Cottage Greenhouse, and Love & Toast and promises a $200+ value. This box is delivered four times a year for $49.99 per box plus FedEx Ground Shipping of $6.95 a box. With your purchase, you'll be enrolled in their seasonal membership and receive a box of beauty every 3 months delivered to your doorstep.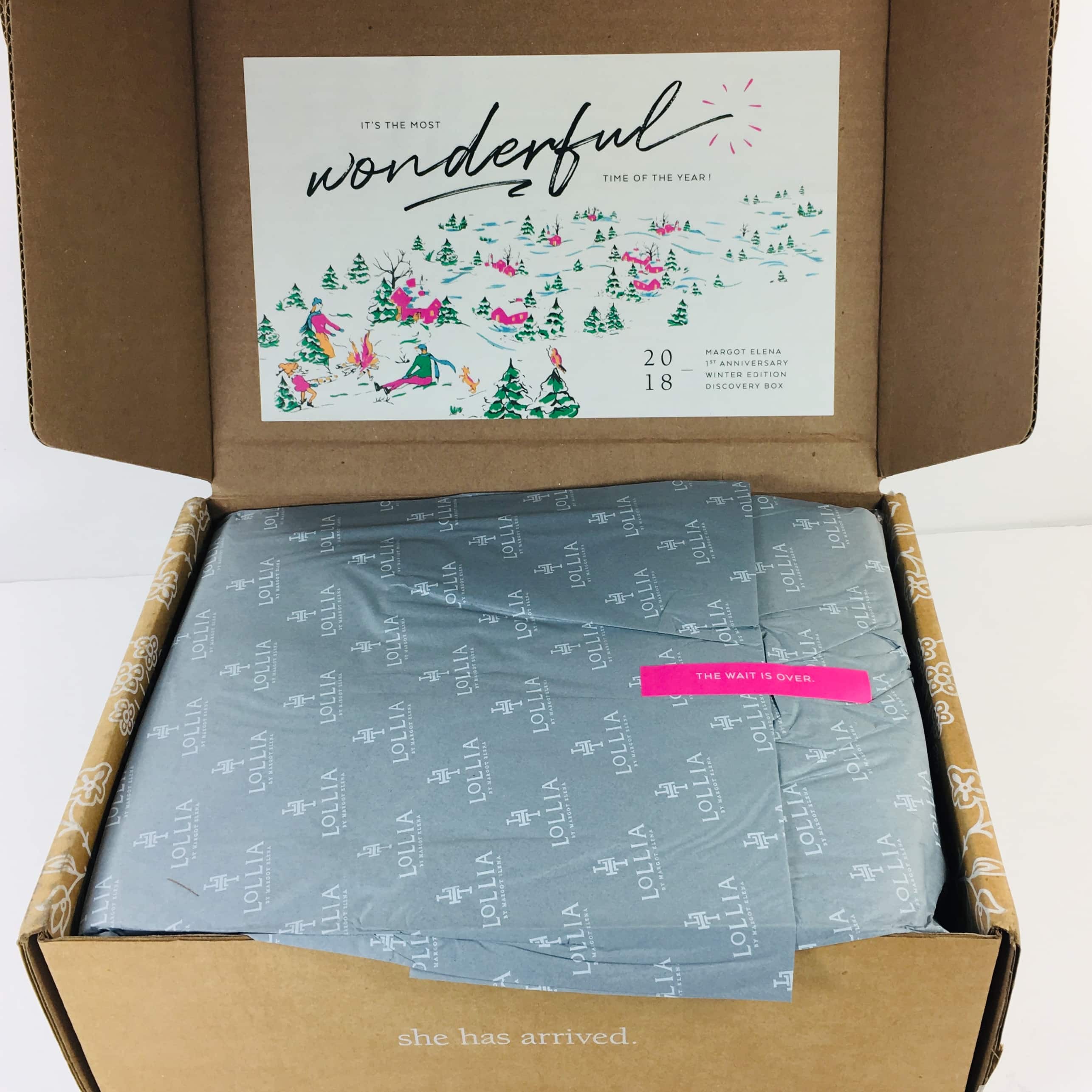 The box is sealed with a pink sticker. She has arrived!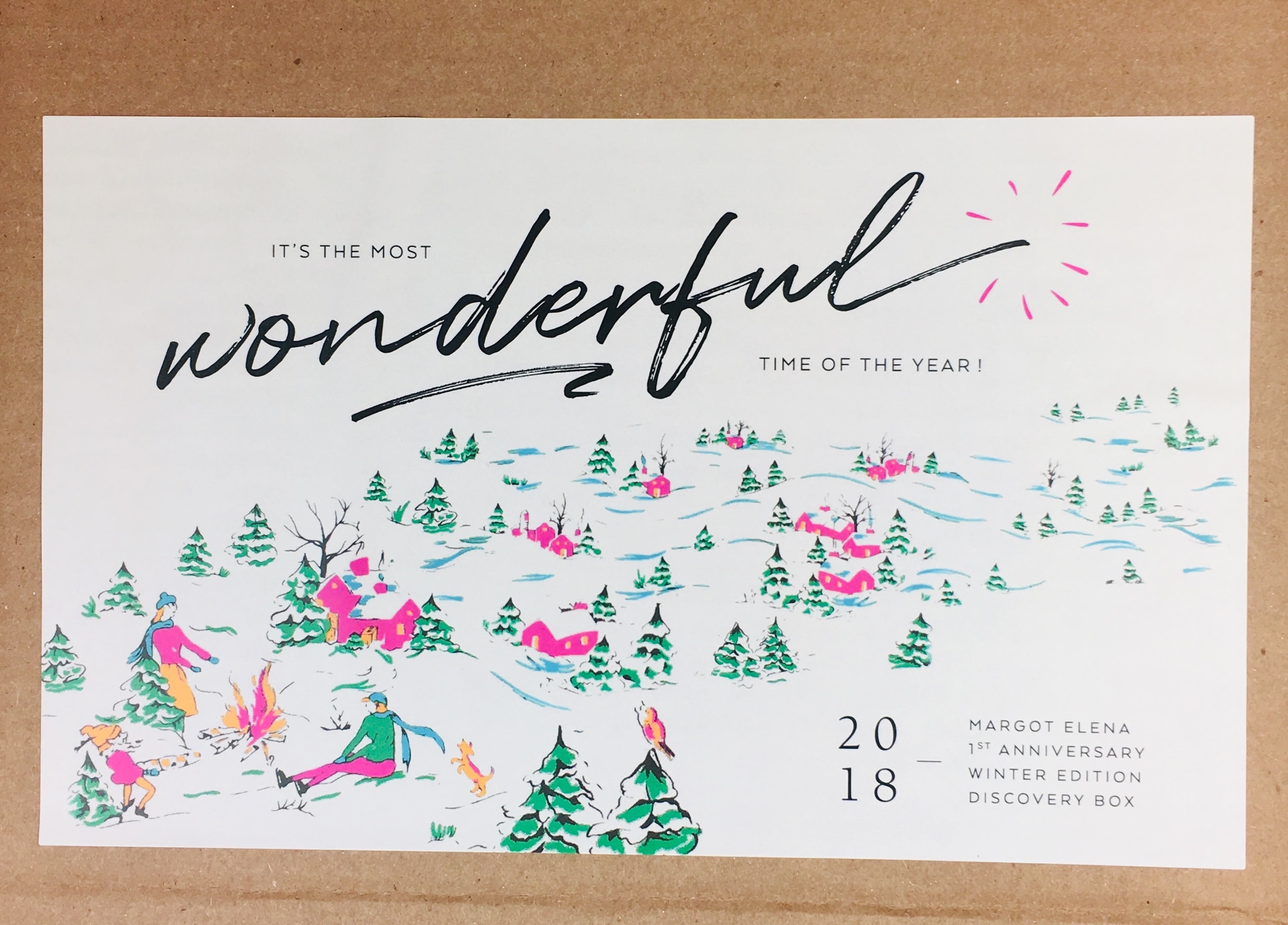 Even the inside lid is put to work!
My items were covered with tissue paper and sealed with a sticker.
Bubble wrap provided a nice cushion for the items.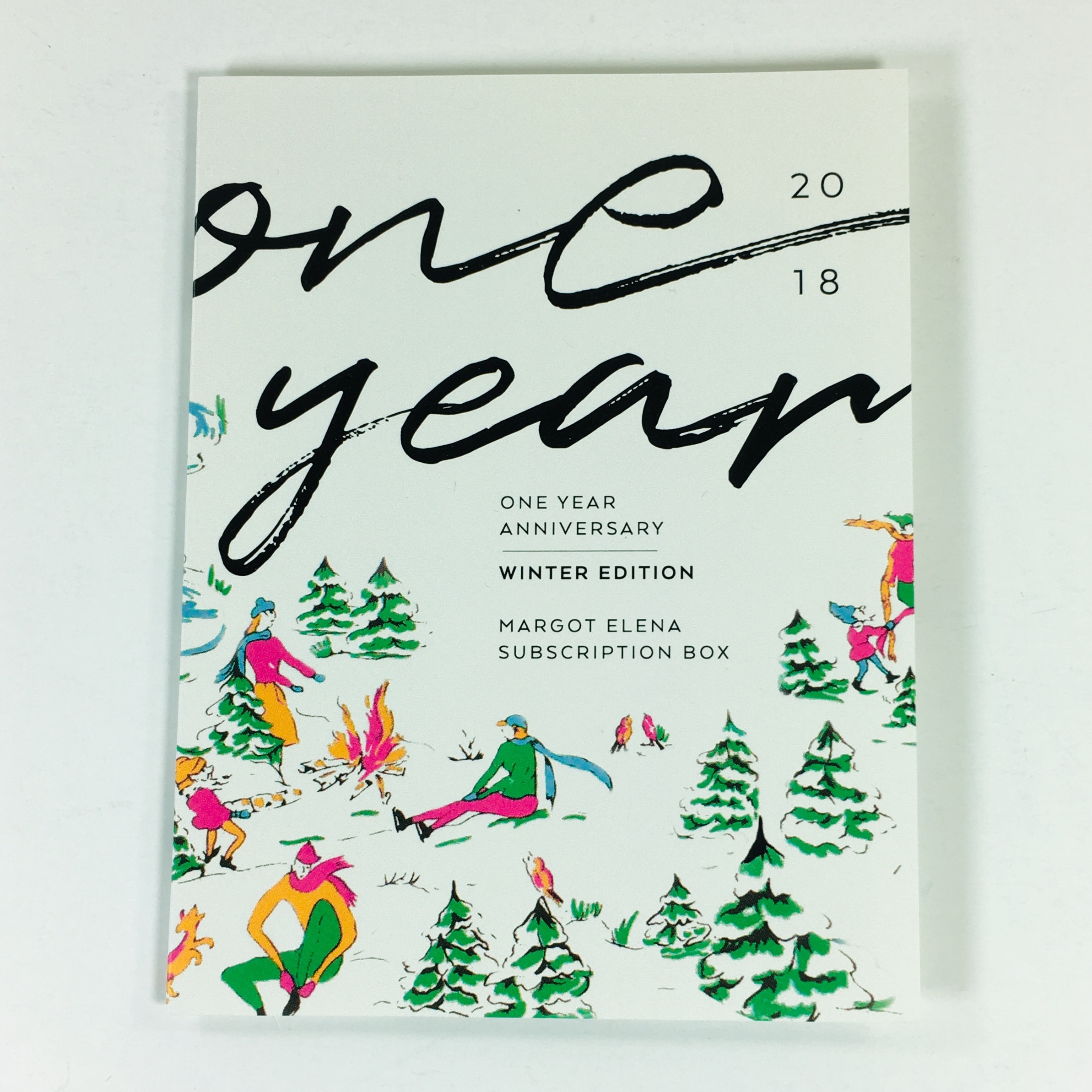 The info card from this box looks very elegant too.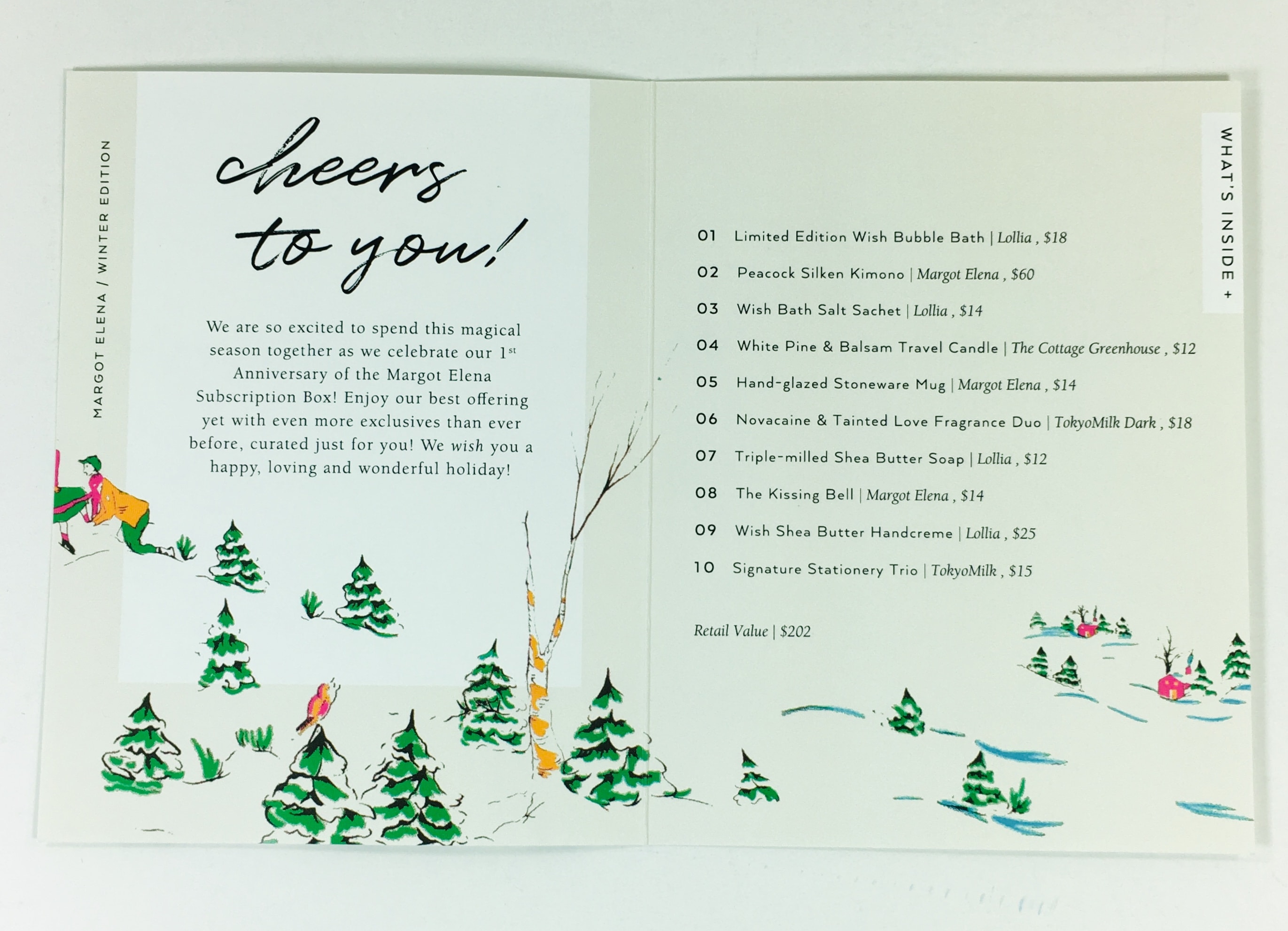 There was a list of what's inside the box. That's about $202 retail value!
Share your pictures on social media and they may be featured!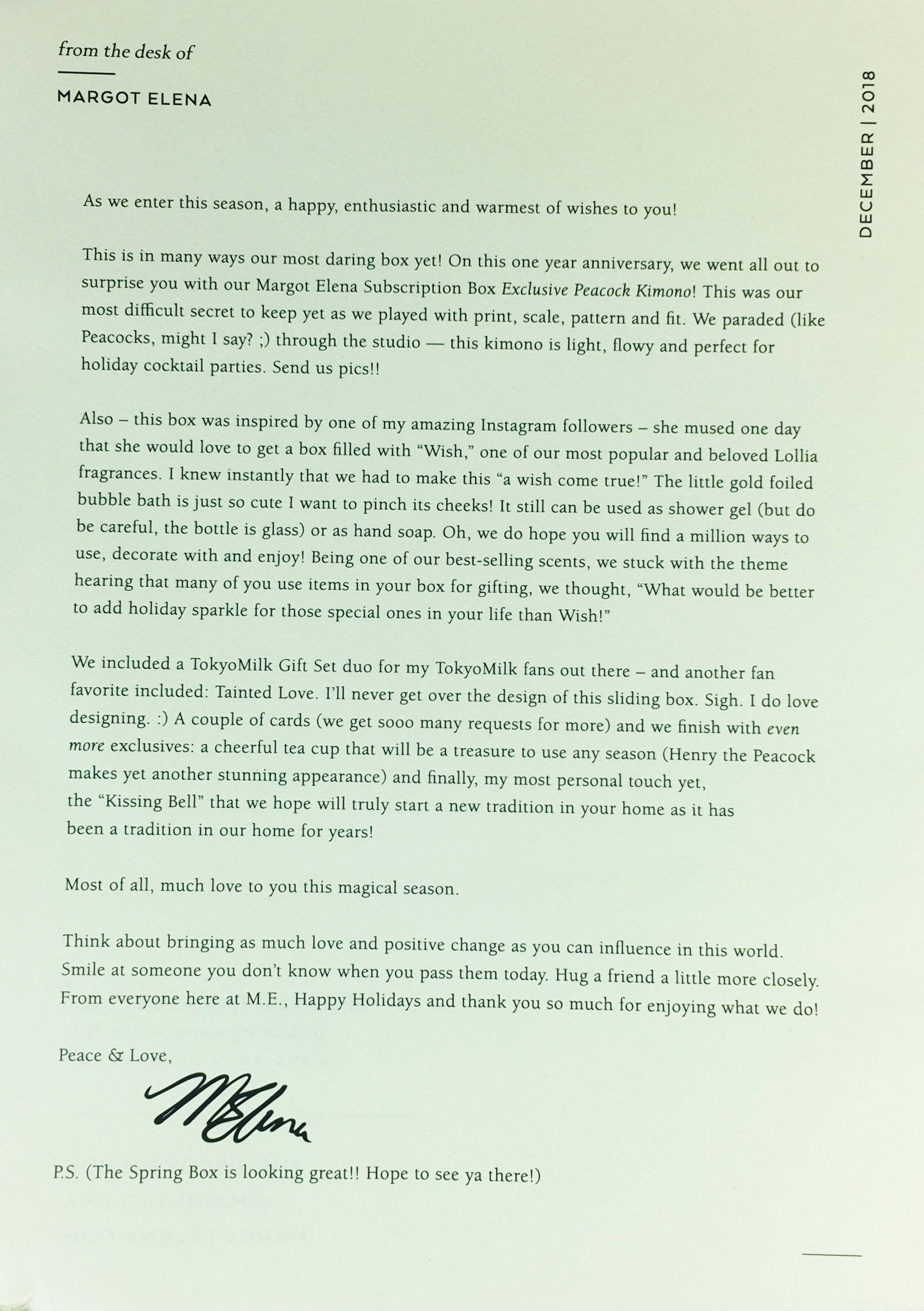 We are welcomed with a note from the curator.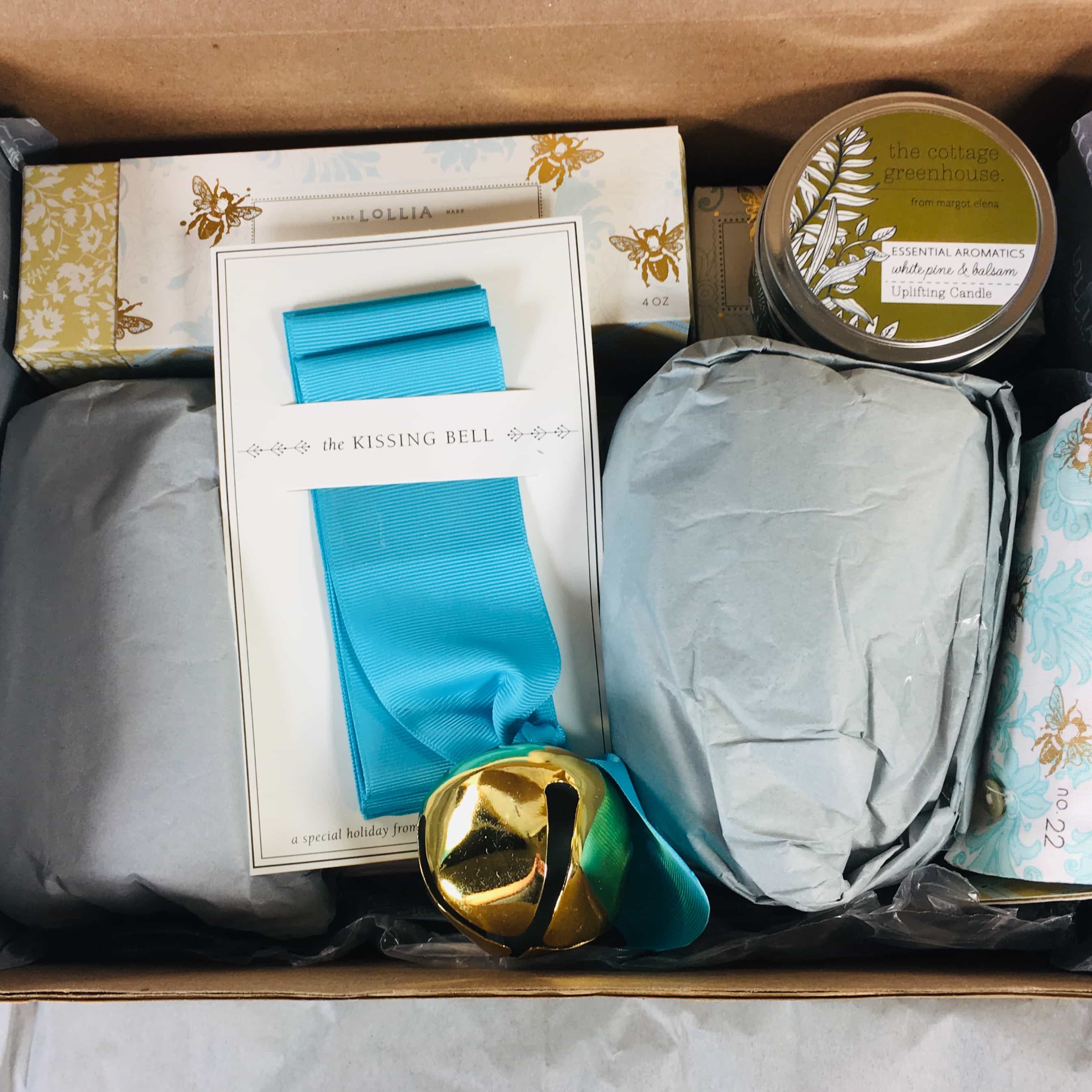 I found additional bubble wrap and tissue paper around the glass items. This prolonged the unboxing experience and I felt like I was opening a box full of gifts! I knew ahead of time that there was a mug inside the box but wasn't expecting the bell so I was terrified when I heard the jingling, I thought the mug was broken! All was well, thank goodness!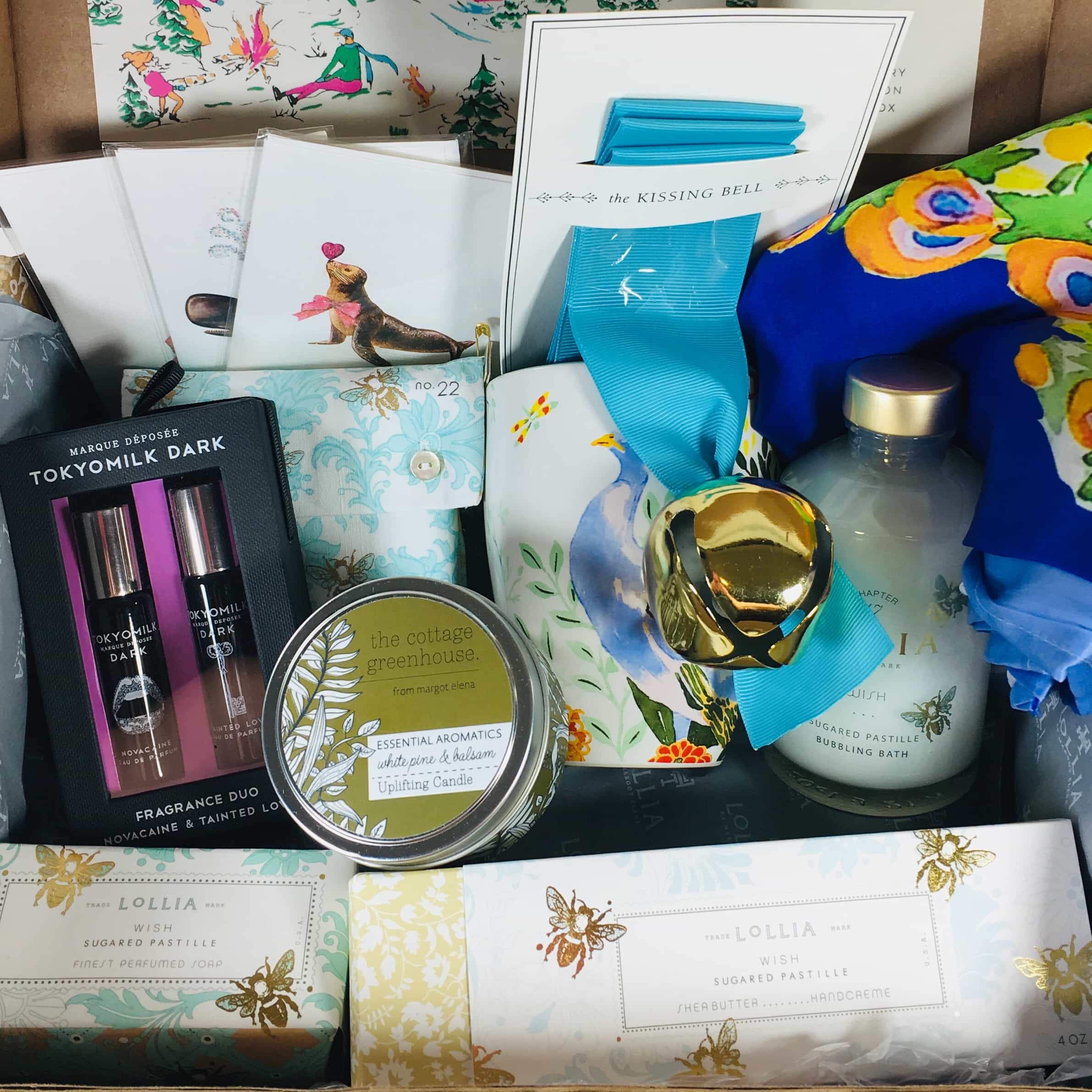 Everything in the Fall Discovery box!
The Kissing Bell ($14) came with a letter describing the tradition of this item's use in the founder's home. I think it is cute, and basically, you hang it and anytime it rings everyone comes running for a kiss. You could use it at a wedding – instead of knocking a champagne glass with a knife, just give the bell a ring and the bride and groom will smooch.
Lollia Wish Shea Butter Handcreme ($25) is a very luxurious soother that showed up just when I thought my hands couldn't take any more abuse from the weather.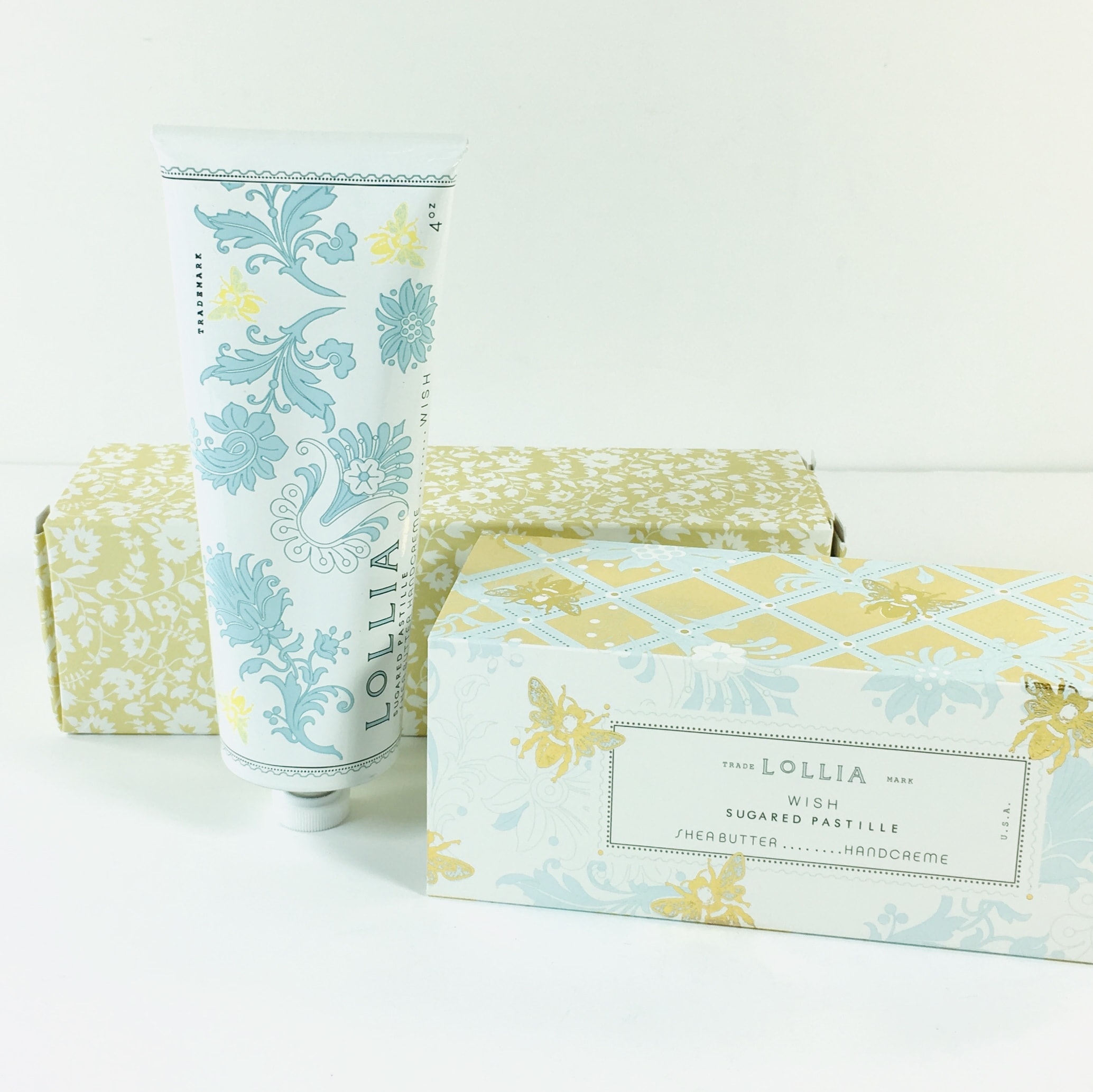 The packaging is luxurious and just so darn cute!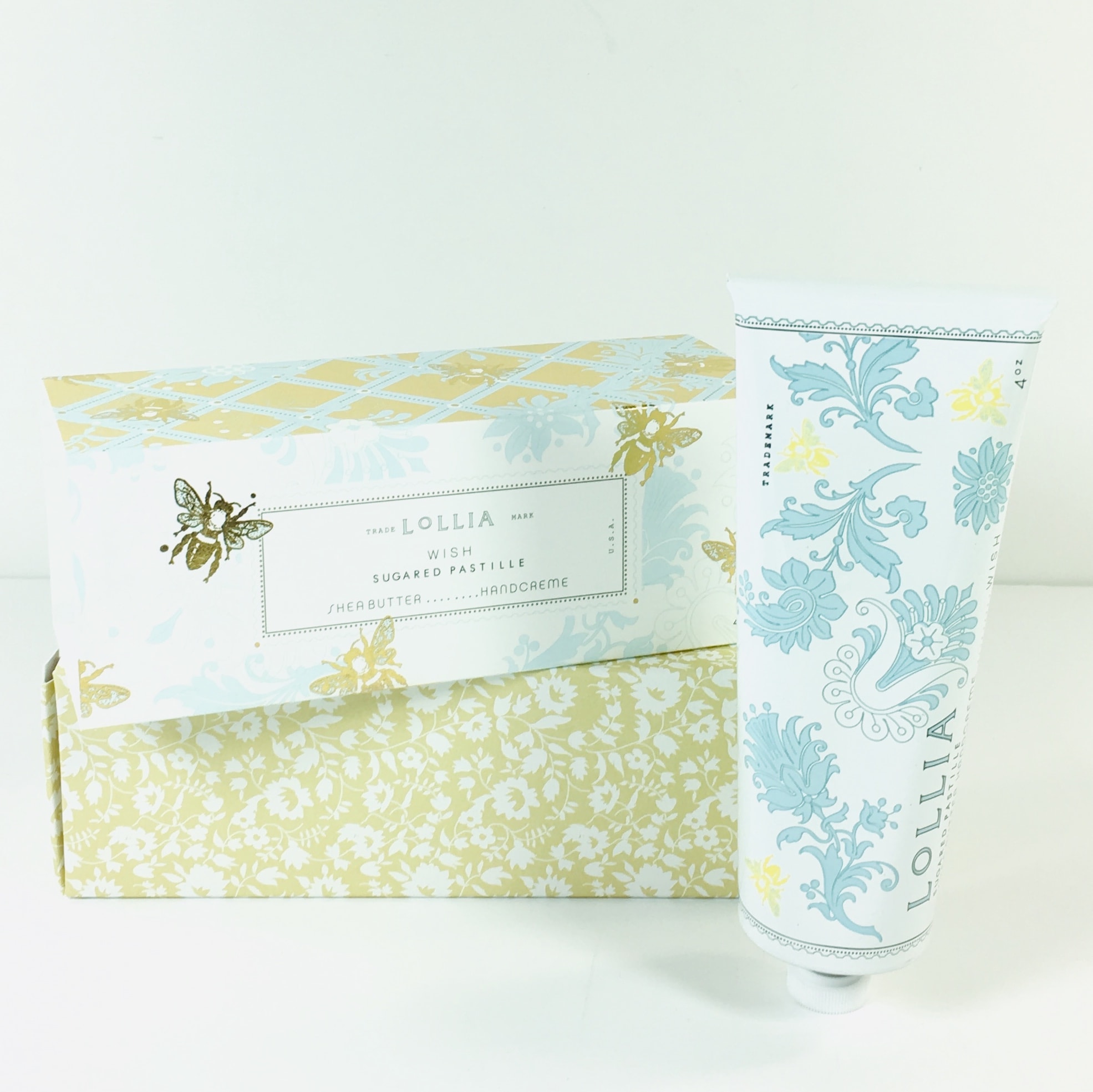 The scent Wish features prominently in this quarter's box and is described as "sugared pastille". A little goes a long way and helped my hands feel soft and the scent stayed around for a while.
Lollia Wish Bath Salt Sachet ($14) The details on the Margot Elena family of products are just adorable, like the golden bees, mother-of-pearl buttons, and crystal chandelier drop on this bag.
Inside the pouch is a bag of bath salts but for now I'm going to store this in a drawer as a sachet, it is just too cute!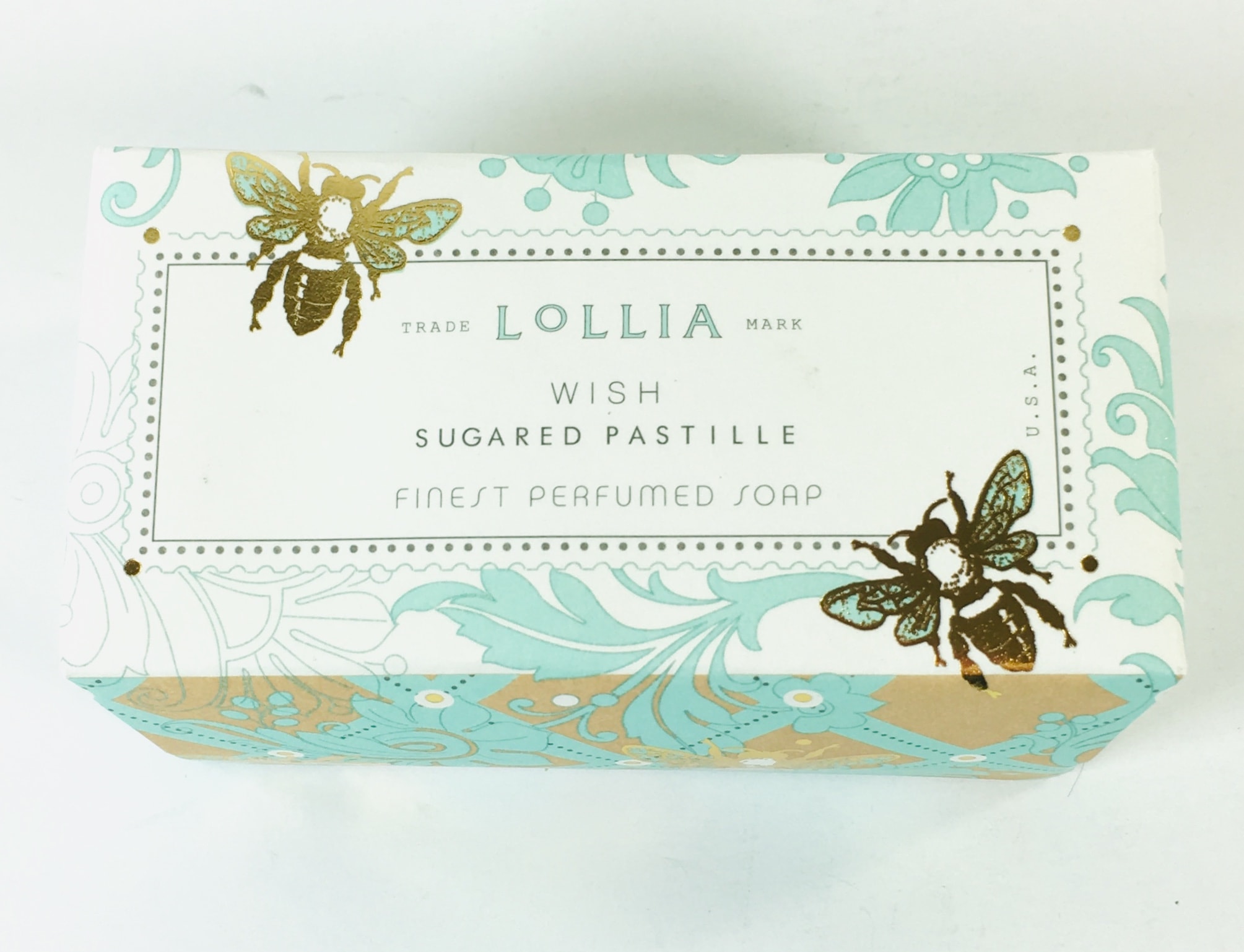 Wish Perfumed Shea Butter Soap ($12) is perfect for either personal use or in a guest bathroom, it smells so nice!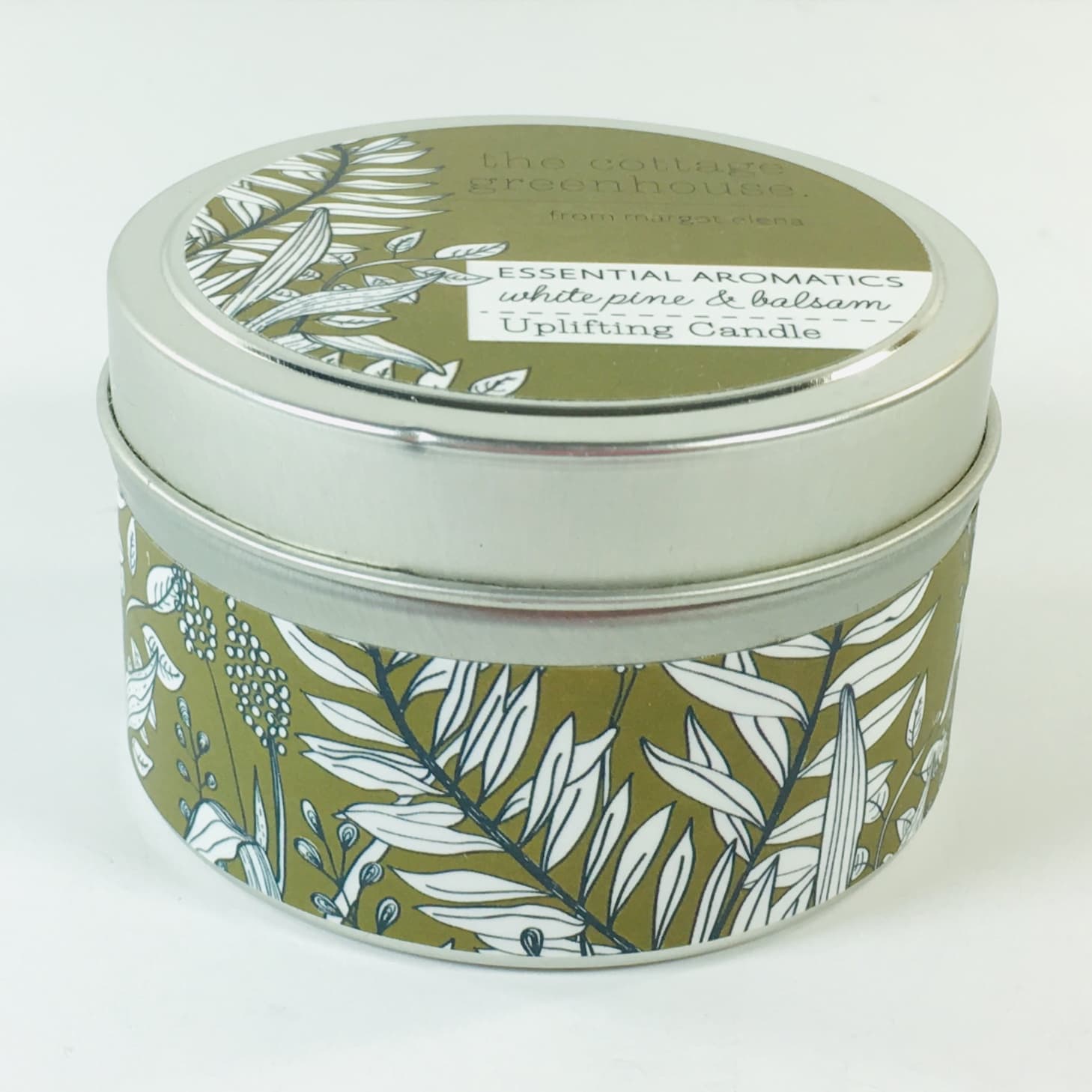 The Cottage Greenhouse White Pine & Balsam Travel Candle ($12) I couldn't find this travel-sized candle but the price is what the current offerings cost. If you would like a full-sized candle then you can find the scent here.
The scent is just what I wanted for this time of year. I have a fake Christmas tree and this smells like a forest so it's a win!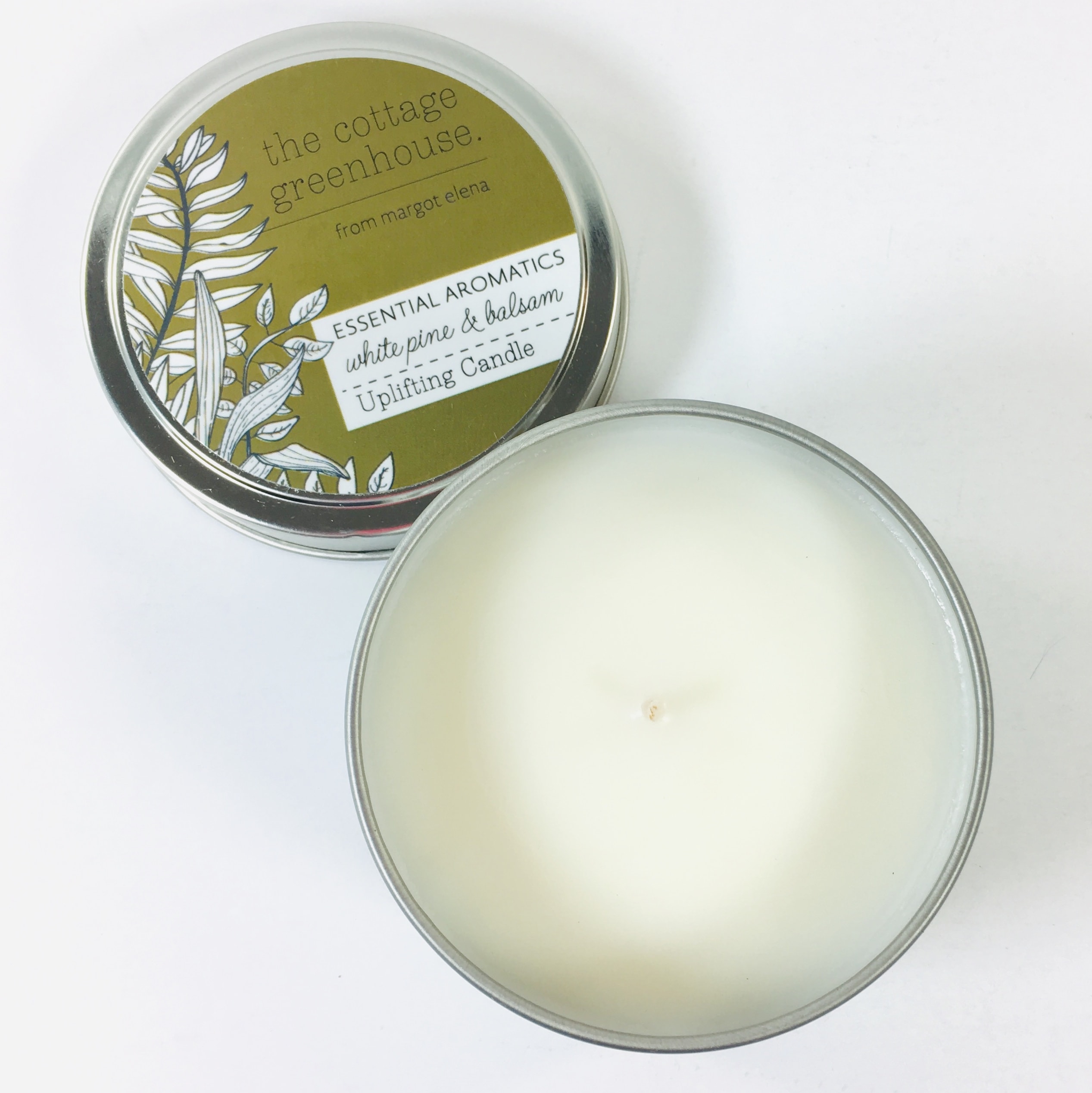 I think there may be a few other notes in here, like citrus. The wax is soy.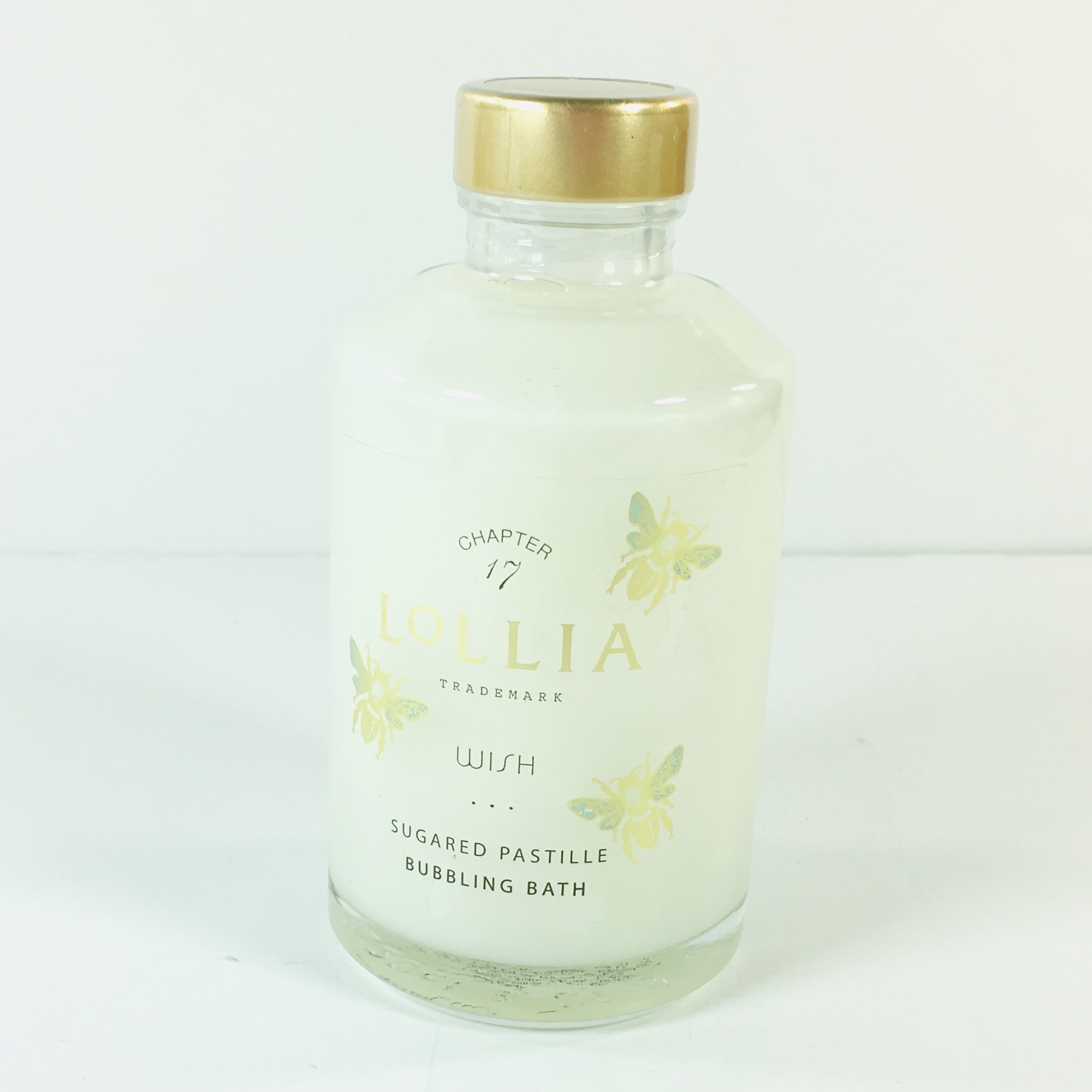 Lollia Wish Bubbling Bath ($10.21) I didn't see this size listed on the ME site so the value is based on the full-sized product. The bubble bath can be used as a shower gel but be careful since it's in a glass jar! It's super creamy and of course, it looks beautiful and smells amazing.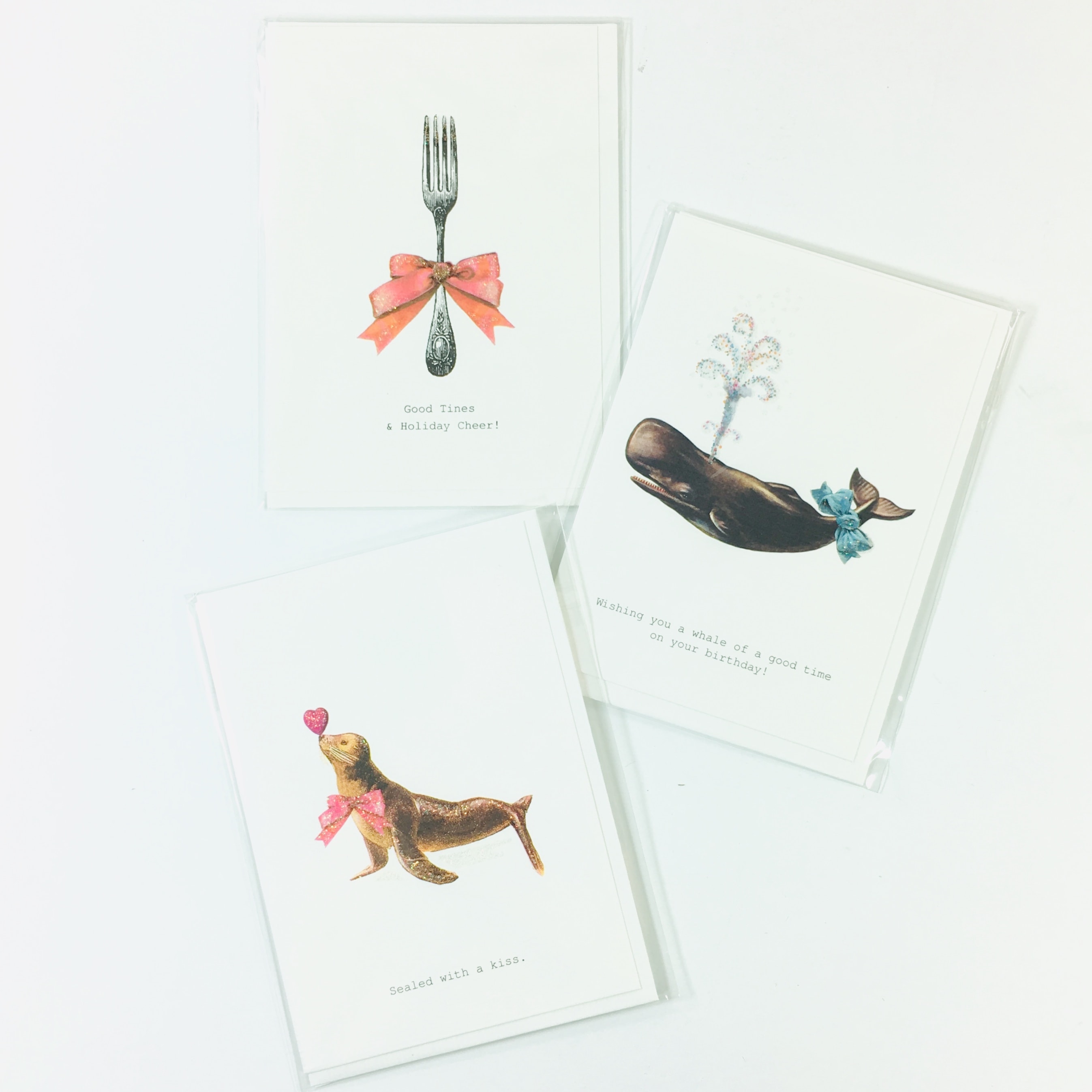 Signature Stationery Trio ($15) Although I couldn't find this exact set on the ME site, I did find 3 other sets with each card priced at $5 apiece.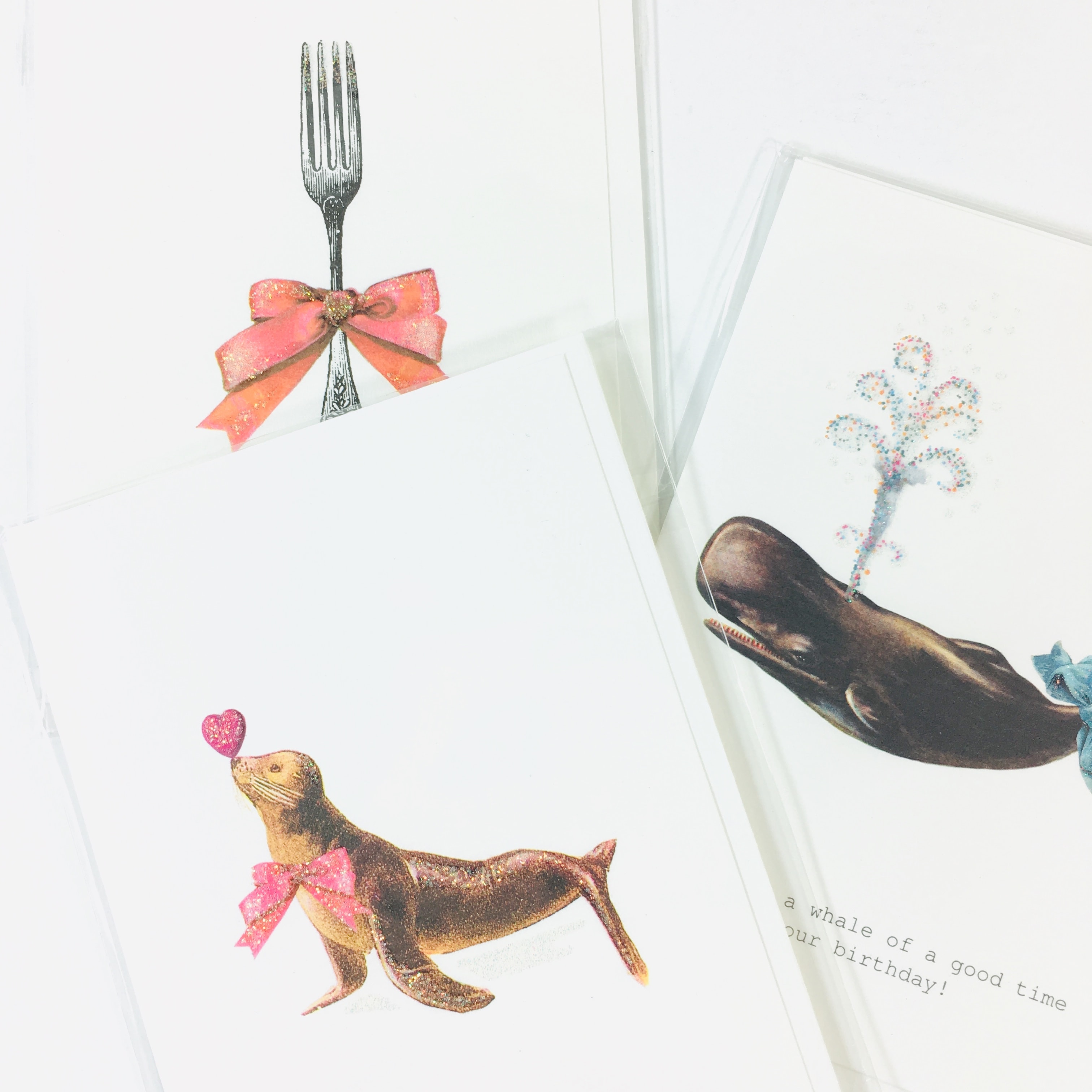 Each card is about 3.5 x 5 and is on heavy cardstock with a matching envelope. The glittery accents really make them stand out, and I am always up for a punny statement.
Hand-glazed Stoneware Mug ($14) Here is the item I was terrified was broken but luckily it was all in one piece! It features a peacock design and I love the colors.
Here's the backside, with feathers and flowers. It matches the design of the kimono shown later in this post!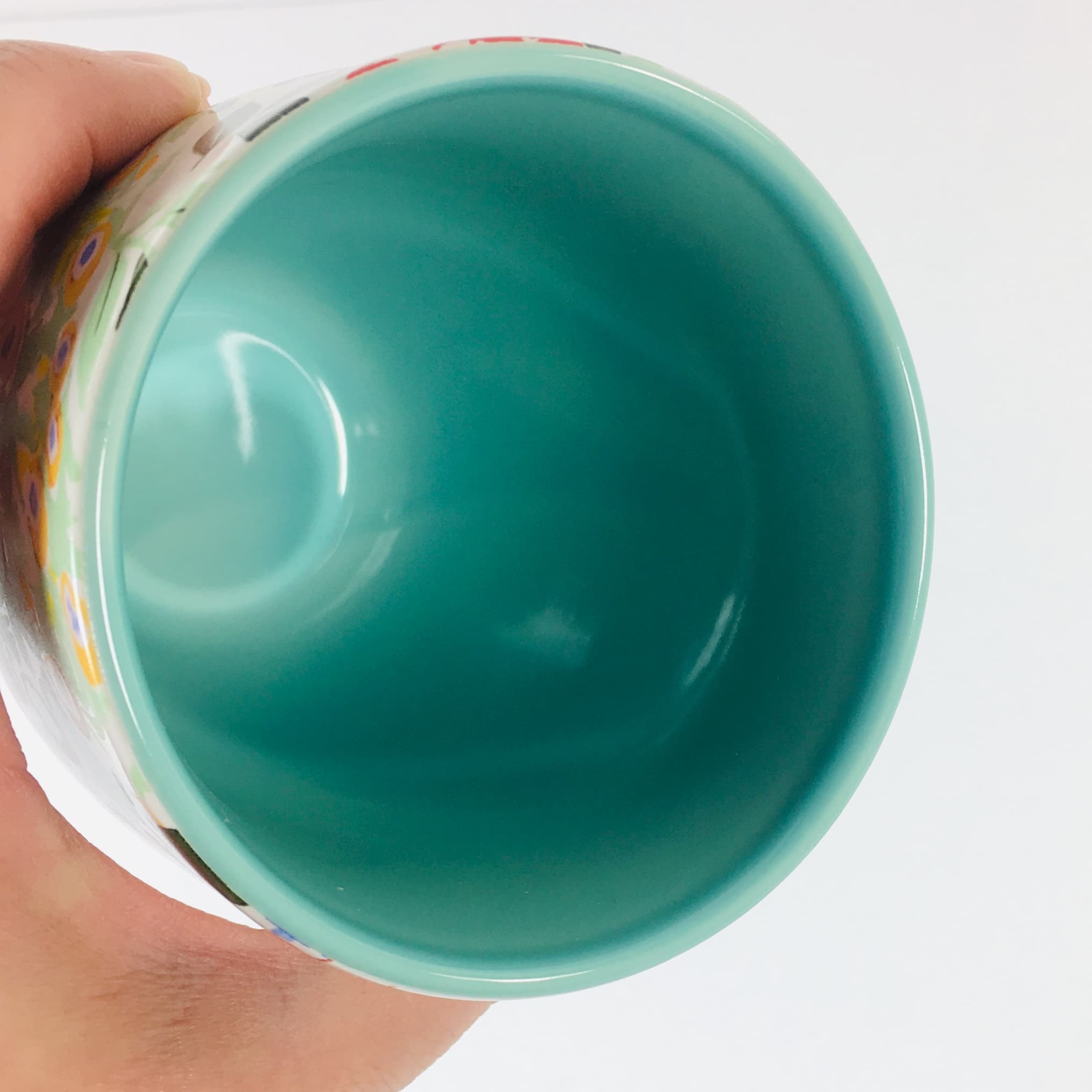 The inside is a beautiful shade of blue that coordinates well with the colors of the Wish packaging on the beauty items.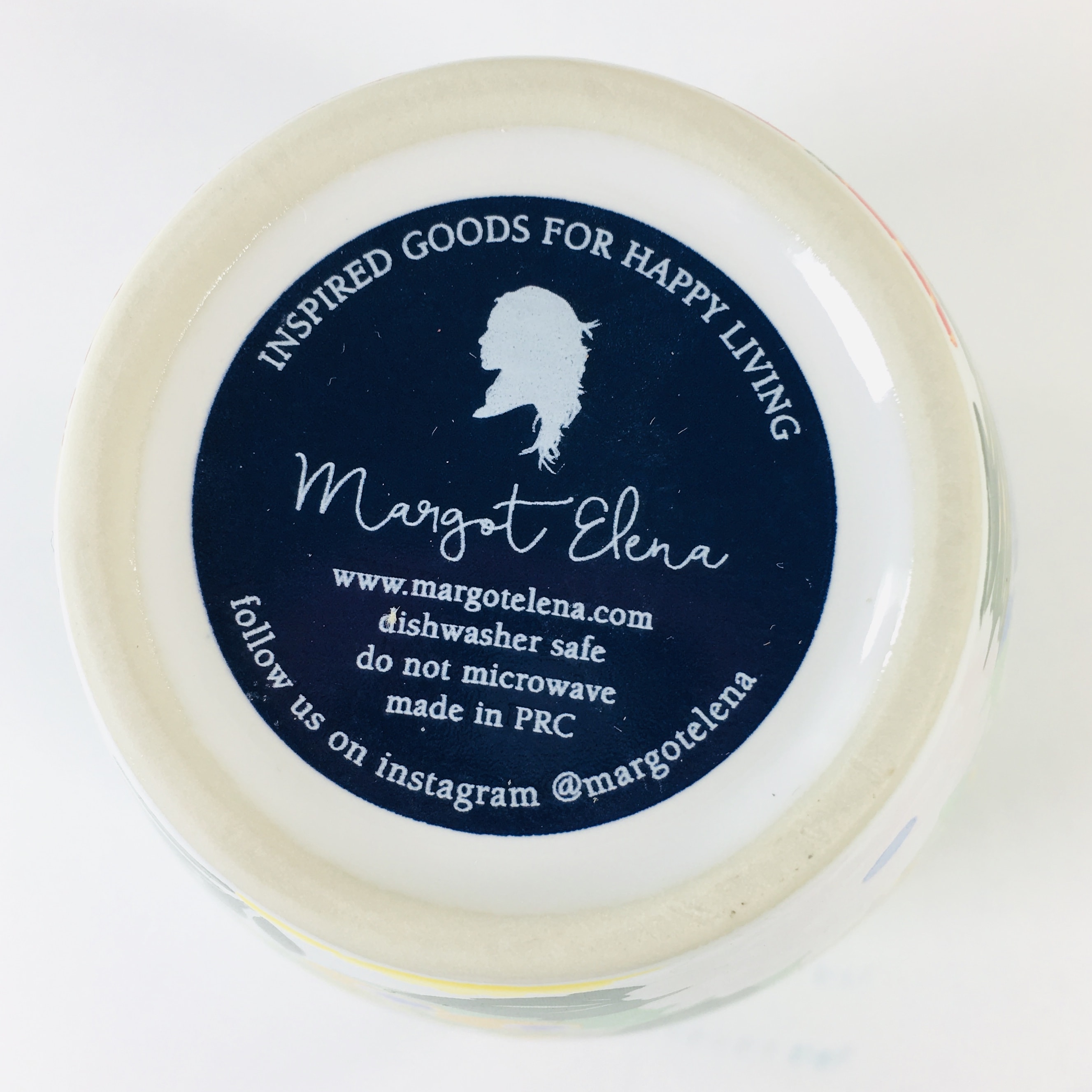 While it says dishwasher safe I think I will hand wash mine instead. It says not to place it in the microwave.
Peacock Silken Kimono ($60) What a neat item to receive in the box! I am plus-sized and worried it wouldn't fit me but it did with no problems!!! The tag says it is 100% bemberg, which is a type of rayon, and it is made in India and dry clean only.
It is suitable as a cover-up or lingerie or wear it as a top layered over another top and with jeans or however you choose. My daughter is modeling it here as a kind of cover-up.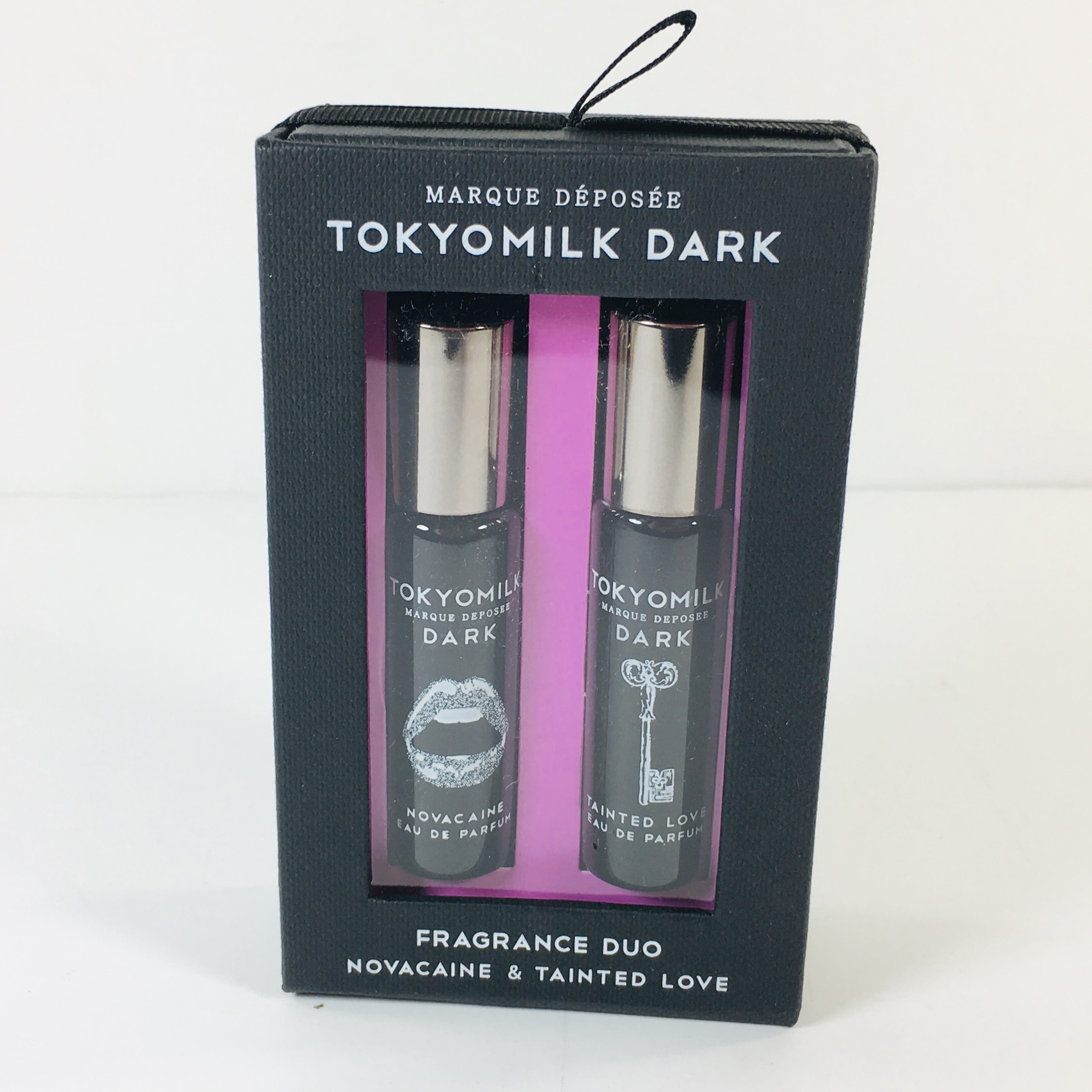 Tokyo Milk Novocaine & Tainted Love Fragrance Duo ($18) I do love Tokyo Milk fragrances, and while I've tried Tainted Love, Novocaine was a new-to-me scent. Both scents are from the "Dark" collection and are considered unisex.
The back of the box lists the scent notes for each fragrance.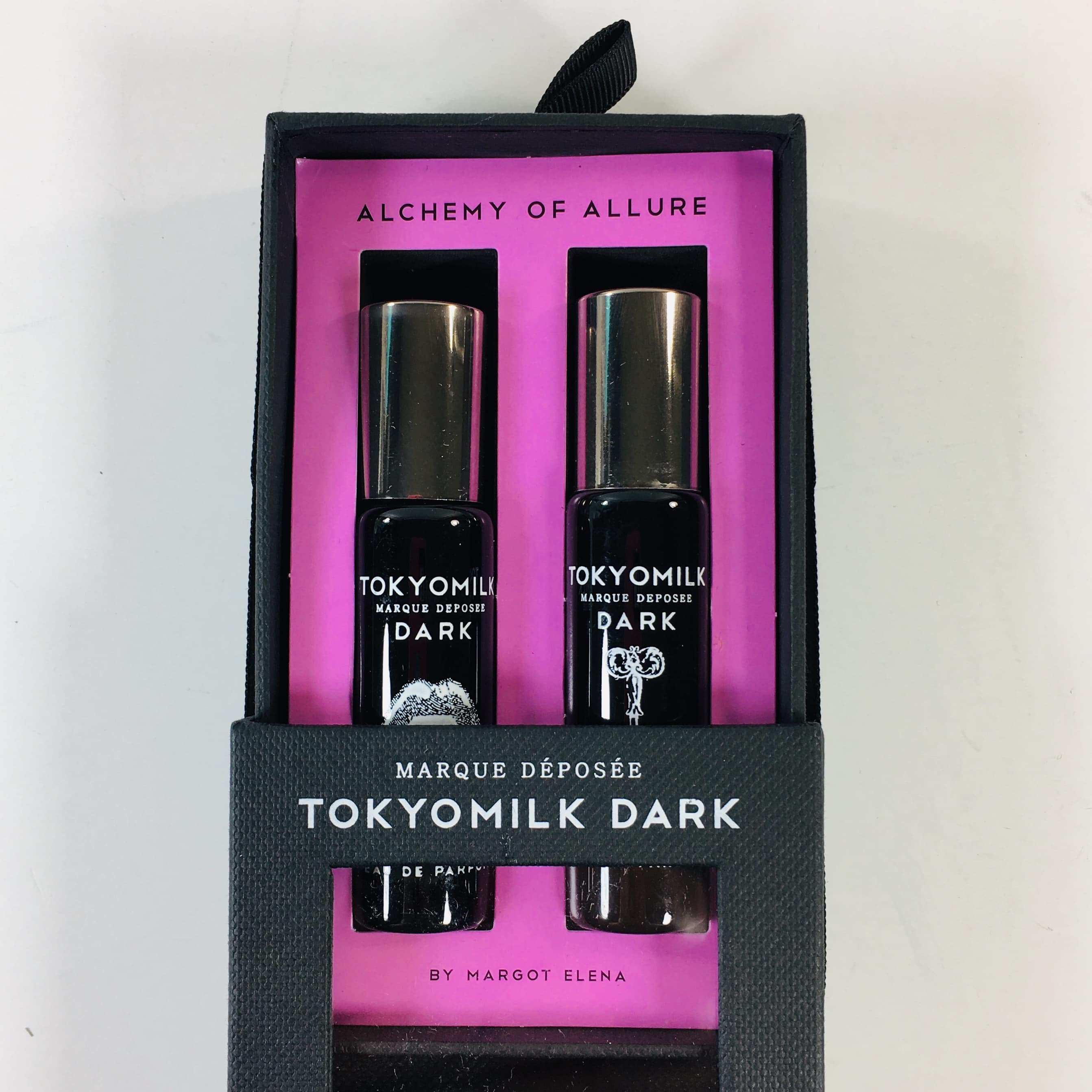 Isn't the box the neatest?!?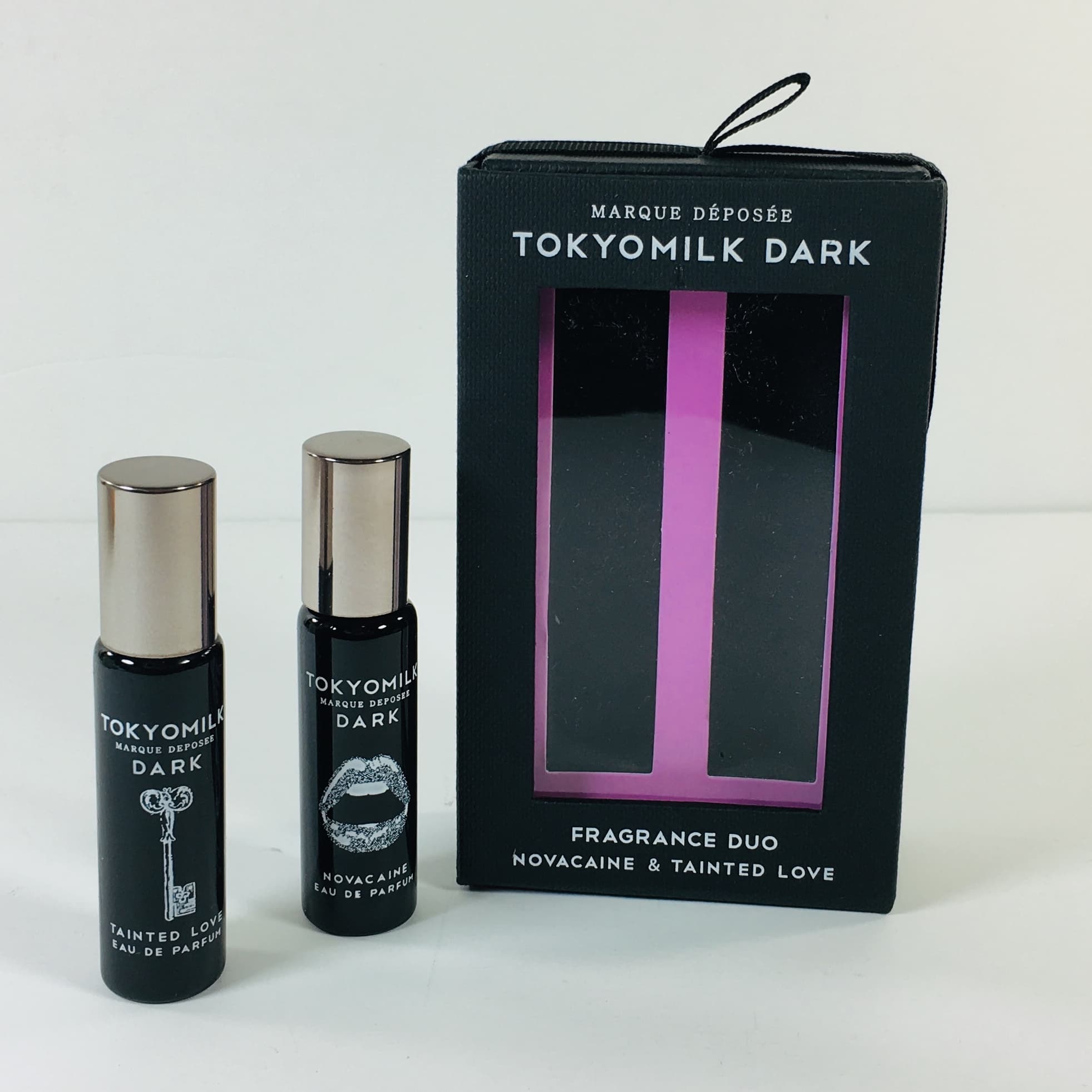 I am loving the fall notes in Novocaine, which has a bit of smokiness at the beginning, almost like tobacco but not like a cigarette. Tainted Love is a bit sweeter but still sultry and perfect for the cooler weather, when you might want to wear something bolder. Be careful when opening and applying the scents since they are not rollerballs; you just place your wrist over the opening, quickly flip it over and then back, and then there you have it.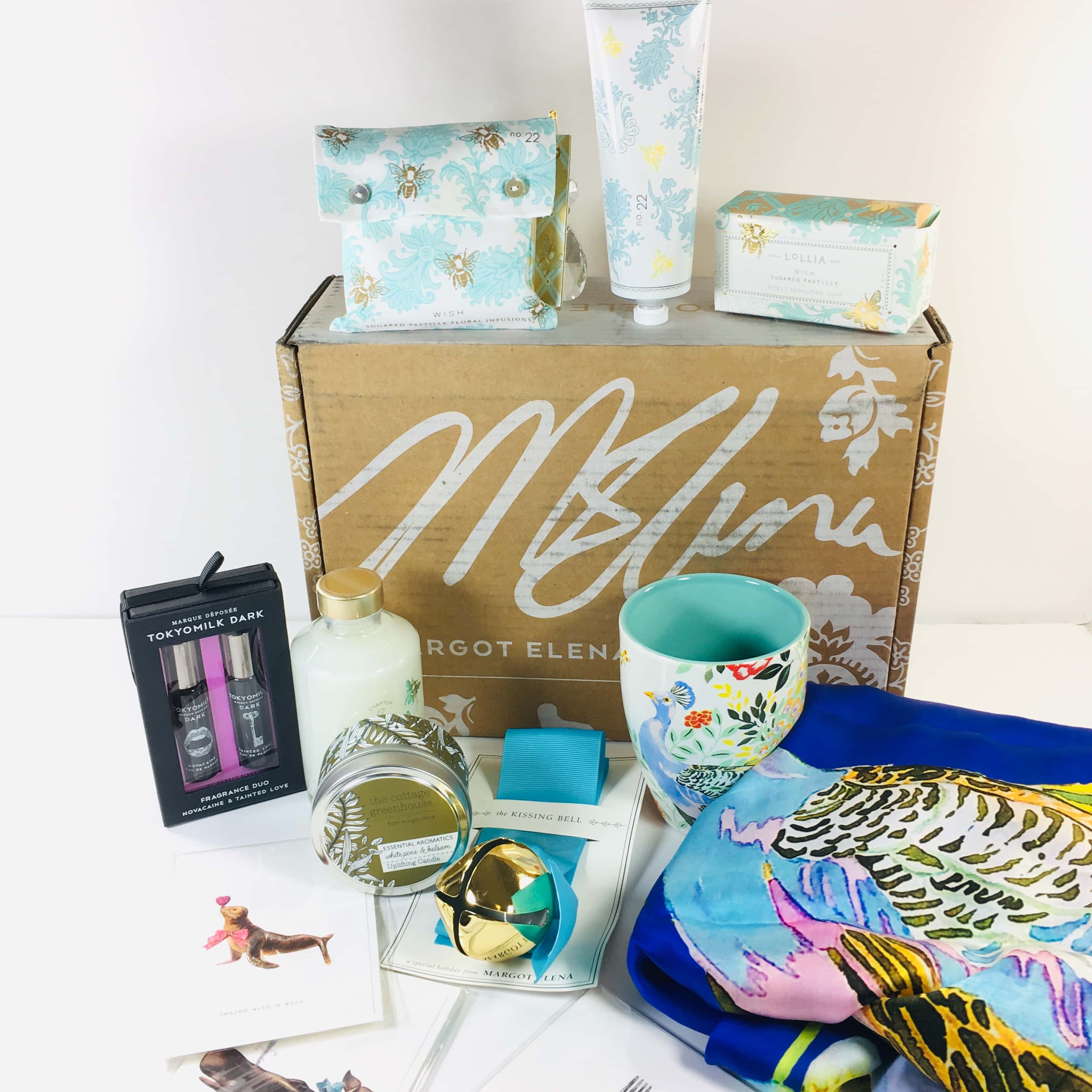 I am seriously in love with the Margot Elena Discovery Box! The items are so feminine and the packaging is top of the line, the details are outstanding. I adore my new mug and the candle has been used several times. I appreciate that the kimono can be used in many ways but not only that, it is generously sized so I didn't feel left out, as I sometimes do with "one size fits most" items. I do "wish" there had a been a bit more variety of scents for the body care items – if you like the fragrance then score! If not, then at least they will make beautiful gifts for someone else. The items had an approximate retail value of $194.21, but please keep in mind that some of these items are exclusive to this box and not available elsewhere (except maybe eBay).
What do you think of this quarter's Margot Elena Discovery Box?
Visit Margot Elena Discovery Box to subscribe or find out more!