Lootaku is a monthly geek subscription box from Hong Kong packed with high-quality geek and gamer items. The subscription costs $49.00 per month + shipping (currently about $17 to the US), and you'll get 4-6 themed products, like plushies, action figures, memorabilia, etc., to satisfy your geeky cravings monthly – no fillers or promo items!
DEAL: Save 5% when you use this link and code DISCOUNT5.
I like how the outside of the box is designed like a chest!
The one who finds this chest shall be granted treasures of unimaginable value.
The sides are sealed with a sticker to ensure it won't open during shipping!
The contents are all protectively packaged.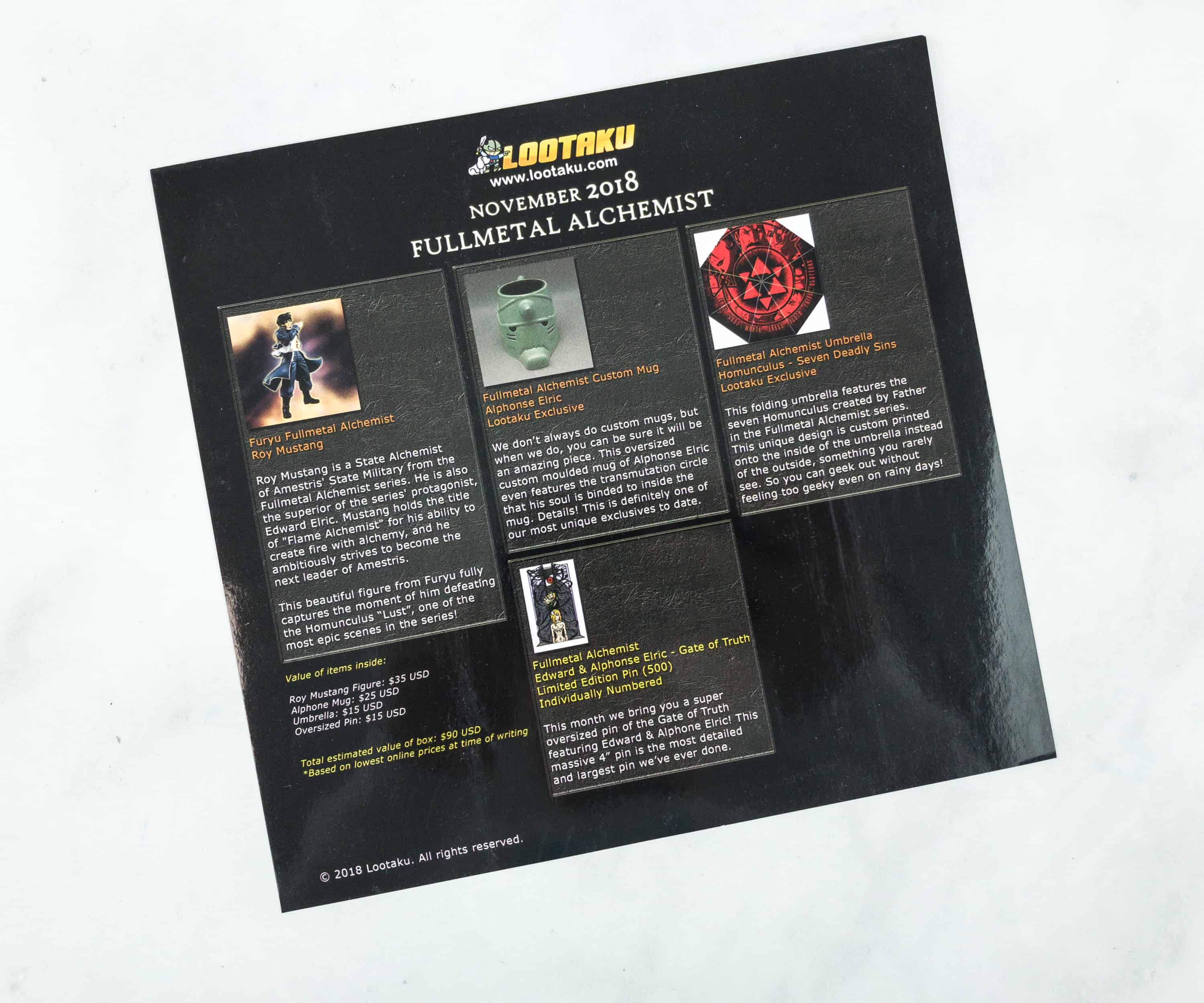 The theme this month is FULL METAL ALCHEMIST. The item information card, or Loot Table, is thick and glossy. It contains lots of details! When there are variations, it typically lists each possible variation you might receive.
All the goodies inside the November 2018 Lootaku Box!
Fullmetal Alchemist Edward & Alphonse Elric Gate Of Truth Pin ($15) The Gate of Truth from the series is the source of alchemical knowledge, and also the entrance to God's domain where no mortals are meant to set foot on.
This massive 4″ pin, the biggest ever they included in this box, has 3 posts to fully support its size and weight!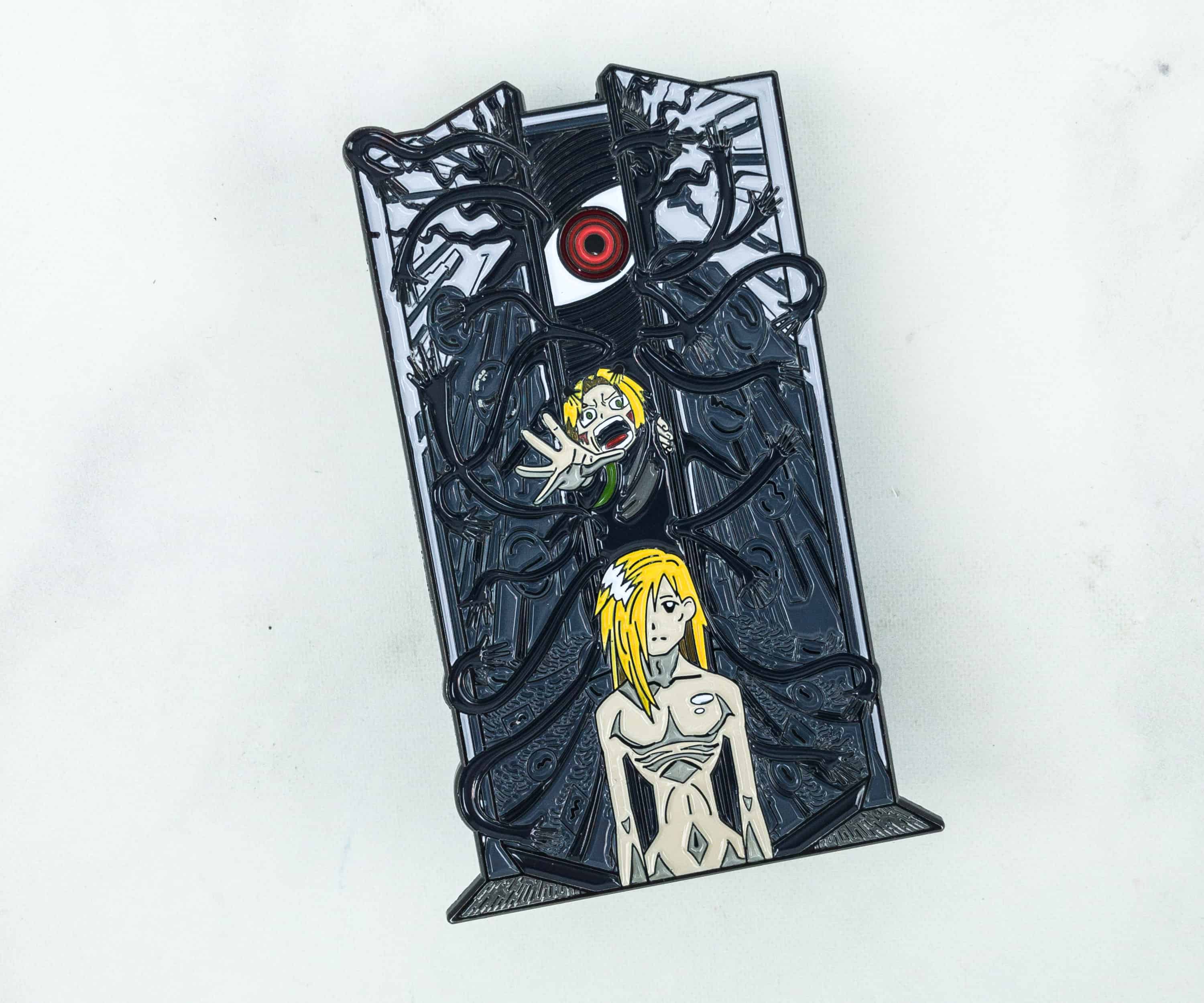 It looks like the gates are pulling Edward inside, and in front features a malnourished-looking human form of Al. We can also see the iconic Eyeball peeking from the inside of the gates whenever somebody summons it.
Fullmetal Alchemist Custom Mug ($25) This mug which is in the form of Al's armor's helmet is so adorable!
The mug showcases the gunmetal-colored steel helmet, which is really identical to what we see on the anime/manga. They really did a great job with the details!
Inside the mug, there's a symbol of the Transmutation Circle which is a really important symbol in Alchemy.
The bottom of the mug shows its exclusivity!
Furyu Fullmetal Alchemist Roy Mustang Figure ($35) For this month's figure, I got the Flame Alchemist, Roy Mustang!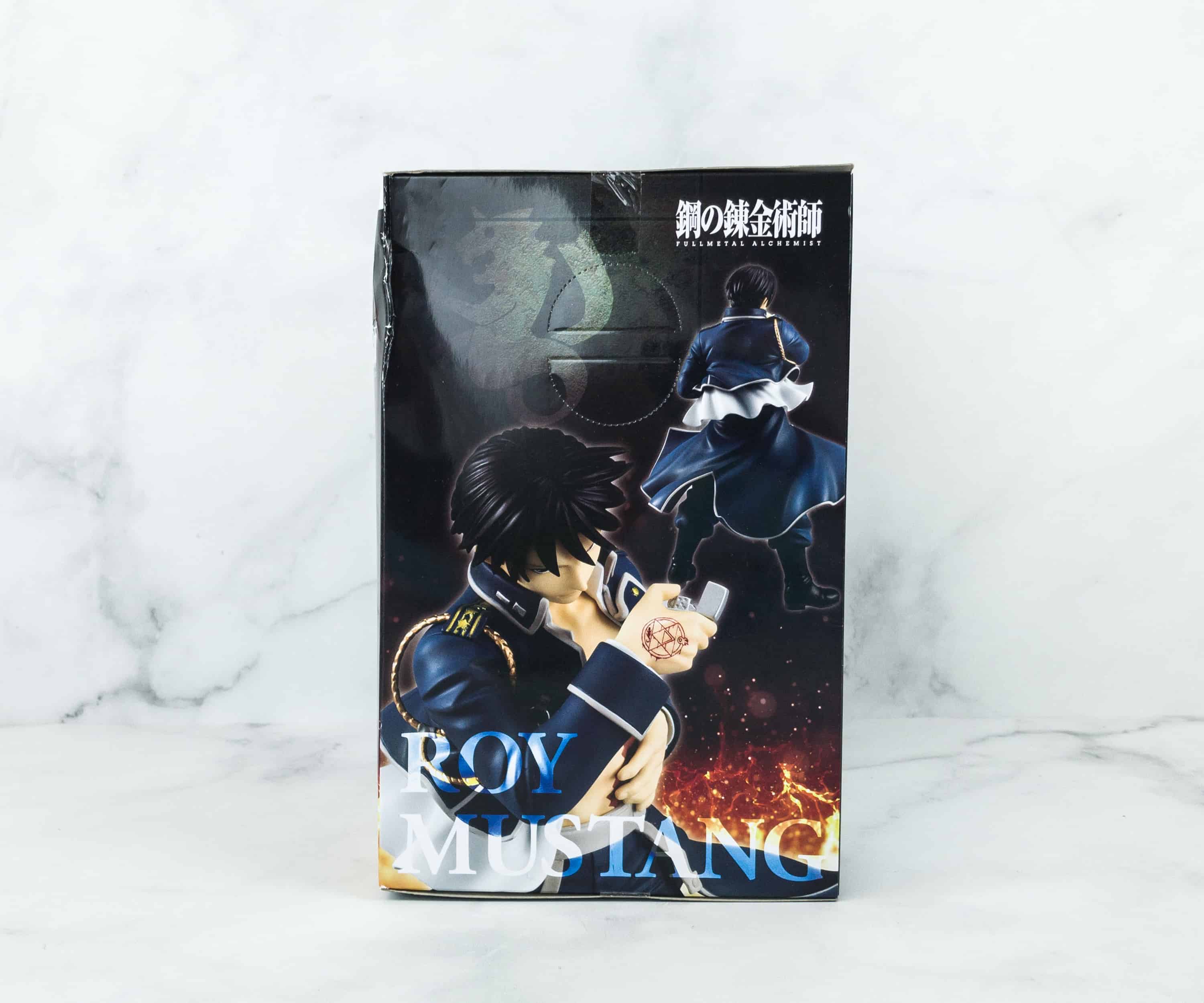 Roy Mustang is also an officer of the Amestrian State Military, a hero of the Ishval Civil War, and he also serves as Ed's superior officer.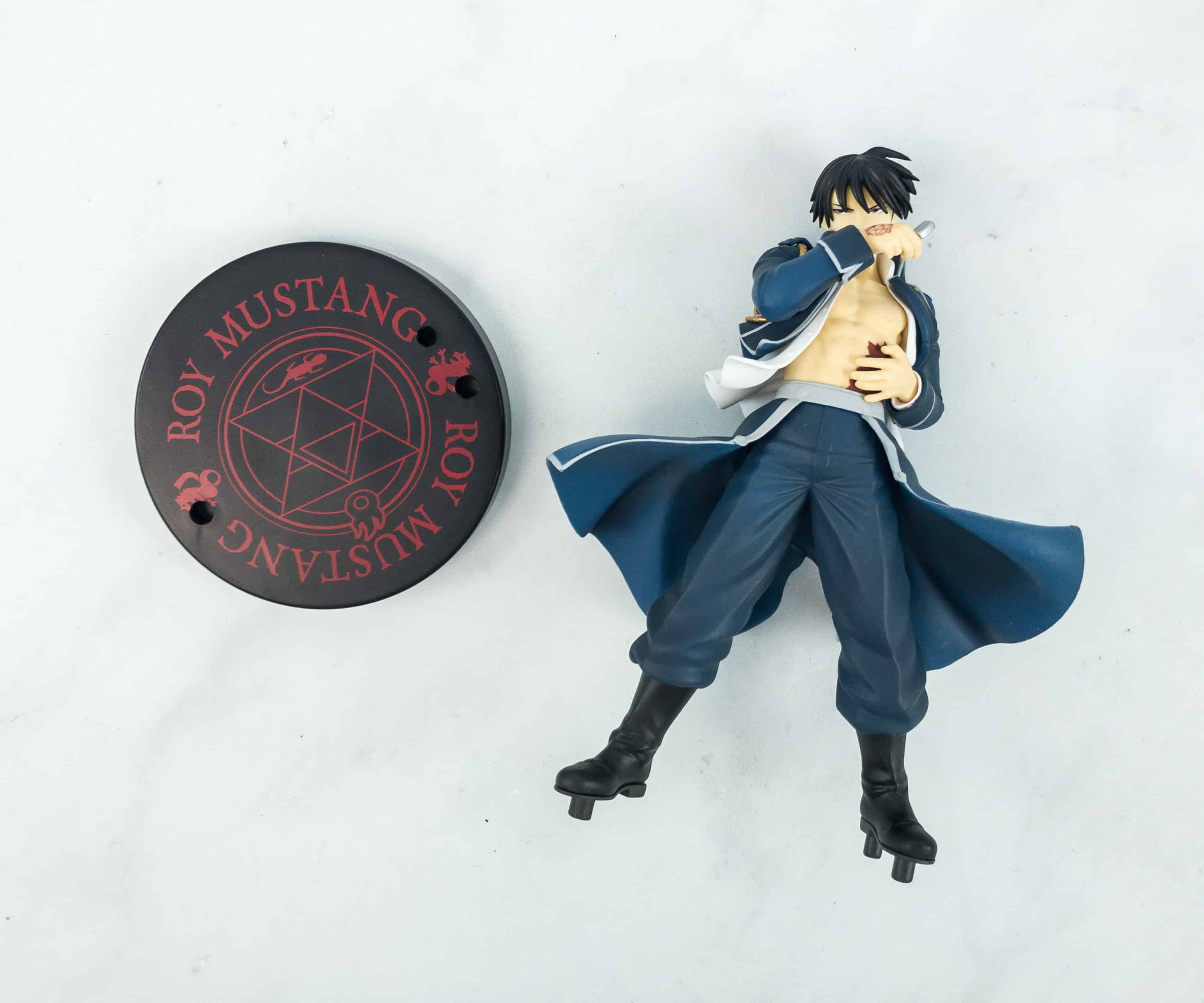 The package contains the whole figure itself and a base that has a transmutation circle drawn on it.
Unlike his usual slicked back hair, the figure features his dark hair covering his eyes.
Also, he's wearing his blue uniform which is fully opened, exposing his upper body half. Aside from the jacket and undershirt, he's also fond of wearing an overcoat, and of course, his black military boots.
He's holding a silver lighter, and we can see that a transmutation circle is also tattooed at the back of his right hand.
Now I know the reason why his uniform is unbuttoned. This figure shows his state after defeating the Homonculus "Lust", and he's actually wounded… You can see what his left hand is covering, there are traces of blood!
Fullmetal Alchemist Umbrella Homunculus ($15) This box also had me prepared for the rainy days, as they included a folding umbrella!
I thought it's just a plain black umbrella from the outside, but wait till you open it fully!
The inside of the umbrella has the 7 Homonculus printed on it, the Seven Deadly Sins that the Father created. It's totally awesome!!
I certainly love this month's theme! From the Dragonball-themed box to this month's FMA theme, I am really thrilled with what Lootaku is sending out. They focus on fan fave titles and the items don't disappoint, as they're exclusive, high-quality, and awesome! For this bunch, my favorite is definitely the umbrella. It's geeky and functional, and I can bring it anywhere, in case of sudden drizzles or rain! The mug is fantastic too. I am definitely geeking out with this box, and I feel so great doing so with all the fantastic items that I am getting!
What do you think about Lootaku?