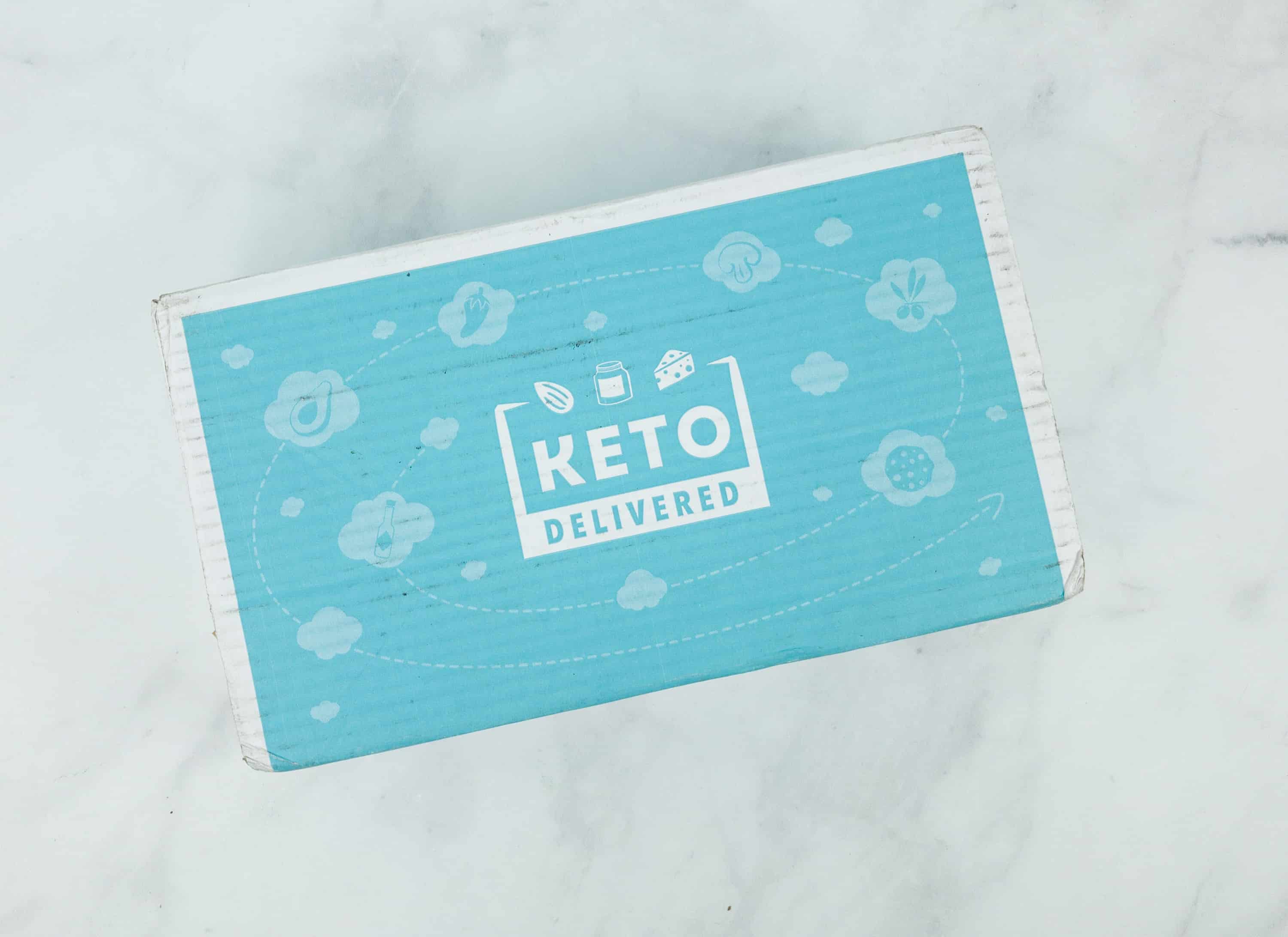 Keto Delivered is a monthly subscription of keto friendly products. For $39.99 a month, each box includes 5 to 7 small batch of honest food products. You'll receive handpicked items along with the recipes on how to make them for a more enjoyable and healthy feast! Shipping is free, and you have the option to cancel your subscription any time.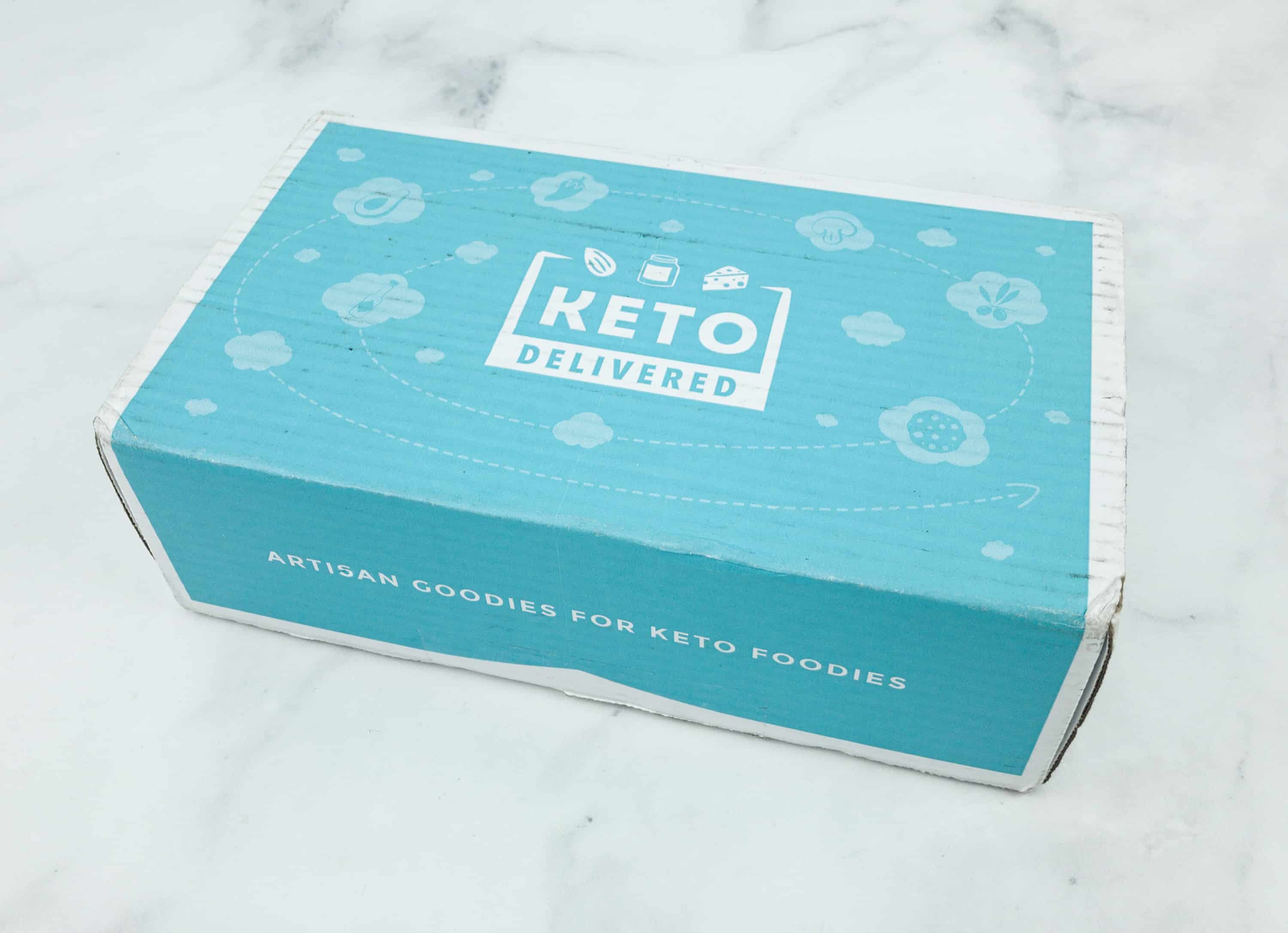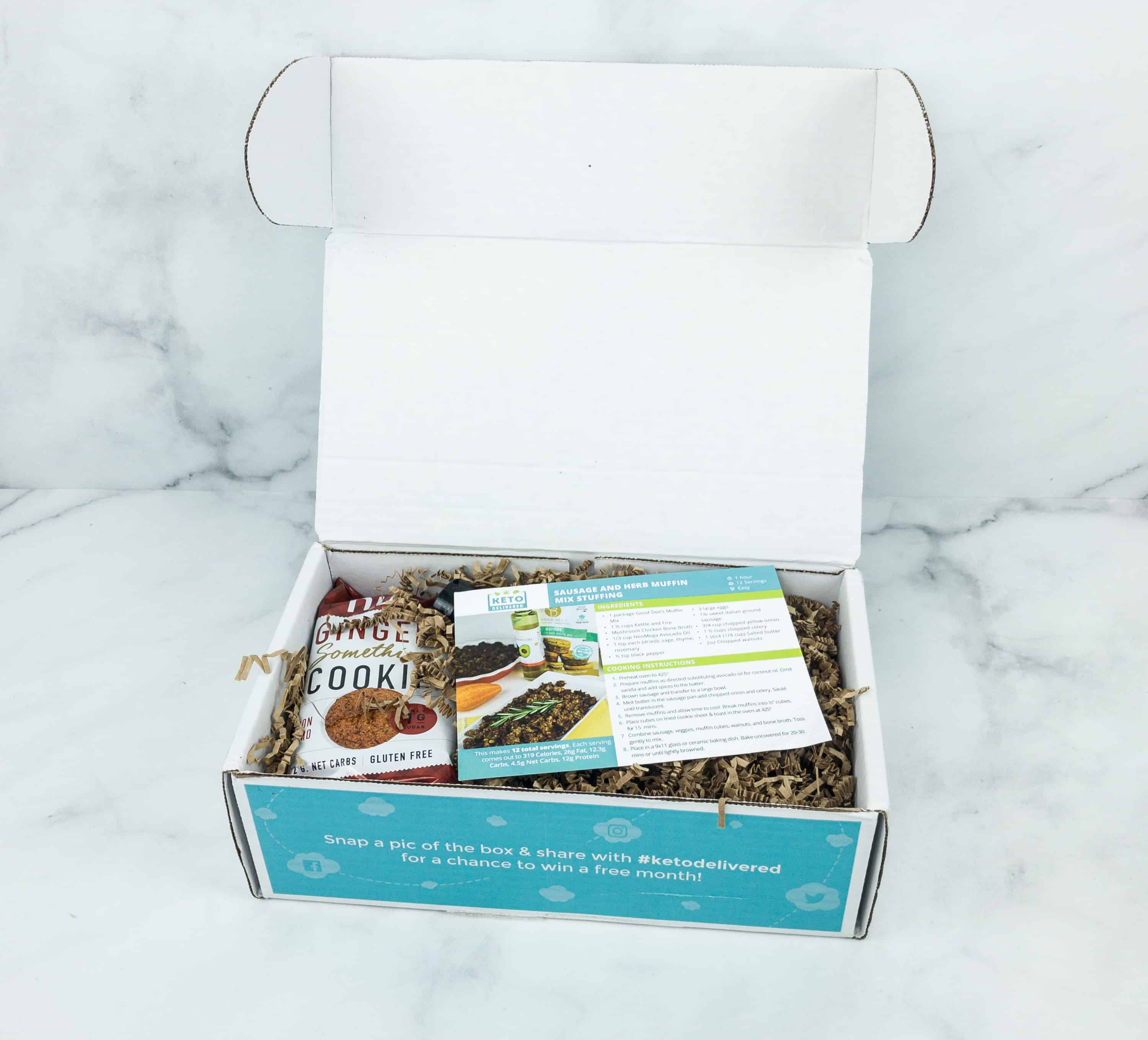 This box is filled with squiggles. There's also a card on top of the items.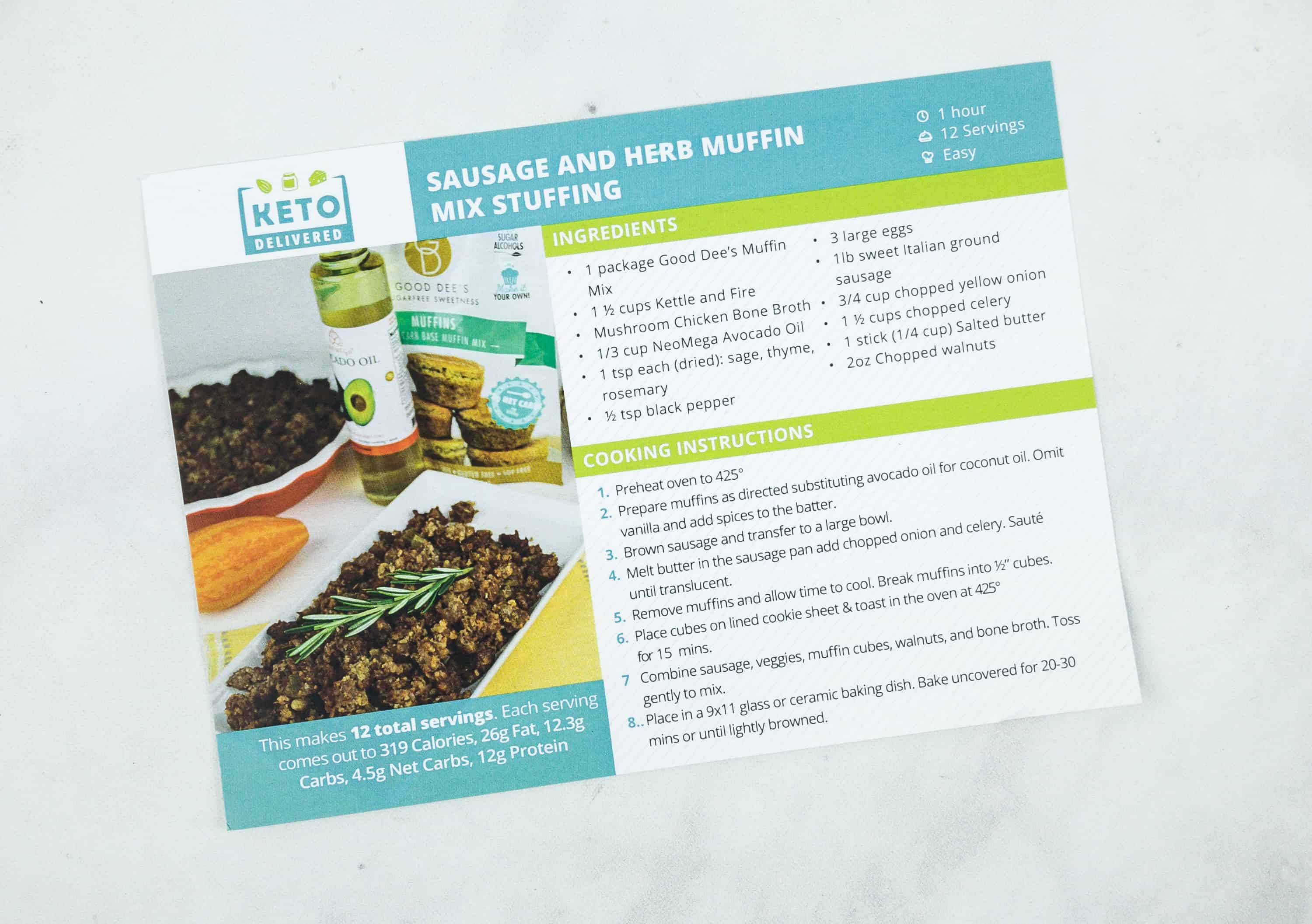 The card contains a recipe for sausage and herb muffin mix stuffing. Good for 12 servings, it will only take an hour to make. Even keto beginners will find this recipe easy-peasy.
At the back of the card is the list of all the items that you will find in this month's box, plus a short description for each one. The retail value is also indicated here, so you will know how much each item costs.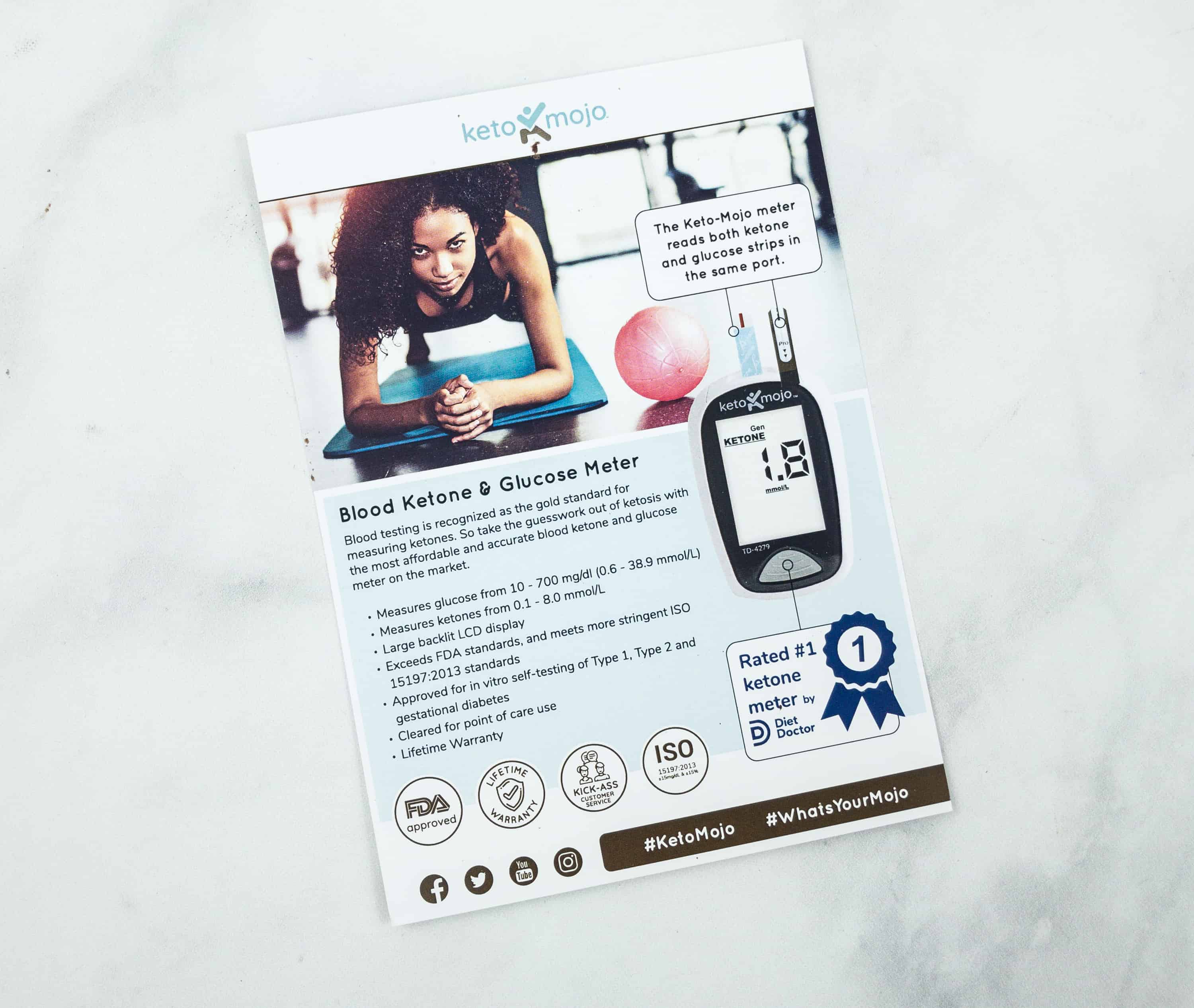 Another information card talks about the Keto-Mojo which is a device that measures your blood sugar and ketones.
Keto Delivered makes sure that the products that they send are Keto-Mojo tested.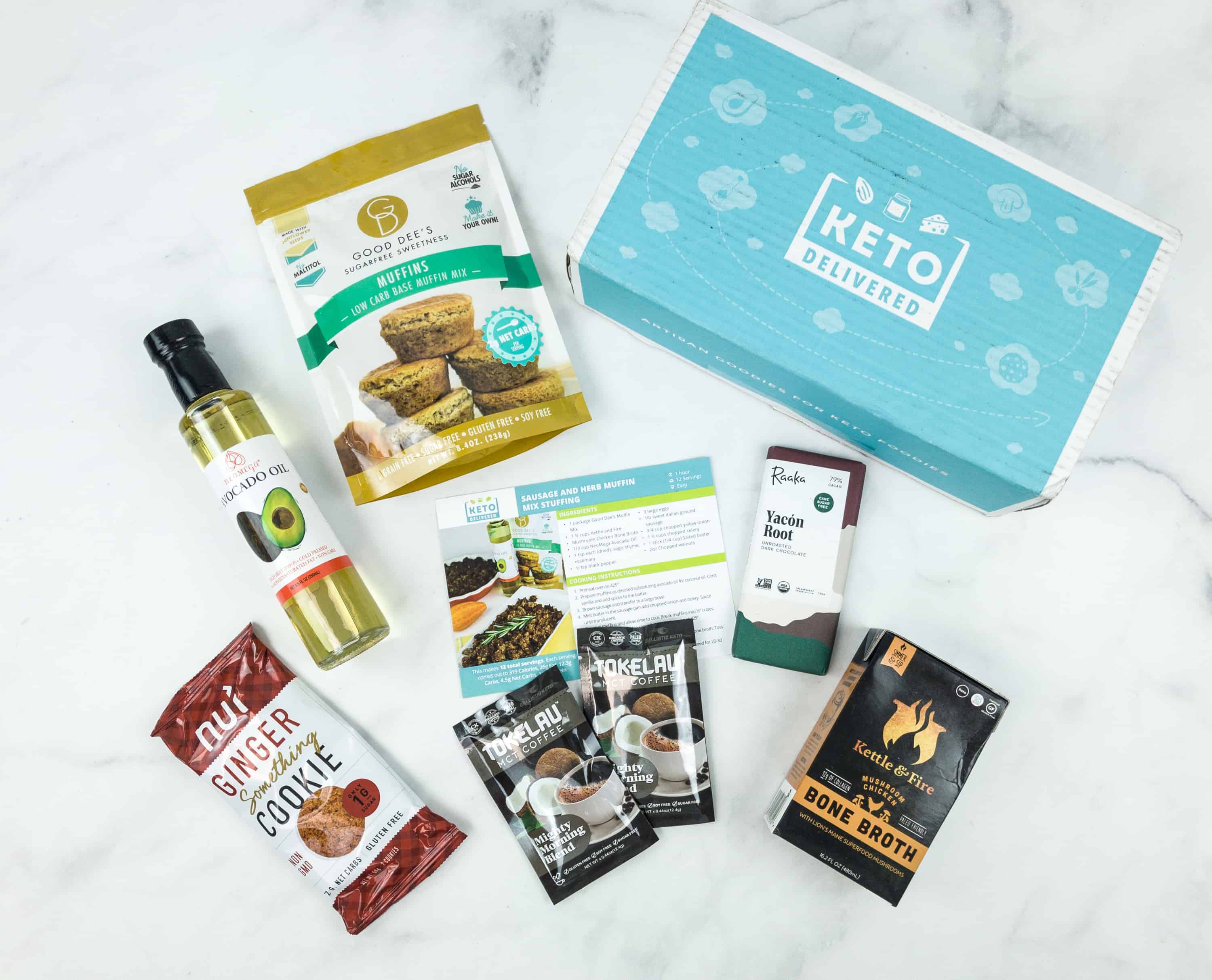 Everything in my box!
Good Dee's Muffin Mix ($12.99) This muffin mix is ideal if you are looking for a keto-friendly breakfast. It doesn't contain sugar, grain, soy, or gluten.
The nutritional facts are at the back of the pack, as well as the ingredients that you will need to make your own muffin. With just three ingredients, namely eggs, vanilla extract, and melted coconut oil, you will be able to create a healthy breakfast in no time. The best part is that you are free to experiment with the add-ons here! Plus, with the recipe you can easily make a holiday keto-friendly feast!
Neo Mega Avocado Oil ($5.49) I love avocado because it's tasty and nourishing! I usually add it to my salads or eat it as is. But aside from that, avocado is packed with good fats, antioxidants, and vitamins which are good for you. And these are just for starters! Now imagine all the healthy goodness of avocado bottled up. This is what this oil is all about. You can this for any meals that you like because it is one of the safest oils to cook with.
Kettle & Fire Mushroom Chicken Bone Broth ($7.99) Bone broth is often recommended in many diets because of the nutrients that they can provide. But making your own can be tough and it will take long too. Fortunately, we got our own simmer-and-sip bone broth from this box! It contains organic Portabella mushrooms, organically roasted Poblano pepper, organic carrots, scallions, herbs, and sea salt just to name a few. It sounds delicious already! You can use this with your Keto stuffing, or any other cooking!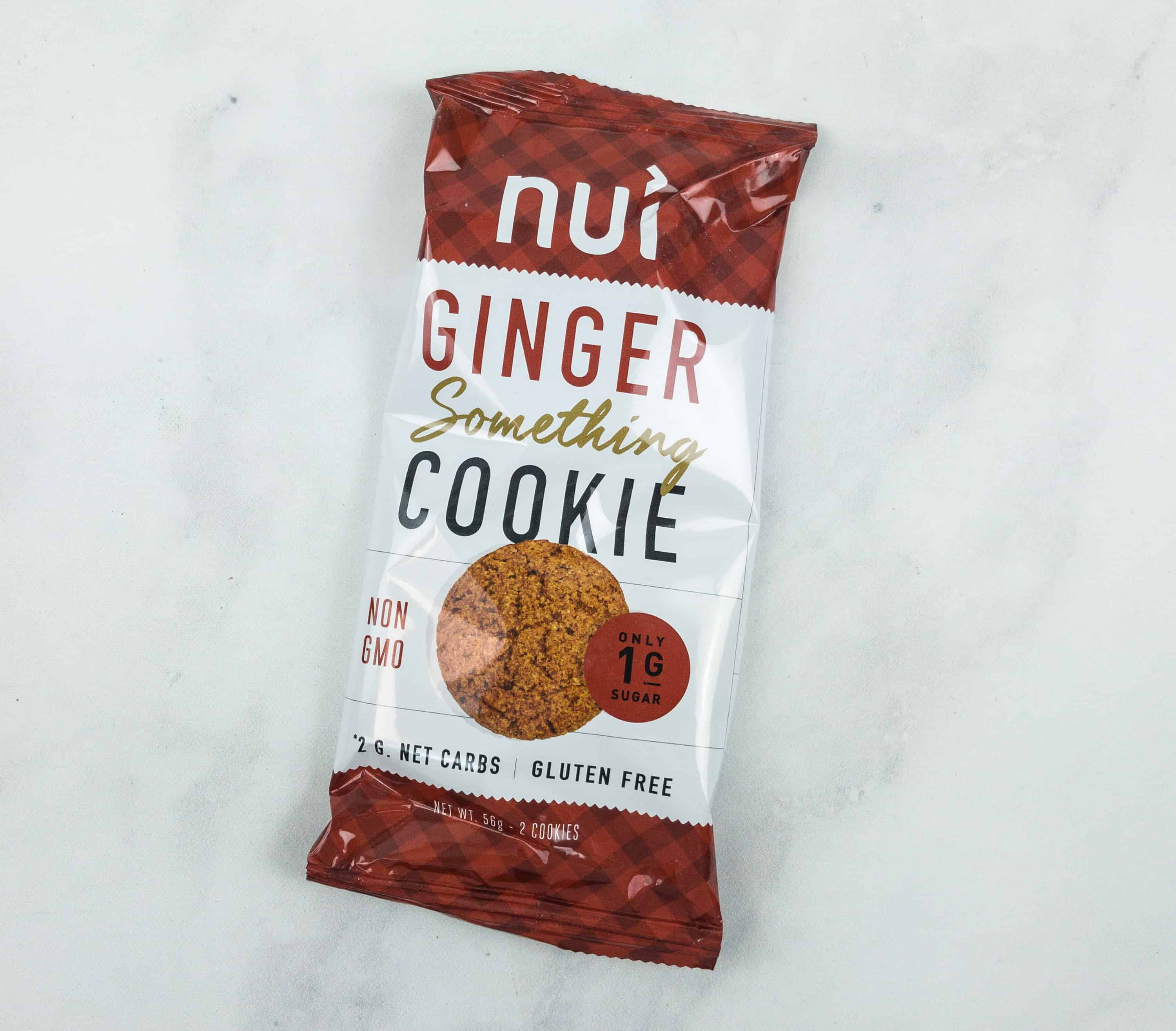 Nui Ginger Something Cookie ($3.67) This cookie is perfect for the holidays as it is a combination of gingerbread and the spicy gingersnap. It is low in sugar, but it tastes amazing!
Tokelau MCT Coffee Mighty Morning Blend ($4.28) For coffee-loving keto enthusiasts, this morning blend is for you. No need to grind and wait for your drip keto coffee to finish because everything is here in each packet. It is made from 100% Arabica coffee that was sourced from Mexico.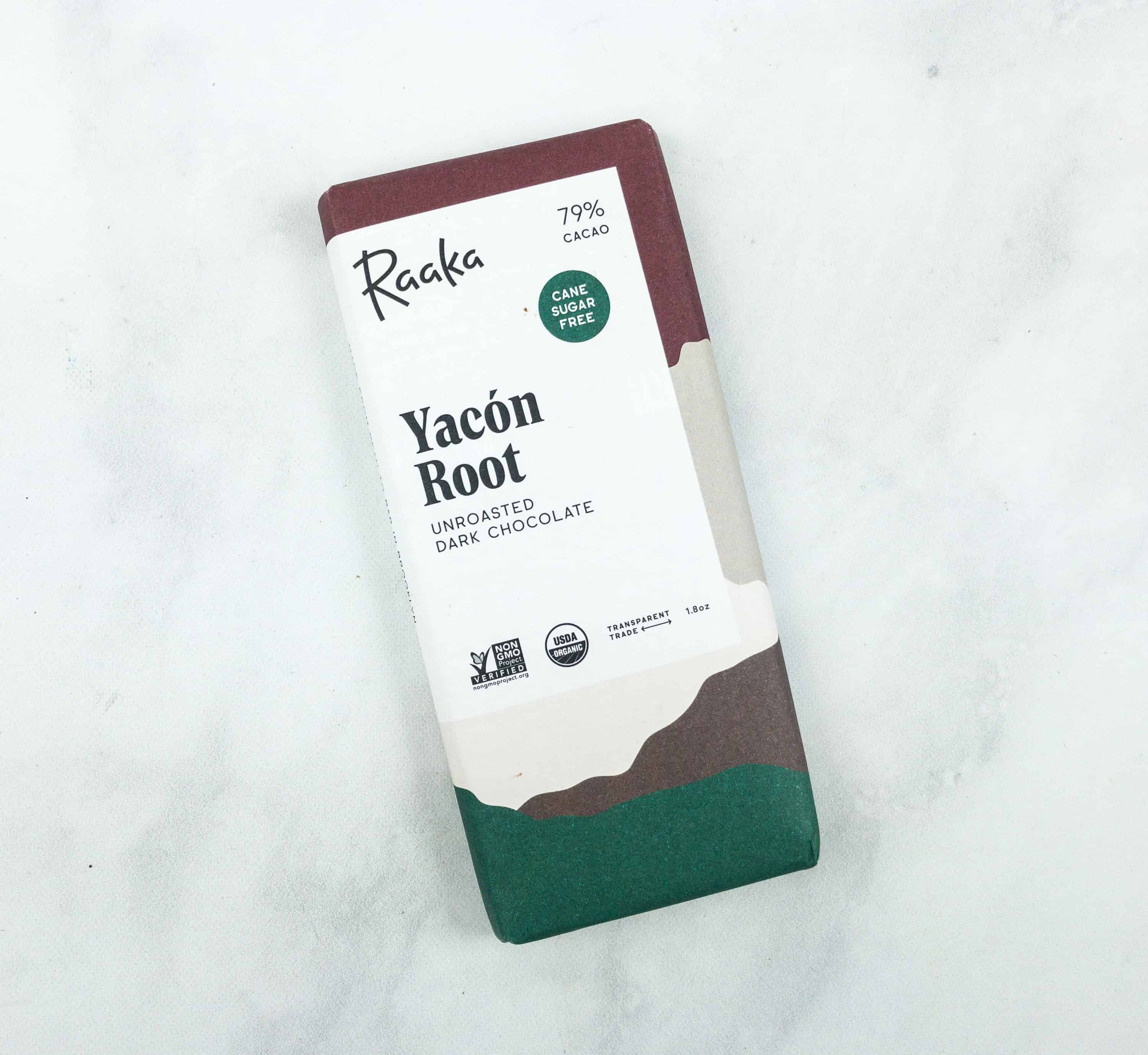 Raaka Yacon Root Unroasted Dark Chocolate ($4.98) It's an unroasted dark chocolate bar sweetened with yacon, a type of Peruvian root crop.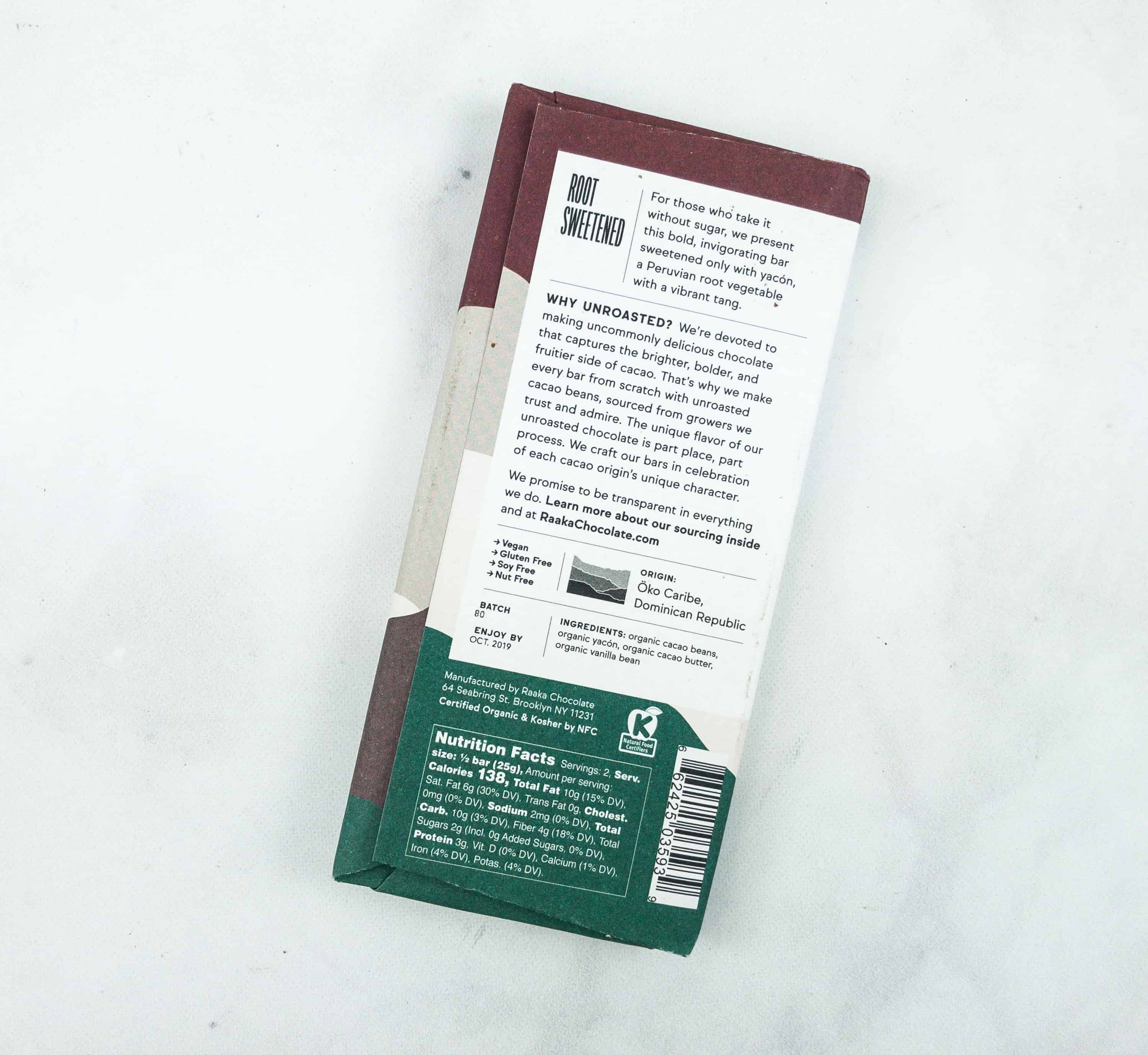 One reason why this is referred to as unroasted dark chocolate is because the cacao beans used here are unroasted to preserve the full flavor.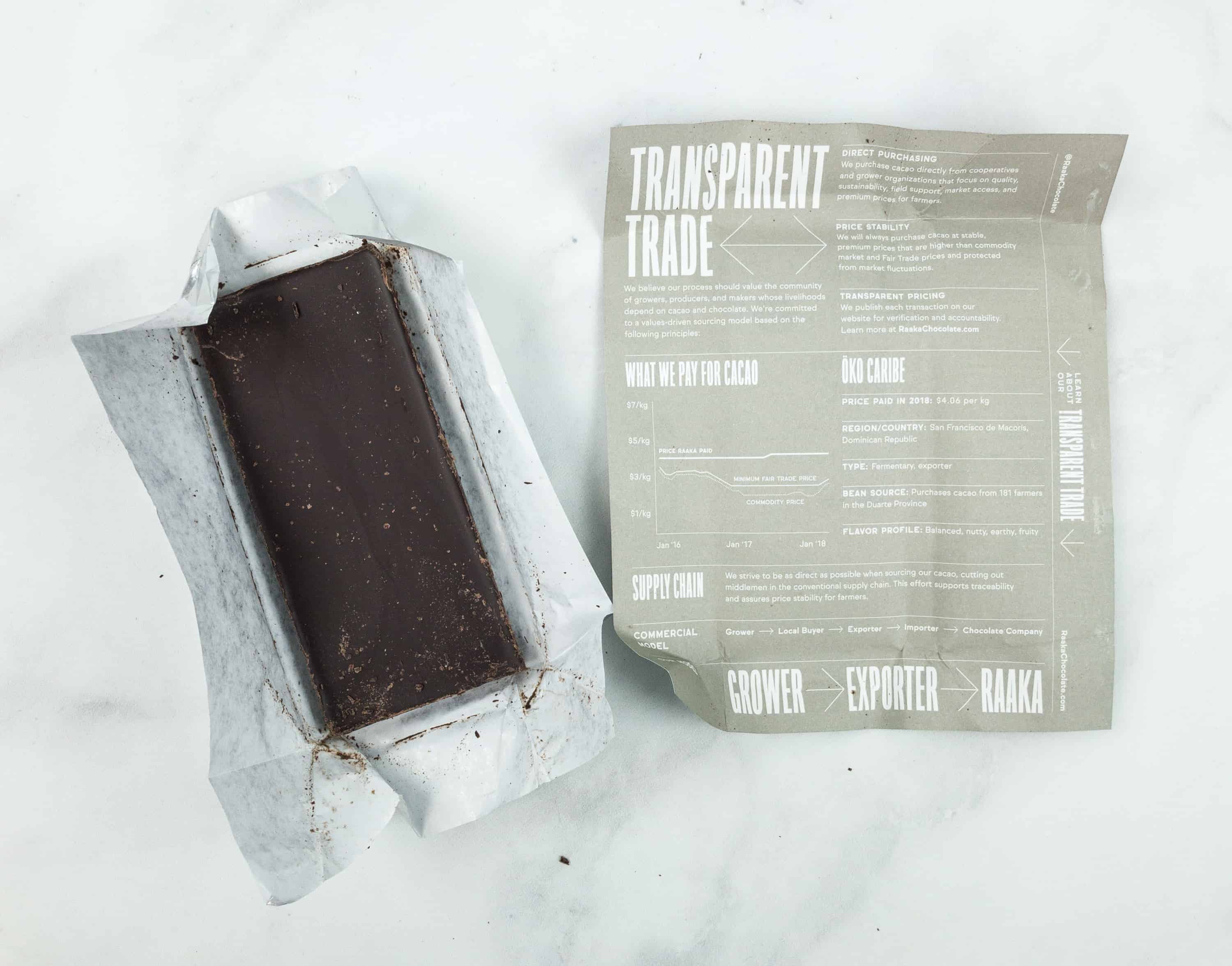 Raaka is all about transparency and that is why they also included a history of how their products were made.
If you look closely at the chocolate bar, you will see Raaka's logo on it. I can't decide if I am going to eat as is or mix with other ingredients. Either way, I think this is going to be worth experimenting with. It isn't a bar that will taste right if you are used to eating sugar – but Keto diet adherents will love it.
Keto Delivered is an interesting subscription not only for keto enthusiasts but also for those who want to take care of their health. All of the products that were included here have been sourced from numerous entrepreneurs that are promoting healthy eating practices. I like that they included a recipe using the ingredients in the box. There is simply no reason for you to not stick with the diet because everything you need is here. I thought the curation was amazing – totally NOT just a box of thrown together items, but super thoughtful for those just starting out and for long-term adherents!
What do you think of November's Keto Delivered box?