J.K. Rowling's Wizarding World Crate from Loot Crate is the bi-monthly and official Harry Potter & Fantastic Beasts subscription box. For $39.99 every other month, you'll get 5-7 unique and officially licensed Harry Potter and Fantastic Beasts merchandise, so there's no need to go to Diagon Alley!

The theme this month is LEGENDS & LORE.

DEAL: Save 15% on any subscription plan when you use this link and coupon code HELLOSUBSCRIPTION15.

When you open the box, it reveals the Chamber of Secrets!

We received a folded letter with a faux seal.


Every story holds a bit of truth, especially in the Wizarding World! Join us in exploring the dark legends, enchanting history, and magical artifacts that make up its fabled foundation.

The letter tells you how magical this month's items are – the stars denote that the items are exclusive to the box!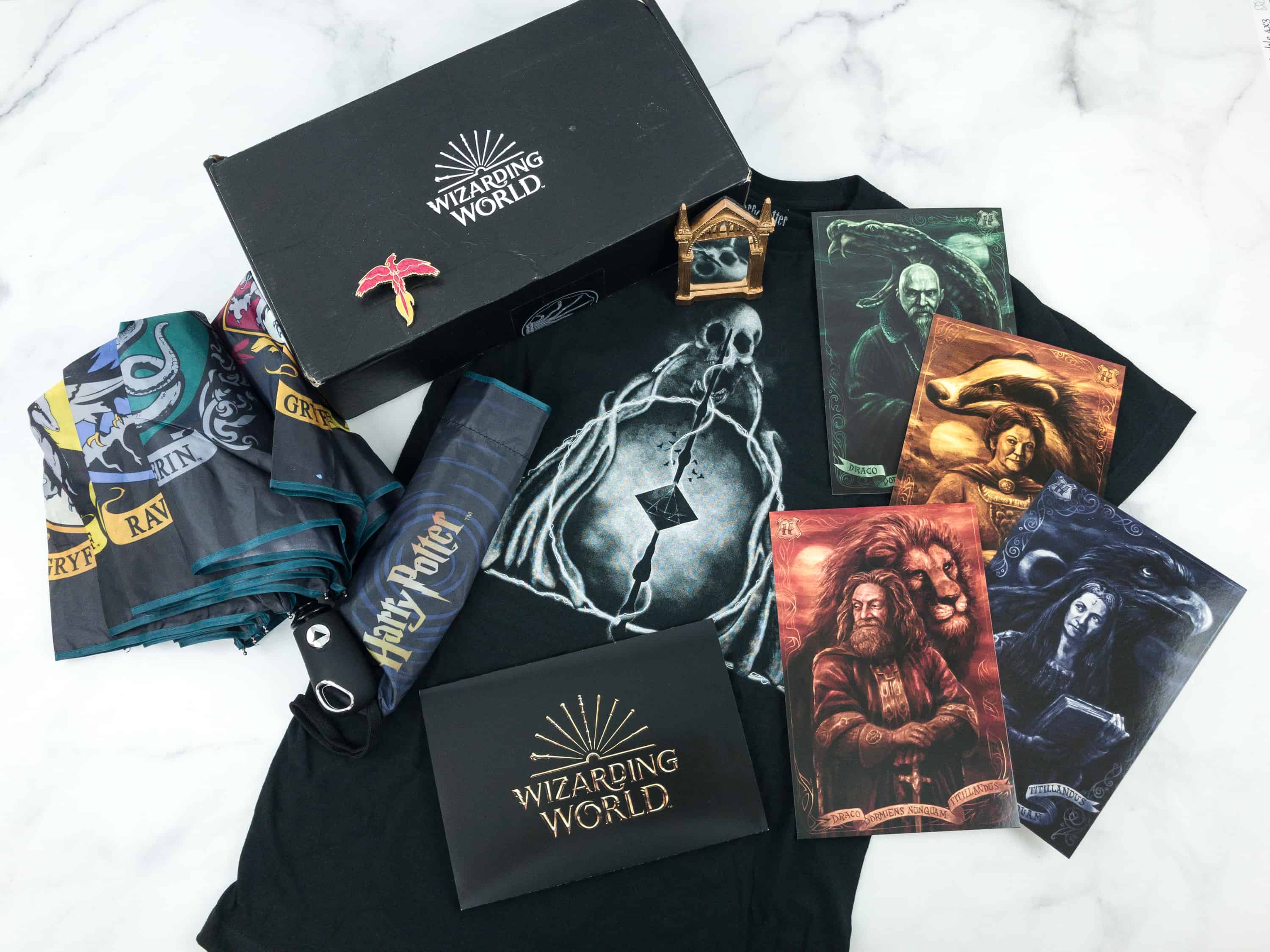 All the magical loot in the November 2018 Wizarding World crate!

Fawkes Pin. This box has started a new line of pins. This month, we got the second magical creature from this new line… It's the loyal companion of the great Headmaster Albus Dumbledore, Fawkes!
Fawkes is the phoenix who saved Harry's life in the Chamber of Secrets by using his healing tears after his arm was punctured by the Basilisk's fang. Also, Fawkes played a huge role during the Battle of the Department of Mysteries against Voldemort.
Too bad about that typo on the card though! (cringe!)

The pin showcases Fawkes' beautiful red and gold feathers, with his fiery tail. He is believed to be as large as a swan, and is immortal as he's just born again from his ashes after he "dies." The pin is totally gorgeous!

Deathly Hallows T-Shirt. Here's this month's shirt! As always, it's a Loot Crate Exclusive!

It wowed me the first time I saw it, as it gives a deeper meaning to the symbol of the Deathly Hallows. It's not just shapes and sticks, but actually depicts the three legendary objects!

We can see the Elder Wand standing in the middle of the triangle-forming Cloak of Invisibility, along with the Resurrection Stone. It is believed that you can escape death, which is symbolized by the skull on top, if you got all these three legendary items with you.

Hogwarts House Print. I love how the founder's portraits featured the faces of these legendary people with each house's animal symbol. The prints are marvelous and they'll look great if framed.
Mirror of Erised Mirror. The Mirror of Erised is a mirror that shows not your face or reflection, but what's really deep inside your heart. I remember the first time Harry came upon it and saw his parents in the mirror, that's one heartwarming scene in the movie.
This mirror replica can only show me my reflection, but it's still fun to have around for display. It is beautifully detailed! It's not overly large and we're thinking about using in an HP-themed POP! display!

Hogwarts Umbrella. This umbrella comes in two designs: the Hogwarts House Crest and the Marauder's Map. FYI – this item isn't exclusive to the box.

I got the one with Hogwarts House Crests on it!
It is a two-fold, automatic umbrella that fits most bags.

Each segment of the umbrella features each Hogwarts House's symbol.

Aside from the beautifully printed crests, there are also Thunderbolt images on top of them on each segment. The Thunderbolt is the greatest symbologies of all, as it represents Harry and how he escaped death at the hands of You-Know-Who when he's still a baby.
I really want BOTH umbrellas! Wah!
This is really a legendary box as it features people, creatures, and even objects that mean a lot in the Wizarding World! Among the items, my favorite is the Deathly Hallows shirt. Its print is simply fantastic because it shows how the legendary objects form the legendary symbol. The umbrella is nice too, it's sturdy and I can easily stash it in my bag in case I'd need it when I'm out and about. Moreover, I am really excited about the new series of pins we're getting from this box. I wonder how many more magical creatures are coming our way! Wizarding World box is really a must-try for Potterheads and collectors, as they send out exclusive and high-quality items straight from the Wizarding World!
What do you think of this month's Wizarding World box?
Visit J.K. Rowling's Wizarding World to subscribe or find out more!