GeekGear is a UK subscription box for geeks and gamers. You'll receive one box a month filled with gear according to the monthly theme. Items include licensed and exclusive merchandise, plus other surprises. The current price of this subscription is £19.99 plus £5.99 shipping to the US – about $37 shipped.
DEAL: Save 10% on your first month! Use coupon code NEWSUB10 but first try SPECIAL15
It's the holiday season after all. The sticker shows its festive charm!
Everything is wrapped in a black tissue paper with the Geek Gear logo.
The box is full!
A tri-fold pamphlet is included, which gives more information about this month's box contents.
It gives you a full list of all the items in your box.
Everything in my box!
Greeting Cards (£4.99) These cards are made by Scottish artist Kevin Cantwell. Inside the card, One side features a pattern, and the other side has a blank space where you can write your message.
Each card has a quirky design. They come with envelopes too.
The first card features Crash from Crash Bandicoot! The image is well-detailed and its colors are vibrant. Crash usually crashes into boxes to open them and see prizes inside. The designer wittingly made the Crash Bandicoot's signature box as a present.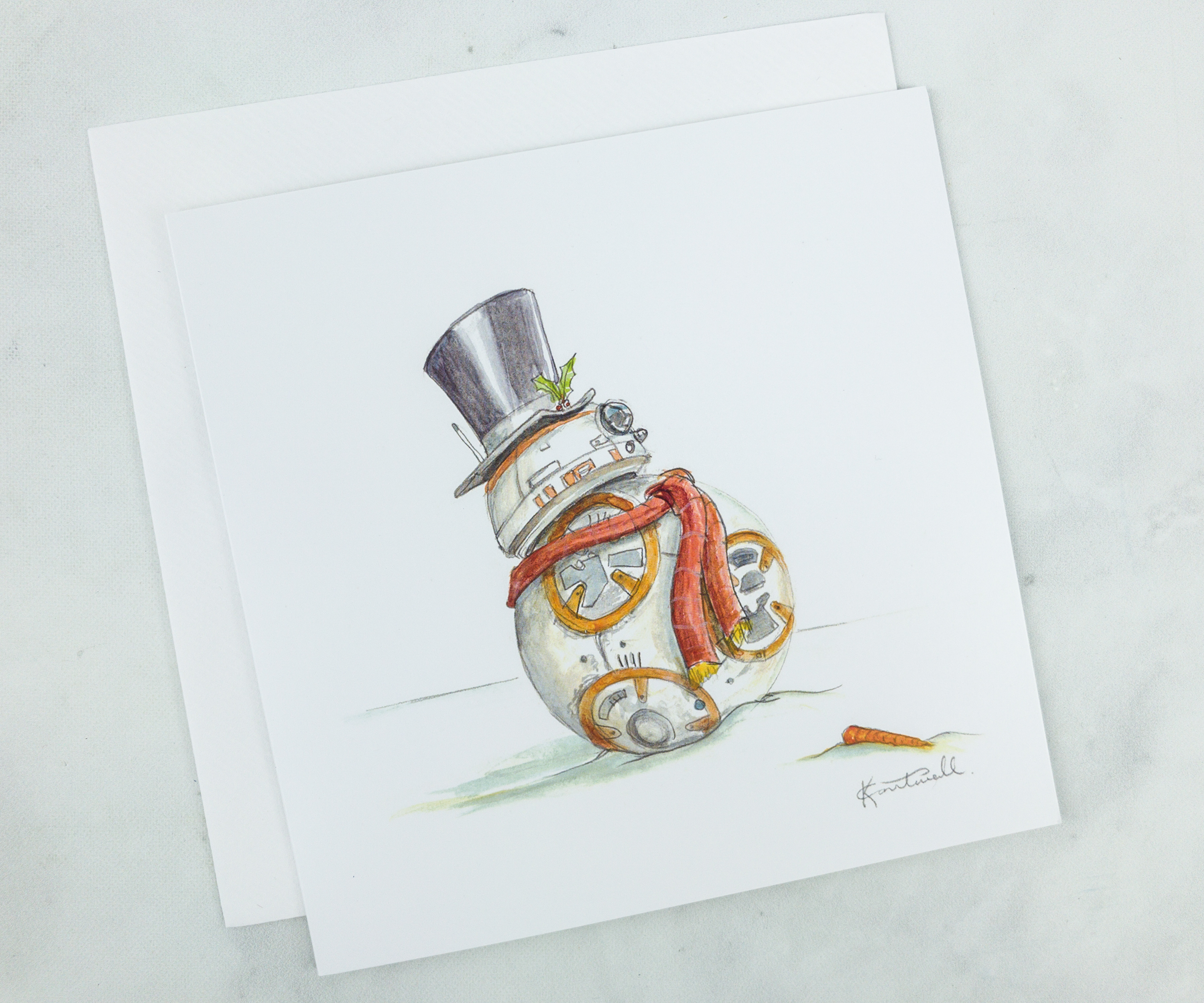 The second card features BB-8 from Star Wars dressed up as a snowman! Like the drawing on the first card, its details are impeccable.
Crash Bandicoot Art Print (£4.99) We got another Crash Bandicoot item and it's an art print! The colorful stenciled design is by Pyramid International. Subscribers may receive another variation of this print.
Festive Stockings (£9.99) It's a Christmas stocking made geeky! The design is inspired by a Pokemon ball.
It's spacious enough for a few small toys or other geeky stocking stuffers.
Evolution T-Shirt (£9.99) Our favorite pocket monster, Pikachu, is featured on this month's shirt!
It features a moonlight design and Pikachu's three evolved stages. It's a simple design but definitely recognizable if you are a fan!
Star Wars Chewbacca Bandolier Seat Belt Cover (£11.99) Who would've thought they can make a seat belt cover out of Chewbacca's trademark bag?
The back of the packaging lists the features of this belt cover.
It is made of soft polyester material and features a padded lining.
The hook and eye velcro closure is easy to install.
The best thing is that it has a universal fit! I love it and it's on my car on my side 🙂
Licensed Transformers Premium A5 Notebook (£9.99) This Transformers notebook features a faux leather cover.
It's blazing in red, like Optimus Prime!
The notebook fastens with a metal Autobot emblem.
It's easy to snap on and off.
Also, it's not just a plain cover! There's actually an intricate embossed design of Optimus Prime's face at the back.
The massive whole body of Optimus Prime is embossed and illustrated in front.
The inner flap features an Autobot sketch featuring its front view and side view.
The blank pages are made with premium paper. The only design is the Optimus Prime emblem at the lower part of the page. It also has a blue ribbon (another color of Optimus) for the bookmark.
Metal Figs (£11.99) Designed by Amerang, this is a 4-inch metal figurine of Star-Lord from Guardians of the Galaxy.
Other figures available in this series include Groot and Rocket Raccoon.
Also known as Peter Quill, Star-Lord is half-human and half-celestial. He also leads the Guardians of the Galaxy. From head to toe, the figure is made with great detail and captured his look from the movie.
Even the back of the figure is on point. It has wide shoulders.
He's wearing his iconic mask and holding a plasma ball!
There's a hint for next month's box! It will be all about Aquaman!
This box is a monthly chance for us to geek out on our favorite anime and movie franchises. Even if it is old or new, there is always something for everybody. I love the simplicity of the shirt plus its comfort factor. The Christmas stocking, greeting cards, and Crash Bandicoot print bring out the festive mood in us! We won't forget to keep track of our year as they gave us a premium journal to write in for 2019. The seat belt cover and 4-inch figurine are great additions to our collection. We are all looking forward to the next box!
What do you think of this month's Geek Gear box?