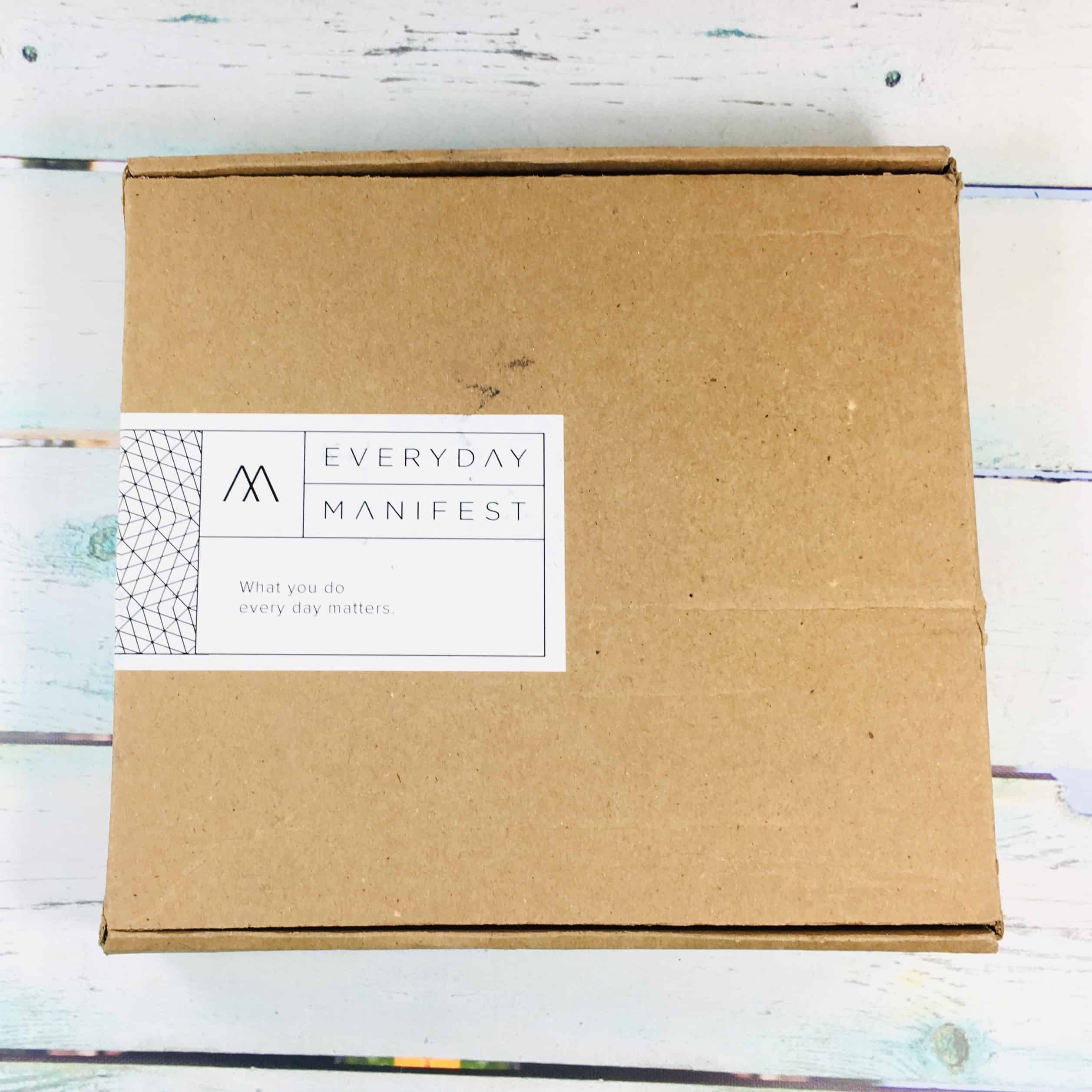 Everyday Manifest is a monthly subscription to help you reach your goals. Each month you will receive a fresh journal and items to help you turn your dreams into reality. This 30-day challenge subscription box will jump-start you into action. Each month is a fresh start and will include a vision board, 30-day journal, habit/goal trackers, journal prompts, and motivational content. This subscription is $39 a month and will automatically renew, and there is also a bi-monthly option you can choose at sign-up if you want it less often.
We believe in dreams and elbow grease.

We created Everyday Manifest because we truly believe that if each of us were shown what we could accomplish, it would blow our minds. But, the crux? We have to be willing to do the work. Real work. Hard work. Daily work. Through curveballs, stumbles and needed rest, through humble beginnings and major milestones… you must be willing to stay the course and keep going. We know through small steps everyday, anything is possible and this subscription box was created to jump start you into action.

Are you in? If so, dream big my friend, then get to work. We are so ridiculously thrilled you are here.

Welcome to your Day 1.

You got this!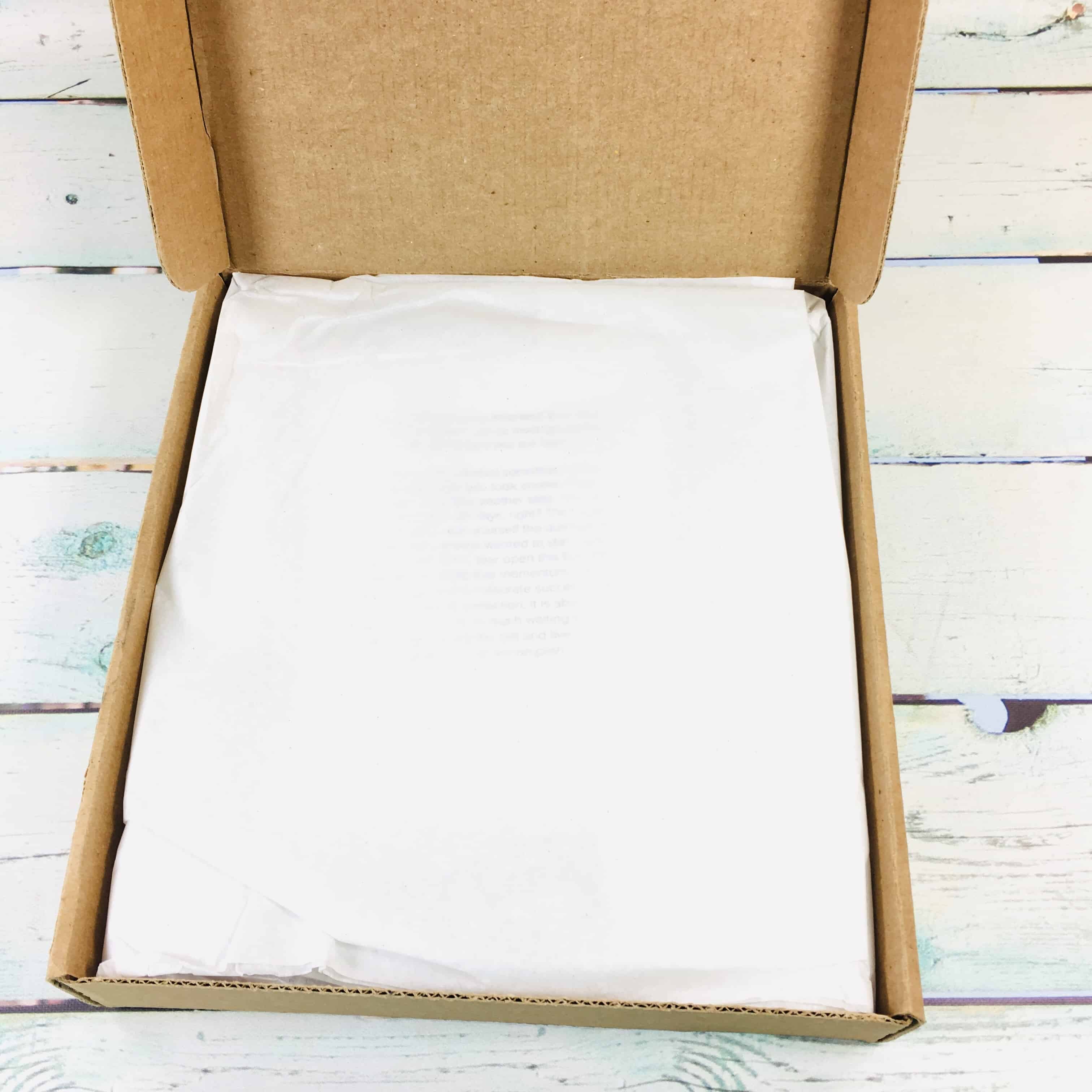 This subscription is intentionally minimalist and eco-friendly.
DEAL: Get $5 off your first box + free shipping! Use coupon code HELLO5.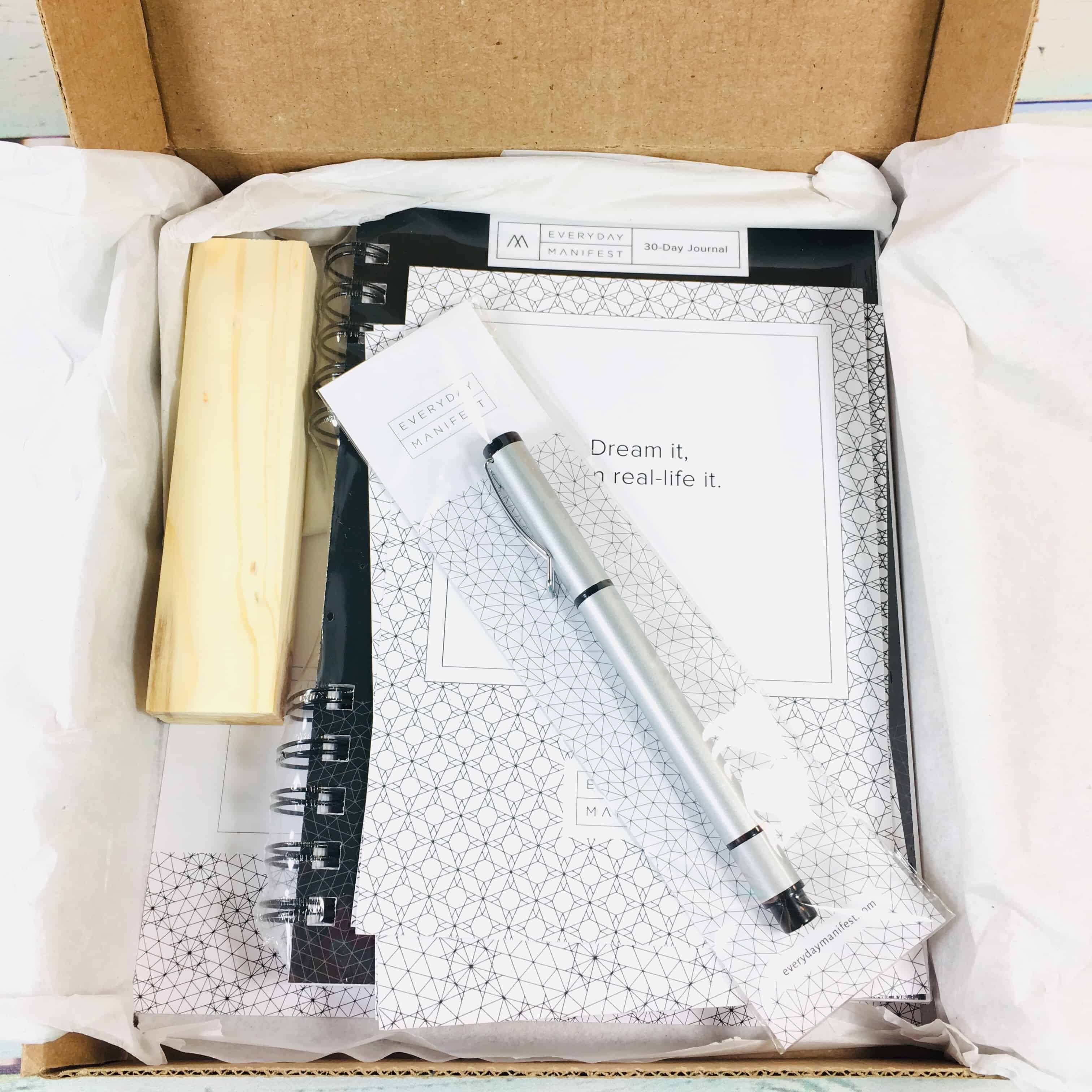 I'm liking it already!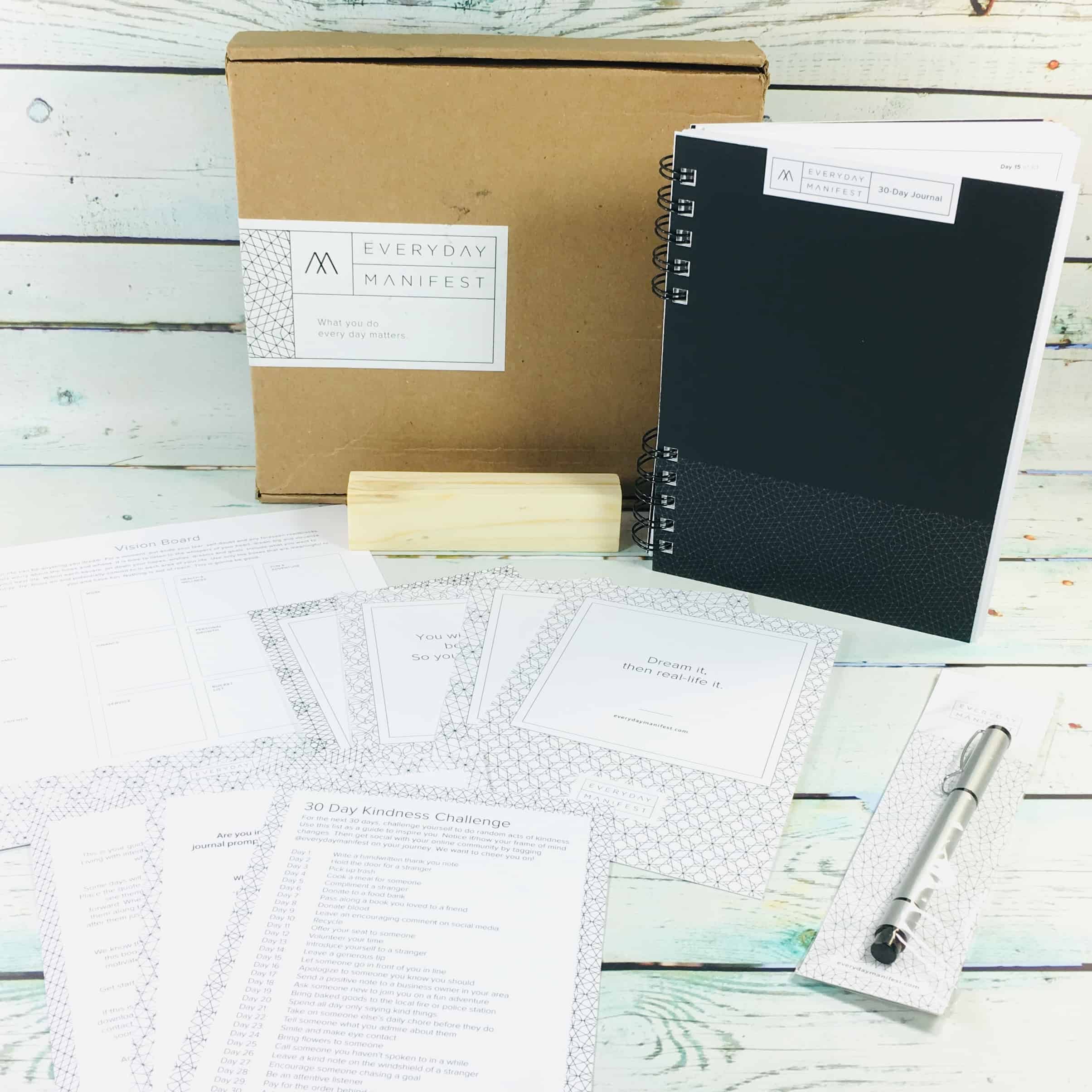 Everything in my box!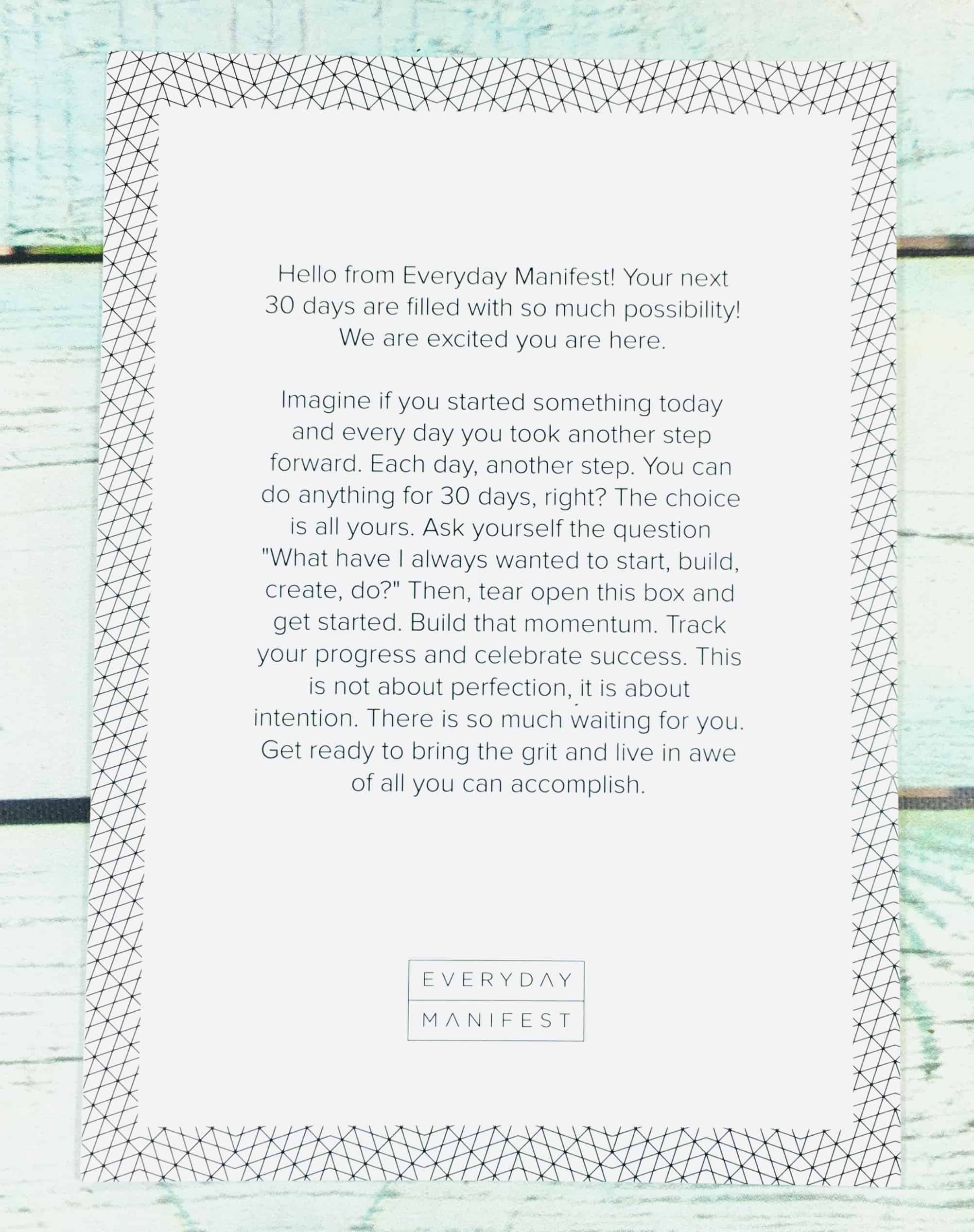 I received a welcome card with the intentions of this subscription.
The back of the card listed the items that are inside my box.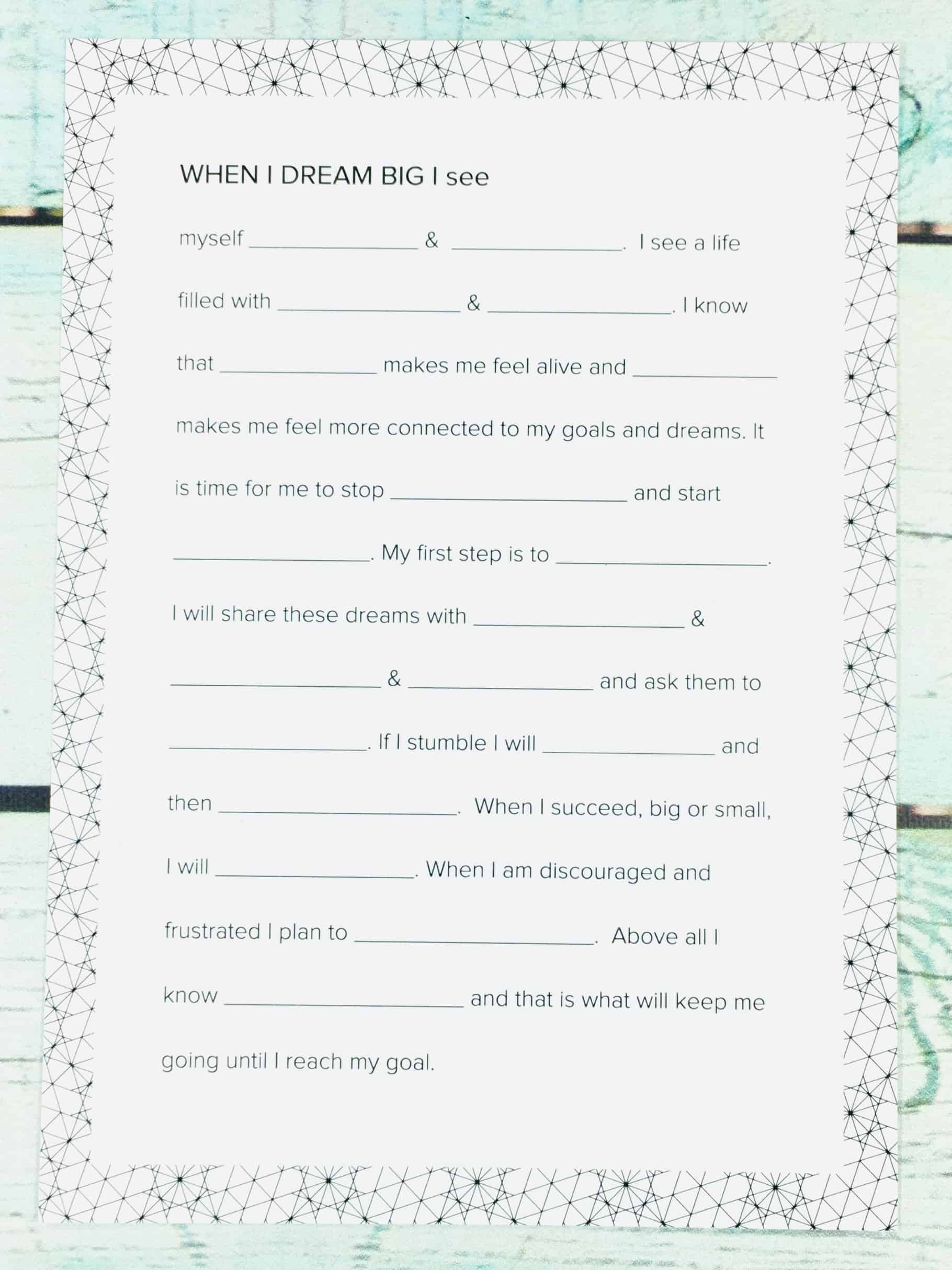 The next card was a fill-it-in about what my "big" might be.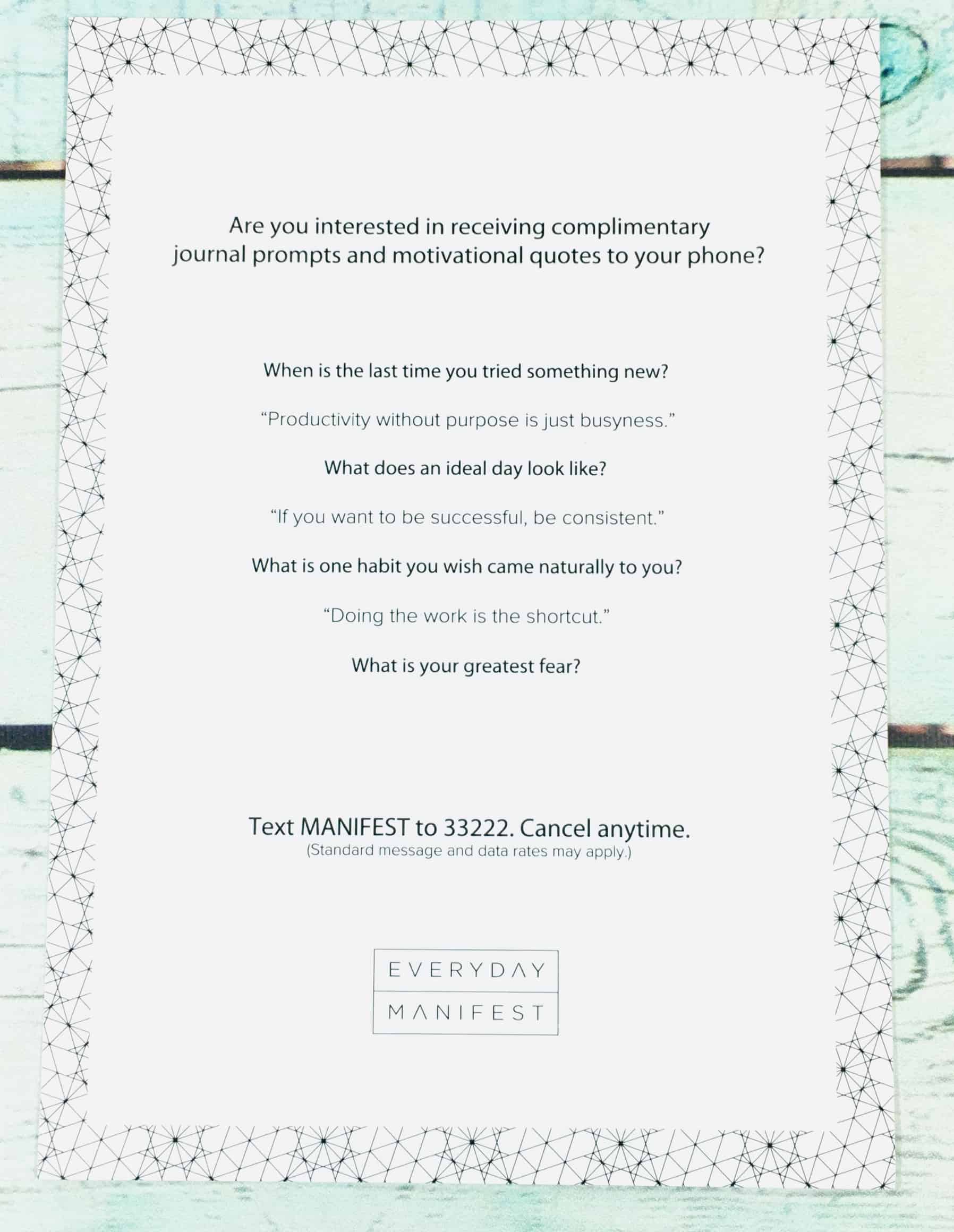 The back of that card told me how I can receive daily journal prompts. I also joined the Facebook group and there have been 1-2 postings every day, nothing overwhelming.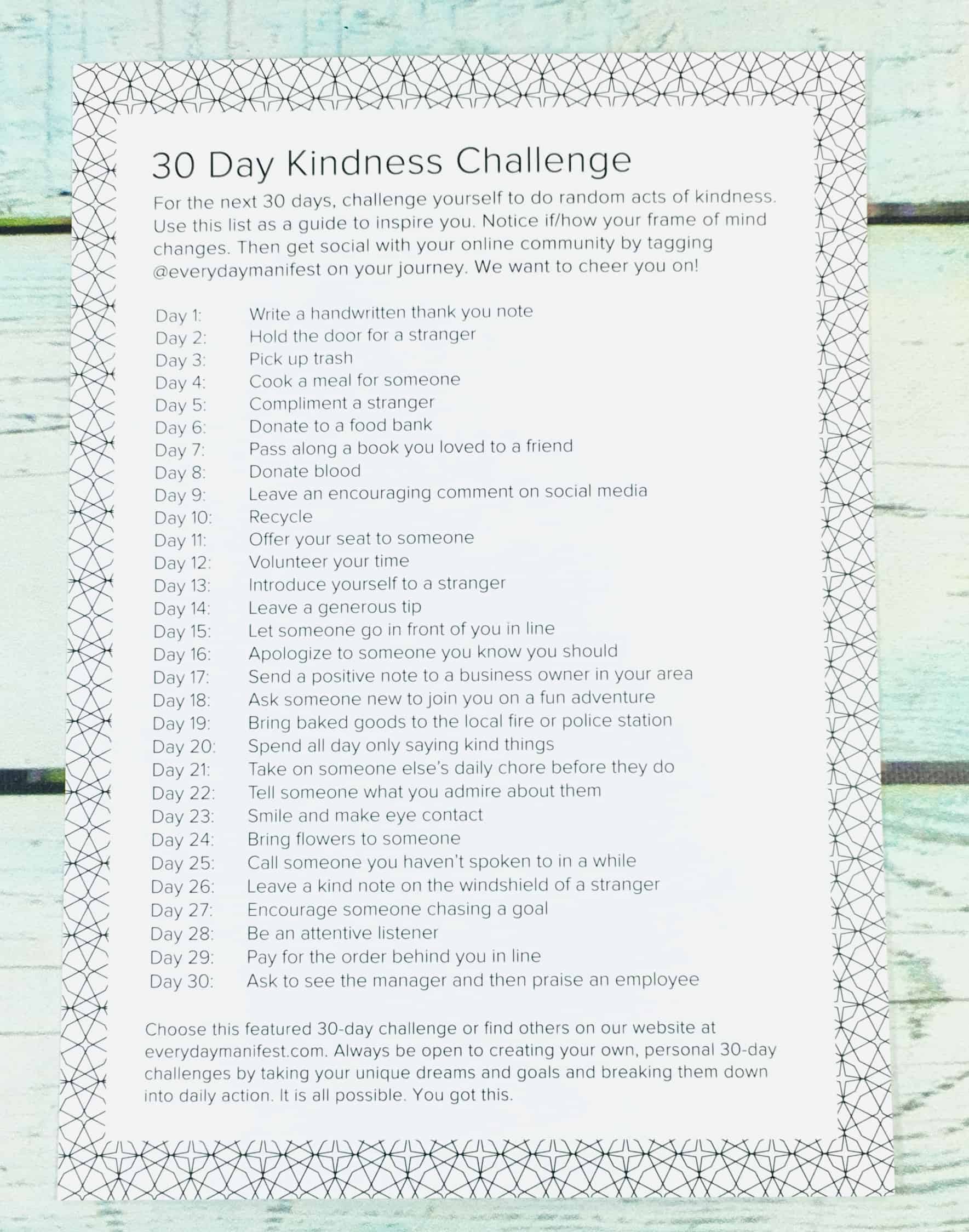 I had a card with a 30-day kindness challenge but there are a few more challenges available on the Everyday Manifest website and include a water drinking challenge and photography challenge. Just go to the site and print them off.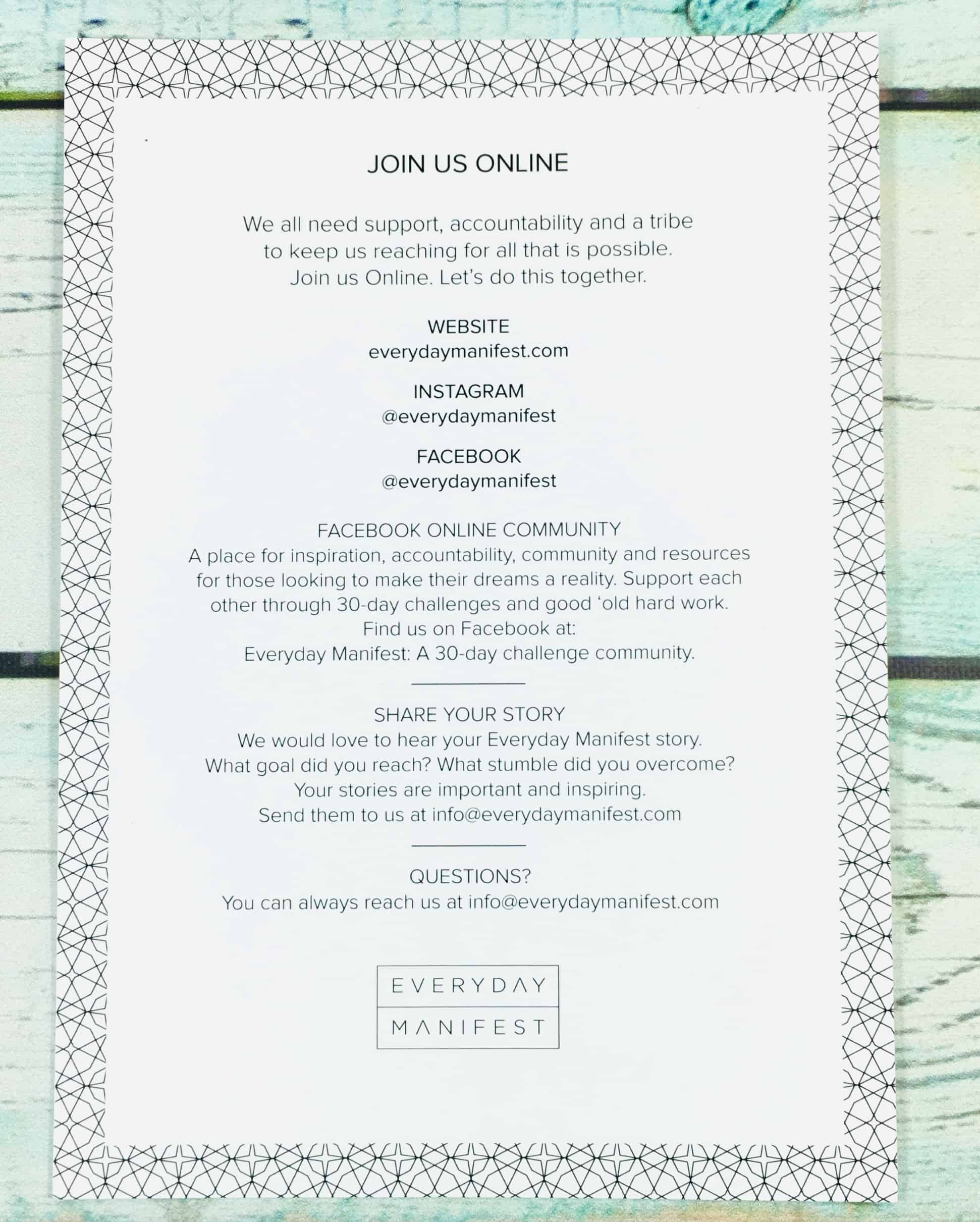 The back of that card listed ways to interact with other like-minded individuals through social media and the Facebook group.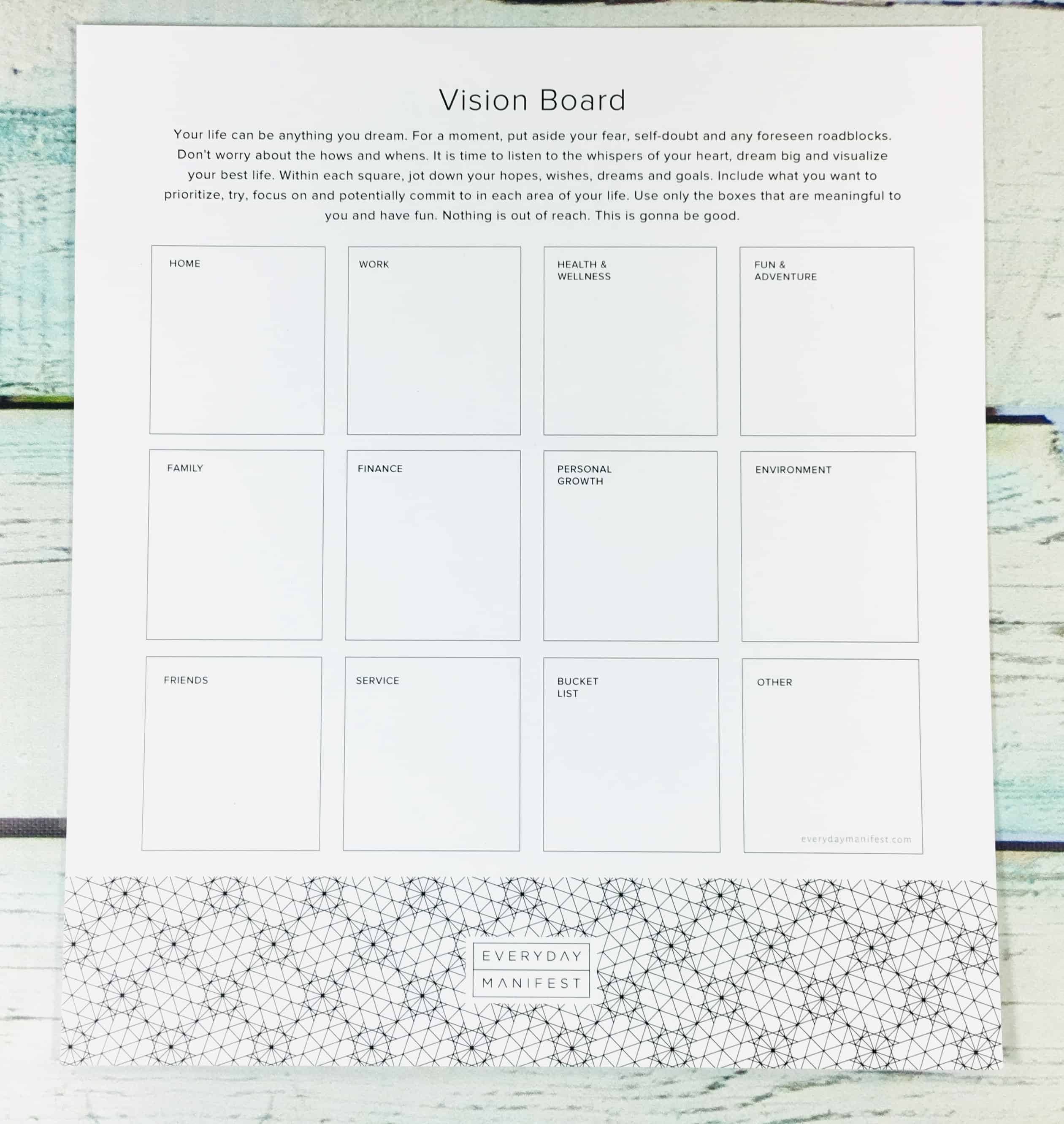 I received a Vision Board. You pick the areas that speak to you and you can make your dreams as big as you wish.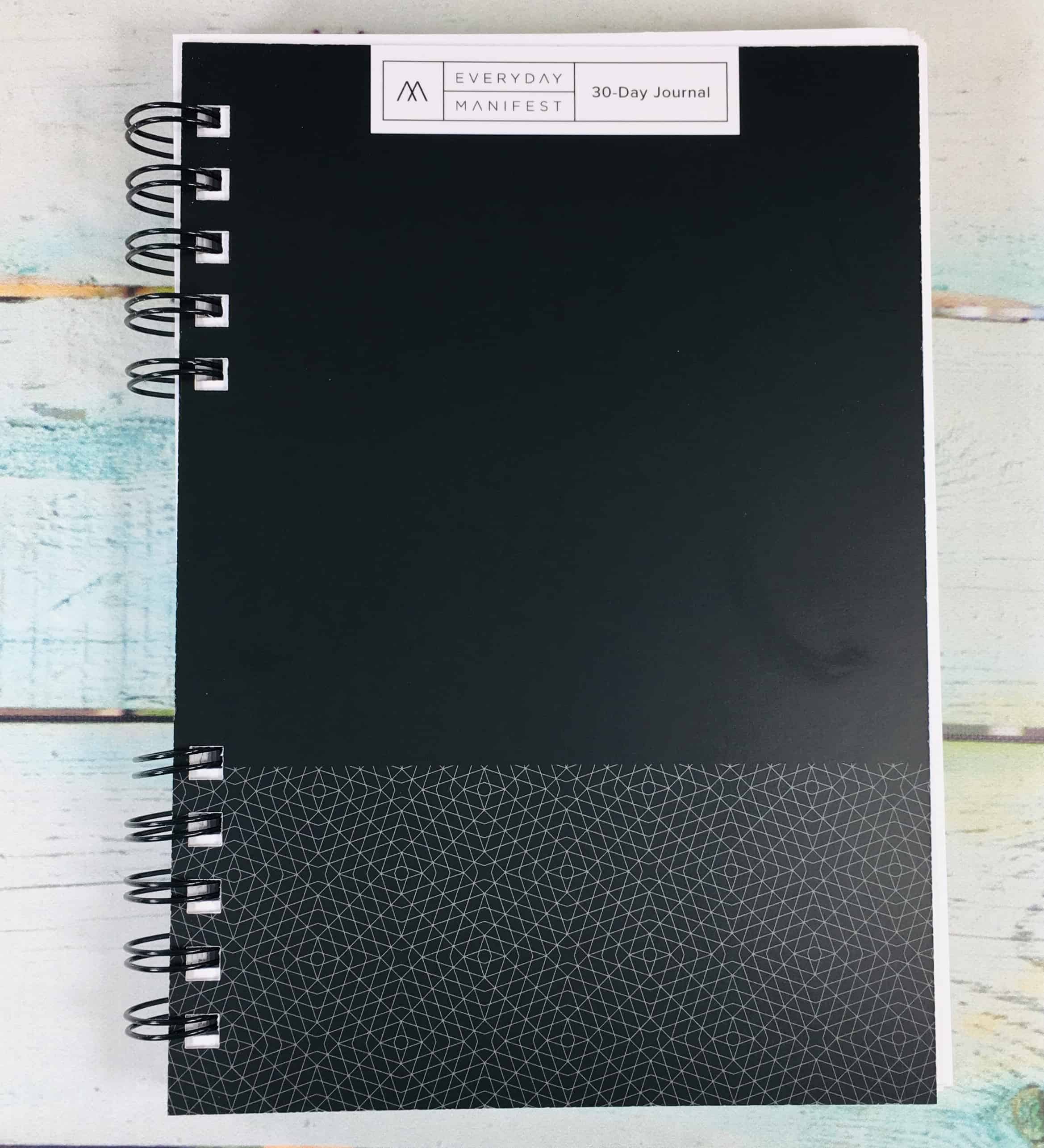 30-Day Journal I love journals and the thought of receiving a fresh, clean, shiny new one every month is definitely inspiring. Every month is a new beginning!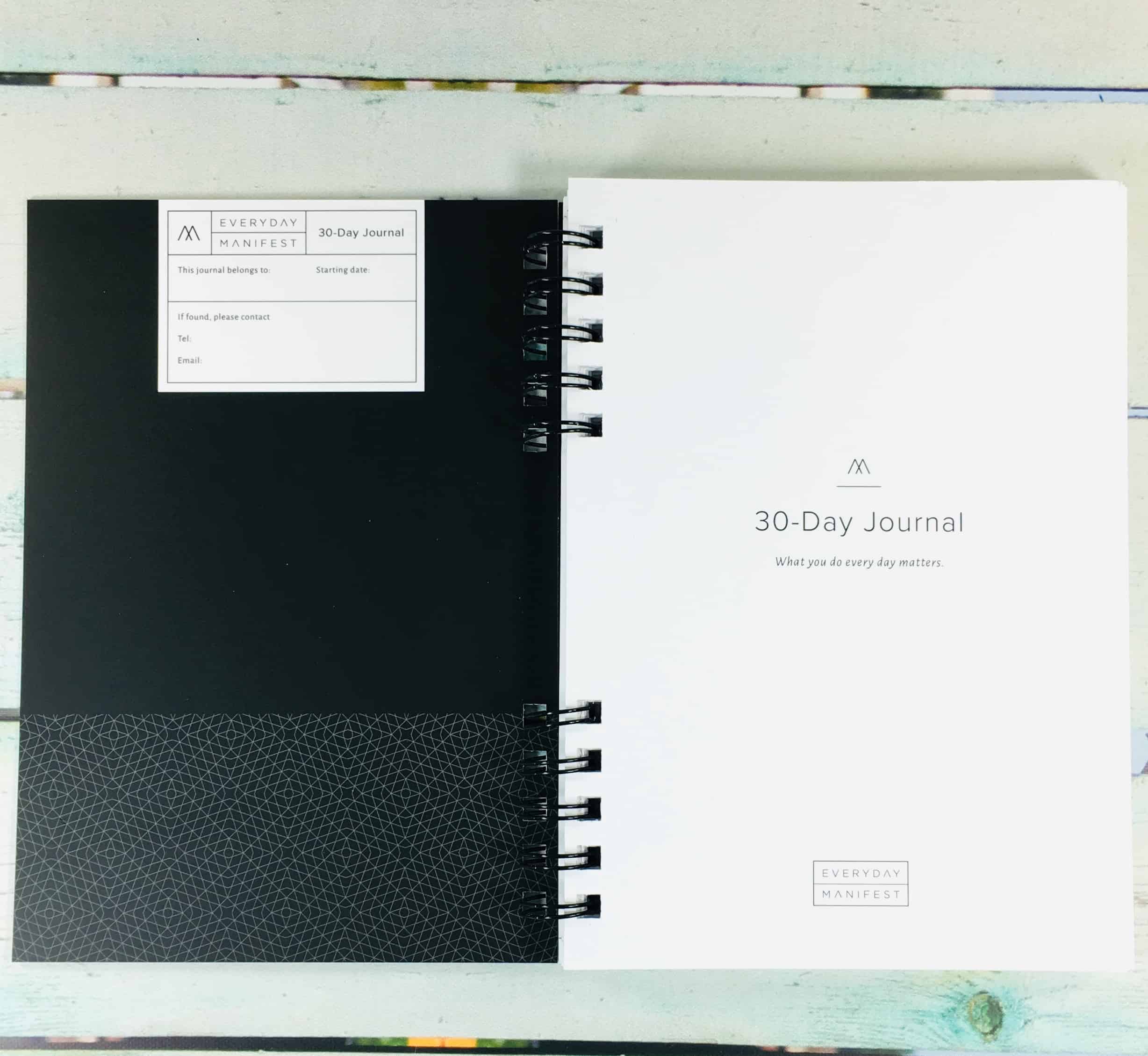 The pages of the journal, and all of the other paper items in the box, are all made of sturdy cardstock.
Here is a way to keep the vision board with you at all times.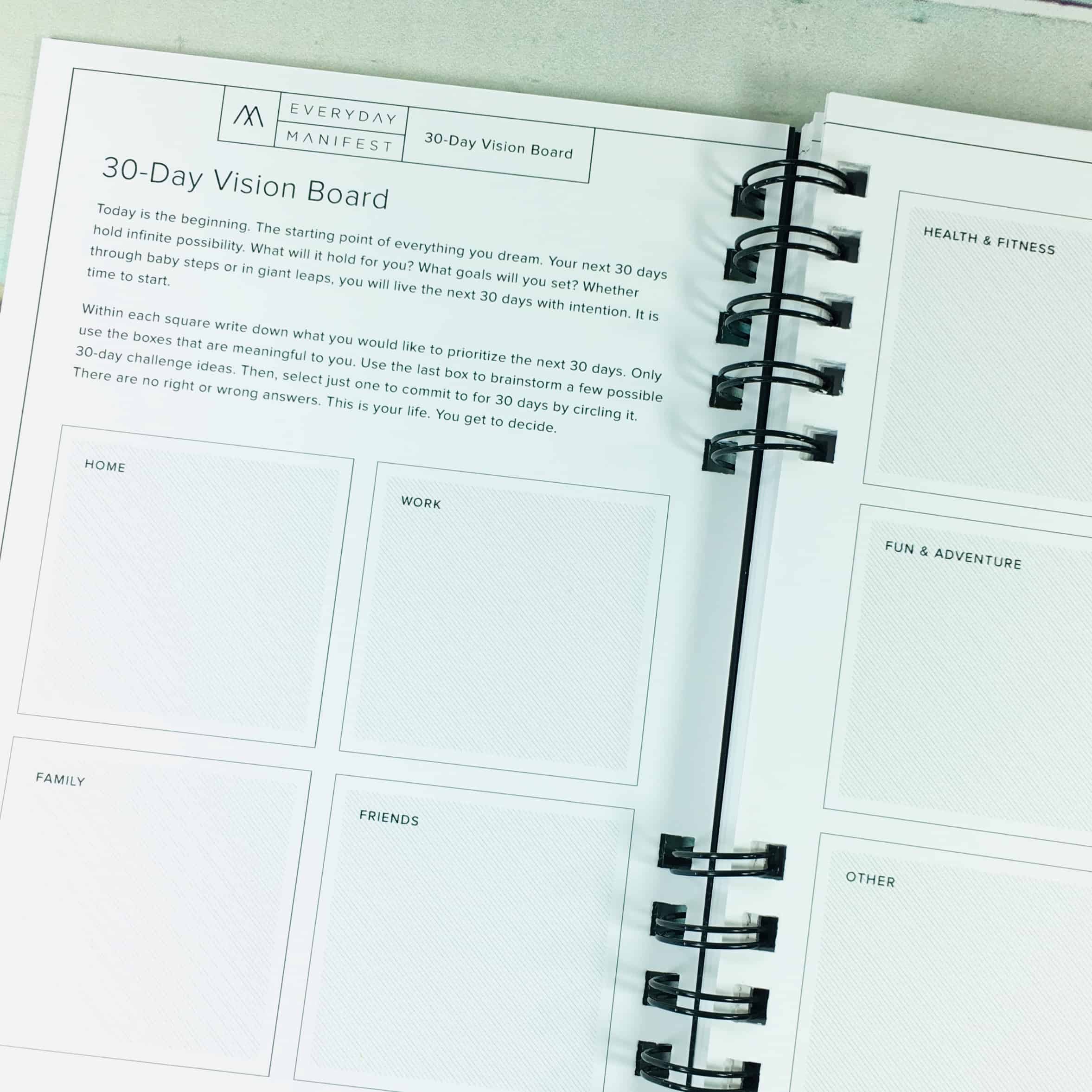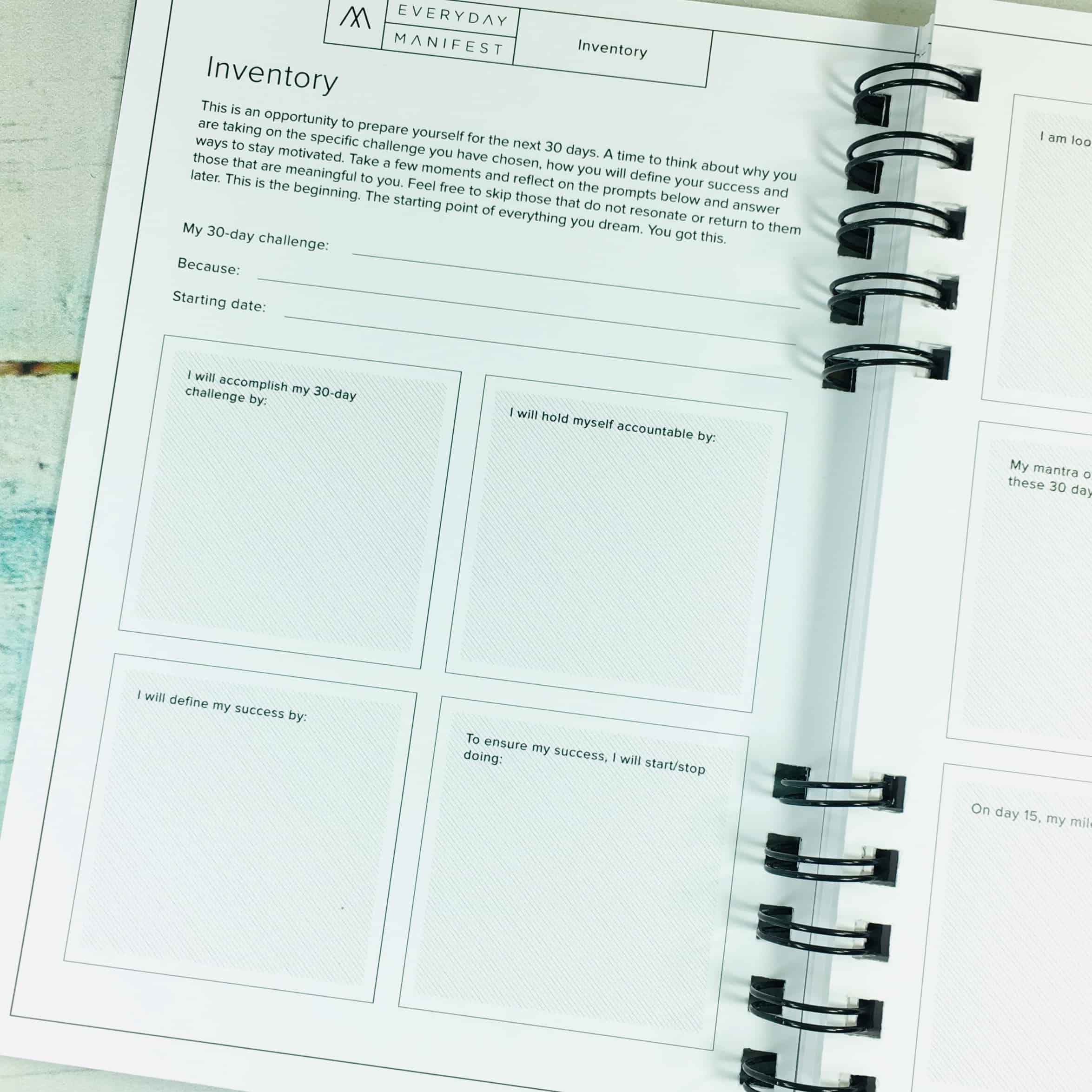 You can take inventory of your goals at the beginning of the challenge.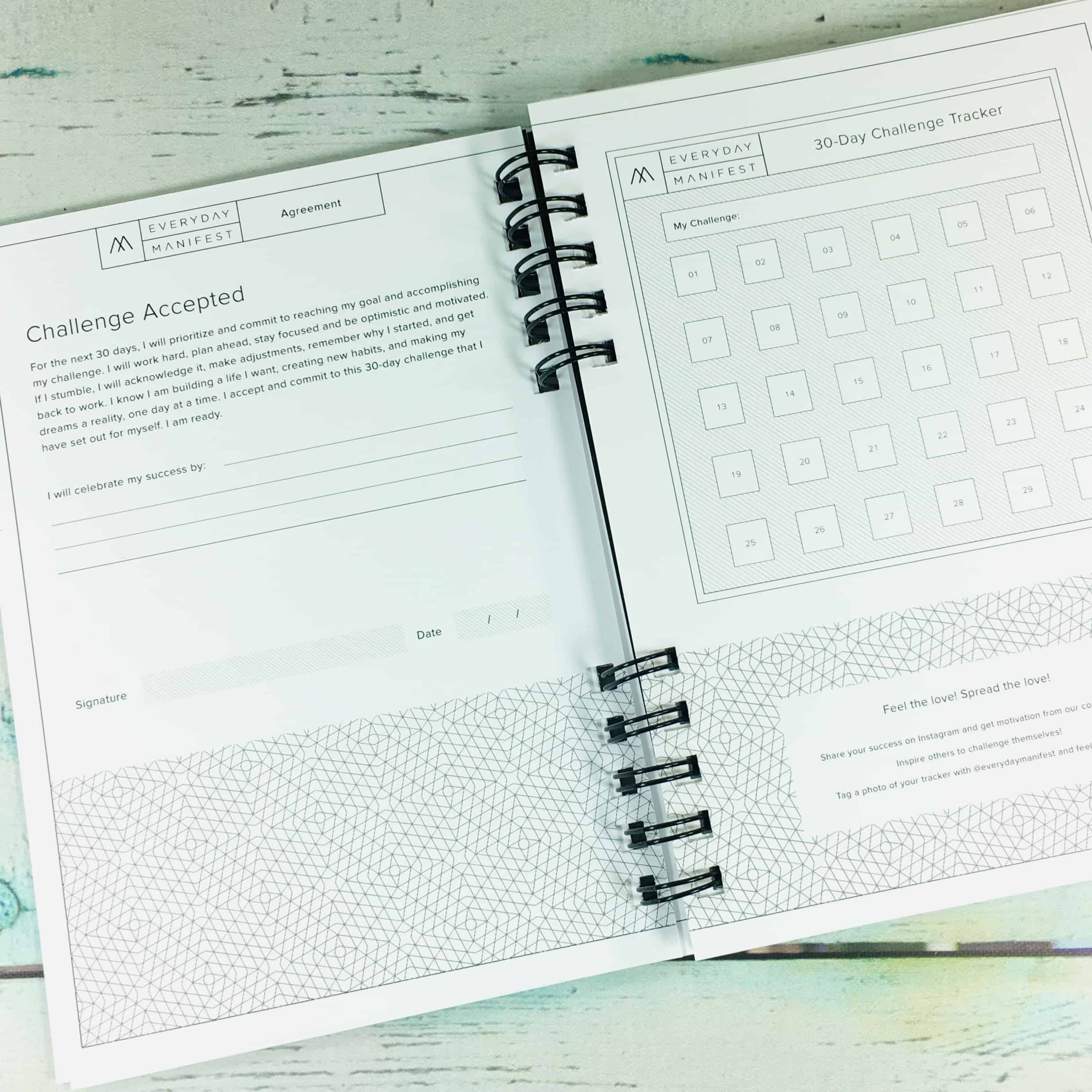 Put those goals into writing and make sure to give yourself a prize to work towards. Treat yourself to something big or small, it's totally up to you.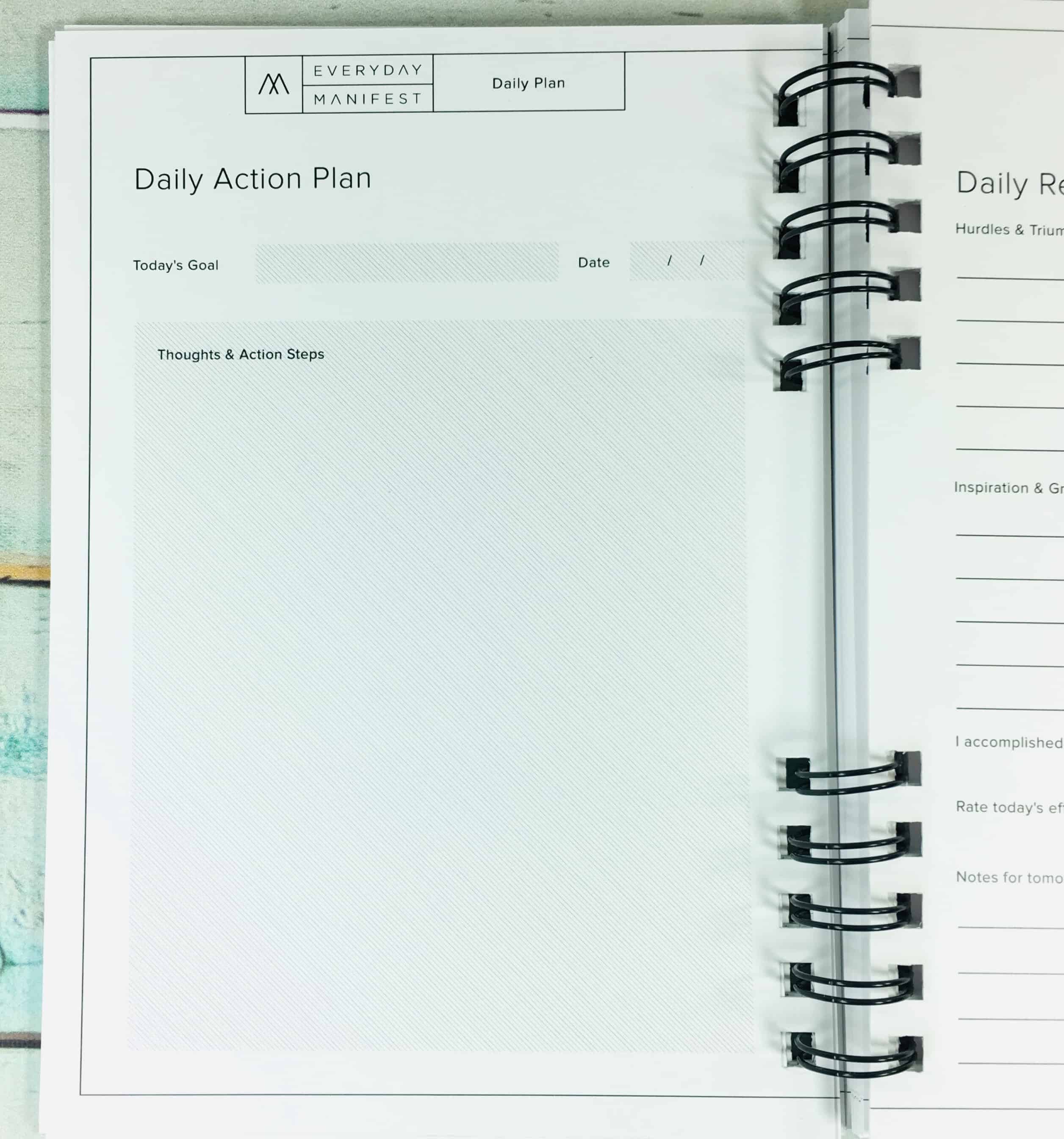 What are you going to do every day to make progress?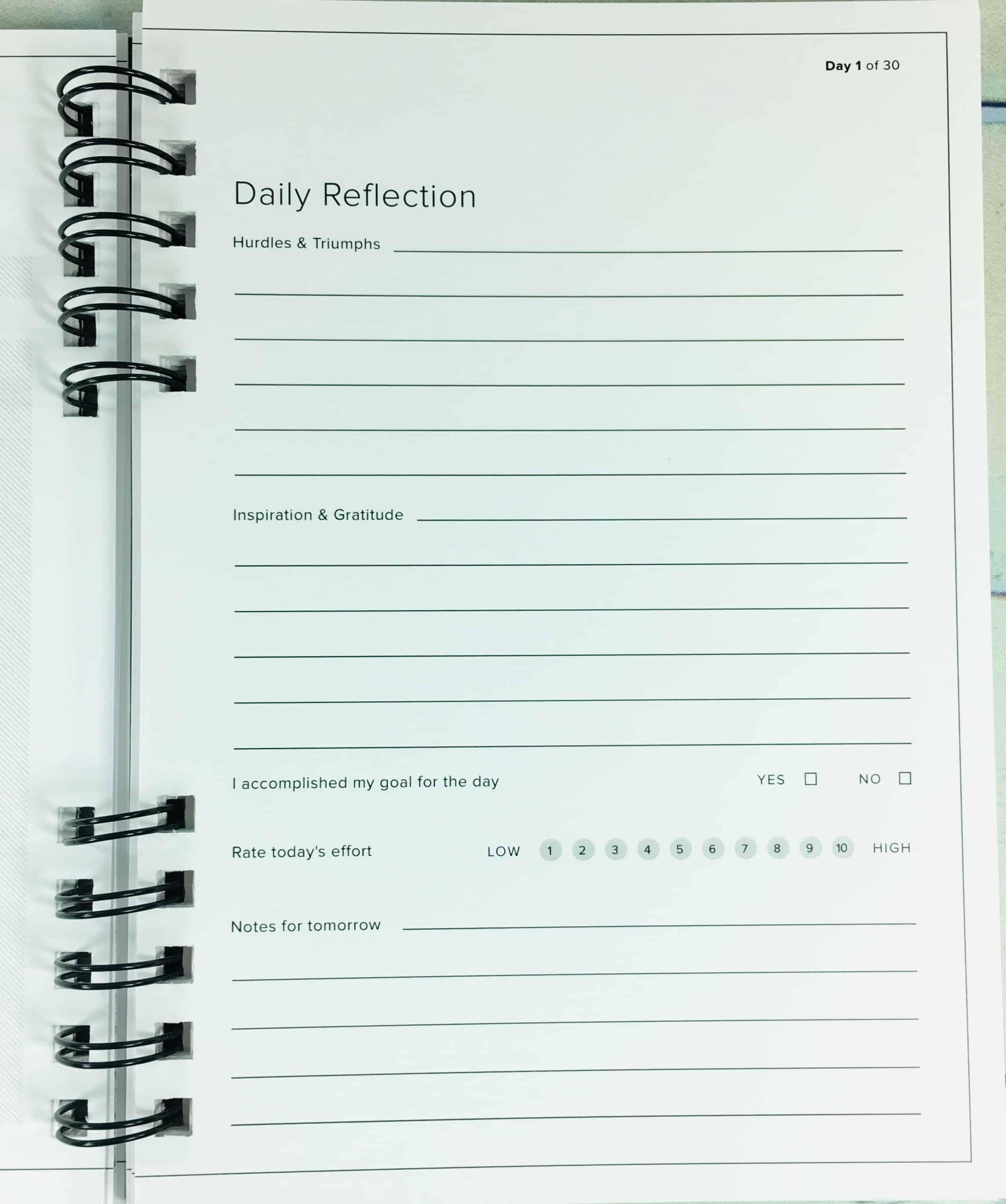 What worked for you? Hits and misses?
Check in at the halfway point.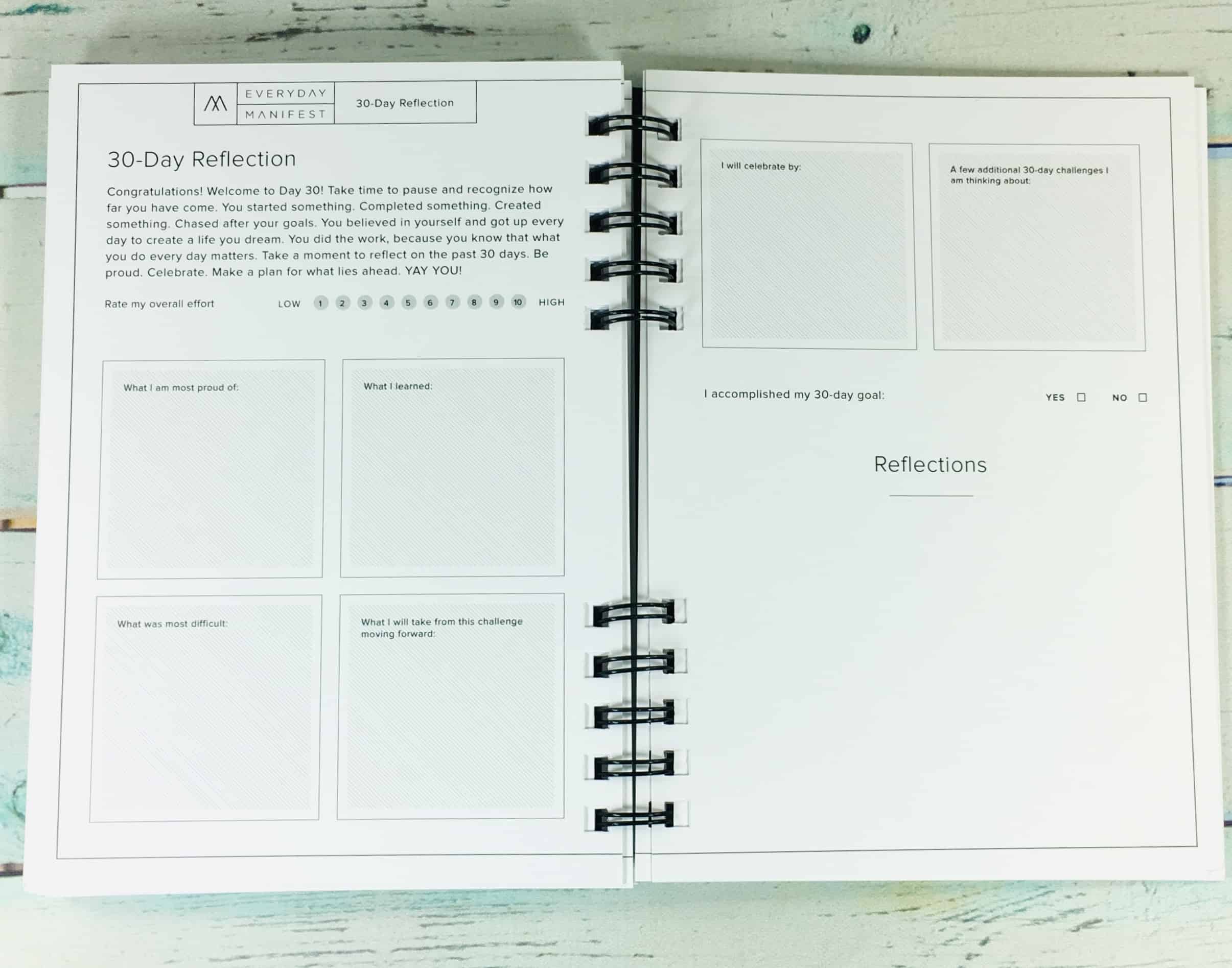 At the end of the challenge make sure to reflect on the past month and mark if you made progress. Not all goals can be finished in a calendar month. Maybe it's an on-going project. You can start again with the next journal or work on something completely new.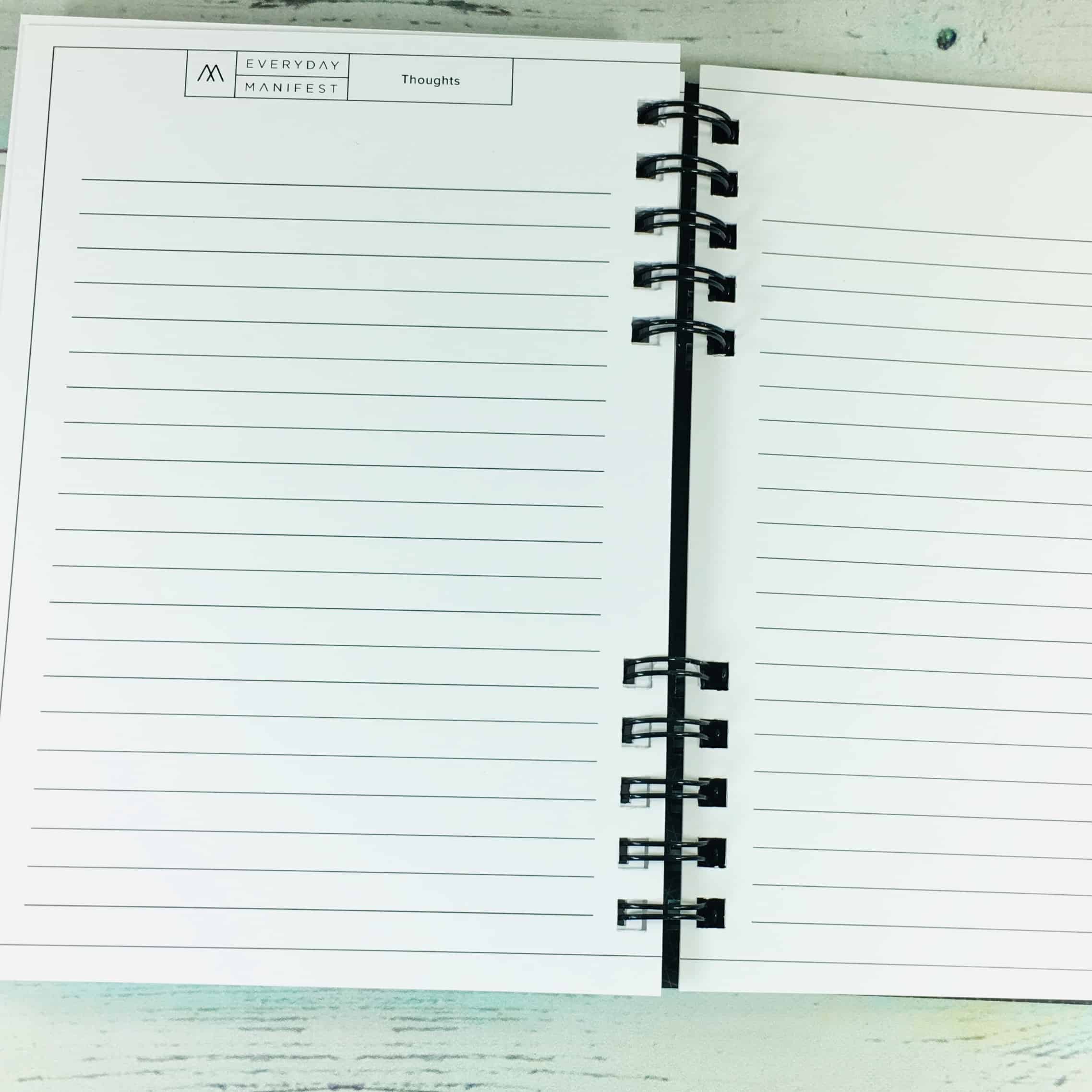 There are a few pages at the back of the journal for writing thoughts, doodling, or whatever else you want.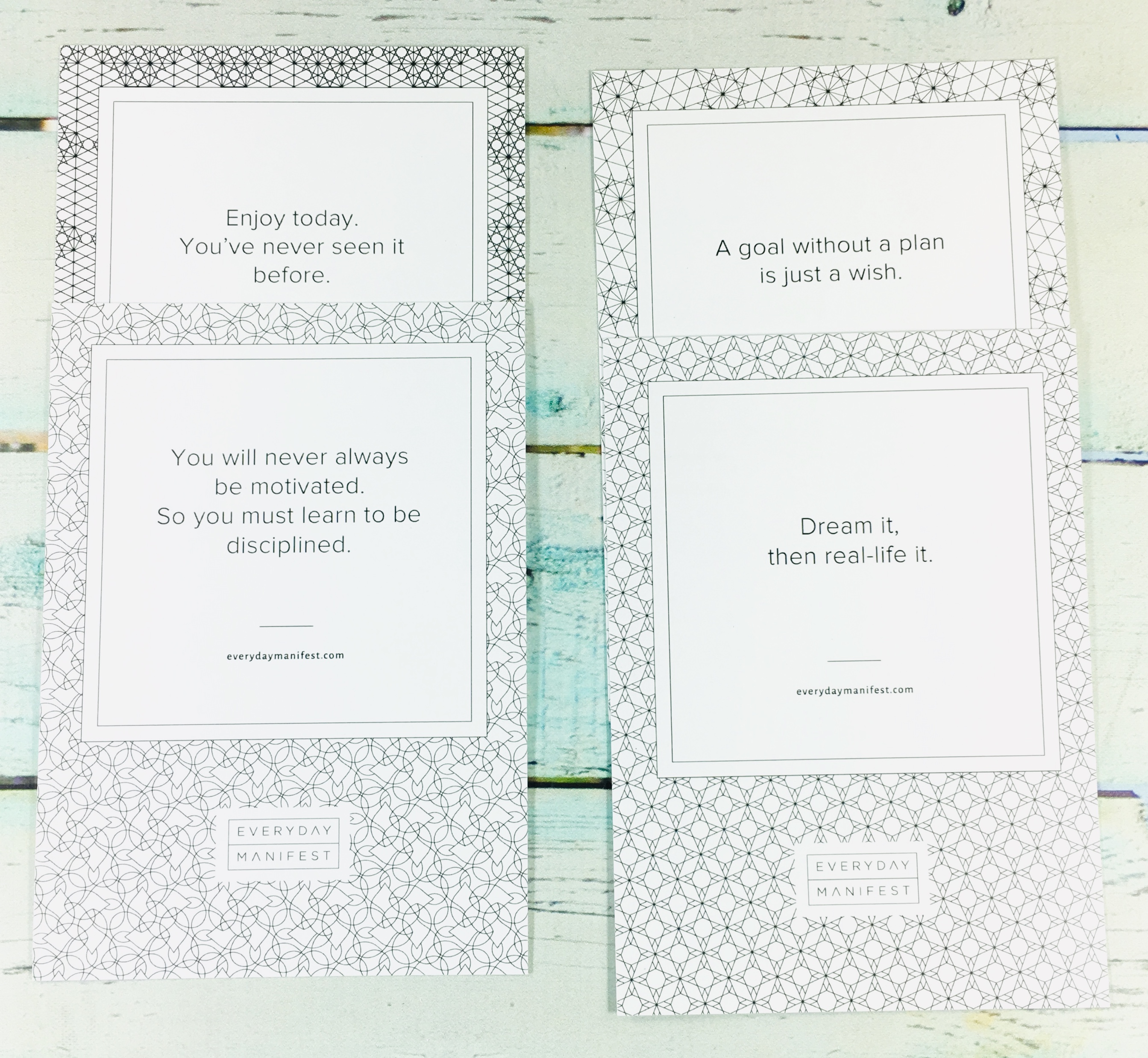 There were four Quote Cards that double as postcards. It looks like they can be colored in if you had some pens or pencils handy.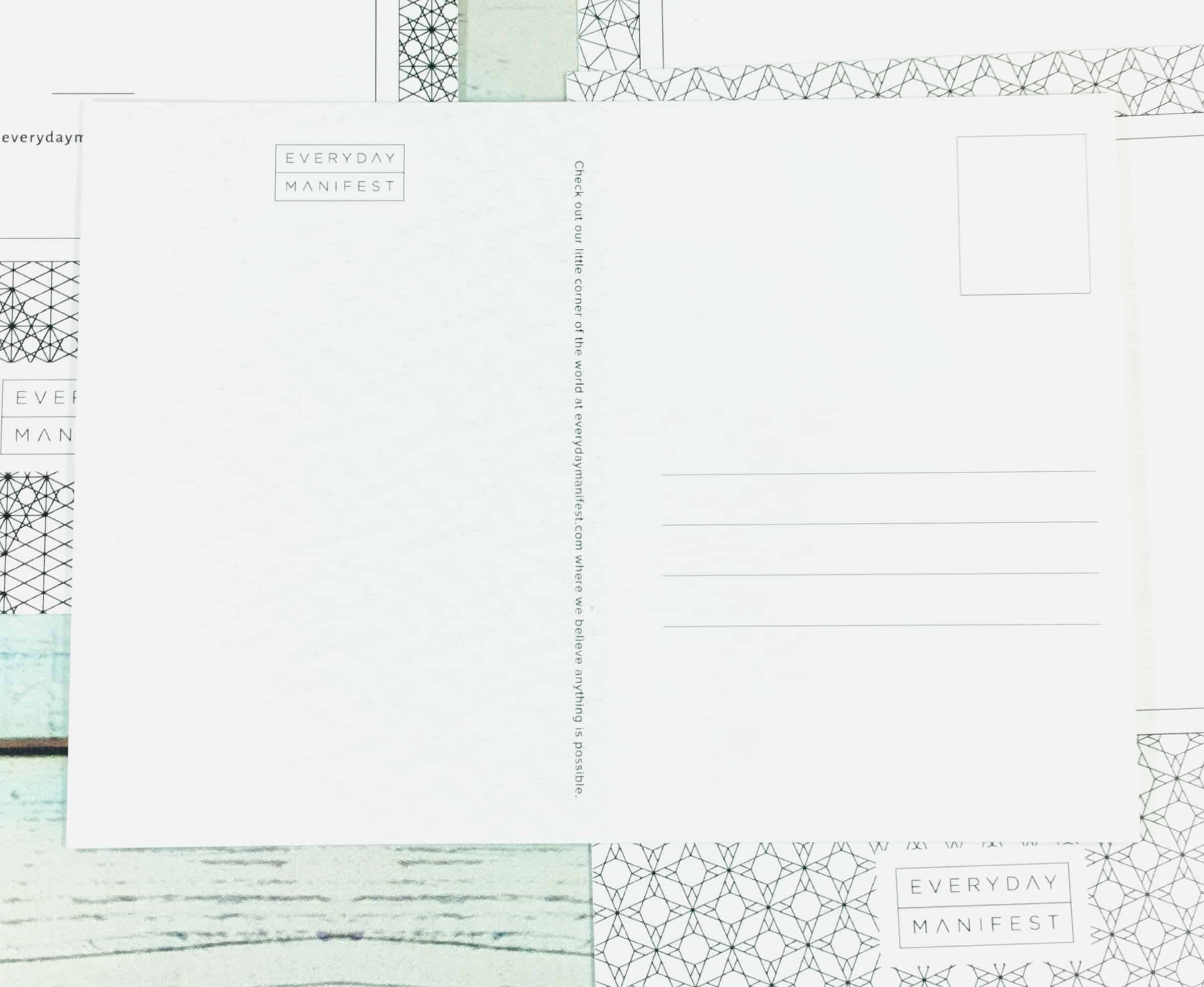 Jot, stamp, and send.
There was a Wooden Stand.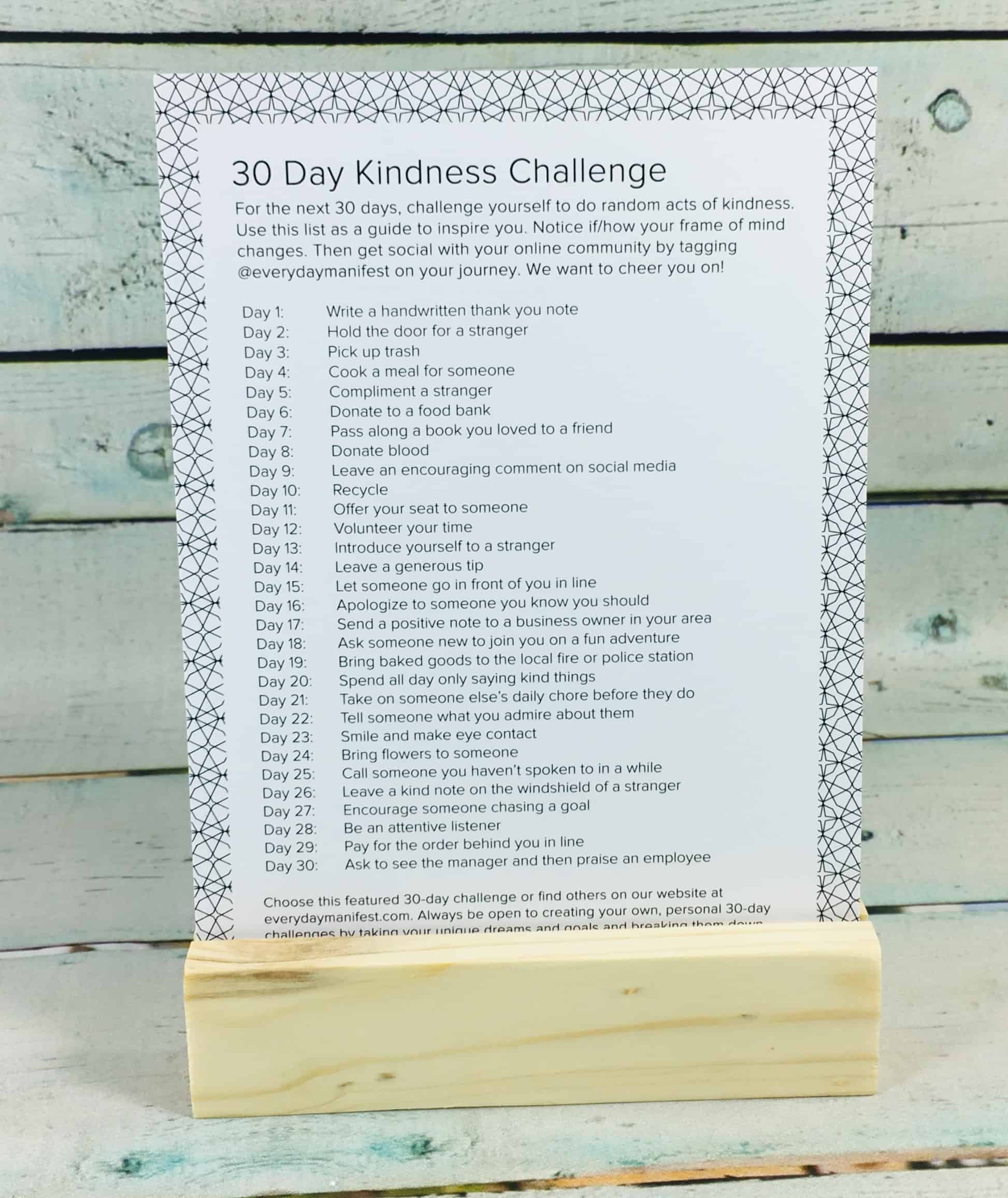 I placed the challenge in here for the photo but Everyday Manifest suggests using the motivational postcards shown above to help keep you pumped.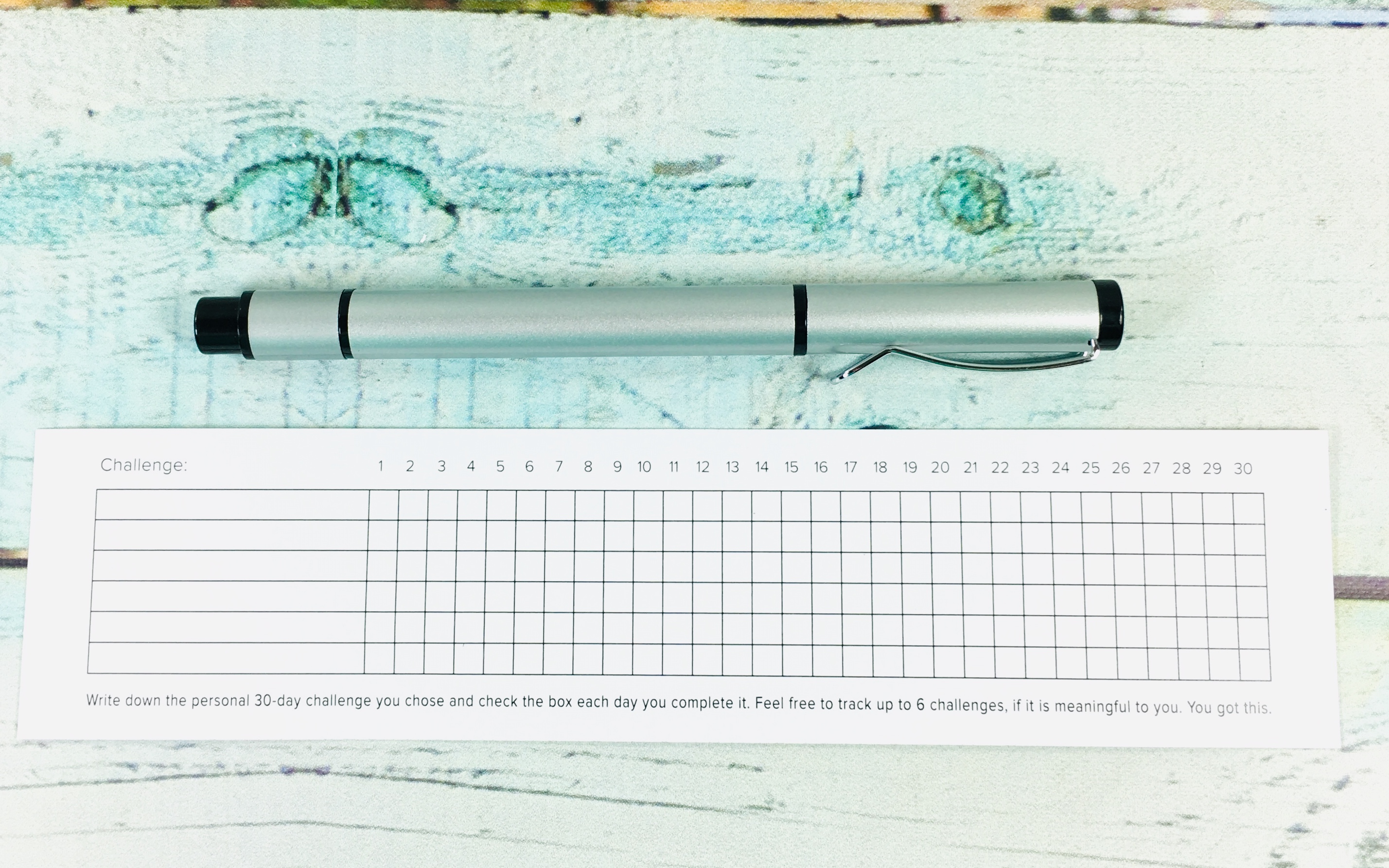 A Bookmark Tracker makes it easy to see your progress at a glance. You can track up to 6 challenges at a time. For instance, my goals for the foreseeable future will be to eat X amount of fruits and vegetables, drink 8 glasses of water a day, walk 5 times a week, go to bed by 10 pm, and stop eating after 7 pm. No need to search for a pen. Everyday Manifest sent a Recycled Aluminum Pen that is light weight yet feels good in my hands. The clip on the side means I can attach it to my journal to keep it handy. It is a ball-point pen and writes in black ink.
I was really pleased with my first box from Everyday Manifest! This is a new subscription and I think it is well thought out and the products are of very high quality. These are not flimsy journals and papers, everything feels thick and sturdy. I like that there are other challenges available online and I hope to see more added in the future. This is a program that is totally up to the participant to complete, and Everyday Manifest has given the tools to get started and to keep me motivated. Change can be hard so the best thing to do is just start and build on successes while learning from mistakes. Tear a big goal into smaller, doable steps. Write it down and move forward, next month will bring a shiny new journal and a new challenge to start, or keep working on the one at hand, it's all up to you!
What do you think of this month's Everyday Manifest box? What challenge do you want to take on?