Erin Condren's Seasonal Surprise Box is a quarterly planner accessories and stationery box featuring early access items, popular accessories, and exclusive surprises from Erin Condren. This box isn't available by subscription; you must purchase each box individually. This box is currently sold out but click here and tap that blue bell to get notified when the next box becomes available!
Get ready for your BEST. YEAR. YET! From just-for-you exclusives to sneak peeks, we are so excited about this stunning winter seasonal surprise box!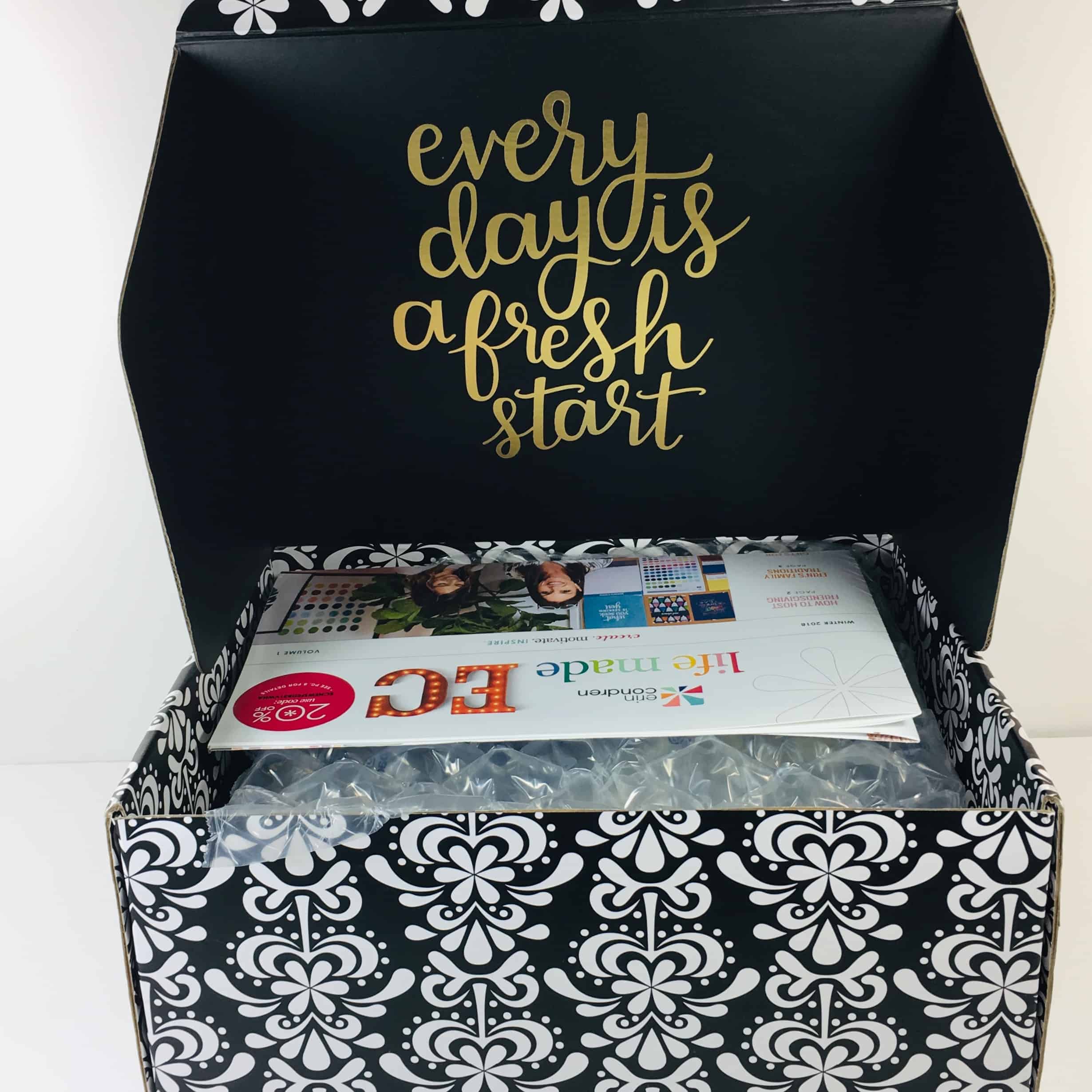 Each box contains a mystery collection of new, favorite, and exclusive items to surprise and delight!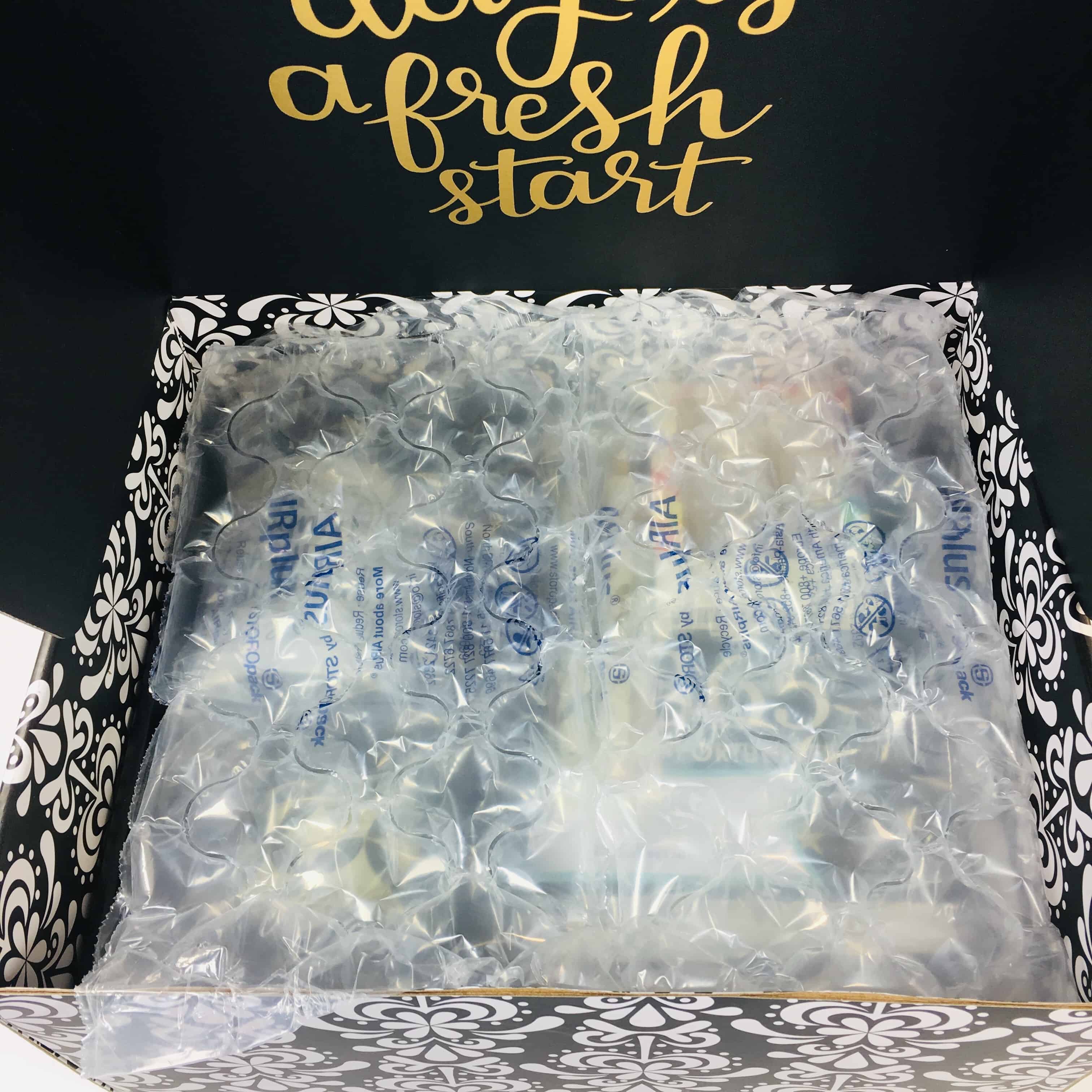 In addition to the main EC site, you can now shop a selection of non-personalized Erin Condren items on Amazon! Many, if not most, are discounted, and they all have free prime shipping!
DEAL: FYI – if you use this referral link to register for the site, you'll get a $10 coupon code emailed to you. It may not work on the box purchase. You can use it on pretty much anything on the site.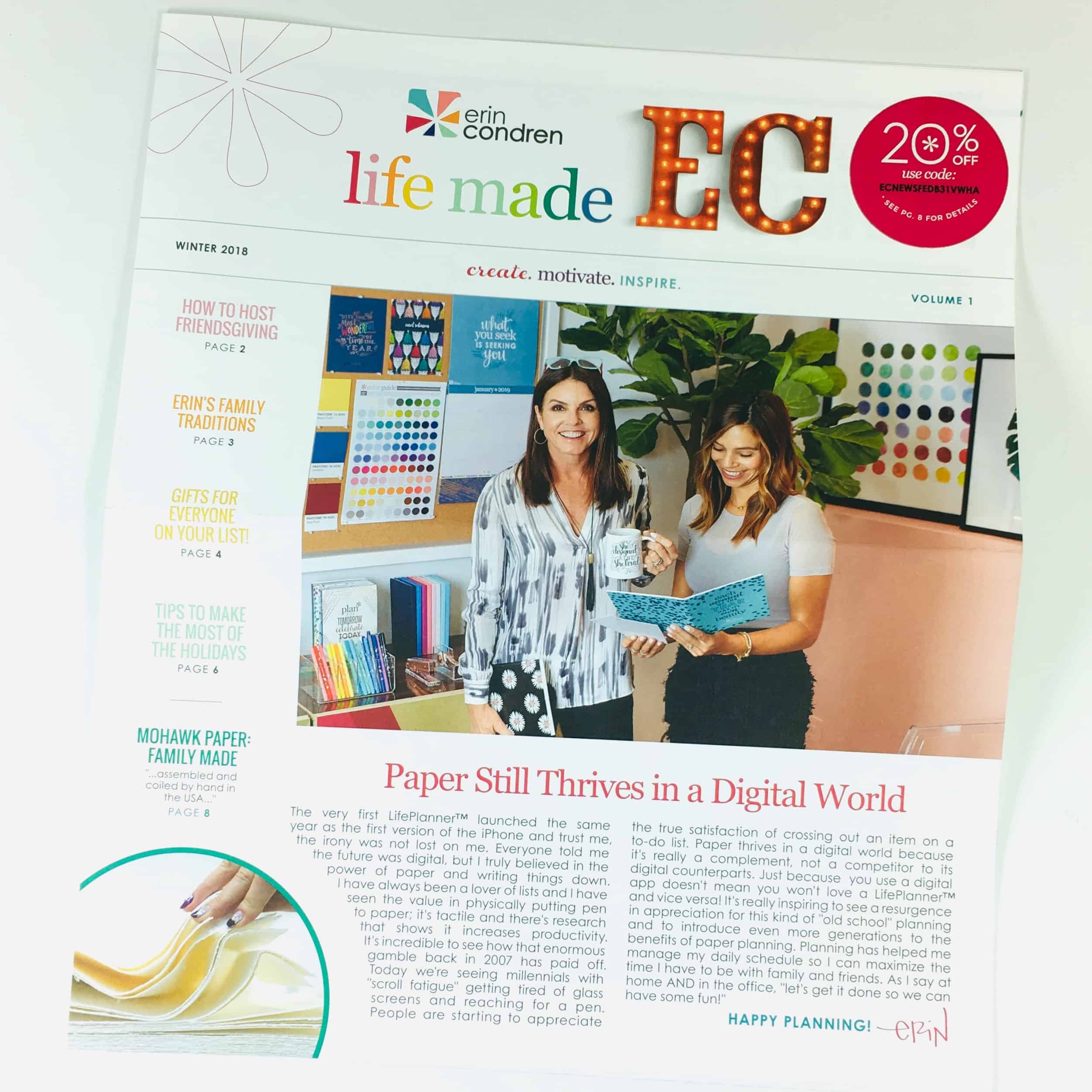 Erin Condren has started sending a newspaper which has tips, new products, and info about the lady herself.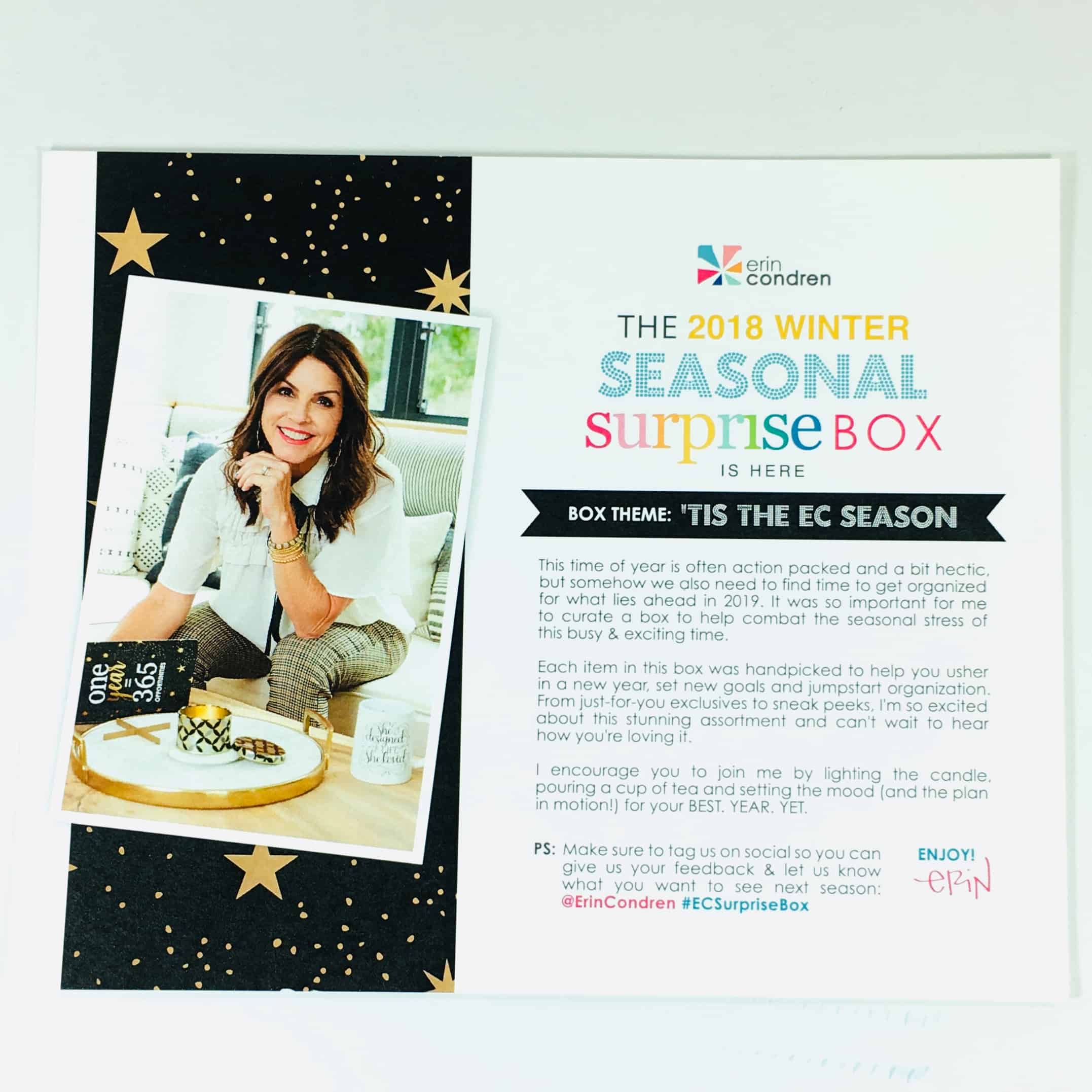 The theme for the Winter Box is 'Tis The EC Season!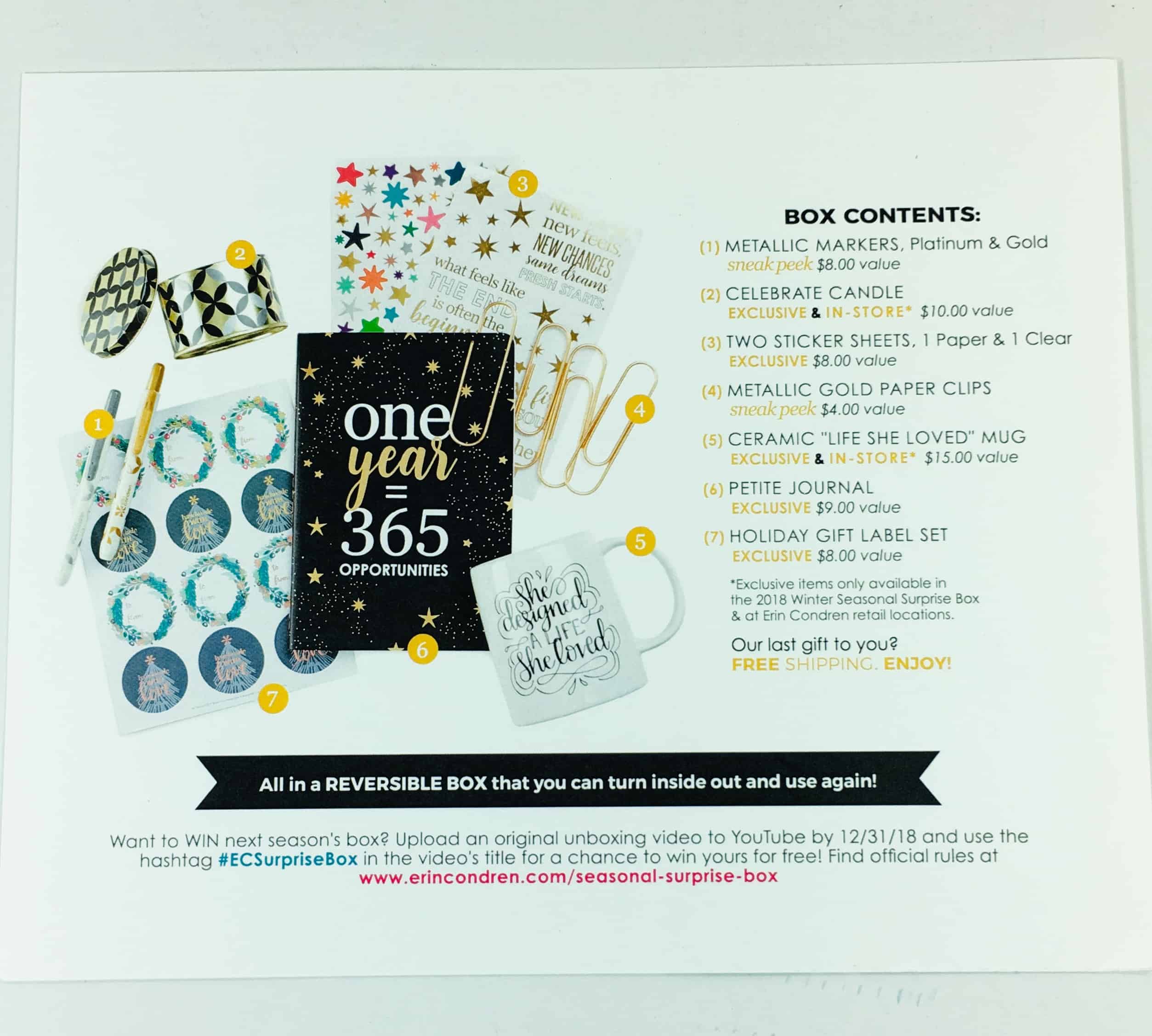 The information card gives you a picture list of all the items included and value. Some of the items may be available at Erin Condren retail locations. I recently visited the one in Austin and it was amazing!
The box is reversible to make a cute little storage case for your goodies!
Here's everything in the Winter Box! Please note that these items are either new or exclusive and I couldn't find all of these products in the online shop.
Ceramic Life She Loved Mug ($15) holds a generous 12-14 ounces and is dishwasher and microwave safe.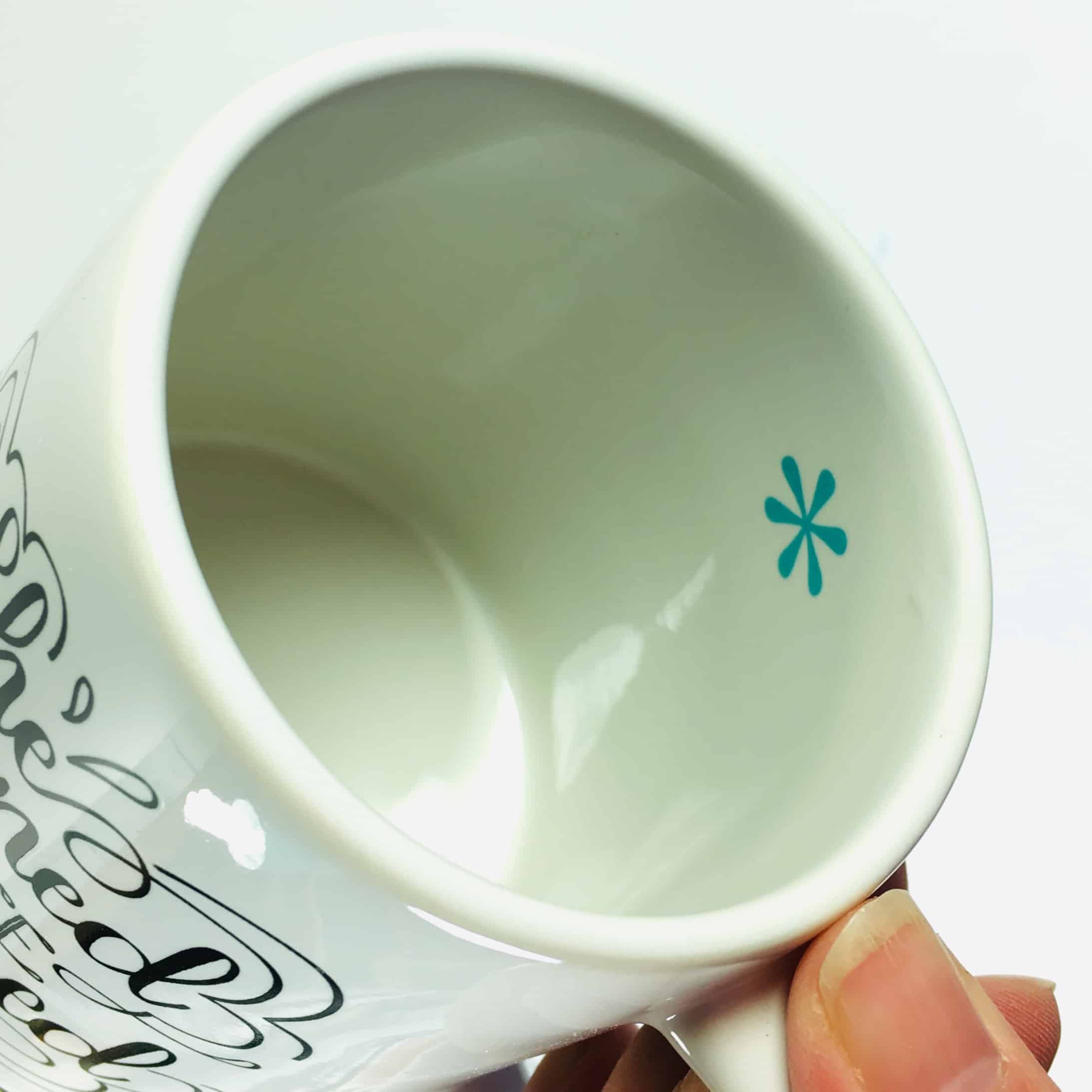 The inside has the EC asterisk in a pretty blue shade. Available in-store.
Celebrate Candle ($10) Winter is prime candle burning time!
The scent is called Celebrate* and has notes of grapefruit, raspberries, and ginger.
The design of the tin is the classic Mid Century Circles. The candle smells fruity, like citrus and berries, and I love it! Available in-store.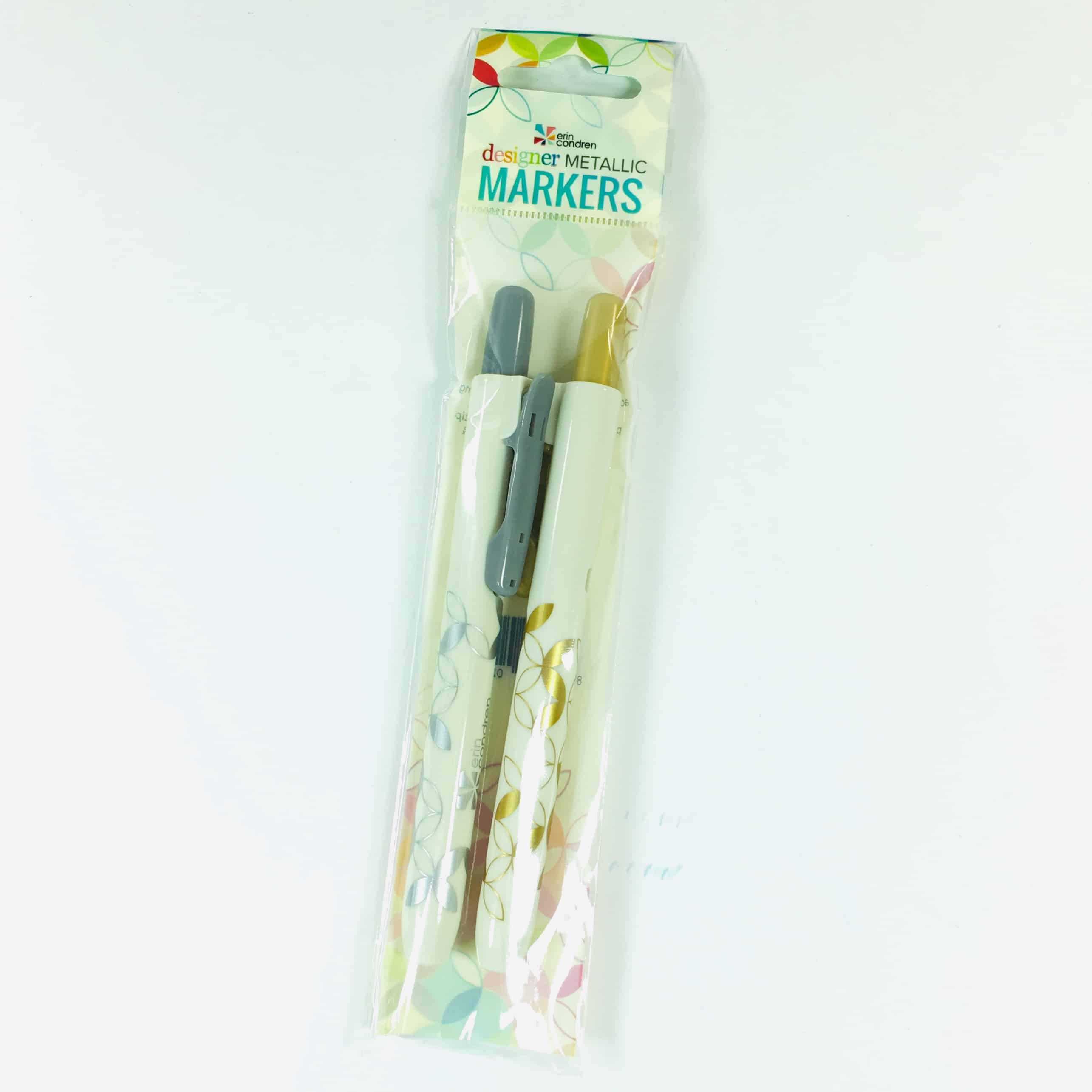 Metallic Markers (Platinum & Gold) ($8) The card said "sneak peek" but these are now available online for purchase.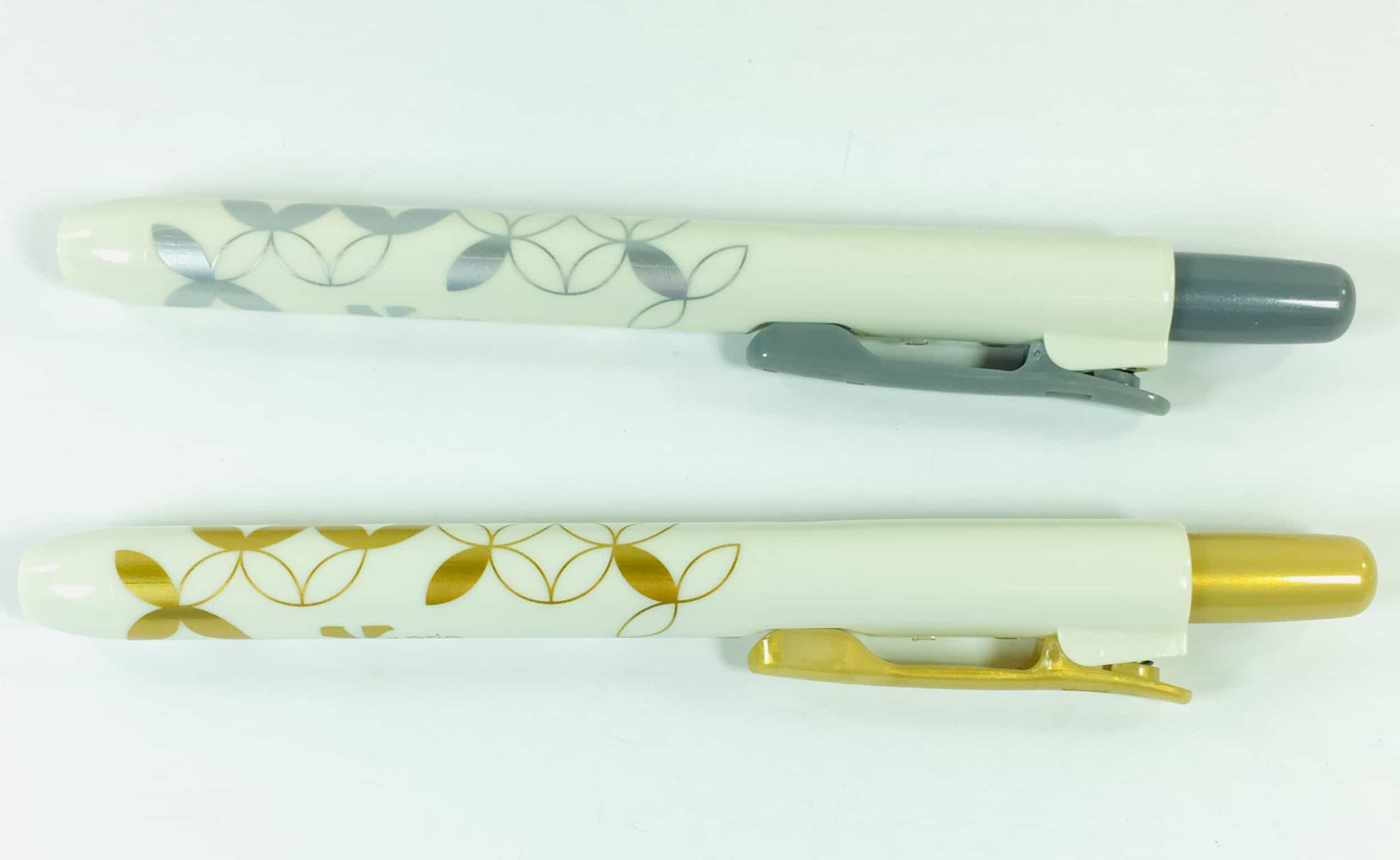 The markers are retractable and come in two festive classic colors – silver and gold.
I noticed that the silver pen ink especially looks shiny when dry. So cool!
Metallic Gold Paper Clips ($4) are a new item and comes with 4 HUGE paper clips.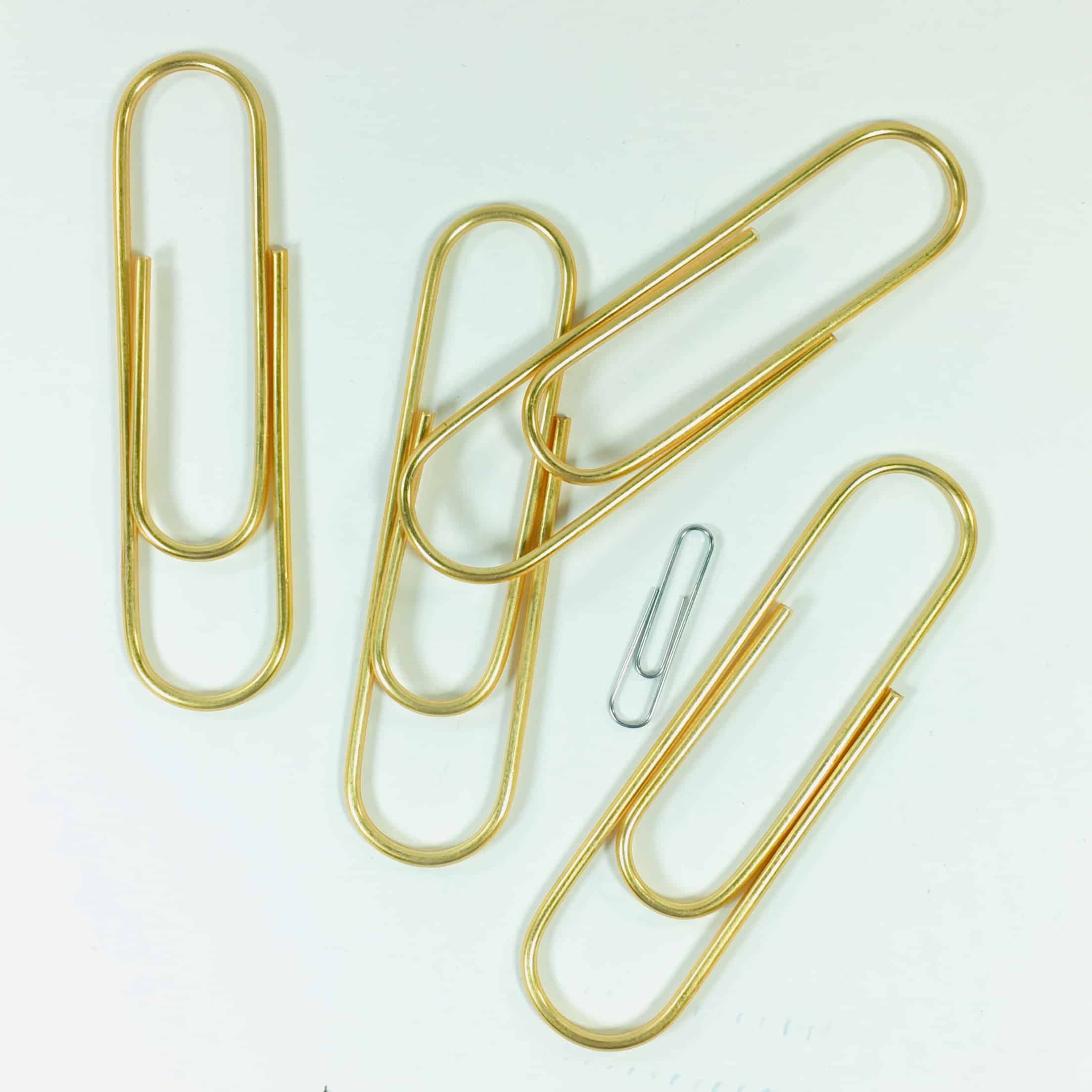 I photographed them with a standard paper clip. Look at the size of those babies! One of these would work well as a sort of bookmark in a journal to keep your place, or to bundle a stack of papers together in style. Of course, I have a lovely planner and can use one of these to keep some pages clipped together.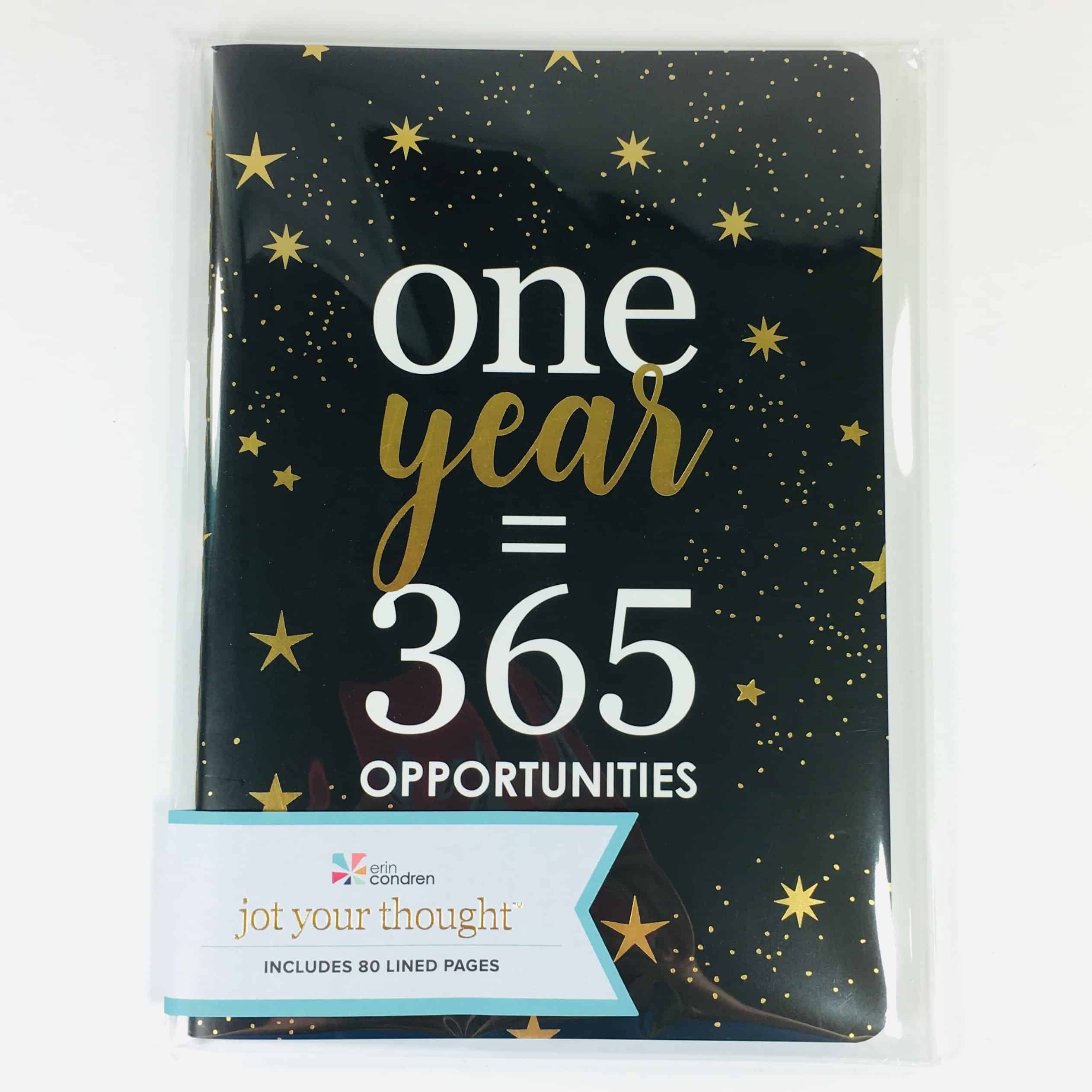 Petite Journal ($9) is exclusive to this box. It is about 5.7 x 8.25 in size and has pretty metallic gold stars on the front and back covers.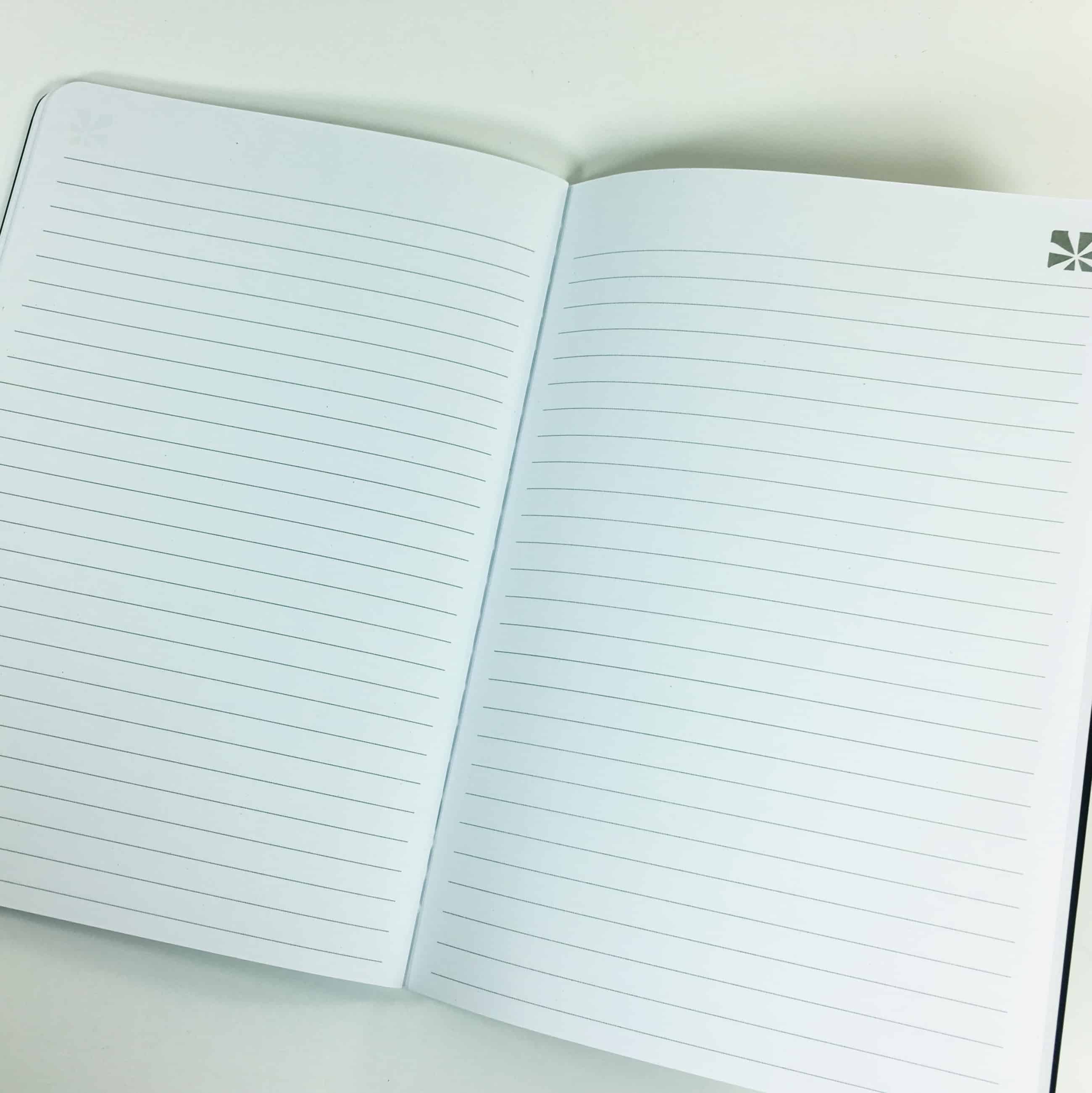 The inside has 80 lined pages to write whatever you feel!
Sticker Sheets ($8) I received two sheets of stickers that are exclusively in this box. One sheet had stickers that are clear and metallic gold. These seem appropriate for the new year just around the corner.

The second sheet had all kinds of stars, including metallic stars. These are a little sheer, so if you try to place them over mistakes (like I did) then you may still see the boo boo underneath. The metallic stickers are opaque and will hide errors. The card mentioned "paper stickers" but none of these stickers were what I would call paper, they were all glossy.
Holiday Gift Label Set ($8) is also an exclusive item for this box and they are paper stickers with metallic accents. I haven't wrapped my presents yet but I will use these lovely stickers when I do!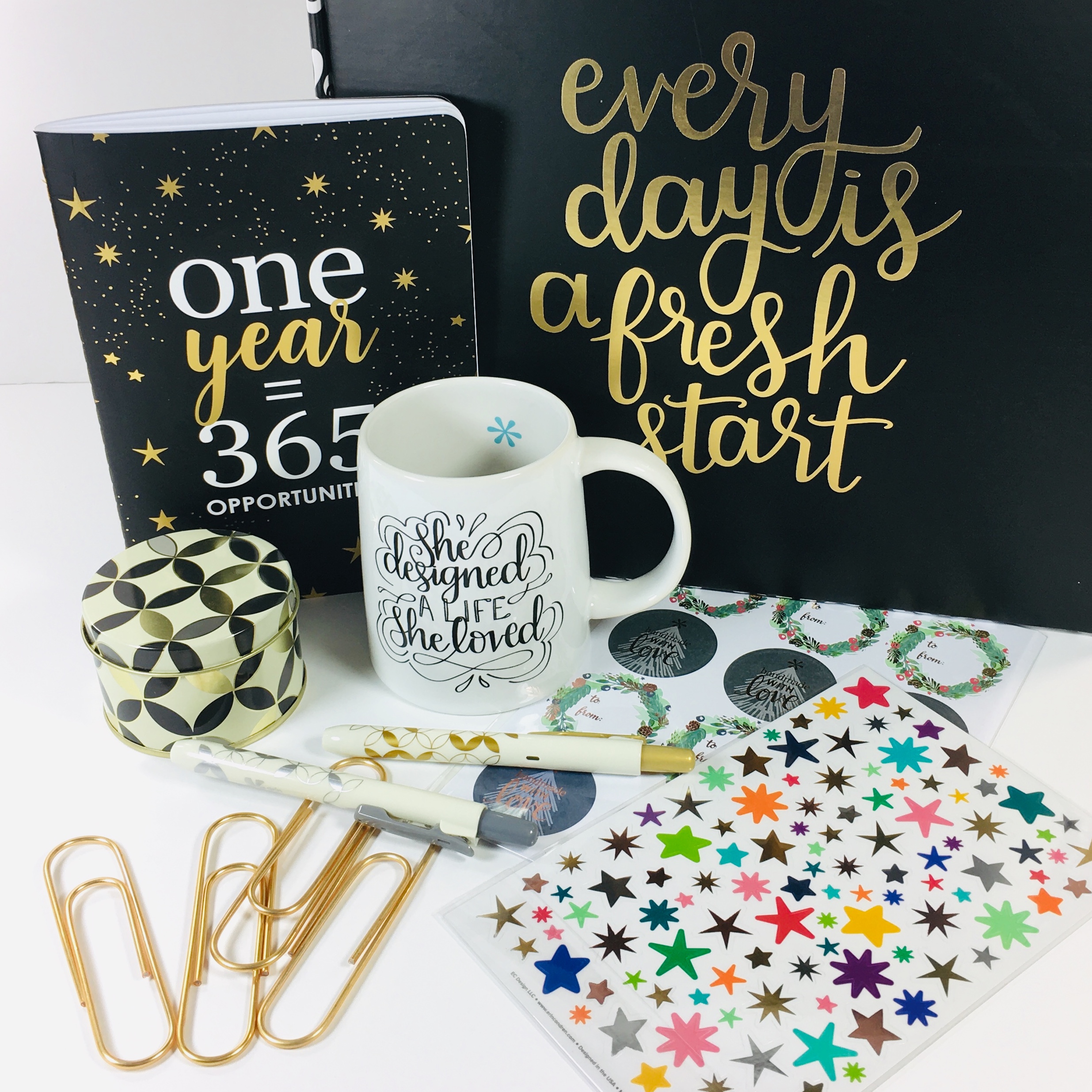 I love my Erin Condren Seasonal Surprise planner supplies and lifestyle items! The items were fun to use and looked pretty neat with a lot of black, white, and metallic gold. The mug is huge and even the paperclips are over-sized, while the markers add a touch of flash to cards and my even my planner. The candle smells wonderful and the journal is a good way to keep plans for the year ahead. Some of the items are available at the Erin Condren store (there's only a couple sprinkled around the country) while others are available online and still others are only in this box.
What did you think of the box?
Visit Erin Condren Seasonal Surprise Box to subscribe or find out more!