CampusCube College Care Package is a subscription box that delivers treats to your babies who have left home to start a new chapter in their lives at college. Sign your child up for CampusCube and they will receive up to 4 boxes per semester, or 8 throughout the school year, depending on which plan you choose. You can also send a one-time box for a birthday, exam survival, or just because. CampusCube offers a version for boys or girls and I will be reviewing the items from the Guys "Man Cube", which is $49.95 for a one-time purchase and available here. CampusCube monthly is $39.95 a box. CampusCube offers a gluten-free version, too.
DEAL: Take $5 off your box! Use coupon code Hello5.

Here's a sample of the personalized card your child will receive with their box. The card tells how your student can contact support if they have a problem with their cube.
I found some seasonal treats on top!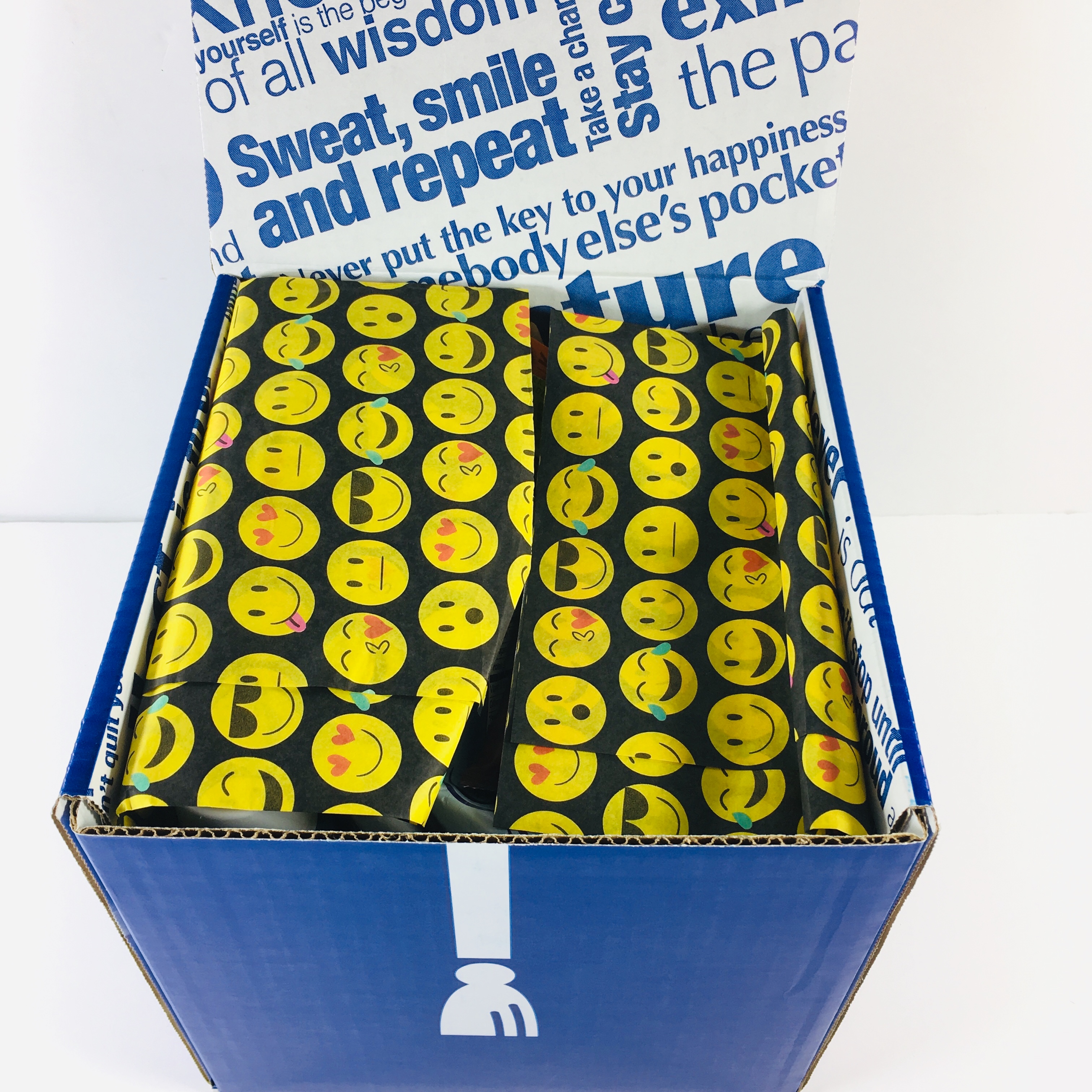 Emoji tissue paper was on top and made for a very cheerful and colorful presentation.
This box is jam packed with goodies.
Everything in my box!
Aluminum Sports Bottle holds 20 ounces of water or other beverages, like energy drinks. Campus Cube even included a couple of drink mixes, shown later in this review.
Harry's Shave Gel with Aloe ($5.99) is a gel that foams up to a rich lather and smells like a nice cologne, I love the scent. Aloe helps keep skin soft and smooth.
Harry's The Truman Razor ($9) is a great basic to have on hand.
It came with a coupon code for 4 more cartridges that can be redeemed online and instructions on how to replace the blades.
There are five blades and a lubricating strip, plus the rubberized handle provides more grip at a time when your hands are slippery and wet.
Southern Style Nuts Gourmet Hunter Mix ($5) are just delicious! Crunchy nuts, sesame sticks, and seeds are salty and savory. Easy to eat by the bagful.
Nuts.com Dark Chocolate Turbinado Sea Salt Almonds ($12.99 per pound) Just when I think that you can't improve upon a chocolate covered nut, Nuts.com goes and adds turbinado sugar for extra crunch and sea salt for the perfect sweet and salty combo.
Gatorade Whey Protein Bar ($1.50), Gatorade Lower Sugar Thirst Quencher ($0.22), and Gatorade Thirst Quencher ($0.16) are ready to go, just grab a drink mix and pour it into a water bottle (like the one provided in this box) and stick the protein bar in a backpack for those times when you need to eat something but can't really stop for a meal (like in the library, you know they are studying for finals!).
Cave Man Dark Chocolate Cashew Almond ($1.58) My daughter took this one to school for a snack and said she liked it. I like the ingredients, like cashews, chia seeds, and pumpkin seeds.
Krave Gourmet Beef Cuts in Sweet Chipotle and Chili Lime ($3.50) are snacks that tend to take a while to eat but then leave you satisfied since they are made of meat.
Both snacks were sweet and spicy.
RX Bar Peanut Butter Chocolate Protein Bar ($1.74) and RX Bar Chocolate Sea Salt Protein Bar ($1.72) are great meal replacement bars. I keep one in my bag so that if I get sidetracked and can't grab lunch then I have something to hold me over for a while. Pretty much all of the ingredients are listed on the front of the package.
Pop! Gourmet White Cheddar Jalapeño Popcorn My daughter said this had actual jalapeno bits in it. She really liked it.
Pretzel Pete Salted Caramel Mini Twists ($2.75) Tired of plain old pretzels? Give these a try! They are sweet and salty and a nice change from the usual treat.
Dude Shower On-The-Go Body Wipe ($1.14) are fragrance-free and are handy to take to the gym because no one in your class wants to know that you just got back from the gym. Start at the top and work your way down.
Kikkerland Wilderness First Aid Kit ($9.90) Those wipes above can be used on camping trips, and so can this handy little kit.
There are 22 pieces and the handy carrying case means it can be easily carried in a backpack.
Bandages, sunscreen, antibiotic cream, and several other items all fit nicely in the tin. Believe it or not, I was able to fold everything up and fit it back into the case!
The ManCube from CampusCube was full of snacks that anyone would love. The first aid kit is very handy, the wipes help keep a student from smelling overly stinky when they don't have time for a shower before class, and the water bottle is perfect for the gym, bike rides, or library study time. The razor is well-made and extra cartridges means extra value from this box! I love CampusCube because sometimes you want to send a care-package to your college student and maybe you are just a tad too busy gather items yourself, so send a CampusCube, I bet they will love it!
What do you think of CampusCube? Let me know in the comments!
Visit CampusCube College Care Package to subscribe or find out more!