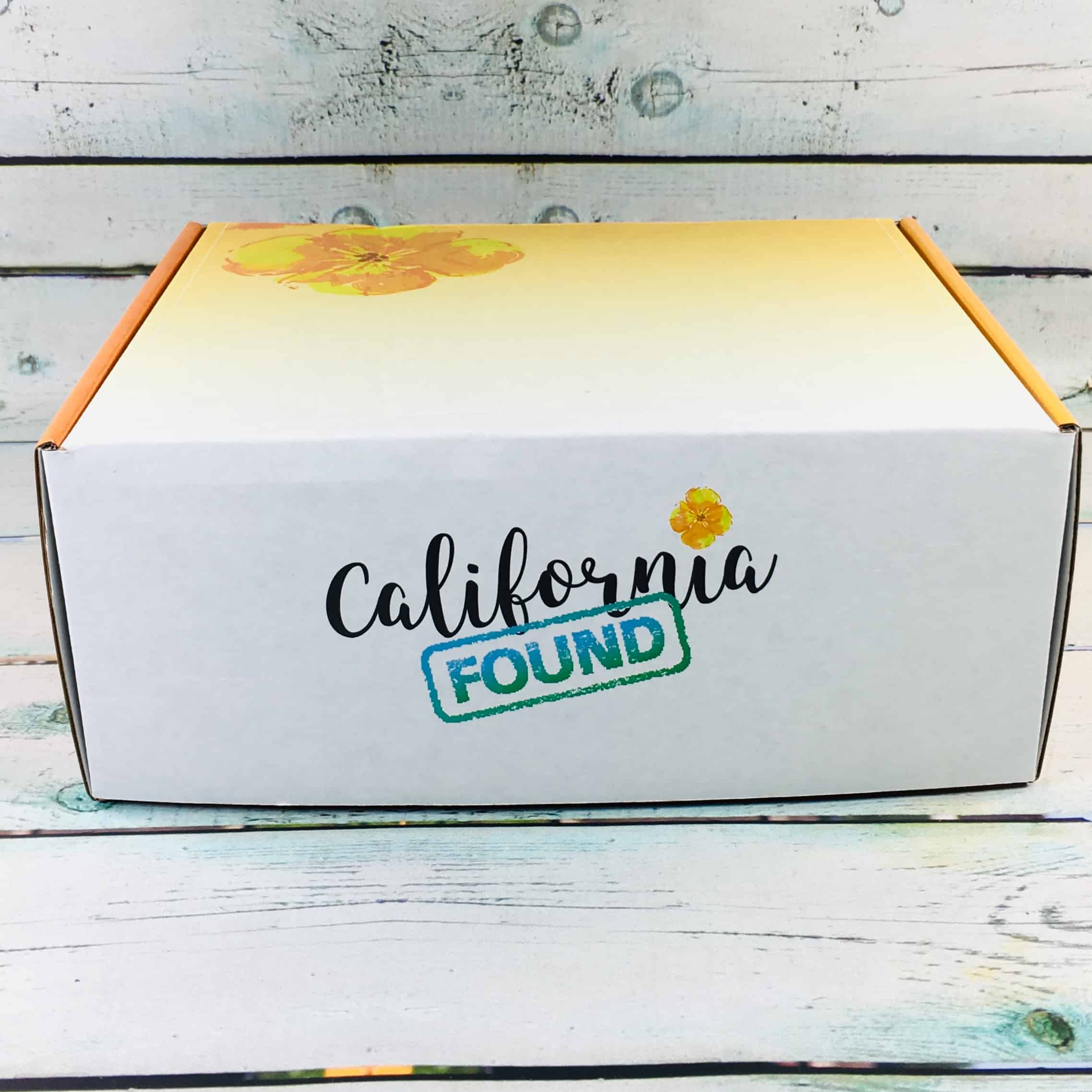 California Found is an awesome monthly subscription box that delivers the best of The Golden State, directly to your mailbox! Each box is $49, but has a value of $90+! What will you find in your box?
Once a month, our subscribers experience the California lifestyle through a box filled to the brim with natural spa & beauty products, locally sourced gourmet treats, beautifully crafted home goods, and infinitely wearable jewelry. Each box tells the story of five to seven California makers through their products and an individual notecard dedicated to each one. Every beautifully packaged delivery reflects the laid back, stylish, uniquely chic attitude that is California.
Hello, sunshine! 
The presentation is always on point with this box and this paper is embedded with wildflower seeds! I found a set of cards – one with an introduction to the current box, and one for each of the vendors featured in this month's box. The bundle was secured with more seeded paper.
DEAL:Get free shipping on your first box of a monthly or 3-month subscription! Use coupon code HSFREESHIP. Valid for new members only.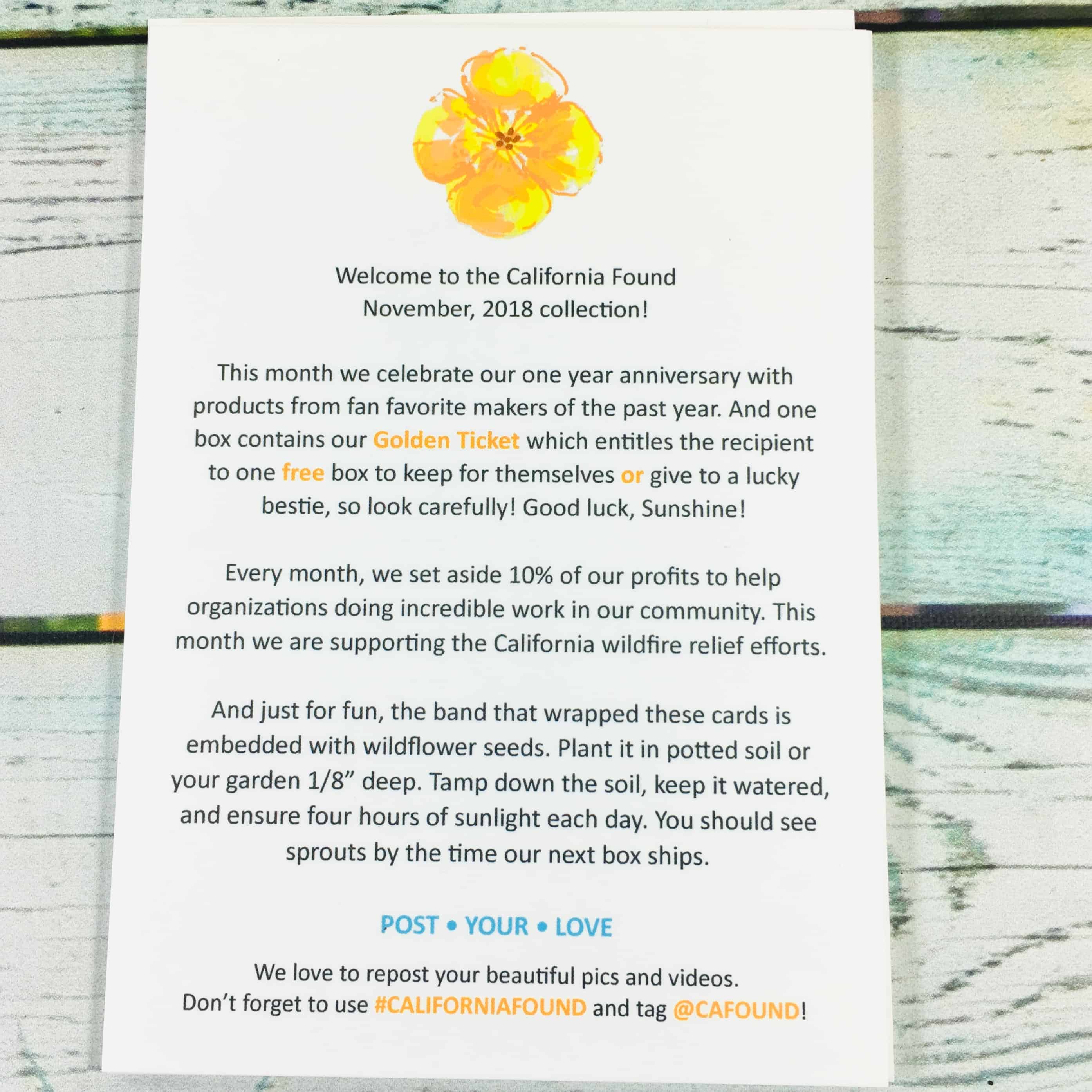 California Found recently introduced The Golden Ticket, which seems appropriate for a box coming from The Golden State! One box each month will contain a special ticket that will entitle the subscriber to a free box for themselves or for a friend. Also, California Found gives 10% of their profits to charitable organizations and this month proceeds will go to help California wildfire relief efforts. This is also the 1 year anniversary box so some of the brands featured in the past year are back!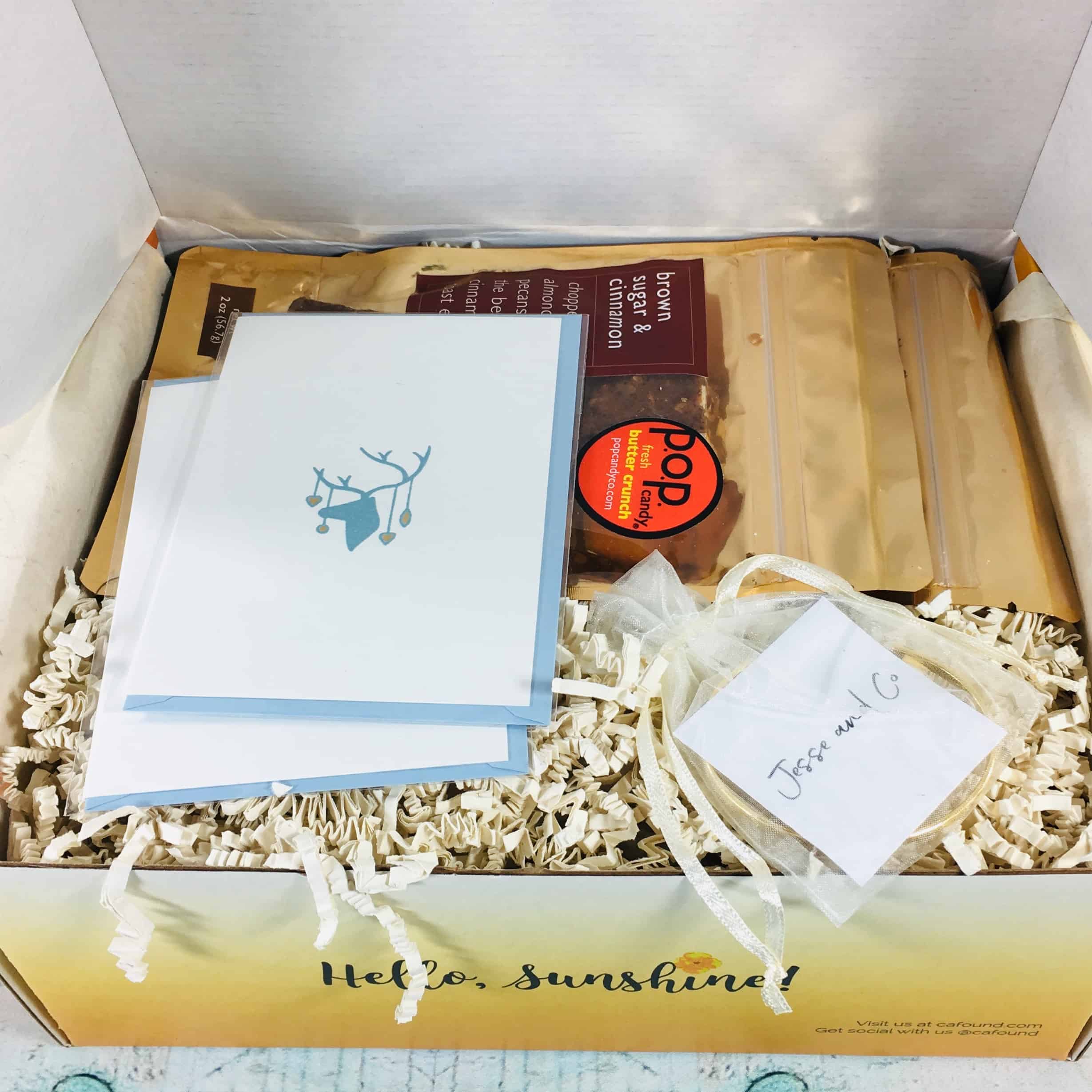 My items were snuggled into paper squiggles and were kept safe on their journey.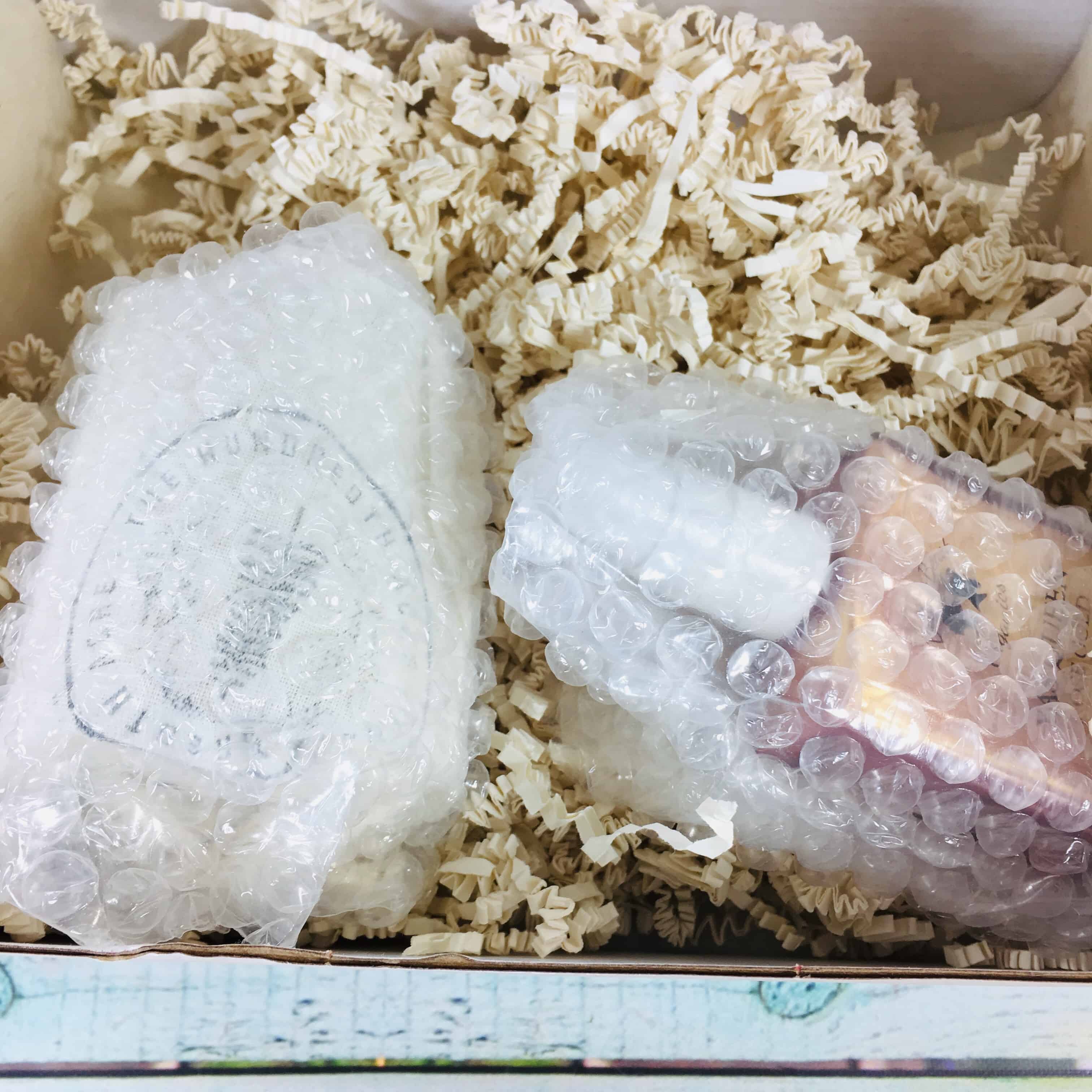 Two items were wrapped in bubble wrap to keep safe.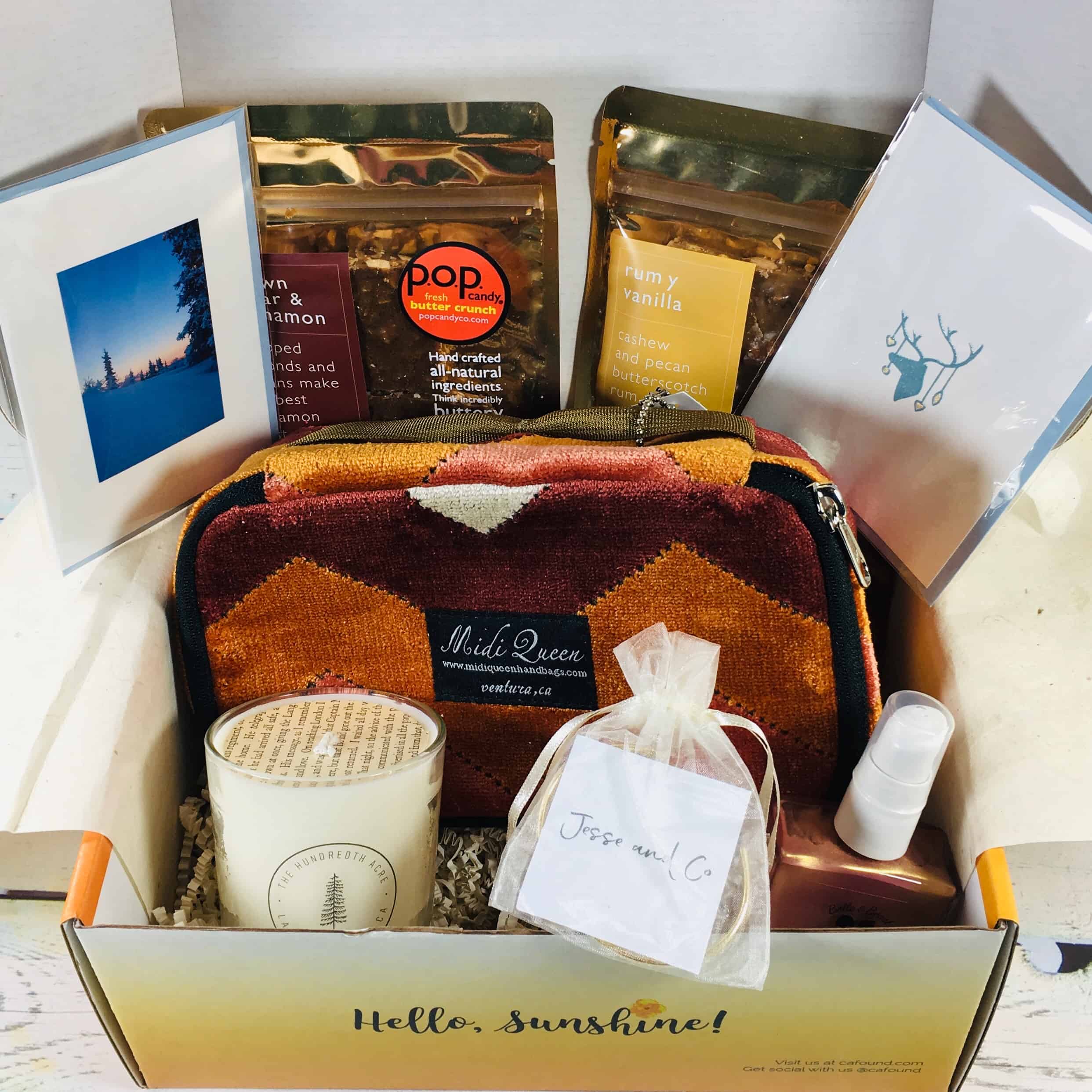 Everything in my November 2018 California Found box!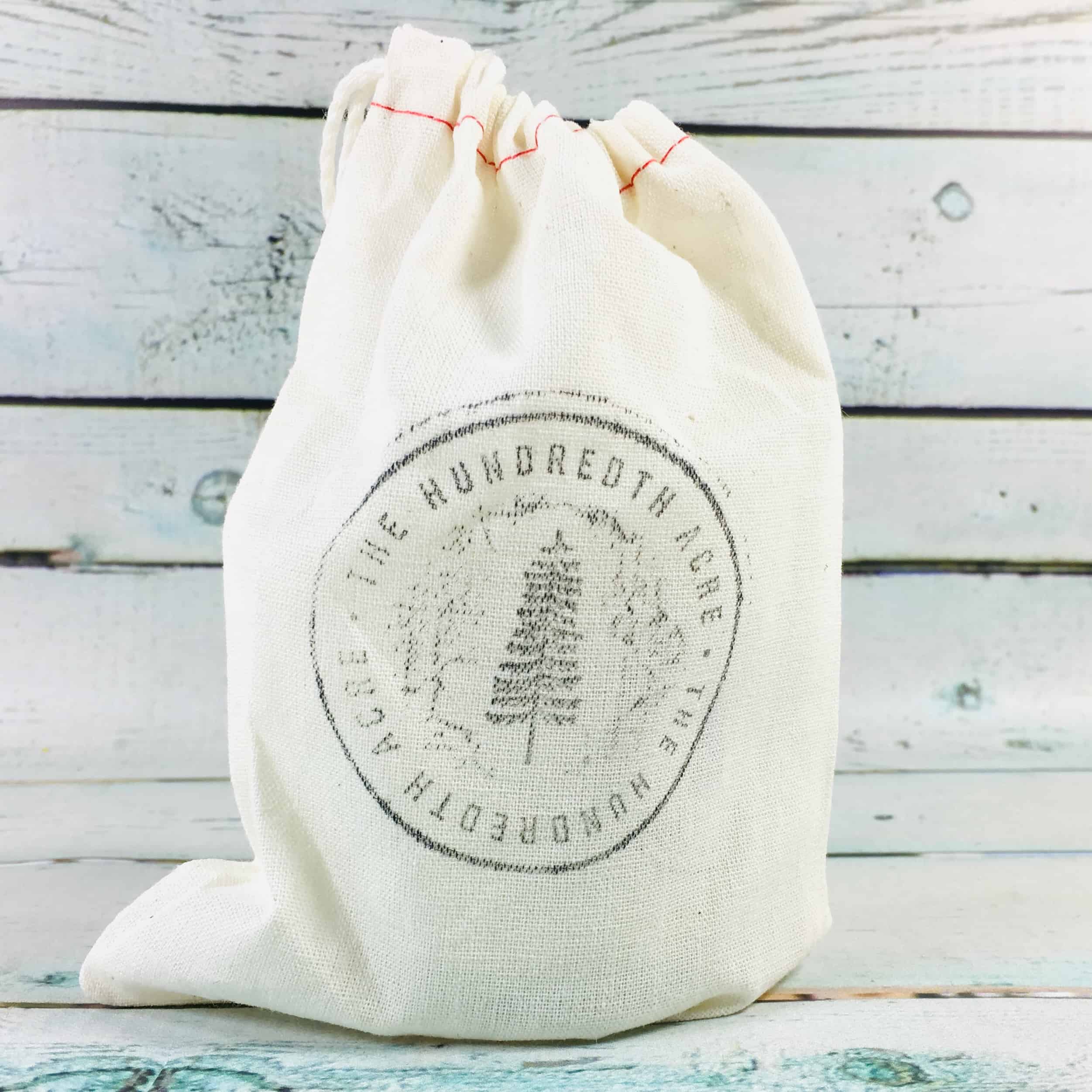 The Hundredth Acre Candle in A Walk in the Woods ($25) I could smell this wonderful candle before I even opened the box!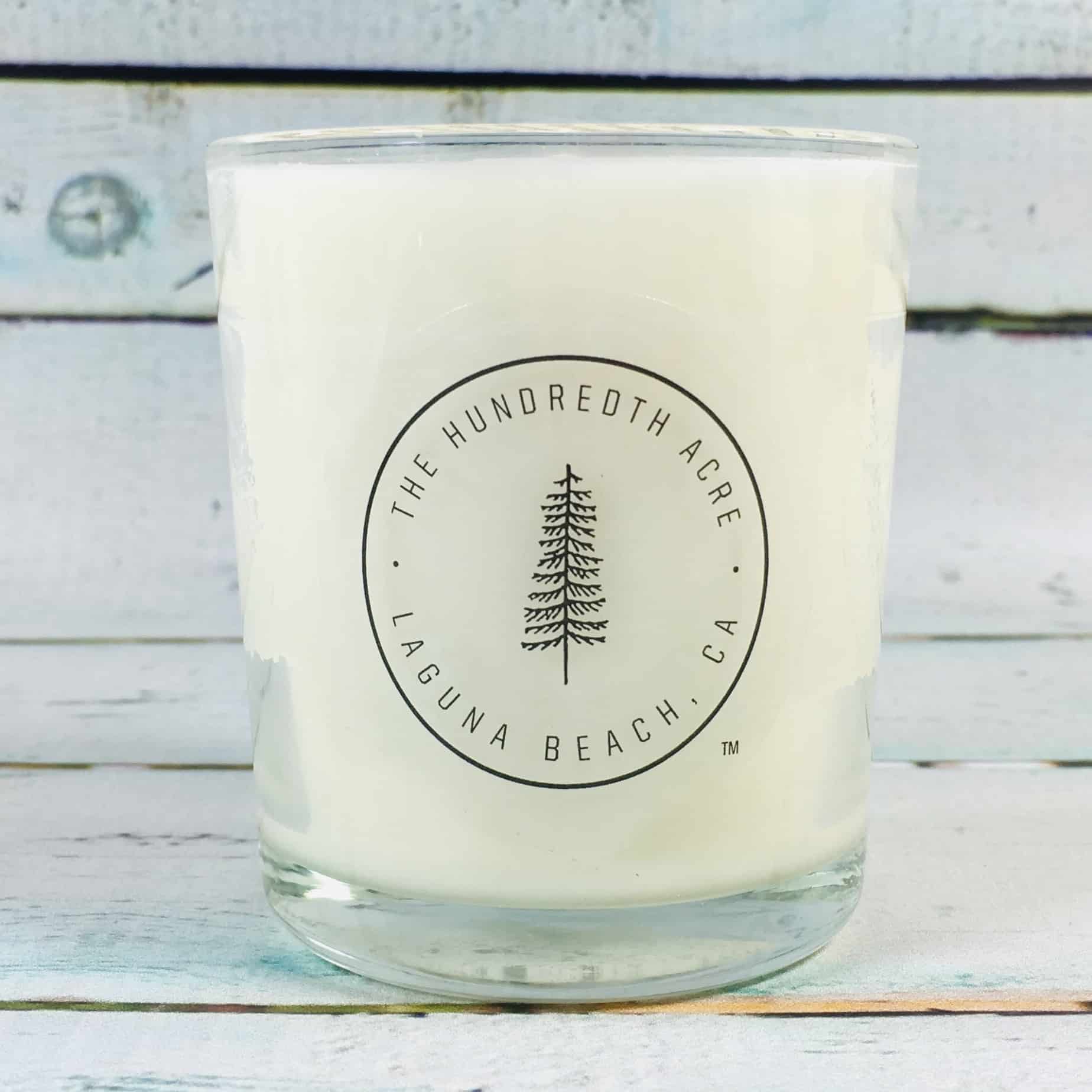 This candle is made with soy wax and should burn for around 50 hours.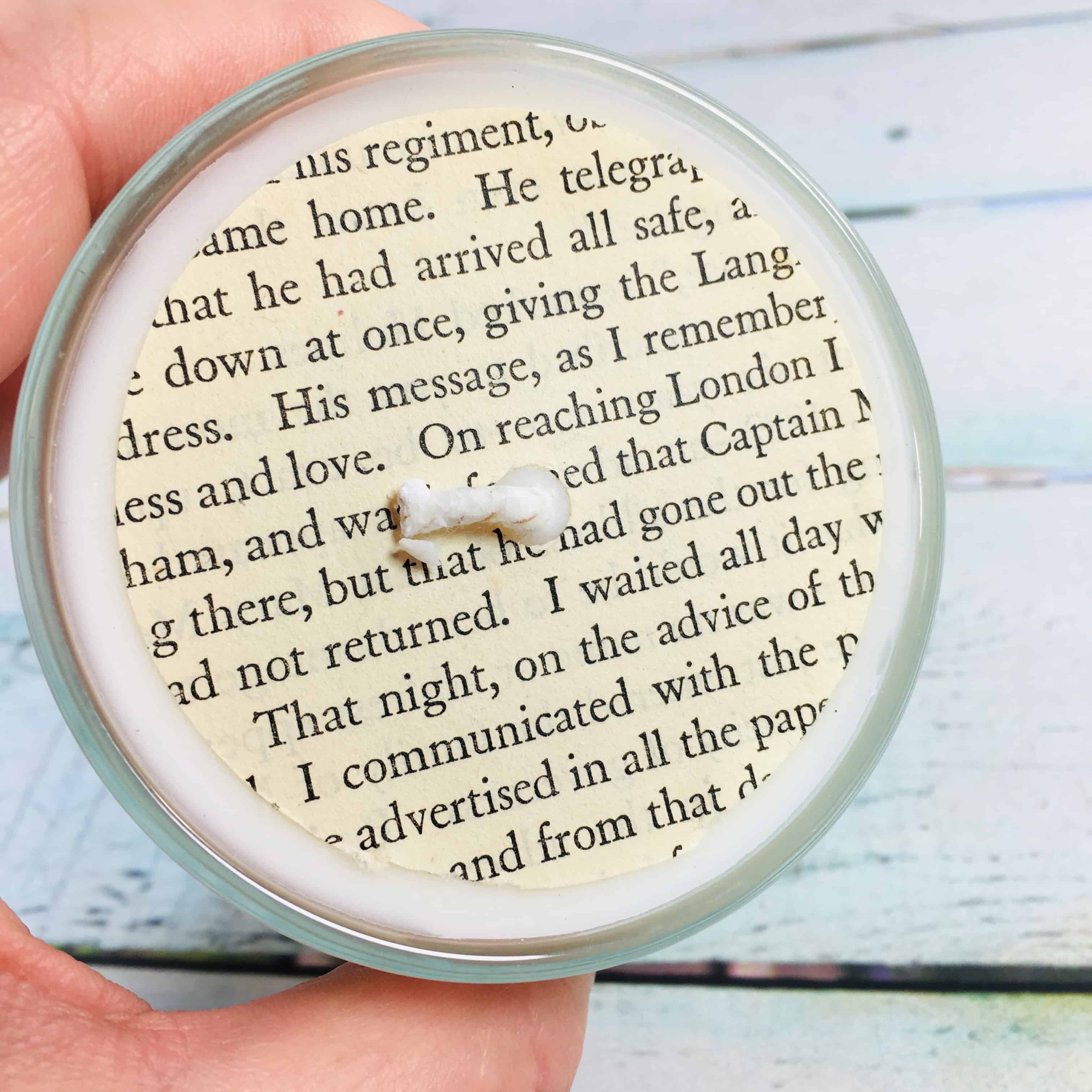 The topper (remove before burning!) is cut from used books and I believe mine is from Sherlock Holmes. As for the scent, which is a blend of spruce and cedar, it smells like a fresh cut evergreen tree and smells just as good when hot or cold. I love this candle!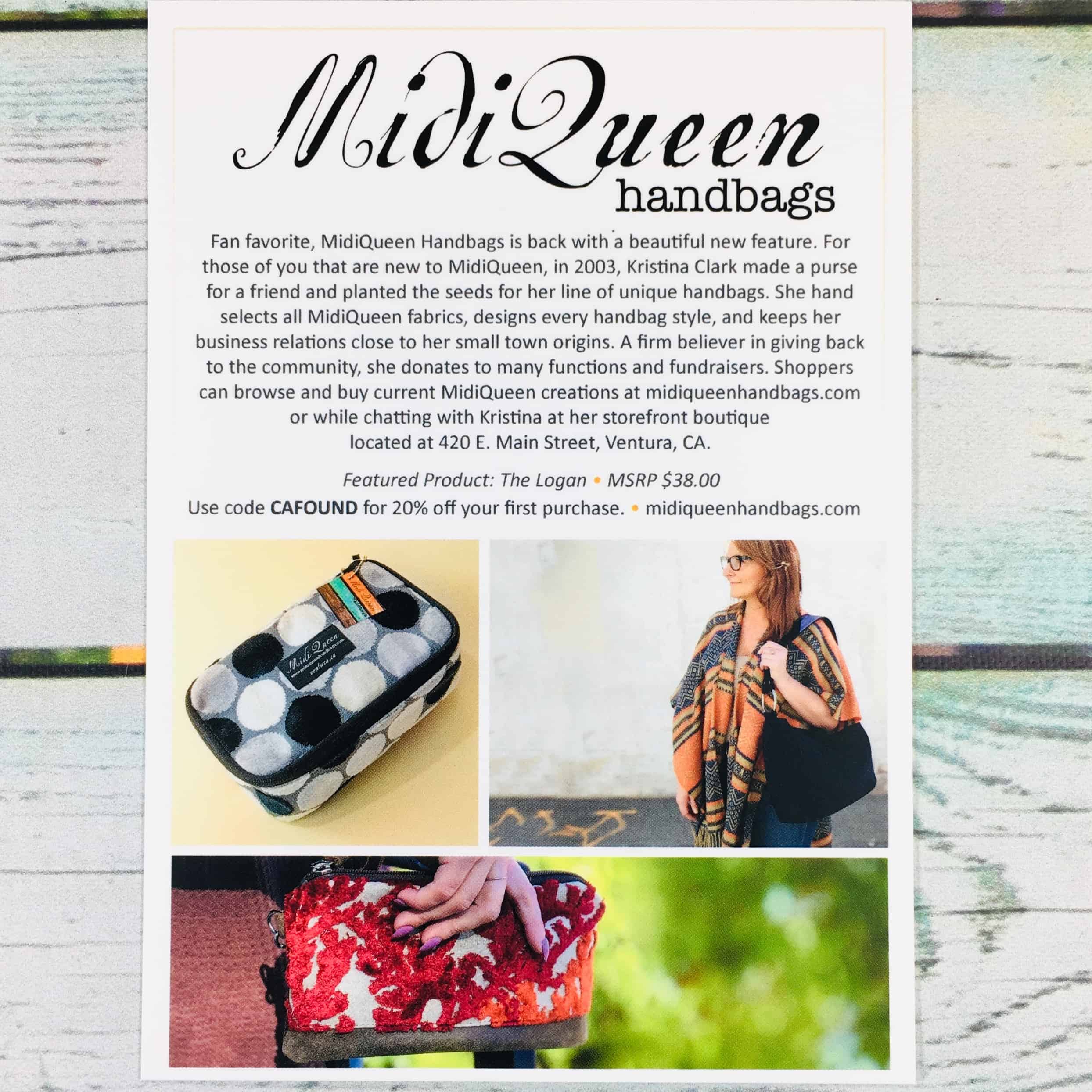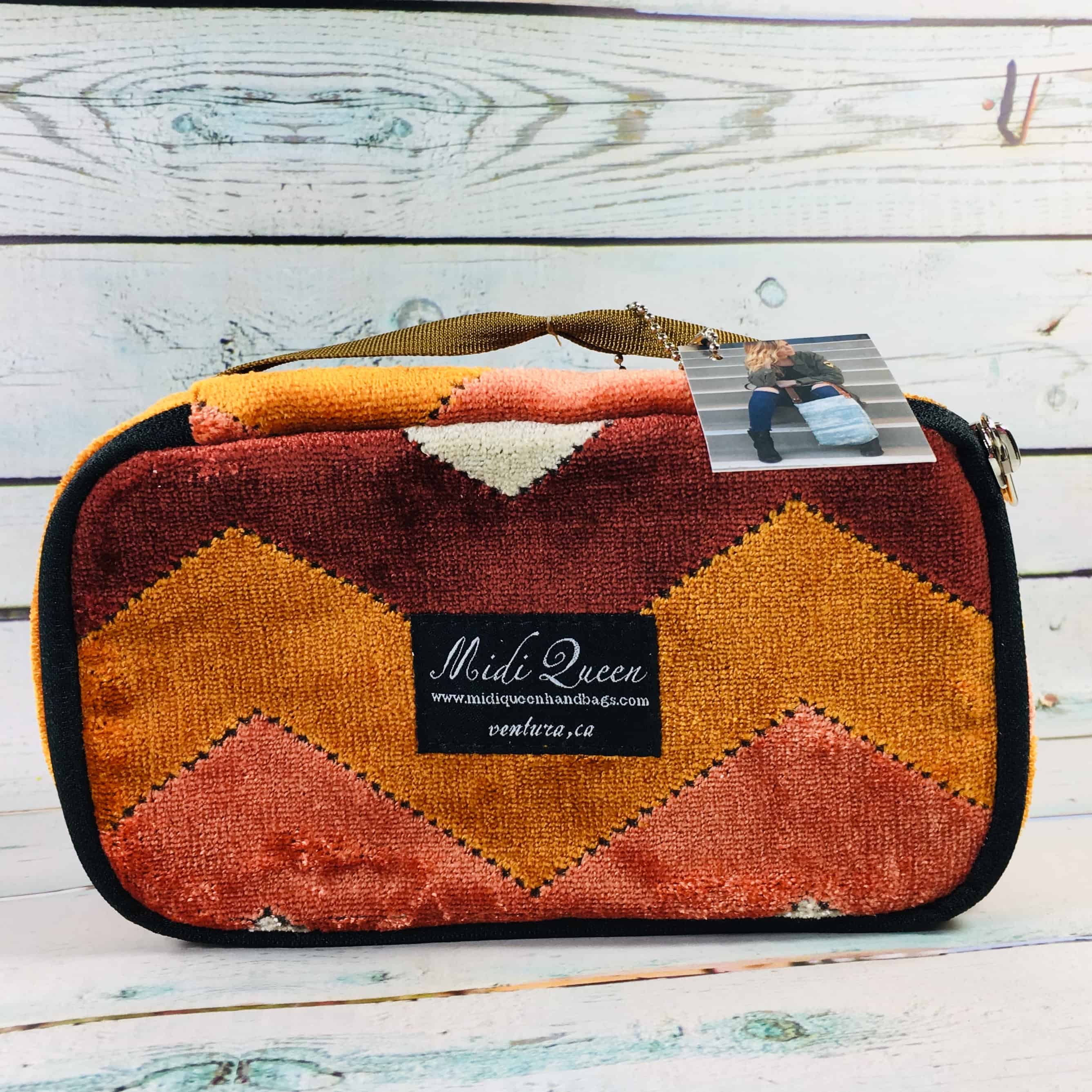 Midi Queen Handbags "The Logan" ($38) The Logan is a makeup bag but don't let that keep you from using it for other reasons.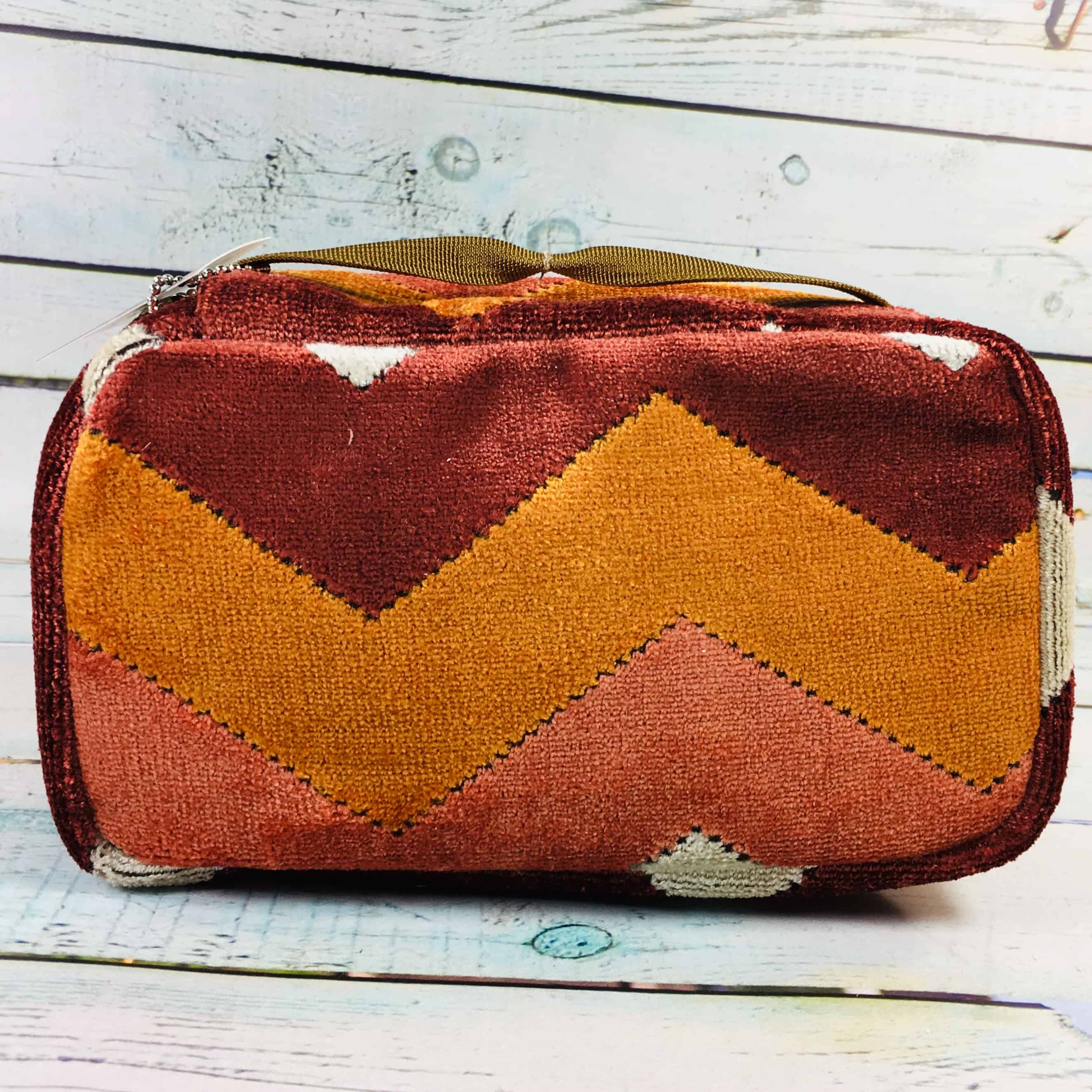 Check out that fabric! It has a handle on top and a zipper that opens it up from one side to the other.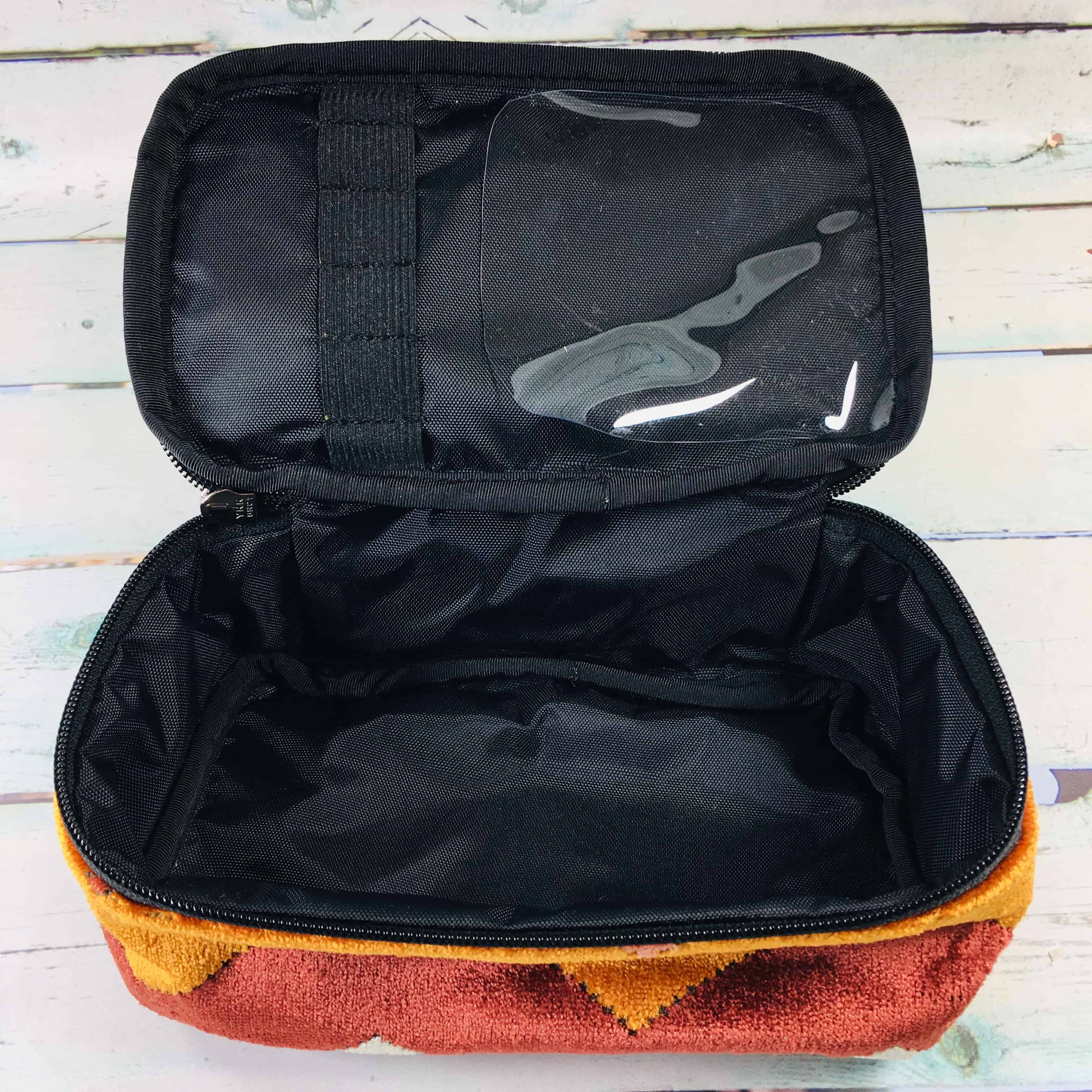 The inside has a nylon liner and there are elastic straps to hold down makeup brushes or lip gloss containers etc.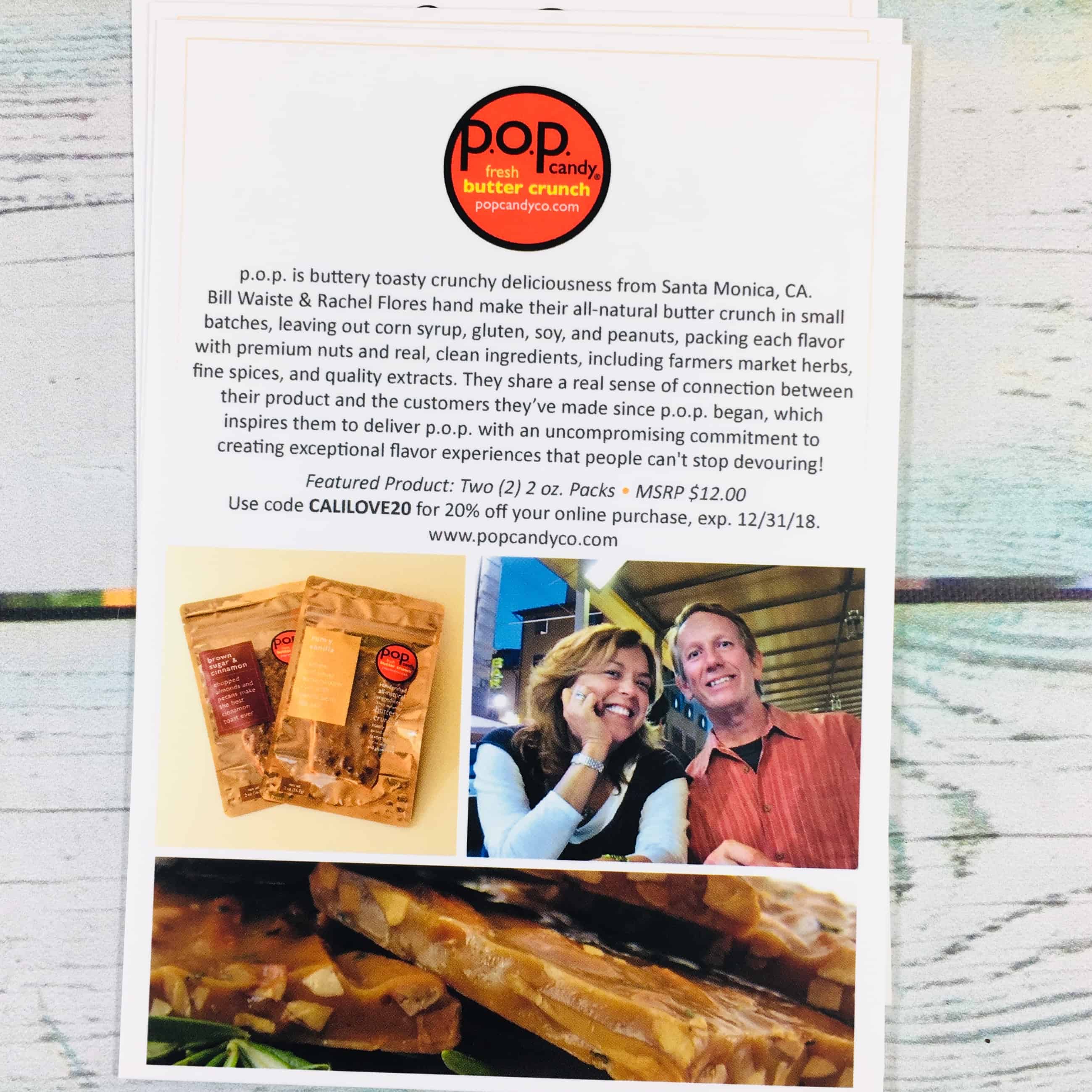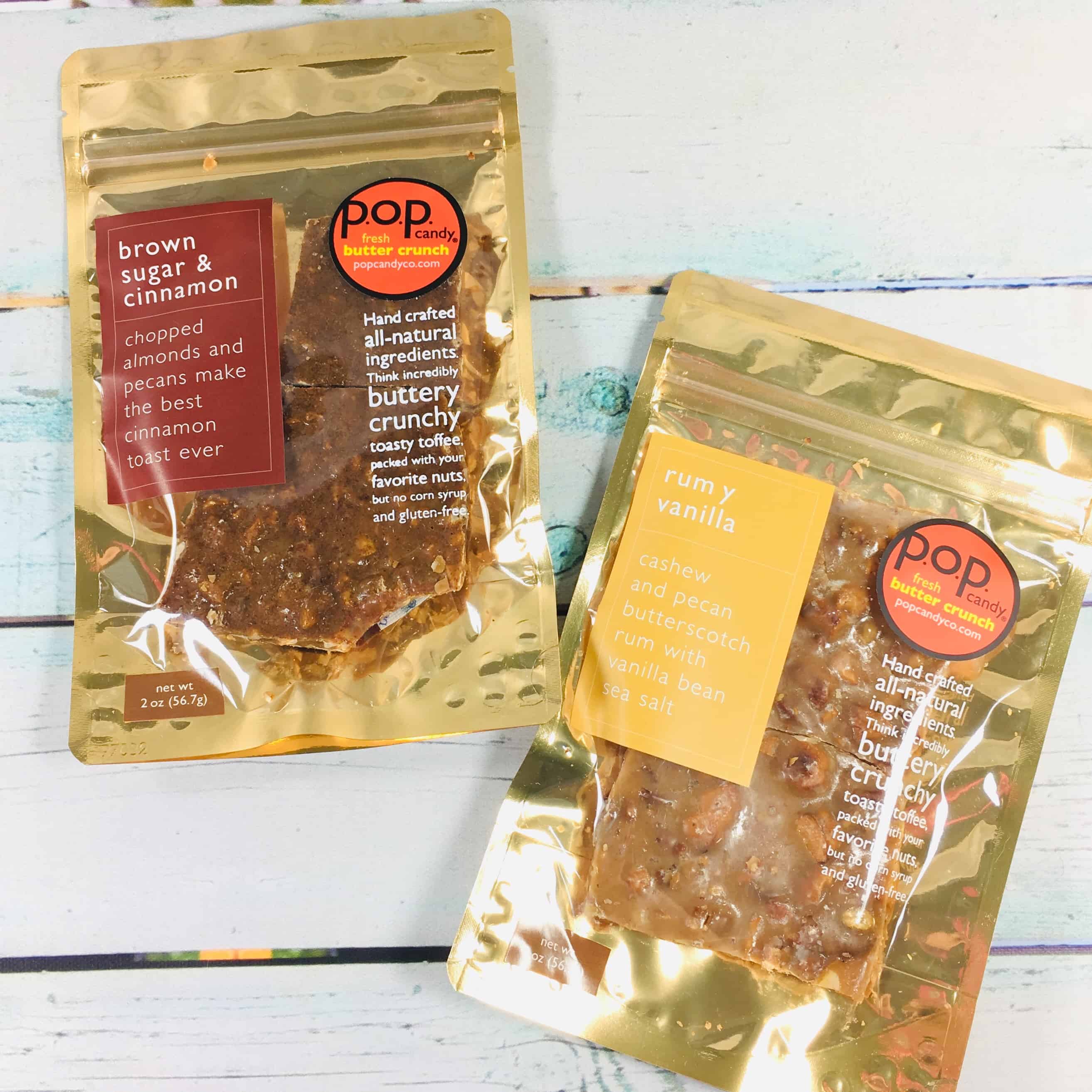 p.o.p. Candy Packs in Brown Sugar & Cinnamon and Rum y Vanilla ($6 each) I had to eat these carefully since I have two new crowns and so I just let them melt in my mouth.
The all-natural ingredients were listed on the back. No weird unpronounceable items listed.
I tried the Brown Sugar & Cinnamon first (shown above left) and it was pretty good, with almonds and pecans in toffee. Then I tried the Rum y Vanilla (on the right) and was in heaven, with salty butterscotch and cashews & pecans. Did I mention rum? Yum!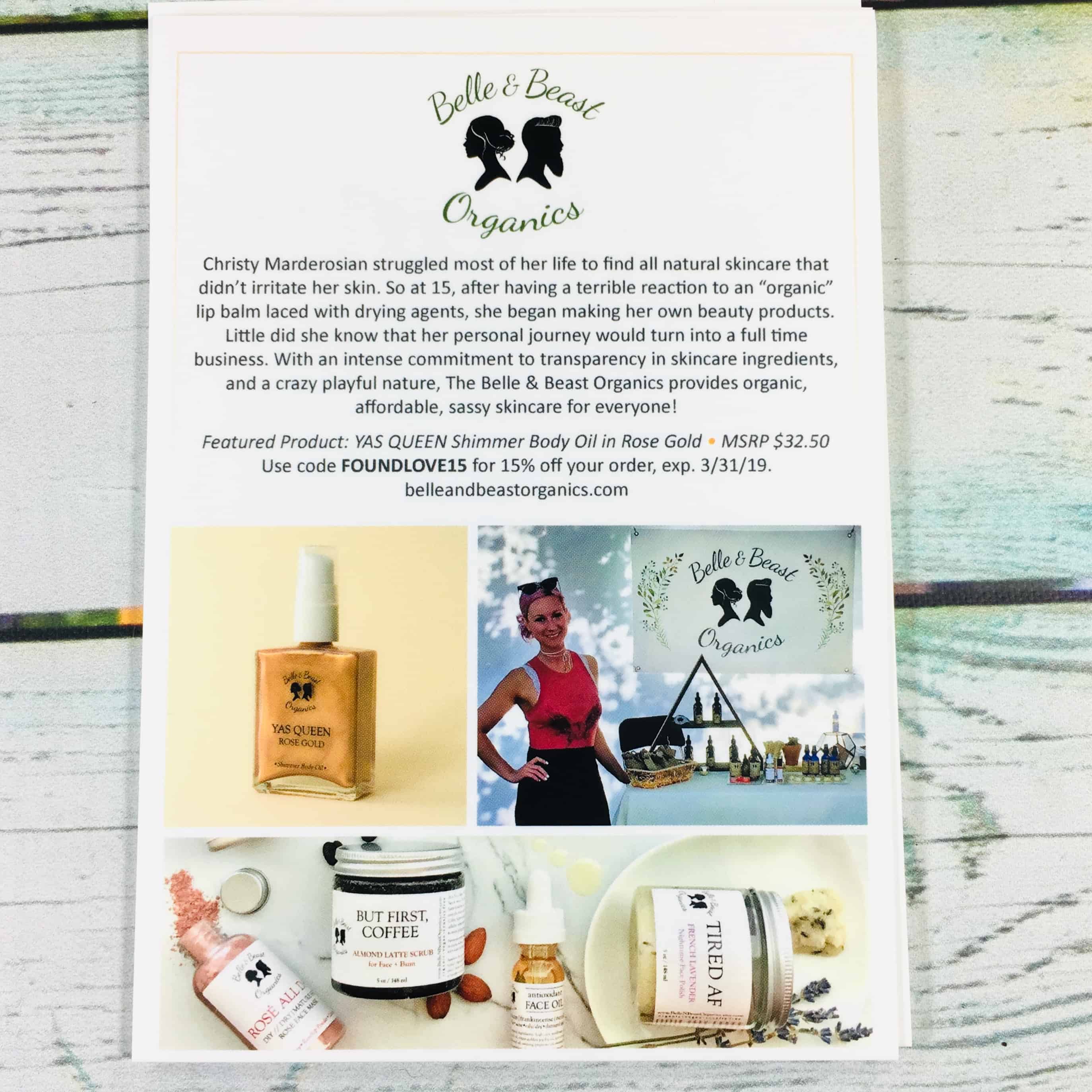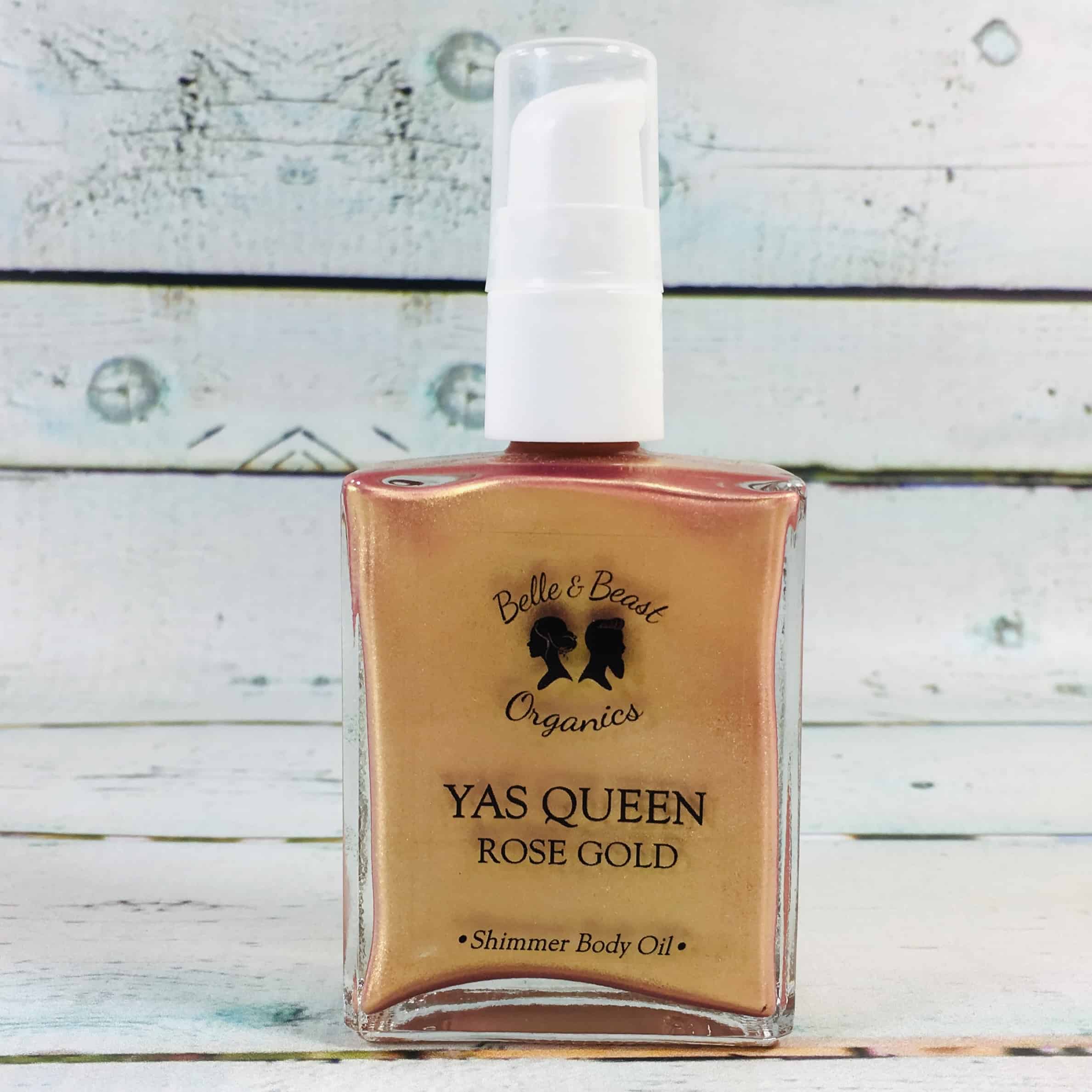 Belle & Beast Organics Yas Queen Shimmer Body Oil ($32.50) The holidays are a great time to get all glowy and now you can make the stars and twinkling lights jealous.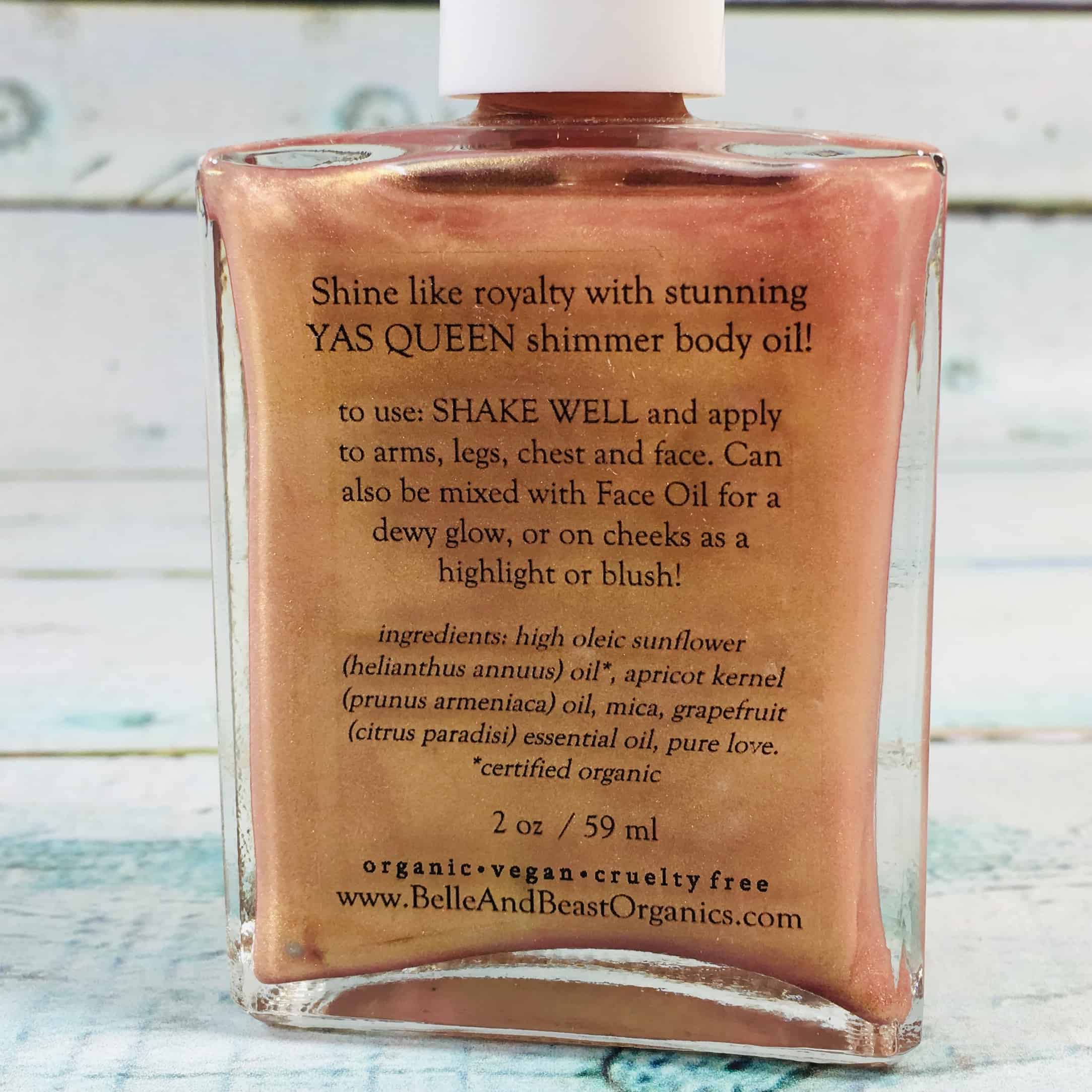 The ingredients are all-natural and it is vegan and cruelty-free. I applied it after my shower and I looked like I just got back from a beach vacation. I think next time I might tone it down a bit and mix with some neutral body lotion, but you can use it as it is or even place a drop or two into foundation for a lit-from-within glow. Smells good too!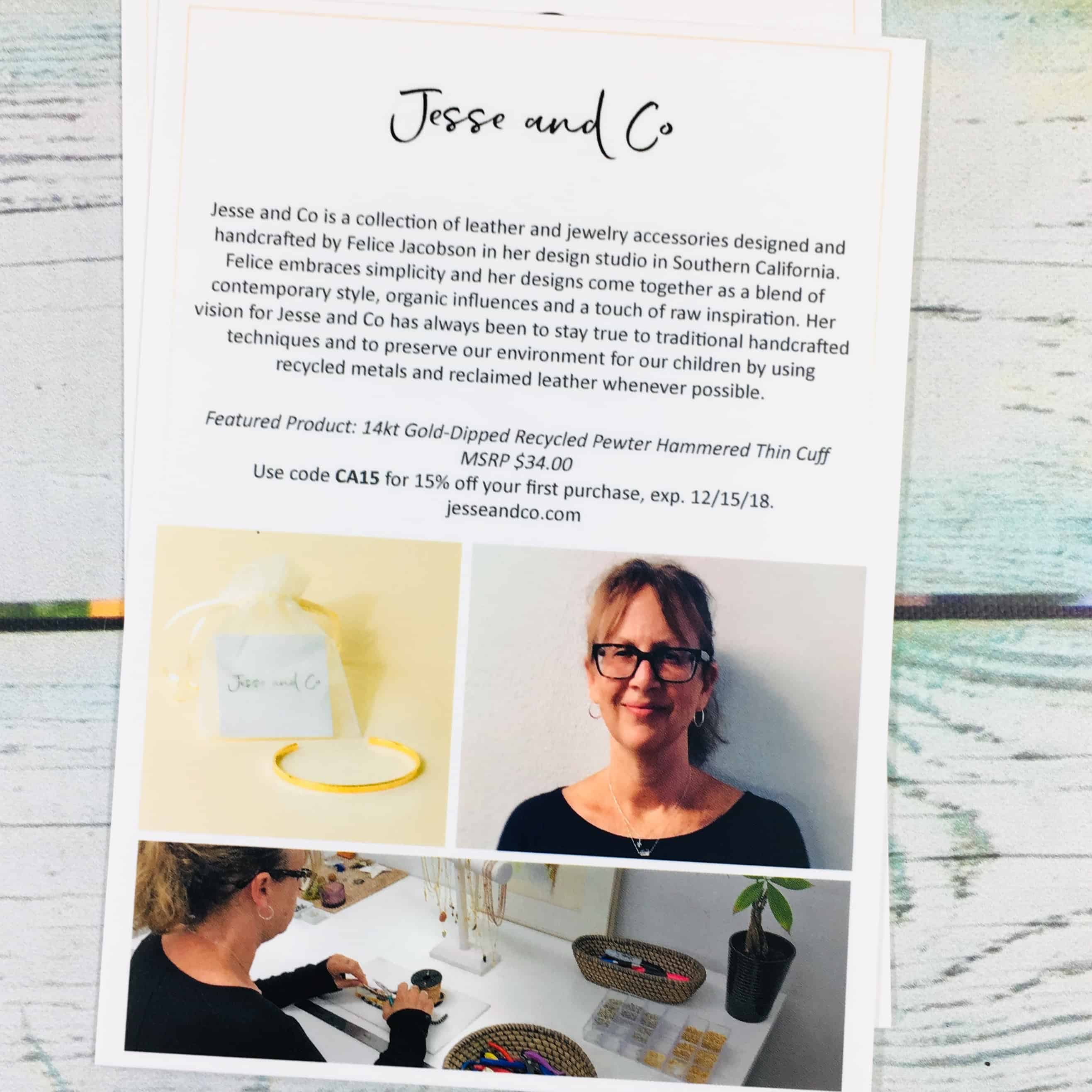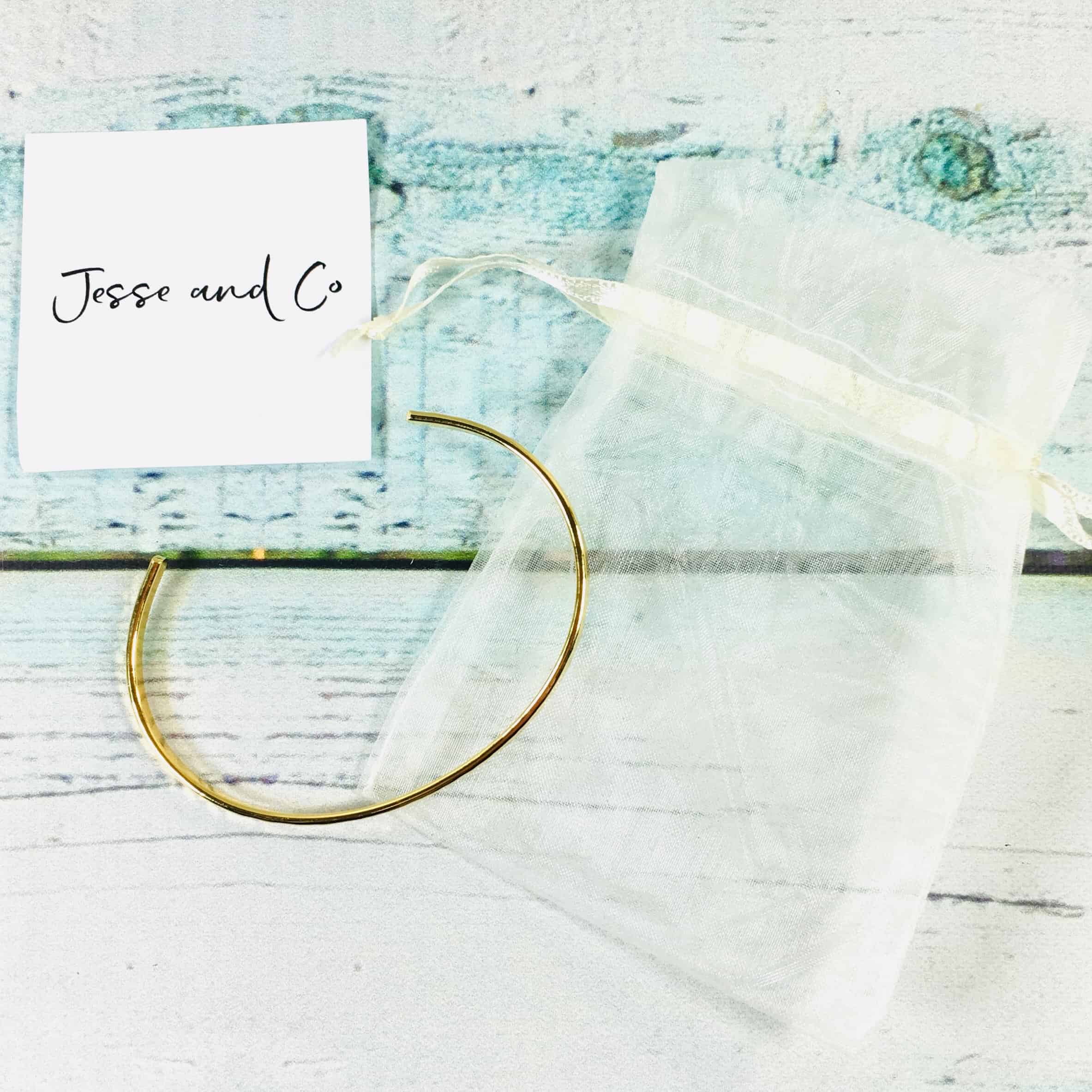 Jesse & Co 14kt Gold-Dipped Recycled Pewter Hammered Thin Cuff ($34) I linked to a similar item, the only difference being that the card says pewter, and the website says brass.
This thin bracelet has a hammered gold appearance and it is very light-weight. It is dipped in 14k gold.
I have large wrists and it fits me fine but you can also adjust it to make it slightly bigger or smaller.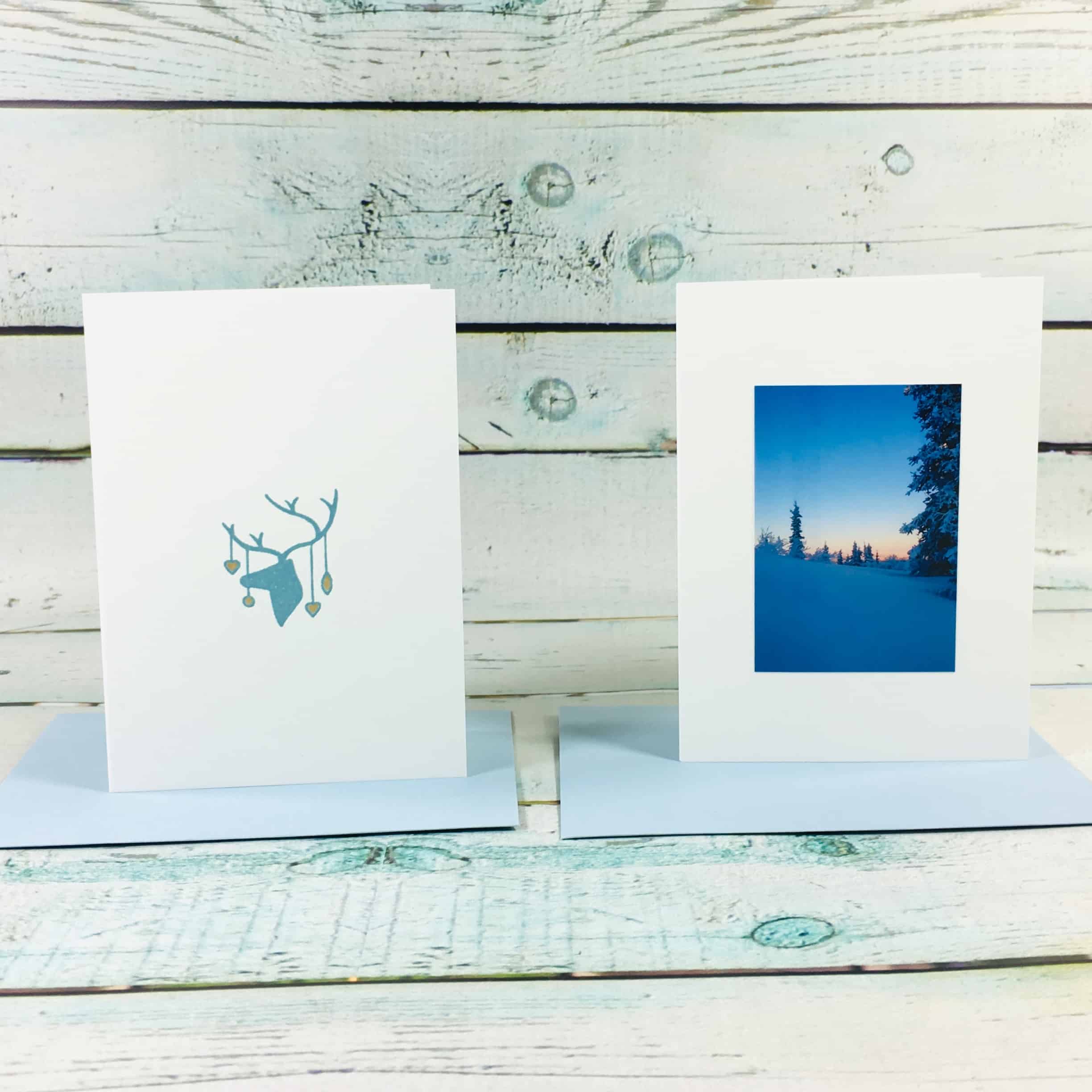 The Wee Tree Co. Handmade Greeting Cards ($4.75 each) Aww, aren't these adorable? They are perfect for winter holidays or a quick note to a friend. The reindeer has a touch of gold on the ornaments, while the winter scene is an actual printed photograph. Both cards are 3.5 x 5 and are printed on white cardstock and are blank inside. Each comes with a pale blue envelope.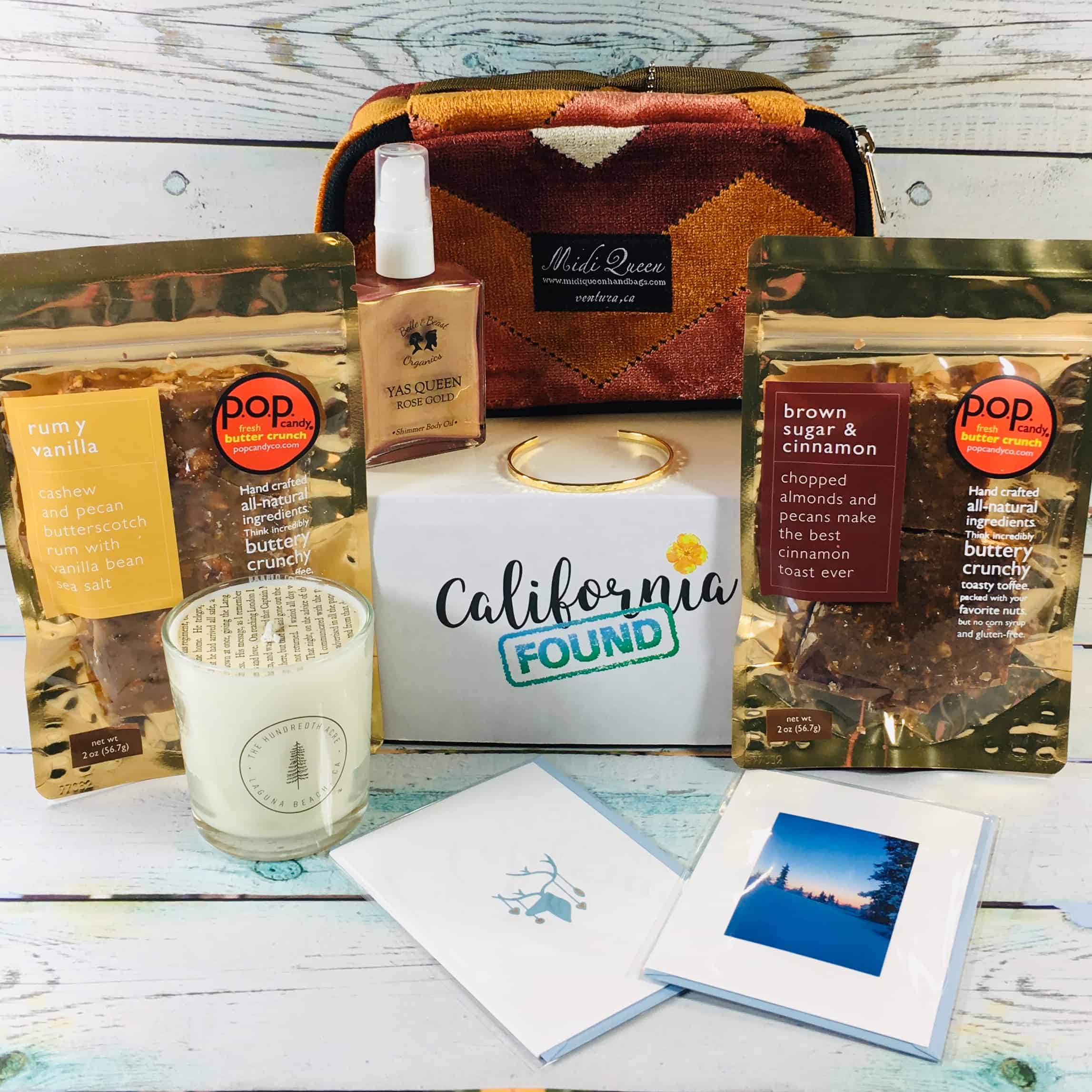 I was so happy to see some awesome brands from the past year make a return in the November California Found box! The rum y vanilla crunch was so delicious and that candle, it makes my living room smell like a winter forest. The cards are sweet, the bracelet simple and elegant, and the body oil made me look like I just got back from a California beach vacation. The value in this box was amazing, around $151!
What do you think of California Found? Let me know in the comments!