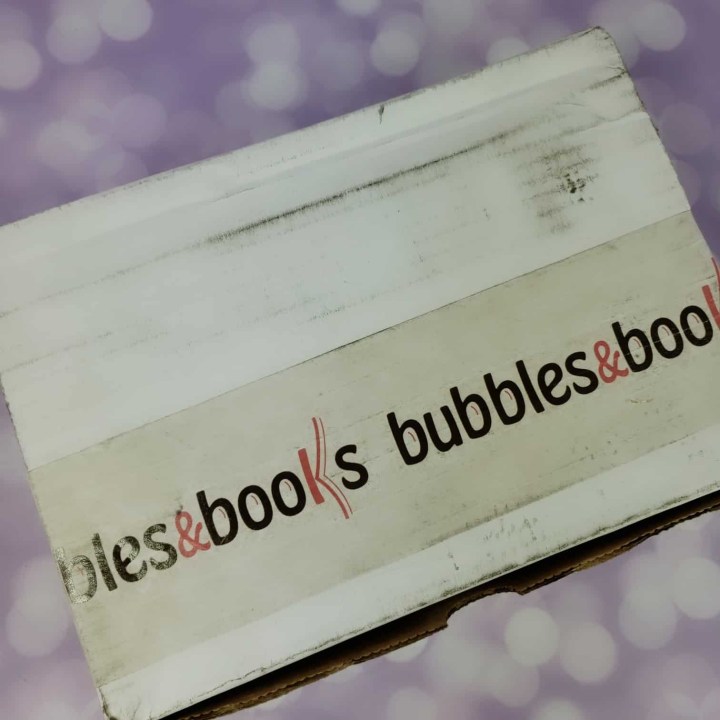 Bubbles & Books is a monthly subscription that sends a romance book and items to help you relax in your tub after a long day doing whatever you do. Need a break from the hectic workday? Step inside your bath/spa. Wrangling little ones under your feet? Time for a bit of me-time in the tub. What can you expect from this subscription?
Every box contains at least one romance novel, one artisan-crafted soap, and one other book- or bath-related goody. However, the majority of our boxes contain more than this!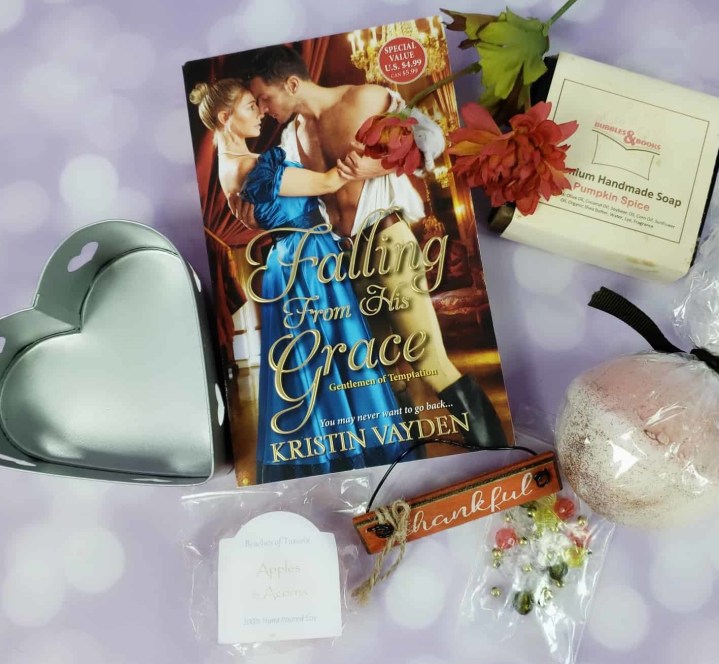 Bubbles & Books is $27.99 a month plus shipping. I love opening this box. It always smells so great and I'm immediately drawn in.
Bubbles & Books has multiple options to choose from: The Swept Away Box (historical romance), The Mystic (paranormal), Contemporary, plus premium versions of these boxes are available for $44.95 per month. Premium boxes contain TWO novels and FIVE bath products!
This is the Swept Away Box!
DEAL: Get 20% off on your first box! Use coupon code ROMANCEME.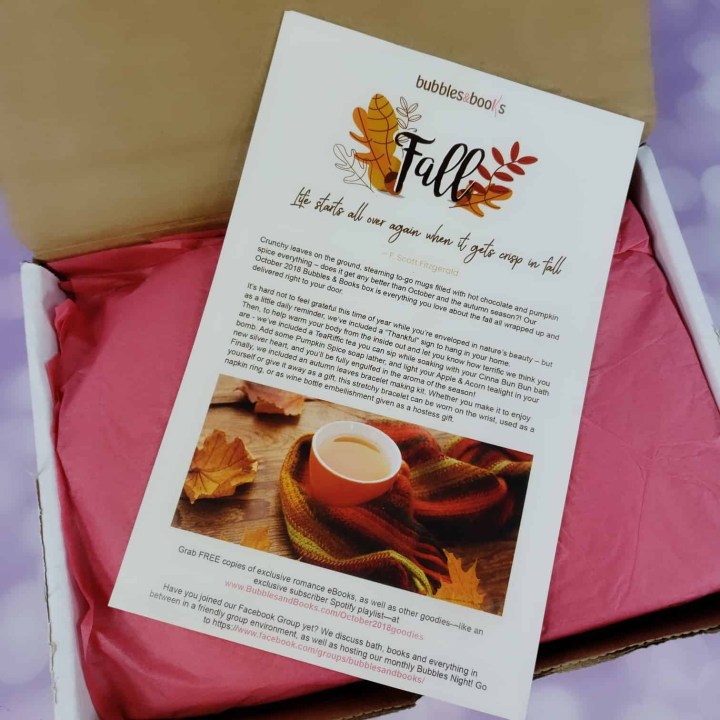 This month's box came with another of the tiny fonted notes telling us about the Fall theme.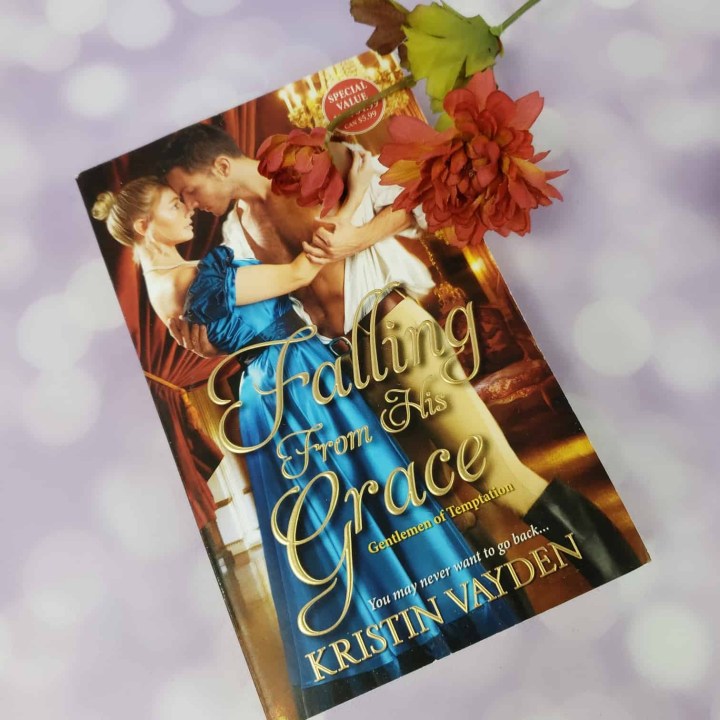 Falling from his Grace by Kristin Vayden( $4.99) Intrigue, arranged marriages, and an underground sex club! Sign me up I'm ready to read all about the games and how they play out.
Welcome to a London Gaming Hell like no other. A place where anonymity is your security—no names, no faces, no strings. But that doesn't mean no surprises . . .

Lucas Mayfield, the Eighth Earl of Heightford, couldn't be more pleased with the private club that is his brainchild. But when a young courtesan at the club's masquerade appears far too innocent, his suspicions are raised—along with his interest. . . . Until her gleaming hair tumbles down and he recognizes her as the Duke of Chatterwood's beautiful daughter. How did the minx even know the place existed? And how has he allowed himself to give in to temptation and kiss her? More perplexing: she has vowed the kiss won't be the last . . .

Liliah Durary's father has cruelly demanded she marry her best friend, Meyer, though no romantic feeling exists between them. In fact, Meyer and Liliah's other best friend, Rebecca, are truly in love. Liliah sees only one option: She and Meyer will maintain a platonic marriage until some other arrangement can be made. Still, she intends to experience pleasure before she is wed. An intriguing new club seems the perfect place—and when Lucas Mayfield kisses her, he seems the perfect other arrangement she seeks. All Liliah has to do is convince him . . .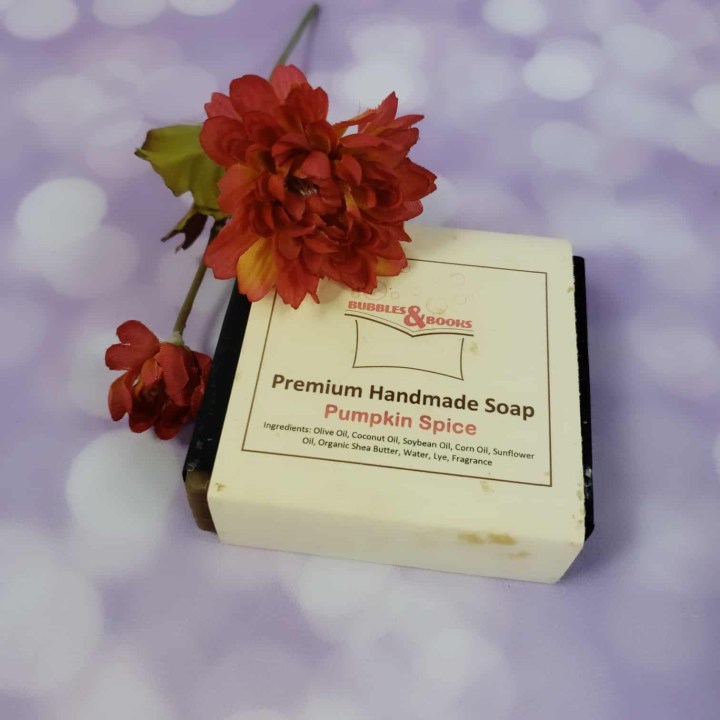 Pumpkin Spice Soap – The reason this box smells so fantastic. I'm a basic girl so pumpkin spice is one of my scents of choice. This one is already in my bathroom and my friends are loving not only the scent when used but the scent it leaves just being in the room.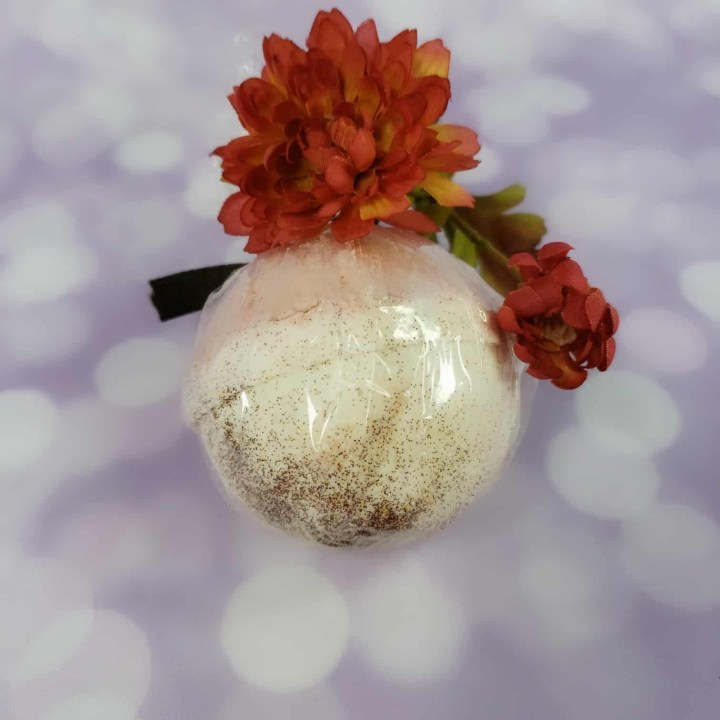 Cinna Bun Bath Bomb – I just recently introduced my boys to the world of Cinabun. They both love the homemade ones we make at home but they had not tried the lusciousness of the hot gooey ones from the store at the mall. I can't wait to have a note to soak in this glittery fantastic delight.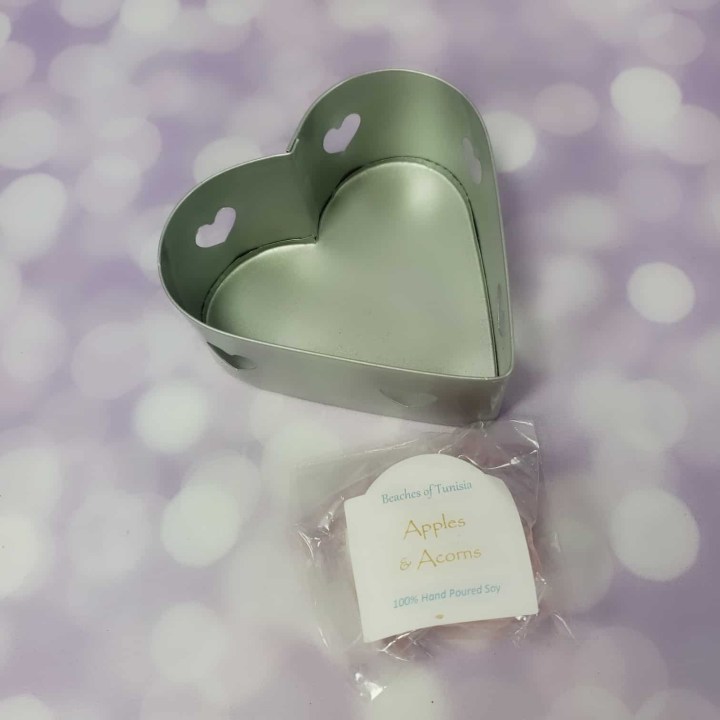 Heart candle holder and Apples & Acorns tealight – This one is going right next to my tub so I can burn all the tea lights that my box sends and I'll start with this warm fall scent.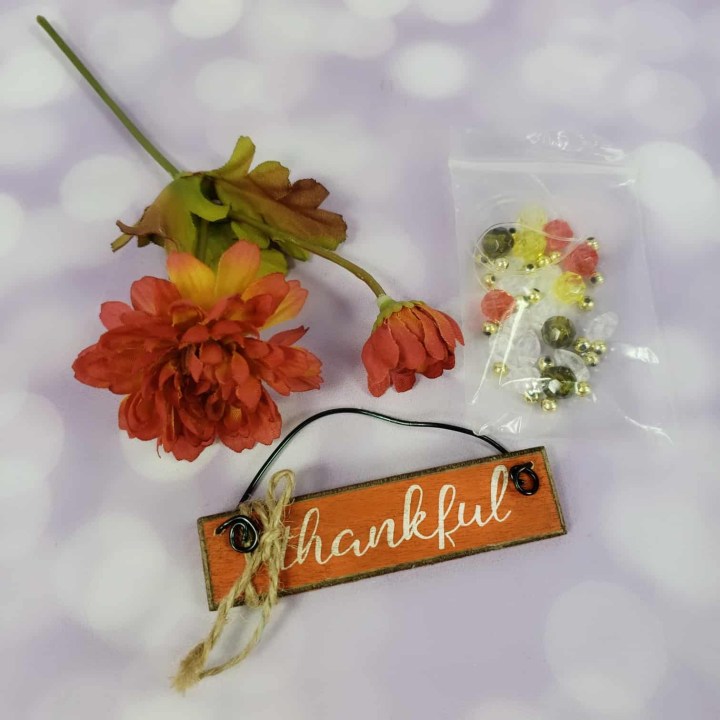 All the extras in the box. I cute little Thankful sign that I can hang anywhere. I'm thinking it would be cute off the corner of a picture frame on the mantle. The autumn leaves bracelet making kit will be fun to pull out on a snowy day when I want to do anything but go outside. And finally the flowers that you've seen in all my pictures.
I'm again loving my Bubbles & Books box this month. They send an easy read for me to be able to get transported into another realm and let all my worries wash away.  Then the bath bombs and soaps are always so decadent and smell better then you can imagine. Everytime I open the box the smells take over and I'm in heaven and then digging in is just the icing on the cake.
What do you think of this month's box? Do you love to smell your soaps?