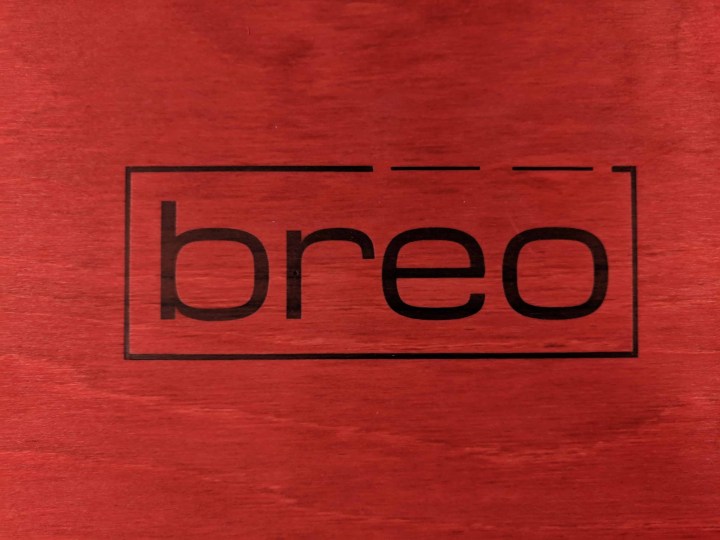 Breo Box is a quarterly lifestyle subscription box for both men and women. Each handcrafted customized wooden box will contain between 6 and 9 high-quality products revolving around health & fitness, and everyday lifestyle essentials. Each box is curated around the season. The box is $159 for the first quarter, with free shipping in the US ($45 to Canada).
Breo Box has a new loyalty program with a decreasing cost for every quarter:
1st box | $159
2nd consecutive brēō box | $139 brēō bronze
3rd consecutive brēō box  | $134 brēō silver
4th consecutive brēō box  | $129 brēō gold
5th+ consecutive brēō box | $129 + perks brēō platinum
DEAL: Get $15 off your first box! Use coupon code HS15.
FLASH DEAL: Save $25 off the box with coupon code FASTSHIP. You can get expedited shipping now through 12/21 at 2pm EST for $55. If you don't need it that fast, use coupon code XMAS25 through 12/25 for $25 off, or GIFT20 for $20 off a gift purchase!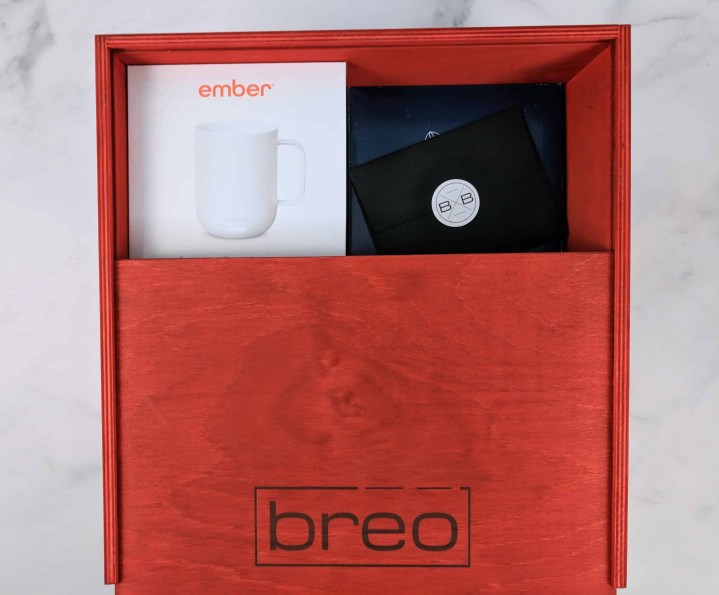 The wooden crate is delivered in a cardboard box to protect it.

The information card is so pretty, a nice sleek black card.
The card gives us the value of each item in the box.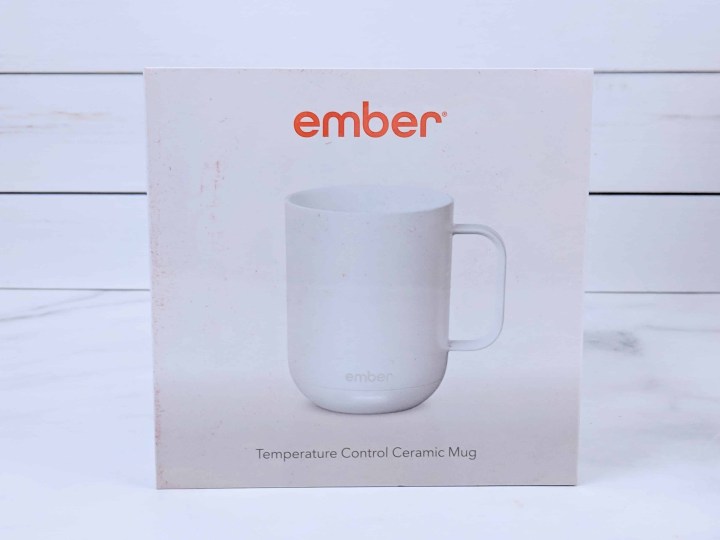 Ember Ceramic Mug ($80) This was a spoiler for this box and the big item.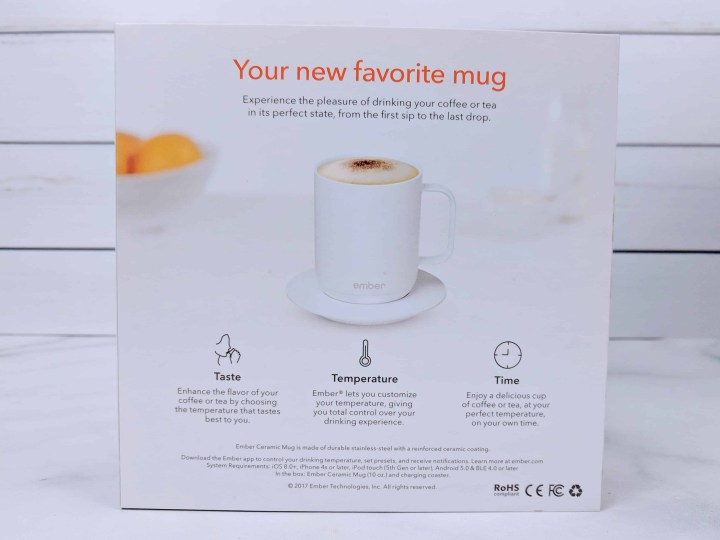 This is up my alley. I'm known for taking forever to drink my coffee, and it gets cold quickly. You can choose your favorite temperature for your drink, and set a timer on it as well so you can enjoy your drink how you want it.

You can adjust the settings from your phone!
This is a clean looking mug.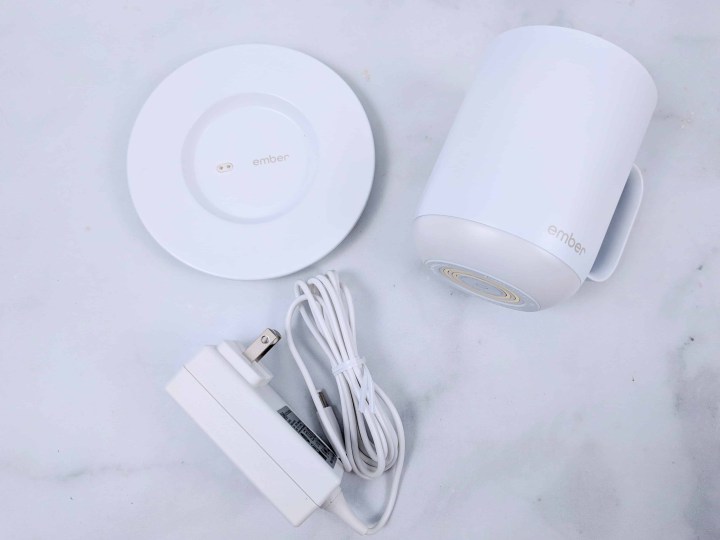 It comes with a charging cord and a charging plate.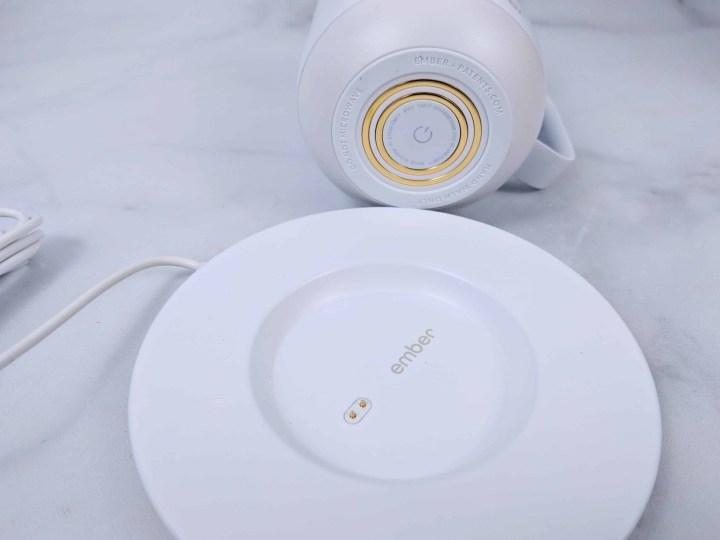 There are two contacts on the plate for charging, and the grooves under the mug itself make it easy to charge without having to find the right angle. There's a big power button at the bottom of the mug.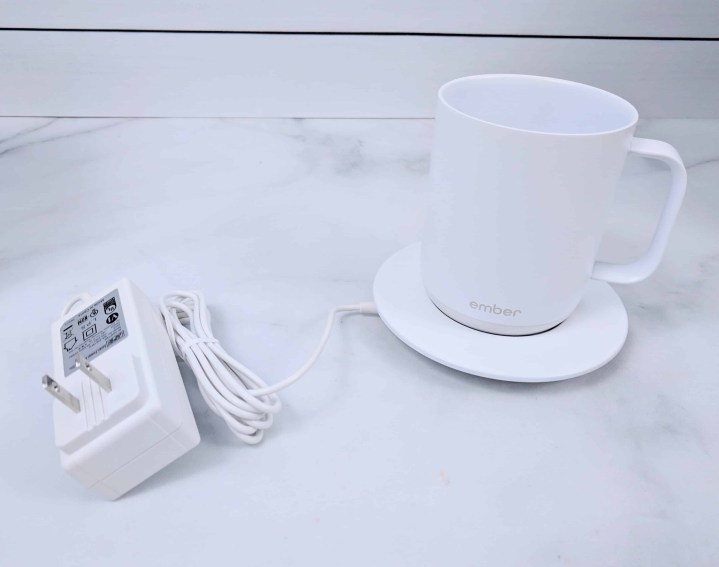 The mug looks great sitting on its charging plate. It says that the mug will keep your drink at the perfect temperature for one hour if it's not sitting on the plate, but it'll last as long as you want when on the plate. You can even use the app to change the color of the glowing light!
Sanctuary Homeware & Gifts – Pestle & Mortar Set ($45) and Nutcracker & Bowl ($35)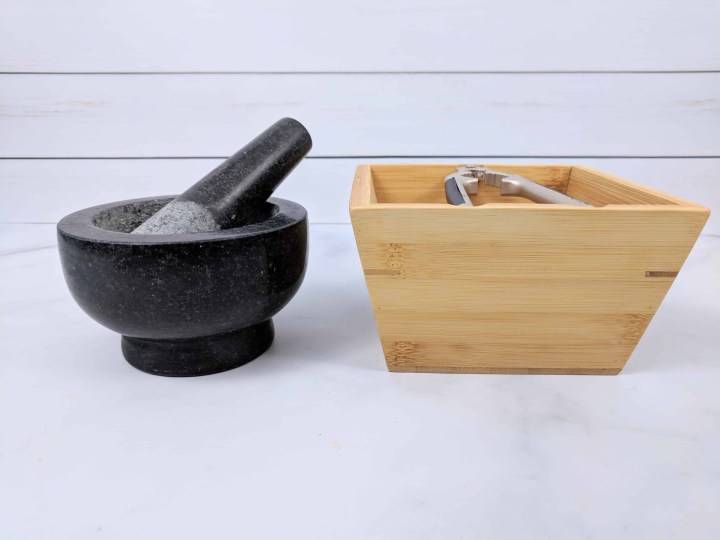 The pestle and mortar set is made of dark grey granite and is heavy enough to get through a lot of grinding. I like that it's low, so it doesn't wobble on the counter.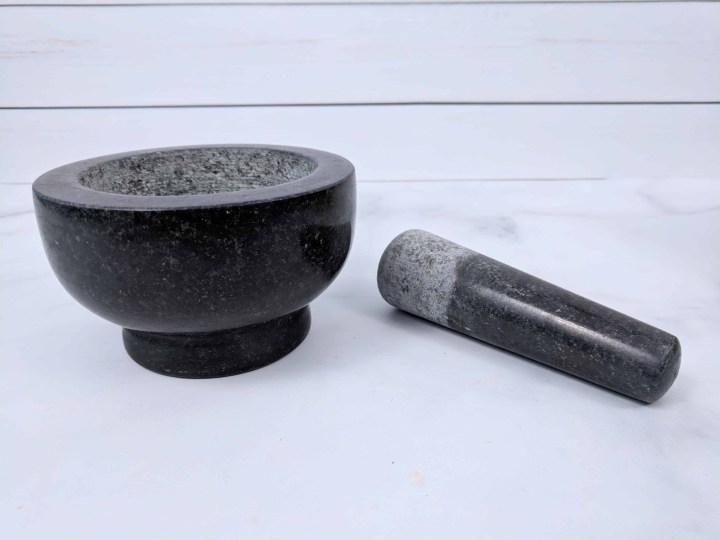 The inside of the mortar and the round end of the pestle are not smoothen up so it's easier to get a grip on what you are working on. Being in granite, it's easy to clean with soap and hot water (I've been known to put my pestle and mortar in the dishwasher, but I don't know if it's recommended!). Perfect for some holiday guacamole!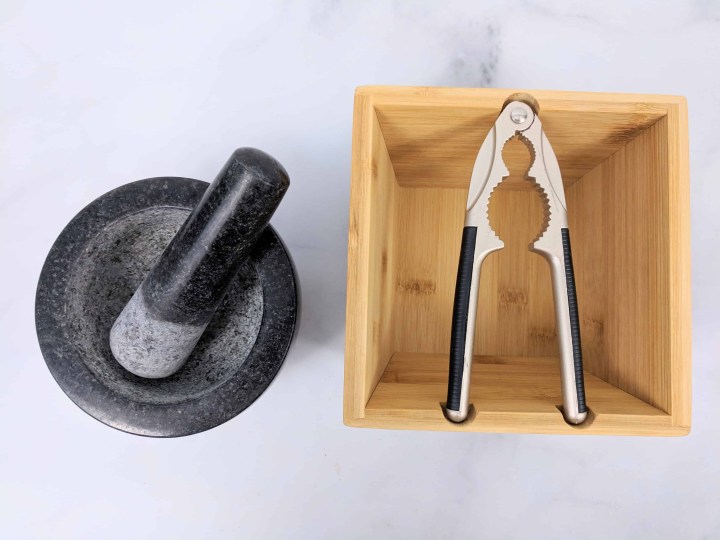 The Nutcracker and bowl set is a cute addition to a December box, even though this is not something I will actually use for nuts, because I am allergic! That being said, it's a traditional holiday party accessory – leave out the nutbowl and let everyone get cracking!

The box is light but sturdy, and made of bamboo. The notches to hold the nutcracker are pretty neat!
The nutcracker is light and easy to use.
Roll-Up Backgammon Game by Honorable Beast ($45). This game set was made exclusively for Breo Box.
It rolls out quite nicely, although it needs a bit of work to make it lay flat.

It has a zip pocket to hold all your chips and dice needed to play.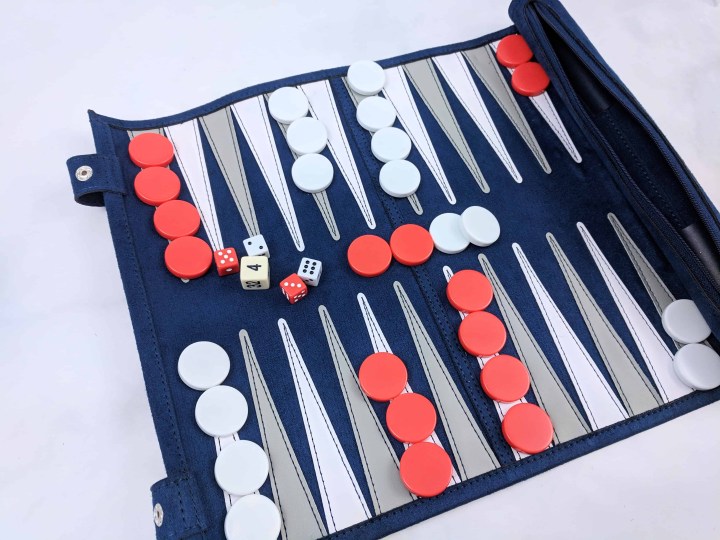 It's a nice game set, and it's small enough that it's easy to carry around.  I don't know how to play the game, nor how to set up the chips, but it looks nice! It seems like another useful item for holiday gatherings. Plus, it doesn't take much space when it's all rolled up!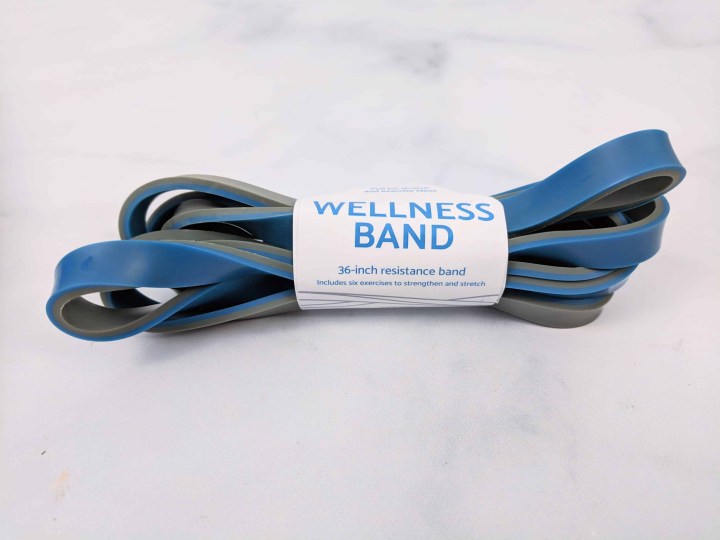 Wellness Band by W&P ($12) This is a 36-inch resistance band for stretching and some light workouts.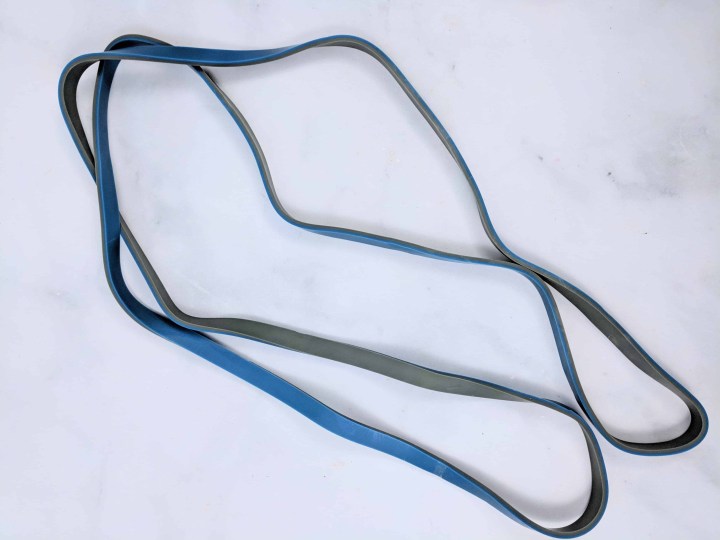 It's a thin band (1cm wide, or 3/8 inch), so I would use it only for light stretches, nothing too heavy. The inside of the wrapper had 6 stretches as suggested activities!
The Popper by W&P ($20) The last item is a microwave popcorn popper!

I love popcorn nights, and we have started making our popcorn on the stove with a big pot and lots of kernels. I'm happy to get something more manageable in terms of time and work! Plus because it's silicone, it expands right open for use, and back down for storage! Neat!
Just add 5 tbs of kernels in the silicone bowl, put the lid on, and microwave for 2-4 minutes.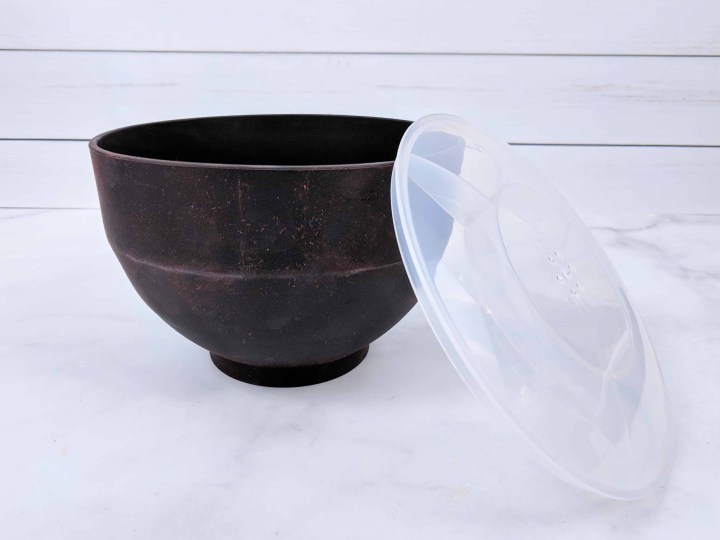 You don't need to add oil or butter to pop, but you are welcome to add them for flavor on the warm popcorn. And the bowl is dishwasher safe, making everything a breeze.
I love my new mug, the popper, and the wellness band! This Winter box focused strongly on lifestyle, and not as much on fitness and tech as in the past, although the Ember mug is a crossover item. I wish there would have been a bit more variety covering these interests, but this quarter's box is clearly designed a sort of hygge holiday gathering. I still love how BREO box manages to keep their box gender neutral, and it's still a fun box, but I do feel like something was missing. However, if you need the Ember mug, getting the rest of the items after the $80 mug is really a bargain, so I would recommend it! The retail value was about $237!
What did you think of Breo Box?