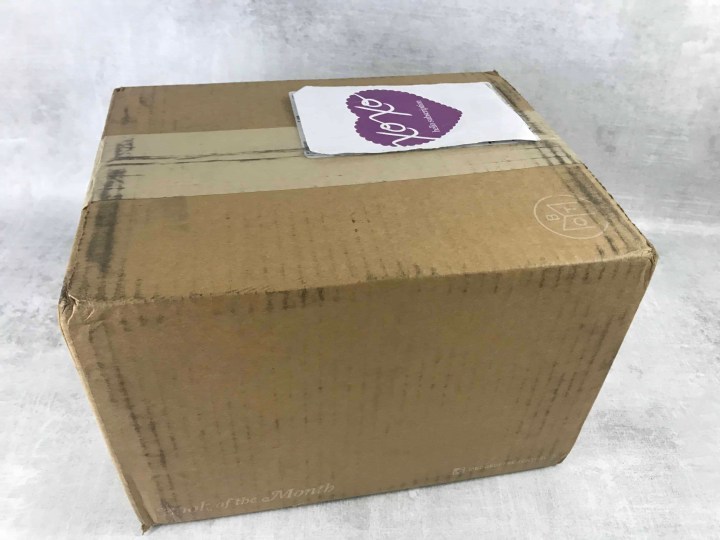 Book of the Month Club is a monthly book subscription box. Each month, their panel of judges selects 5 books, which they announce on the first of the month, and members have six days to decide which book (or books) they would like to receive. One book per month is included in the membership fee, and members can purchase up to two additional books each month for $9.99 per title. The subscription price is $14.99 per month.
The Book of the Month subscription includes one book per month – we were sent all five to examine. You can add on extra titles for $9.99 per book!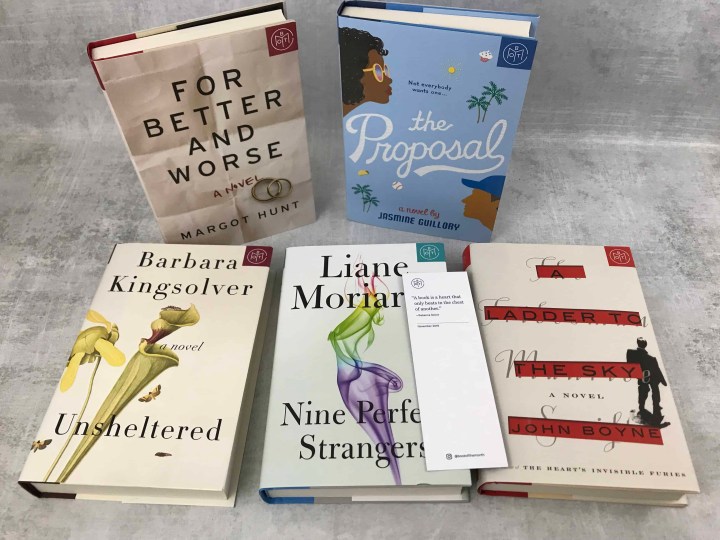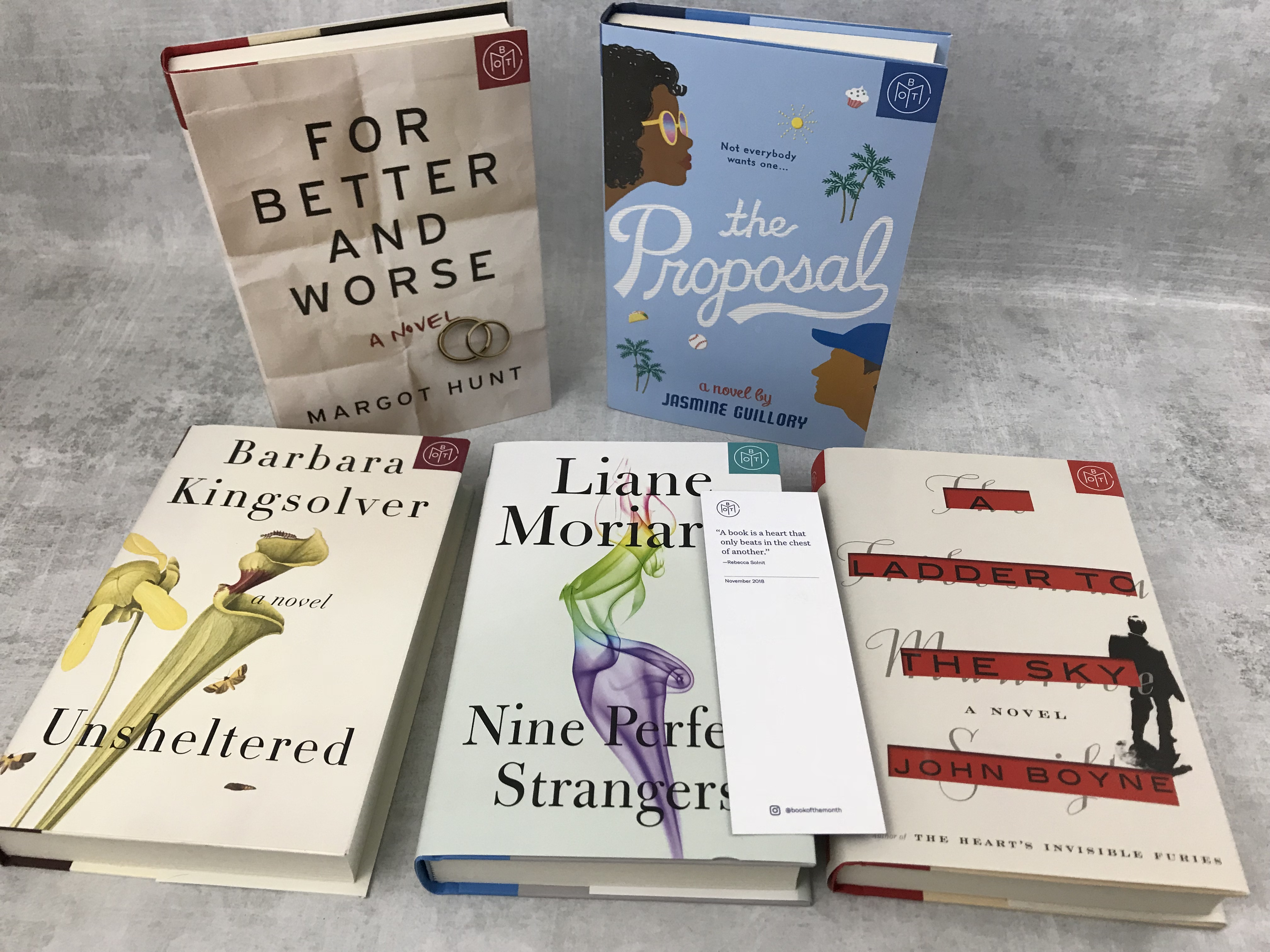 Here's how it works: Members will pay $14.99 when they sign up for a subscription that will renew monthly. Their first month is free, and their second month is covered by their upfront payment of $14.99. Then they'll be renewed at the end of their second month (unless they cancel).
Members who sign up for 12 months will pay $149.99/year. That's $12.50/book, instead of the standard price of $14.99.
DEAL:  Book of the Month has a new coupon code to sign up for just $5 when you use code NICE2MEETU at checkout!
PLUS Book of the Month Club has a fantastic holiday deal! Anyone who gifts a BOTM membership will get 1 month free for them! Gifts are available in 3, 6 or 12 month plans.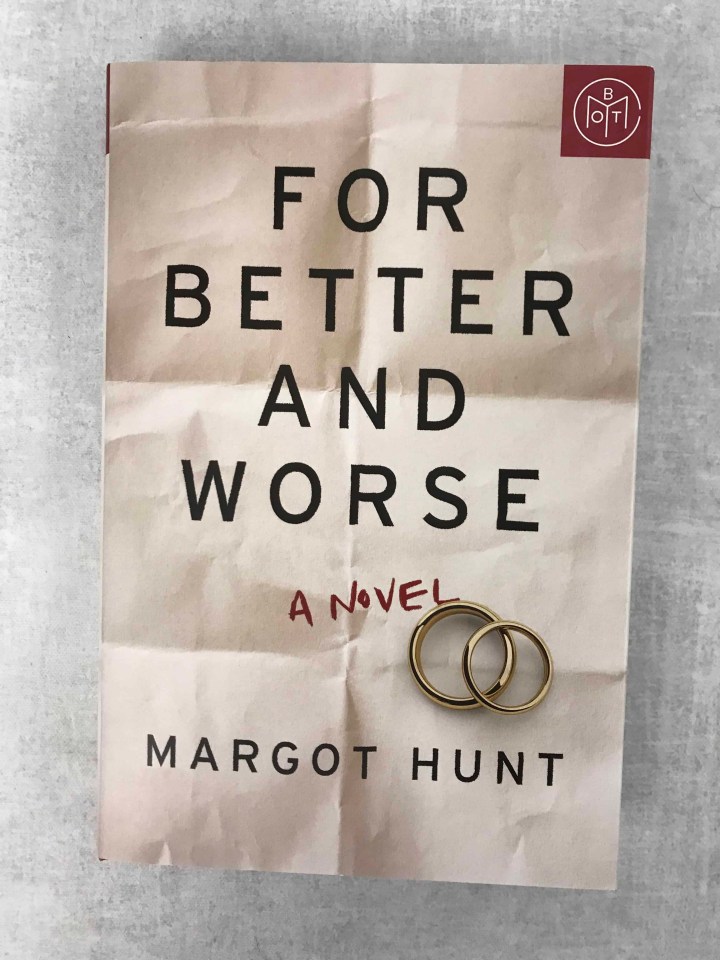 For Better and Worse: A Novel by Margo Hunt ($11.59)
On their first date back in law school, Natalie and Will Clarke bonded over drinks, dinner and whether they could get away with murder. Now married, they'll put the latter to the test when an unchecked danger in their community places their son in jeopardy. Working as a criminal defense attorney, Nat refuses to rely on the broken legal system to keep her family safe. She knows that if you want justice…you have to get it yourself.

Shocked to discover Nat's taken matters into her own hands, Will has no choice but to dirty his, also. His family is in way too deep to back down now. He's just not sure he recognizes the woman he married. Nat's always been fiercely protective, but never this ruthless or calculating. With the police poking holes in their airtight plan, what will be the first to fall apart: their scandalous secret—or their marriage?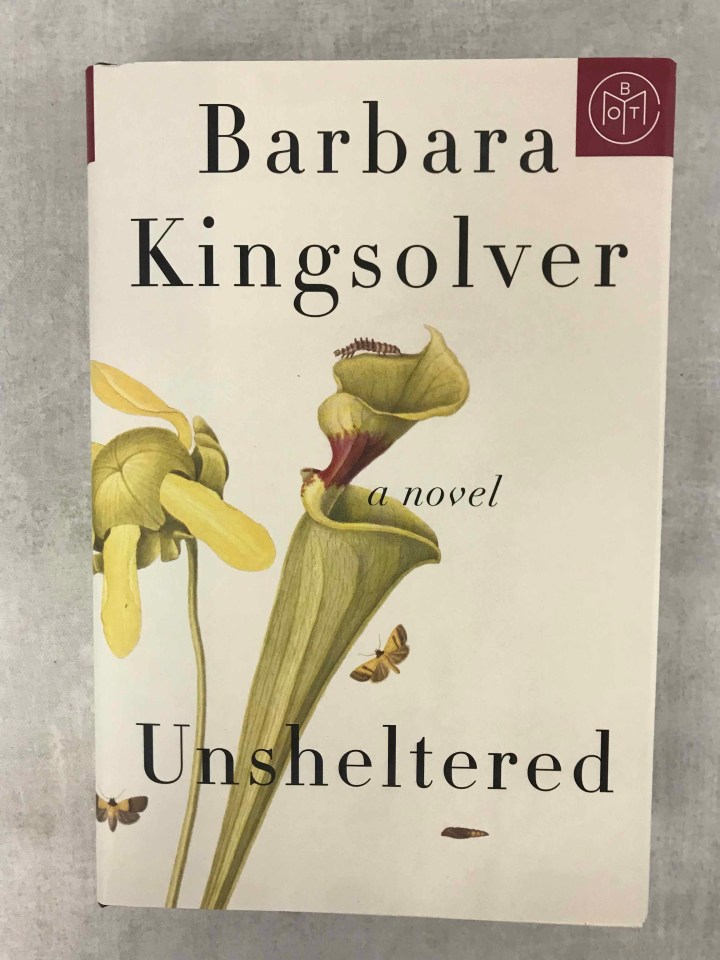 Unsheltered: A Novel by Barbara Kingsolver ($19.49)
The New York Times bestselling author of Flight Behavior, The Lacuna, and The Poisonwood Bible and recipient of numerous literary awards—including the National Humanities Medal, the Dayton Literary Peace Prize, and the Orange Prize—returns with a timely novel that interweaves past and present to explore the human capacity for resiliency and compassion in times of great upheaval.

How could two hardworking people do everything right in life, a woman asks, and end up destitute? Willa Knox and her husband followed all the rules as responsible parents and professionals, and have nothing to show for it but debts and an inherited brick house that is falling apart. The magazine where Willa worked has folded; the college where her husband had tenure has closed. Their dubious shelter is also the only option for a disabled father-in-law and an exasperating, free-spirited daughter. When the family's one success story, an Ivy-educated son, is uprooted by tragedy he seems likely to join them, with dark complications of his own.

In another time, a troubled husband and public servant asks, How can a man tell the truth, and be reviled for it? A science teacher with a passion for honest investigation, Thatcher Greenwood finds himself under siege: his employer forbids him to speak of the exciting work just published by Charles Darwin. His young bride and social-climbing mother-in-law bristle at the risk of scandal, and dismiss his worries that their elegant house is unsound. In a village ostensibly founded as a benevolent Utopia, Thatcher wants only to honor his duties, but his friendships with a woman scientist and a renegade newspaper editor threaten to draw him into a vendetta with the town's powerful men.

Unsheltered is the compulsively readable story of two families, in two centuries, who live at the corner of Sixth and Plum in Vineland, New Jersey, navigating what seems to be the end of the world as they know it. With history as their tantalizing canvas, these characters paint a startlingly relevant portrait of life in precarious times when the foundations of the past have failed to prepare us for the future.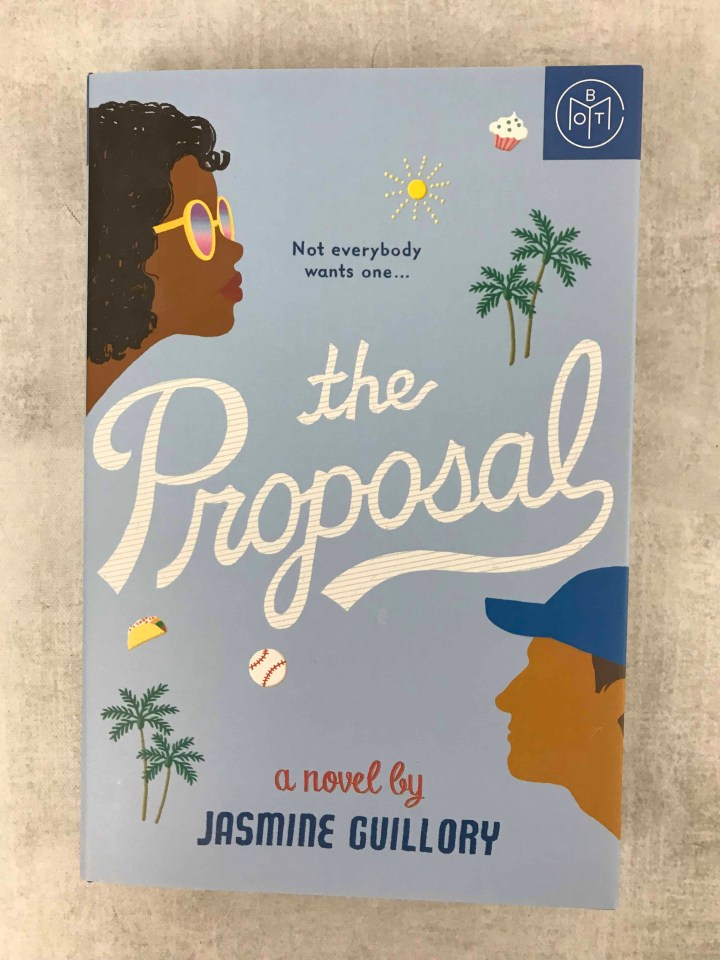 The Proposal: A Novel by Jasmine Guillory ($12)
"There is so much to relate to and throughout the novel, there is a sharp feminist edge. Loved this one, and you will too."–New York Times bestselling author Roxane Gay

The New York Times bestselling author of The Wedding Date serves up a novel about what happens when a public proposal doesn't turn into a happy ending, thanks to a woman who knows exactly how to make one on her own…

When someone asks you to spend your life with him, it shouldn't come as a surprise–or happen in front of 45,000 people.

When freelance writer Nikole Paterson goes to a Dodgers game with her actor boyfriend, his man bun, and his bros, the last thing she expects is a scoreboard proposal. Saying no isn't the hard part–they've only been dating for five months, and he can't even spell her name correctly. The hard part is having to face a stadium full of disappointed fans…
At the game with his sister, Carlos Ibarra comes to Nik's rescue and rushes her away from a camera crew. He's even there for her when the video goes viral and Nik's social media blows up–in a bad way. Nik knows that in the wilds of LA, a handsome doctor like Carlos can't be looking for anything serious, so she embarks on an epic rebound with him, filled with food, fun, and fantastic sex. But when their glorified hookups start breaking the rules, one of them has to be smart enough to put on the brakes…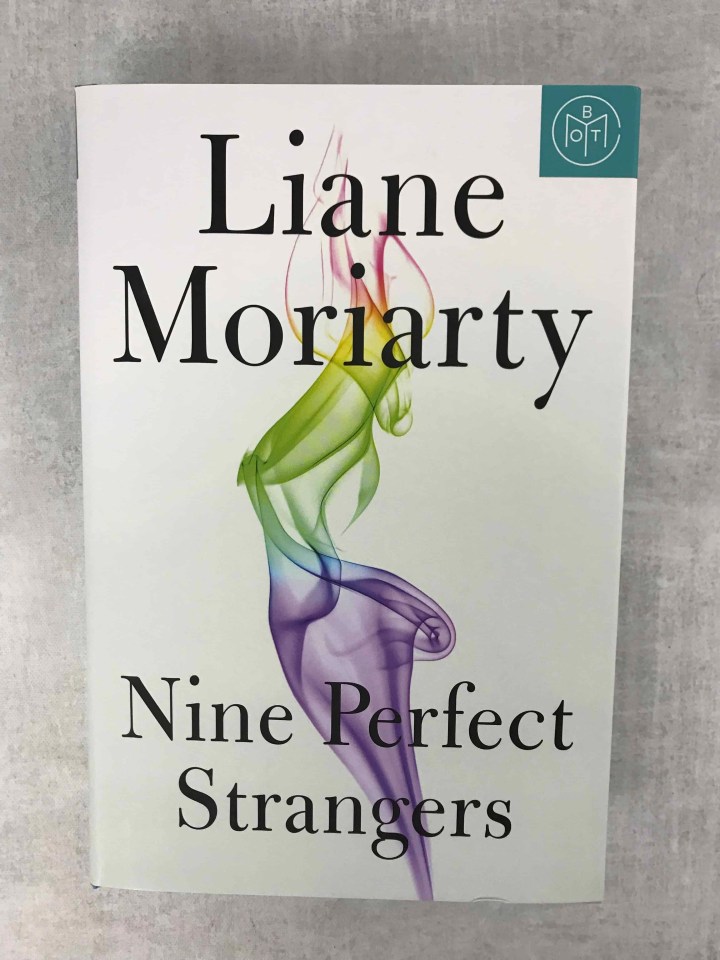 Nine Perfect Strangers by Liane Moriarty ($17.39)
NEW YORK TIMES BESTSELLER

"If three characters were good in Big Little Lies, nine are even better in Nine Perfect Strangers." ―Lisa Scottoline, The New York Times Book Review

From the #1 New York Times bestselling author of Big Little Lies

Could ten days at a health resort really change you forever? In Liane Moriarty's latest page-turner, nine perfect strangers are about to find out…

Nine people gather at a remote health resort. Some are here to lose weight, some are here to get a reboot on life, some are here for reasons they can't even admit to themselves. Amidst all of the luxury and pampering, the mindfulness and meditation, they know these ten days might involve some real work. But none of them could imagine just how challenging the next ten days are going to be.

Frances Welty, the formerly best-selling romantic novelist, arrives at Tranquillum House nursing a bad back, a broken heart, and an exquisitely painful paper cut. She's immediately intrigued by her fellow guests. Most of them don't look to be in need of a health resort at all. But the person that intrigues her most is the strange and charismatic owner/director of Tranquillum House. Could this person really have the answers Frances didn't even know she was seeking? Should Frances put aside her doubts and immerse herself in everything Tranquillum House has to offer – or should she run while she still can?

It's not long before every guest at Tranquillum House is asking exactly the same question.

Combining all of the hallmarks that have made her writing a go-to for anyone looking for wickedly smart, page-turning fiction that will make you laugh and gasp, Liane Moriarty's Nine Perfect Strangers once again shows why she is a master of her craft.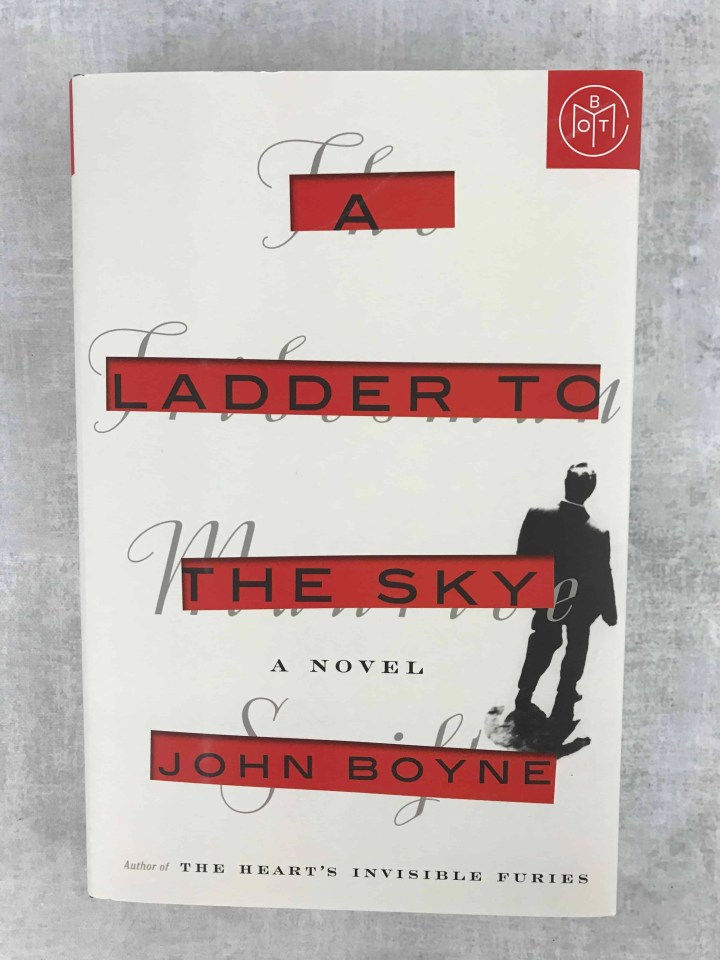 A Ladder to the Sky: A Novel by John Boyne ($16.20)
"An addictive Rubik's Cube of vice that keeps turning up new patterns of depravity… a satire of writerly ambition wrapped in a psychological thriller… A Ladder to the Sky is an homage to Patricia Highsmith, Oscar Wilde and Edgar Allan Poe, but its execution is entirely Boyne's own." — Ron Charles, Washington Post

"Take Meg Wolitzer's novel The Wife…and cross it with Patricia Highsmith's classic Ripley stories, about a suave psychopath, and you've got something of the crooked charisma of John Boyne's new novel, A Ladder to the Sky." — NPR 

Maurice Swift is handsome, charming, and hungry for fame. The one thing he doesn't have is talent – but he's not about to let a detail like that stand in his way. After all, a would-be writer can find stories anywhere. They don't need to be his own.

Working as a waiter in a West Berlin hotel in 1988, Maurice engineers the perfect opportunity: a chance encounter with celebrated novelist Erich Ackermann. He quickly ingratiates himself with the powerful – but desperately lonely – older man, teasing out of Erich a terrible, long-held secret about his activities during the war. Perfect material for Maurice's first novel.

Once Maurice has had a taste of literary fame, he knows he can stop at nothing in pursuit of that high. Moving from the Amalfi Coast, where he matches wits with Gore Vidal, to Manhattan and London, Maurice hones his talent for deceit and manipulation, preying on the talented and vulnerable in his cold-blooded climb to the top. But the higher he climbs, the further he has to fall…

Sweeping across the late twentieth century, A Ladder to the Sky is a fascinating portrait of a relentlessly immoral man, a tour de force of storytelling, and the next great novel from an acclaimed literary virtuoso.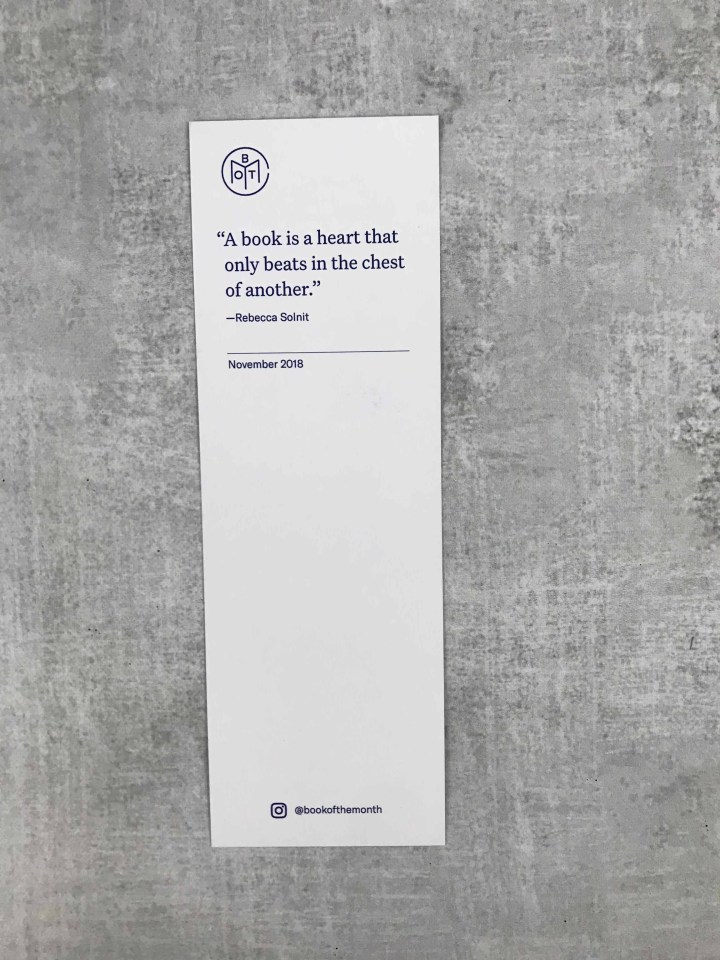 And a bookmark, this subscription wouldn't be complete without one of these!
BOTM is amazing – bringing a splash of so many different genres to my door in one very heavy box (the add-ons are a must if you read a lot!). I love that each book is hard-covered and how each jacket is made just for BOTM. BOTM keeps me up to date with new authors and new books. I love this subscription! It's my personal challenge each month to get through all of these wonderful titles before the next box arrives, unfortunately, where to start is also an issue for me. I can't wait to see what December brings me…person ally, I'd love to see a Christmas themed loved story.
What do you think of this month's book selections?