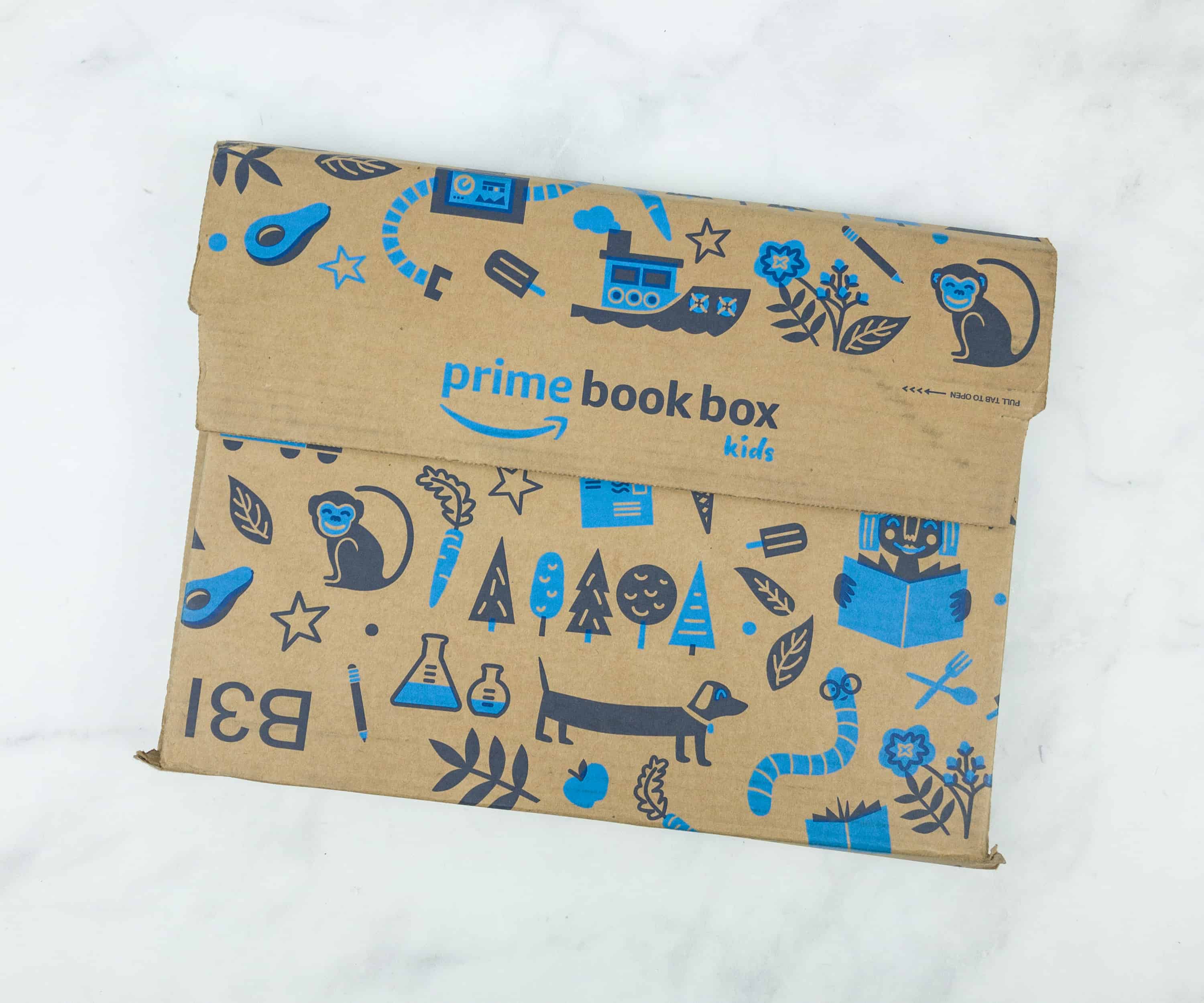 Amazon Prime Book Box for Kids is a subscription box that contains children's books perfectly matched to your reader's age. The box costs $19.99 and you can choose the frequency to receive your box every 1, 2, or 3 months.
Each box contains 2 hardcover children's books tailored to your reader's age (for ages 3-12), or 4 board books for kids 2 and younger.You can skip a box and change the frequency in Your Memberships & Subscriptions.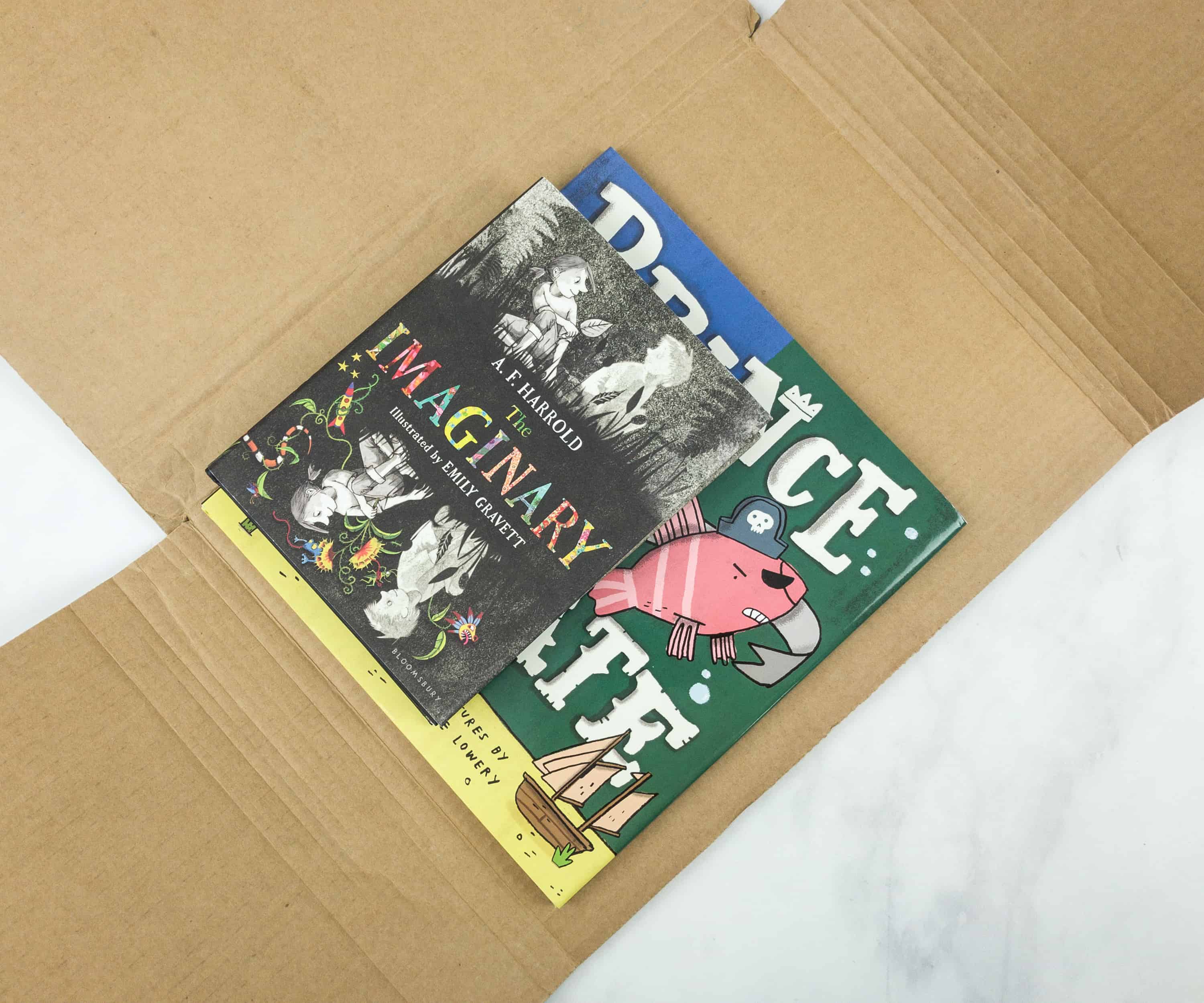 This month's box contains 2 hardcover books for pre-schoolers, ages 3-5!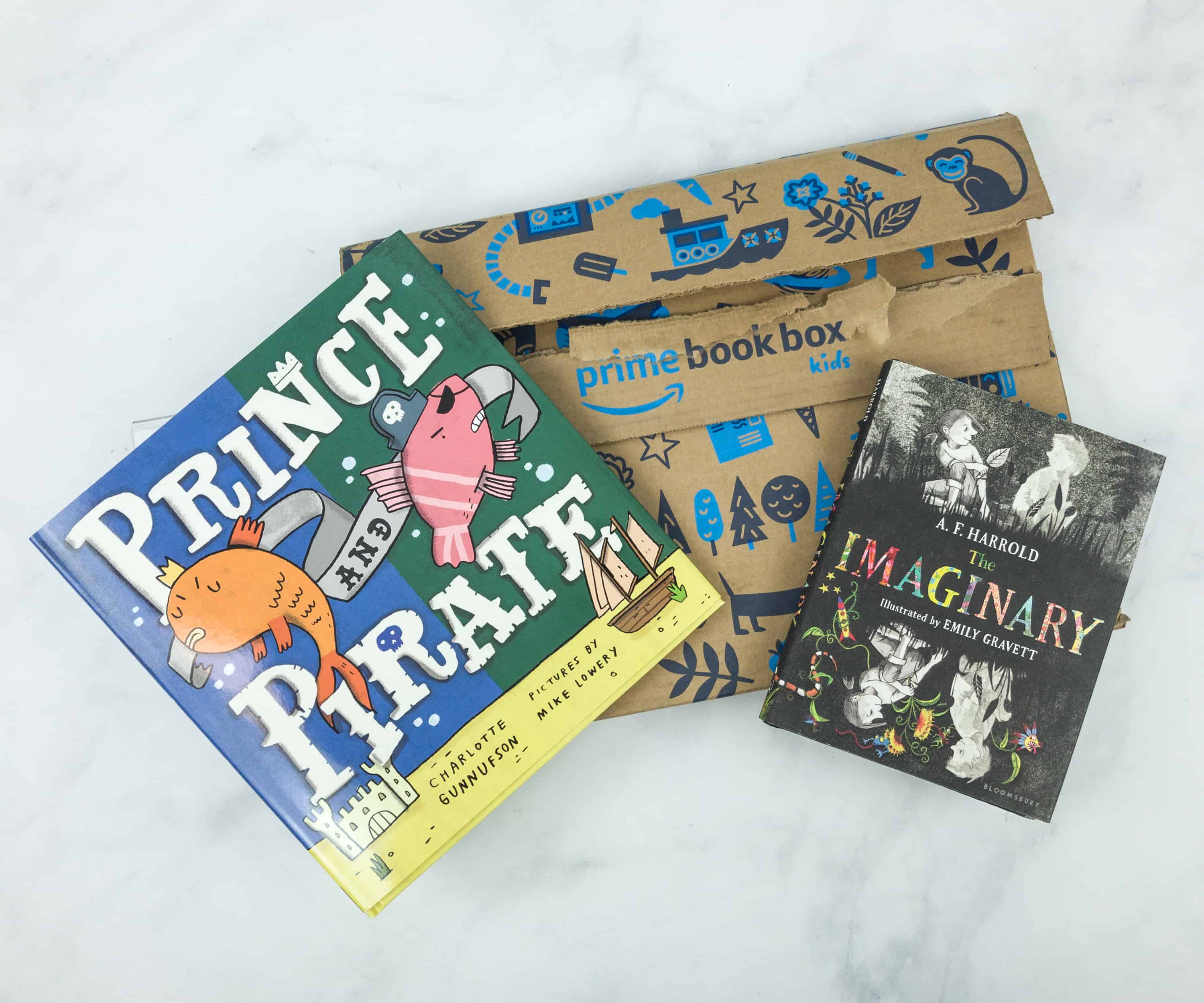 Everything in this pack!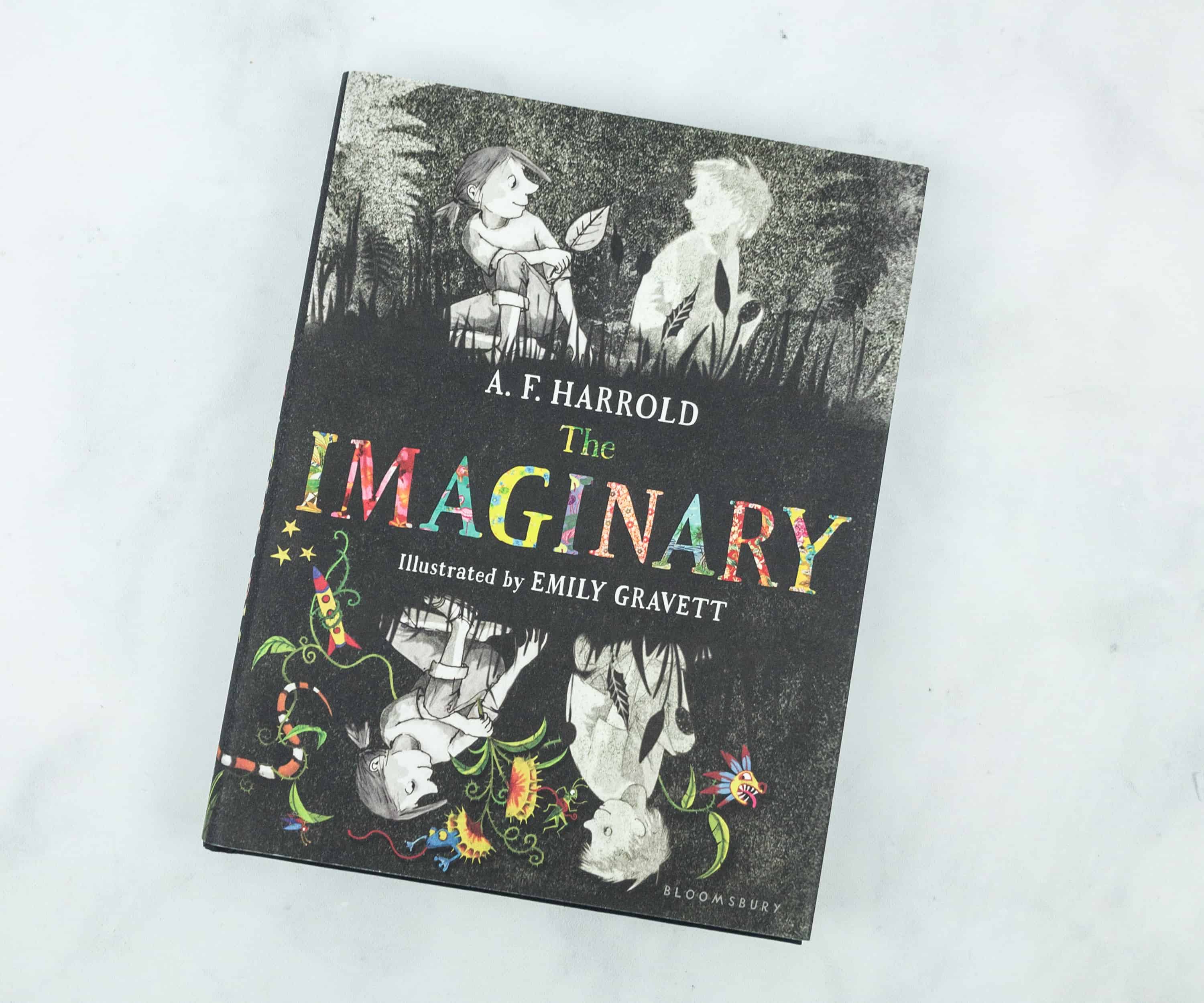 The Imaginary by A.F. Harrold ($15.25)
"A spooky and wonderfully imagined story of friendship, with content and length that's perfect for more advanced readers who are venturing into their first middle grade novels." – Seira Wilson, Amazon Editor

Rudger is Amanda Shuffleup's imaginary friend. Nobody else can see Rudger–until the evil Mr. Bunting arrives at Amanda's door. Mr. Bunting hunts imaginaries. Rumor has it that he even eats them. And now he's found Rudger.

Soon Rudger is alone, and running for his imaginary life. He needs to find Amanda before Mr. Bunting catches him–and before Amanda forgets him and he fades away to nothing. But how can an unreal boy stand alone in the real world?

In the vein of Coraline, this gripping take on imaginary friends comes to life in a lush package: beautiful illustrations (10 in full color) by acclaimed artist Emily Gravett, a foiled and debossed case cover, printed endpapers, and deckled page edges.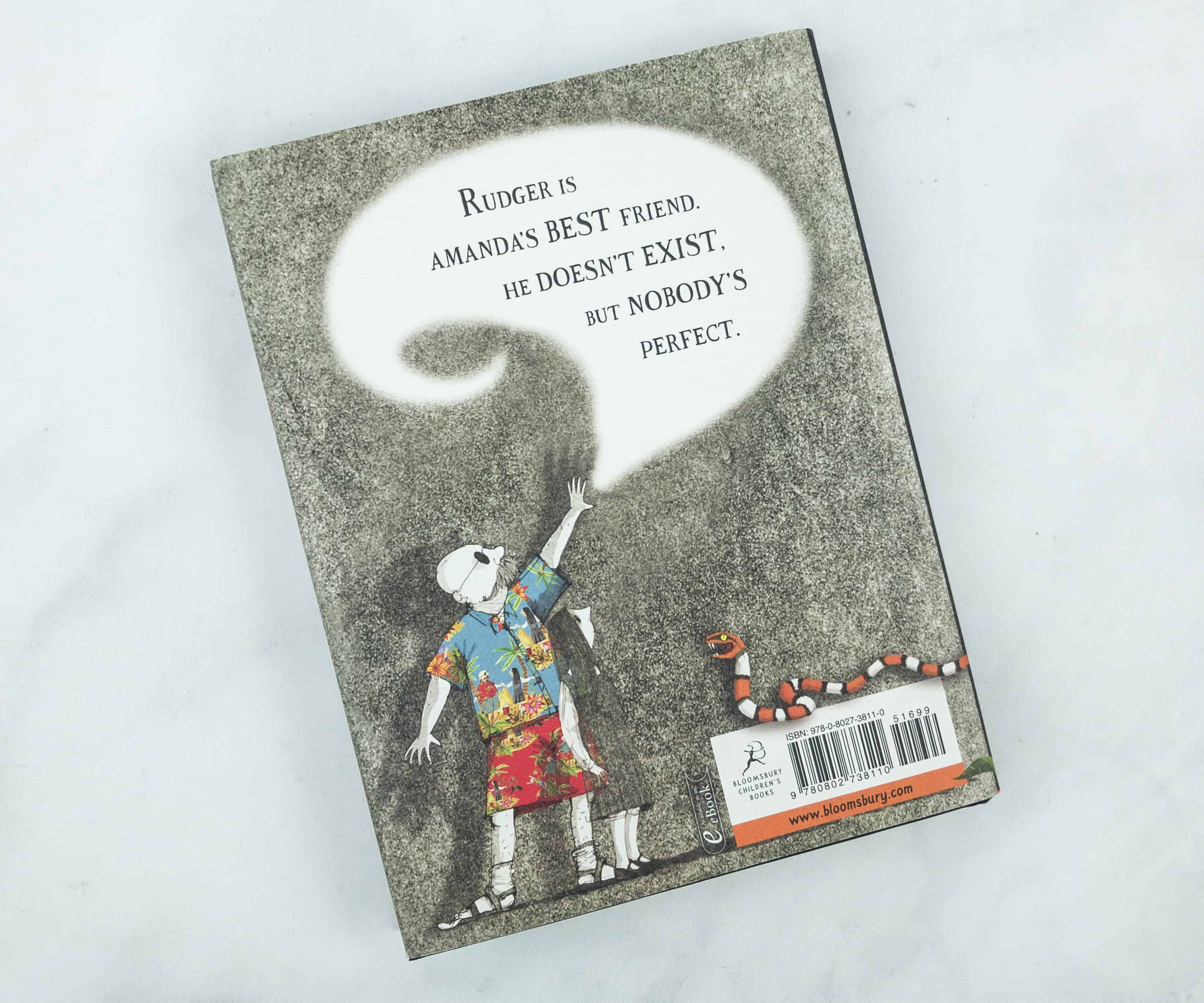 The story is about an imaginary childhood friend and I know many can relate to this!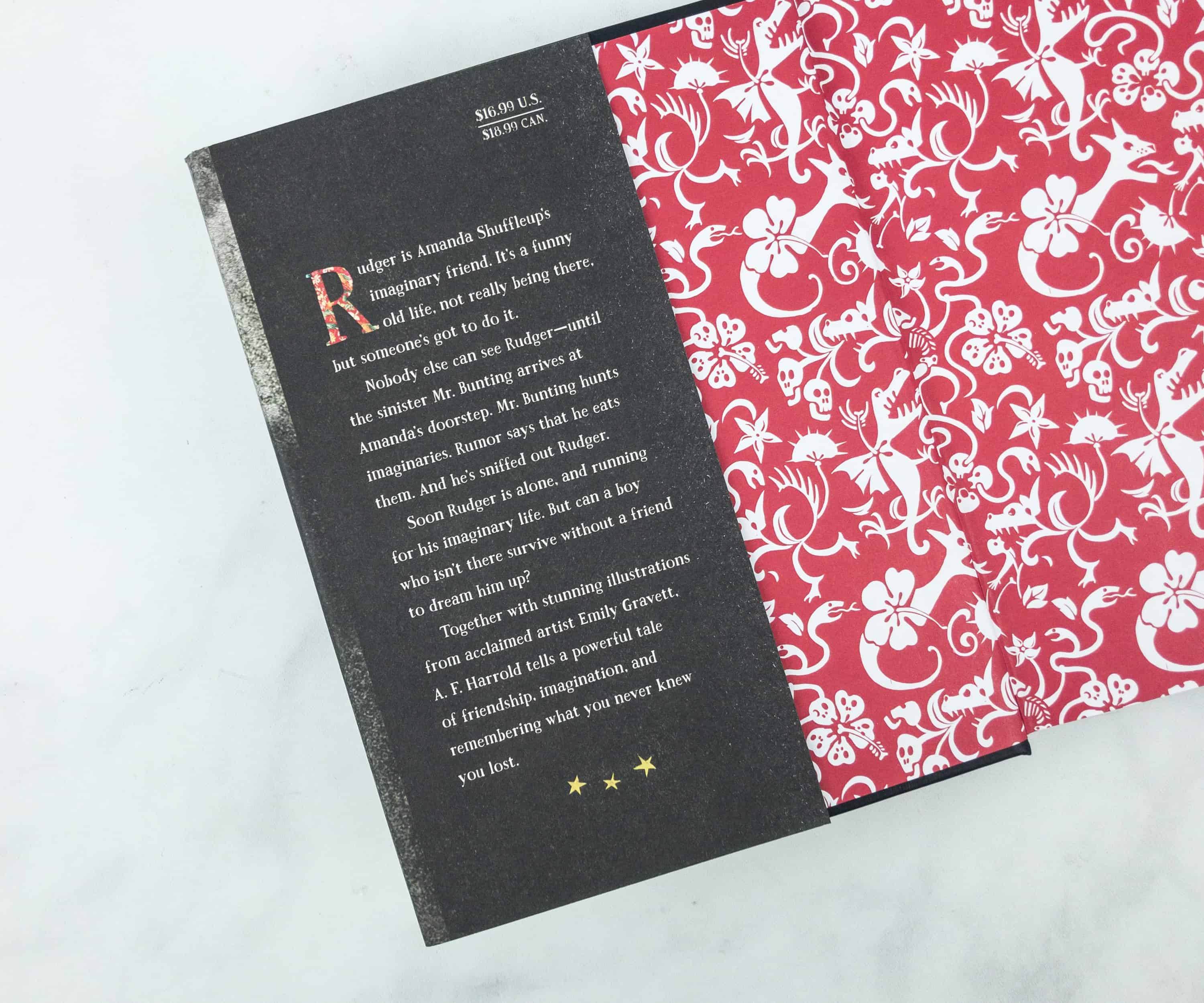 The book flap also features bits from the story.
The illustrations are in black and white, but well-detailed. Also, the story is good and thrilling!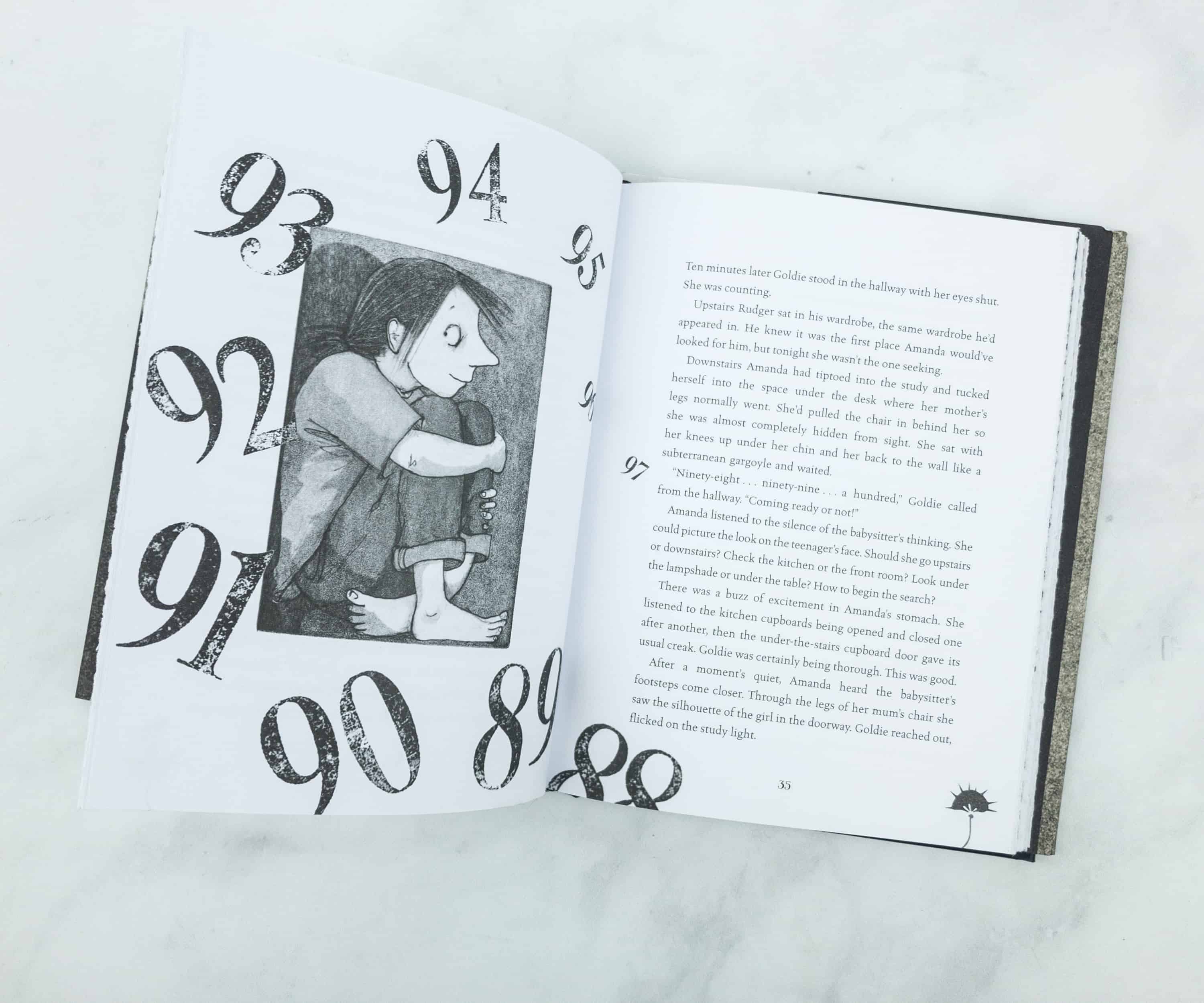 It's a good book for reading aloud to kids or advanced readers who are just starting with middle-grade novels. (I absolutely love how this book can grow with your child!)
Some of the pages are mostly texts, so just like the protagonist of the story, the kids will need to make use of their imagination!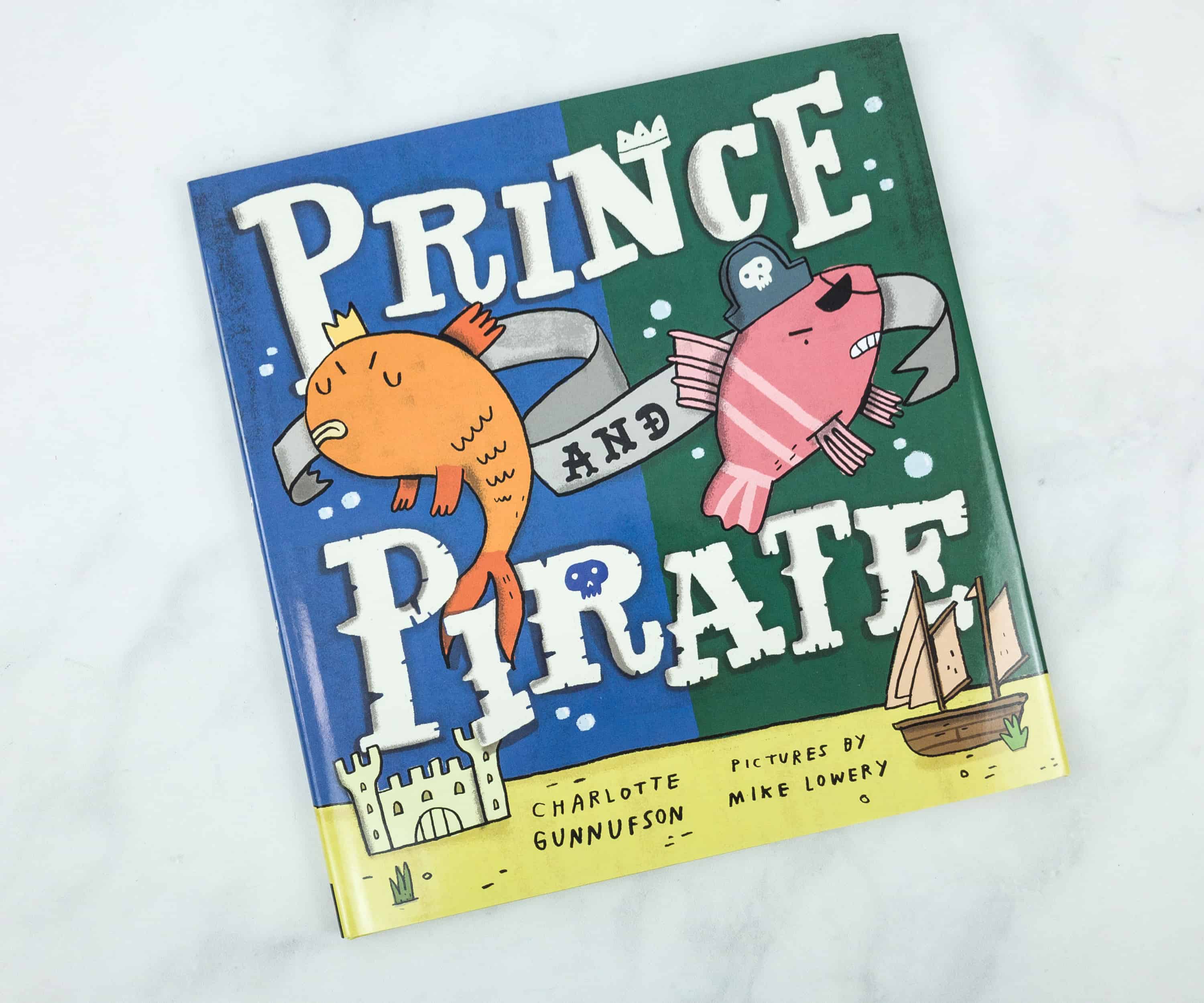 Prince and Pirate By Charlotte Gunnufson ($13.93)
"Two very different fish–Prince and Pirate–must learn to get along and share the same tank; the language of the story suits each fish's persona making it a fun story to read aloud together or for early readers building a swashbuckling vocabulary." – Seira Wilson, Amazon Editor

When two little fish with big personalities have to share the same tank, there are rough seas ahead!
Prince and Pirate are proud masters of their very own fishbowls, and life goes along swimmingly–until they're scooped up and plopped into shared waters.

Prince is horrified to find this cheeky cod trespassing in his kingdom. "Halt, peasant!"

Pirate is sure this scurvy sea slug has come to plunder his treasure. "Avast, ye scurvy sea slug!"

And so begins a battle of regal sneers, seaworthy stink-eyes, and off-the-hook insults.
Prince and Pirate's hilarious duel for territory will elicit gales of giggles, hearty guffaws, and heartfelt smiles. Just when it seems their struggle might end in a silly stalemate, a little surprise convinces them to find a way to get along–swimmingly.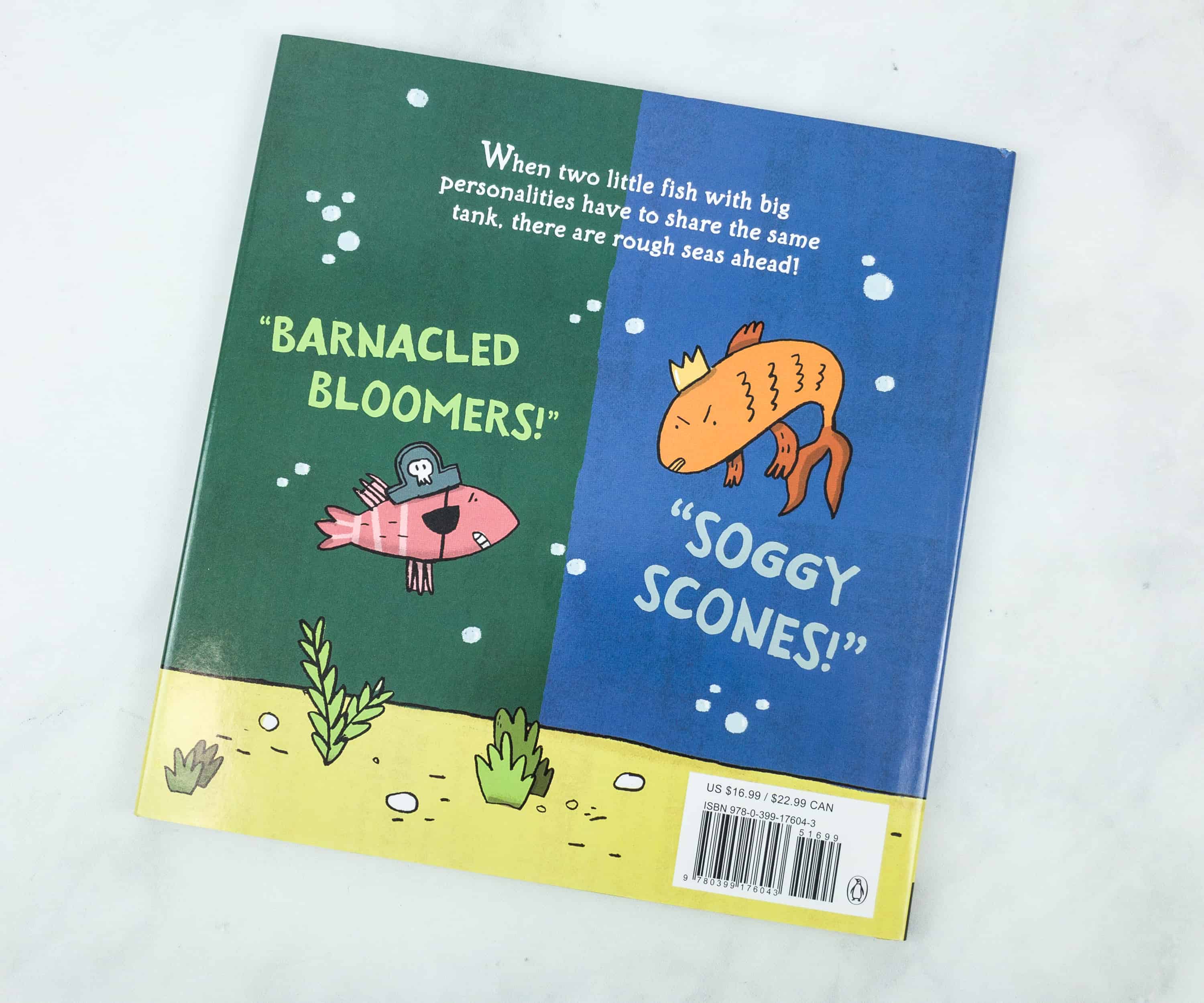 Now, we are wondering how these fishes will come along!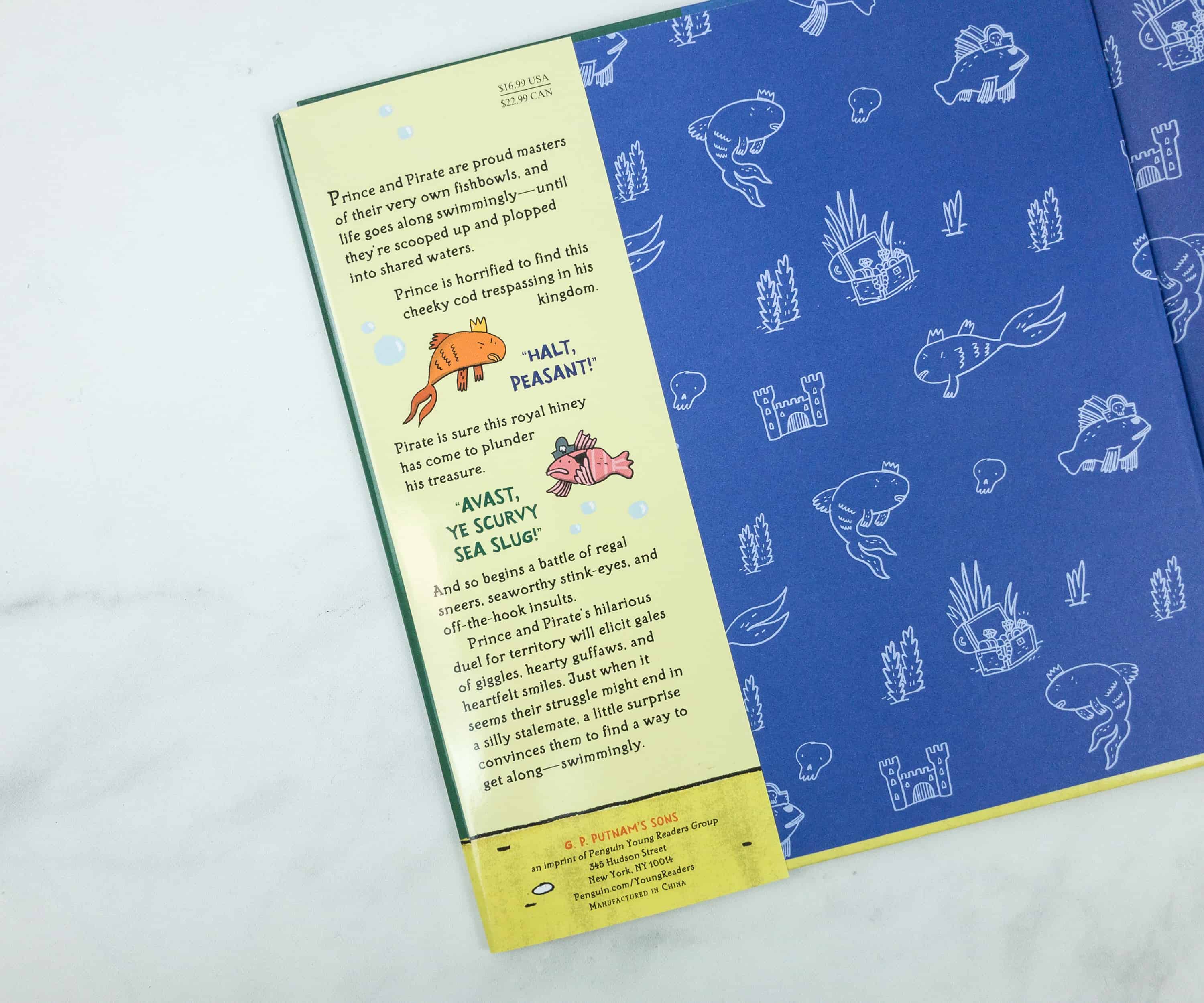 The book flap has cute doodles!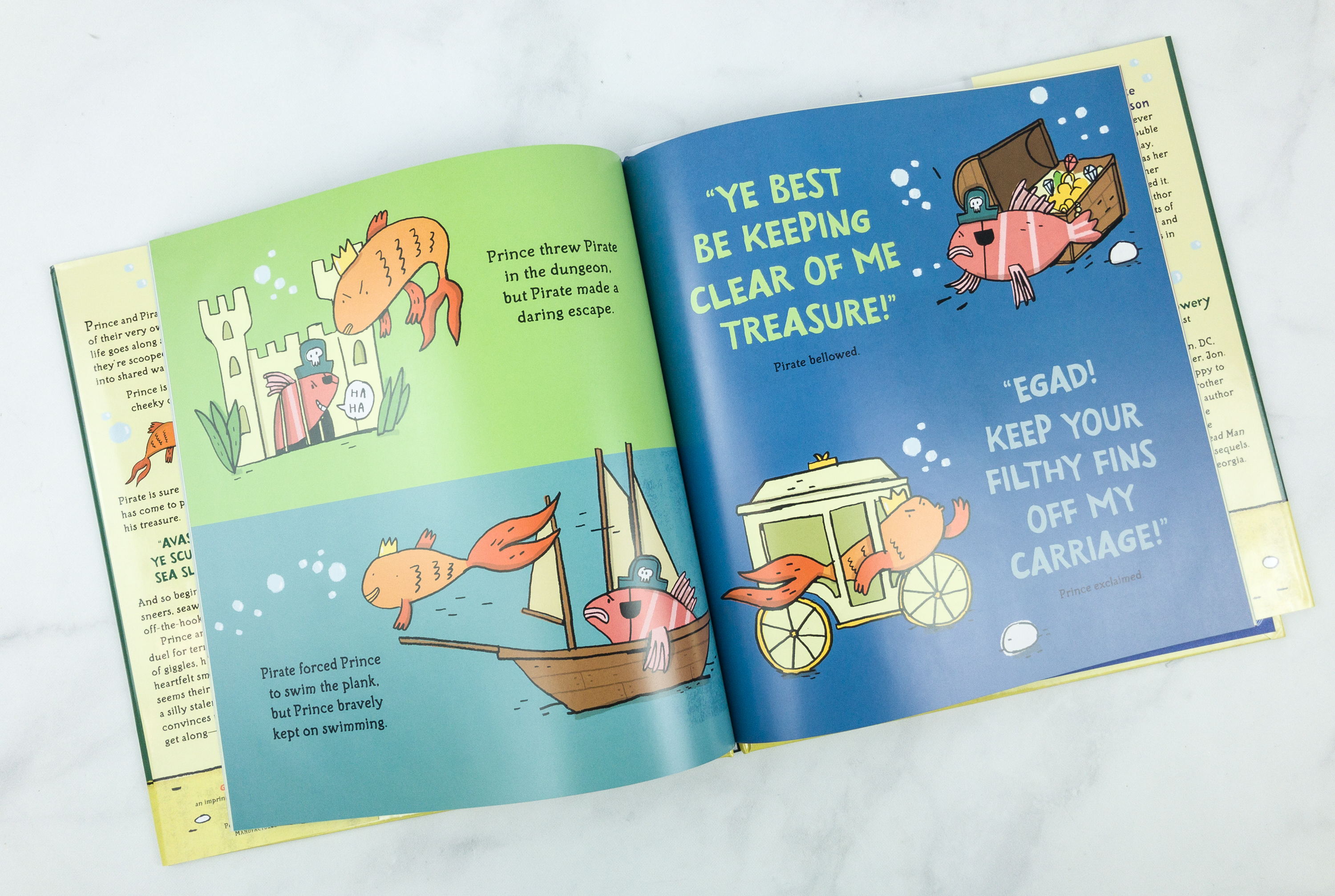 Unlike the first book, this one is full of colors. It also has glossy pages and big fonts.
It's a good picture book for when the kids are practicing their vocabulary, or just reading out loud. Today we worked on letter S with our four year old. I think B is next!
It's our very first Amazon Prime Book Box Kids and we're definitely pleased! The books are fantastic and they're perfect for my kids (all of them, not just our four year old). One is in black and white and the other is colorful, but both have interesting stories that kept my kids hooked. I did swap out one of the books for a different one and I'm really happy with how easy that was. I do think The Imaginary is a wee bit odd of a choice for this age group, but I chose not to swap it out, because I was so intrigued – and it paid off!
We have new bedtime stories to read, and we're looking forward to more! Plus, there were almost $10 extra in value from what we paid for this subscription!
What do you think of the Amazon Prime Book Box Kids?