Vegan Cuts Snack Box is a monthly vegan food subscription that brings 5-7 organic and vegan treats each month. Each subscription box costs $22.95 monthly, and delivers mostly gluten-free snacks (always vegan!) right to your door step.
It comes in a simple box.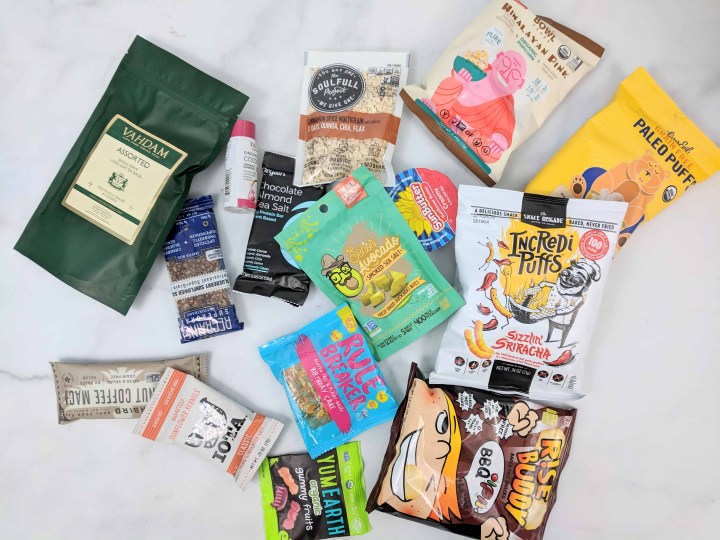 Everything in the box!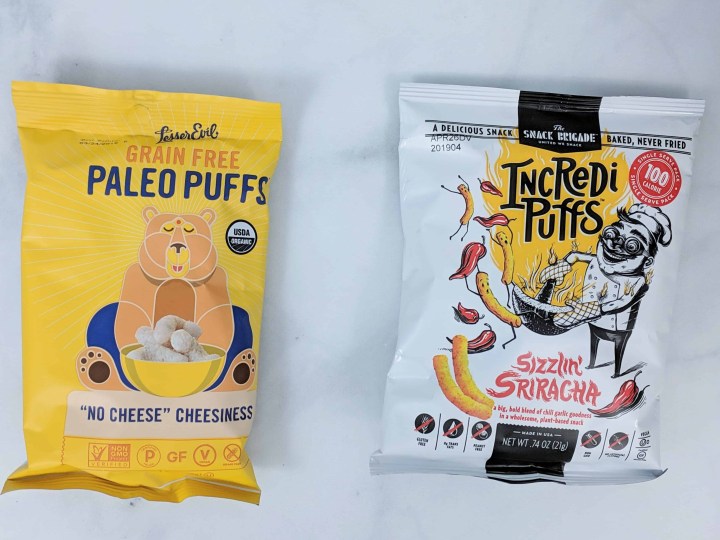 Grain Free Paleo Puffs No cheese cheesiness. It feels like a puffed cheese treat, but a bit more gooey in the mouth. They taste fine and are nicely crunchy.
Incredipuffs – Sizzlin' Sriracha. A harder puffed treat than a cheeto, with a nice little kick from the sriracha.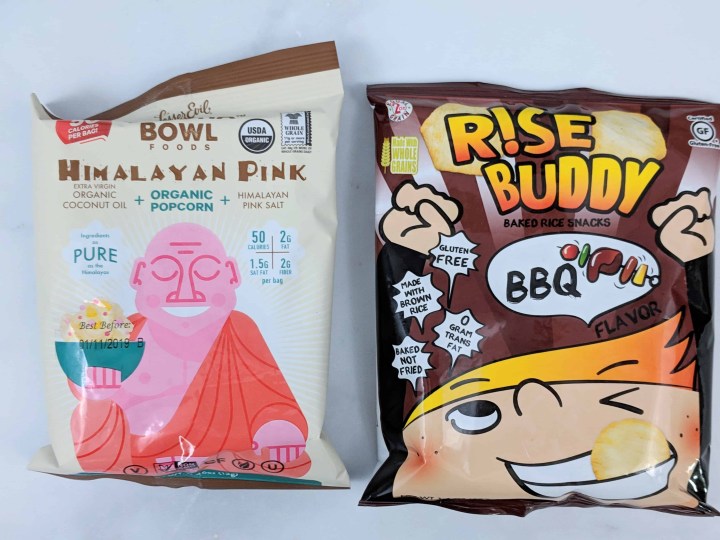 Lesser Evil Buddha Bowl Himalayan Pink Popcorn. I really like popcorn and these satisfies my cravings with organic coconut oil, organic popcorn and a bit of Himalyan pink salt, just enough to enhance the flavor, but not so it becomes salty.
Rise Buddy – BBQ. Crispy, crunchy, a slight sweetness, a bit smoky. They are baked rice snacks and they are as satisfying as crackers. We really like them.
The Soulfull Project Hot Cereal. This is a blend of Rolled oats, red quinoa, chia and flax seeds. And that's it! No sugar, no other additive or flavoring agent. Just add hot water and it's ready in 5 minutes. You can add some of the Honey alternatives to sweeten it with more flavor, or add cinnamon.
Senor Avocado – Smoked Sea Salt. I love avocados, and I was quite excited to have access to an avocado treat, but I found the aftertaste to bitter.
The texture is ok, the surface slightly crunchy from dehydration, the inside still a bit moist, but the flavor wasn't great for me.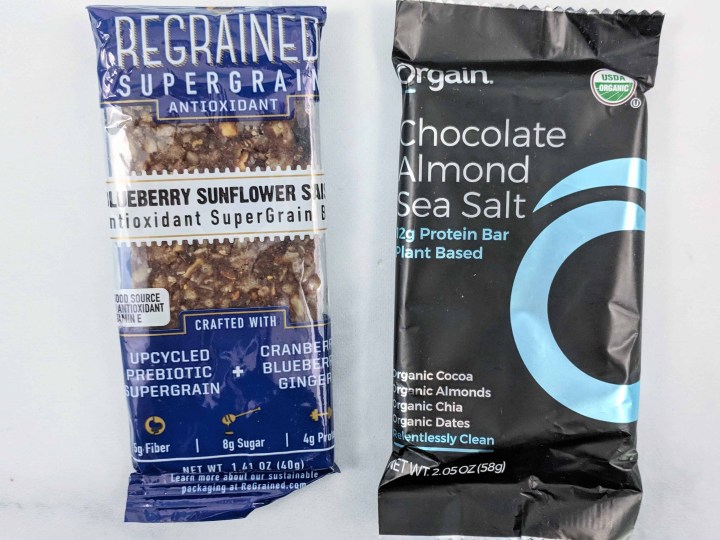 Regrained Supergrain Antioxidant – Blueberry Sunflower Saison Antioxidant Bar. Made with a ReGrained Blend (Crisp Brown Rice, ReGrained Flour (Barley, Wheat, Rye), Crisp Quinoa), Sunflower Seeds, Brown Rice Syrup, Date Paste, Dried Blueberries, Dried Cranberries, Fava Bean Protein. The ReGrained Blend is a mix of grain used to make beer, and the brewing beer process the sugar out of the grain. It has a nice hint of ginger that I really liked.
Orgain – Chocolate Almond Sea Salt protein Bar. Very few ingredients (dates, peanut butter, almond butter, cocoa, chia protein, almonds) makes a nice afternoon pick-me-up.
YumEarth Organic Gummy Fruits. Nice little gummies with fun shapes for Halloween!
Iota Roasted Sunflower Kernels. I love sunflower seeds, it might be one of my favorite snacks. These are pre-shelled, so no mess, and they have a nice deep flavor. I found them a bit salty, but the taste is awesome.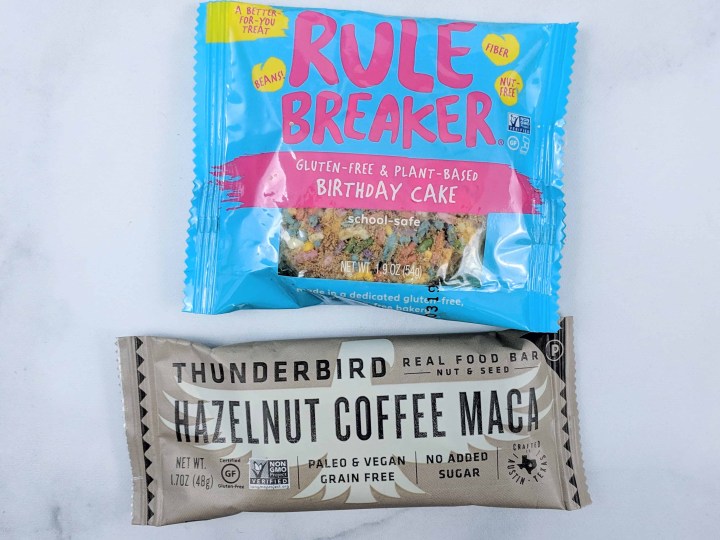 Rule Breaker – Birthday Cake. Made with chickpeas, vegan white chocolate and date paste, this gluten-free snack is free from the top 8 allergens. It's soft and sweet, like a brownie.
Thunderbird Hazelnut coffee maca. Made with Dates, Hazelnuts, Almonds, coffee beans, maca powder, cacao, and chia powder. It's a nice chewy bar with a little boost of energy thanks to the coffee beans.
Vahdam 100% Pure Indian Teas – Assorted.  We received an assortment of single-serve tea bags.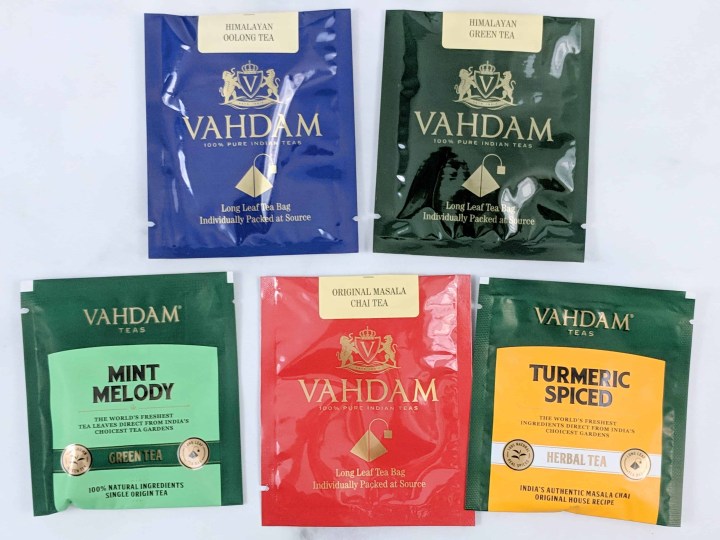 I received an Oolong tea, two green teas, a masala chai tea, and herbal tea.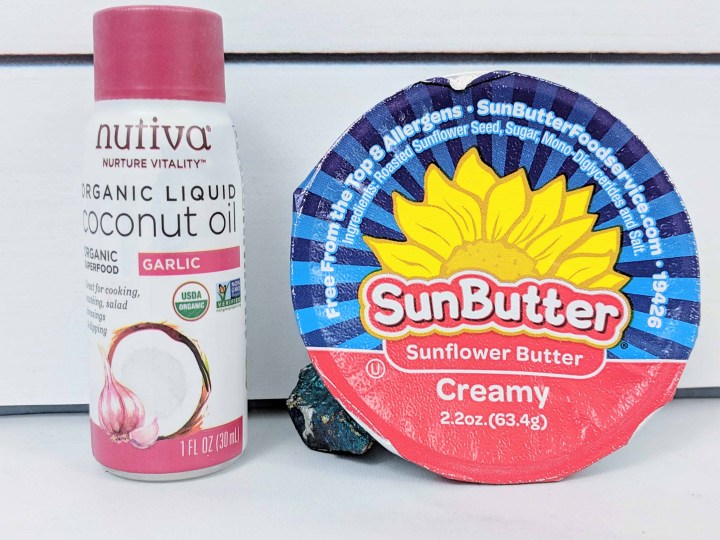 Nutiva Organic Liquid Coconut Oil – Garlic. Liquid coconut oil flavored with garlic. That sounds tasty to sauteed a bunch of veggies!
Sunbutter – Sunflower Butter. I love nut butter, and I love sunflower seeds, and this is perfect to spread on toasts, stuff dates, or straight from the cup! It's a nice substitute to peanut butter.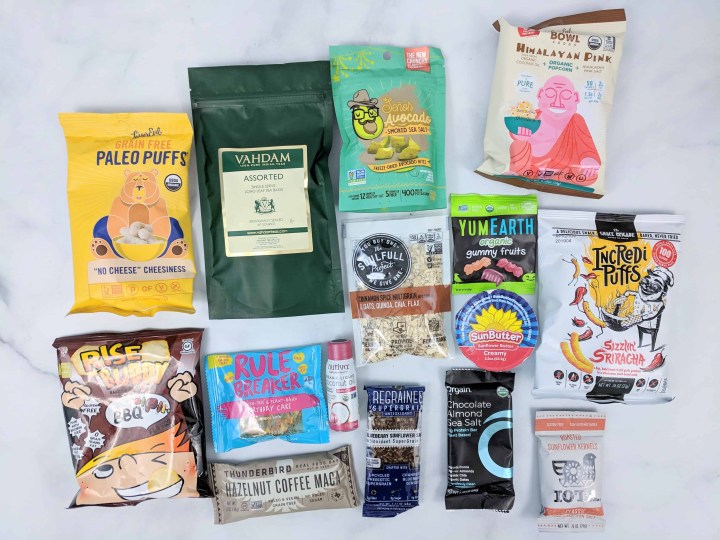 I always enjoy discovering new treats in my Vegan Cuts Snack box. I like the mix of sweet and salty, and that not everything follows the same taste profile (like having everything chocolate flavor). My favorites were the Rice Buddy, the sunflower kernels and the popcorn.
Have you tried Vegan Cuts Snack Box? Let me know what you thought of the box!