Olfactif is a monthly fragrance sampler subscription box that sends hard-to-find niche perfumes. Every month you'll receive 3 samples, each of which contains 2.5ml and gives around 40 applications of an independently designed perfume. Olfactif is $20 a month, or sign up for a longer subscription for a discount – prepay for a year and the price drops to $15 a box!
In addition to receiving a curated collection of 3 premium fragrances from around the world, members also receive: 20% off full bottles of every featured scent, 10% off all other full bottles, 10% off all à la carte samples, and earn free stuff with rewards points.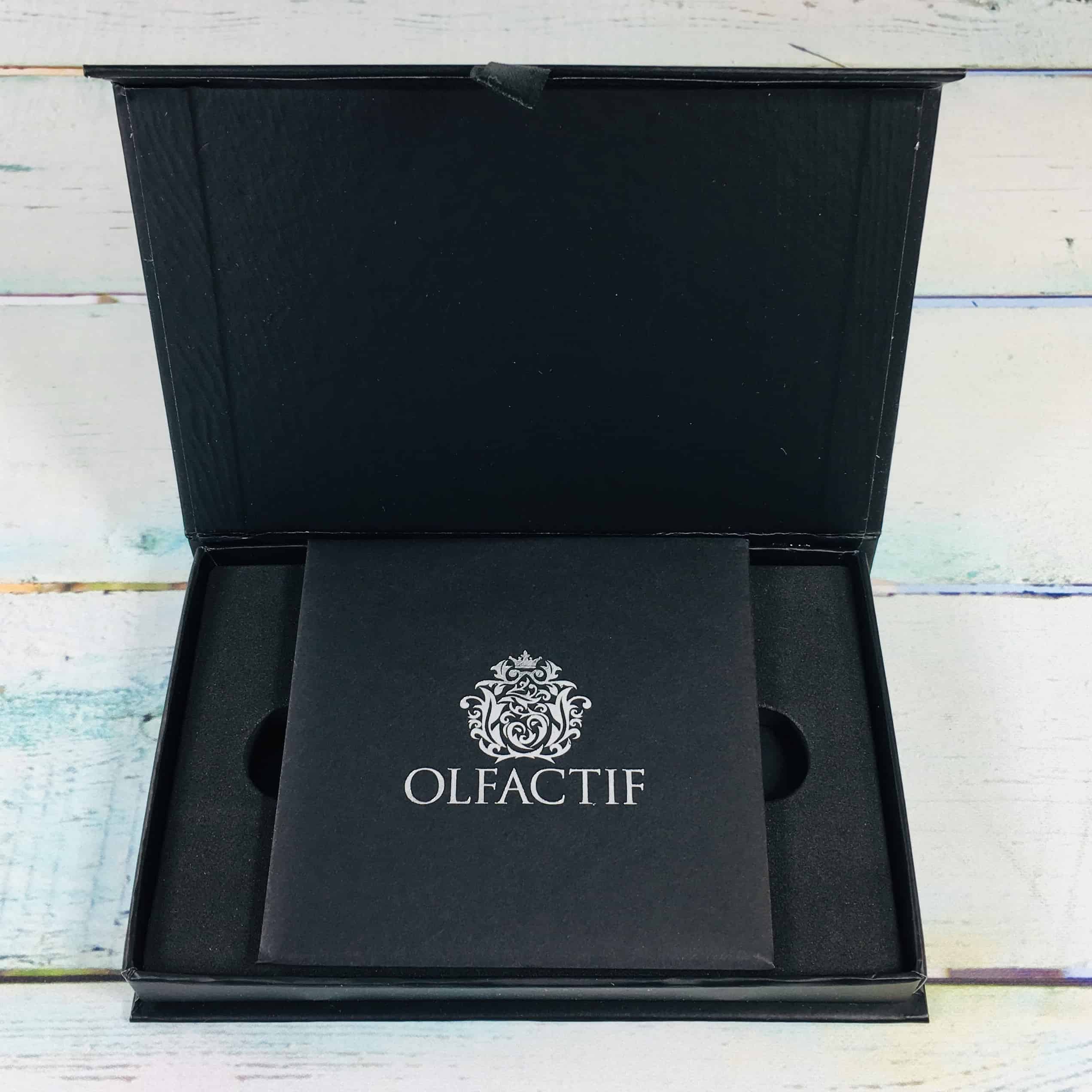 Olfactif sends their scents in a black box with a magnetic closure. Very classy. It's like the little black dress of the fragrance world.
Opening my Olfactif box is like opening a special present: the presentation is simple and elegant. Members save 20% off of a full-sized monthly featured fragrance, 10% off all other full-sized fragrances, and 10% off all samples. Olfactif has also introduced a rewards program so you can earn points when you review your scents, refer a friend, or make a purchase.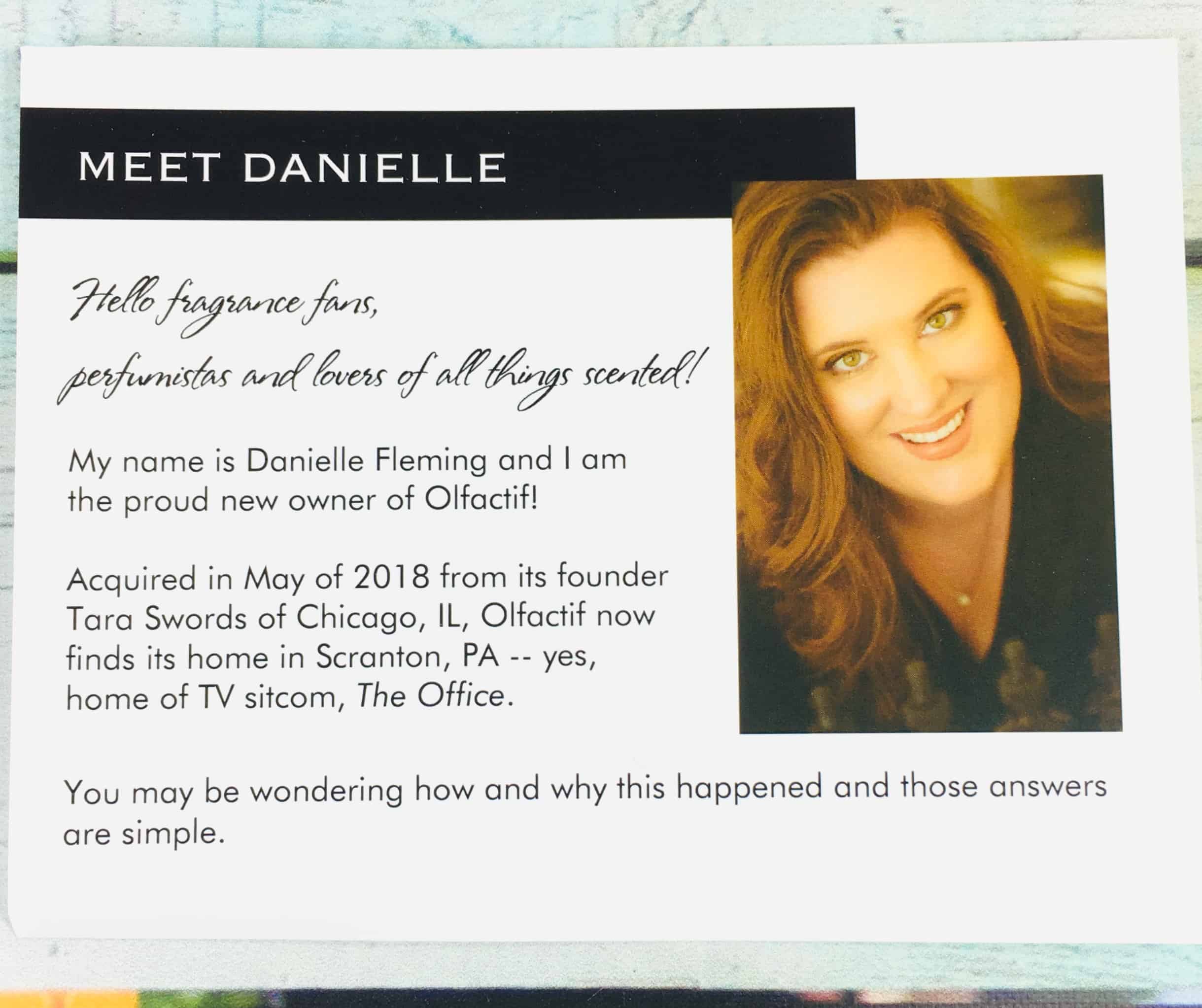 Olfactif recently changed owners and so this month there was a card with some info on the new lady in charge!
There was a card with a little info on the subscription. Olfactif now offers atomizers with samples, similar to other to-go fragrance subscriptions out there, but with a limited selection of niche fragrances, most of which are not available in other subscriptions. Prices vary depending on the scent chosen and you can choose from two colors of case – either Rosé or Stone. Each of those samples are 5ml.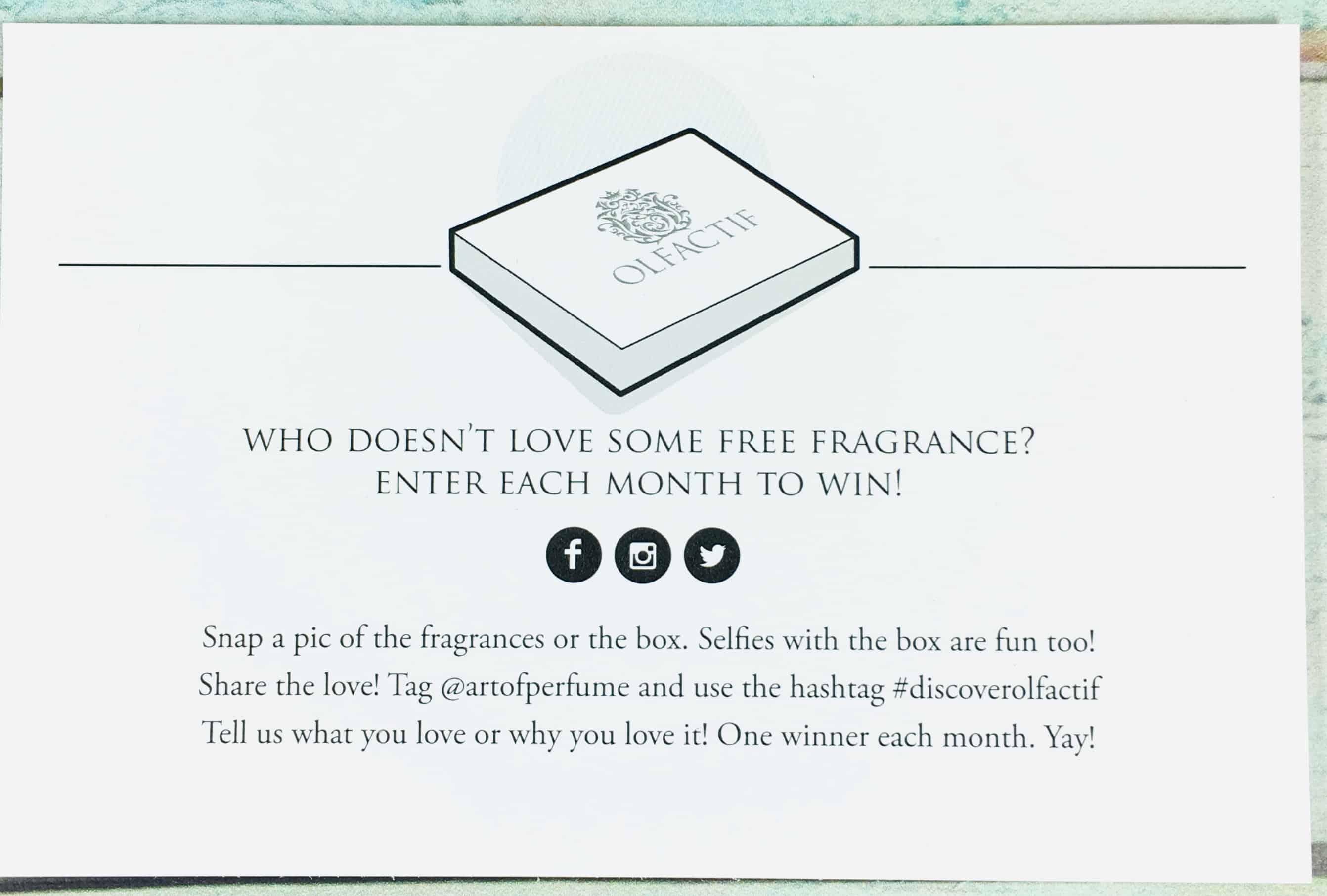 The back told how you could win some free fragrance.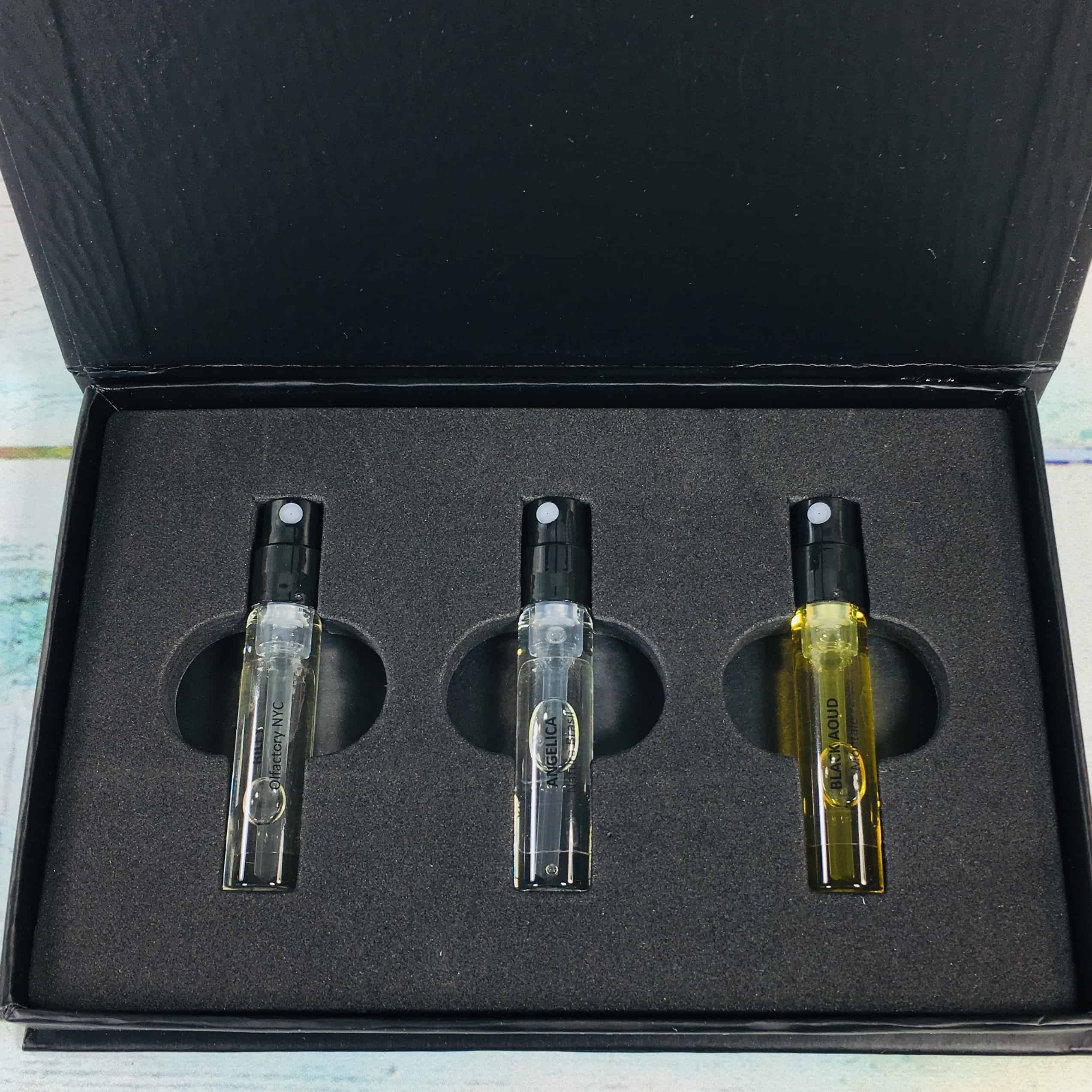 Olfactif focuses on niche fragrances – unique scents produced with higher quality and harder-to-find ingredients than you would encounter in a department store. When you subscribe you can choose from the Women's or Men's box. You can check out our reviews of Olfactif Men here.
I received four cards in a black envelope. Something new is that Olfactif no longer sends test strips – instead, you test your scents directly on the back of each scent's card. There's even space to write notes on what you thought of the fragrance.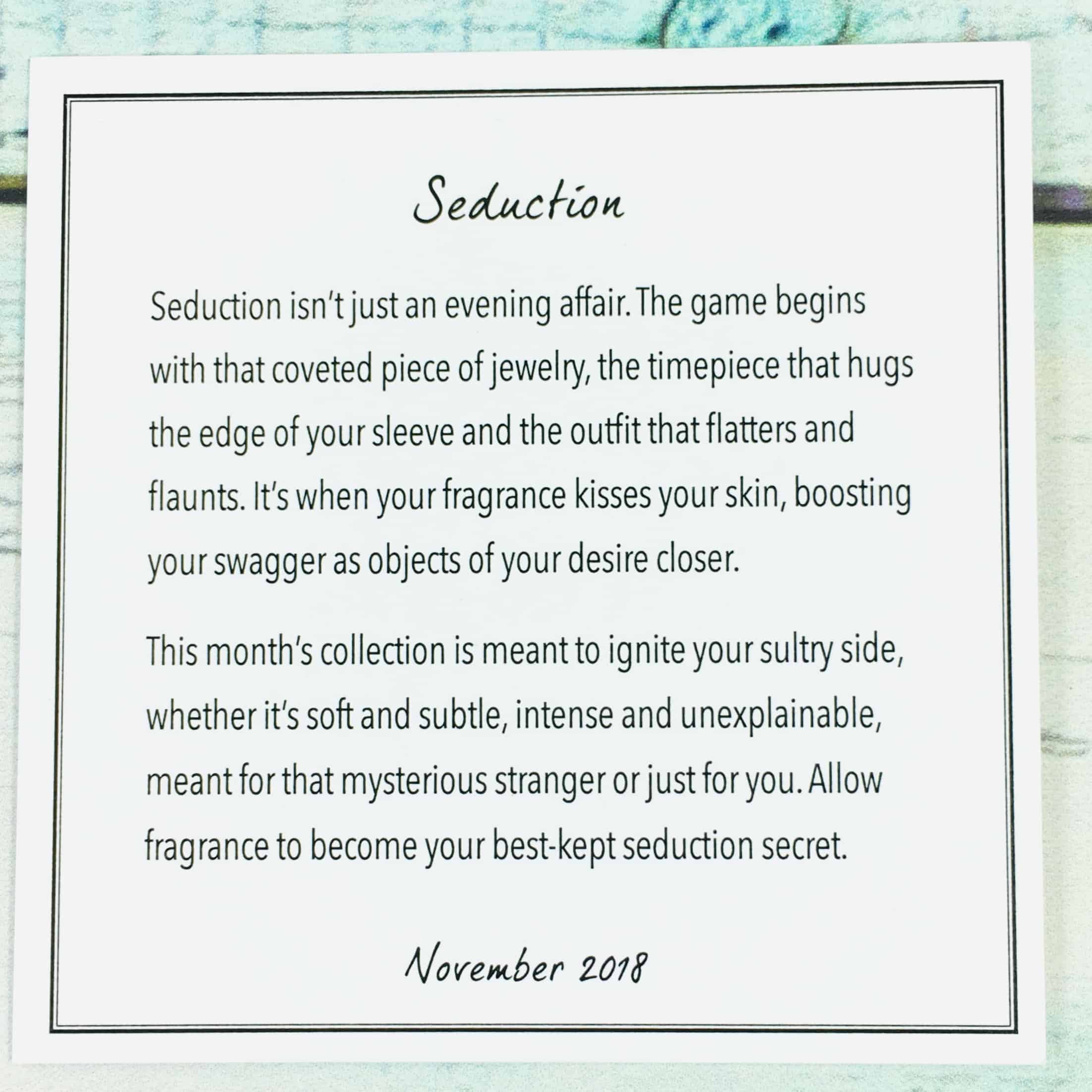 The theme for November's box is Seduction.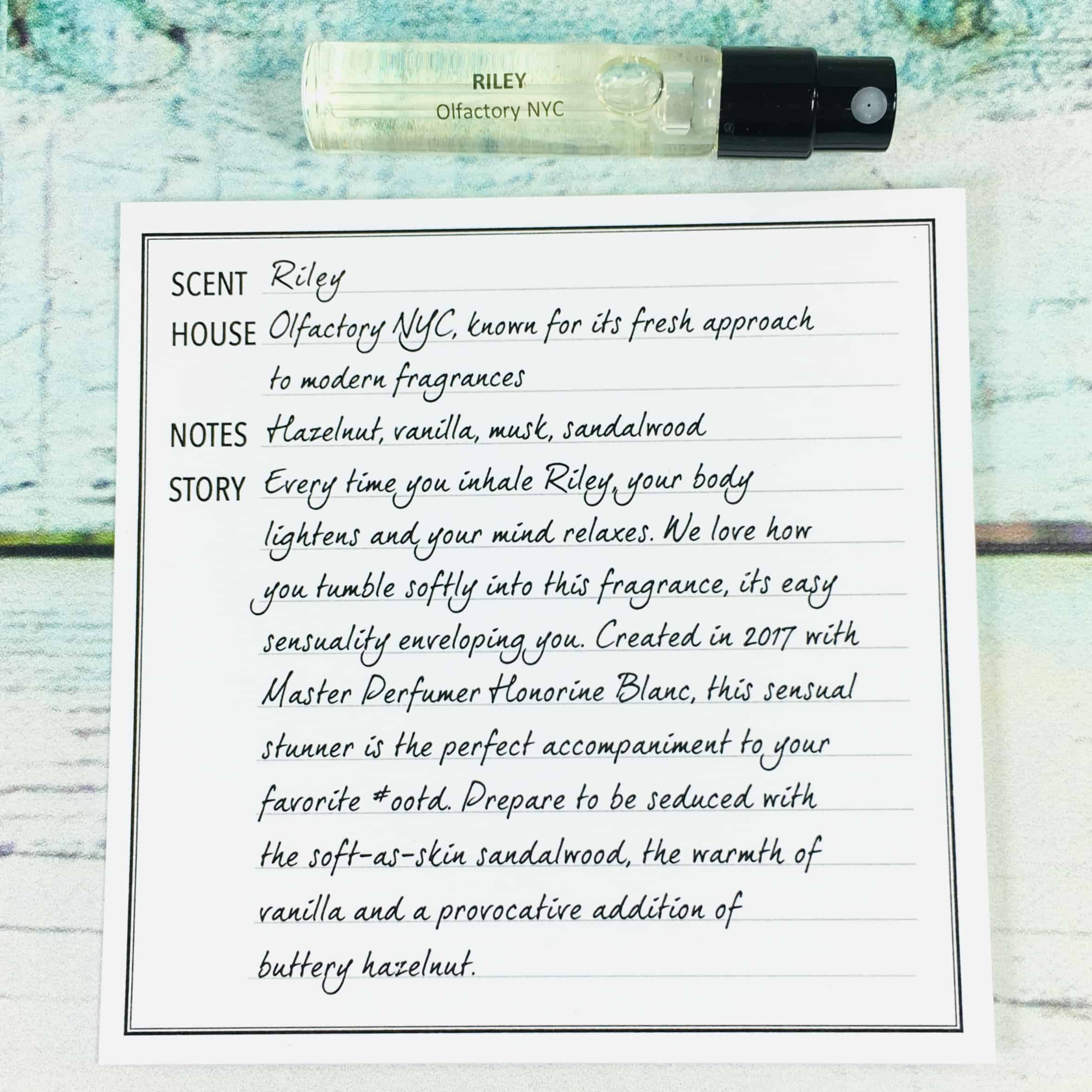 Olfactory NYC Riley ($50) Olfactory NYC is a new-to-me brand that Olfactif just added to their site. You can even order riffs on the offered fragrances from this line or create your own on the Olfactory NYC website. I know this is supposed to be a seductive selection this month, and I guess if the way to a man's heart is through his stomach then mission accomplished. It smells warm and comforting and has notes of hazelnut, vanilla, and sandalwood. Nice for any time of day, a very sweet fragrance.
Natura Brasil Angelica ($95 for 50 ml) My husband stopped me to ask what I was wearing, he said I smelled really good. He asked where it was from since he said it smelled a lot like what women in his workplace wear and I explained it was a niche fragrance and probably wouldn't be found at the mall. I do think it smells like white flowers and citrus, which is a popular combination, and it also has that clean ambroxan note, that smells like either laundry detergent or rubbing alcohol.
Montale Black Aoud ($120 for 1.7 ounces) I am used to wearing polite scents when I go out in public and save the louder ones for home. This scent practically shouts "let's get it on". I can't believe this is supposed to be a scent for males, it is a scent for lusty females! I can't help feeling this is similar to Mad Madame by Juliette Has A Gun, at least on the card. On my skin it is a little different, I caught what must be "aoud" in the first spray, but then it mellowed to rose. The spray on the card lasted for days, I would walk into my office and that was the only thing I could smell.
UPDATE: After wearing this all day I must say I really enjoyed it! My body chemistry helped it mellow out and even though I'm not usually a fan of rose scents this one was absolutely lovely. It stayed on all day.
As always I adored trying new scents with my Olfactif November collection! I was surprised to find that the one that seemed the strongest and that featured rose as its star scent turned out to be my favorite of the bunch, but the others will be in my rotation this season too. I love that the scents are unique and that they vary so much from each other, there's one to fit every mood. Olfactif is one of the subscription boxes that I most look forward to getting each month, they help me discover scents that I wouldn't be able to find otherwise.
Have you tried Olfactif? Let me know what you think of this subscription in the comments!