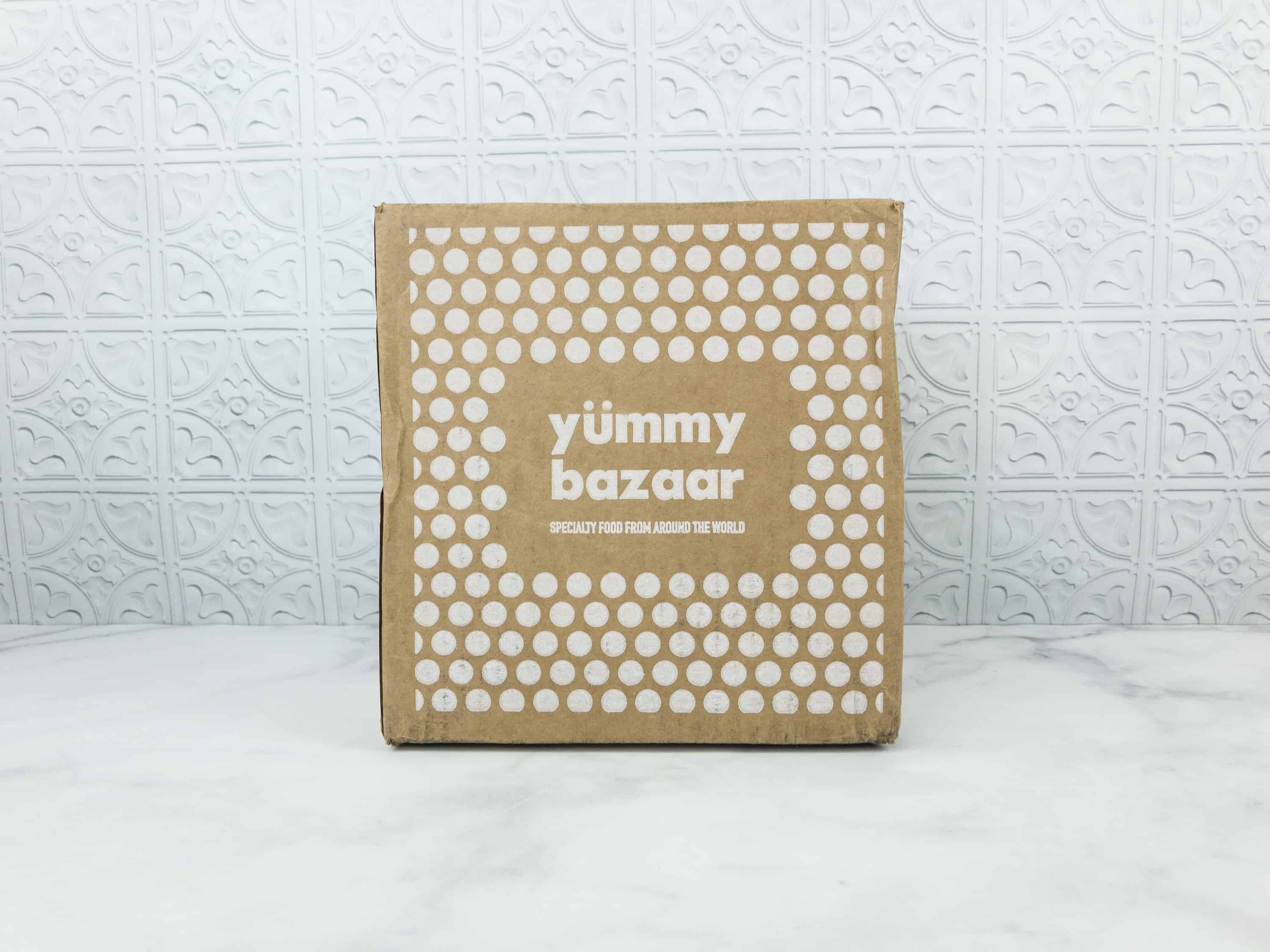 Yummy Bazaar is a destination food club that delivers gourmet products, sourced from afar, to your doorstep every month. With the Full Experience, you receive 6-8 full sized gourmet items from a single global destination for $35.95. There is also a Sampler subscription that sends 6-8 sample sizes from various countries for $9.95.
This is the review of the Full Experience box.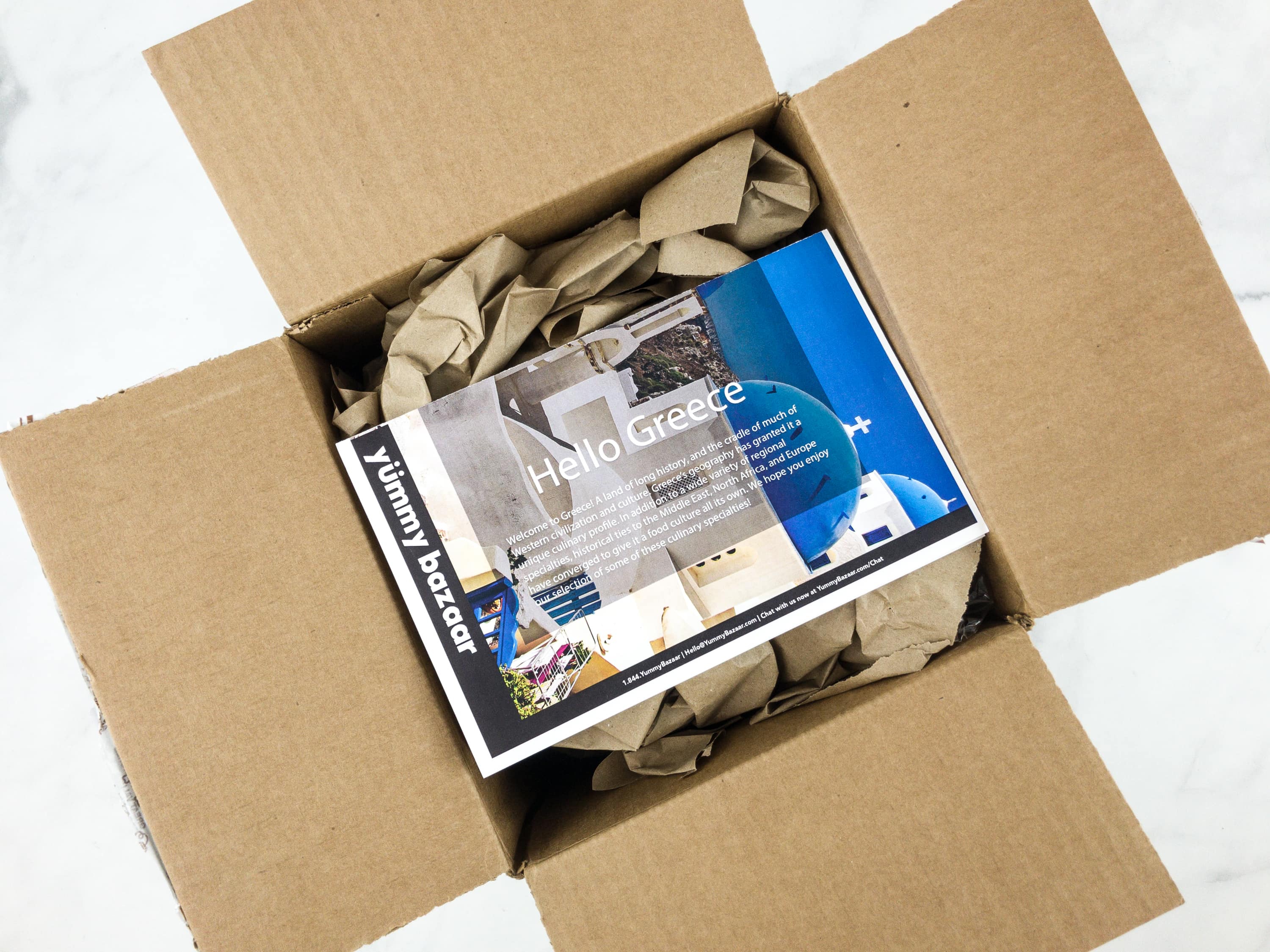 The box is full of good stuff! The sheet on top clues you in to this month's destination, but all the tasty stuff is hidden safely below.
When you remove the extra packaging, it will reveal the neatly packed goodies inside. Everything is full size — enough to share or make a family meal with.
All the packaging materials are recyclable, and they do a great job of protecting jars and bottles.
This month's destination is Greece! Every month, the info card features a beautiful photo taken in the featured country, as well as a short message from Yummy Bazaar sharing what they love about the food culture there.
The card also includes photos of all the items together with a brief description of each.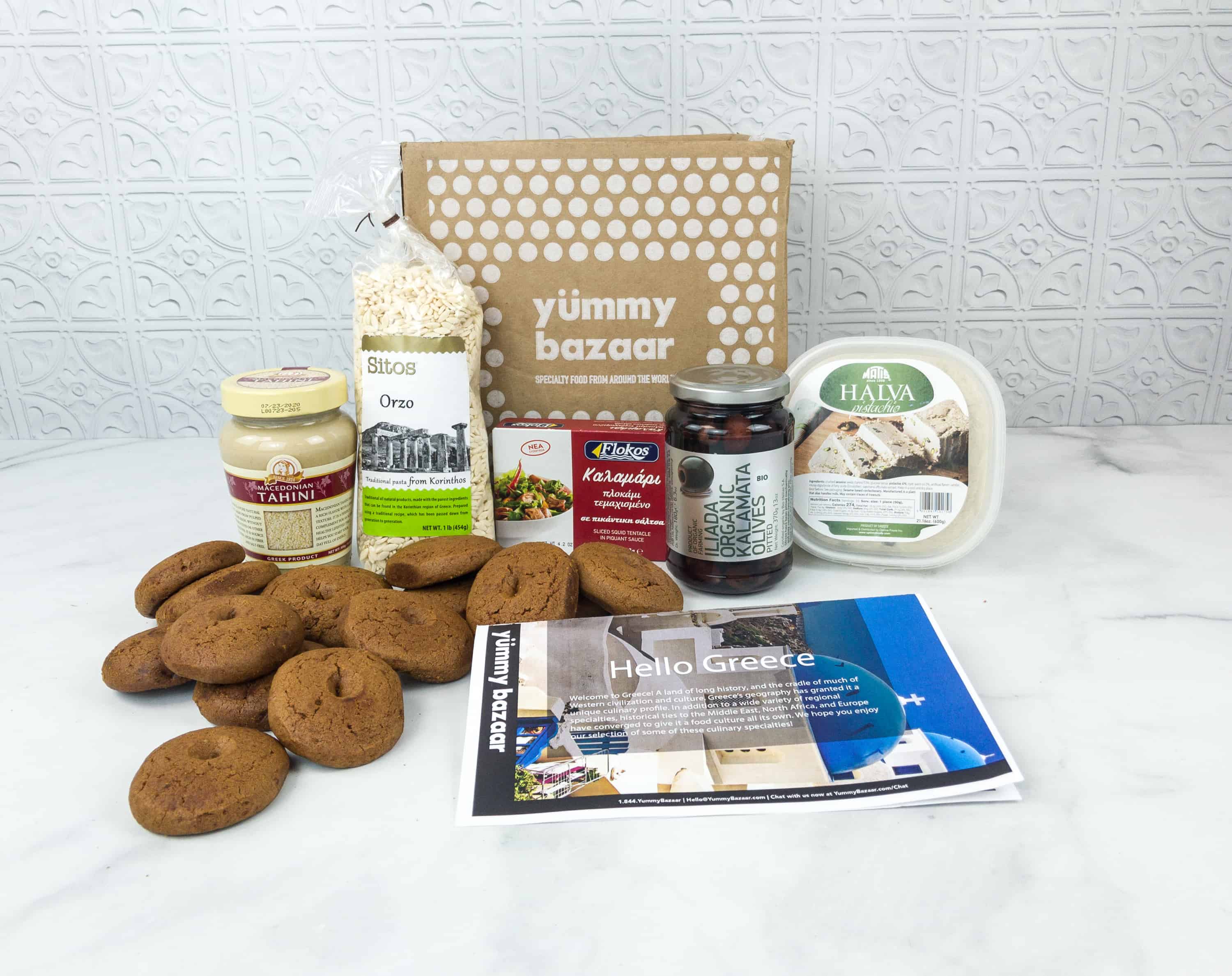 Everything in my October Yummy Bazaar Full Experience Box!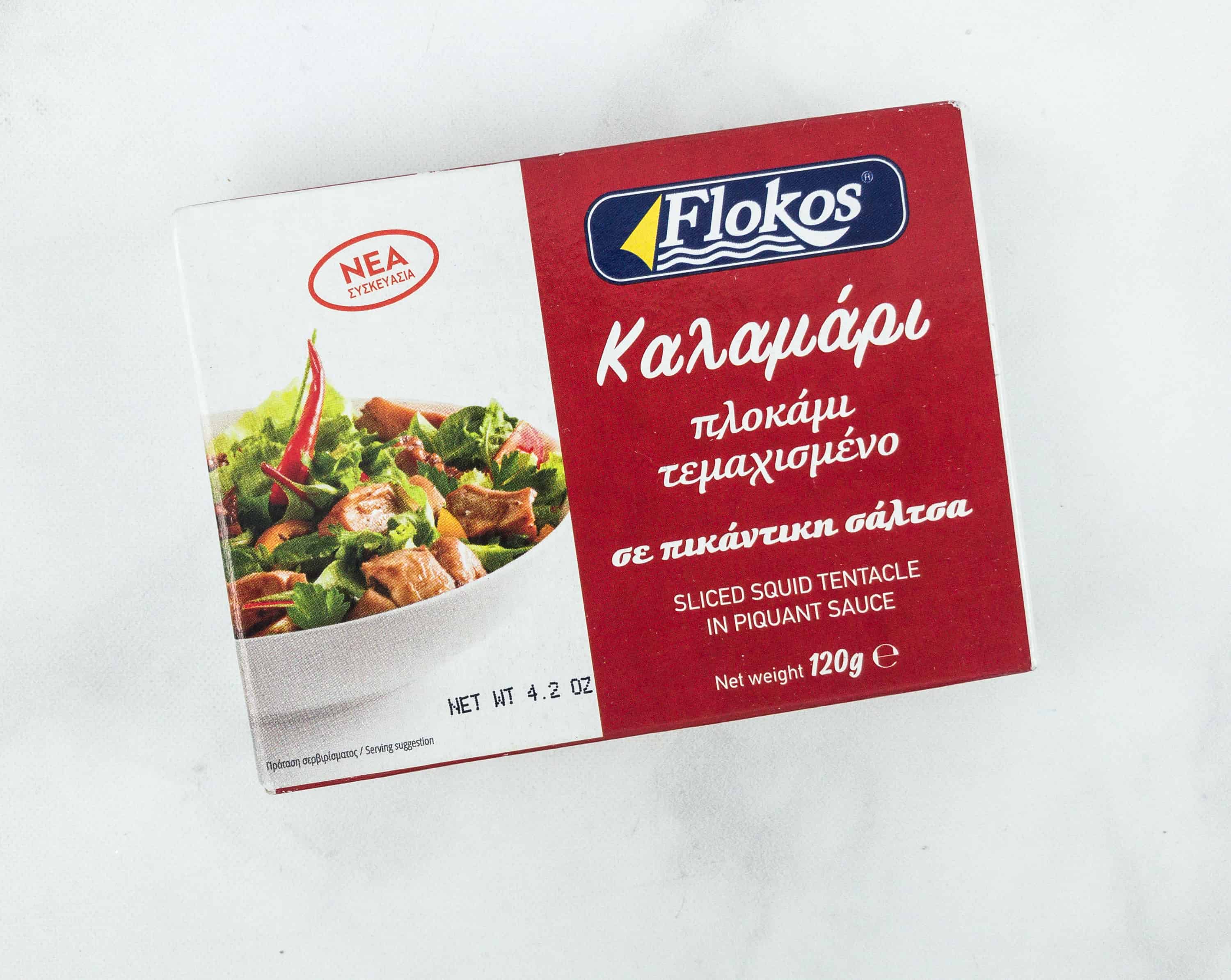 Flokos Spicy Calamari. Squid is a tasty choice for a healthy diet because it's high in phosphorus, selenium, and vitamin B12. It is usually breaded and fried but because the box wanted to flaunt the taste of the squid even further, they gave us straight up squid, sliced and mixed with piquant tomato sauce made with spicy red pepper.
Chripal Moustokouloura ($5.16) Wow, these cookies are big! They have a crumbly, spice cake-like texture. The orange essence brightens the flavor a bit, but it is the deep flavor or the whole wheat that makes them unique and interesting.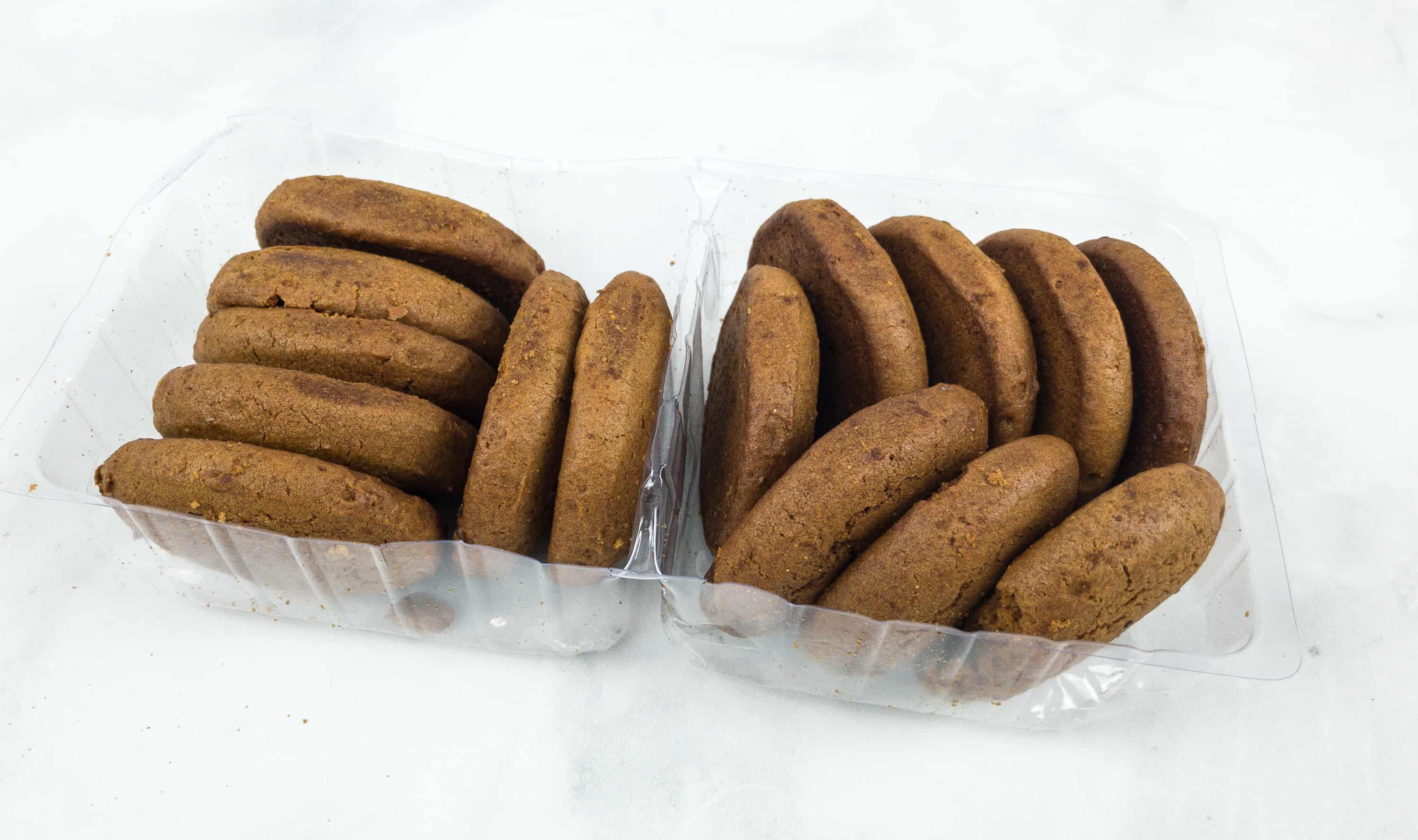 The cookies are naturally vegan. Their unique texture comes from the cottonseed oil. I haven't tasted cookies that came from grape must until now but it gives a similar taste to molasses.
As a whole, even though these are usually served during Lent season, they provide a flavorful counterpoint to some of the lighter tastes in this box.
Matis Halva. At first, you would think it's a big block of cheese but it's actually a Greek-style sesame seed-based confection that is widely popular in the Mediterranean, Middle East, and India.
We are graced with this Pistachio goodness.
It's a big, dense, and chunky block. It looked very weird in the tub, as you could see the stringy texture, and some syrup had sweated out of the block. It looked like an odd cheese or shredded soy concoction.
The interior looks a lot better. After some refrigeration, it dried a little and looked more appetizing, look a nougat. It has a complex, nutty flavor, and it is very sweet. The sesame flavor is intense, but it is neither like raw sesame seeds or toasted sesame. It actually makes an addictive treat, as it has a nice balance of sweet and savory, as well as a pleasant texture. You can enjoy this by itself or with a drizzle of honey or accompanied by sweet ice cream, but it is certainly sweet enough to stand on its own.
Sitos Orzo ($0.68) It looks like rice but it's a pasta with strong ties to Greek cuisine. It is ideal for salads and other cold dishes. You can have this with lemon juice and butter. Just cook as you do with other pasta, boiling this 7 to 10 minutes in water, salt, and virgin olive oil. It makes a light and elegant meal in no time.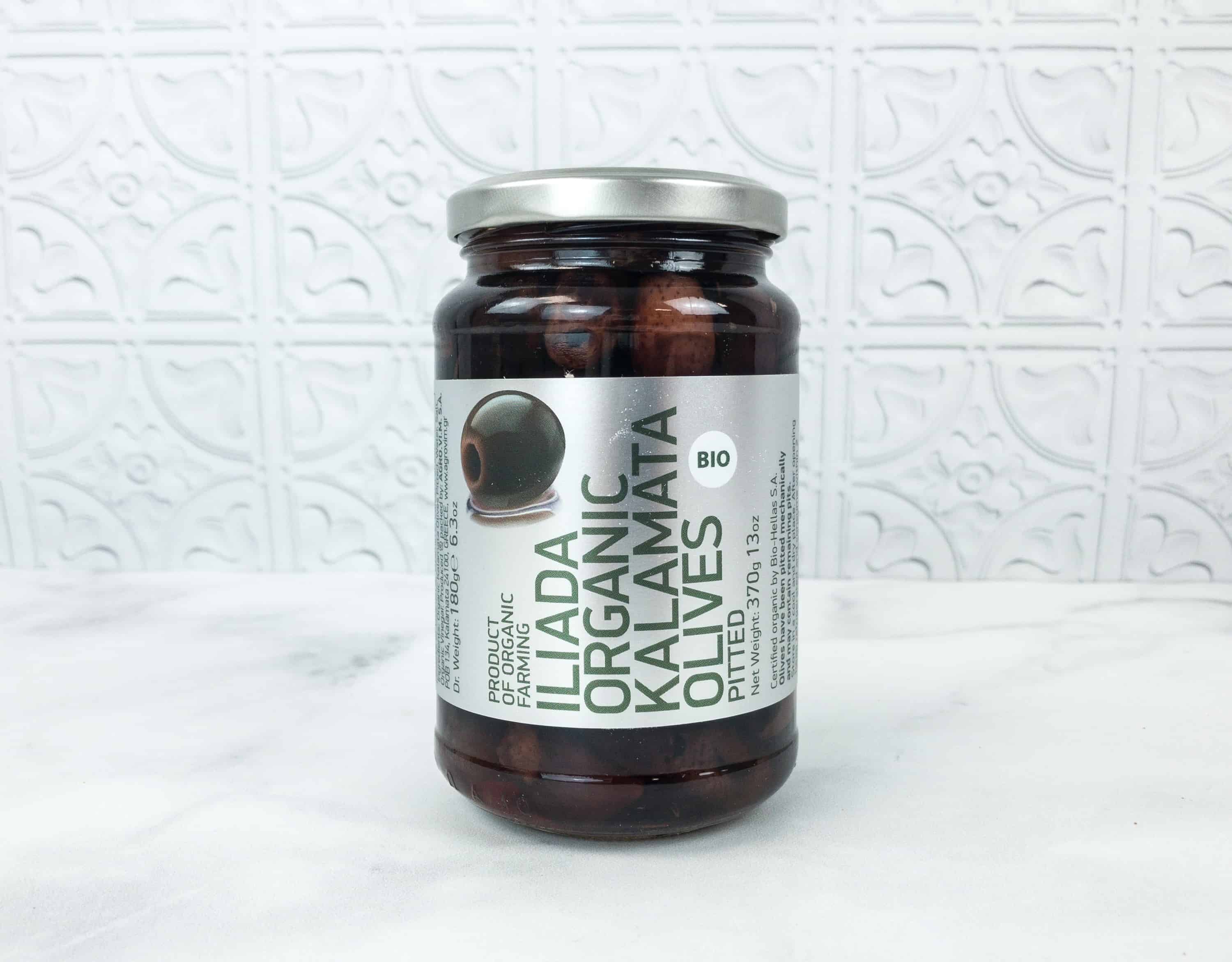 Iliada Organic Kalamata Olives ($13.50) Olives are a staple ingredient in Greek cuisine, and Kalamatas are the most iconic of Greek olives. Their rich flavor and low level of brine and acidity makes them one of the best olives for eating straight from the jar or pairing with mild cheeses. You can put these on any dish you want, and they pair exceptionally well with pasta and salads.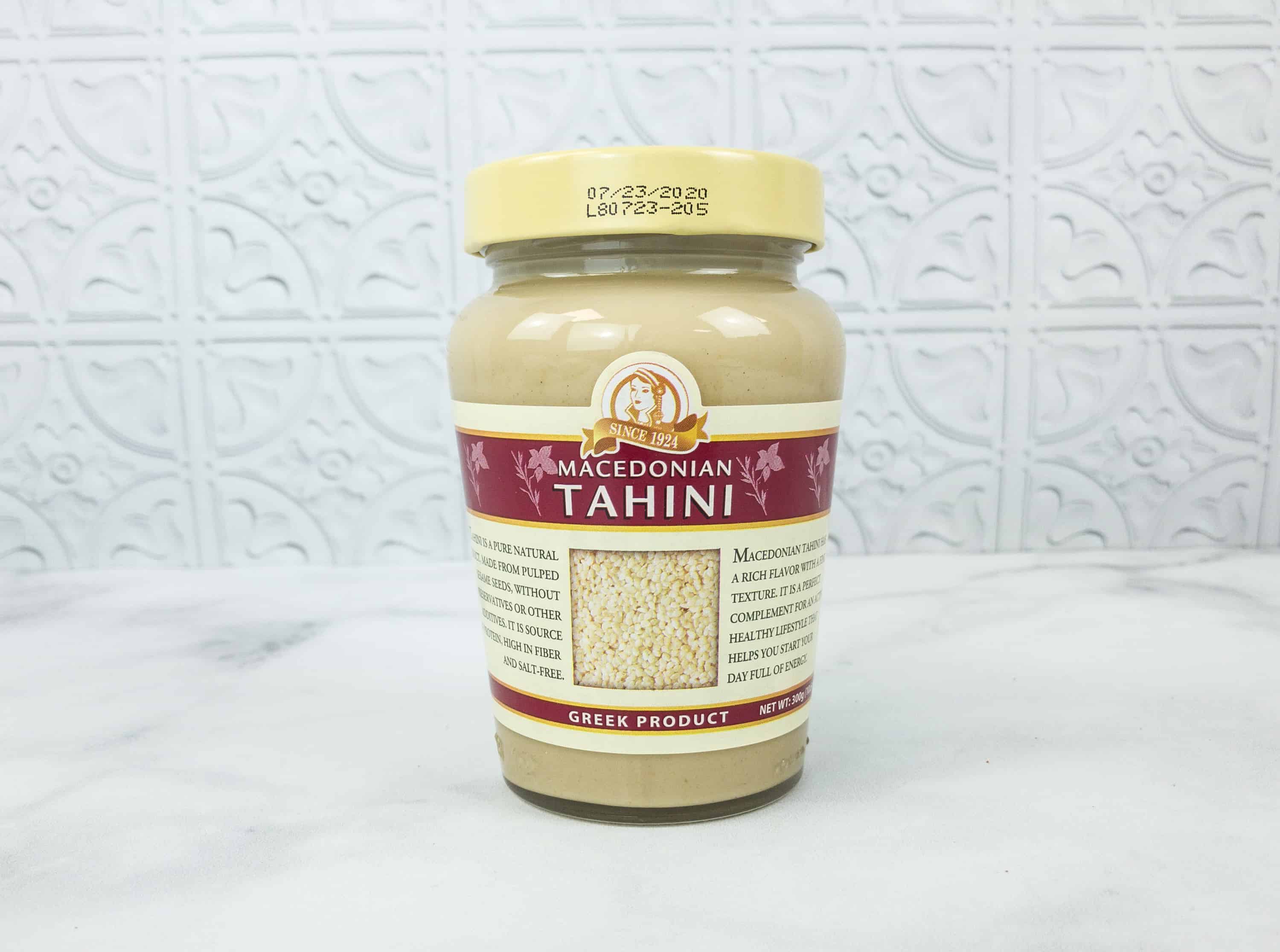 Haitoglu Brothers Macedonian Tahini ($6.95) Another product of sesame seeds! This is a creamy paste condiment not new in the Mediterranean and Middle Eastern cuisine. The nutty notes complement both sweet and savory dishes. You can drizzle it with honey and put in toast or scoop into homemade hummus. I've known of tahini as an ingredient in hummus and other preparations, but apparently the ultra-smooth texture of Macedonian tahini makes it suitable as a condiment straight from the jar.
This box is a full experience indeed! One of the great pleasures of travel to other countries is experiencing the local tastes in food, and the authentic picks from Yümmy Bazaar really help bring this experience right to our home. It's a great way to introduce your palate to some new flavors, even though some items can be an acquired taste. A couple things set this subscription apart from others in the genre — everything is full-sized and big enough to share with the whole family, and the brands are local to the featured country and not generic export brands you see everyday at your own grocery store. It's not just themed like the featured cuisine, it is like you have actually gone grocery shopping in the destination country! This box is a win when it comes to selection, variety, and adherence to the theme!
Are you getting this month's Yummy Bazaar box?