Hello Fresh is a weekly meal kit subscription box with complete recipes and high-quality ingredients to make your own fresh, healthy, gourmet meals at home.
They offer three different subscription options — Classic (choose 3, 4, or 5 meals for 2 people or 3 meals for 4 people from 6 weekly options/$9.99 per serving for the basic plan, $11.50 per meal for unlimited meal choice), Vegetarian (receive 3 HF-selected meals for 2 or 4 people/$9.99 per serving ), and Family (receive 3 HF-selected meals for 2 kids and 2 adults/$8.74 per serving). You can always pause the subscription to skip a week if you need to – this is super handy for vacations!
This is a review of the Hello Fresh Classic Box!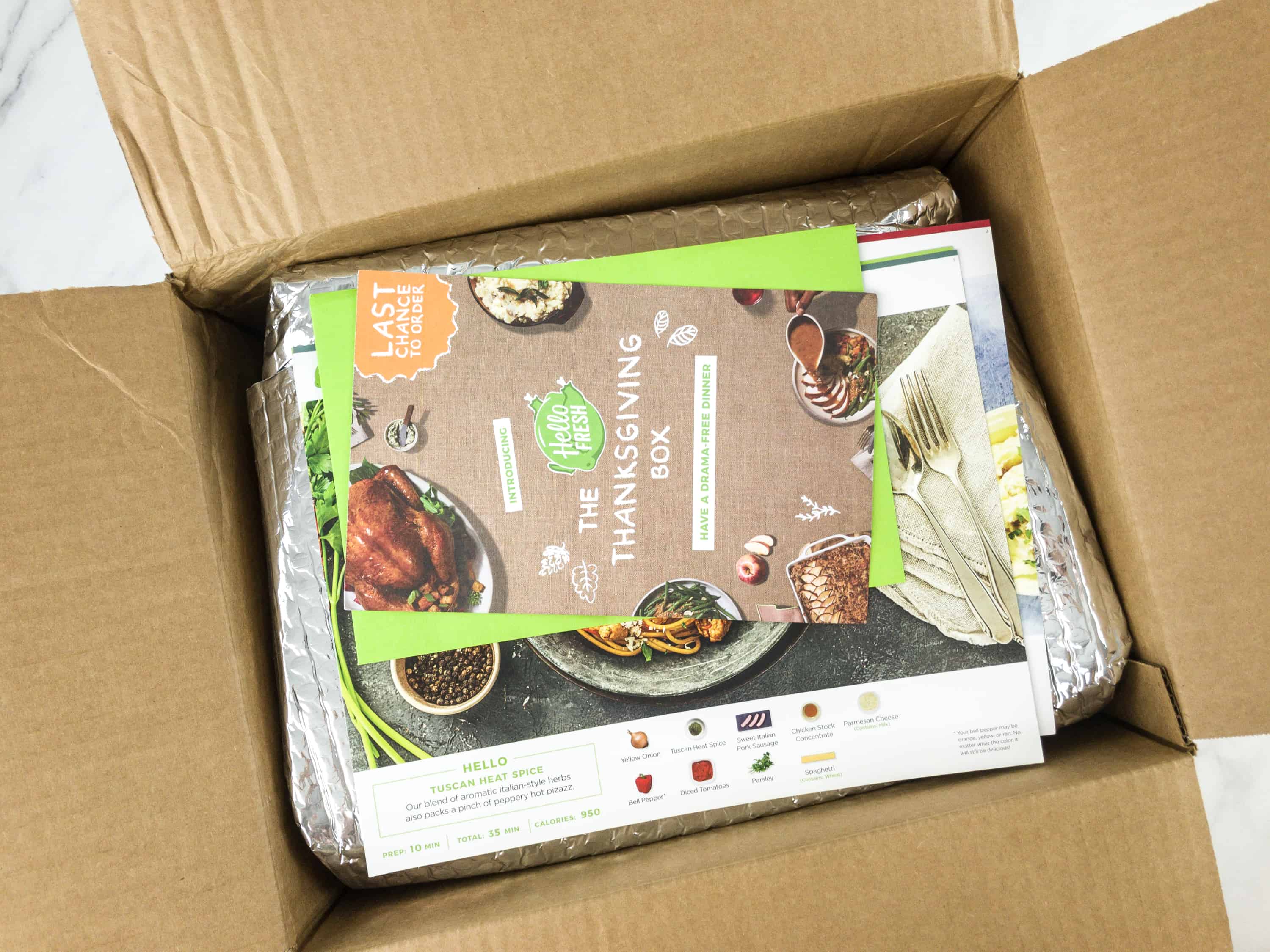 The ingredients for each meal are packed in a separate bag within a larger, insulated box. The rigid inserts both insulate and protect the food from any damage to the external box.
DEAL: Save $40 off your first two boxes – no coupon code required, just use this link for the deal!
Several ice packs keep everything cold, and the food bags are separated from the icepacks by a divider. Meat is packed at the bottom, sandwiched amongst the ice.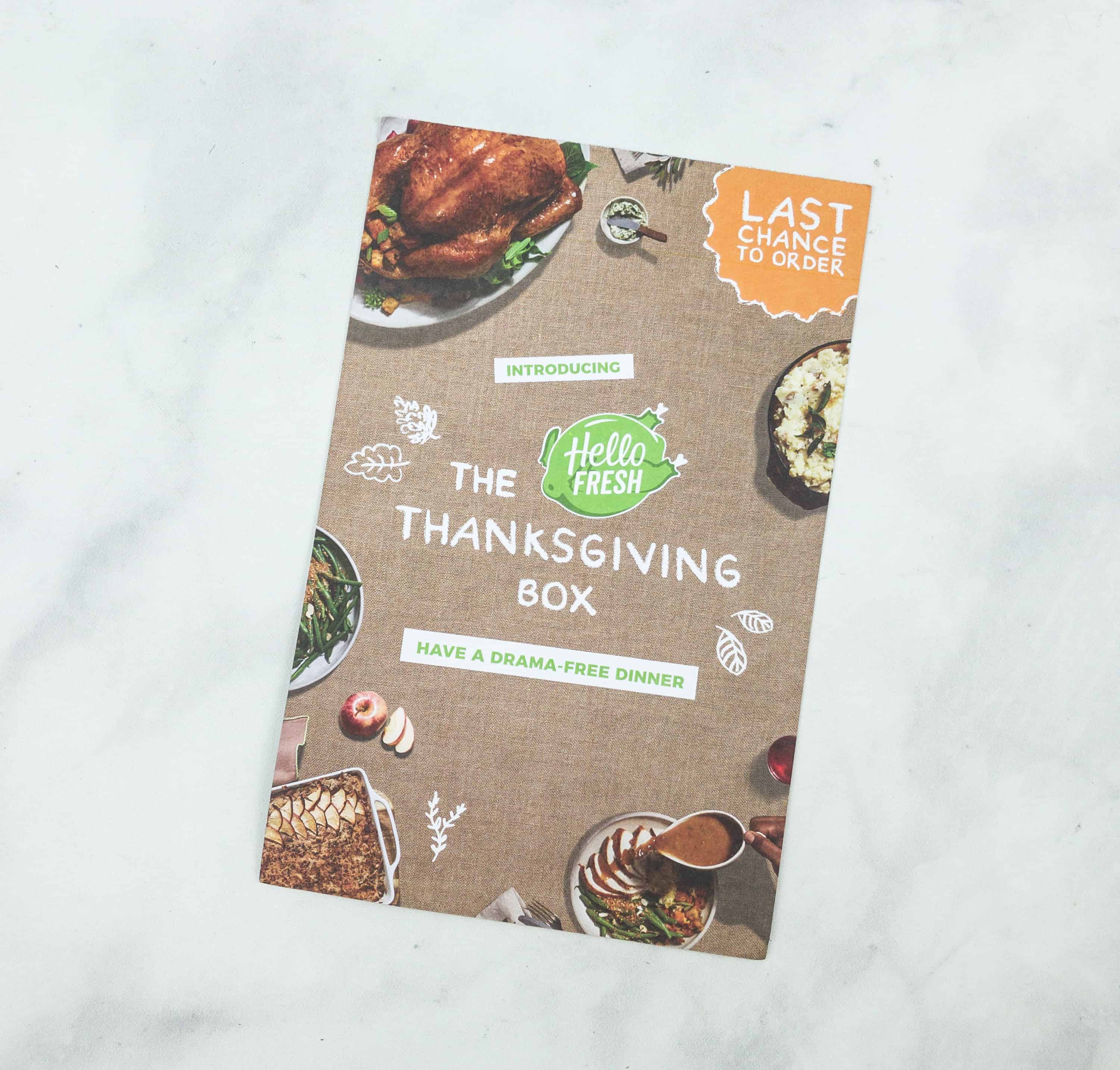 Here's your last chance to order your Hello Fresh Thanks Giving Box!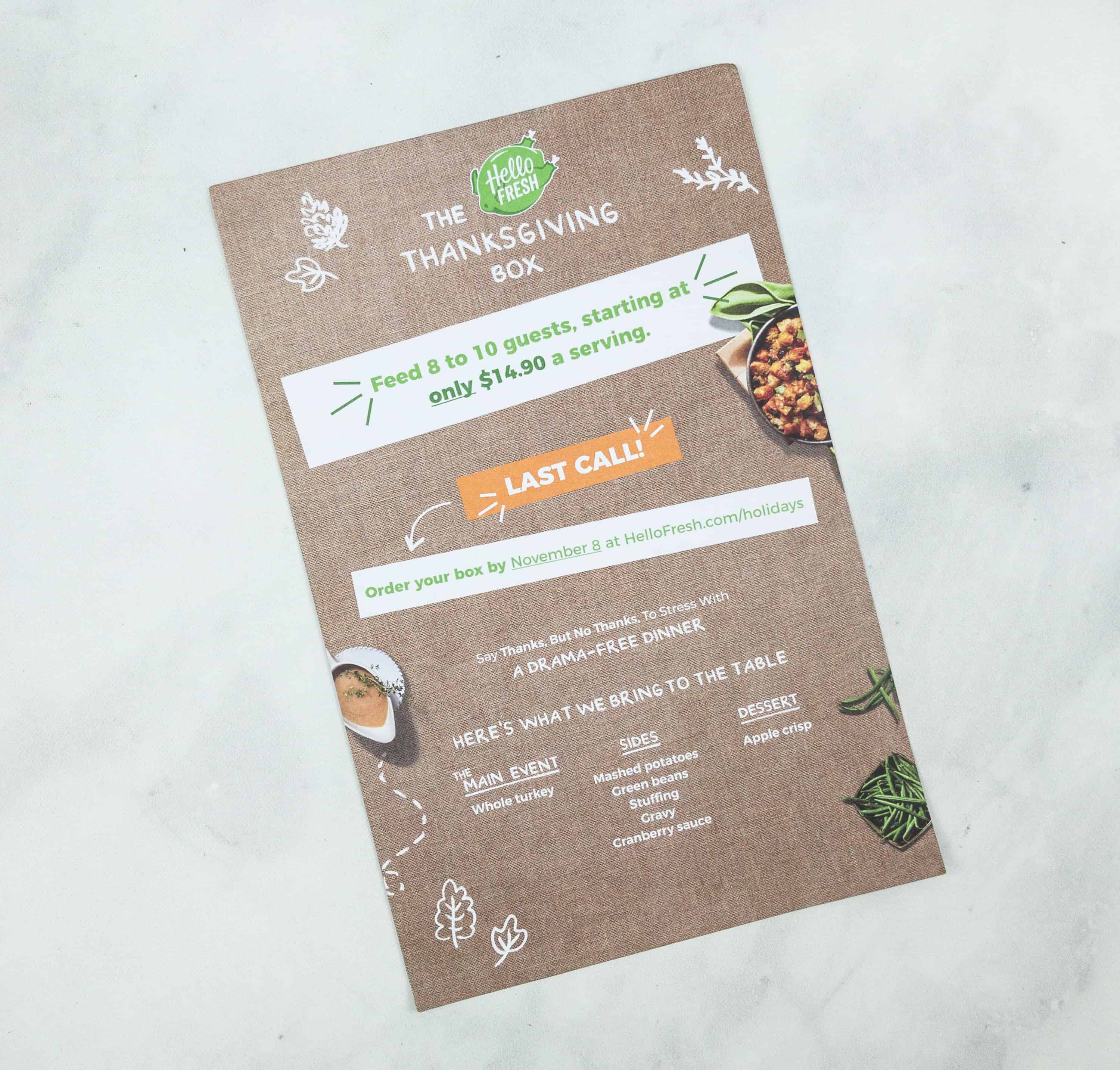 This year's thanksgiving box includes whole turkey, mashed potatoes,green beans, stuffing, gravy, granberry sauce, and apple crisp.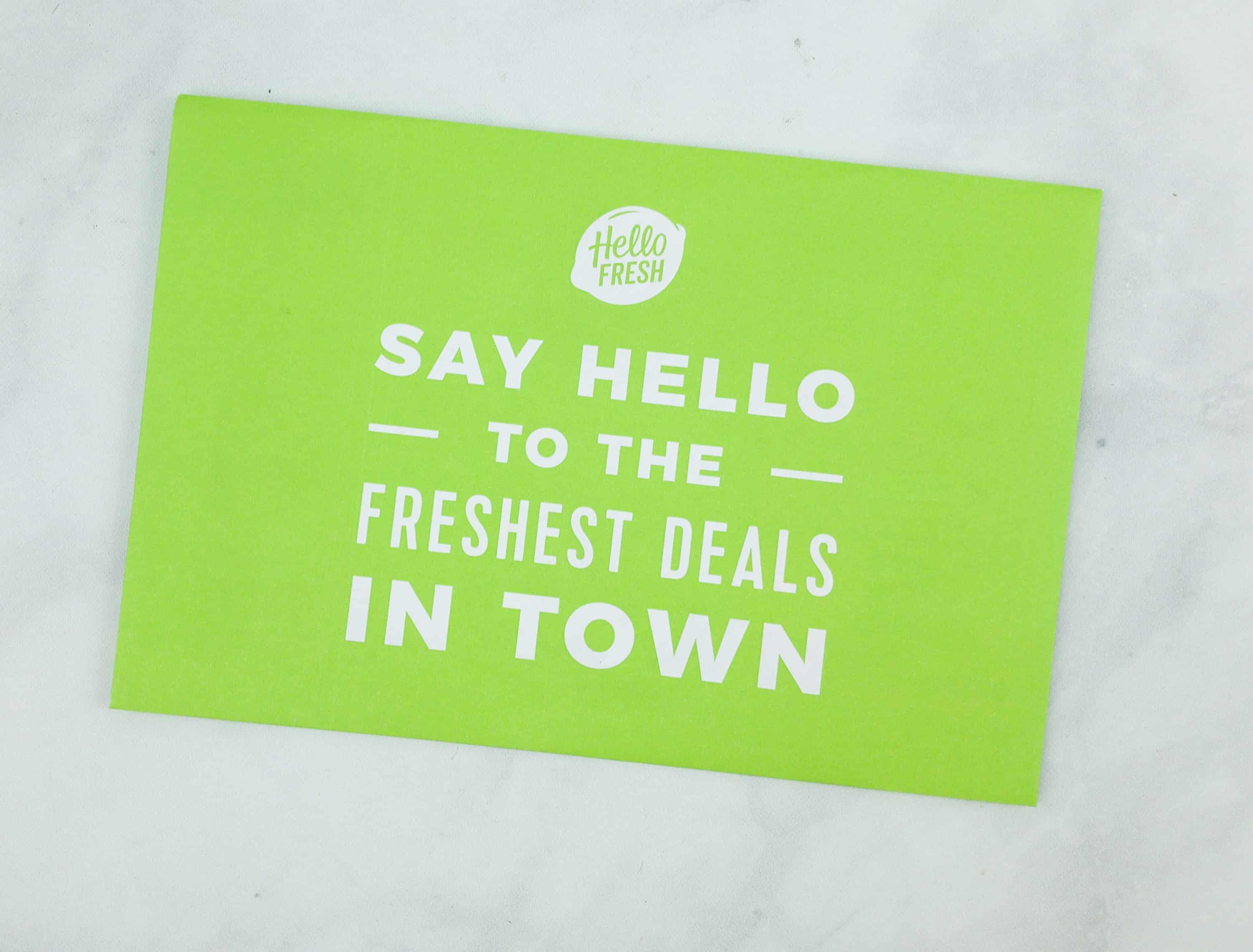 This envelope contains deals and coupons.
There's a free box coupon from Graze Box and more than $30 dollars off from Charles Tyrwhitt.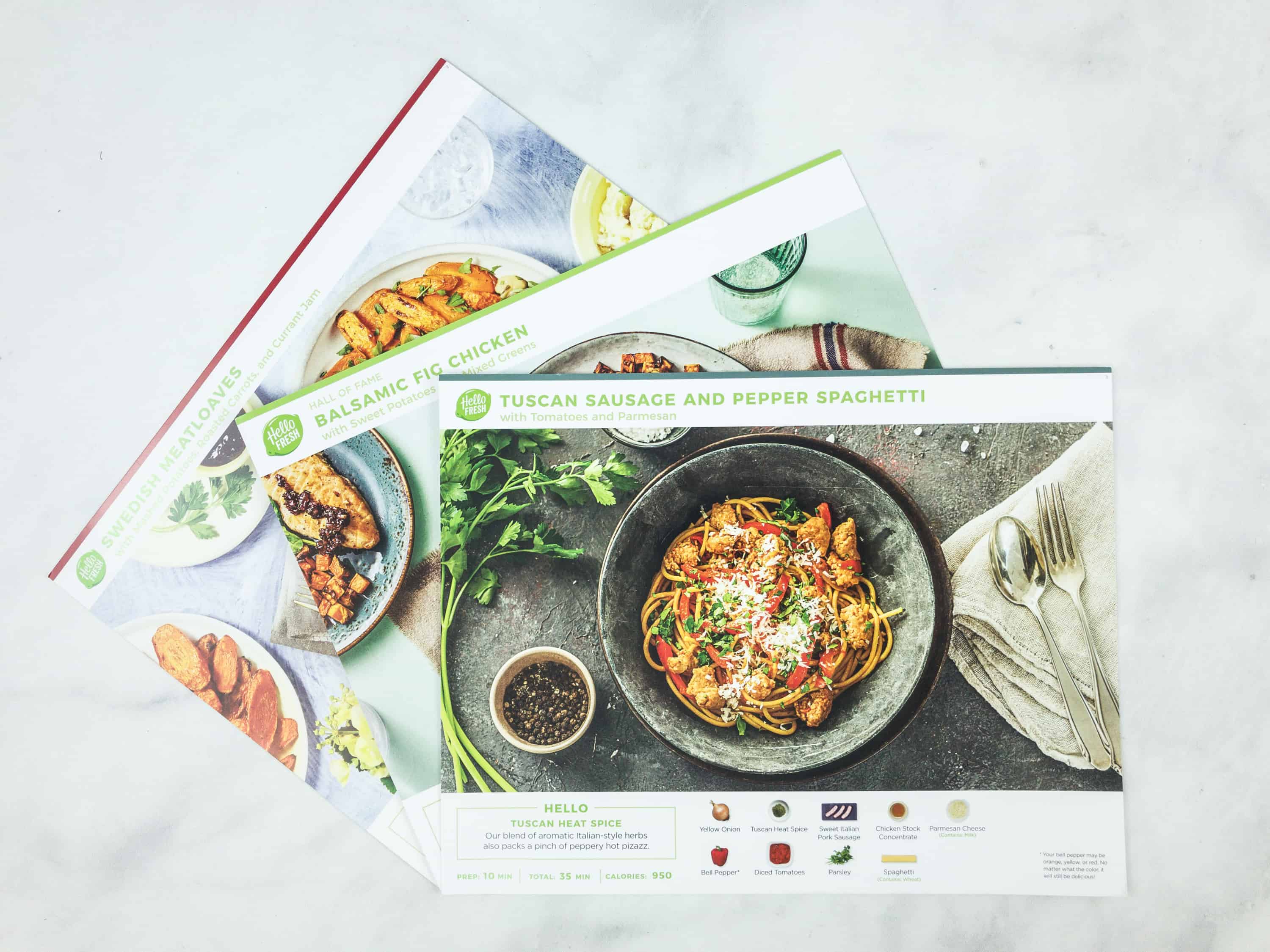 Each Hello Fresh recipe has its own lovely card with a picture of the plated dish, prep time and total time to the table, calorie count, and a visual inventory of the included ingredients.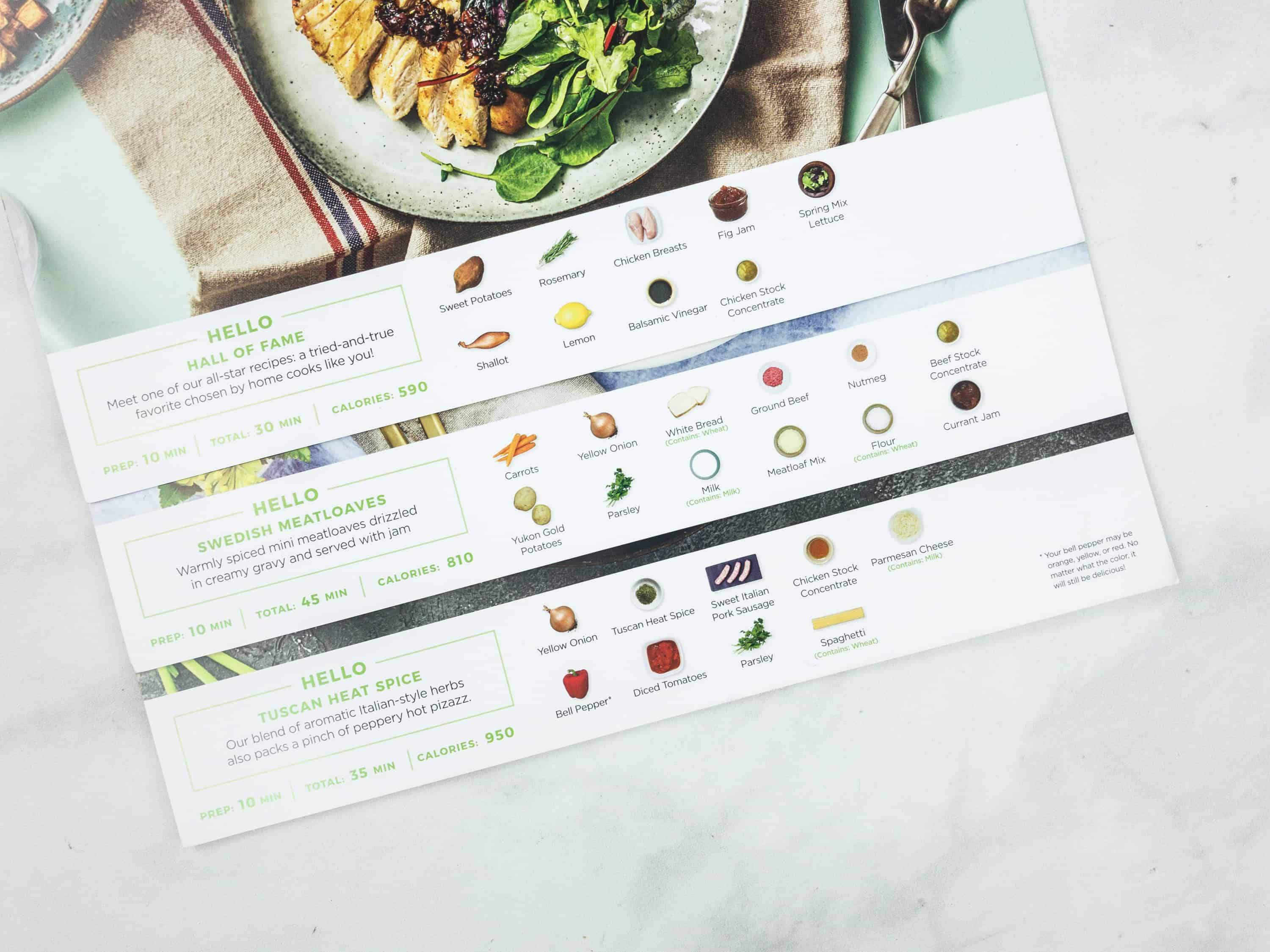 I usually decide what to make based on prep time and the type of ingredients — fish gets made first, then anything with fresh spinach, etc.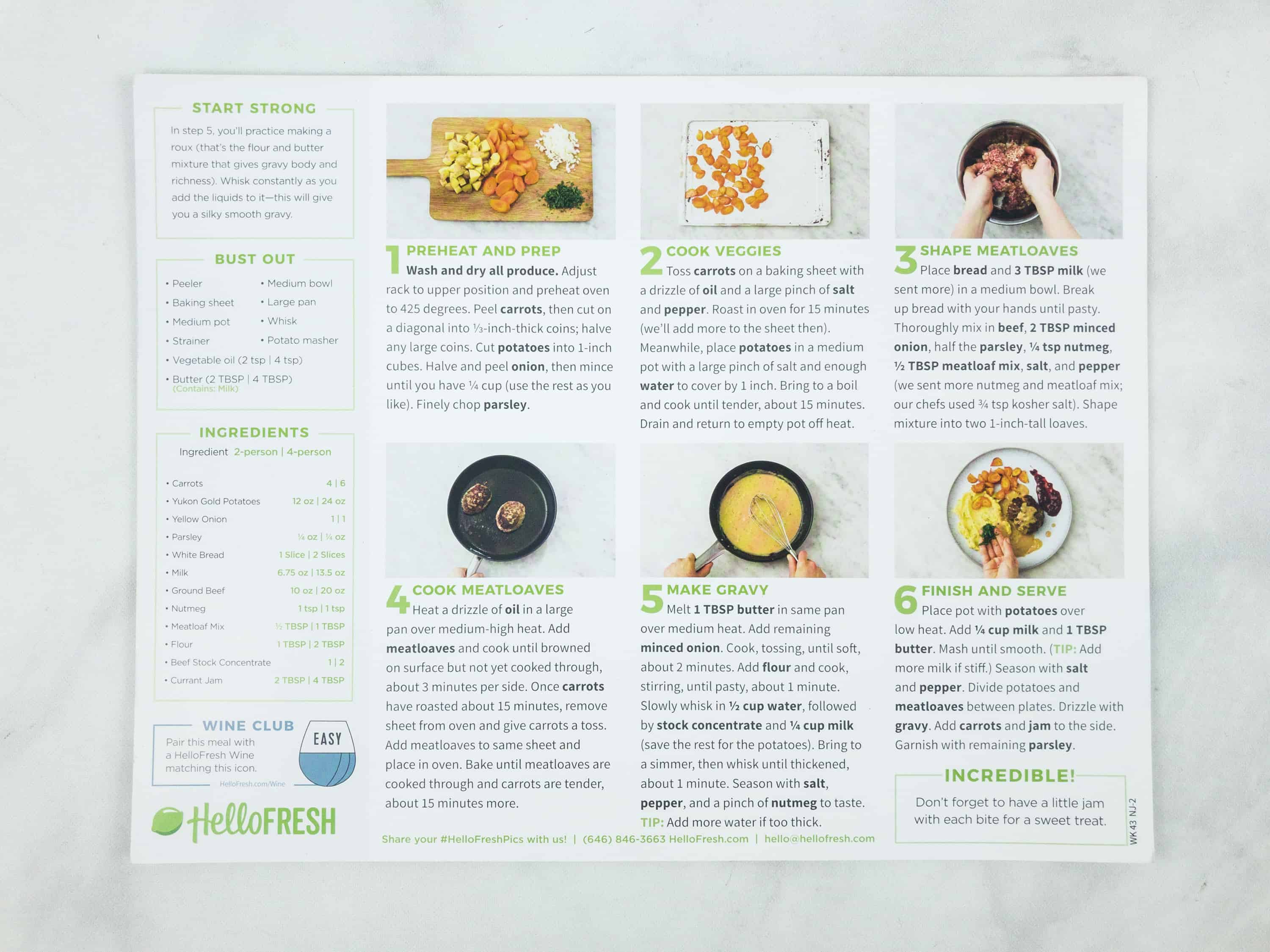 The instructions are easy to follow, regardless of your skill level. Usually, you start by washing and prepping all the ingredients before cooking. Within the detailed, step-by-step instructions, ingredients are set in bold type for ease of recognition. They even use a red font to point out spicy ingredients, so you can adjust accordingly. I really like that they call out when they've sent more of an ingredient that is used in the recipe — when they don't mention it (which is most of the time), the items are pre-portioned and can be tossed right in without measuring. Info panes in the sidebar list anything you'll need from home (pans, cooking oil, etc), as well as the quantity of each provided ingredient needed for 2 and 4 person versions of the recipe.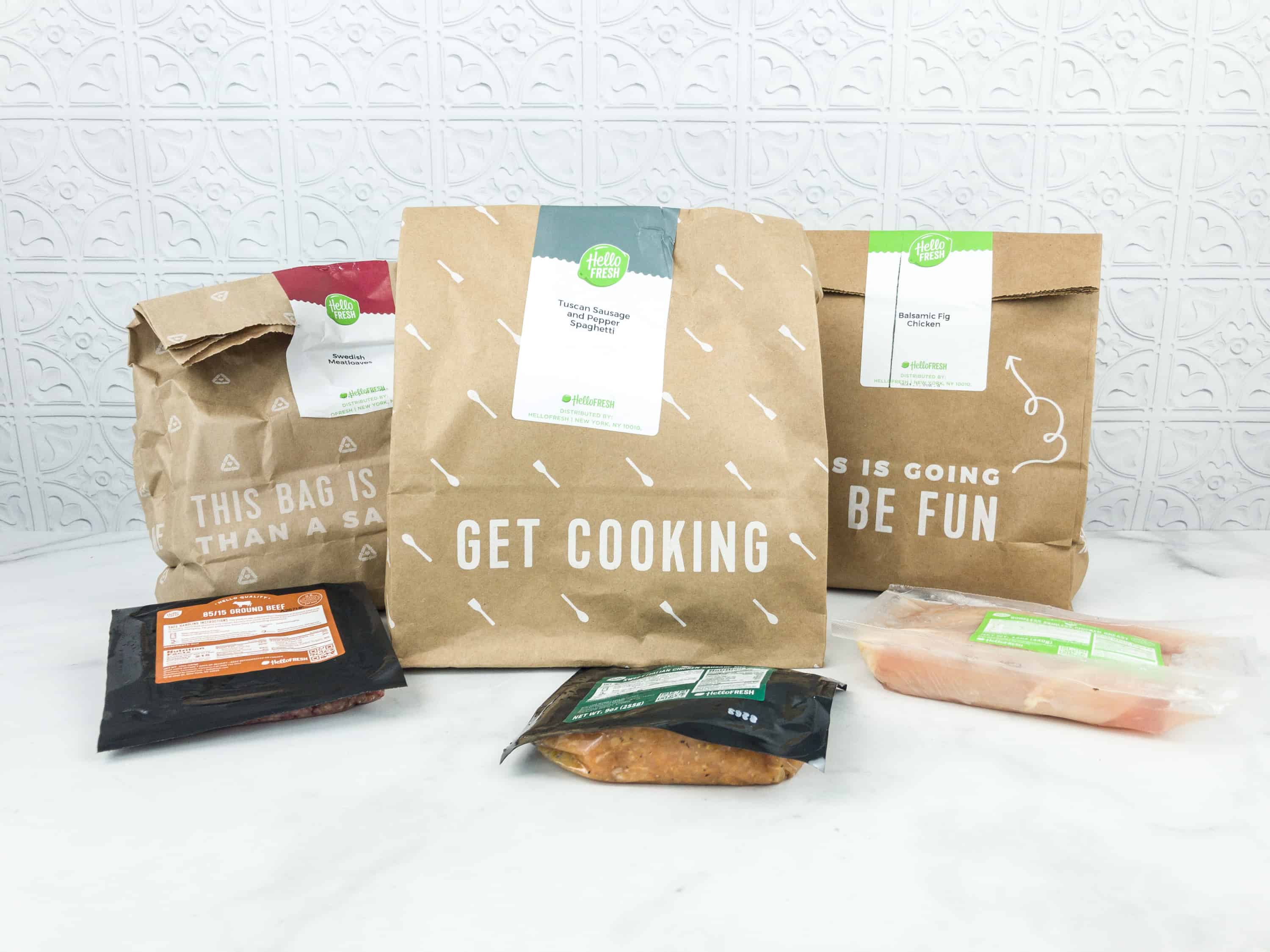 The ingredients are well-packed and labeled! Each recipe gets its own bag.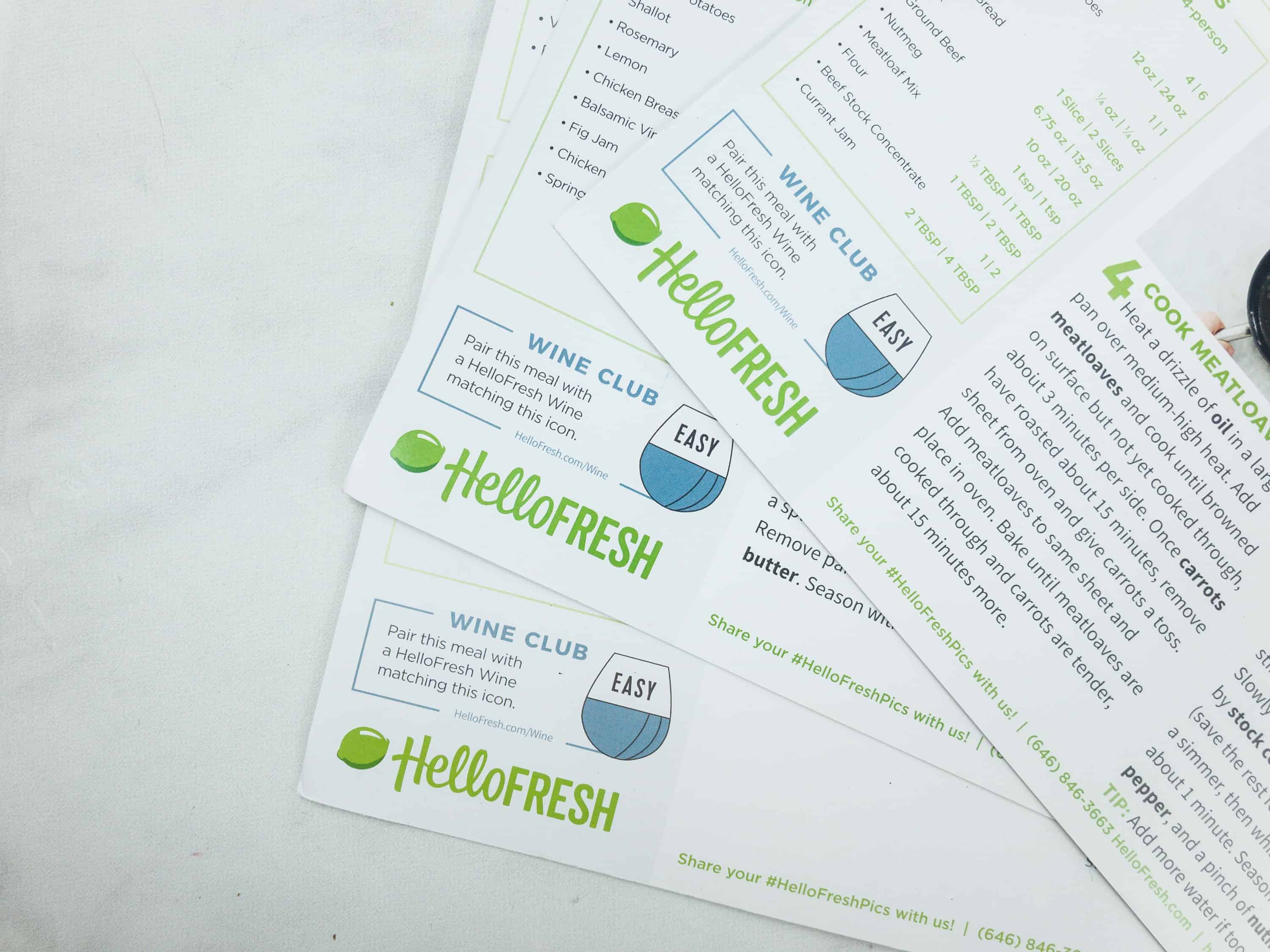 They also suggest a wine you can pair your meals with, noting a category of wine that matches up with their Hello Fresh Wines selections.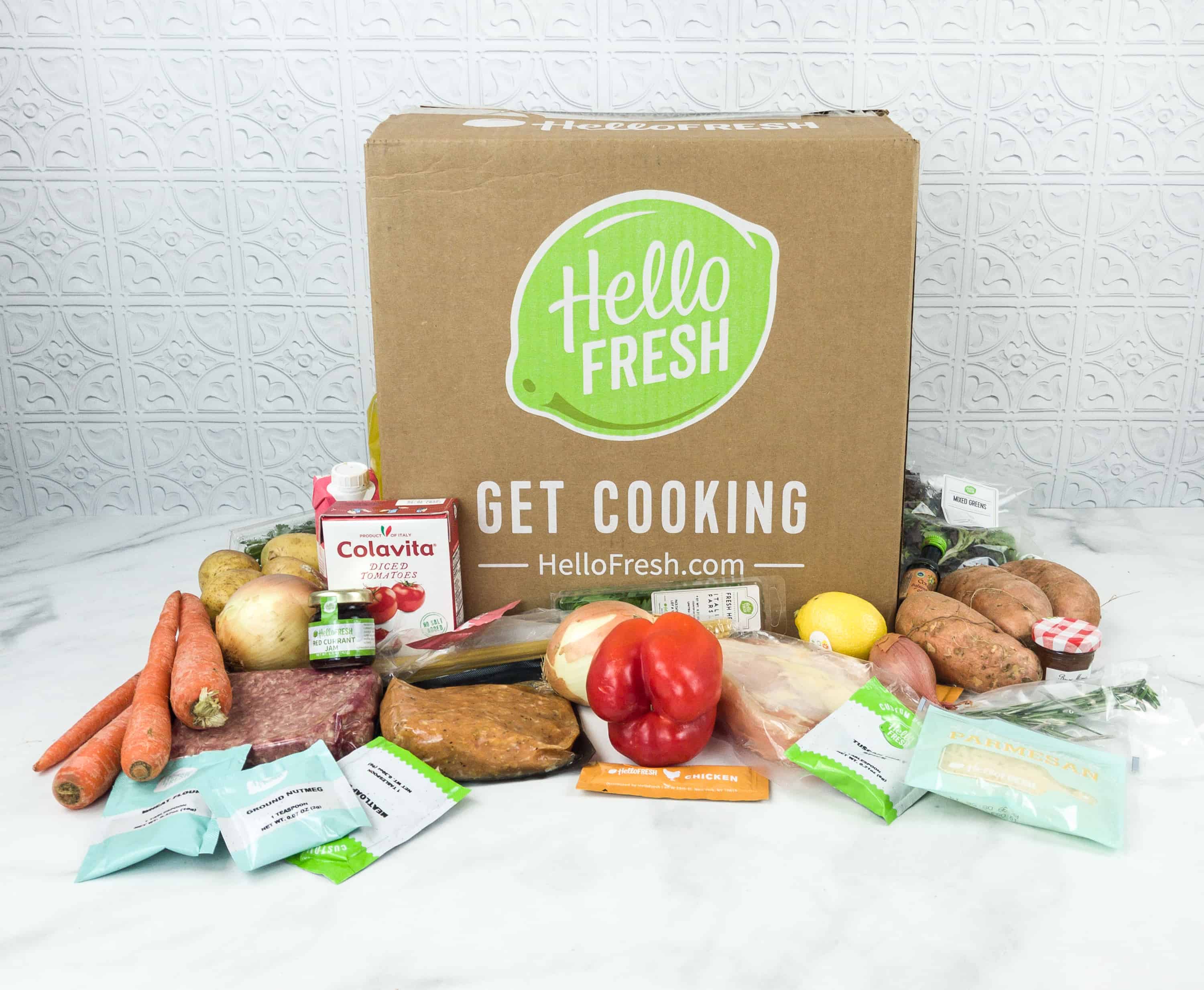 Everything in my box!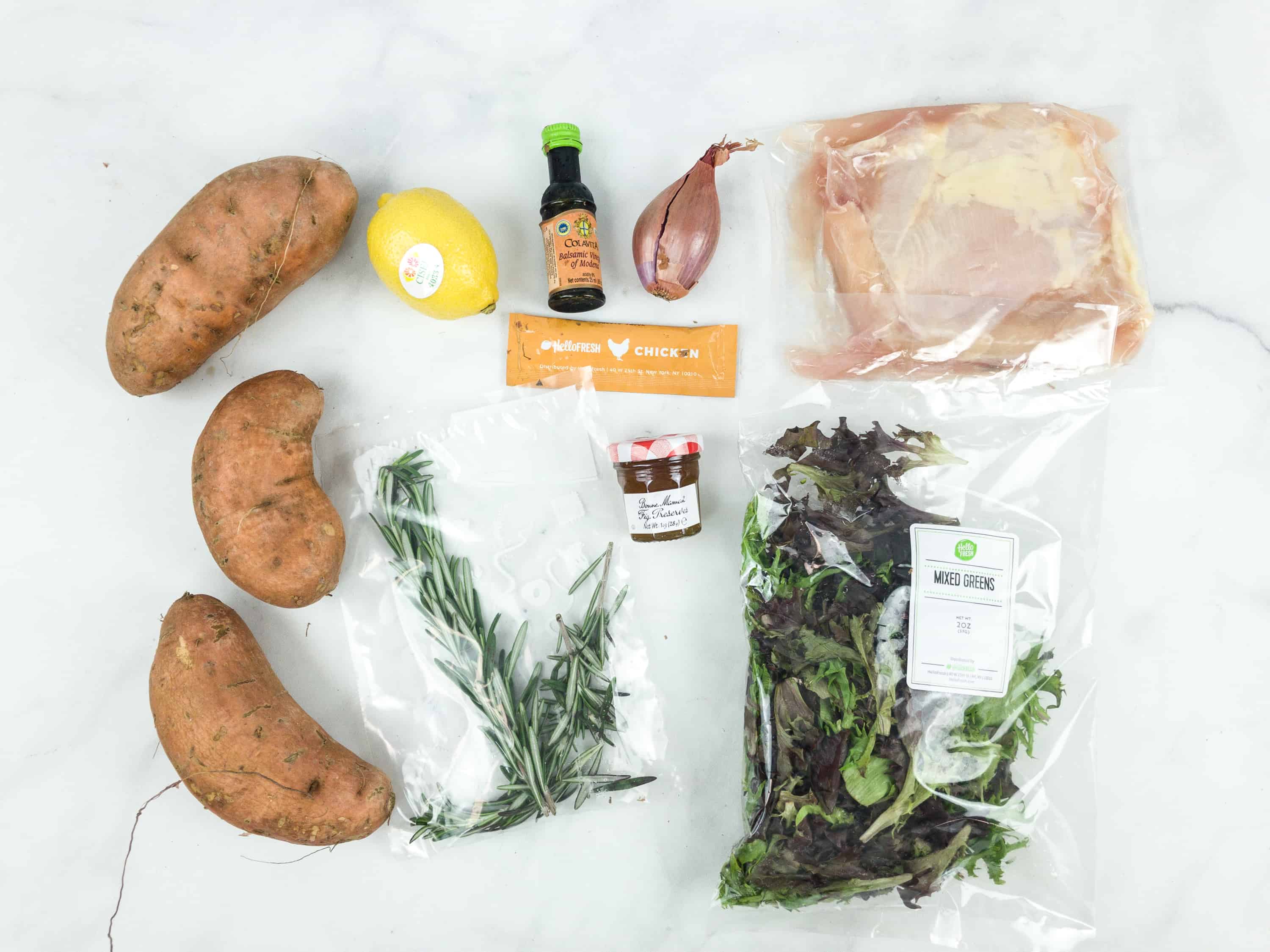 Balsamic Fig Chicken with Sweet Potatoes & Mixed Greens – 30 minutes, Level 1, 540 calories per serving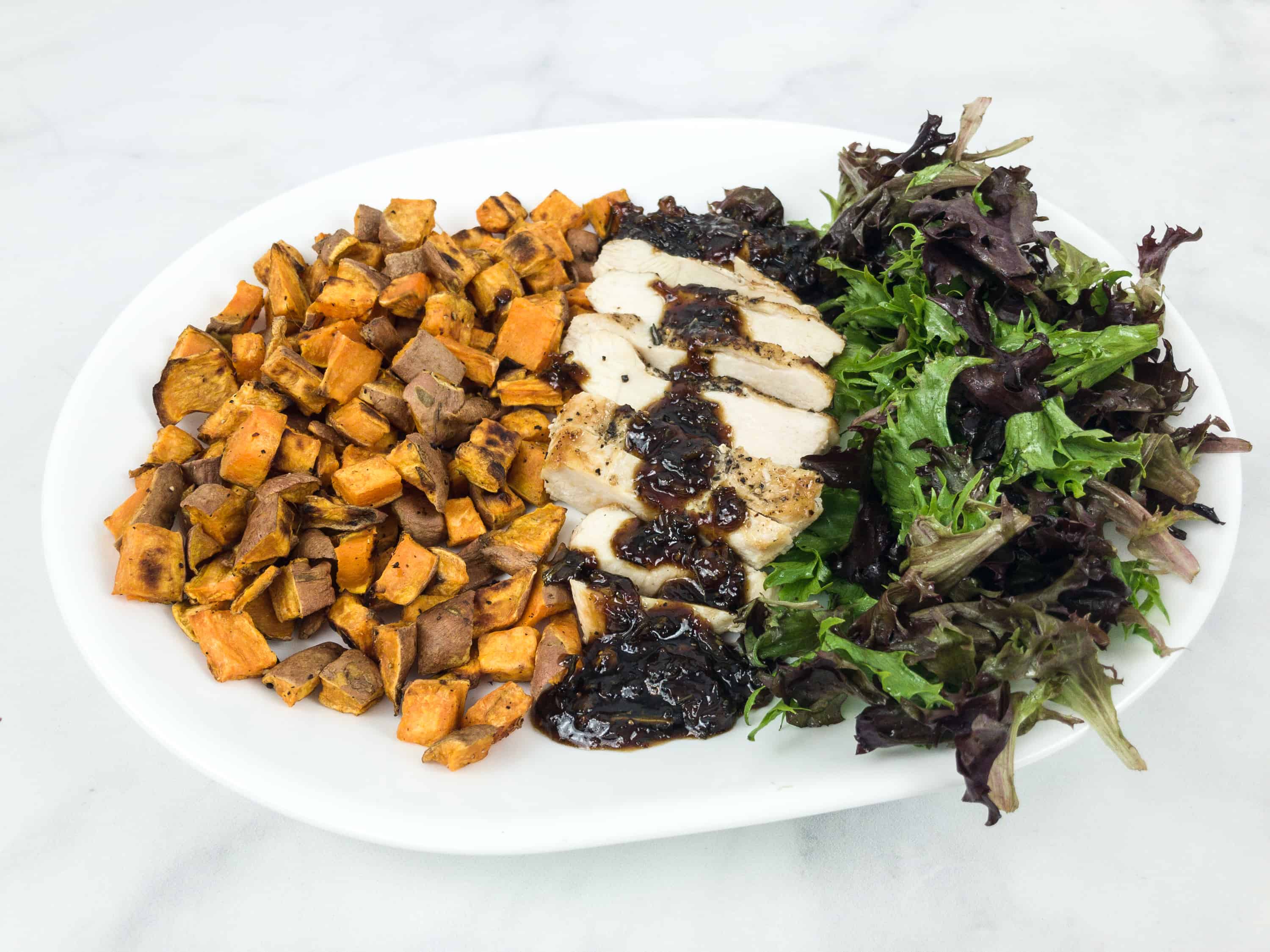 This dish has everything you need for a completely satisfying meal, as it has crispy sweet potatoes paired with meaty chicken drizzled with zesty fig jam and balsamic vinegar. The addition of mixed greens lightens it up, but the dressing for that was just lemon and oil, so it felt a bit one-note against the lush sauce we prepared for the meat. Overall, the dish had a nice fall feel to it, and I loved the fresh rosemary and sweet fig combo on the plate. Very easy to put together, with dicing the sweet potato being the most involved process (my chicken didn't require flattening).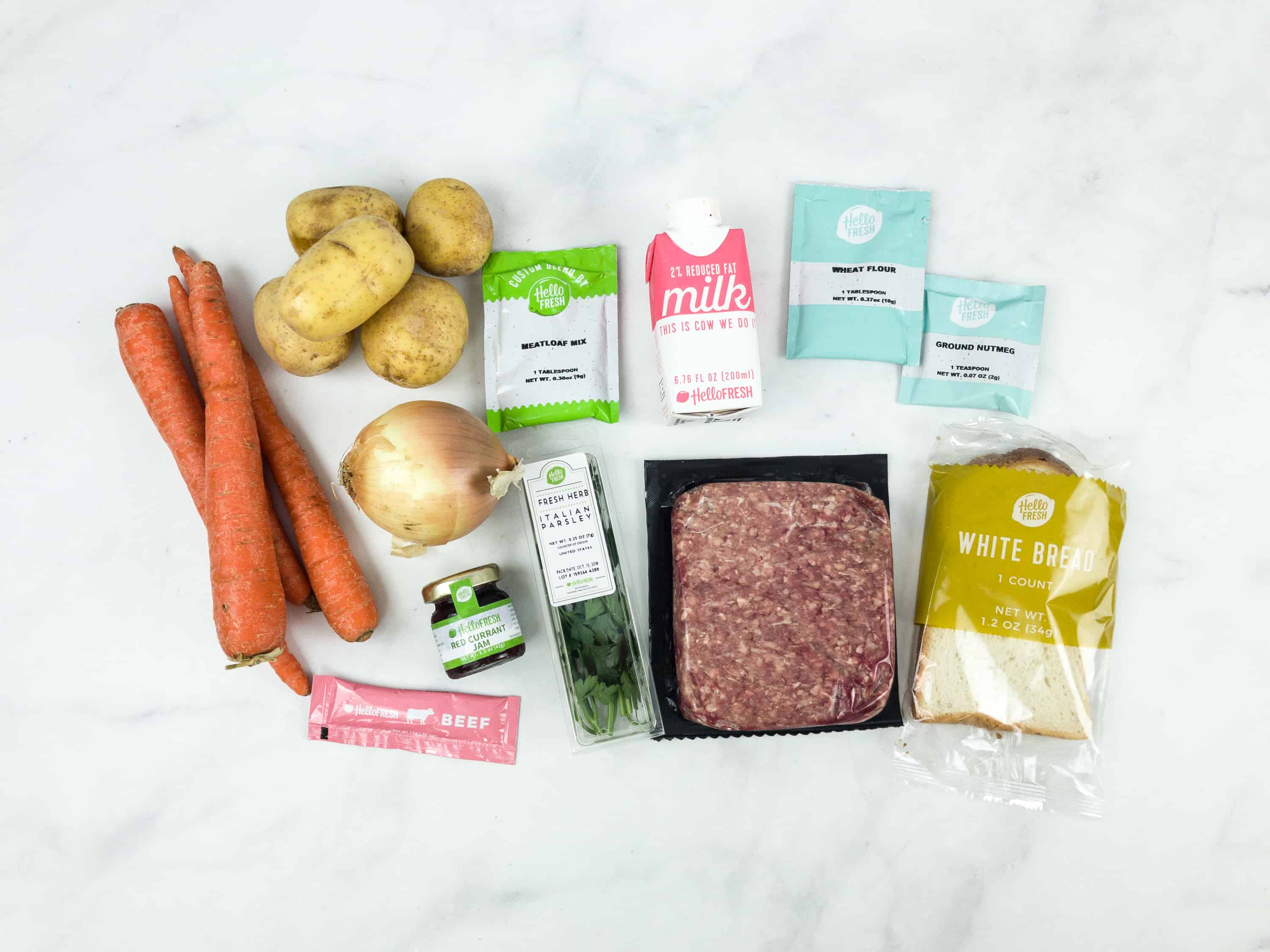 Swedish Meatloaves with Mashed Potatoes, Roasted Carrots, and Currant Jam – 45 minutes, Level 1, 790 calories per serving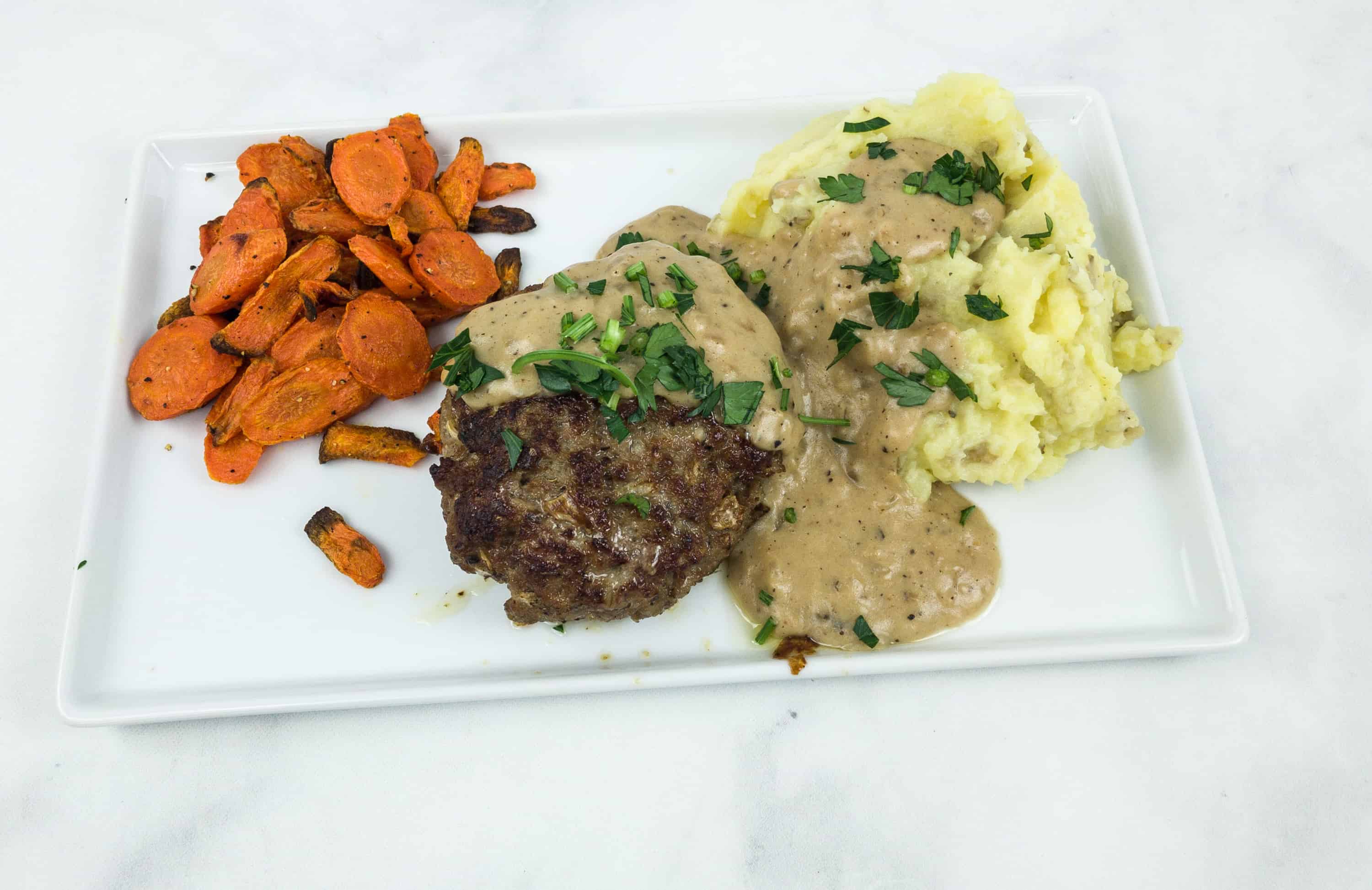 This delicious Swedish meal features warmly spiced beef meatloaves smothered in a rich creamy gravy served with mashed potatoes and roasted carrots. I just love how it contains soft, crunchy, and creamy texture all in one plate. The meatloaf is quite thick but is so tender and juicy at the same time, it complements well with the creaminess and unique taste of the gravy. The number of items in this dish meant making a bit of a mess in the kitchen, but no items were overly complex, and they didn't have us make our own jam, so we did catch a break there.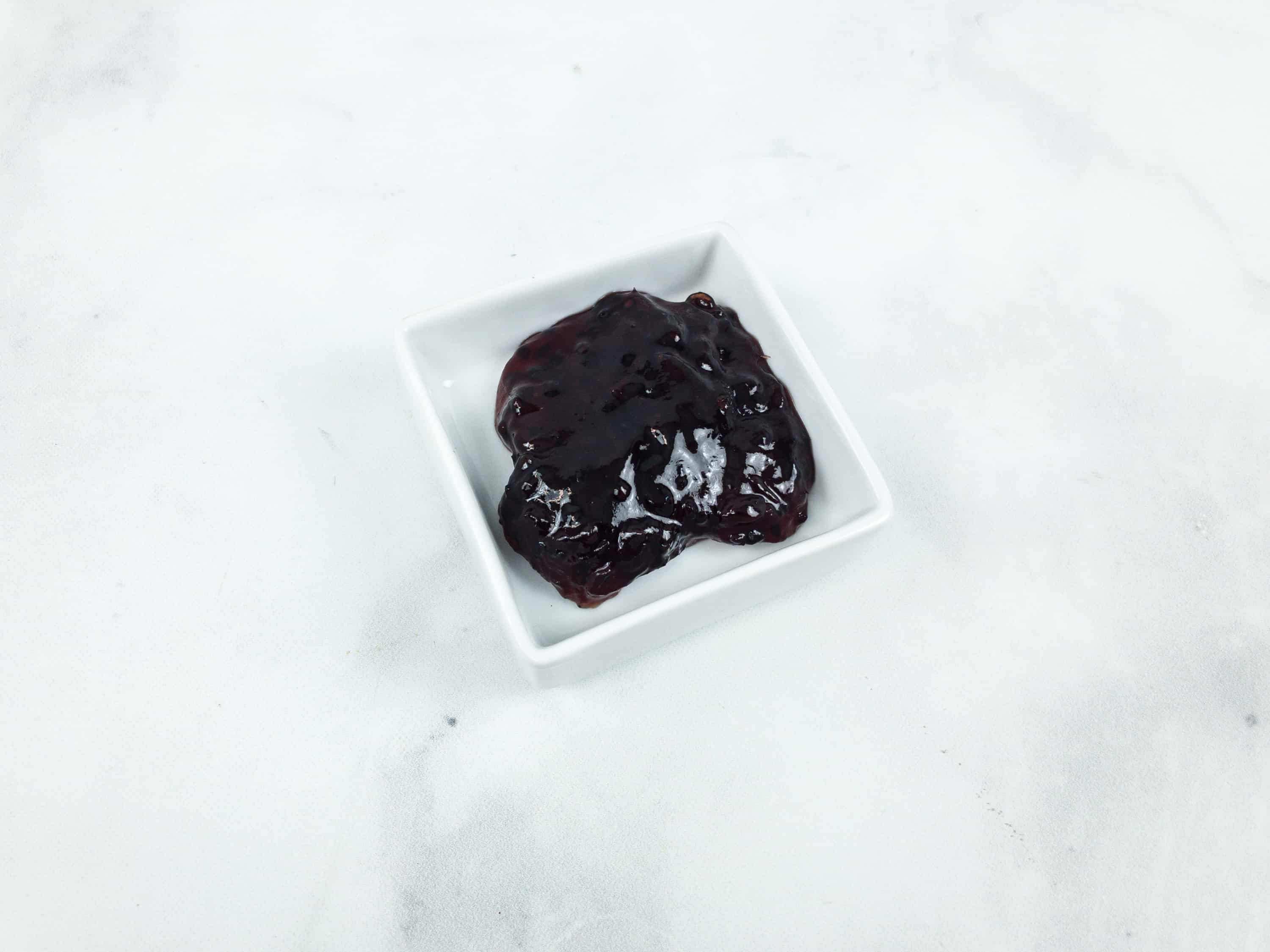 Ooops! I forget to plate the jam for the photo! Sweet lingonberry jam is a traditional side with Swedish meatballs, and this currant jam makes a good stand-in. It captures the fruity sweet quality of lingonberry, though it lacks a bit of the cranberry-like tartness. It is a nice complement to the warm spice and creamy sauce. The combination of carrots and jam works well too!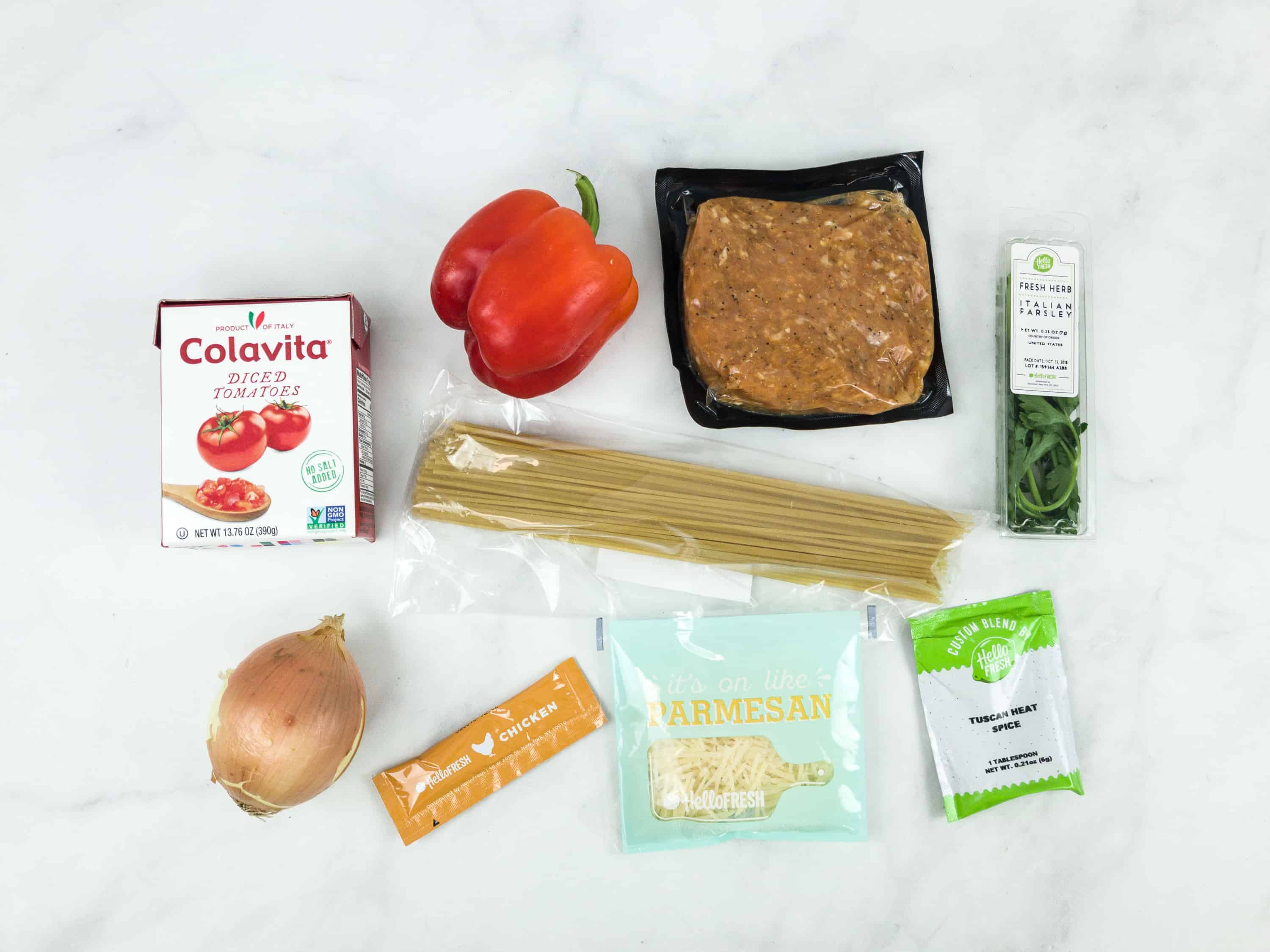 Tuscan Sausage and Pepper Spaghetti with Tomatoes and Parmesan – 35 minutes, Level 1, 890 calories per serving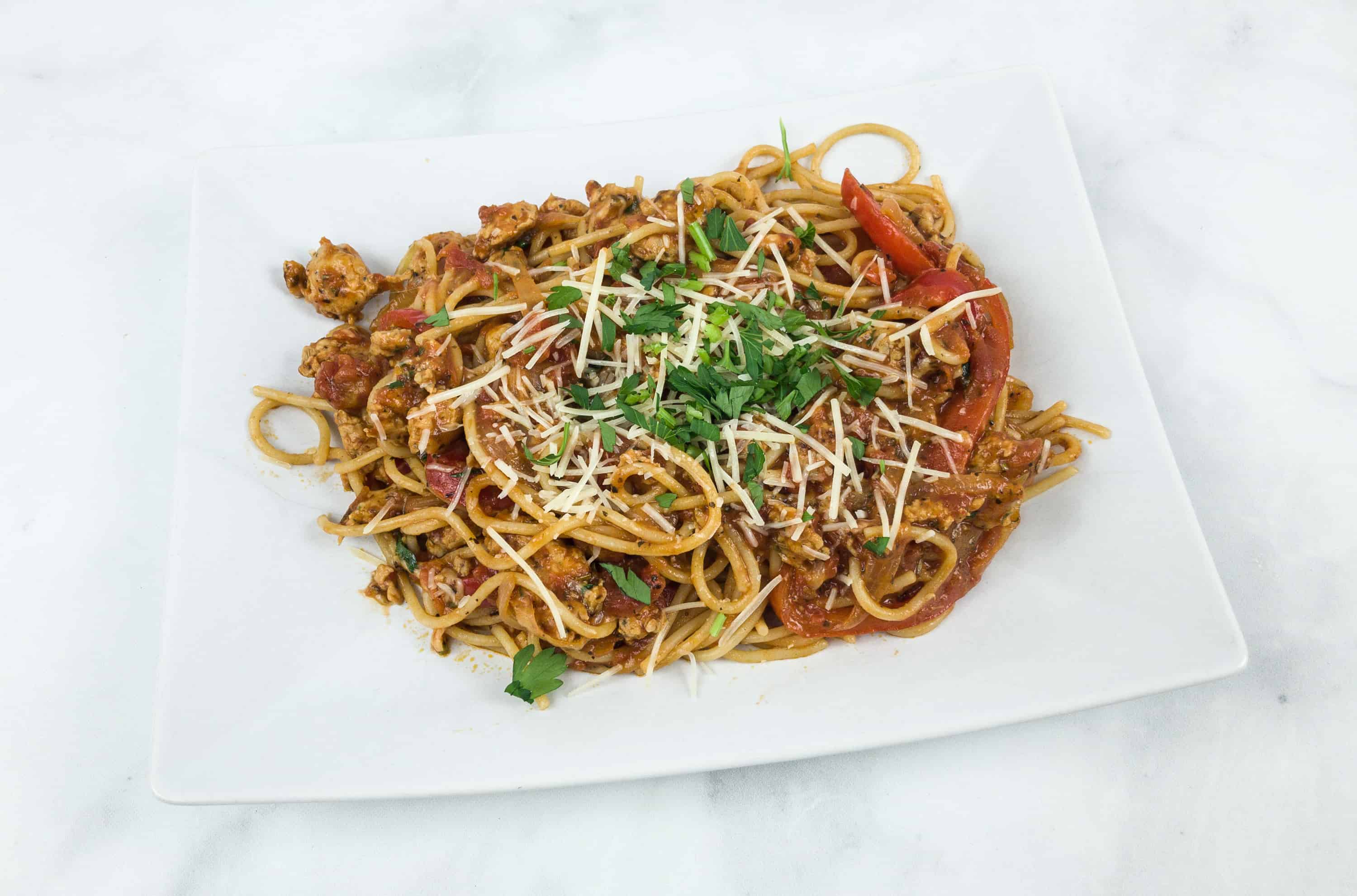 Aside from pizza, spaghetti is one of our traditional big informal family meal foods. This version had that same feeling, but it also looked dressed up a bit. The scrumptious combo featured thin spaghetti, sweet bell pepper, crisped sausage, and flavorful tomato sauce. A sprinkle of Parmesan and some parsley finished it in style. One thing to note is that we received chicken sausage instead of the pork noted on the recipe card, but it worked equally well in the recipe.
Hello Fresh brought another great curation of delicious and easy-to-cook recipes. It is a great option for anyone interested in meal kits — it's fresh, not overly complicated, and the recipes are interesting yet pretty mainstream. They work a veggie of two into every meal, so it produces balanced and healthful meals. The ingredients always come in good condition, as they take care to pack and and keep them at the right temperature during shipping. The instruction cards for each recipe are very thorough, and even inexperienced cooks can follow along without any trouble. All in all, this is a great box as it makes cooking easier and more fun!
Have you tried Hello Fresh?