Mystic Moon Natural Magick Box is a serial monthly box, meaning that every new subscriber will have an introductory box before stepping further into natural magick with the second box. It's designed to stimulate your heart, spirit, intuition and to introduce you to your natural magick. Items may include may include candles, crystals, shells, spells, jewelry, organic essential oils, diffusers, books, altar cloths, pendulum cloths, tarot cards, oracle cards, affirmation cards, mojo bags, chakra healing kits, pendulums, how to instructions, teas, herbs, sacred crystal grids, grid kits, chakra items, bath salts and so on. There are two different sizes of box, with the Signature Box being $39.99 a month.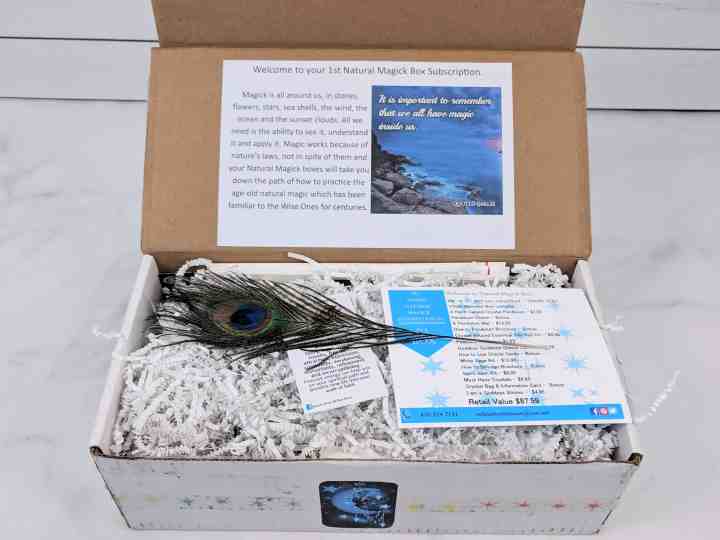 This review is for the first box you will receive, the welcoming box. Everything is packed under thick layers of paper. Everything was safe through shipping!

Everything in the box. There's a lot packed in there!
The box comes with an information card detailing everything in the box.
Peacock Feather. A lovely peacock feather was the first thing I saw when I opened the box. I like the little card with information about the Symbolic Meanings of the Peacock.
Must Have Crystals kit. We received 8 must have crystals with what they are useful for. We got Red Jasper, Moonstone, Tiger Eye, Rose Quartz, Blue Lace Agate, Sodalite, Amethyst, Clear Quartz.
Aren't they cute? They came in an organza bag to make it easier to carry them all, or some, with us. You could also leave them on a little plate on your night table. I like to put them in a bigger plate, surrounding a pillar candle.
Yellow Agate Pendulum. This lovely pendulum has an "OM" charm.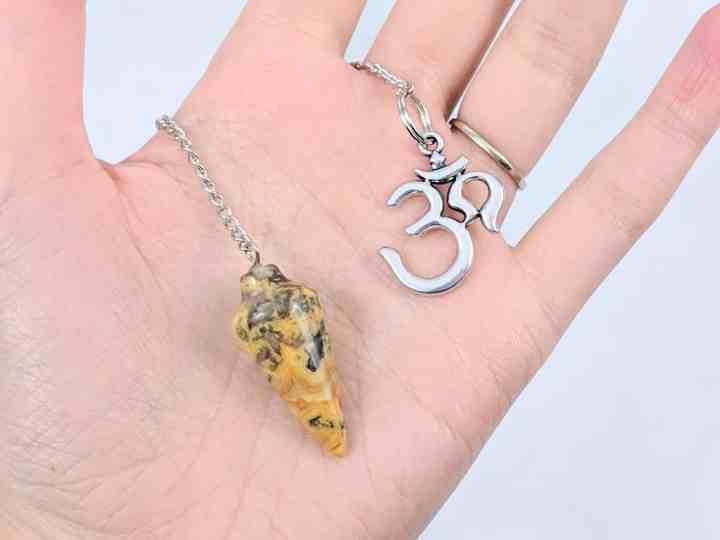 The charm helps to keep the pendulum steady when using it. The agate has a lovely leopard skin design.
Pendulum Mat. To go along with the pendulum, it's always nice to have a mat! This one is made out of a thin, yet sturdy fabric and has a thin glossy layer on top to keep the design clean.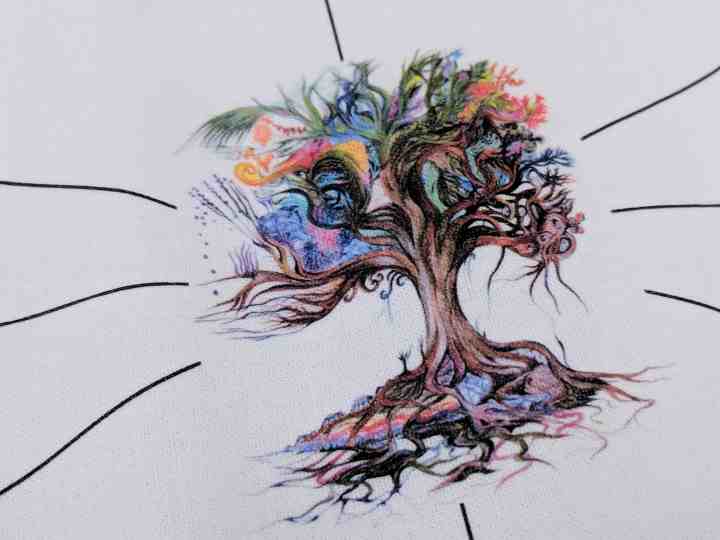 I love the tree design.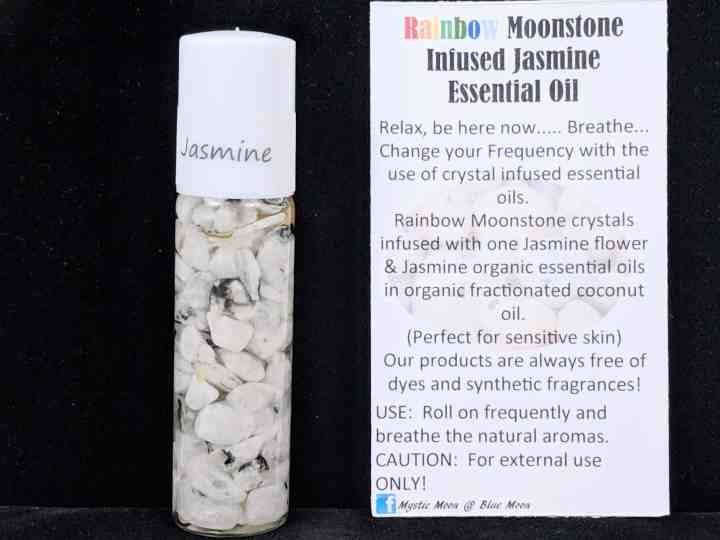 Rainbow Moonstone Infused Jasmine Essential Oil. This roll-on is filled to the brim with moonstone pieces.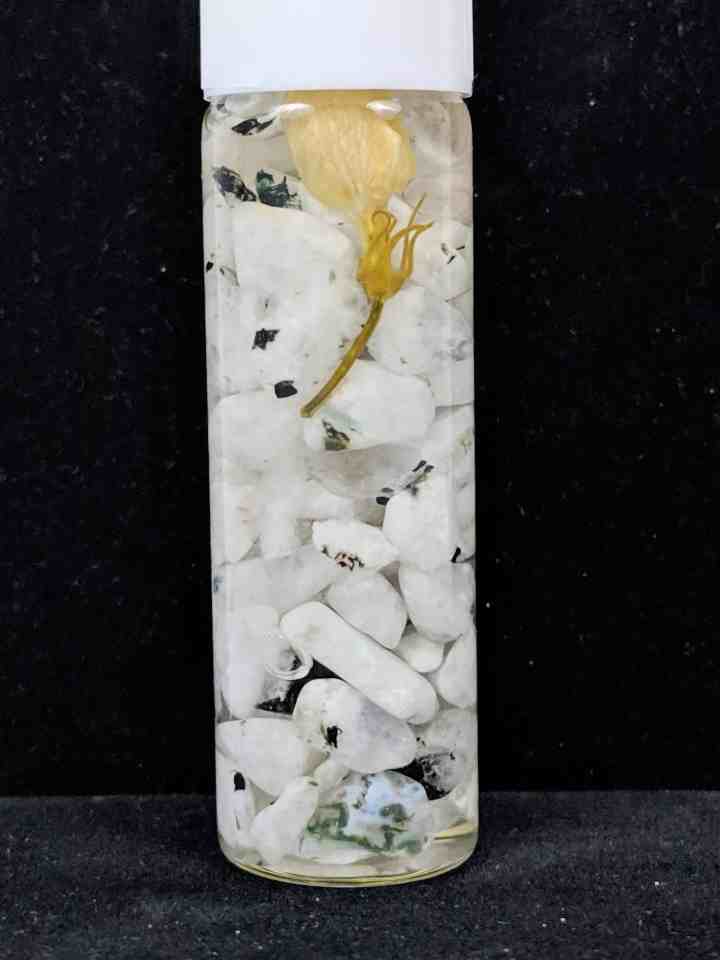 And there's one single jasmine flower as well.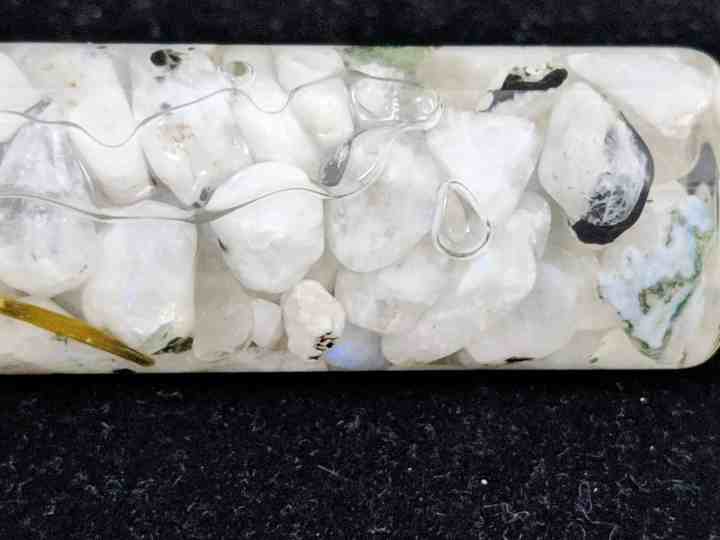 You can easily recognize the rainbow moonstone by the blue sheen you can see on the pieces when you move them around under the light.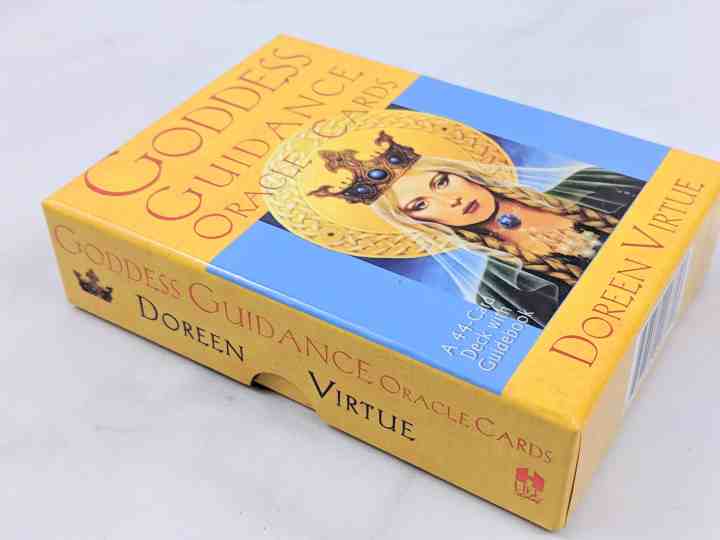 Goddess Guidance Oracle Cards by Doreen Virtue. We received an Oracle Deck!!!
This is a fun oracle deck with goddesses guides from different religion, culture, and traditions.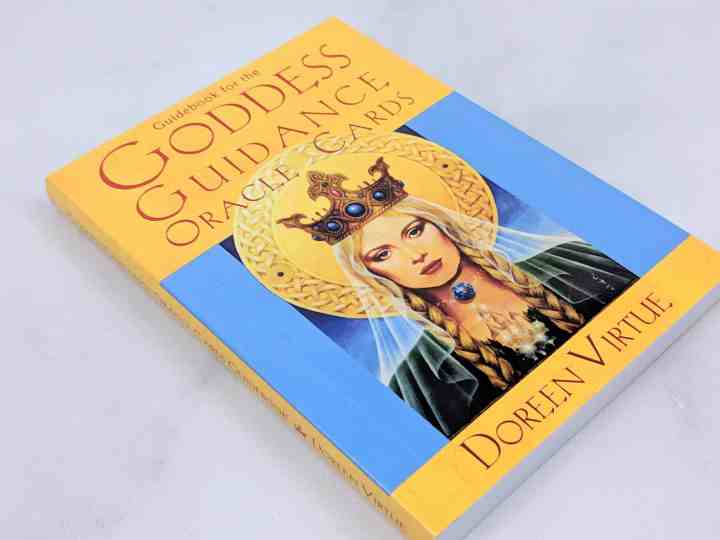 It comes with a small little booklet to know and learn more about each goddess, even though a quite interpretation is written on each card.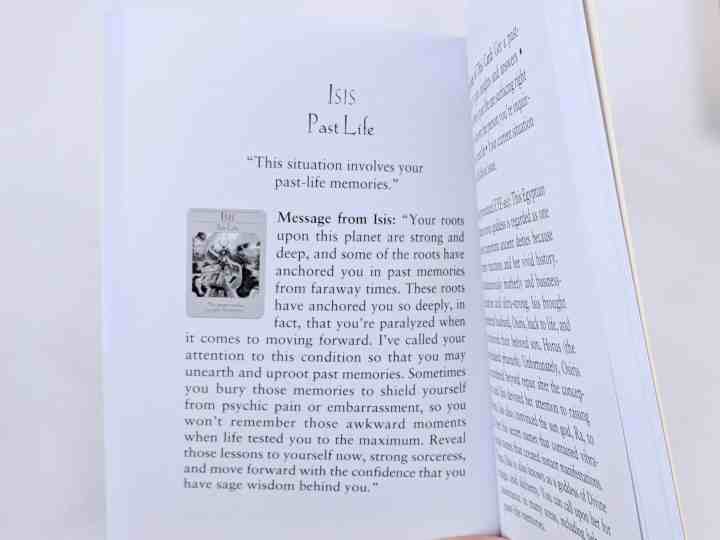 Each card is explained with the message from the goddess.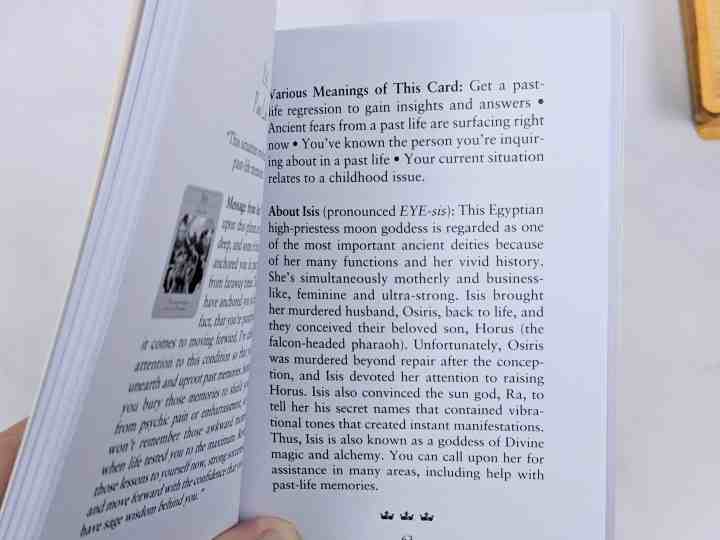 Then you have a quick list of meanings from this card as well as a quick introduction to the goddess herself.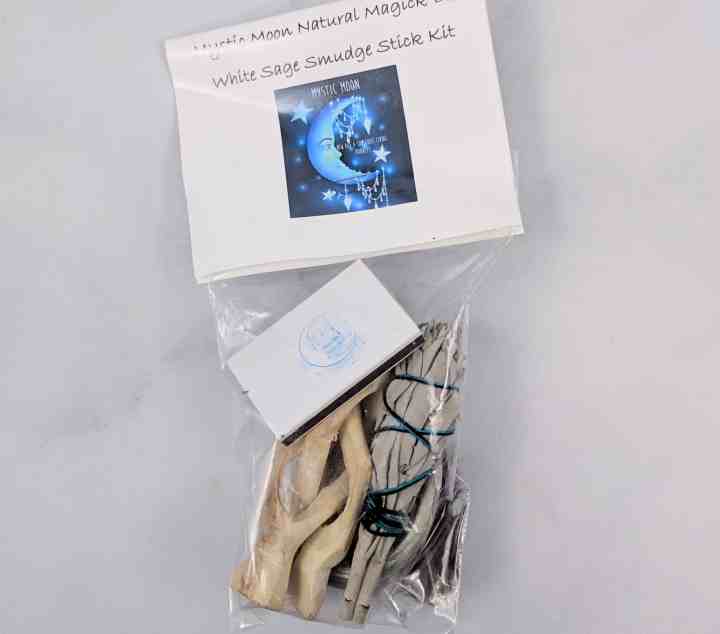 White Sage Smudge Stick Kit. A small kit with everything you need to smudge and clean up your area/office/house.
You have an abalone shell, a feather, sage stick, a stand, and matchsticks.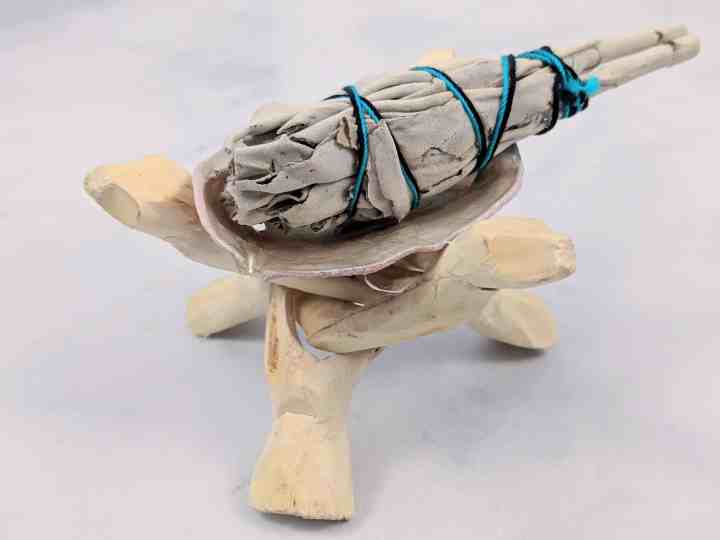 The stand and the abalone shell are on the small size so they would not really work with big smudge sticks, but it would work well as a travel kit.
Spirit Bath Kit. We also received a second kit, a spirit bath kit. It includes two purple candles, one white candle stand, and bath salts. The salts are lightly perfumed, but I'm not sure what it smells exactly. It comes with a ritual that you can use to turn your bath into a spiritual experience.

I am a Goddess Sticker. A purple and white sticker that you can put on your laptop or anywhere where you need to remind people that you are a Goddess!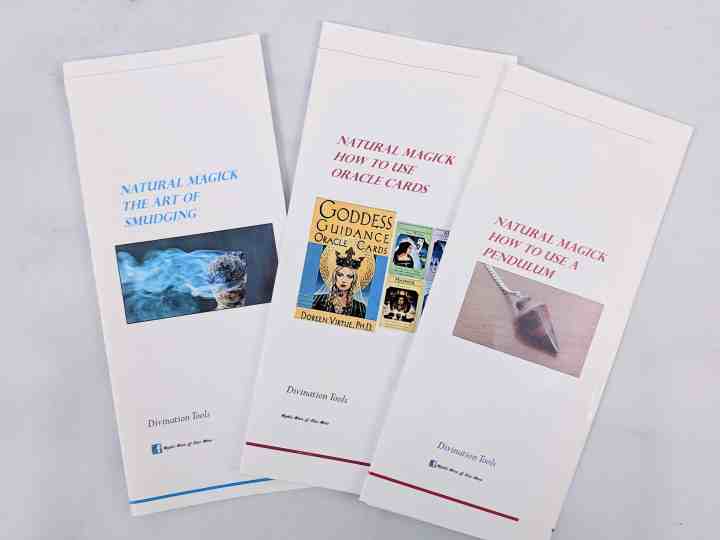 Guides. An introduction box is awesome when we also get a quick tutorial, or quick ritual to get us started with our new tools. This box comes with a guide for smudging, to use the oracle cards and the pendulum.

They are in the form of a pamphlet with a lot of information on each of the three new techniques.

This was a lovely introduction box to the big and wide world of natural magick. Nothing was gimmicky and nothing fell apart or felt cheap out of the box. I like that we got a few different techniques, making it fun to discover a new one, or to rekindle with one we pushed aside in favor of one we are more at ease with. And I'm quite excited to have received an oracle cards deck as I'm really into tarot and oracles, and all Doreen Virtue's deck are lovely and full of hope.
What do you think of Mystic Moon Natural Magick Box?
Visit Mystic Moon Natural Magick Box to subscribe or find out more!