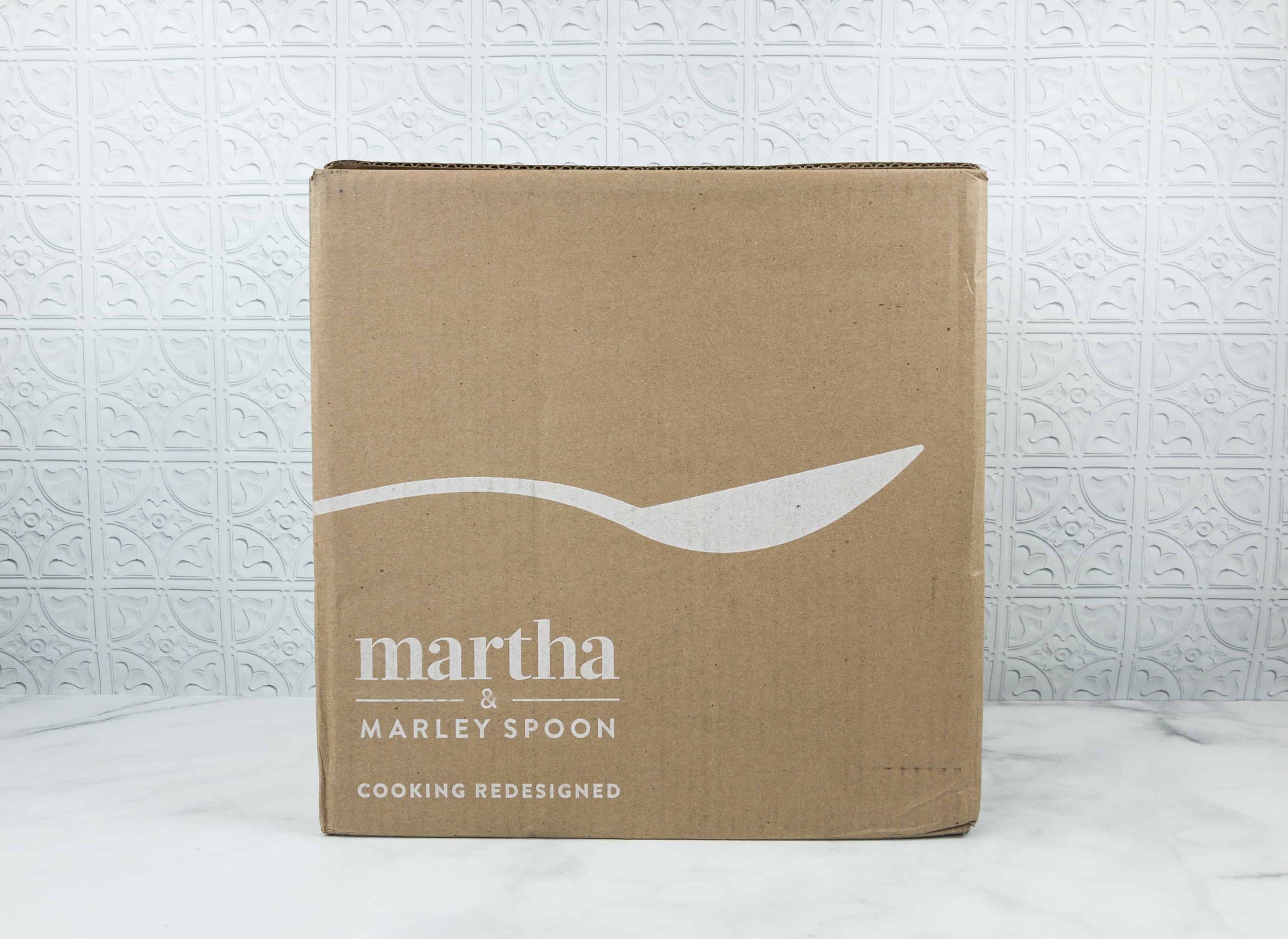 Marley Spoon delivers delicious recipes and fresh, seasonal ingredients straight to your door. You can choose from a weekly menu featuring 10 chef-created recipes, including recurring customer favorites, vegetarian meals, and kid-friendly recipes. Each option is clearly marked to note whether it features meat, fish, or just veggies, plus other characteristics of concern to diners with diets restricted by necessity or preference — they note gluten free, dairy free, kid-friendly, quick to prepare, vegetarian, and spicy meals to help you pick the best meals for you. Each recipe serves two people (there is a minimum four portion requirement per box), and shipping is free!
DEAL: Save $30 on your first box. USE THIS LINK to get the deal. Valid to USA subscribers only.
Your food arrives in a big box lined with insulated padding.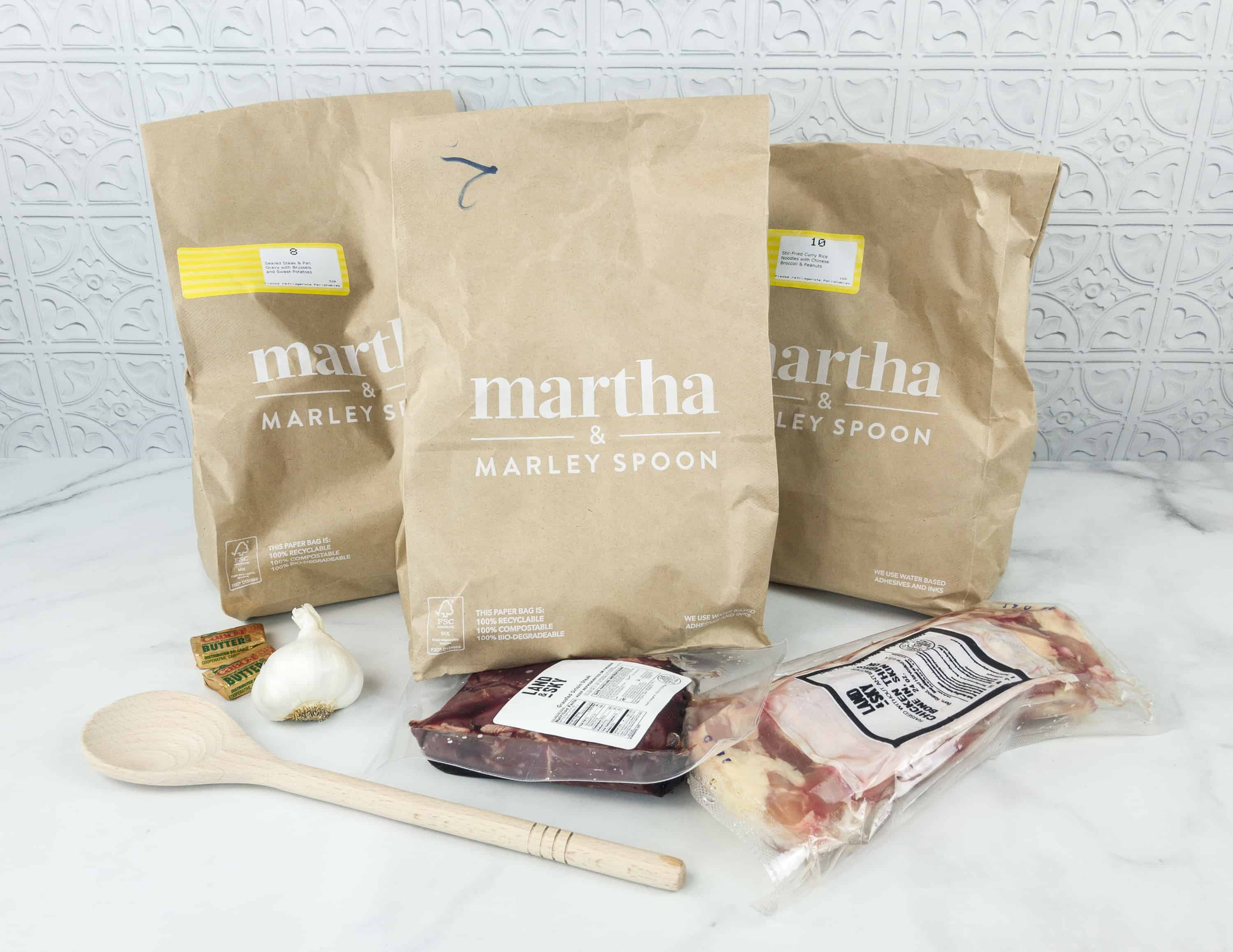 This is a review of a normal weekly box, but they also offer a fabulous Martha Stewart's Marley Spoon Thanksgiving box. Available along with your subscription or as a one-off, the Thanksgiving box includes four sides and a dessert (you can order with or without a turkey)!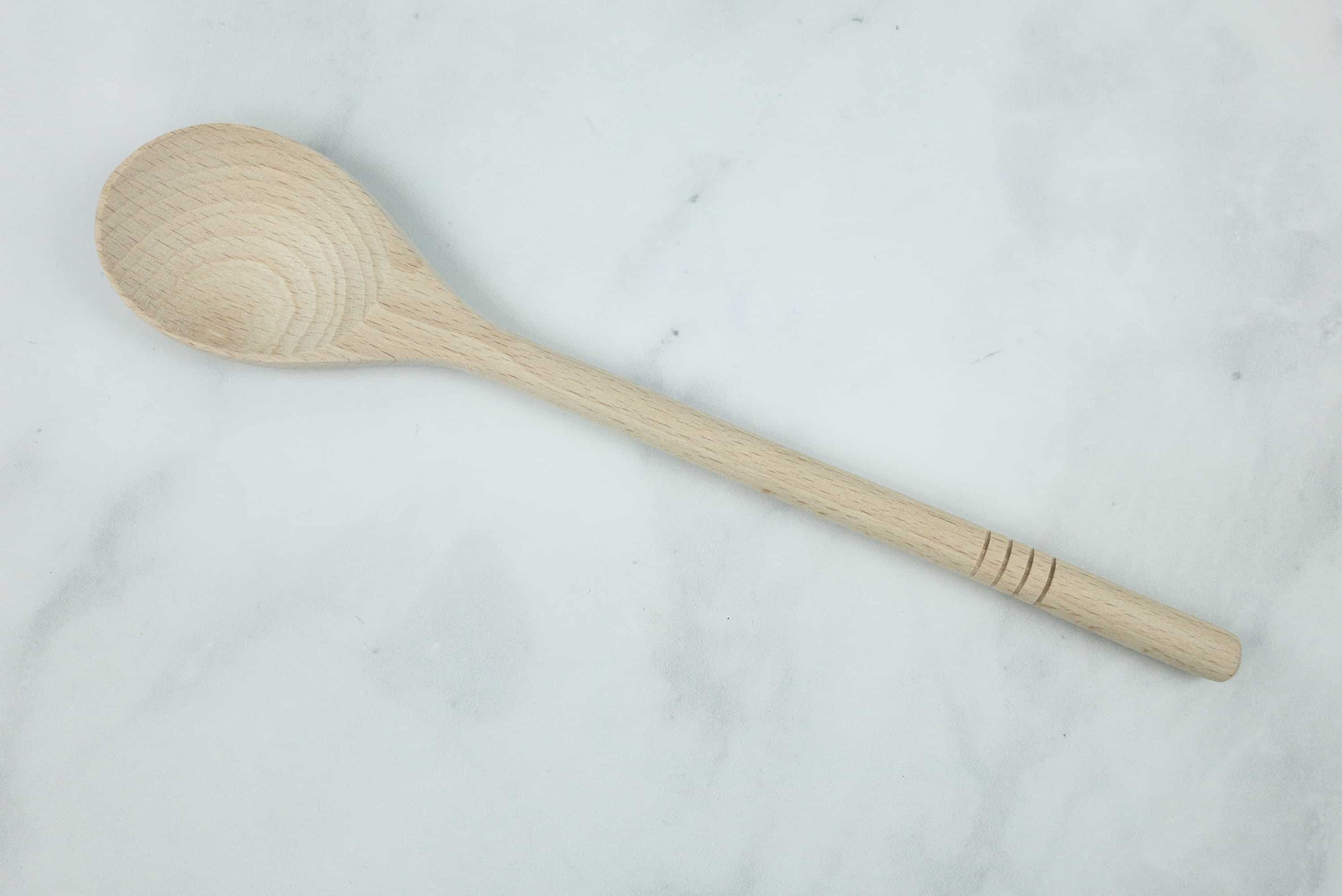 This month's box includes an exclusive wooden spoon form Martha & Marley.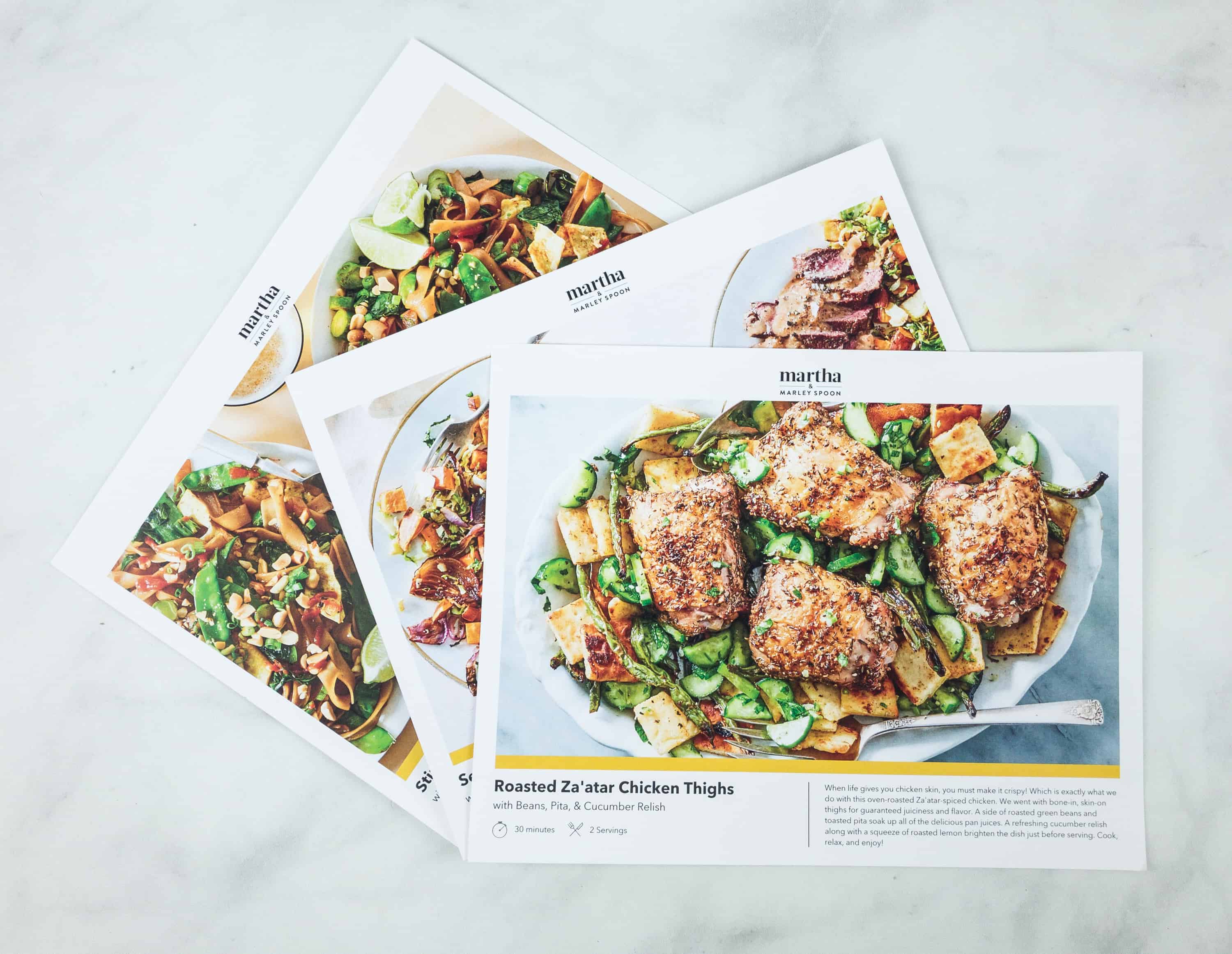 Each Martha & Marley Spoon recipe card includes a full-color picture of the plated dish, prep time and a number of servings. The dishes are elegantly plated in the pics, and you can use them as inspiration for setting out your own food.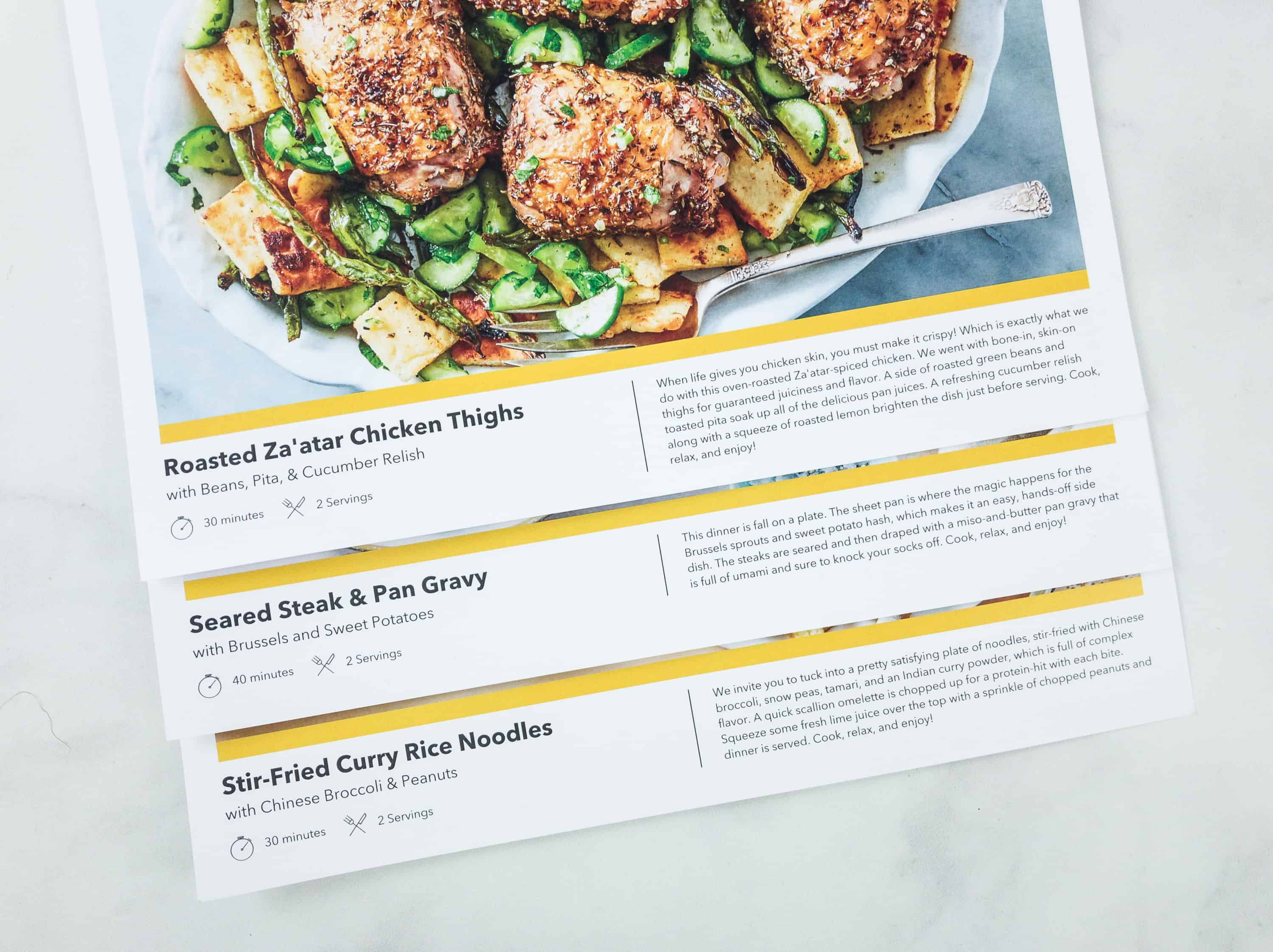 Here are the three recipes for November 2018! I like having the prep time estimate provided, and I often choose the order in which to make my meals based on that and perishability of ingredients. Typically, I'd start with any seafood dish, then do anything with fresh greens next.
The back includes the full recipe (with pictures!) and allergen and nutrition info. The instructions are easy to follow, whether you are a novice or pro. Usually, you start by washing and prepping all the ingredients before cooking. Within the detailed, step-by-step instructions, ingredients are set in bold type for ease of recognition. Info panes in the sidebar list any ingredients and tools you'll need from home (pans, cooking oil, etc).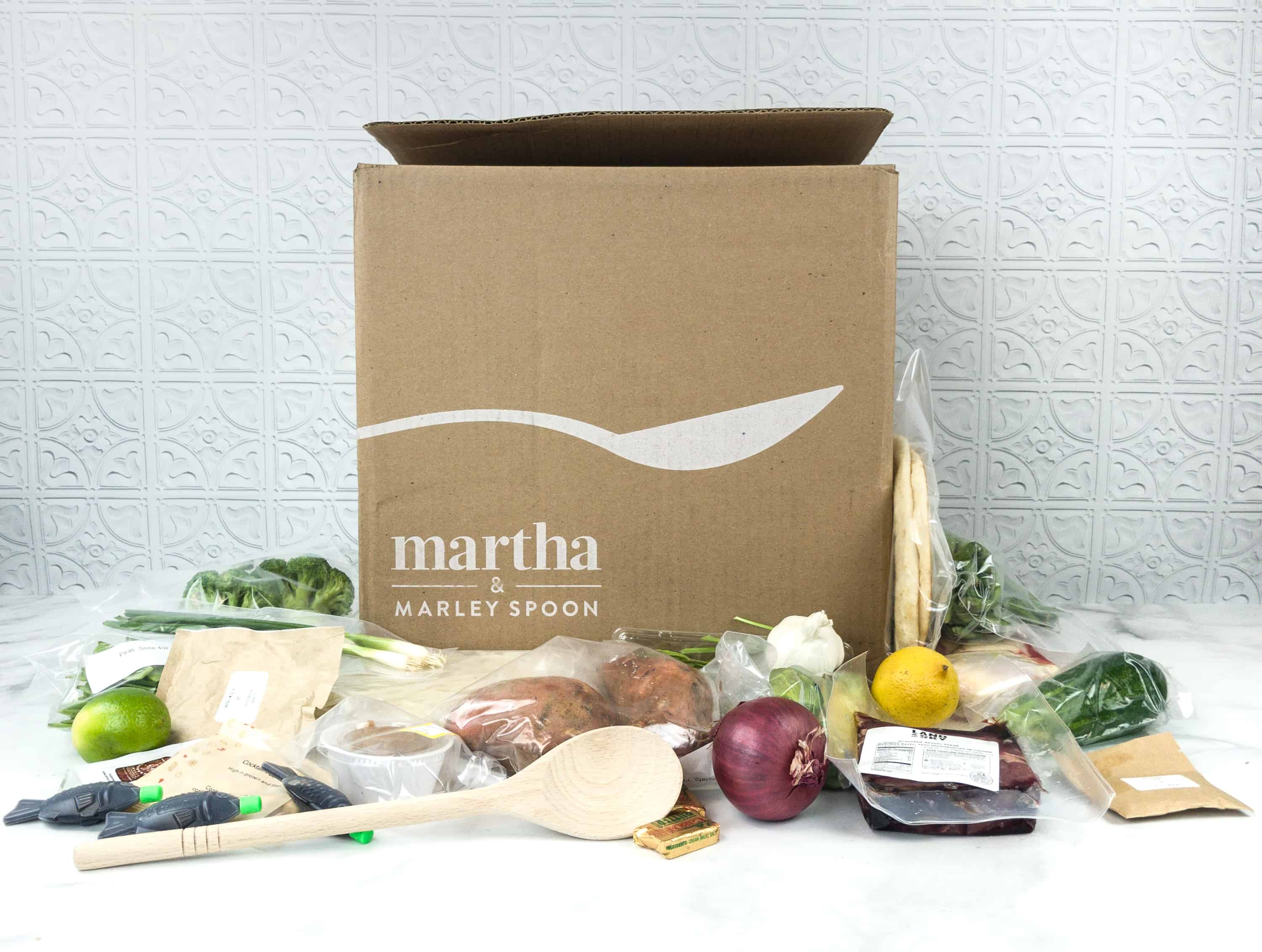 Everything in this box!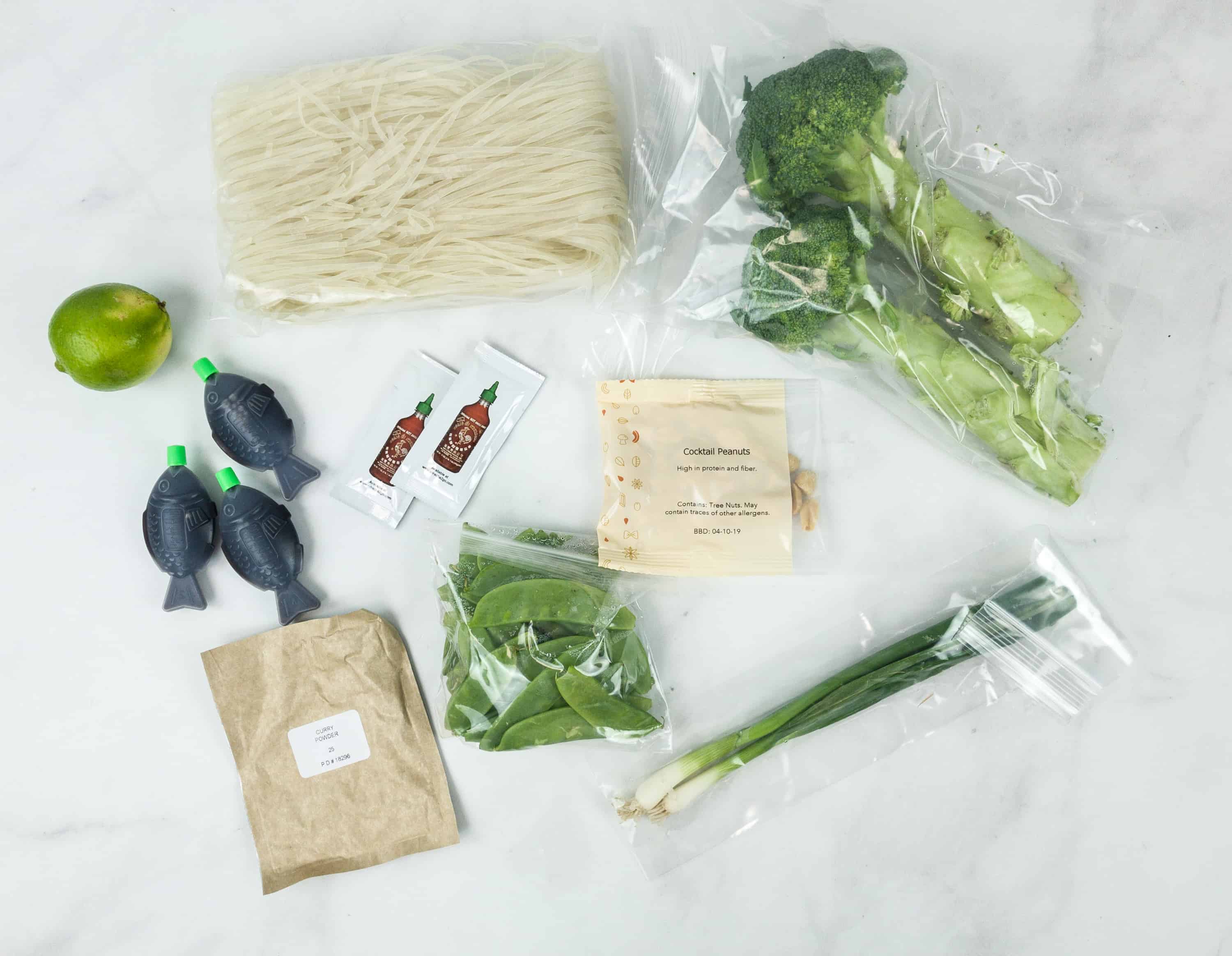 Stir-Fried Curry Rice Noodles with Chinese Broccoli & Peanuts – 30 minutes, Easy, 828 calories per serving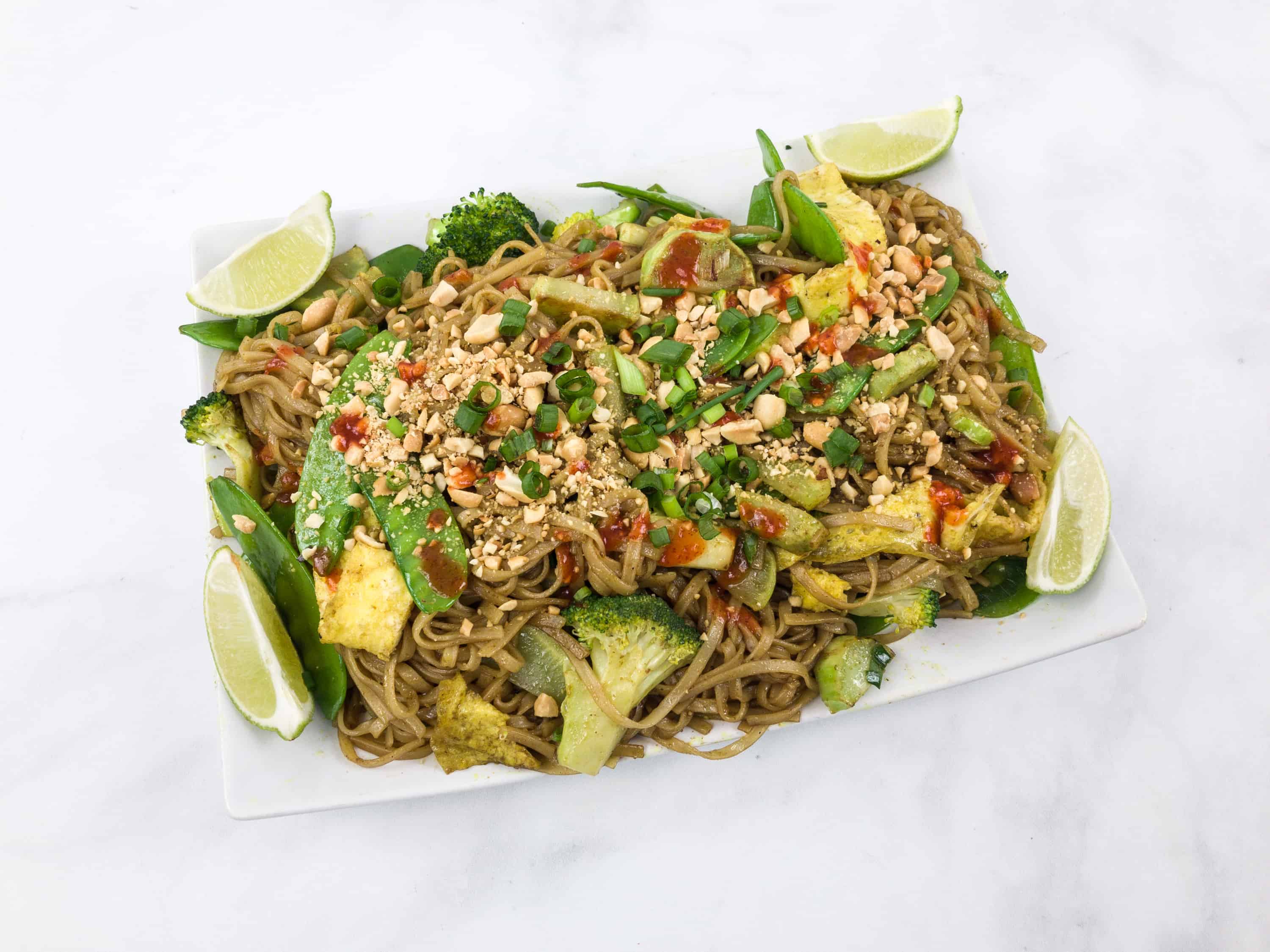 A Chinese favorite is mixed with an Indian staple in this delicious noodle recipe that we can make easily right at our own kitchen. It features a mix of Chinese broccoli, snow peas, tamari, curry rice noodles mixed with yummy Indian curry powder. For the final touch, we added fresh scallion omelet, crushed peanuts, and a squeeze of lime juice for a refreshing twist. It's so tasty and filling!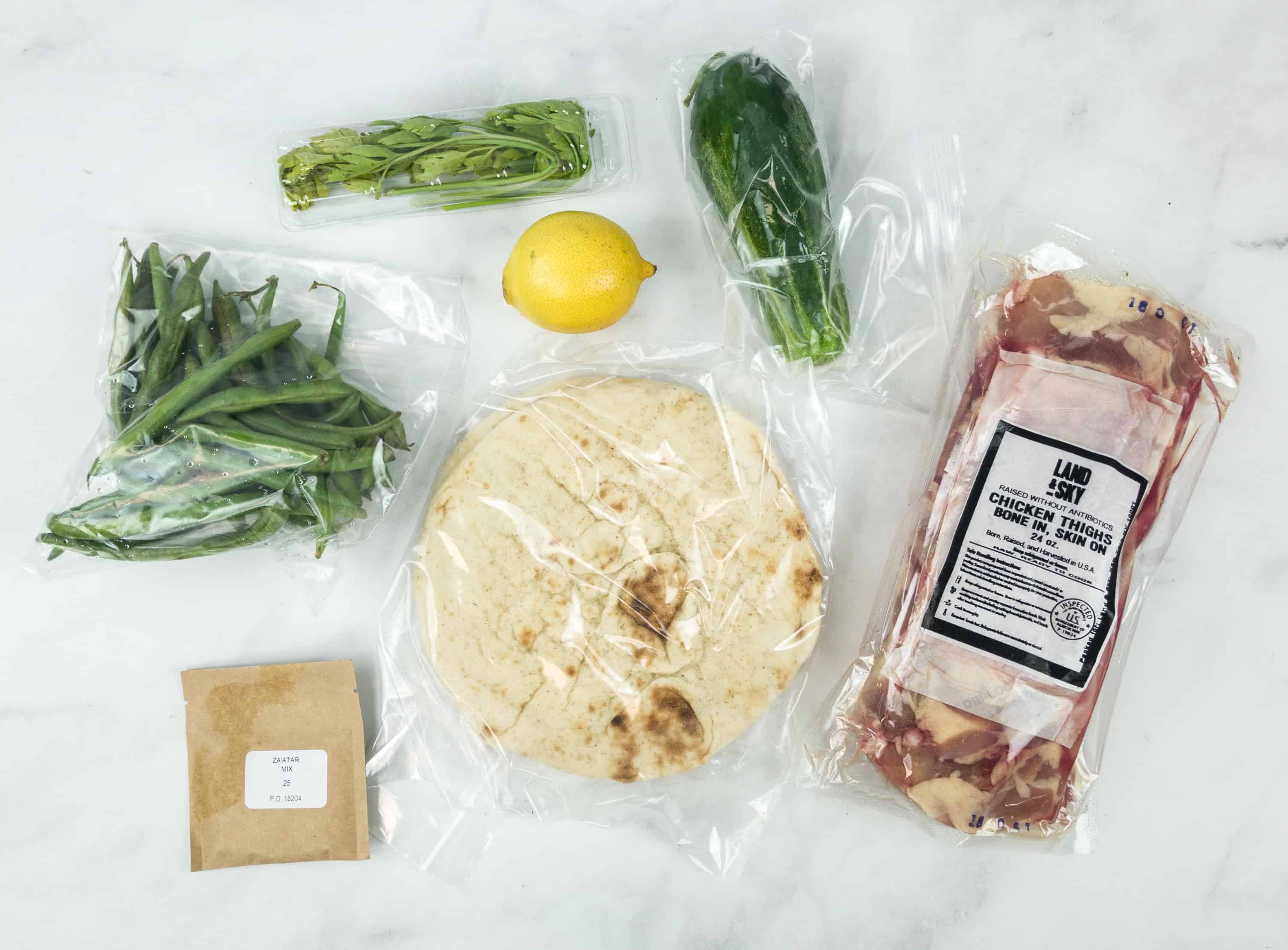 Roasted Za'atar Chicken Thighs with Beans, Pita, & Cucumber Relish – 30 minutes, Easy, 697 calories per serving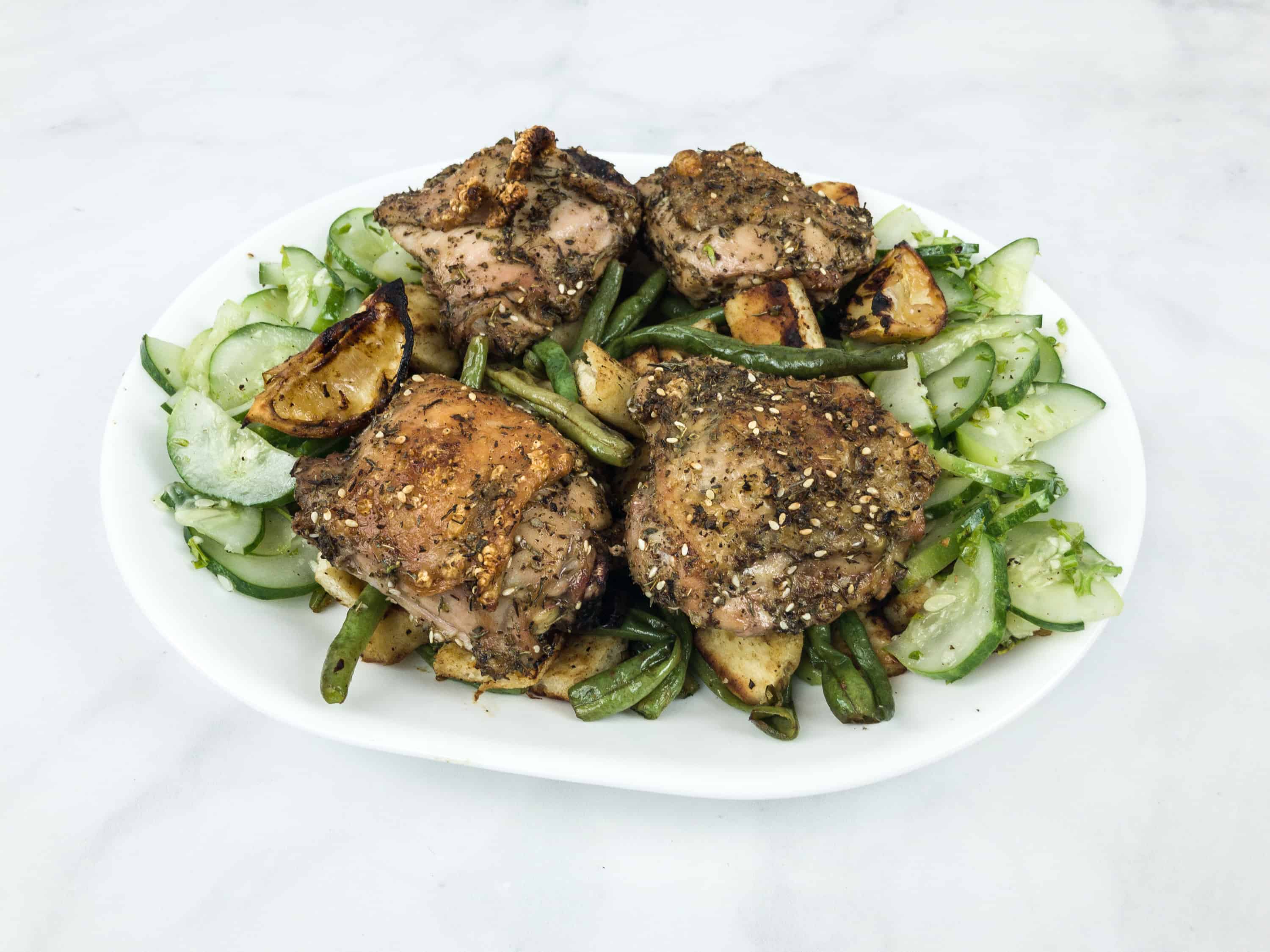 Roasted Za'atar Chicken is a Mediterranean dish made from meaty chicken thigh with za'atar spices that consist of sesame seeds, thyme, marjoram, and sumac. It's tangy and aromatic, a true feast for the senses. A side of roasted green peas, cucumber relish, and toasted pita soak up all the delicious pan juices! So delicious!
Seared Steak & Pan Gravy with Brussels and Sweet Potatoes – 40 minutes, Easy, 762 calories per serving
Nothing beats a steak-potato combination for dinner, especially when the steaks are seared and draped with miso-and-butter gravy. Served with Brussel sprouts and sweet potato hash, it easily filled our hungry stomachs. It was easy to prepare and I'm just happy about how it turned out. The gravy works so perfectly with the steak. It has that superb umami taste that make me want more of this dish.
It's a great week for Martha & Marley Spoon! Everything arrived fresh and ready to prepare. All the ingredients you need for cooking are provided – except for oil, salt, and kitchen staples, making things handier. The inclusion of recipe card that features difficulty, calories content, and estimated cooking time are also given. They help me a lot as I figure out when to make each meal to fit my schedule and diet. I also love the wooden spoon bonus item. This subscription definitely made our dinners more interesting and hassle-free!
Have you tried Martha & Marley Spoon? What do you think?