LuckyVitamin Oh, Hey Beauty Bag is now available! It's $19, and comes with 26 pieces of personal care and beauty items worth over $70!
We have a coupon code for FREE shipping for this bag! Just use coupon code HELLOSUB at checkout when you purchase the LuckyVitamin Oh, Hey Beauty Bag!
Oh, Hey! We've got something special for you. It's a cute and handy toiletry bag packed full of awesome goodies! What a wonderful way to try a bunch of new brands and products! There's something for everyone in here… natural mouth and teeth care products, moisturizing lotions and lip balm, face care, body cleansing, hair care, and body care products… 26 items to be exact! And, once you use all the products, the bag is perfect used as a makeup bag or grab-and-go travel case.
Full spoilers below, or you can check out our October 2018 LuckyVitamin Oh, Hey Beauty Bag review to learn more!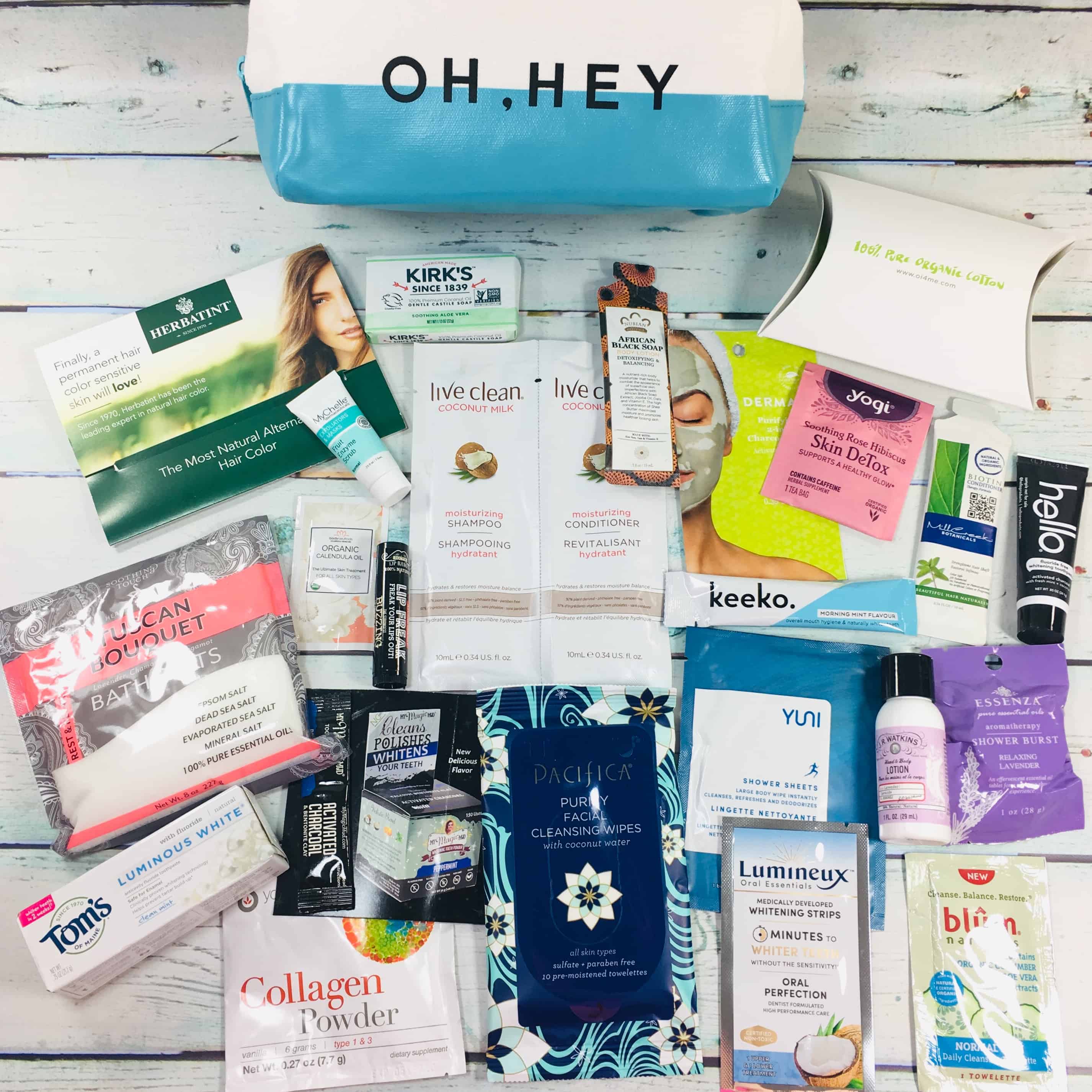 Each bag includes:
Hello Free Whitening Toothpaste
Tom's of Maine Luminous White Natural Toothpaste
My Magic Mud Tooth Powder
Lumineux Oral Essentials Medically Developed Whitening Strips
Oil Pulling Packet by Keeko
Cleansing Towelette Sample By Blum Naturals
Facial Cleansing Wipes By Pacifica
MyChelle Dermaceuticals Fruit Enzyme Scrub
DERMA-E Purifying 2-In-1 Charcoal Mask
Dr. Lip Bang's Lip Freak Lip Balm
Organic Bodyceuticals Calendula Oil
Nubian Heritage African Black Soap Body Lotion.
JR Watkins Lavender Hand and Body Lotion
Yuni Shower Sheets
Essenza Aromatherapy Shower Burst
Kirk's Natural Premium Coconut Oil Gentle Castile Soap
Live Clean Moisturizing Shampoo and Conditioner samples
Mill Creek Botanicals Biotin Shampoo
Royal Cream Regenerating Conditioner by Herbatint
Soothing Touch Lavender Bath Salts
Feminine Hygiene Sampler From Oi
Youtheory Vanilla Collagen Powder Dietary Supplement
Rose Hibiscus Tea by Yogi Tea