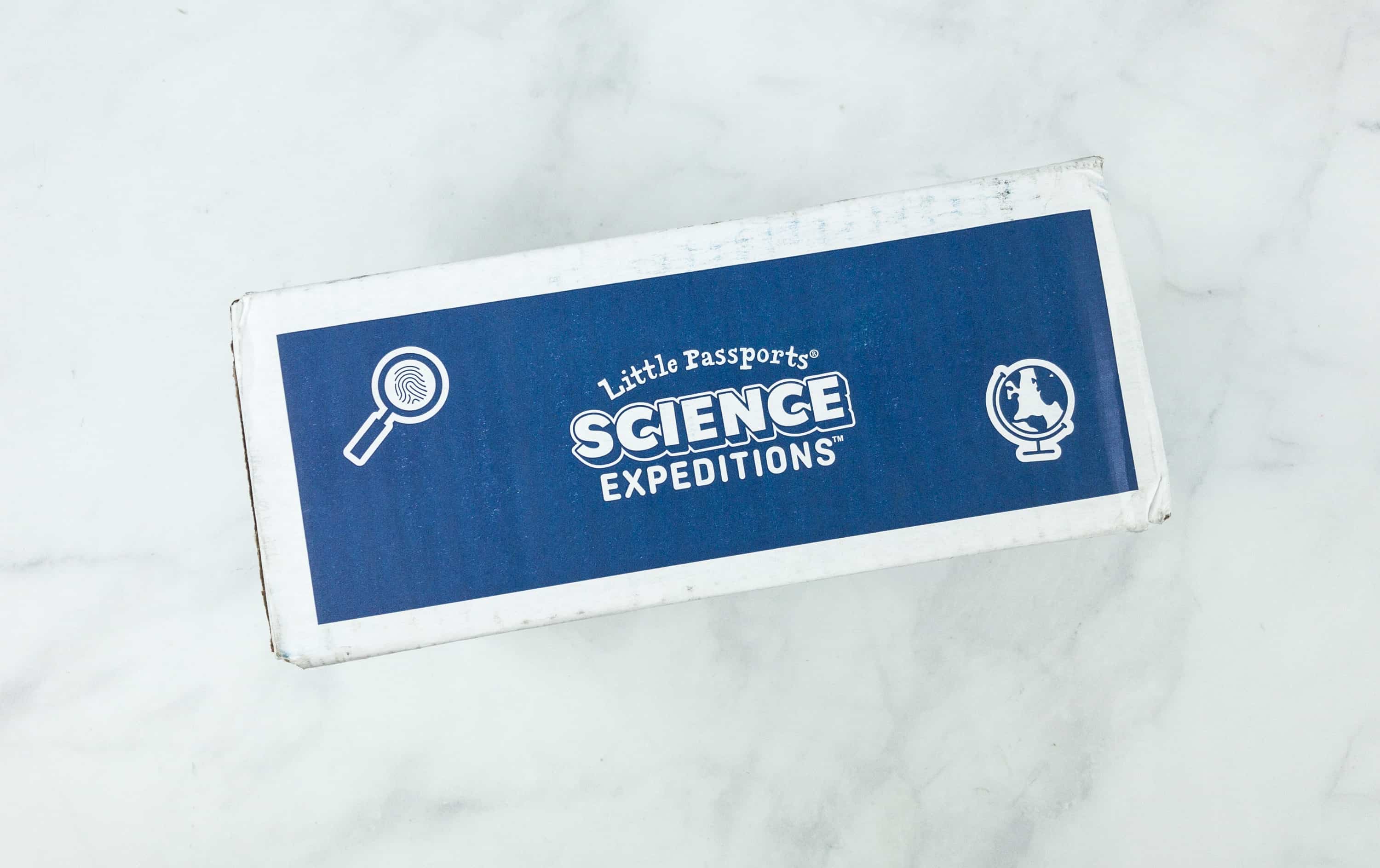 Little Passports Science Expeditions is a monthly subscription science kit packed full of science experiments related to themes like rockets, forensic science, vision, caves and crystals, northern lights and magnetism, hydrology, and more!
Science Expeditions lets kids solve real-life scientific mysteries every month through science experiments, hands-on STEM activities and more! Every box includes a 16 page comic with scientific mysteries to solve and fun activities, 8-page experiment guides, hands-on experiment guides, and achievement badges for your lab notebook! This subscription is intended for children ages 9 and older.
Little Passports Black Friday Deal for 2018: Through 11/27, save up to $40 on all Little Passport subscriptions with code BESTDEAL.
DEALS:
Get $10 off on a monthly subscription. Use the coupon code BESTDEAL to get the deal.
Get $20 off on a 6 Month Subscription. Use the coupon code BESTDEAL to get the deal.
Get $40 off on a 12 Month Subscription. Use the coupon code BESTDEAL to get the deal.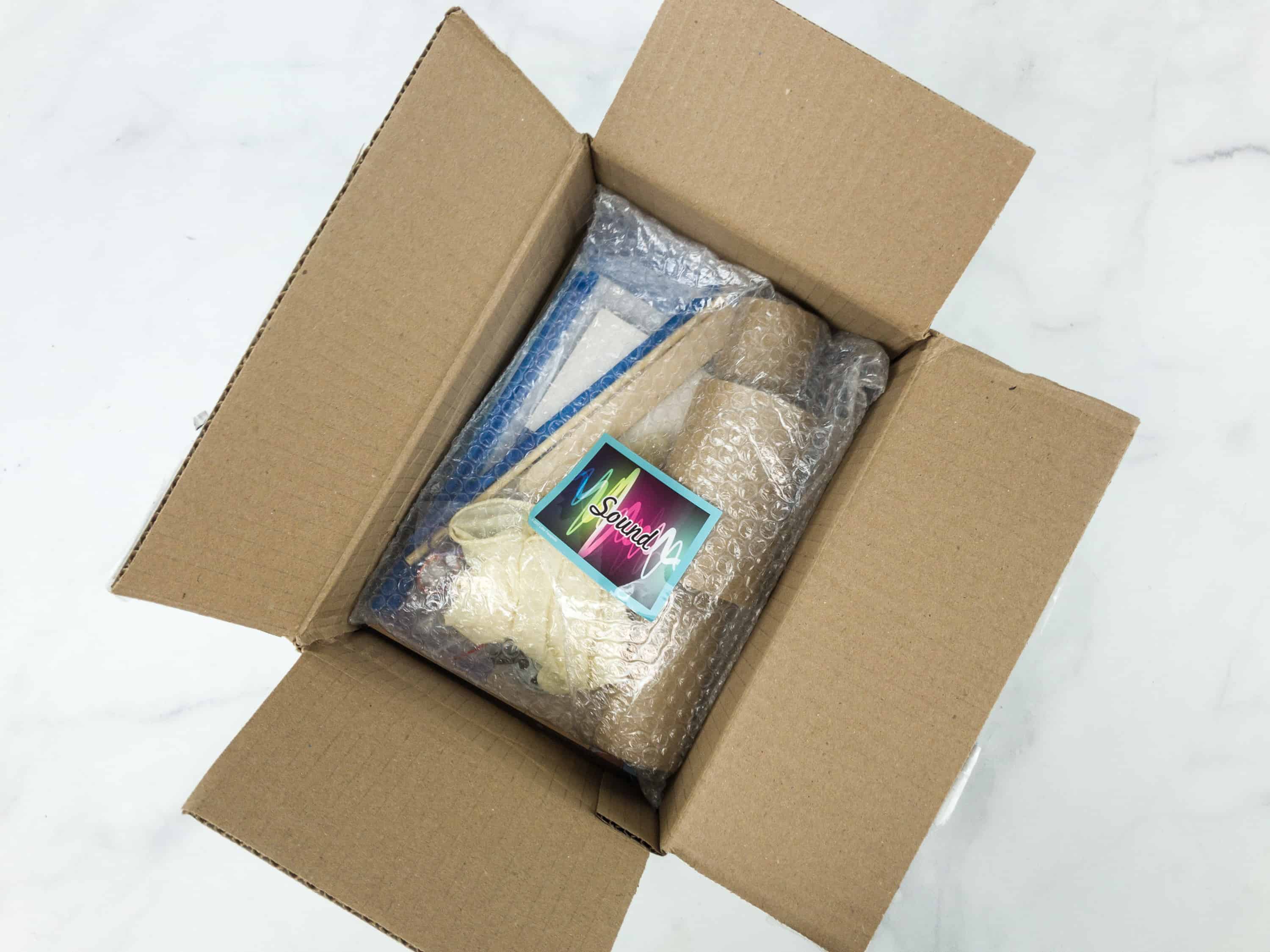 This month's box is all about SOUND!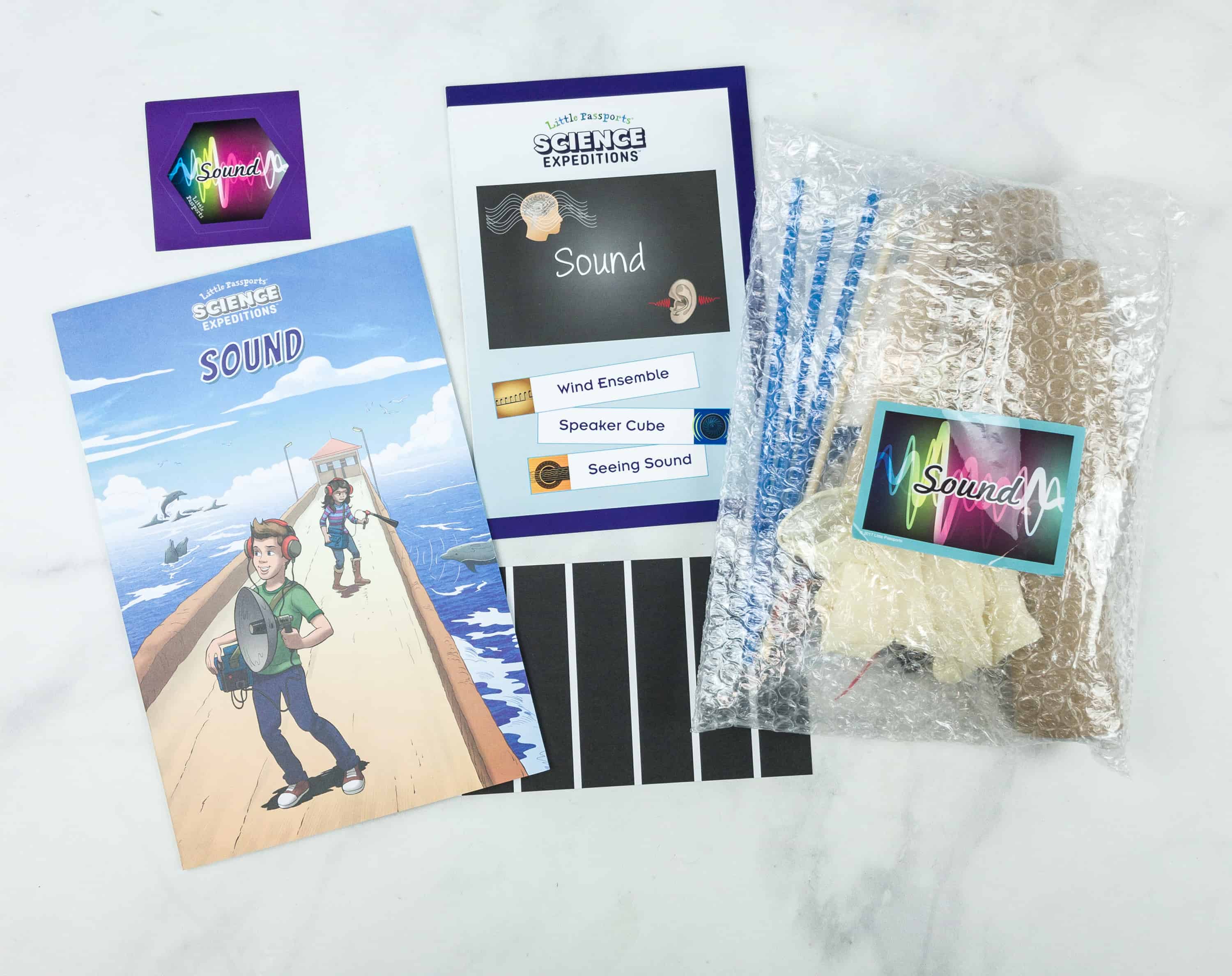 The box includes a comic and activity magazine, a booklet with instructions for all the activities, a bundle of supplies, and the activity sticker for your notebook.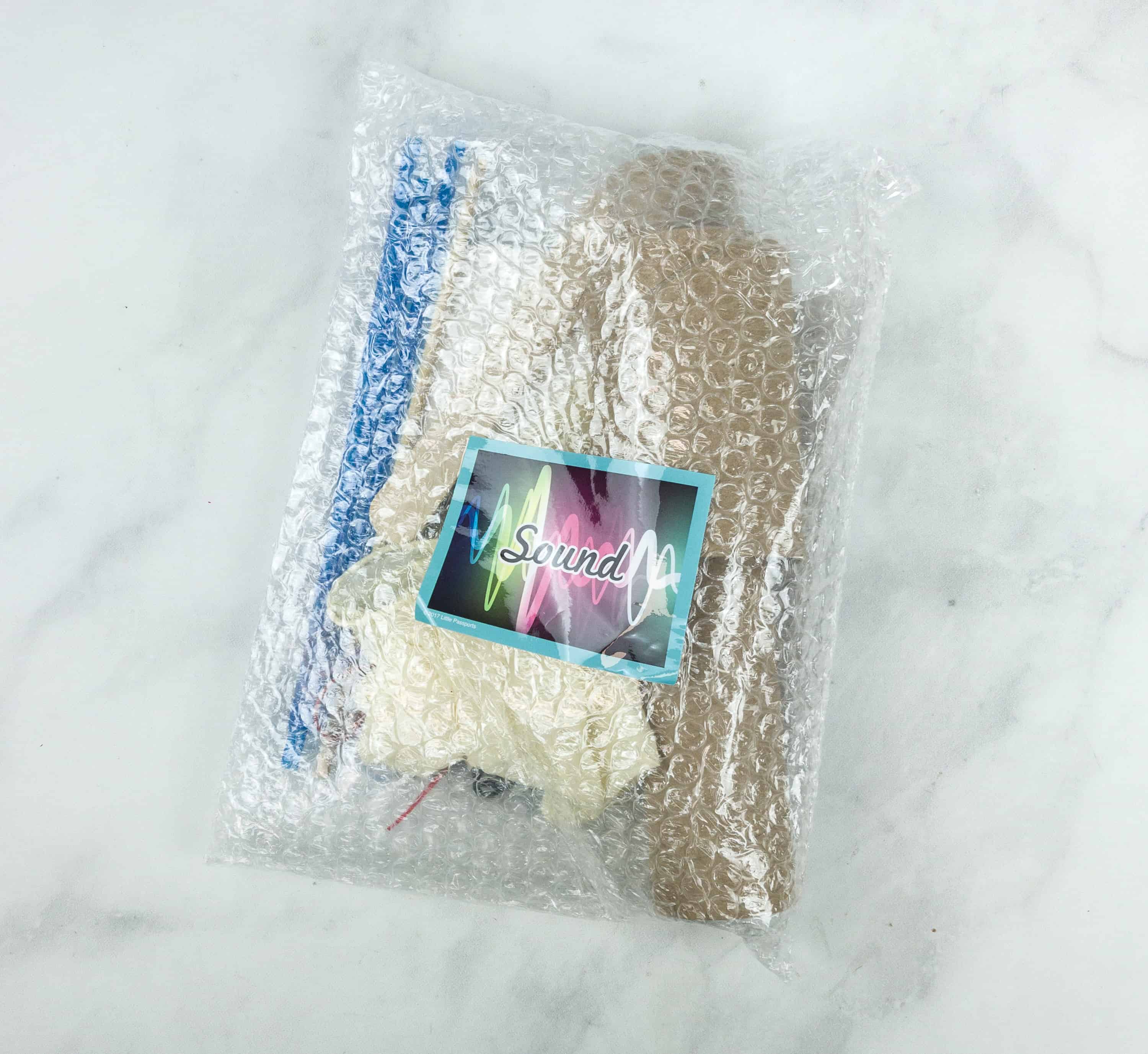 Everything we need to use in the experiments, other than the paper crafts or cards, is bagged safely in a bubble wrap bag.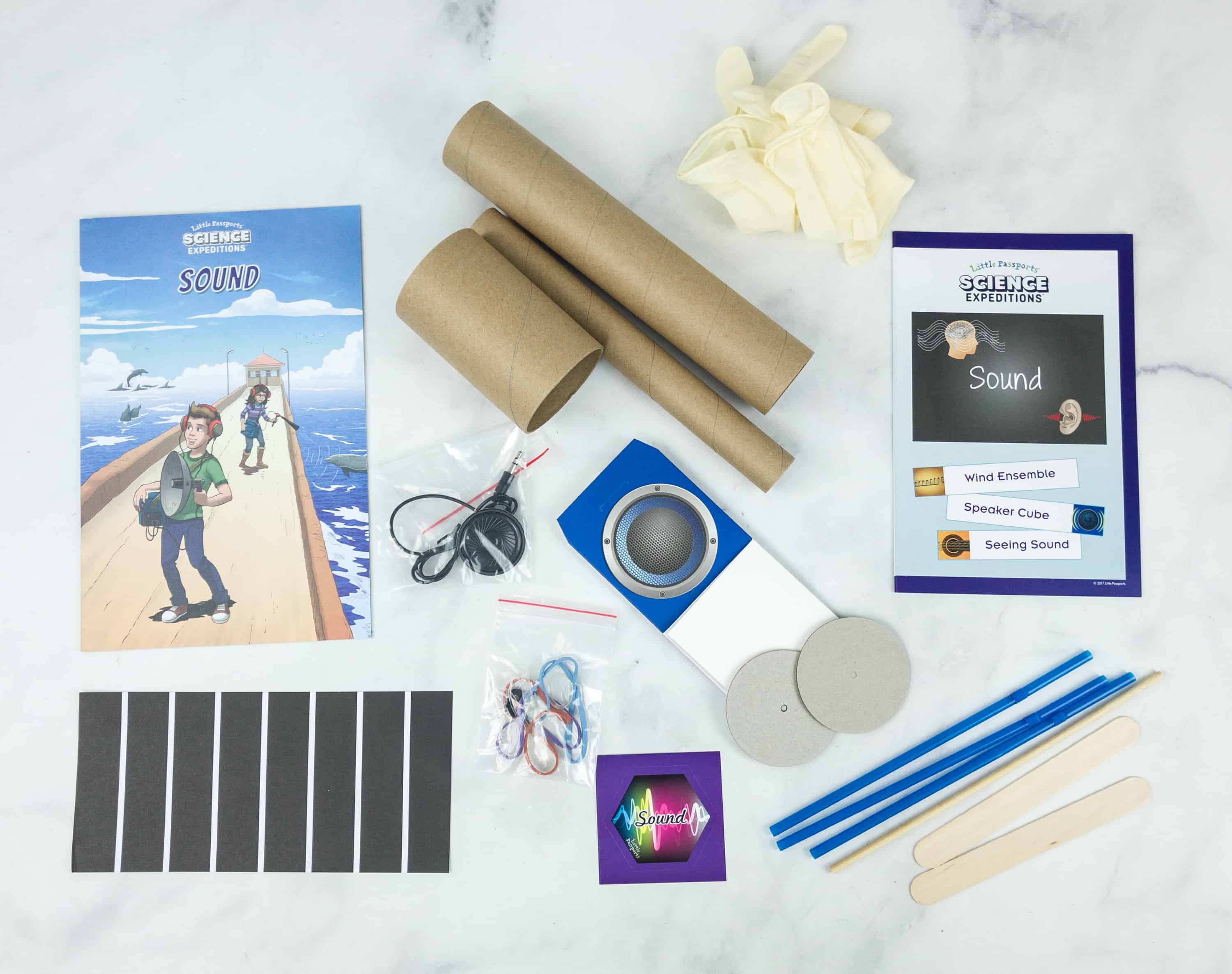 Everything in this box!
Achievement Badge. Every box includes a sticker badge, which can be placed and collected in the lab notebook when your child has completed the tasks.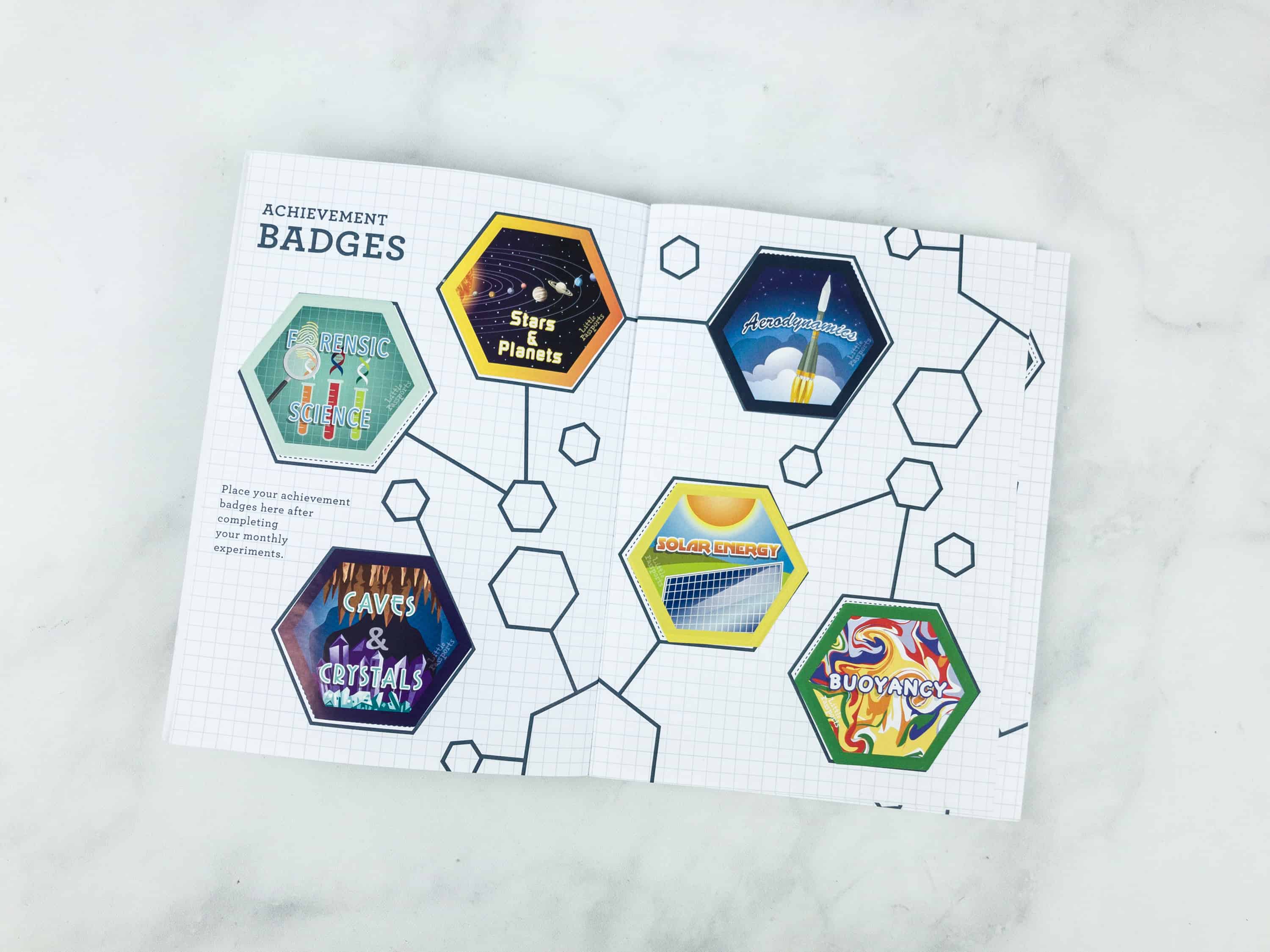 It feels good seeing our lab notebook getting filled up with badges!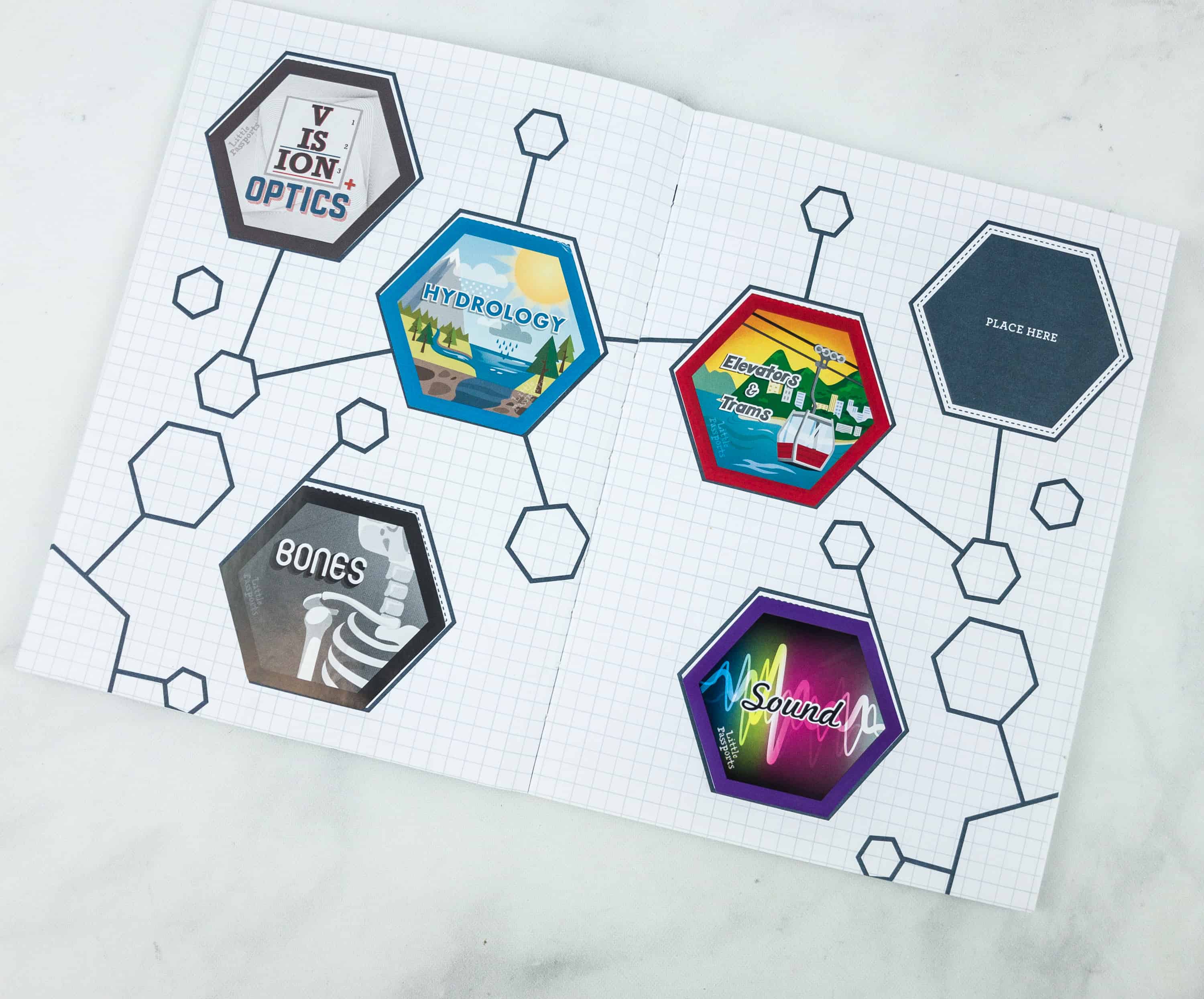 Another activity box accomplished, one more sticker spot left in our booklet! It means 2018 is almost up!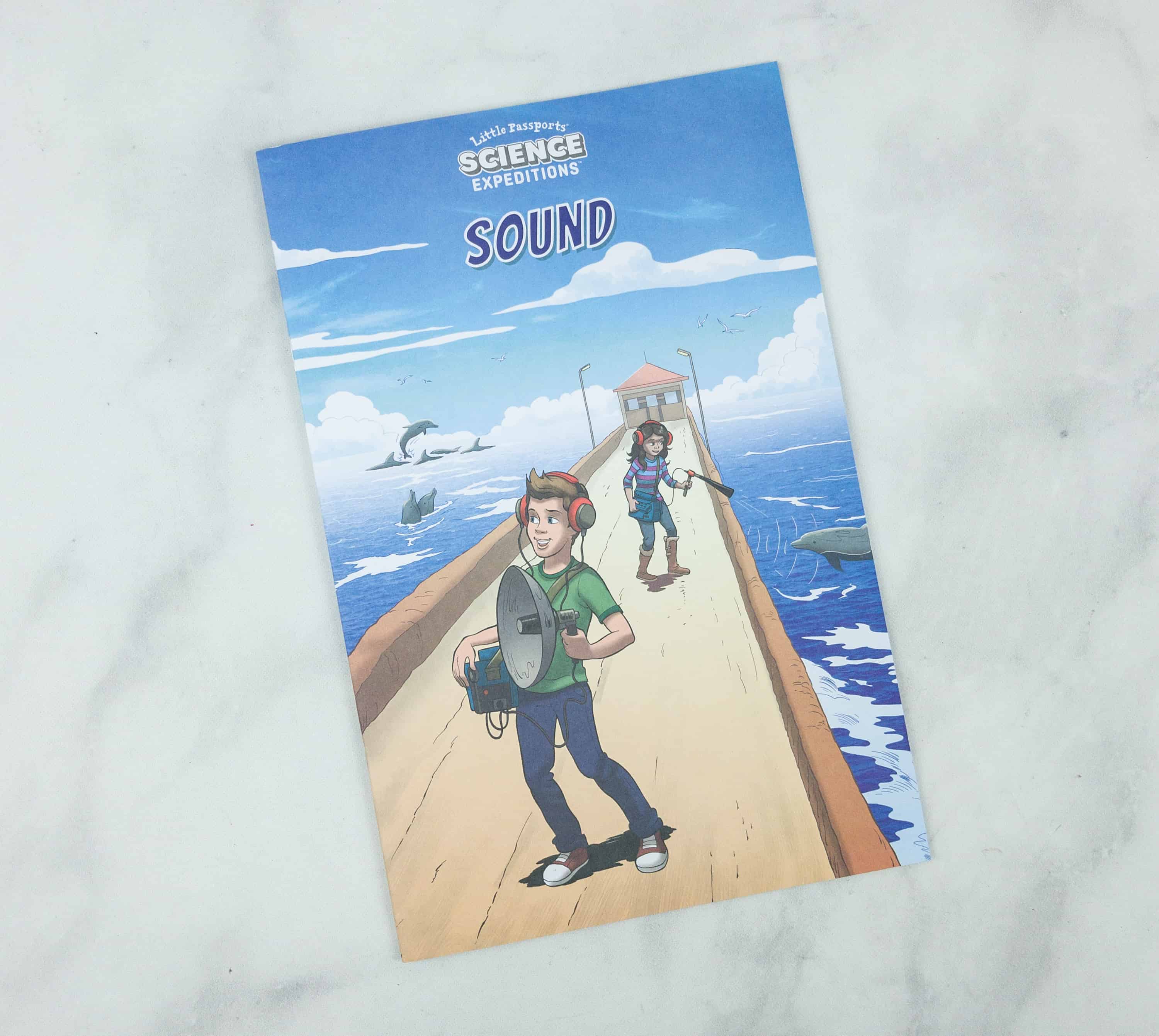 Science Expeditions: Sound Comic. The cover is interesting and hints at the adventures found inside.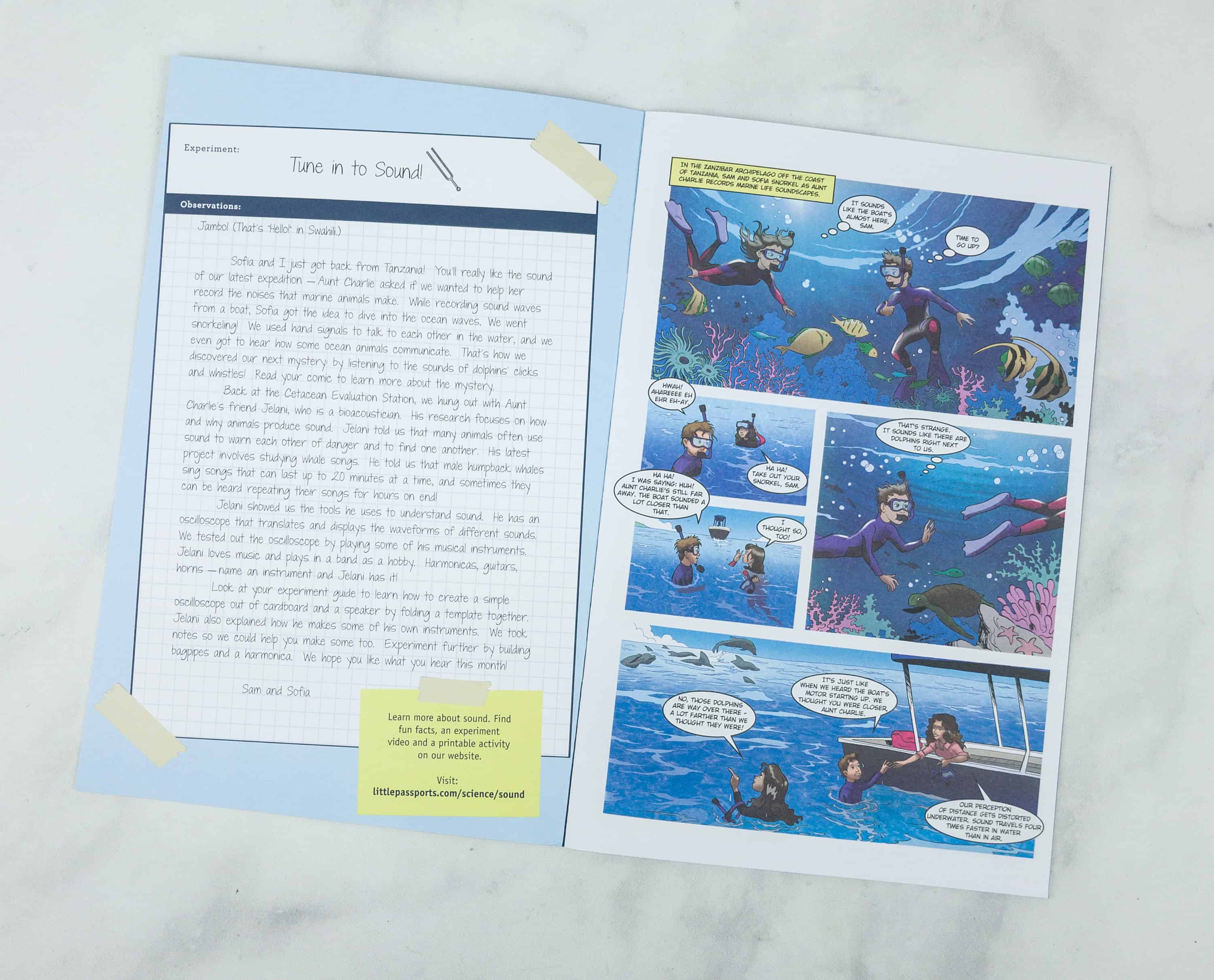 As usual, they started the book with a letter and a comic strip. It's an introduction of the activities, giving us an idea of what to expect, setting out goals for the activities, and giving us a preview of what we'll learn.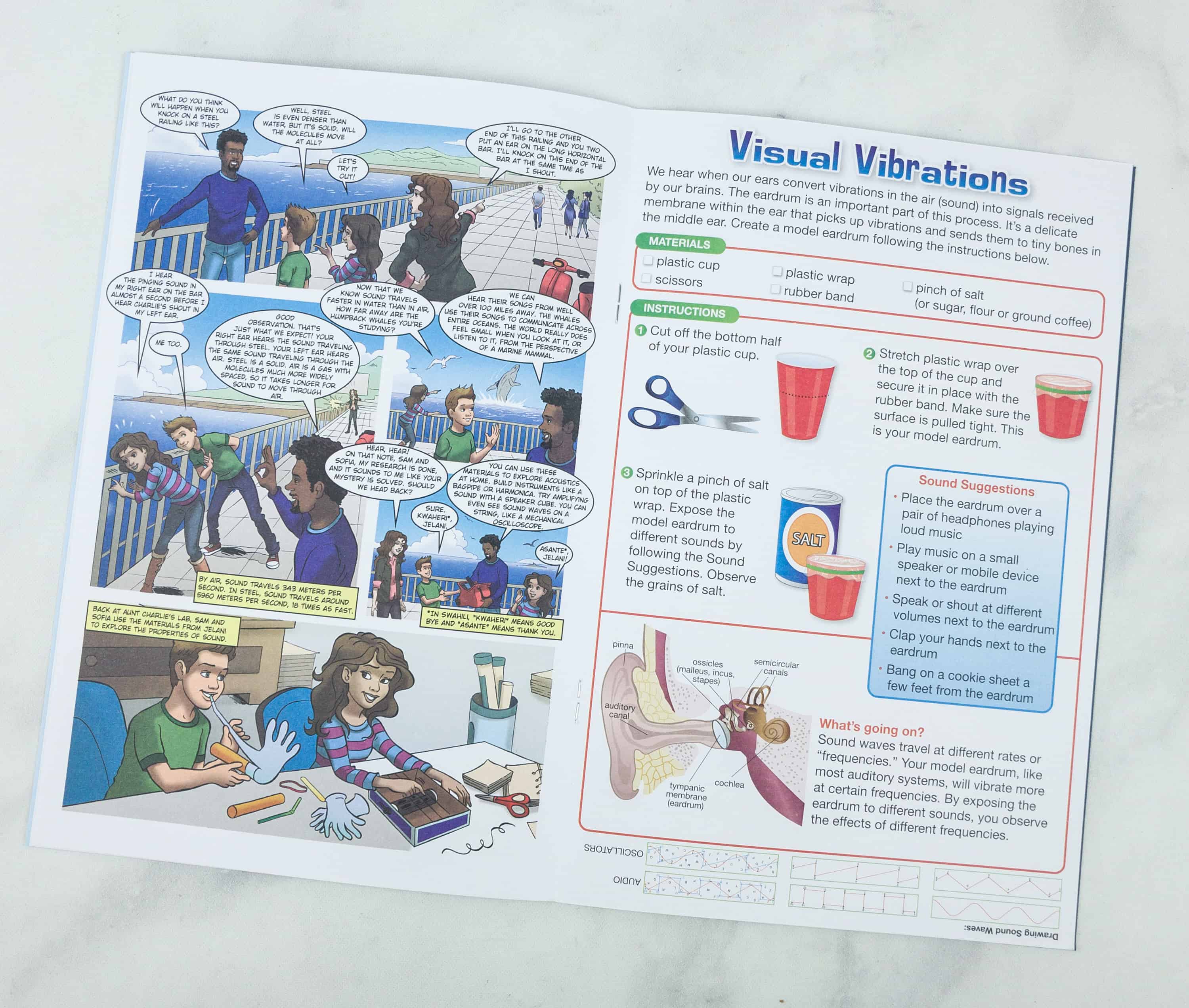 Everything about the comic, the colors, illustrations, and text, is well-produced. The message and story they want to convey are clearly explained and advance the lessons of the box. We've preserved some of the mystery here, but the comic is many pages long.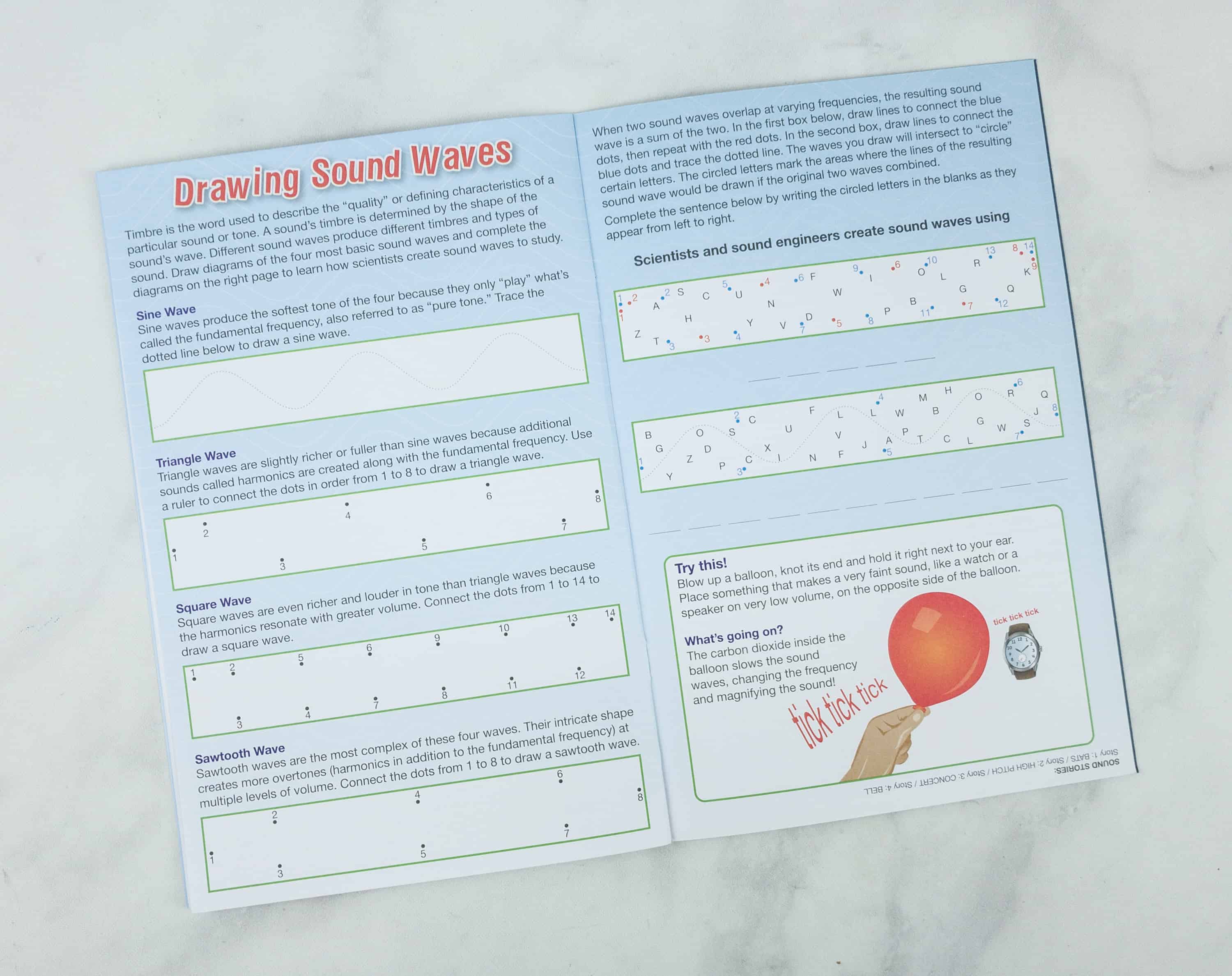 The booklet guides you in drawing various sound waves and learning the unique characteristics of each.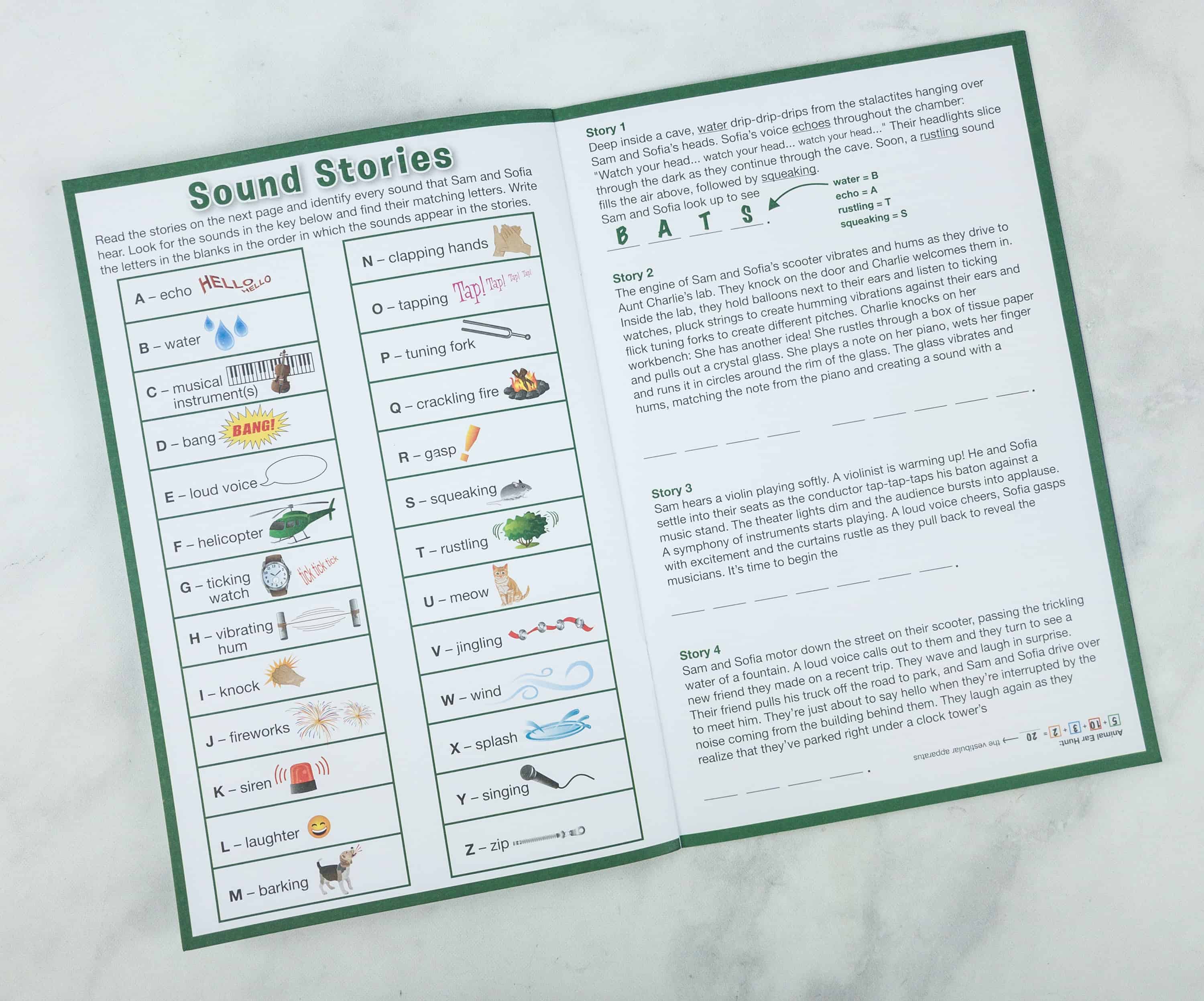 This is like deciphering the code game wherein you will find clues from the story and write their corresponding letter to the blanks. Filling in the blanks will answer the riddle of the story.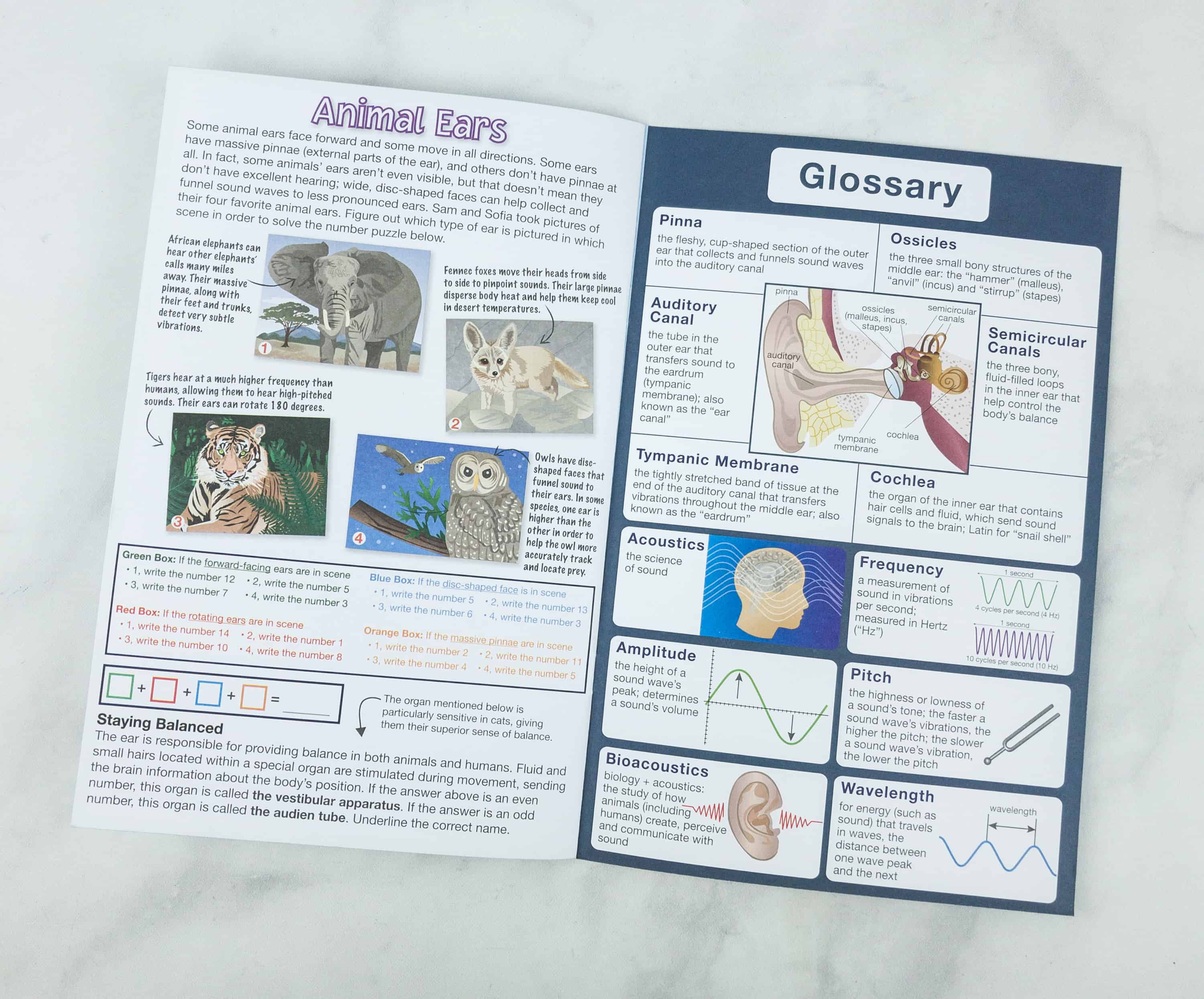 There's a page that explores some specially adapted animal ears, and beside it is a glossary of jargon related to this month's topic.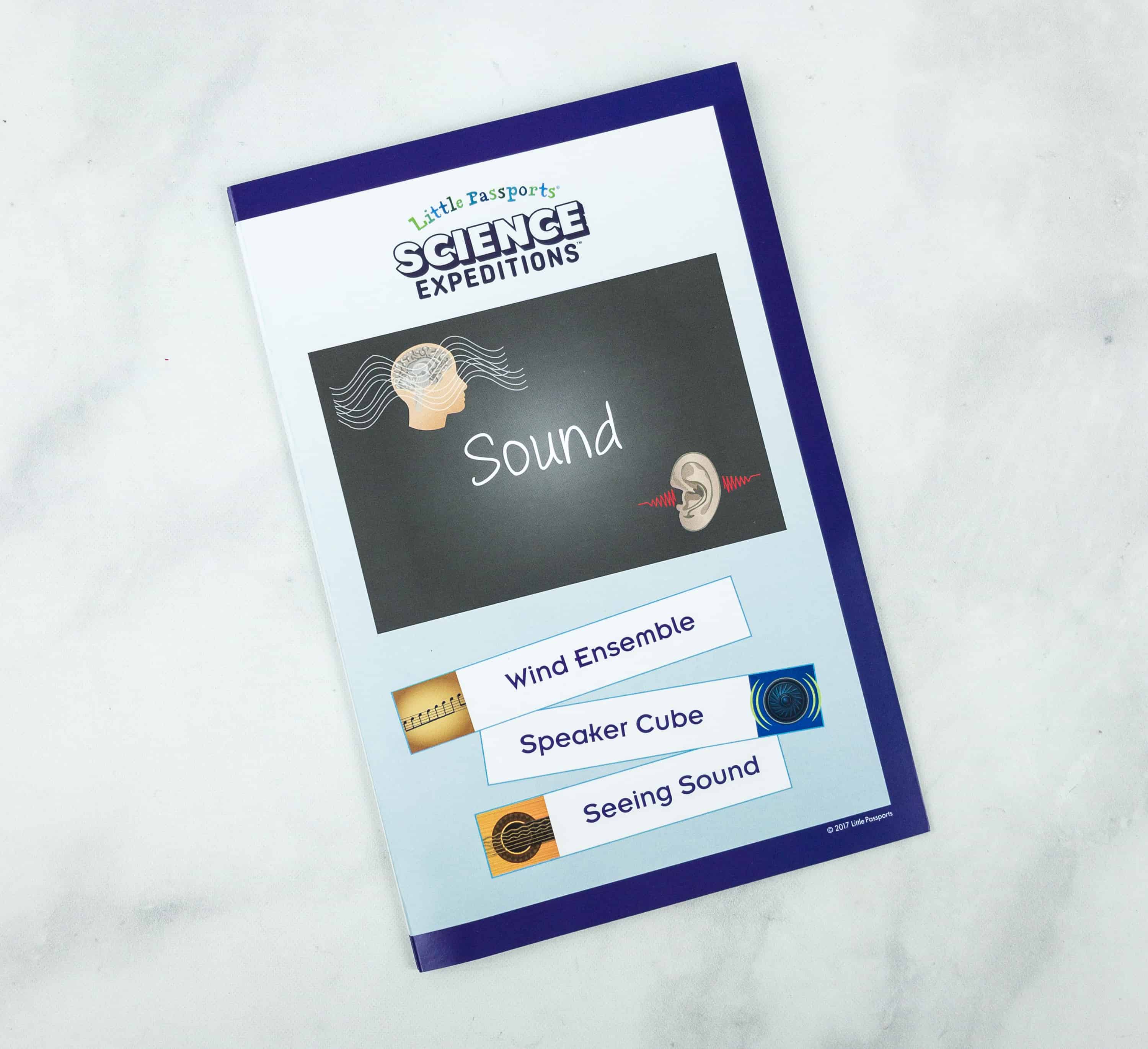 Activity Guide. A four-fold pamphlet containing all the details for this month's featured experiments.
The first activity is making a homemade bagpipe for the wind ensemble category.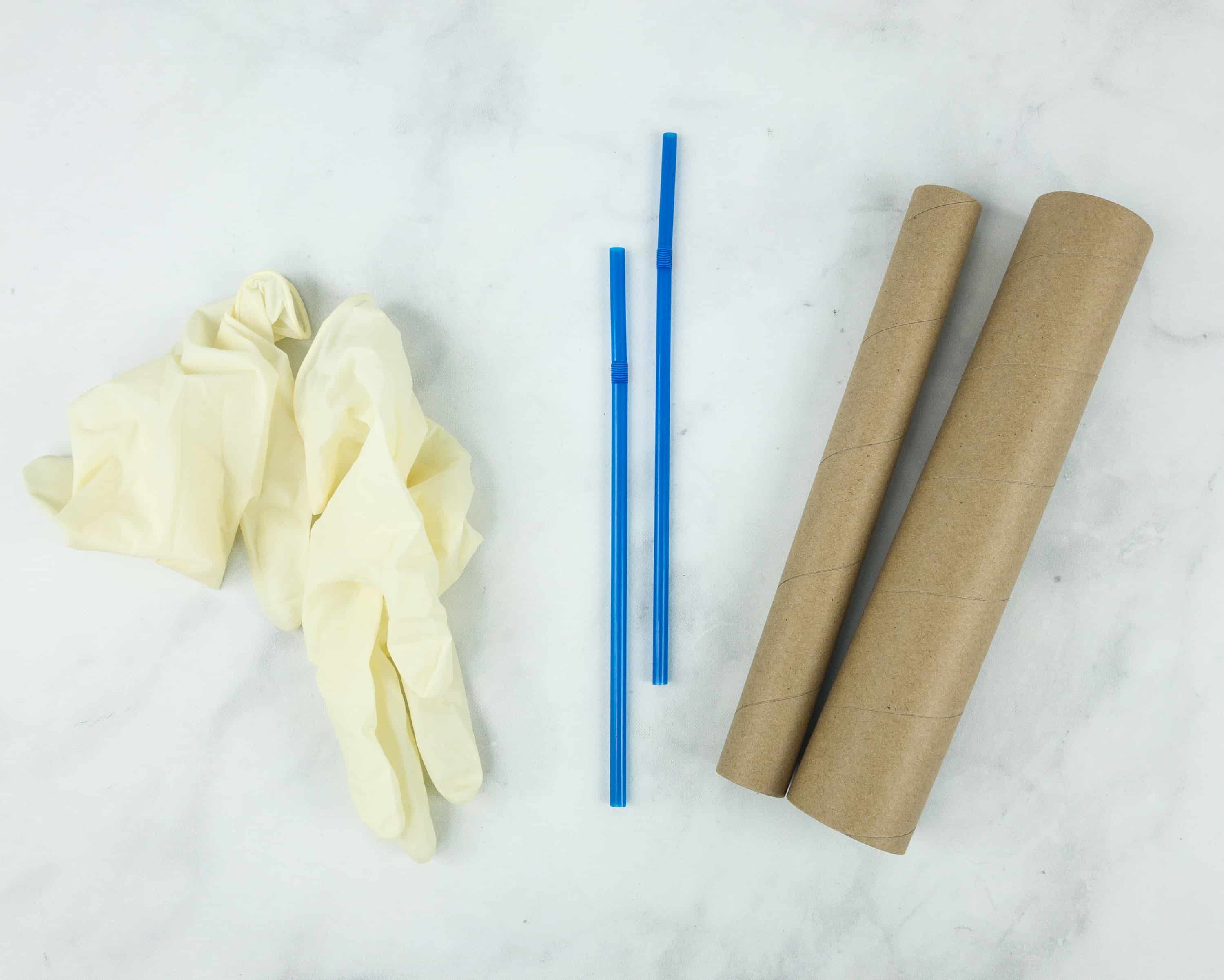 The materials include cardboard tubes, straws, and latex gloves.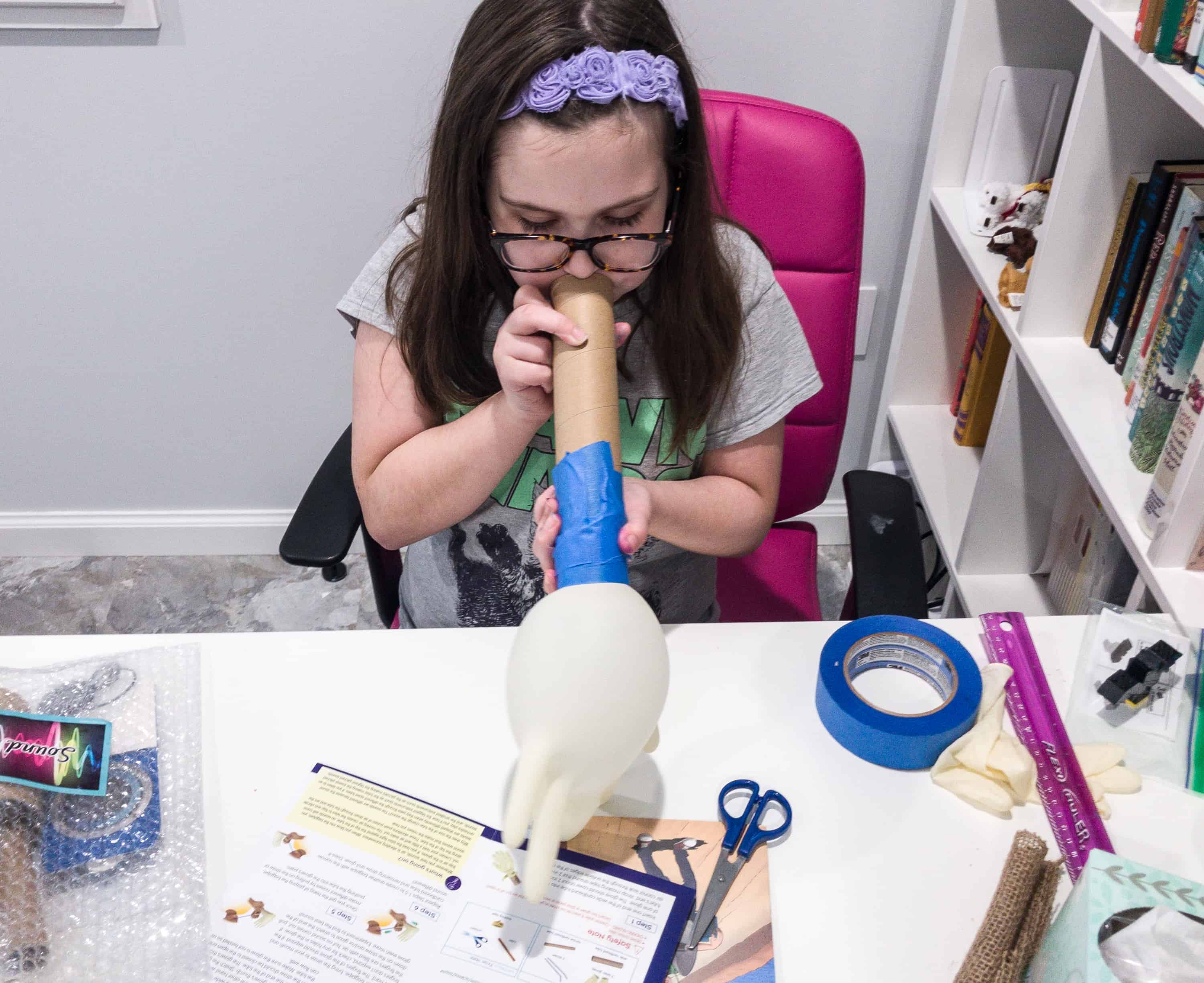 They suggest using a rubber and to attach the glove, but we found that tape worked best. My daughter is testing it out if it works so far.
She cut a small slit at the thumb part of the glove, inserting and taping a straw there. It's successful! the expanded glove vibrated against the tube, making a sound like a reed instrument. It was like making our own bagpipe!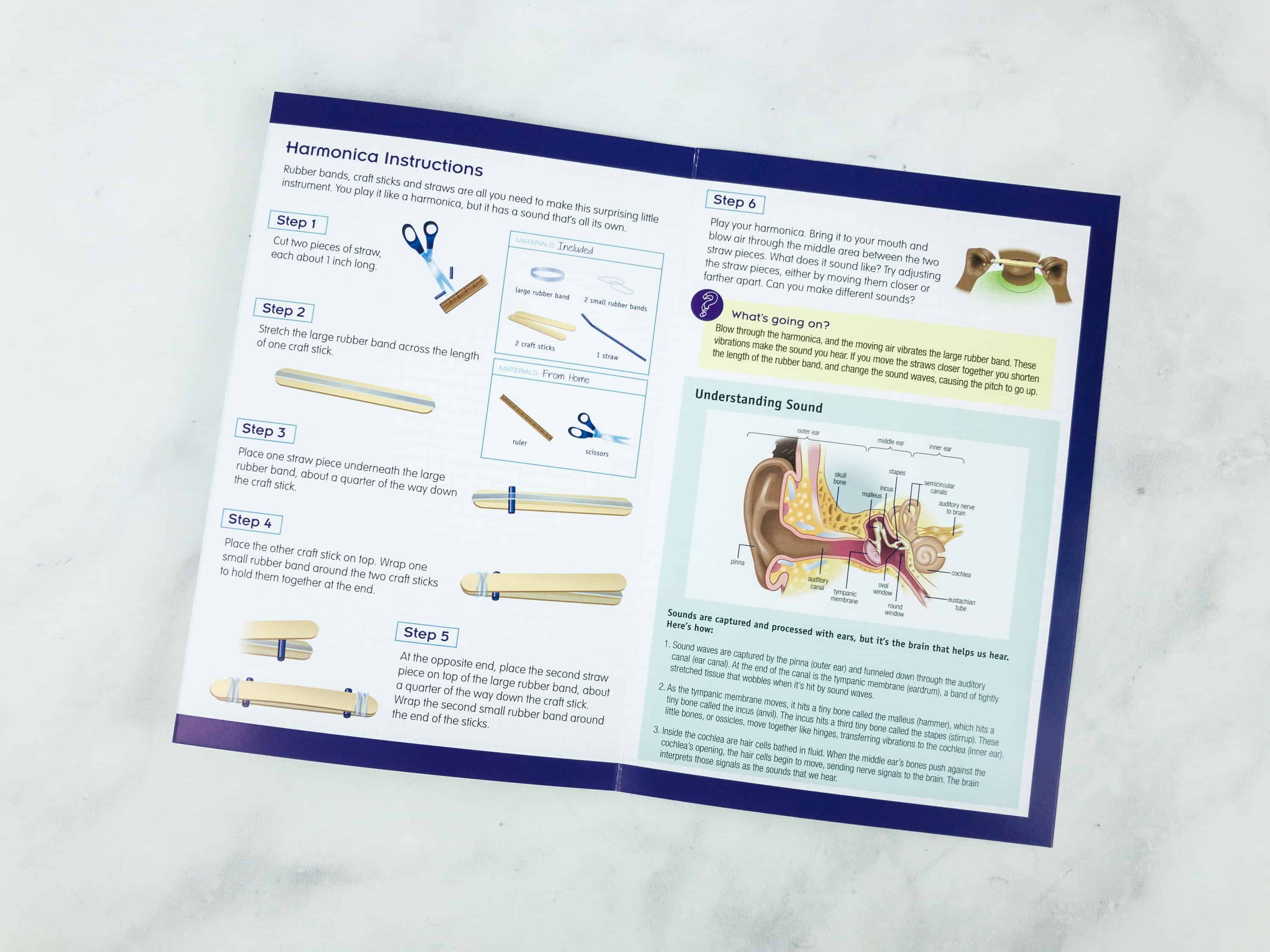 Another activity is to make a homemade harmonica.
For this, they provided popsicle sticks, a straw, and rubber bands.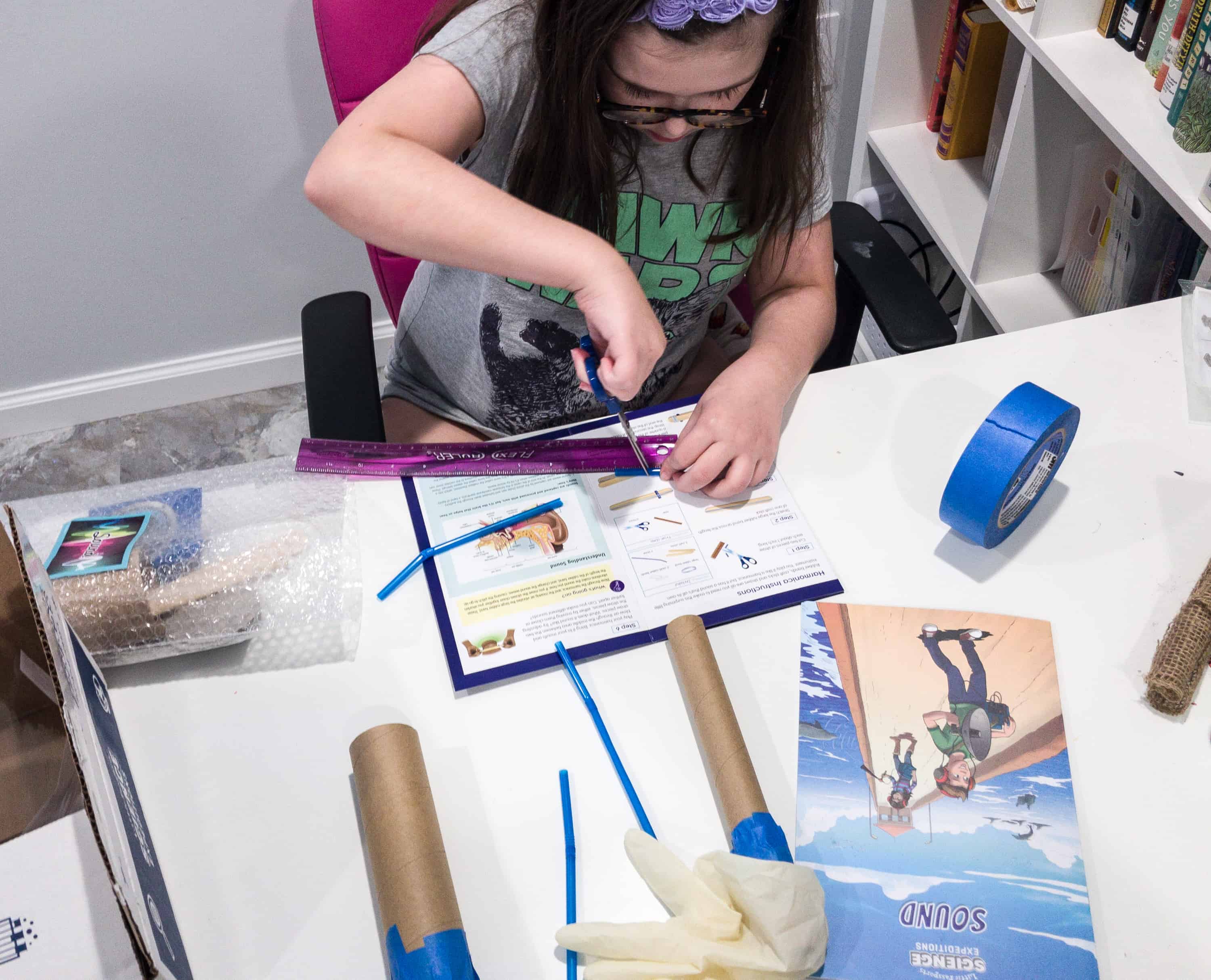 She's cutting the straw into pieces as instructed.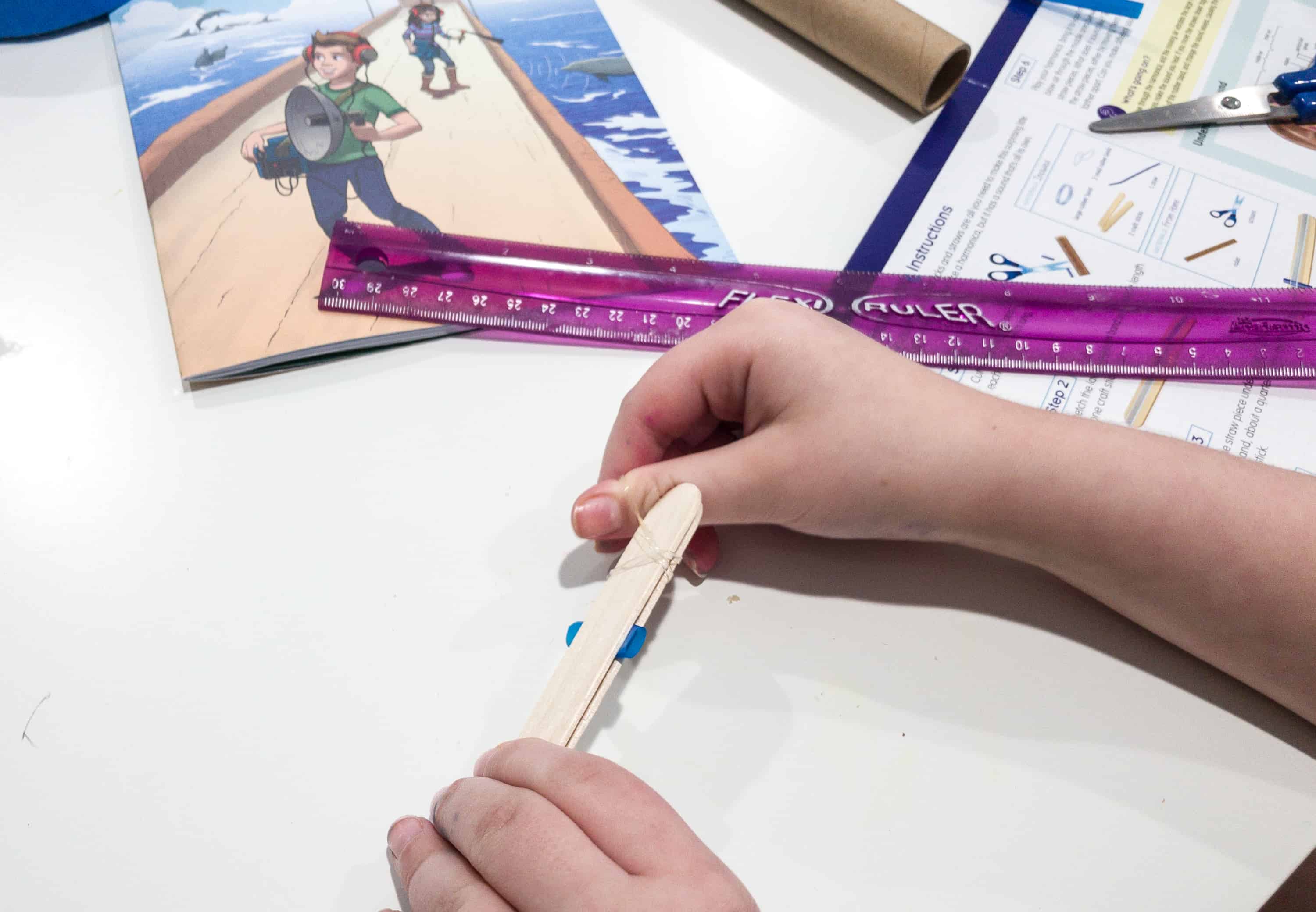 She put it in between the popsicle sticks and held the latter together with rubber bands.
Voila! It's easy peasy. The sticks vibrate when you blow between them, creating a super loud harmonica. It sounds a bit like a duck caller!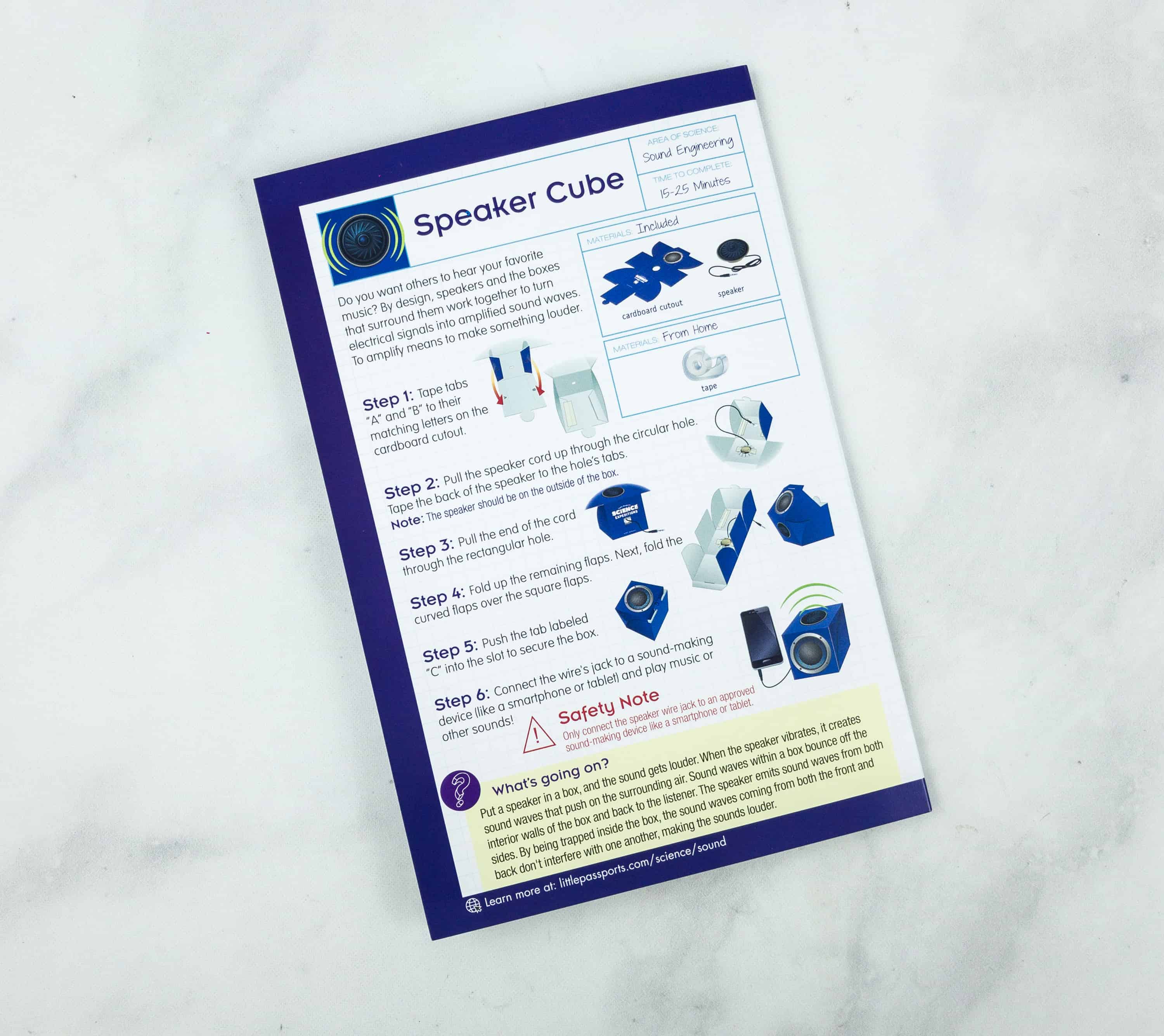 The next project was constructing a speaker cube.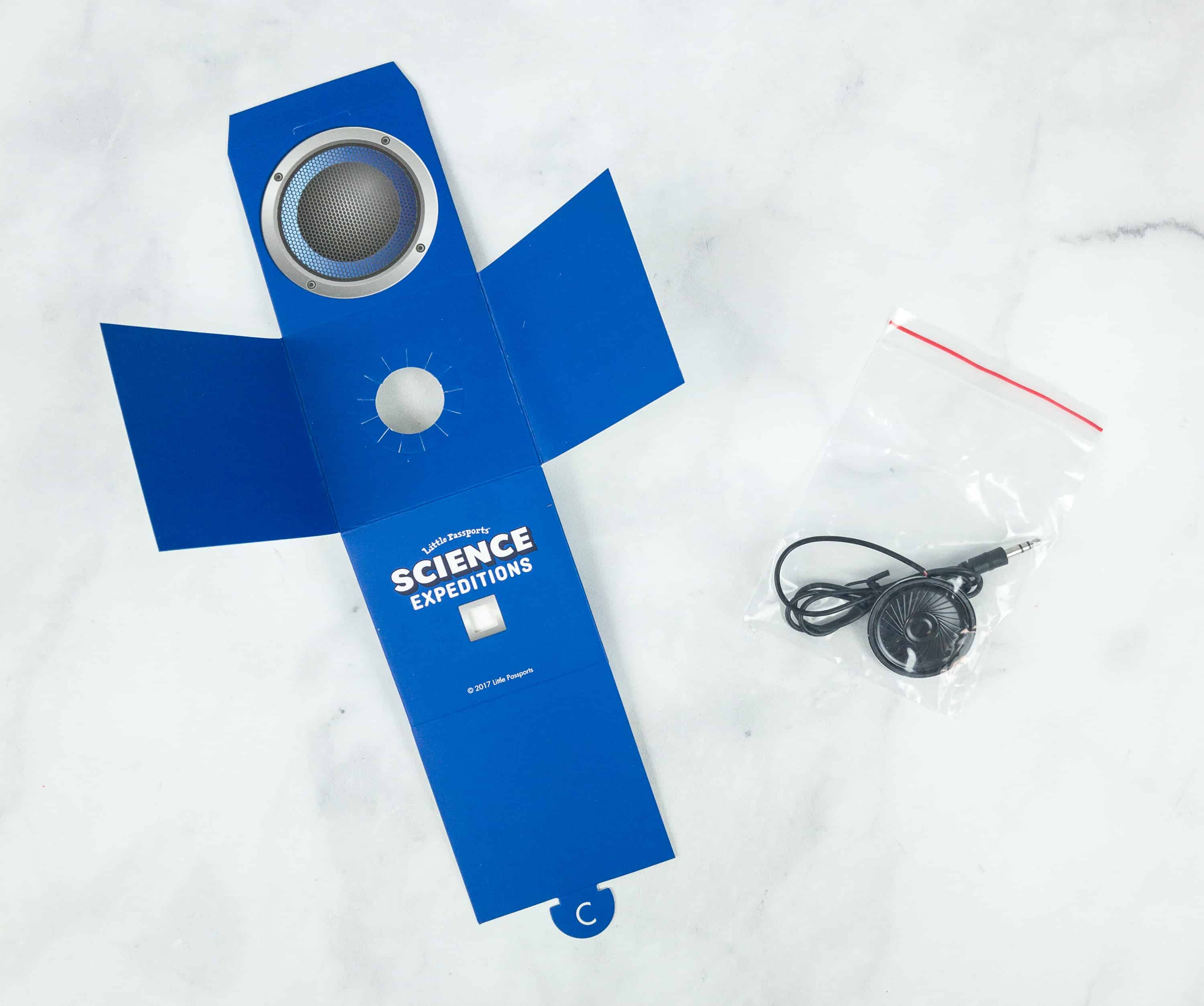 The electronics we needed are in the separate pack and there's the cardboard that can be folded into a cube.
the speaker just needed to be taped inside the cube and the wire threaded through.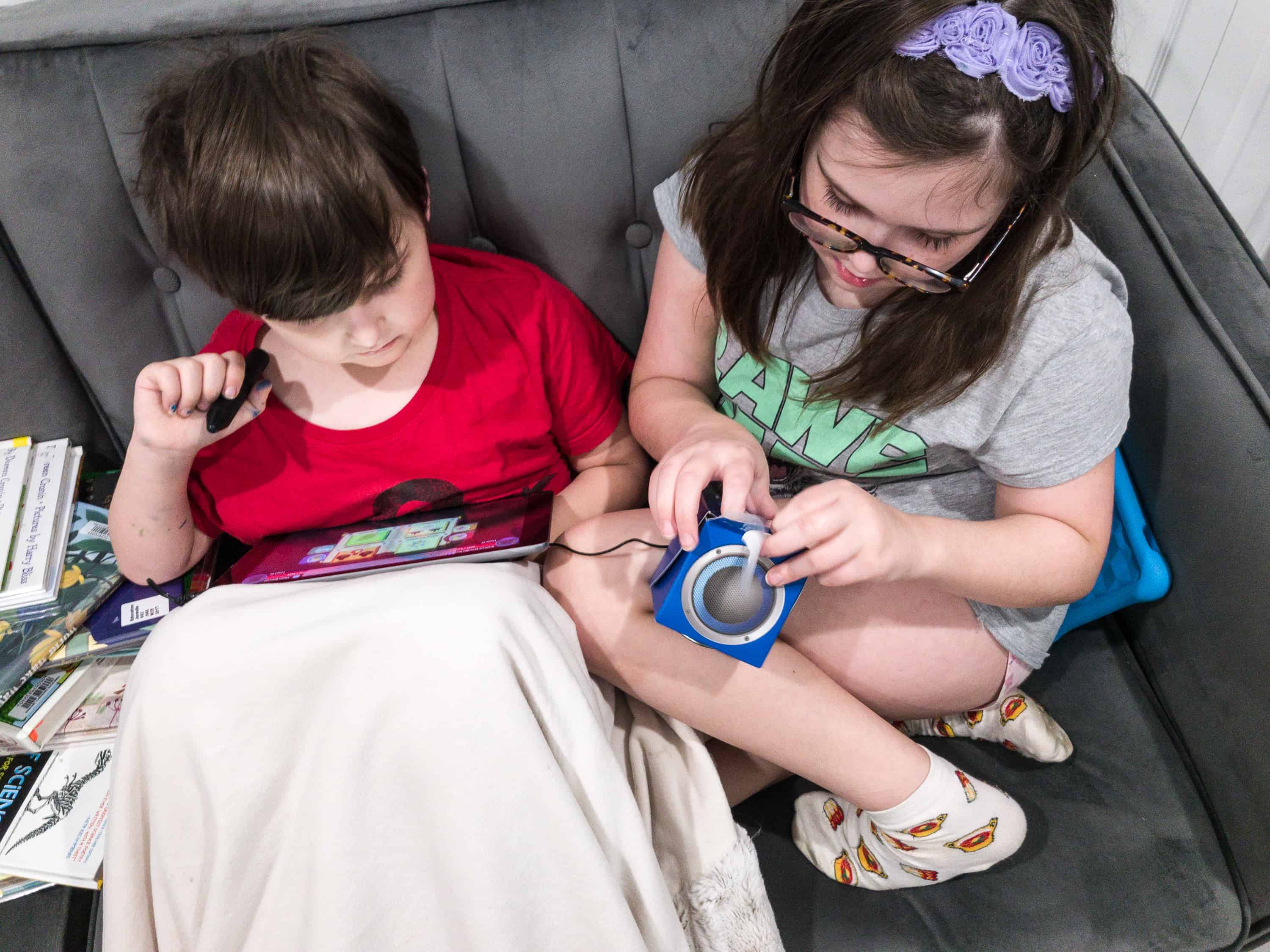 The speaker plug was perfect for connecting to an iPad.
Behold our very own speaker cube!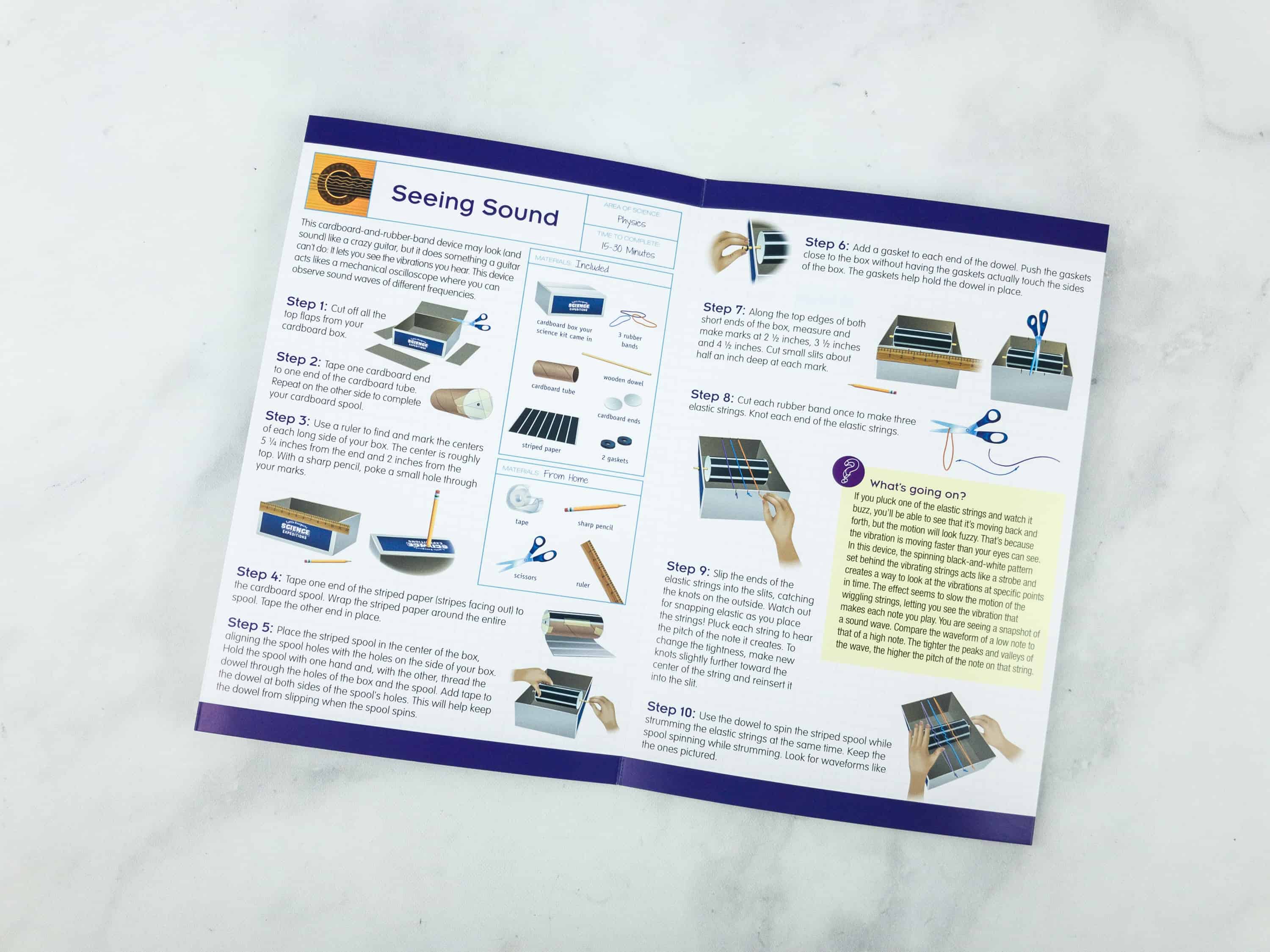 Last but not least is an activity that will enable us to visually observe the difference in wave length of the vibrating strings of a guitar.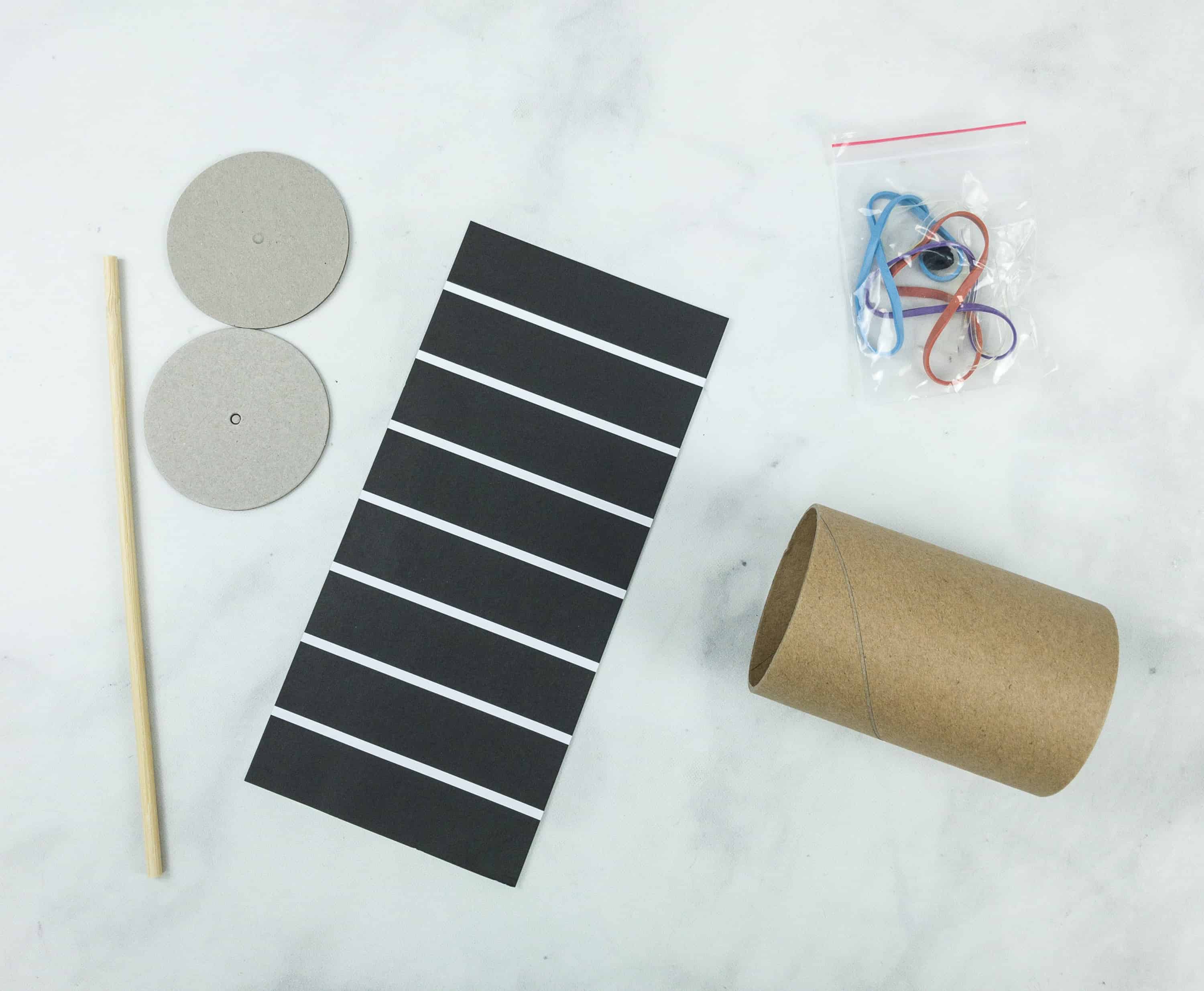 The materials for this activity are the cardboard box, cardboard ends, cardboard tubes, a wooden dowel, and rubber bands.
It has detailed instructions and illustrations so my daughter made it without breaking a sweat. Here, she is constructing a spinning spool. The spool is banded with dark and light stripes, so it creates a strobe effect when in motion. After stringing rubber bands across the top of the box, She could observe the movement of the plucked strings against the strobe effect created by the dark spinning tube, differentiating the waveform of low notes and high notes.
Sounds are all around us and are an important means of gathering information about our world. Because of sound, we can communicate out of line of sight, learn with our eyes closed, and even enjoy music, too! This month's Little Passports experiments provided insight into how sound travels and how the characteristics of a sound wave manifest in different sounds. I appreciate how the booklet puts it in simple but interesting terms without omitting the scientific vocabulary necessary to a proper understanding of he subject. The box has very engaging hands-on experiments with lots of opportunity to build and create — sometimes it is as much a project box as it is an experiment kit. As always, my kids had fun doing all the activities and we're excited for more hands-on learning!
What do you think about Little Passports Science Expeditions?
Visit Little Passports Science Expeditions to subscribe or find out more!