Literati is a monthly book subscription box for children that works similar to Stitch Fix. For a monthly fee of $9.95, you'll receive 5 books to try out for a week. You can purchase the ones you love and return the rest (in totally new condition) in the enclosed prepaid mailer (shipping is free in both directions).
You can get 5% off when you decide to keep all the books! There are also categories for each age bracket: Club Neo is for newborn to 1 year; Club Sprout is for children ages 2-3; Club Nova is for kids 4-6, and Club Sage is for those 7-8 years old.
This is a review of the Club Nova box for kids 4-6.
There are lots of books in store for us!
There's also a padded mailer, if you want to return some of the books. You can also return your own gently read books (up to five total in the mailer) for donation.
DEAL: Get $25 in account credit to put towards books when you sign up! USE THIS LINK to get the deal.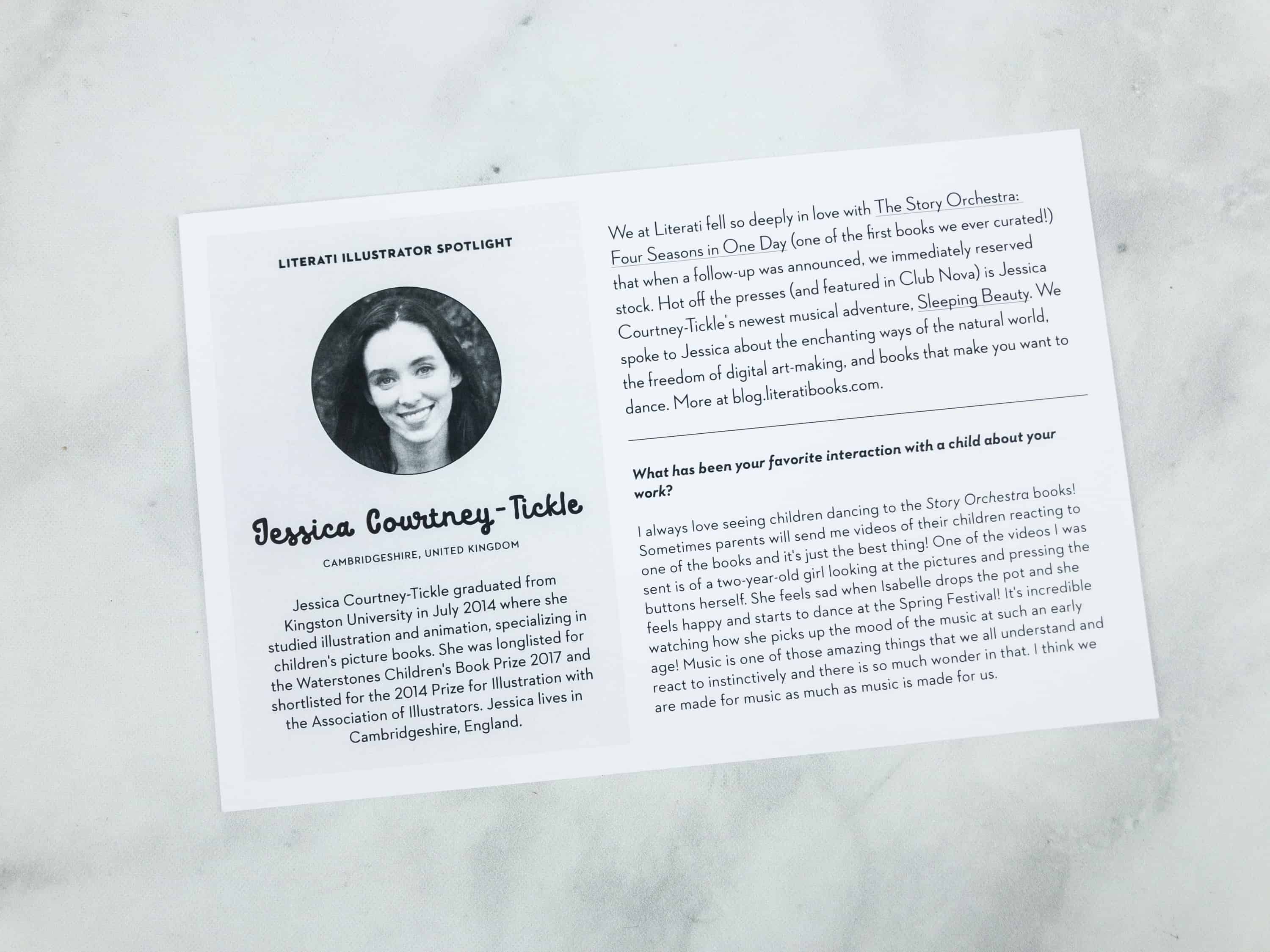 The featured illustrator creates new artwork for the monthly themes. This month's illustrator is Jessica Courtney-Tickle.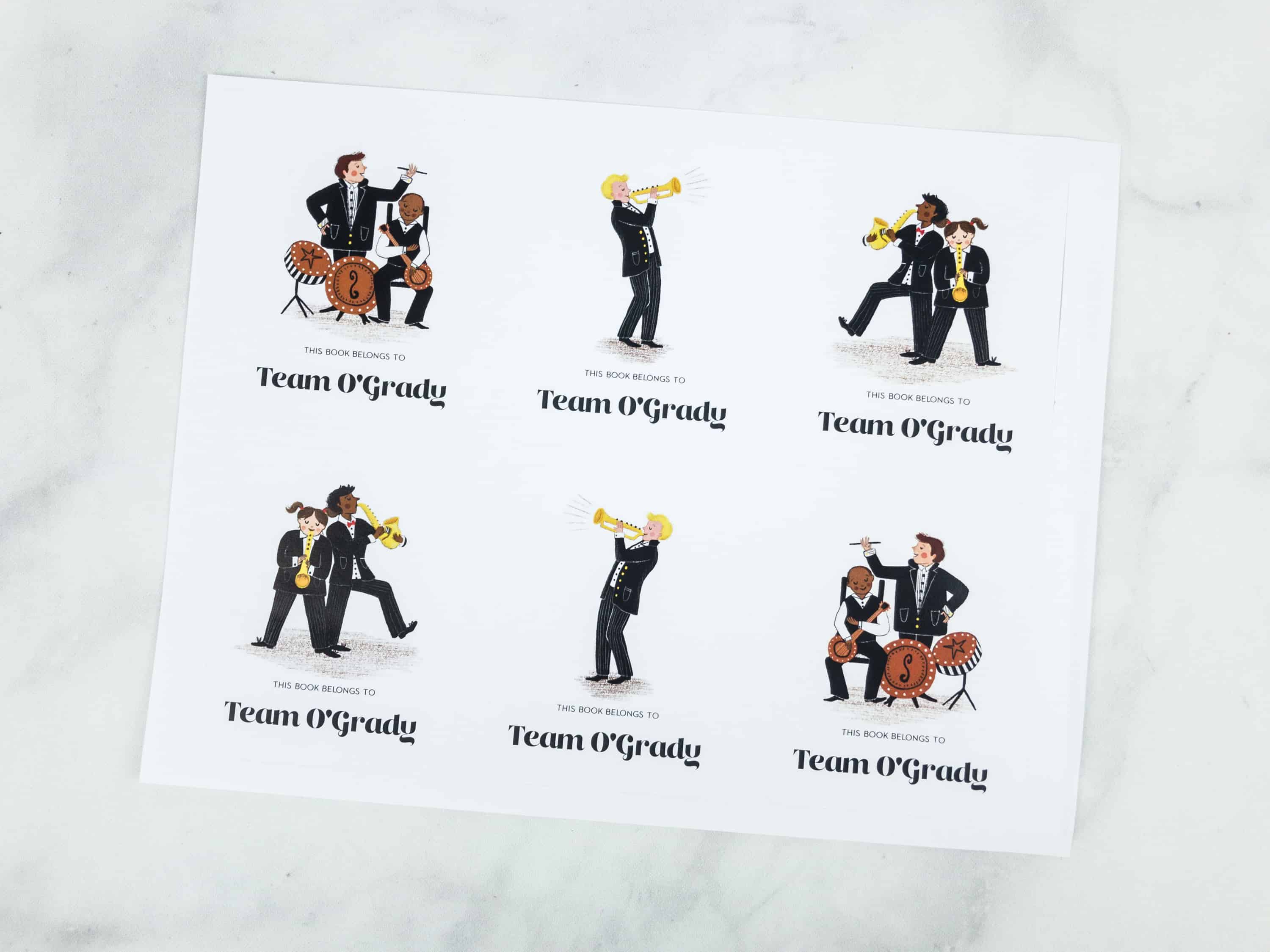 They included a sheet to help us label the books, and let others know that they're ours when we decide to keep them. They're really adorable!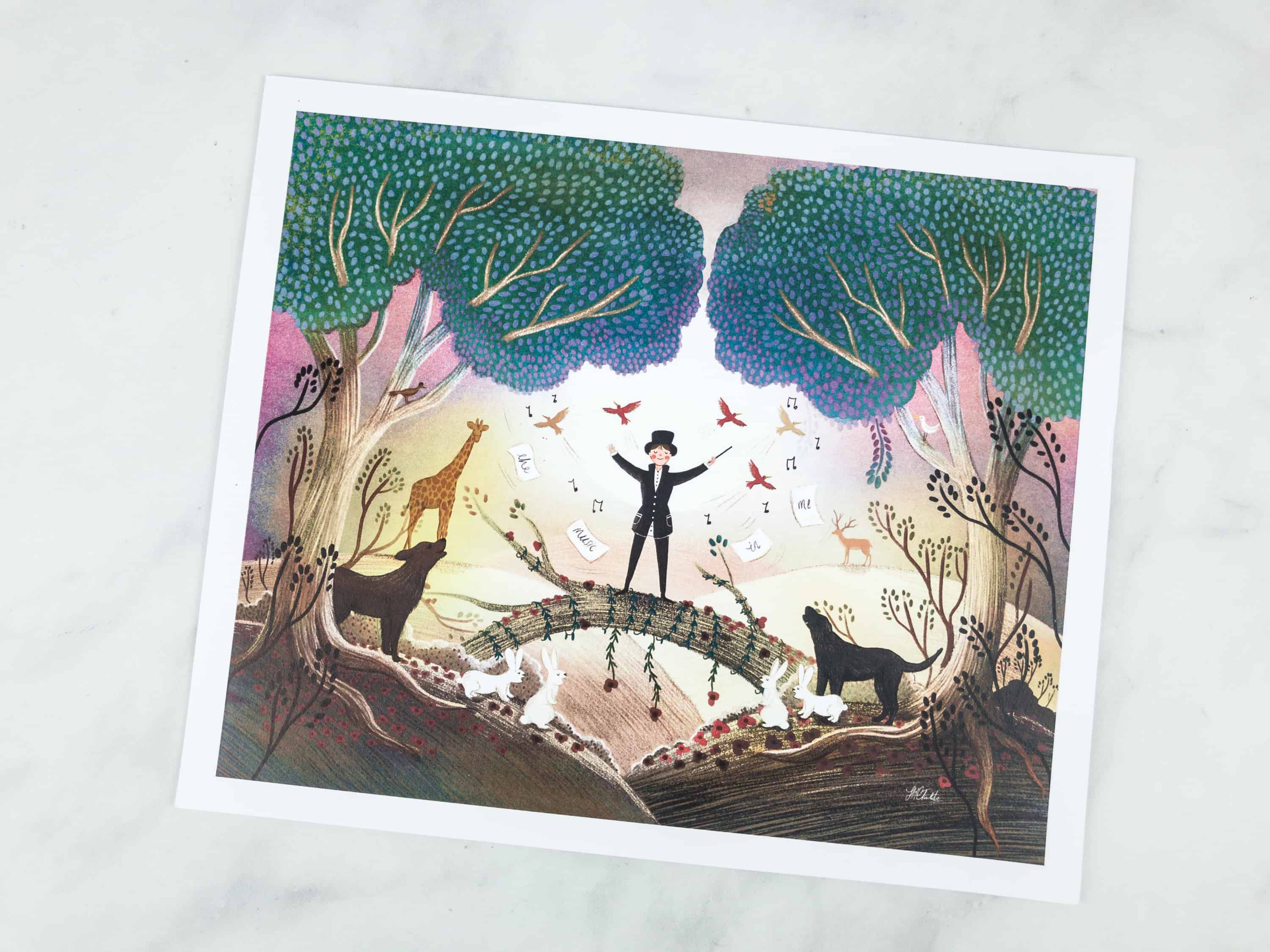 A full-size print comes with the box, along with free shipping. Although I don't love that the fee doesn't apply to a full box purchase, this high quality print makes it more worth it.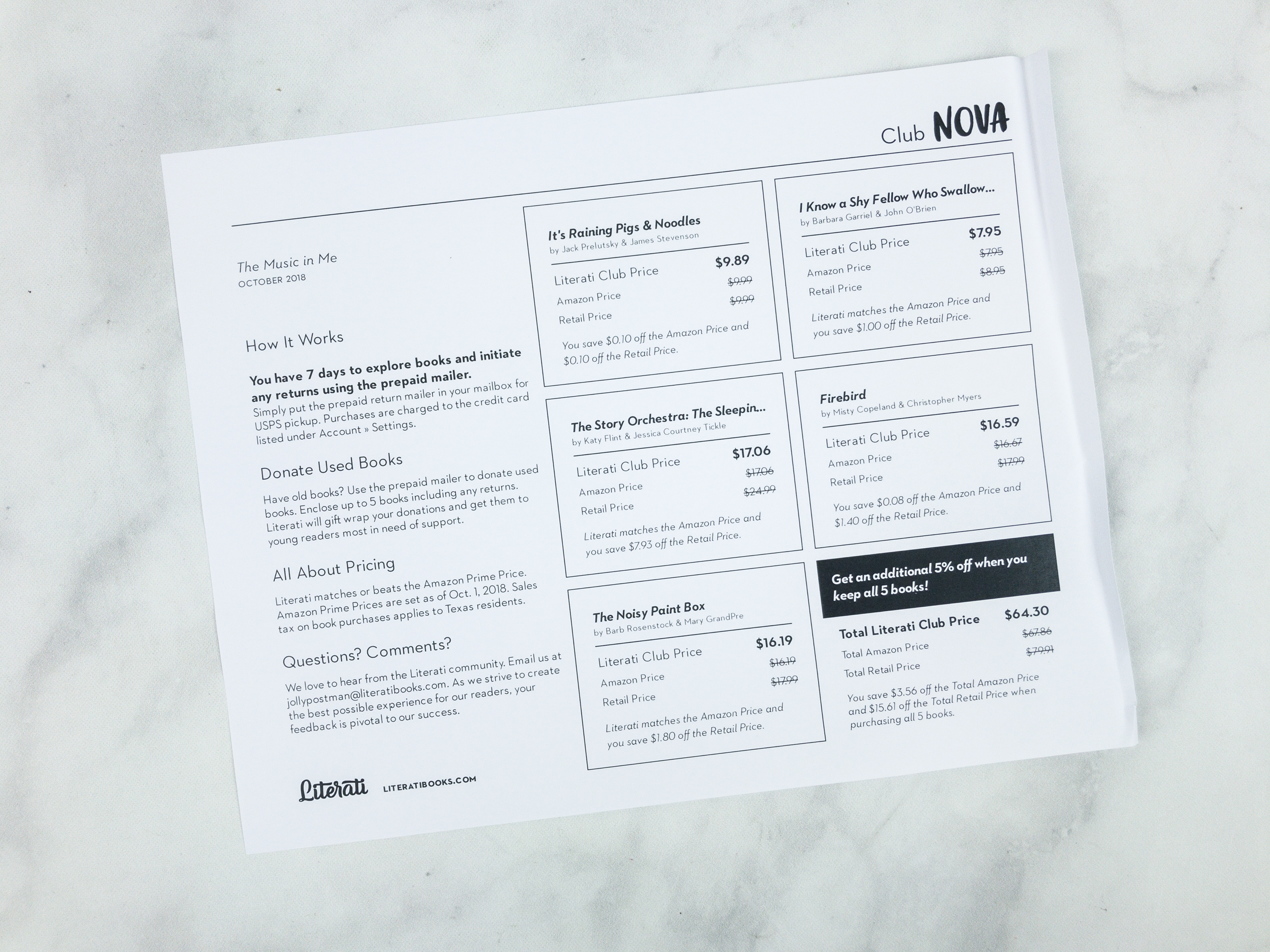 The information sheet lists the titles with a brief description for each.
There's also a listing of the book prices. If you decide to keep everything, you'll get 5% off. The subscription has a $9.95 non-refundable fee. According to Literati "it covers shipping both ways, allows the curators to invite a new world-renowned illustrator each month to draw personalized bookplates and a unique print for members, and covers other themed surprises that are included in the box." Since the print is now full size and high quality, we are digging that change. It includes the shipping back and forth too.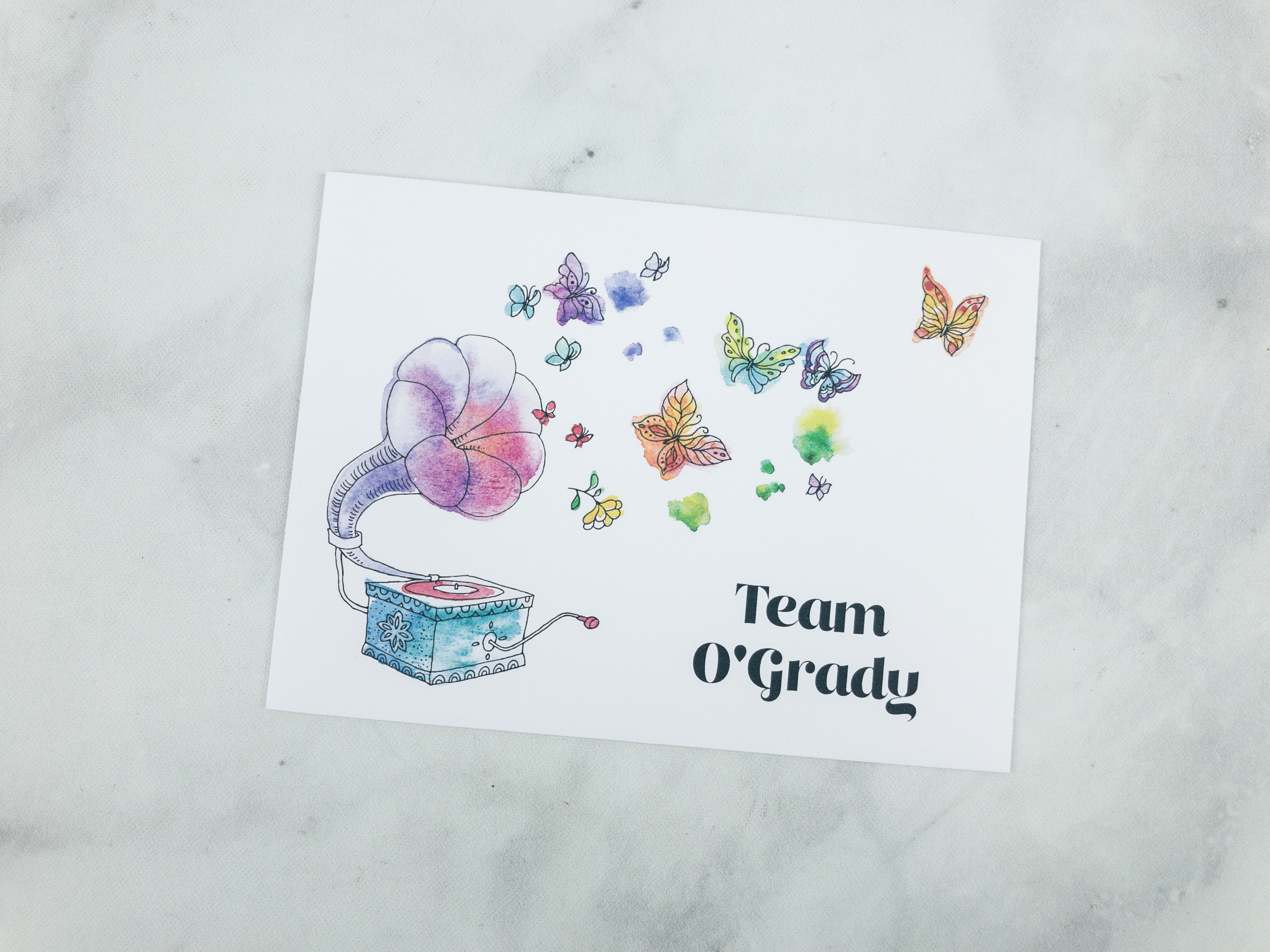 There's a cute note from Team Literati.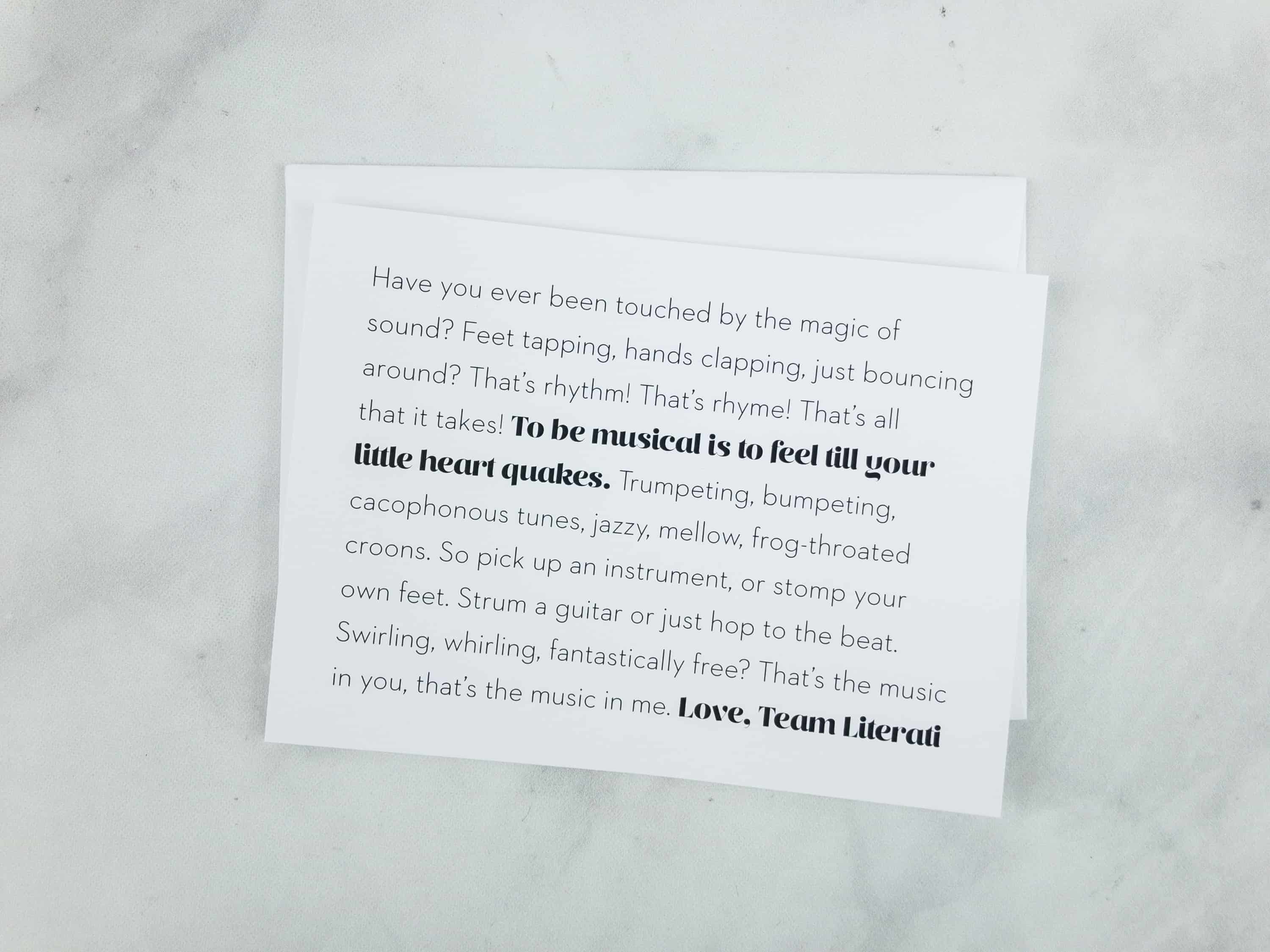 To be musical is to feel till your little heart quakes.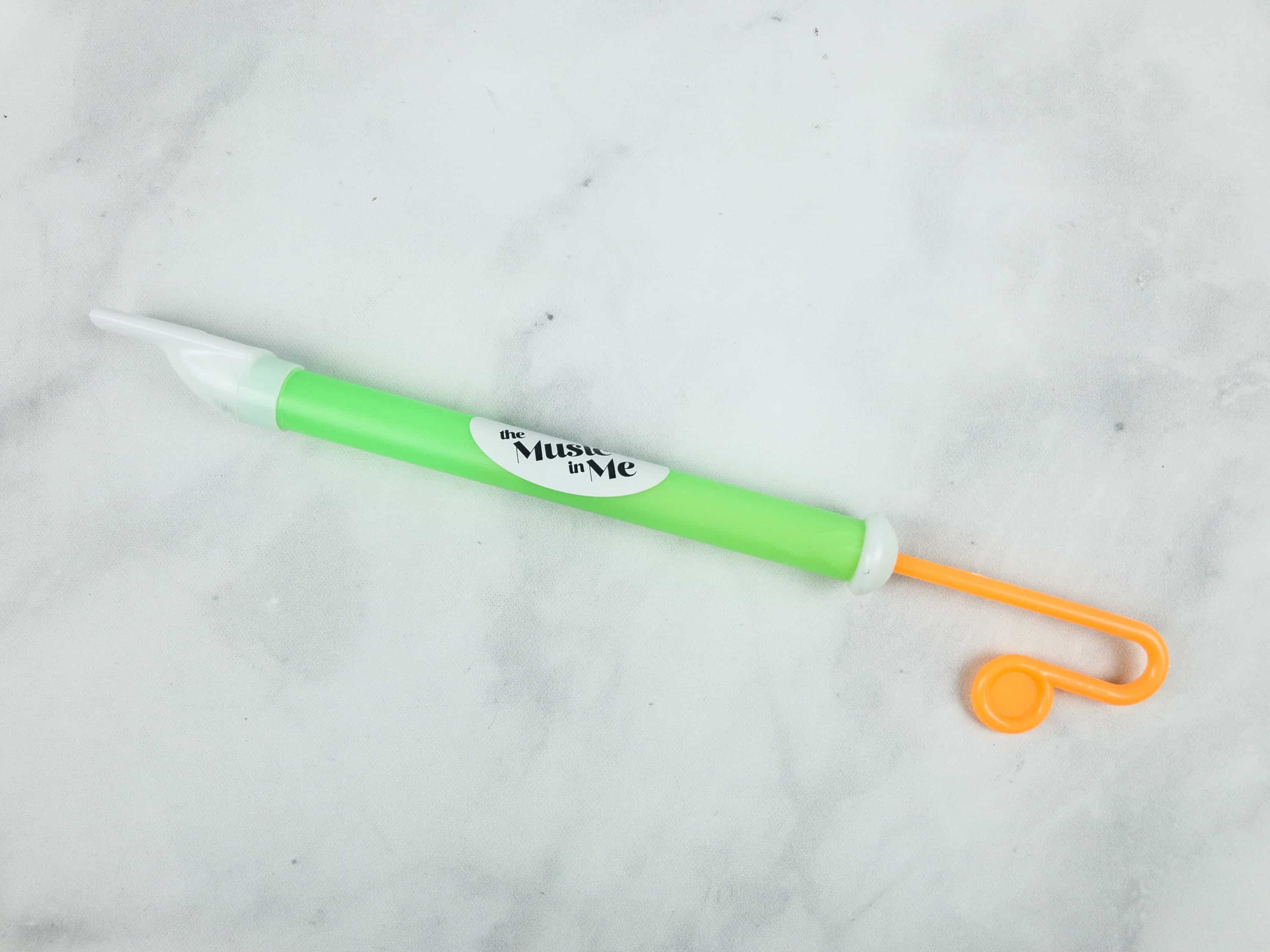 To make music, they included this cute whistle!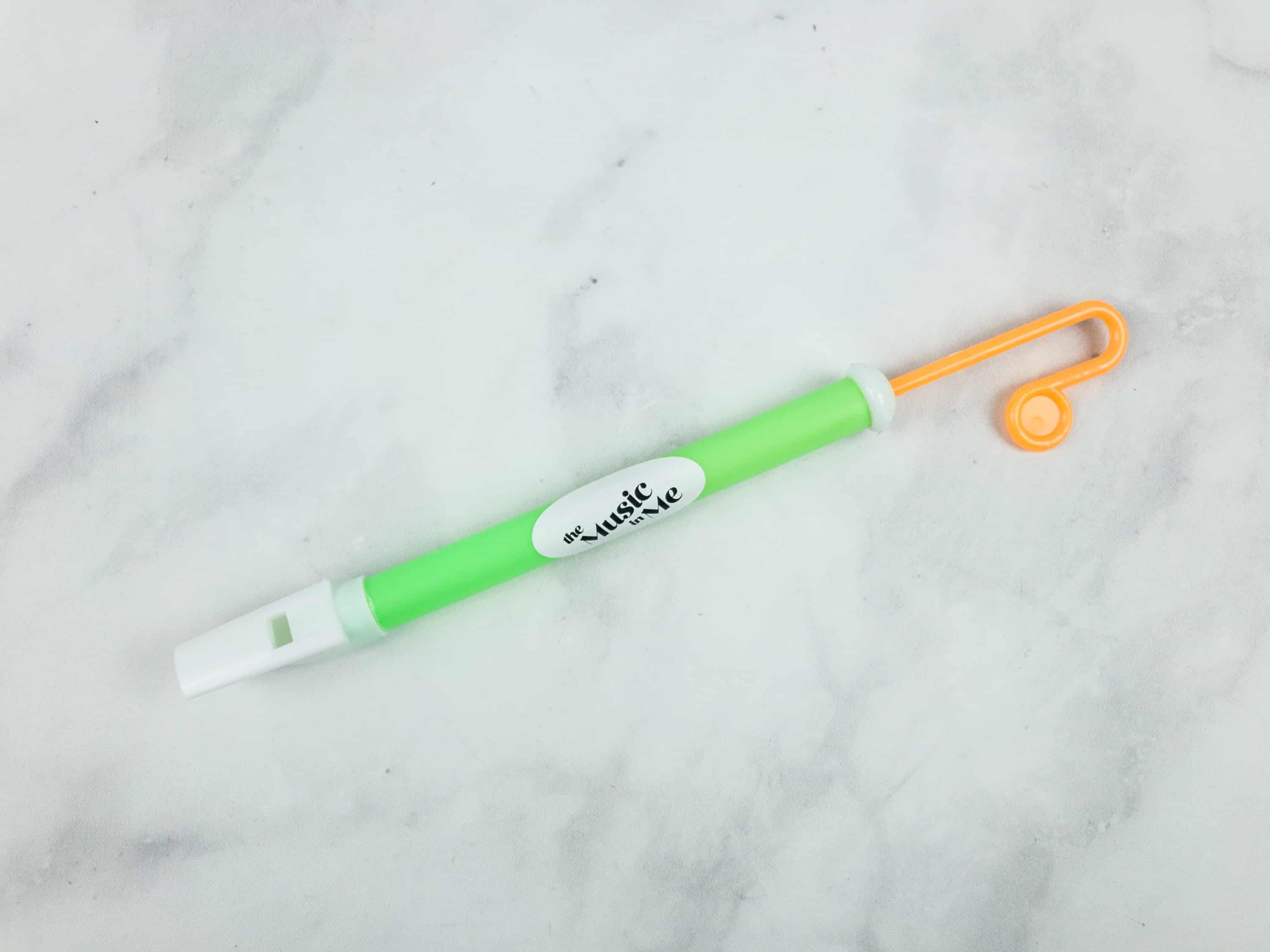 The kids can't wait to make music and feel the beat!
Here's a prize from Oscar Wildebeest!
If you're able to refer a friend, you'll get a wall decal with original art by Sandra Dieckmann.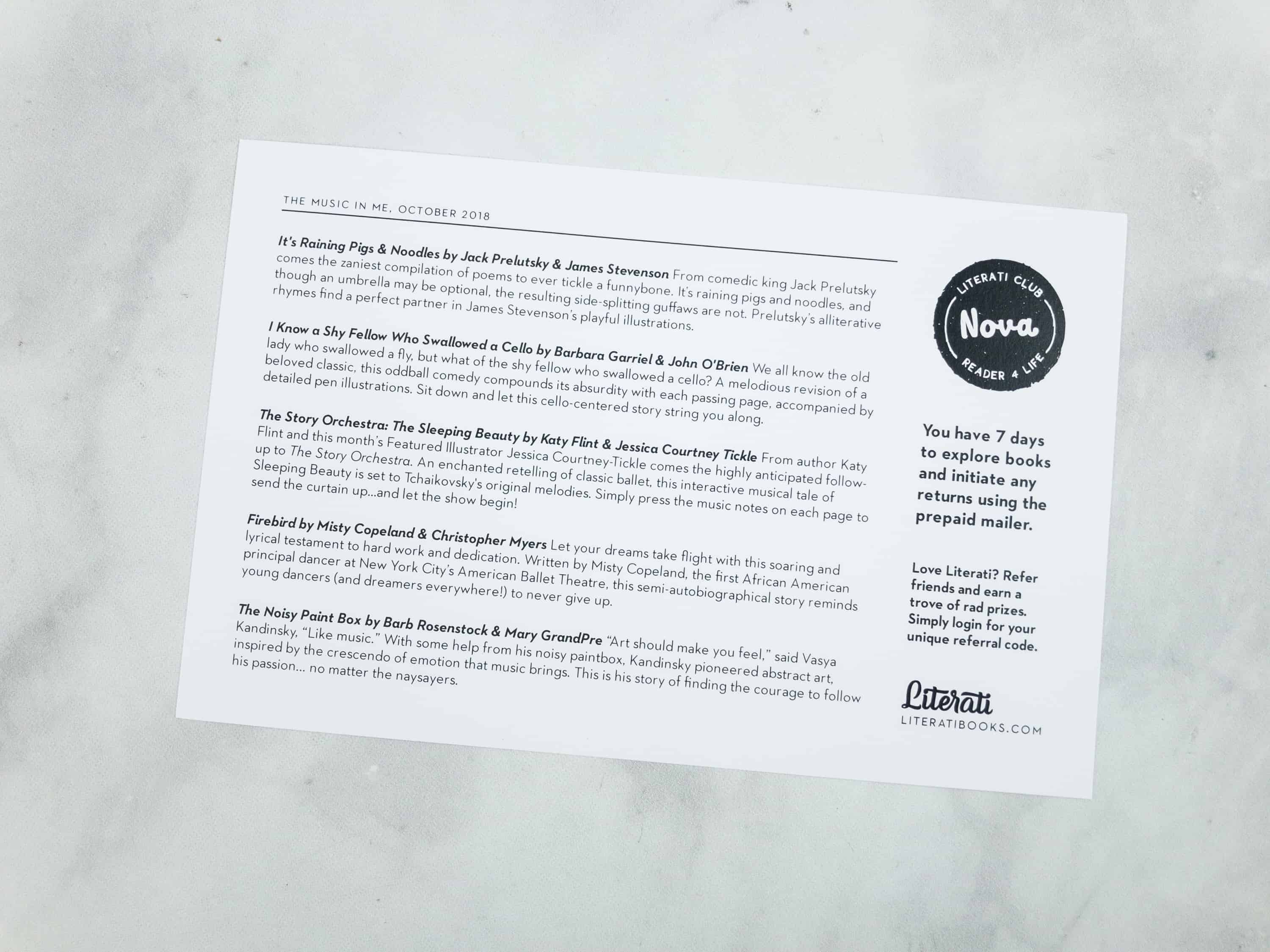 It's an info card about the five books sent to us this month.
Everything in the box!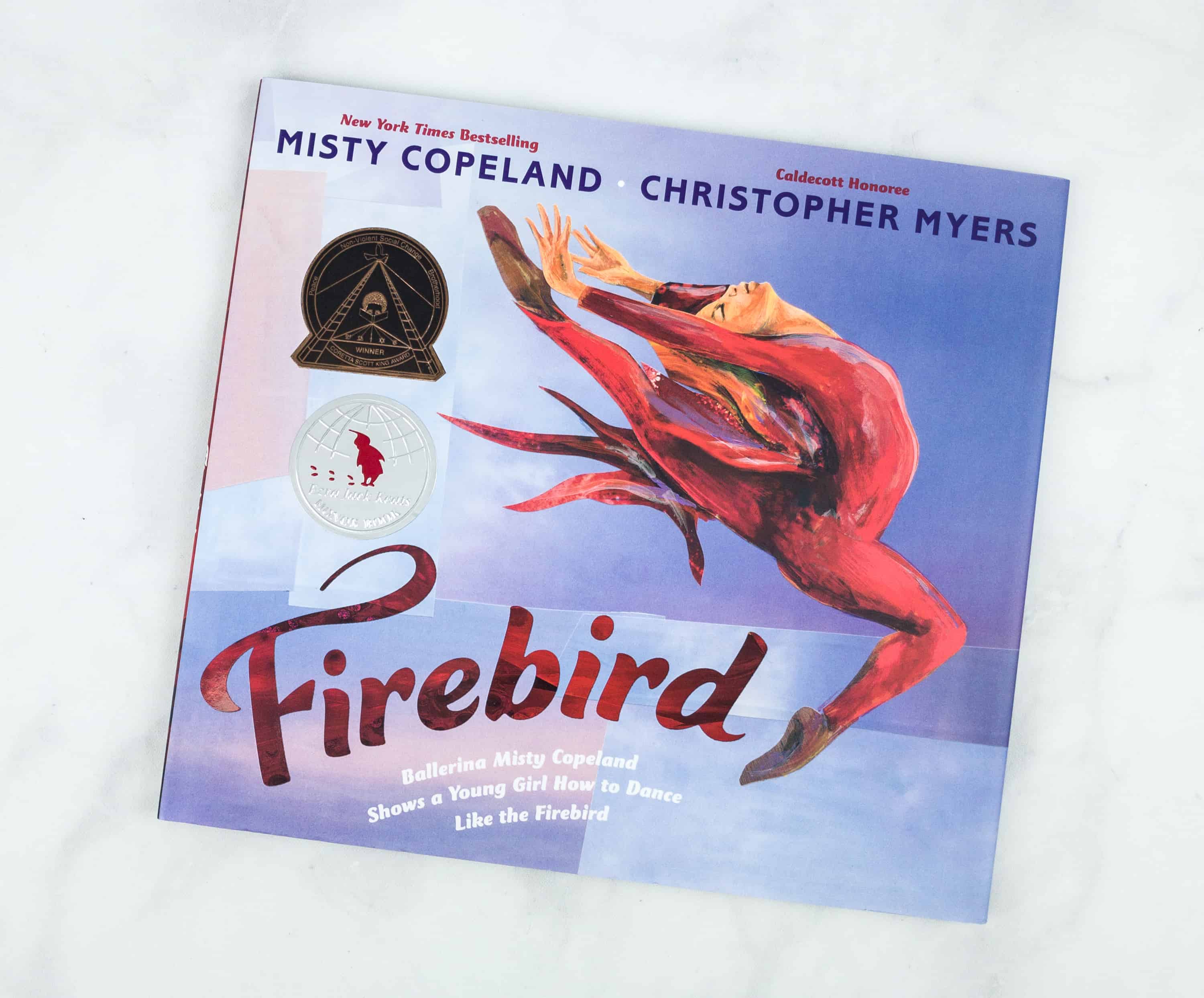 Firebird By Misty Copeland and Christopher Myers ($15.55)
In her debut picture book, Misty Copeland tells the story of a young girl–an every girl–whose confidence is fragile and who is questioning her own ability to reach the heights that Misty has reached. Misty encourages this young girl's faith in herself and shows her exactly how, through hard work and dedication, she too can become Firebird.

Lyrical and affecting text paired with bold, striking illustrations that are some of Caldecott Honoree Christopher Myers's best work, makes Firebird perfect for aspiring ballerinas everywhere.
As her first picture book, Misty shared this wonderful story about a girl's hard work and dedication to pursue her dreams and reach her goals.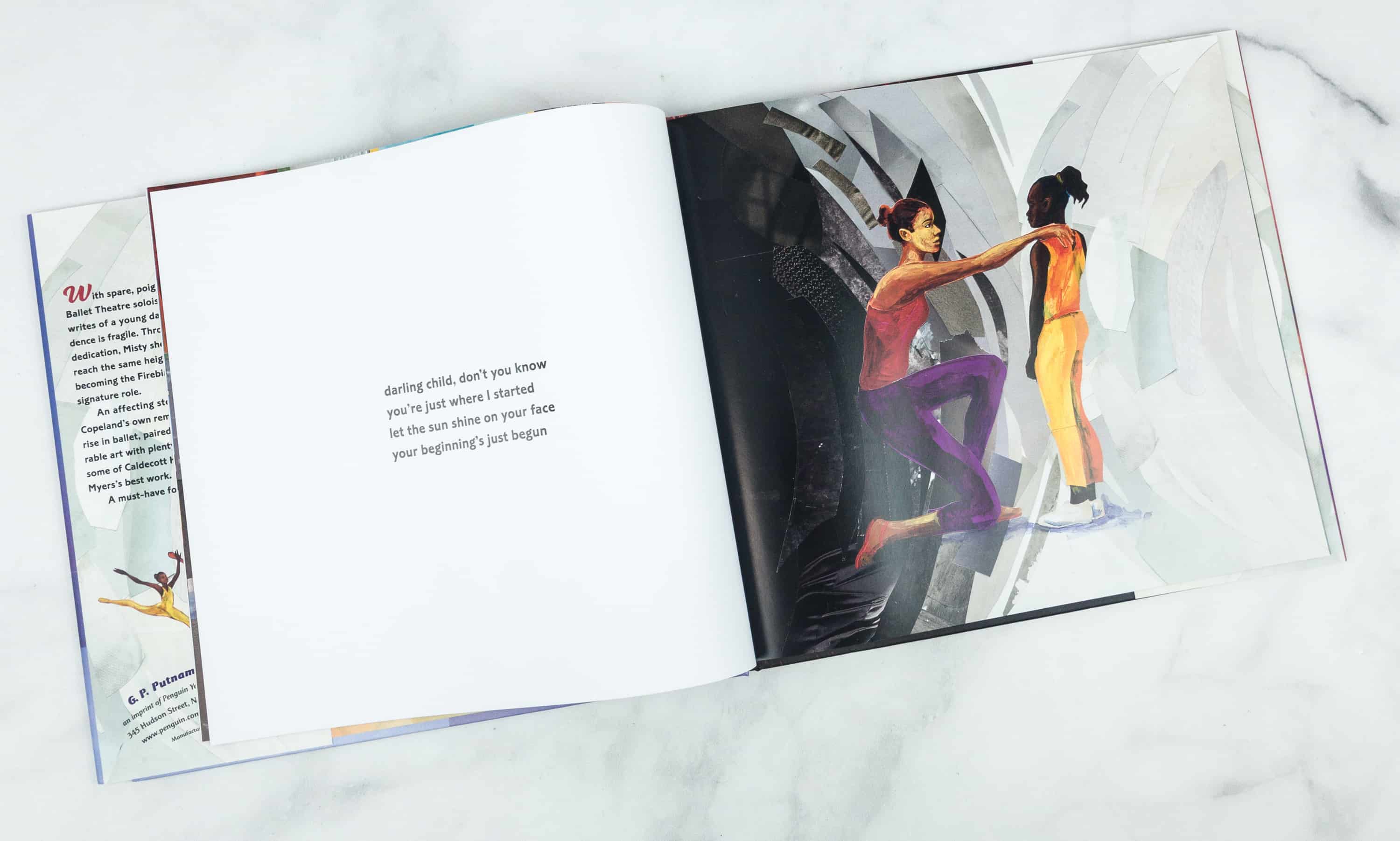 The picture book has full colored and glossy pages. There's a little text but the illustrations tell the reader about everything.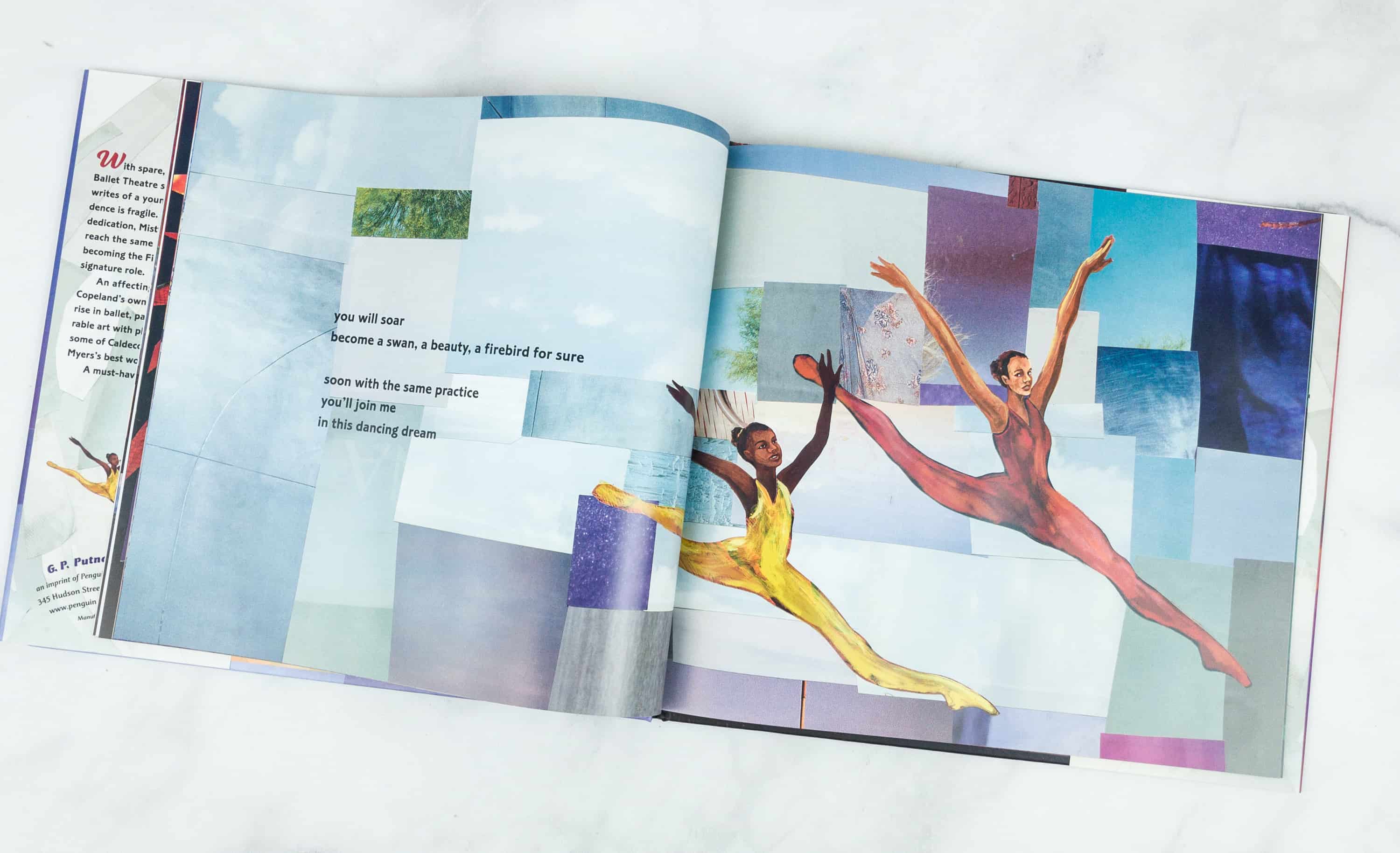 This is the best reading material, not only for aspiring ballerinas but for everyone who wants to pursue their dreams. It shows how hard work and dedication pay off in the end, and that one should never give up on what they want to achieve in life.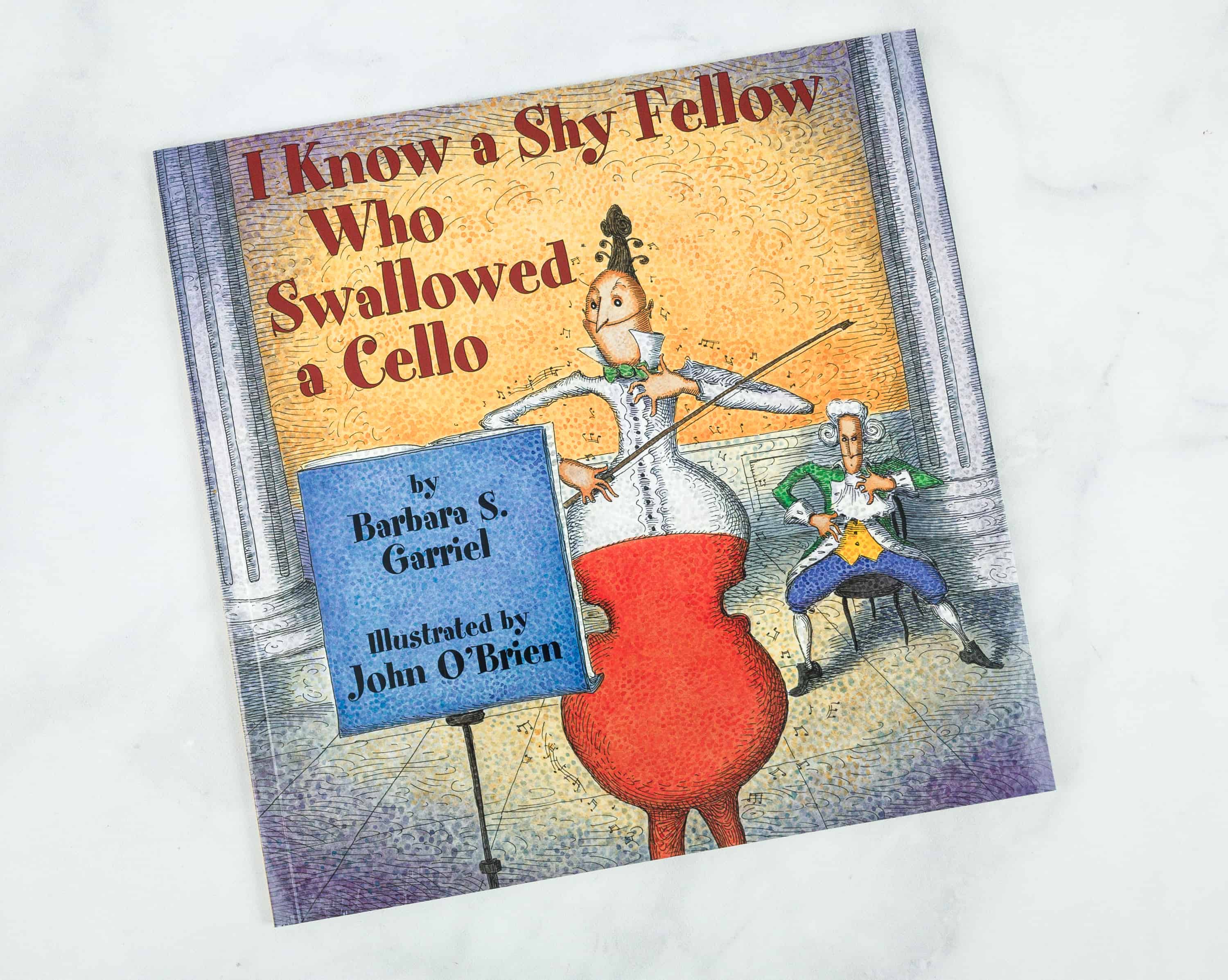 I Know A Shy Fellow Who Swallowed A Cello By Barbara S. Garriel ($17.95)
He's shy, a wallflower. He's the man at the side of the room listening to a duet for cello and viola. Even now you wouldn't notice him. But our shy fellow suddenly has an urge to swallow a cello, which is precisely what he does. And he doesn't stop there. He follows it with a harp, a sax, and a fiddle. On and on he goes, trying to satisfy his voracious appetite for musical instruments. A strange diet, you say? It's the perfect diet for a strange fellow, a strange, shy fellow.
The back of the book features praises from different organizations, and those might convince you to read the story.
The story is quite interesting. The illustrations are really exceptional, as you can feel the intensity of the story in every turn of the pages as the action vibrates along with the drawings.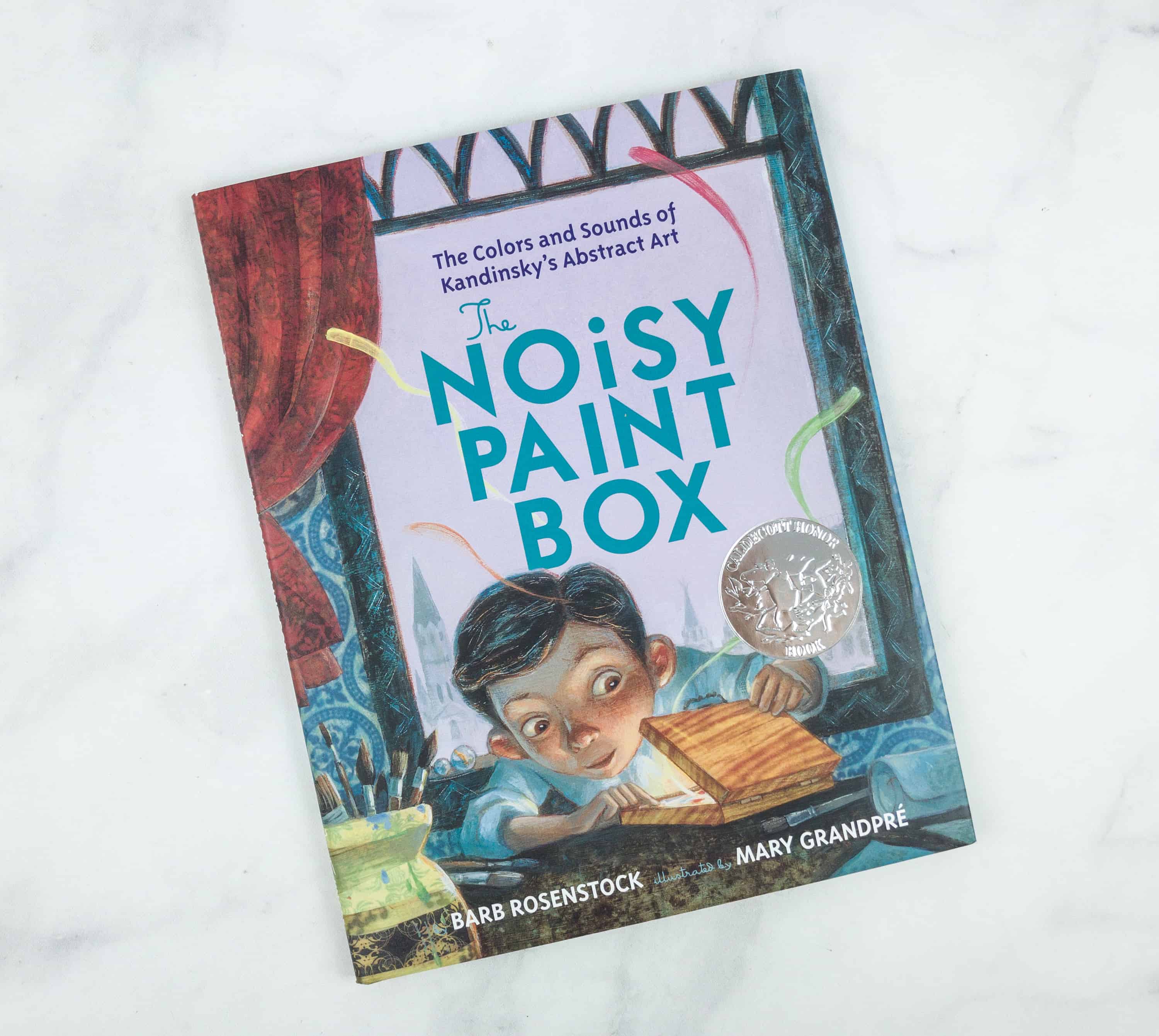 The Noisy Paint Box By Barb Rosenstock ($15.83)
A Caldecott Honor Book

Vasya Kandinsky was a proper little boy: he studied math and history, he practiced the piano, he sat up straight and was perfectly polite. And when his family sent him to art classes, they expected him to paint pretty houses and flowers—like a proper artist.

But as Vasya opened his paint box and began mixing the reds, the yellows, the blues, he heard a strange sound—the swirling colors trilled like an orchestra tuning up for a symphony! And as he grew older, he continued to hear brilliant colors singing and see vibrant sounds dancing. But was Vasya brave enough to put aside his proper still lifes and portraits and paint . . . music?

In this exuberant celebration of creativity, Barb Rosenstock and Mary GrandPré tell the fascinating story of Vasily Kandinsky, one of the very first painters of abstract art. Throughout his life, Kandinsky experienced colors as sounds, and sounds as colors—and bold, groundbreaking works burst forth from his noisy paint box.

Backmatter includes four paintings by Kandinsky, an author's note, sources, links to websites on synesthesia and abstract art.
The back of the book features some wise words from the protagonist of the story, abstract artist Vasya Kandinsky.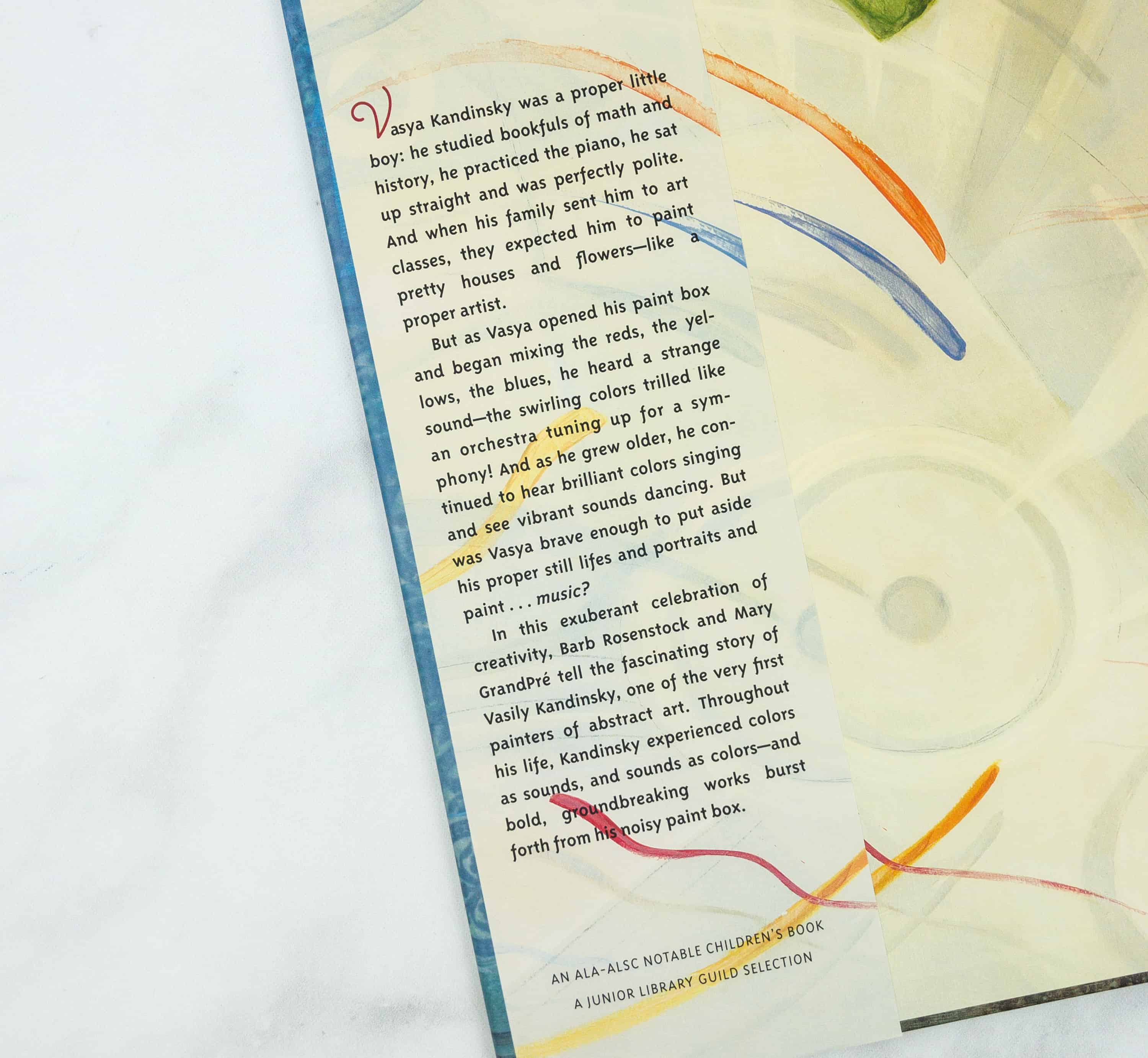 Vasya Kandinsky has a proper childhood, and waiting for him is a proper career when he grows up, which is to become a proper artist. But, instead, he ended up doing the improper art… Which is known as the abstract form of art!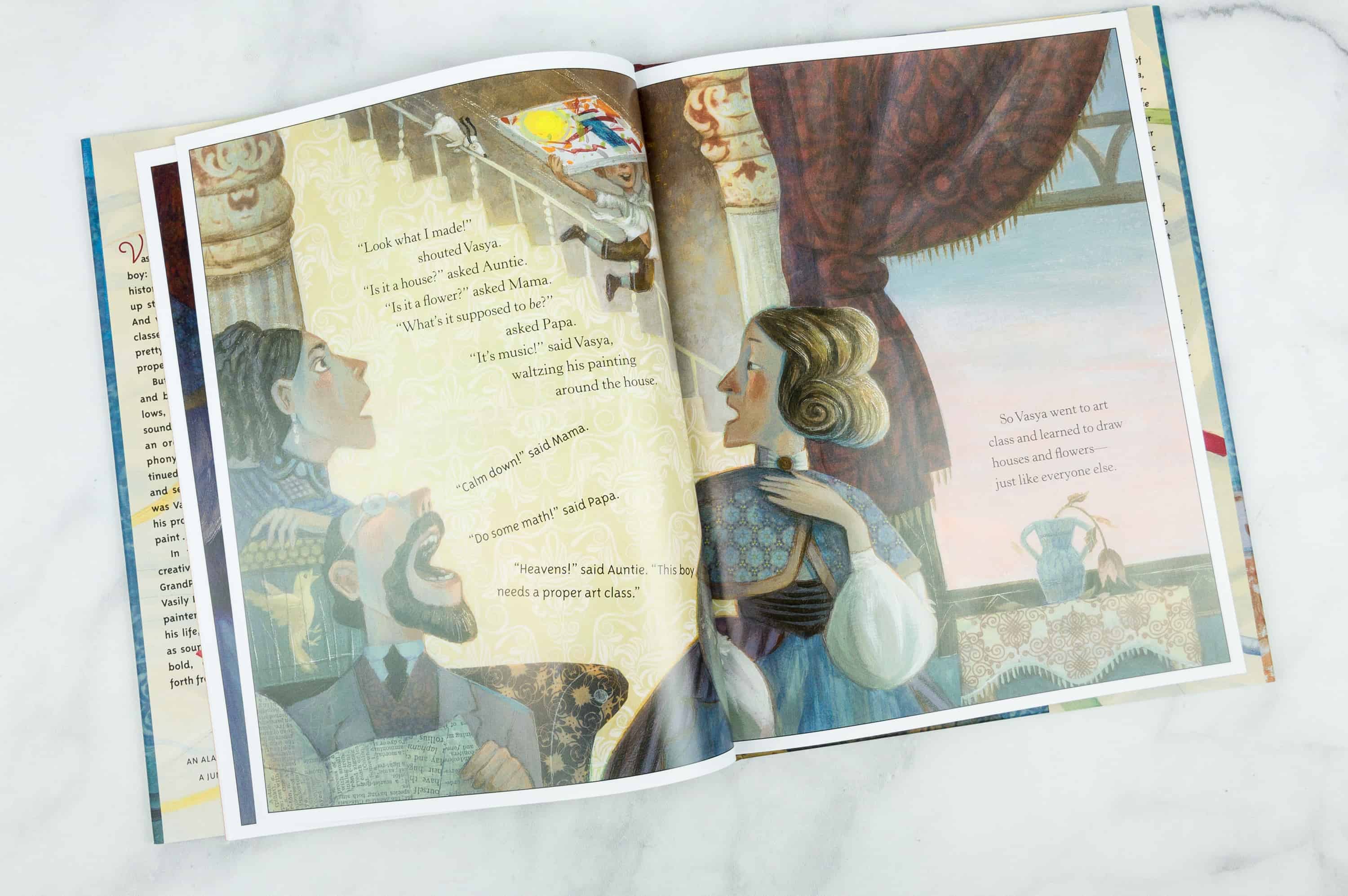 Like most picture books, the story is told efficiently through wonderful art and illustrations.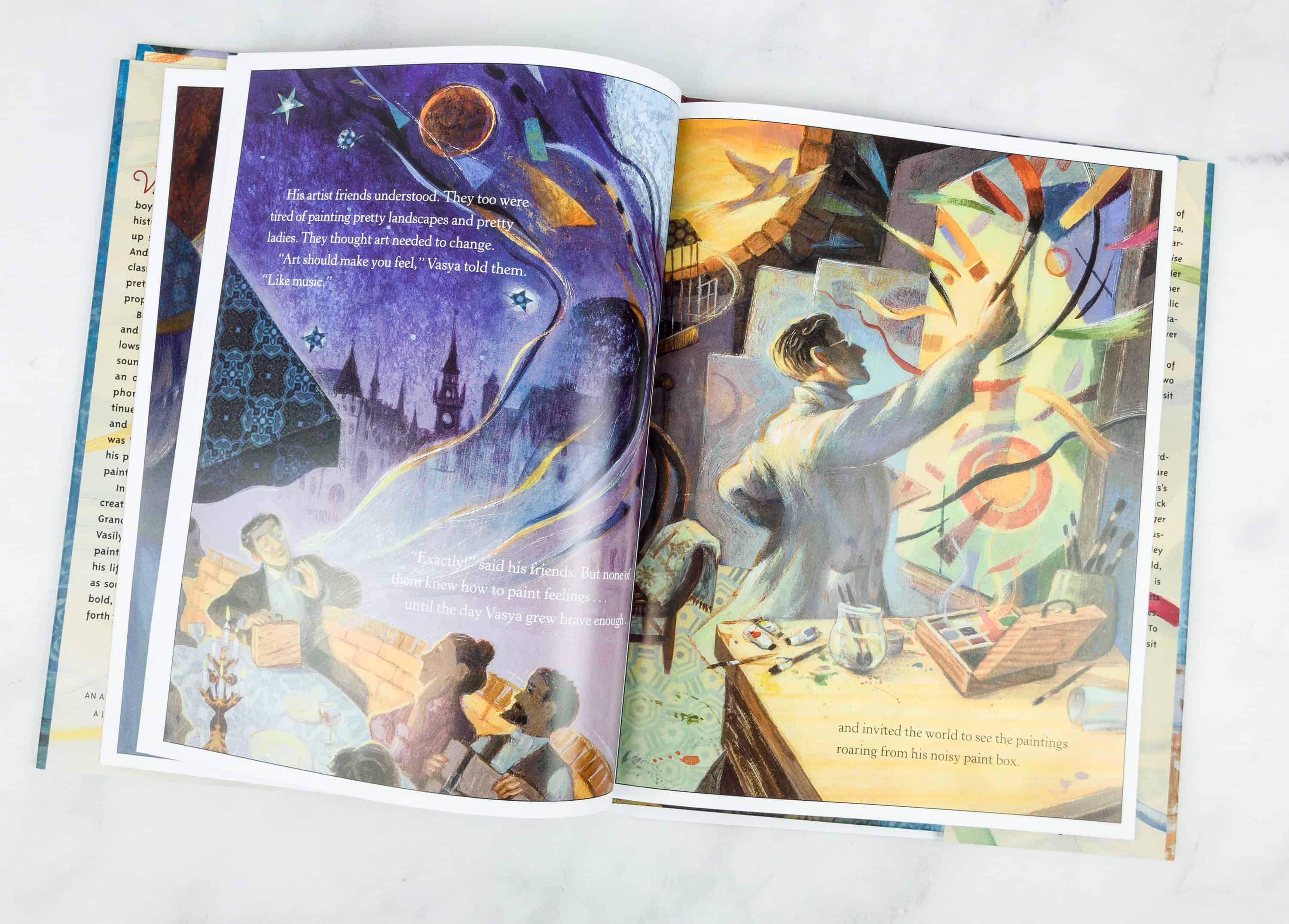 Here, we can see how Vasya embraced the unusual and made wonderful art pieces by listening to the music from his heart, conveying them through his unique art style.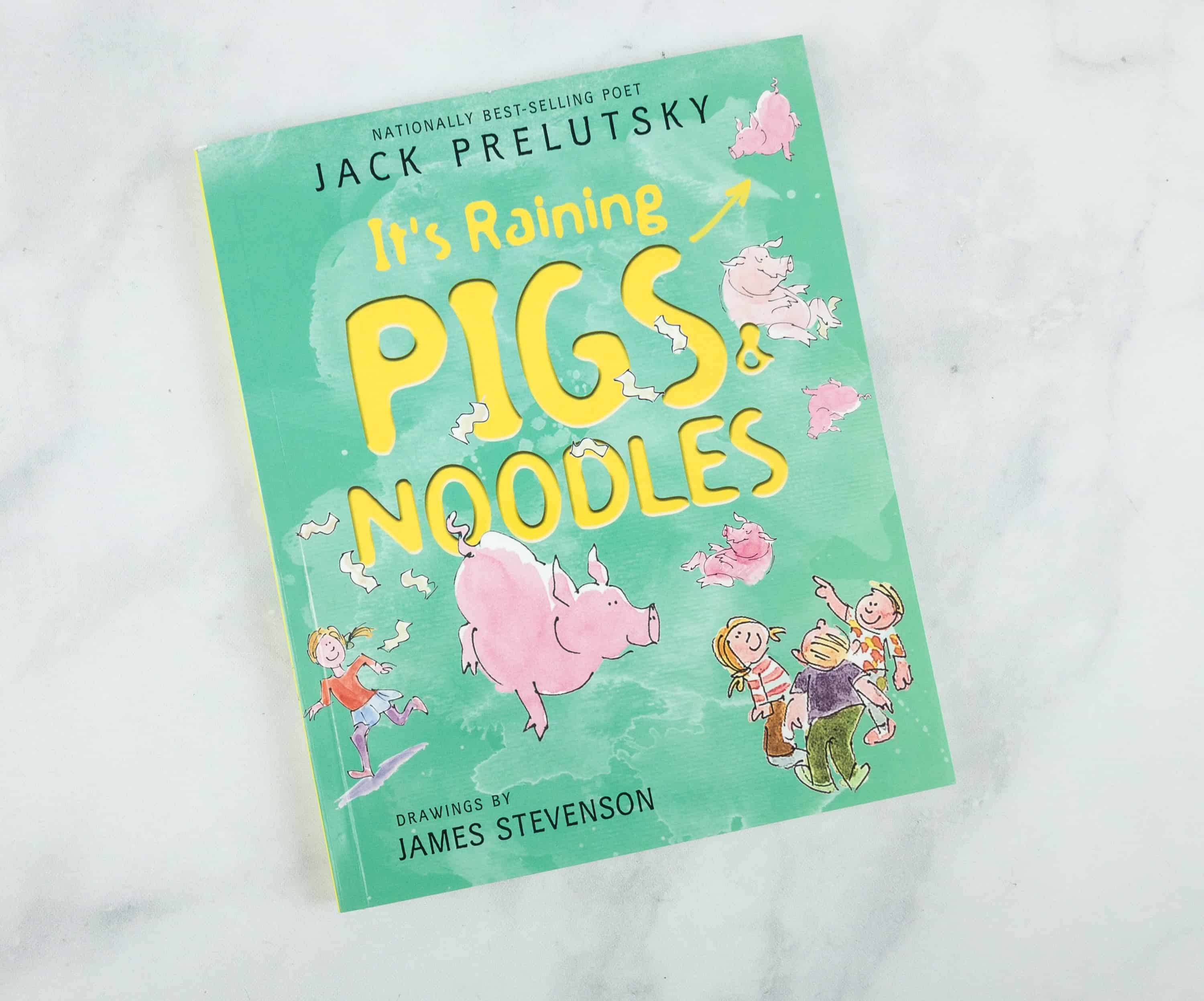 It's Raining Pigs & Noodles By Jack Prelutsky ($9.99)
It's raining pigs and noodles,
it's pouring frogs and hats,
chrysanthemums and poodles,
bananas, brooms, and cats.
Assorted prunes and parrots
are dropping from the sky,
here comes a bunch of carrots,
some hippopotami.

The master of mischievous rhyme, Jack Prelutsky, and his partner in crime, James Stevenson, have whipped up a storm of more than one hundred hilarious poems and zany drawings. Grab your umbrella—and make sure it's a big one!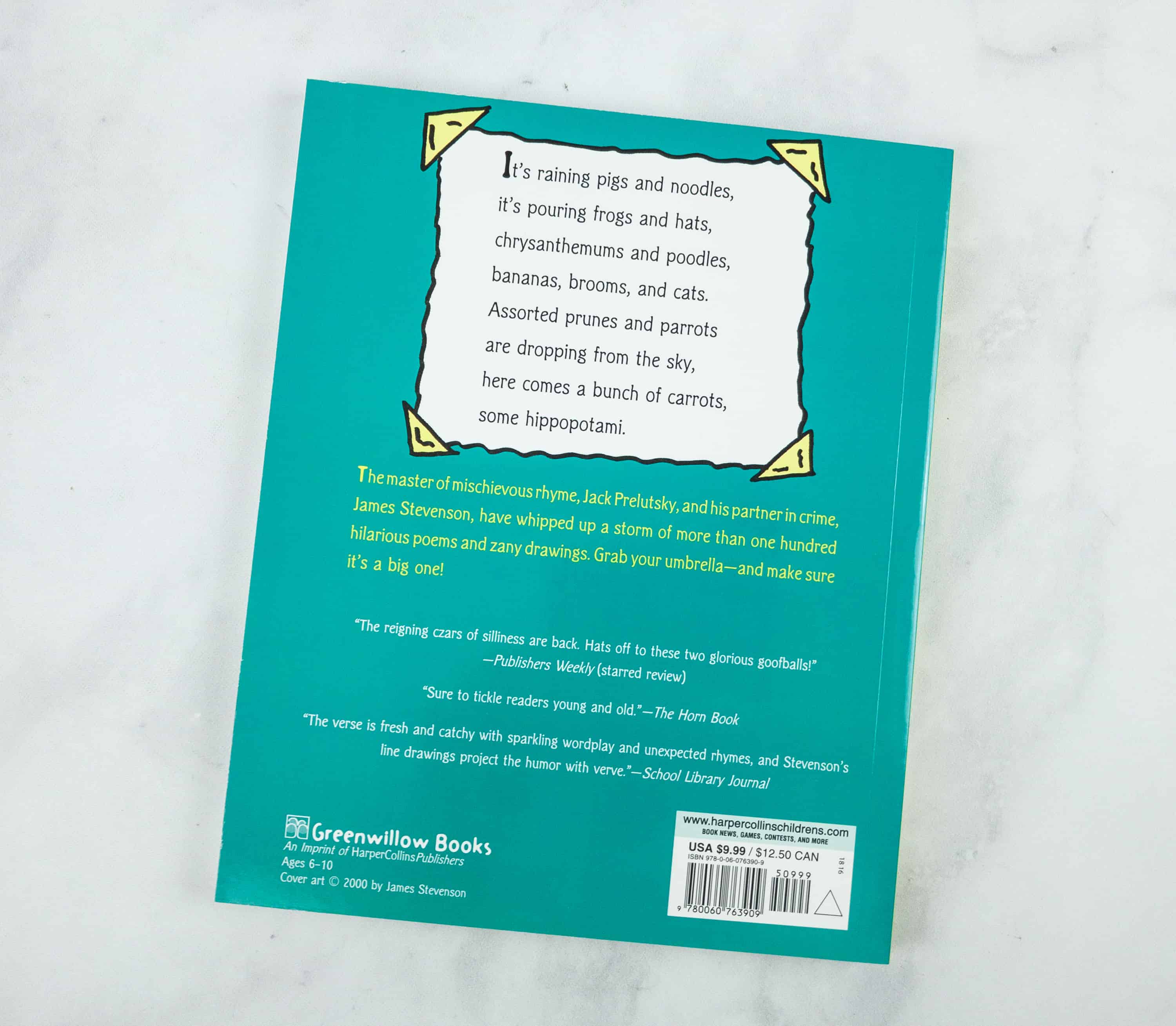 For people who love mischievous rhymes, this is the best book for you!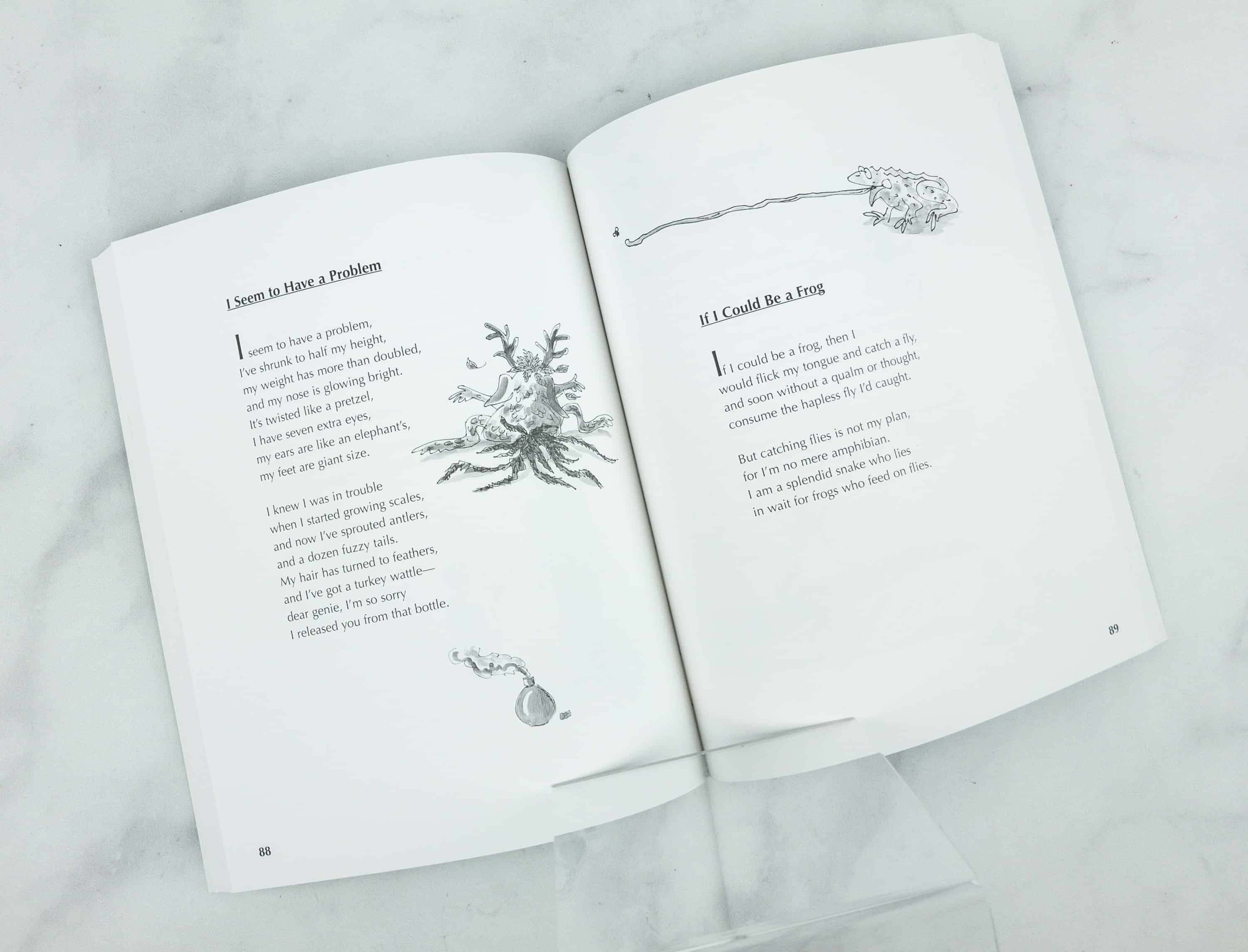 It's a book of hilarious poems coupled with eccentric art, which makes it an interesting read. We loved this so much we went searching for more and found lots of audiobooks on Scribd!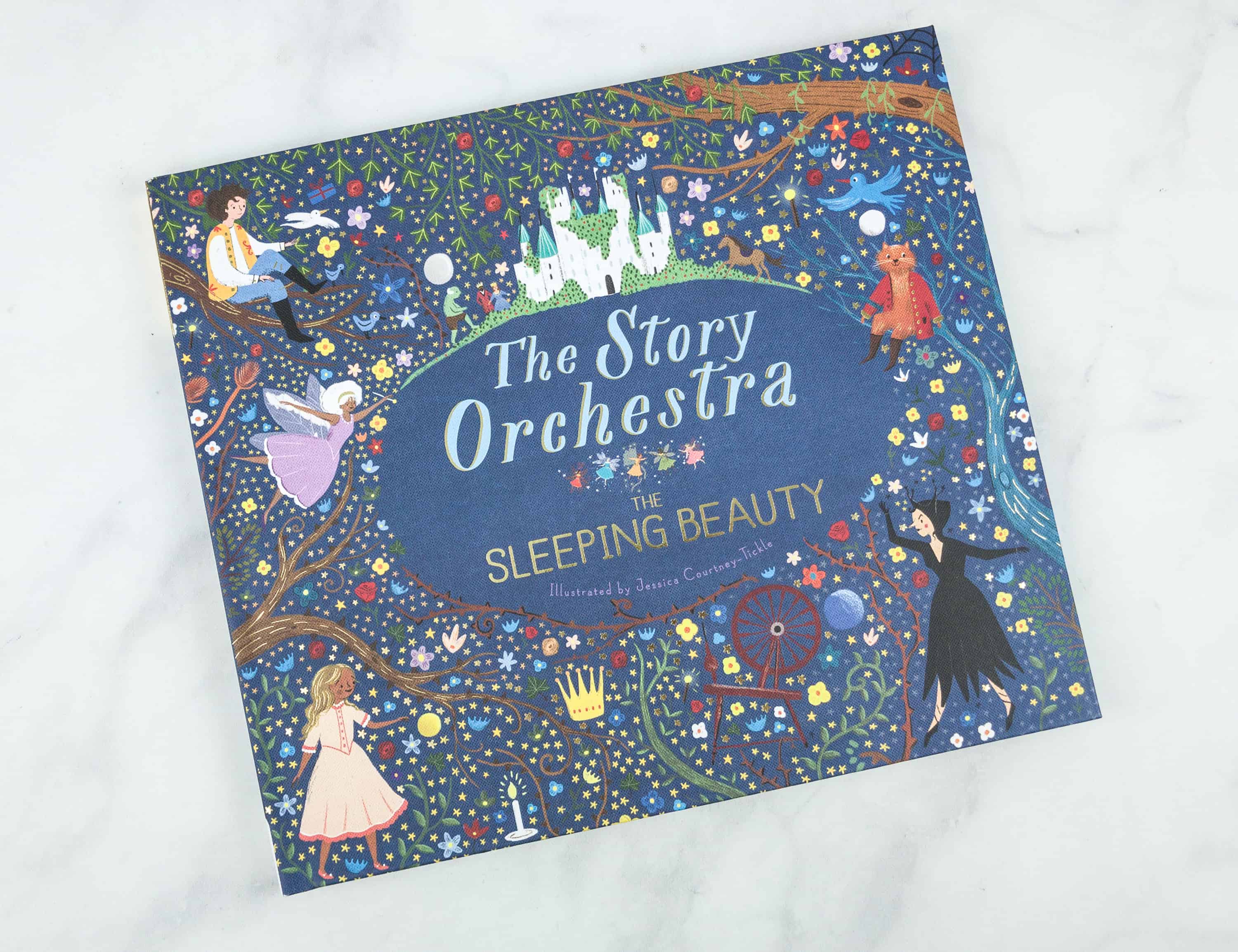 The Story Orchestra: The Sleeping Beauty By Katy Flint & Jessica Courtney-Tickle ($17.06)
A stunning retelling of the classic ballet story brought to life by music! Set to the sound of  Tchaikovsky's original music, this favorite ballet story features a a musical note to press on each spread. Join the King and Queen as they throw a party for their new baby, Princess Aurora. But when a terrible guest arrives and places a curse on princess, the kingdom must find the one special person who can defeat it…

Read the story, listen to accompanying music, then turn to the back of the book to find out more about the Tchaikovsky musical clips in this stunning gift book.
This book is a retelling of the classic story, The Sleeping Beauty.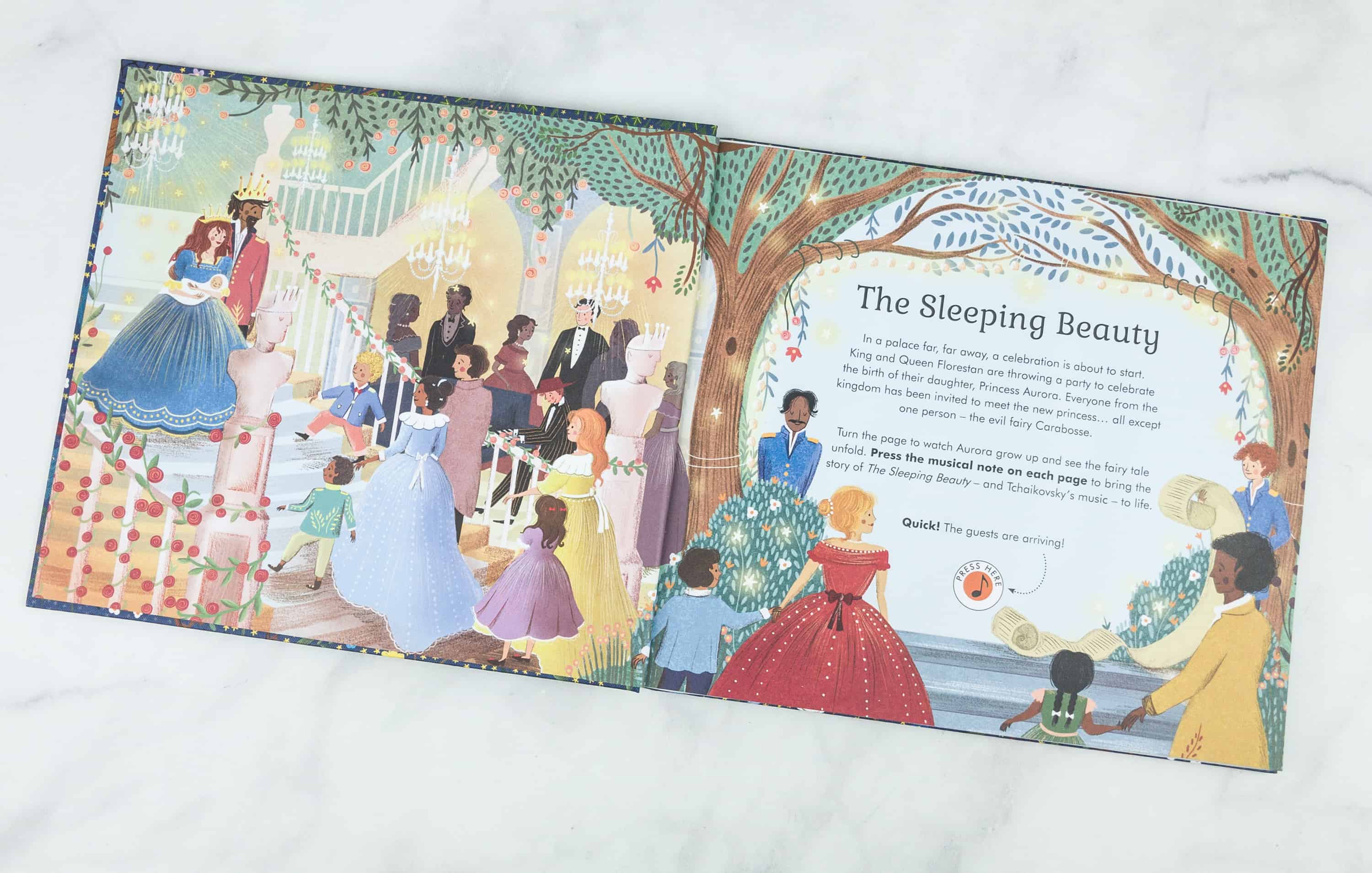 Aside from the fantastic art, there are also accompanying music to the story!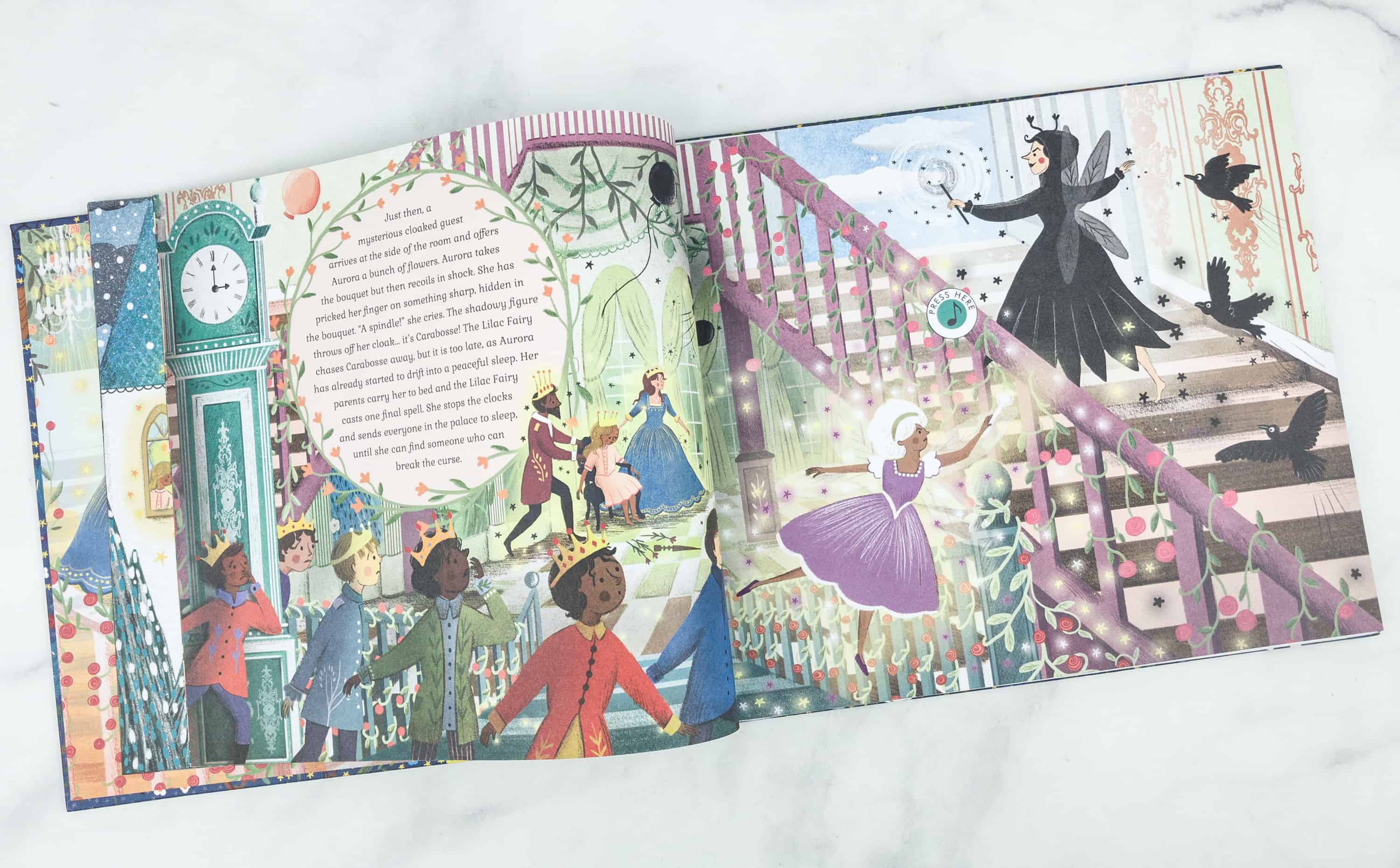 I love the illustrations, and this made the story easier to understand, especially to kids who are just beginning to read!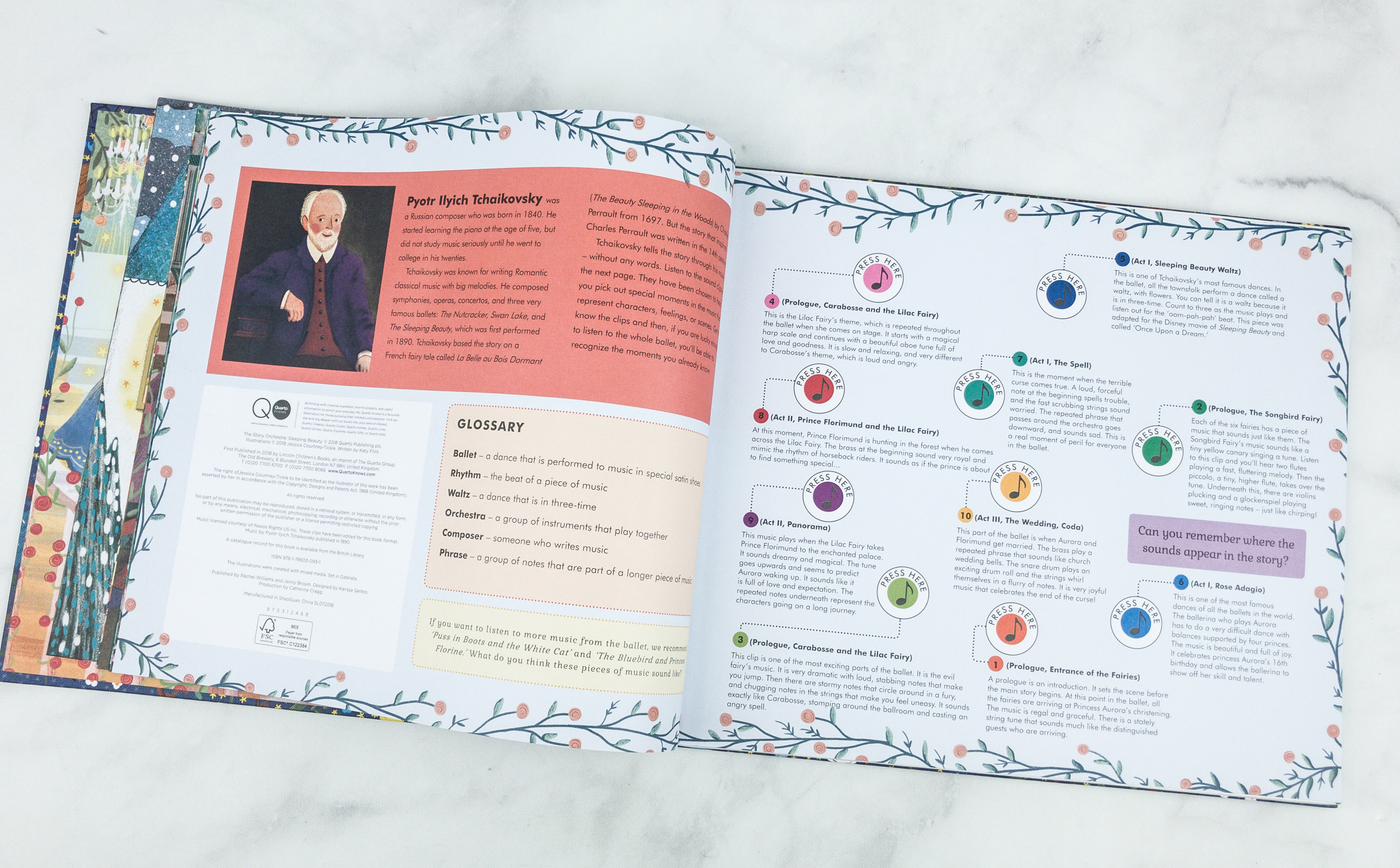 There's even a glossary, and Pyotr Ilyich Tchaikovsky's biography, a Russian composer of the Romantic period.
It's interesting as the book also presented different music that appears in the story, you can listen and recognize them at the end of the book!
Aside from taking us to an adventure, each book teaches the kids valuable lessons about life and dreams too. My kids definitely dig each of them! Their favorite is the last book, the retelling of the classic story Sleeping Beauty which is also accompanied by music. The other books are adorable too! These books are inspirational, and we're looking forward to more good titles this subscription will send to us!
Any thoughts on Literati?